What a journey it was to get to this incredible day. Jenny & Marcello's Reverie Farm wedding in the garden surrounded by string lights was a dream amidst the chaos that the COVID pandemic threw at us. It was difficult planning a wedding, they didn't want to wait longer but also wanted to ensure everyone was safe. Creating social distanced tables in such a beautiful setting made the wedding feel like it was meant to be that way all along. An incredible day coupled with some delicious food, wonderful music (they curated playlists to guide each aspect of their wedding!) and a beautiful sunset. Pour over these images from their wedding day and words from the couple.

The Setting
We wanted to design a day full of all the things that we love most, and share that experience with others. When considering the setting, we knew we wanted an outdoor space that was close to the city. Chloe (from Reverie Farm) and I were friends from our hometown and I knew she had this special farm project nearby Toronto. It was beautiful but what really sealed the deal was Chloe and Heather themselves. They were so kind and supportive – we wanted to work with them right away. That and the Reverie sunsets… wow.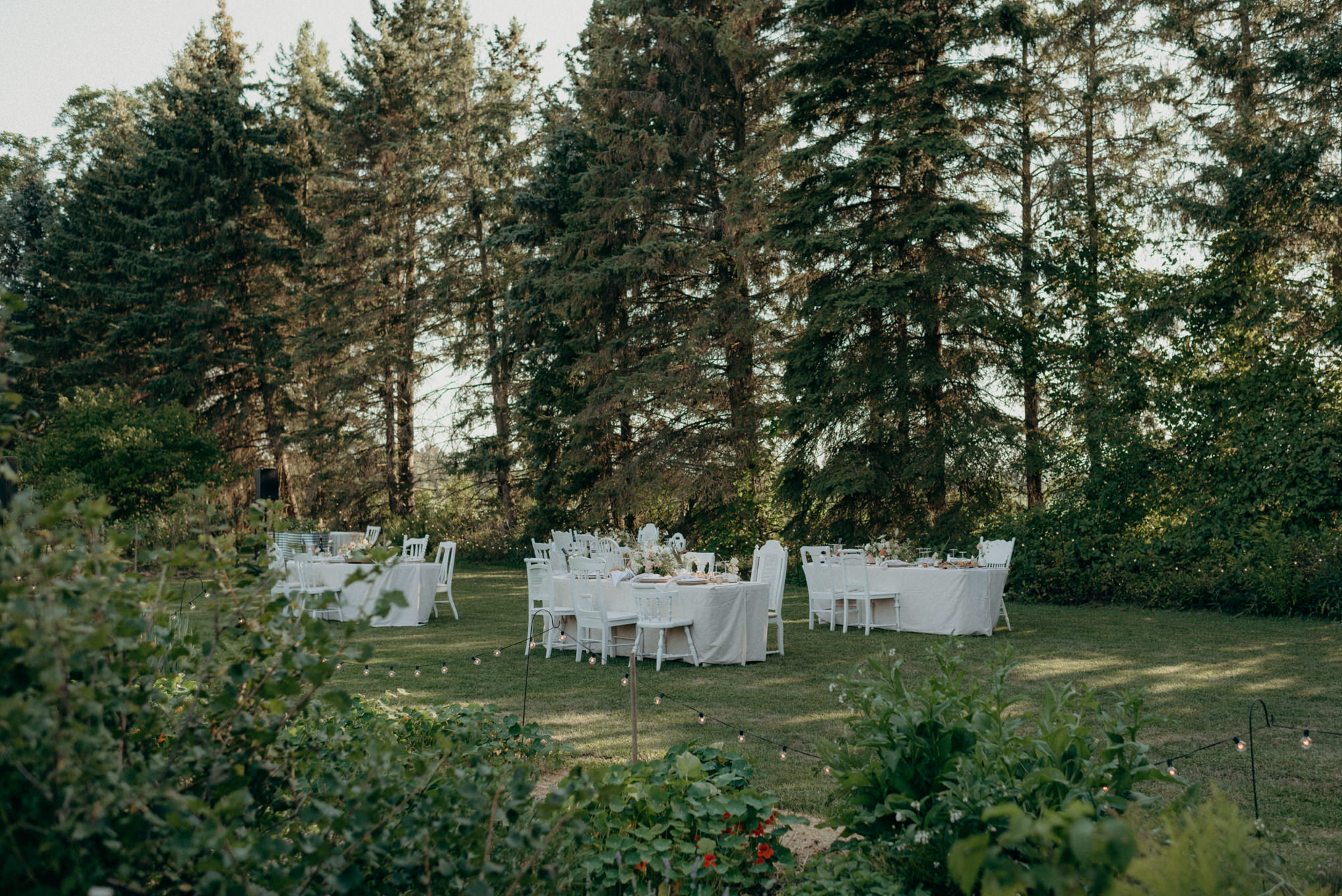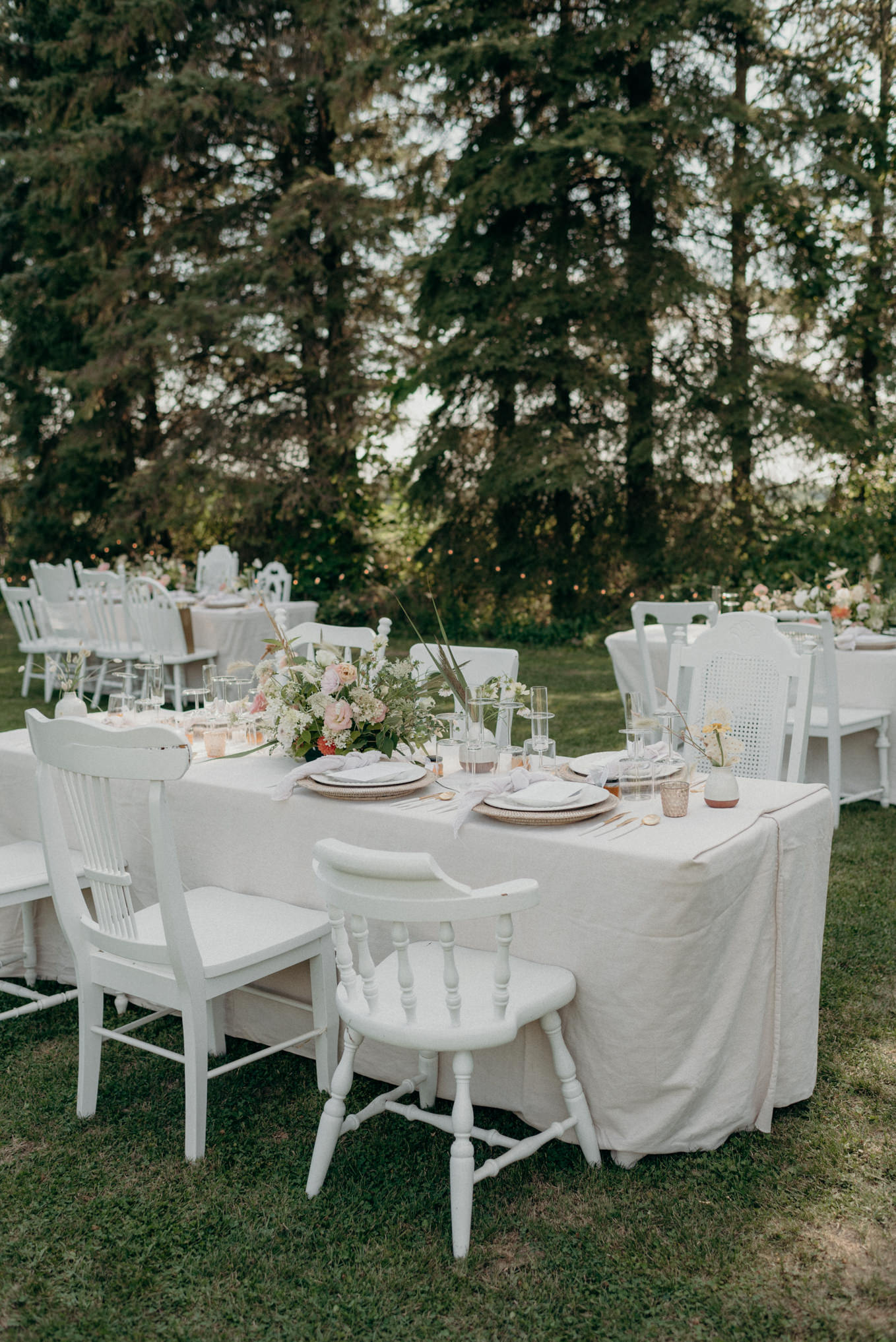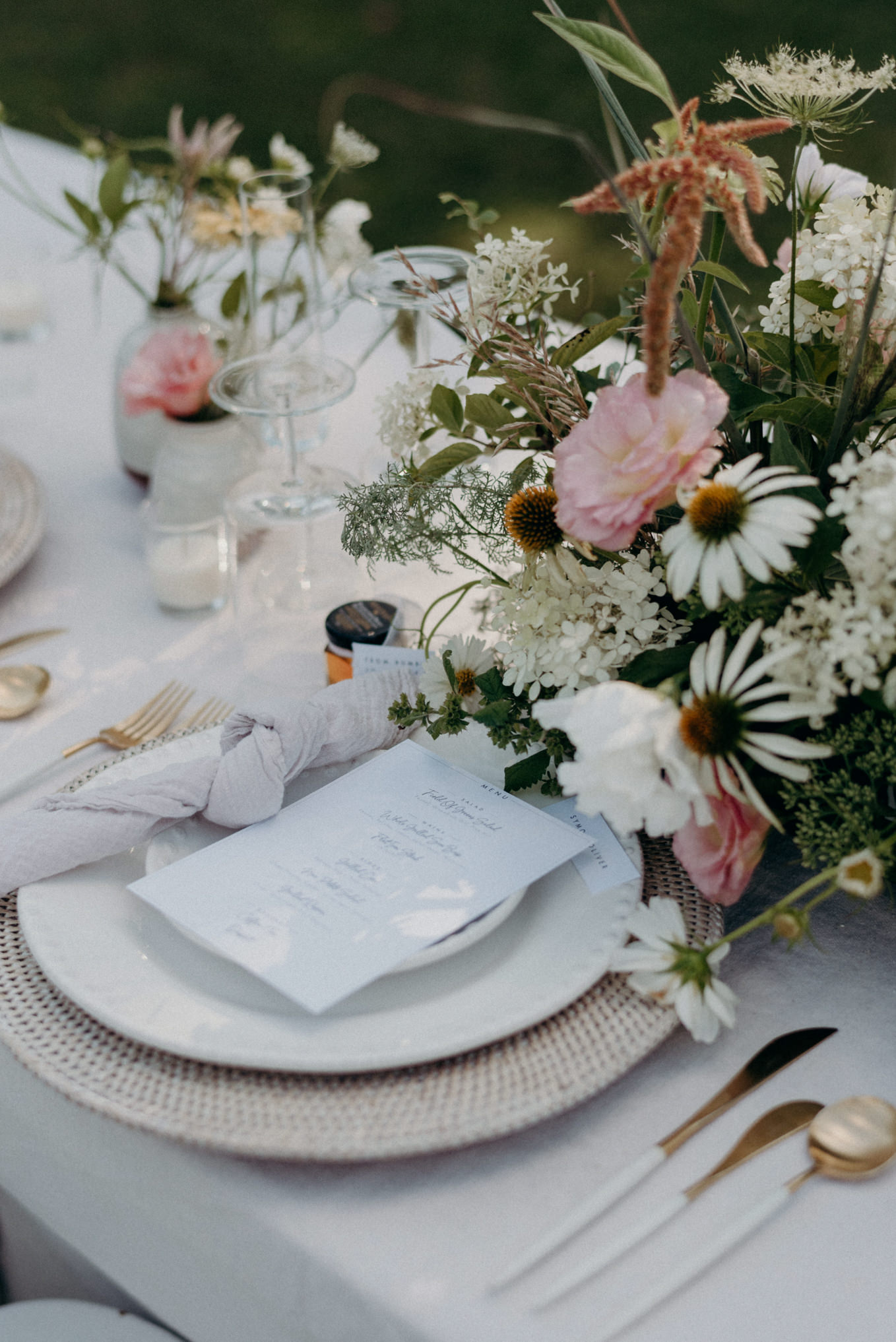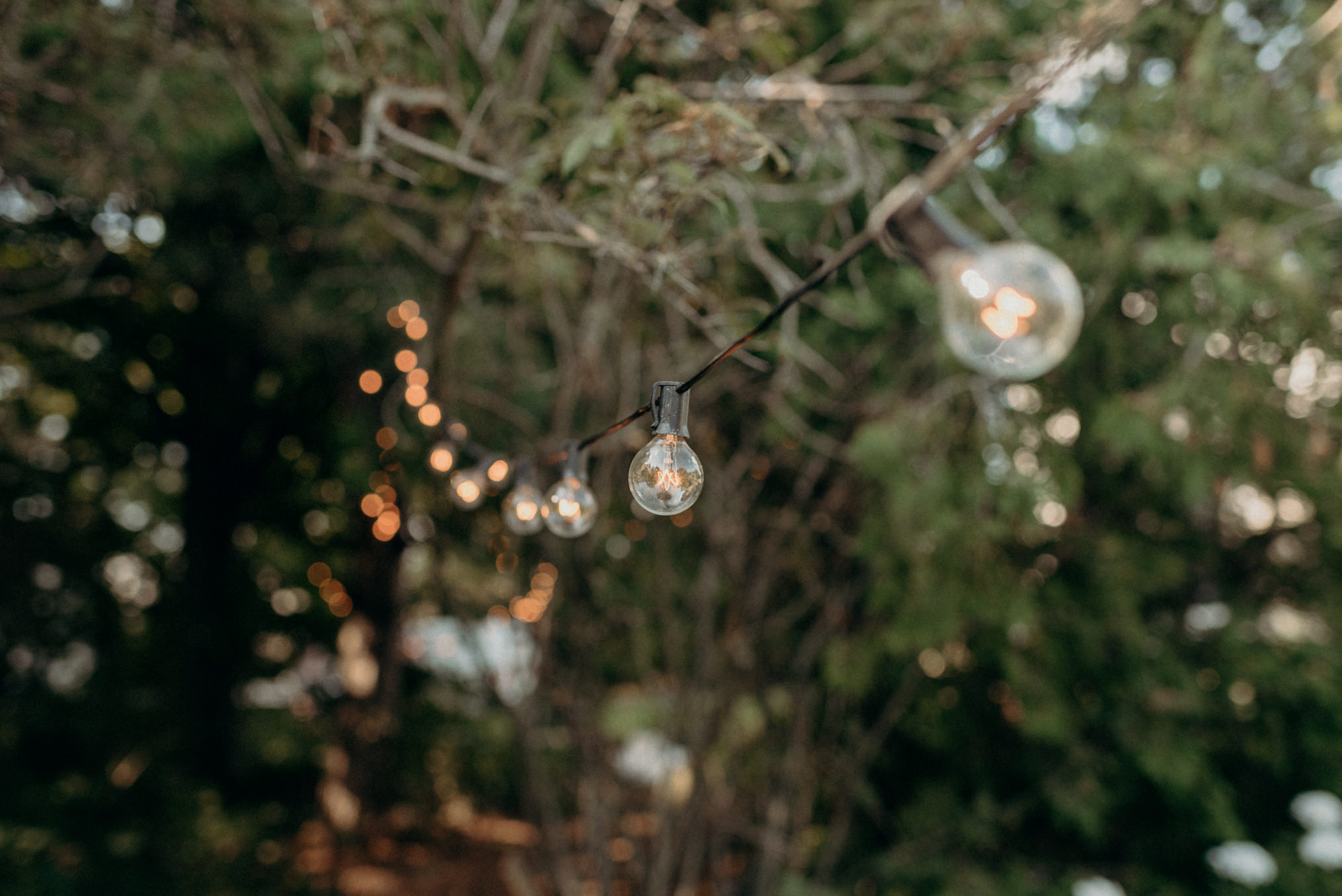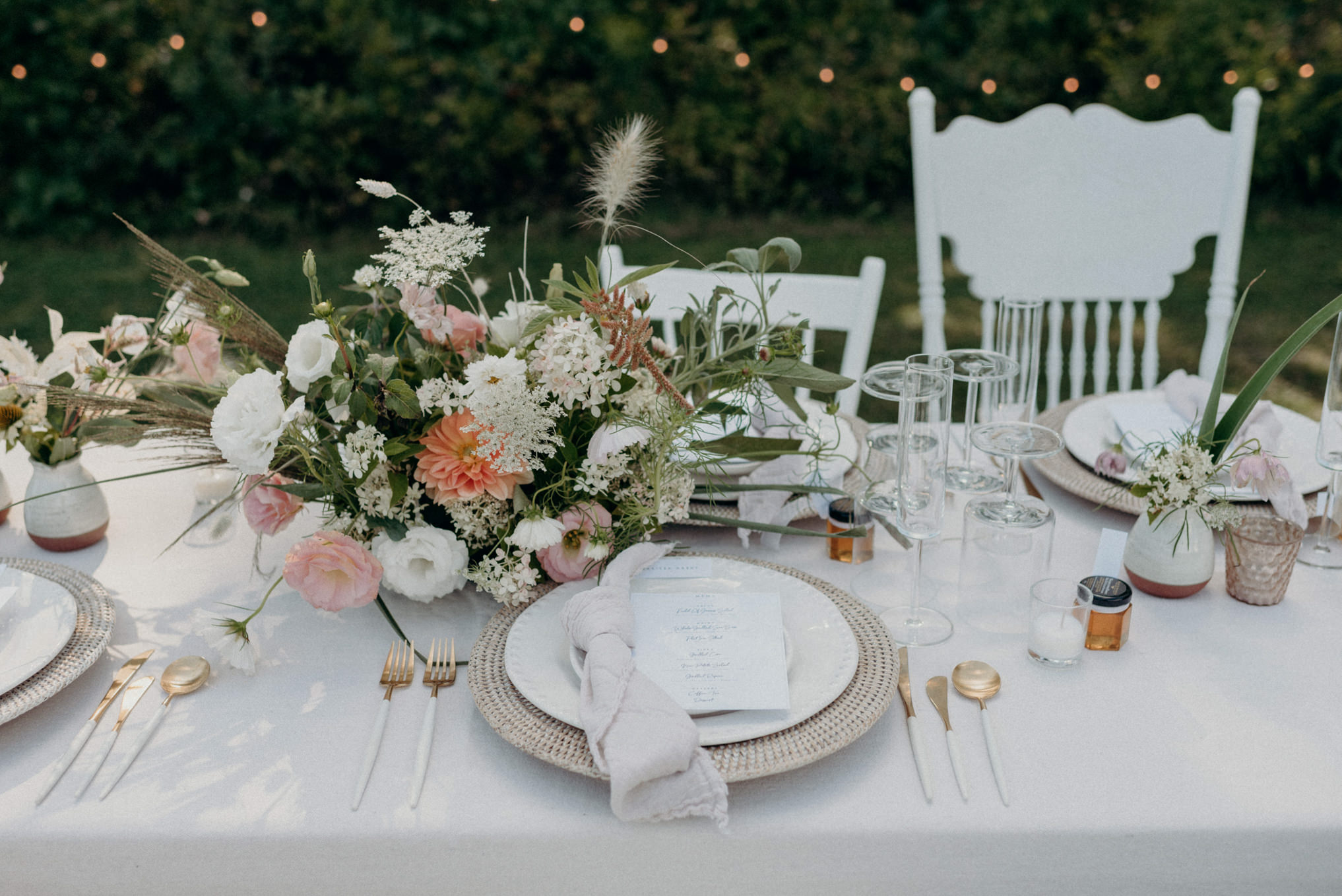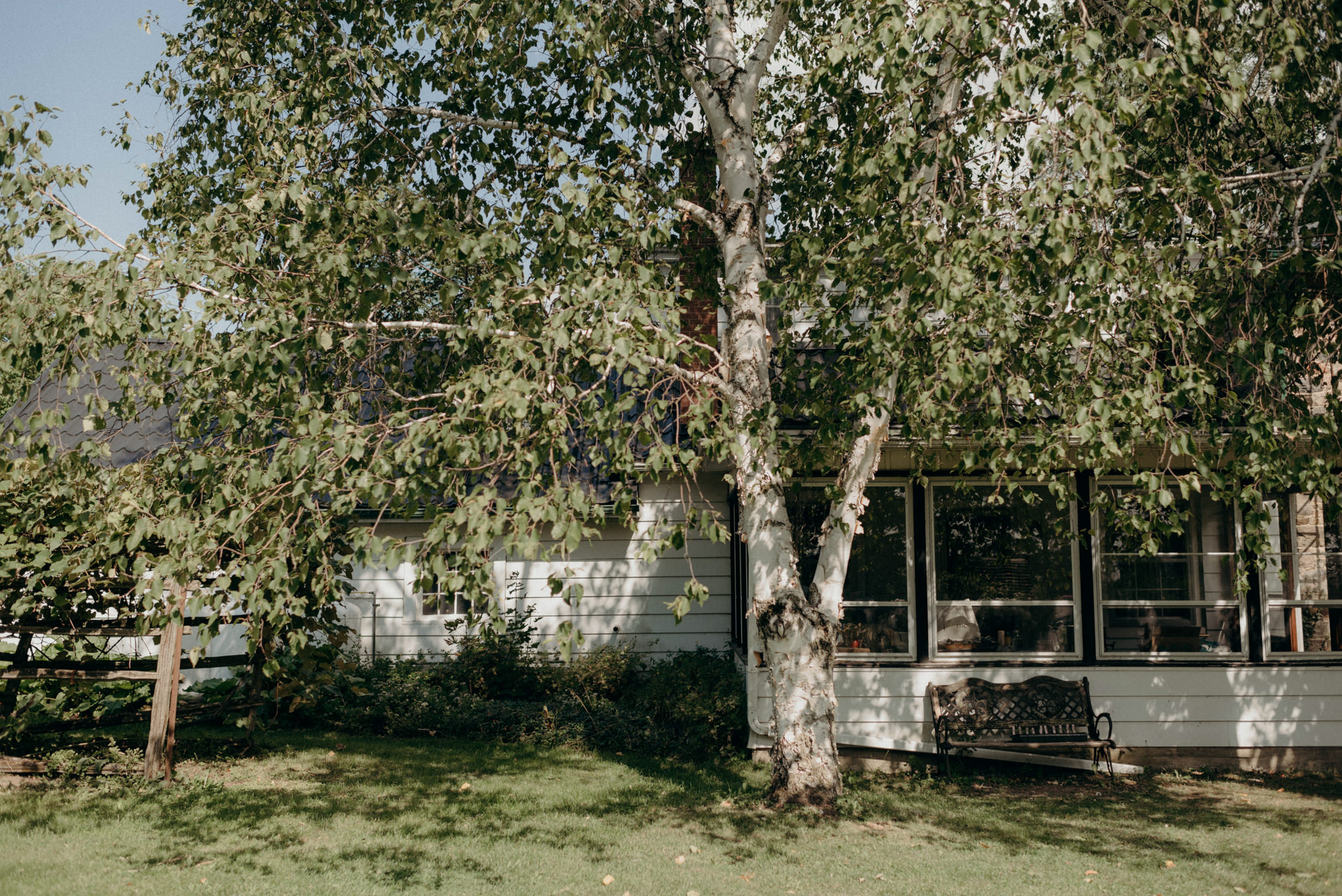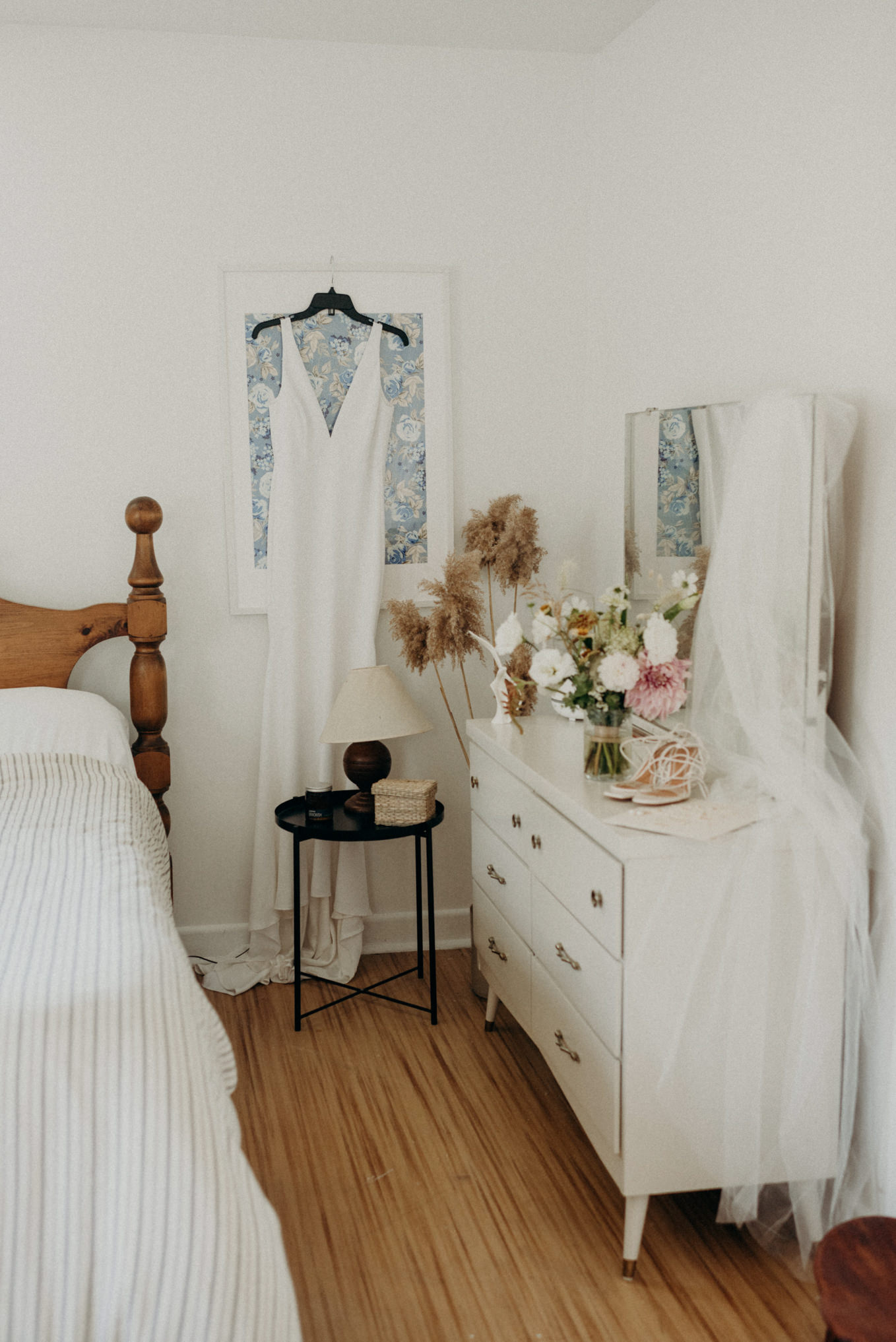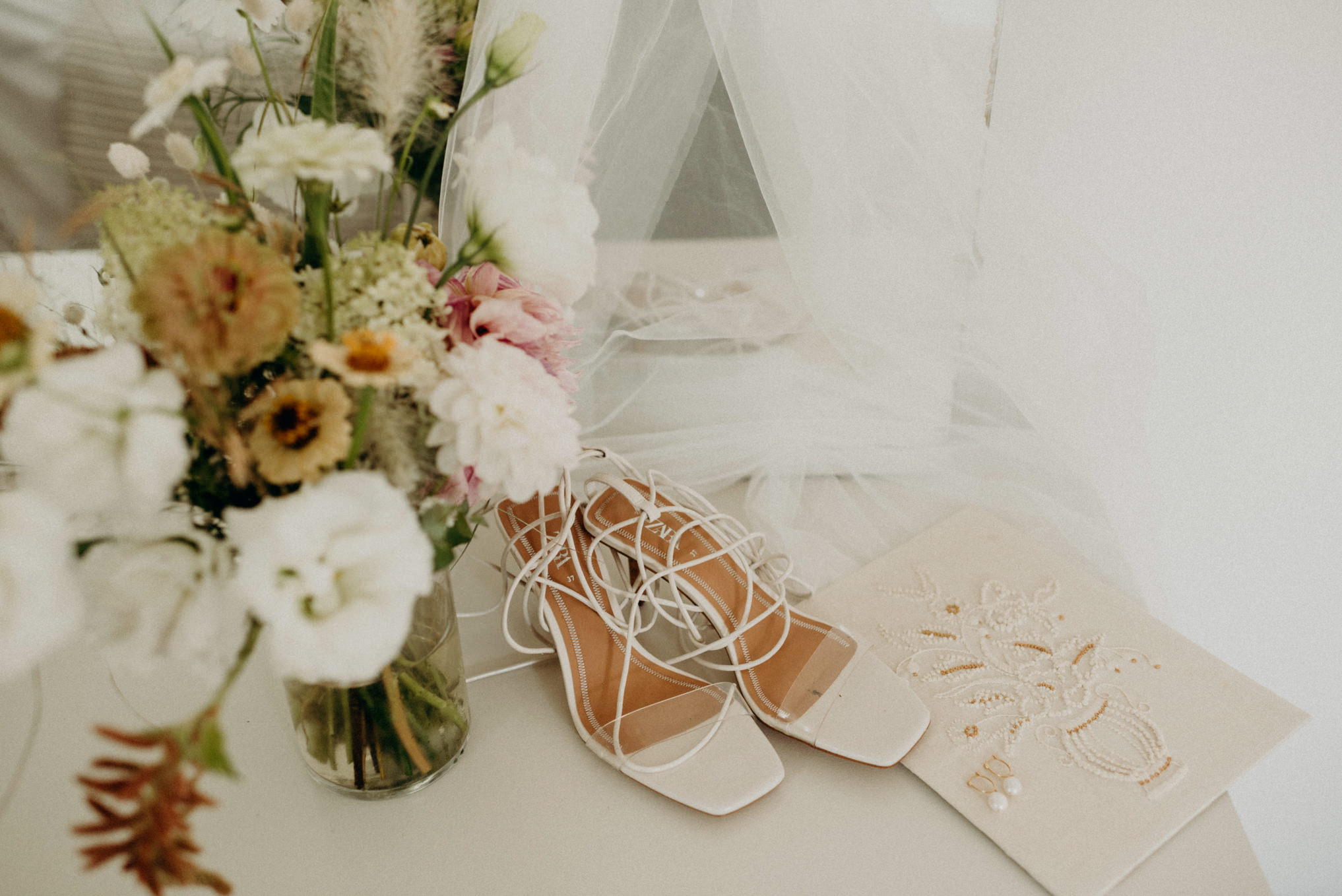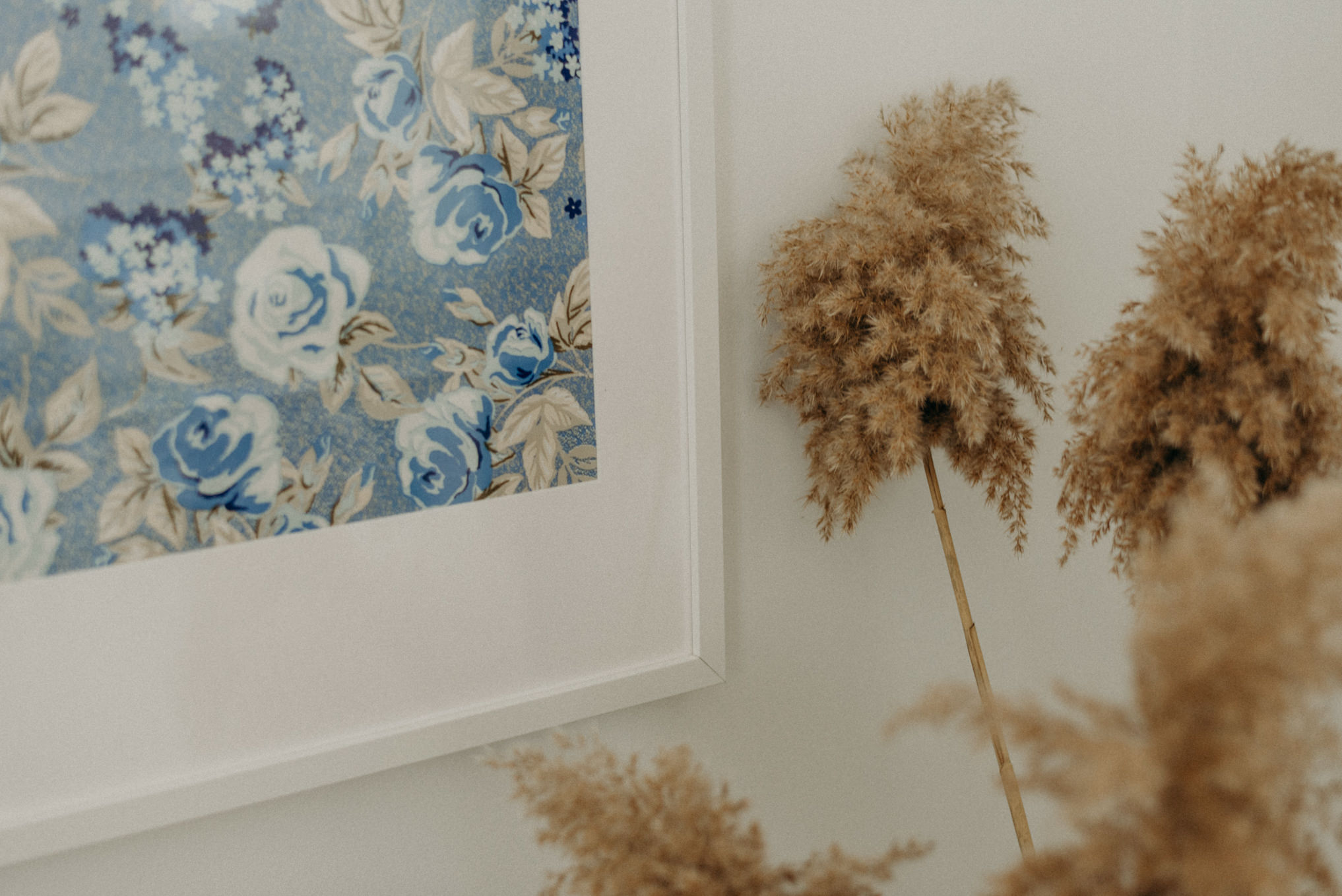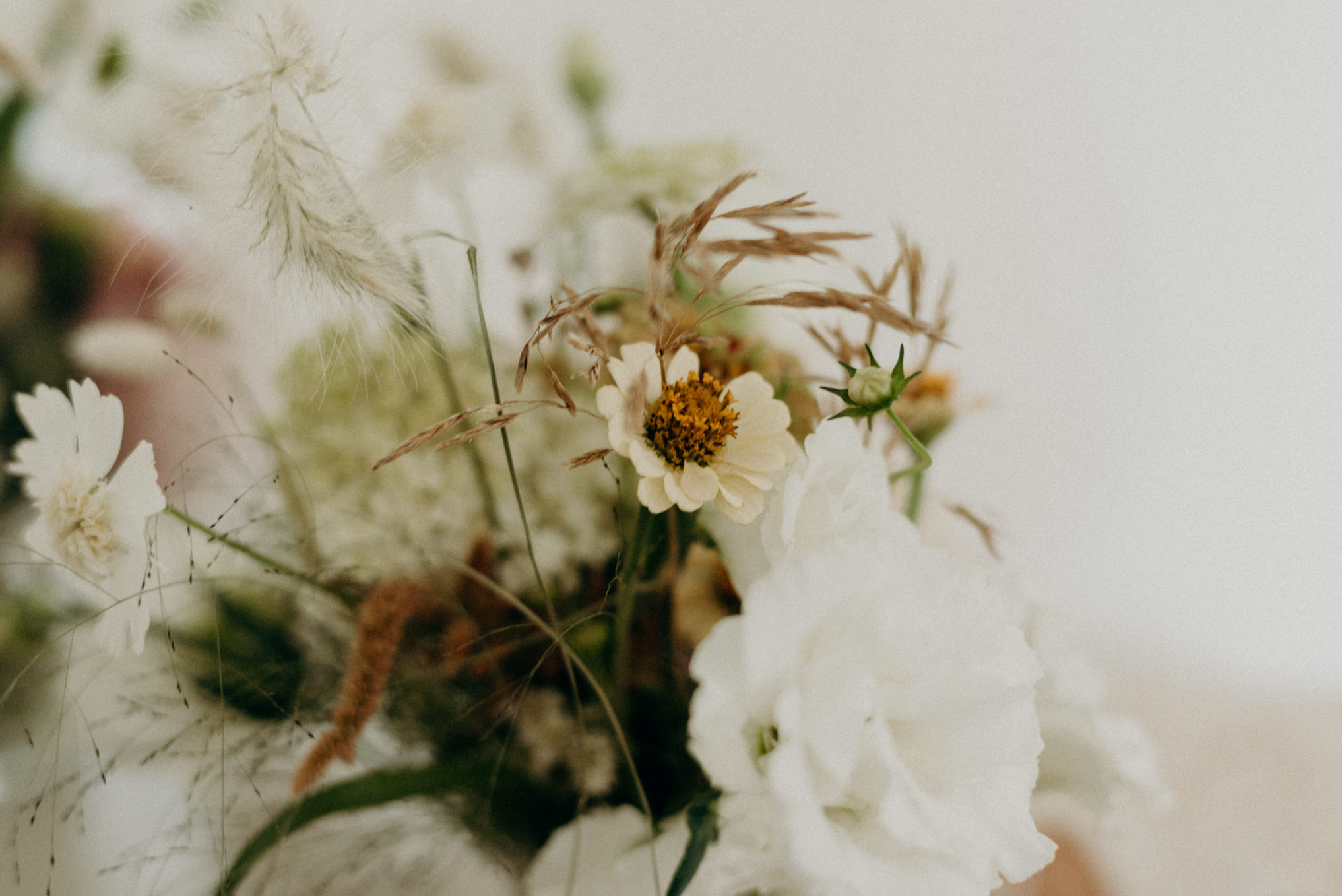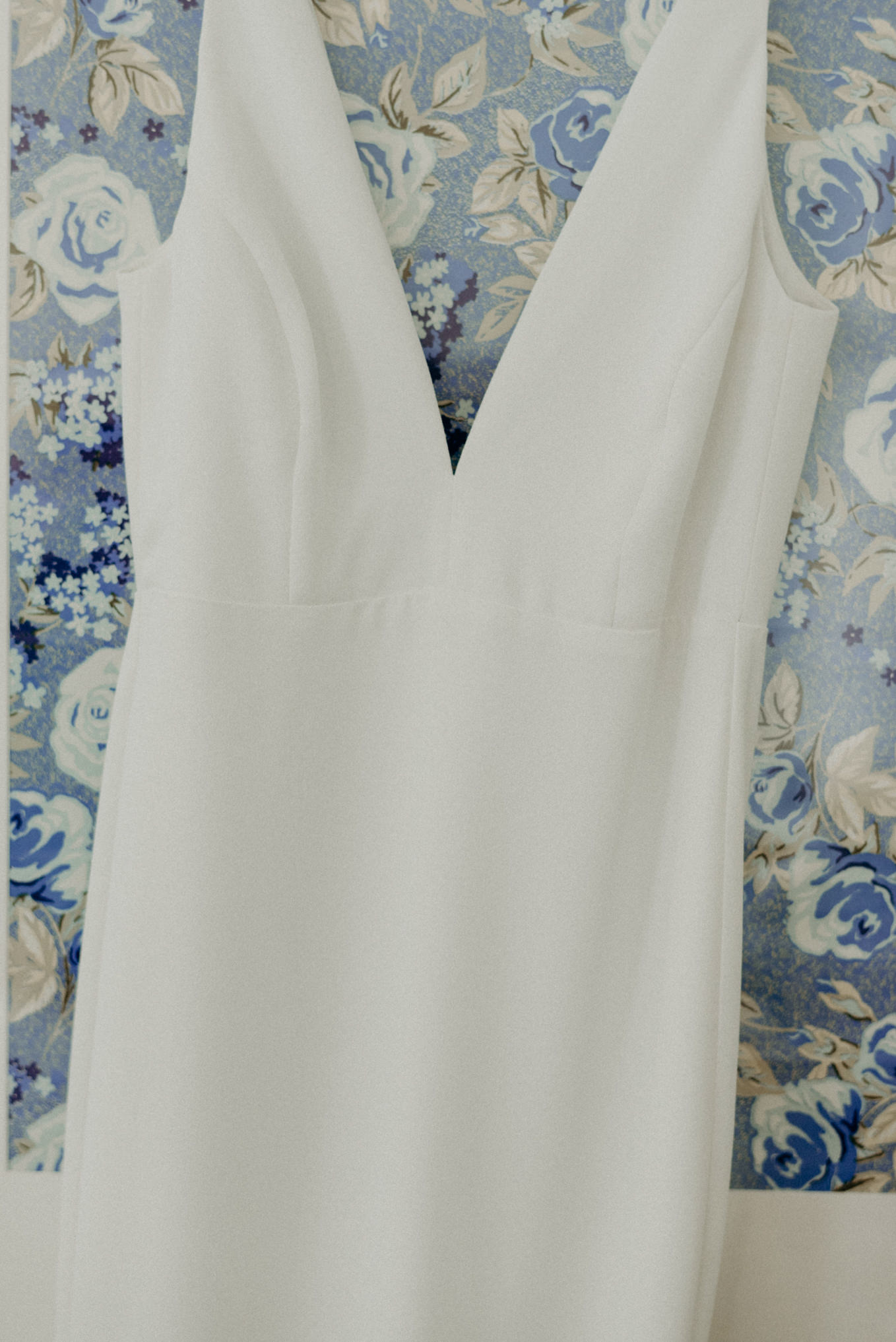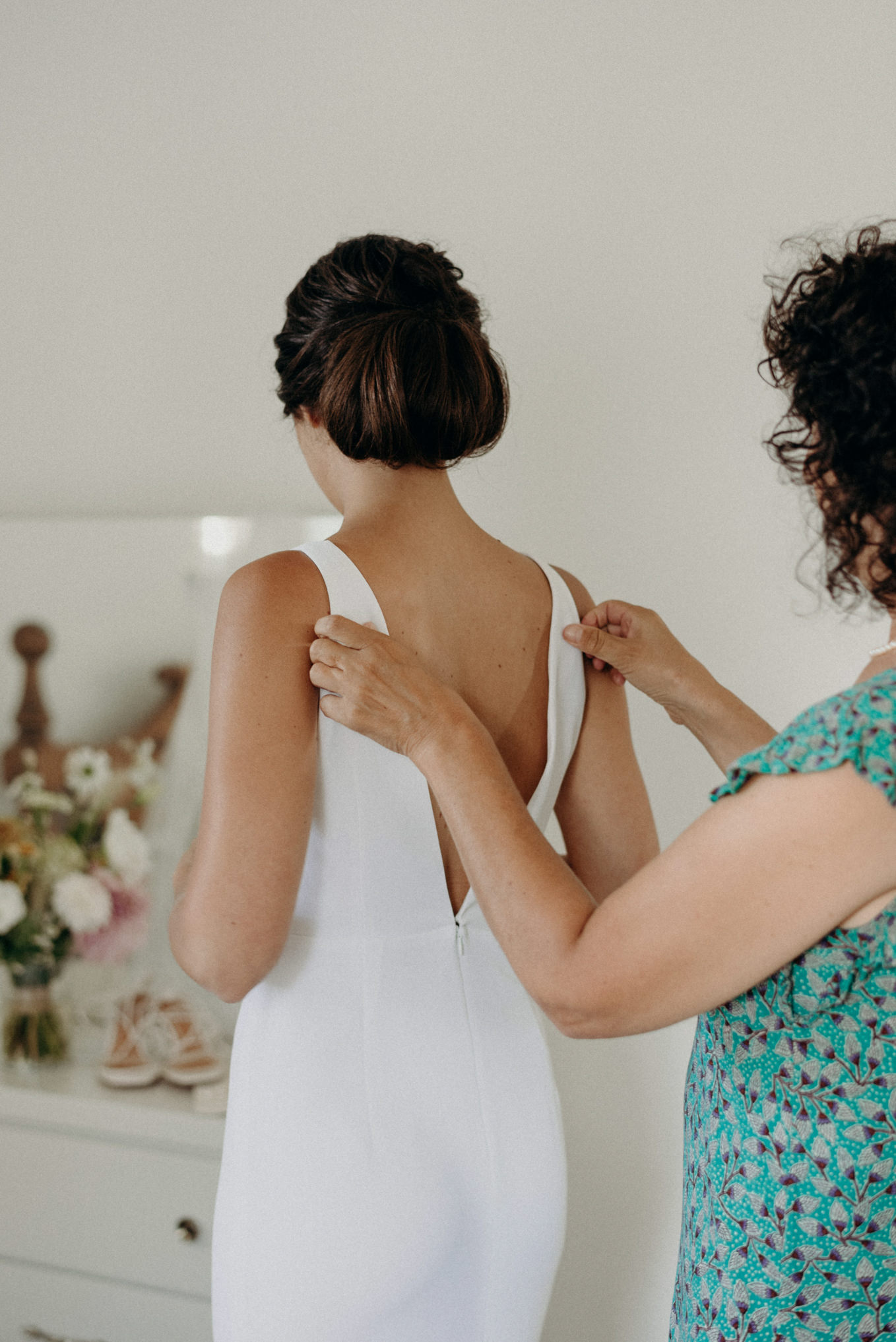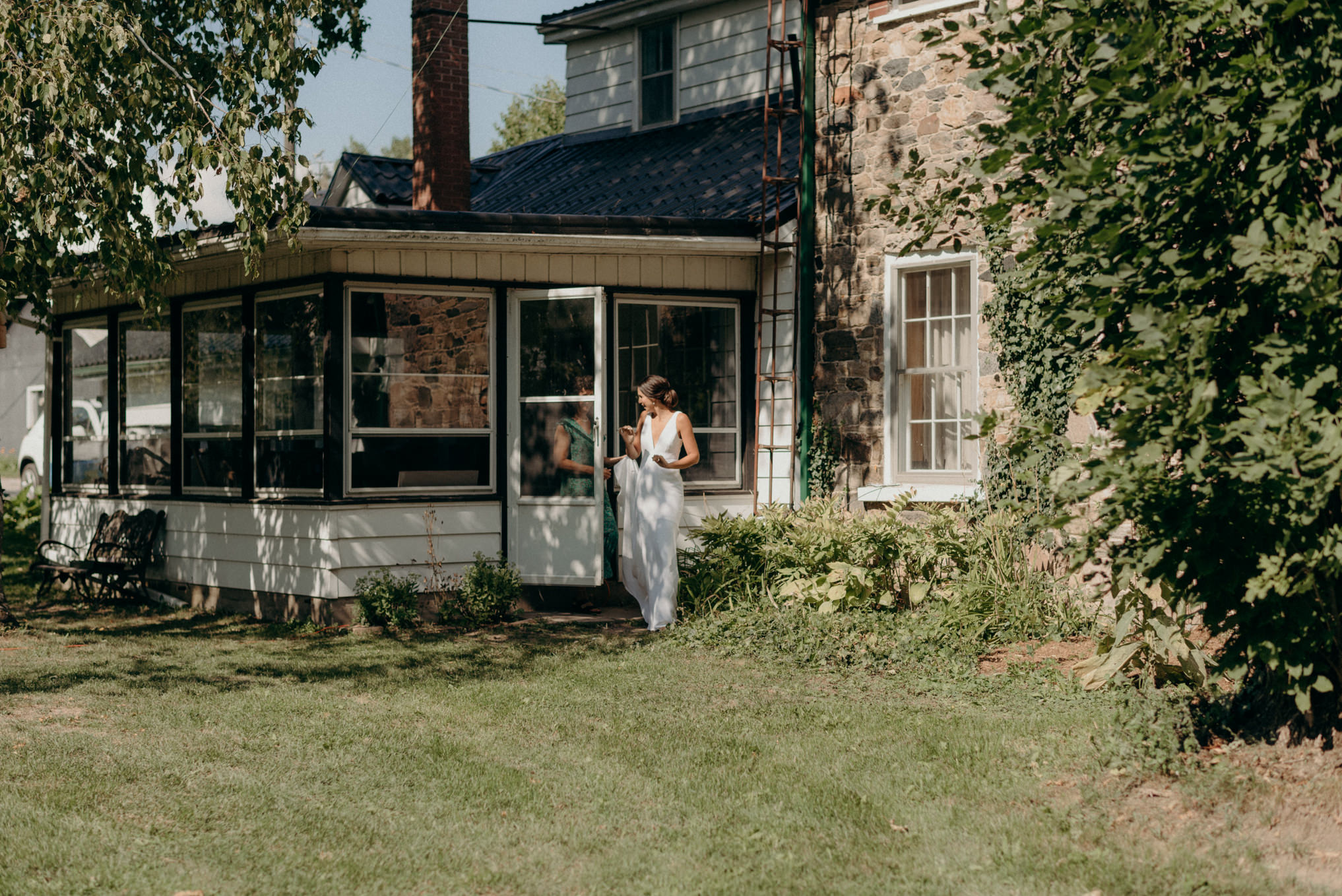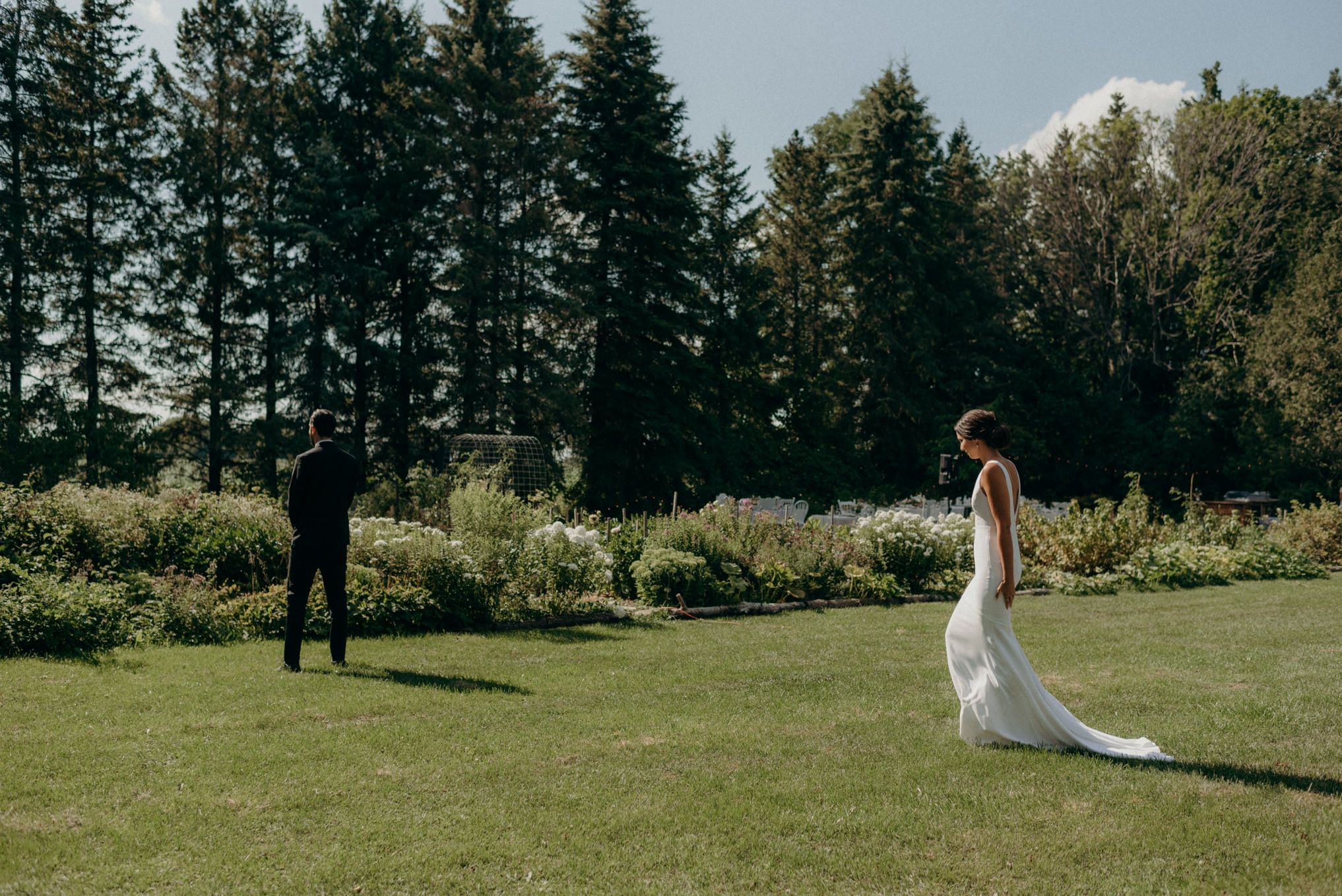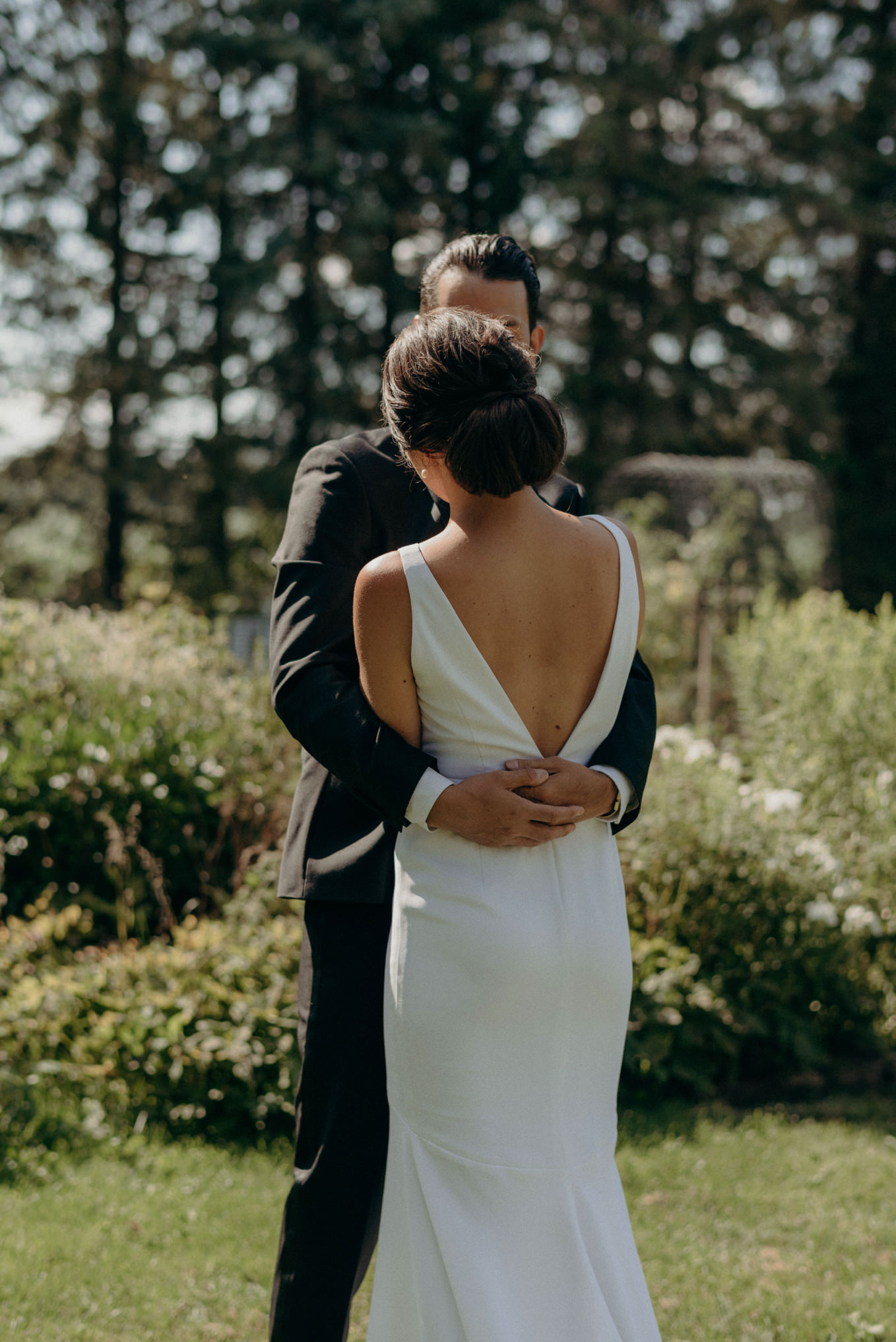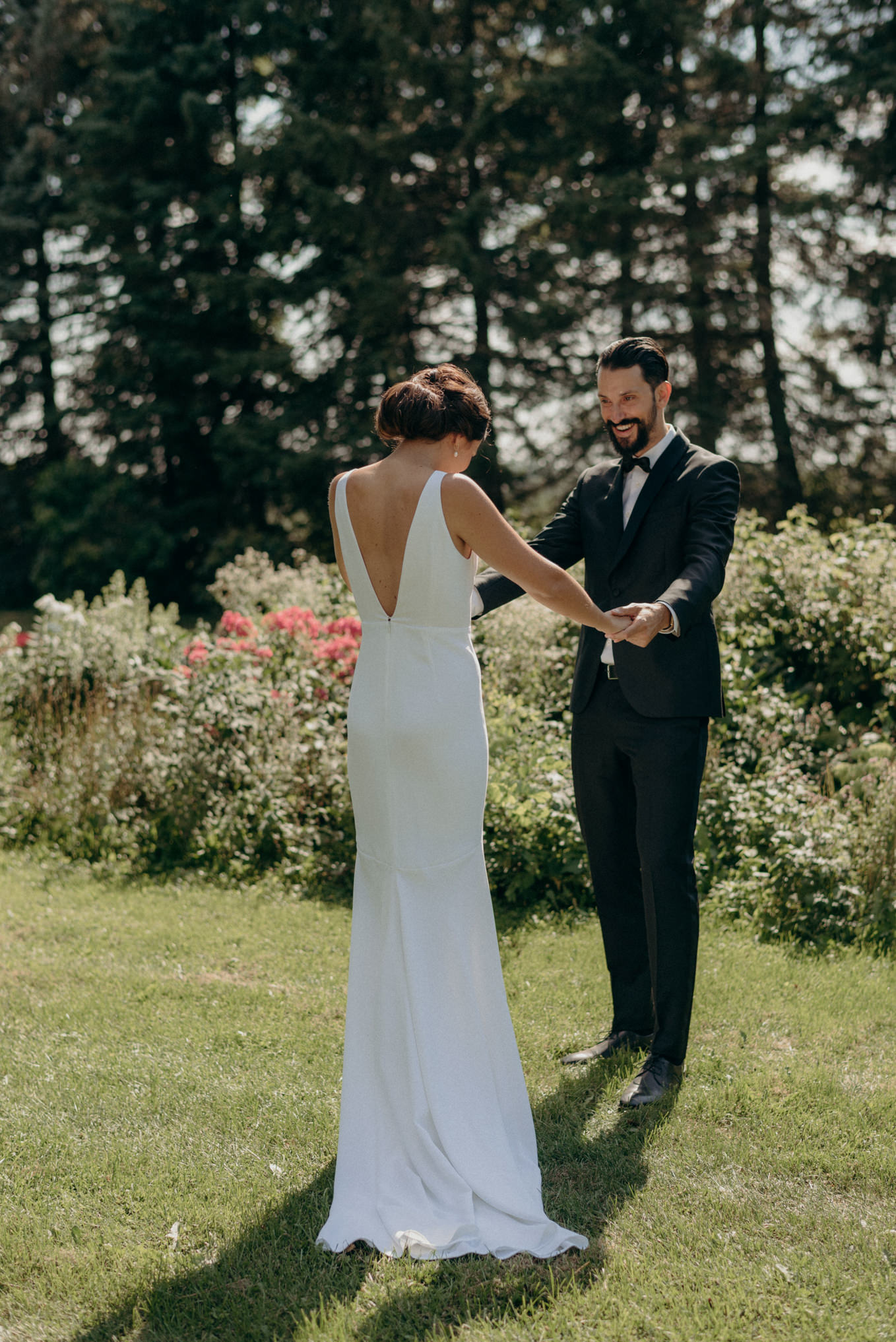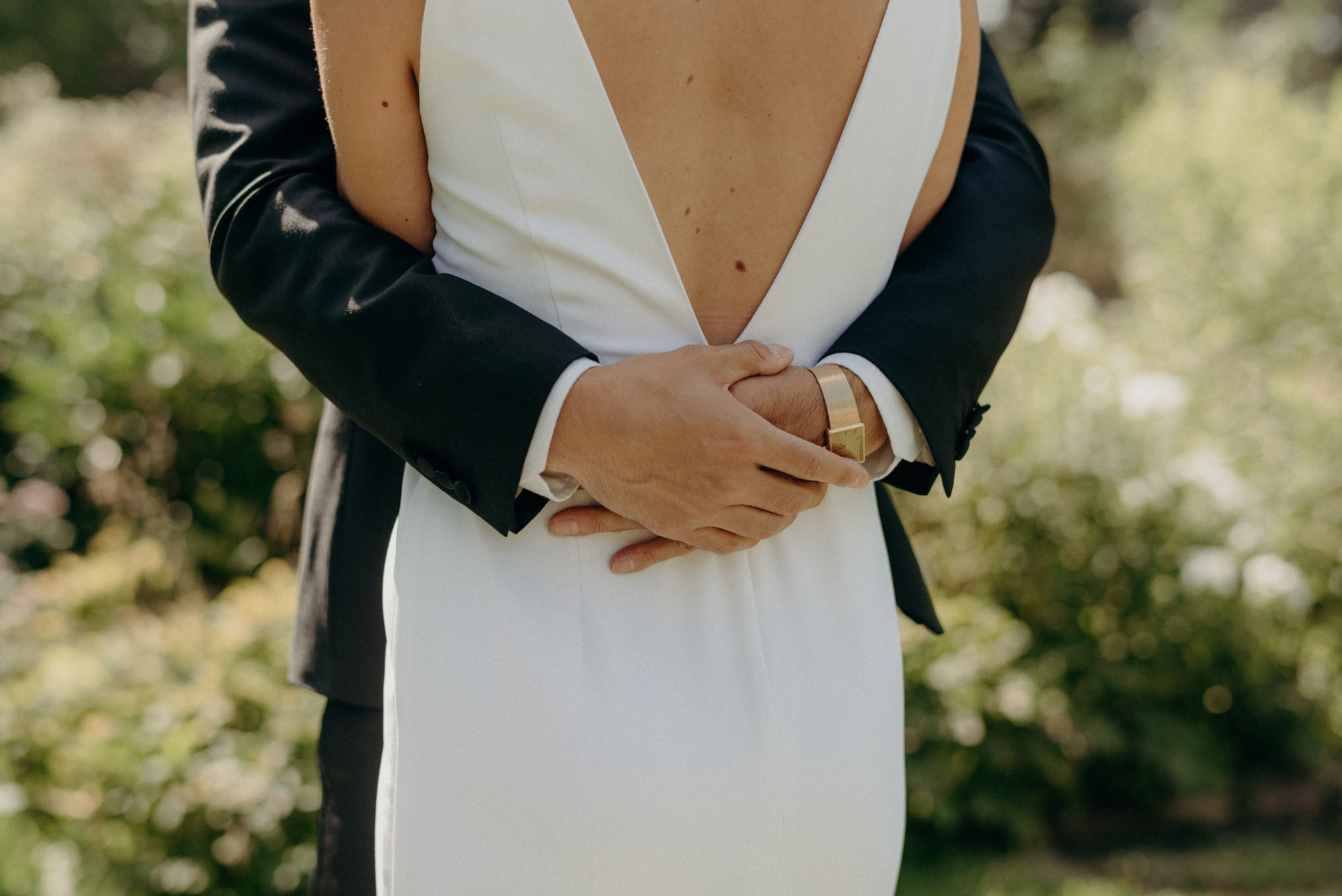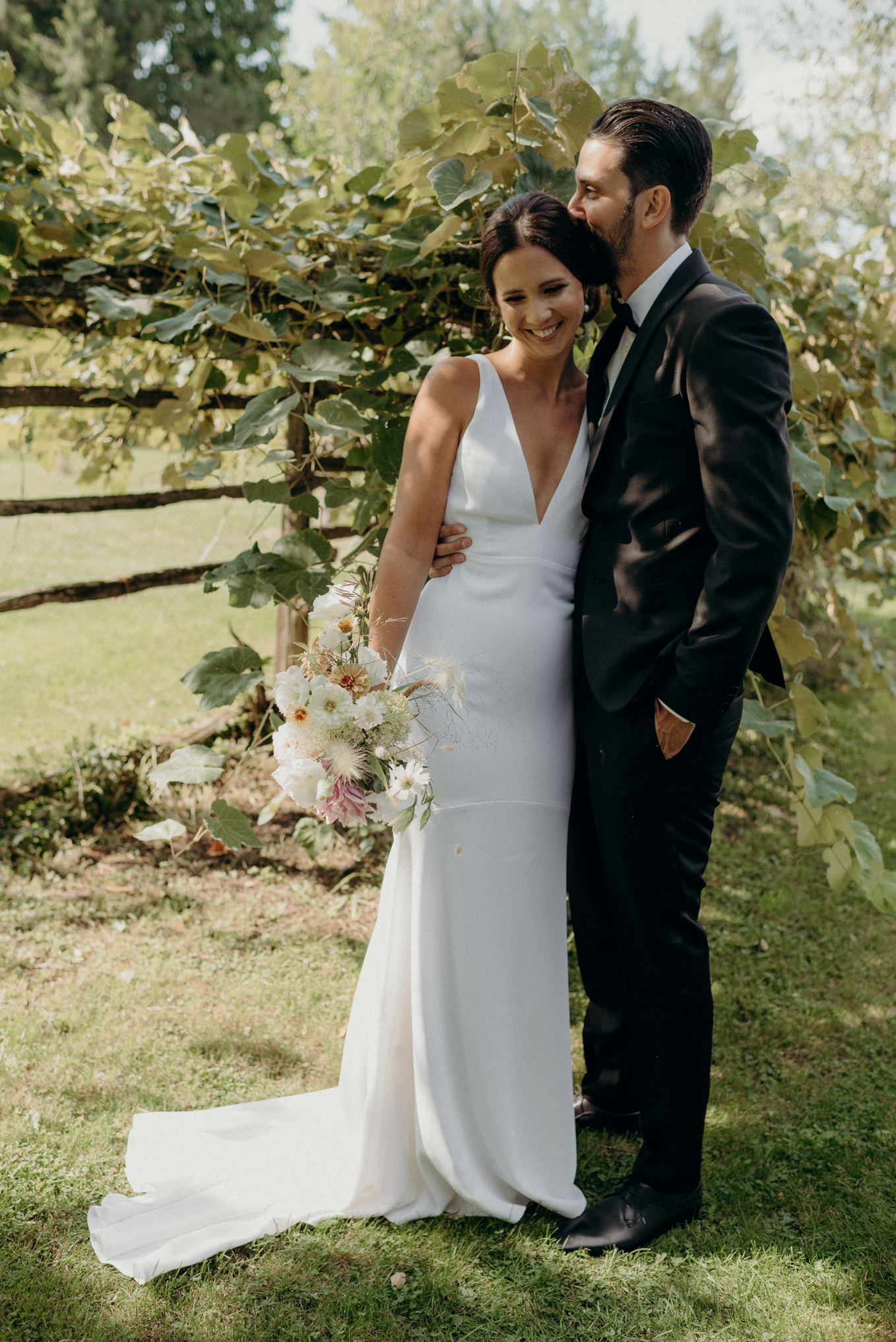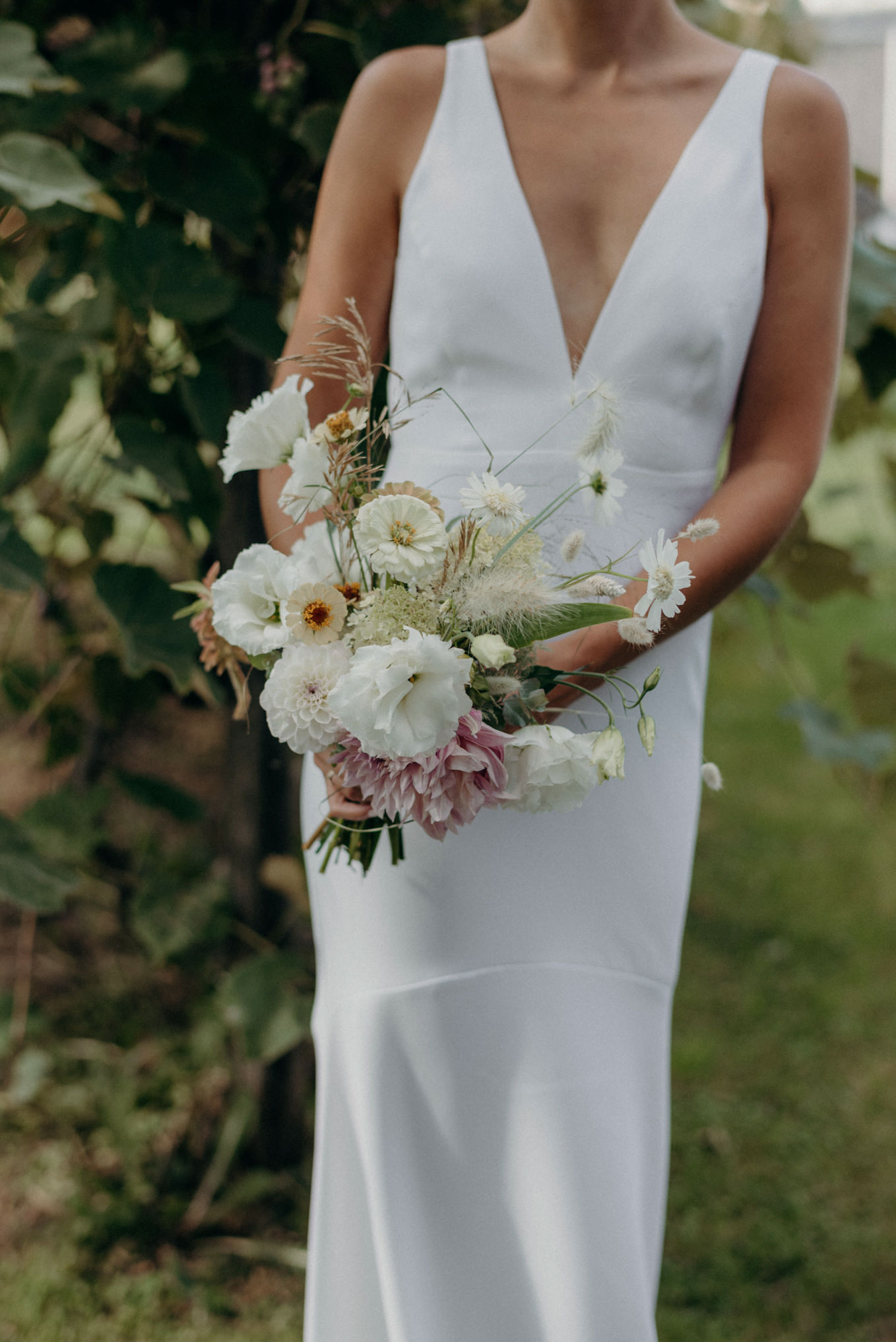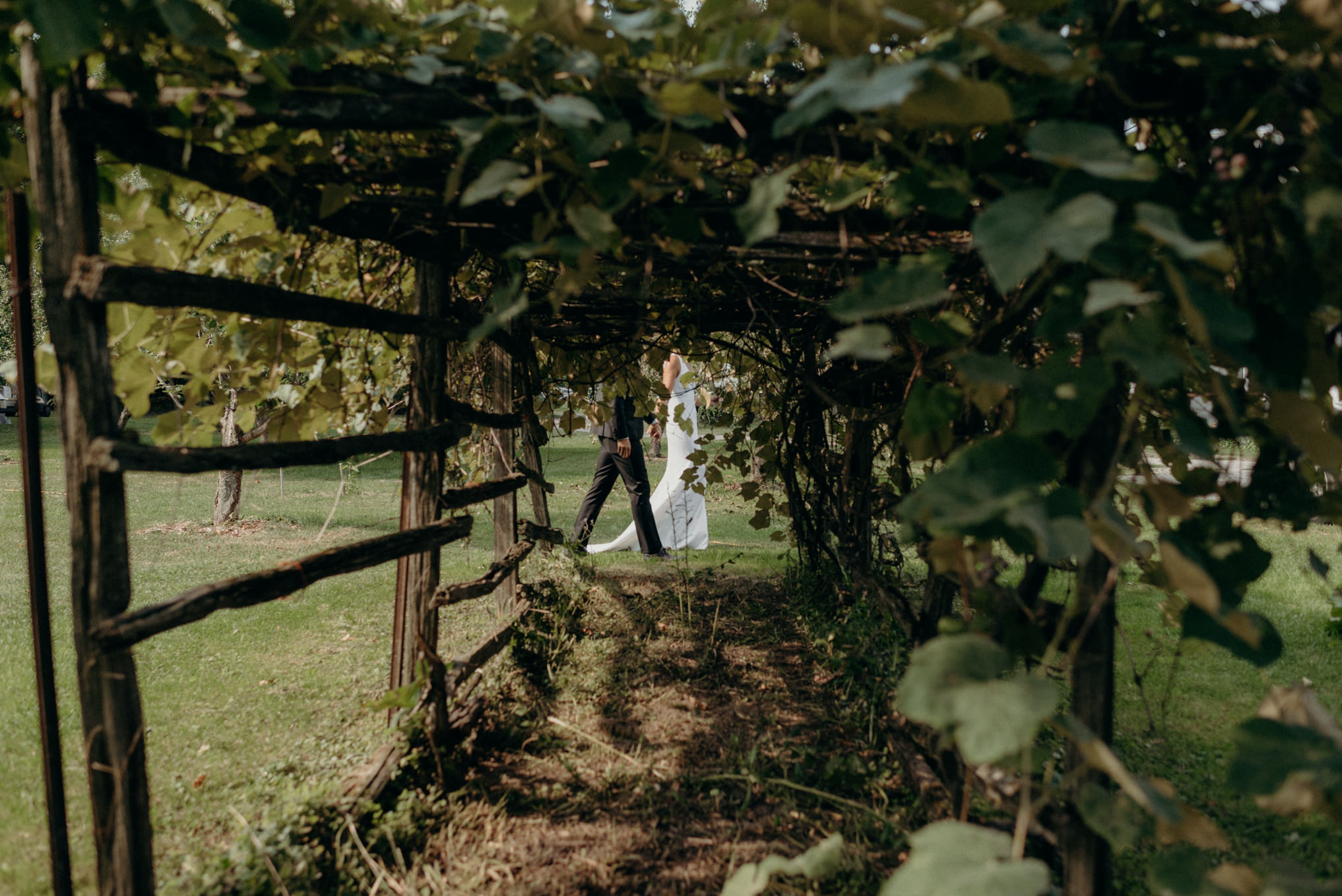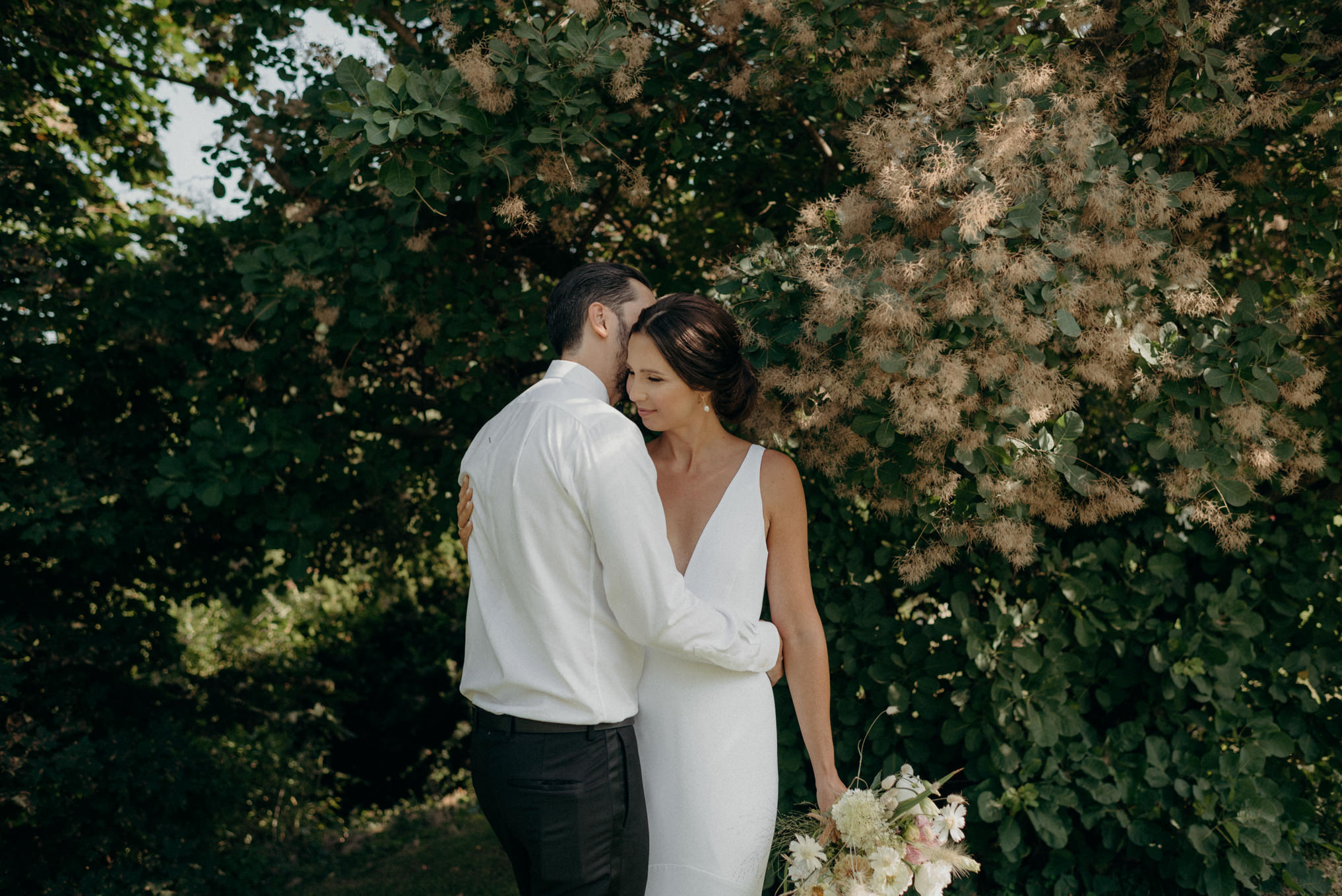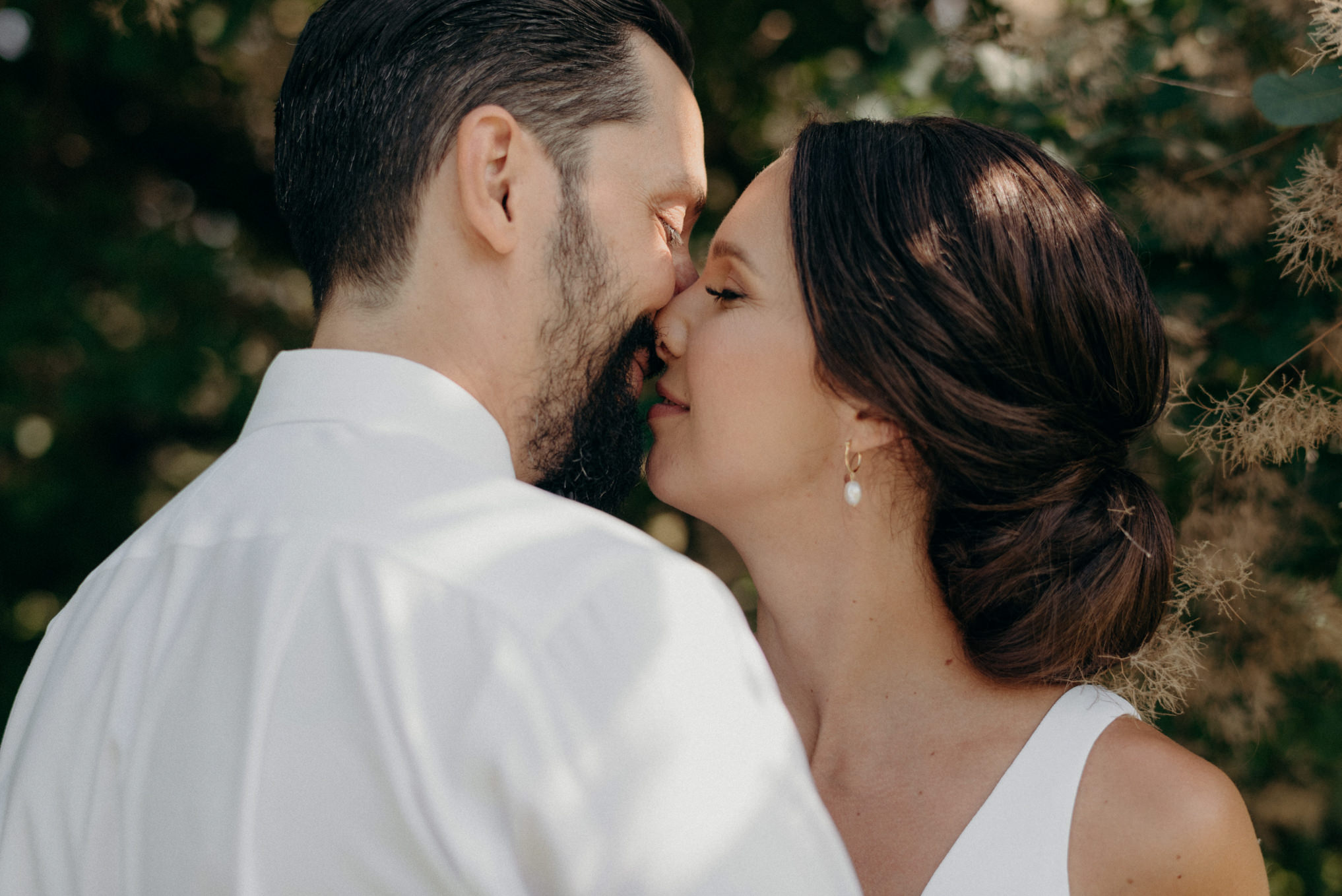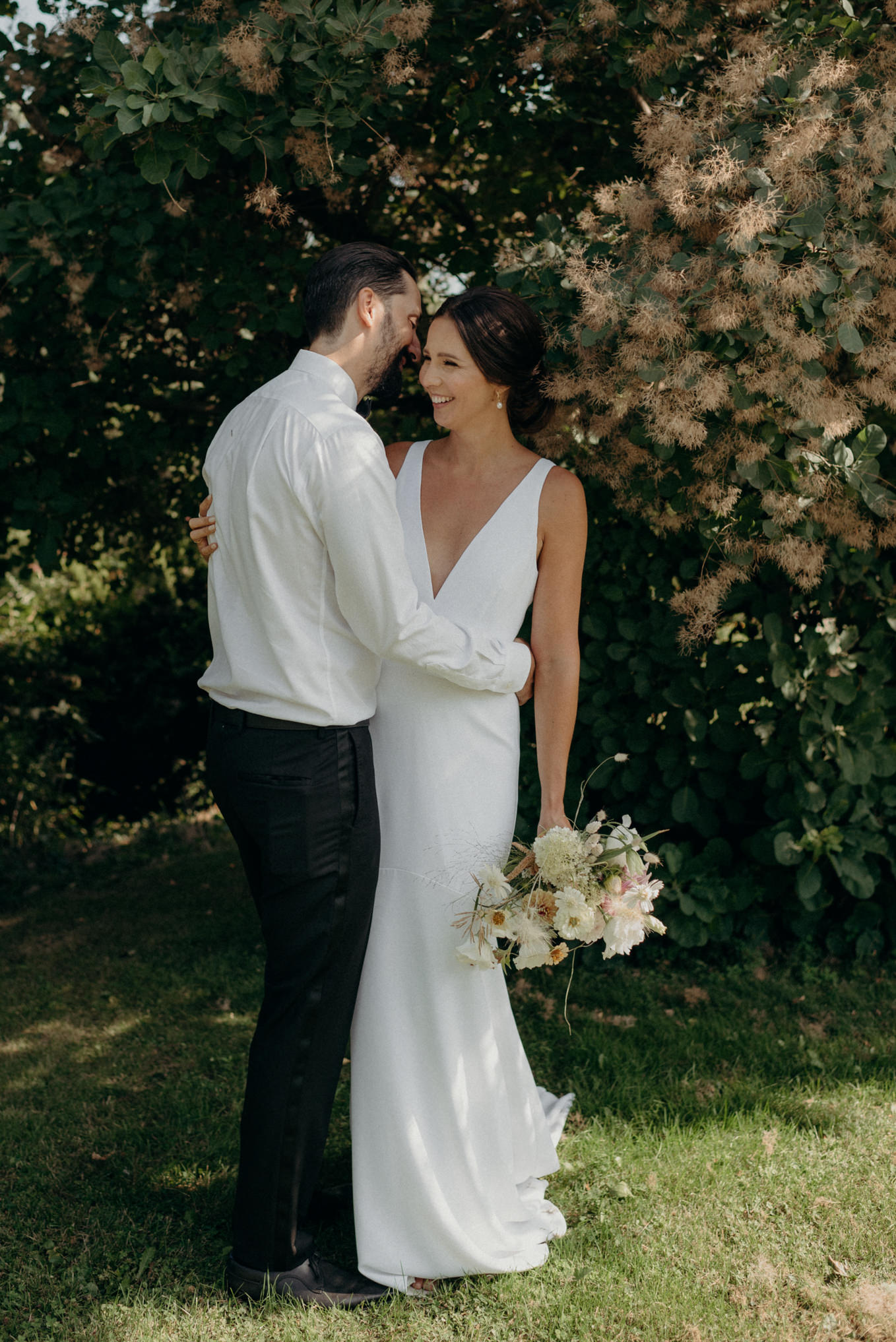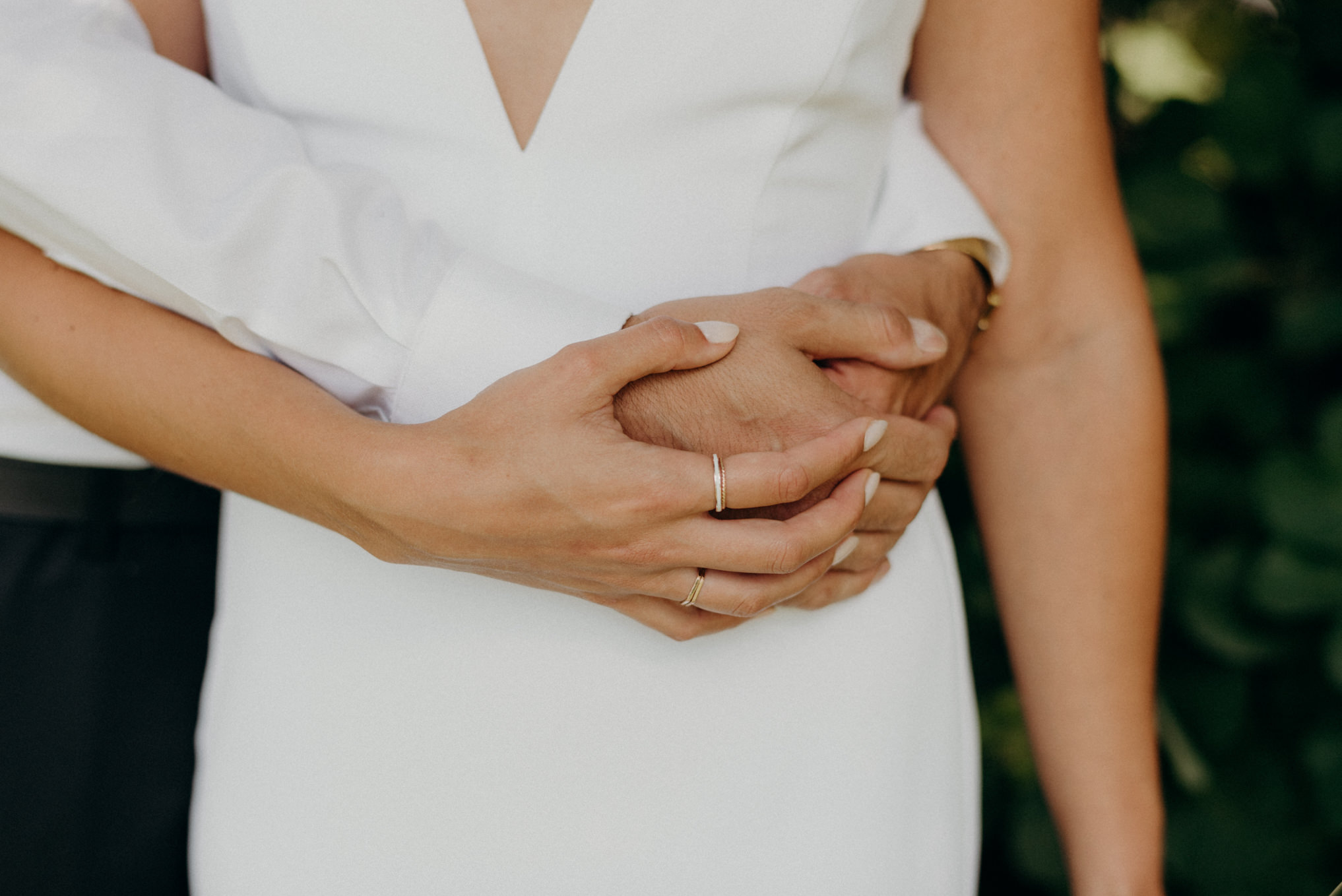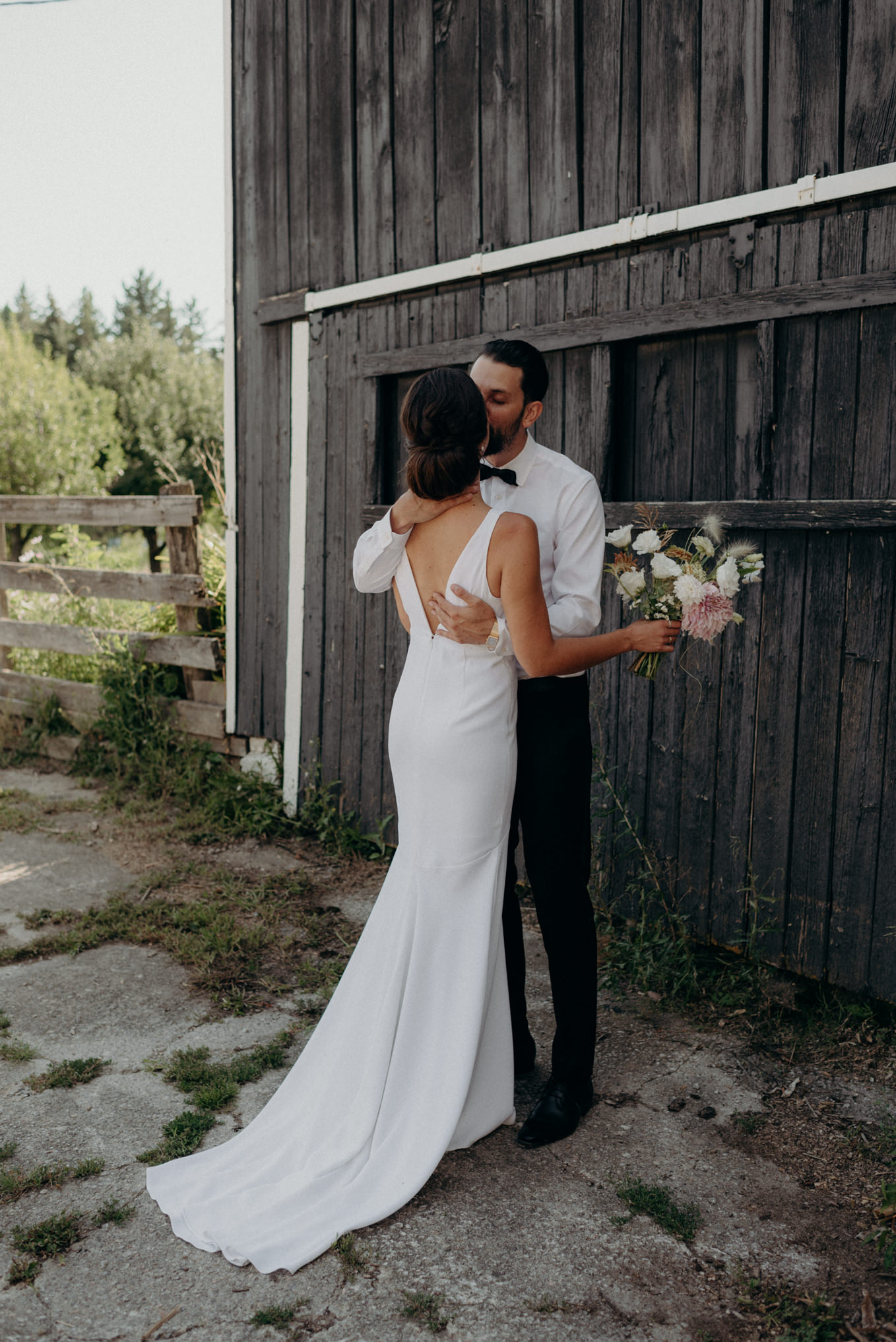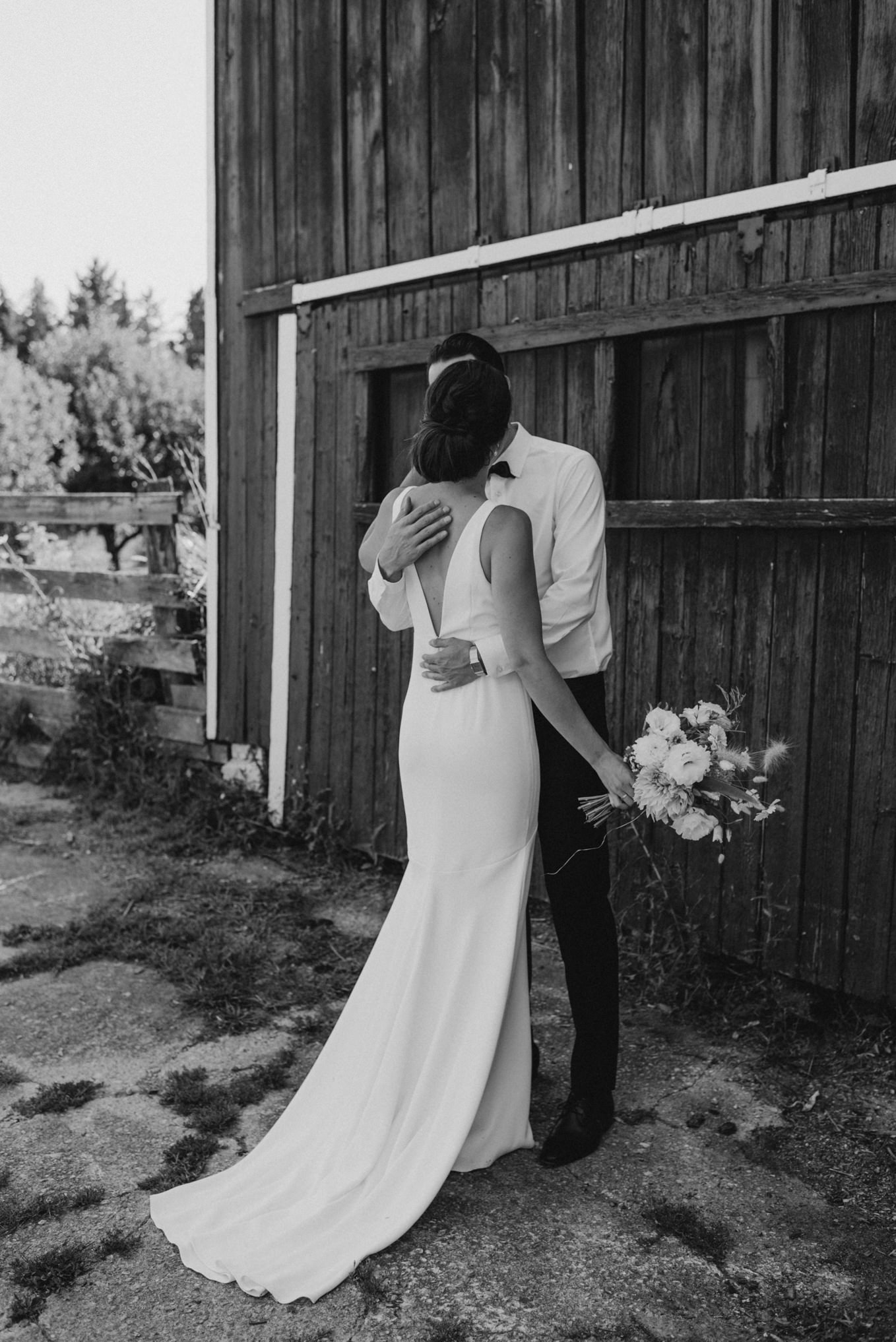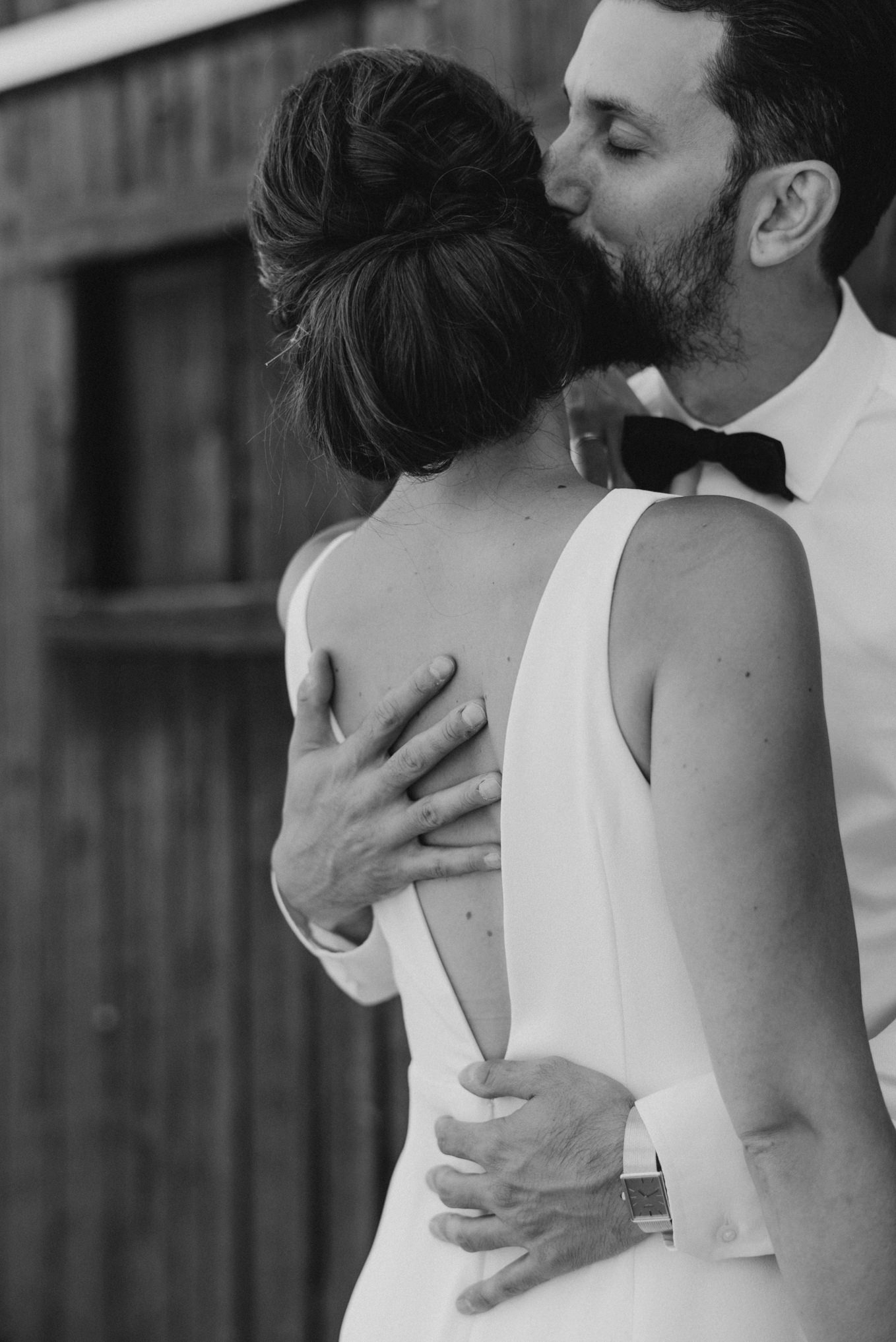 The Ceremony
The ceremony itself was the most memorable part of the day. We had to cancel our original wedding date due to the pandemic and downsize to something smaller months later. At that point we just wanted to say our vows and call each other husband and wife. There was so much build up and anticipation – when it finally happened it was very intense, in a good way.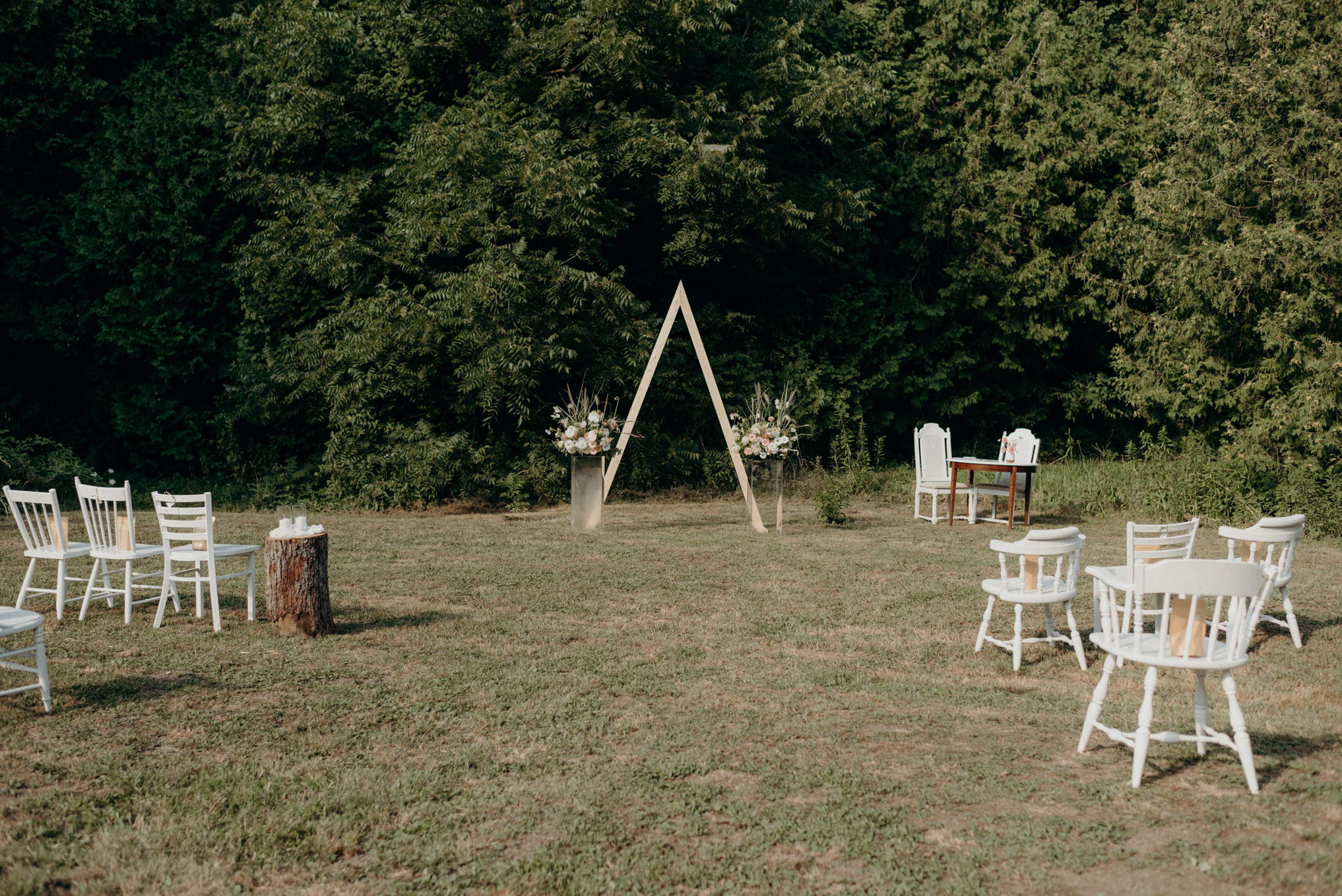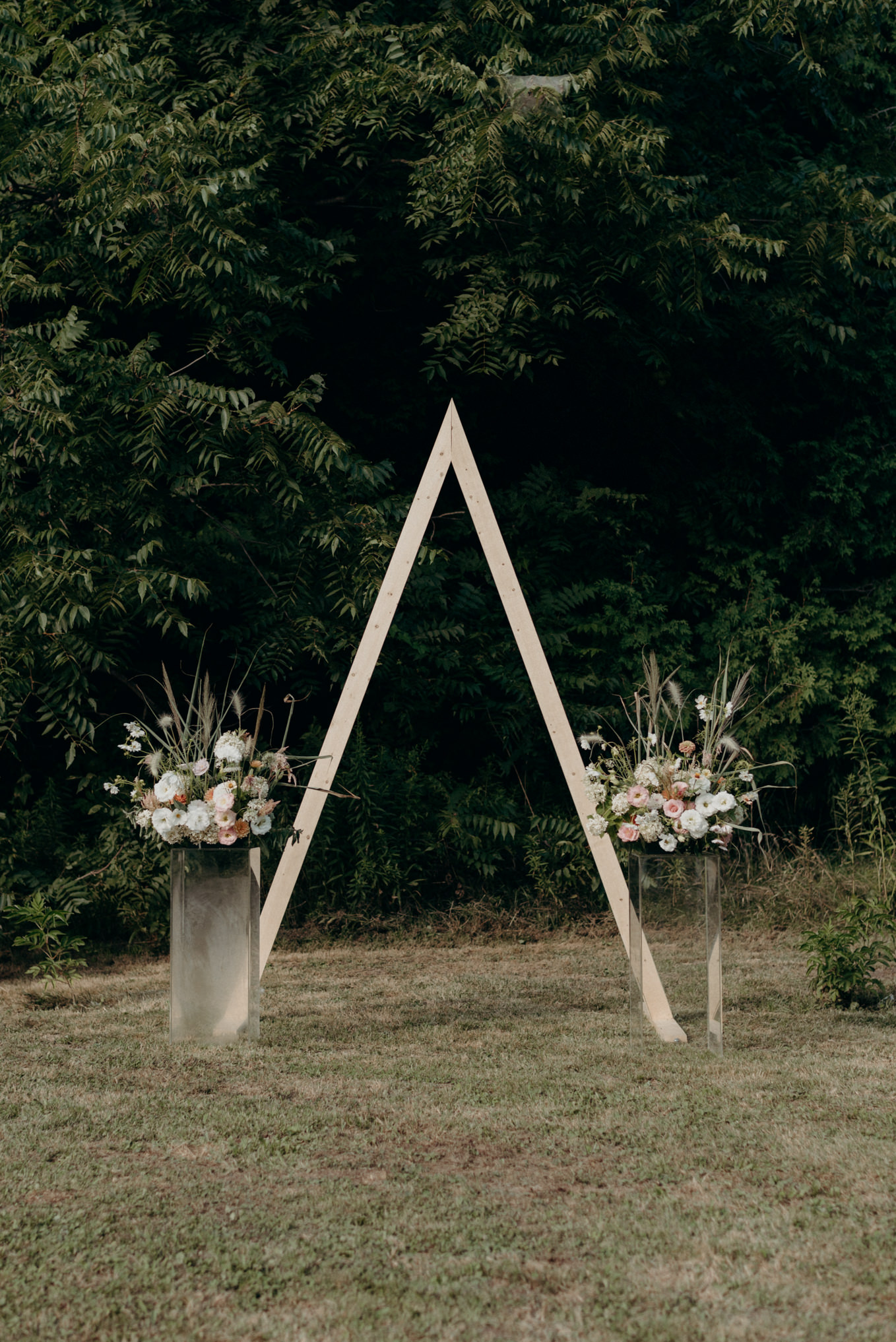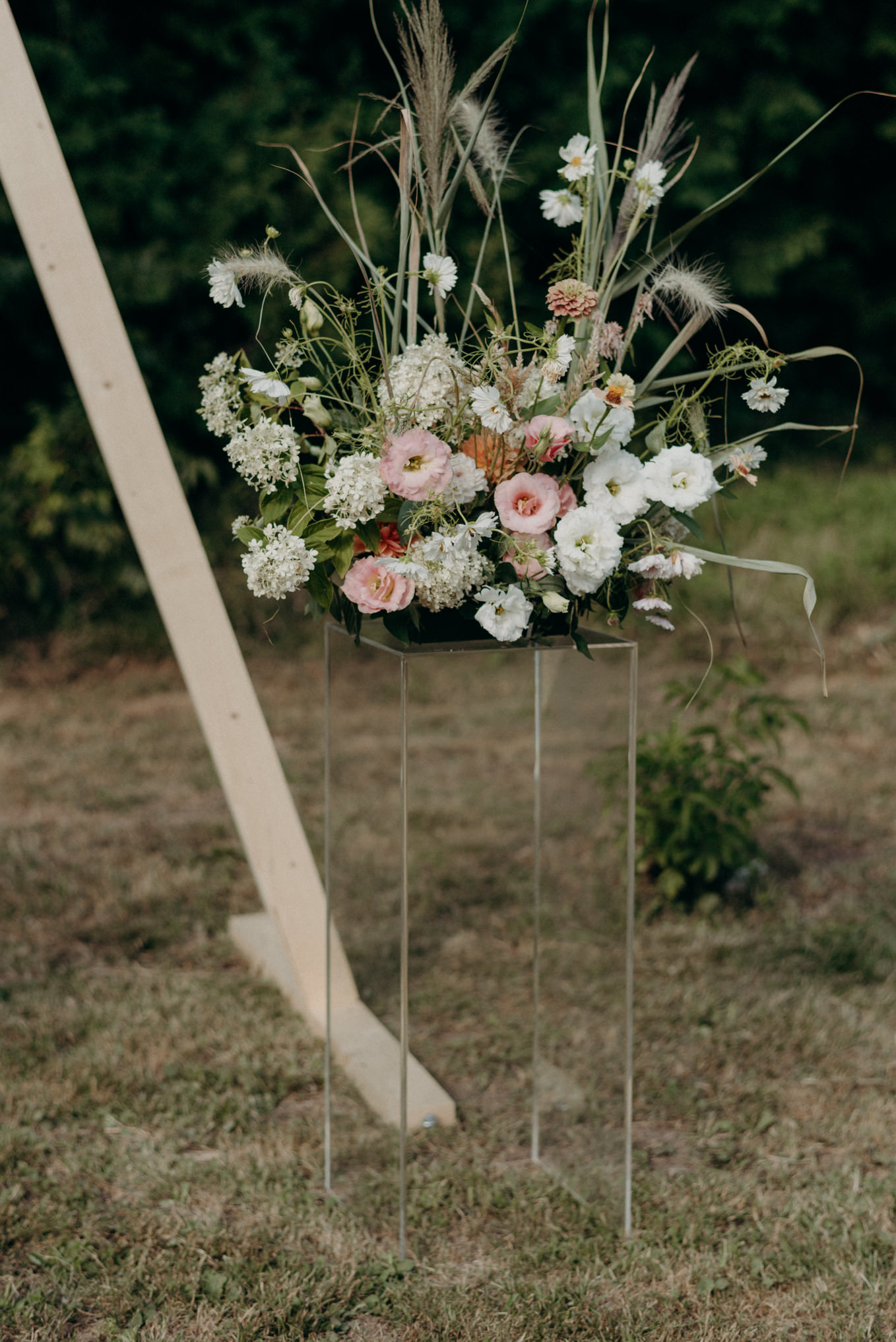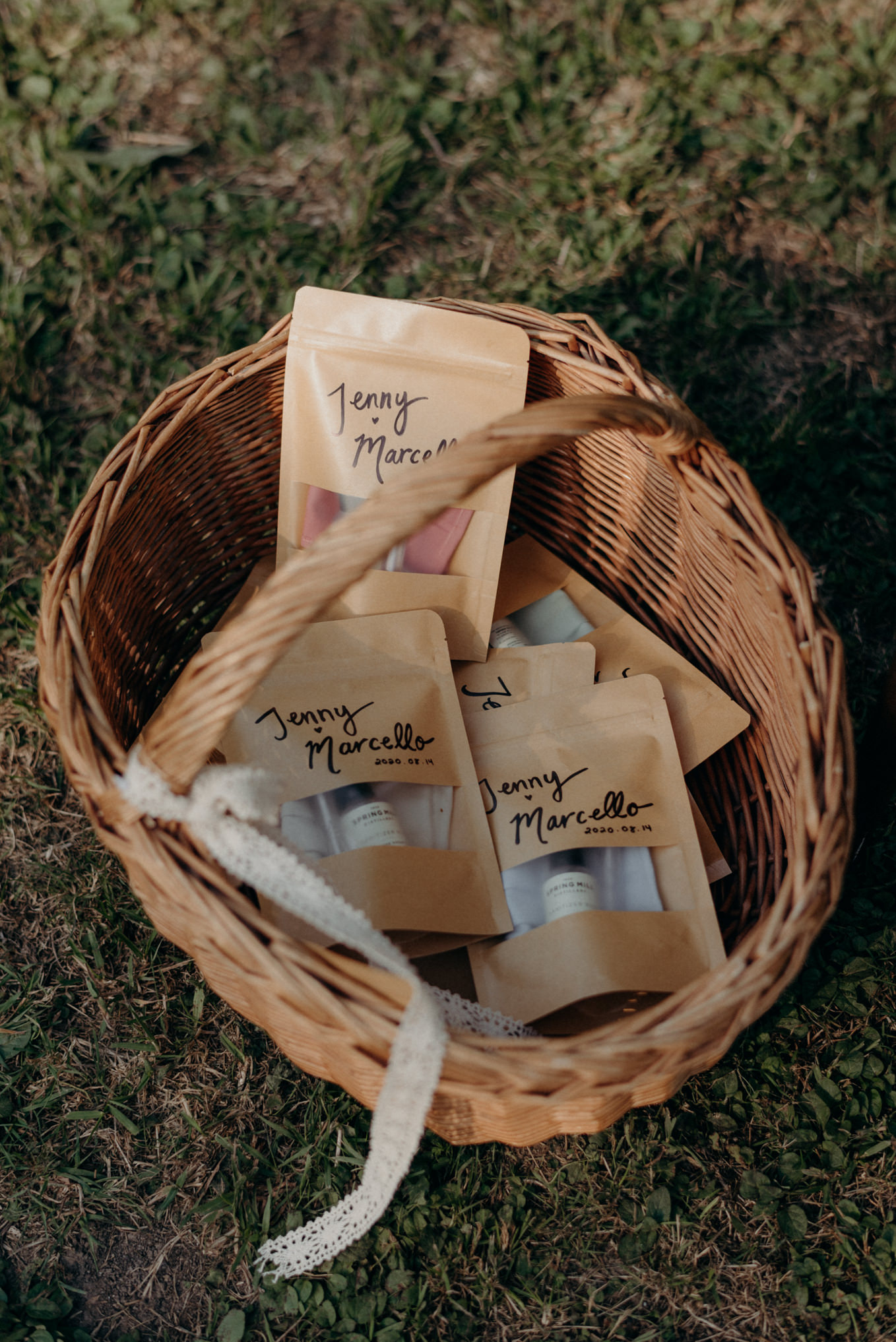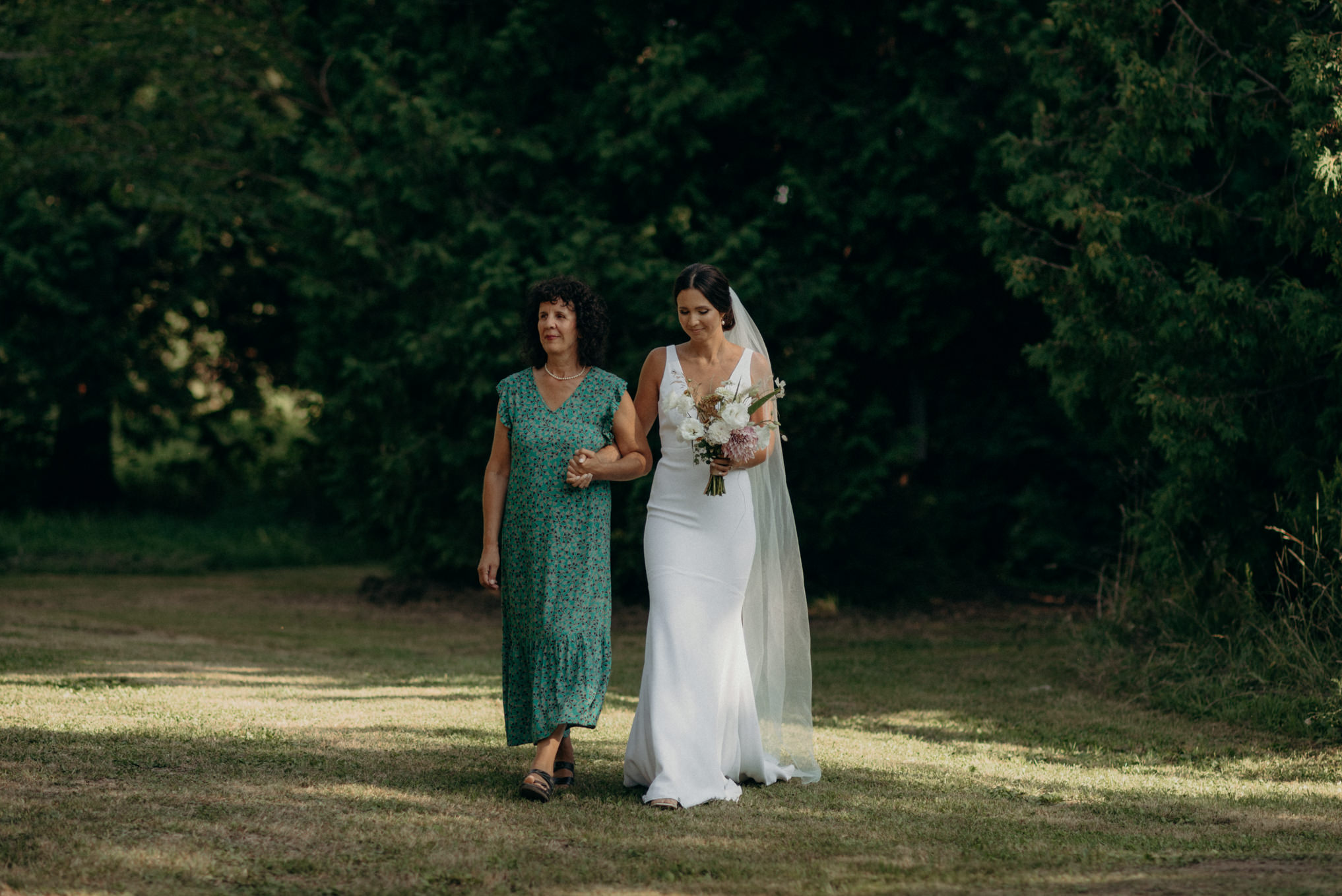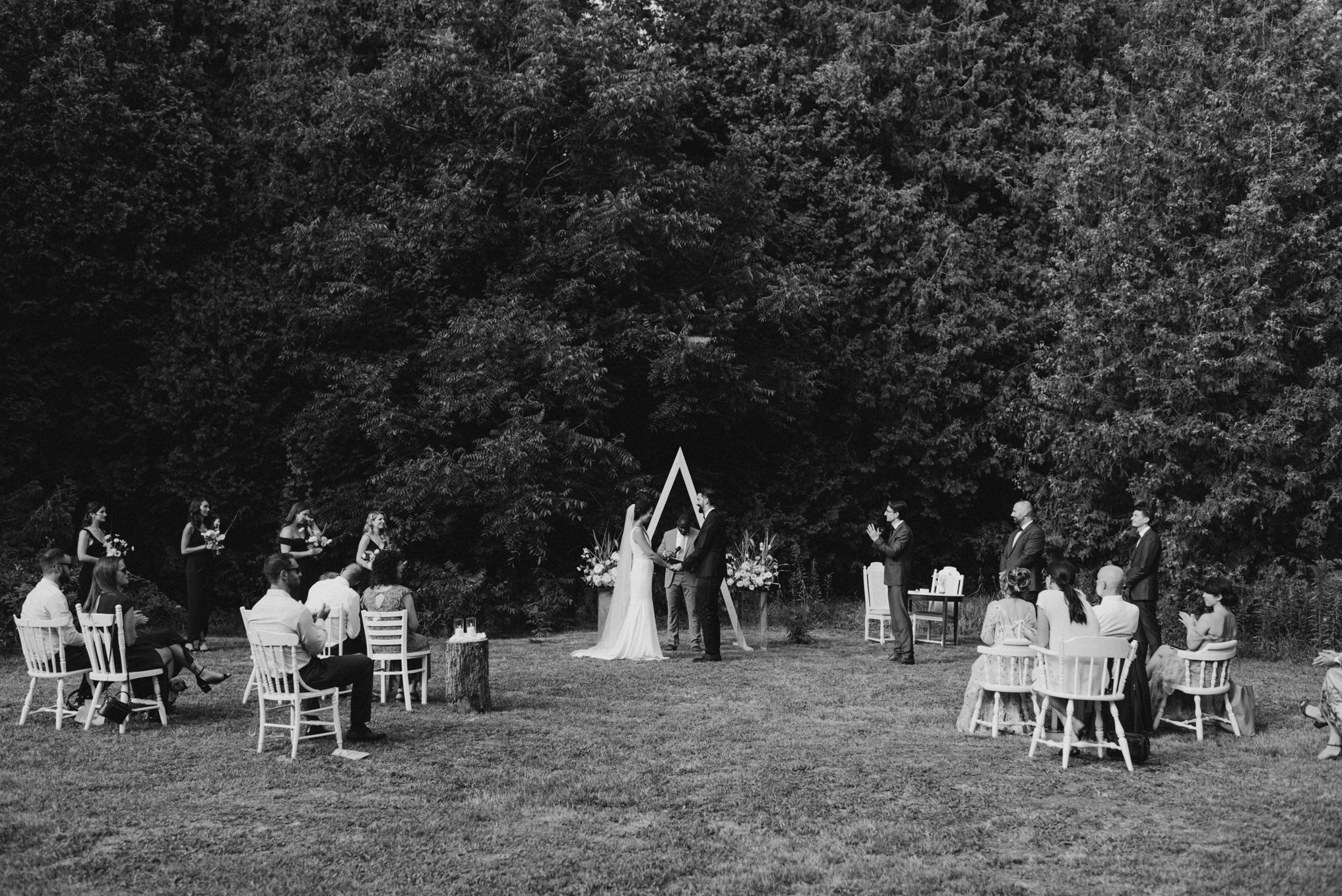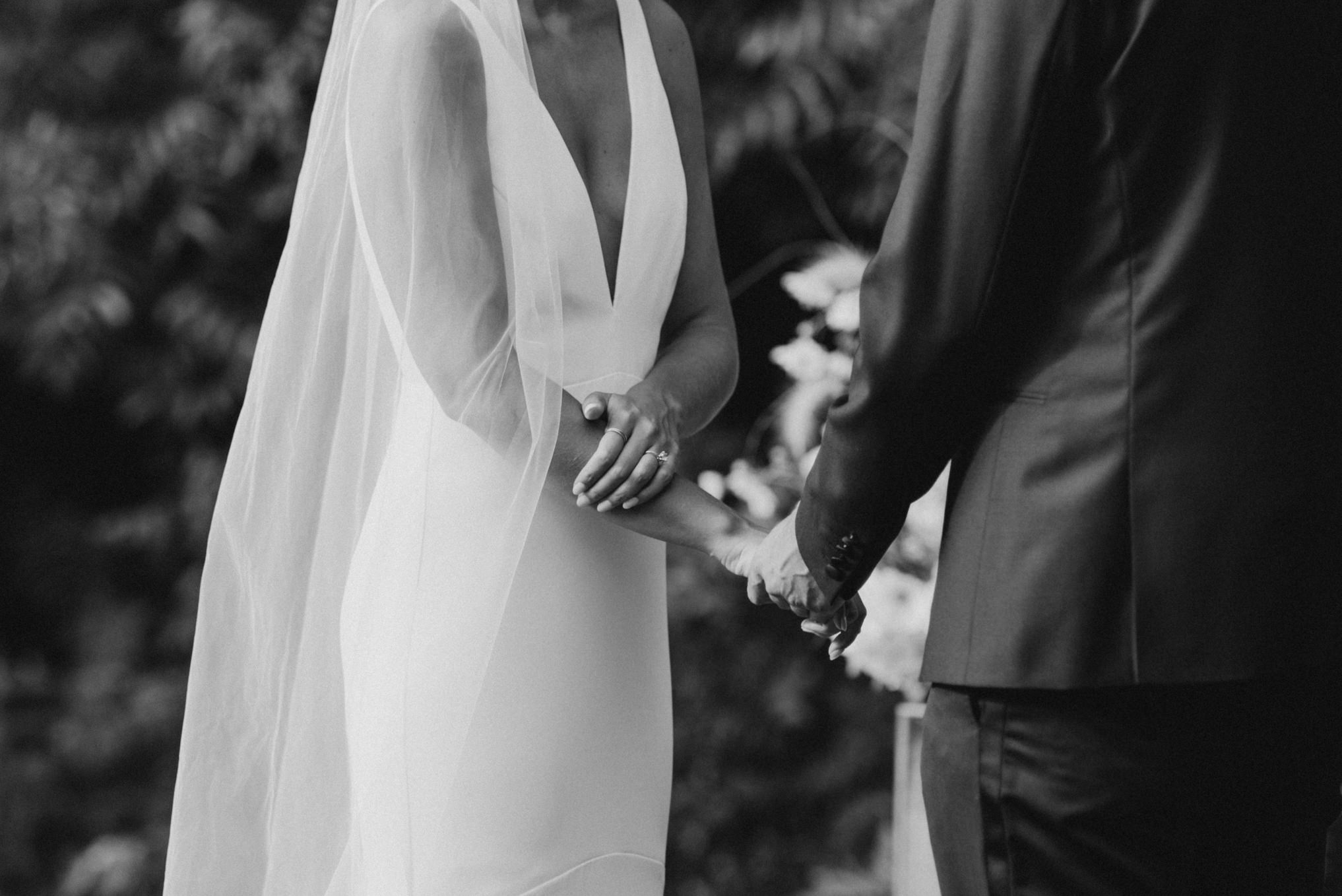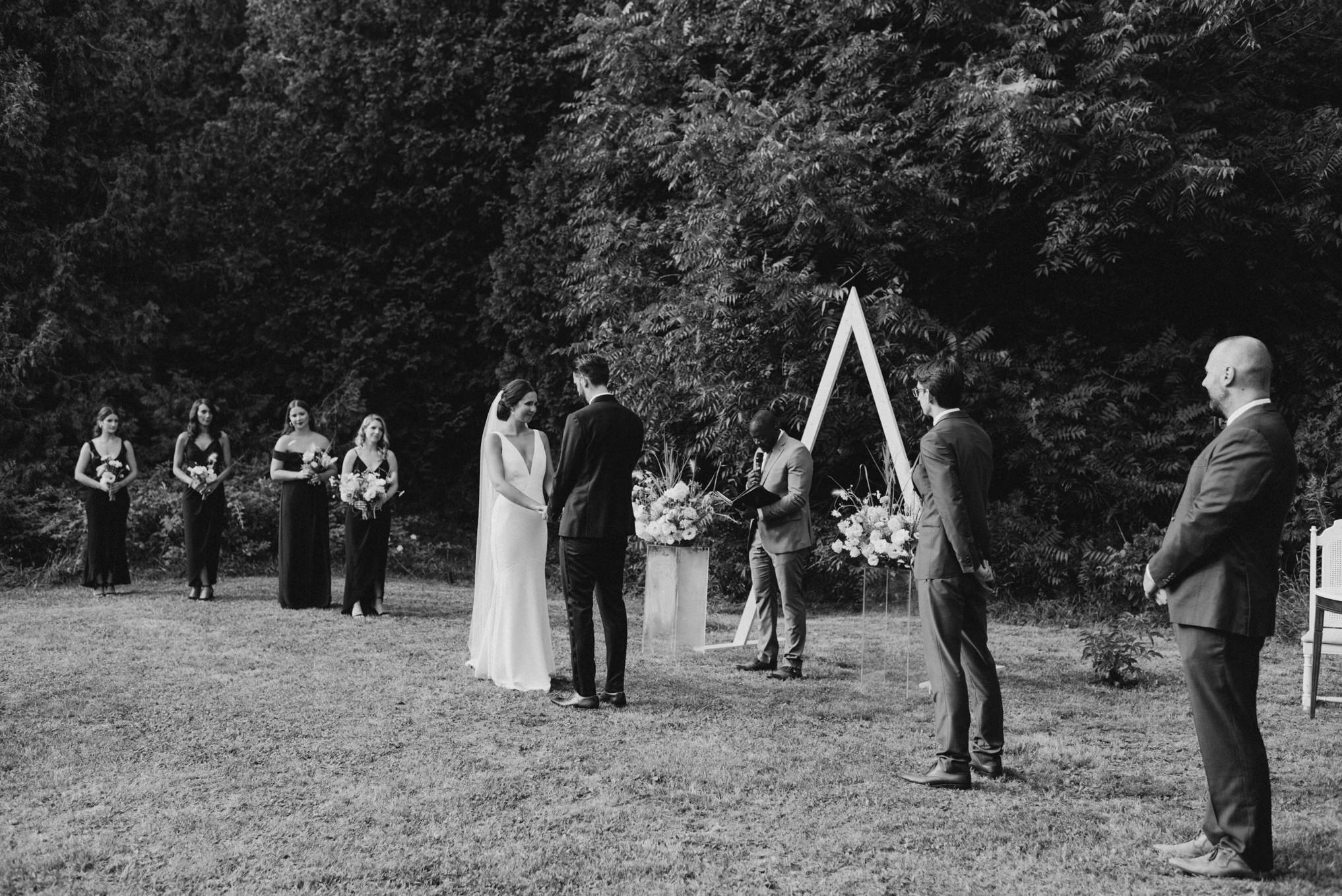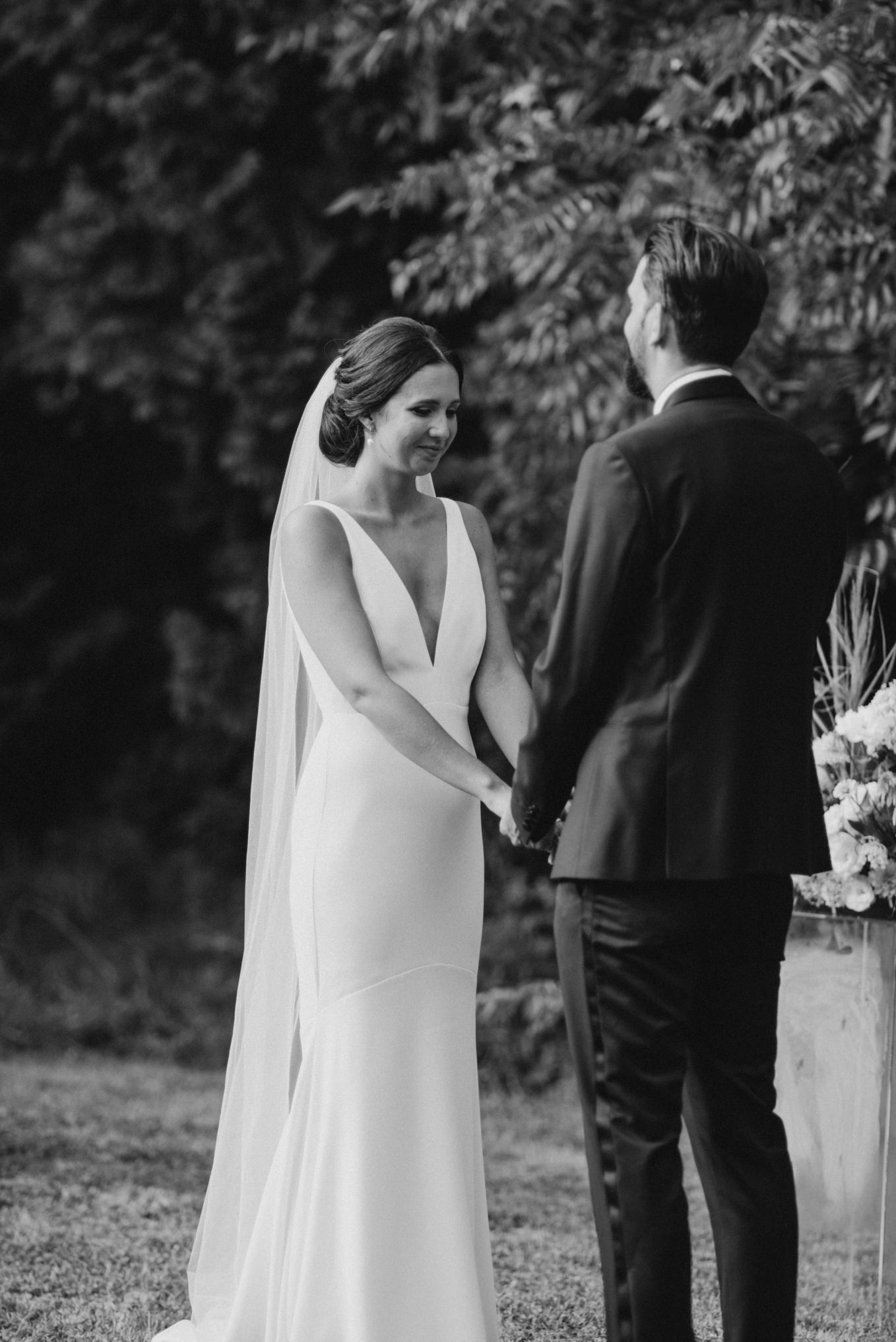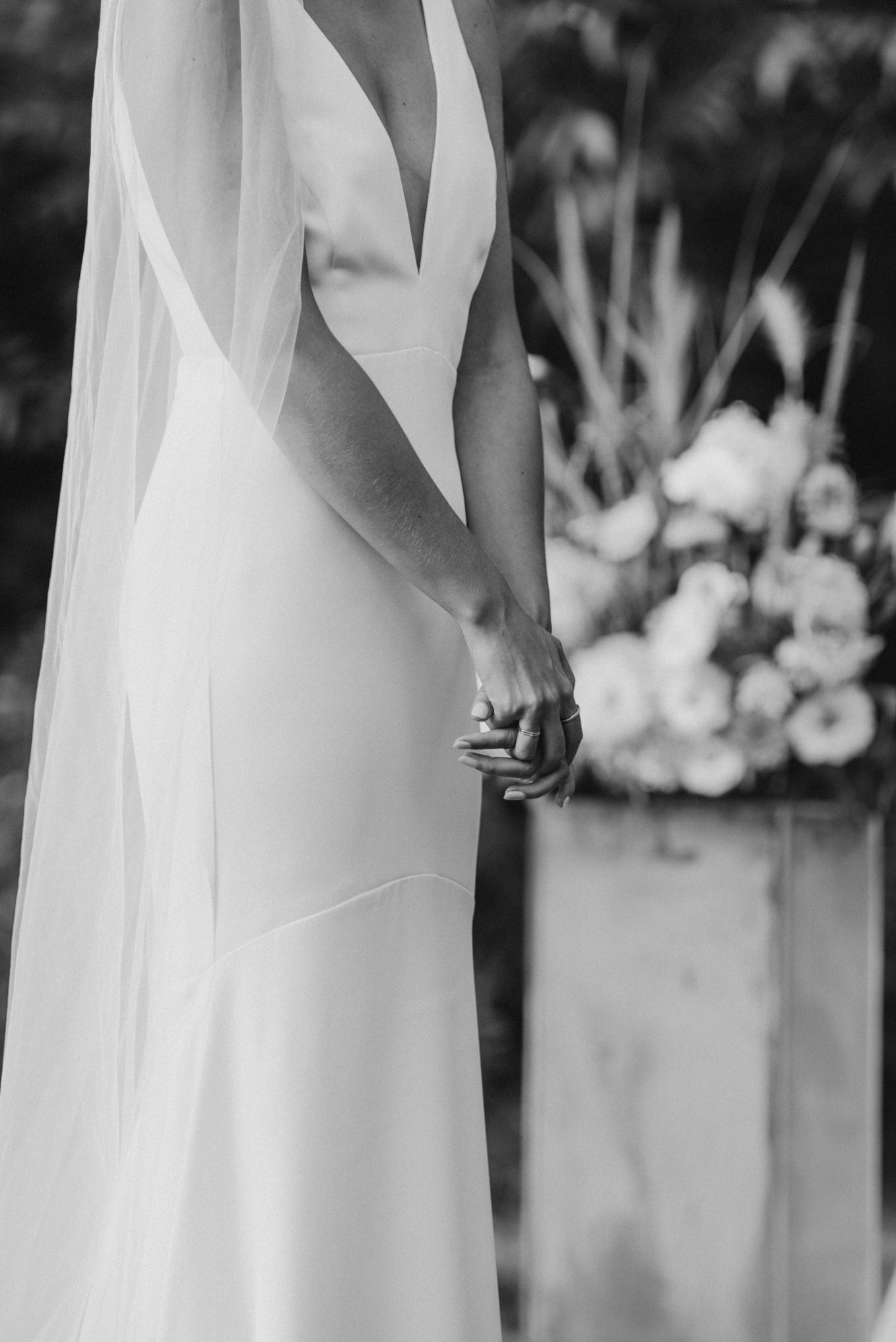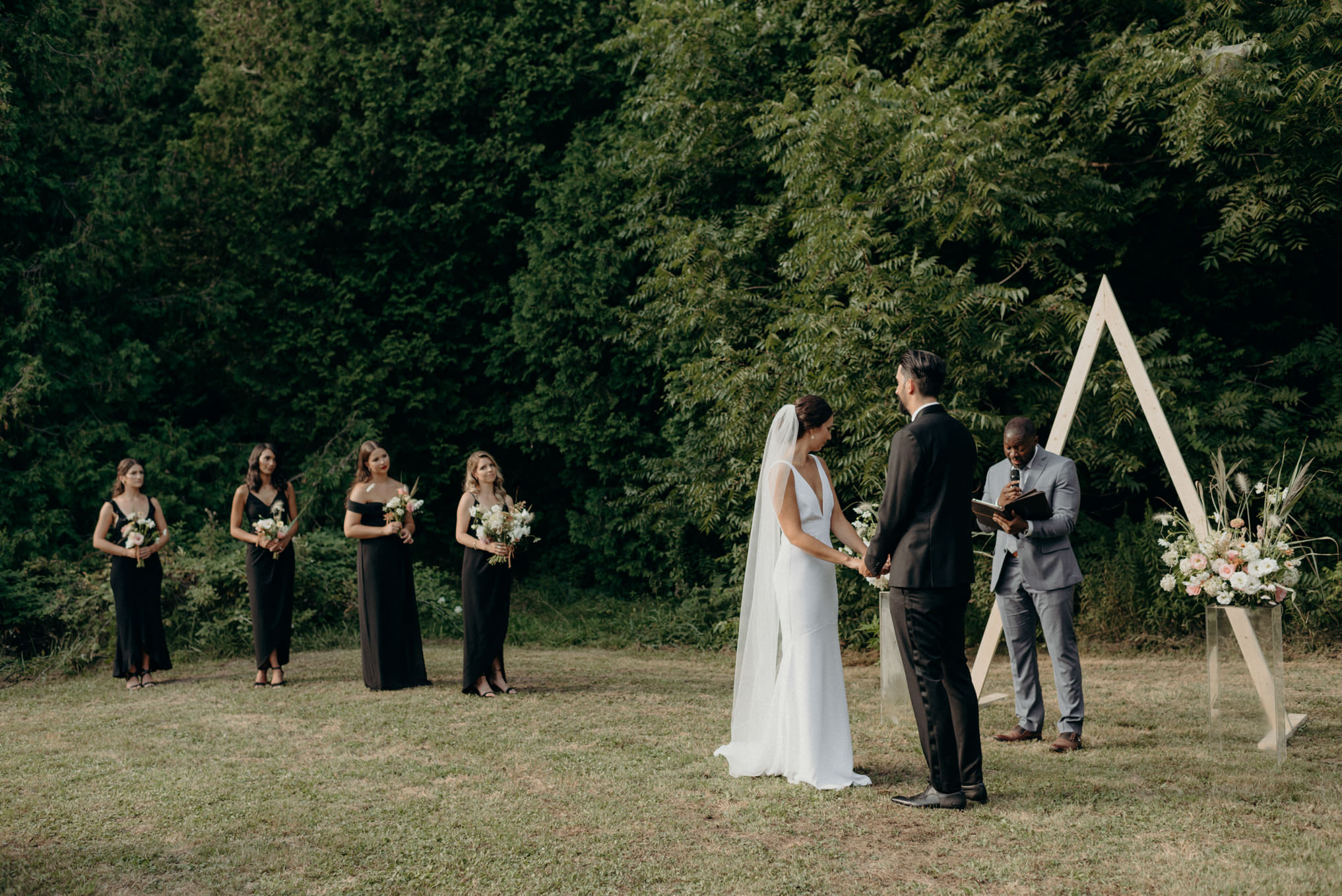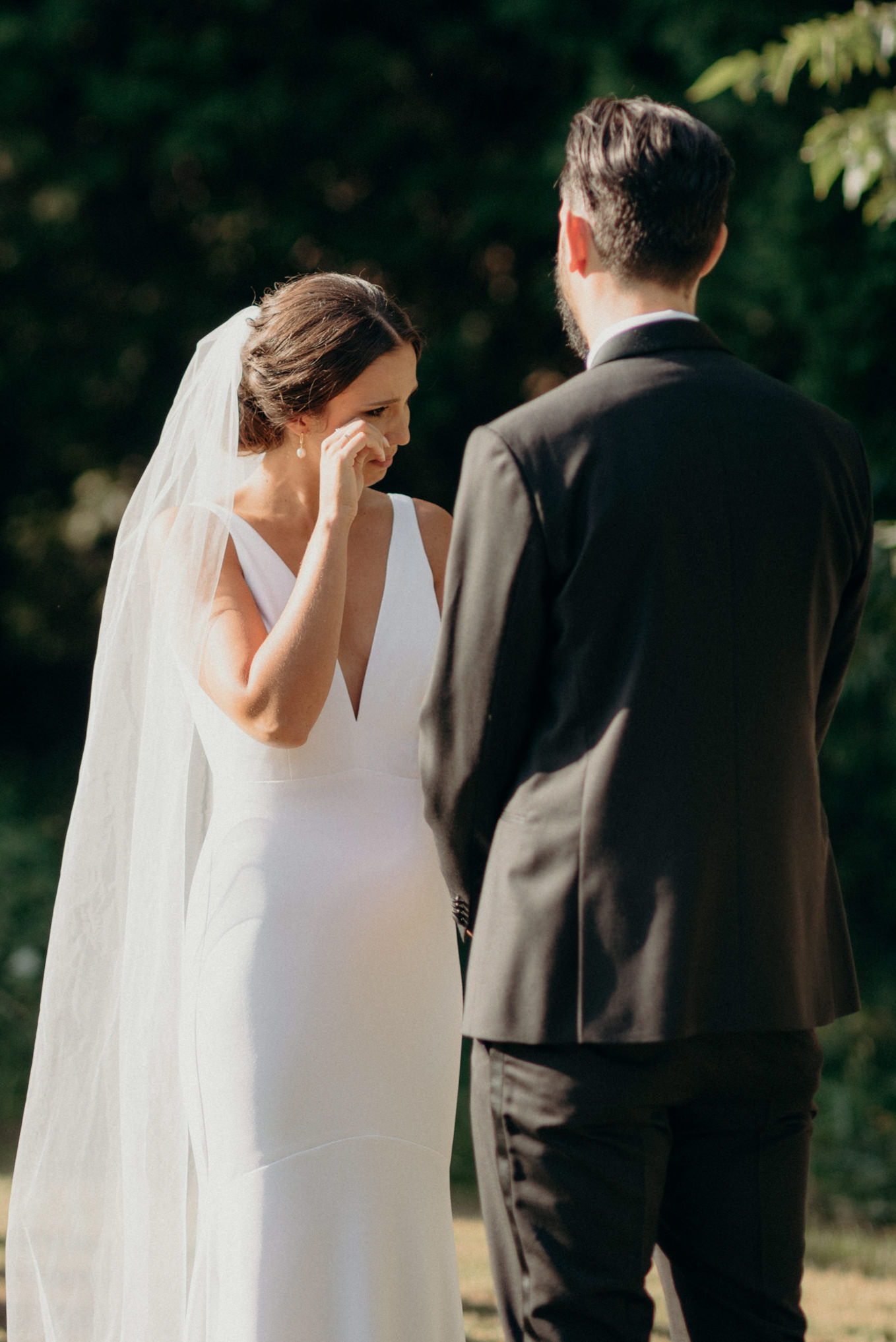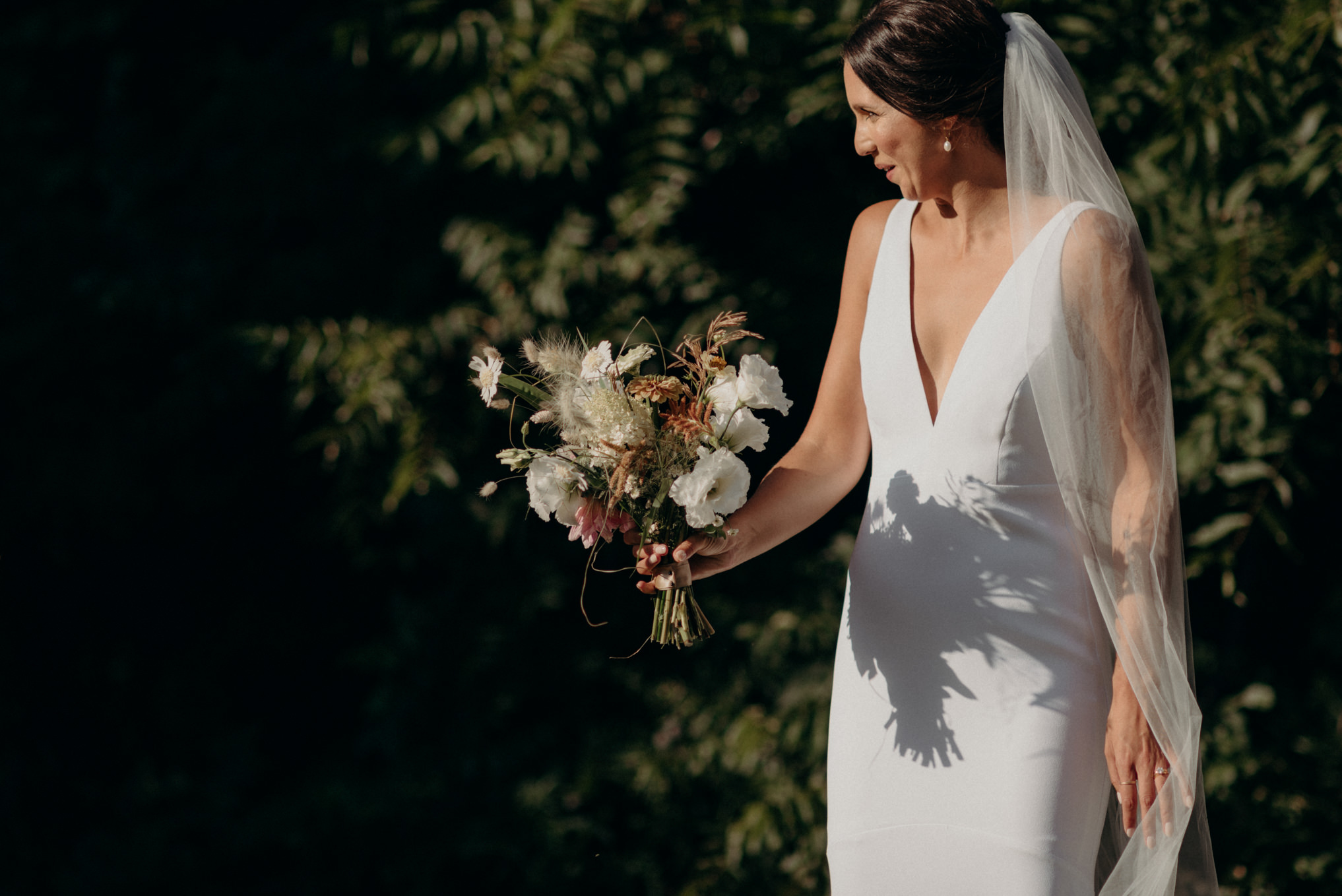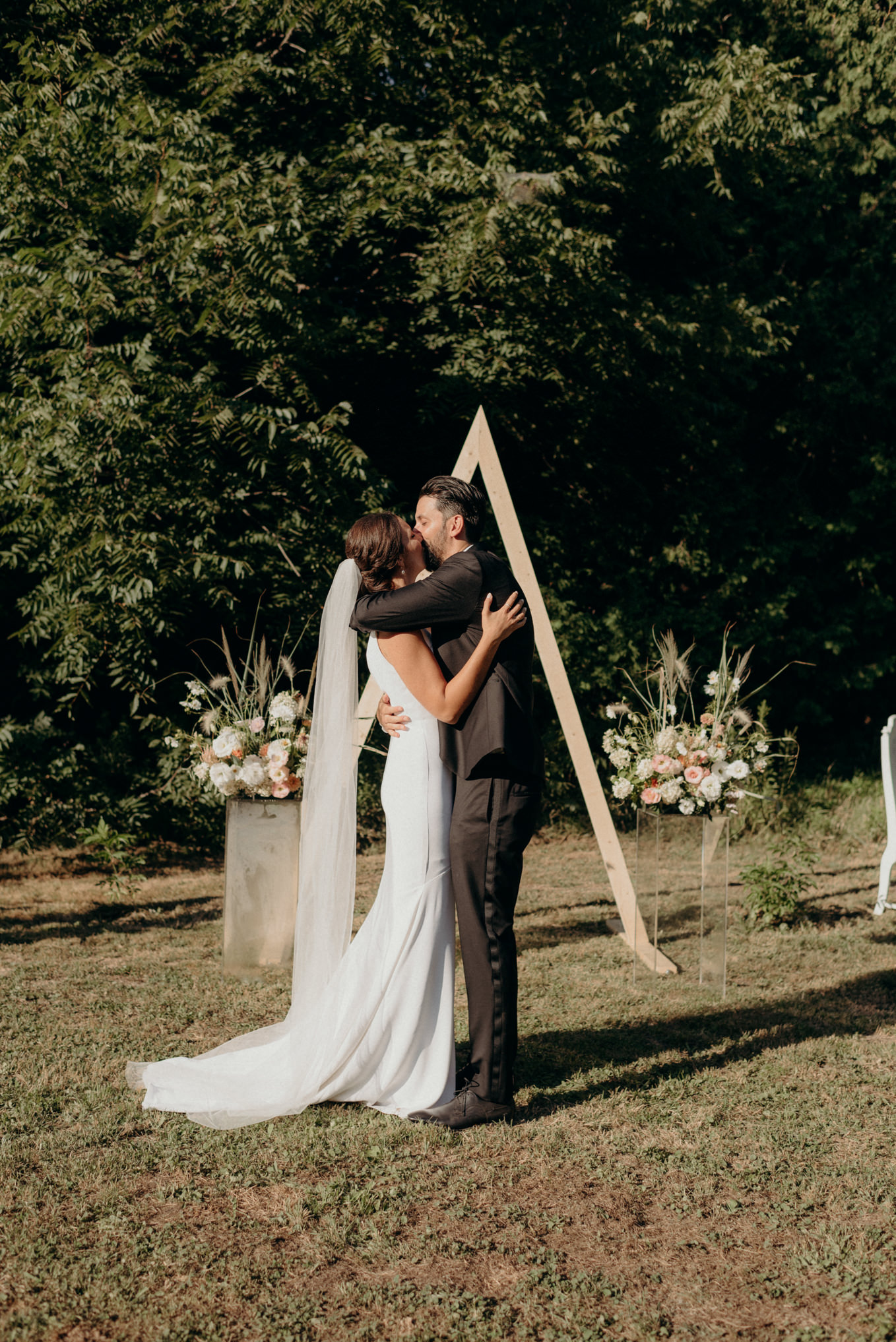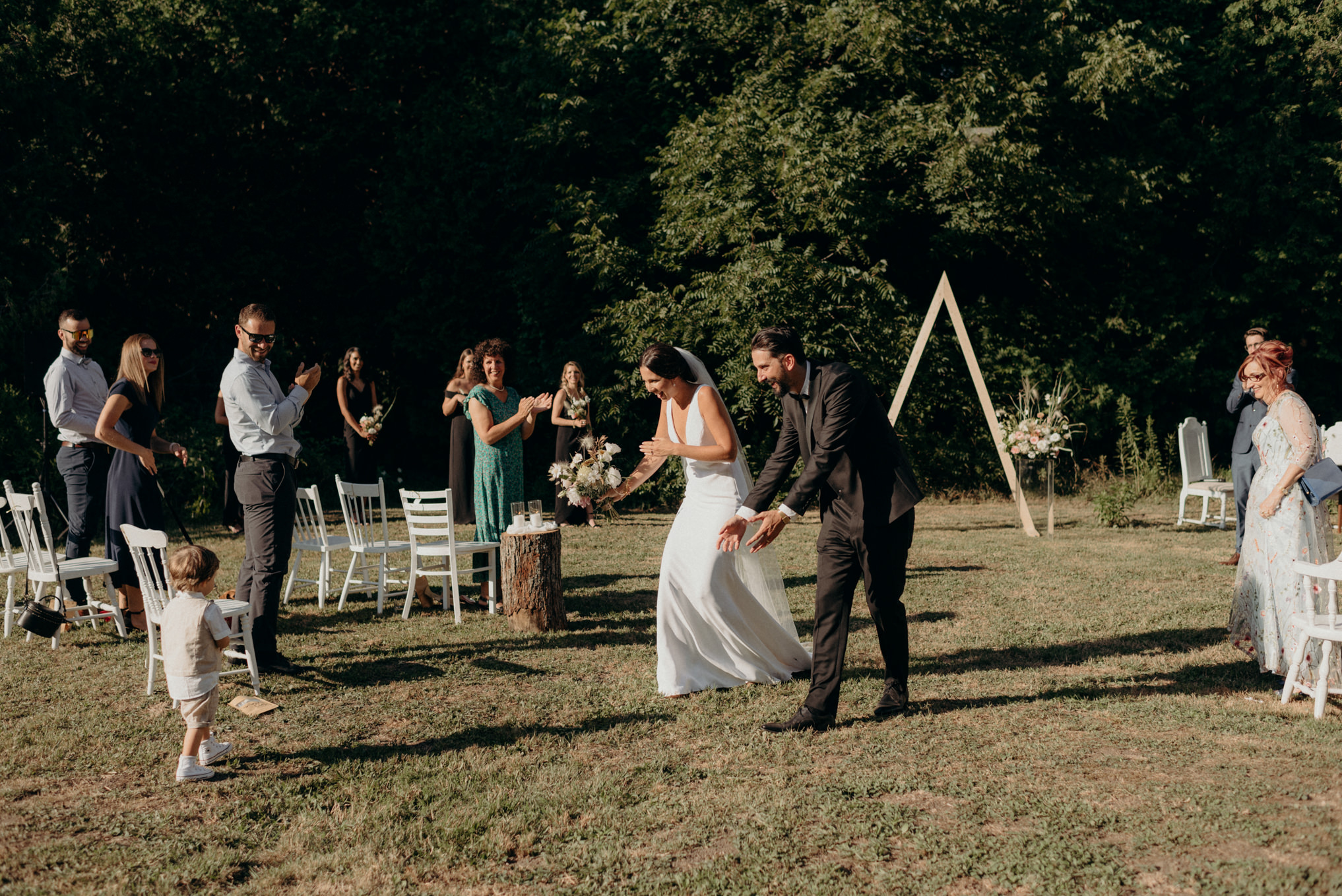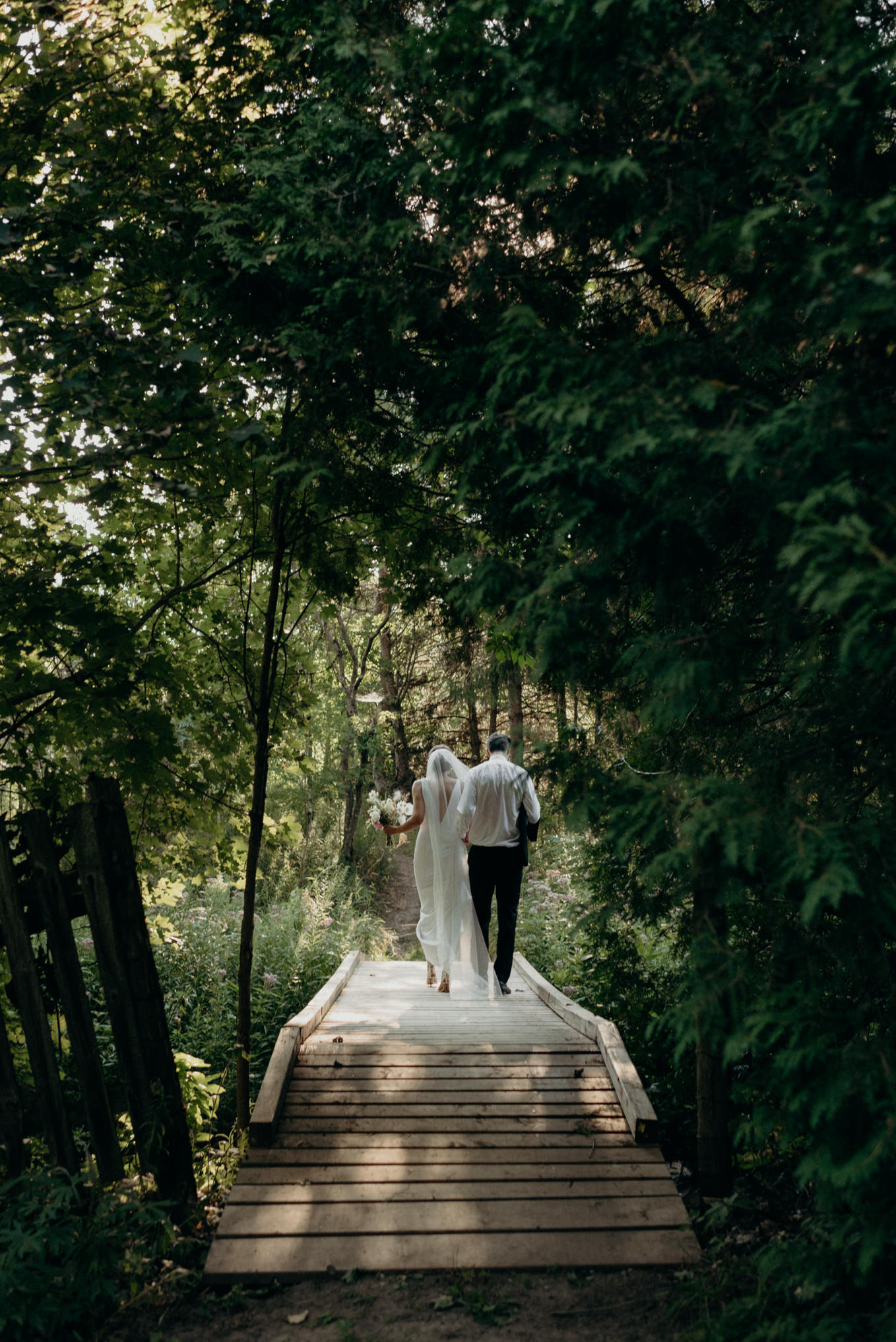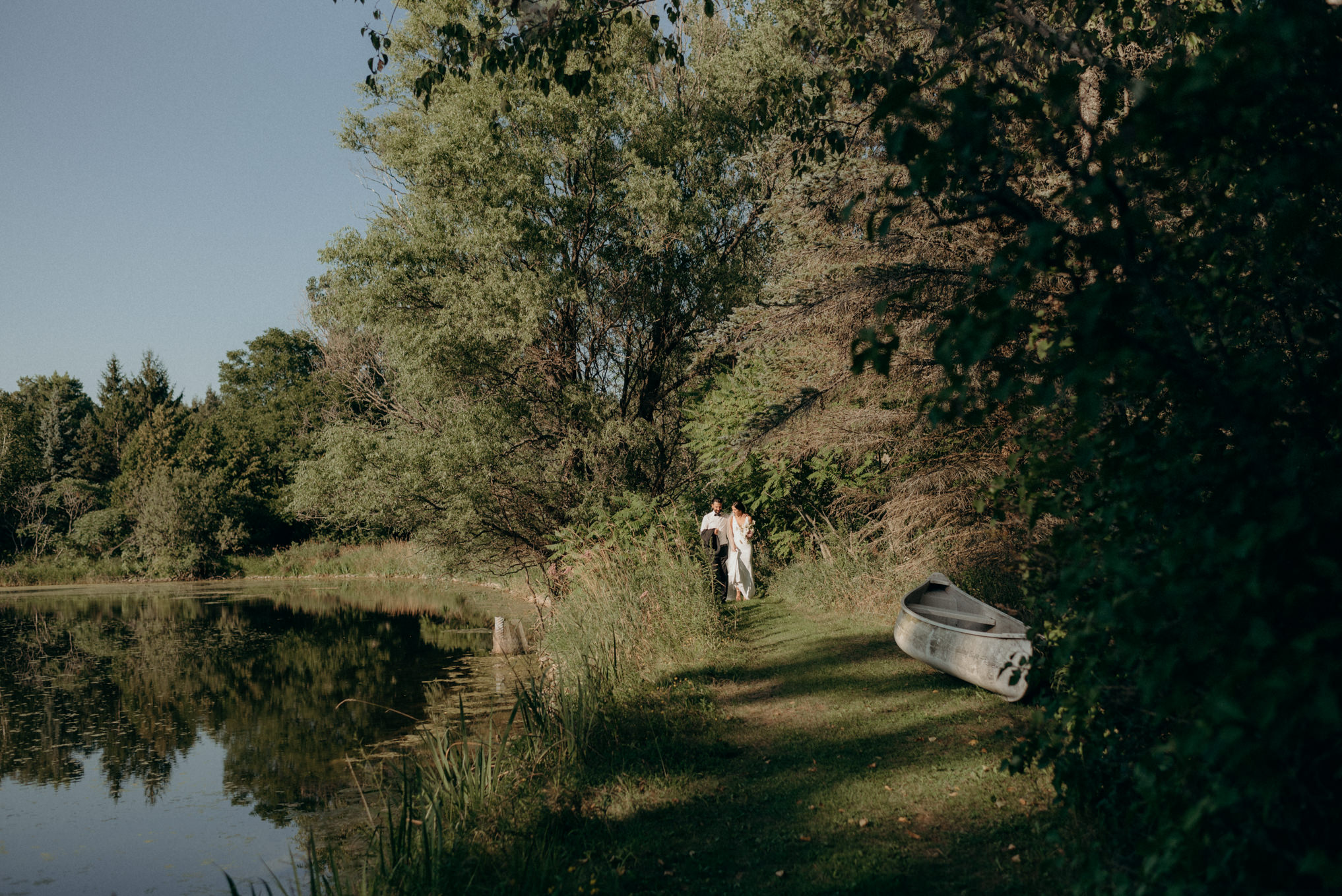 Wedding Planning Advice
Consider an intimate wedding. It wasn't our original plan, but was such a nice way to spend quality time with family and friends. While there were many special people not there on our actual wedding day, we knew they were celebrating with us from afar. We've also been able to have lots of mini celebrations post-wedding.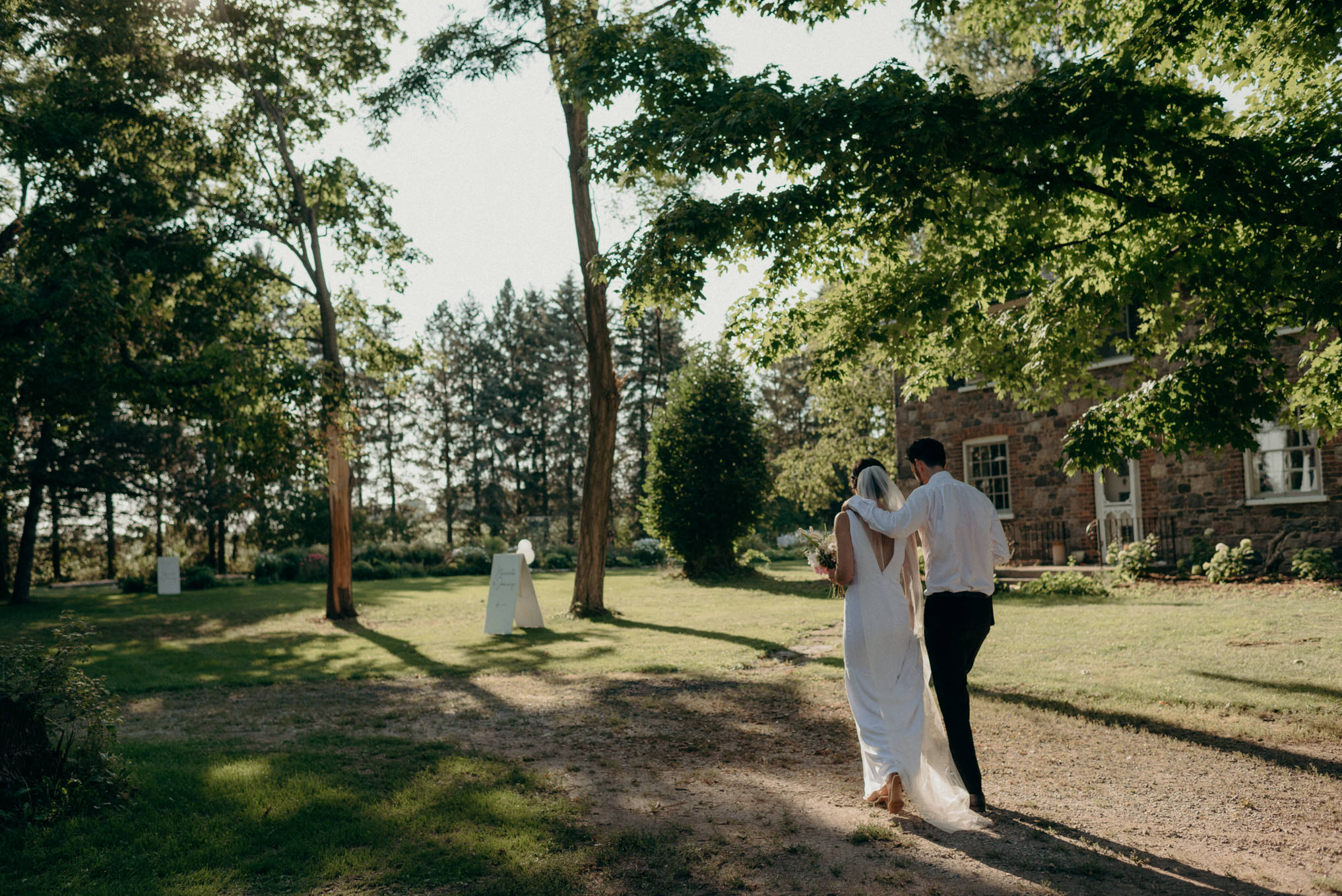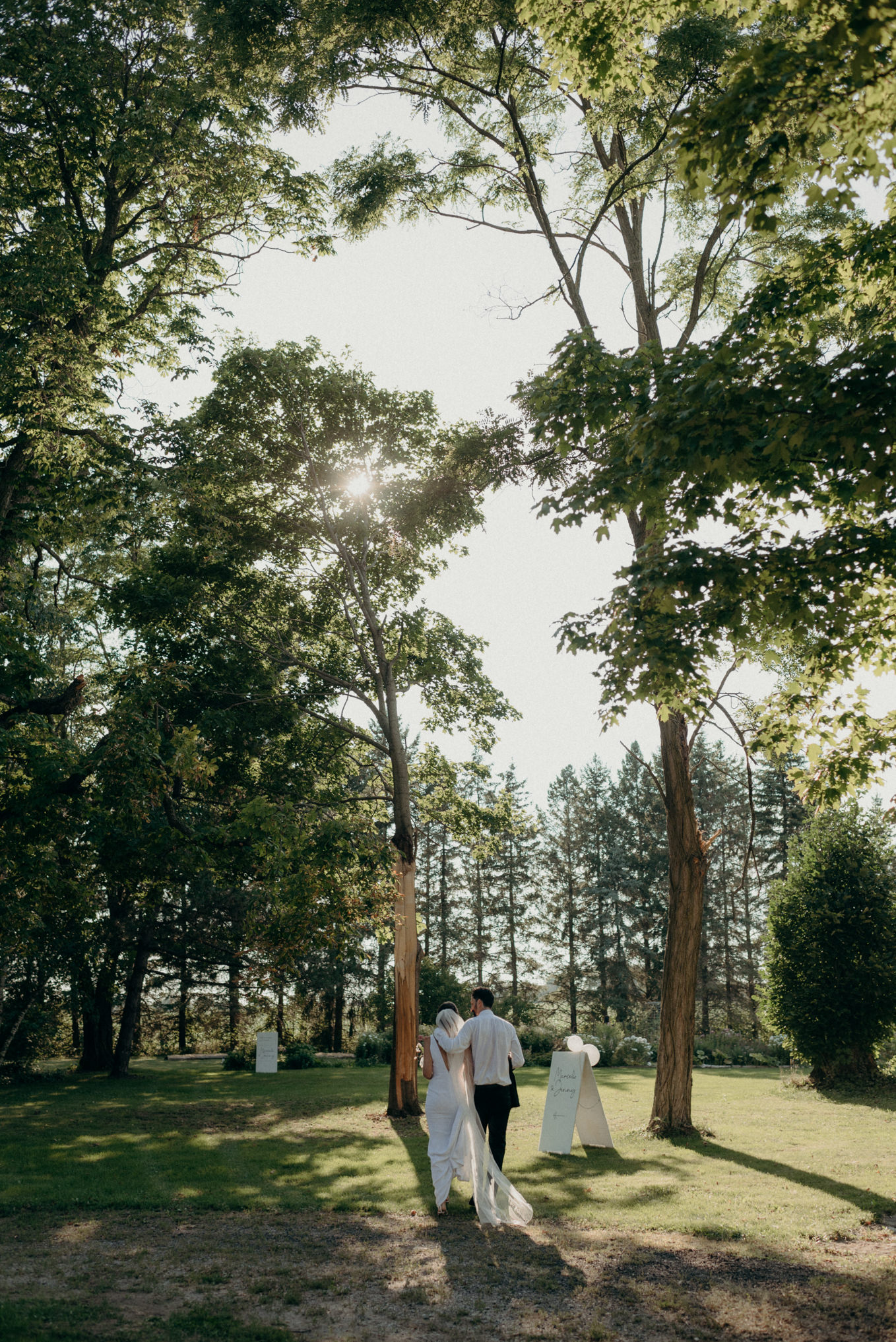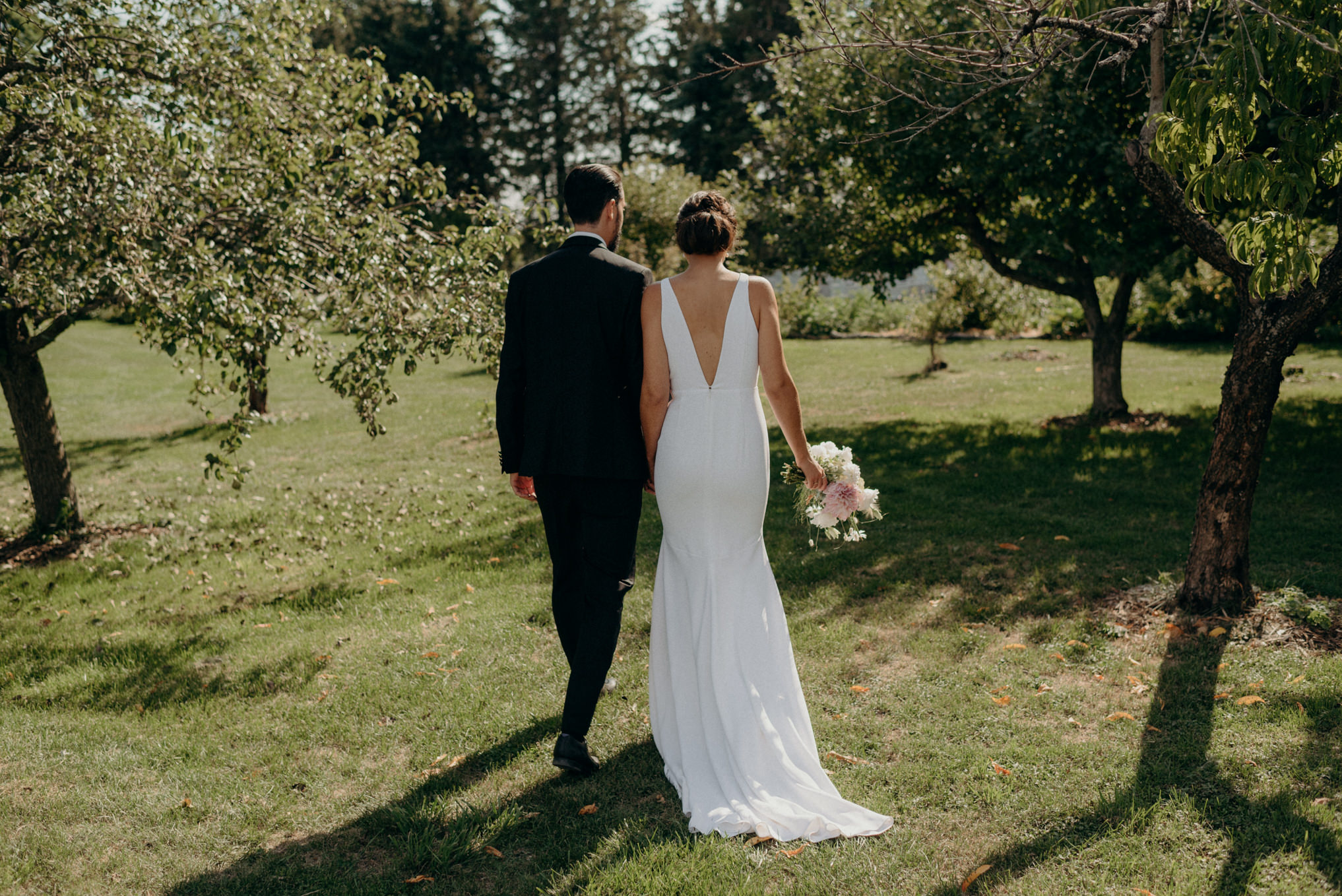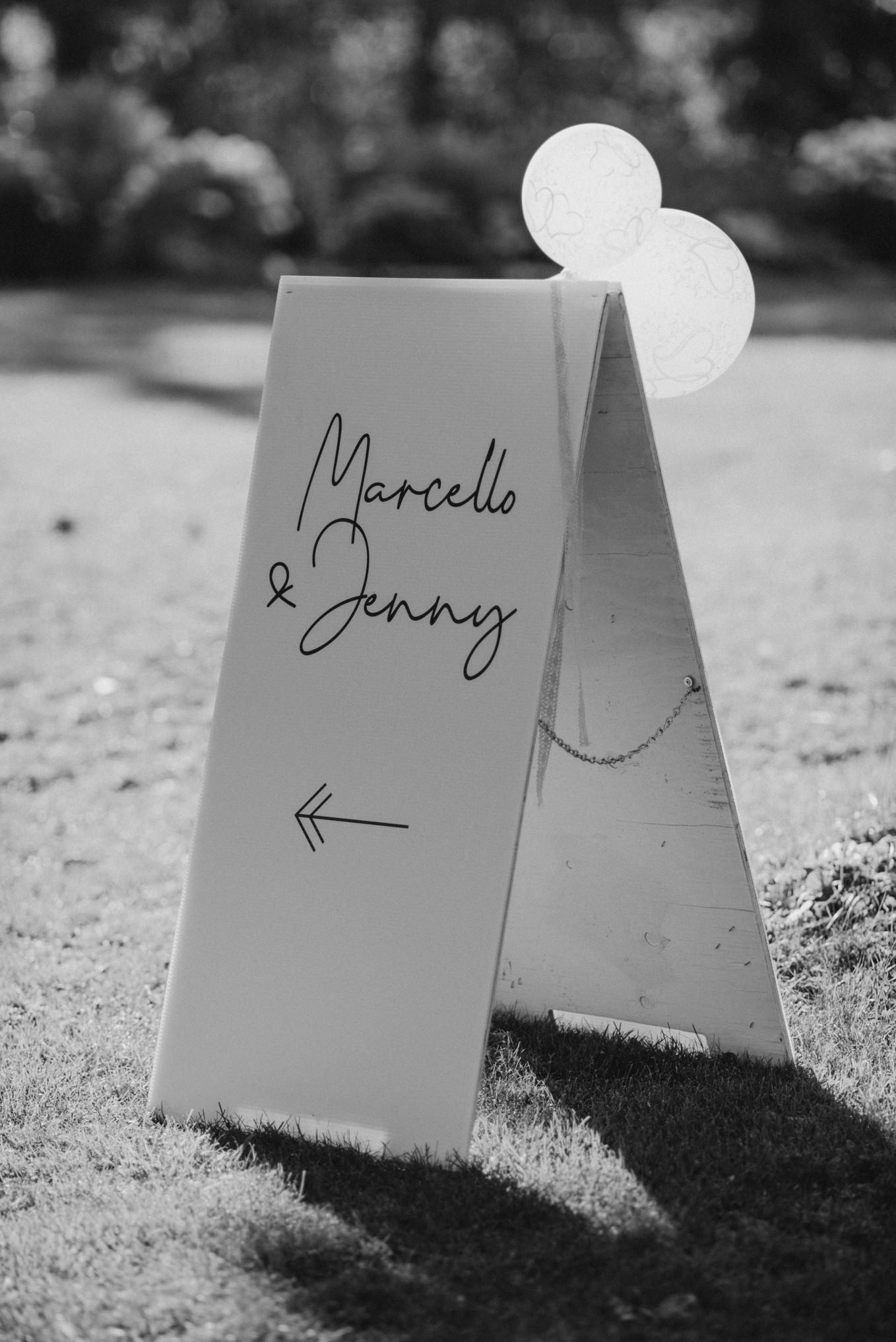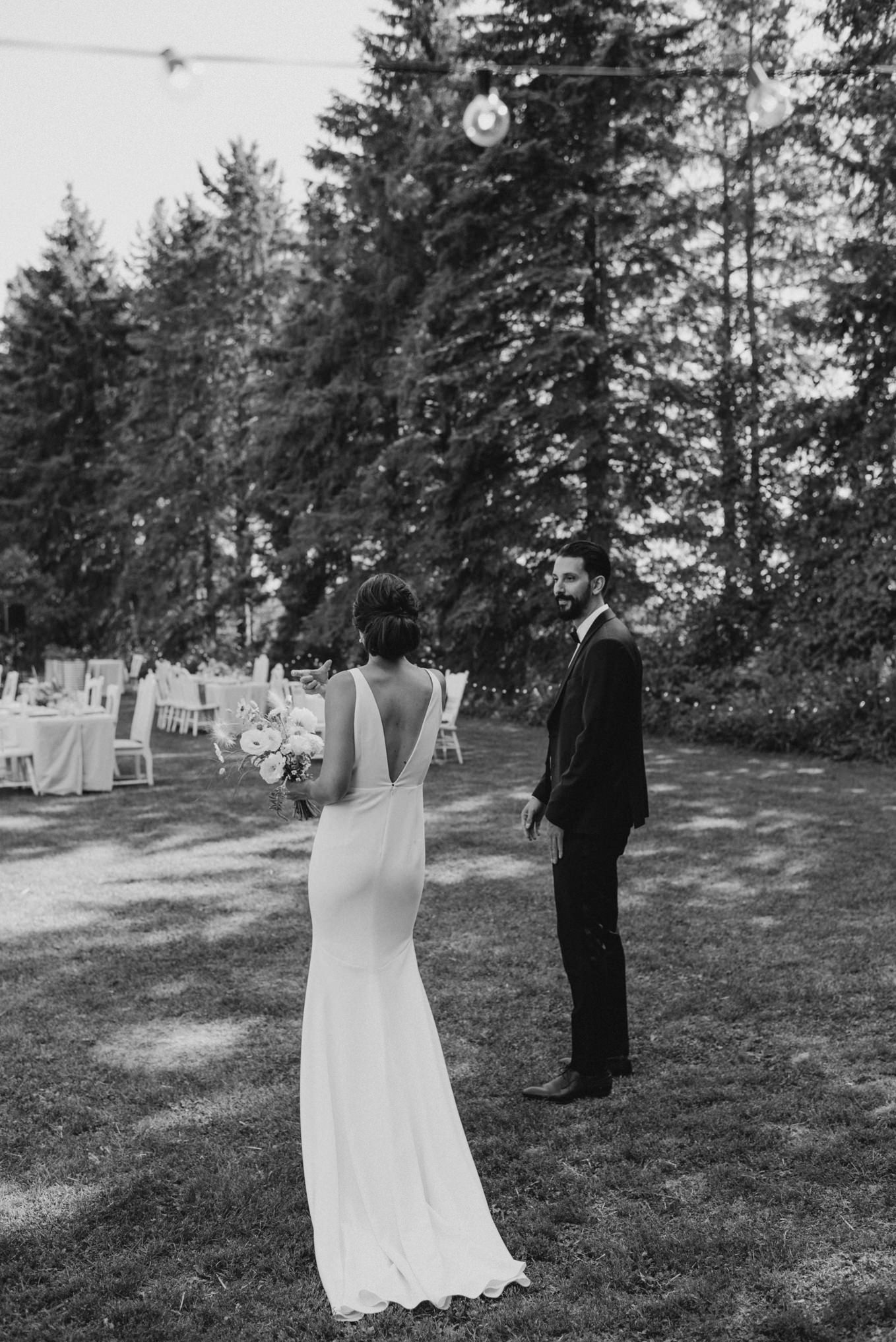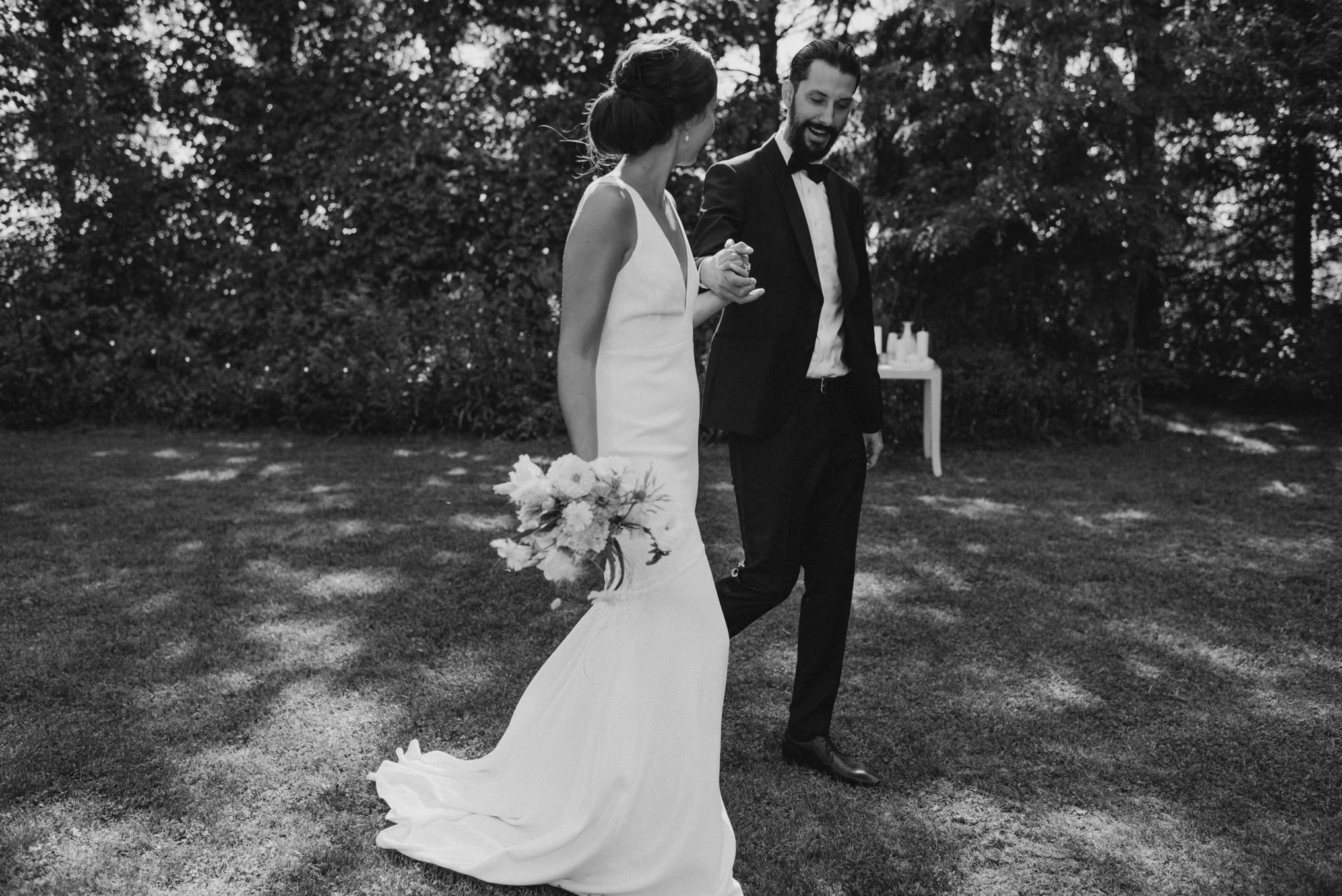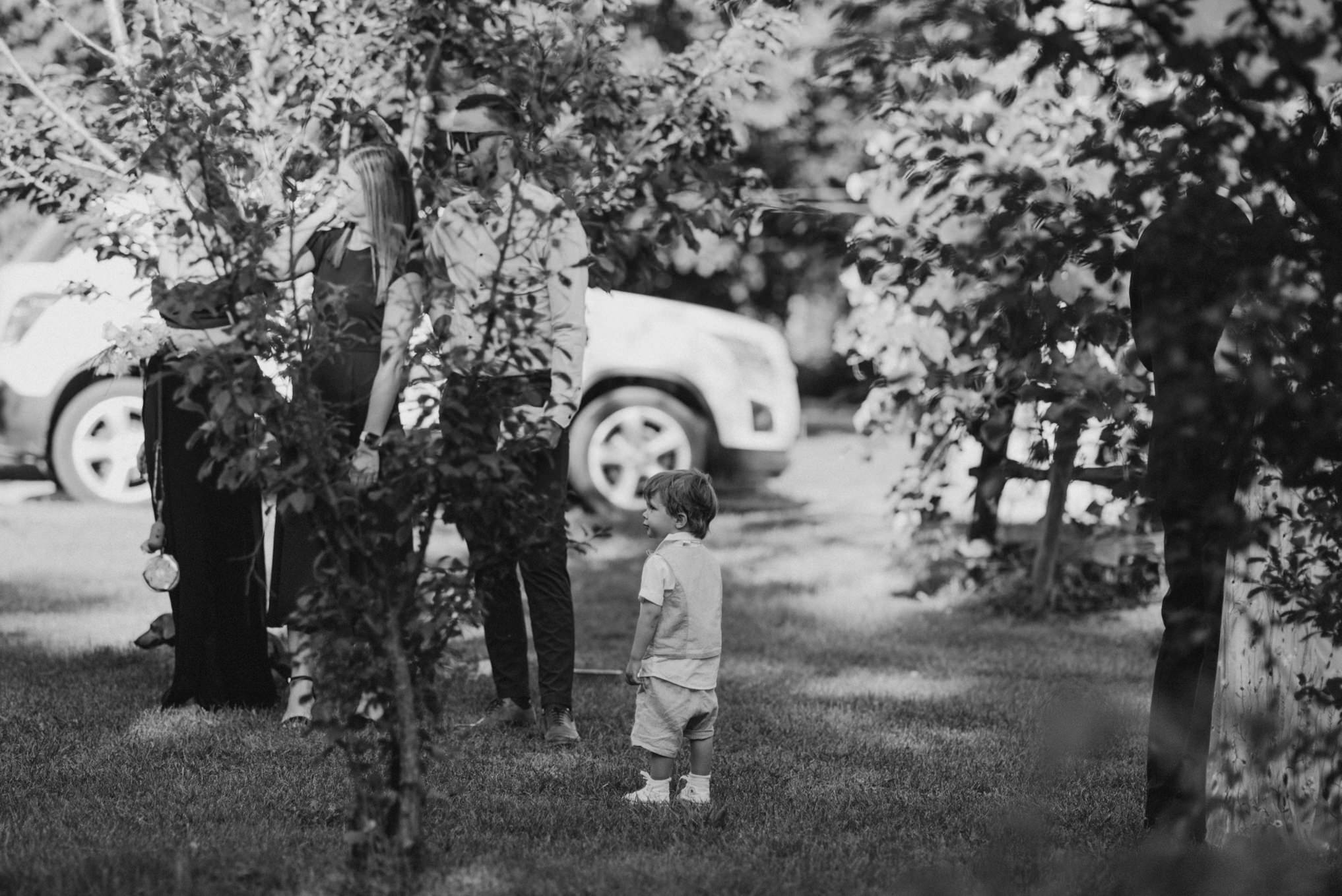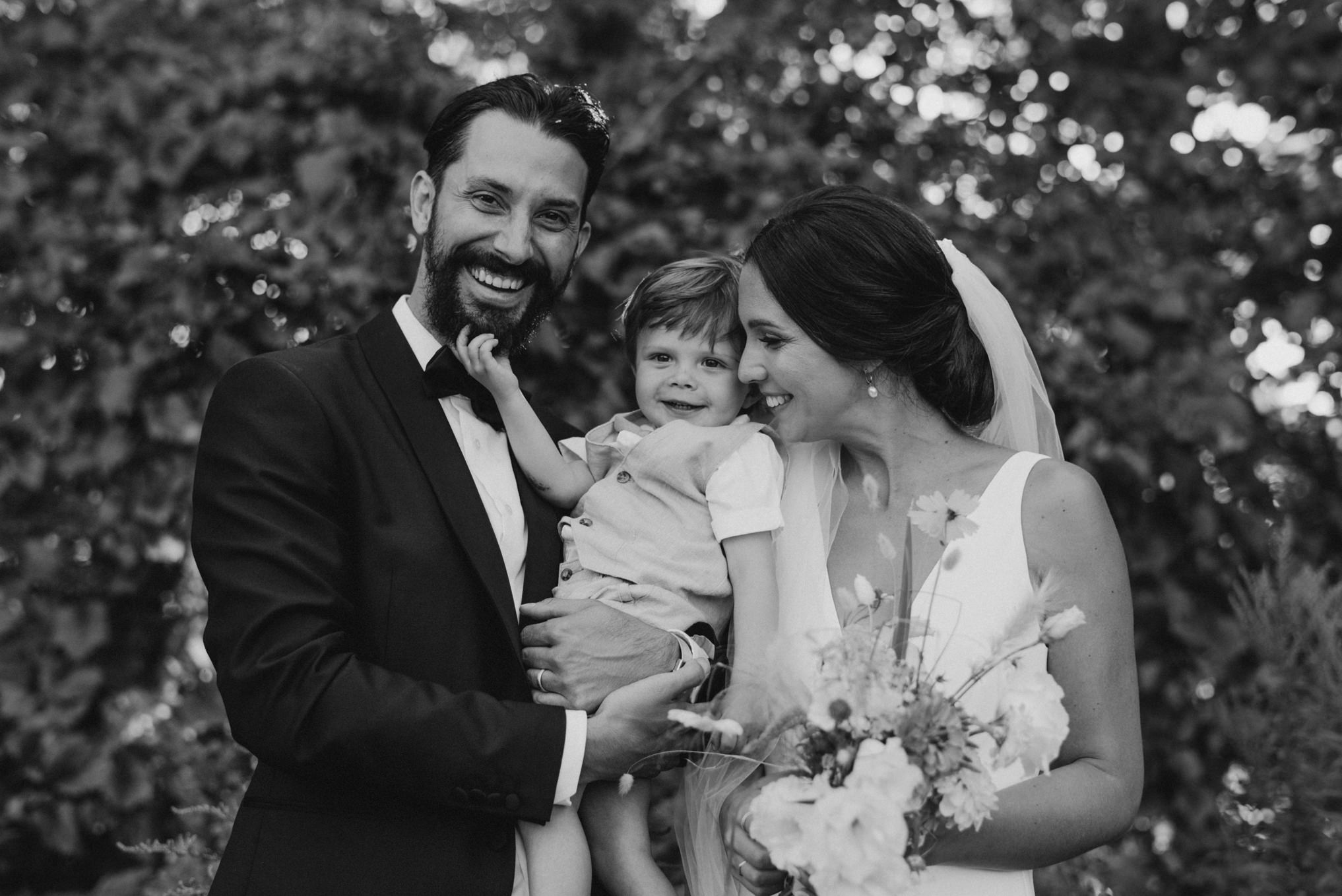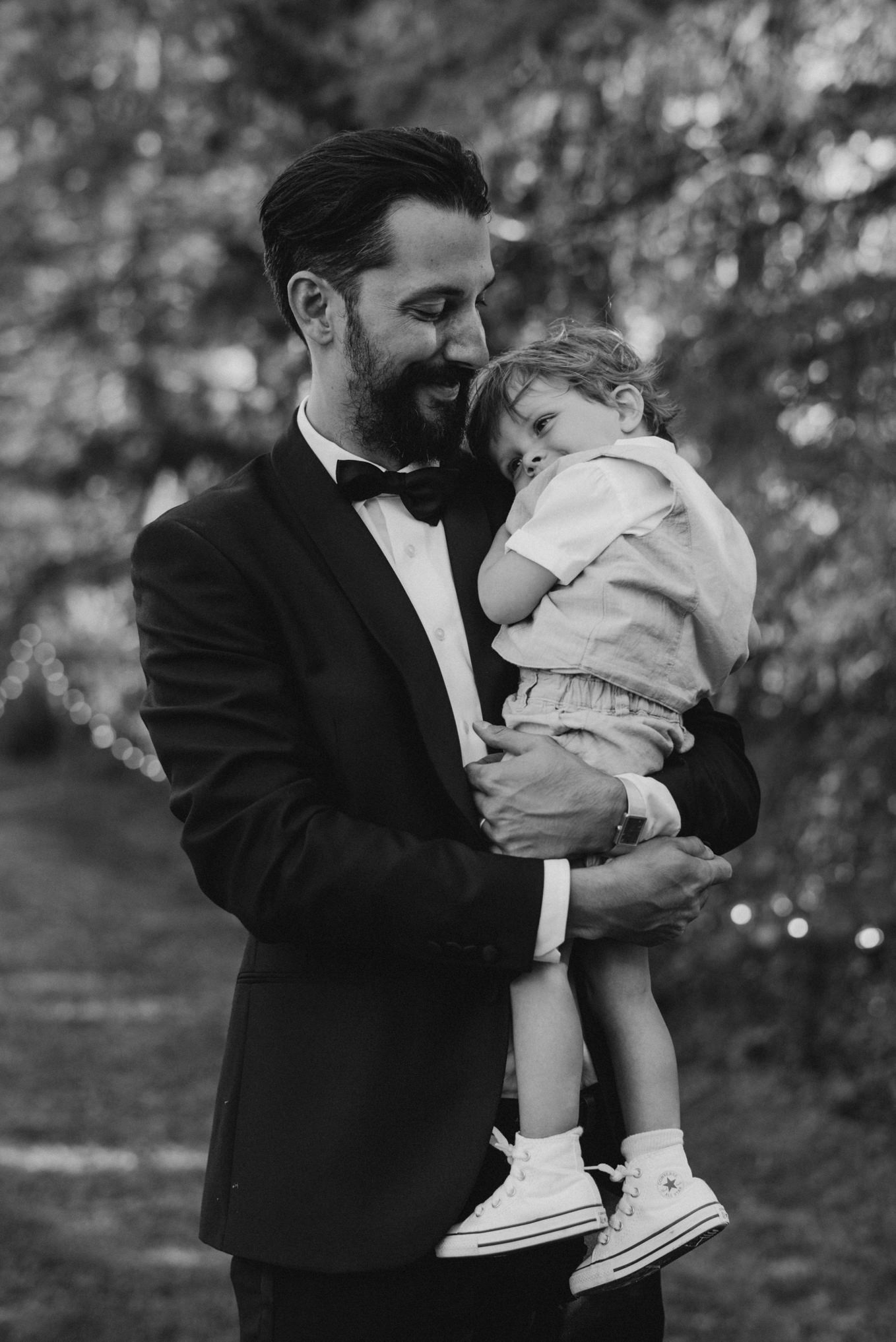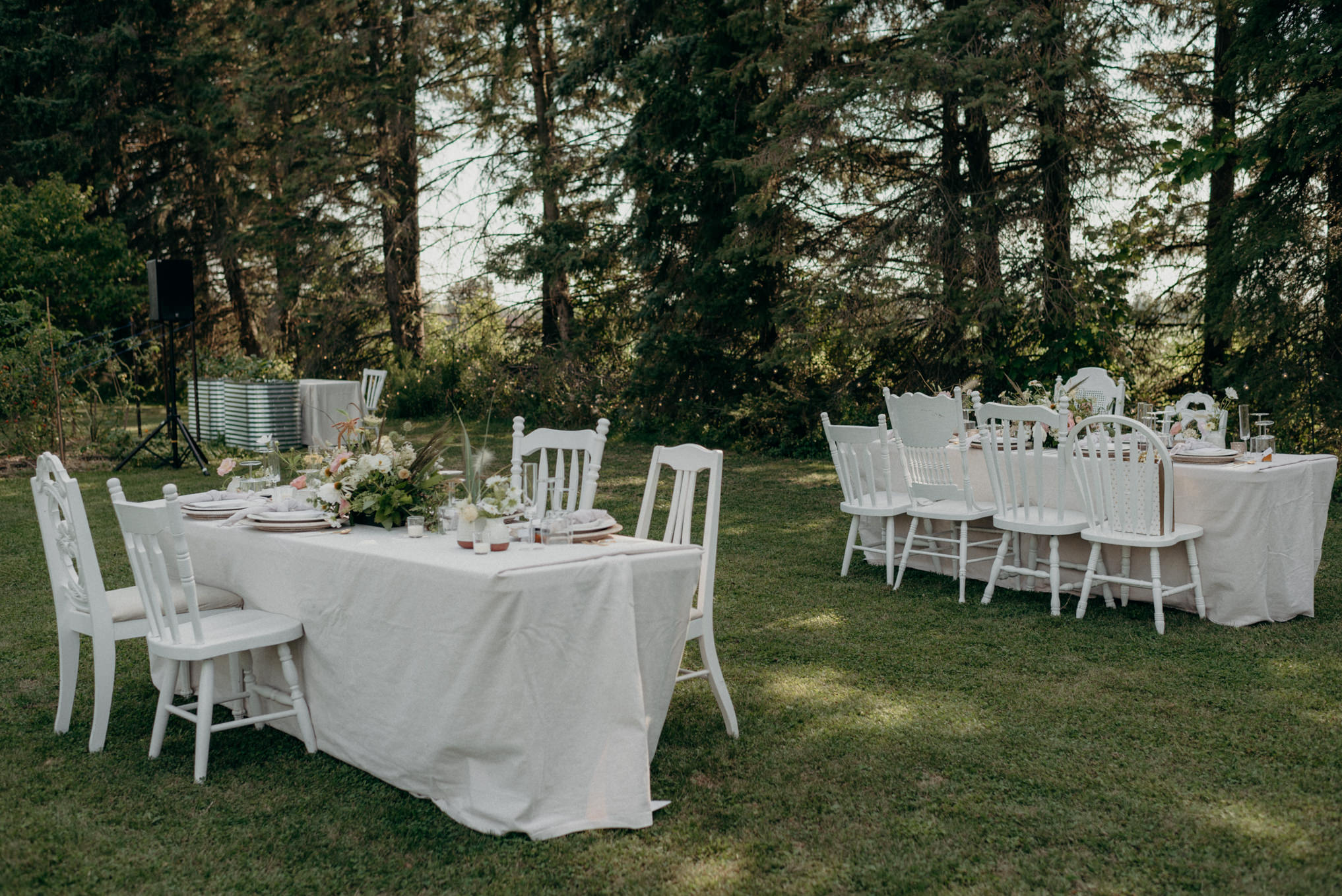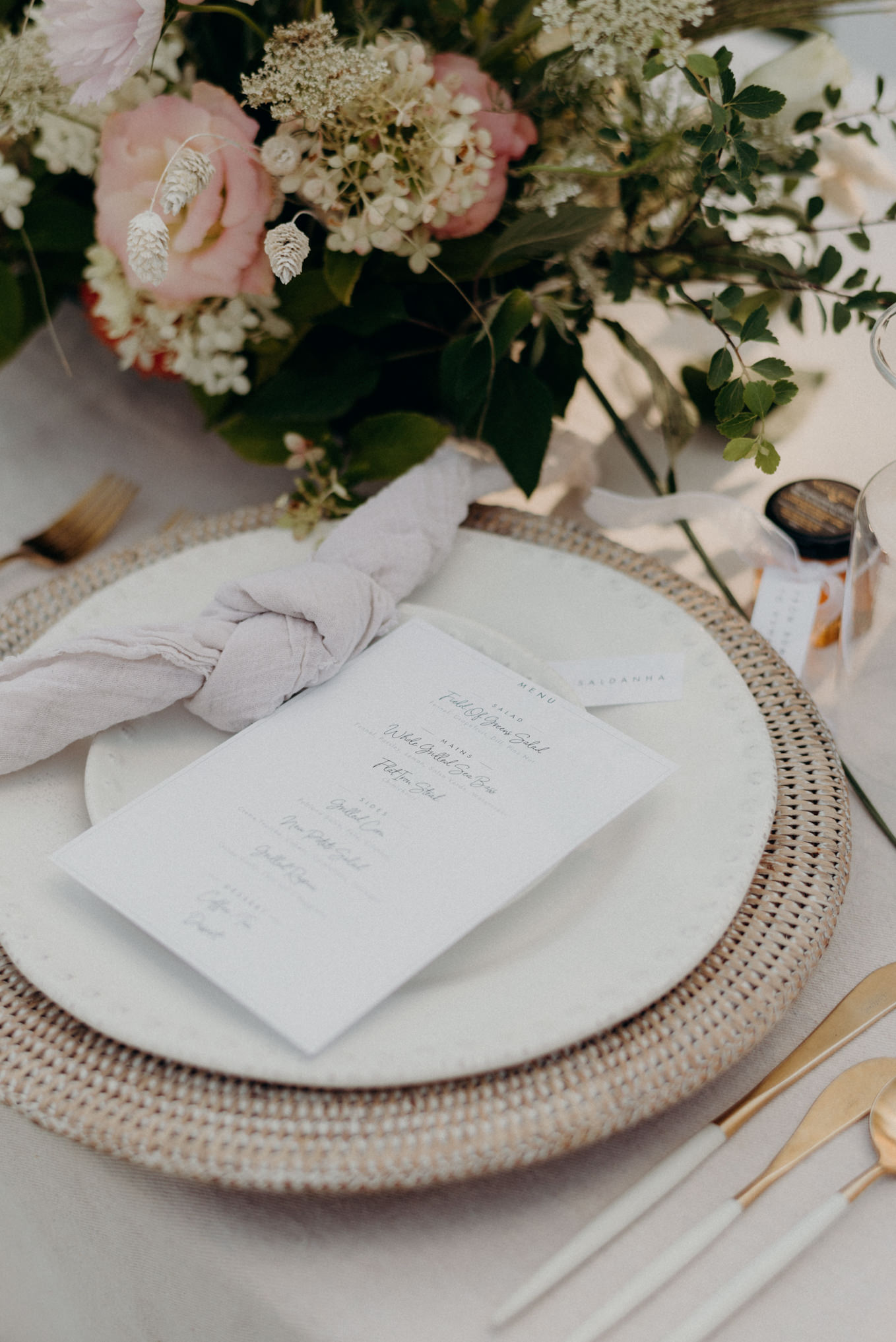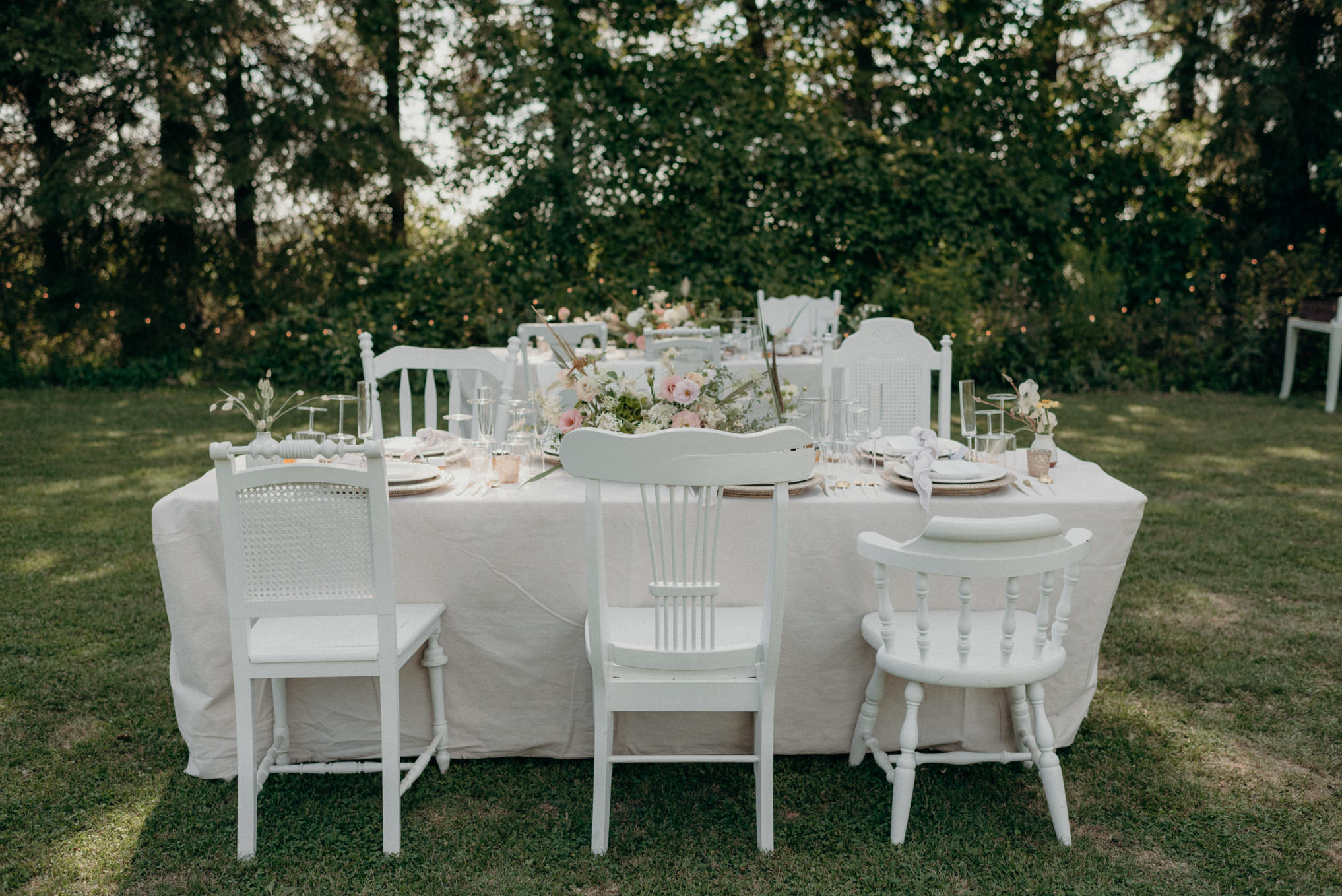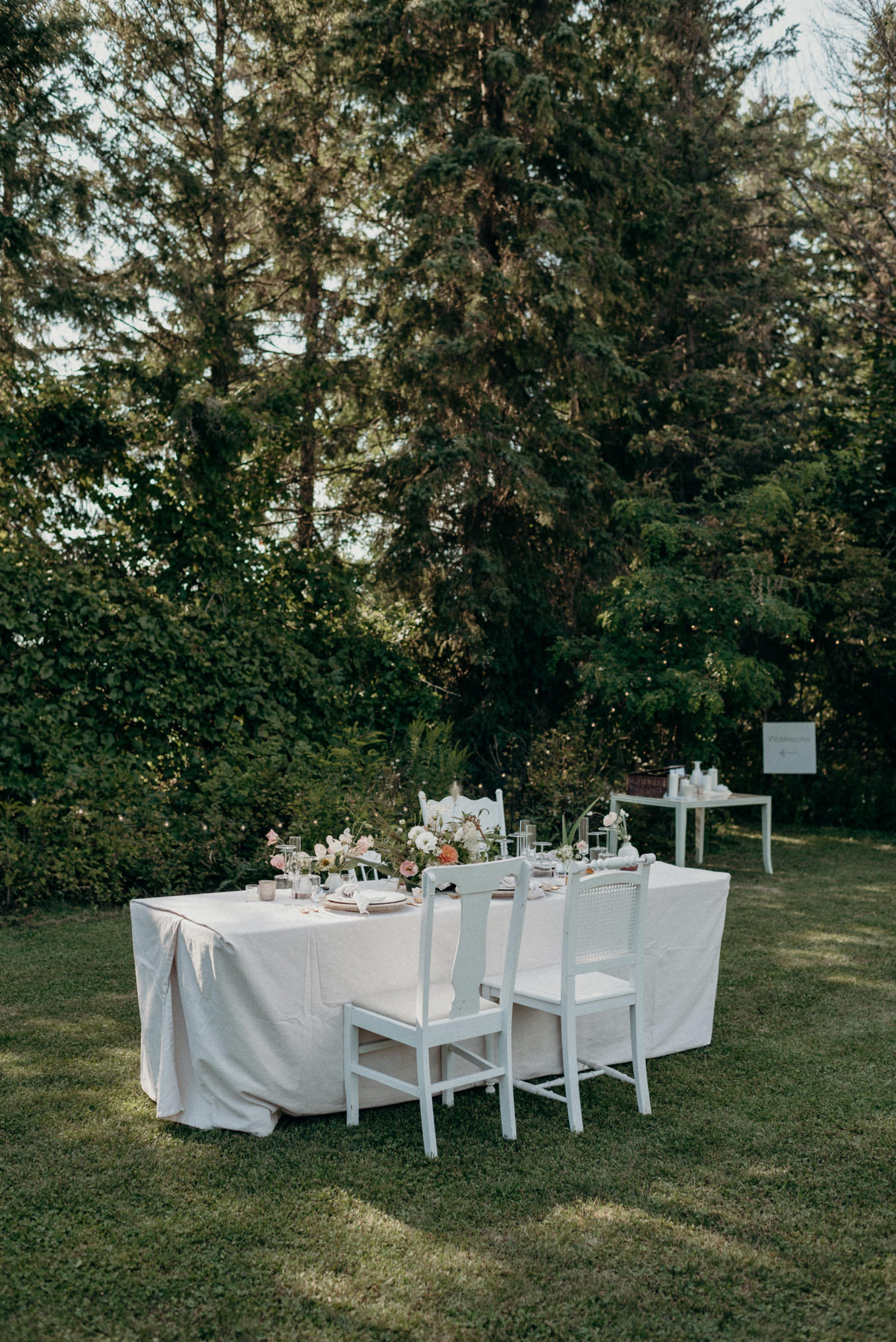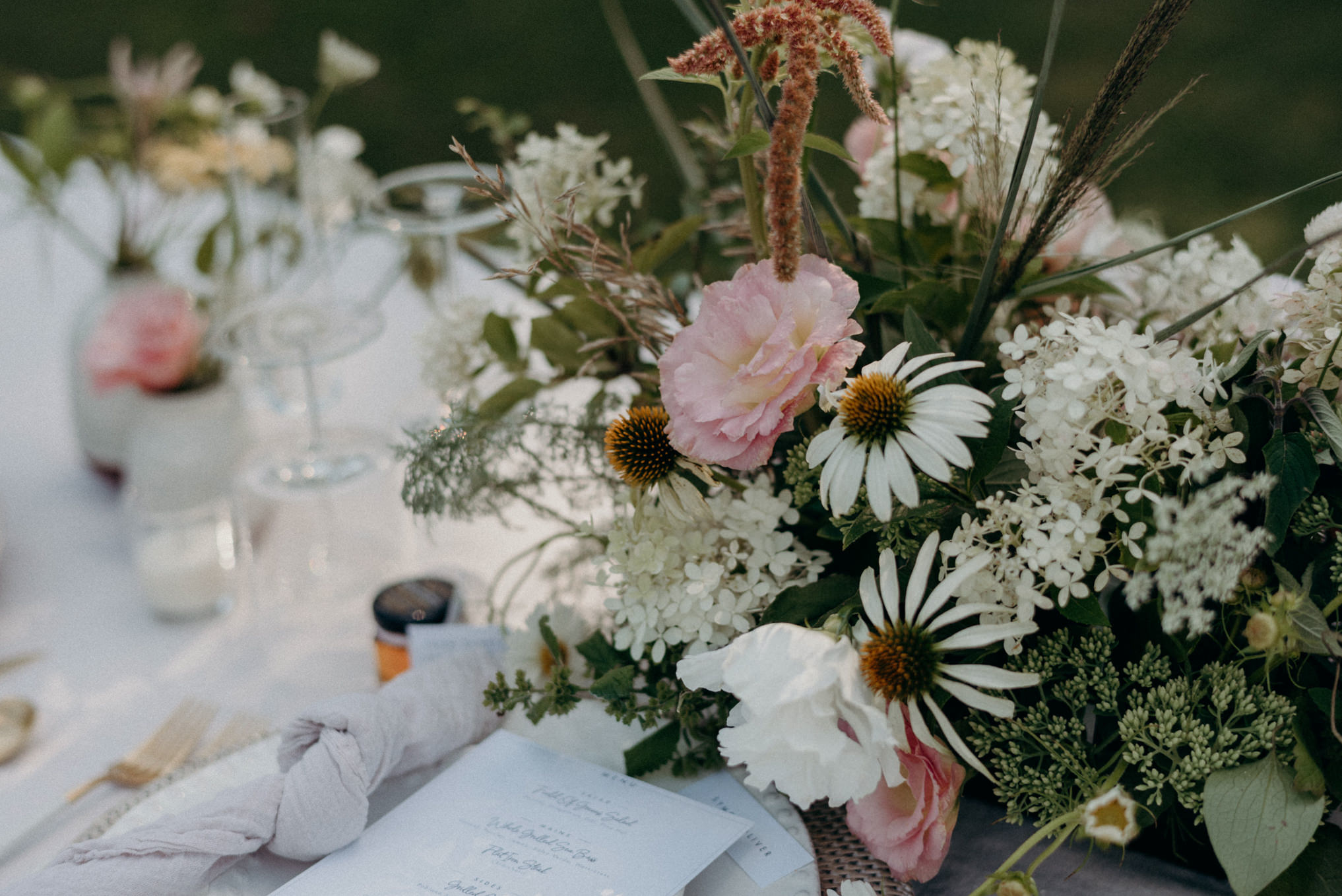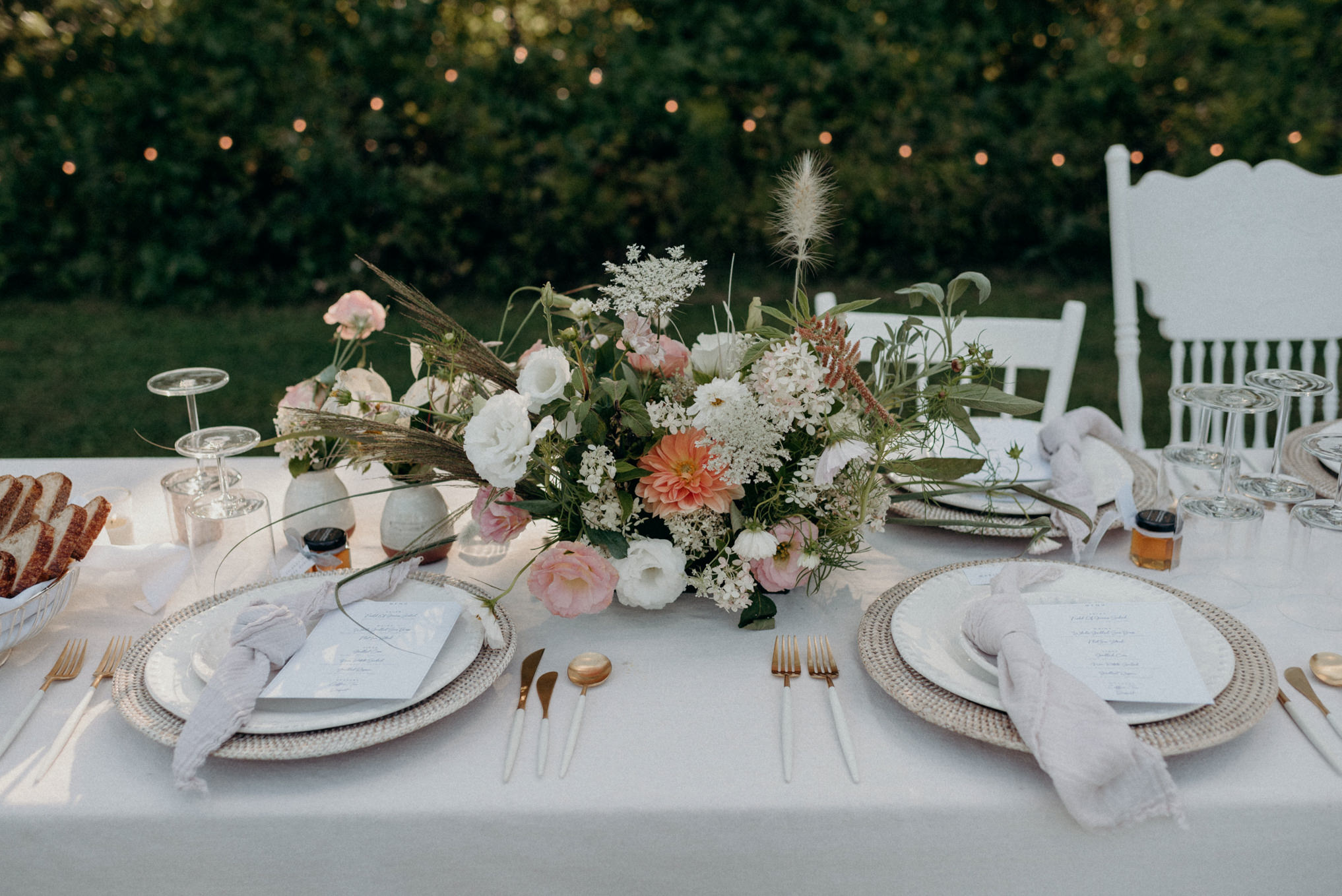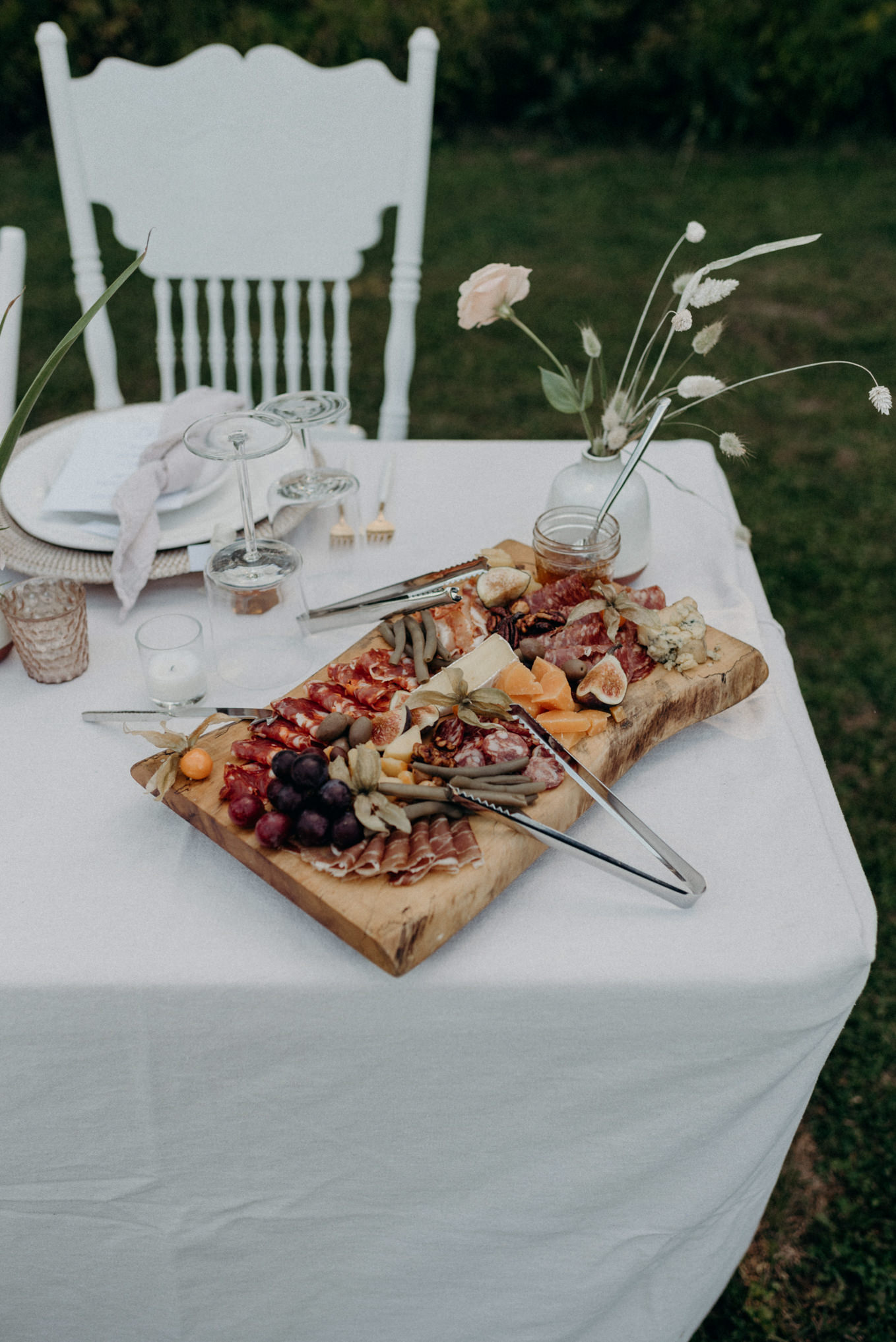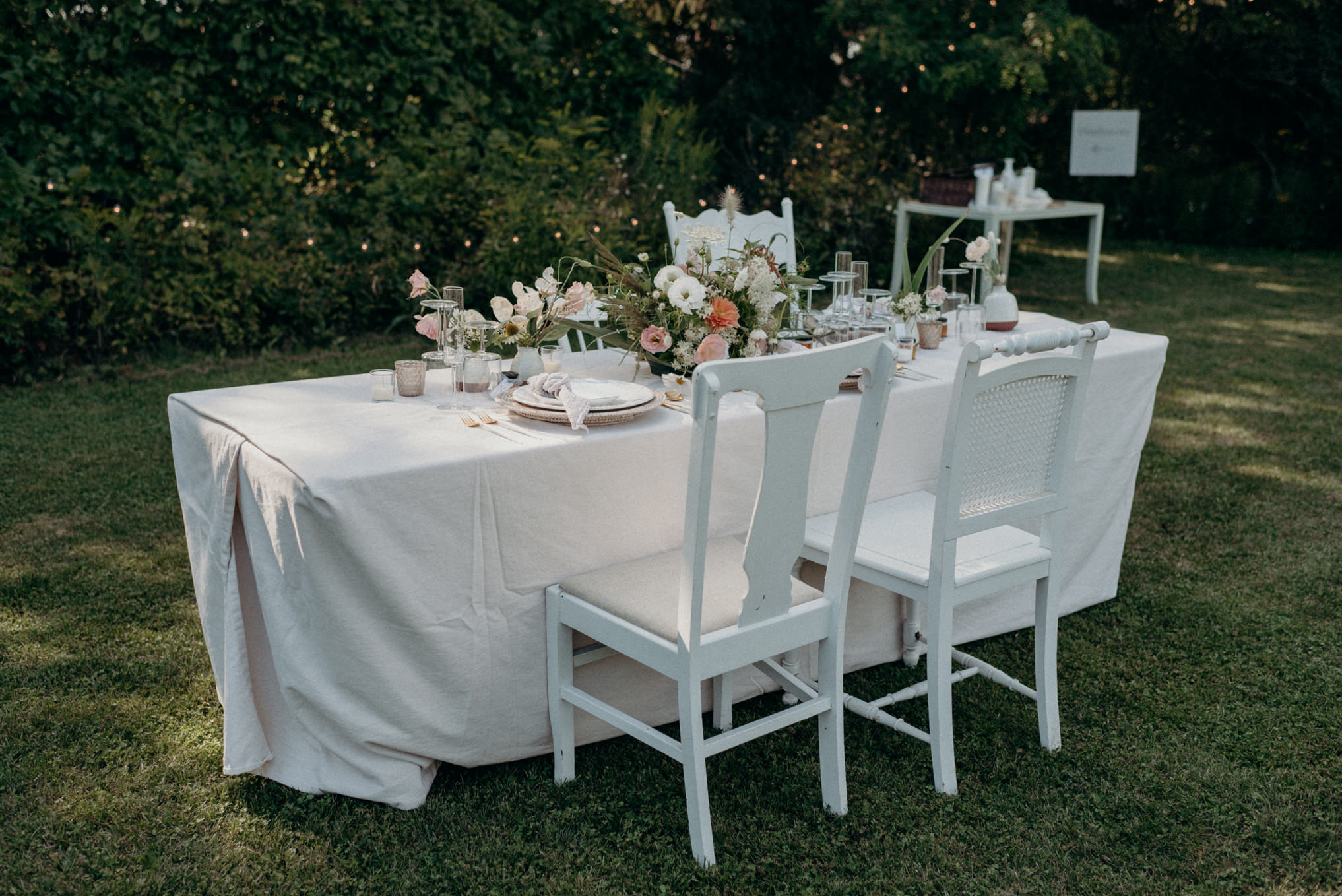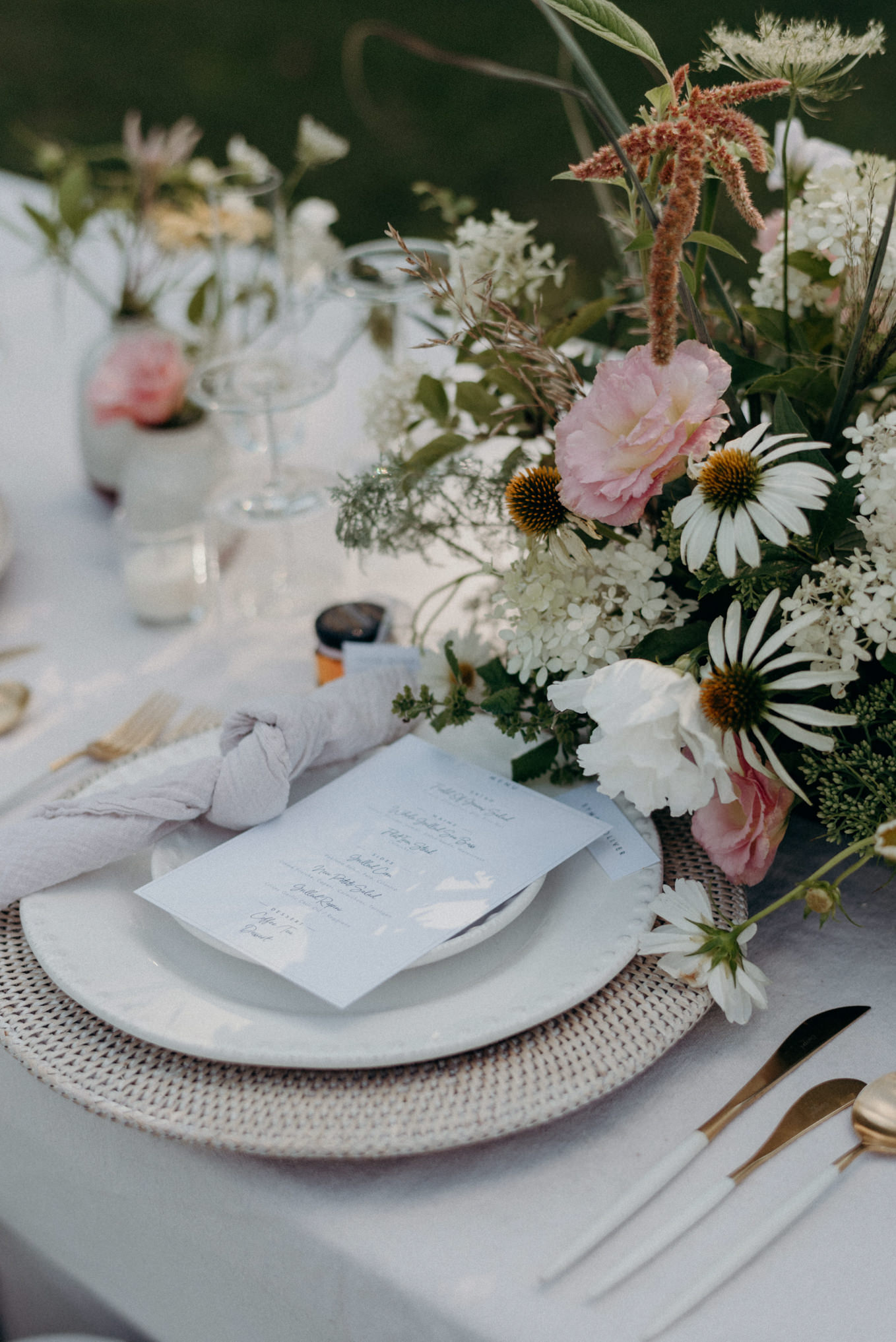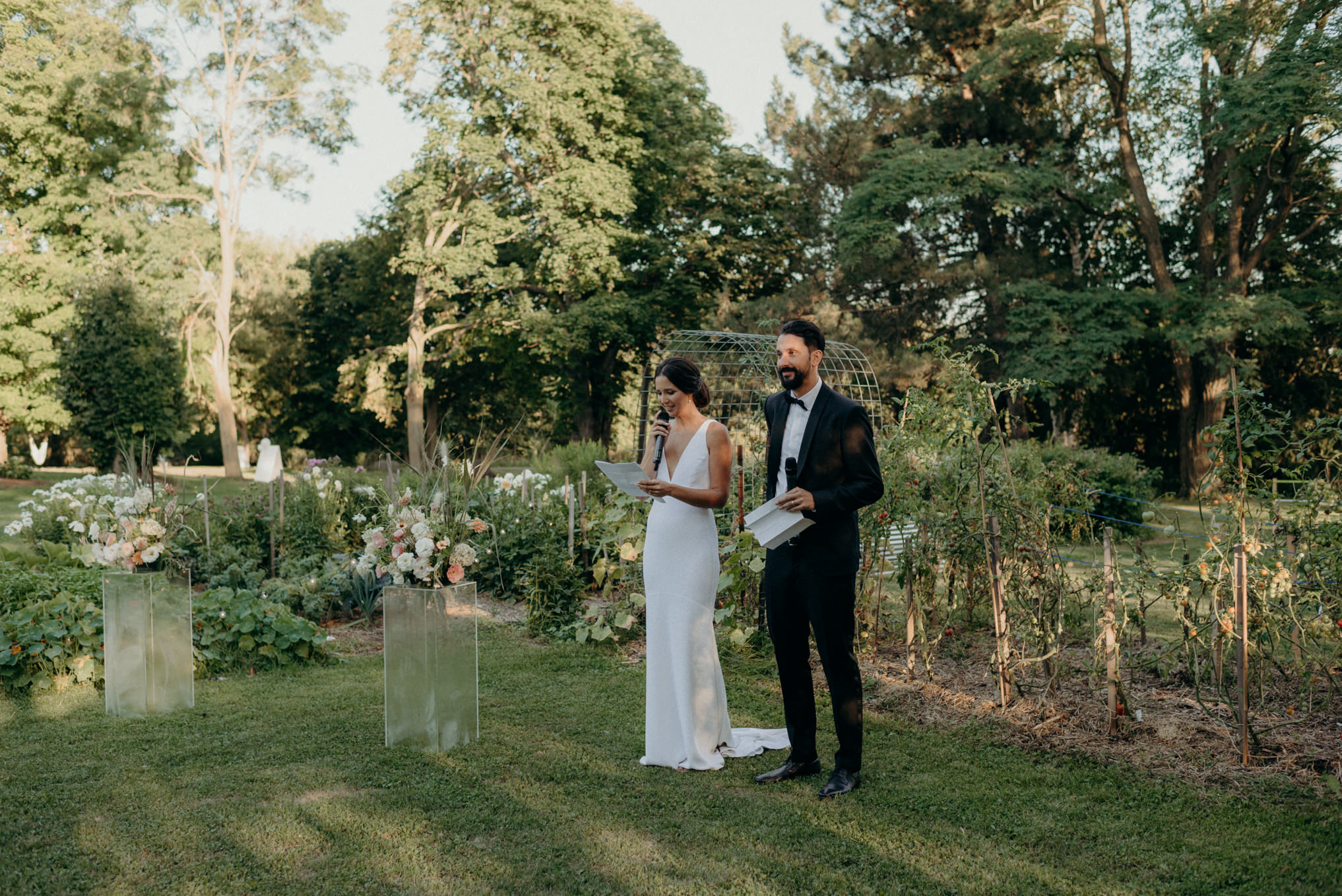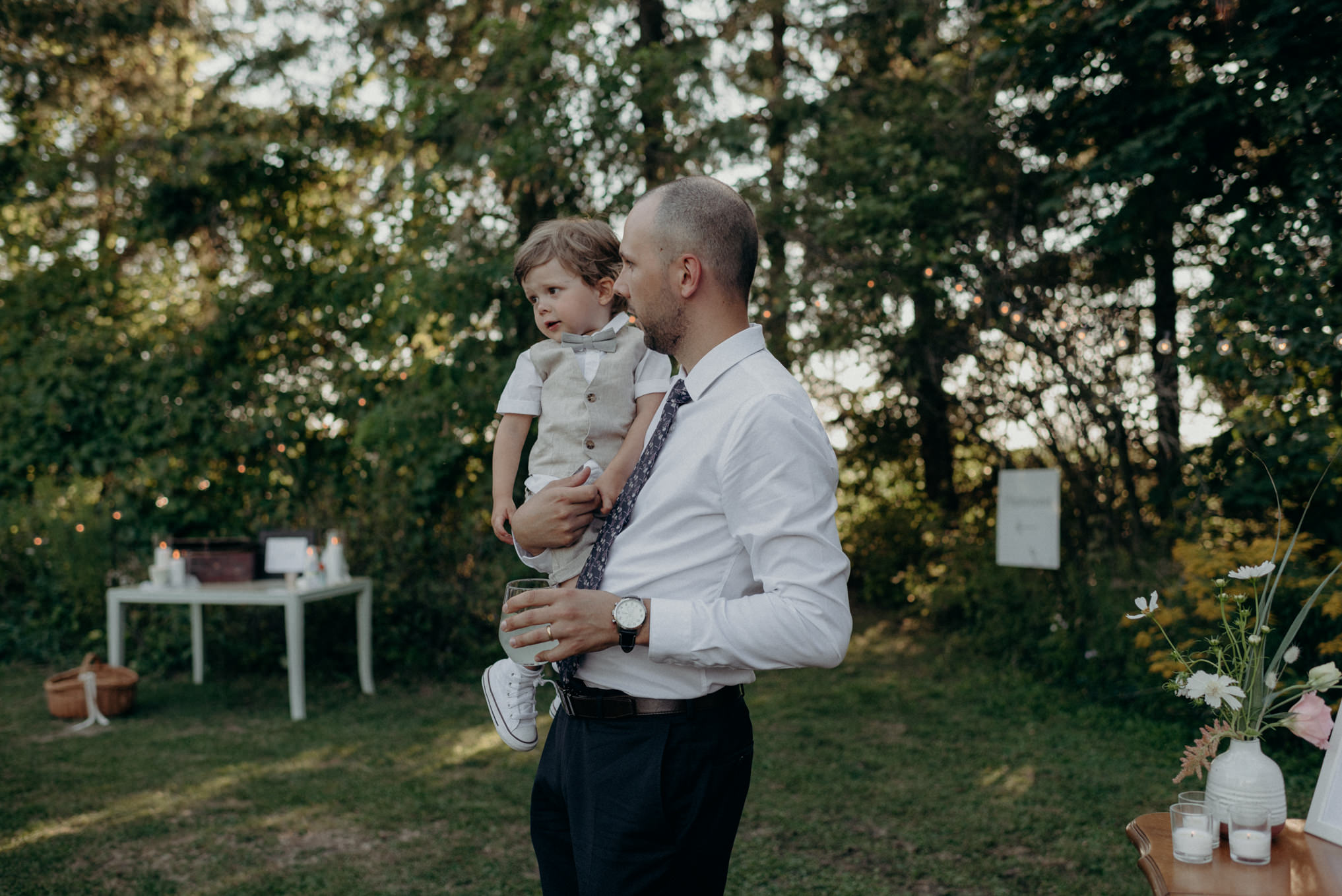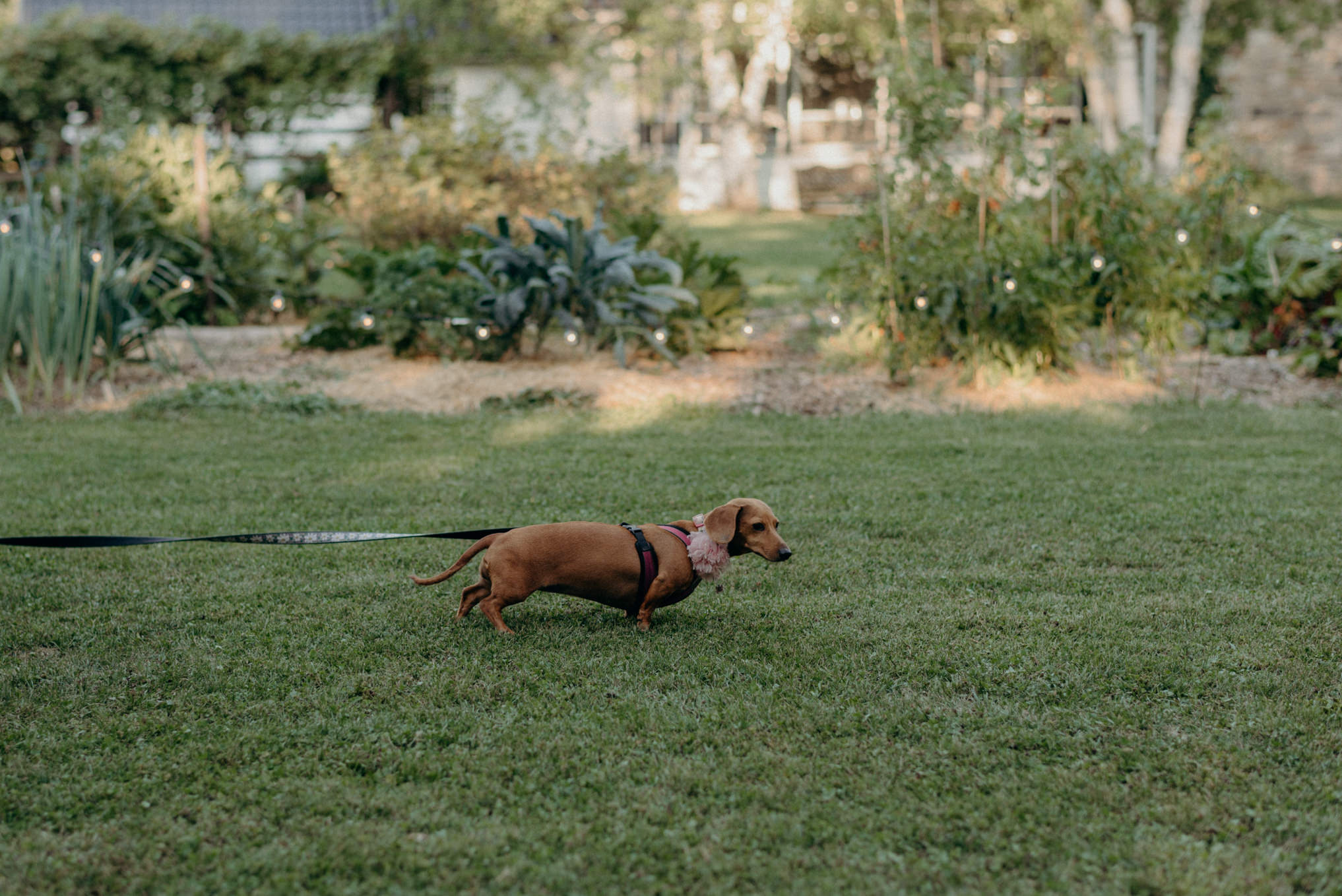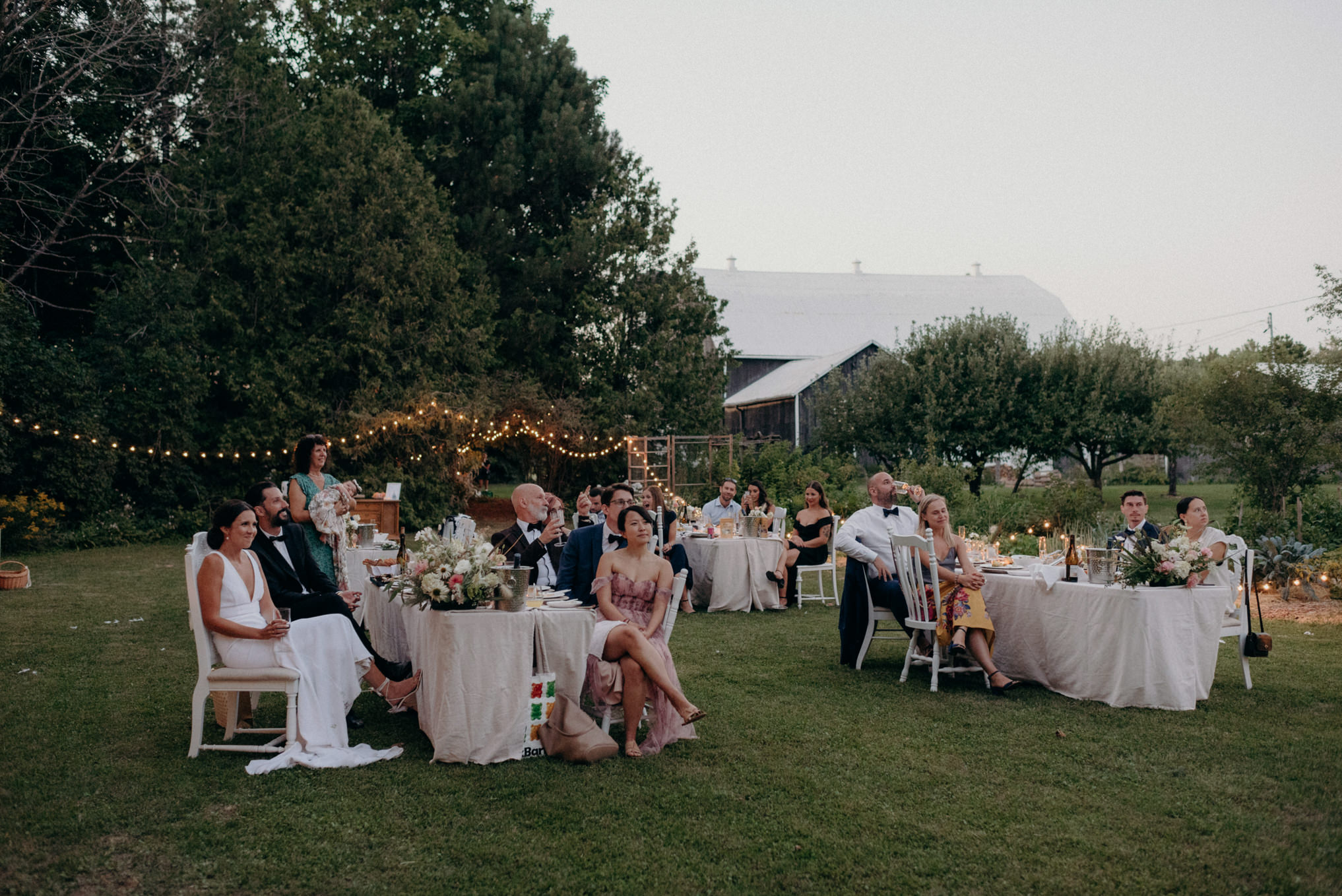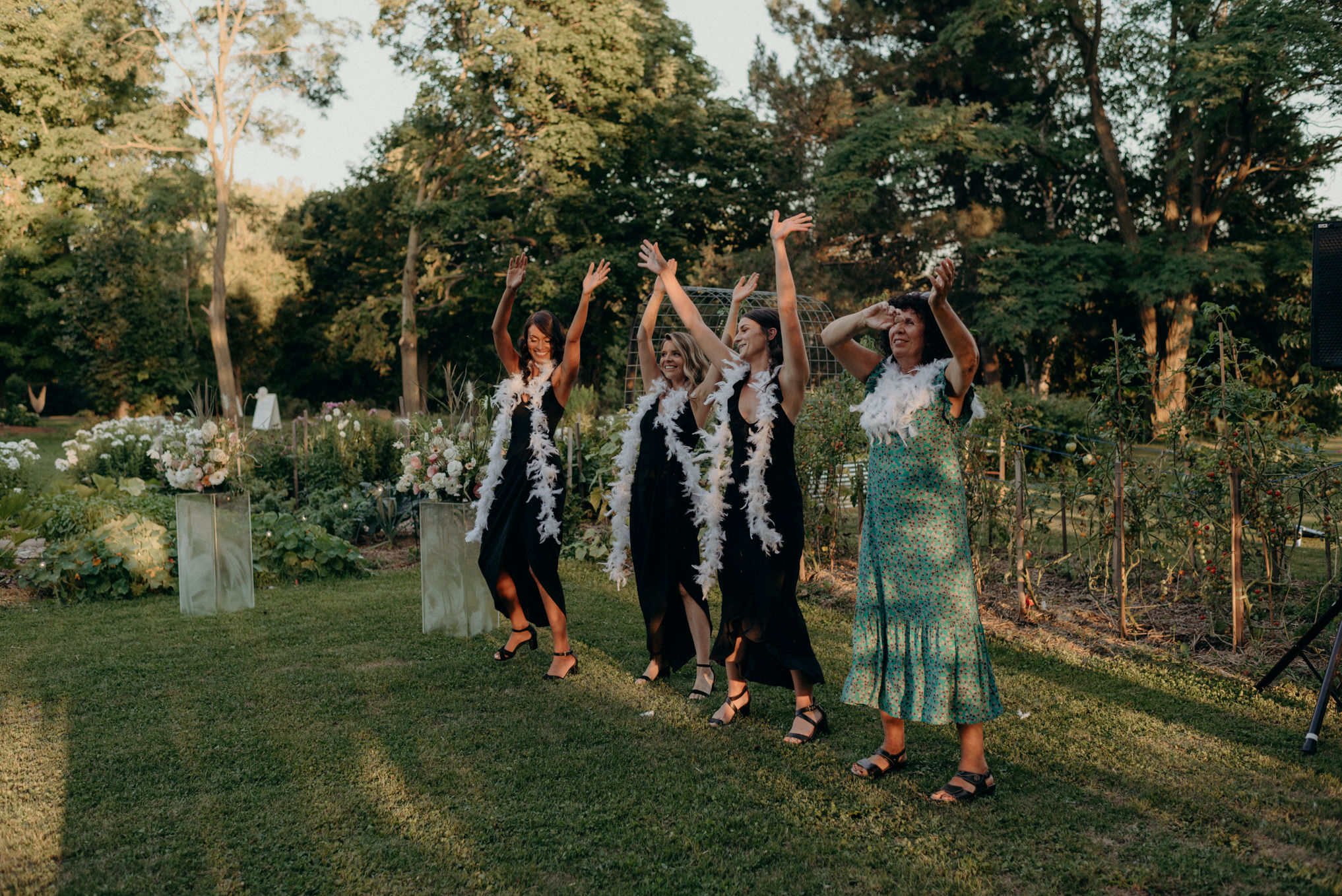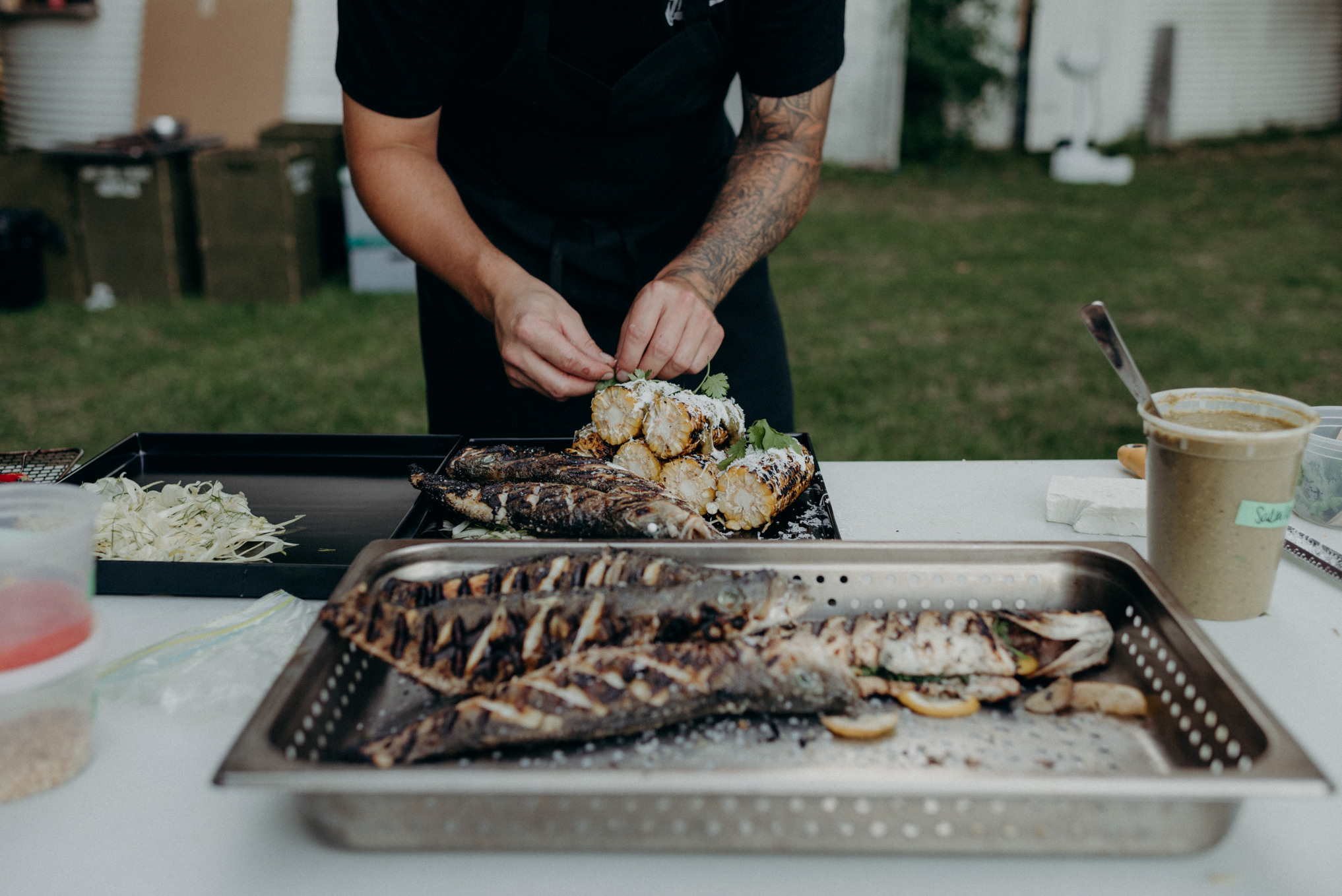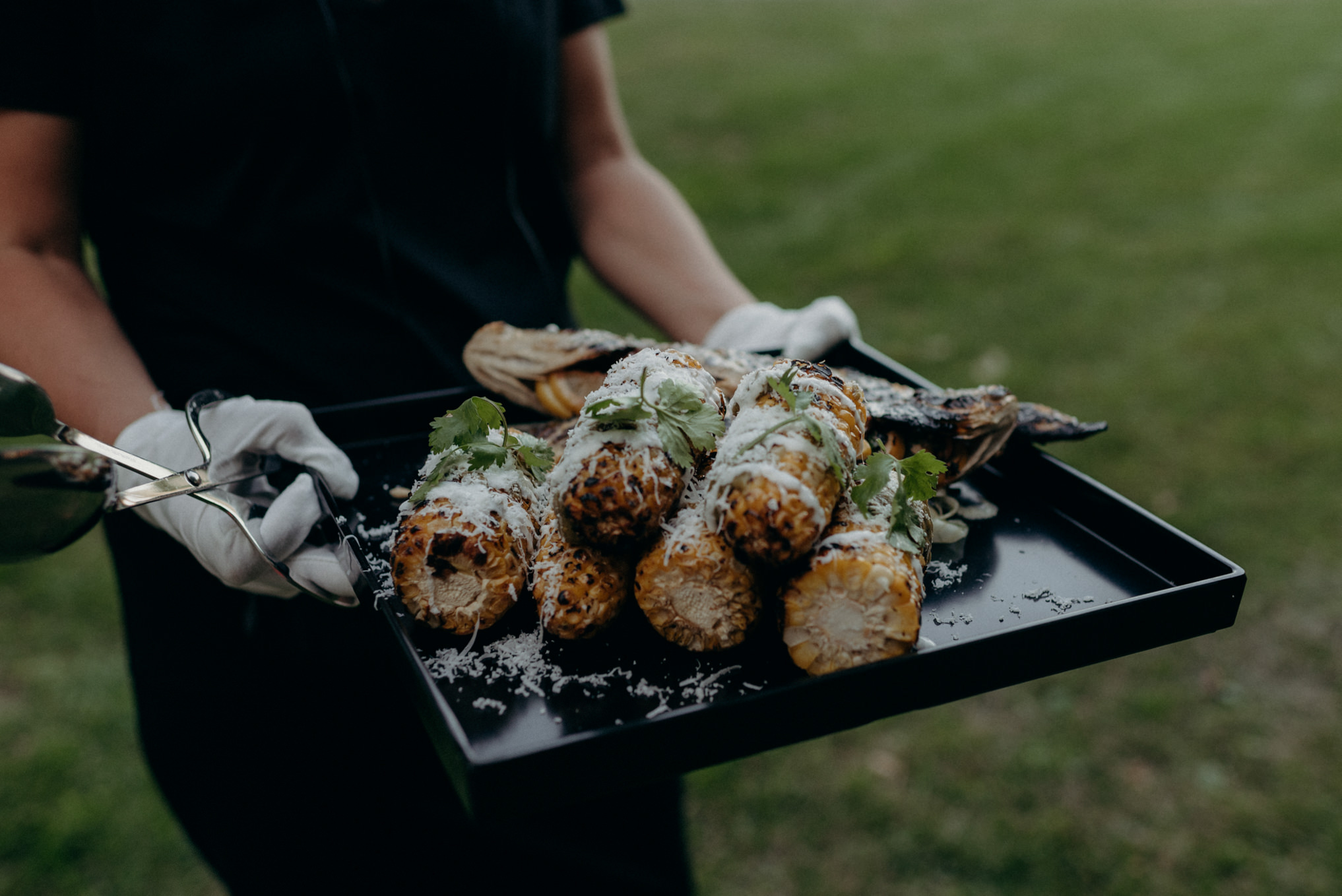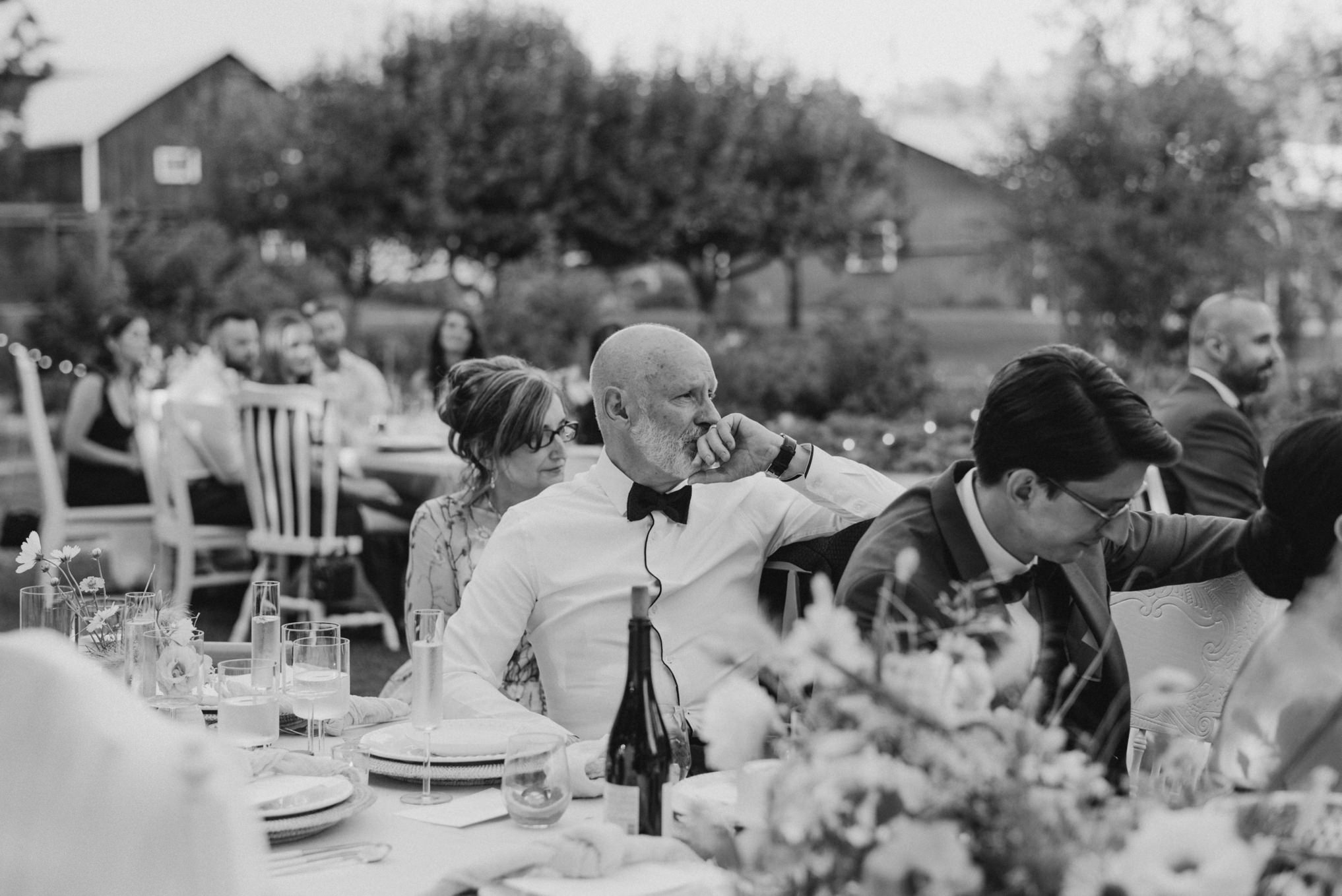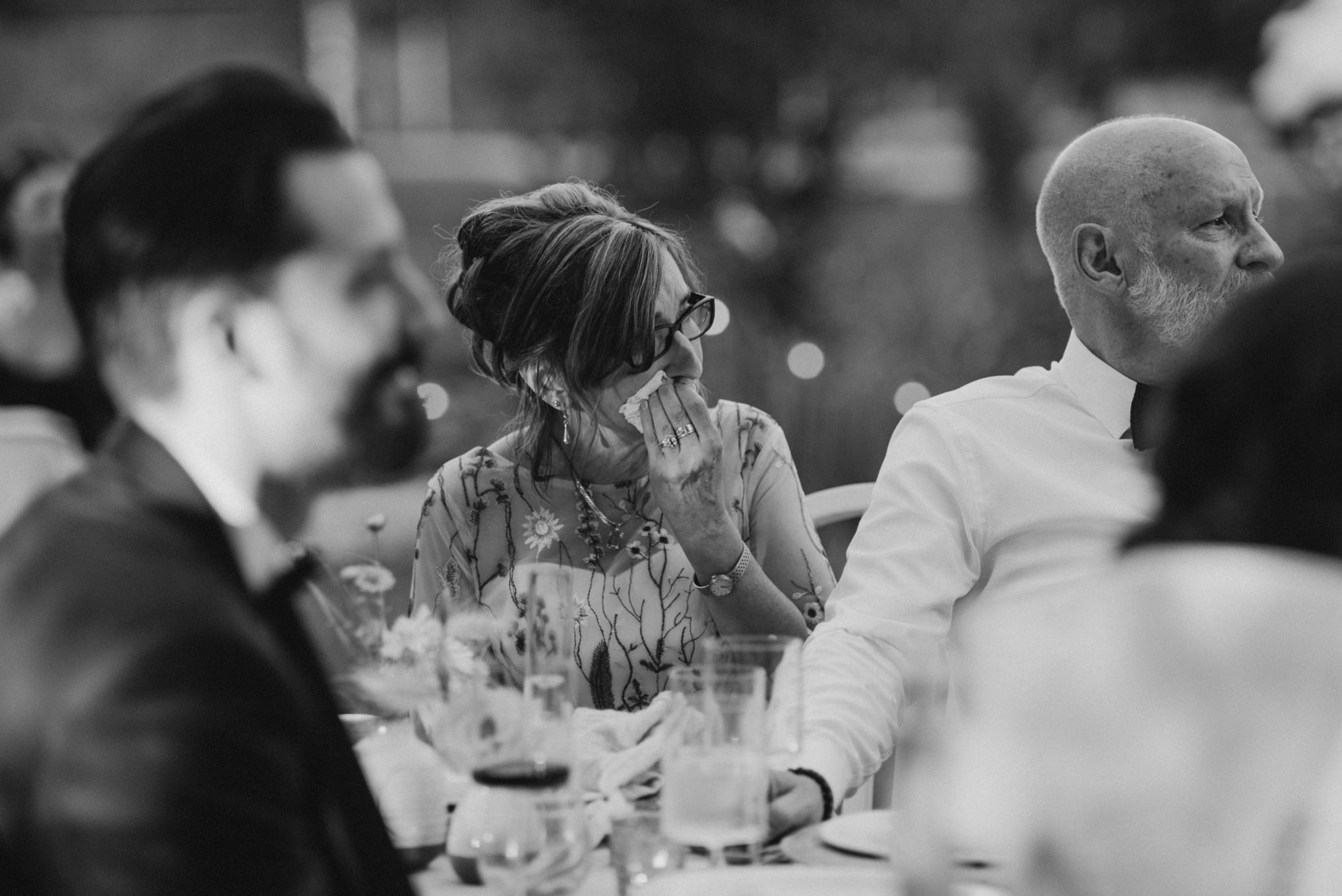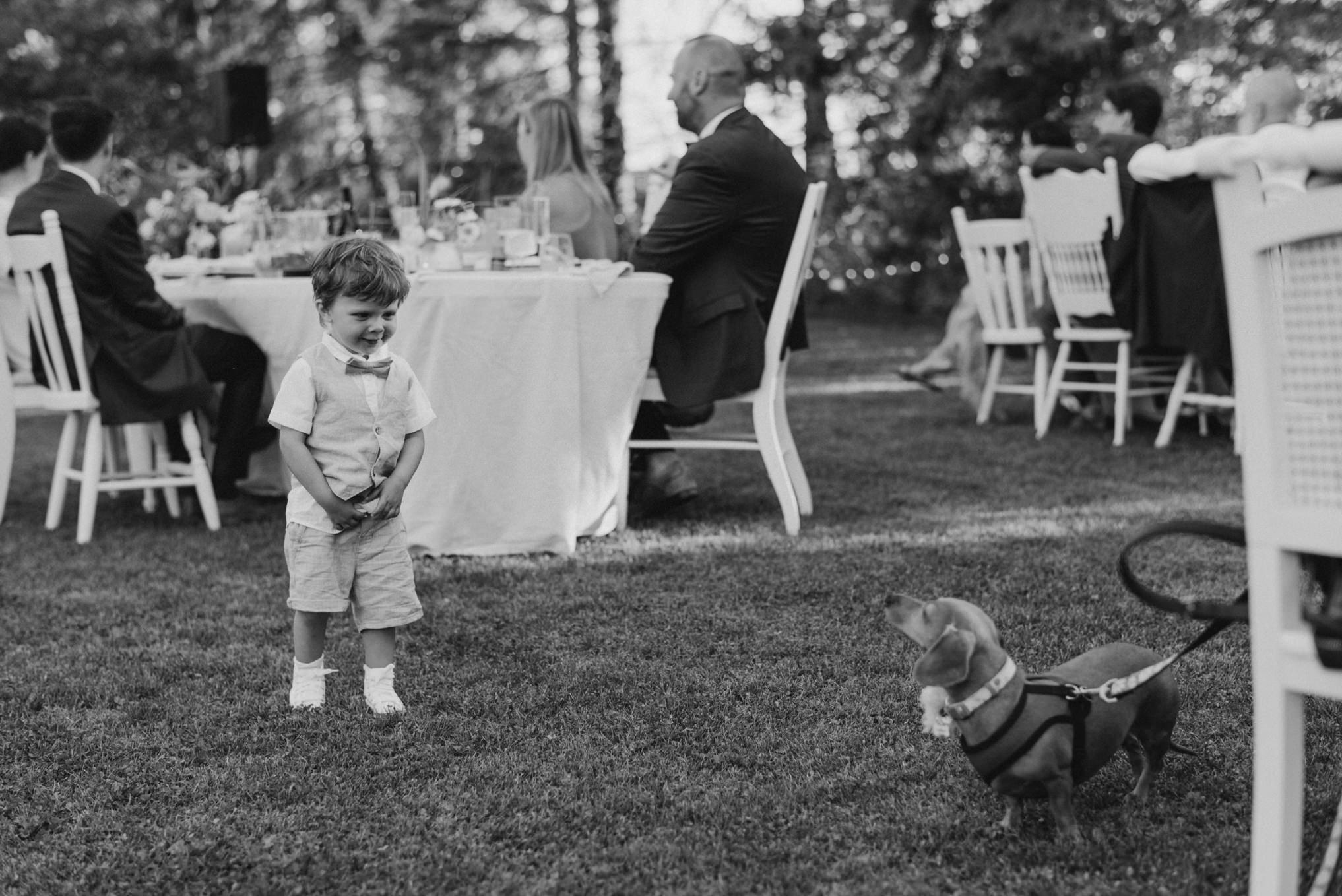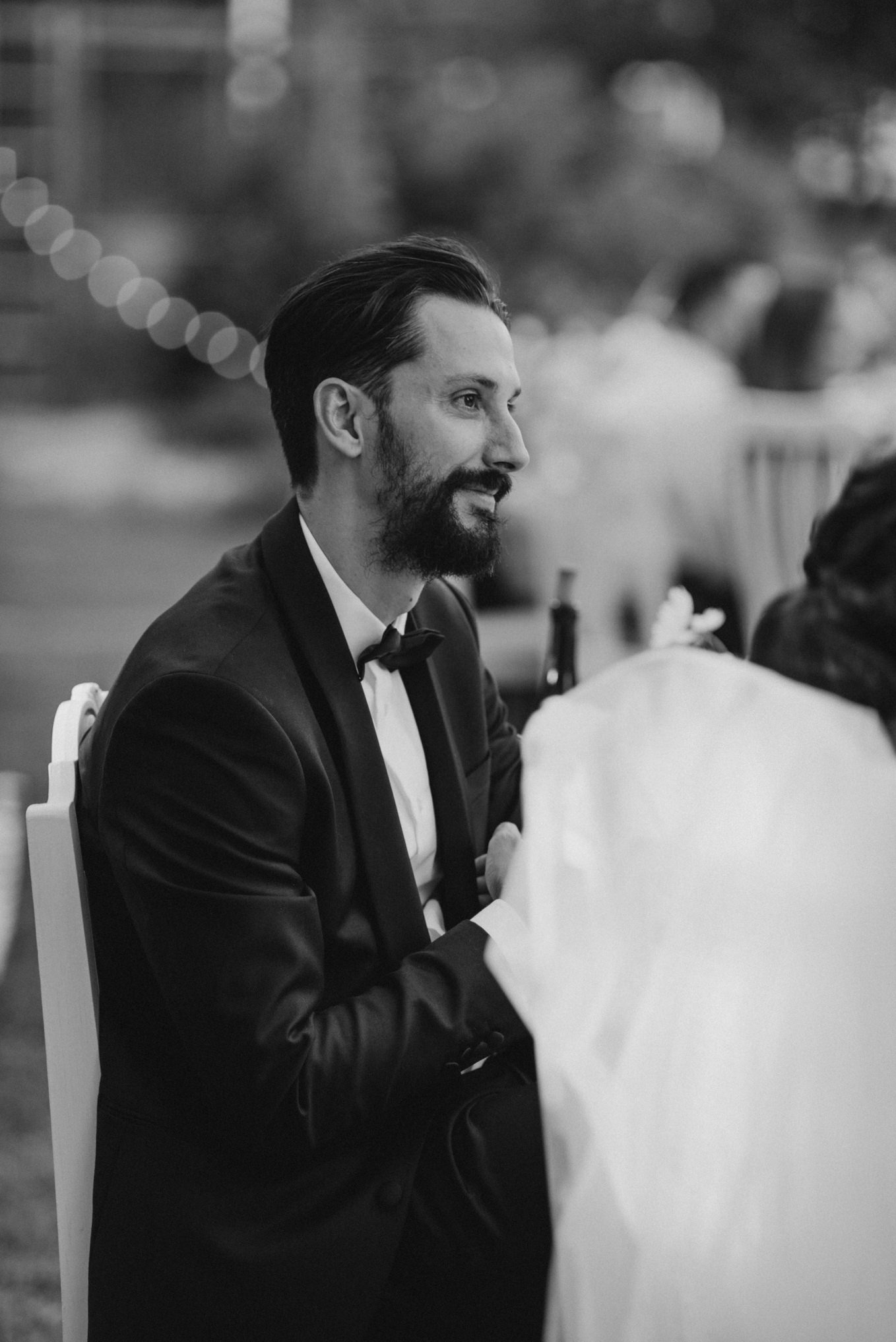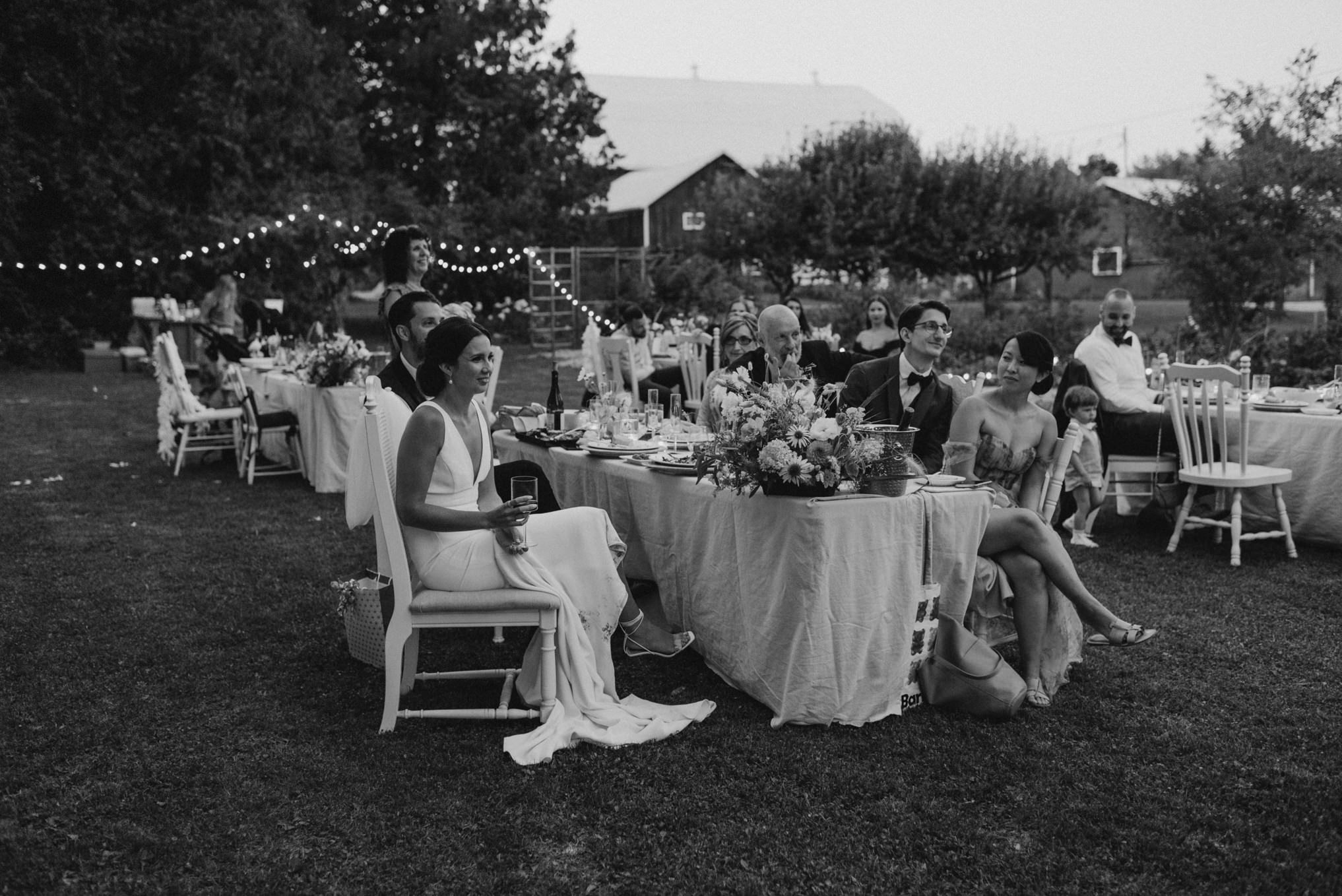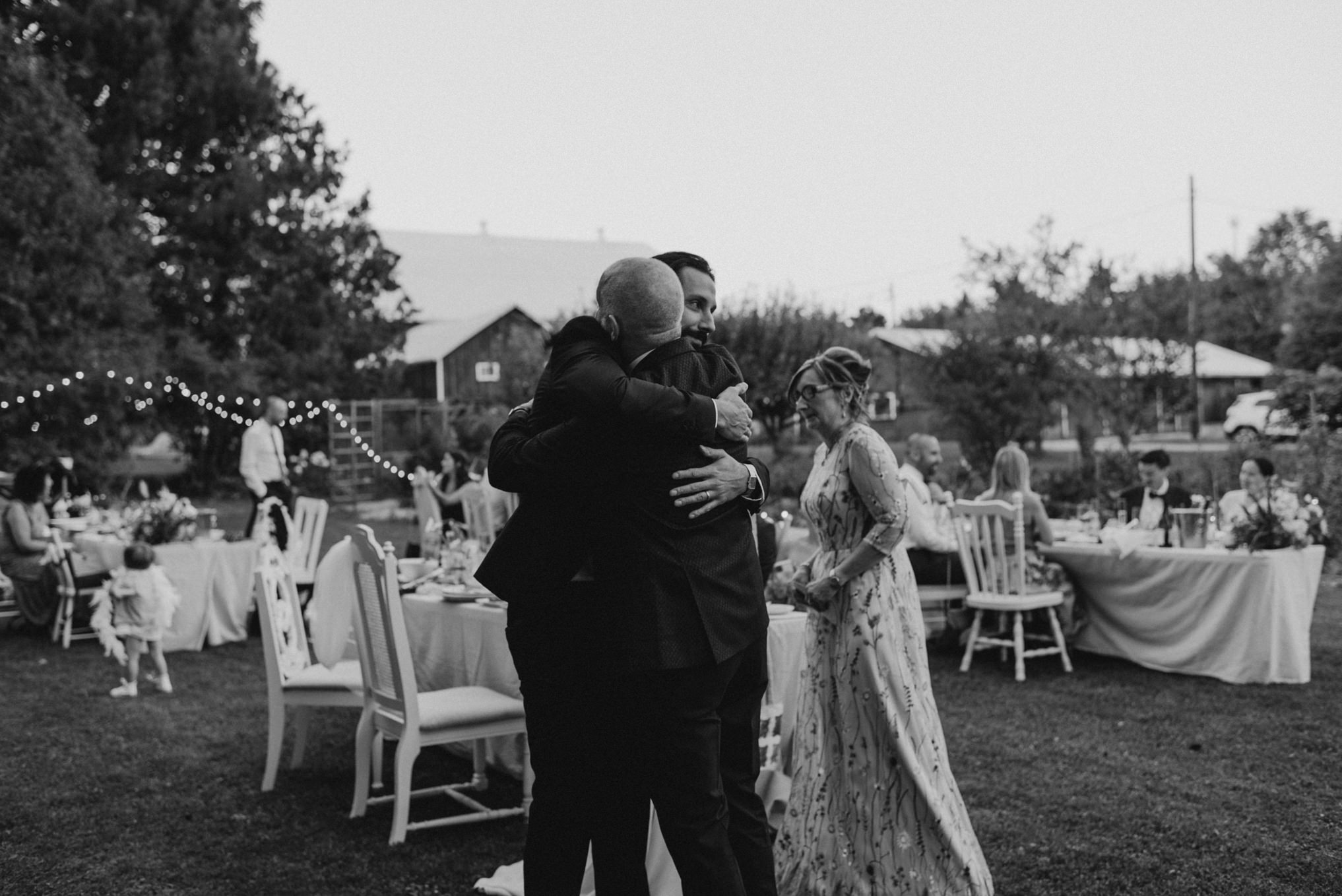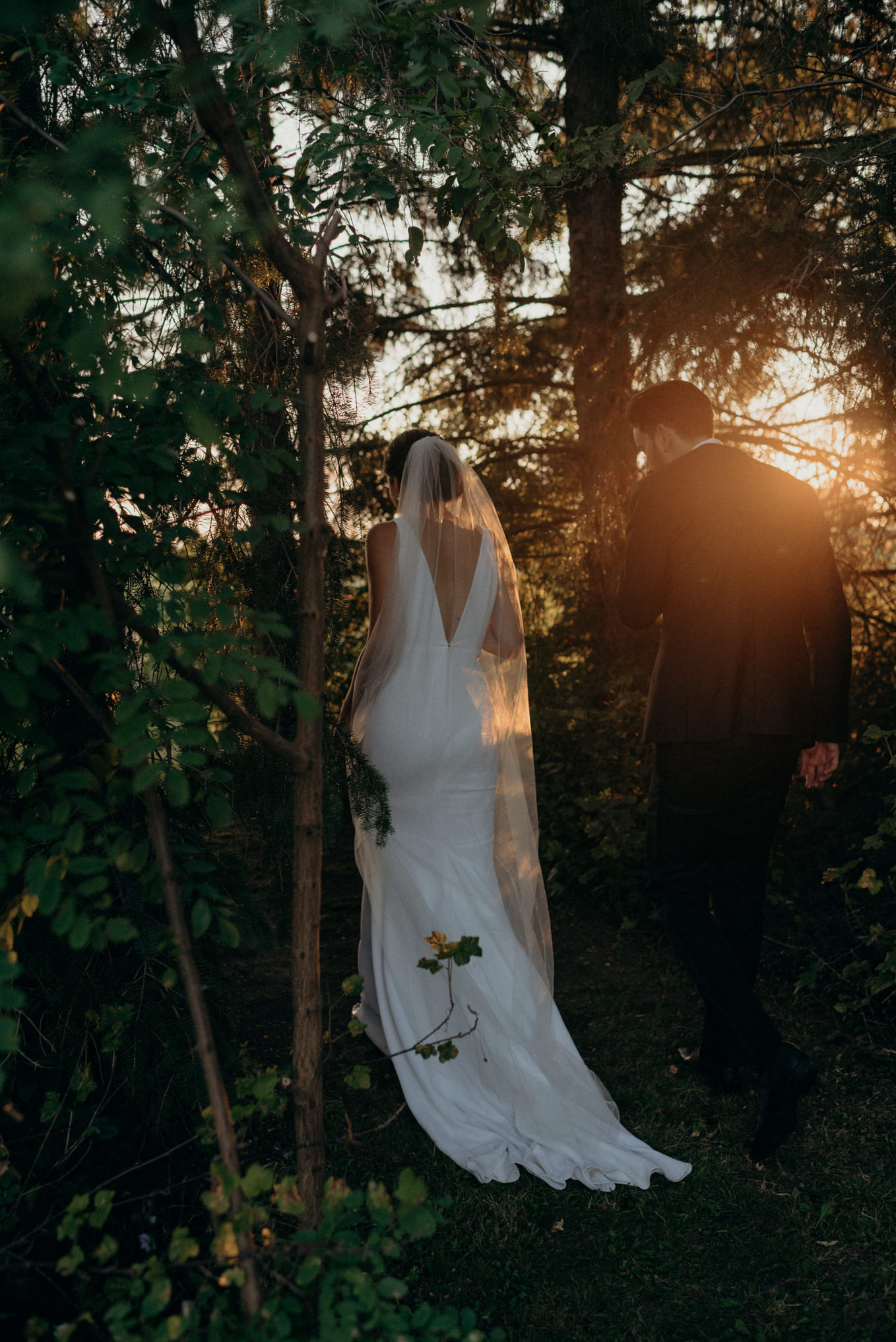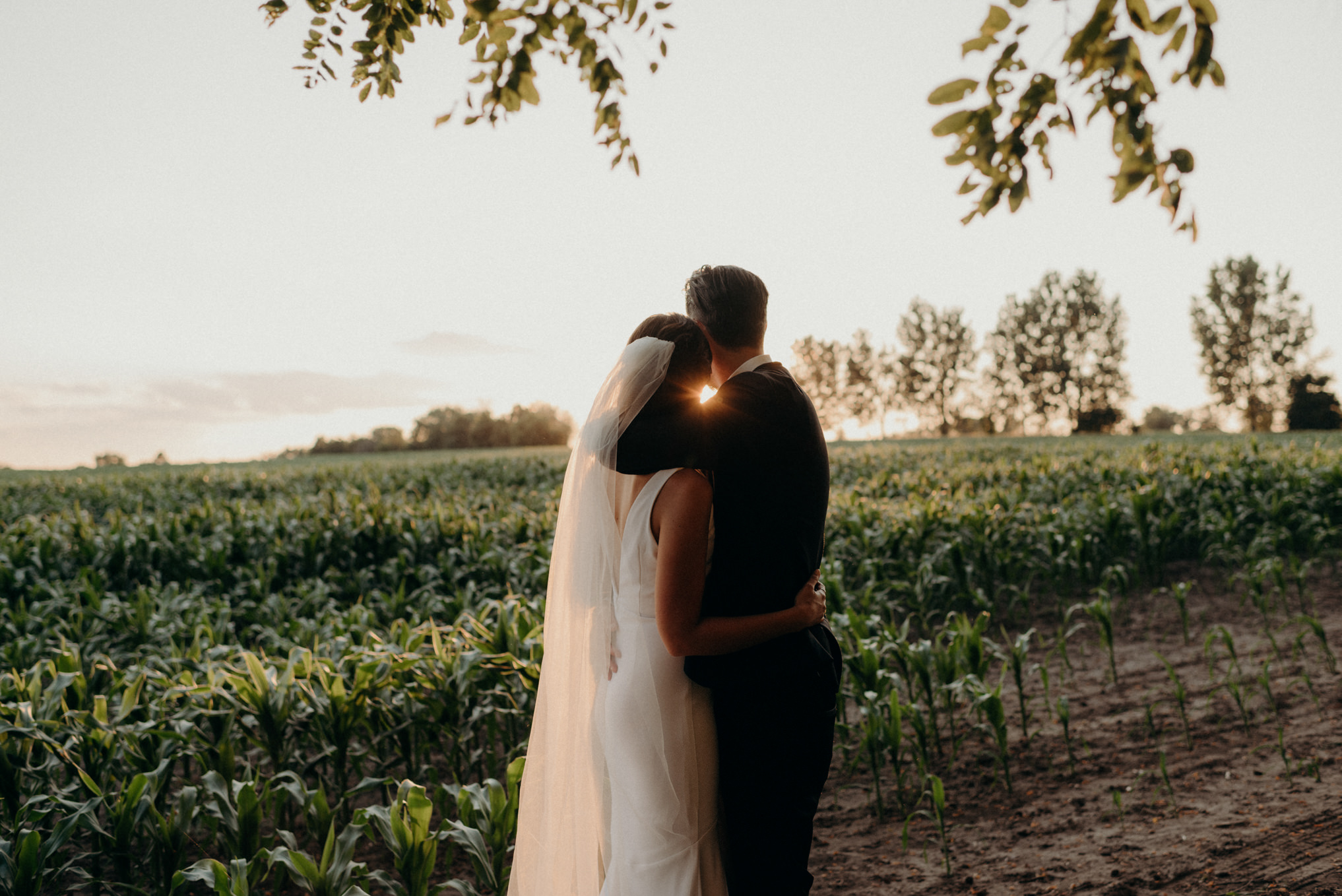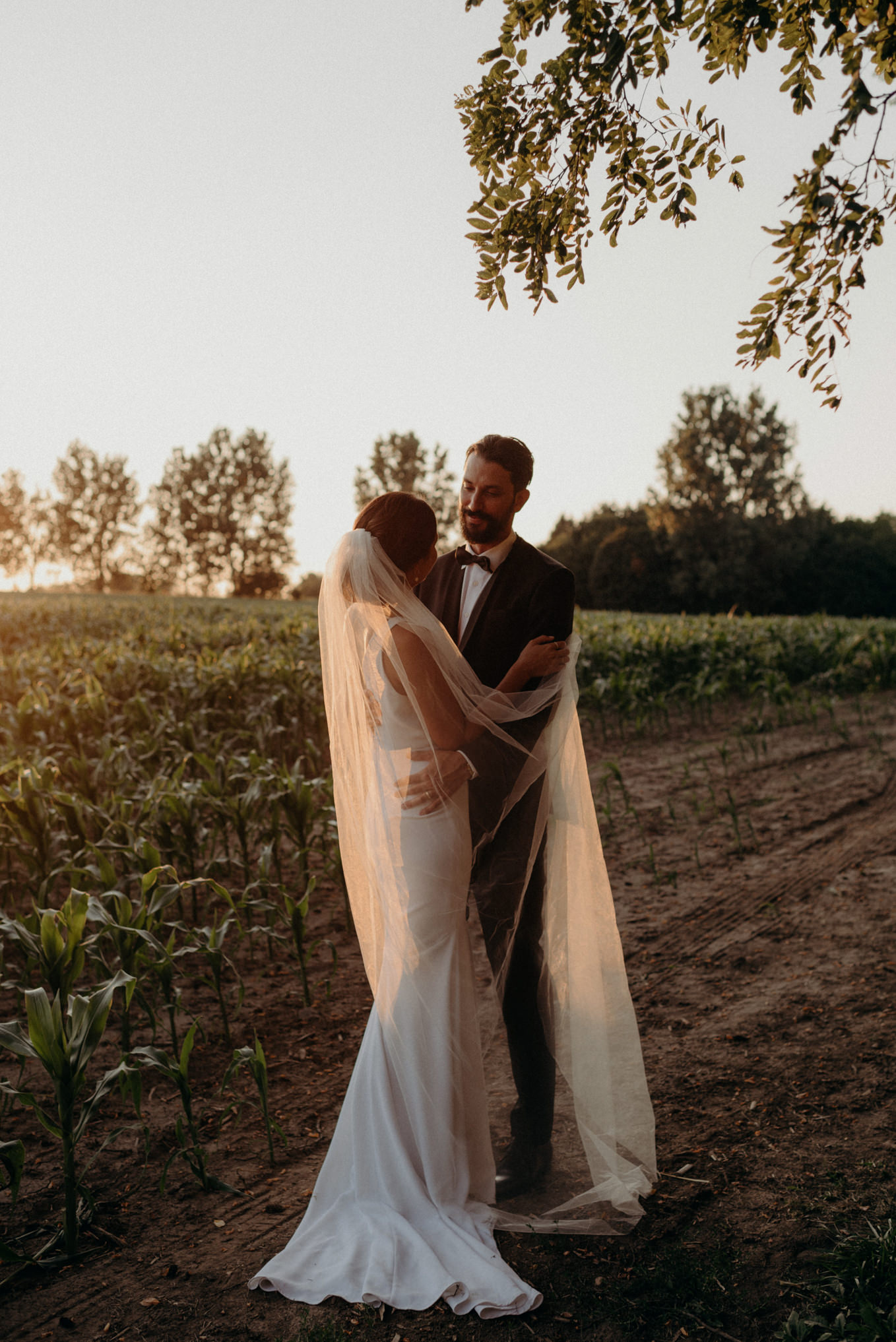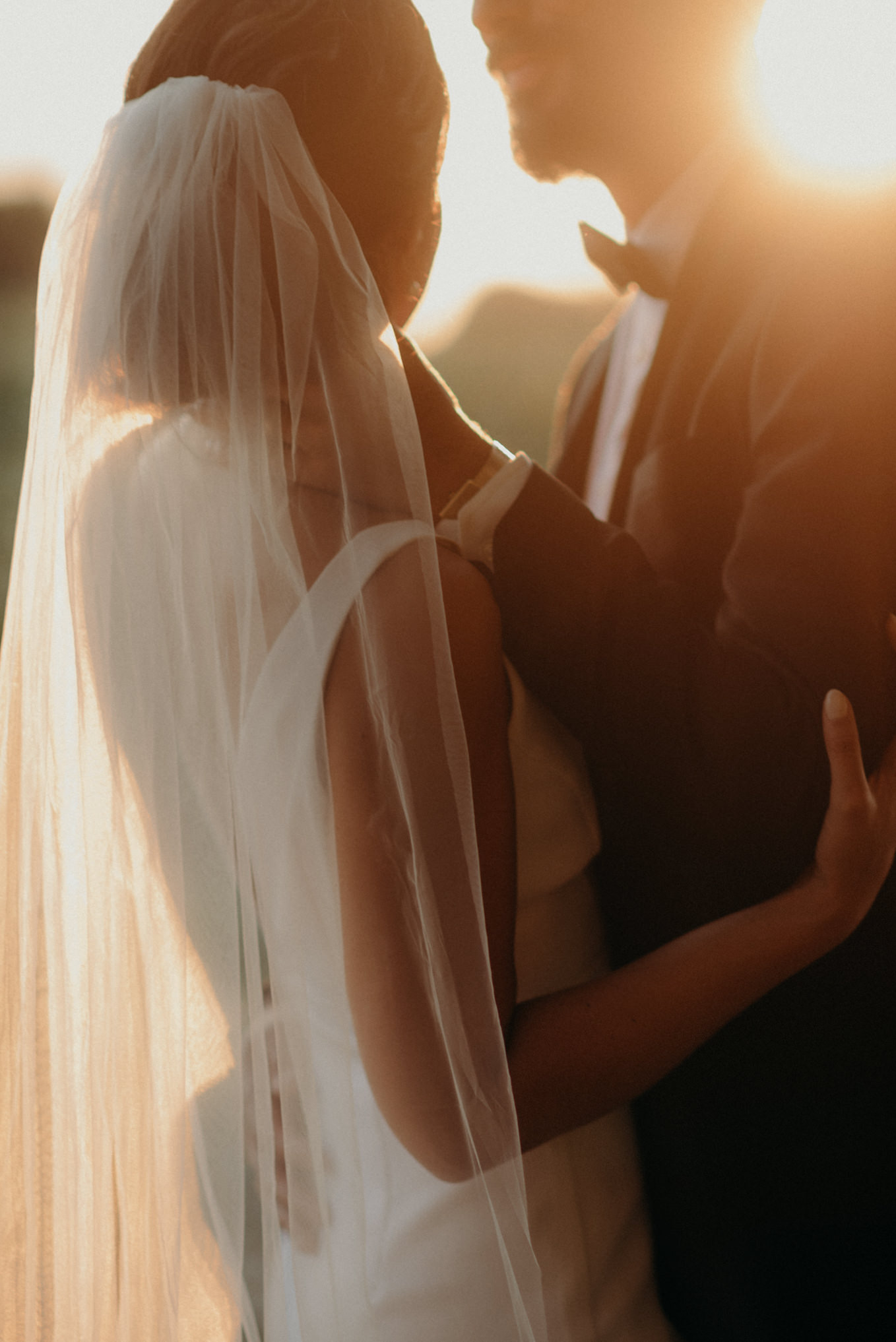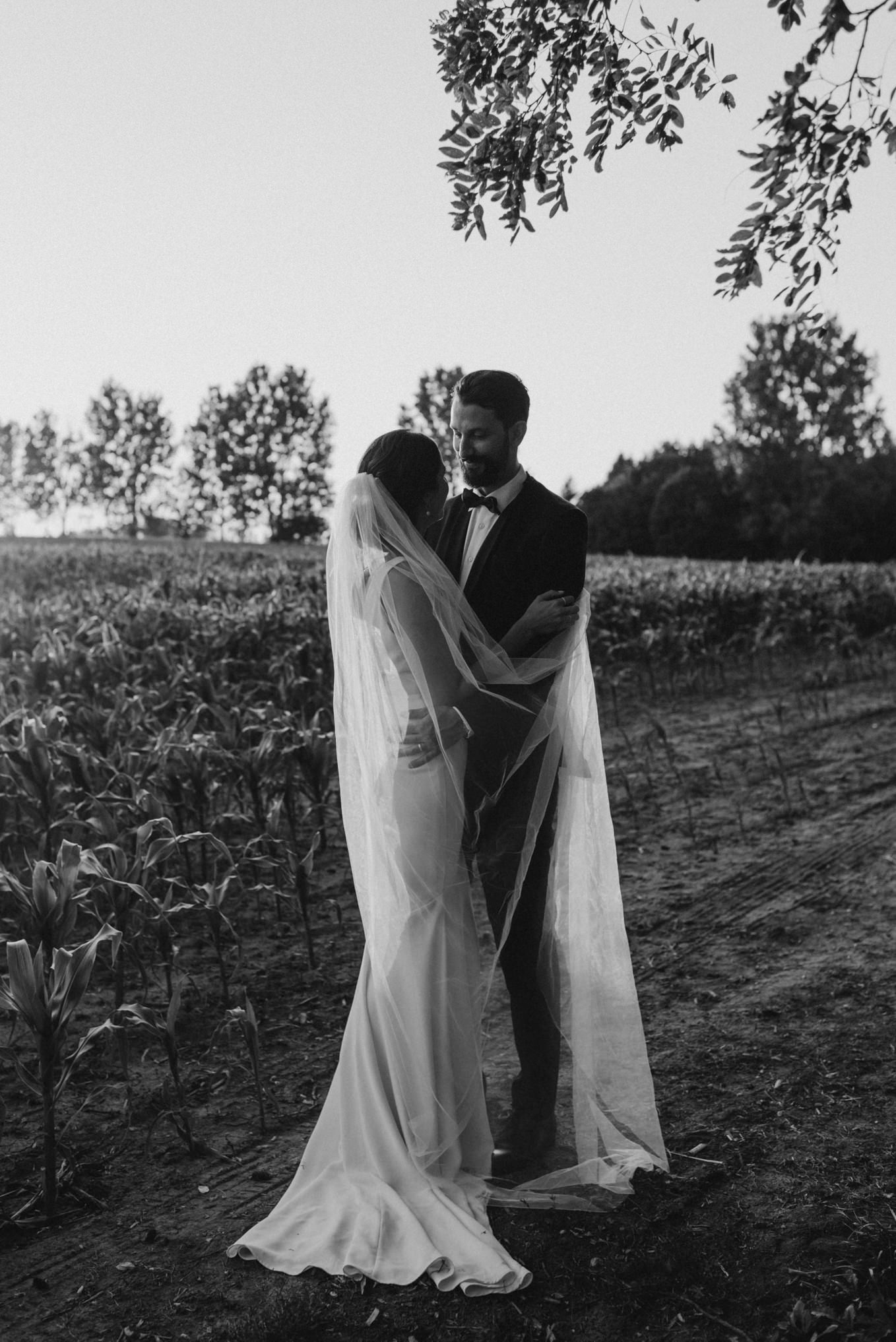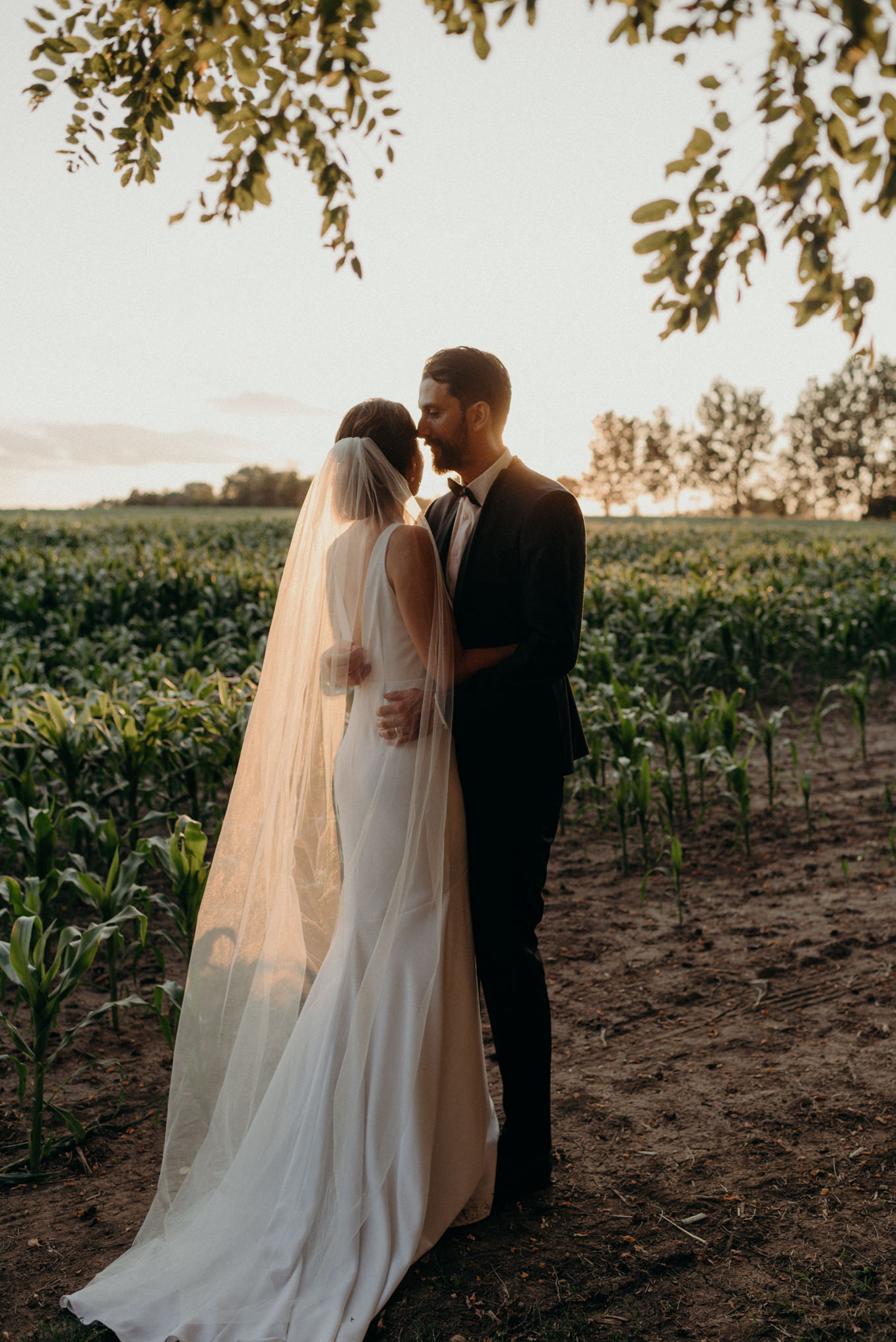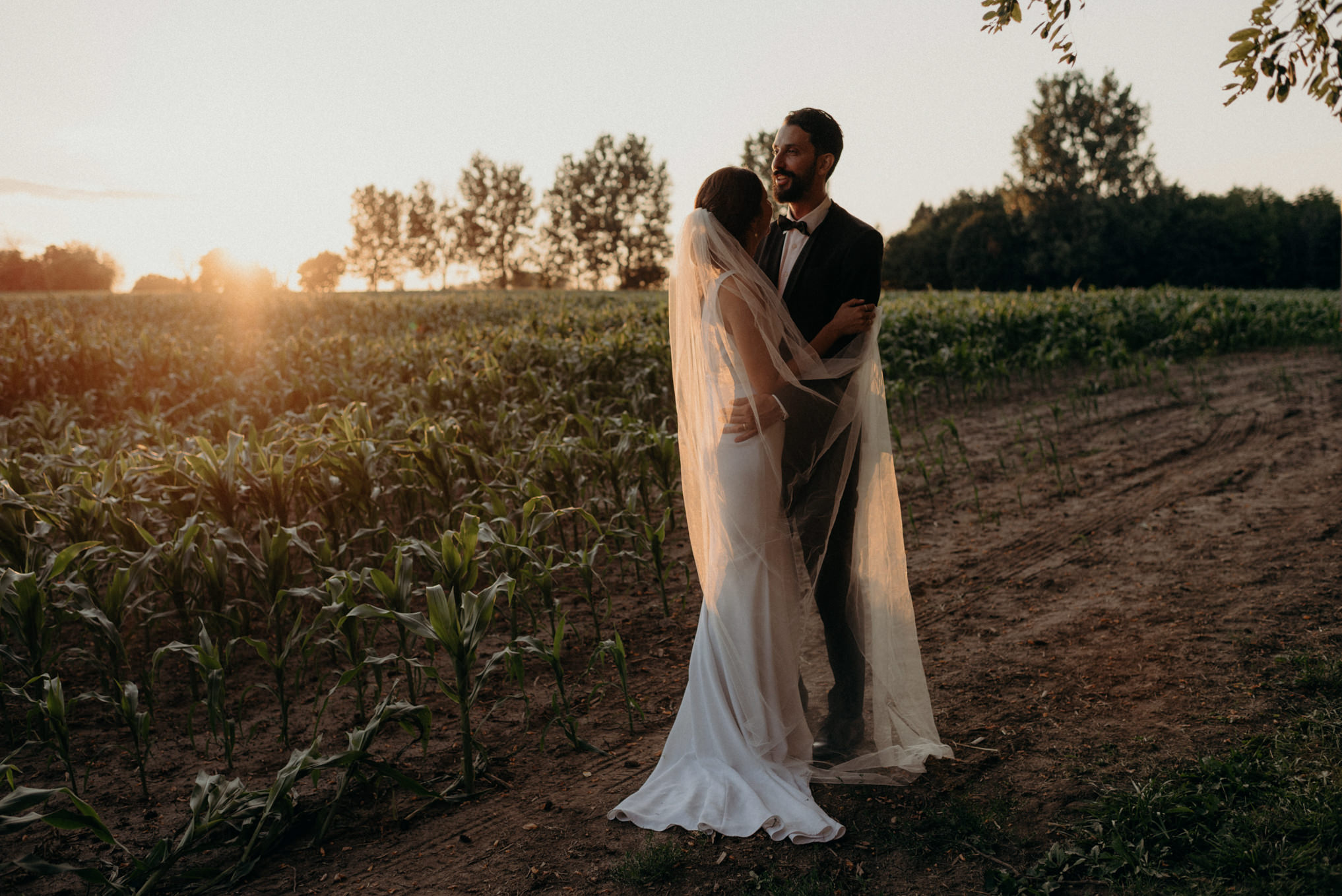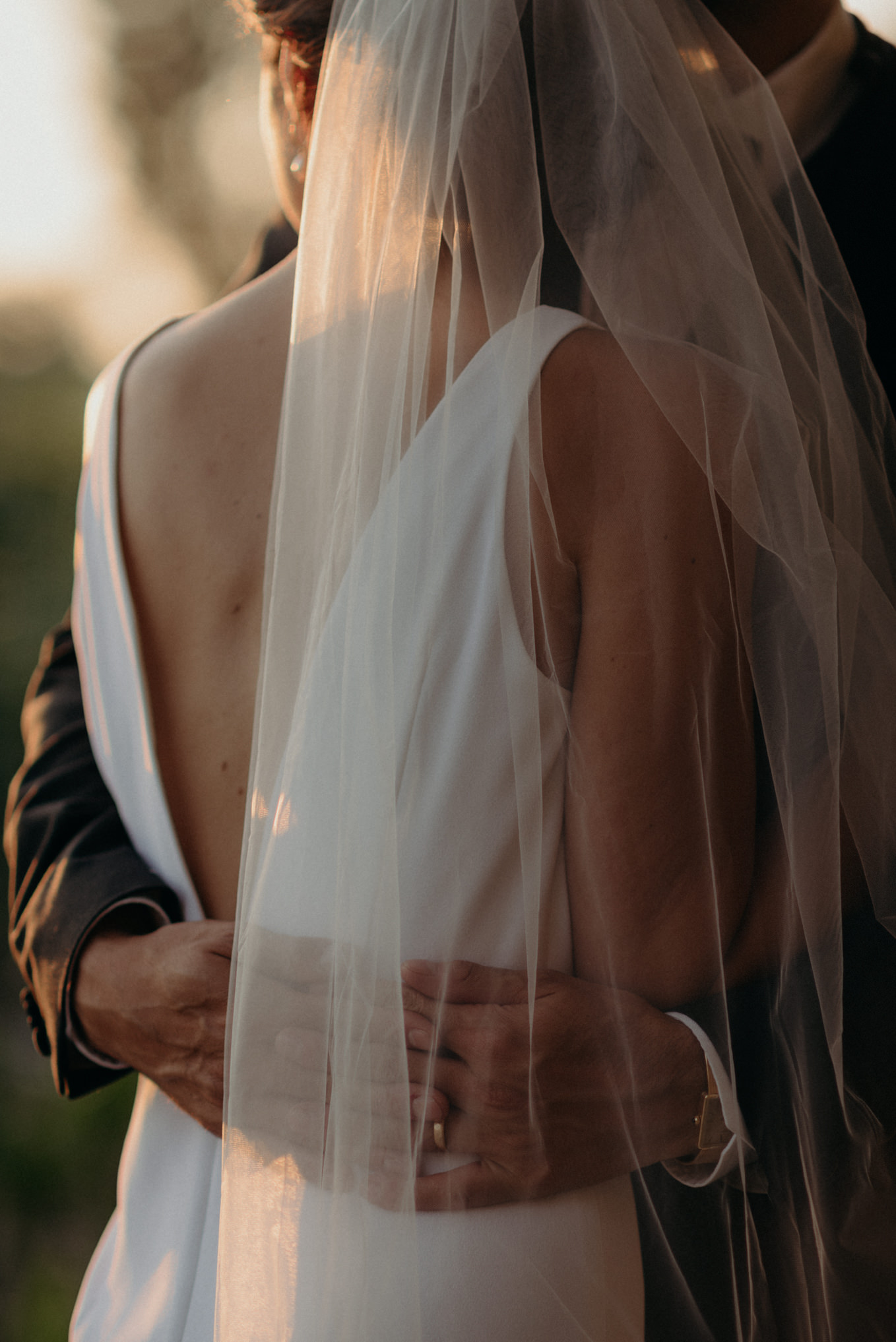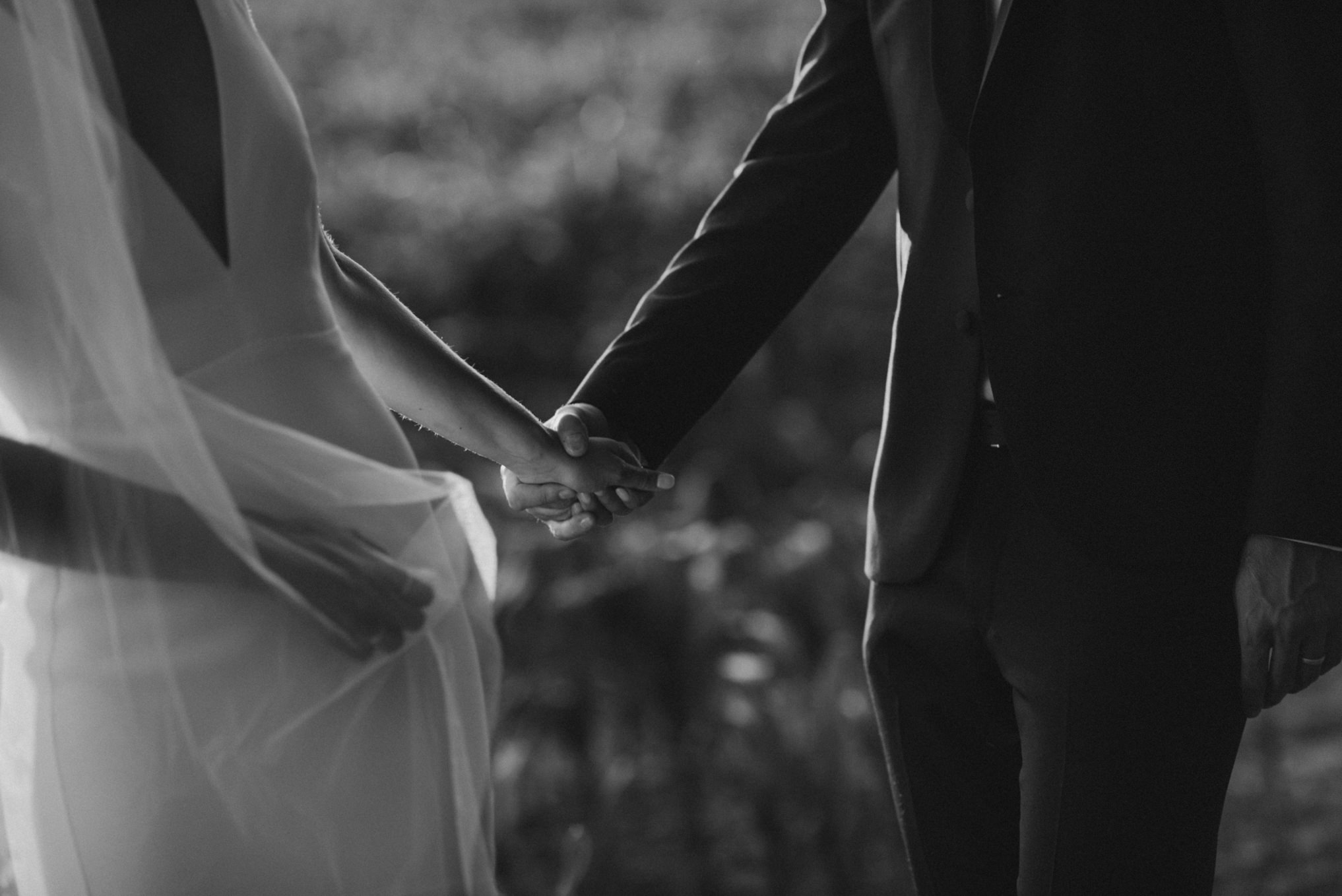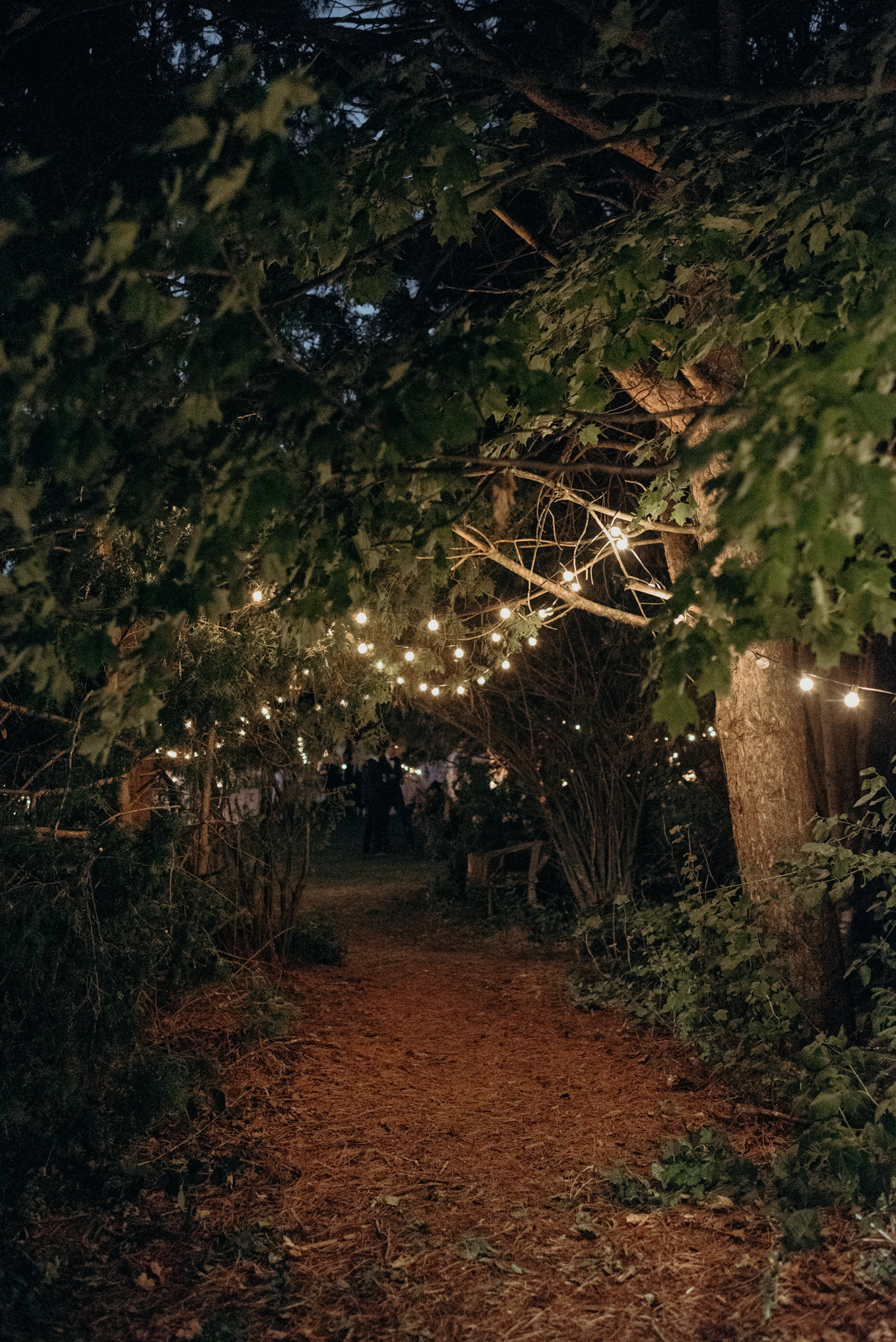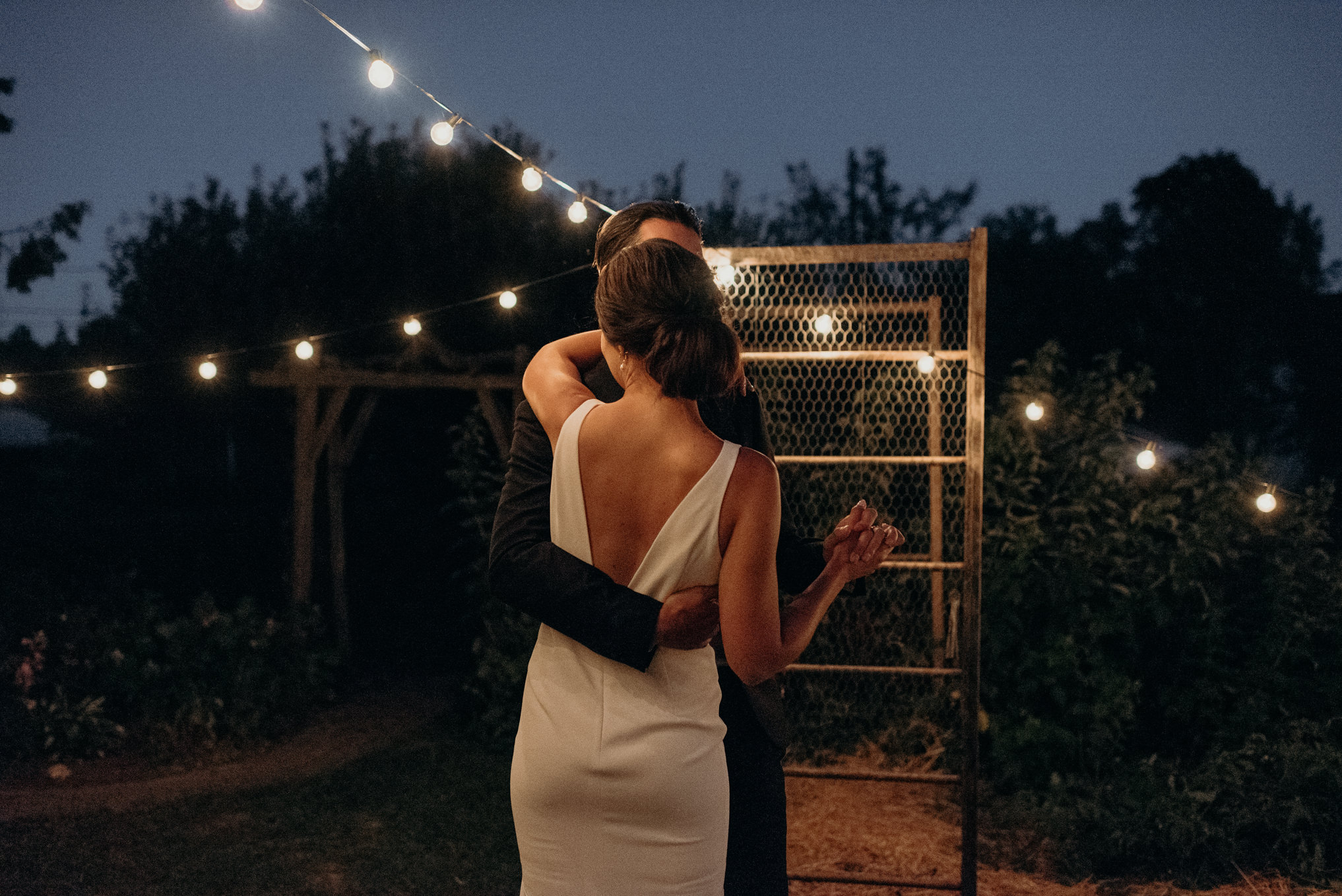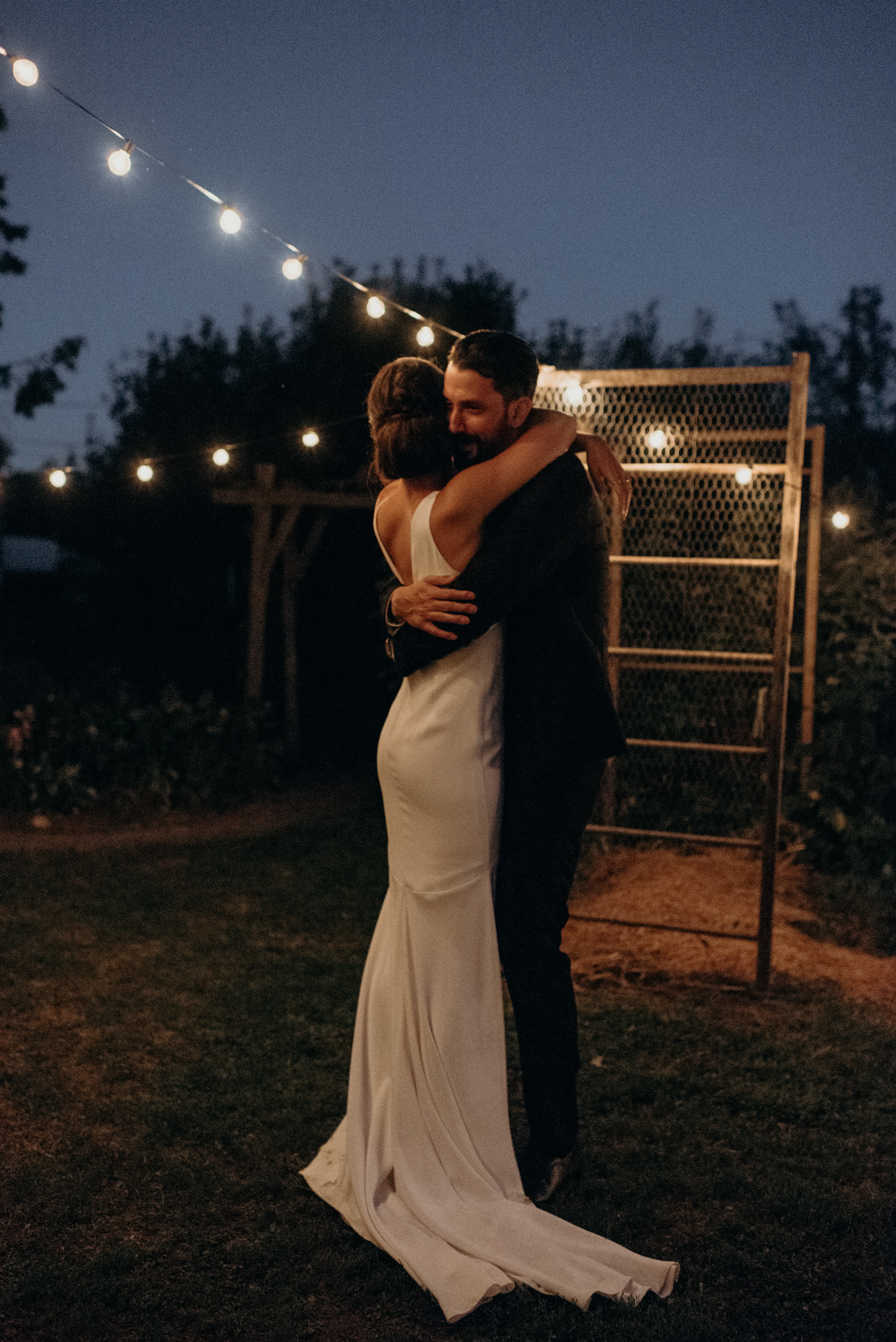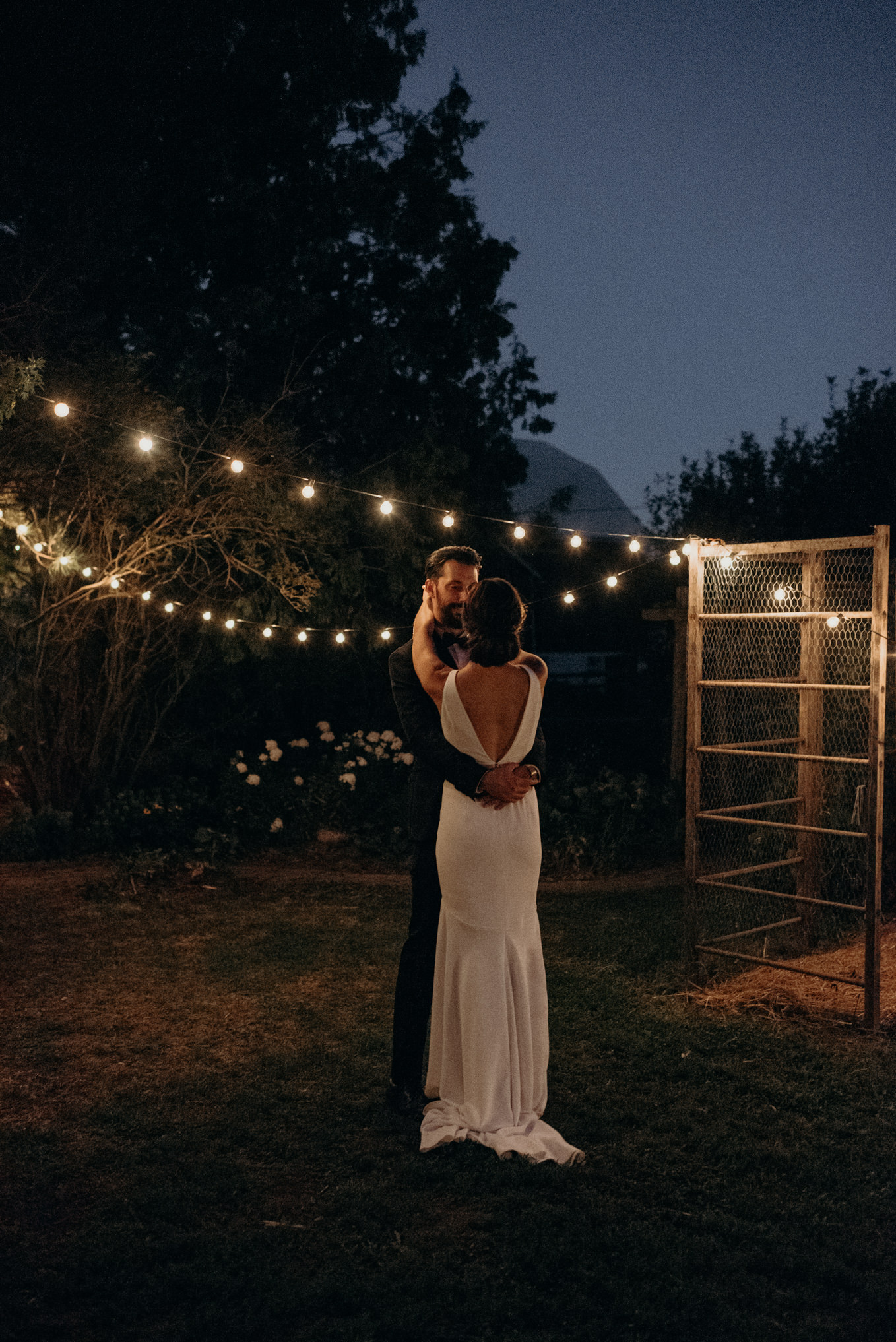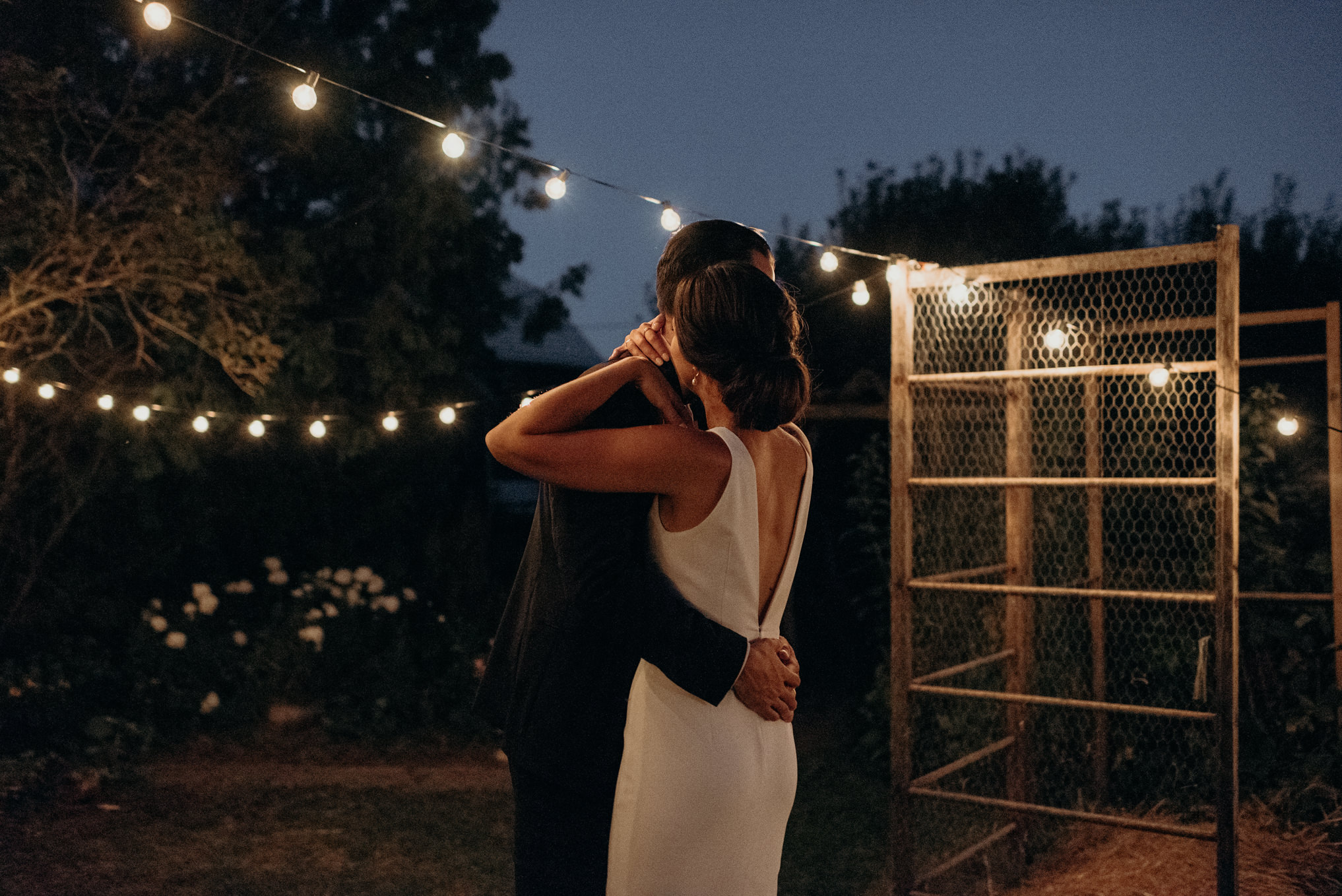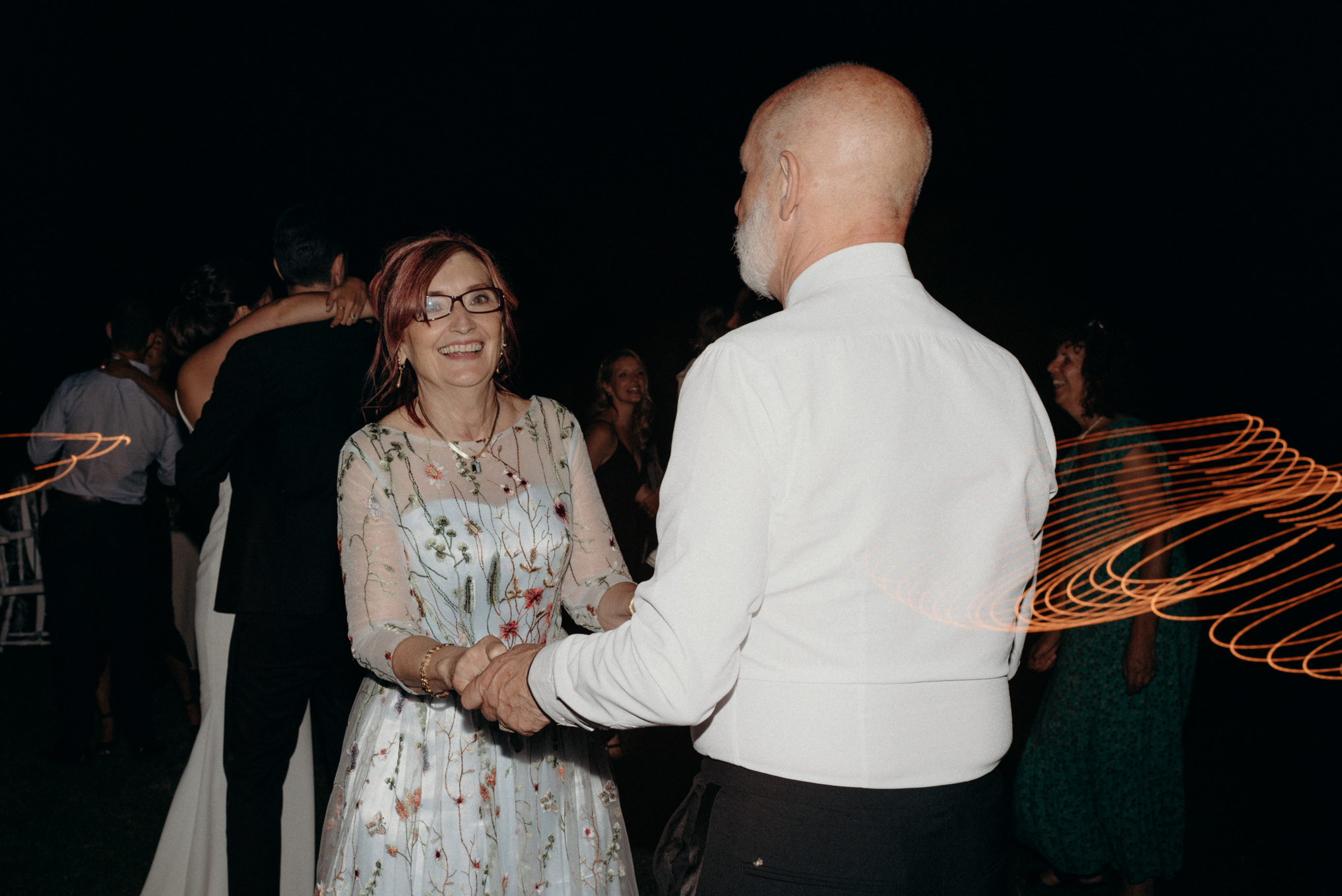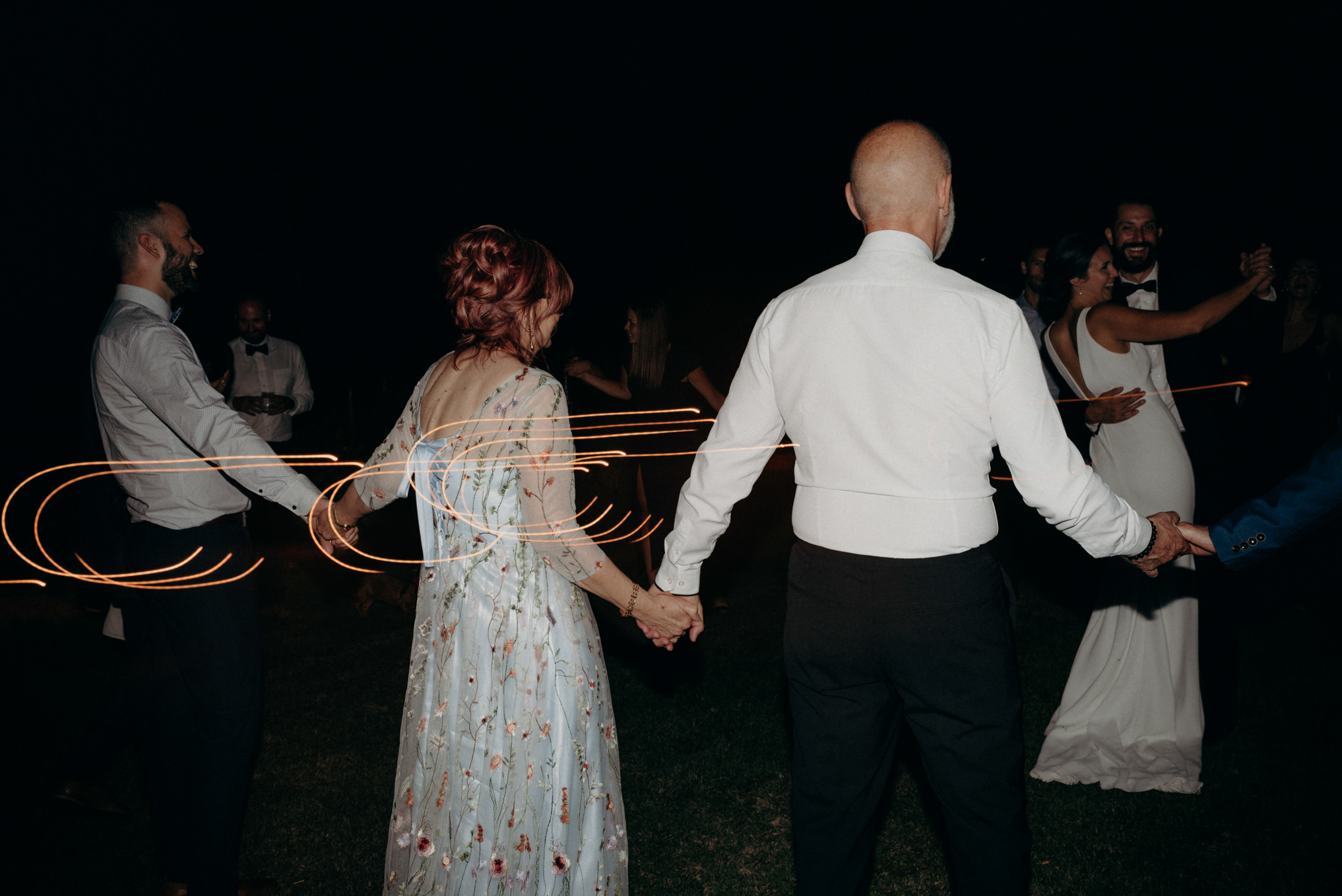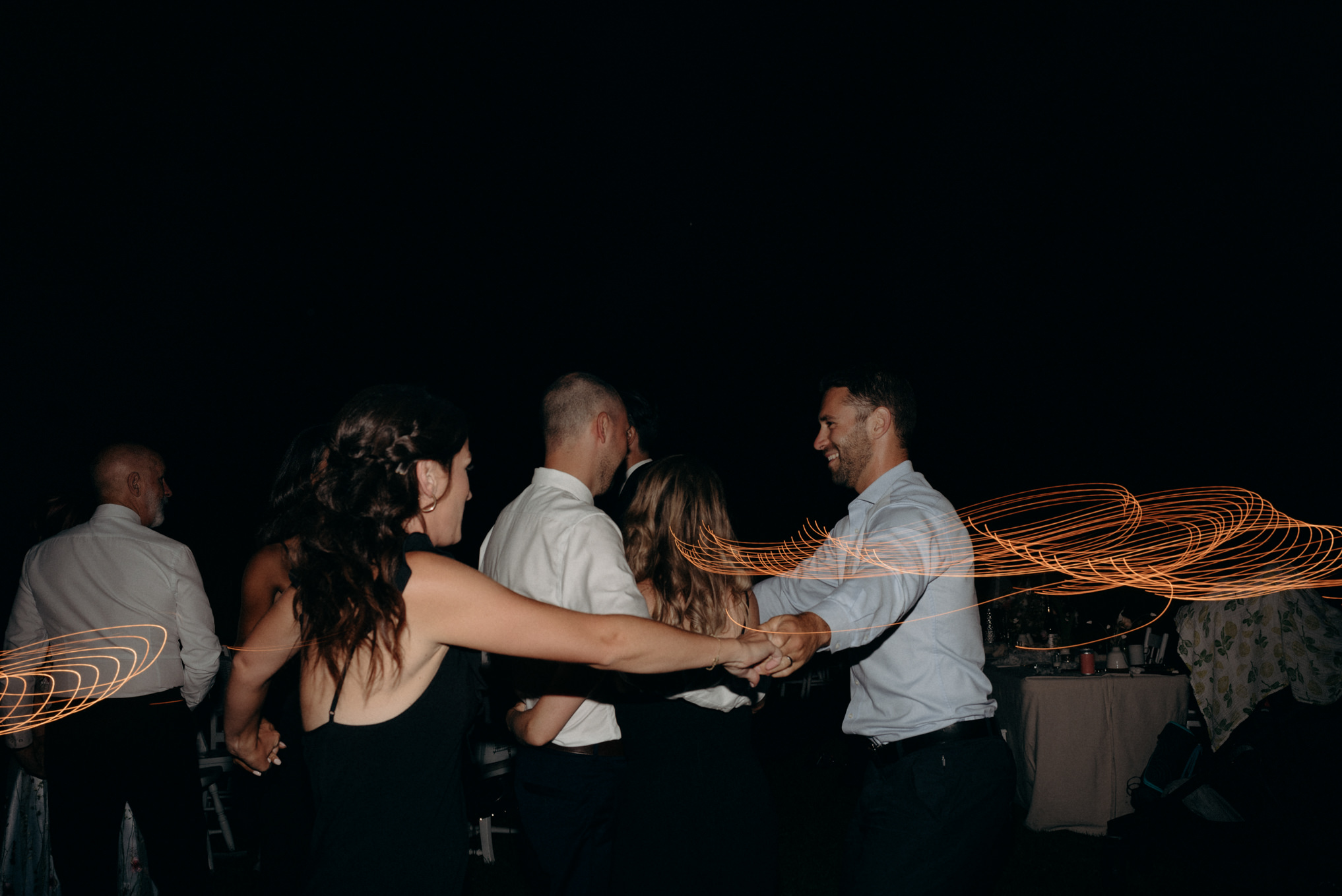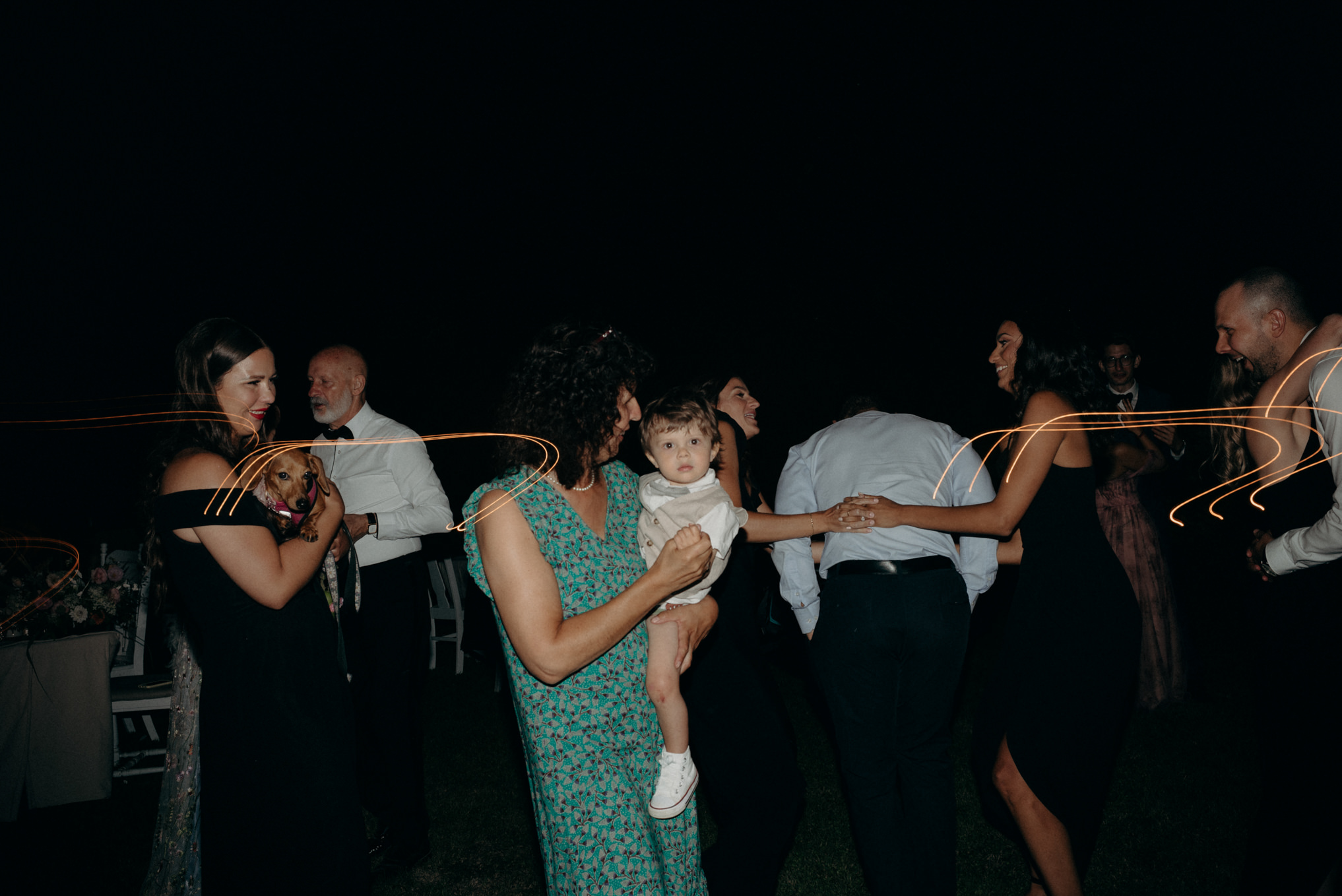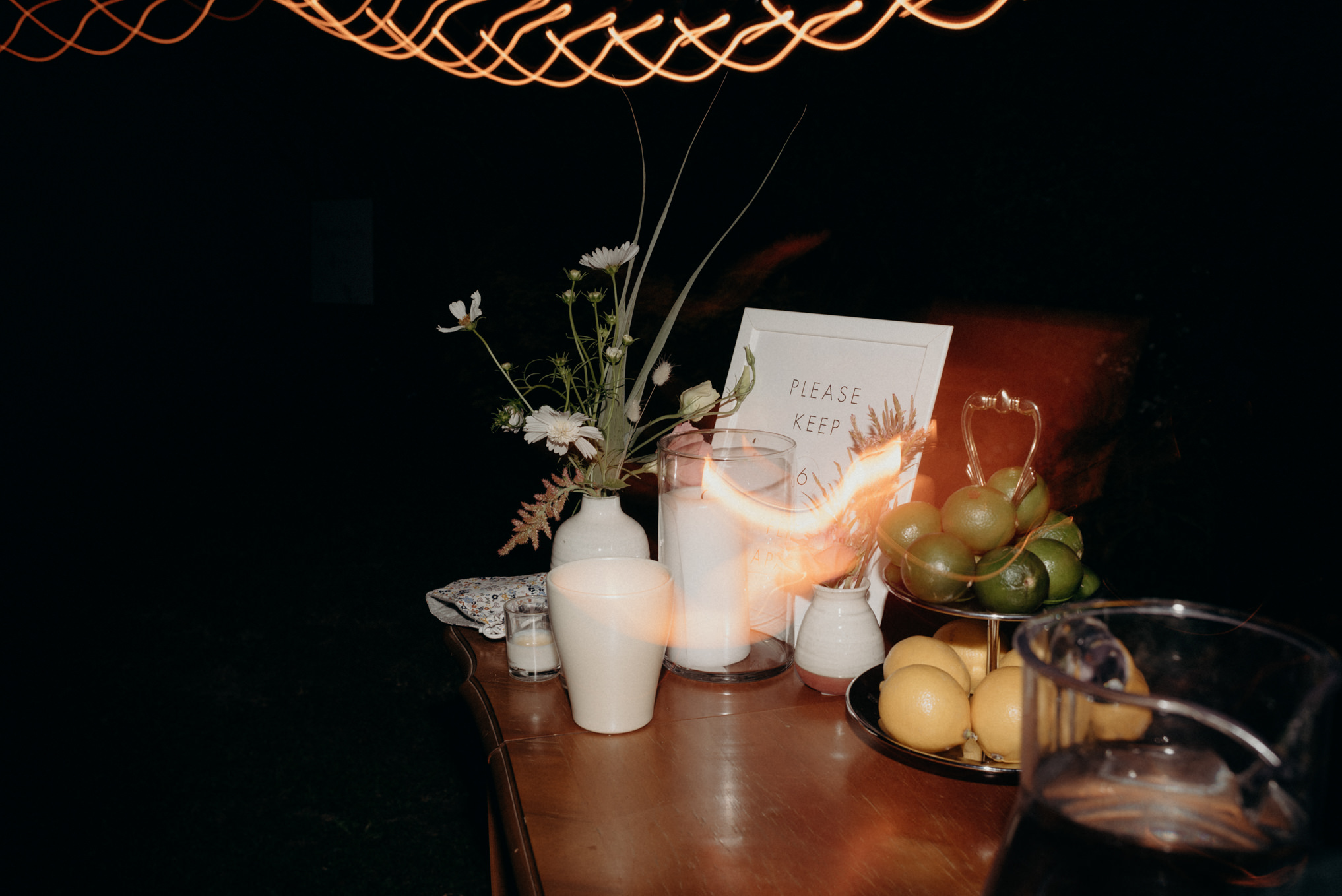 If you're planning a small wedding and loved this Reverie Farm wedding, I have lots of inspiration for you! For more intimate wedding ideas check out these beautiful weddings:
A Beautifully Styled Backyard Wedding in Kitchener
Sam & Mike's 100 Acre Wood Micro Wedding
A Dreamy Pandemic Backyard Wedding in Toronto
Vendors
Dress: Park and Fifth
Veil: Davie and Chiyo
Earrings: Mejuri Organic Pearl Hoops
Suit: Tiger of Sweden
Shoes: Zara
Hair and make up: Jen Evoy Studio
Invitations: Digital (Etsy)
Rings: Couple & Attic Gold
Florals – Begonia Moon
Caterer: Provisions
Venue: Reverie Farm
Planner: Eden Events Co.
DJ/music: Spotify playlists + Matt Jameson on sound
Processional song / musician – Dance by Tim Baker
Recessional song / musician – Our Hearts Were Young by The Wooden Sky
Signing song / musician – Roses Are Falling by Orville Peck
Officiant – Devon James
First Dance song – Nothings Gonna Hurt You Baby by Cigarettes After Sex
Plateware: Plate Occasions
Wedding Favours: Rosewood Honey