Tofino Elopement at Wickaninnish Inn.
The Couple
I never met Angela and Bruce in person before flying across the country to photograph their elopement. In fact, we never even Skyped. I get asked a lot if I meet my couples before hand and most of the time I don't. I get a really good sense of what my couples like and if we're a good match from my website inquiry form and our email exchanges. I knew we were going to click and we did. They flew from Virginia and took a ferry over from Seattle. I was expecting heavy southern accents and Bruce did not disappoint. I loved listening to him talk, so I asked him a lot of questions. Angela's was understated, almost nonexistent. But every once in a while the southern would come out and it was so cute.
Most of the time, the morning of a wedding starts off slow and quiet. I showed up during the "frantic last minutes and make up and hair isn't done" phase with an hour before their first look. Angela is adorable. She asked my opinion on hair and makeup and I am by no means an expert so I just went with it. She looked amazing and was going to look amazing whether I told her to wear red lipstick and put her hair up or go natural and wear it down. We decided to do an official first look on the beach in front of Wickaninnish Inn before heading over to the redwood grove for their ceremony. It was misting and there was no one else on the beach.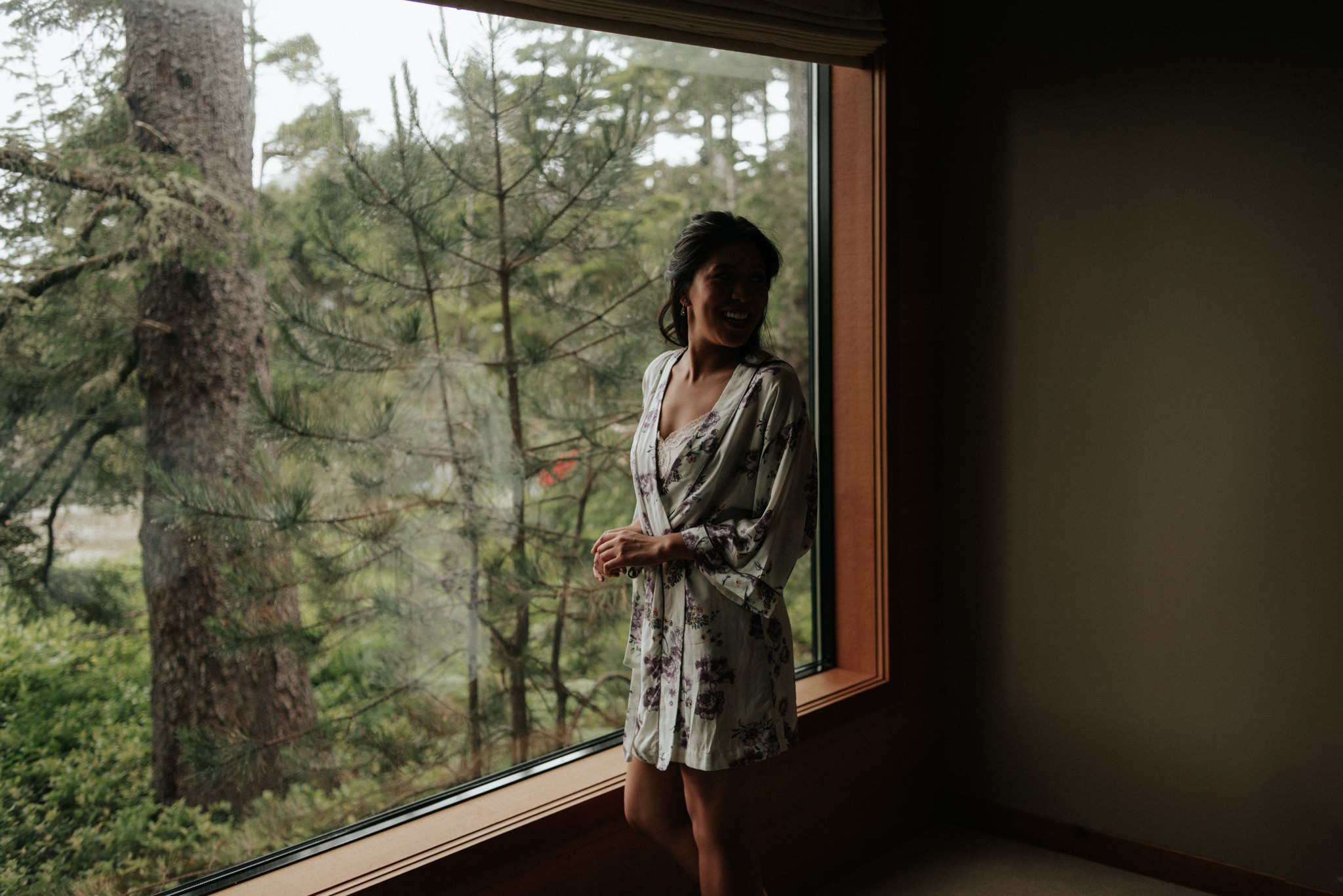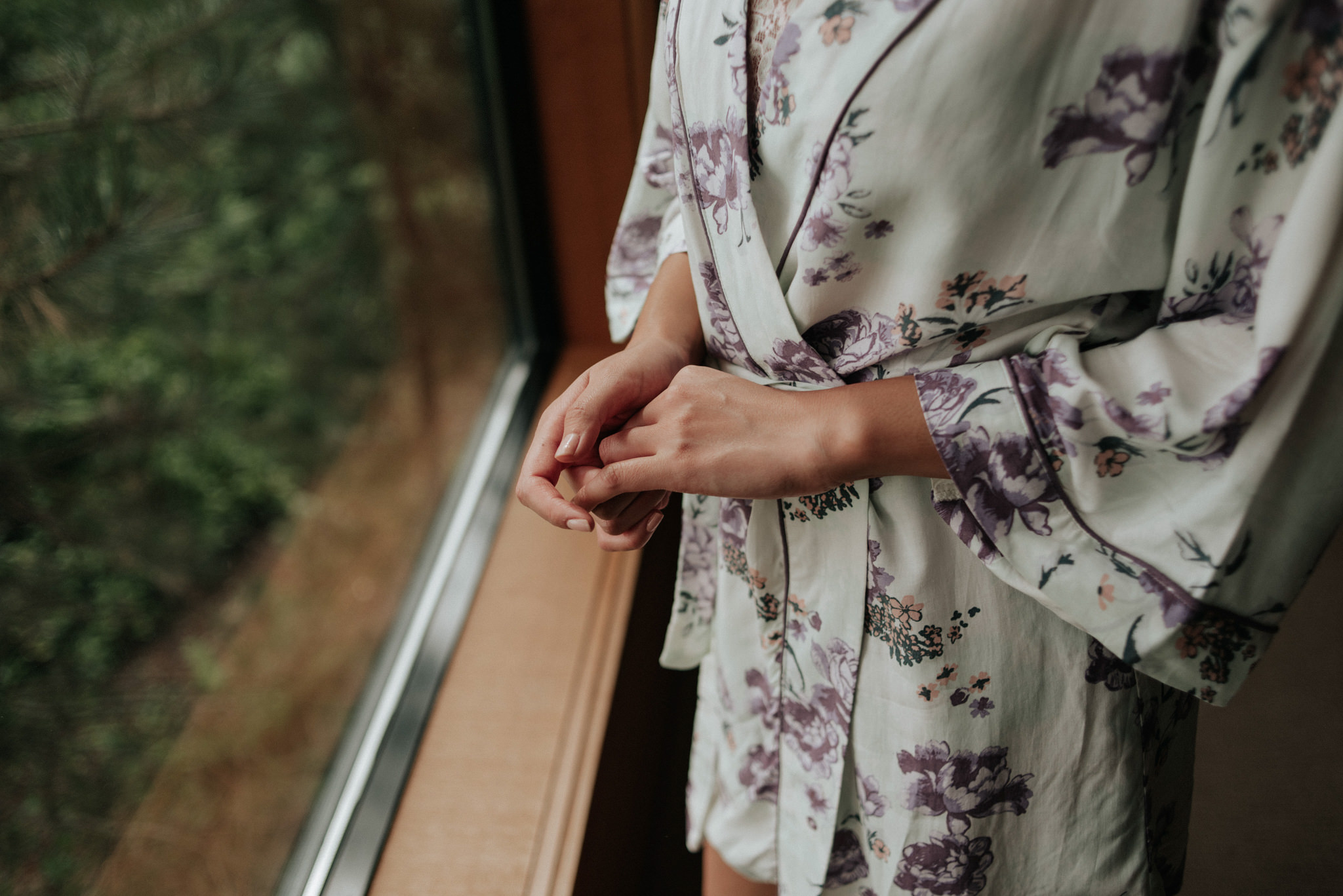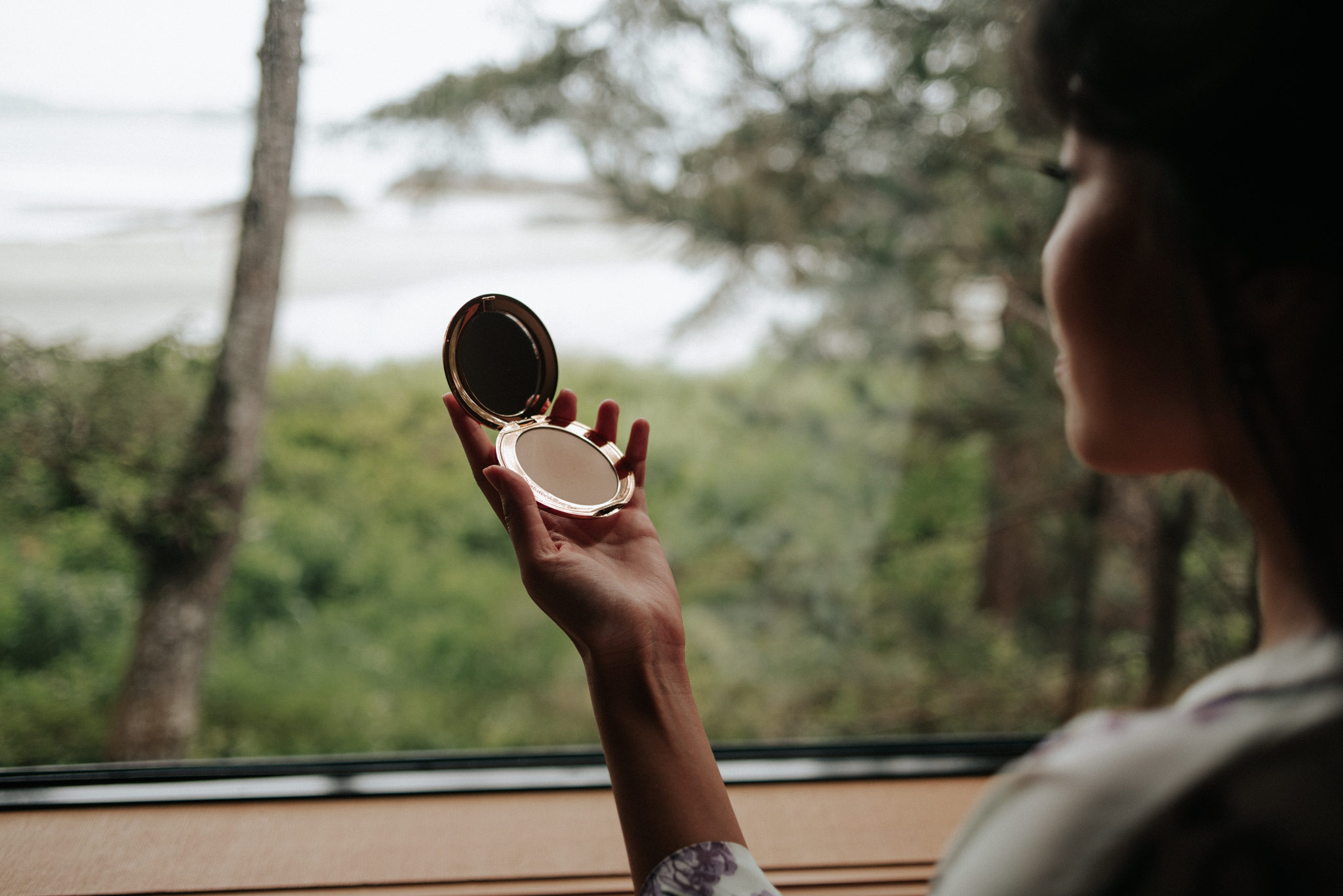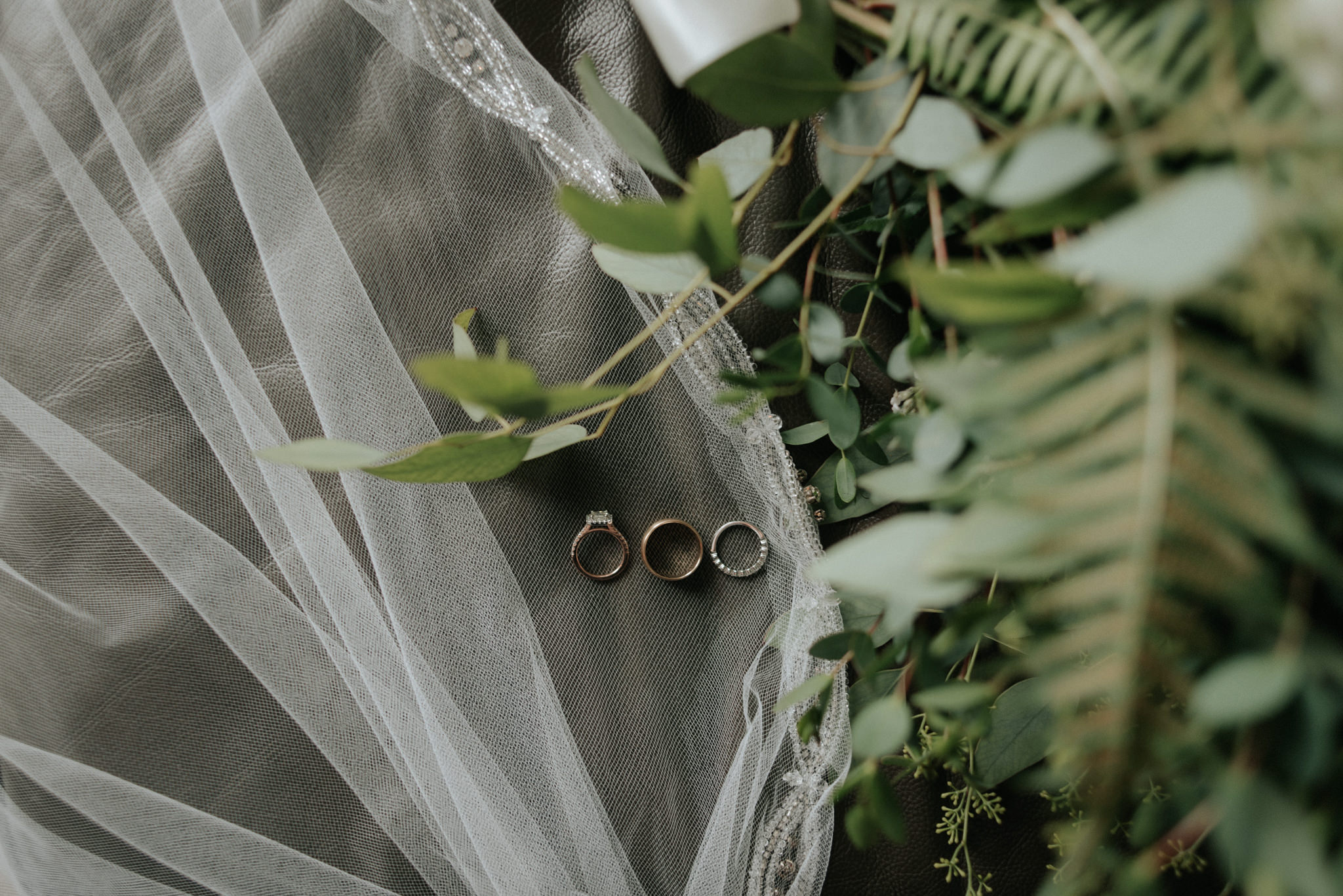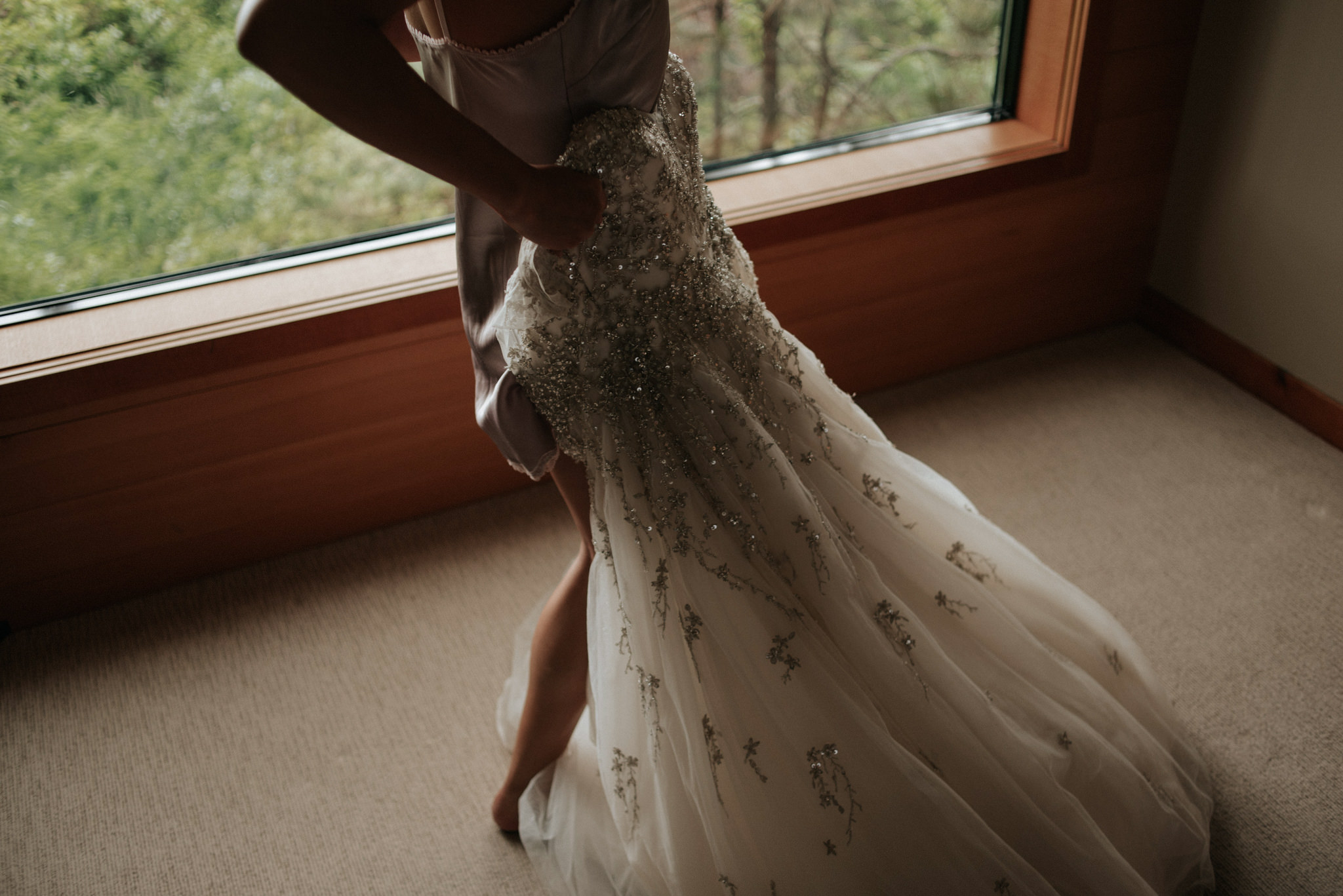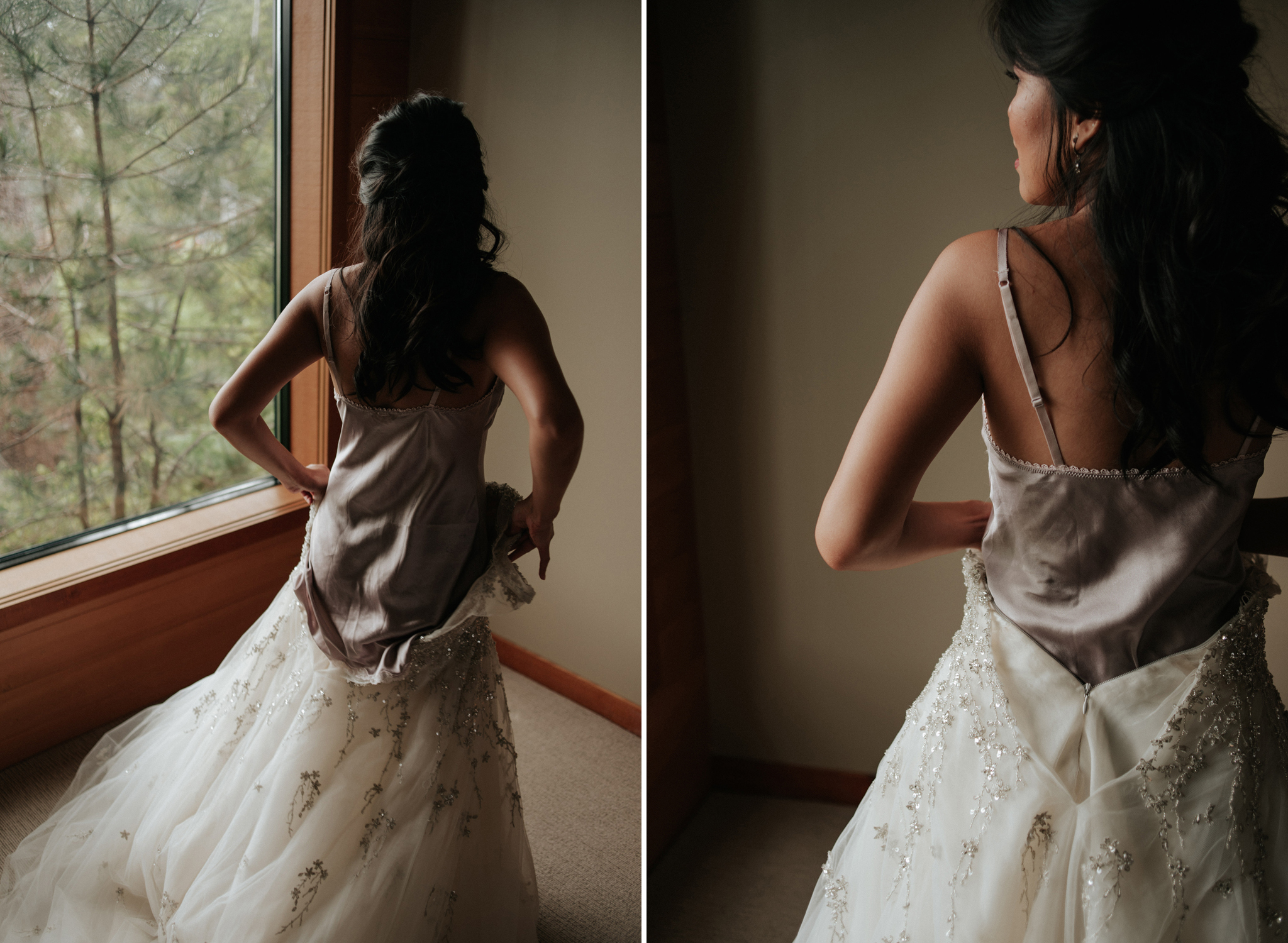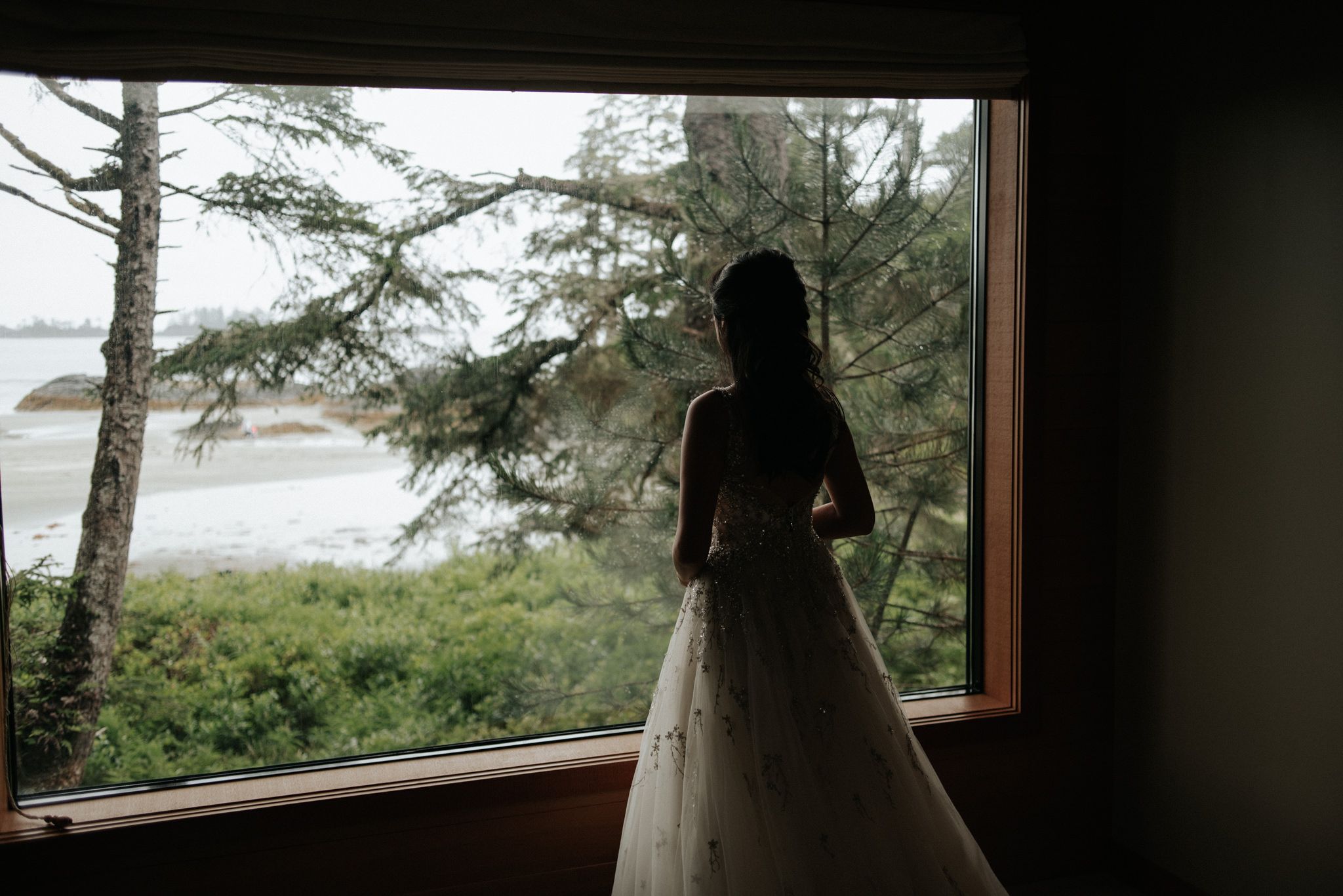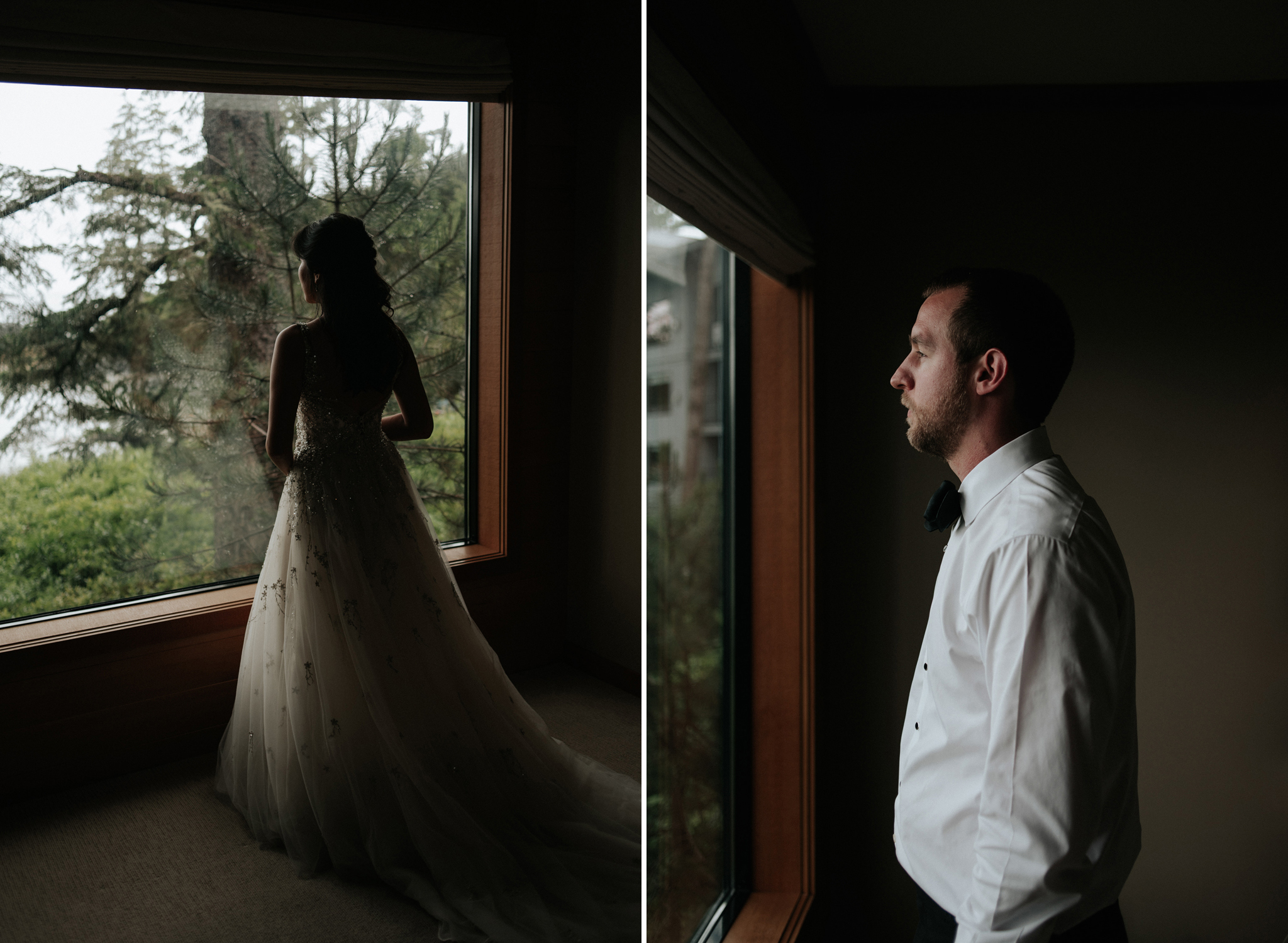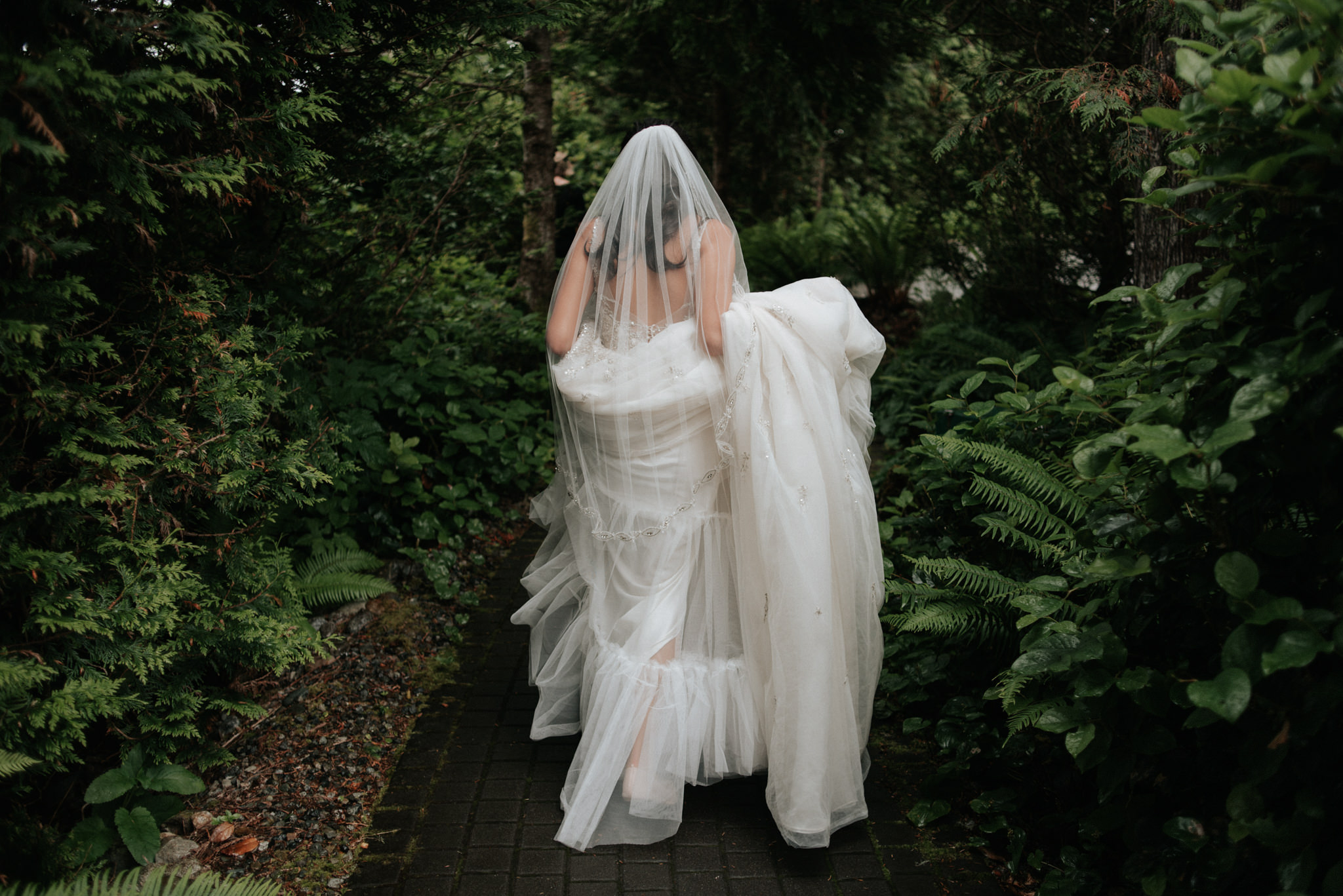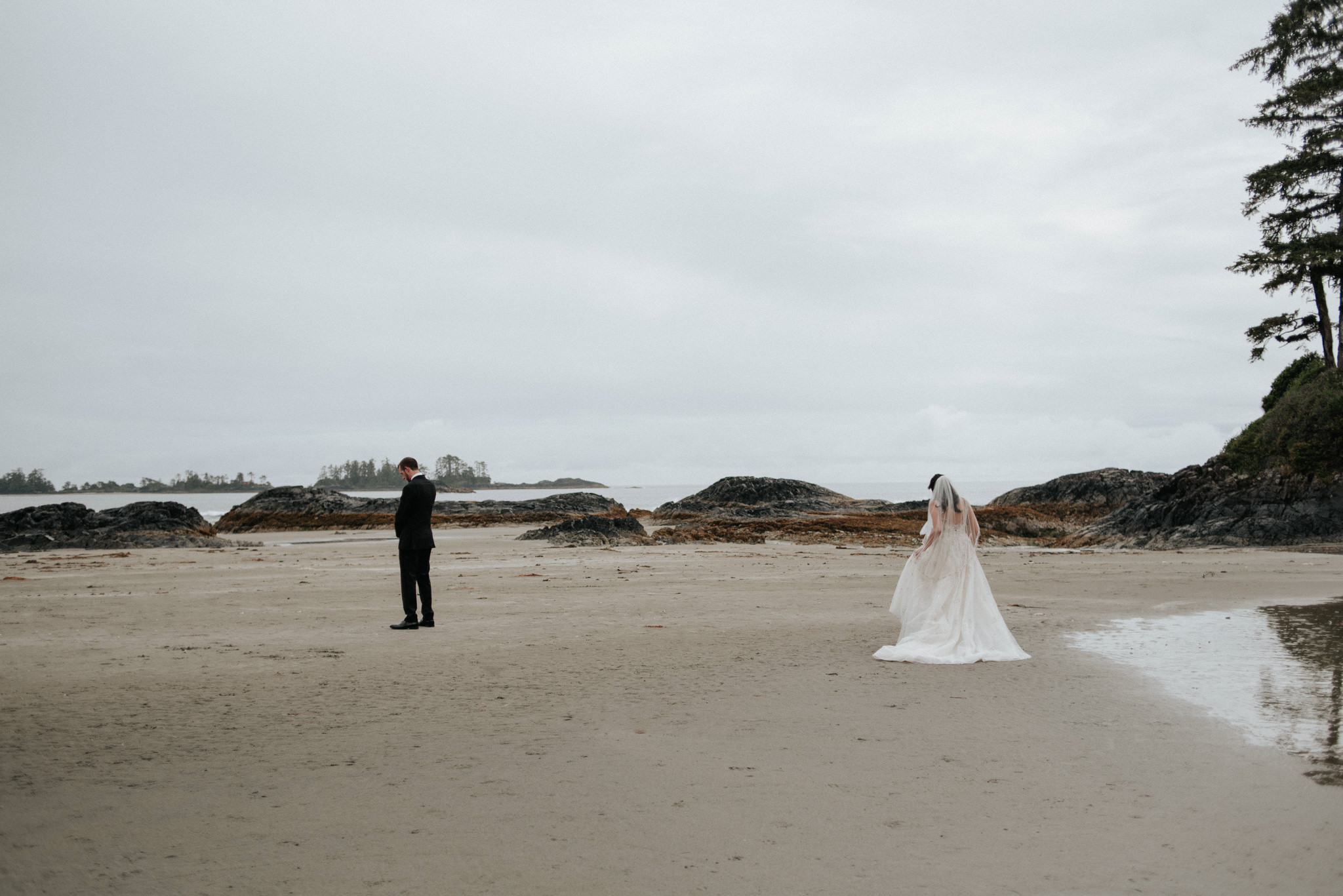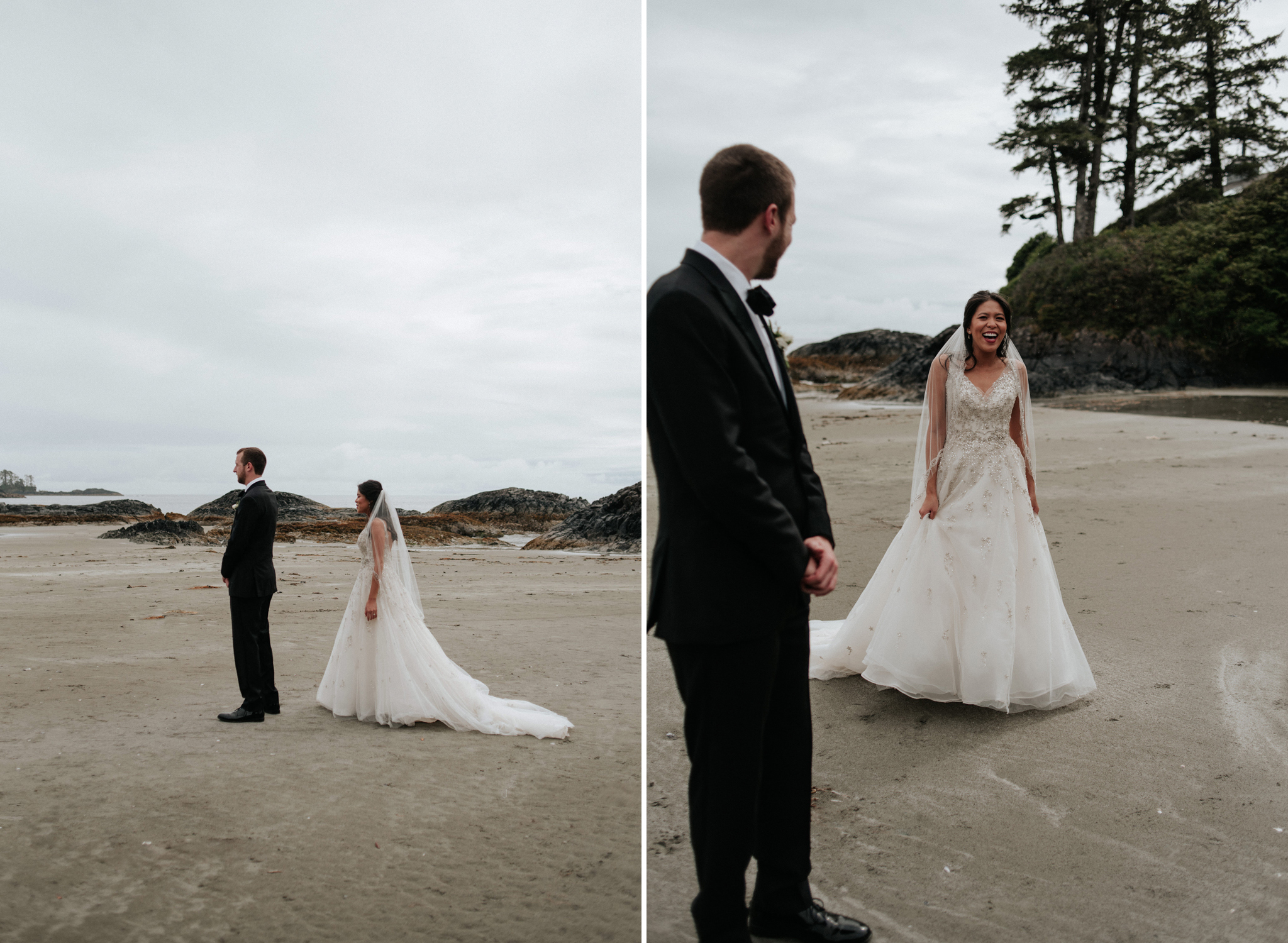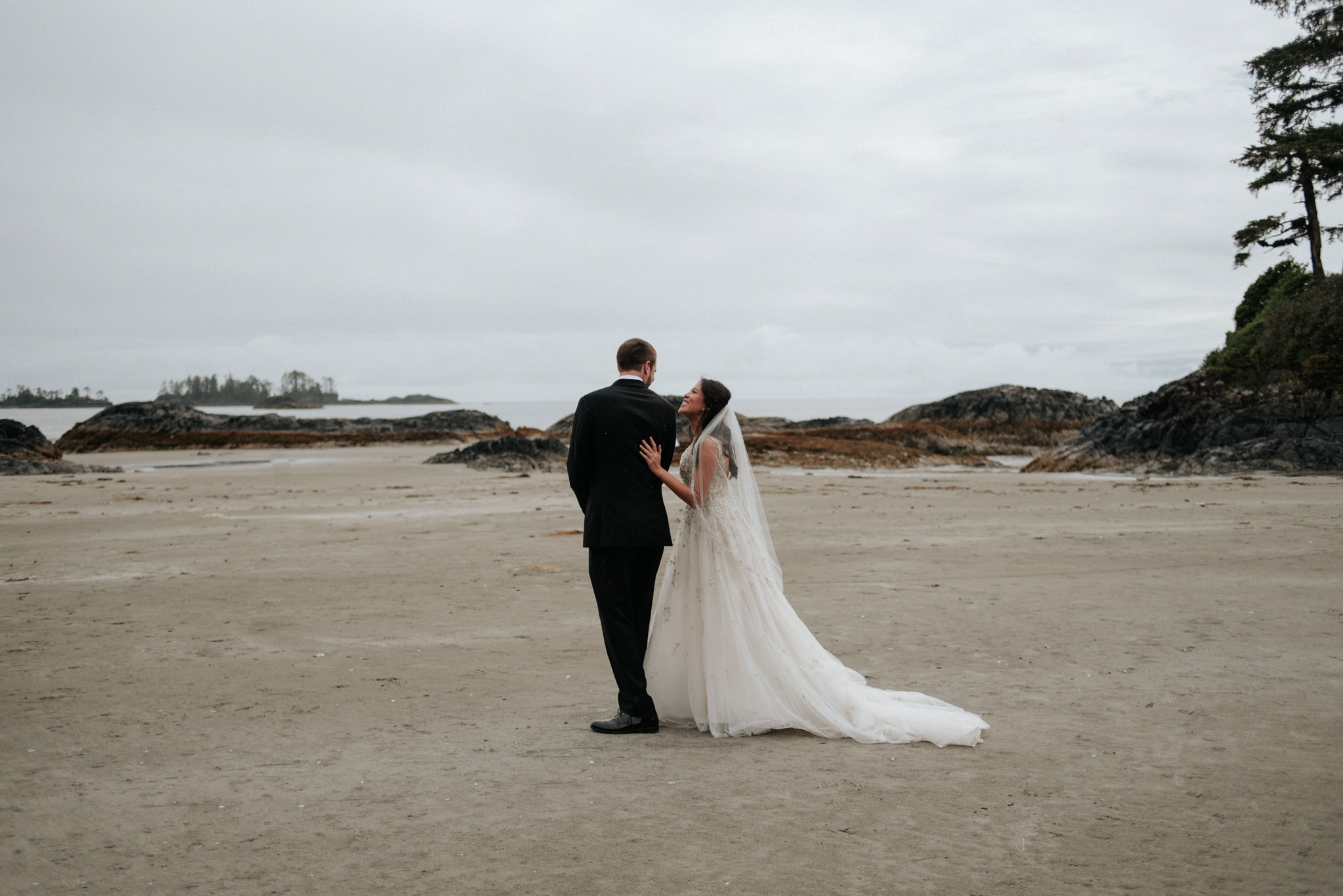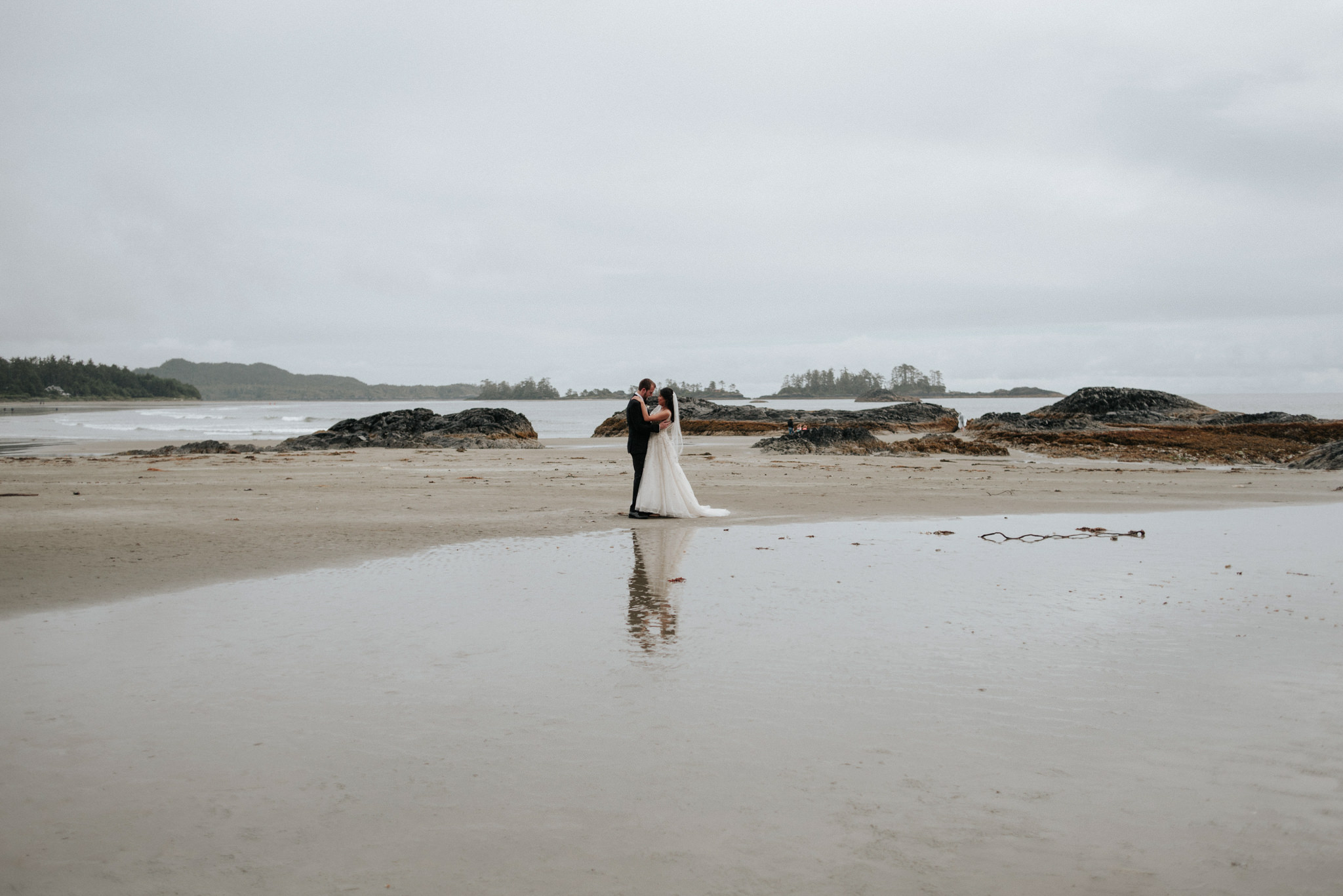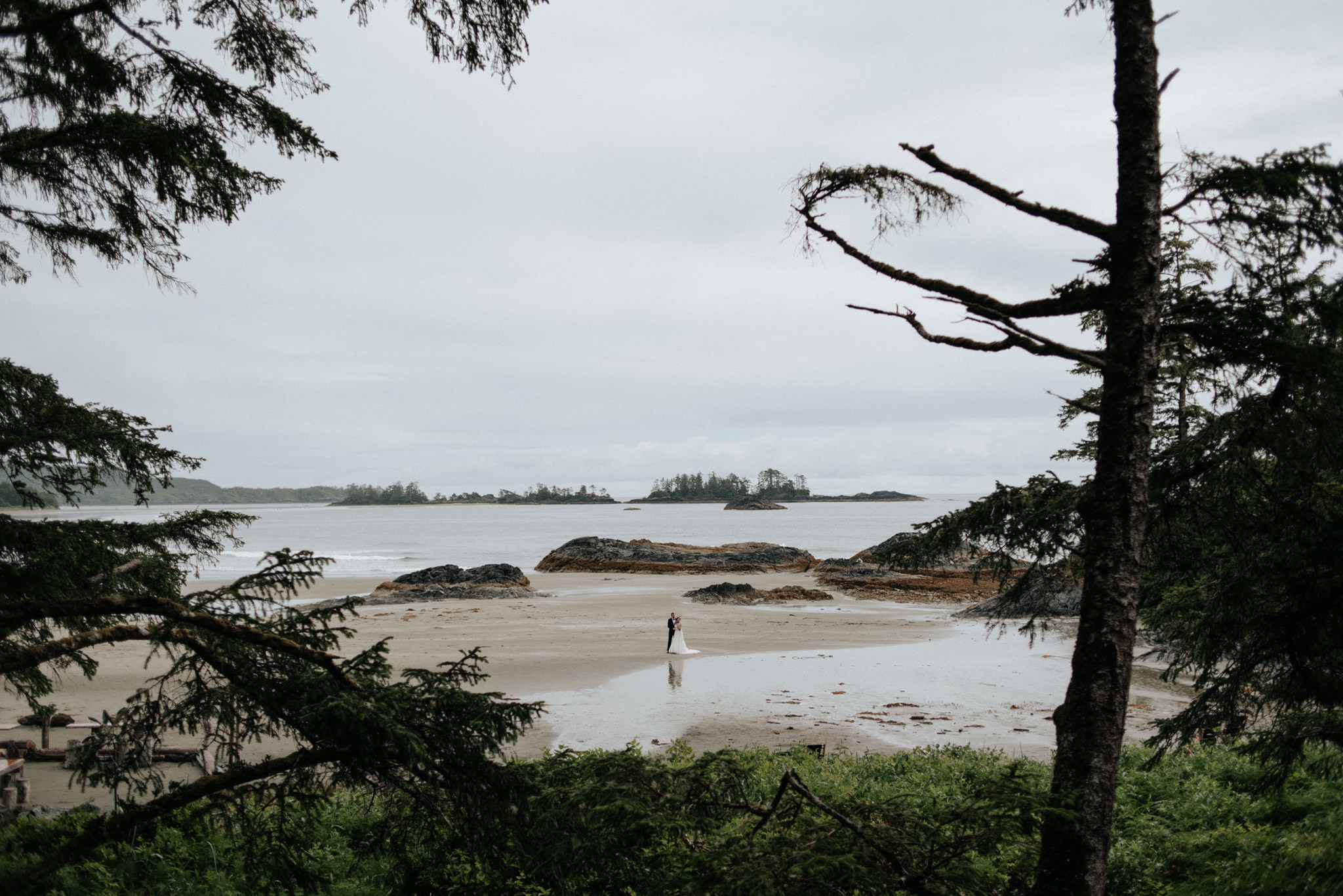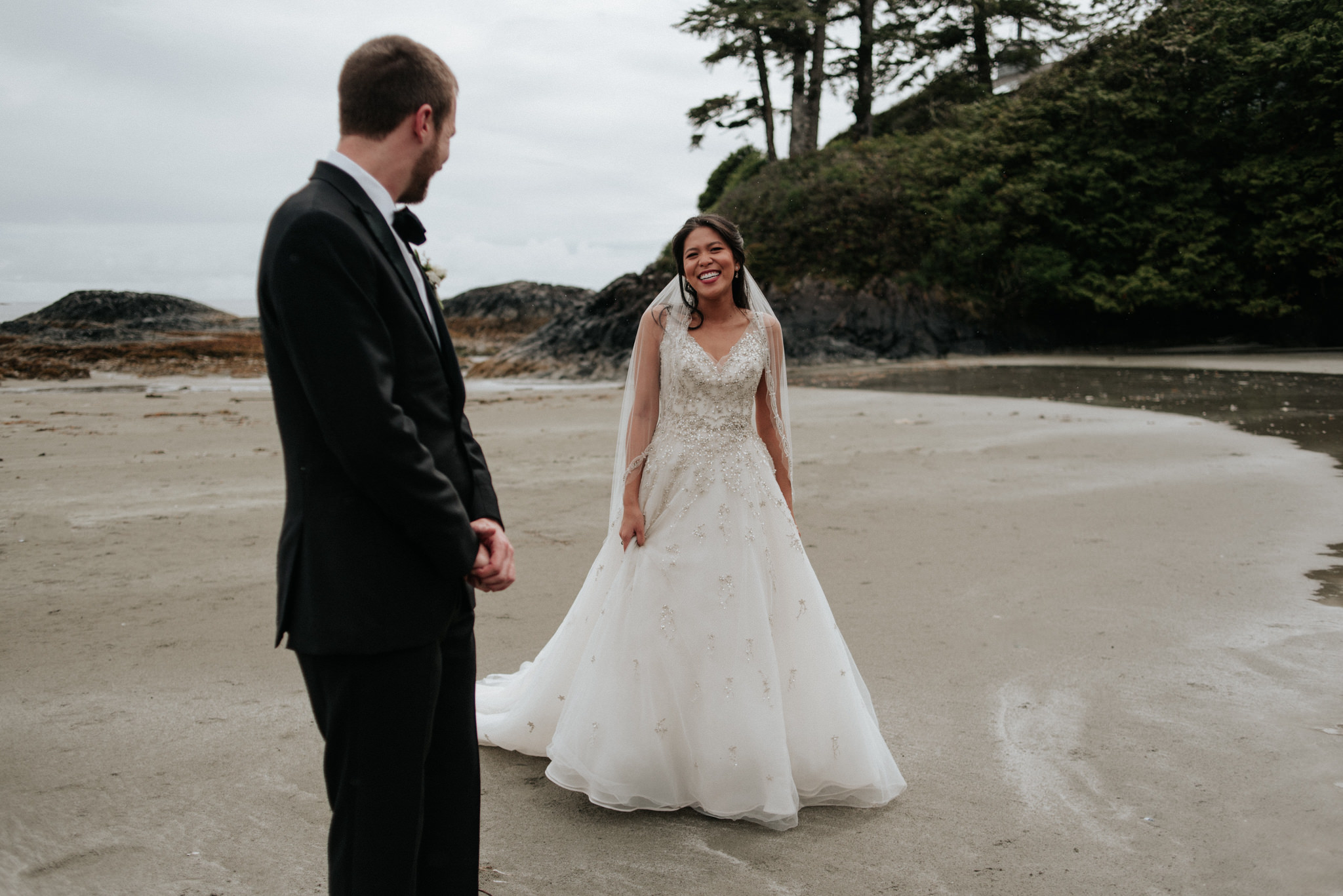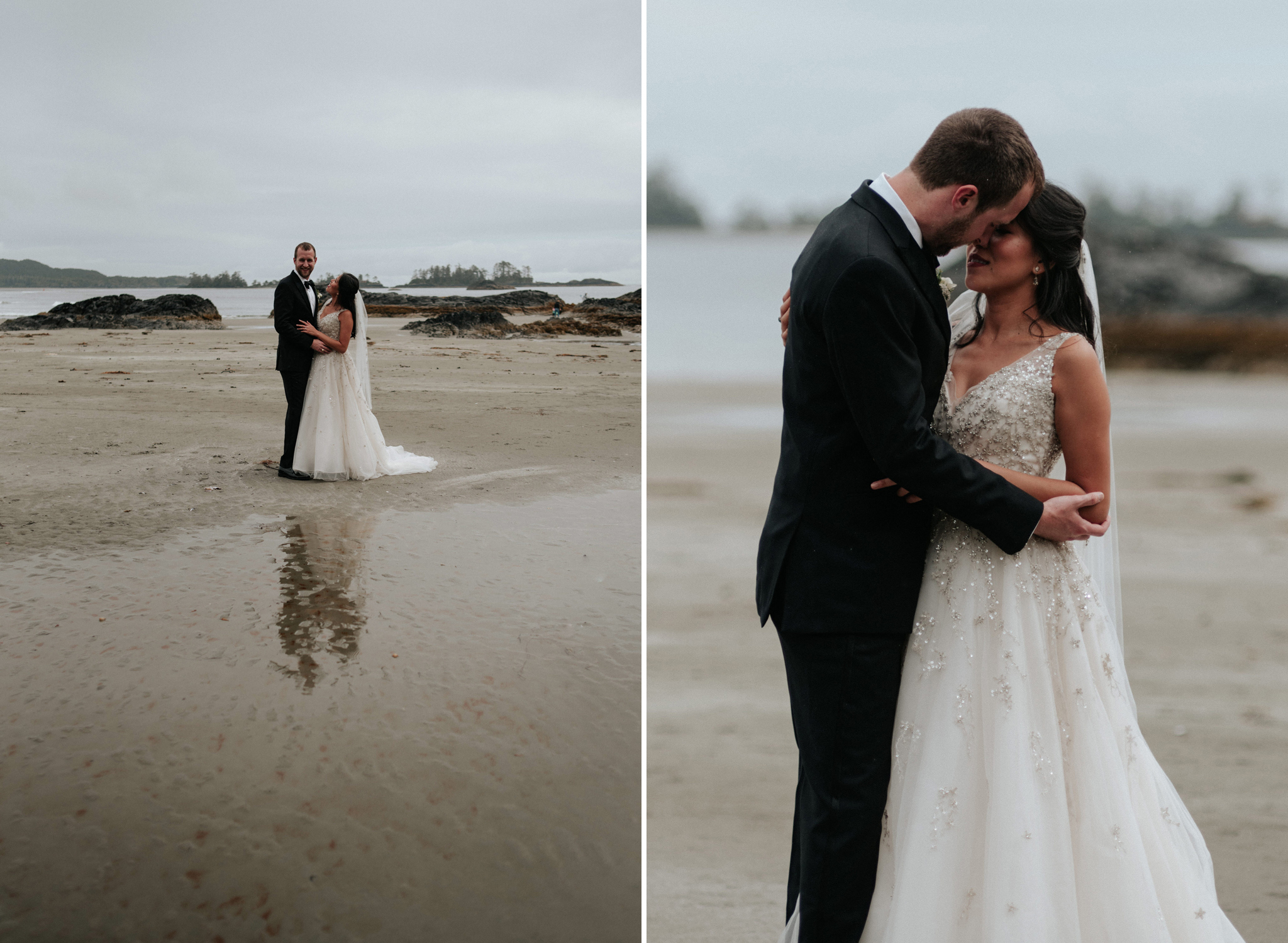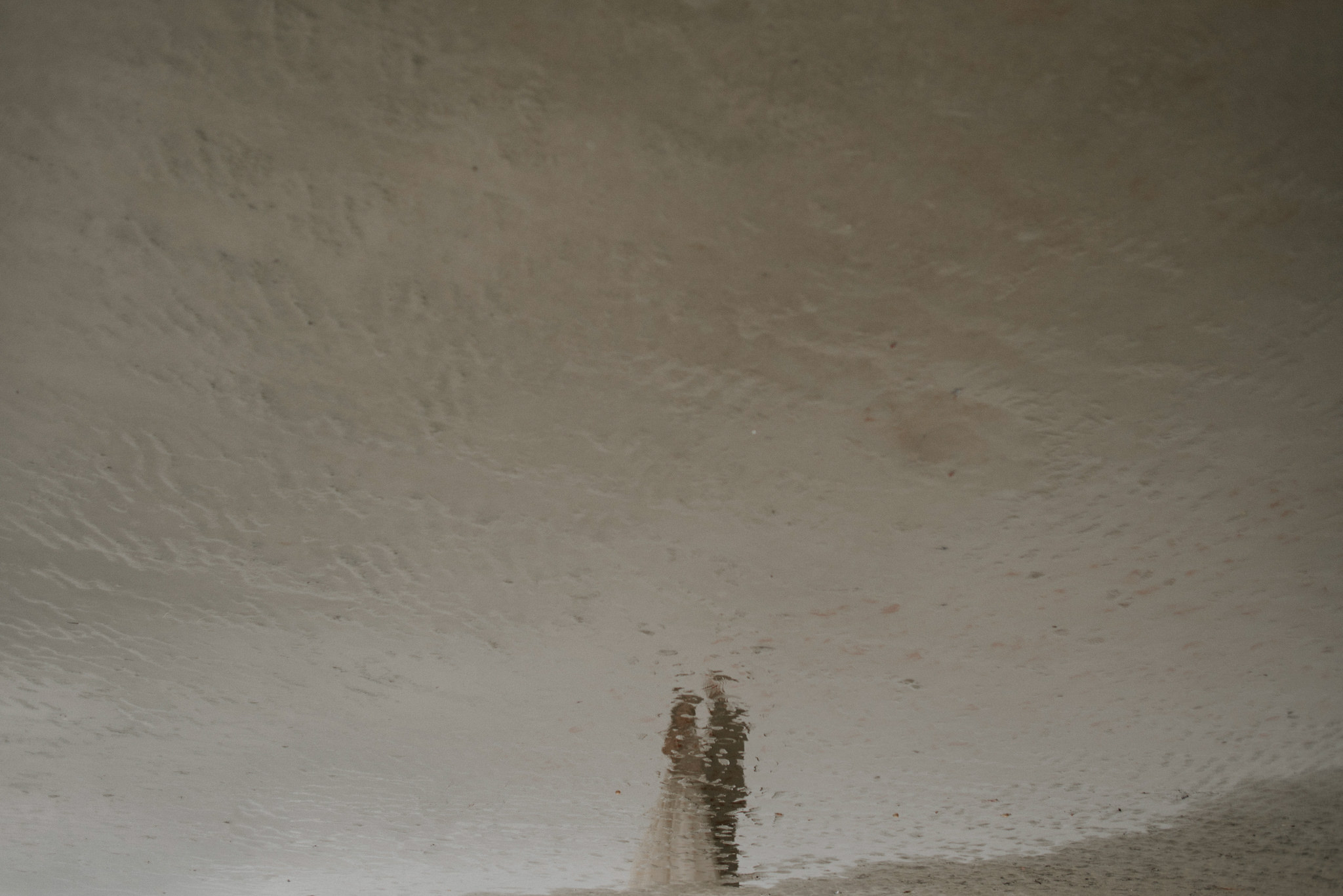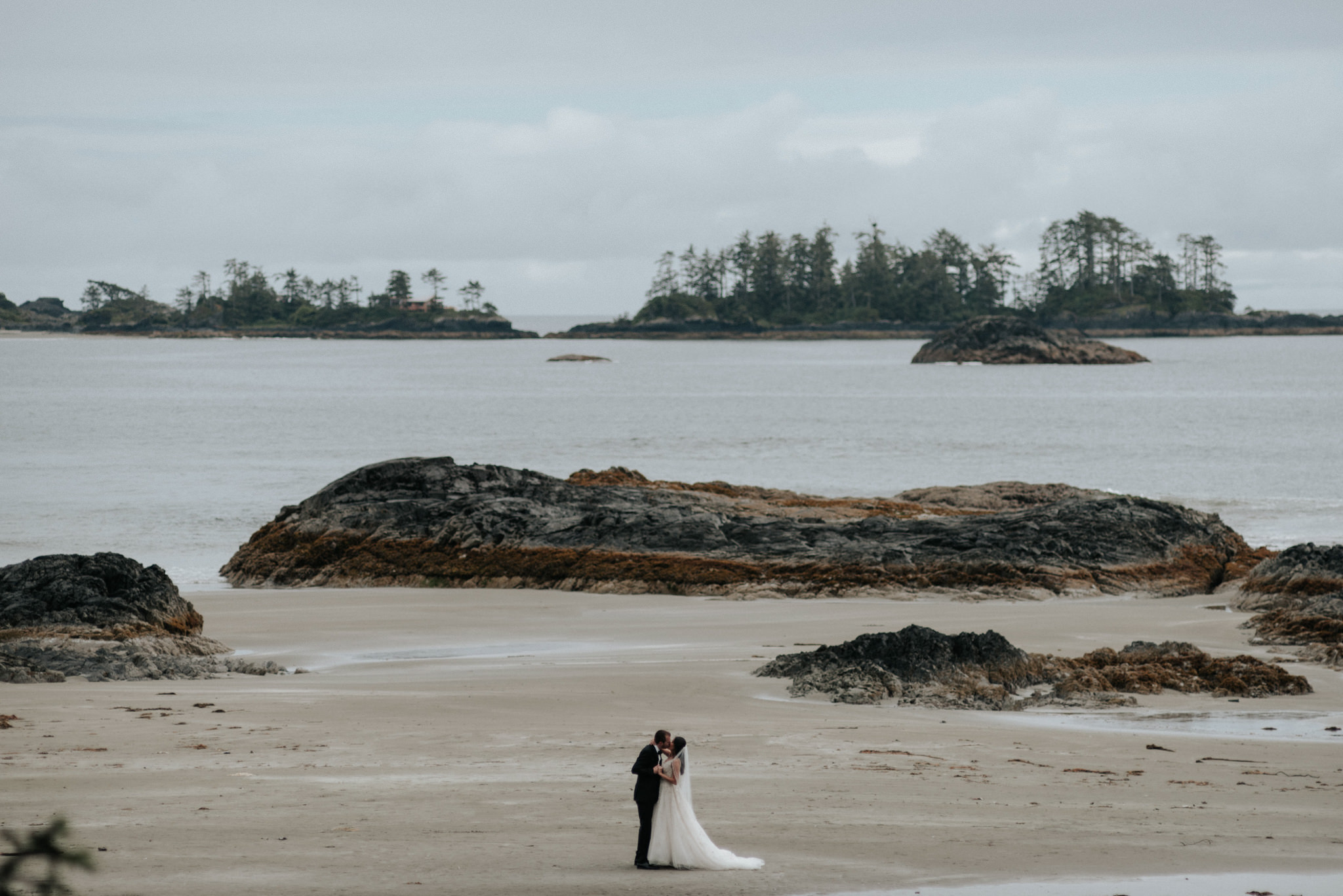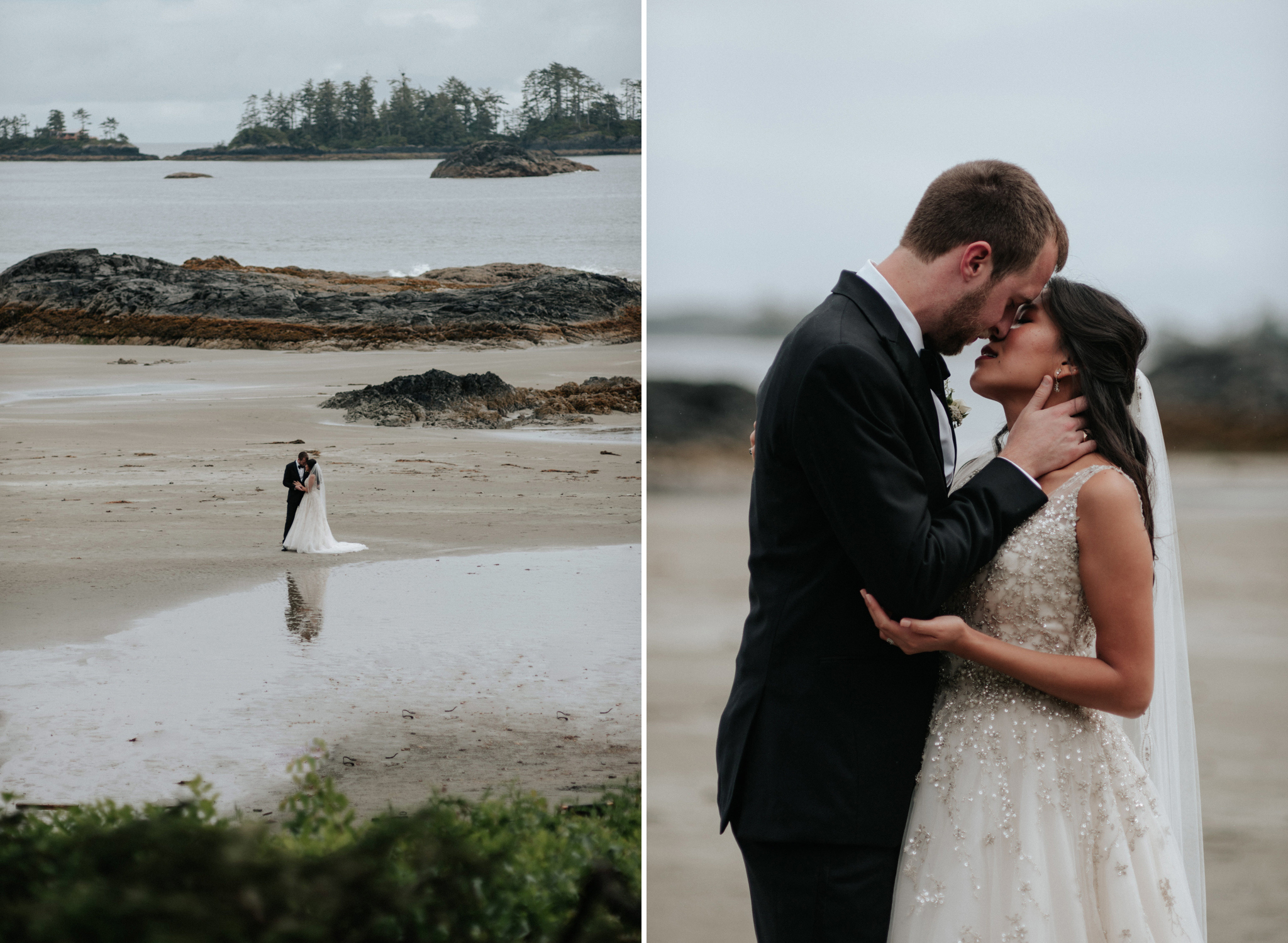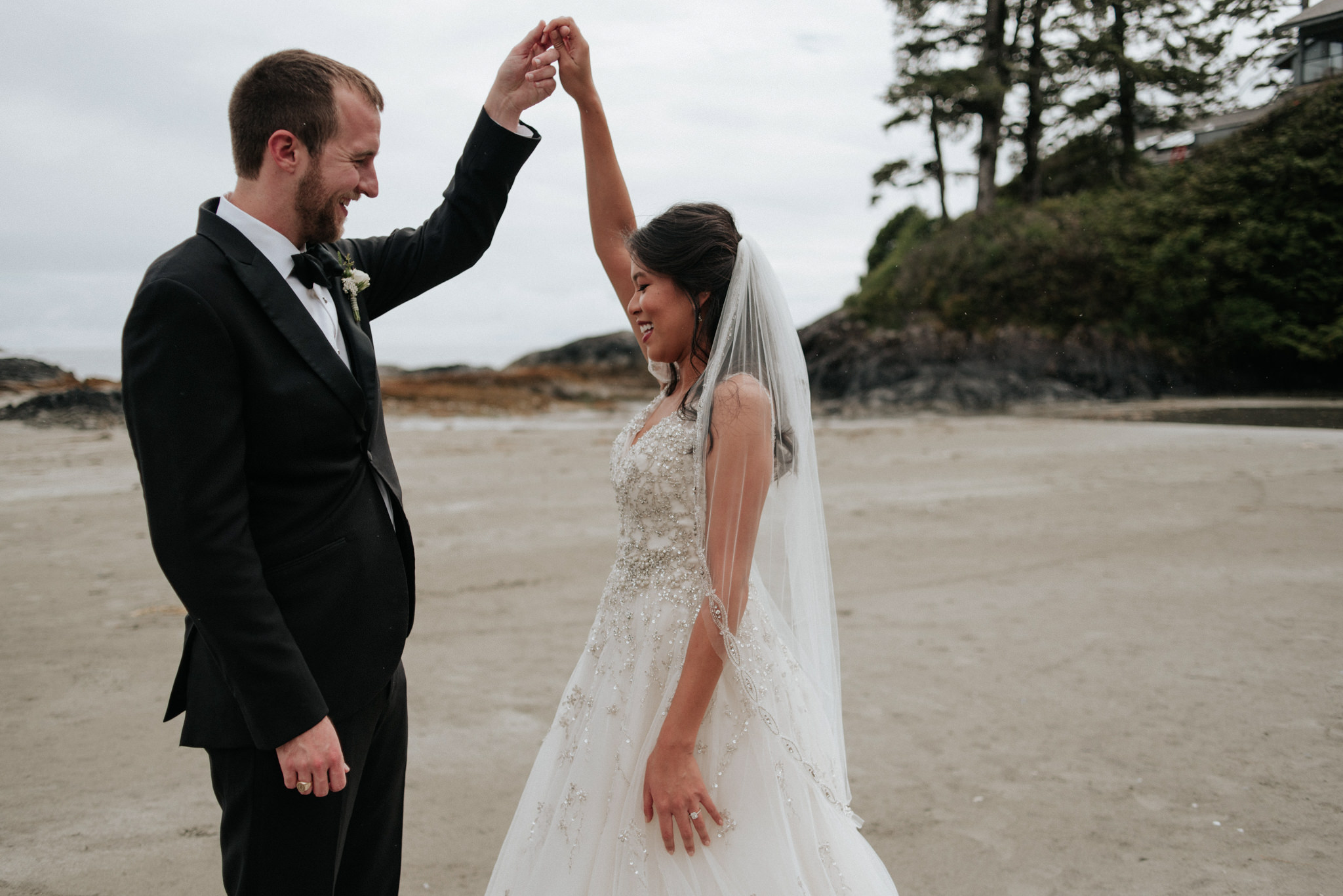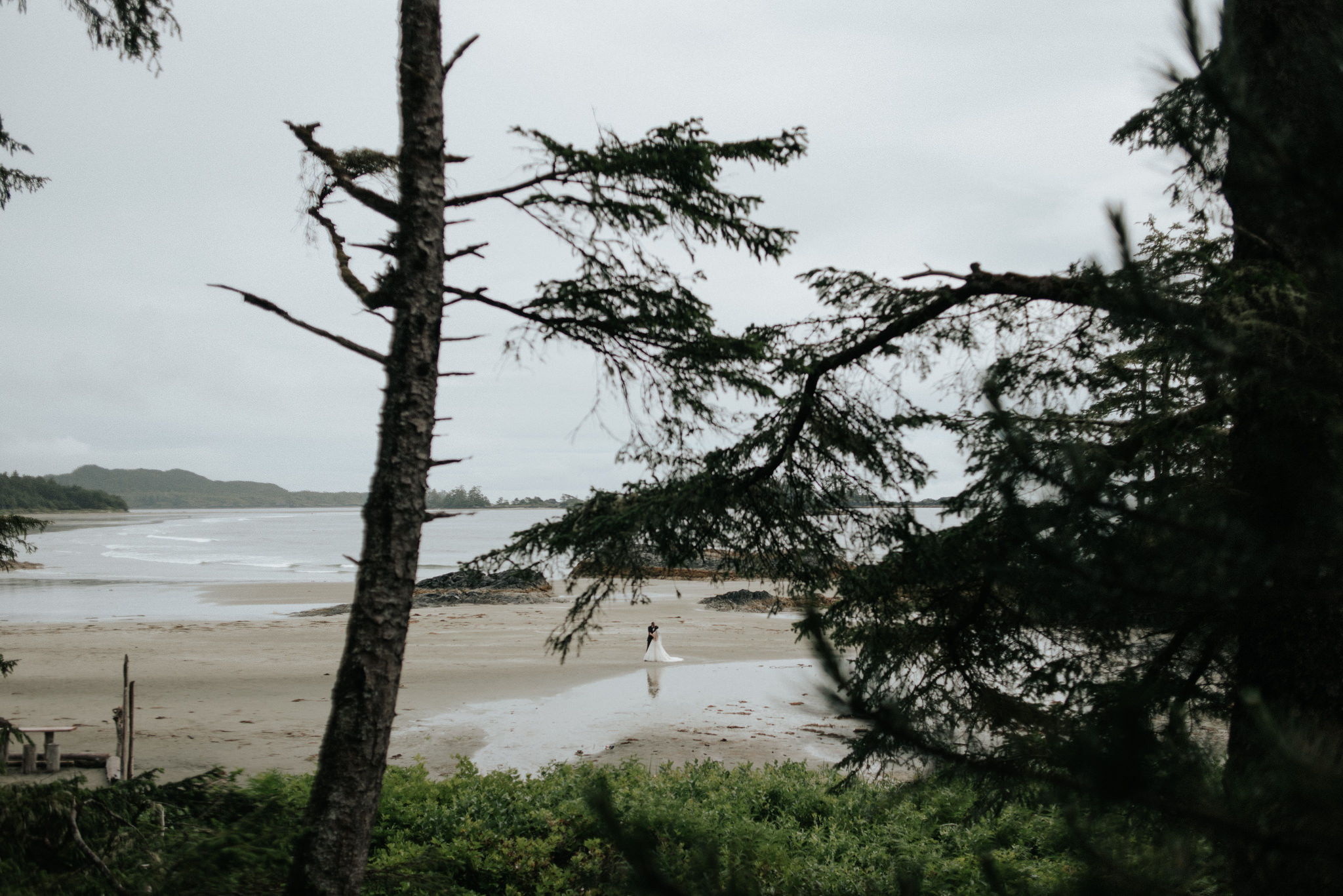 The Ceremony
We walked over to a little grove, tucked away in the trees and surrounded by ancient redwoods. The scene was almost like a fairytale. I had been to that spot before, under completely different conditions. This time, there wasn't a cloud in the sky and the light poured into the clearing. I couldn't pay a million dollars to have it look that beautiful again, it was surreal. Despite eloping, Angela put some effort into a few details that made their day unique to them. I loved the overflowing silk ribbon she tied around each of their vow books. They ended the ceremony drinking champagne while walking through the forest. That's my kind of ceremony exit!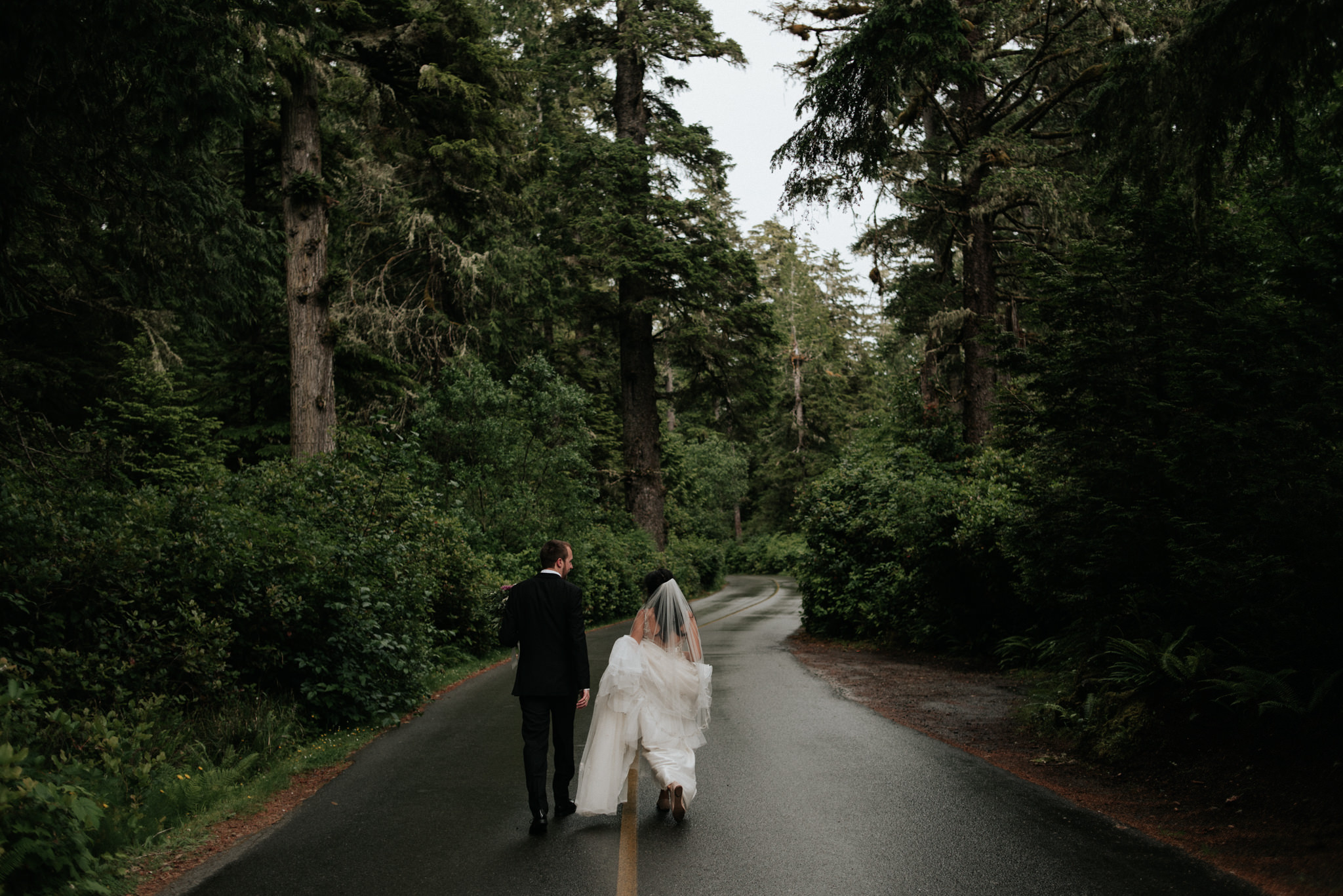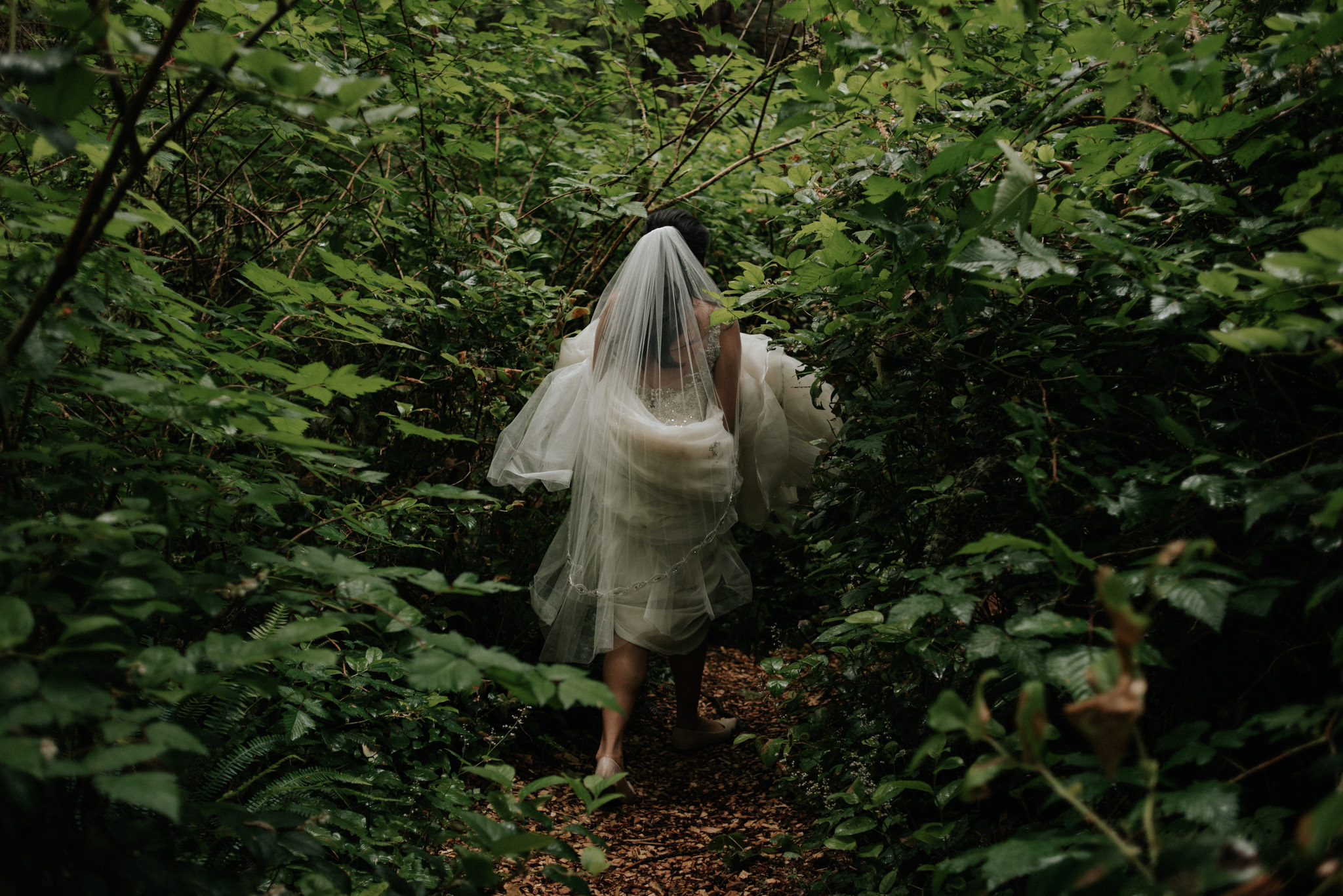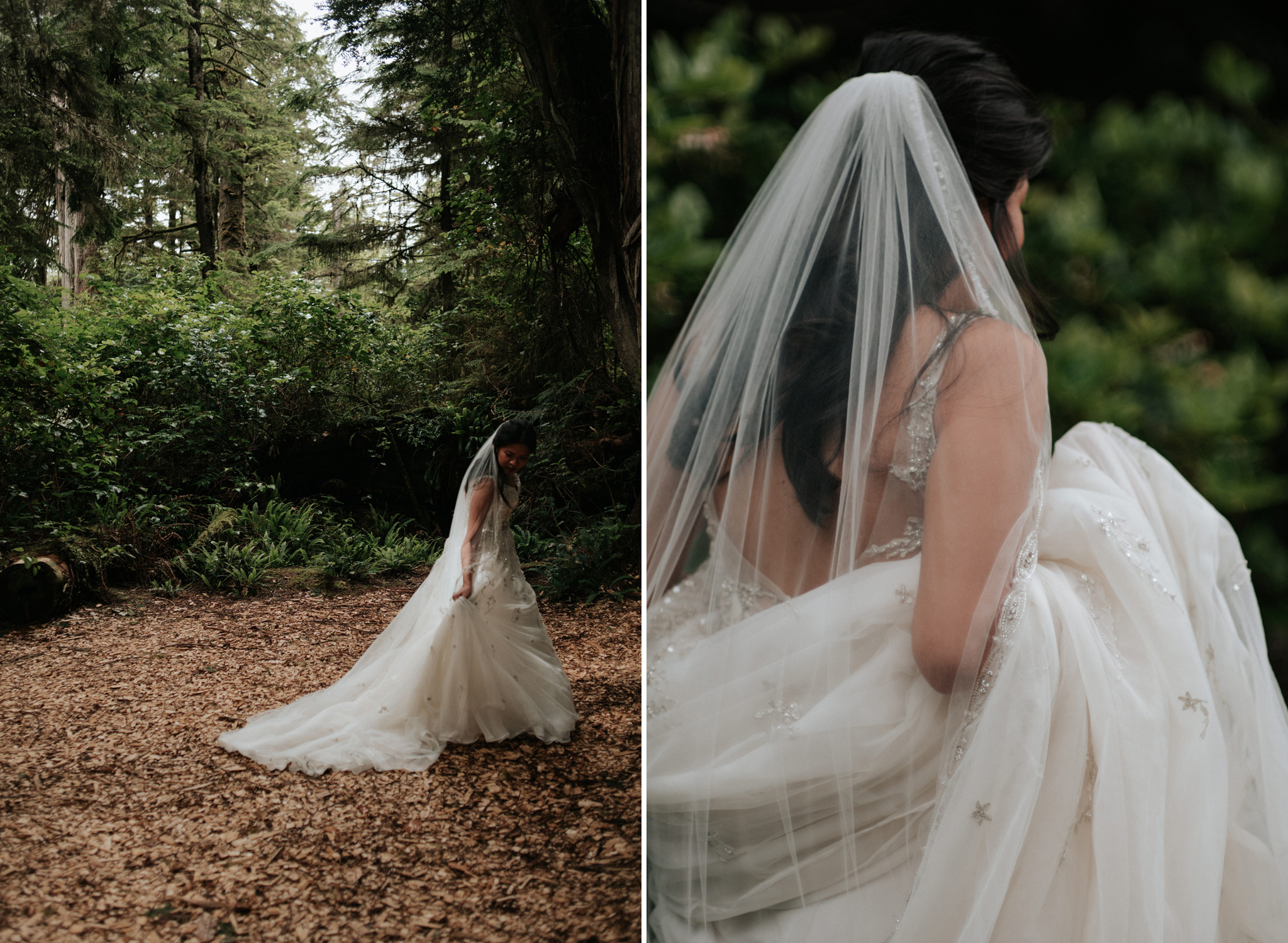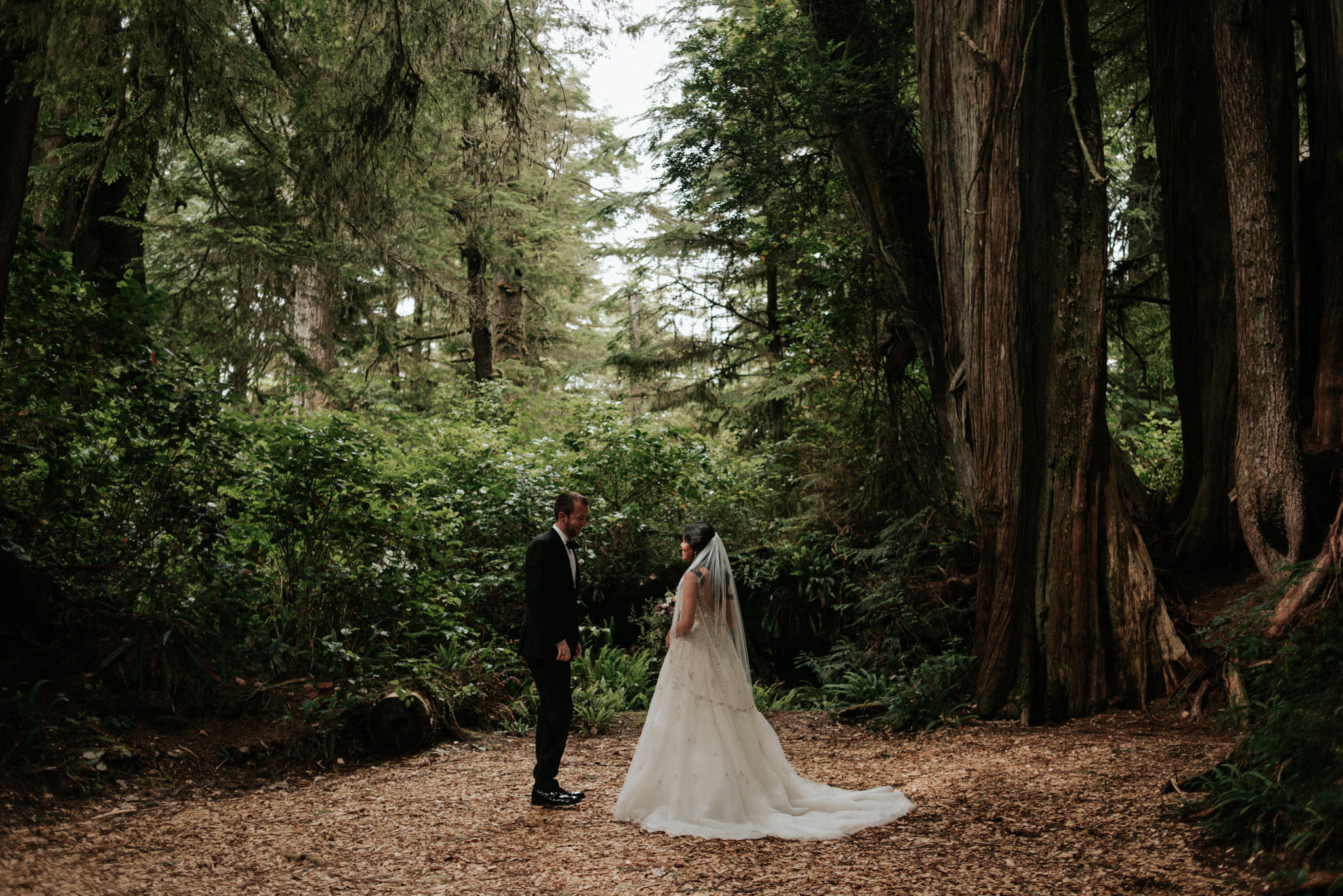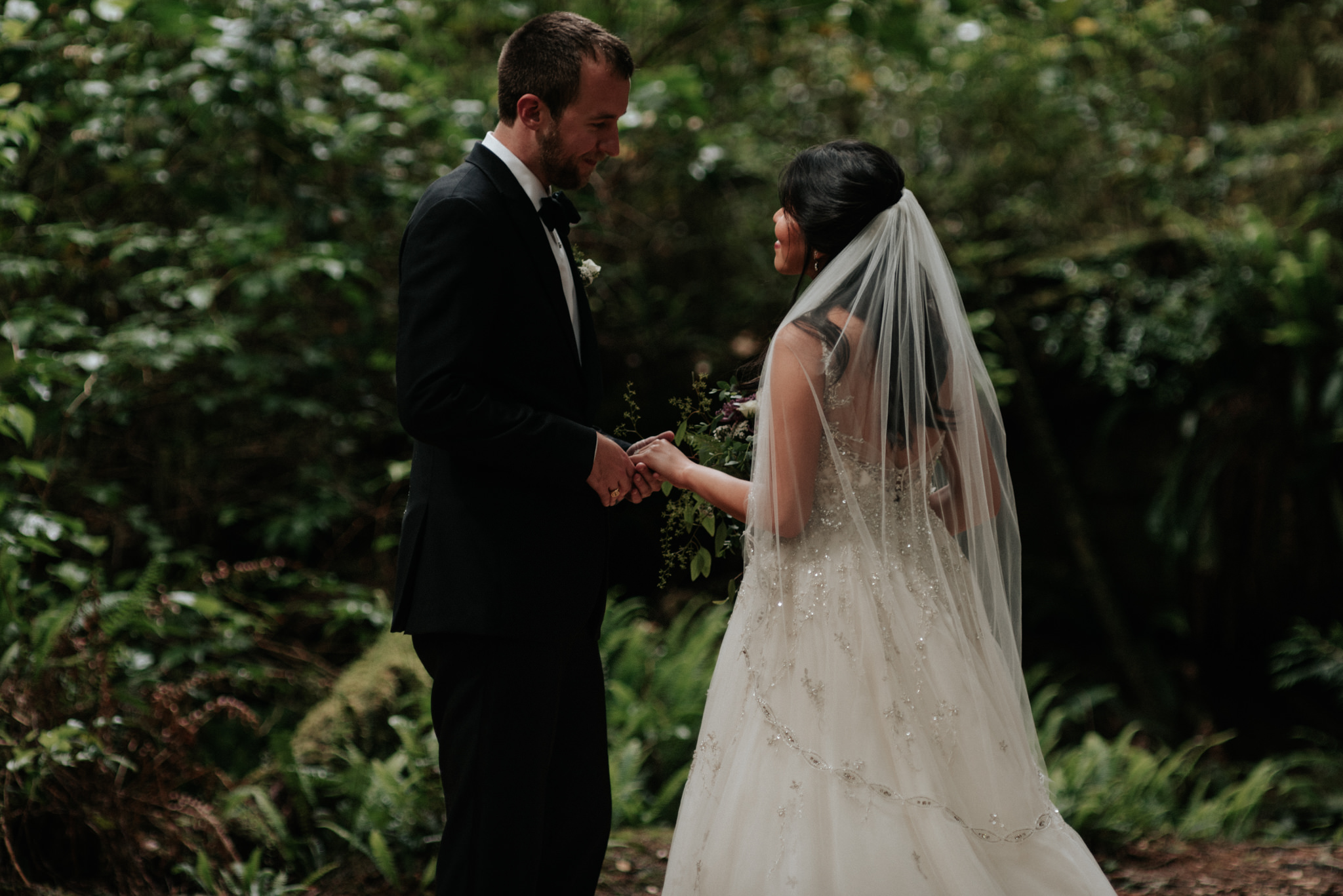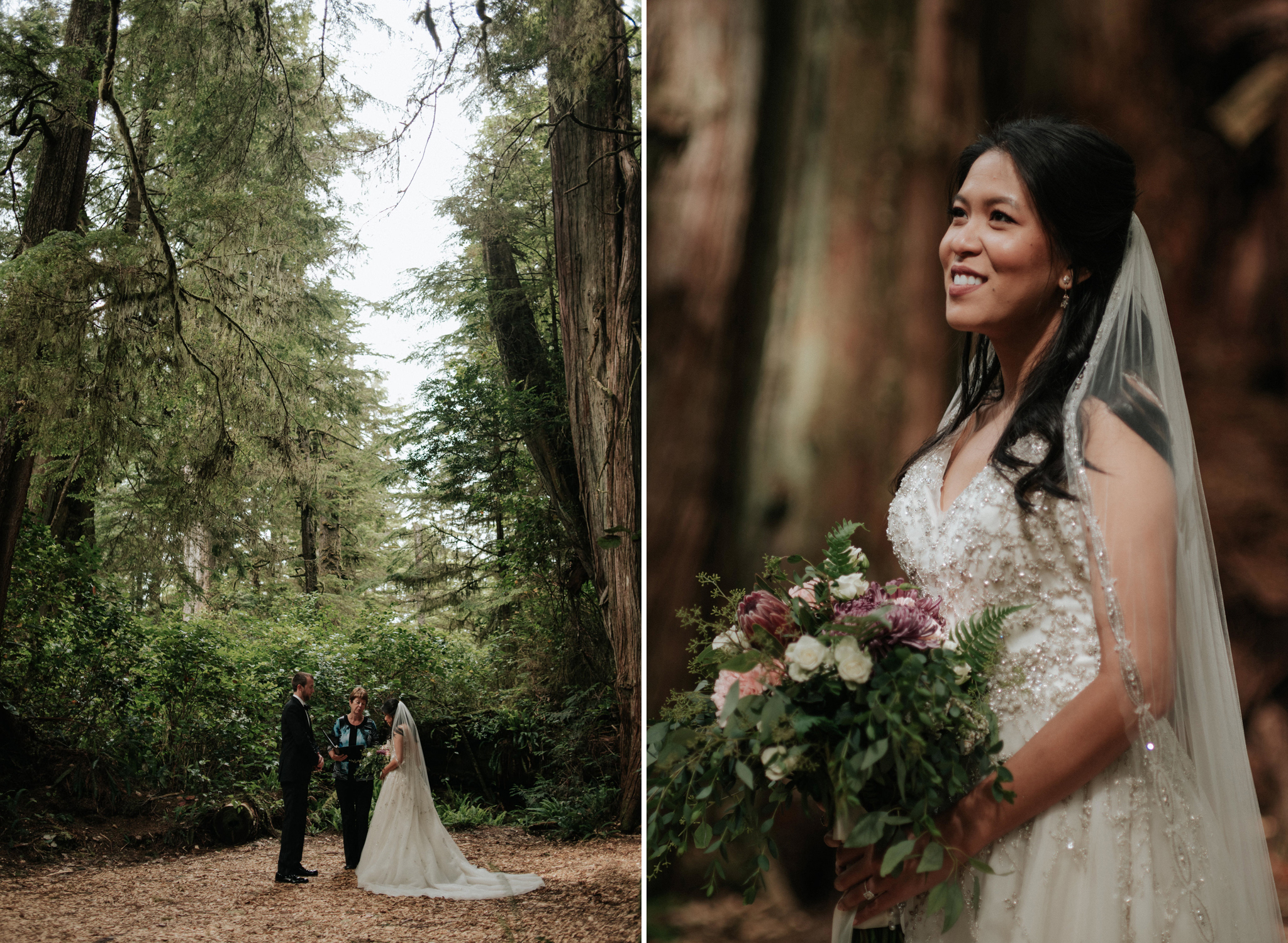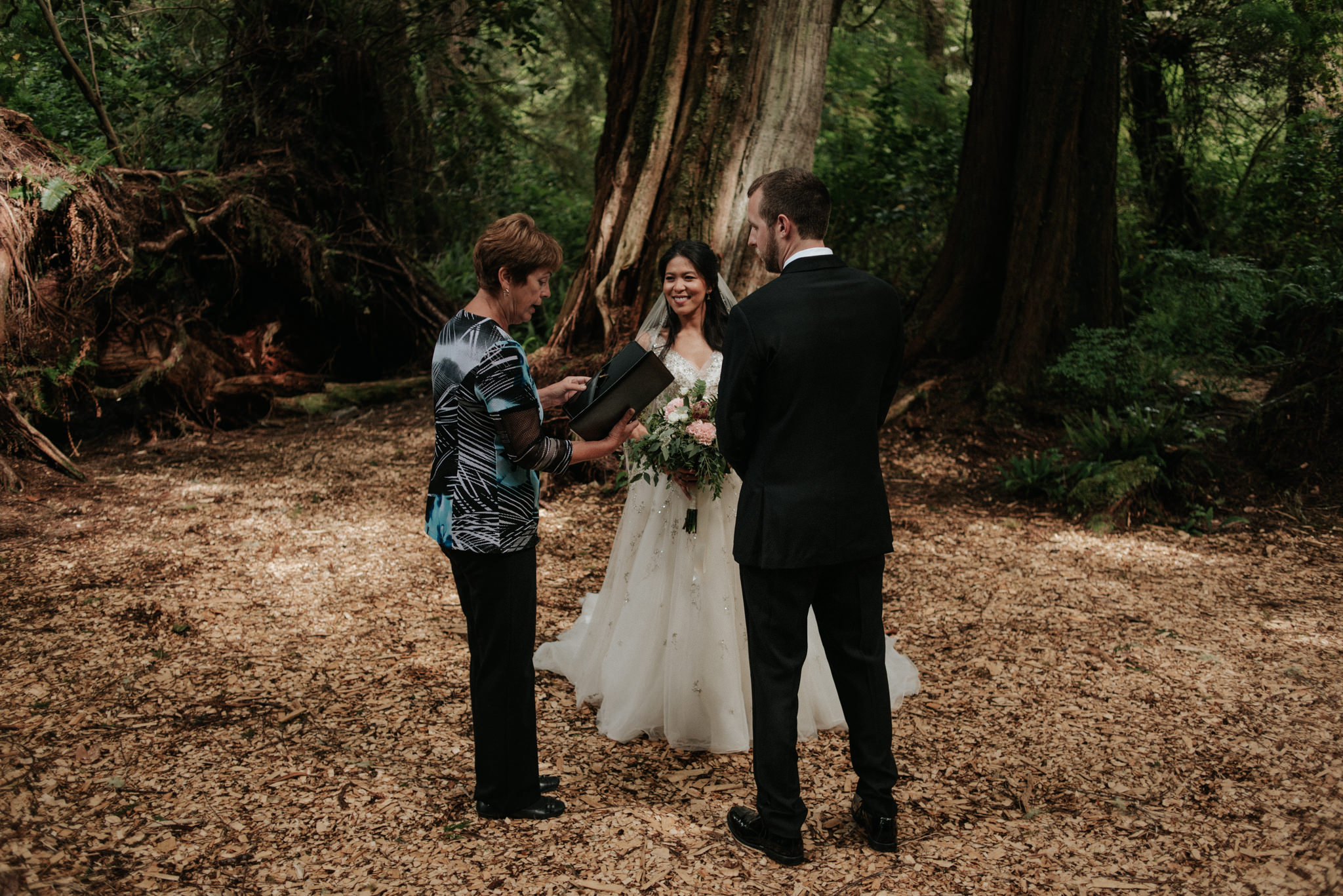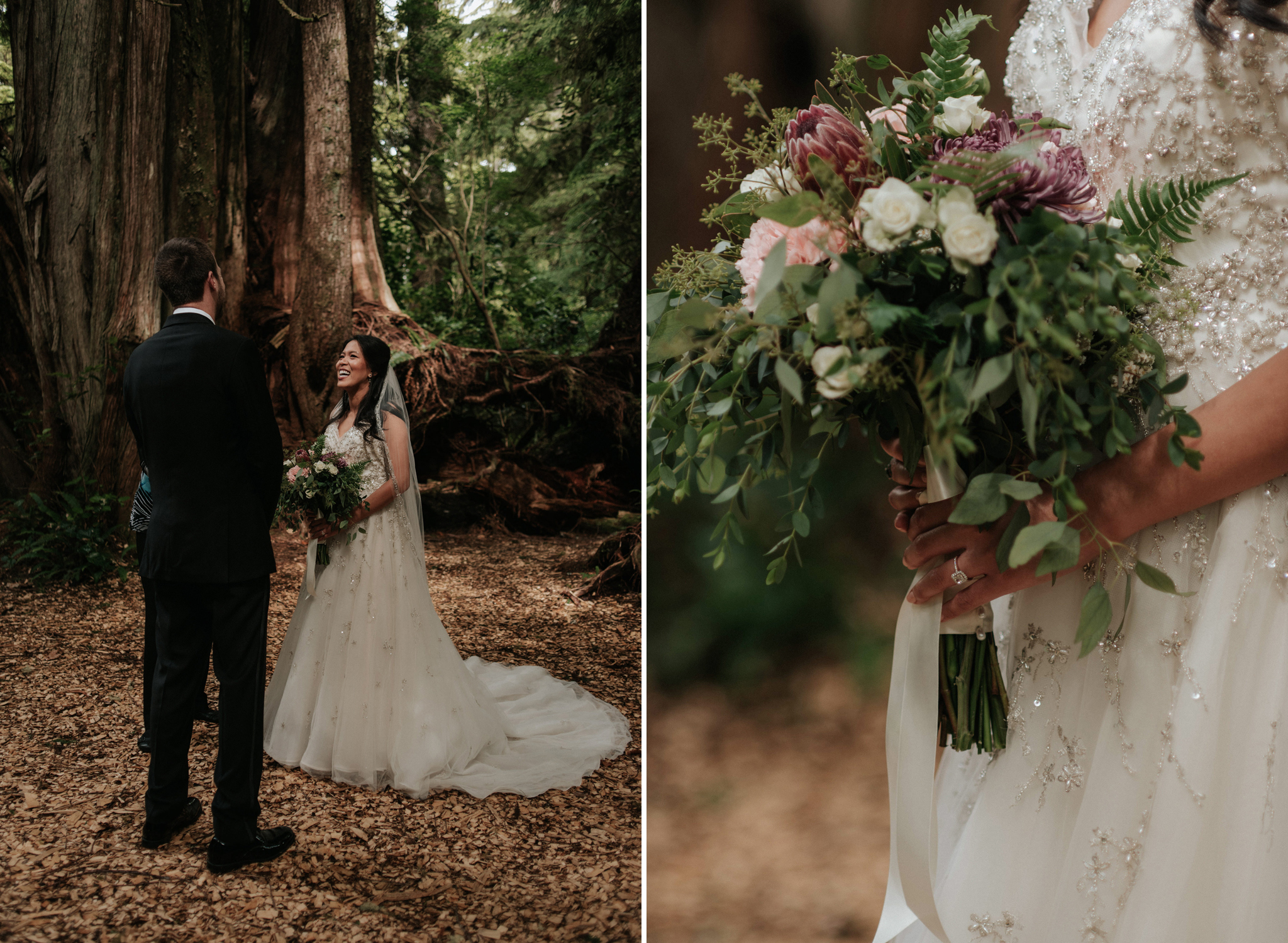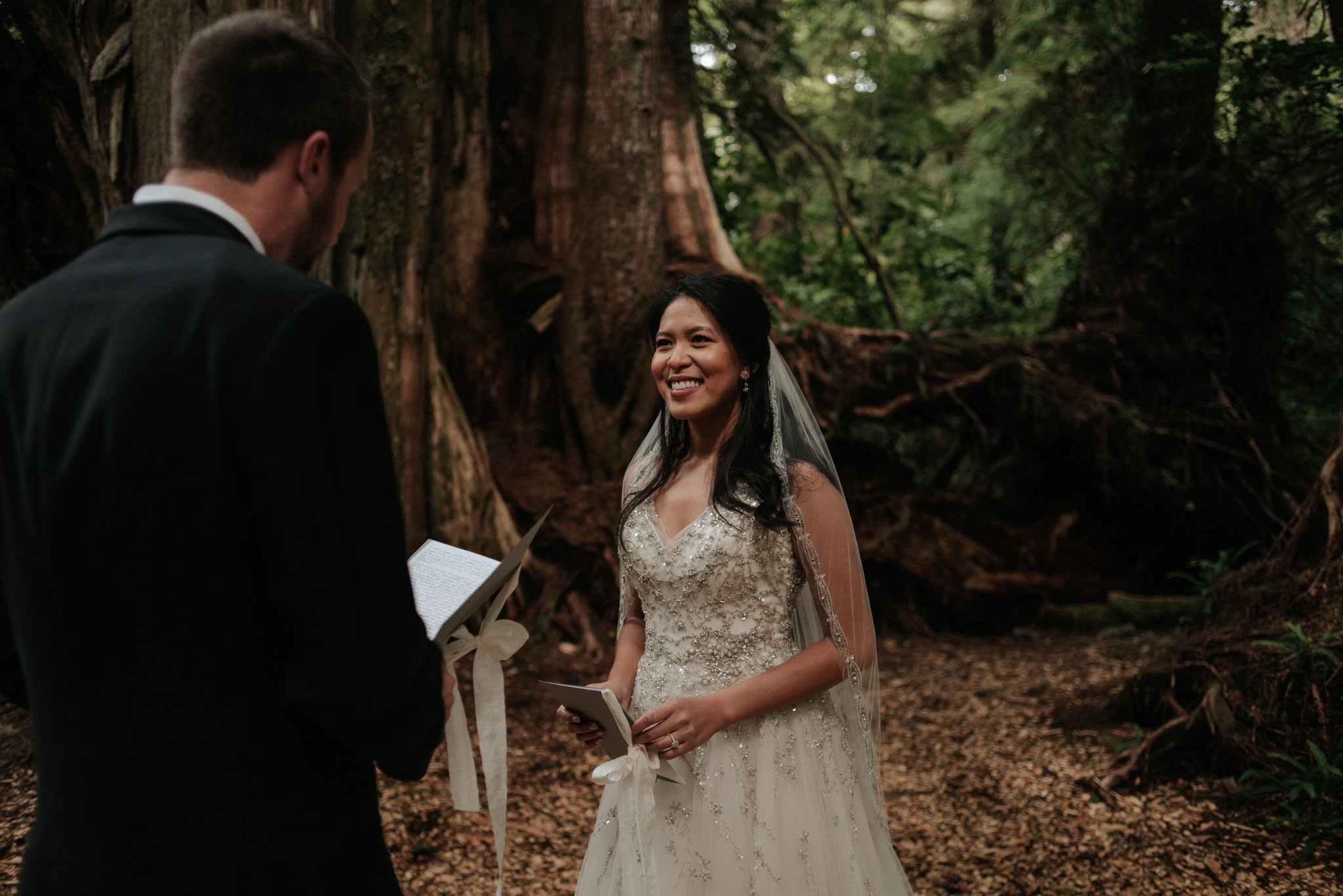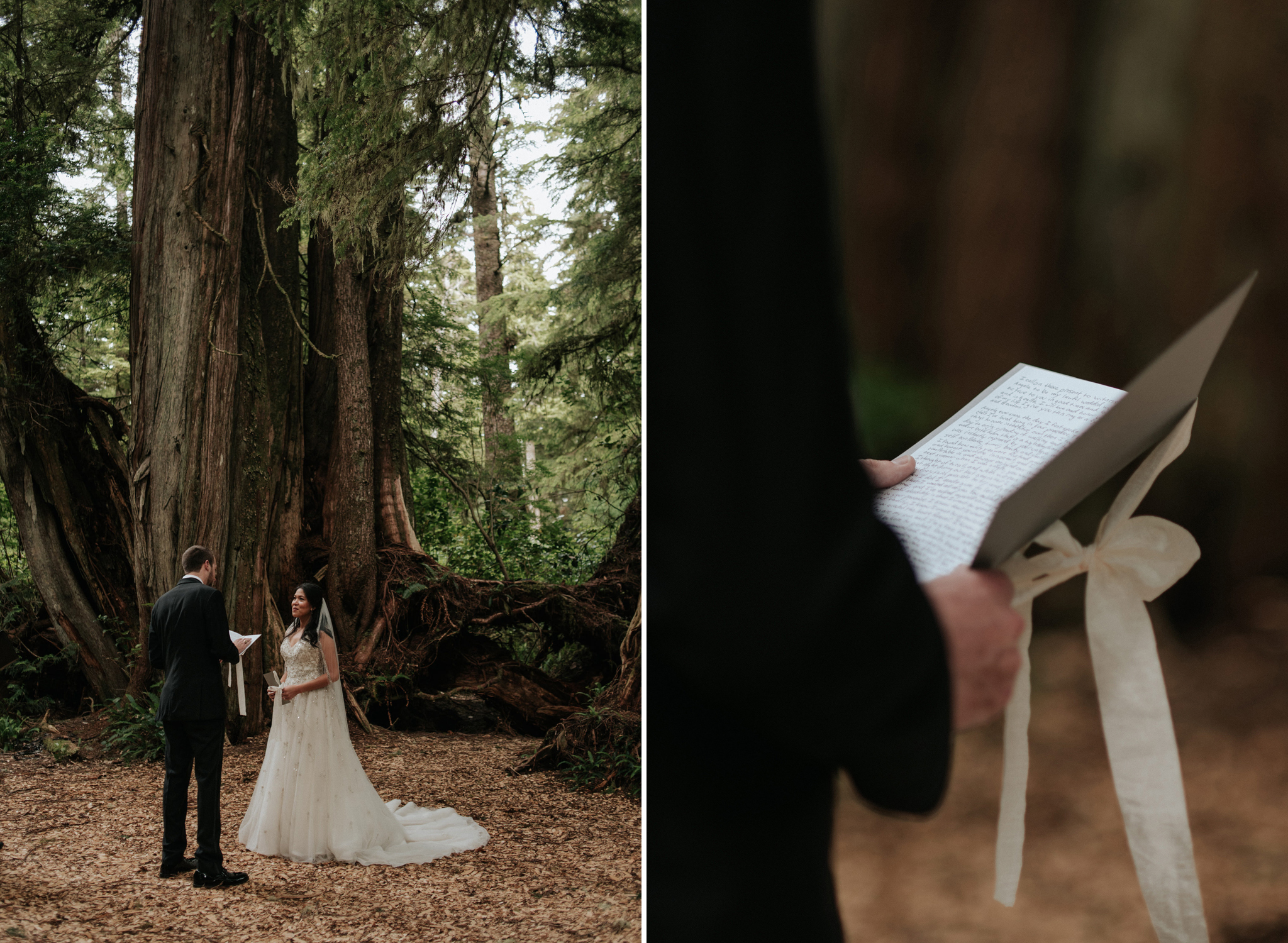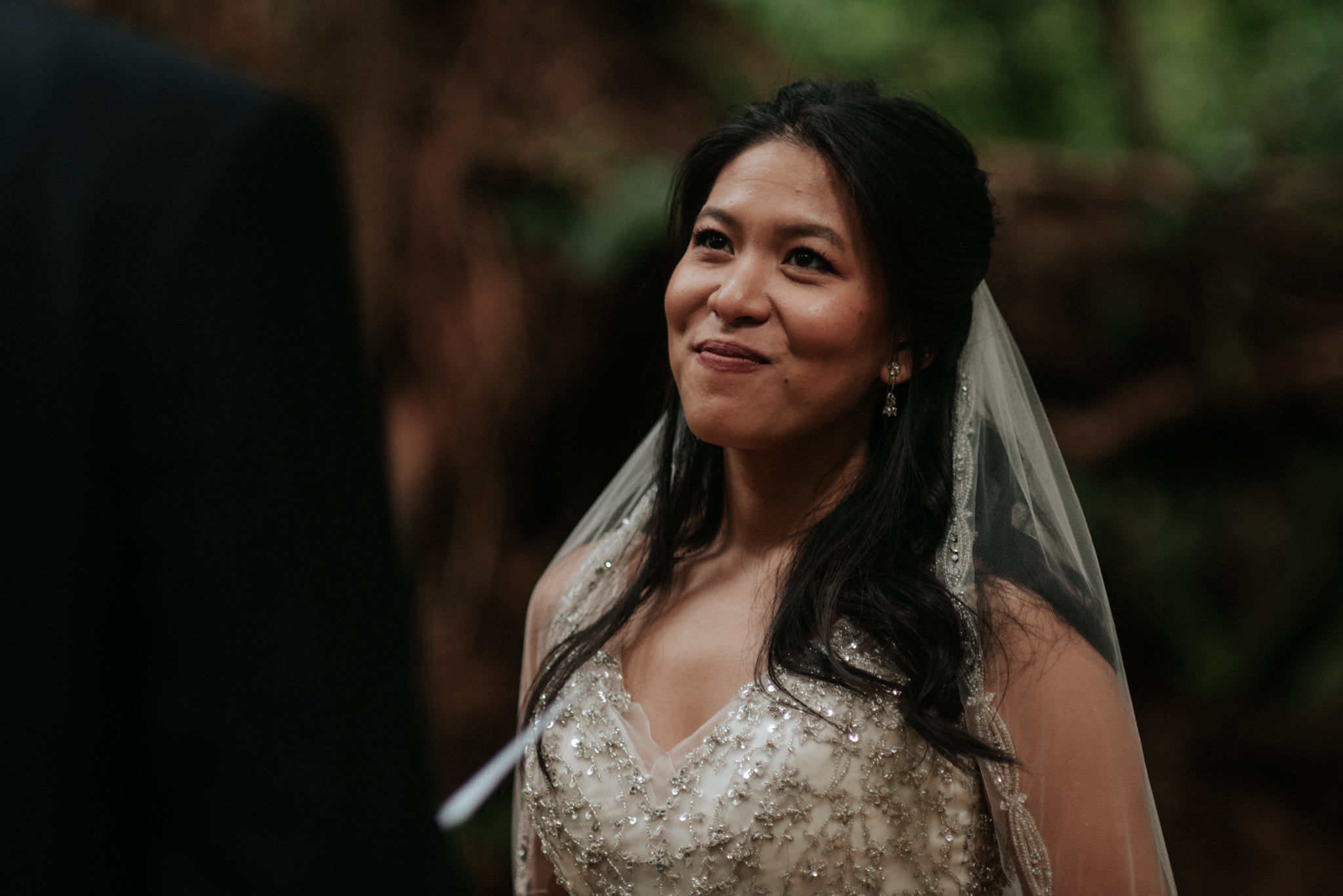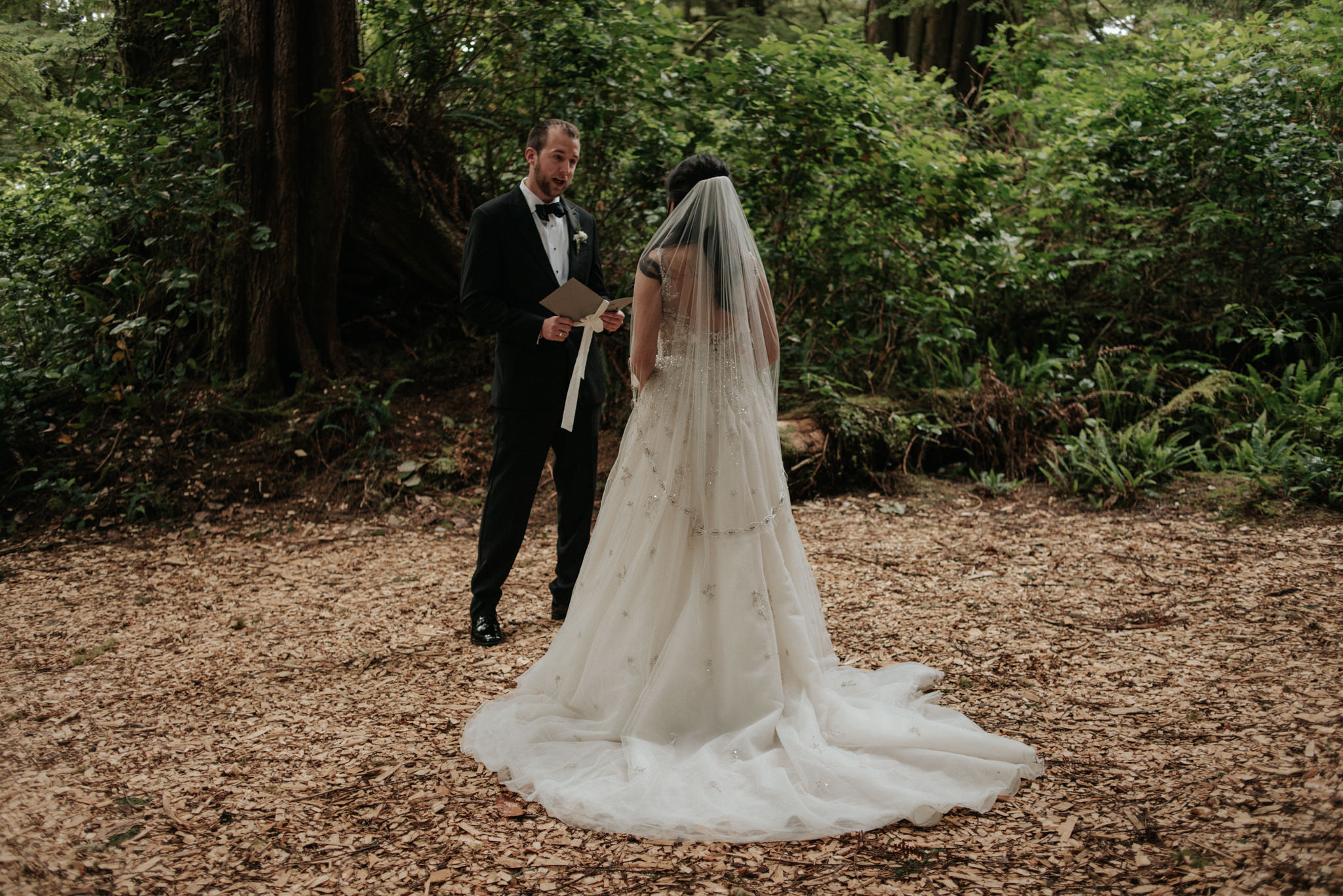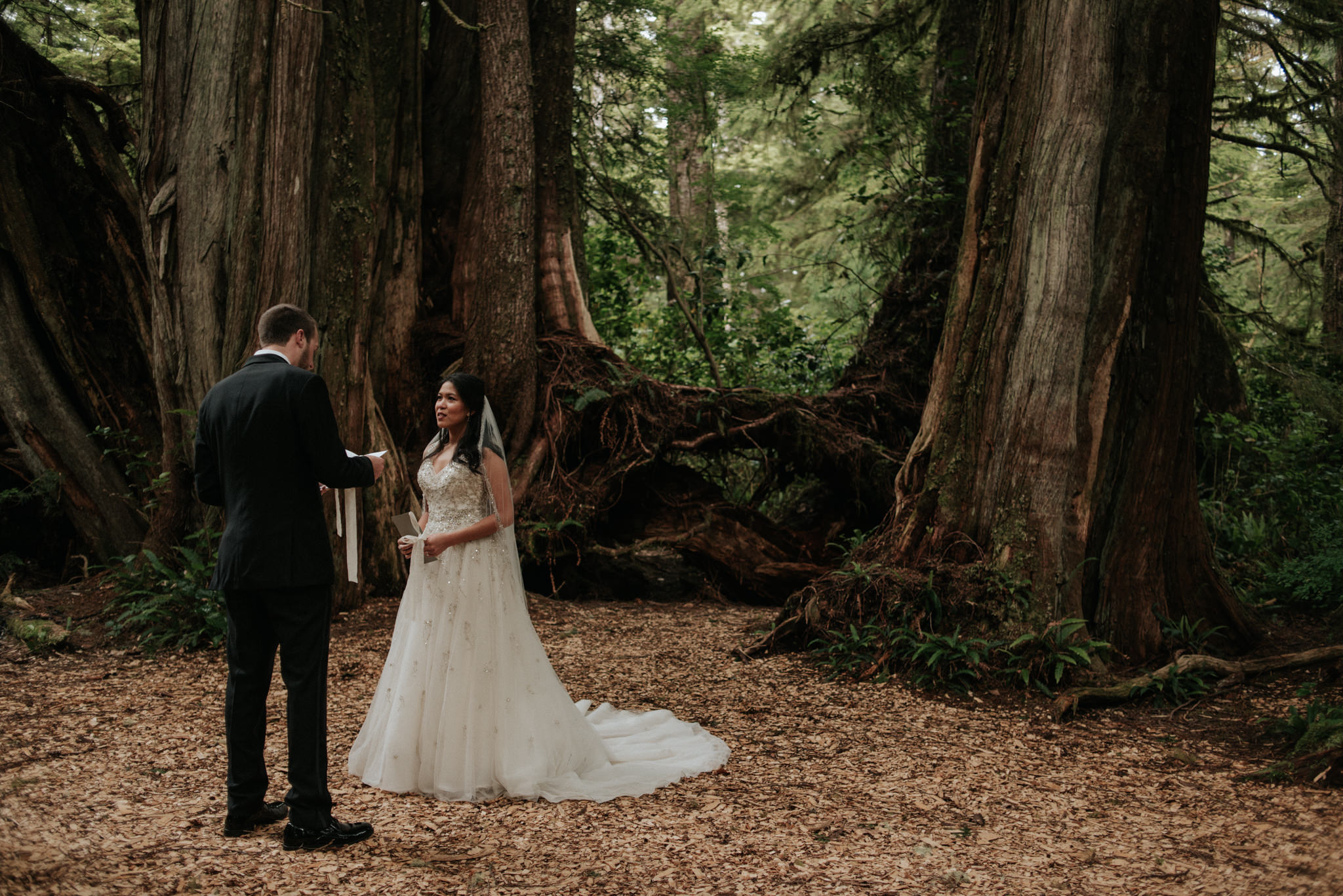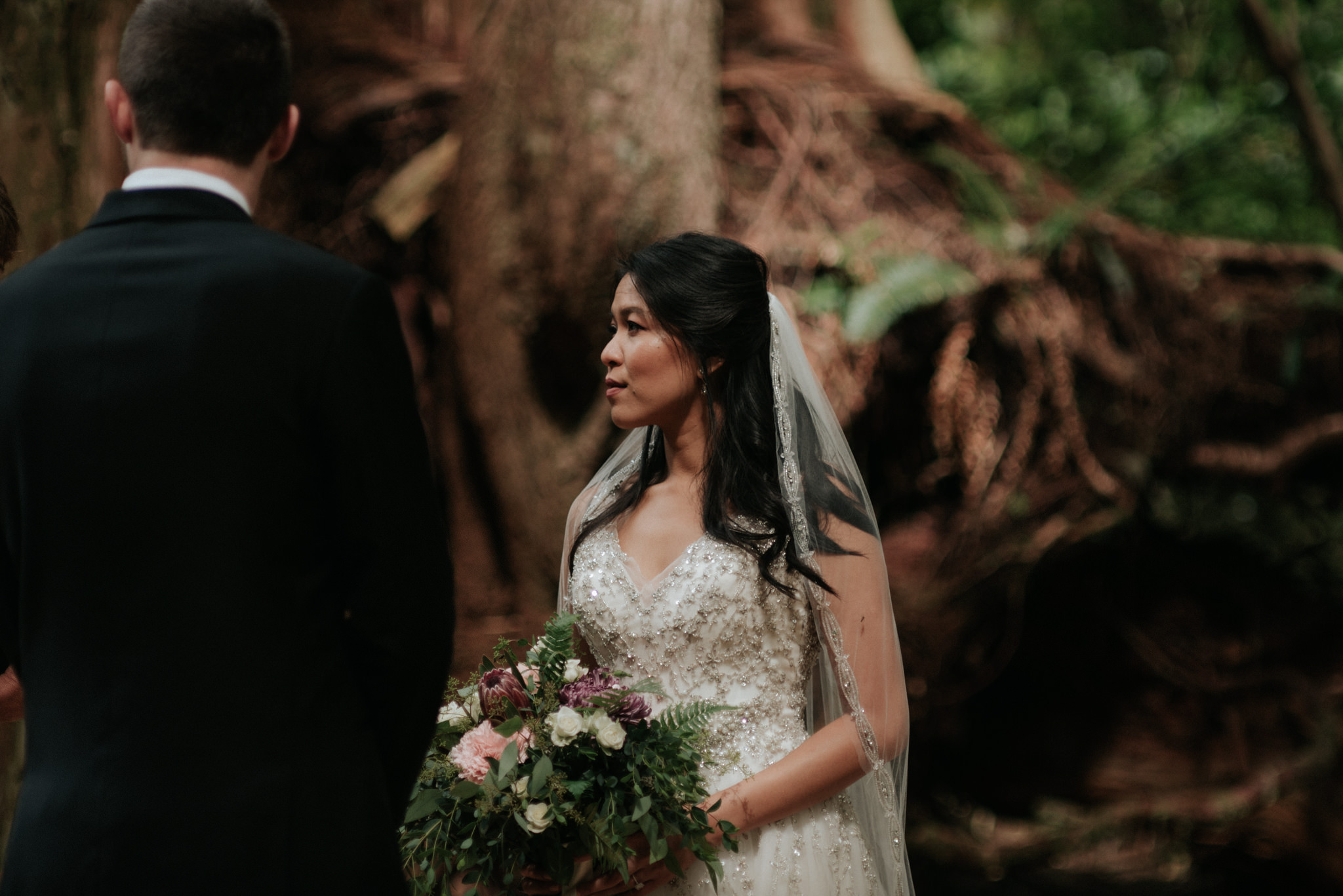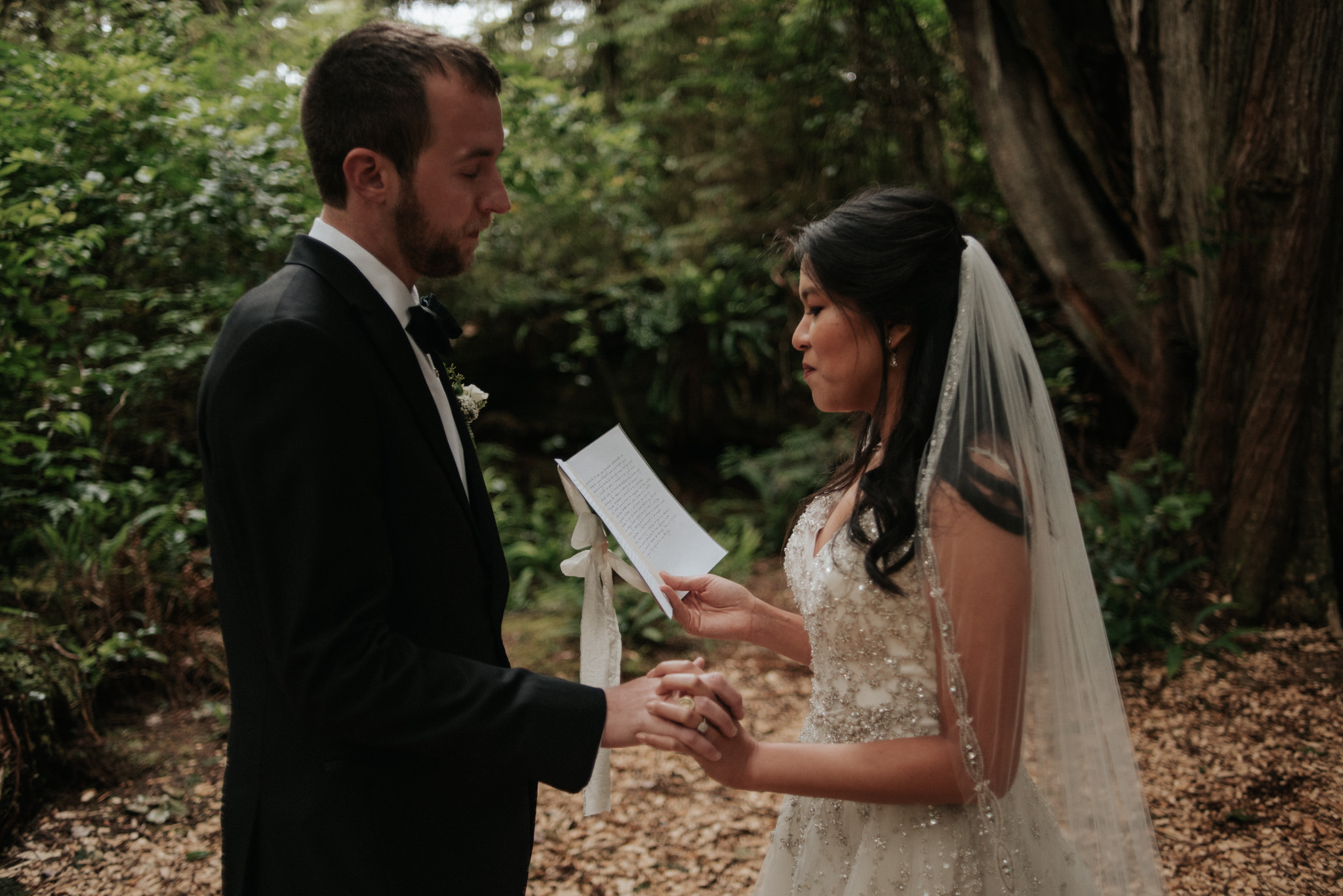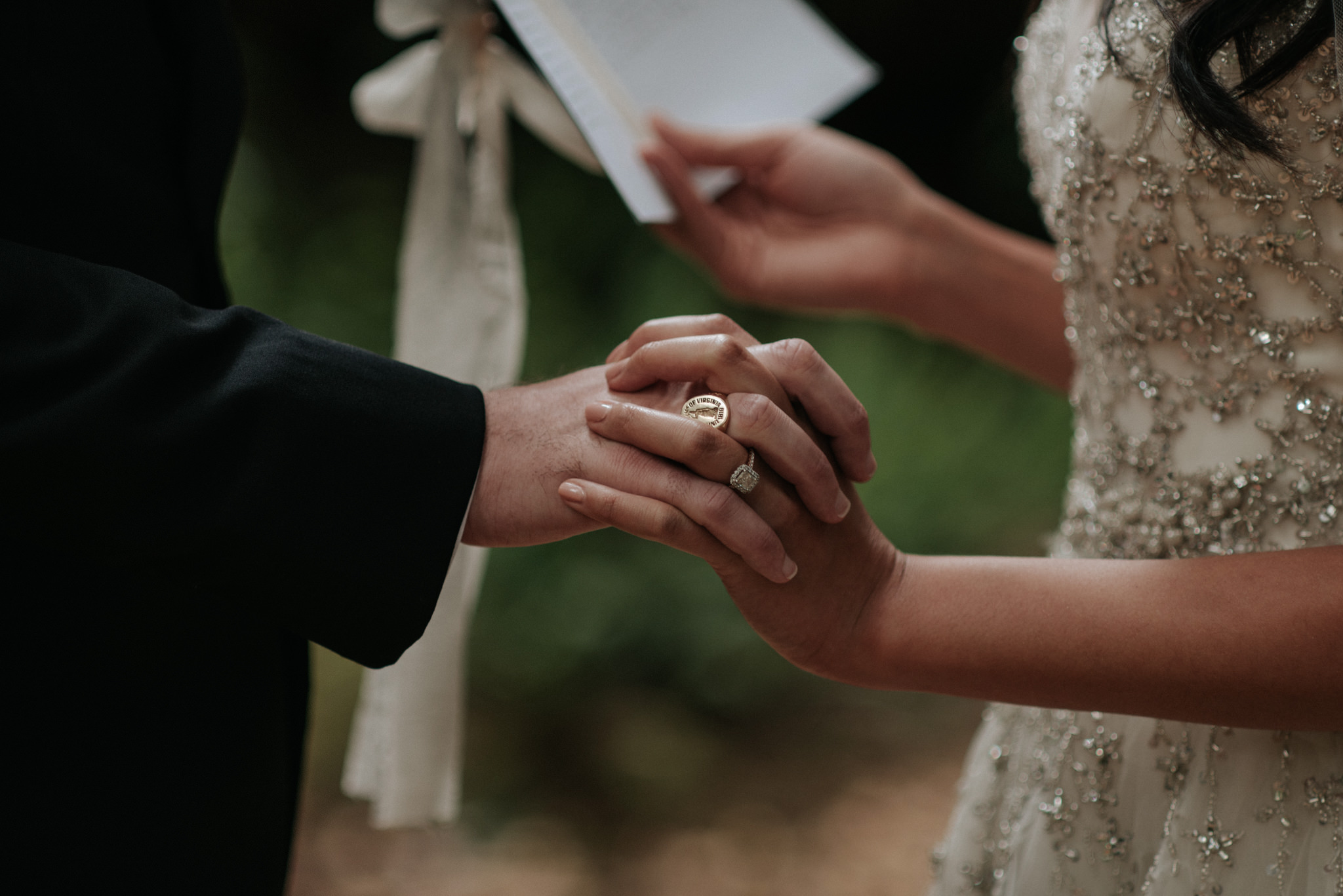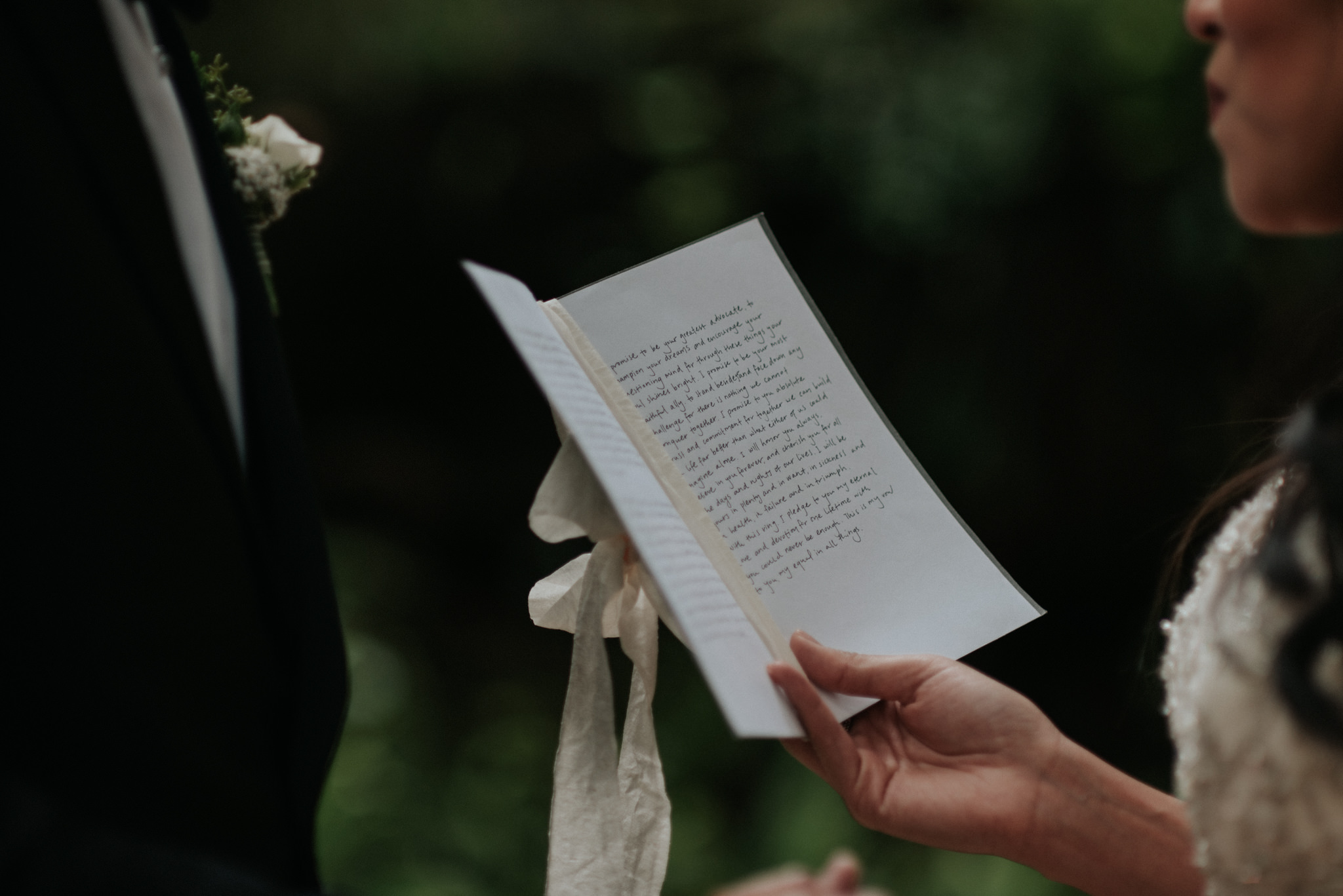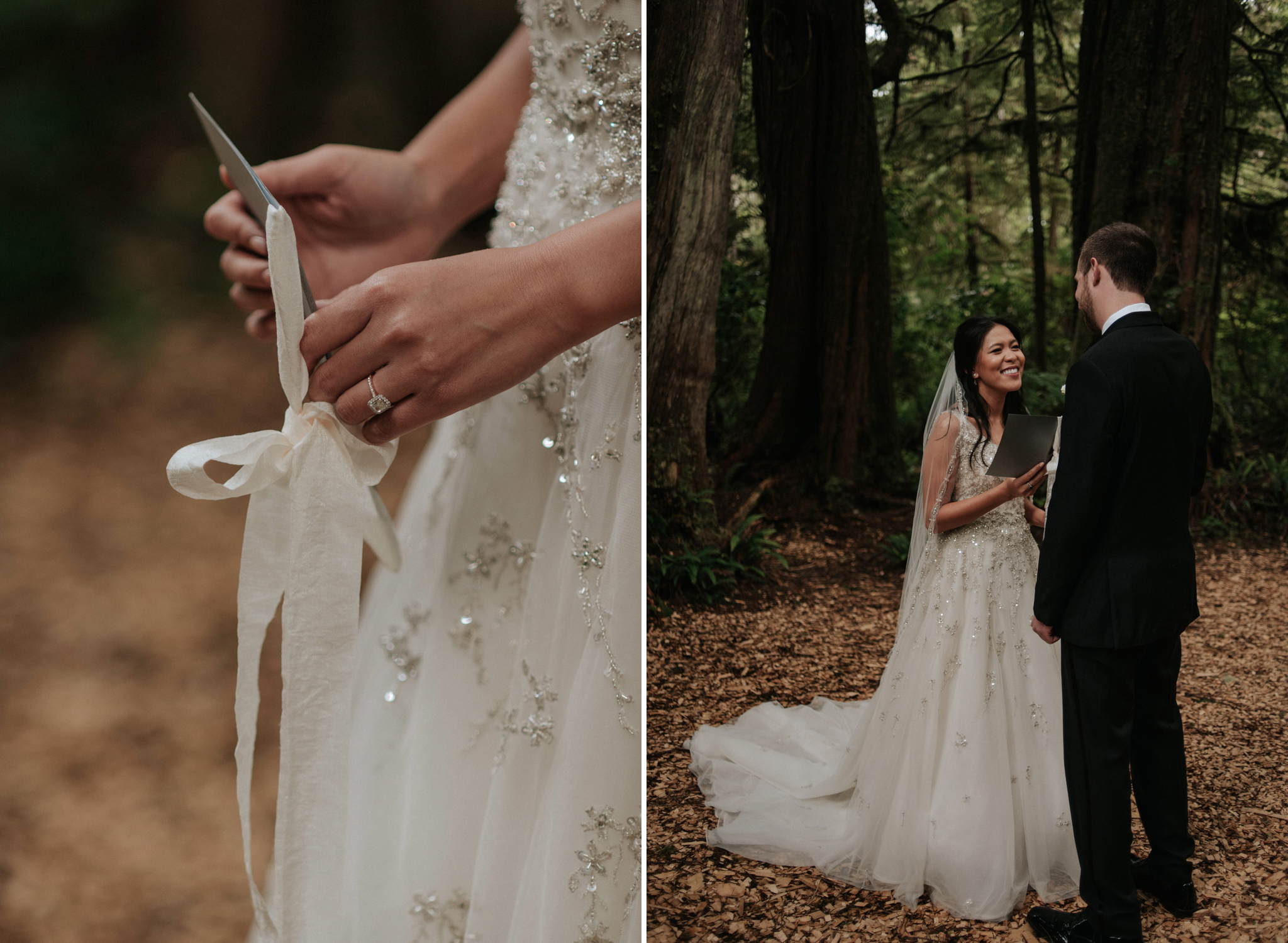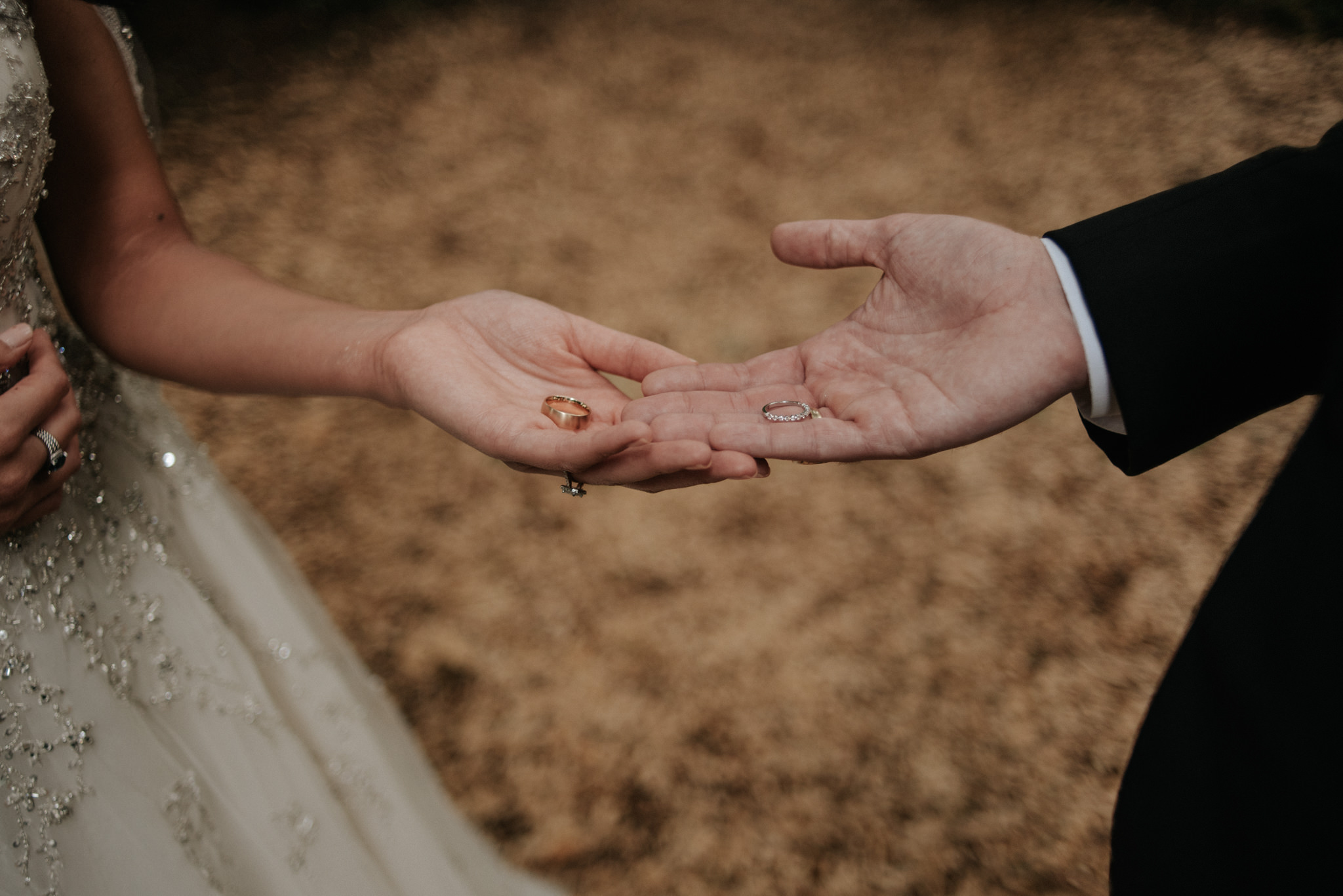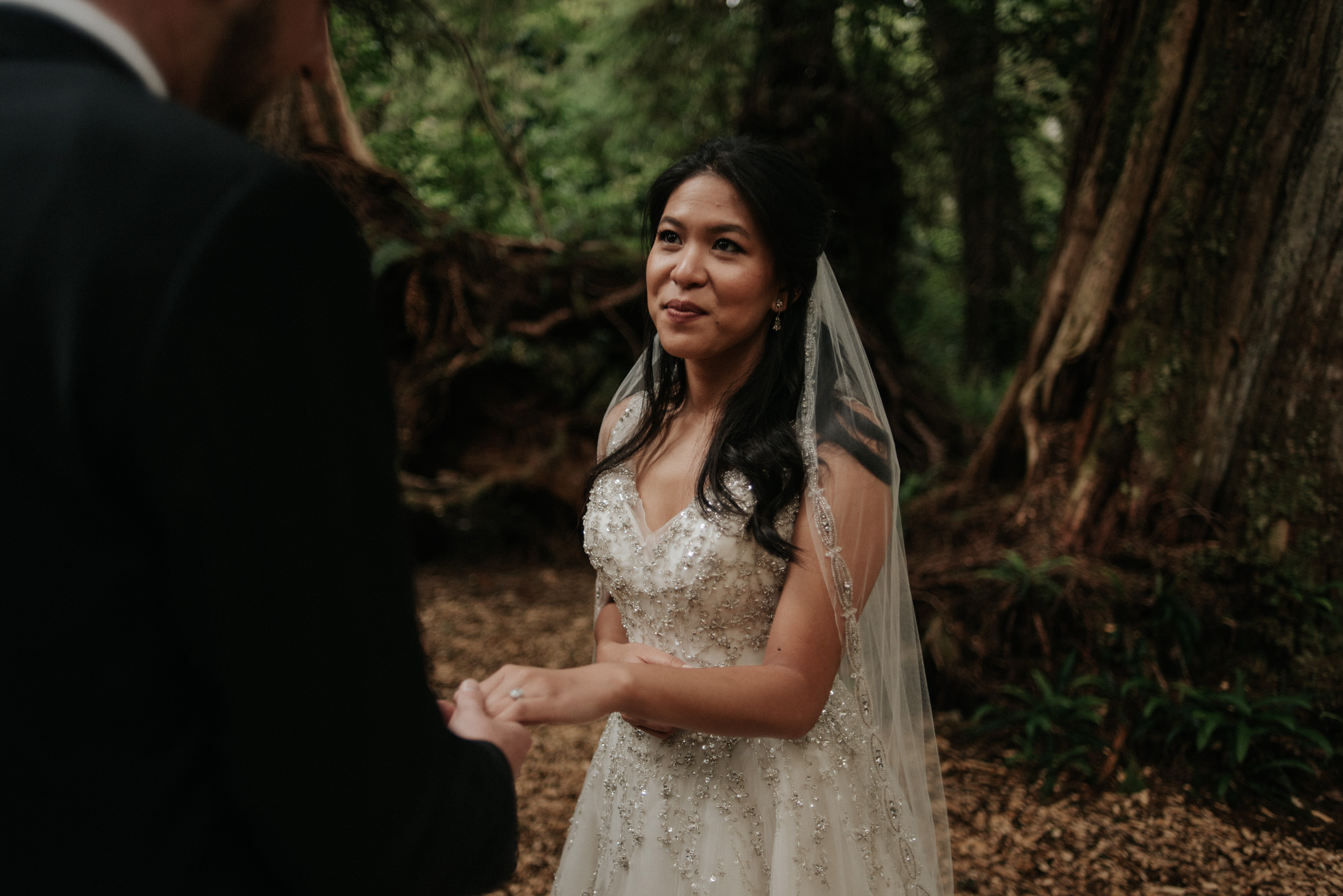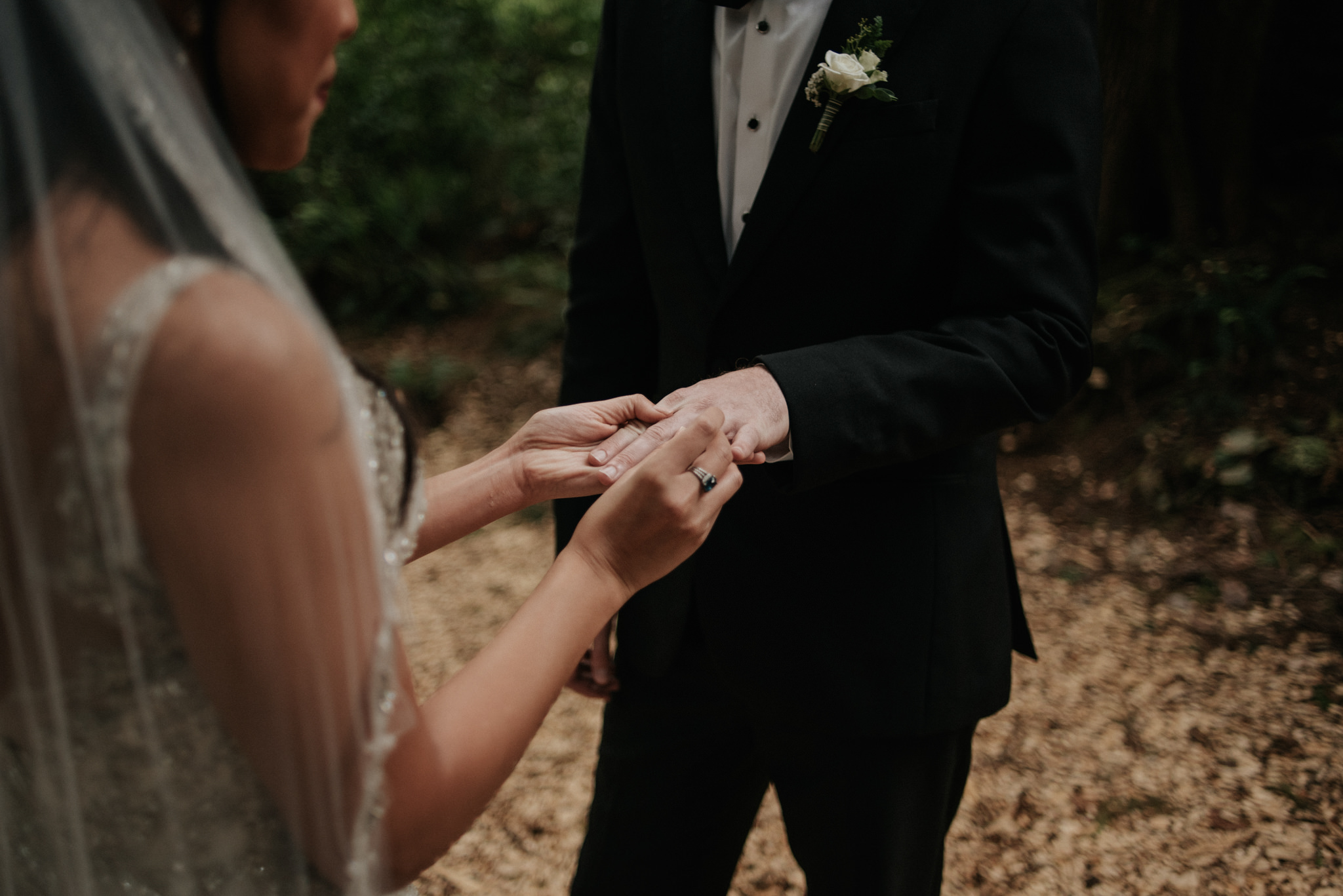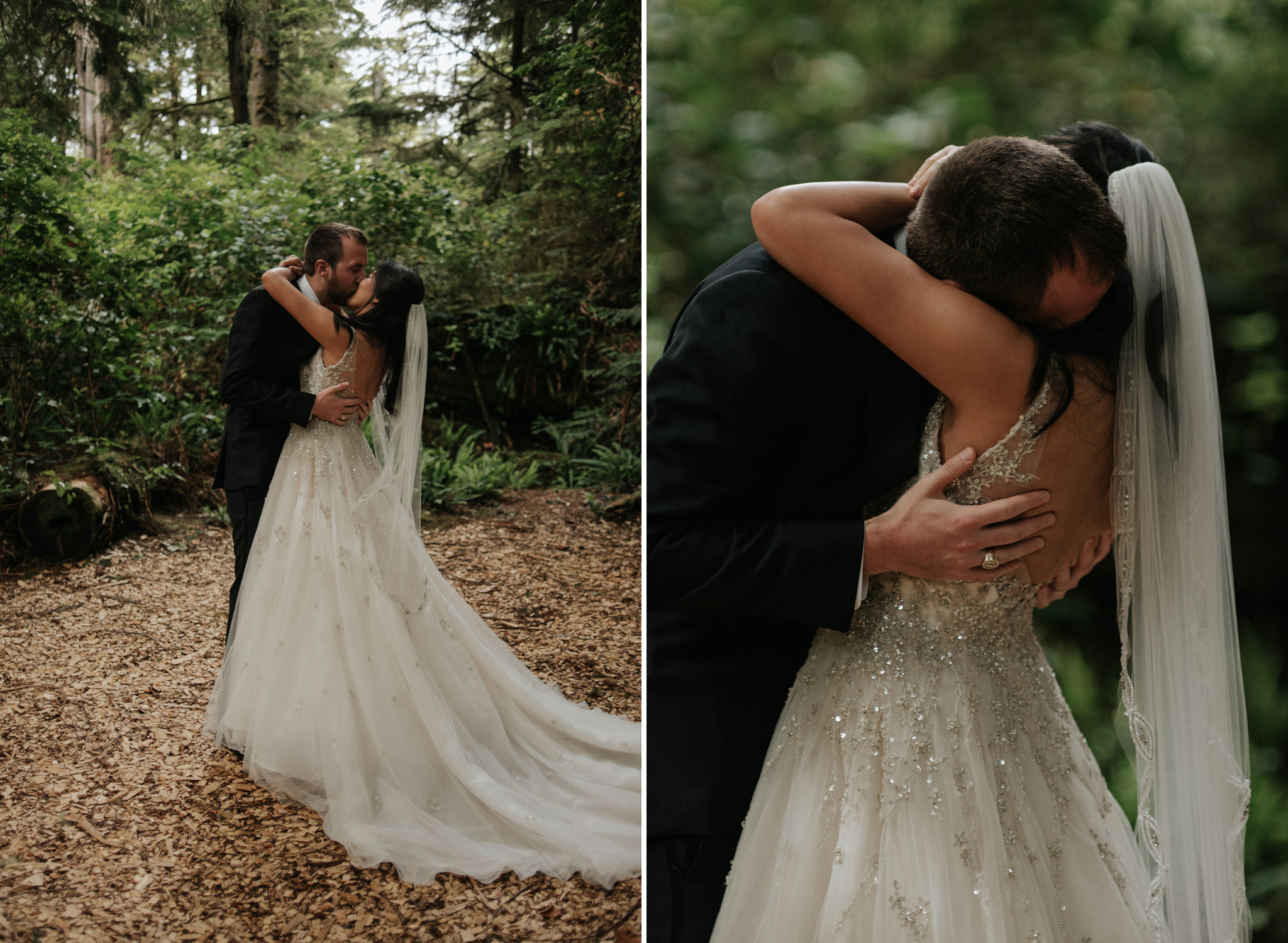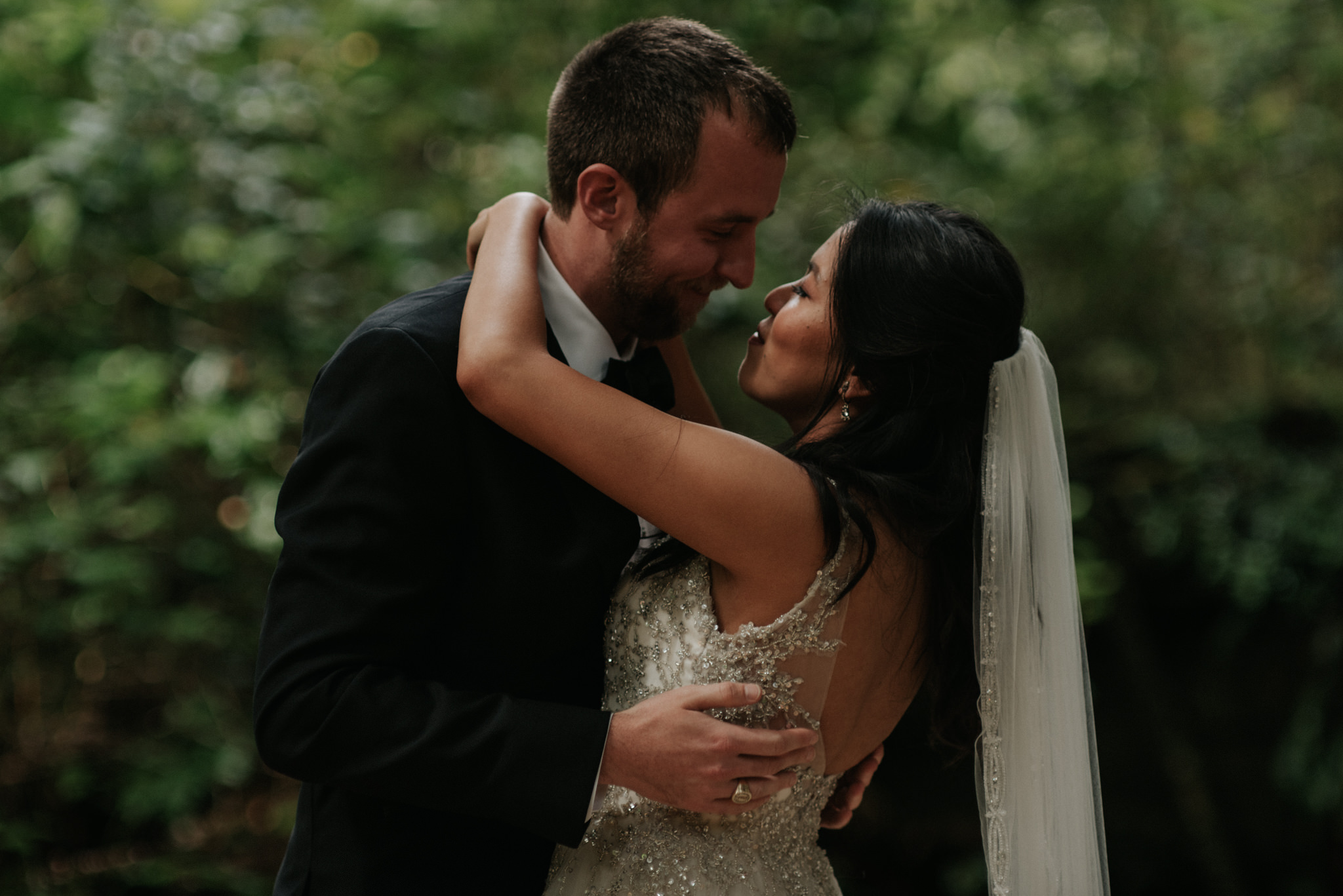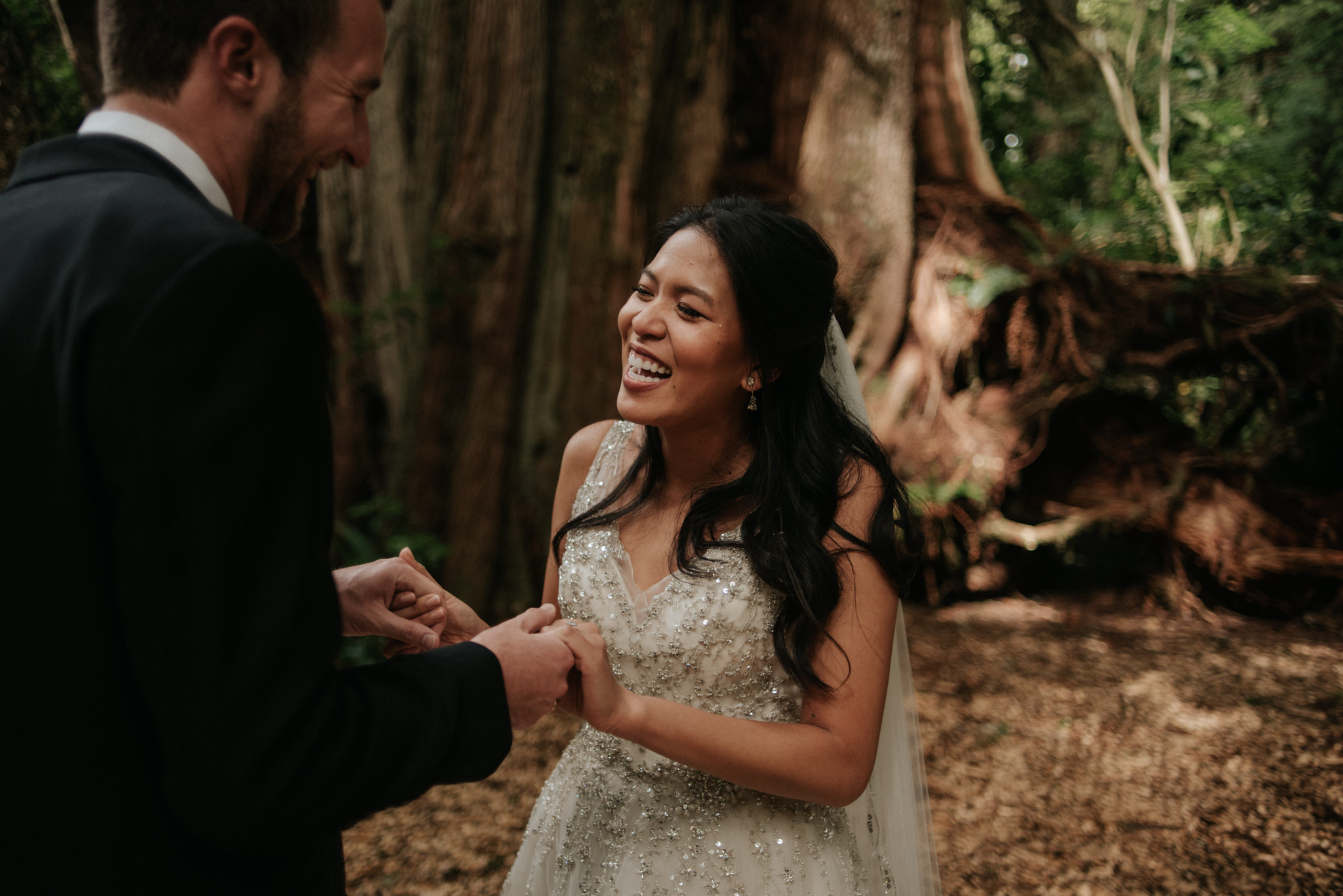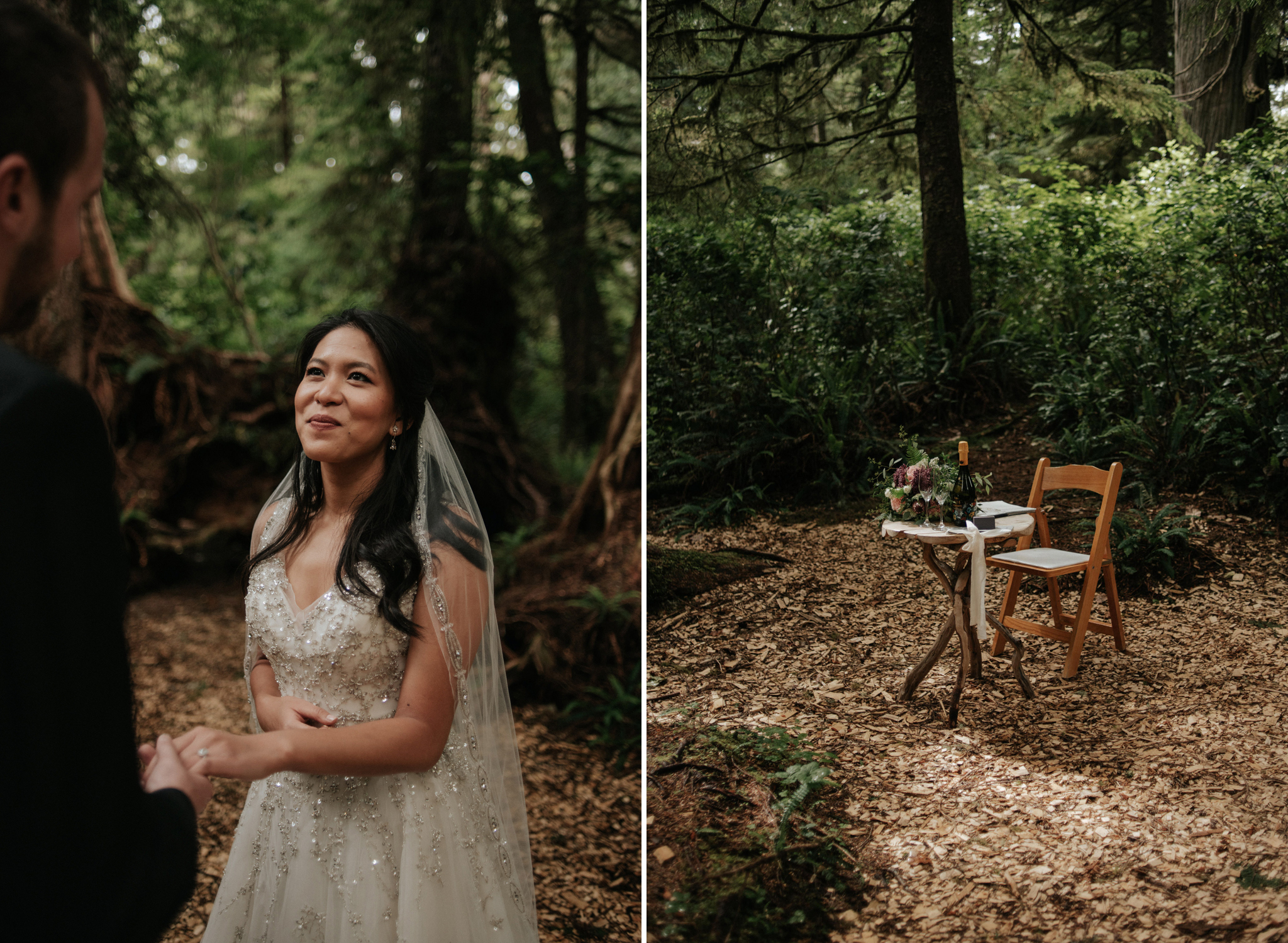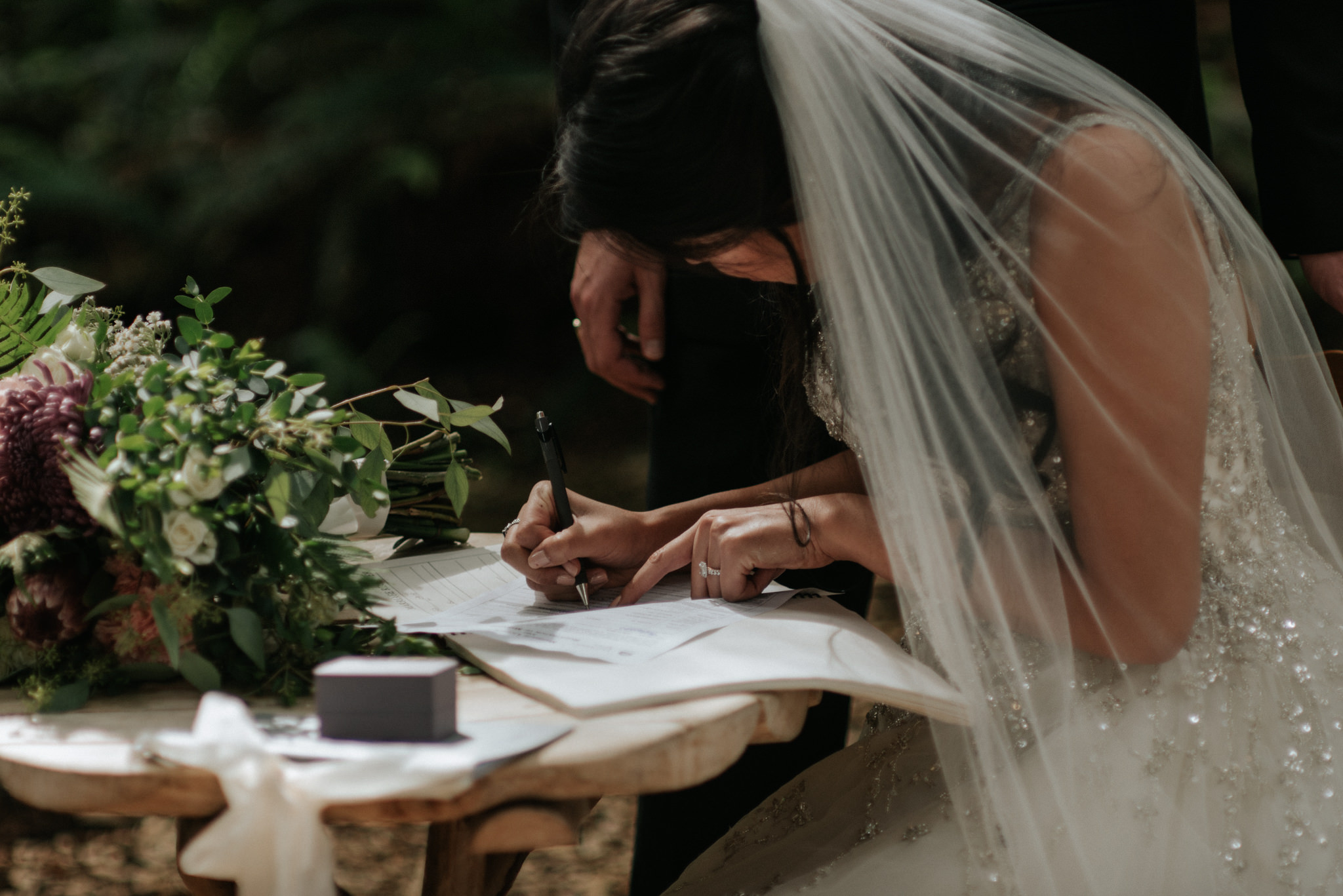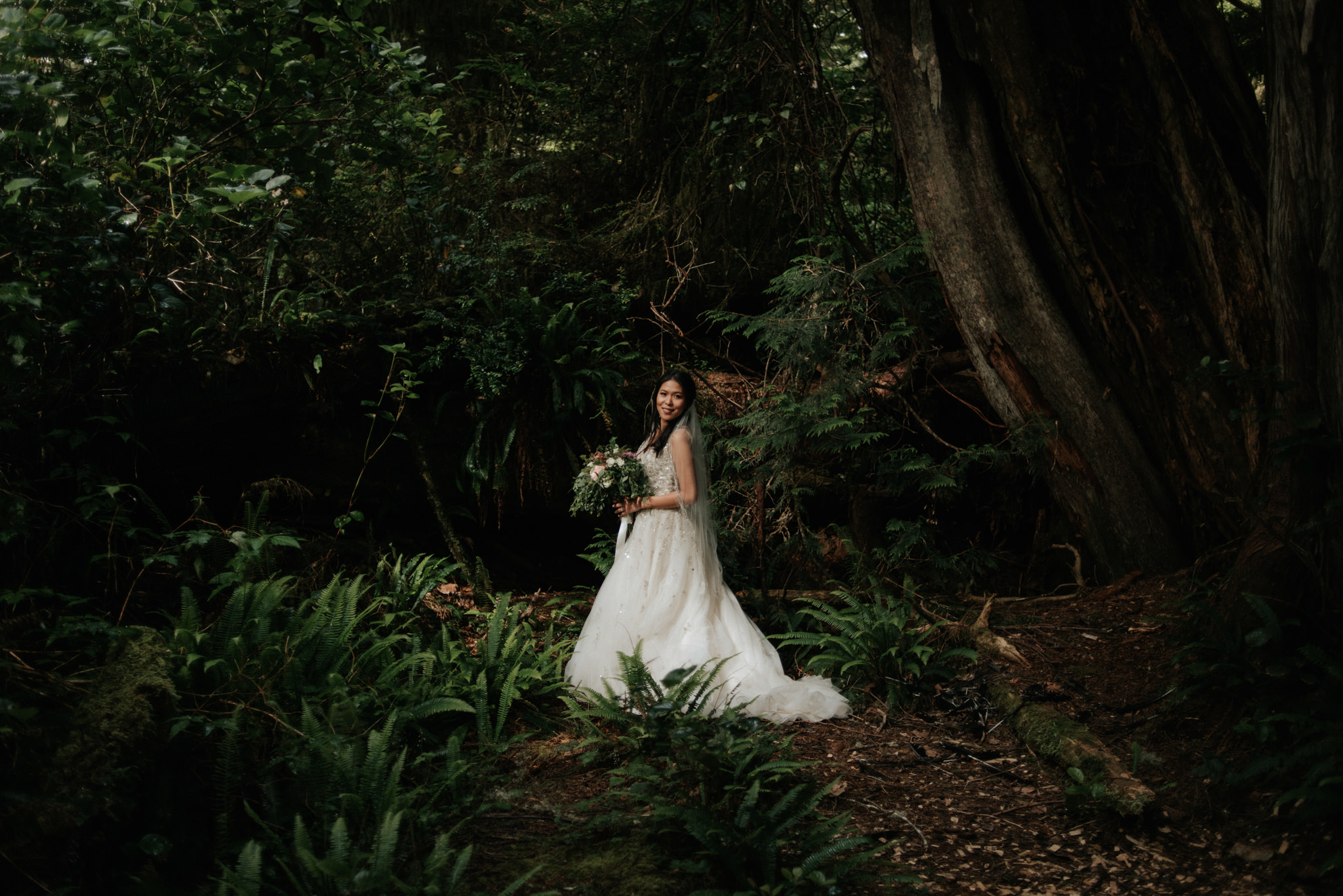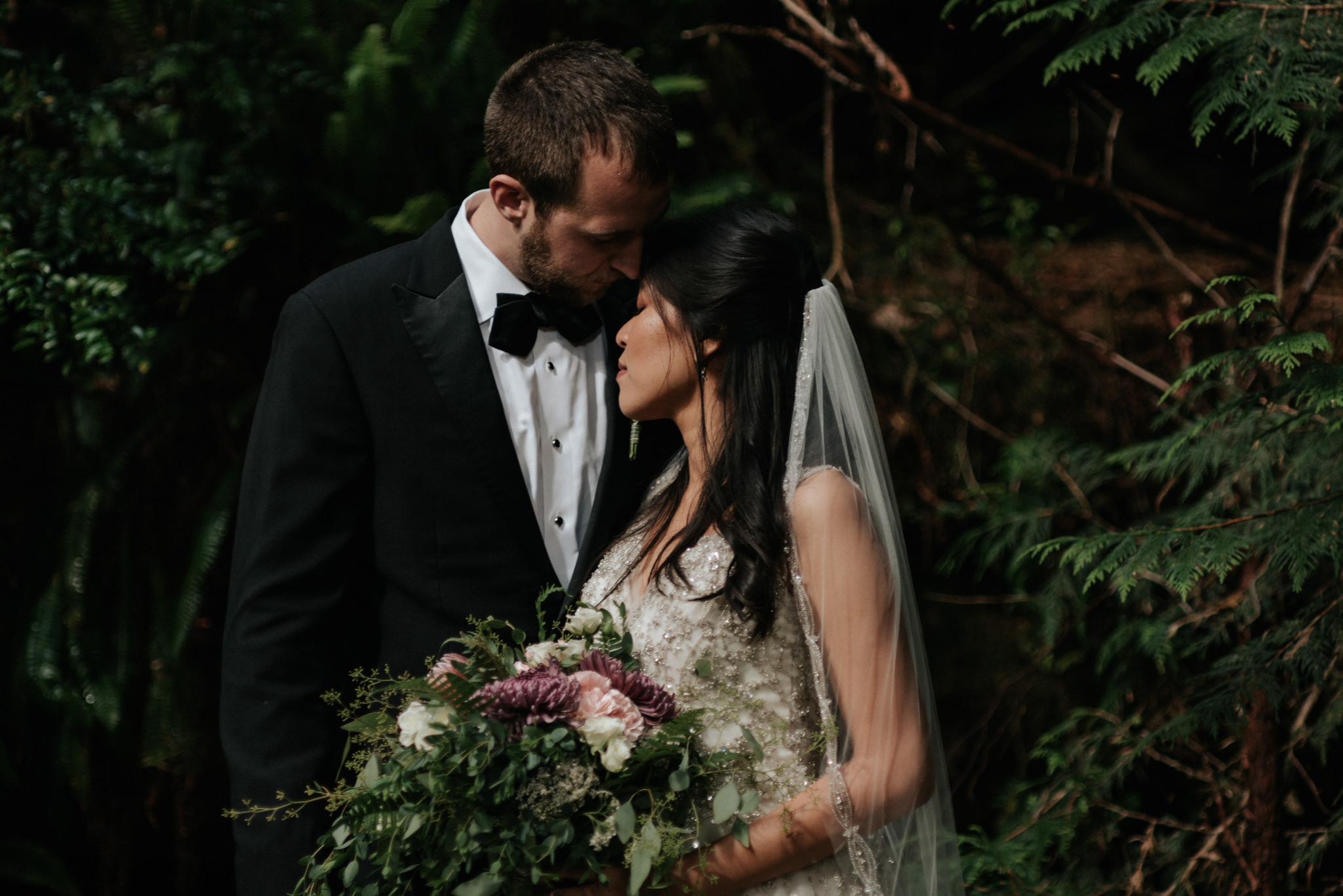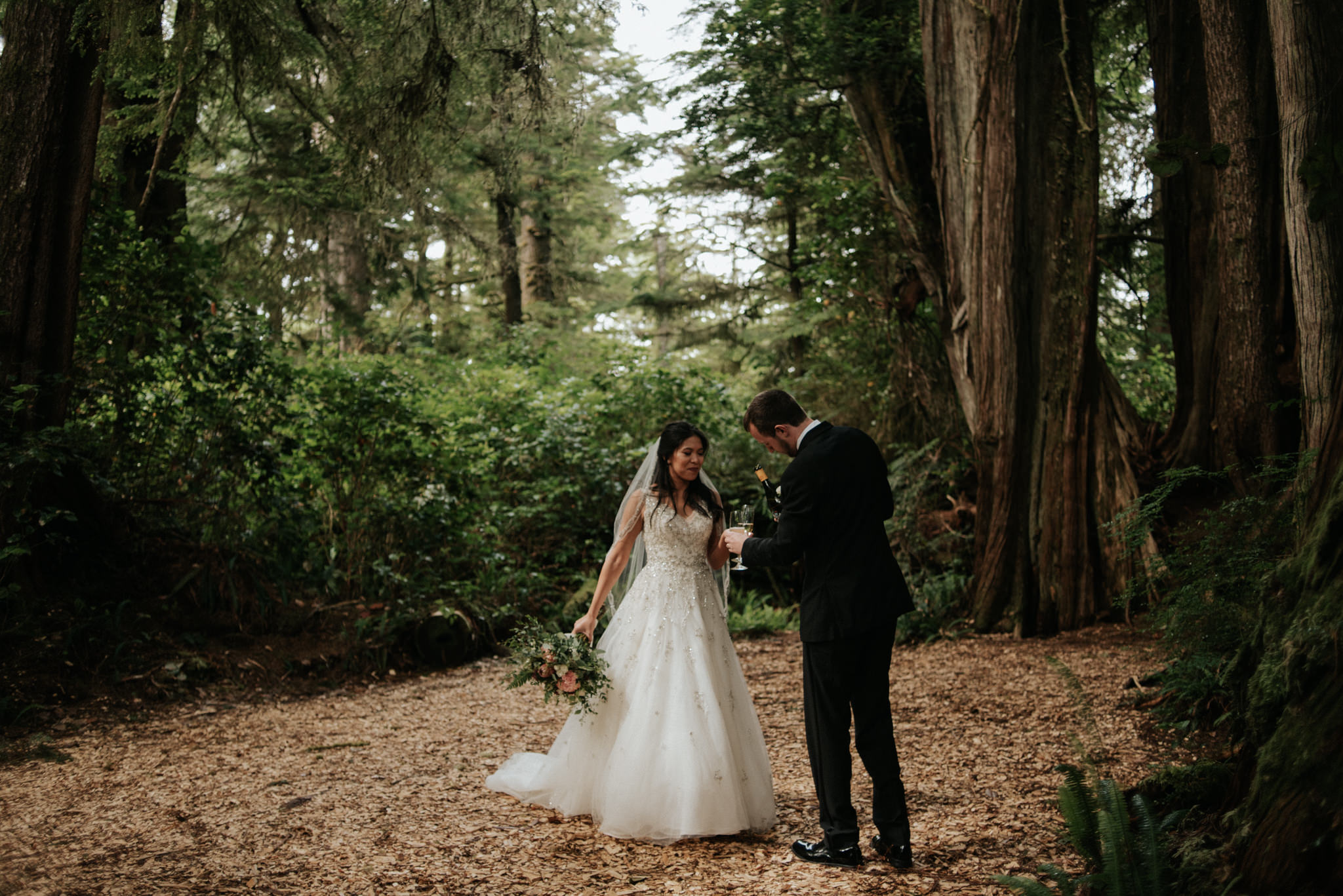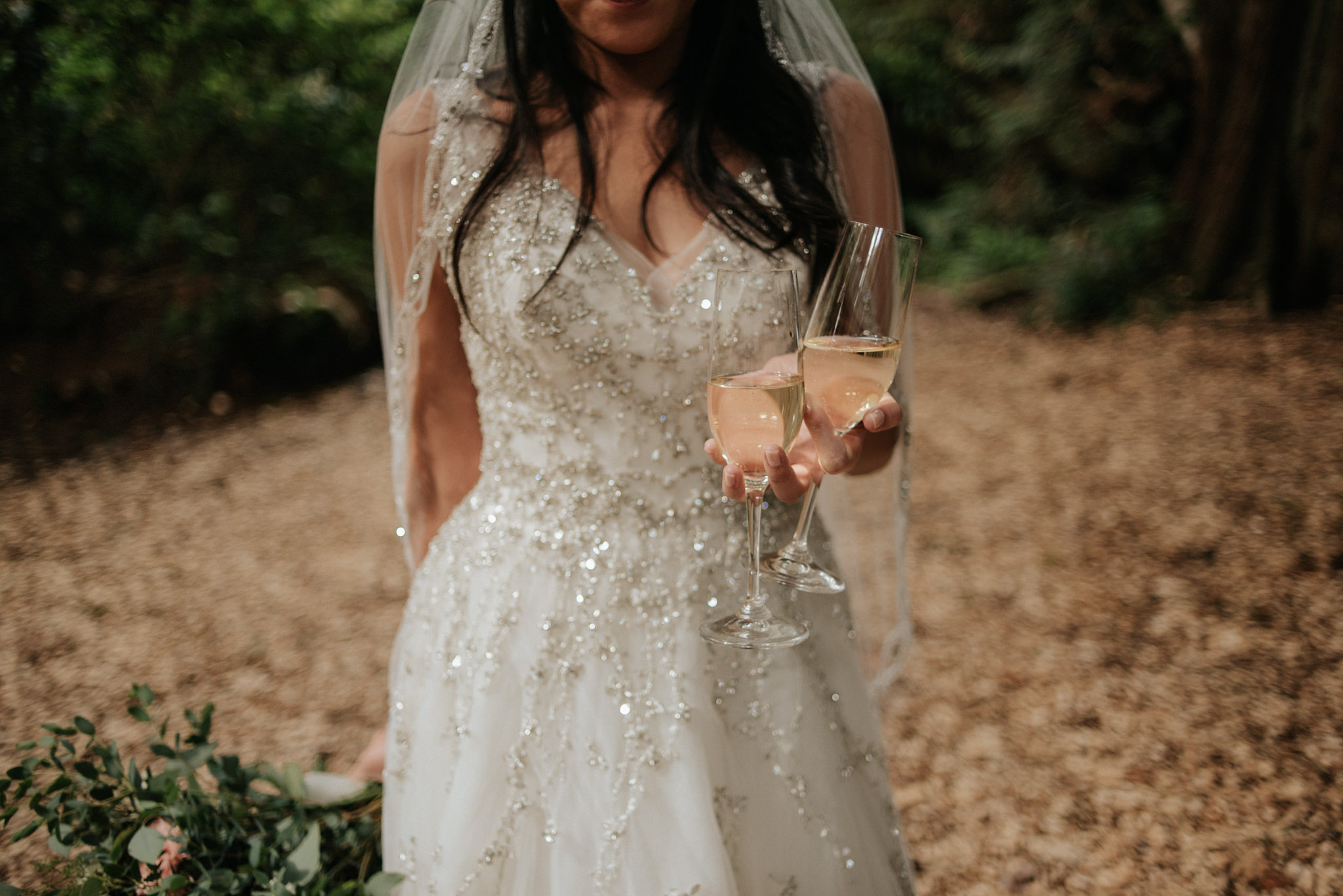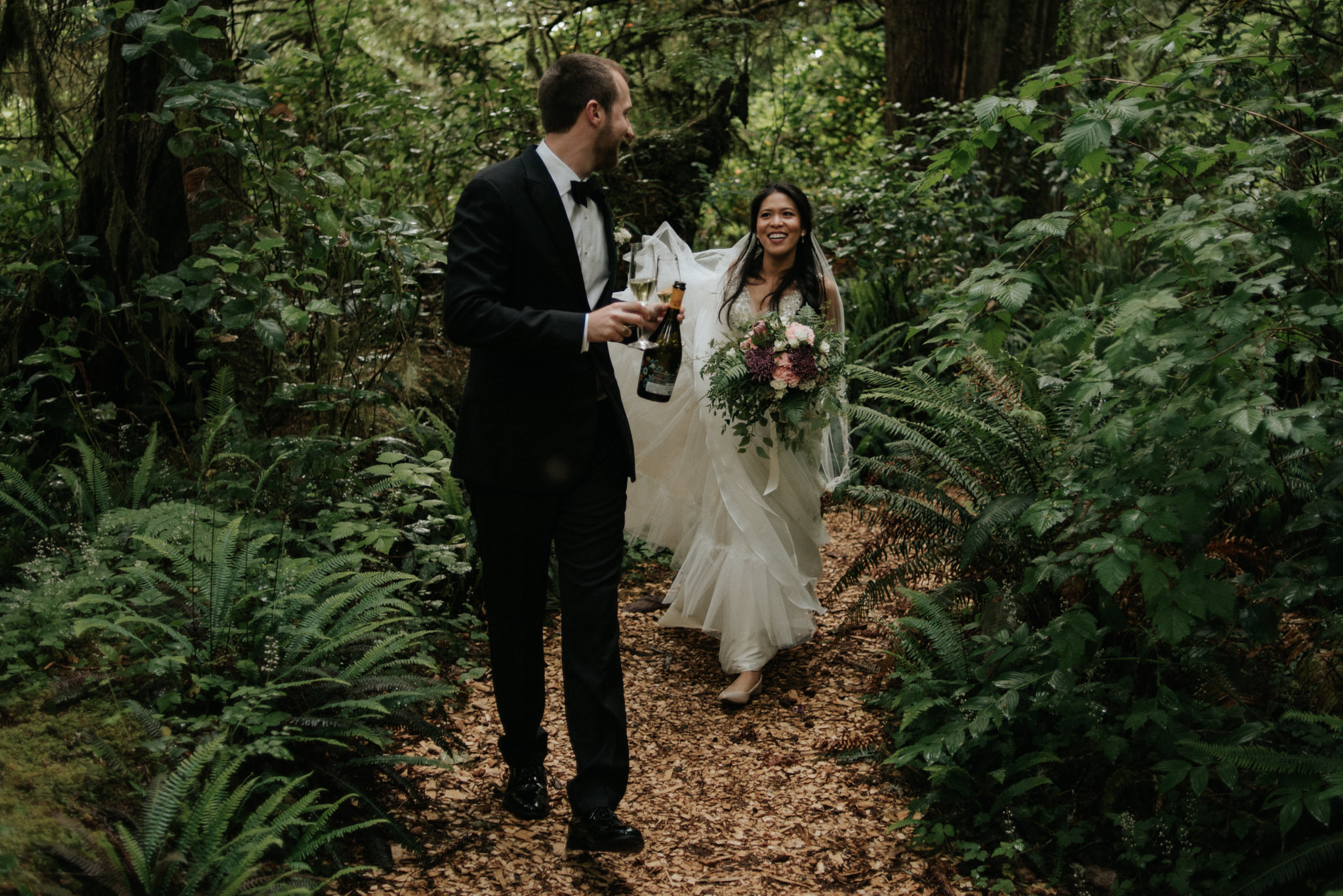 Exploring
We ventured off to some pretty spots for portraits. There really wasn't a plan, but since I had been there before and knew the area well, I had a few spots in mind. It's really amazing being with couples on their wedding day. Not only do you get to share in their day, but you get to be a significant part of it, especially if they are eloping (I was a witness on their marriage papers!). Also, everyone is super nice to you. Travellers, tourists, locals; they all say how beautiful the bride looks and how lucky they are to get married in such an incredible setting. They also like to say "you can't take a bad picture here!" to me. Which is true (almost). It's so gorgeous that you sometimes get caught up in the landscape and forget that you are trying to capture connection, intimacy and romance between a couple who just promised themselves to each other forever. I have to remind myself that often. I hope I did Angela and Bruce justice.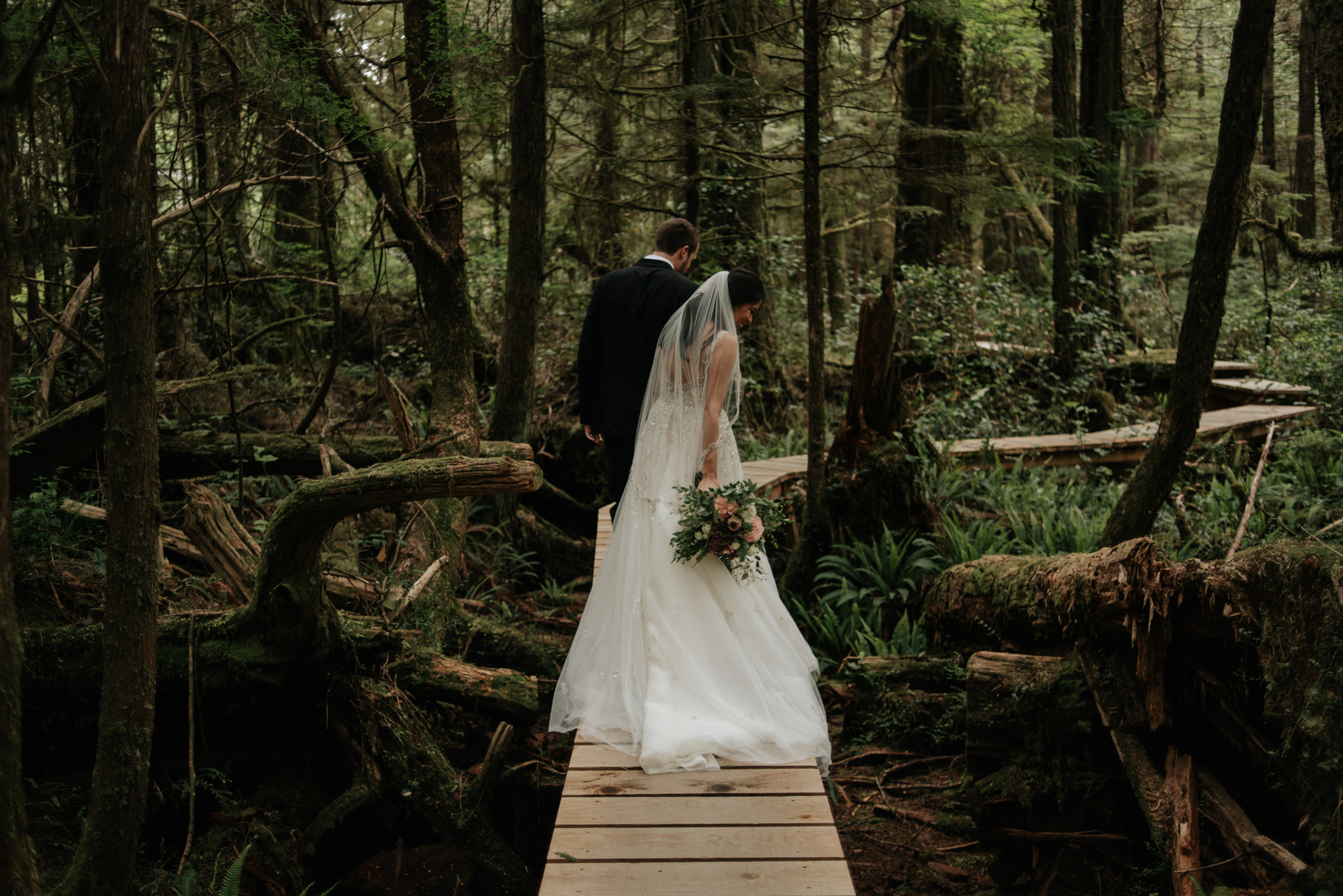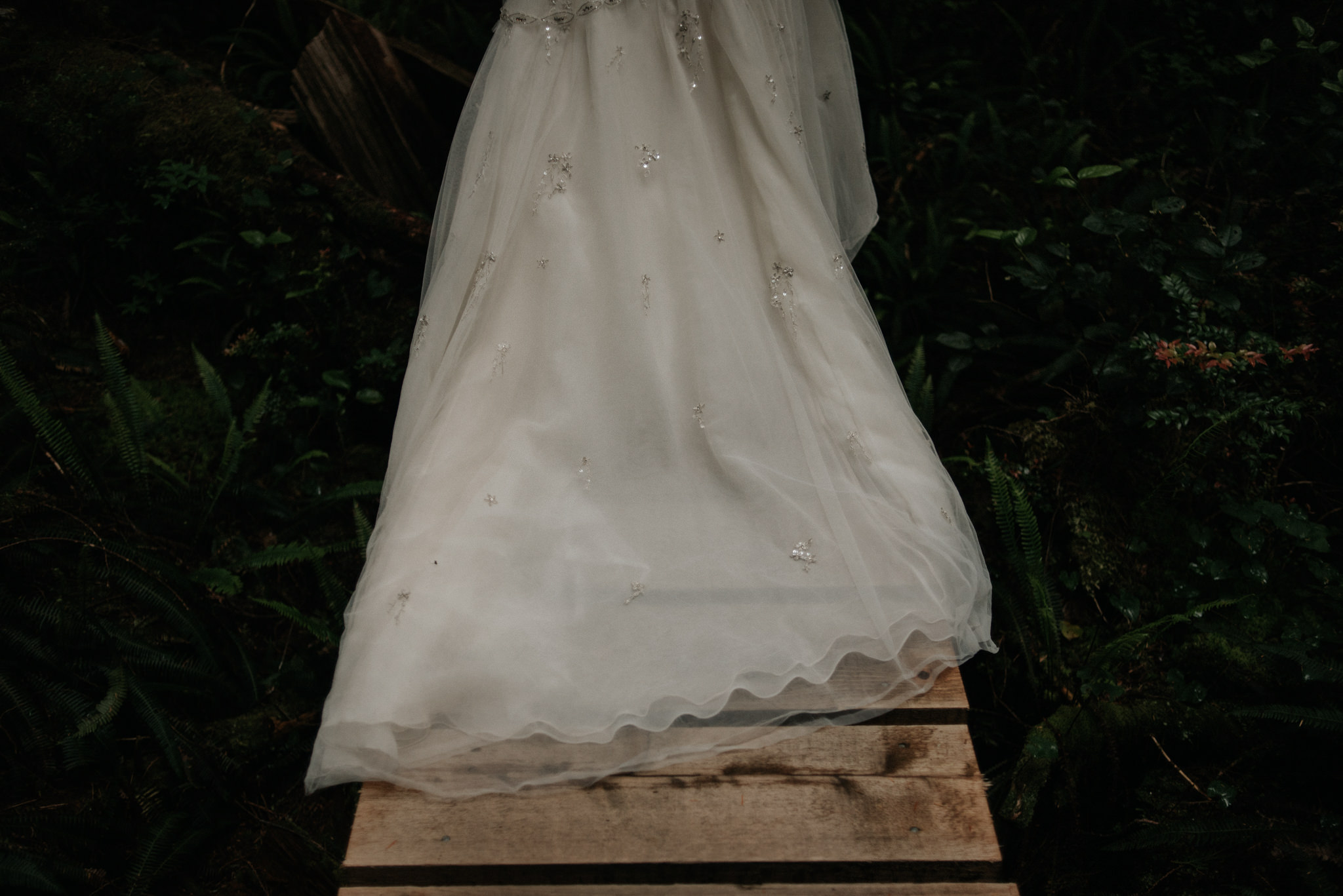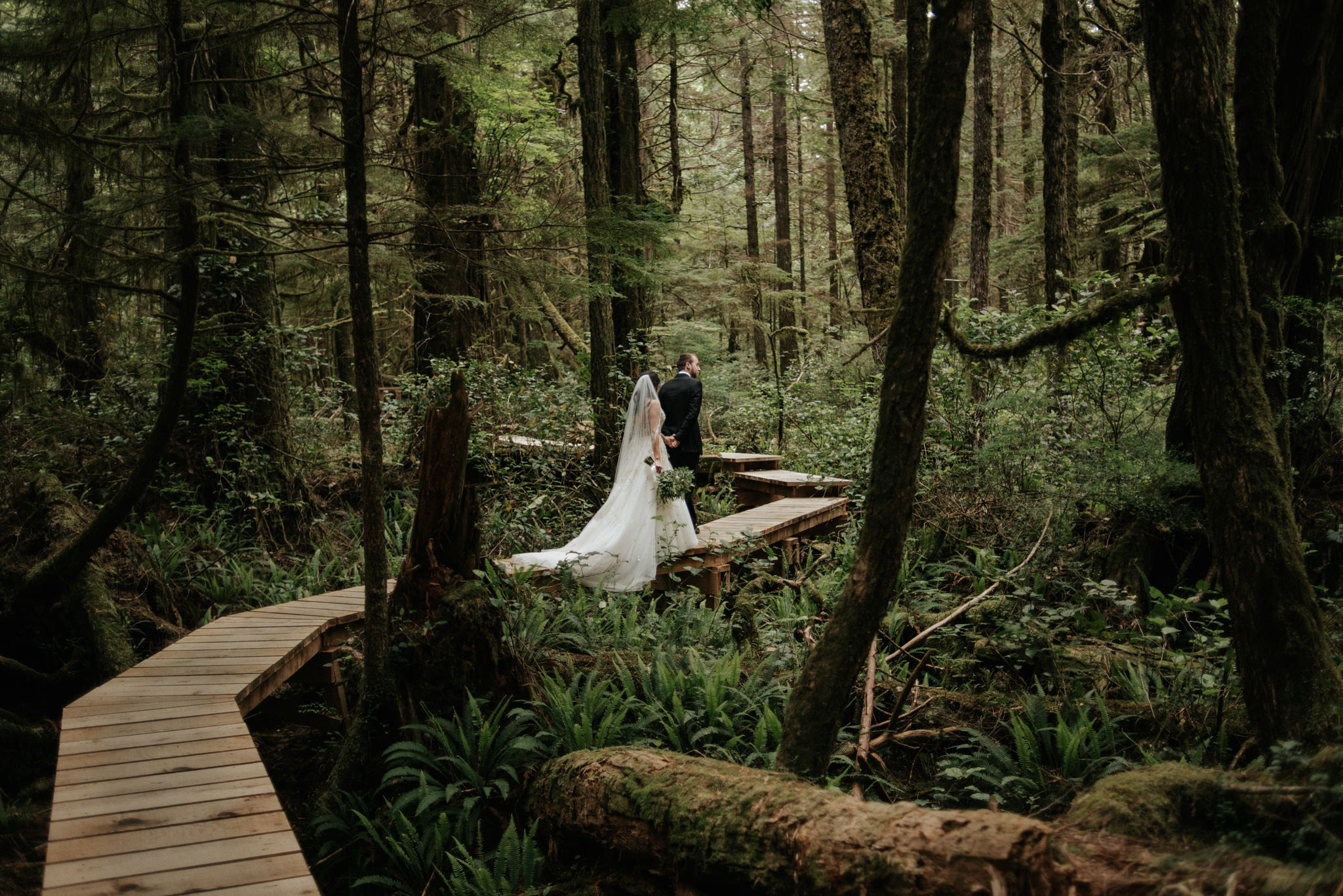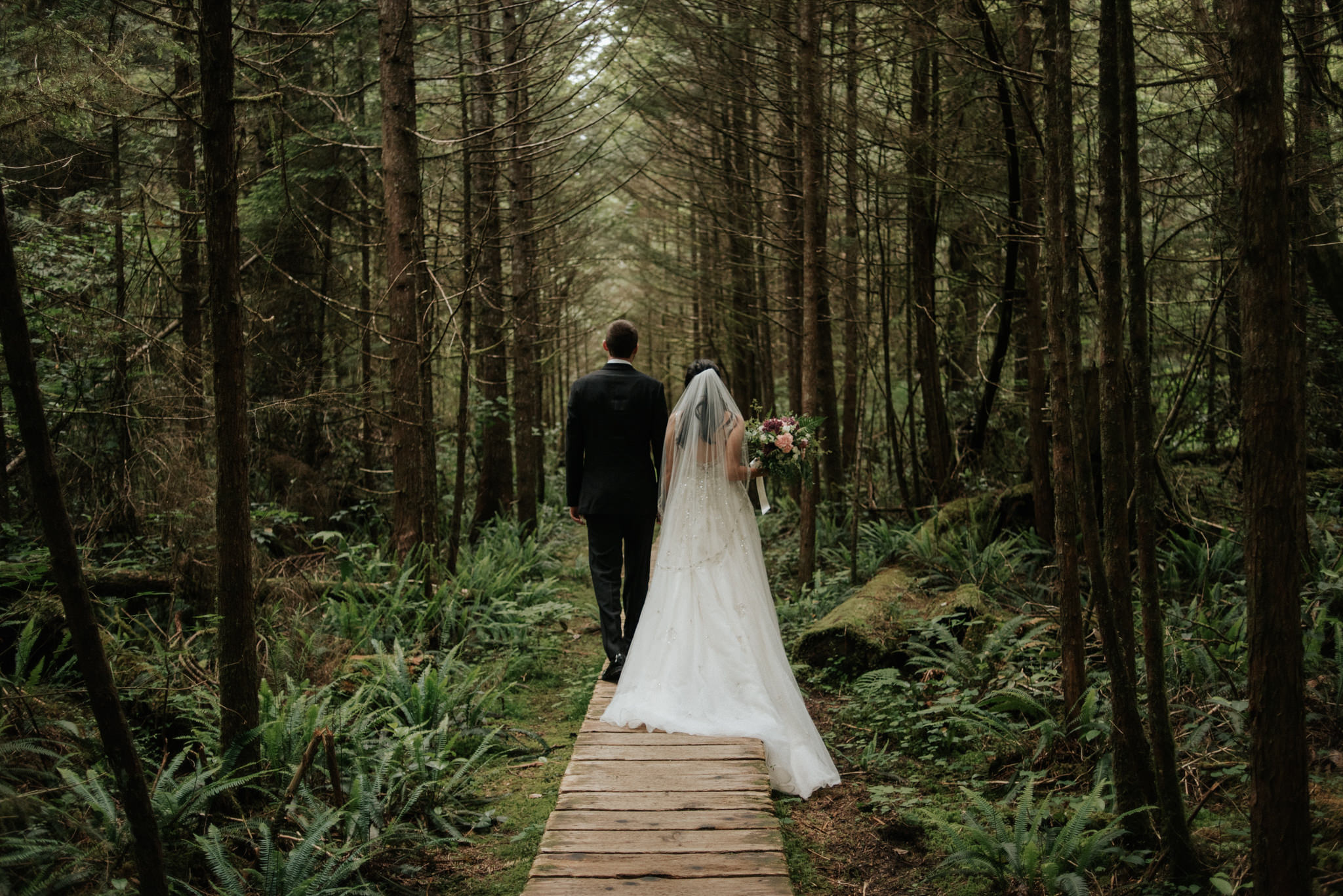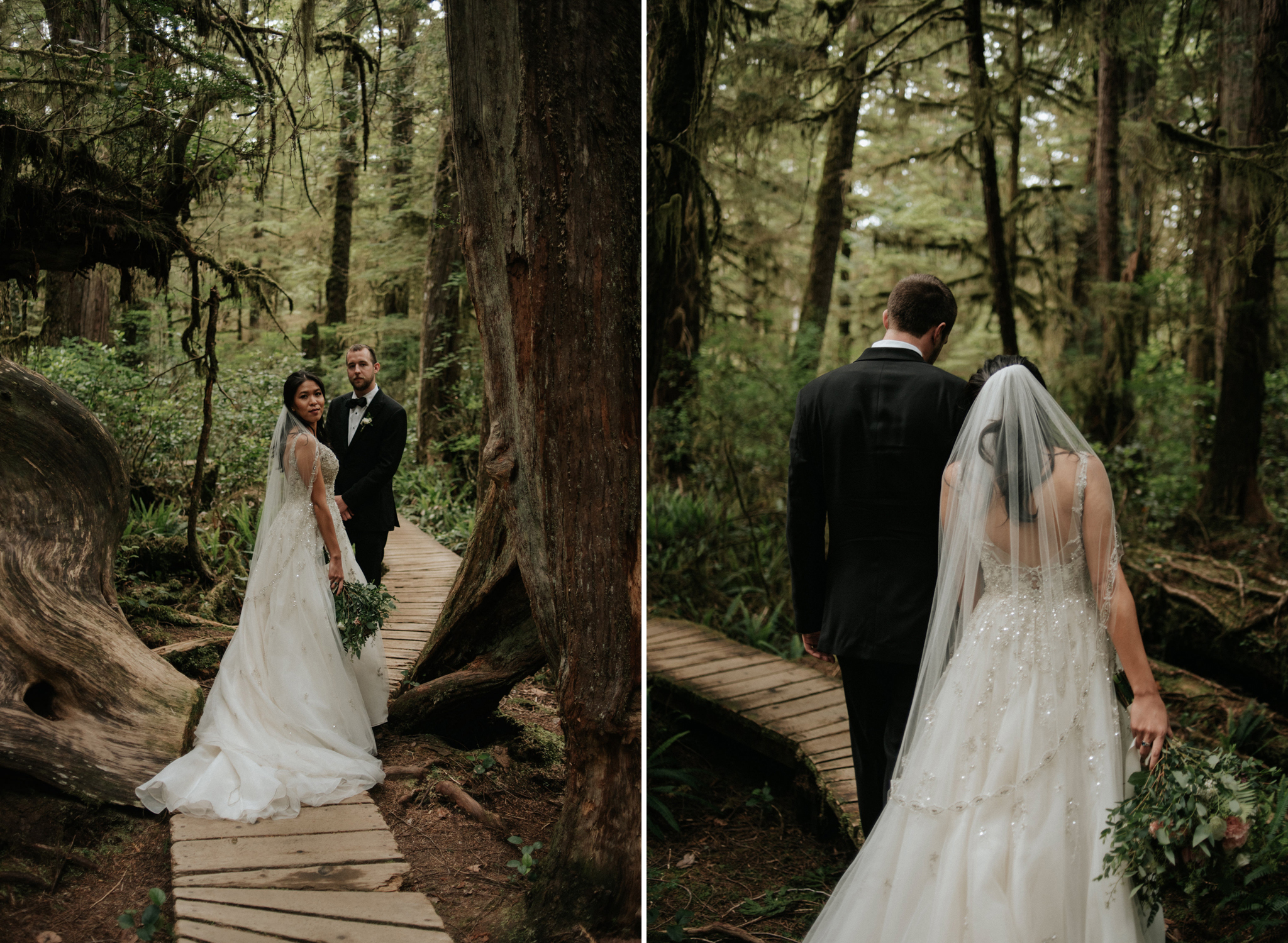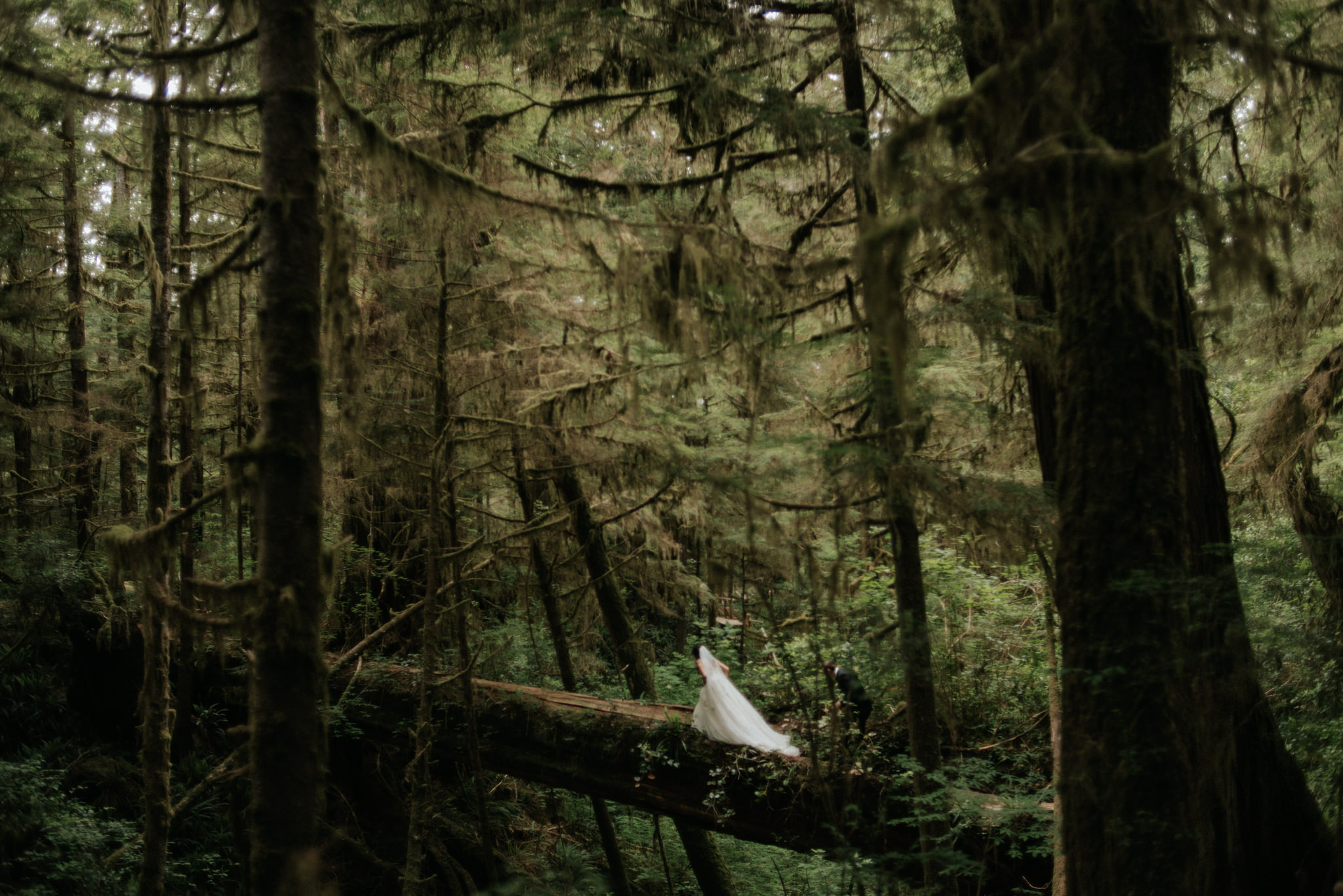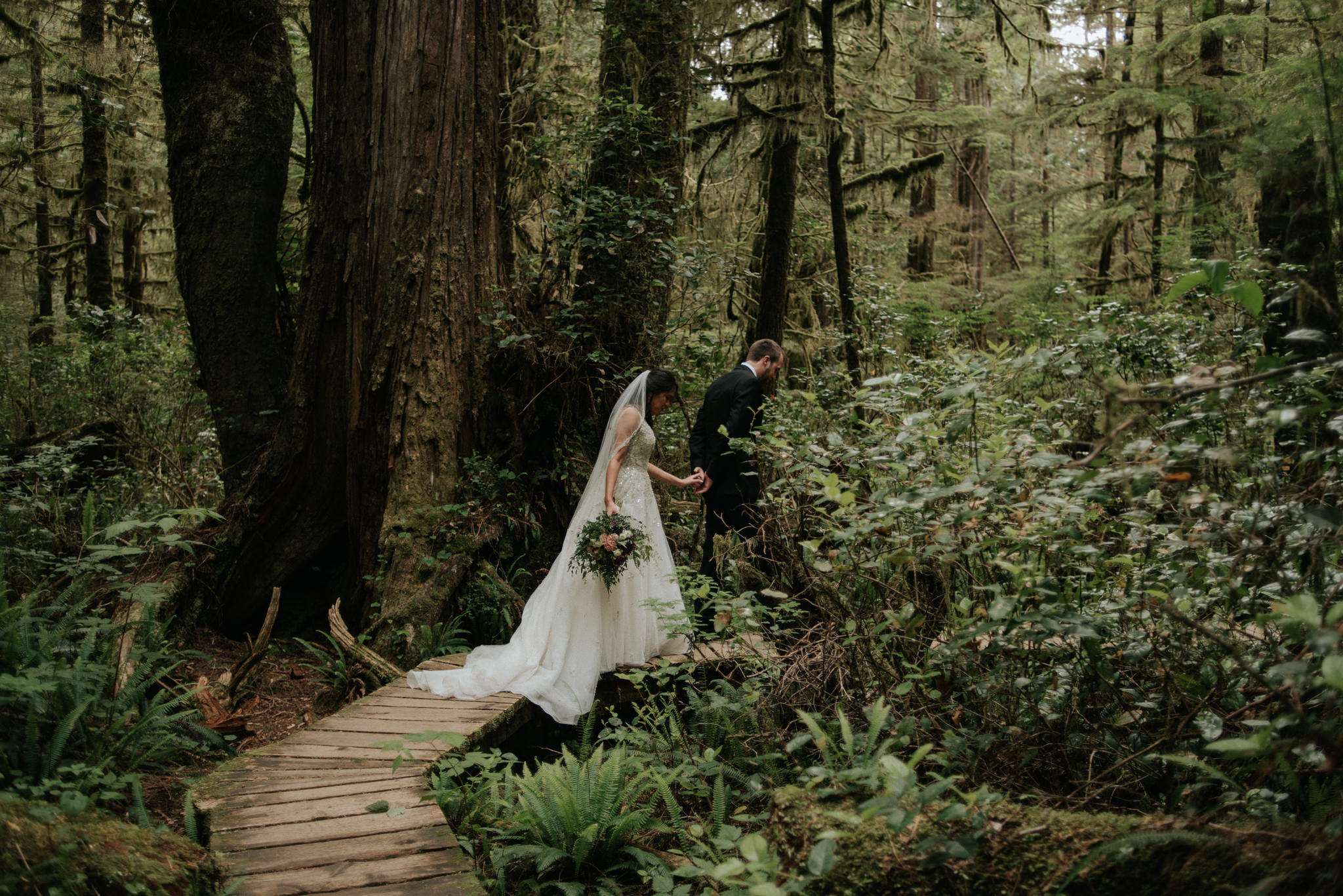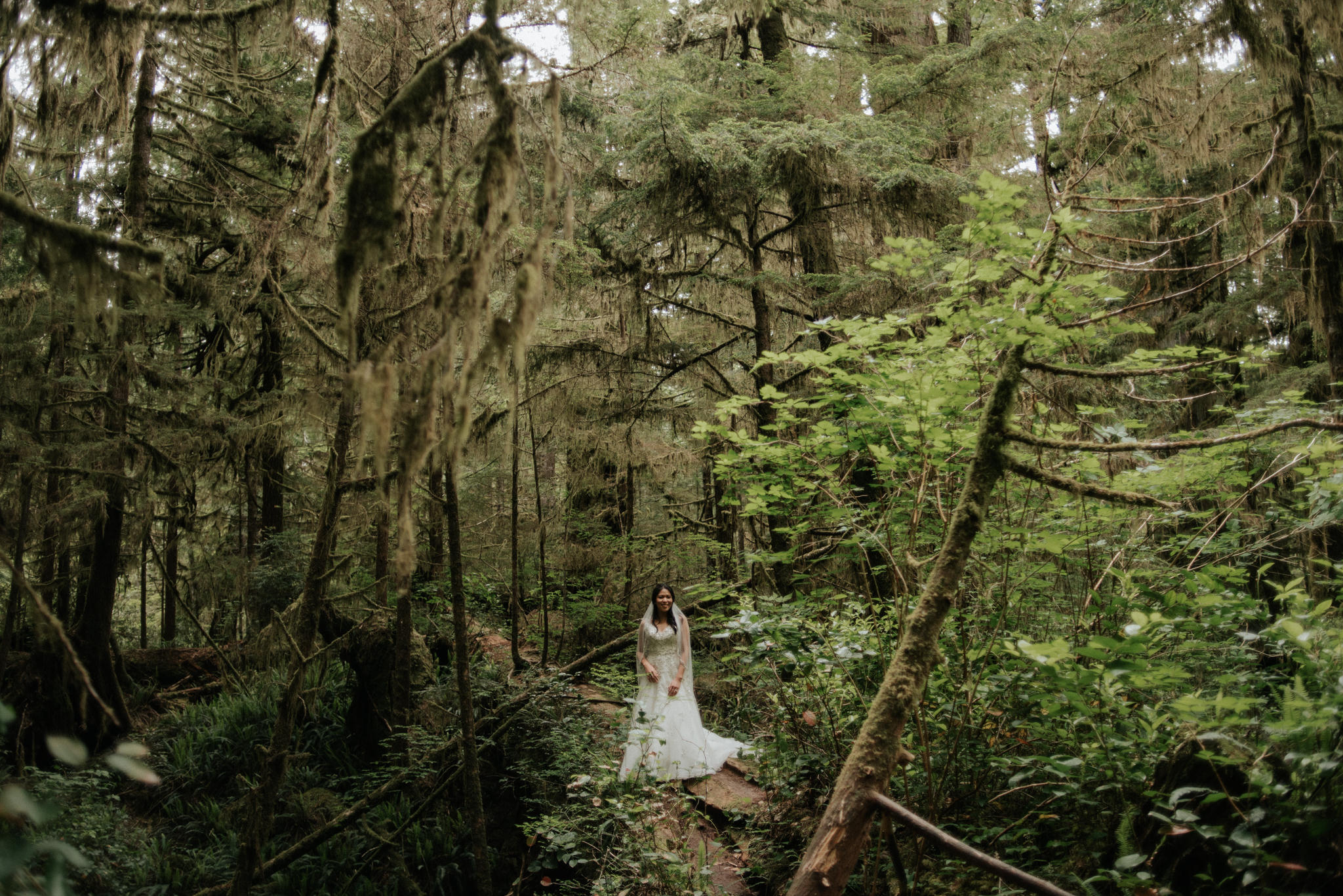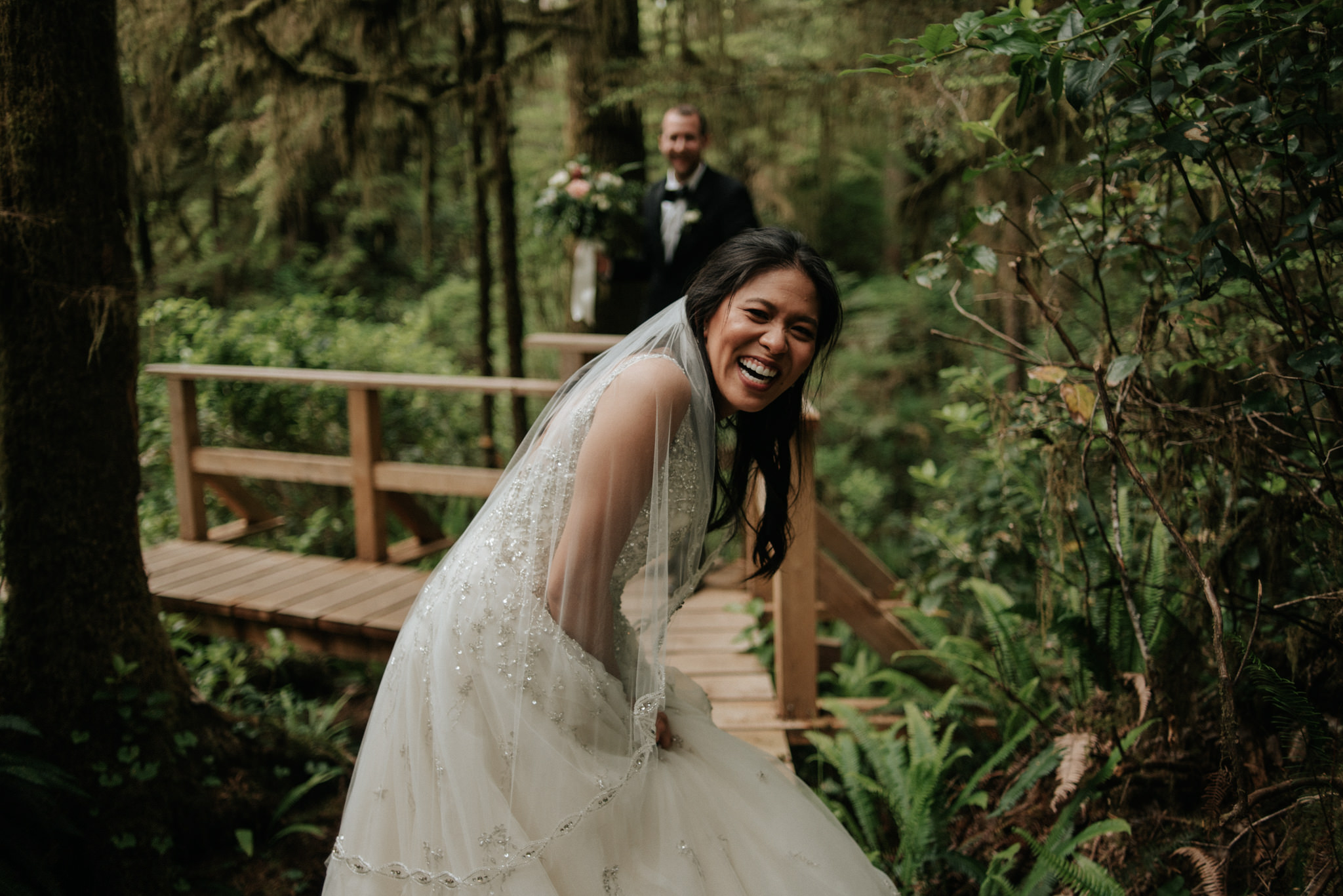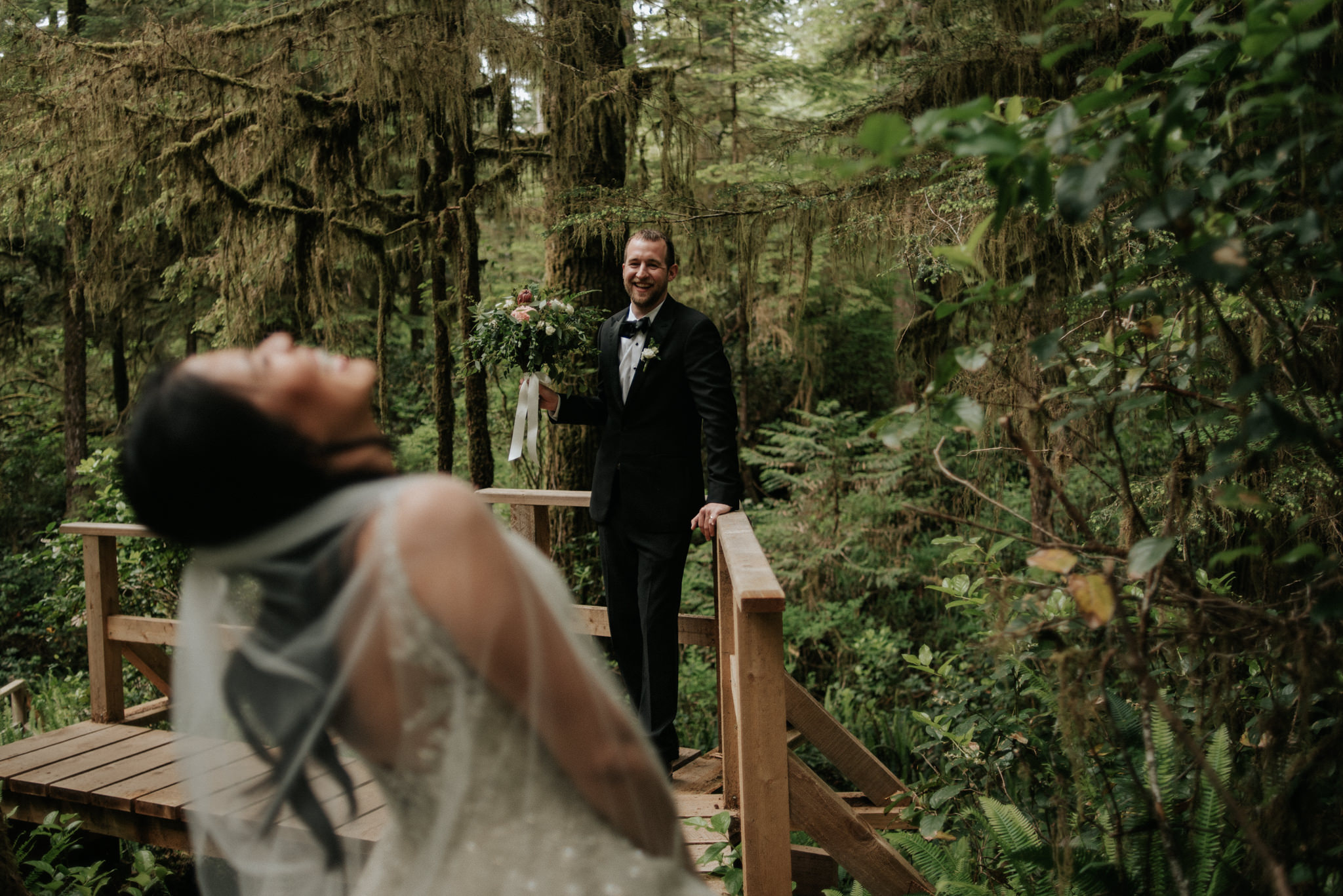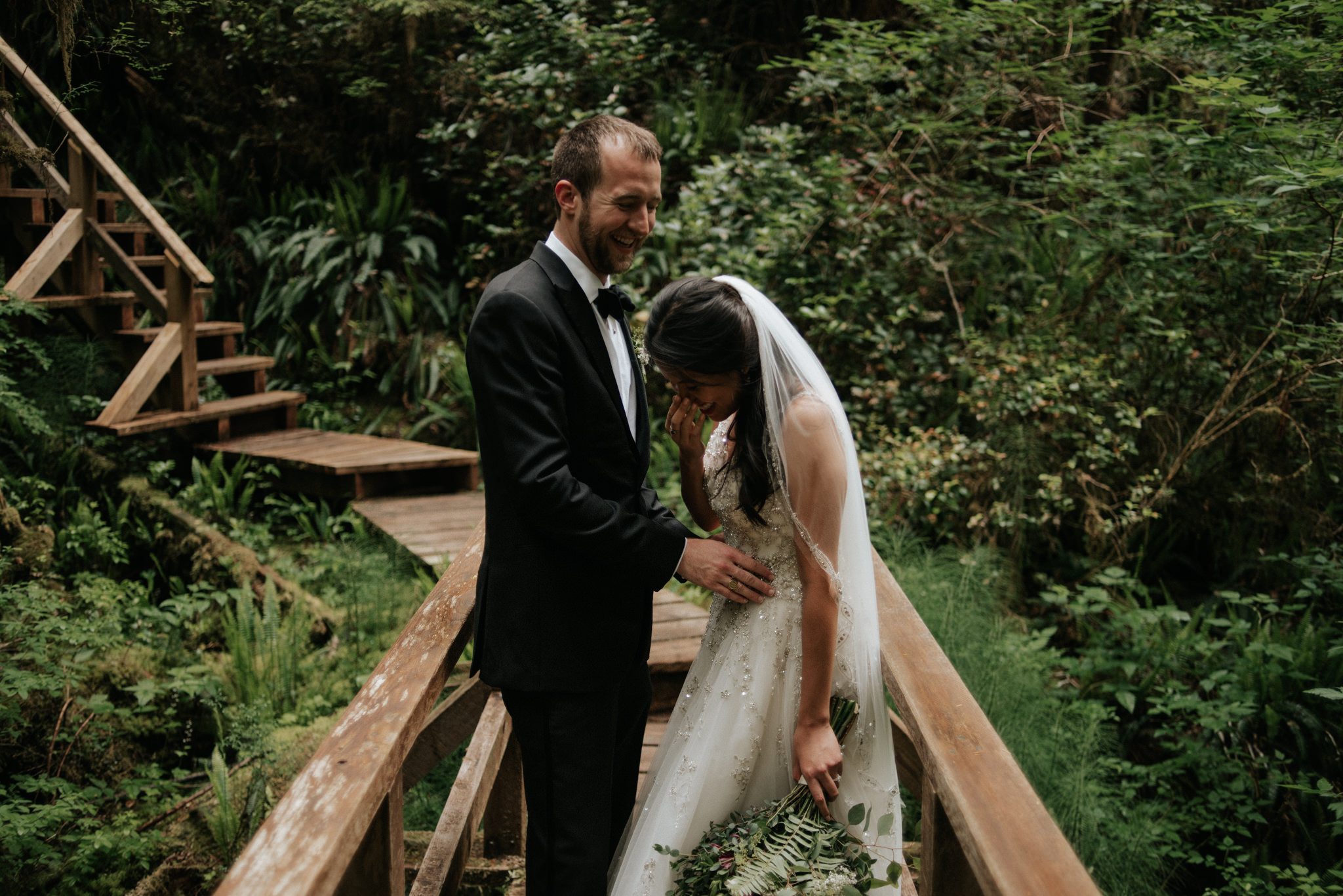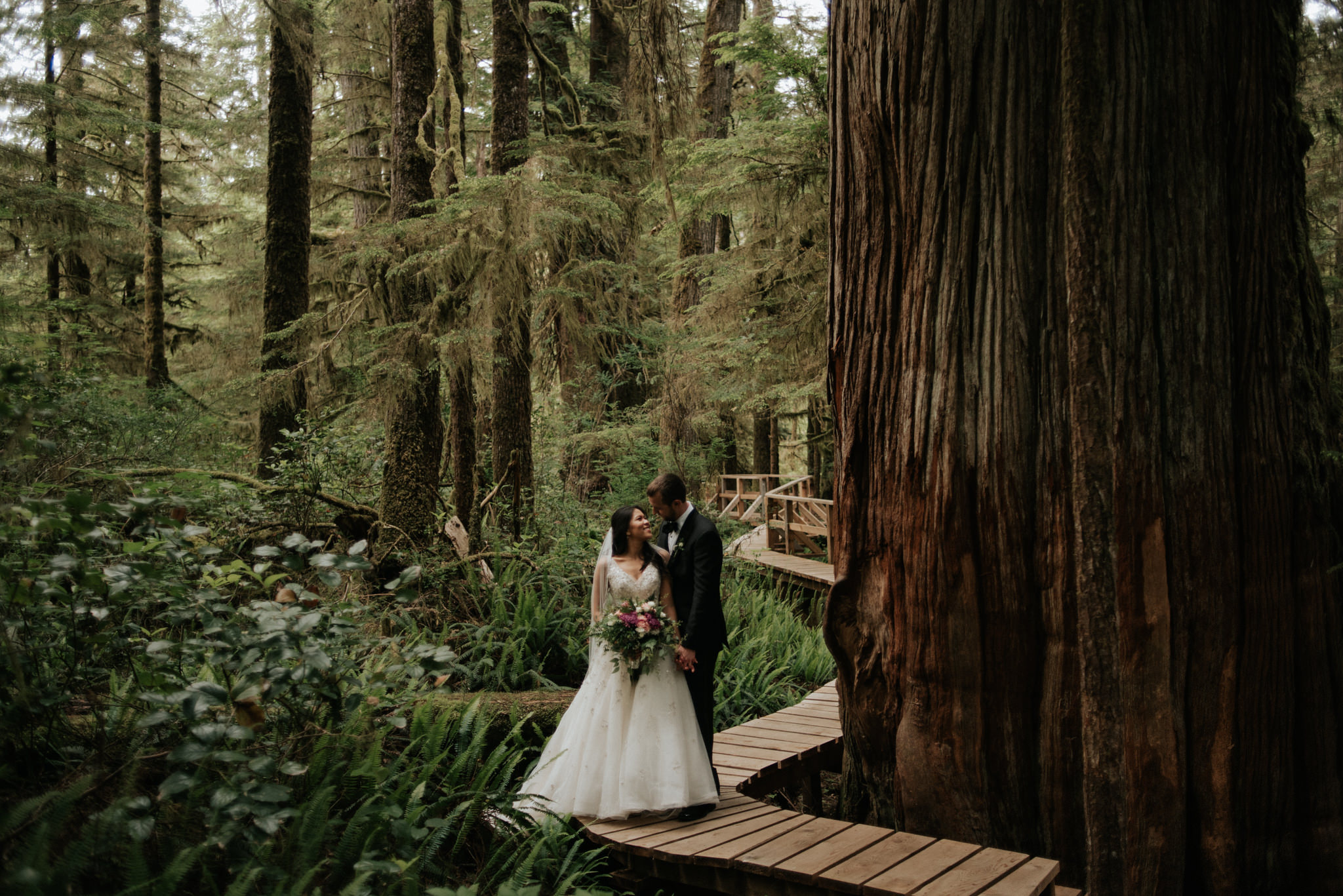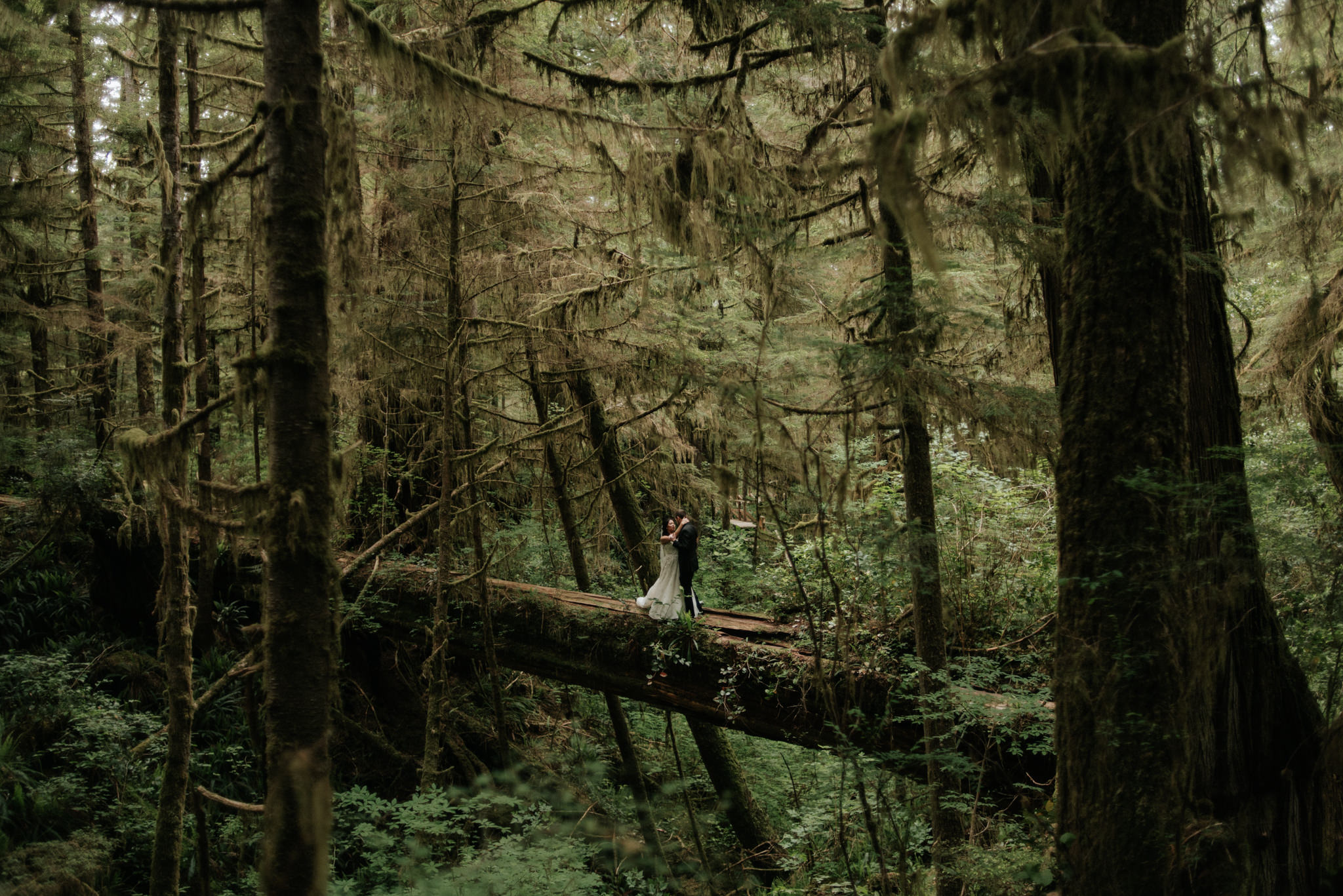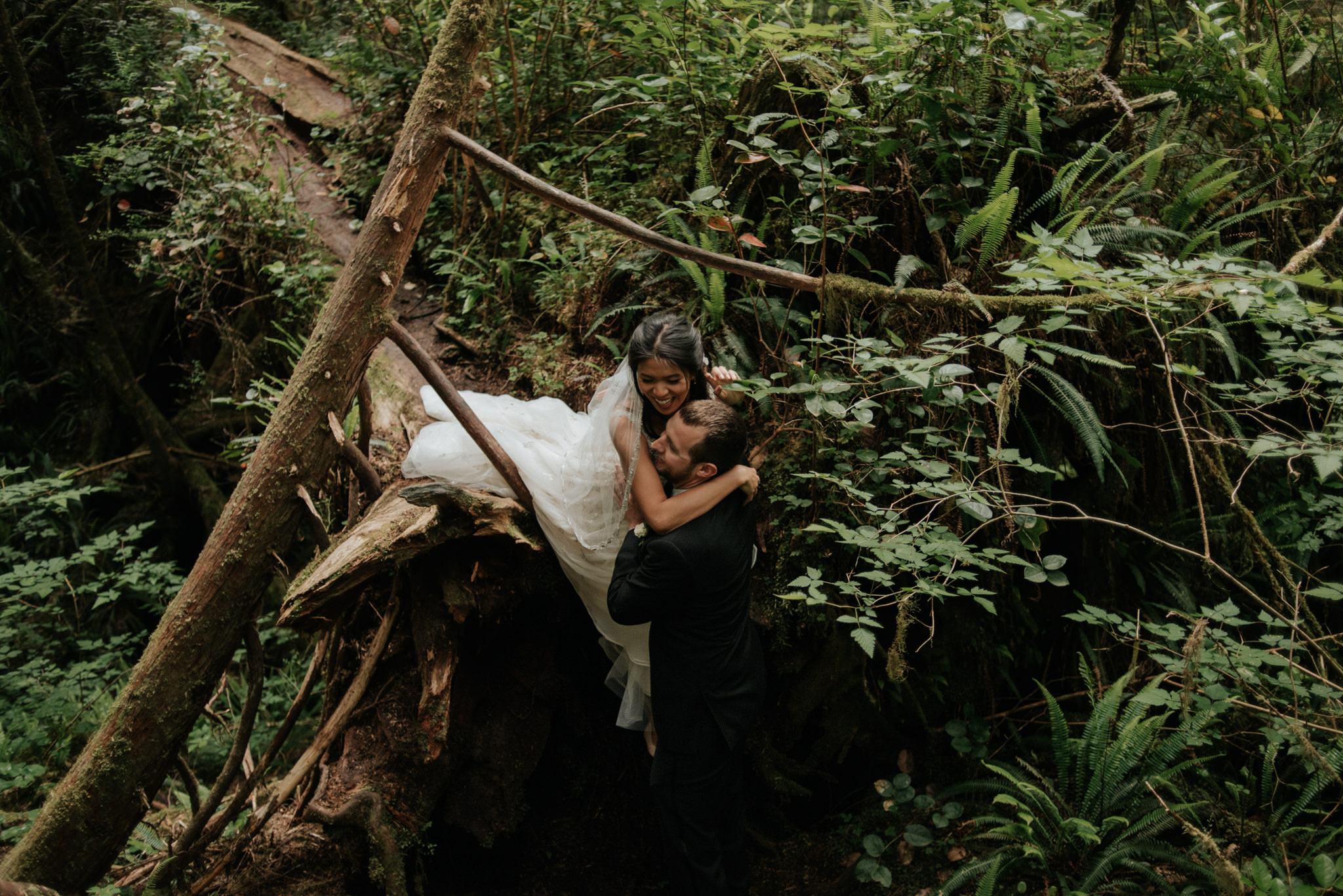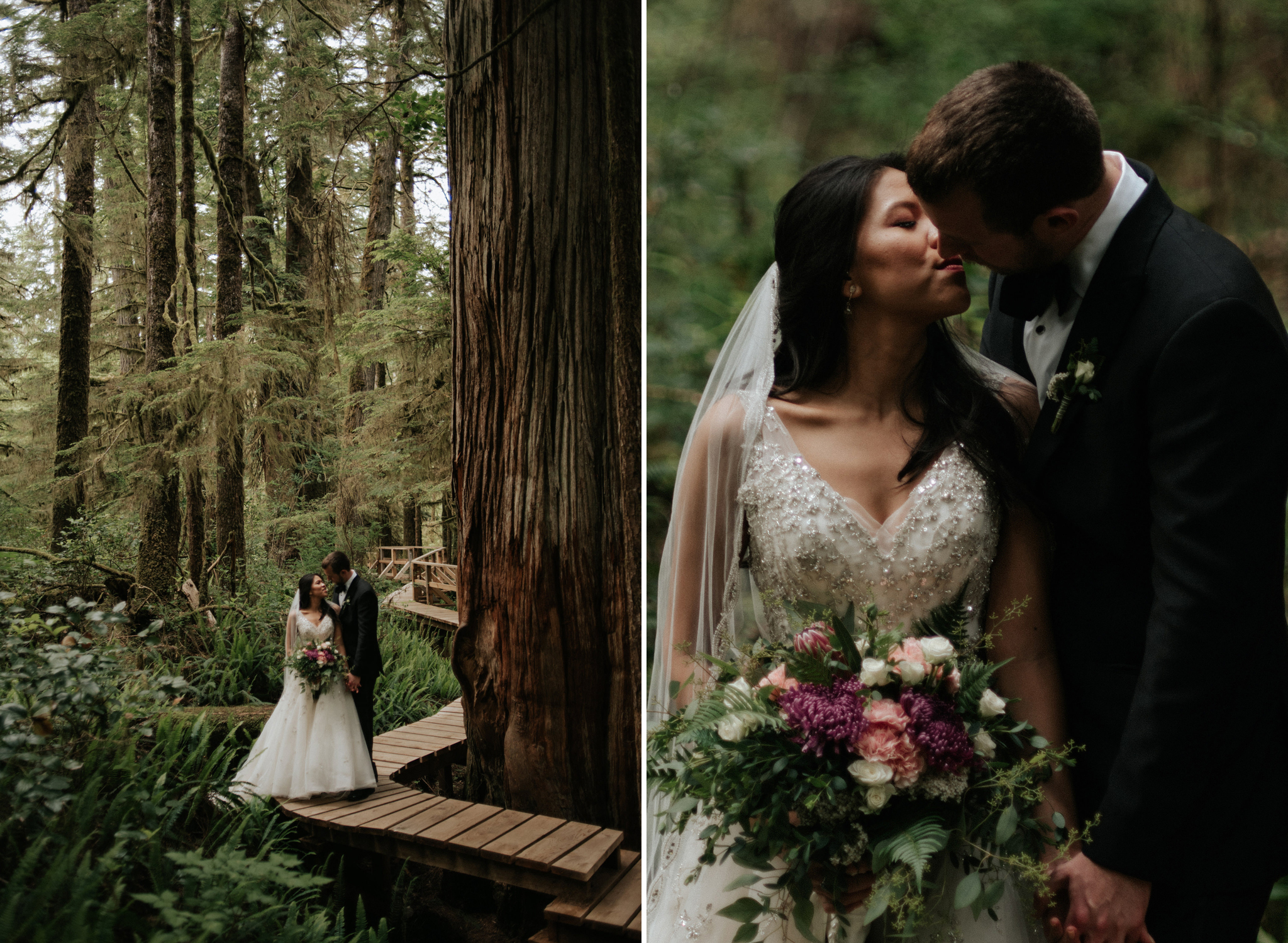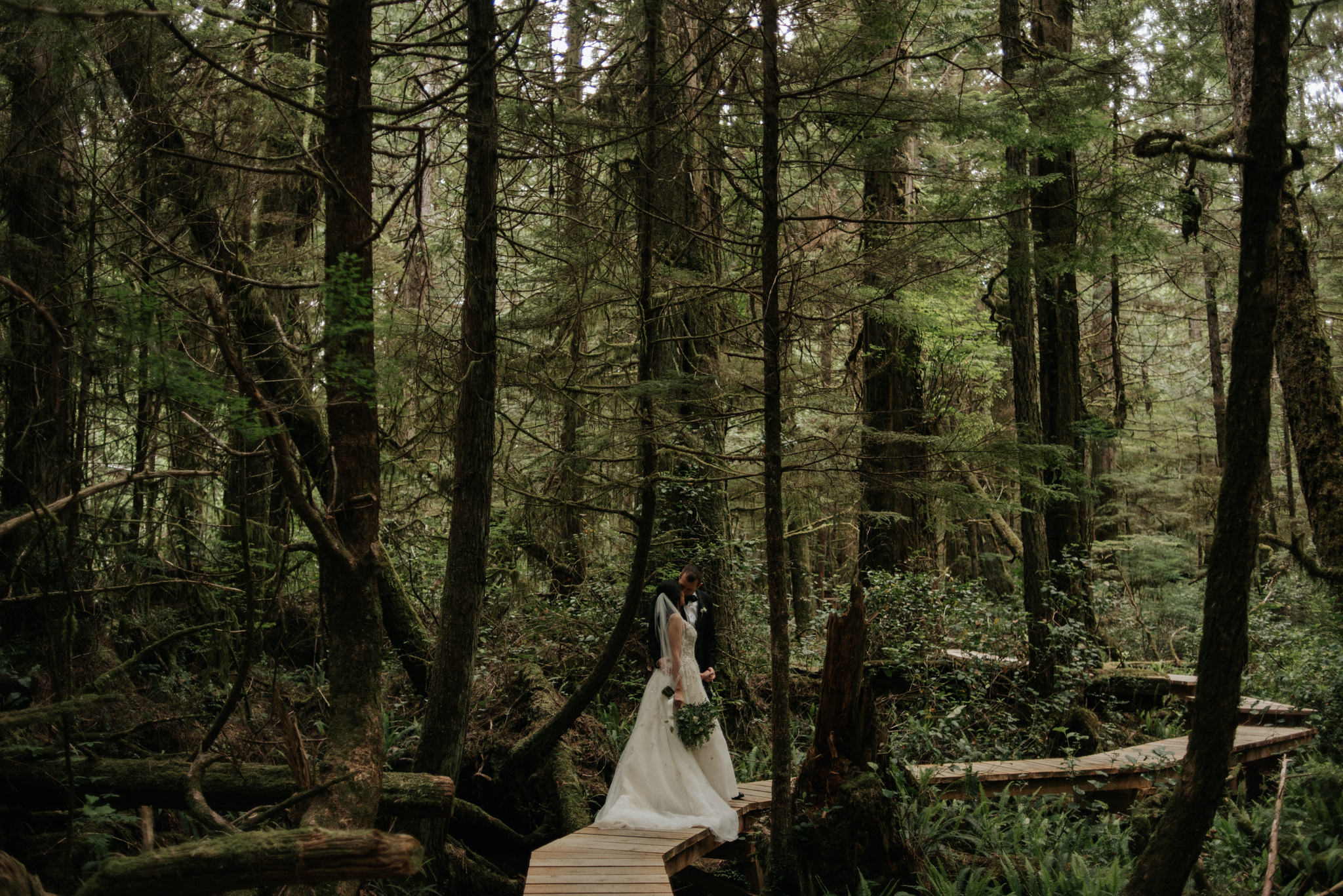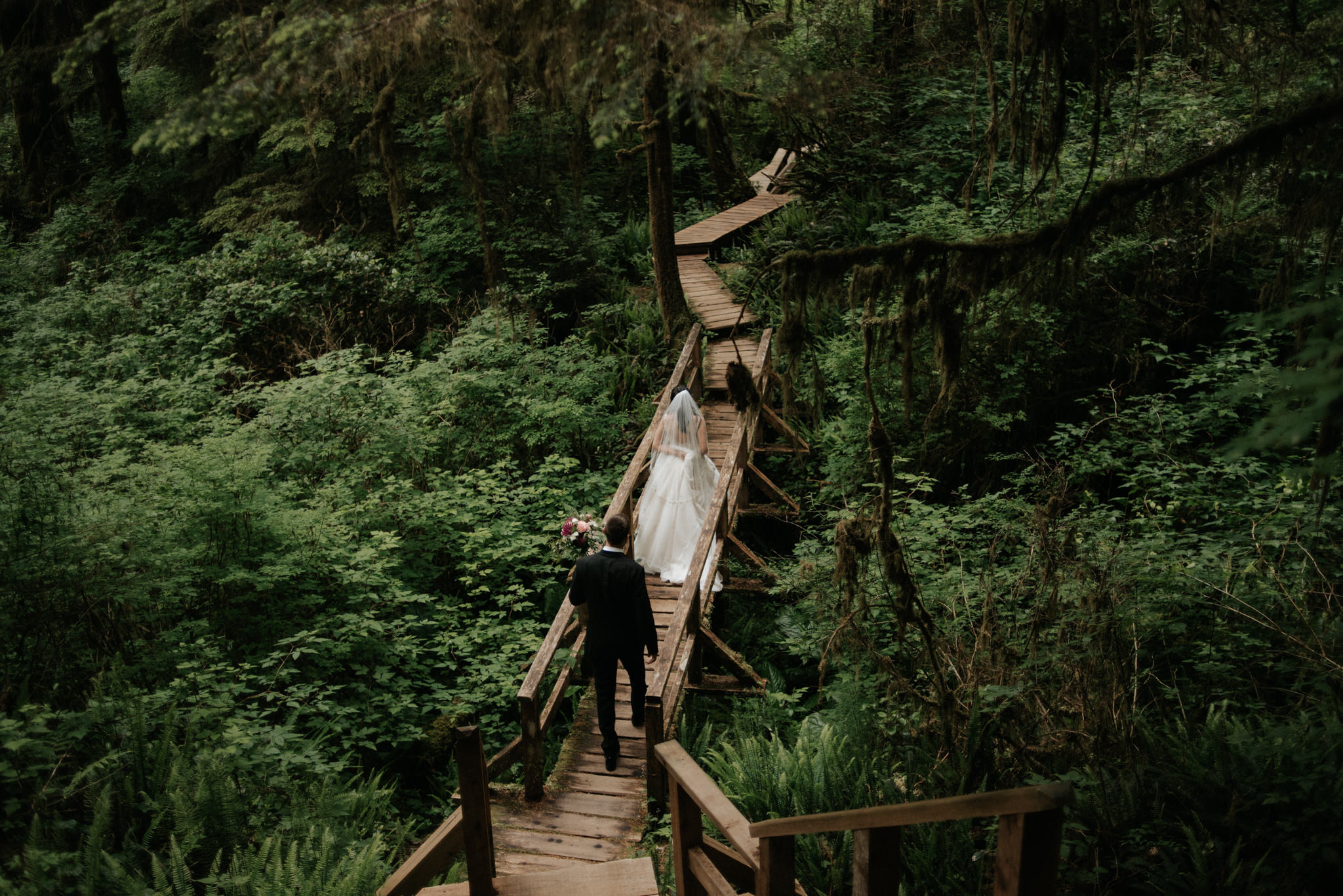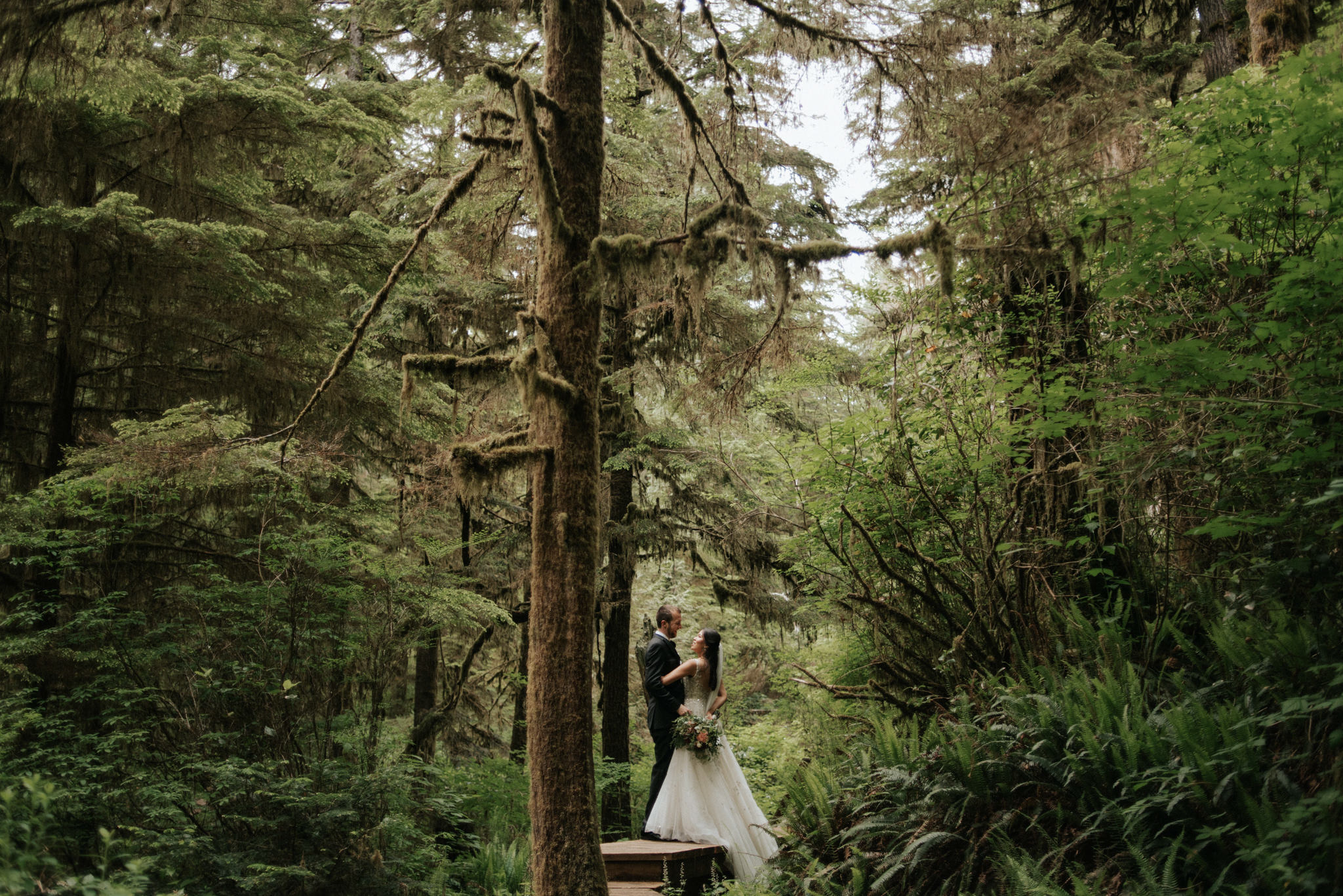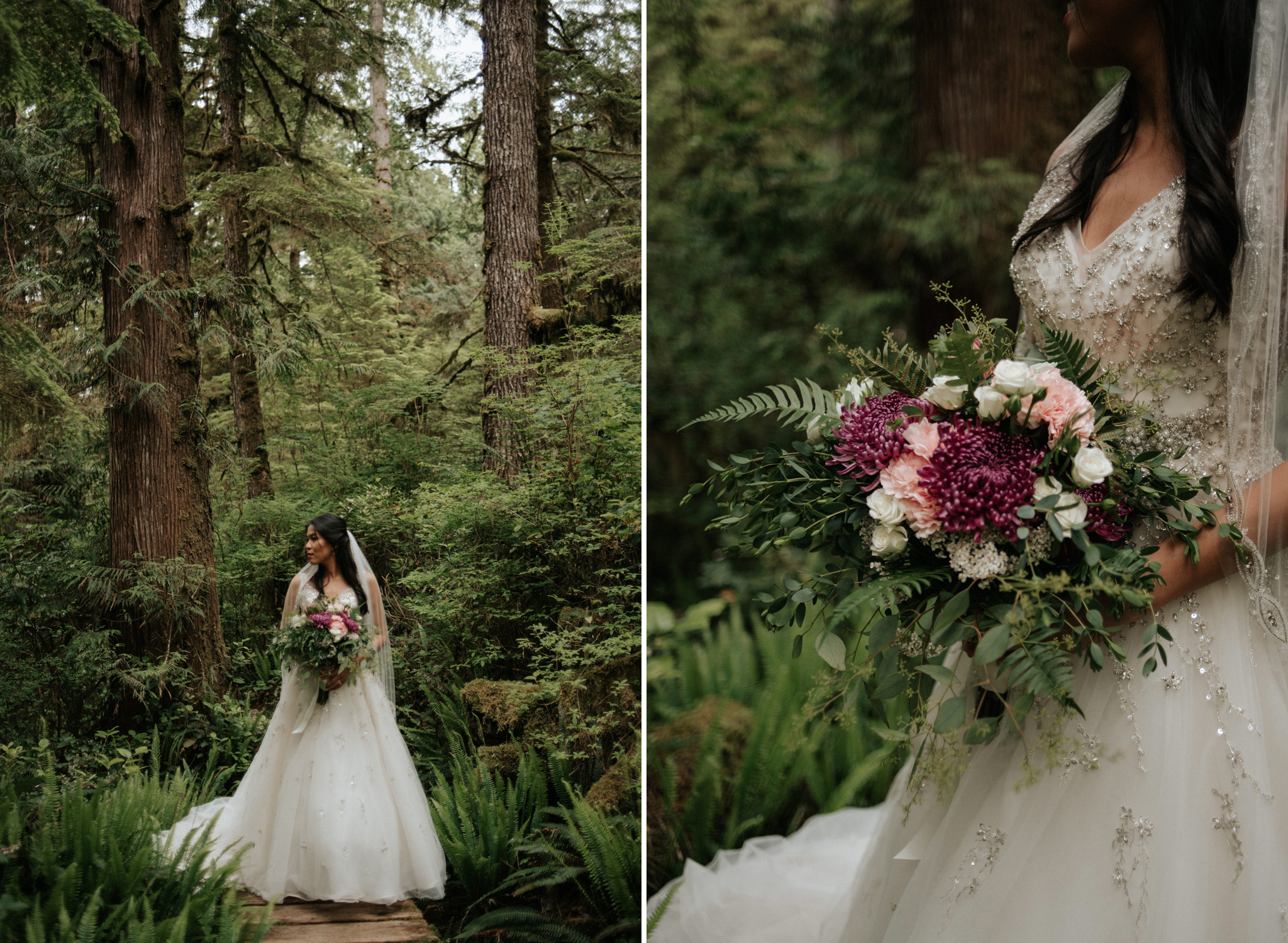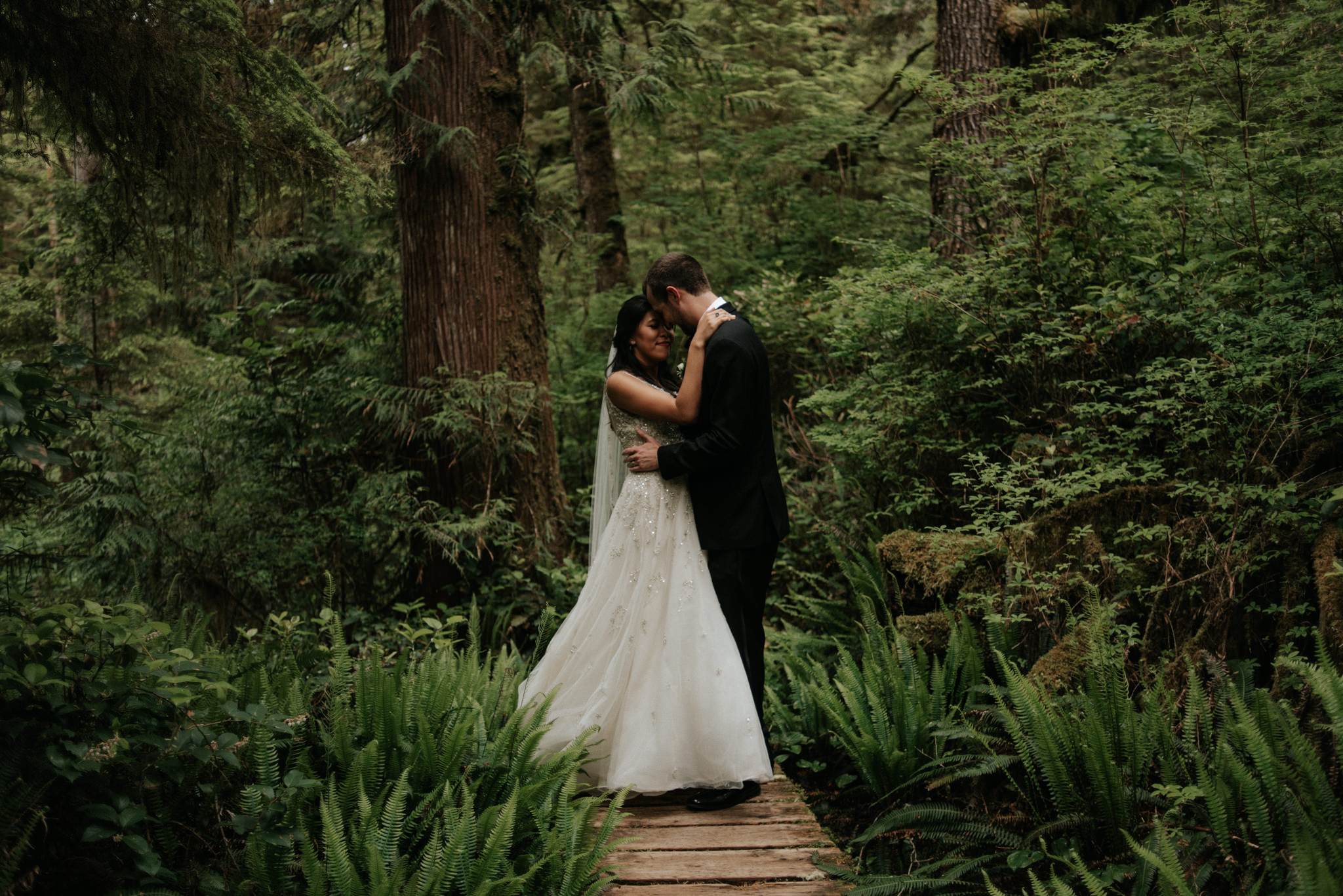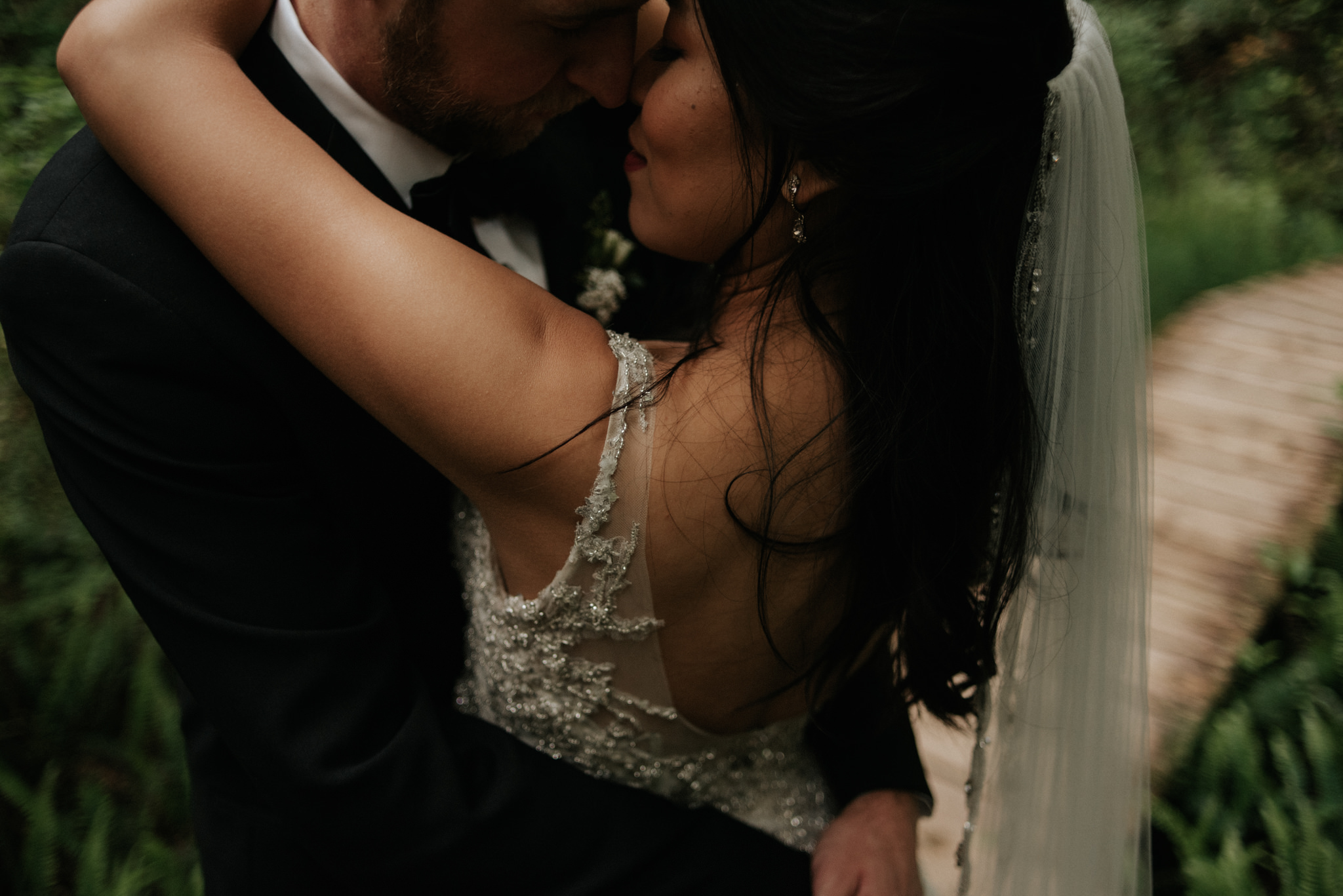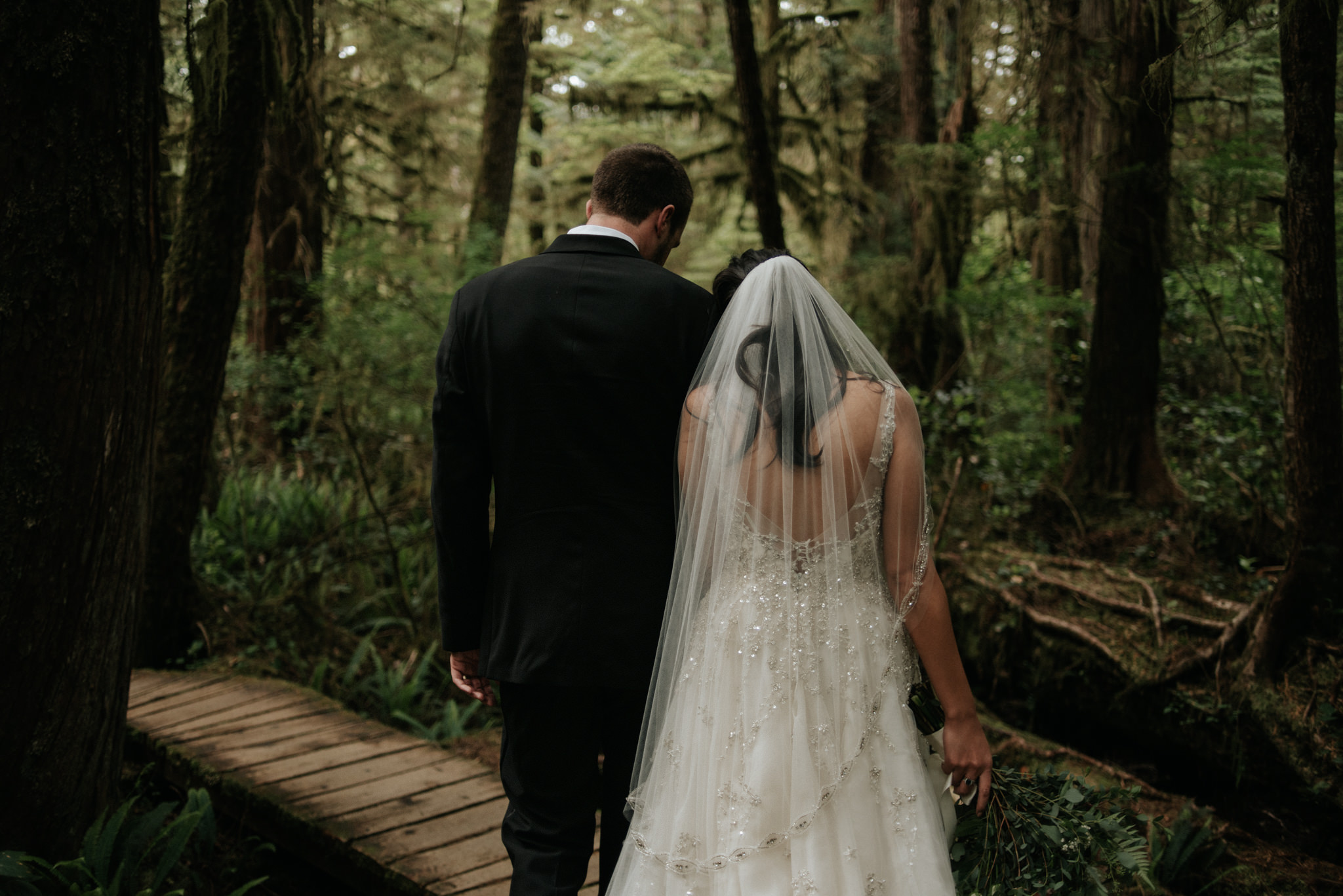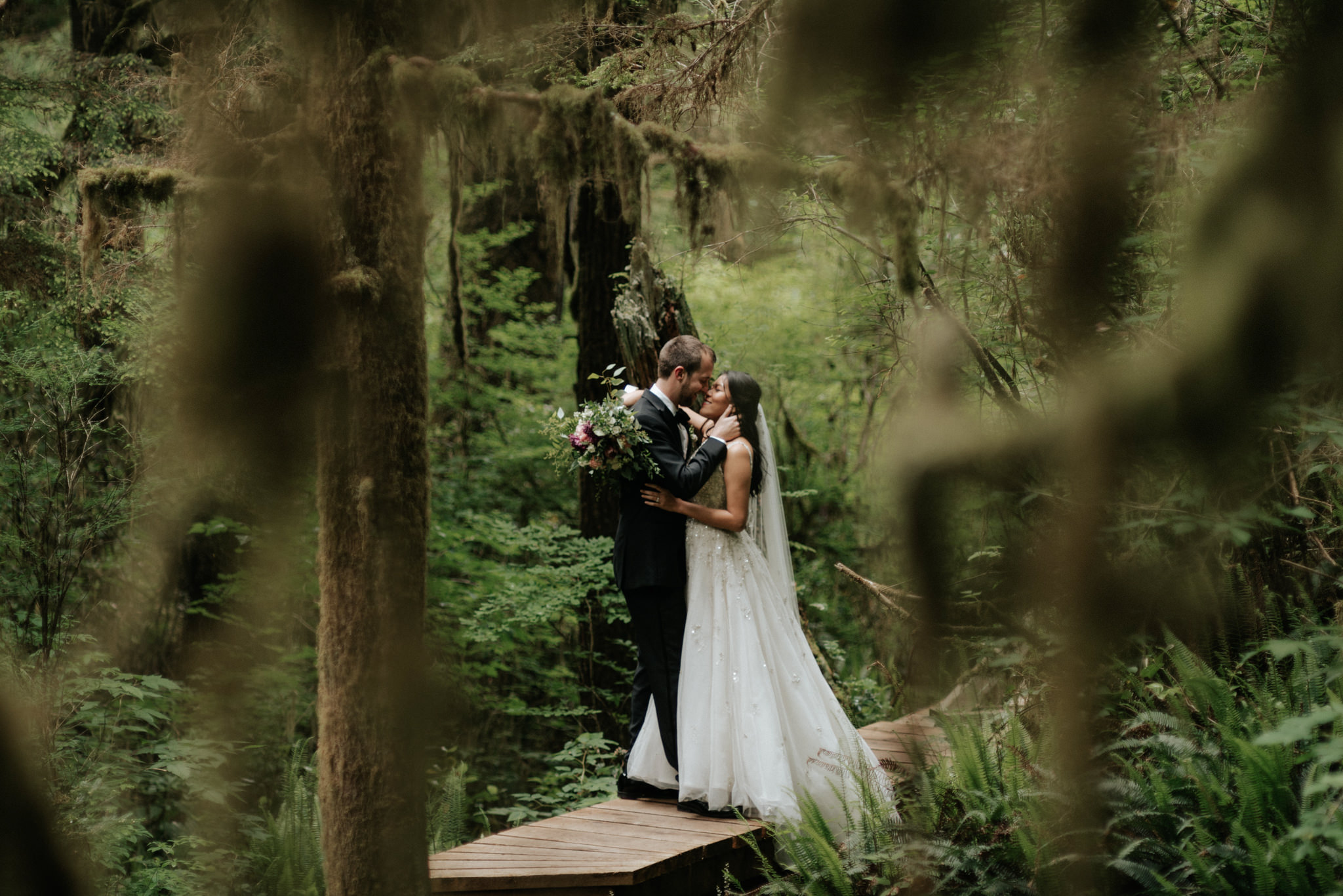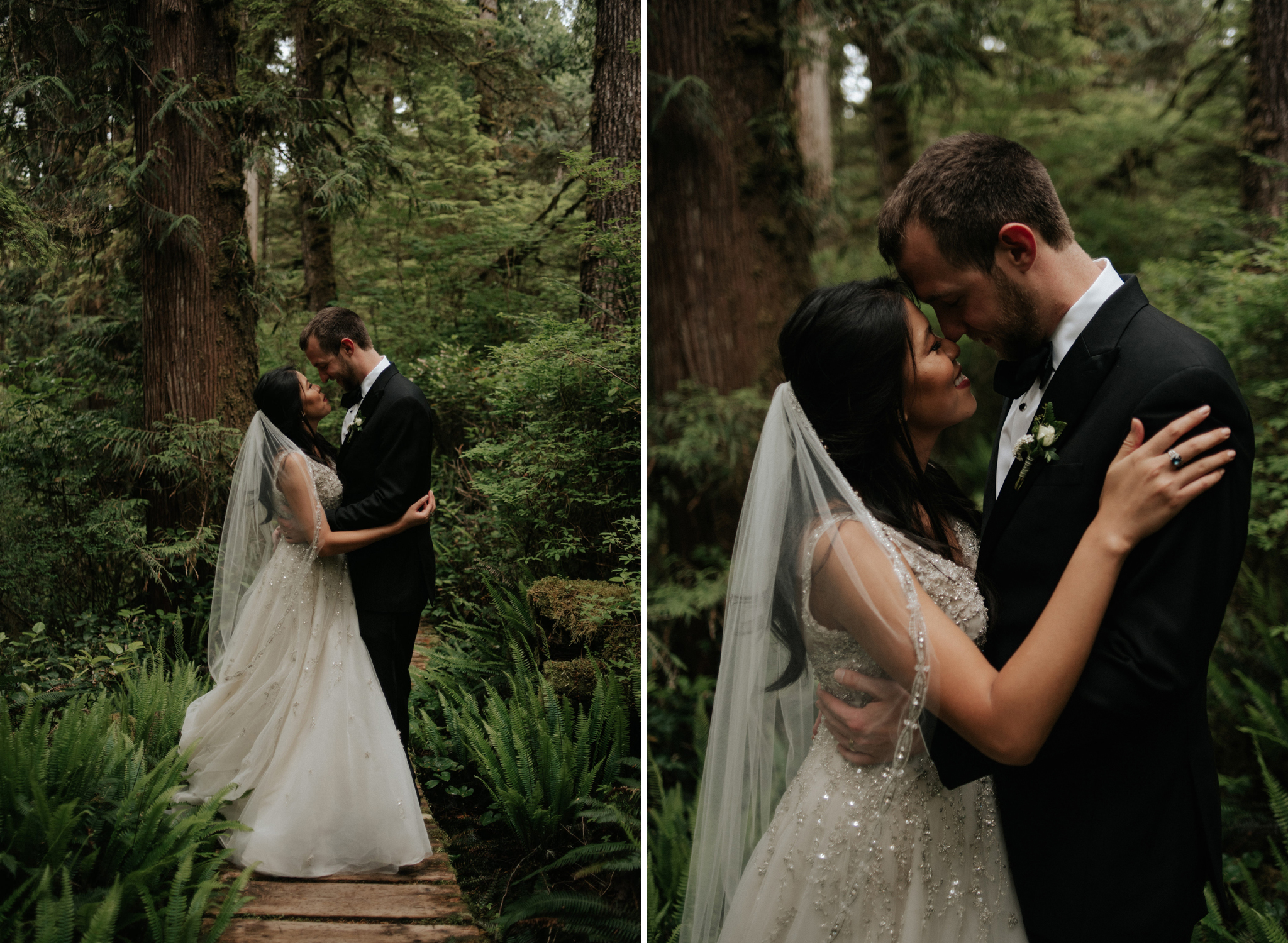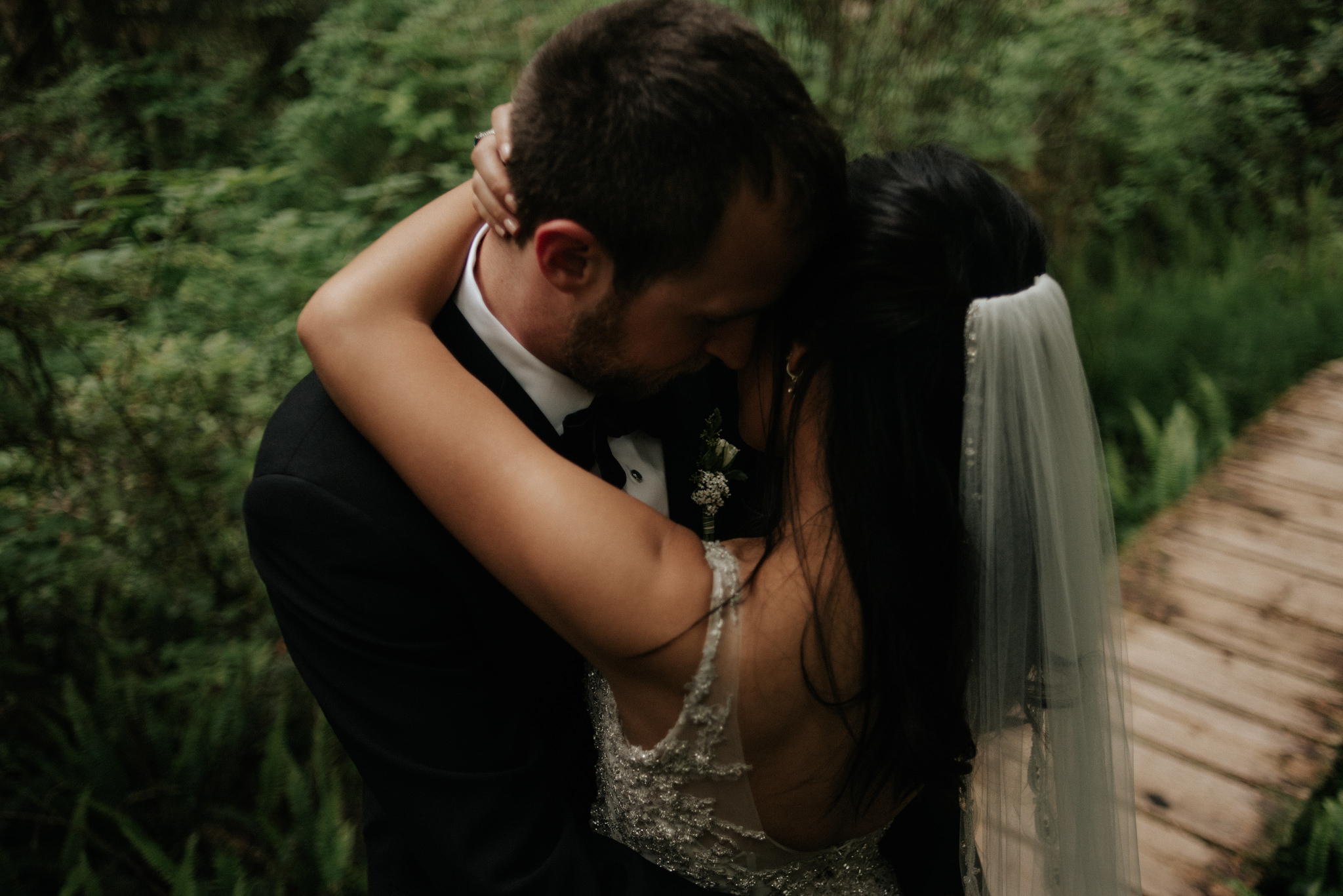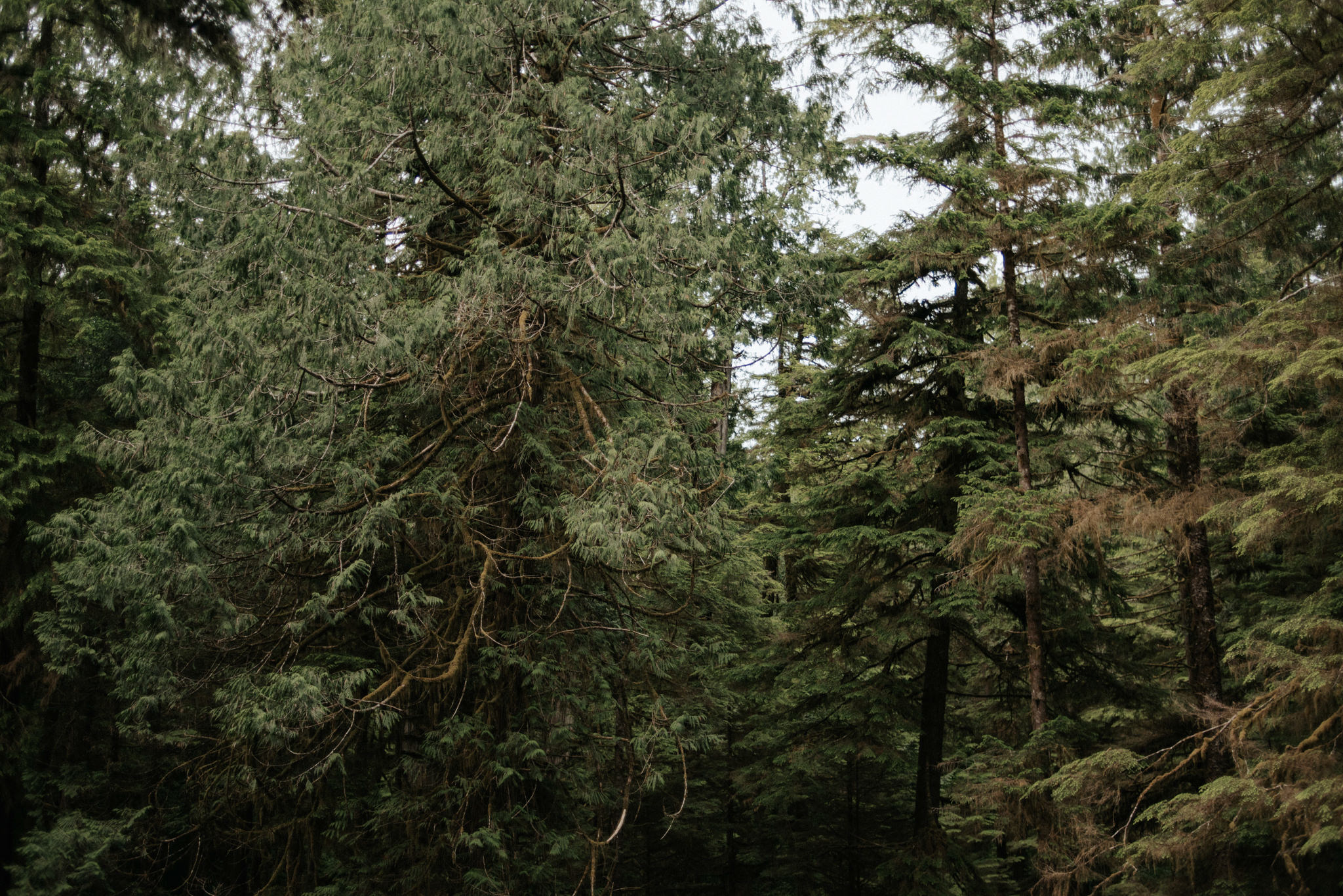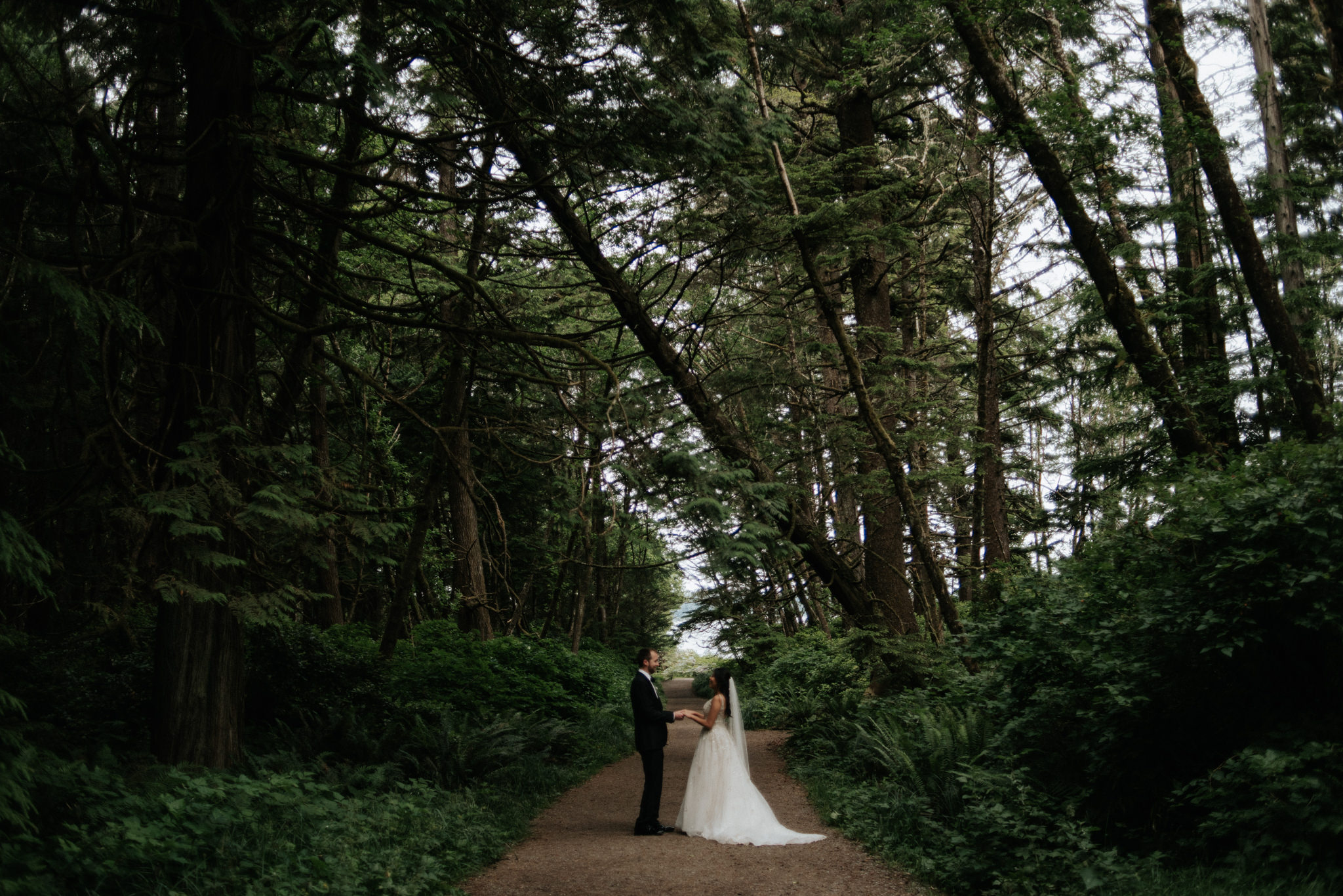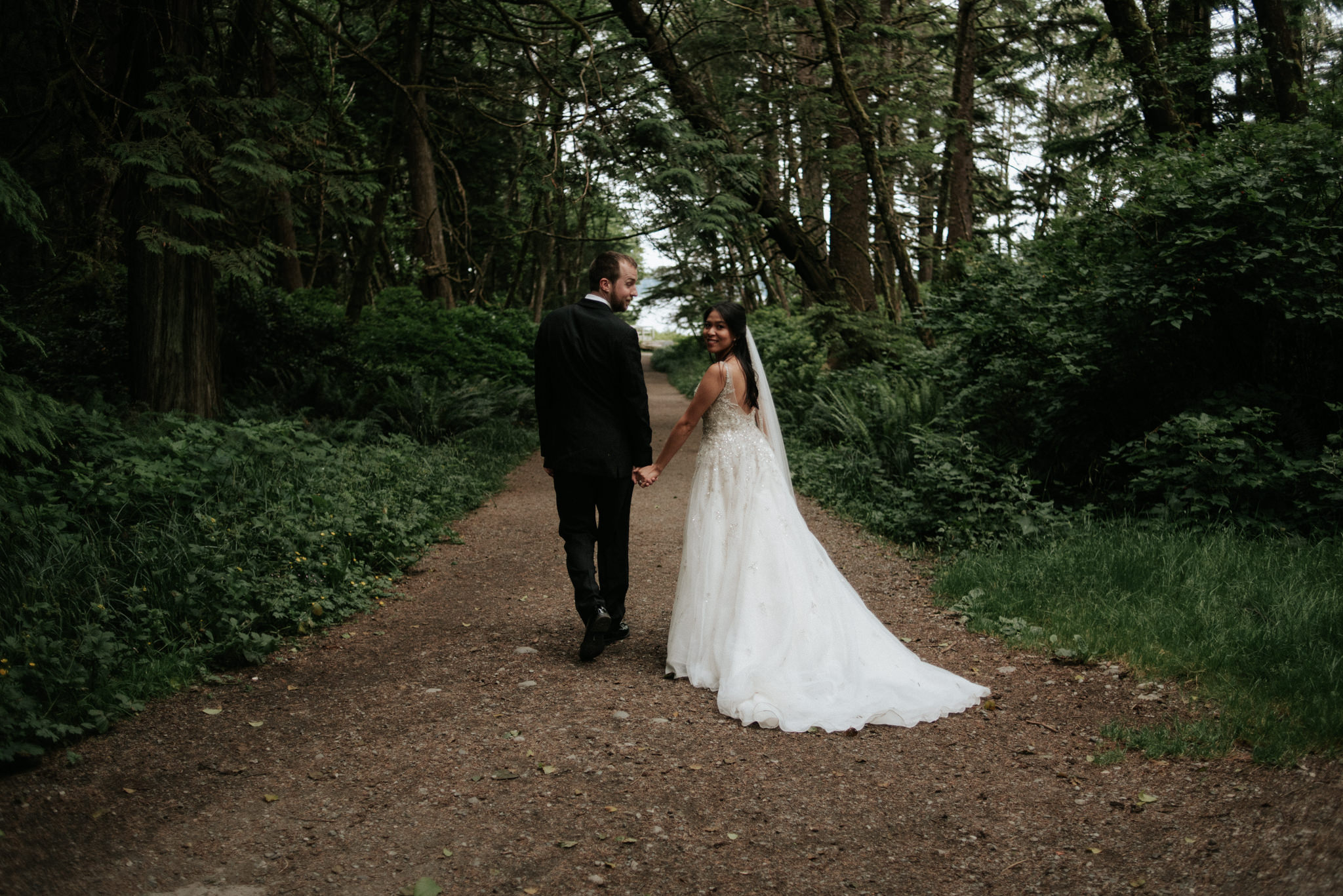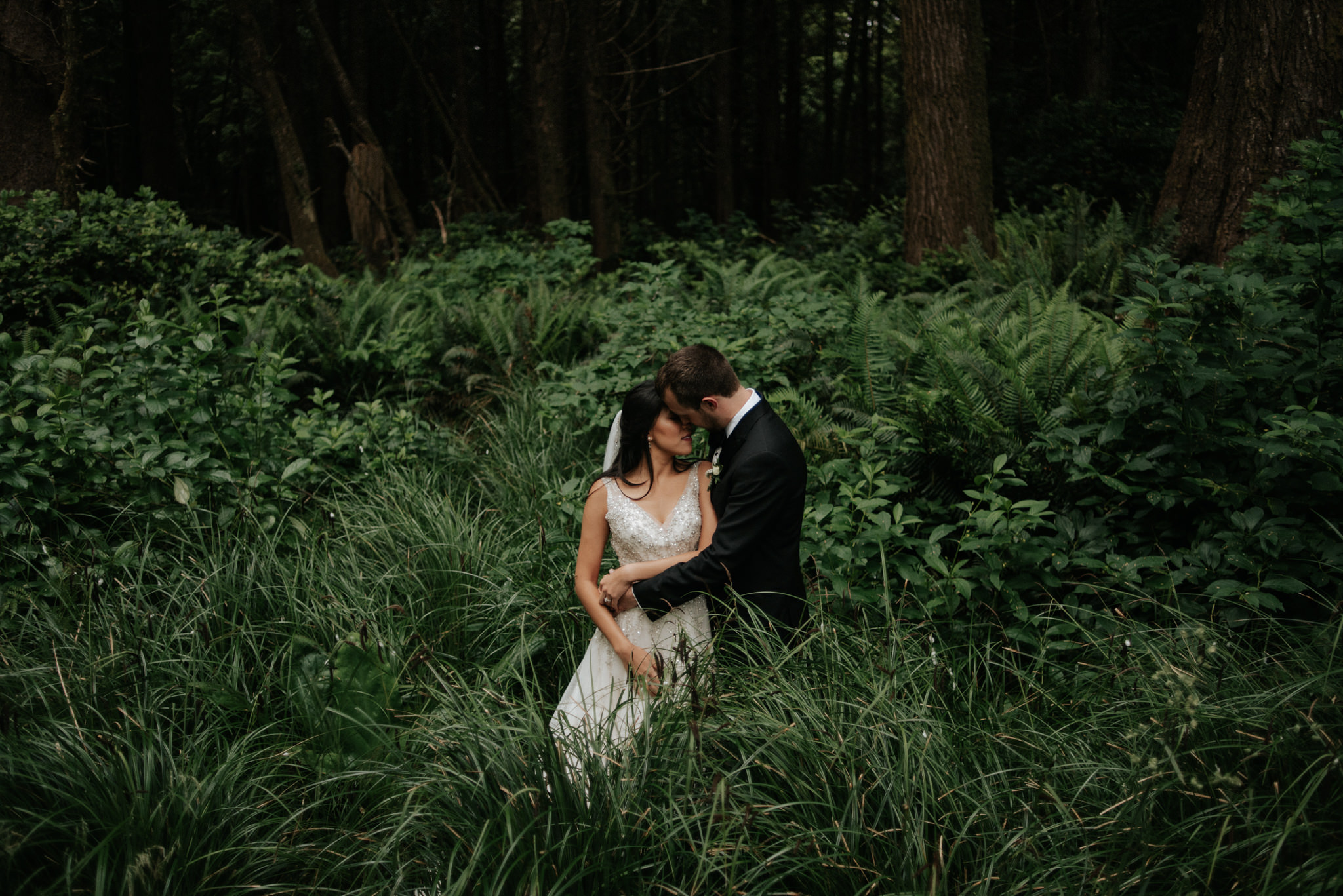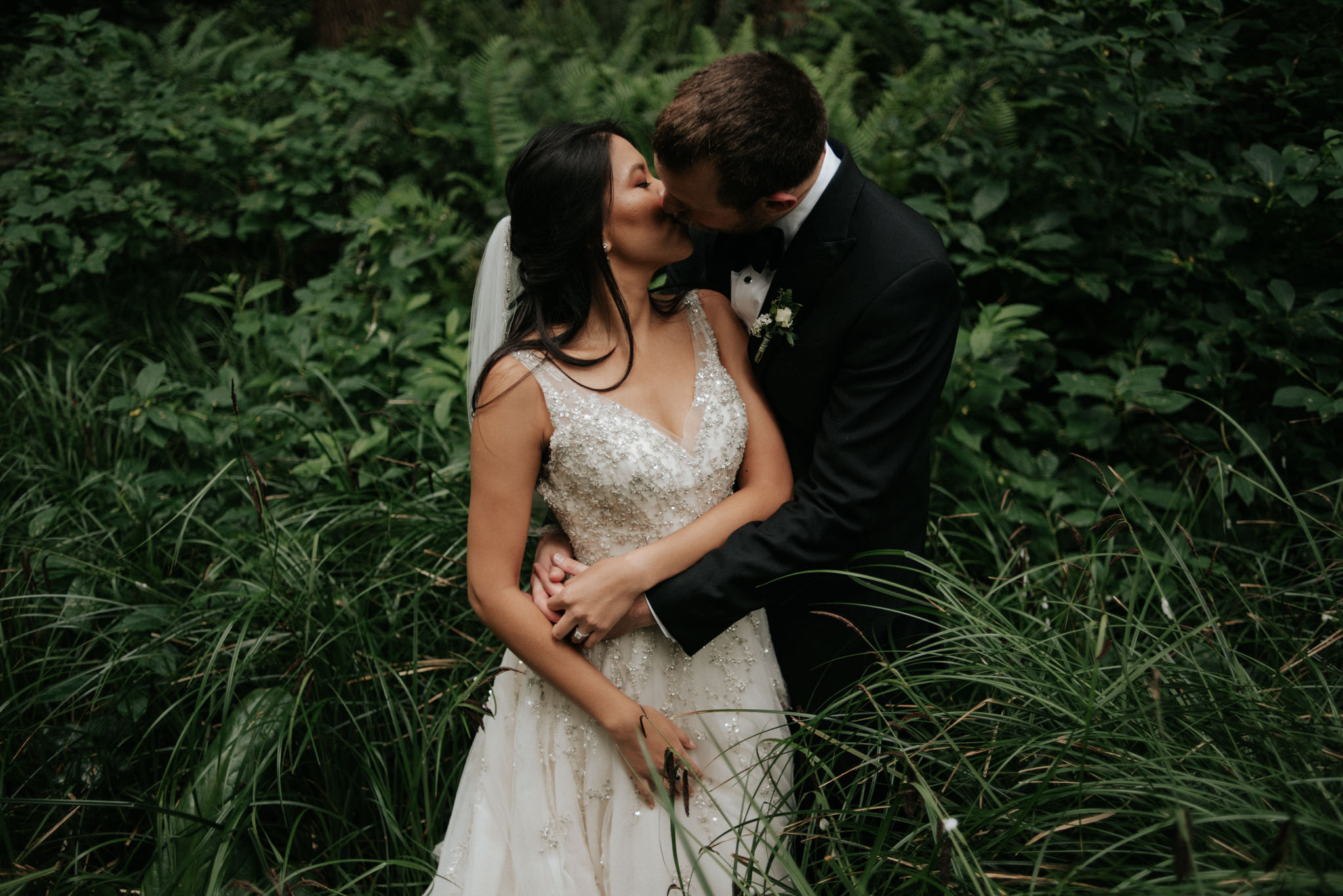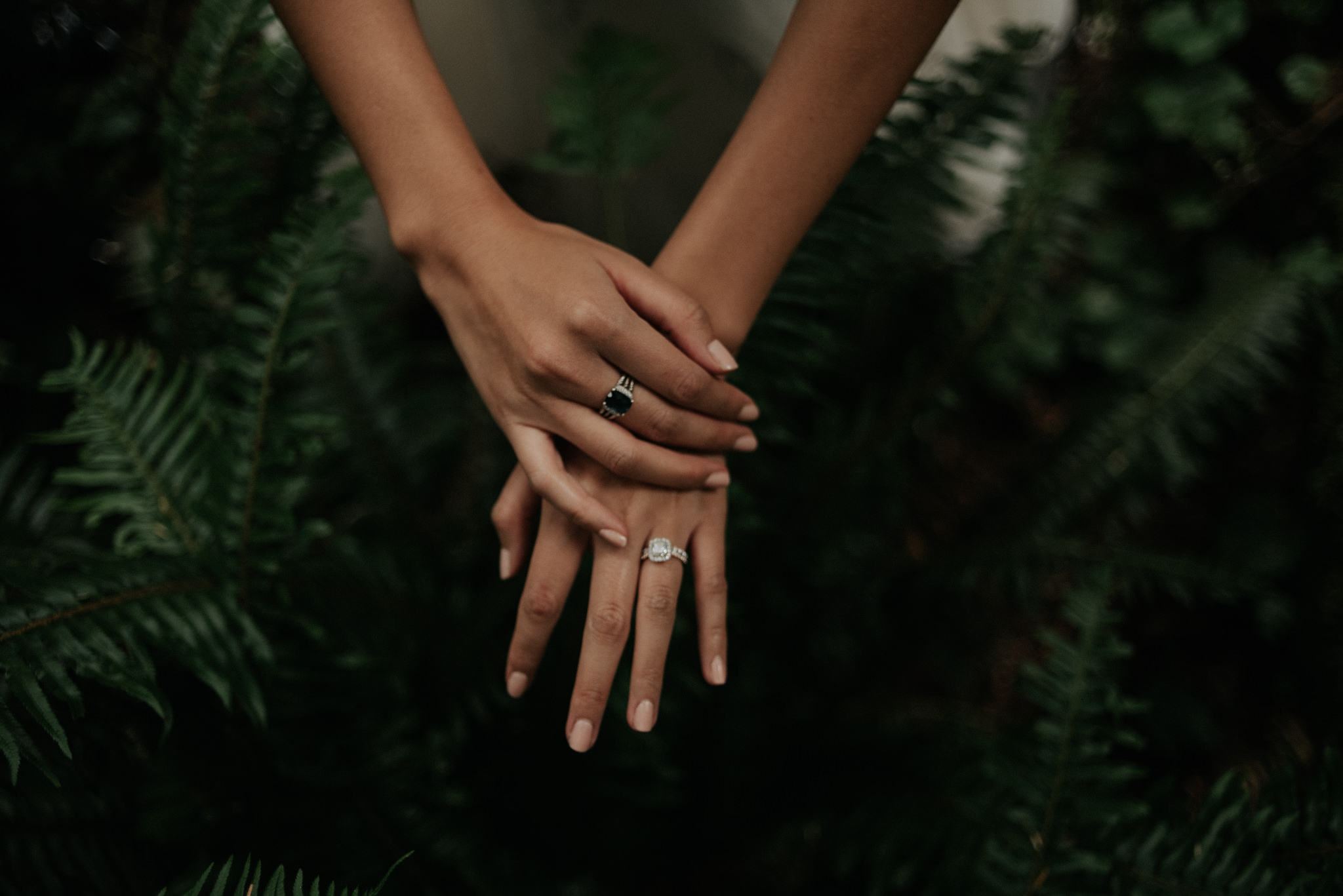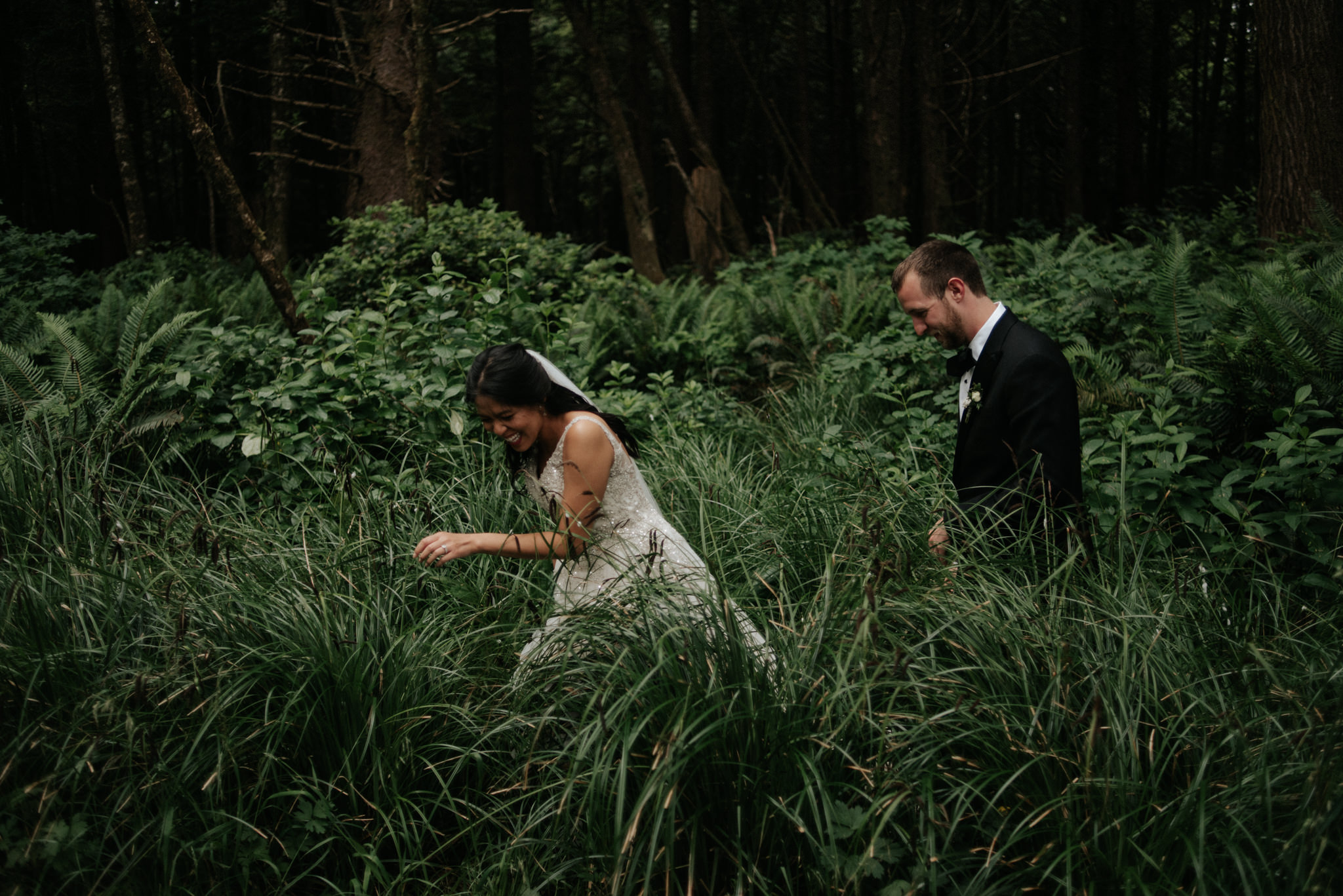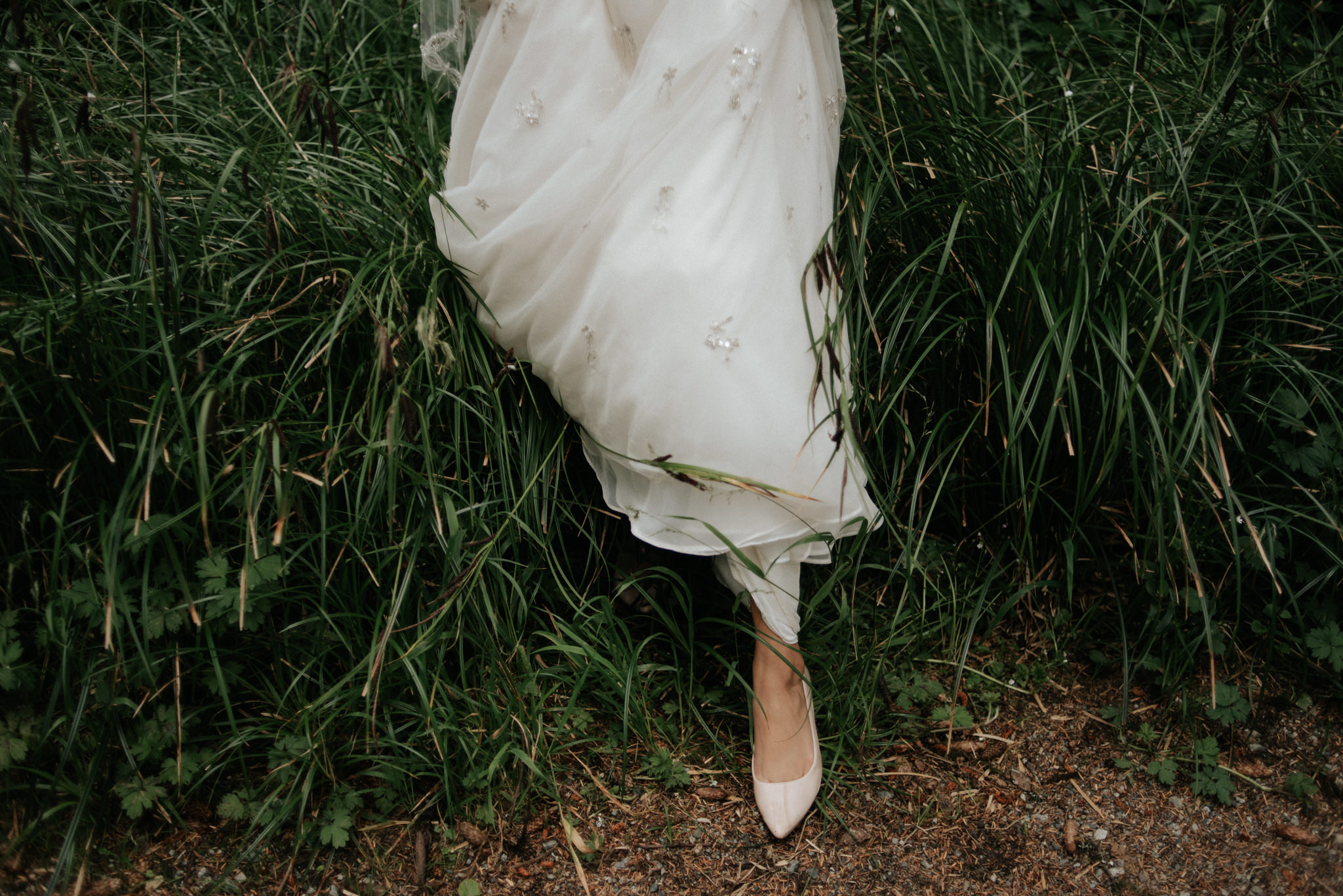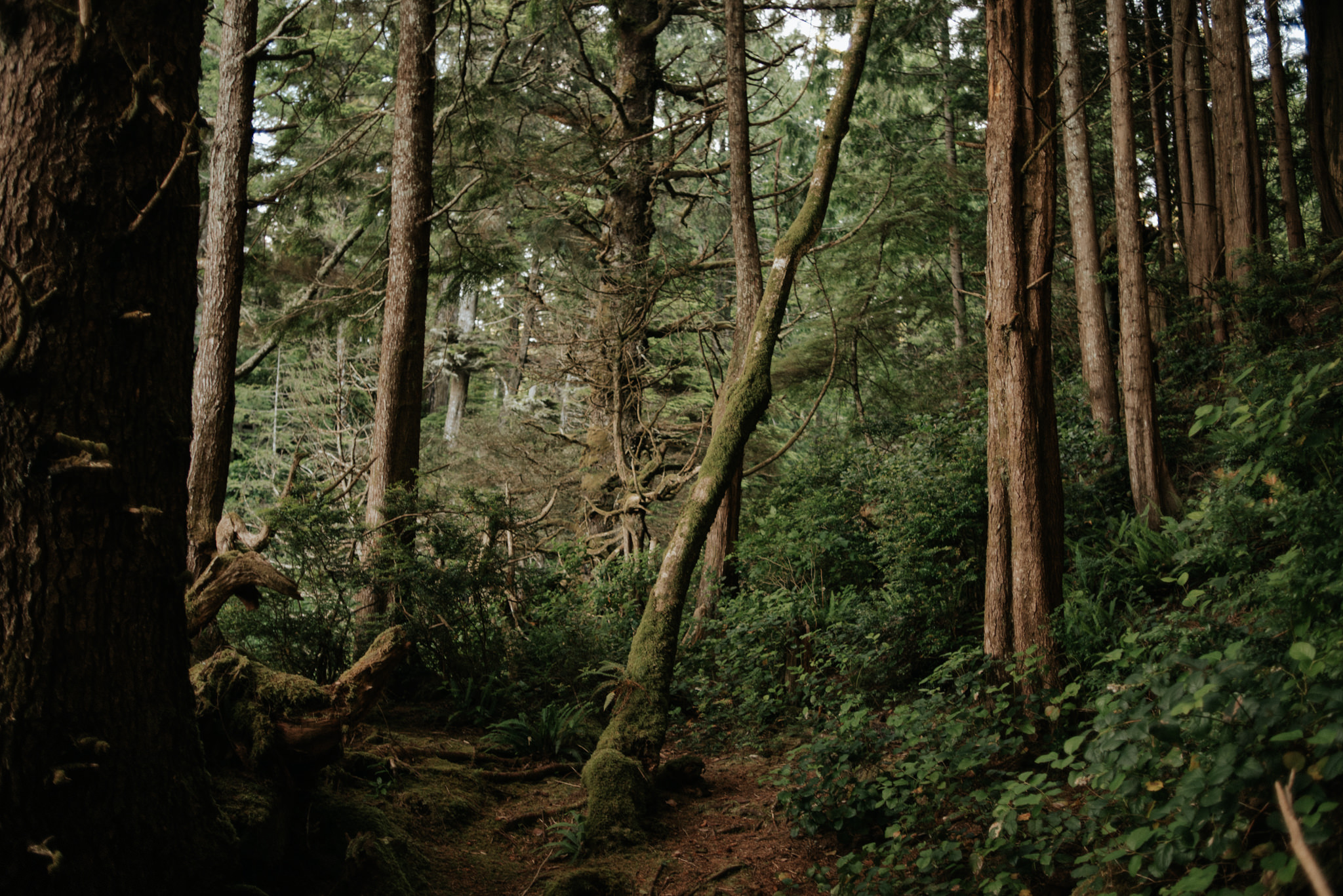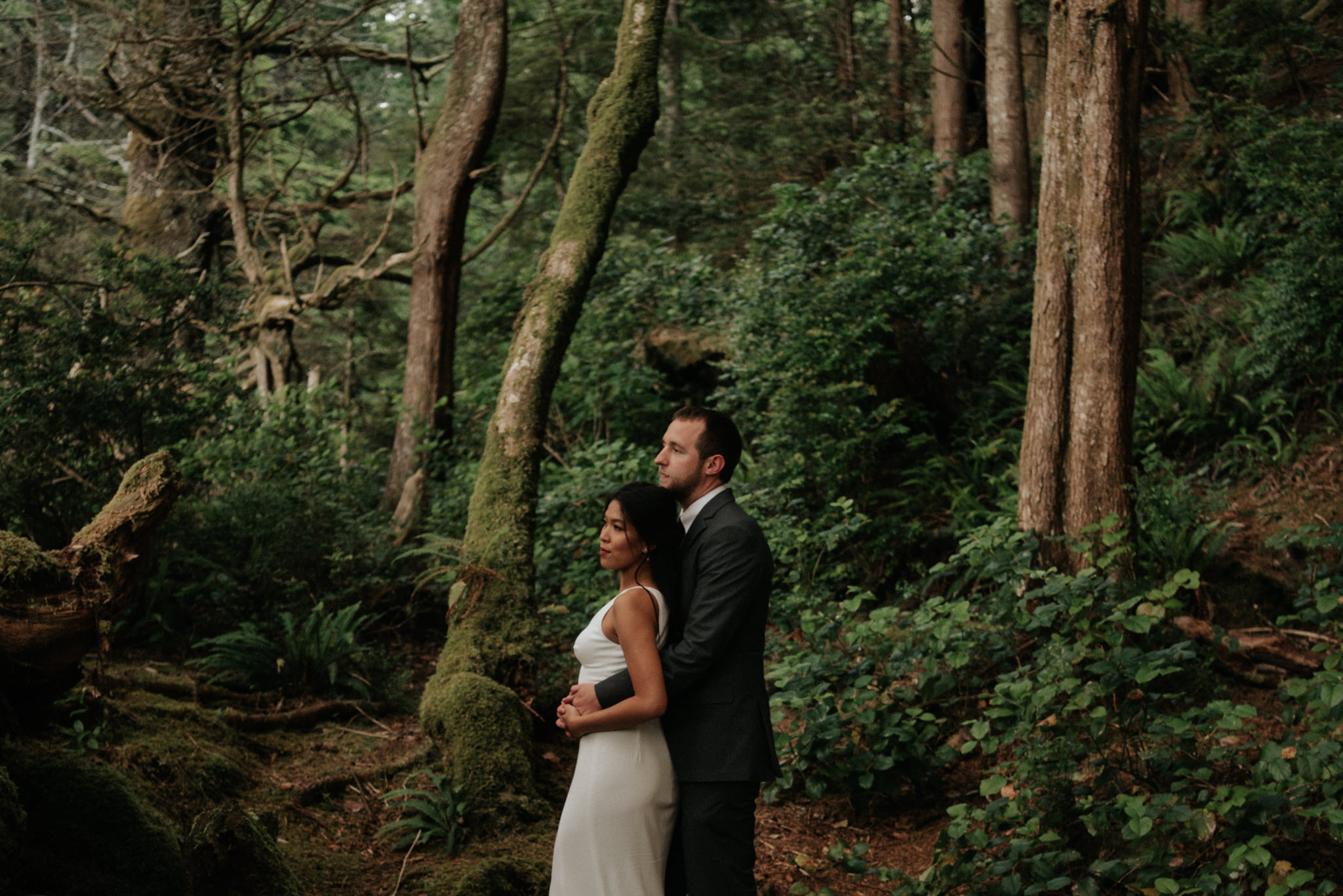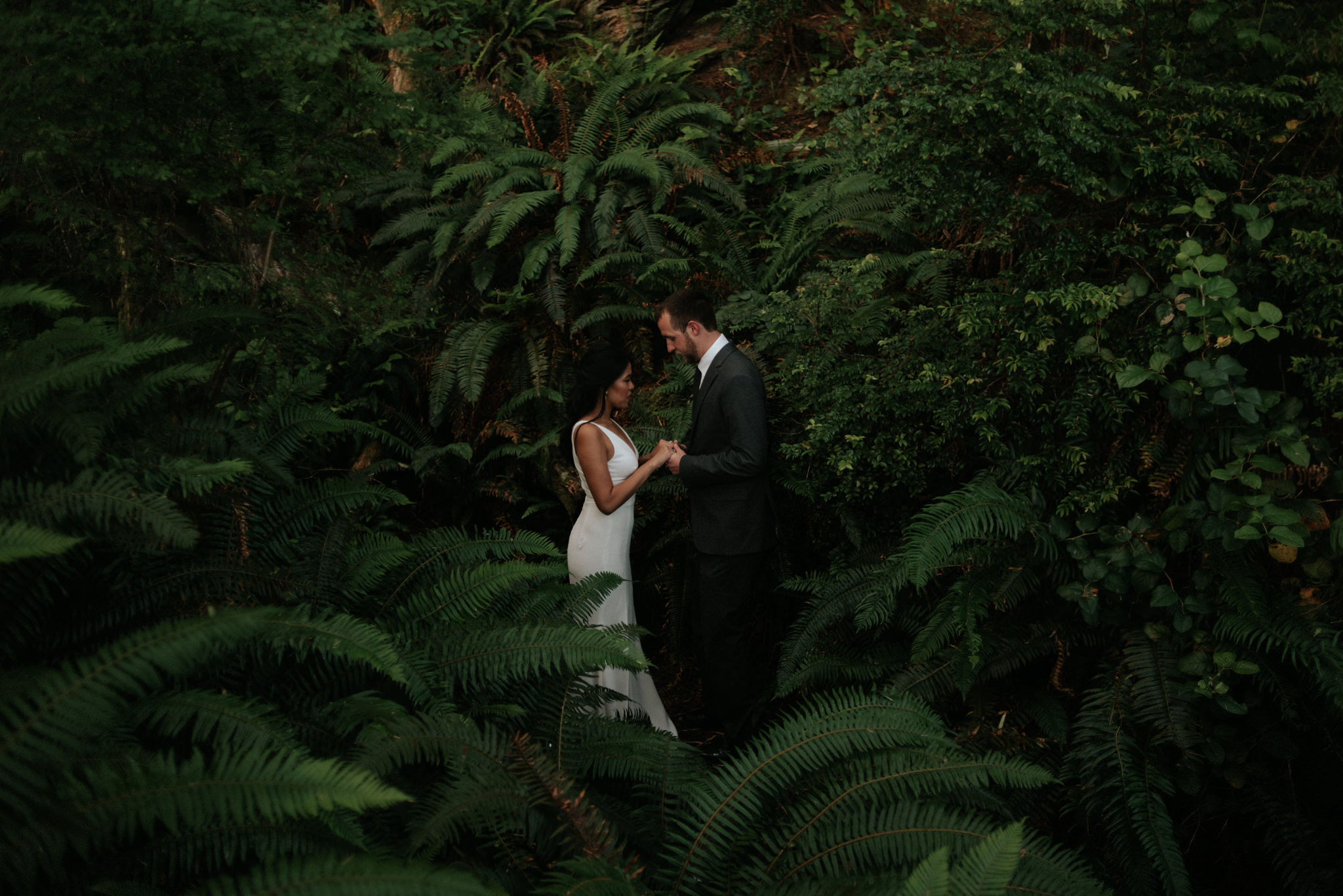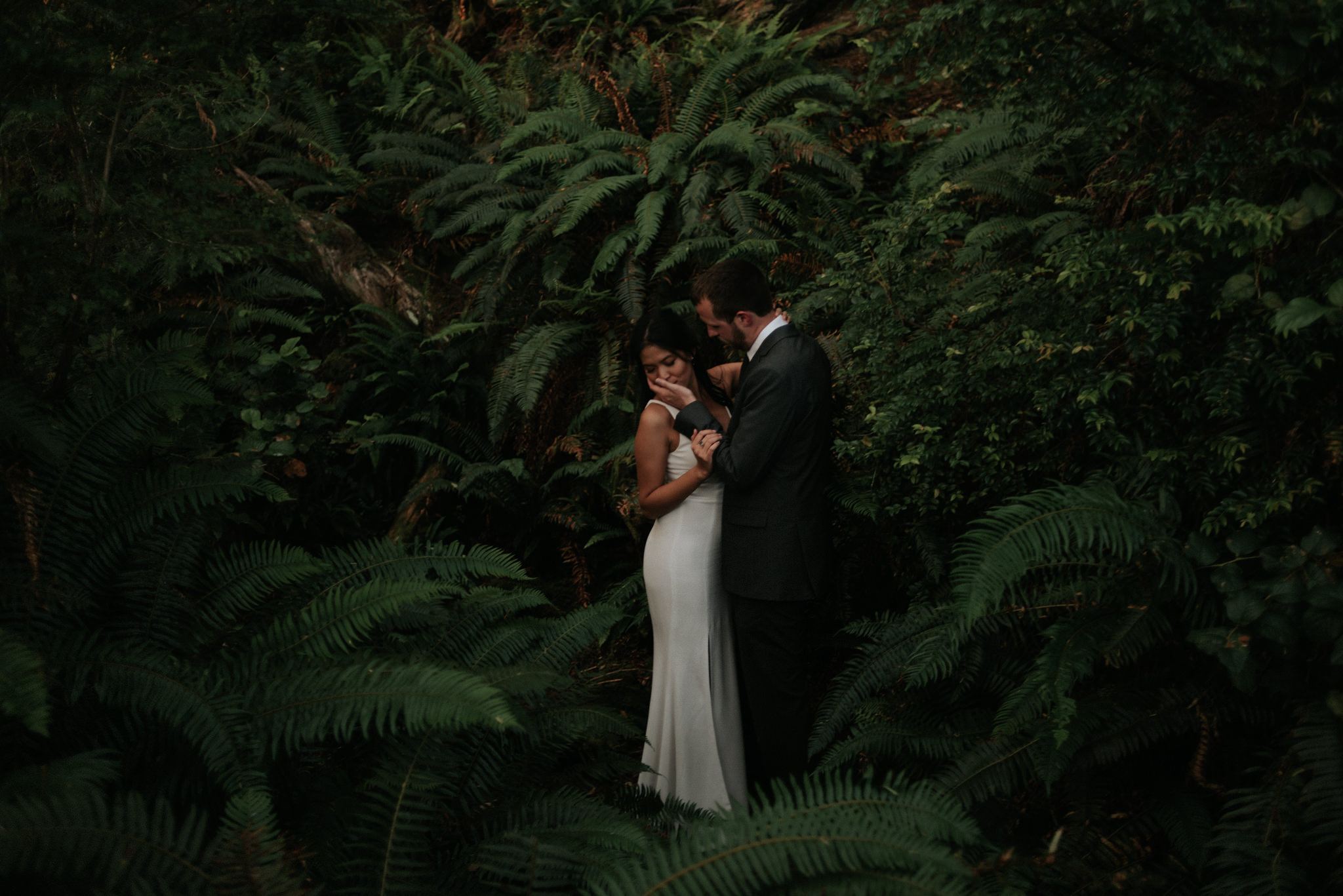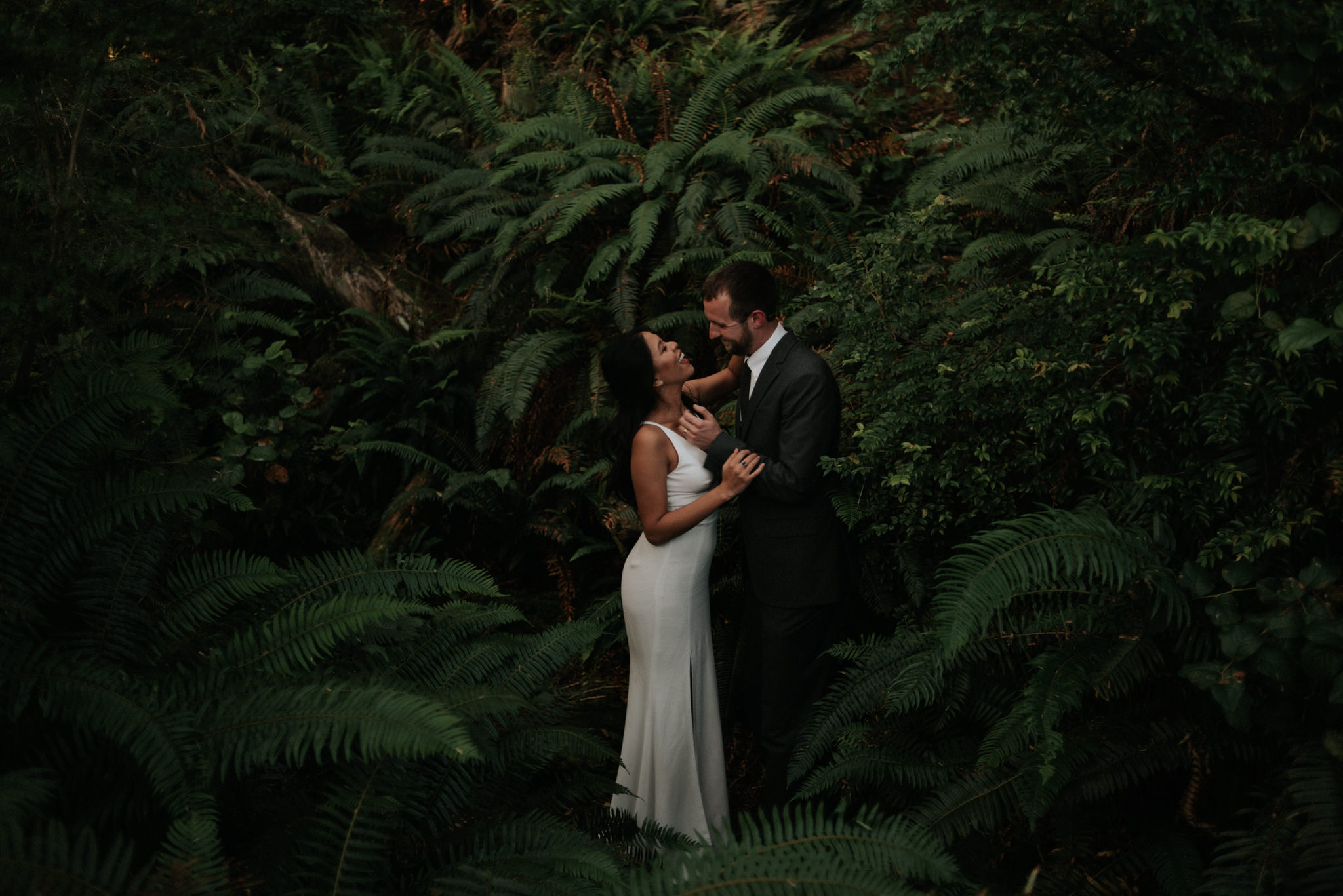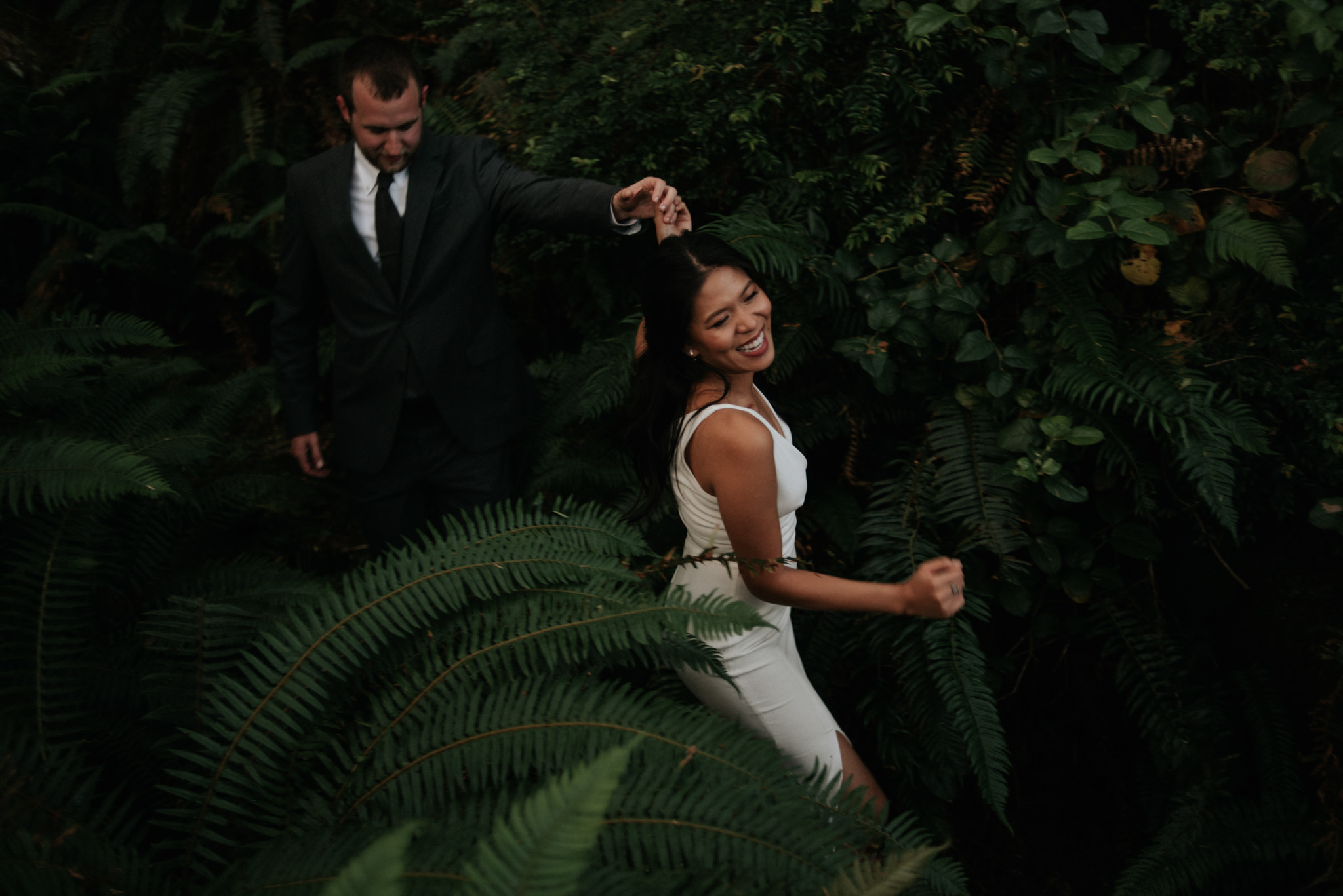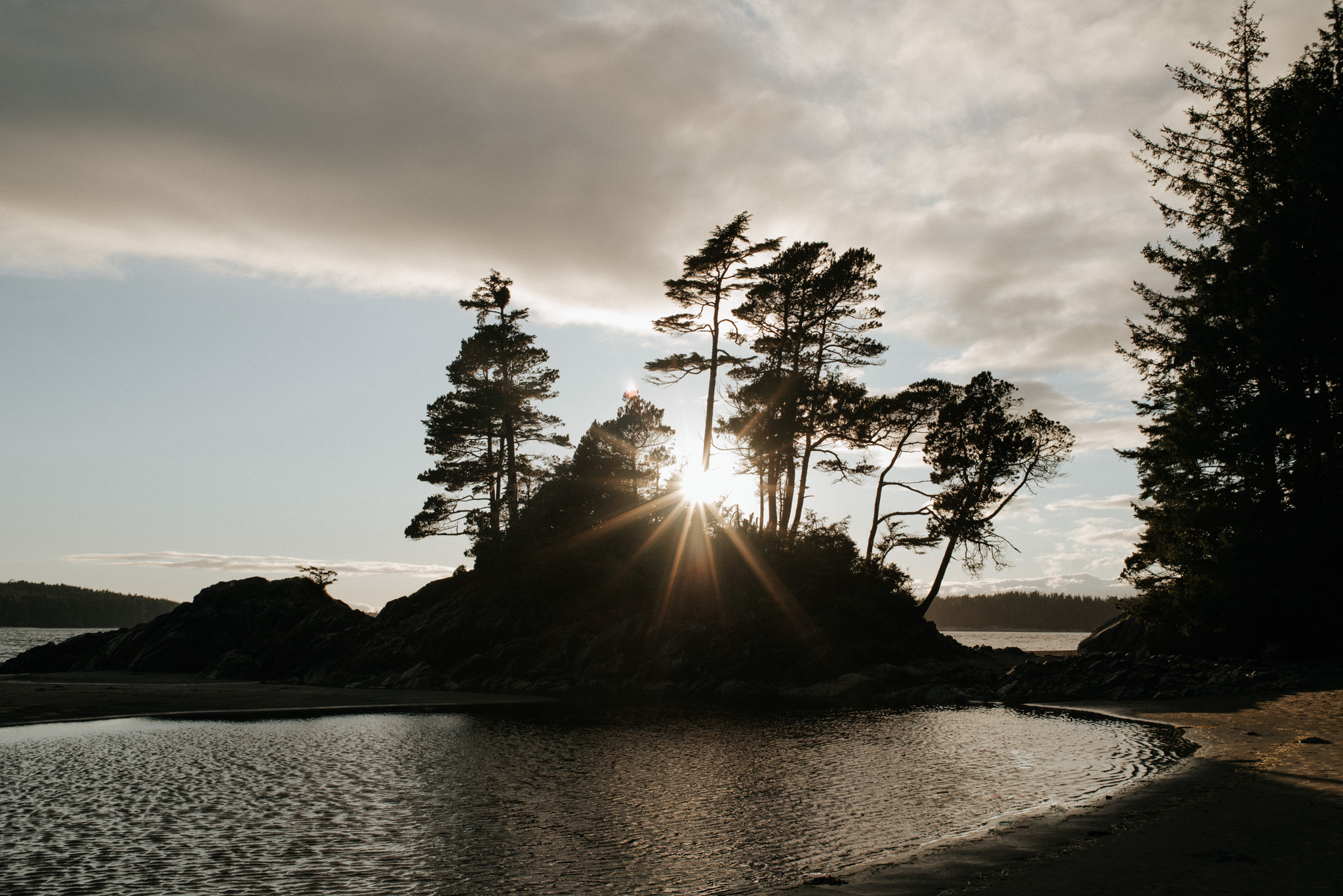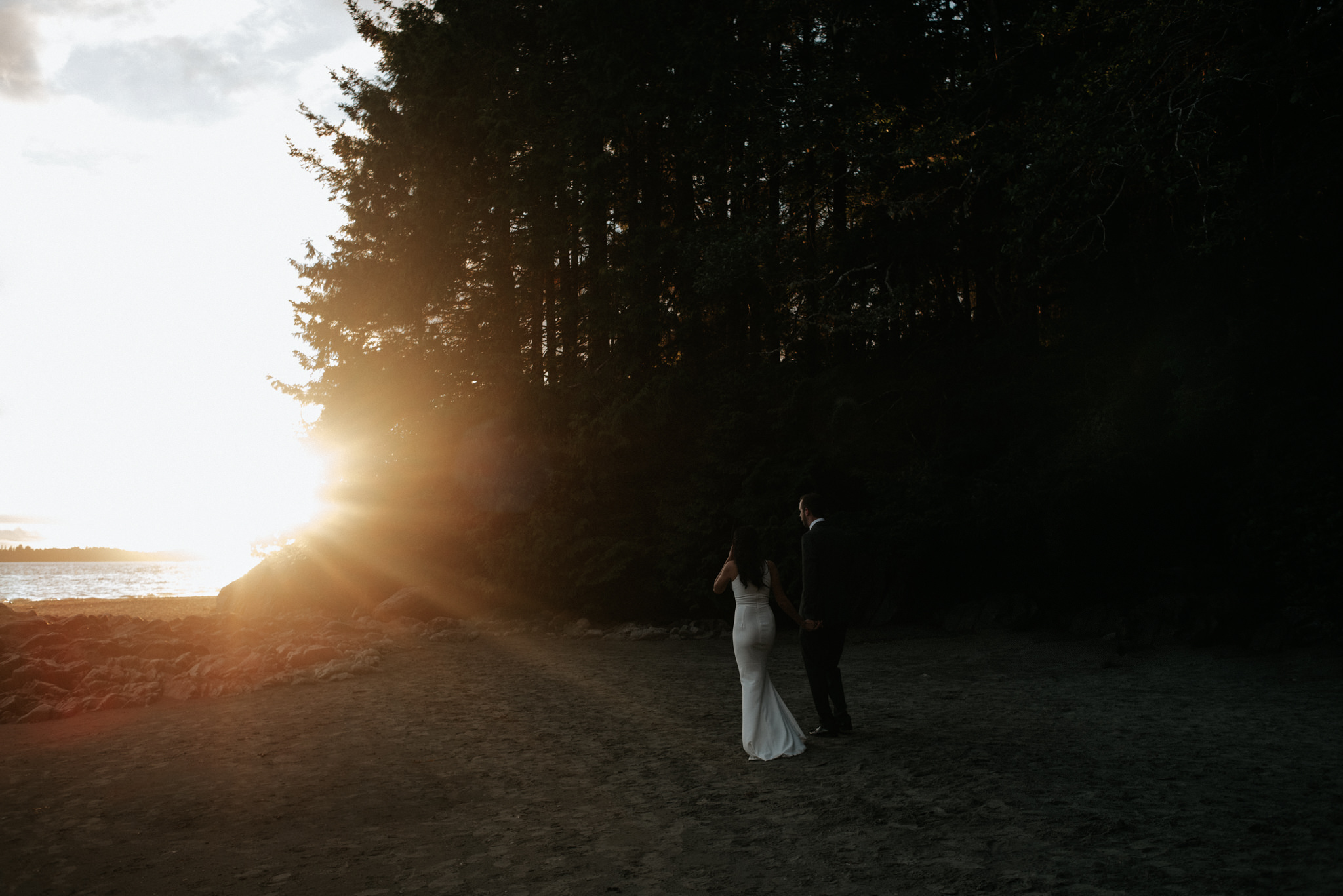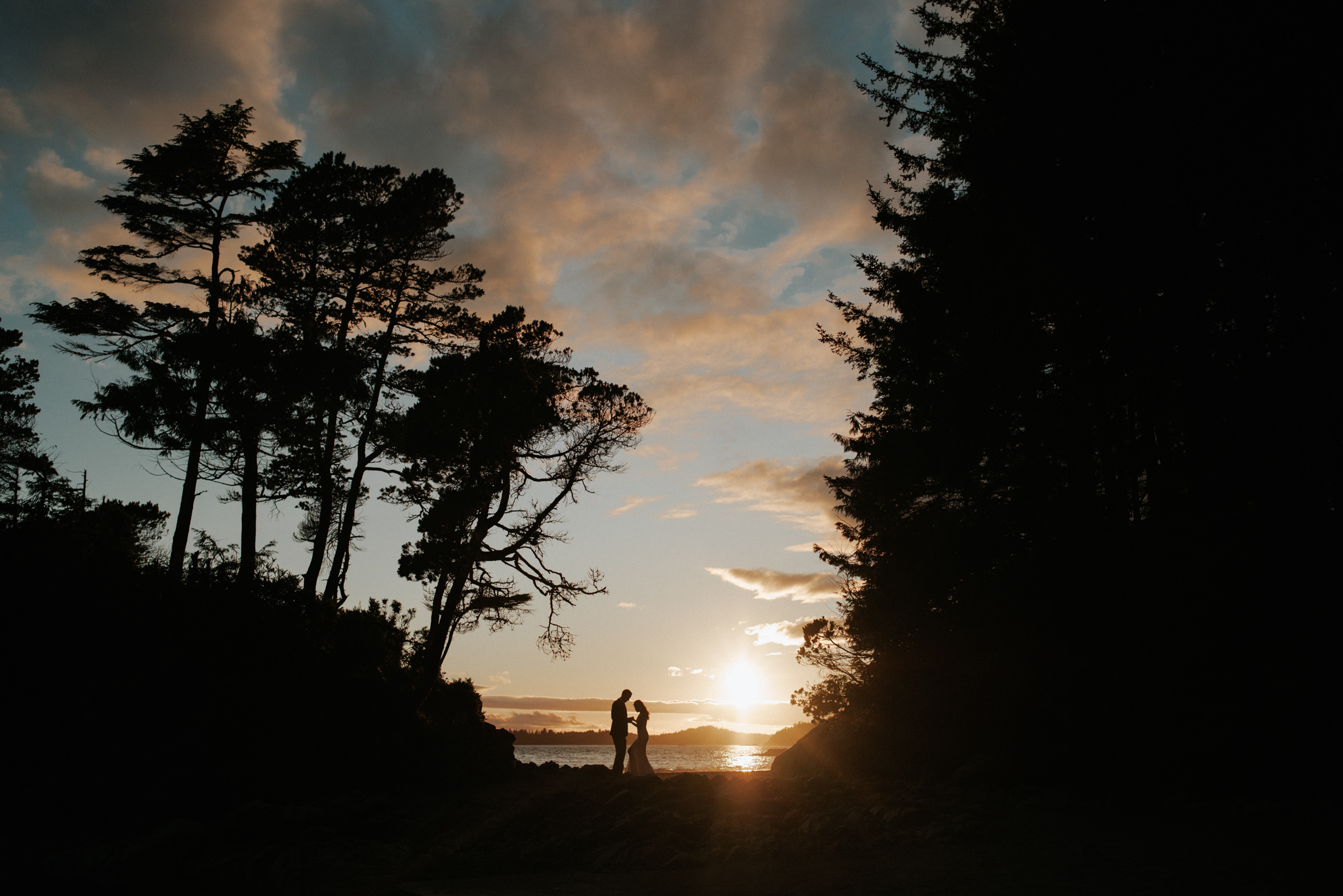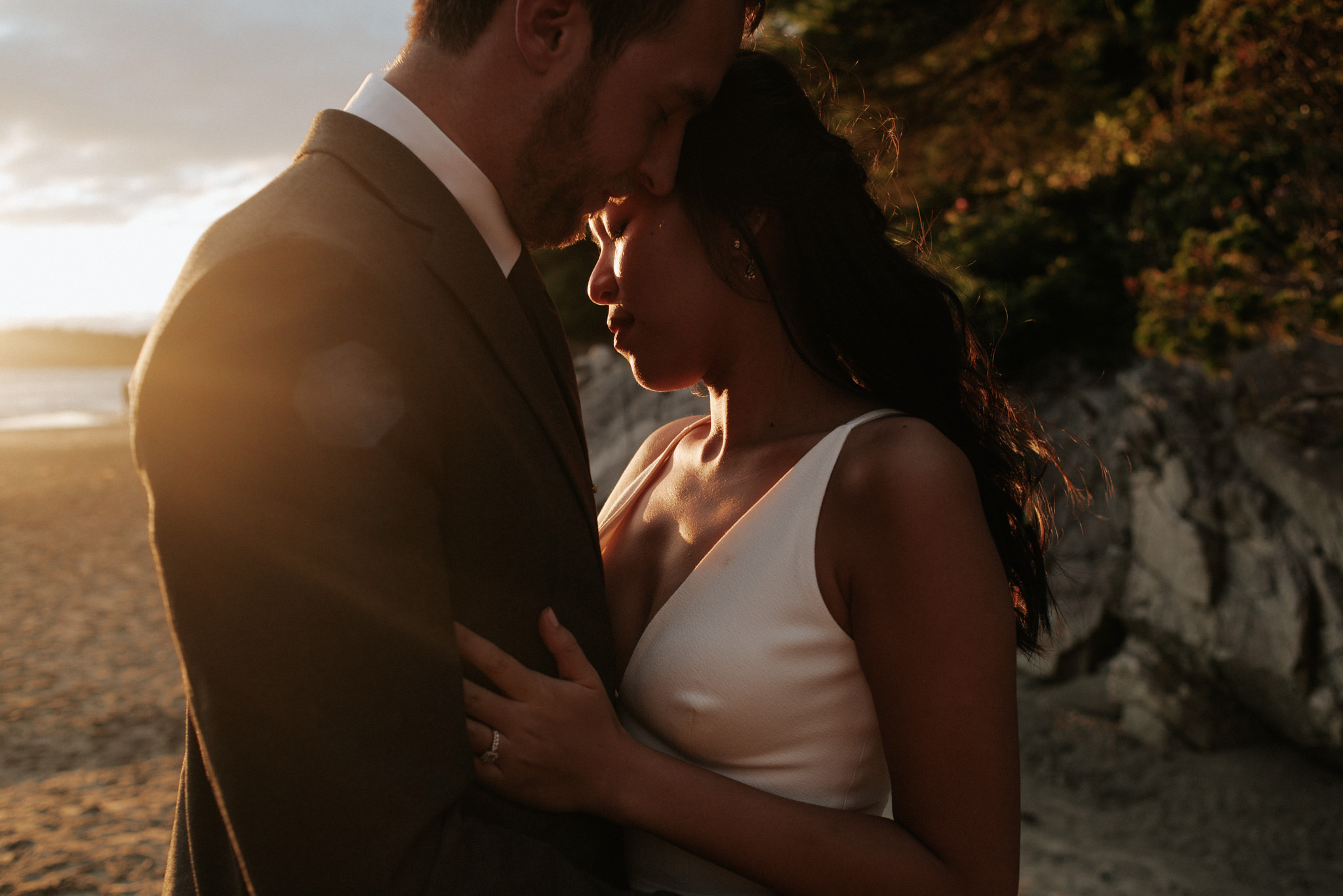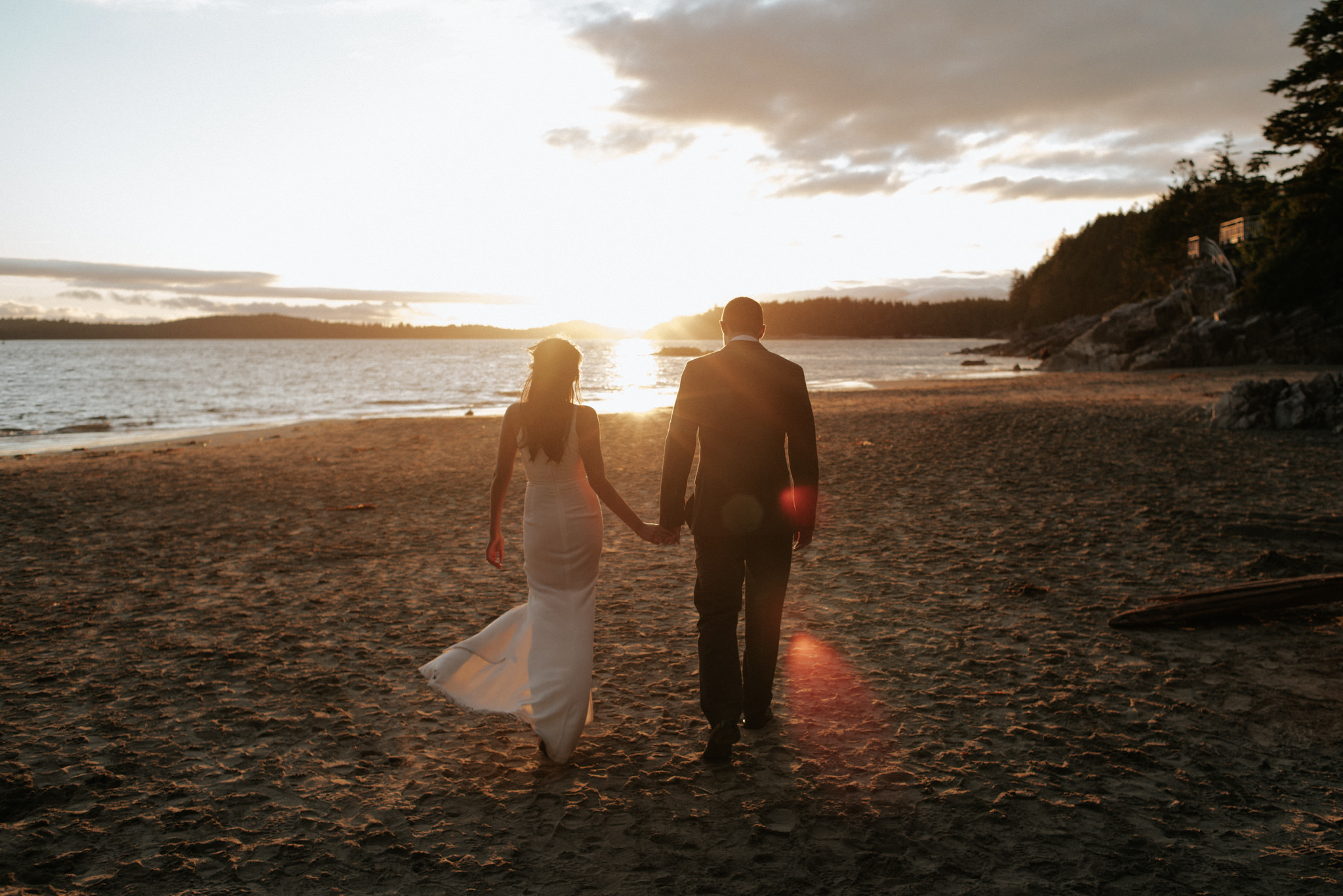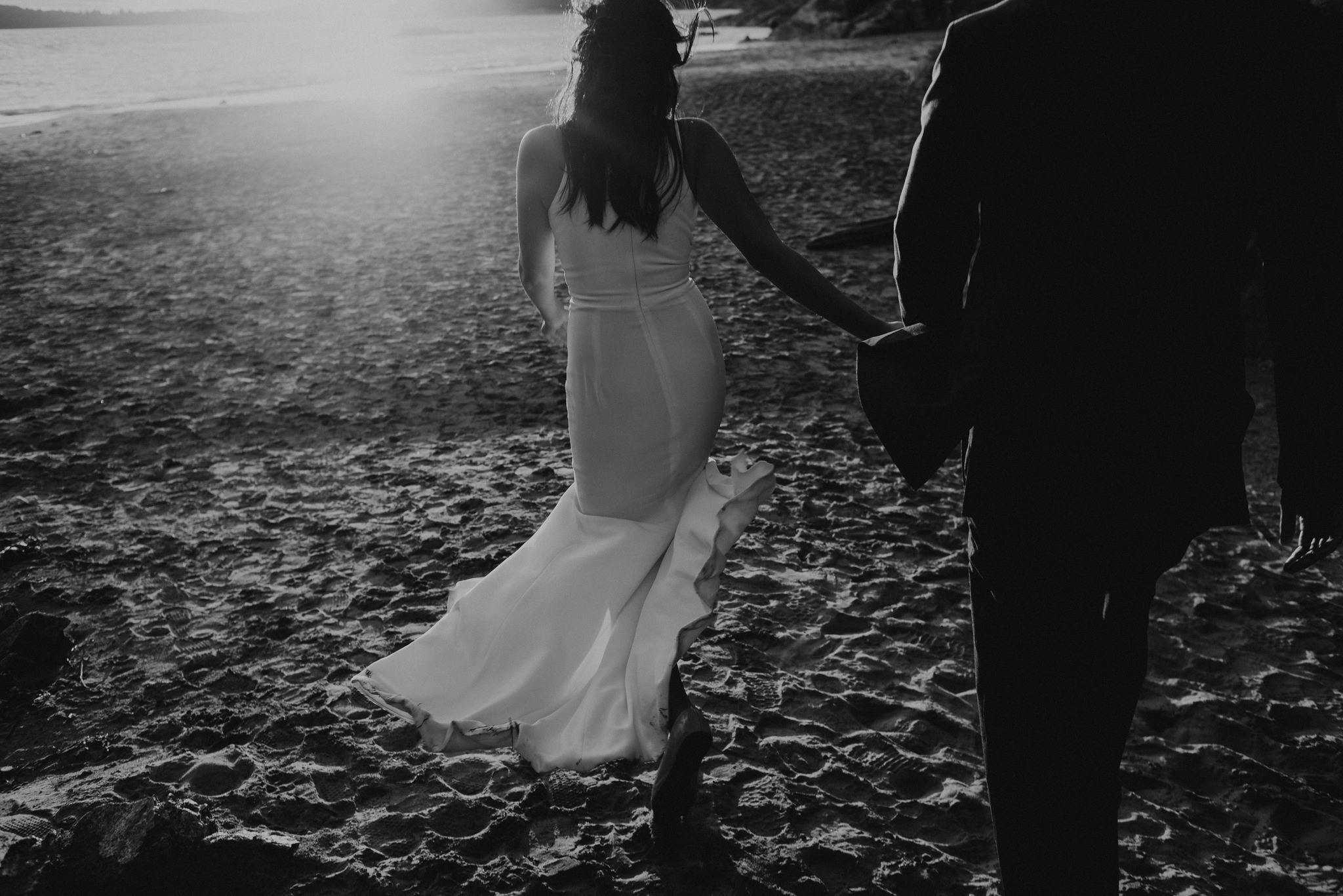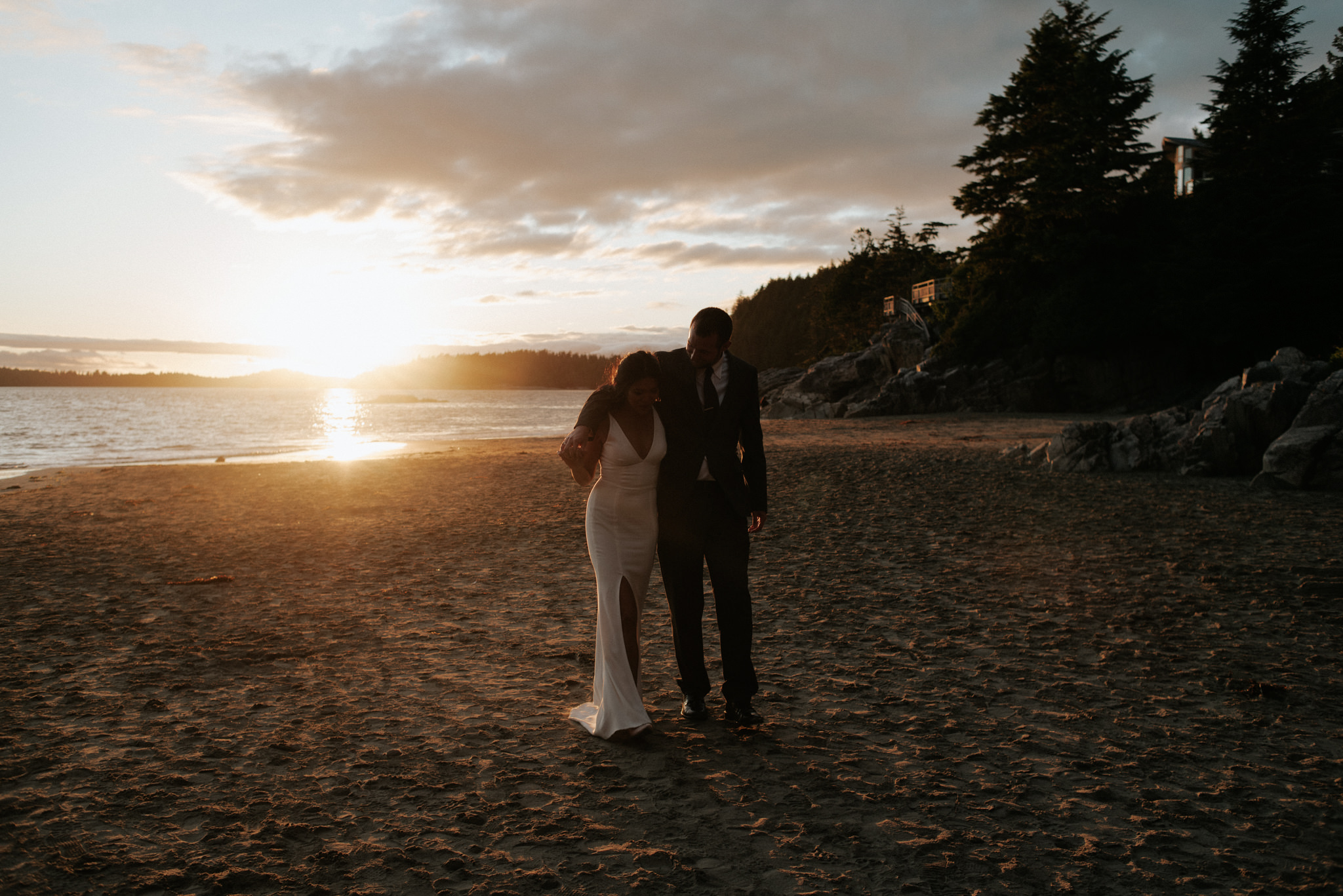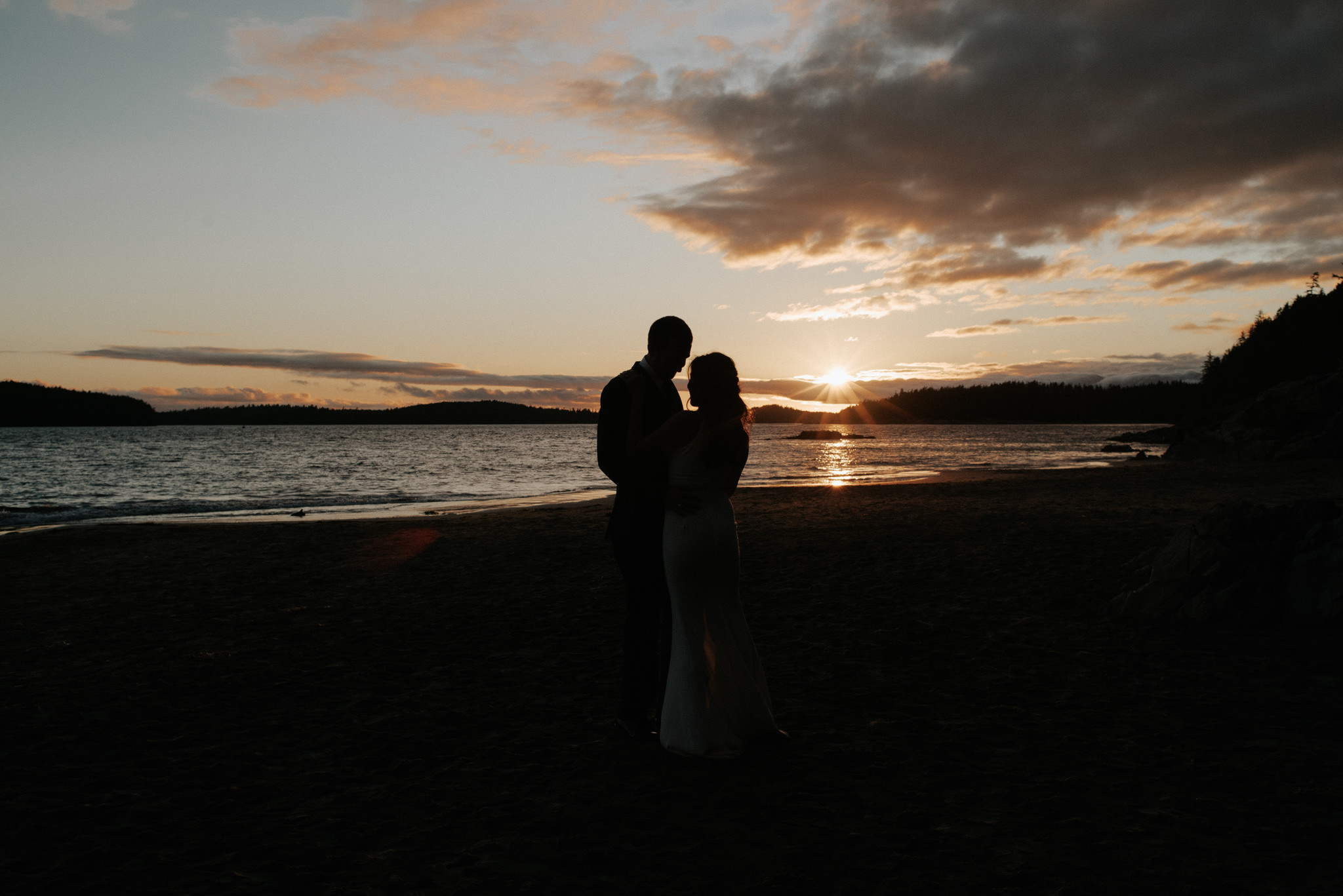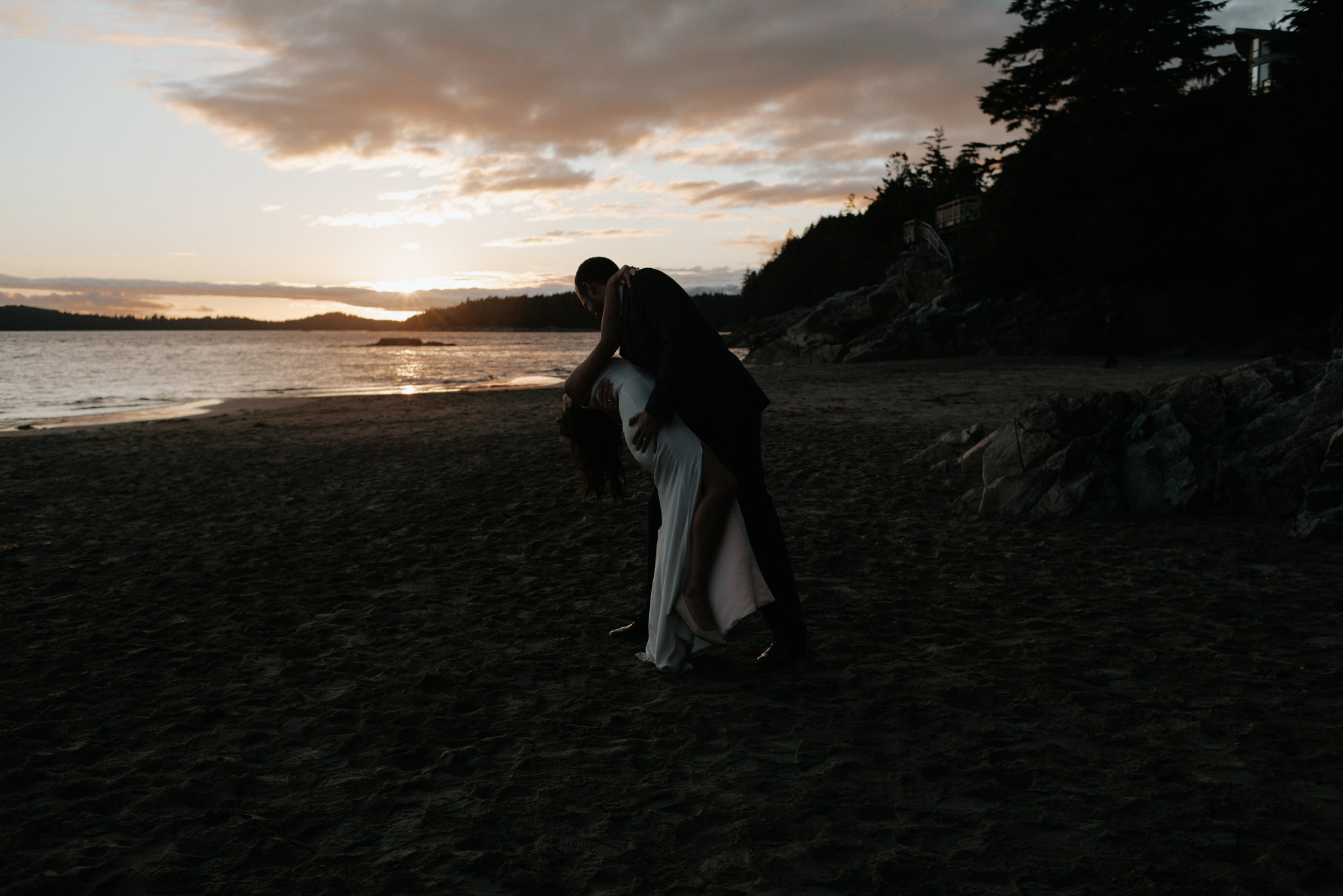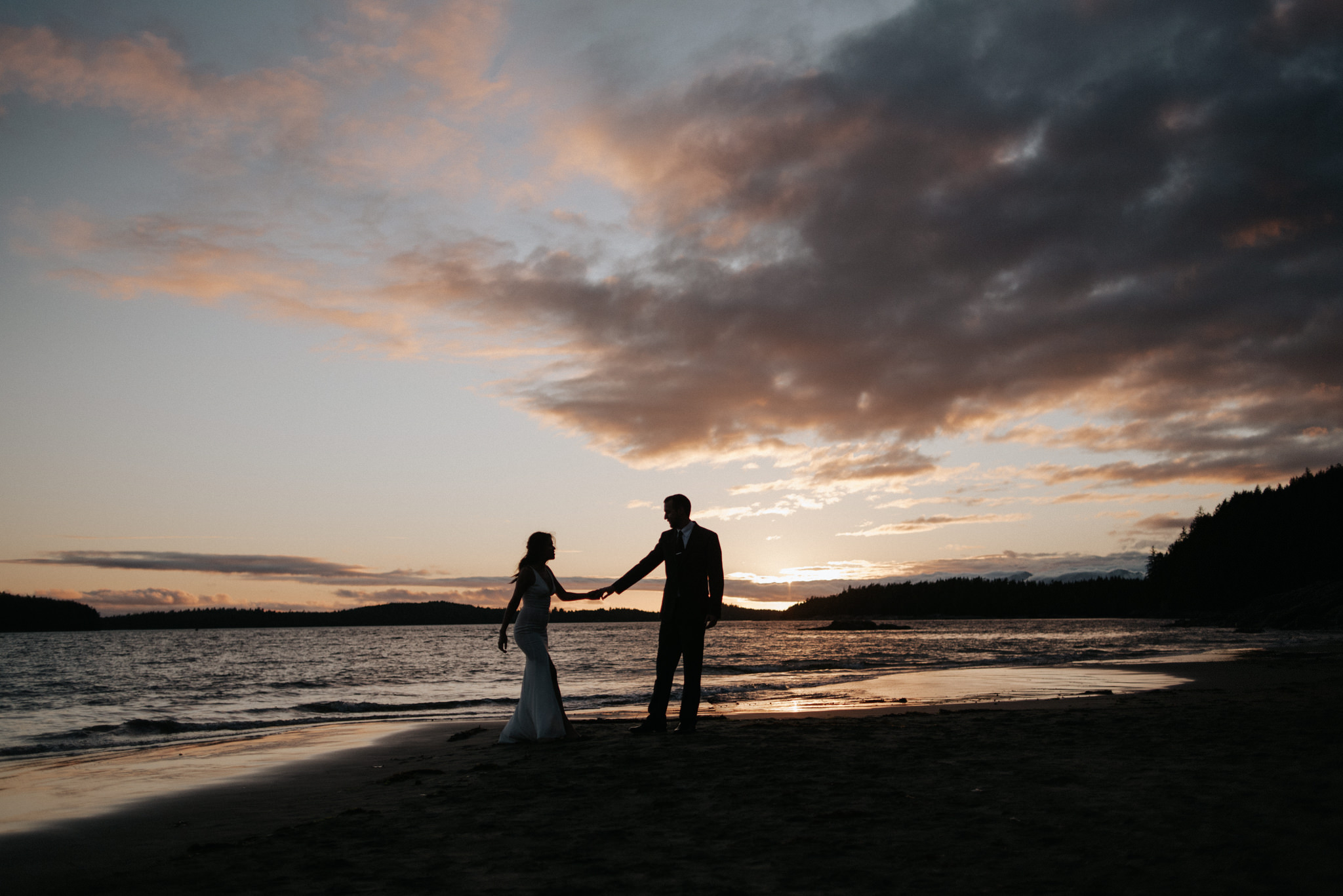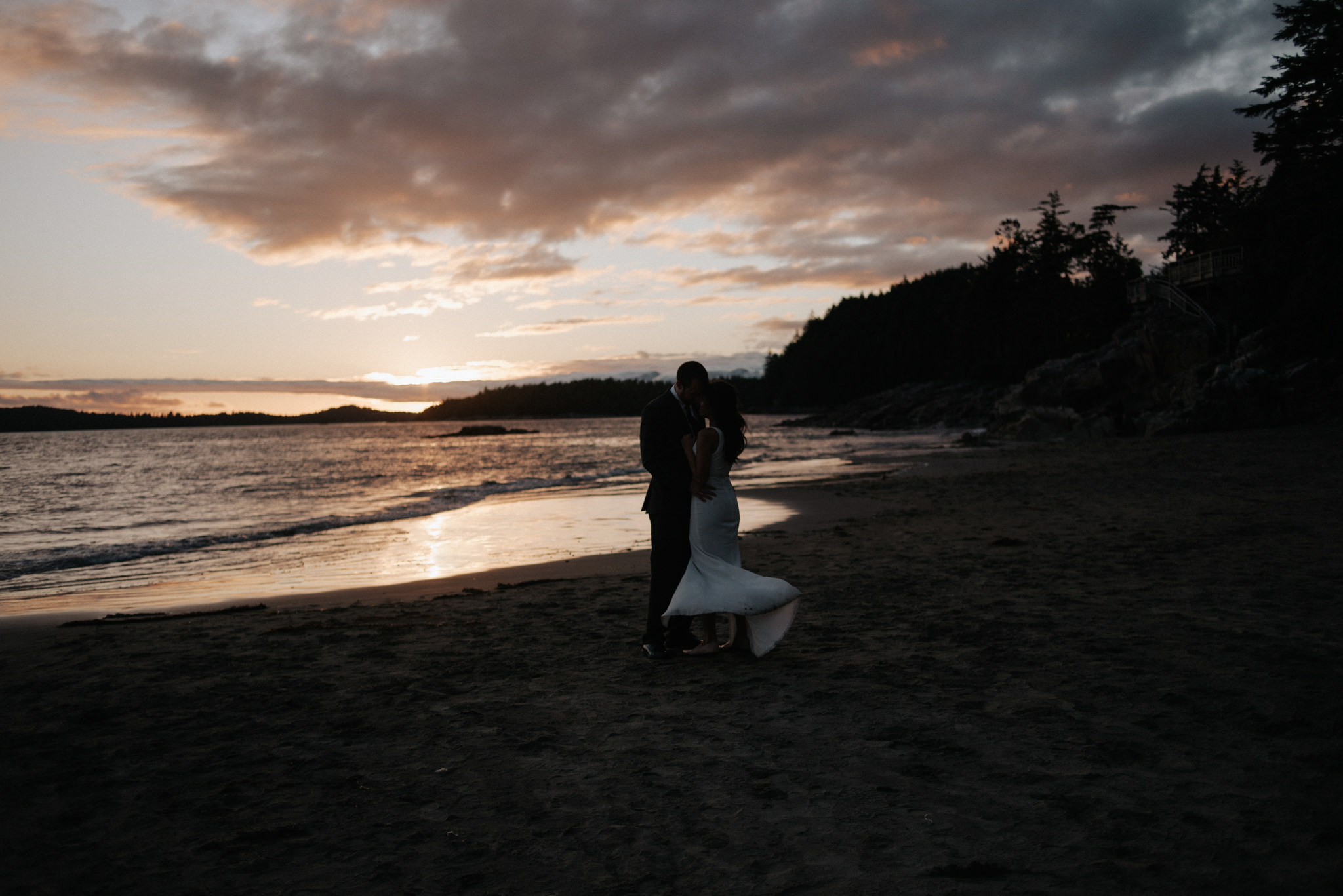 The End
Vendors
DRESS: Maggie Sottero
SUIT: The Black Tux
SHOES: BP Sasha Flat in Blush
FLORALS: Crabapple Floral
VENUE: The Wickaninnish Inn
OFFICIANT: Judy Michaud
FIRST DANCE SONG: "Your Song" by Vitamin Strong Quartet