Zara & Dane wanted to eliminate all the hassle of planning a large wedding so they opted for a trendy Toronto loft elopement. The ceremony took place in a Toronto Airbnb and Zara along with her friend took all the plants from the space and used them for the ceremony backdrop. The venue was gorgeous, didn't require any more decor which made it the perfect spot for their simple day.
1. What was most important to you when planning your wedding?
It's not very romantic (and feels silly to admit on a wedding photography blog…), but neither of us really enjoy weddings! With that in mind, we knew we wanted our celebration to be private, personal, and relaxed. We also felt that it was important to be conscious consumers when it came to choosing wedding-related goods and services. To that end, we opted to work with mostly women-owned small businesses, we tried to choose goods that were socially/environmentally responsible, and we supported service providers whose social values aligned with our own. It was important to us that our values were reflected in the choices we made before and during our wedding day.
2. What was the most memorable part of the day?
The night before our wedding, we opened letters and packages that our parents, siblings, and grandmother had sent us. Even though we wanted a private ceremony, our loved ones were very much in our hearts. We poured ourselves drinks and read their letters and poems, listened to the songs they chose or wrote for us, opened the small keepsakes they sent. It was really sweet and sentimental – everyone had different words of wisdom and love to share, and we will keep them forever.
The day-of was so relaxed that we kind of forgot that we needed to get ready for the wedding. We started getting dressed and done-up about 15 minutes before the photographer and celebrant arrived, so it all felt like a mad scramble. Getting married is kind of funny and surreal! There were lots of laughs. It was exactly what we wanted.
3. Any wedding planning advice you'd like to share?
It's pretty simple: do you. If a big, wild, people-filled wedding is what makes your heart soar, then you should do that. We kept our wedding mostly a secret, then we broke the news on Instagram from the airport just before we left for our honeymoon in the Azores. We have no regrets about having a small, private wedding. We were able to have the exact day that we wanted with no compromises and no stress leading up to it.
Speaking of regrets, try to remember that it's just one day in what will hopefully be a long life together. We had planned to have specific music playing and ended up totally forgetting to put it on. It was an "ah, darn" moment in retrospect, but really not a huge deal. We can listen to music tonight. We can listen tomorrow. Our wedding day does not have a monopoly on being a beautiful day. Relax and enjoy the day as it unfolds.
4. How did you chose your venue?
We knew that we wanted to have our pup, Dennis, with us on the day, so that eliminated a lot of venue options (our initial thought was the Allan Gardens Conservatory). We didn't really have a plan other than "must allow dogs." We started searching through pet-friendly Airbnbs that had a good spot to set-up a ceremony, and that's how we found the Leslieville apartment with great windows.
5. What was it like working with your photographer?
Since we were having such a small wedding, our photographer was super important to us. Both because she would be one of a very small group of people present, and also because we wanted to be sure to have lots of great images to share with our loved ones who weren't with us on the day. Zara found Jess on Instagram and fell in love with her moody, atmospheric style. Dane was impressed with her ability to capture great indoor photos with natural light (seriously, if you're having an indoor wedding, make sure your photographer has indoor skills!). We are both EXTREMELY awkward about being photographed, but Jess took it all into stride and made us feel super comfortable. Somehow, she took hundreds of photos without us noticing and captured some lovely moments.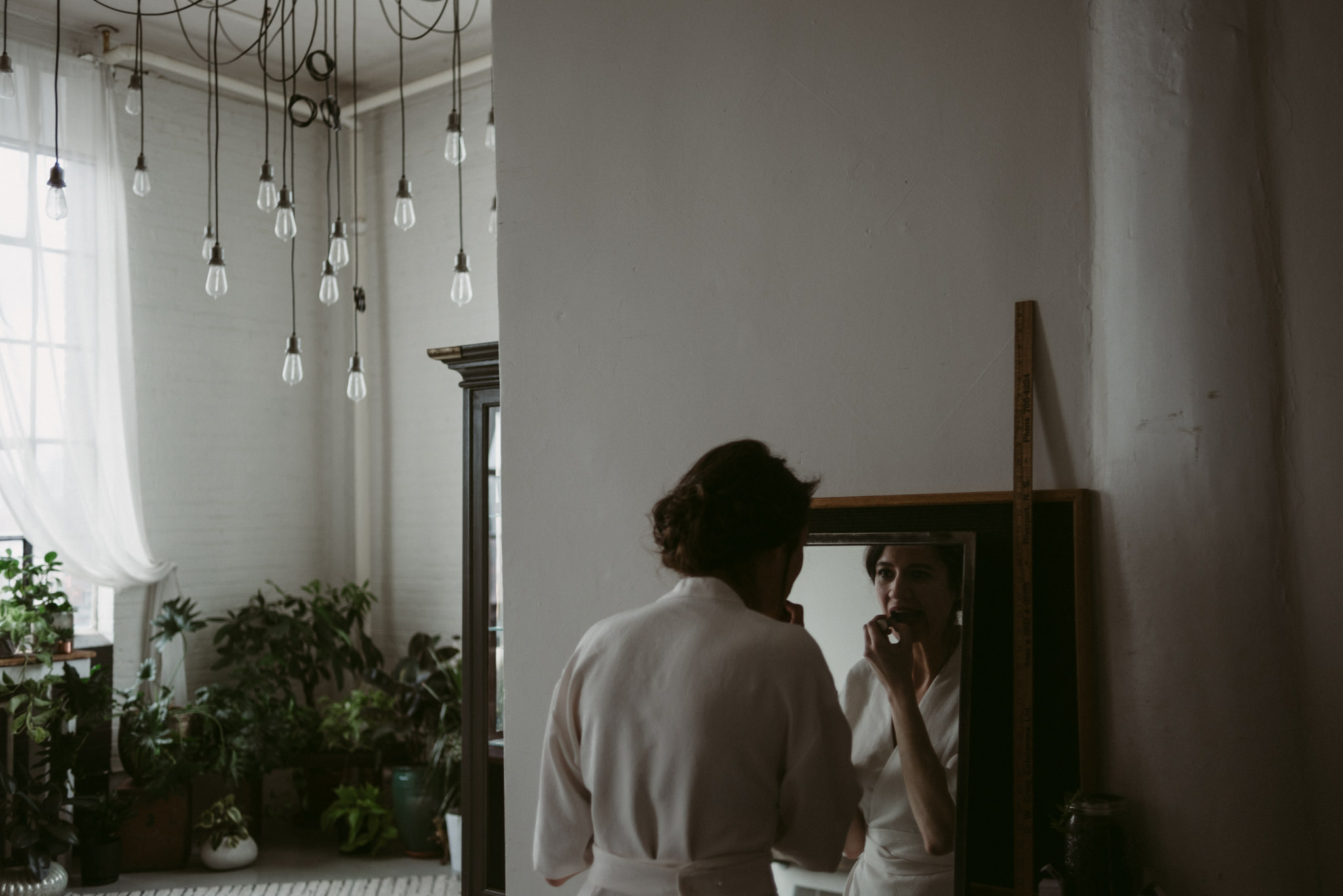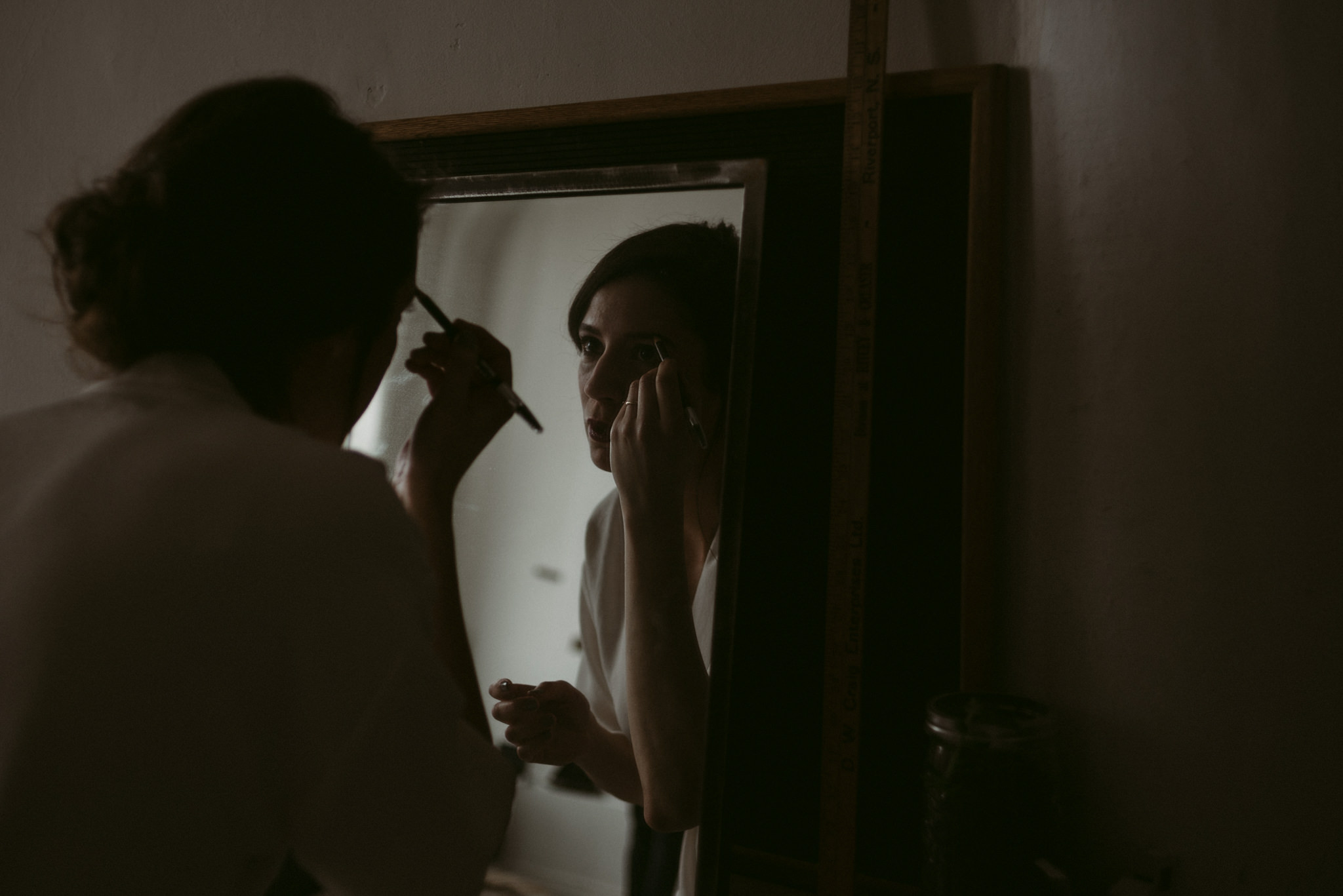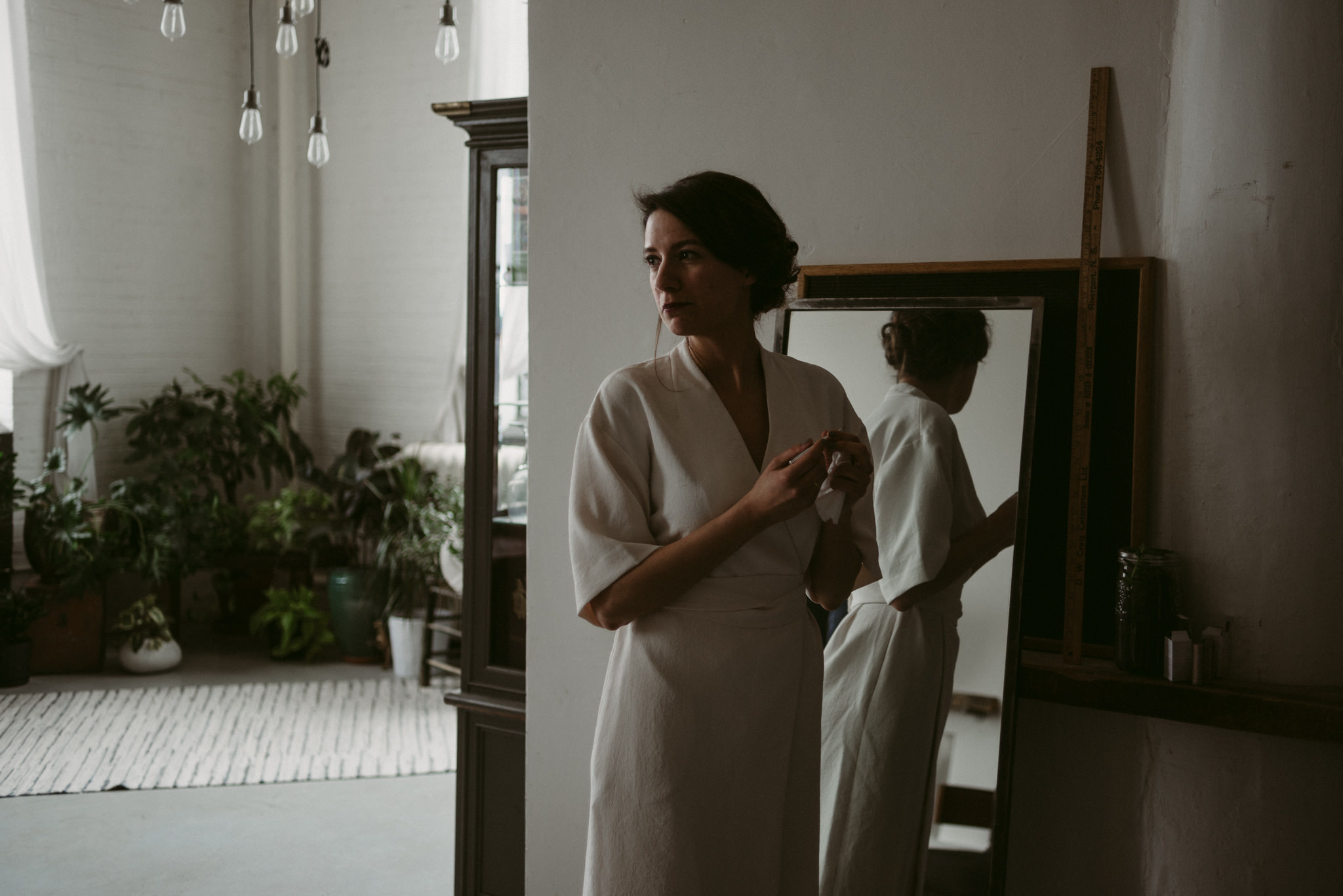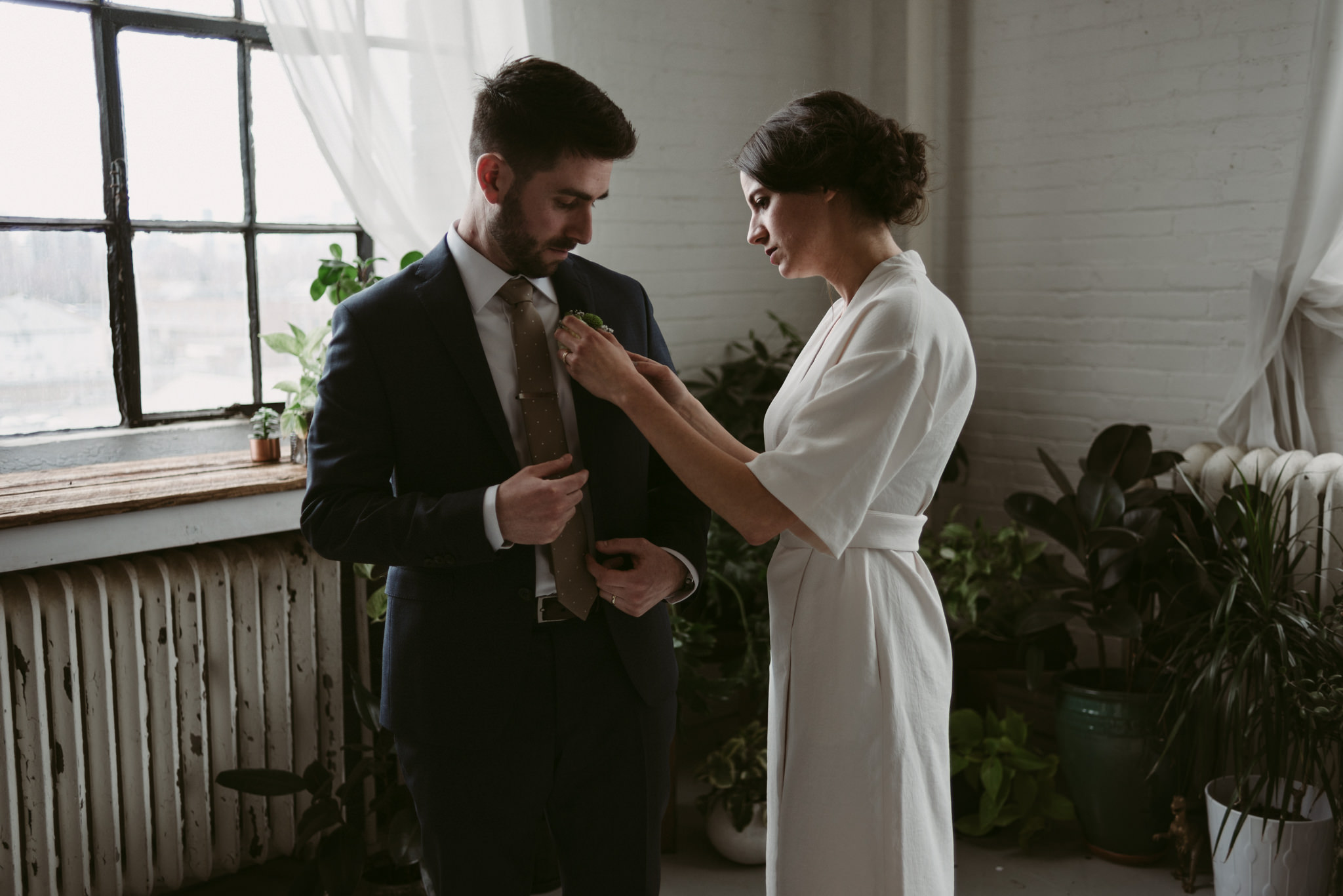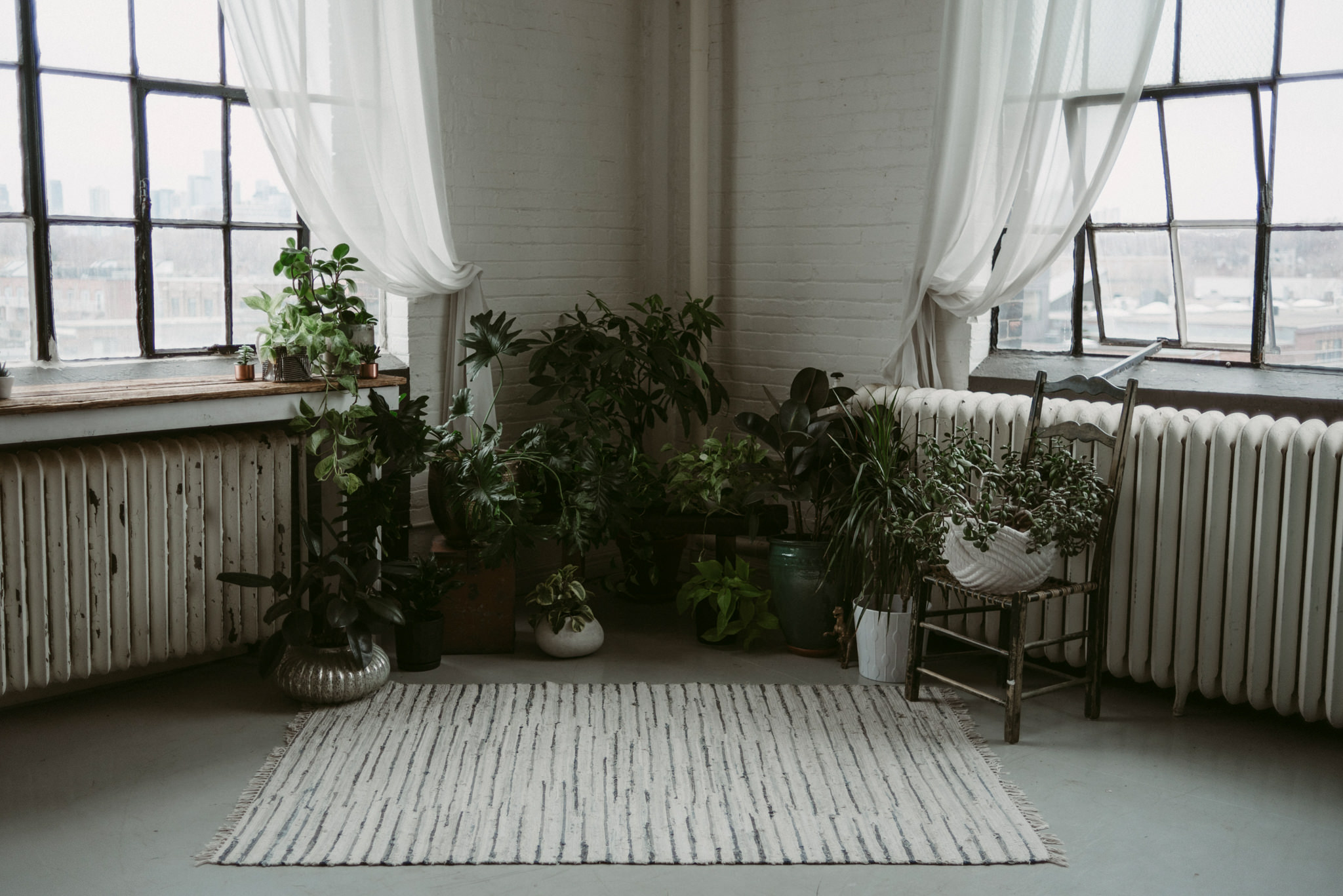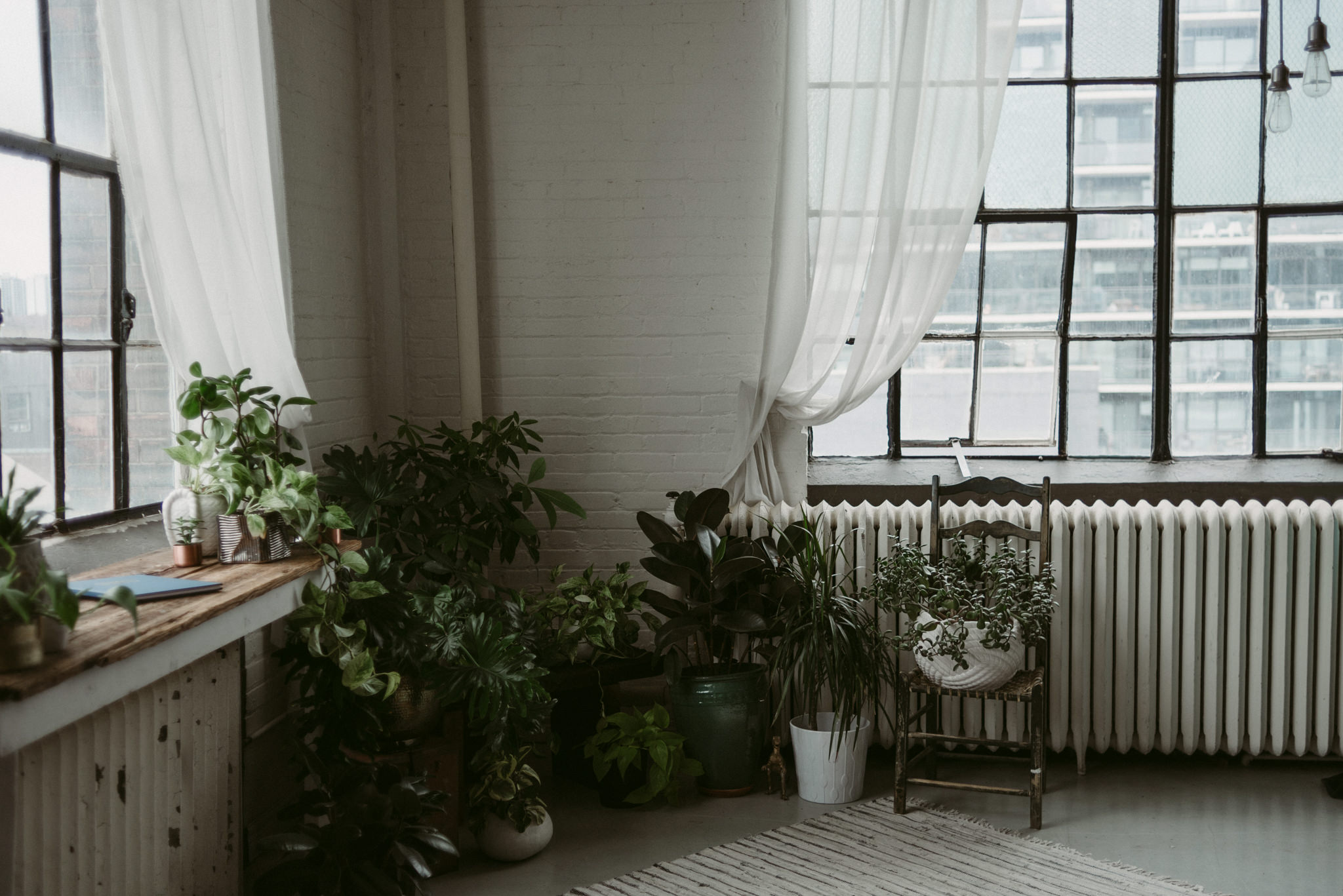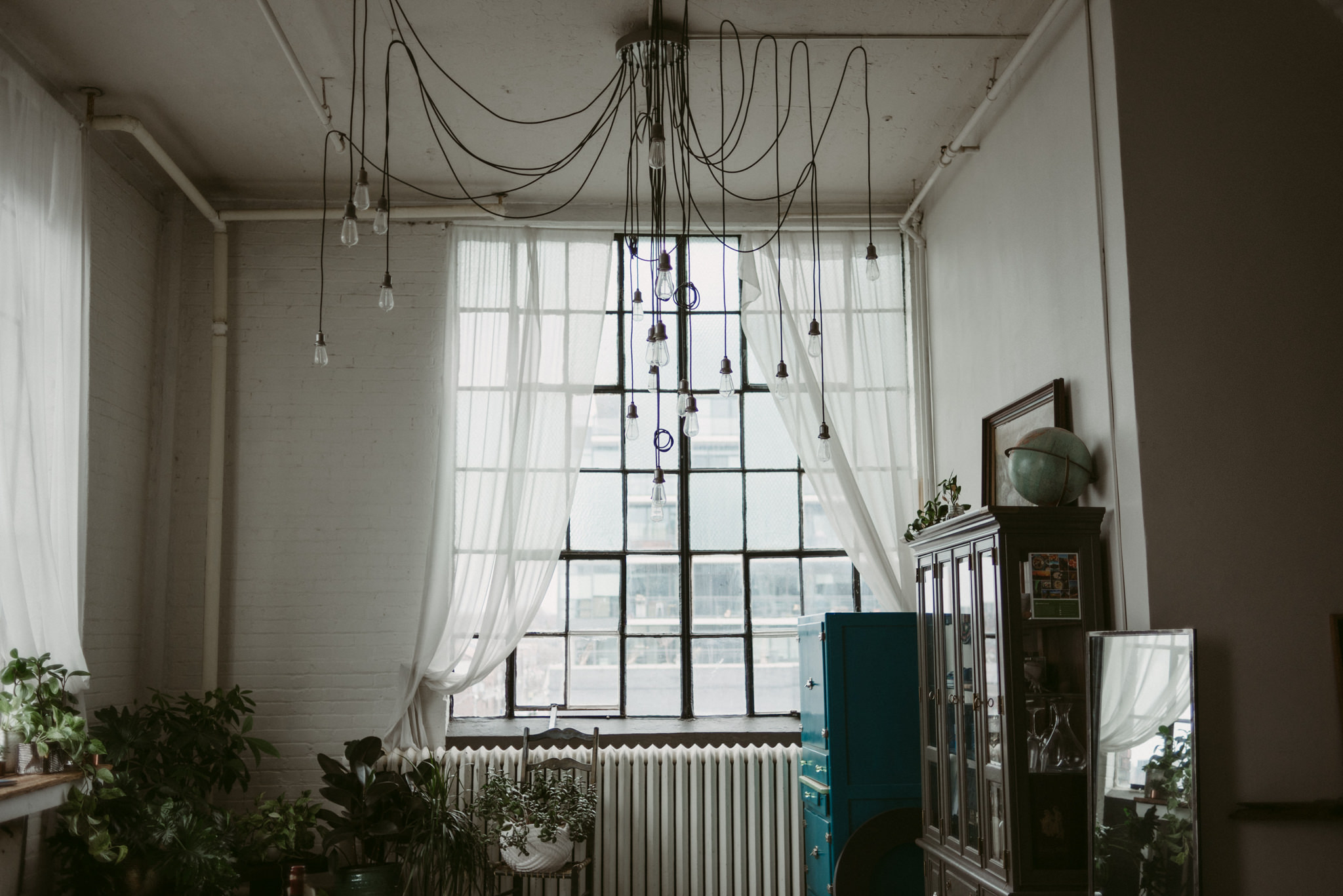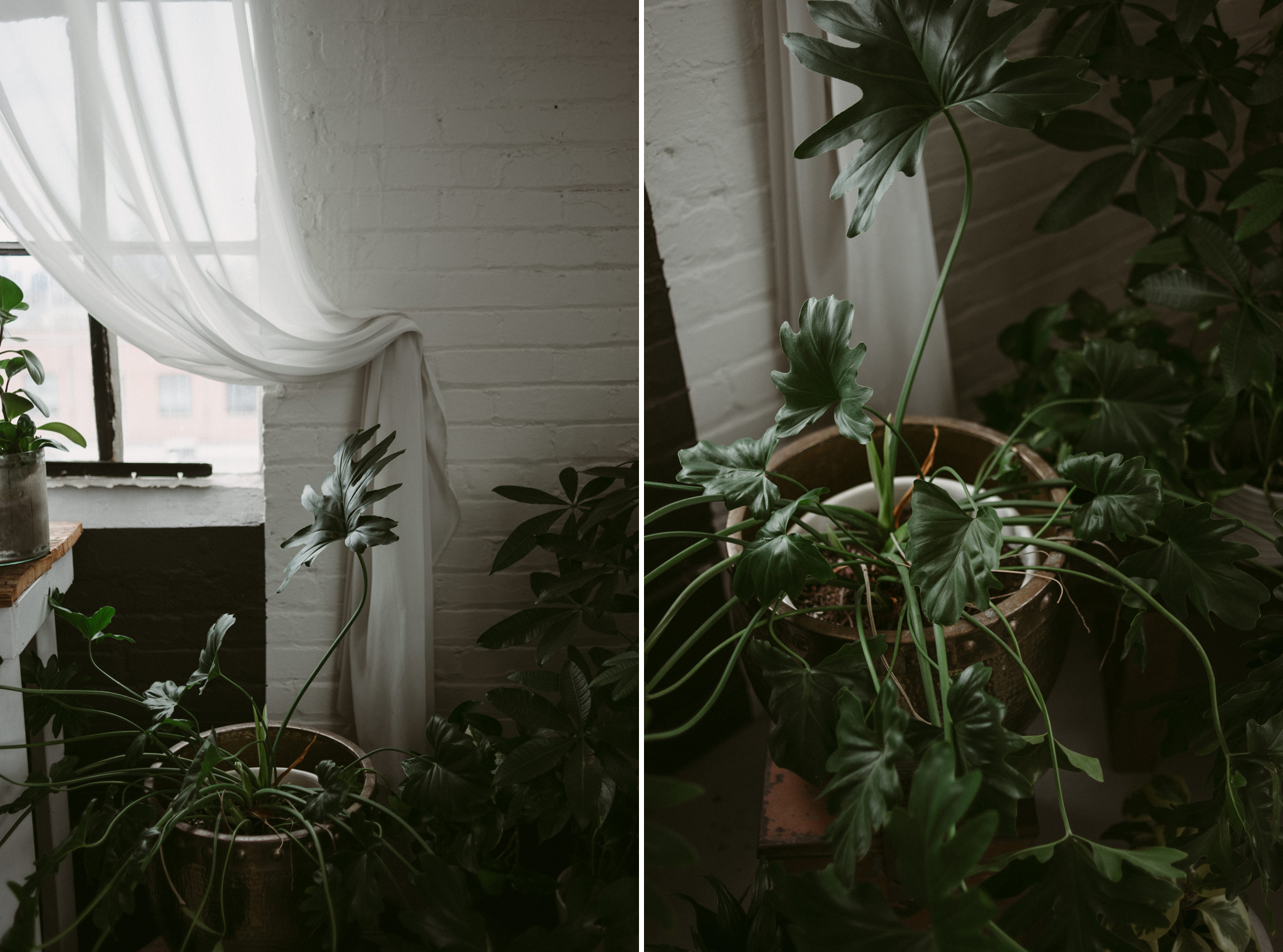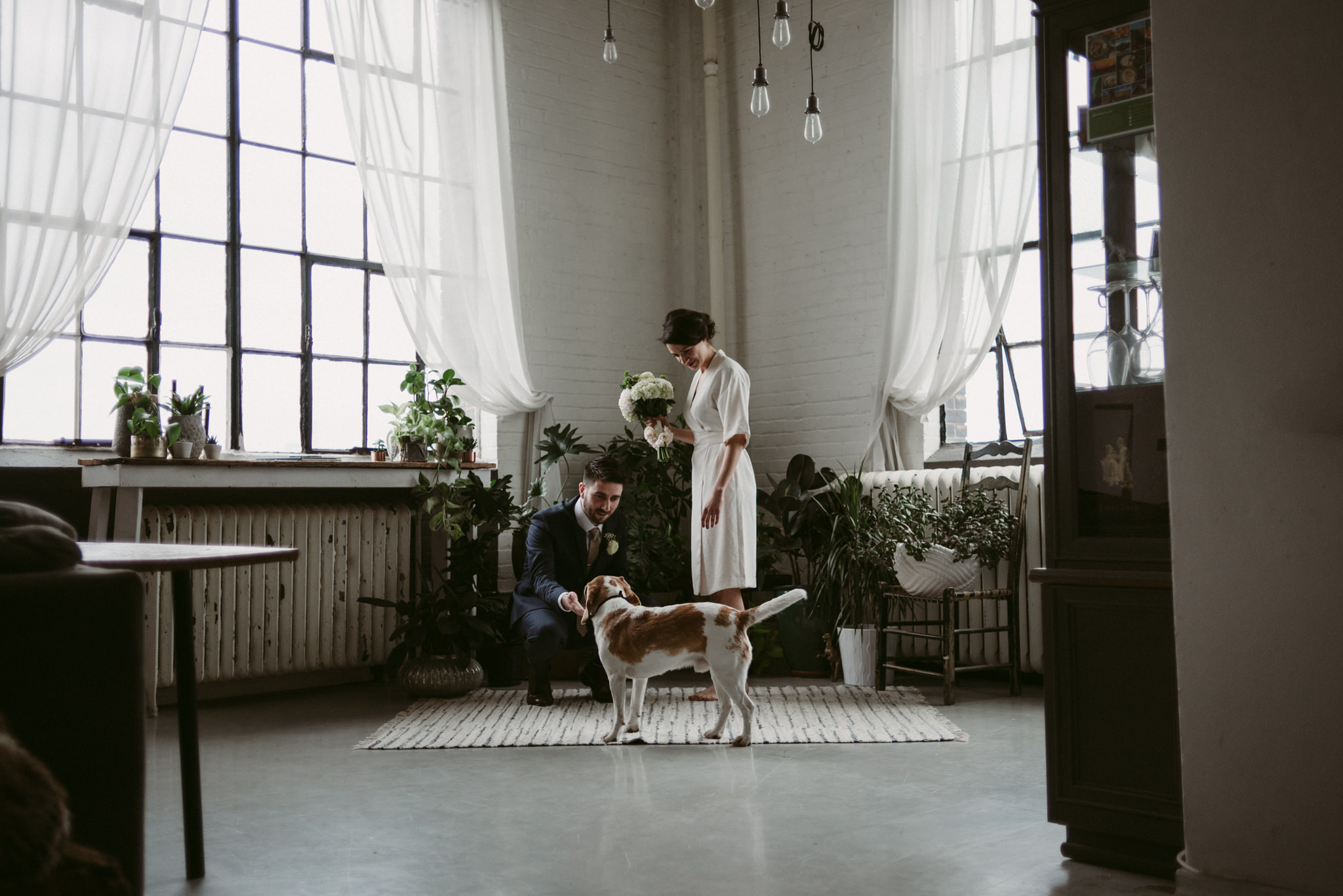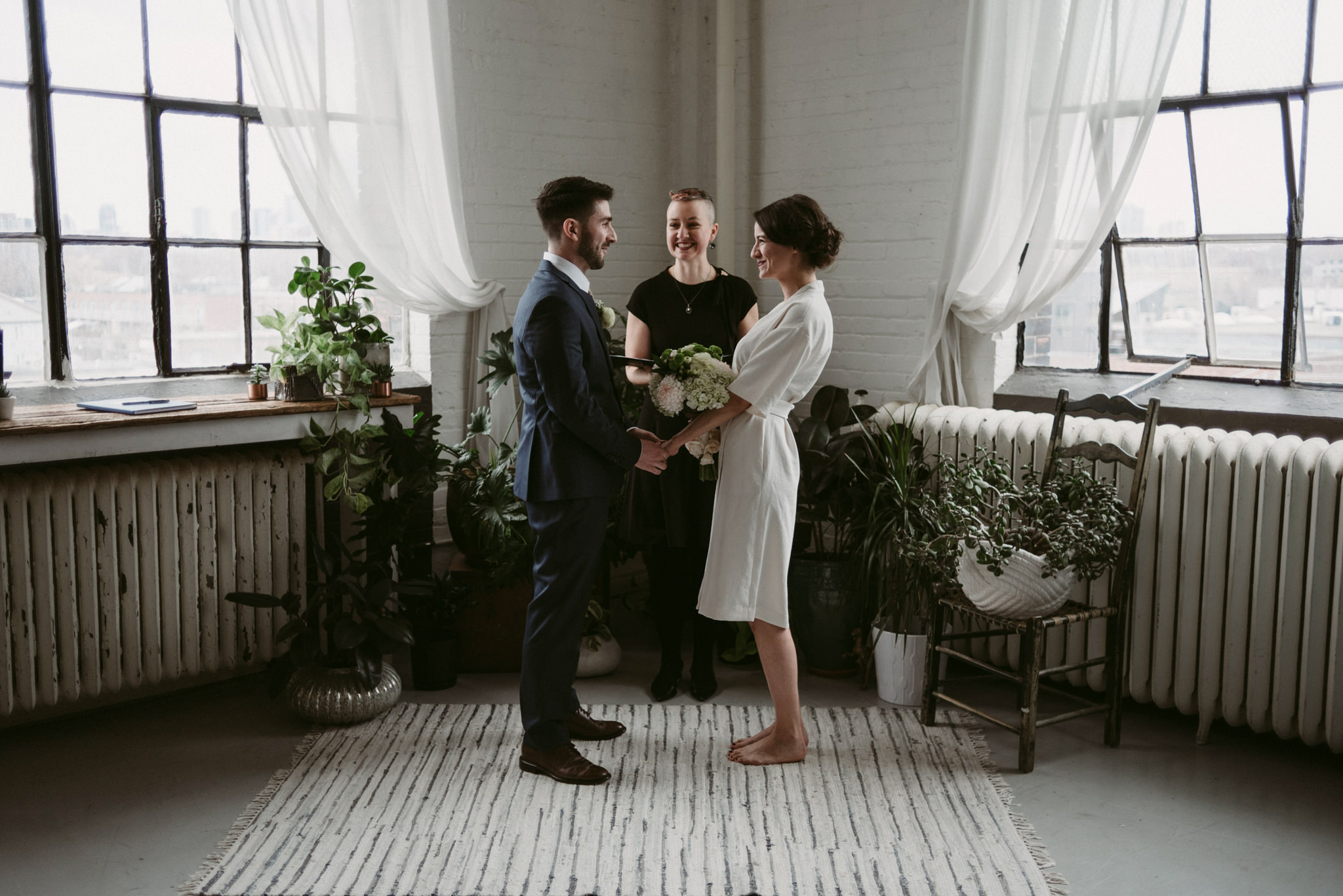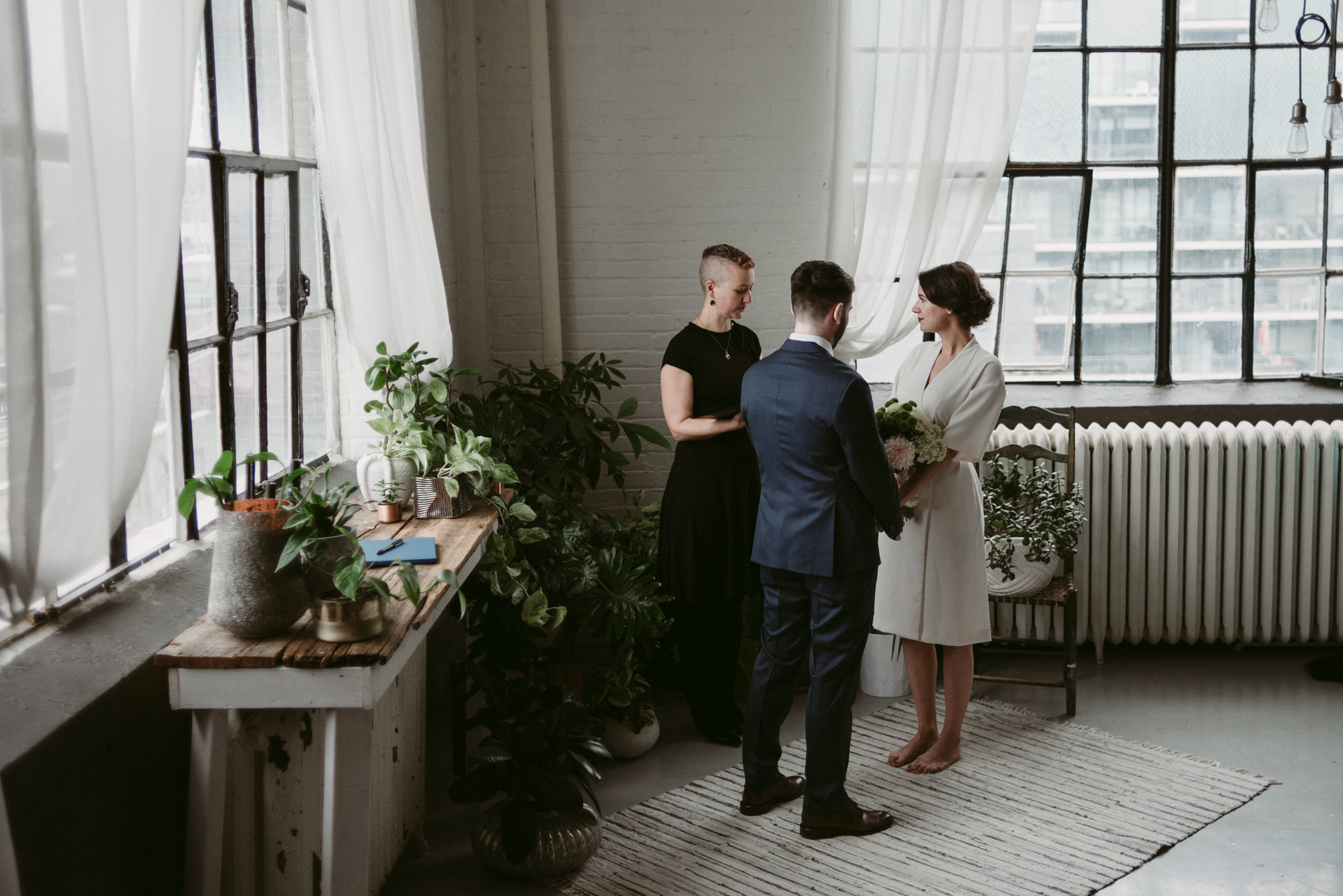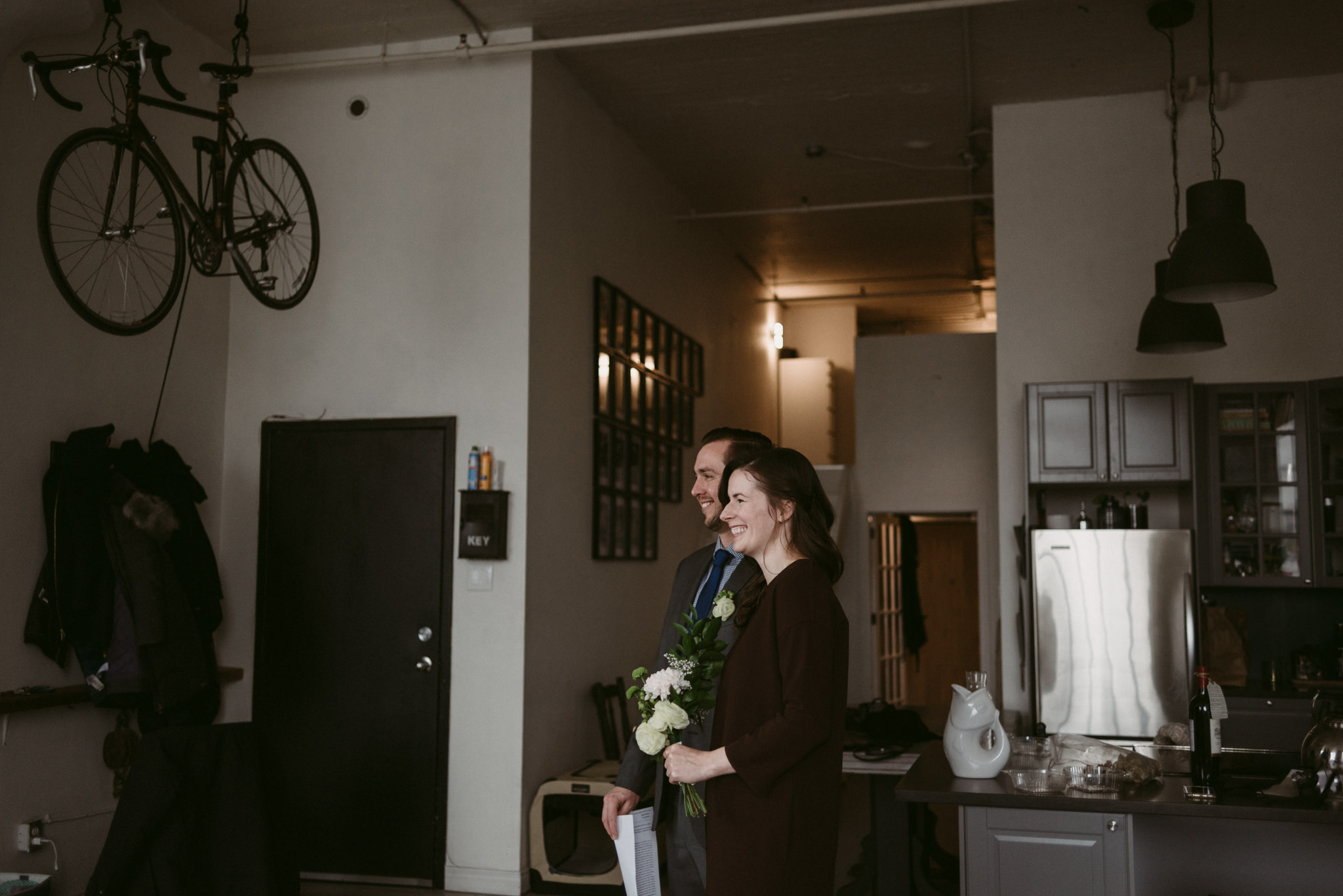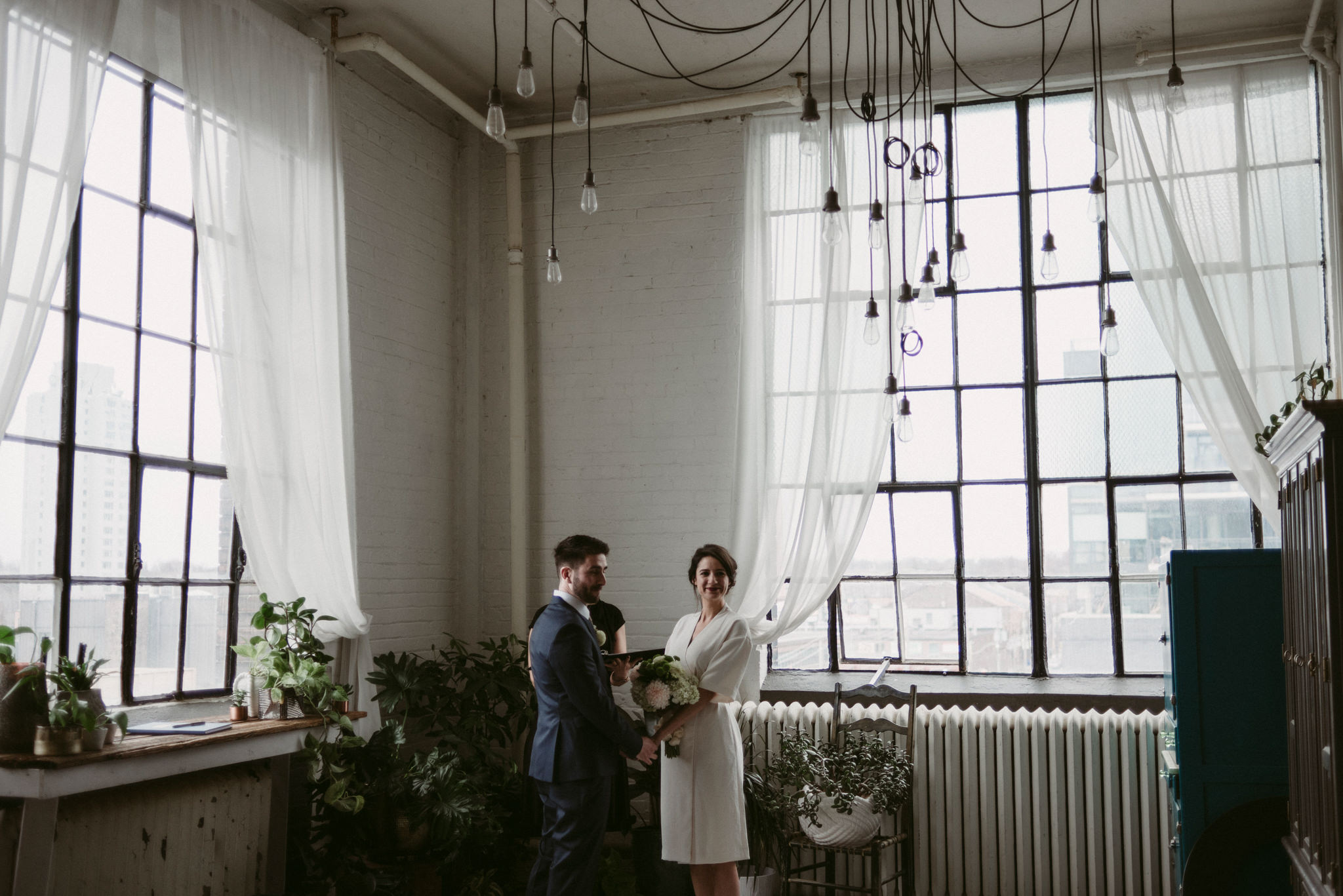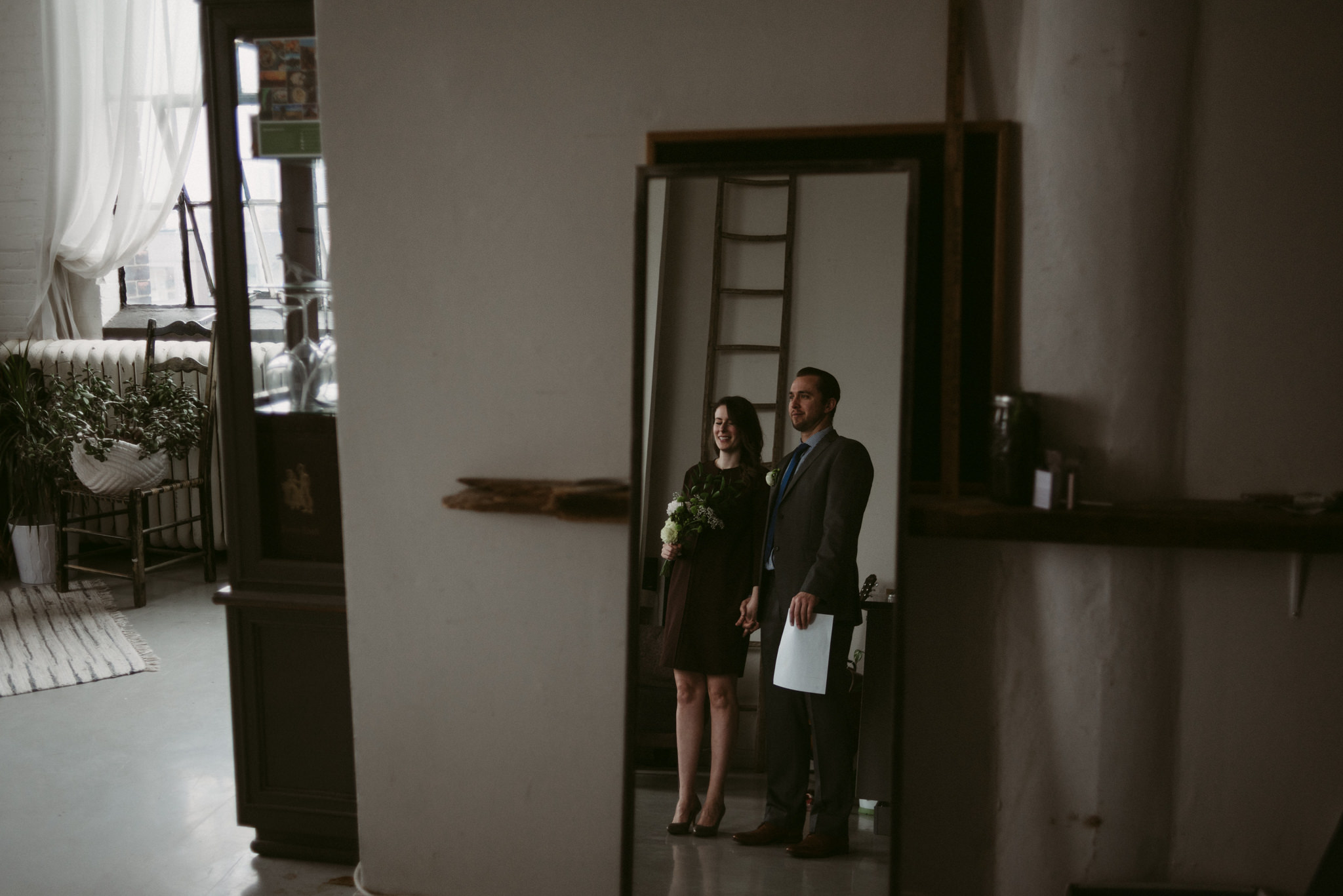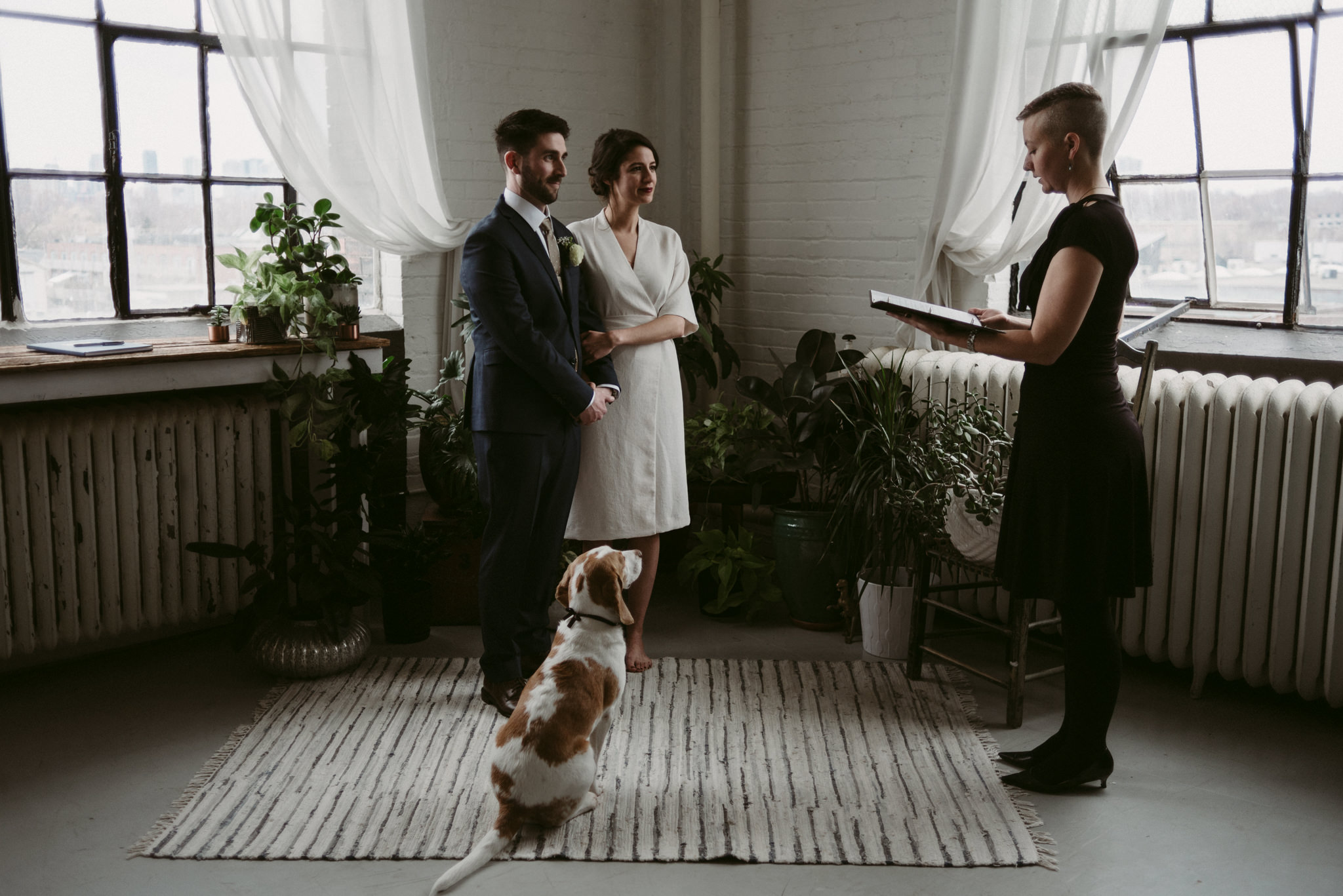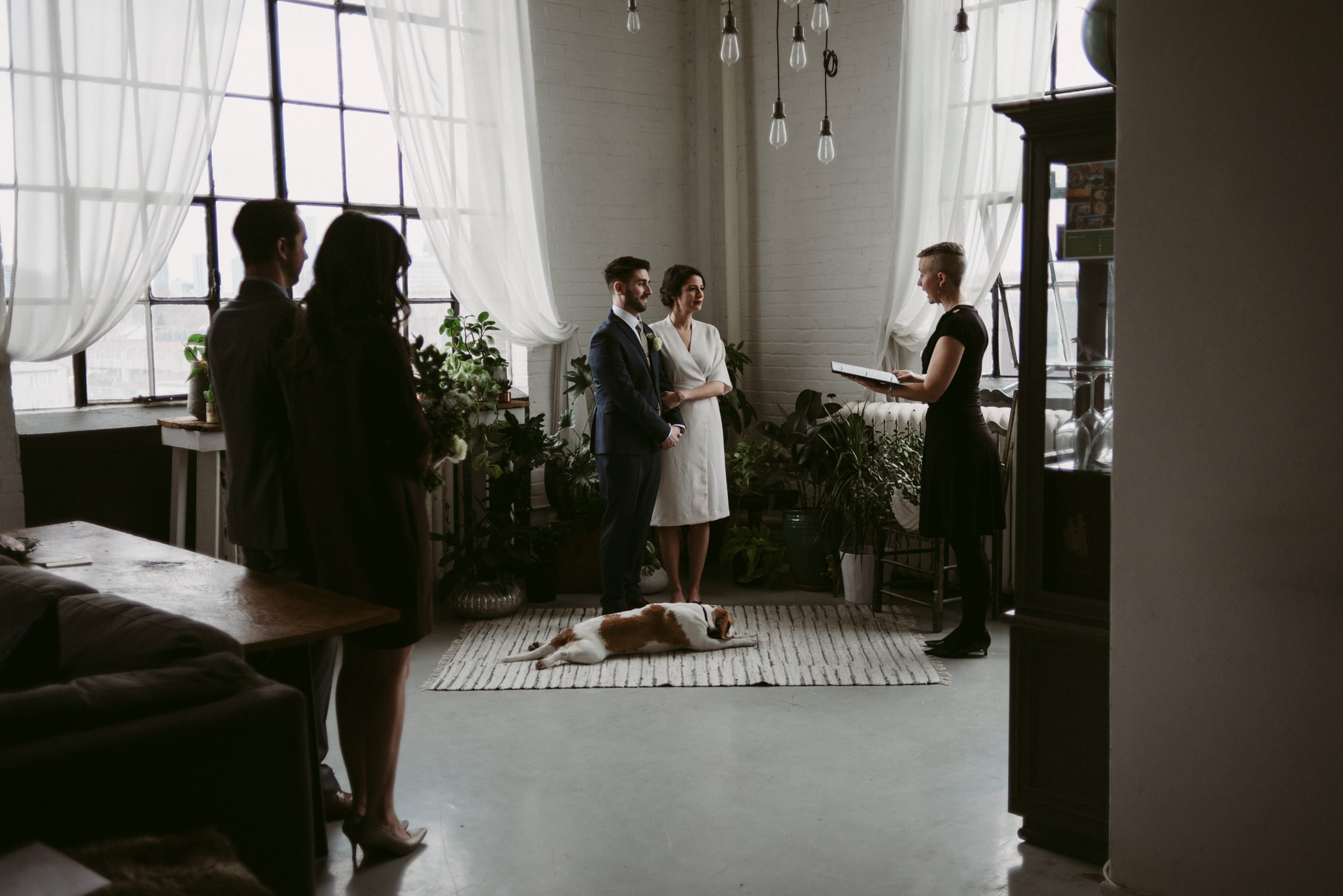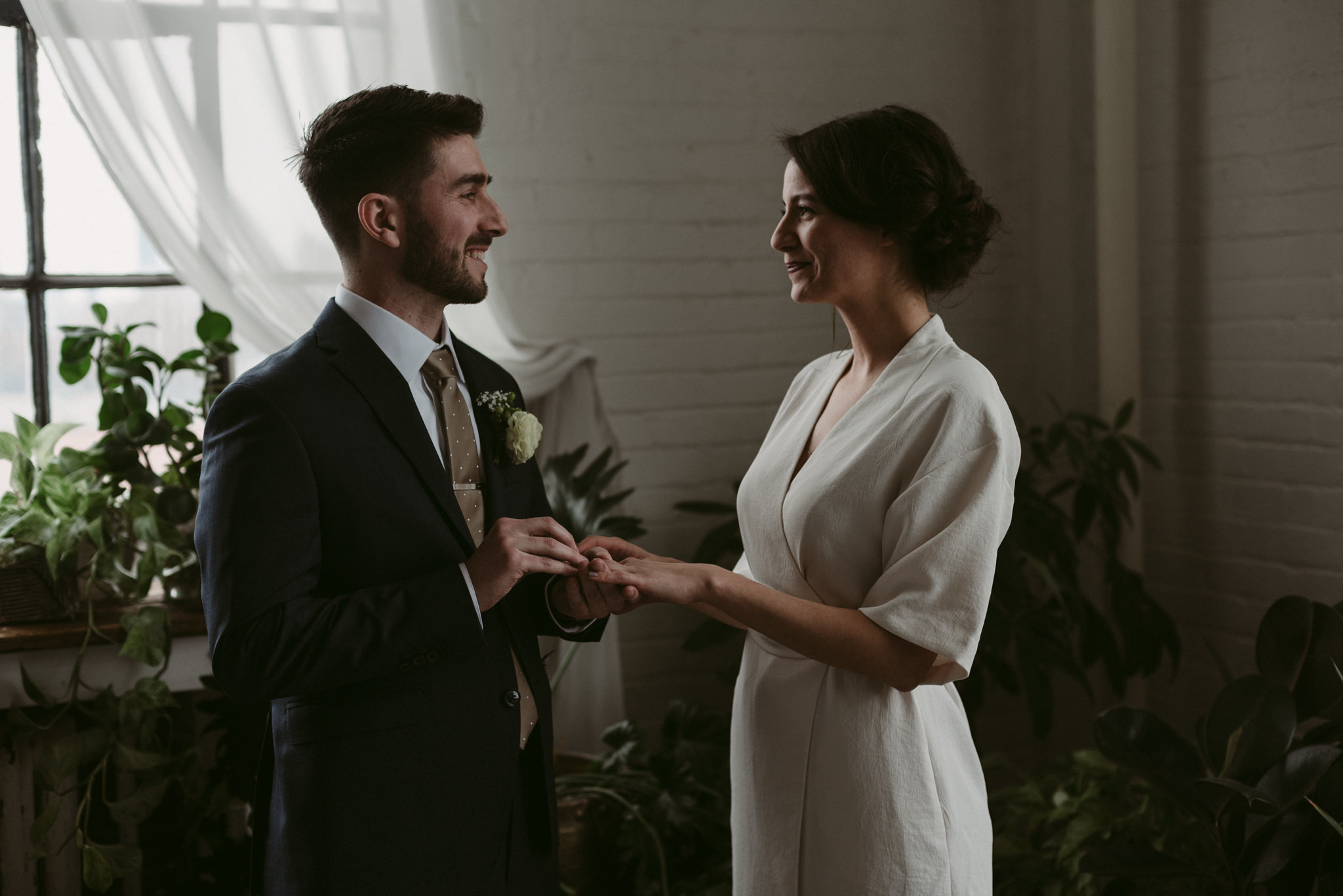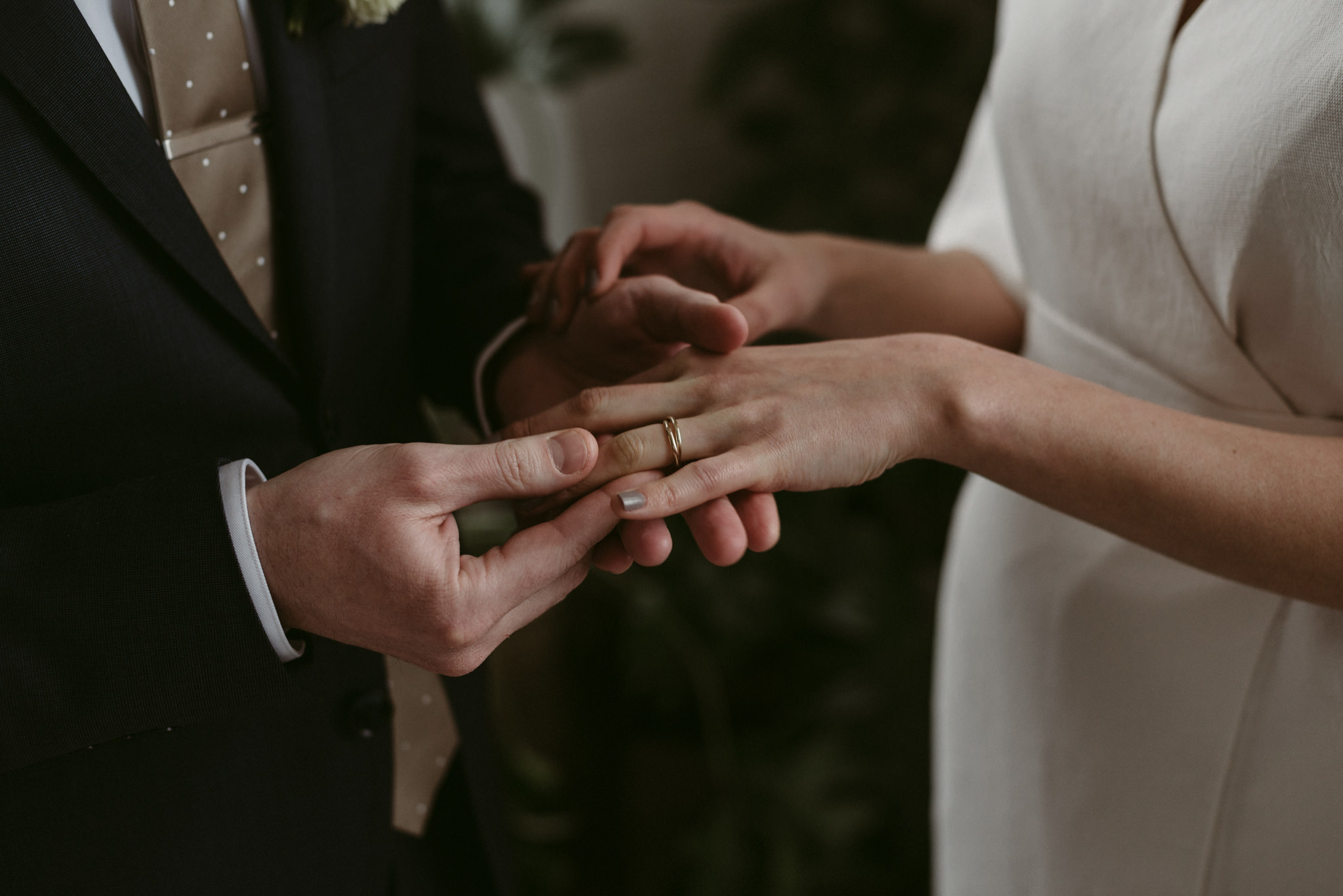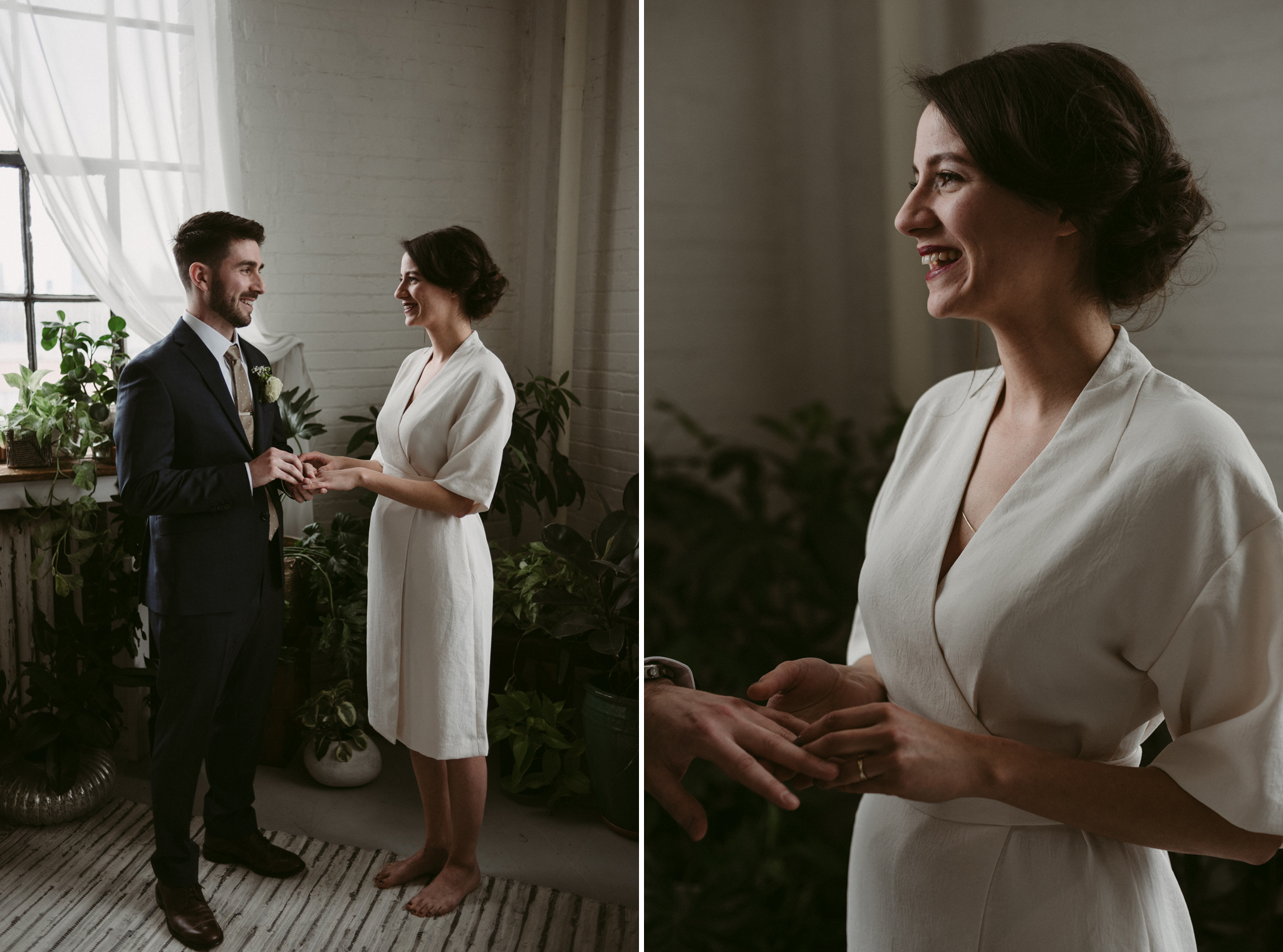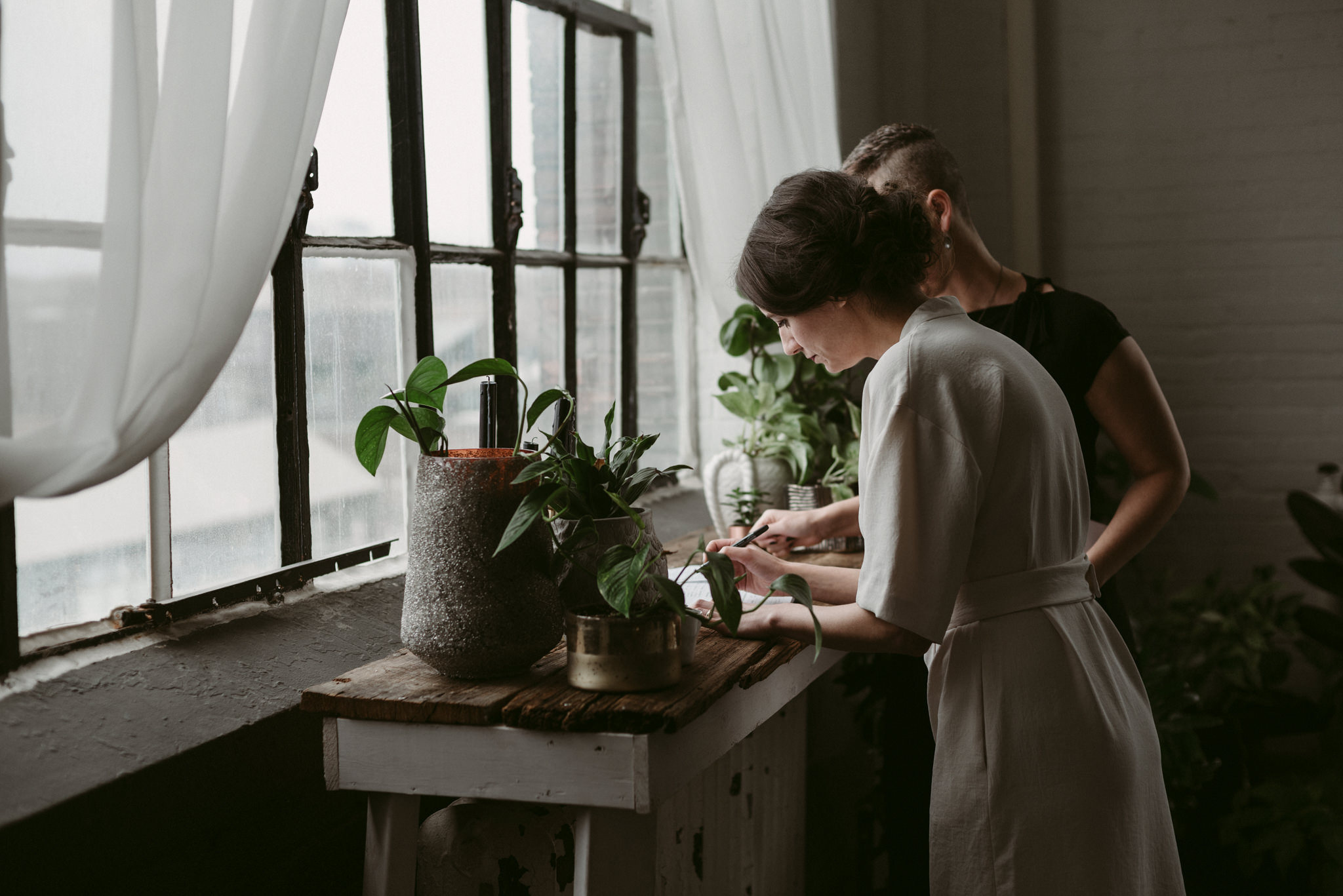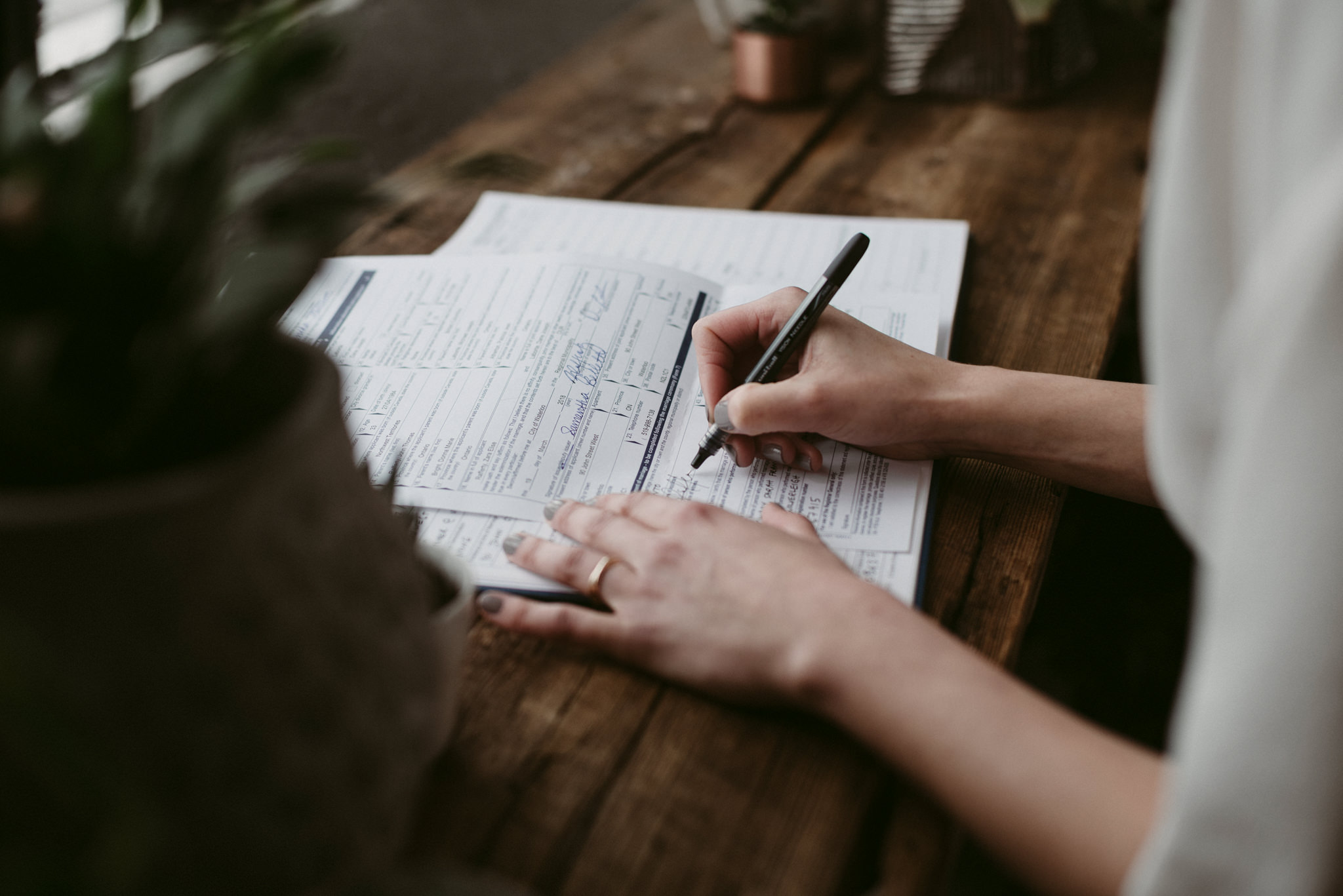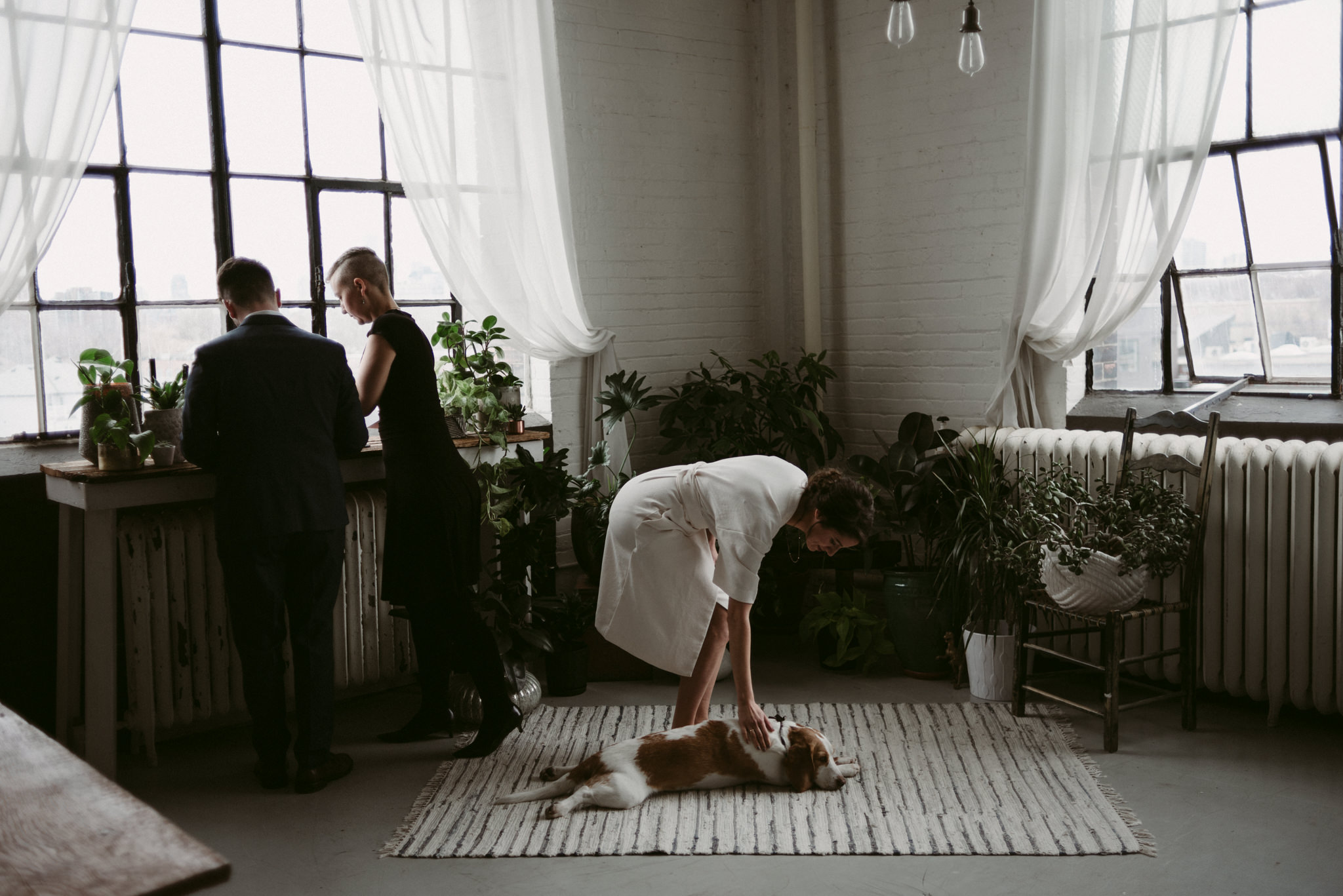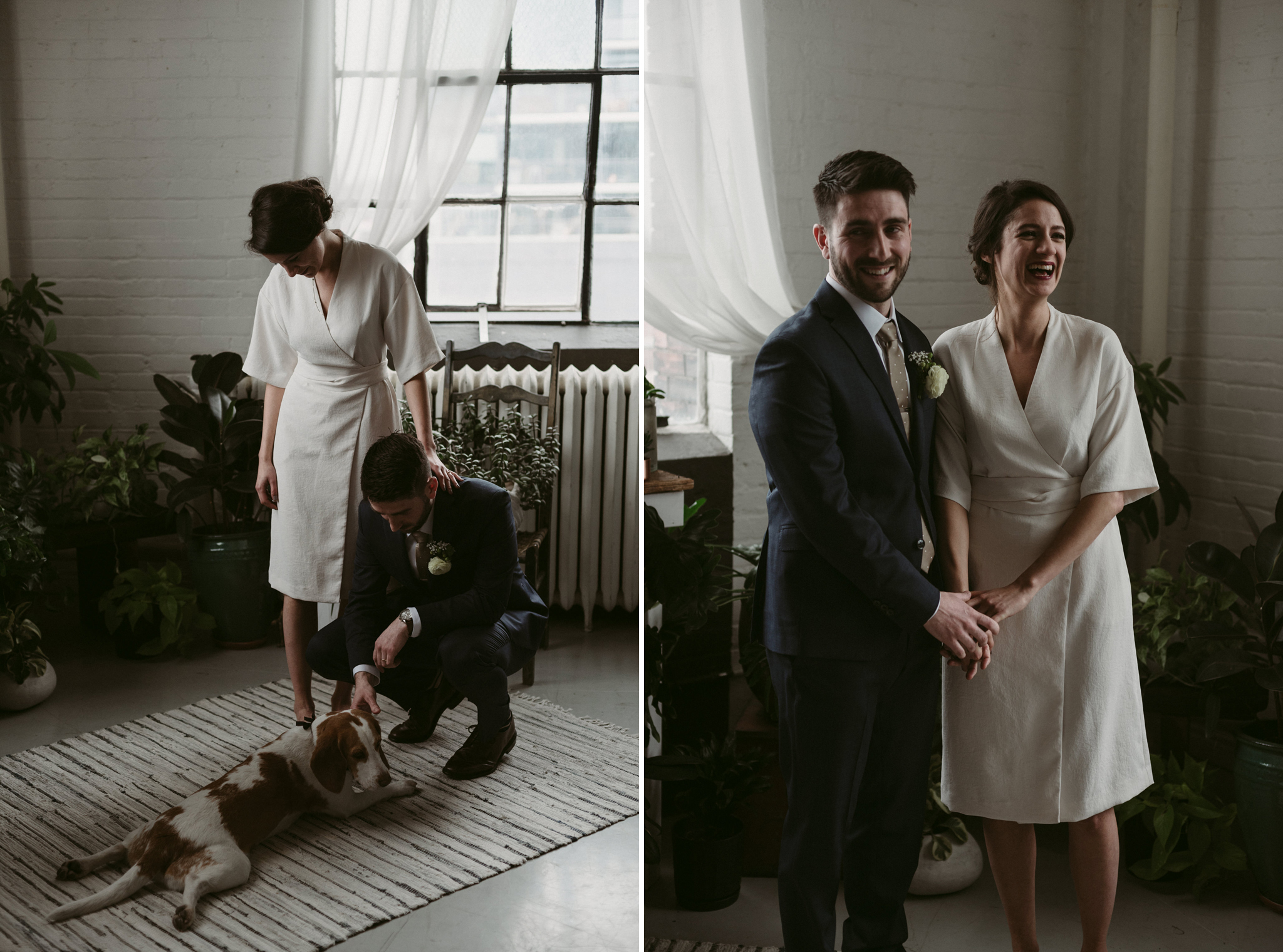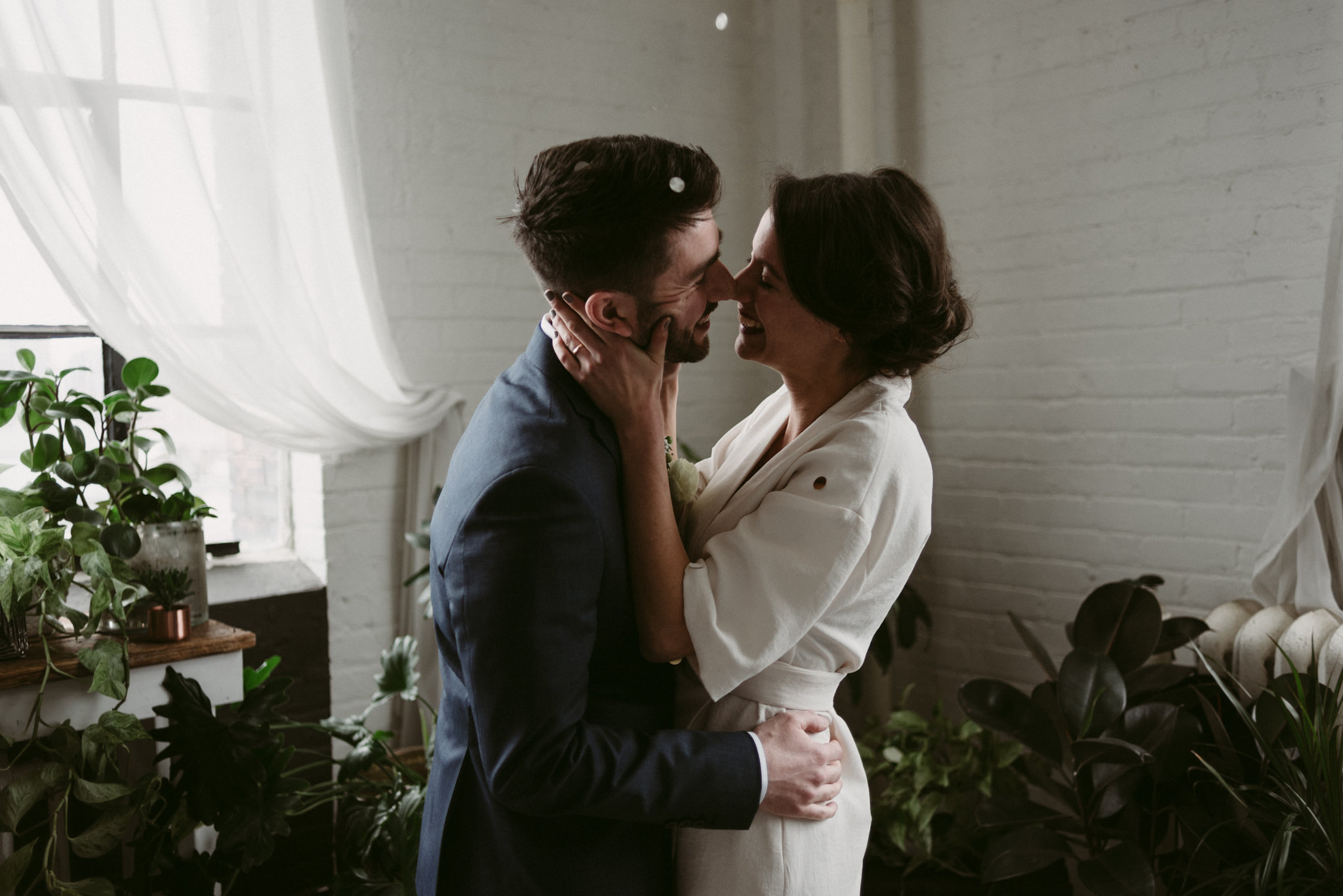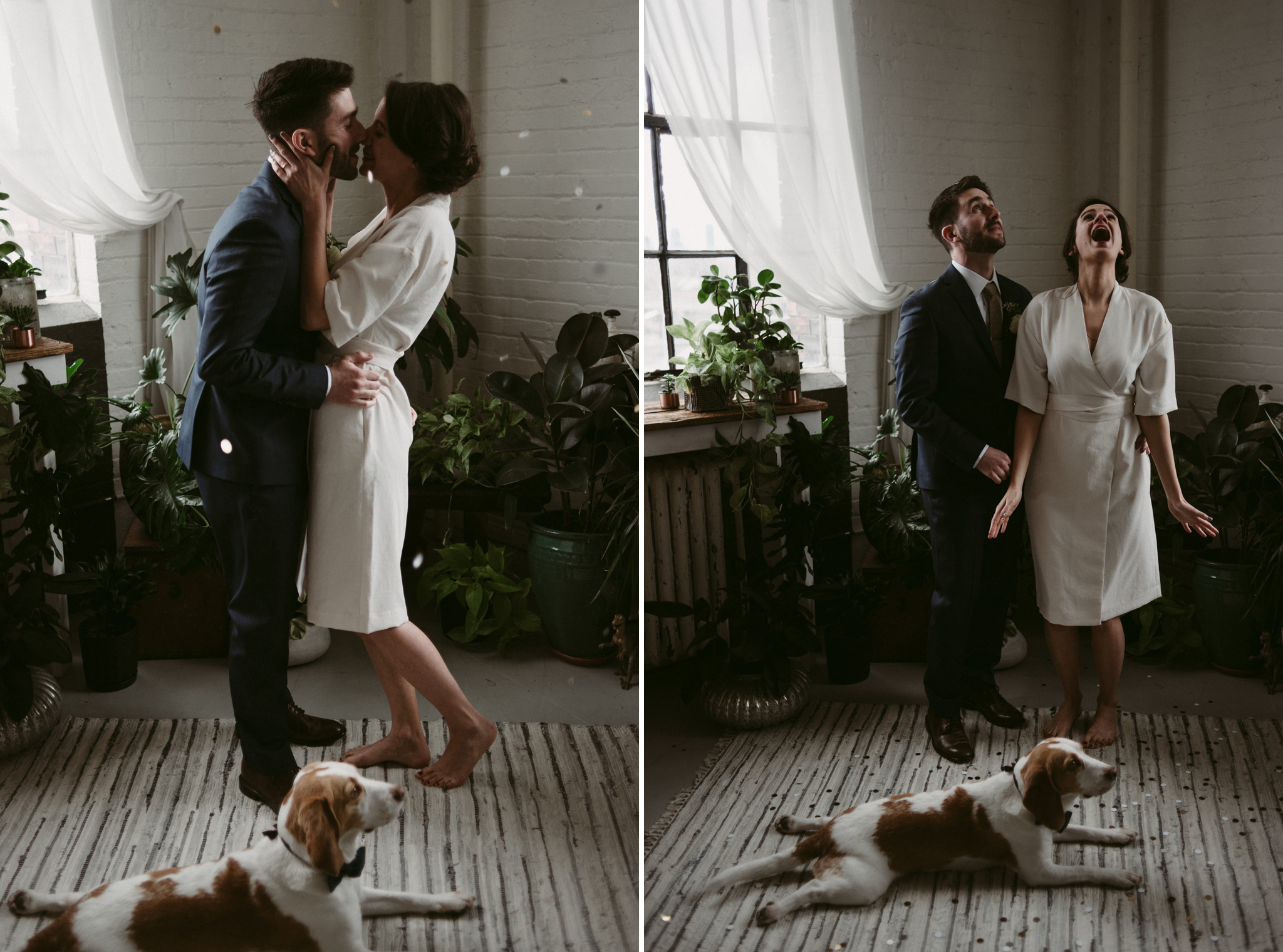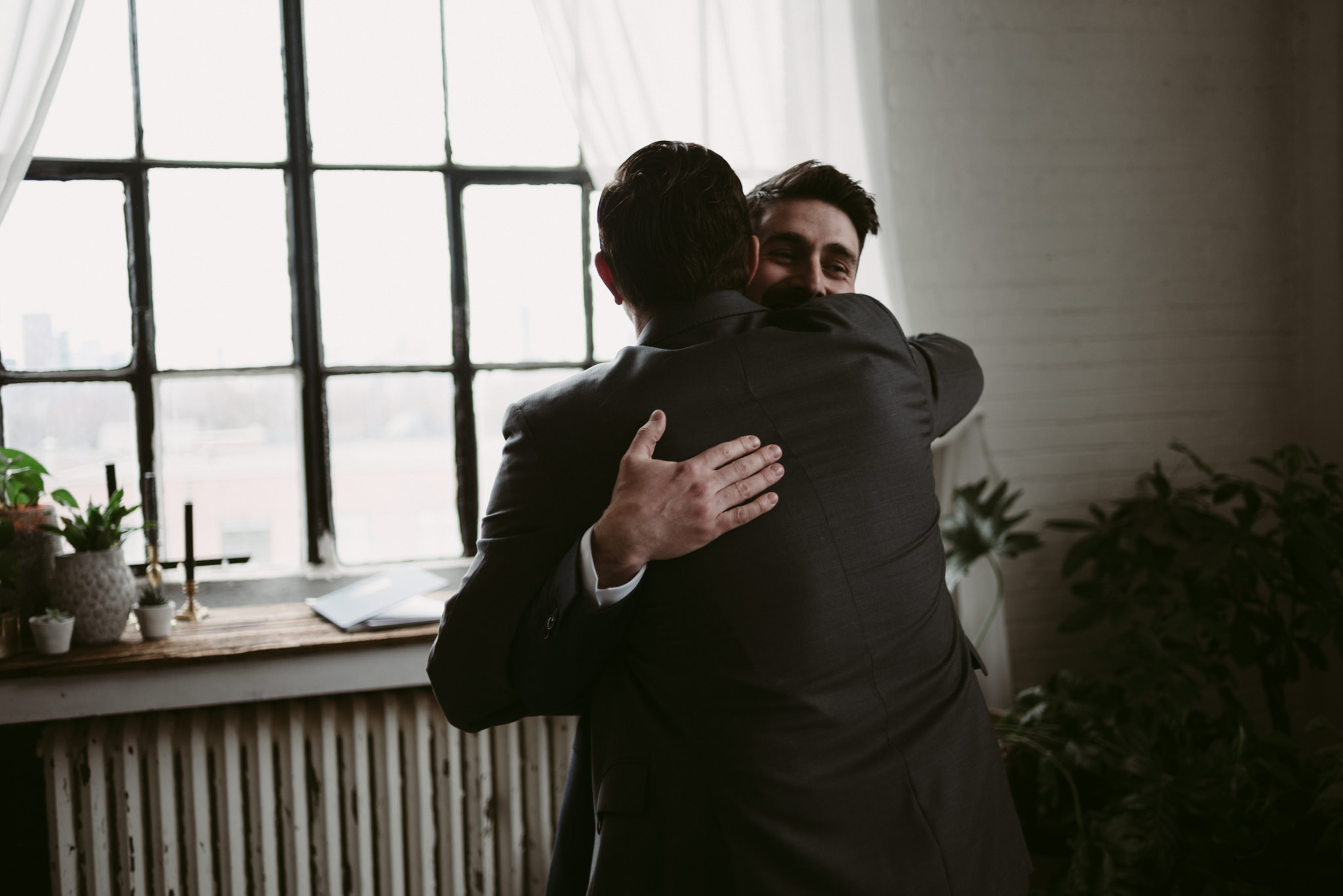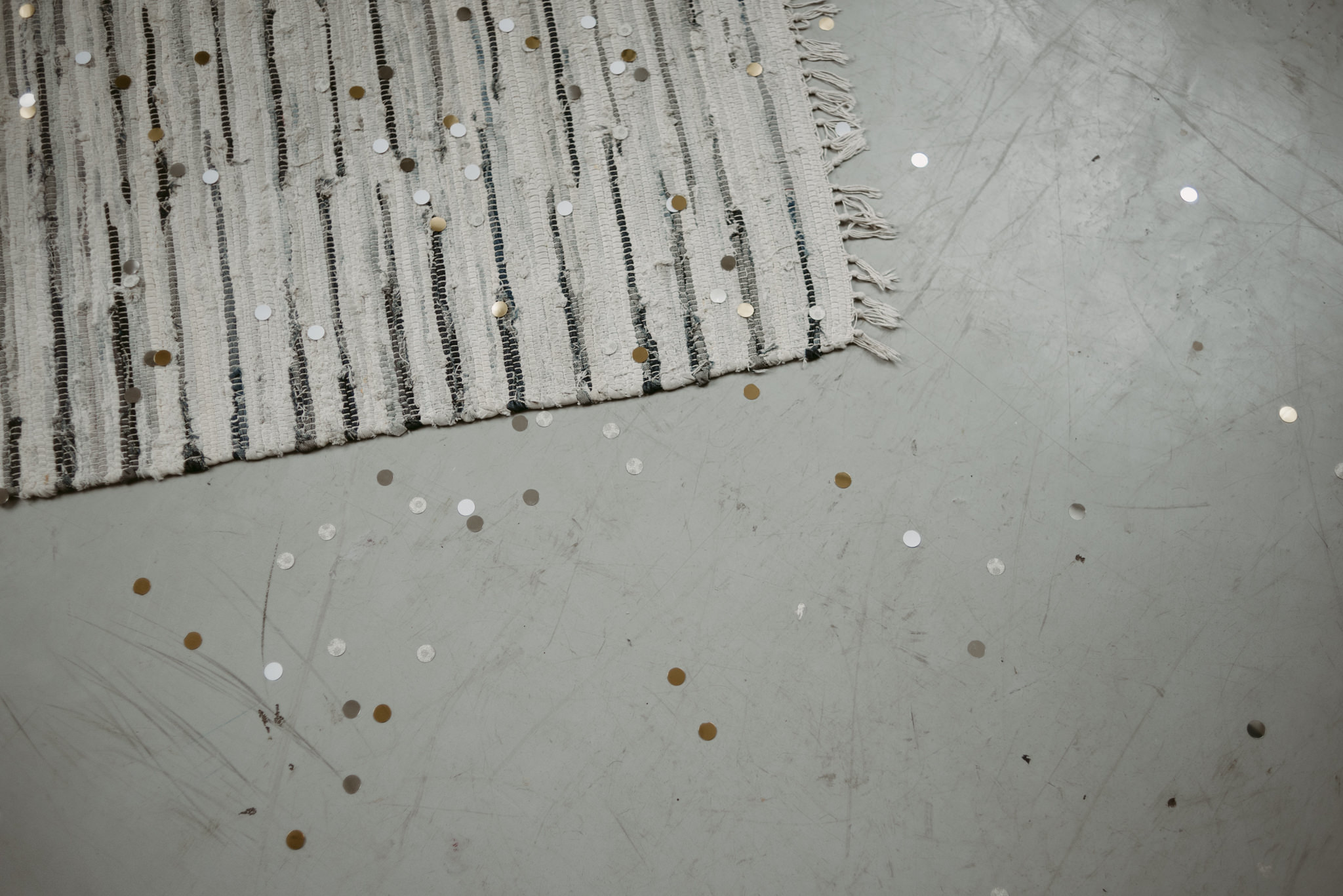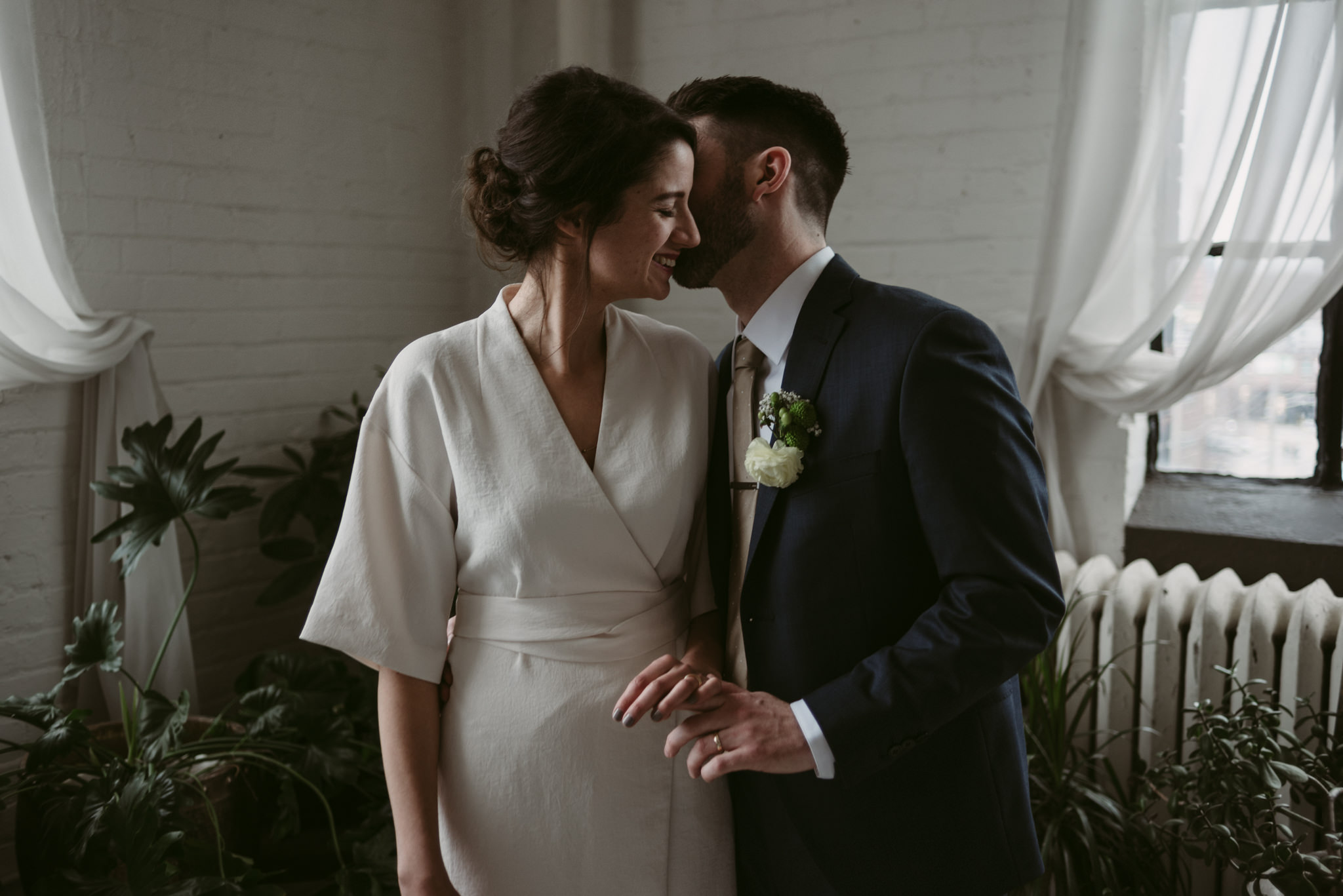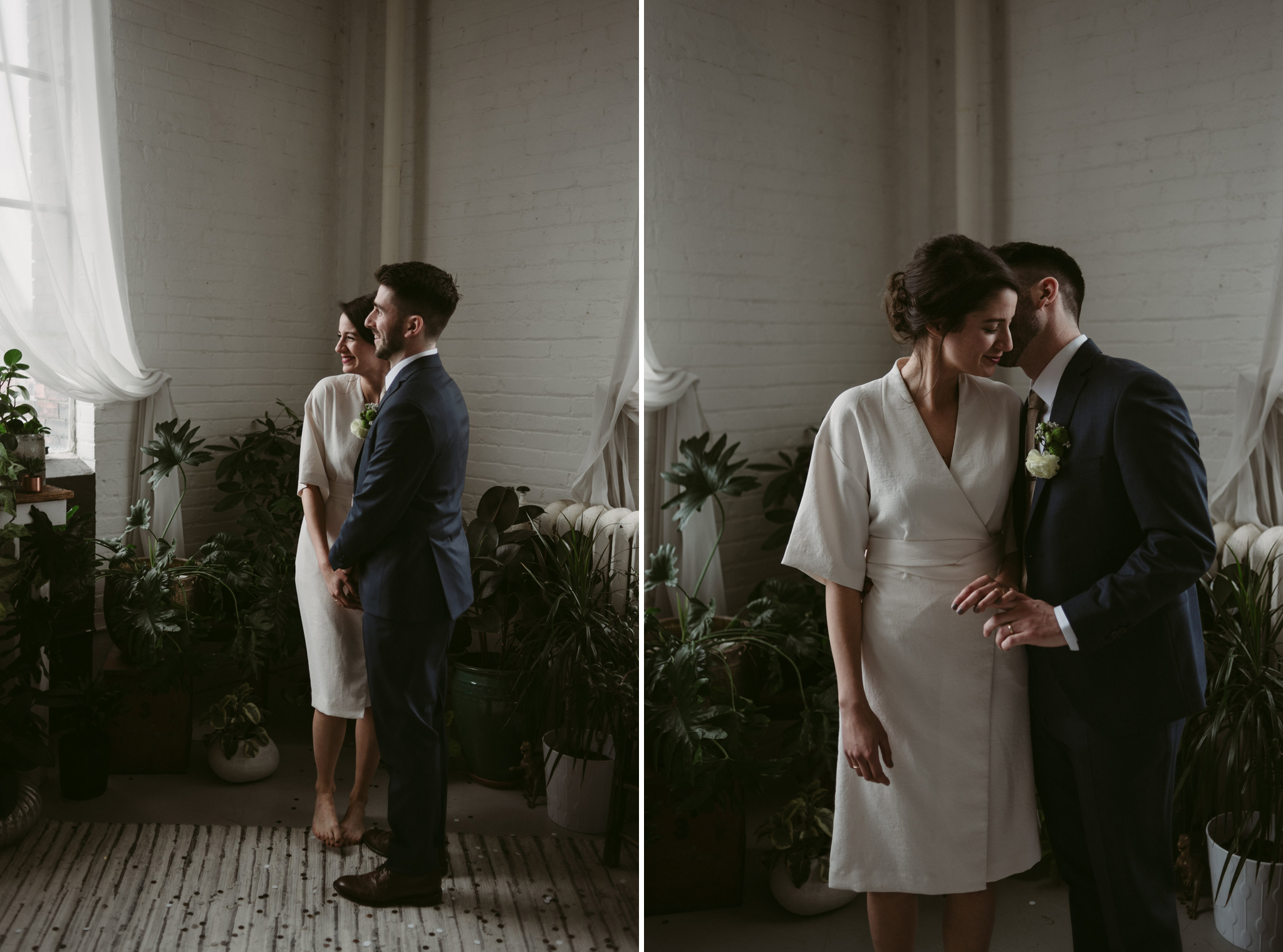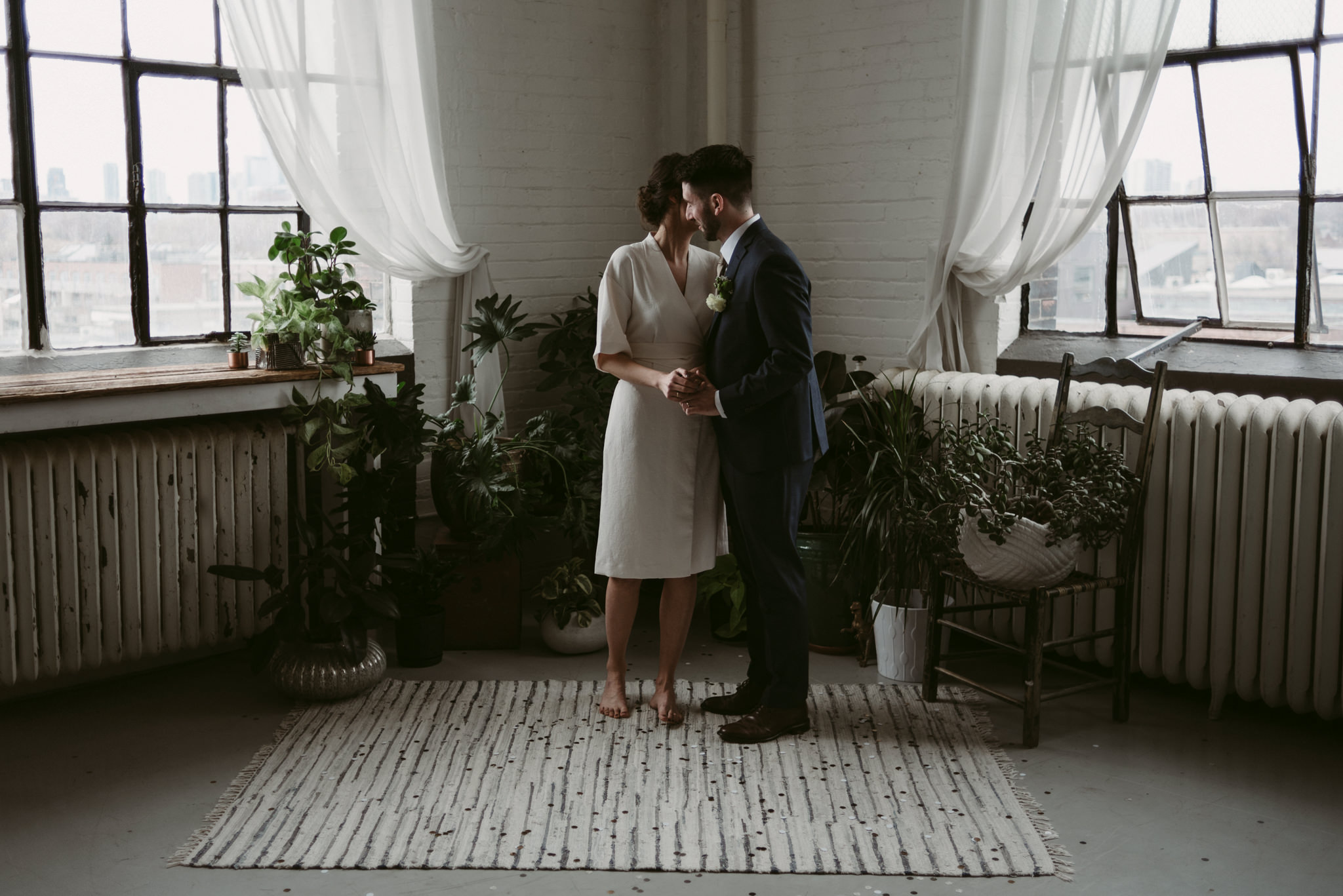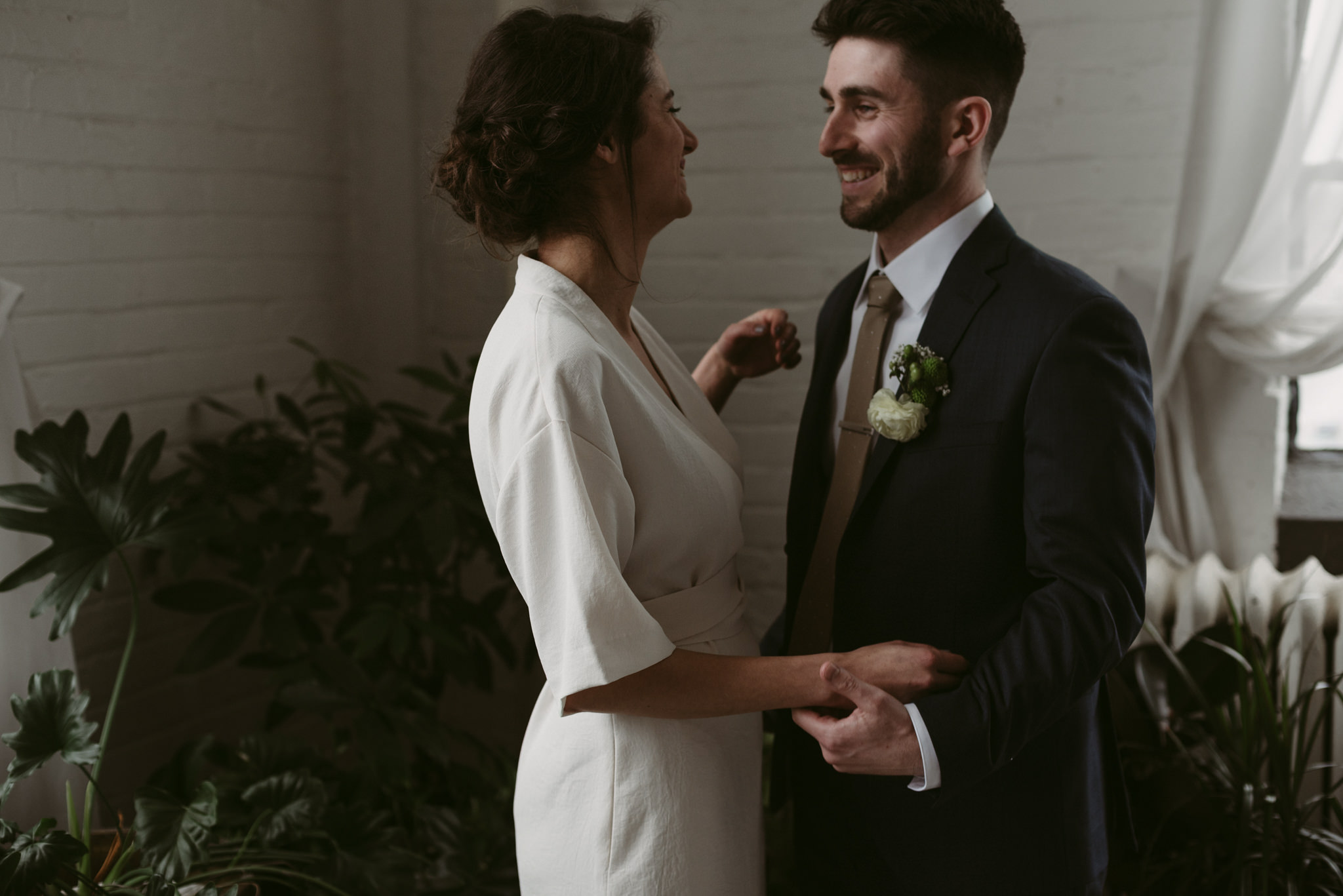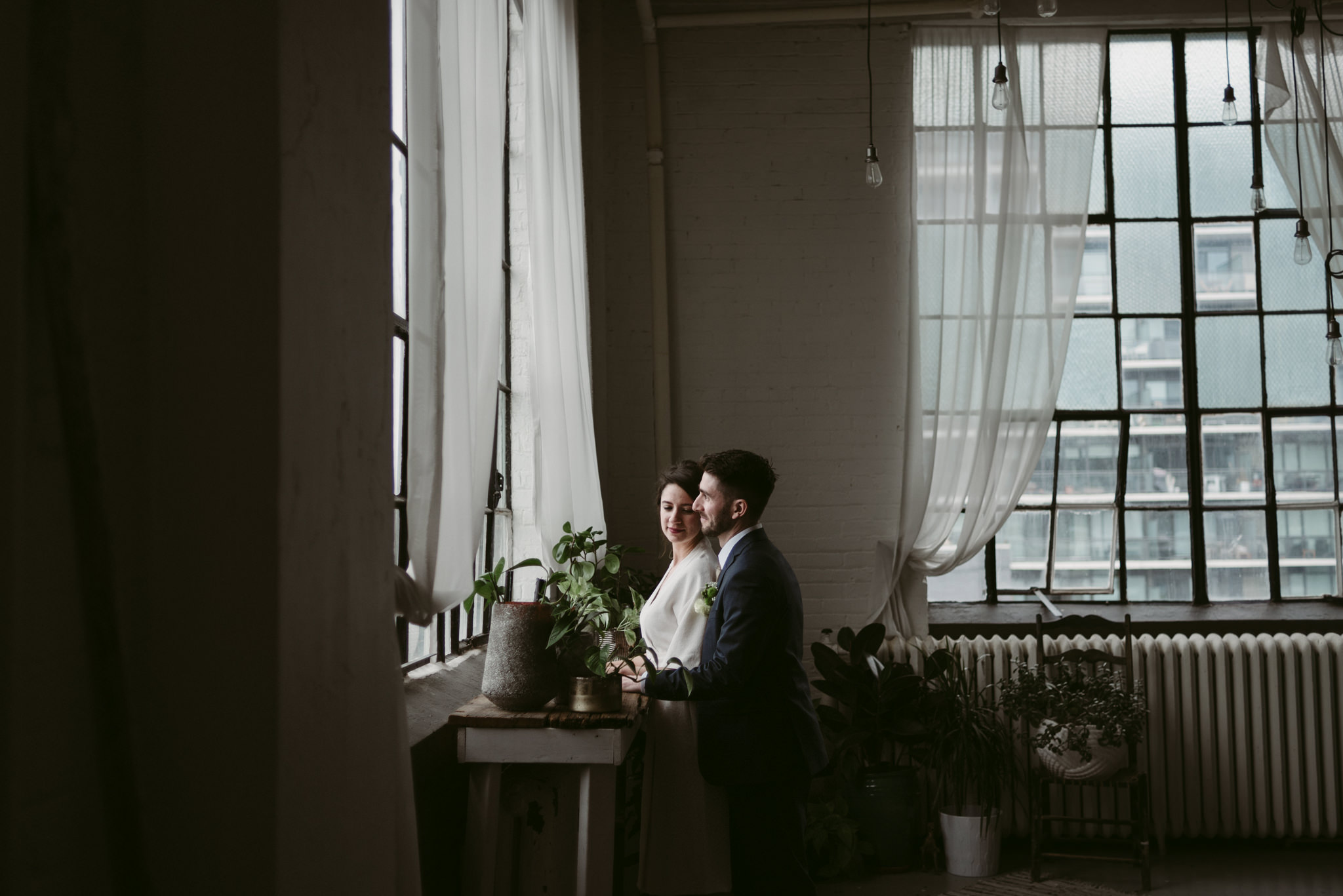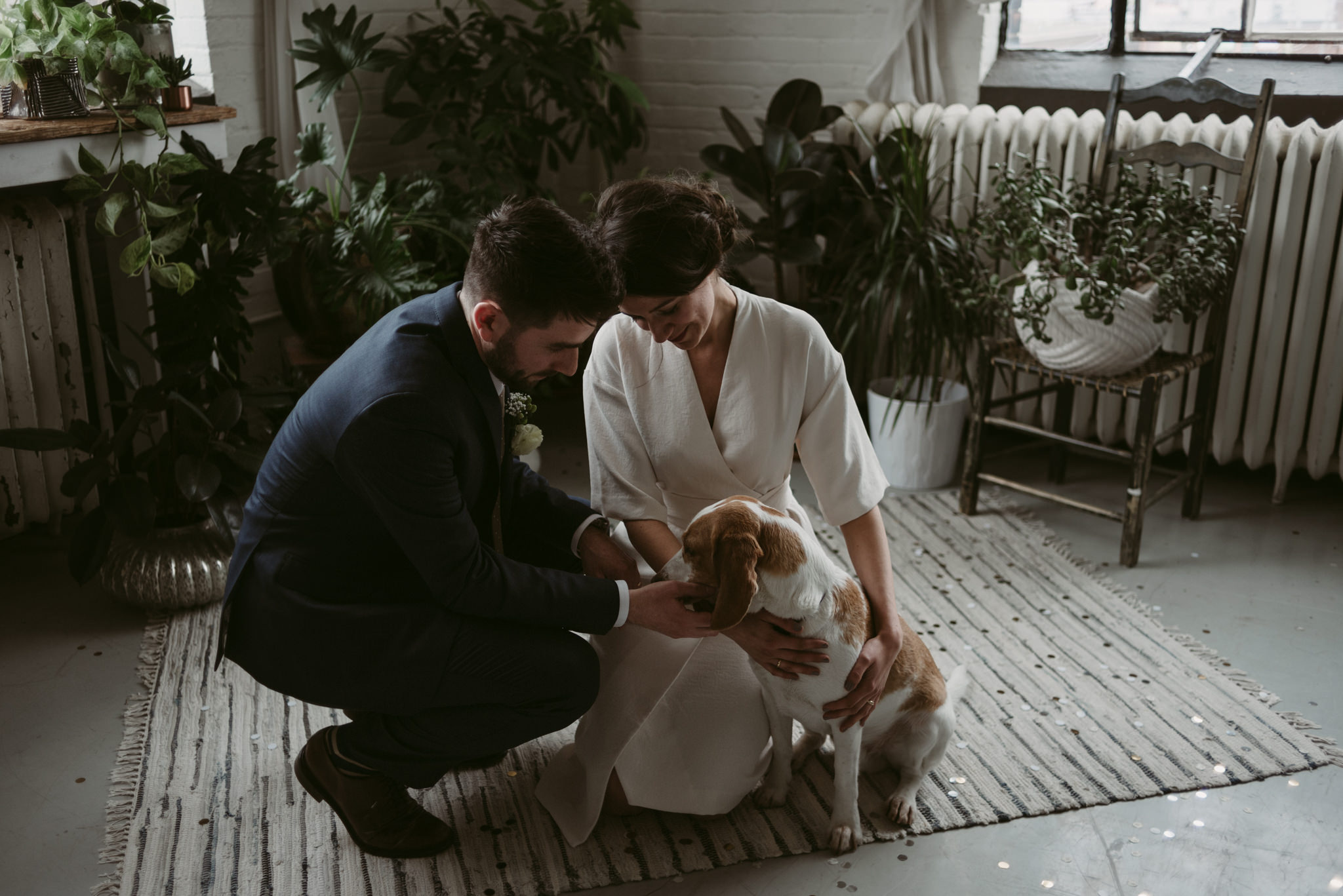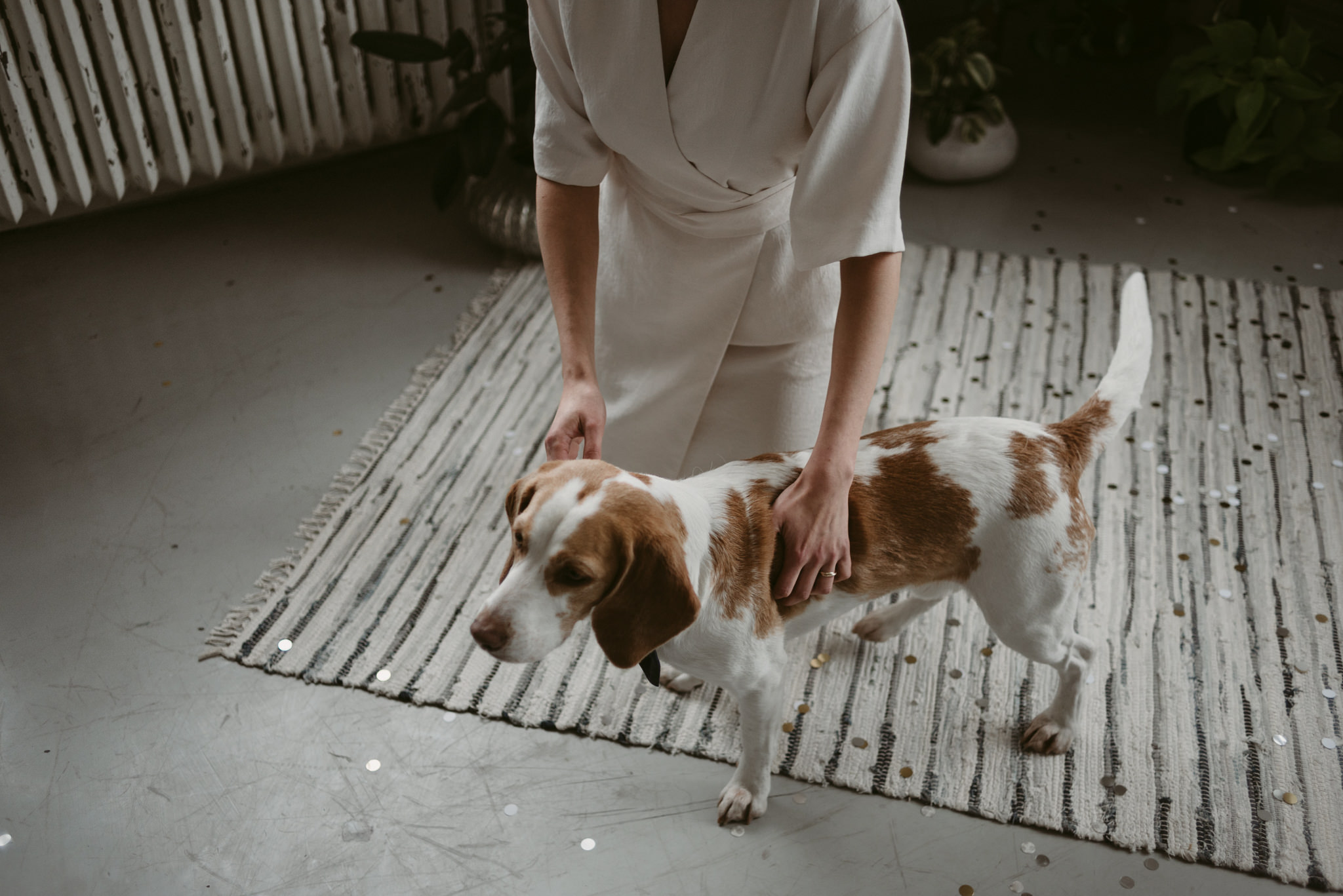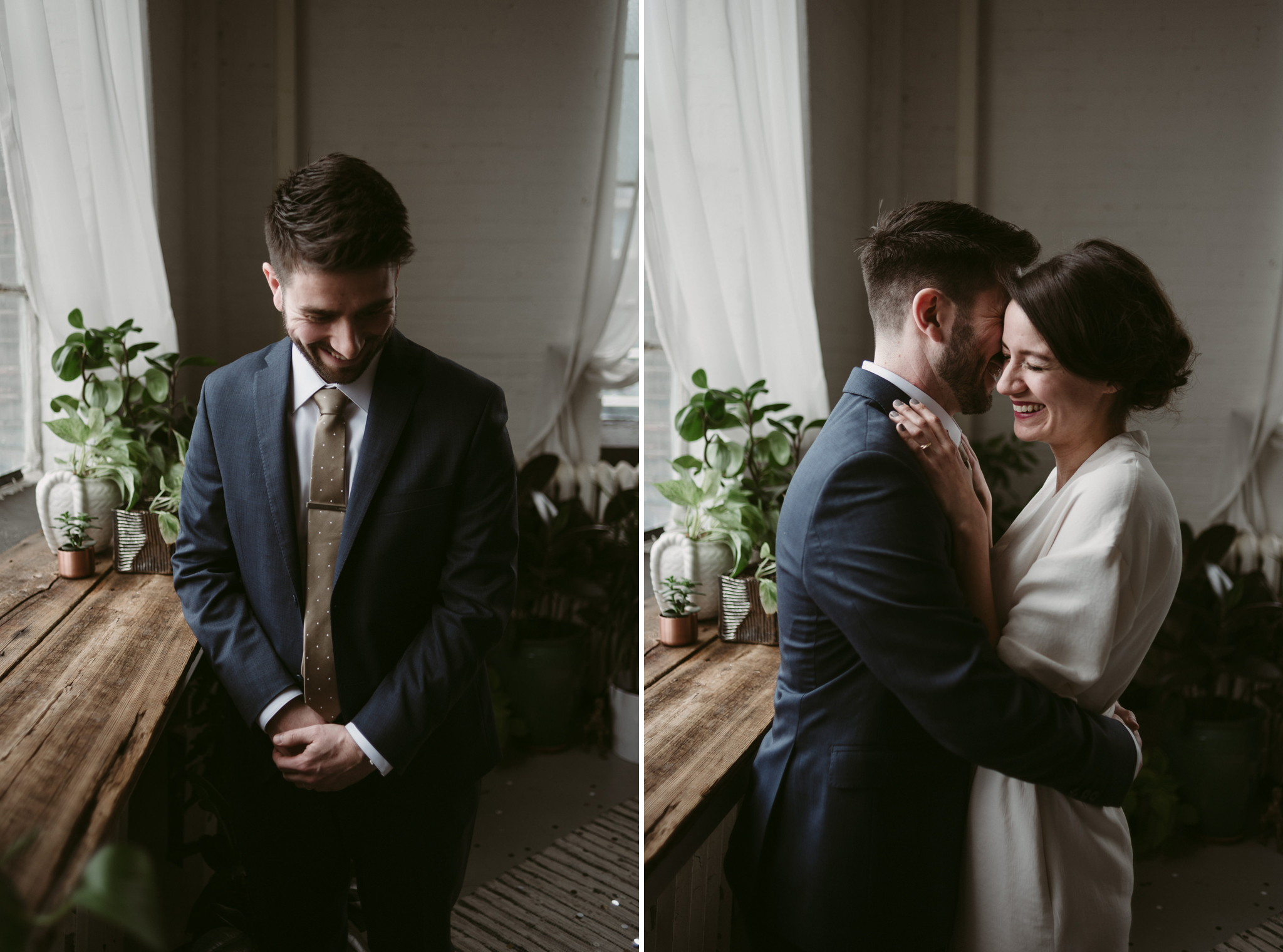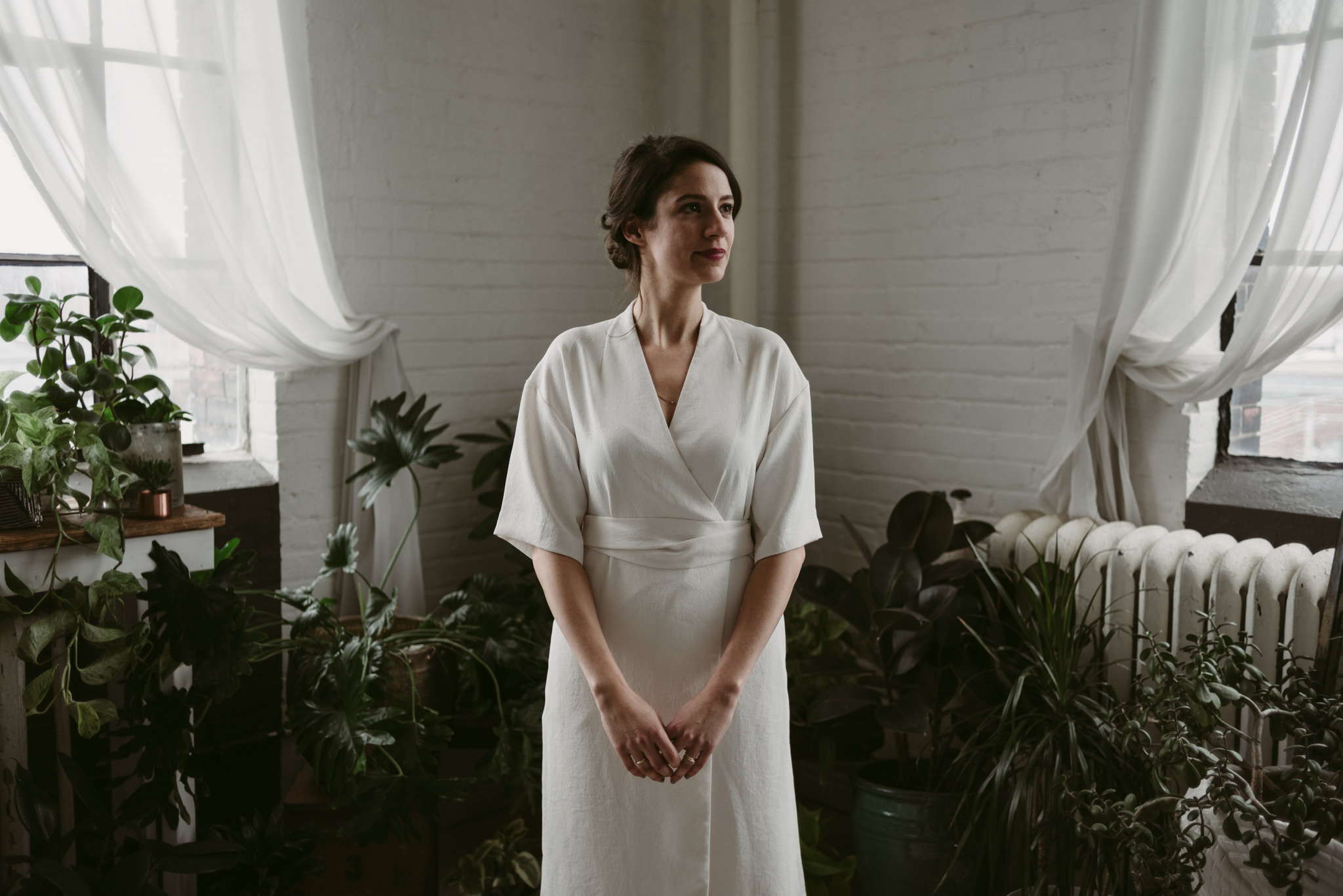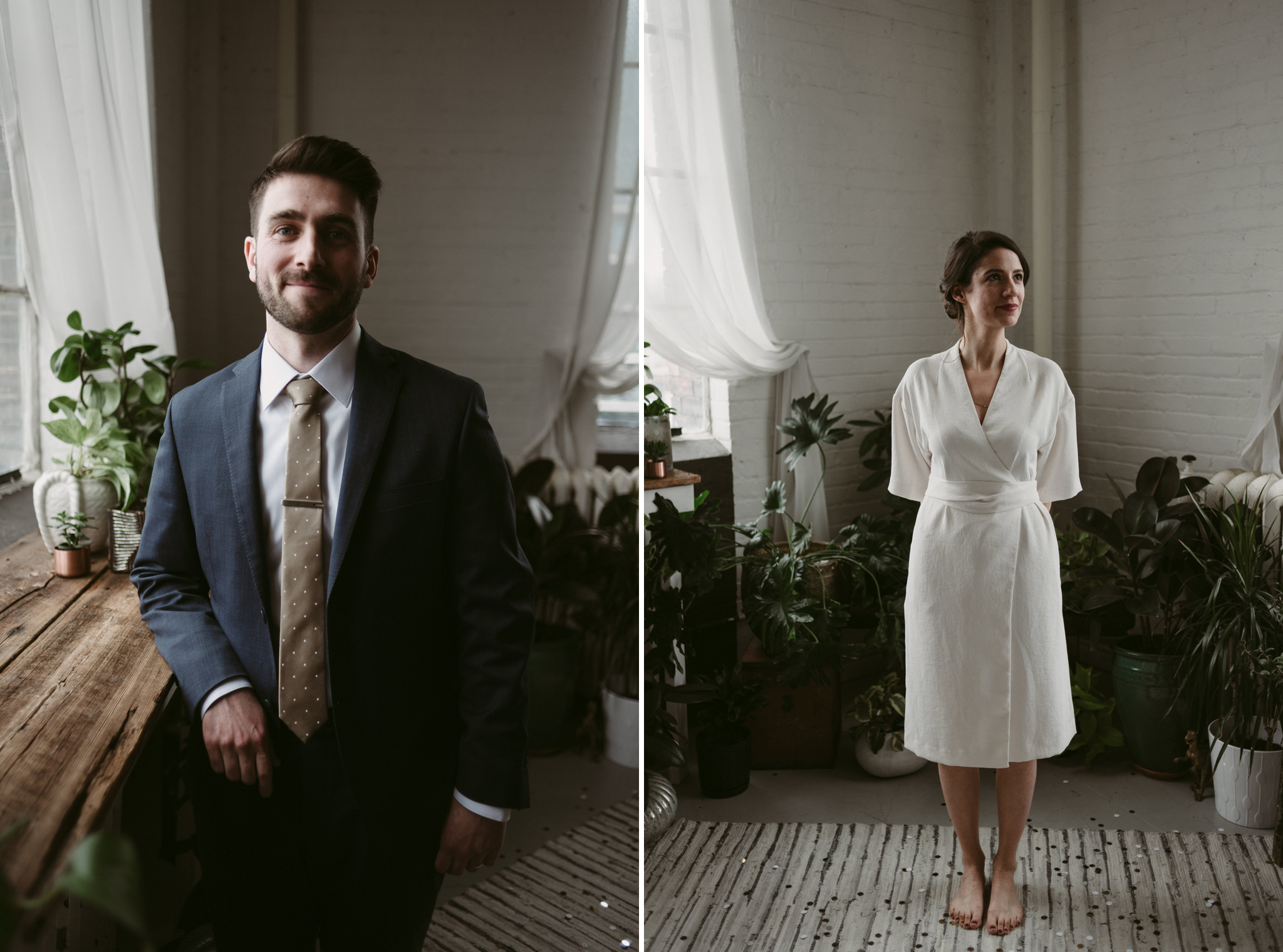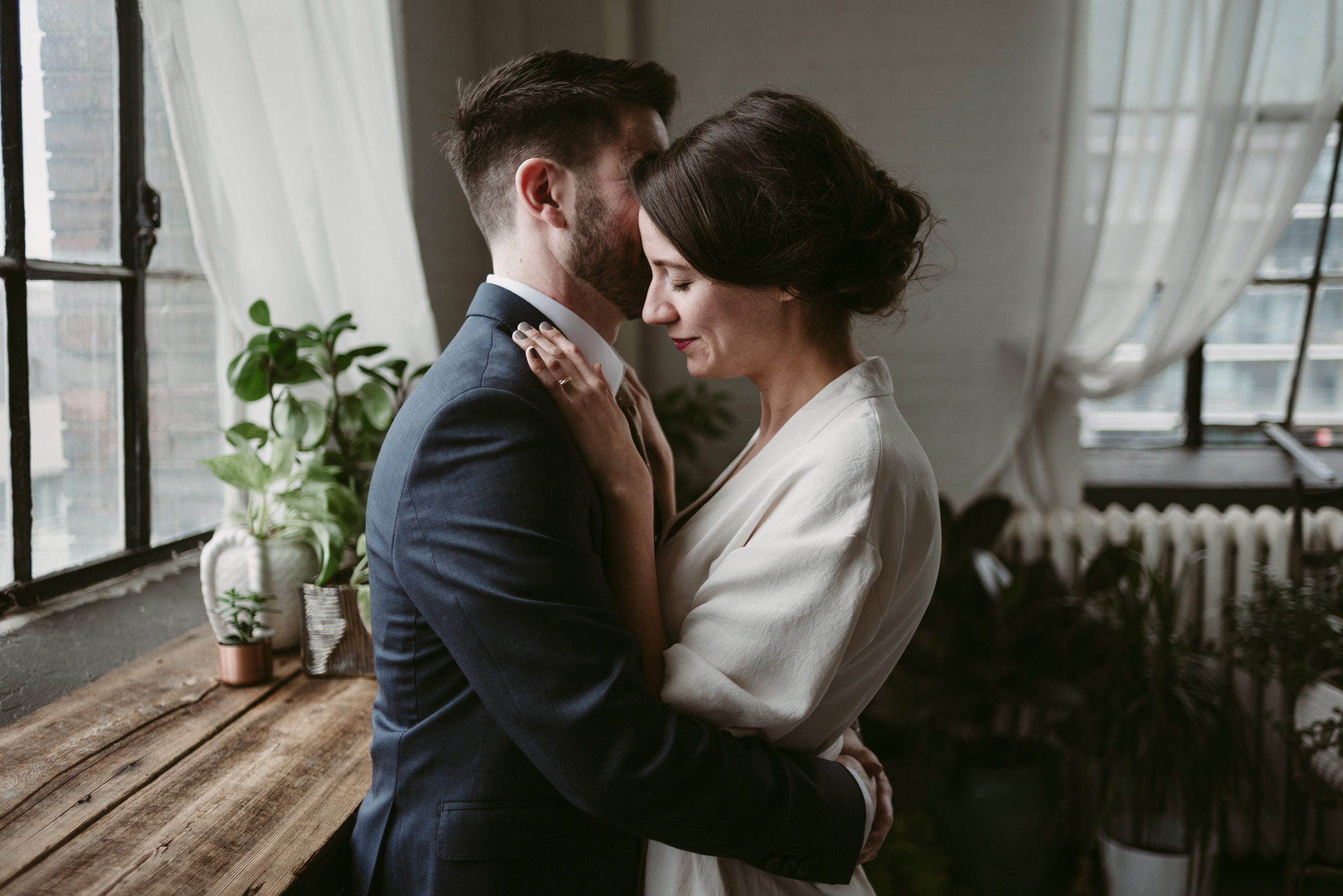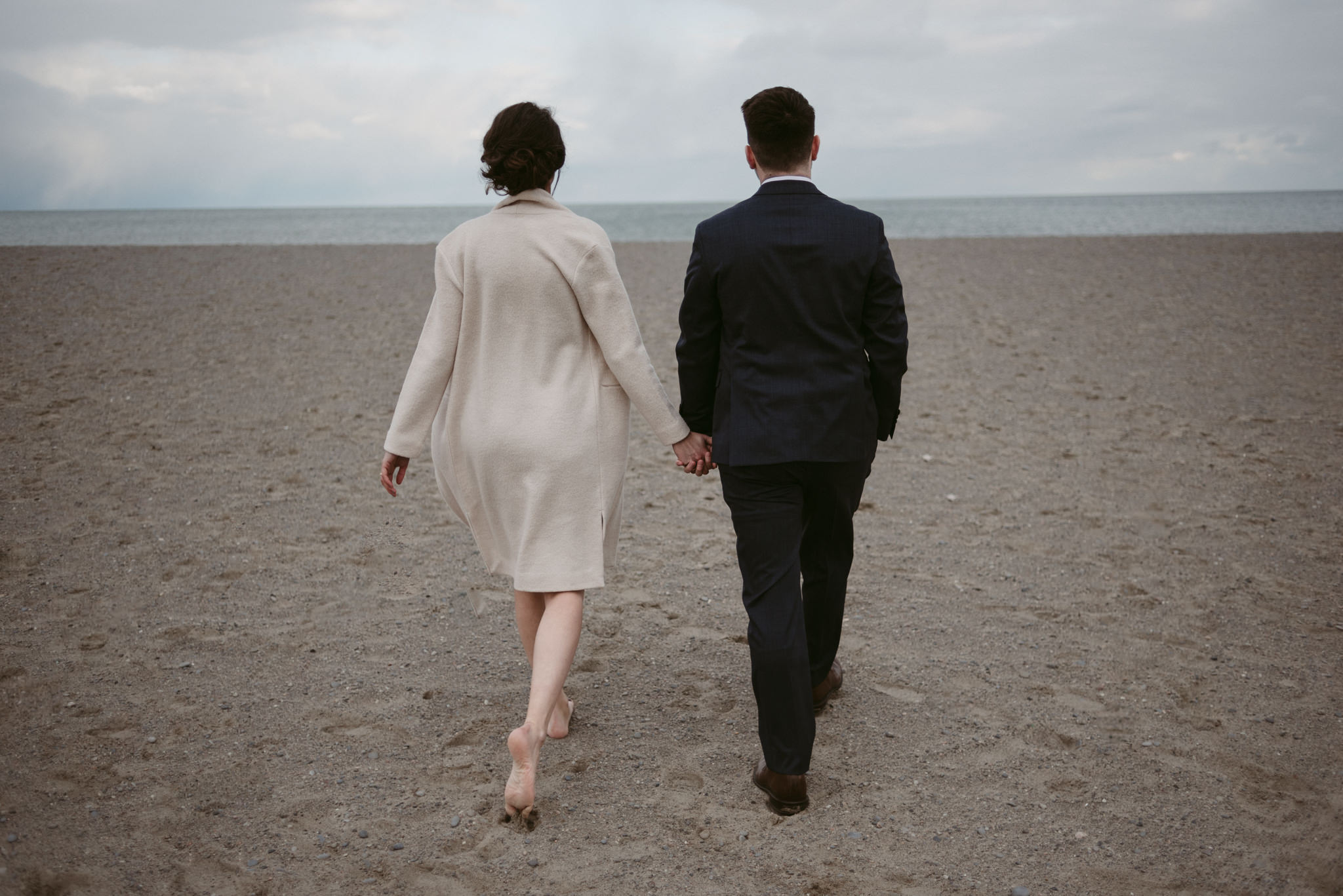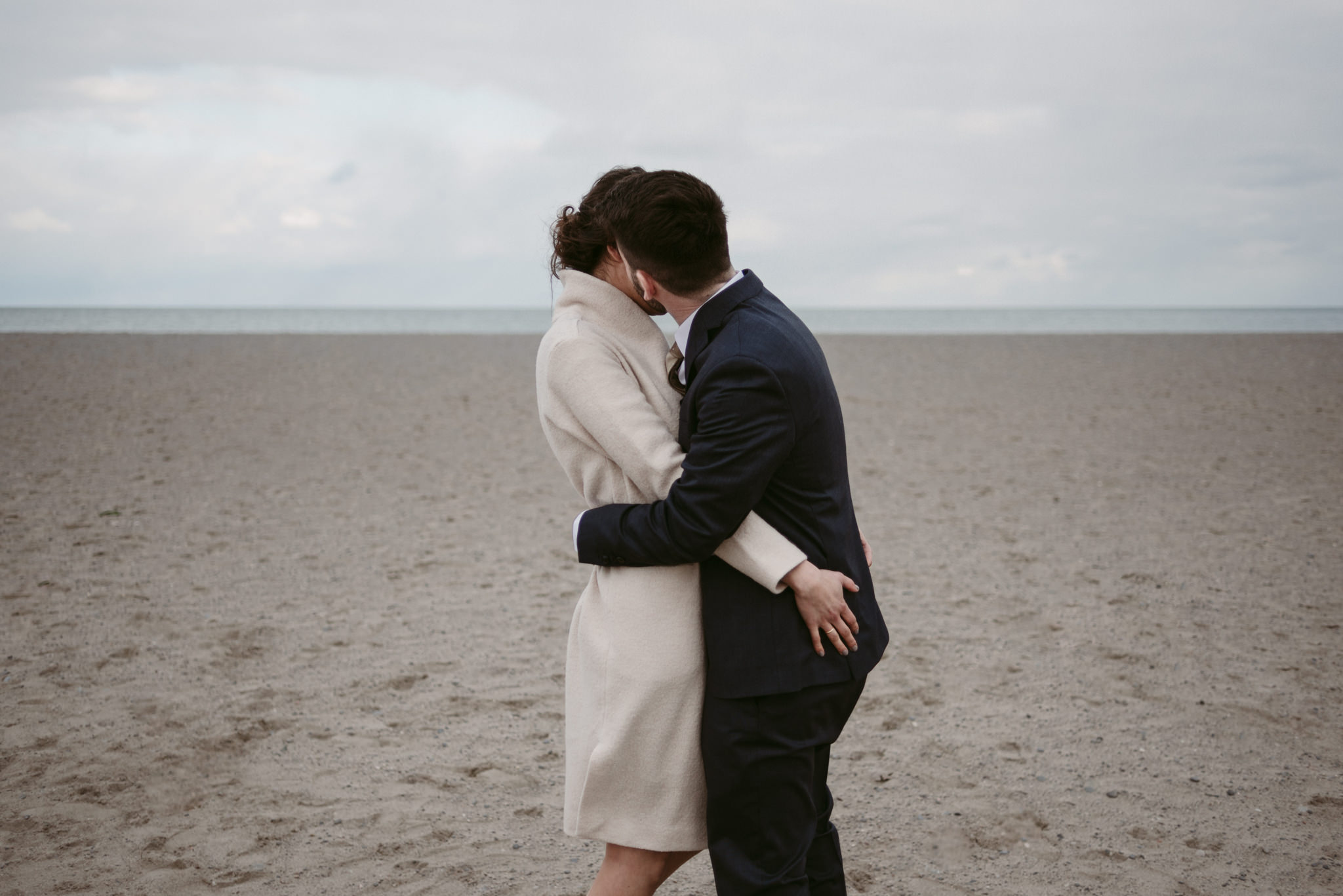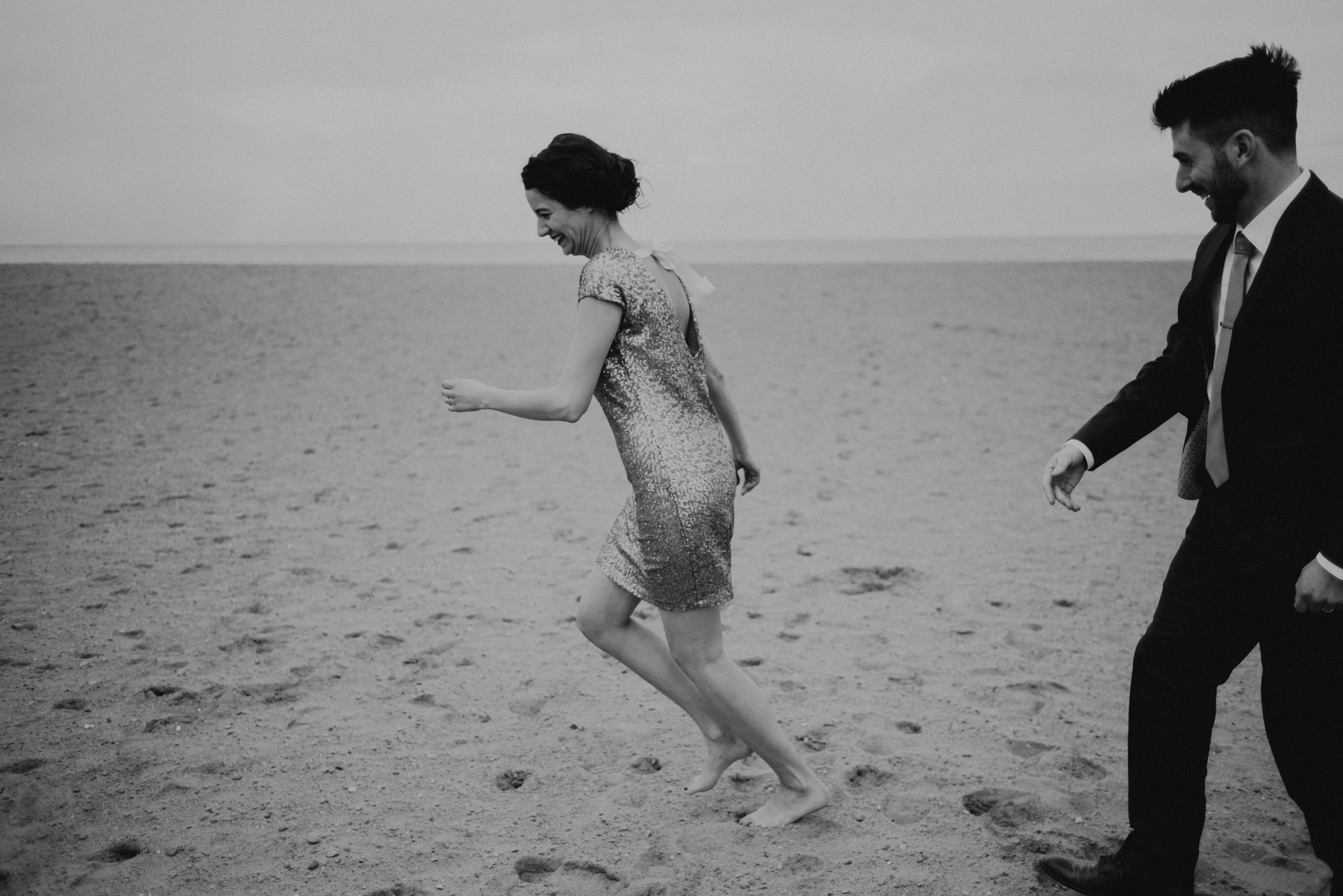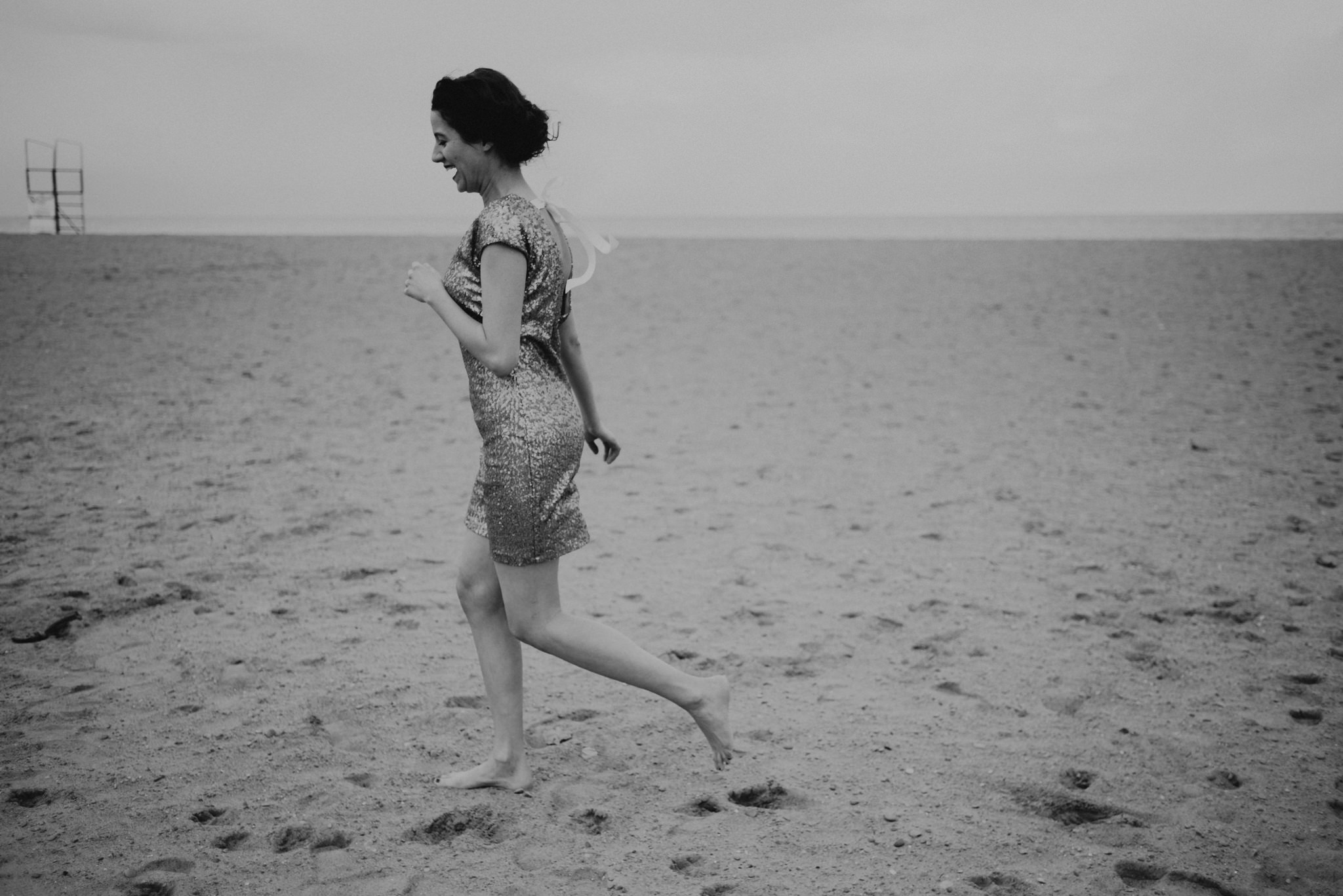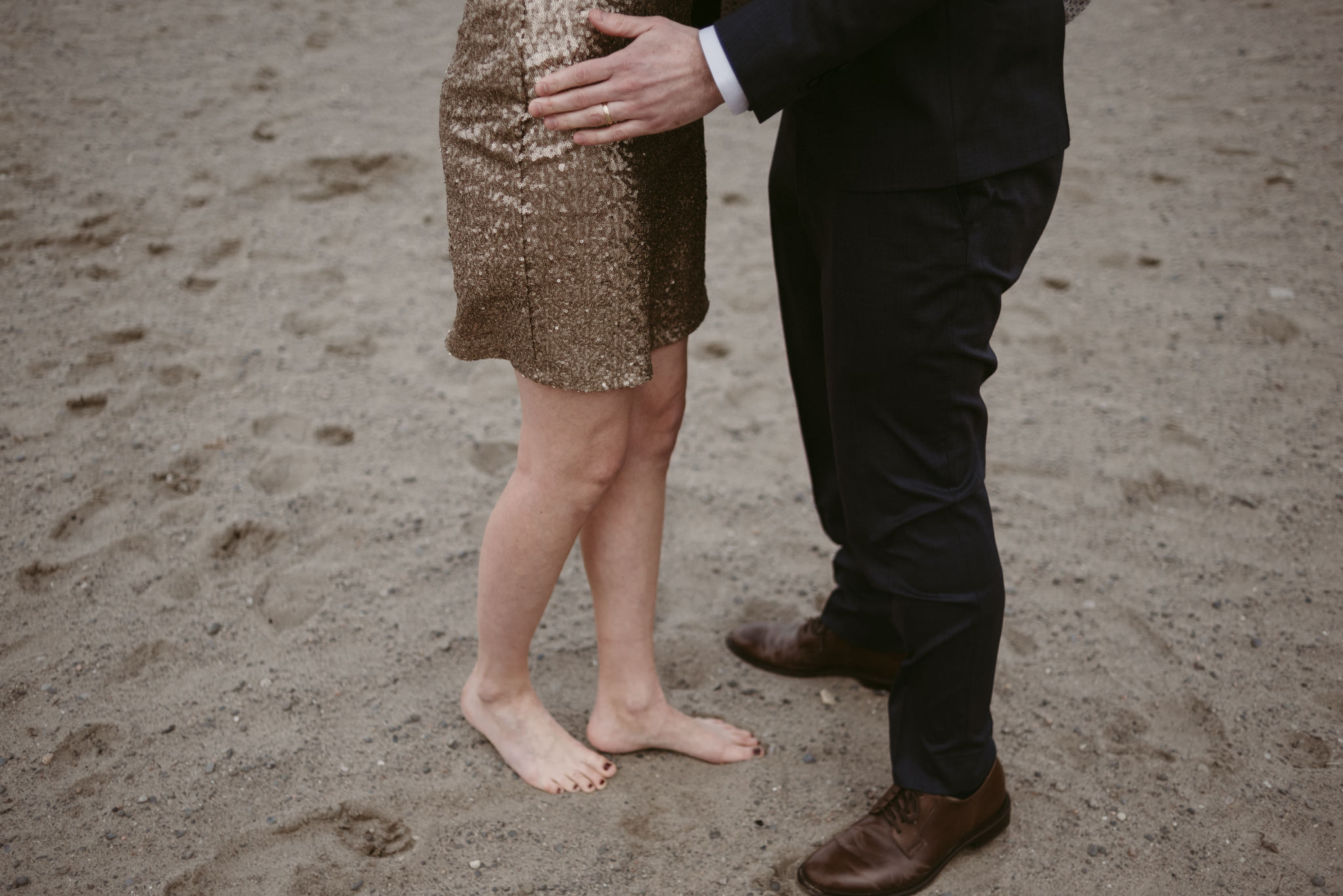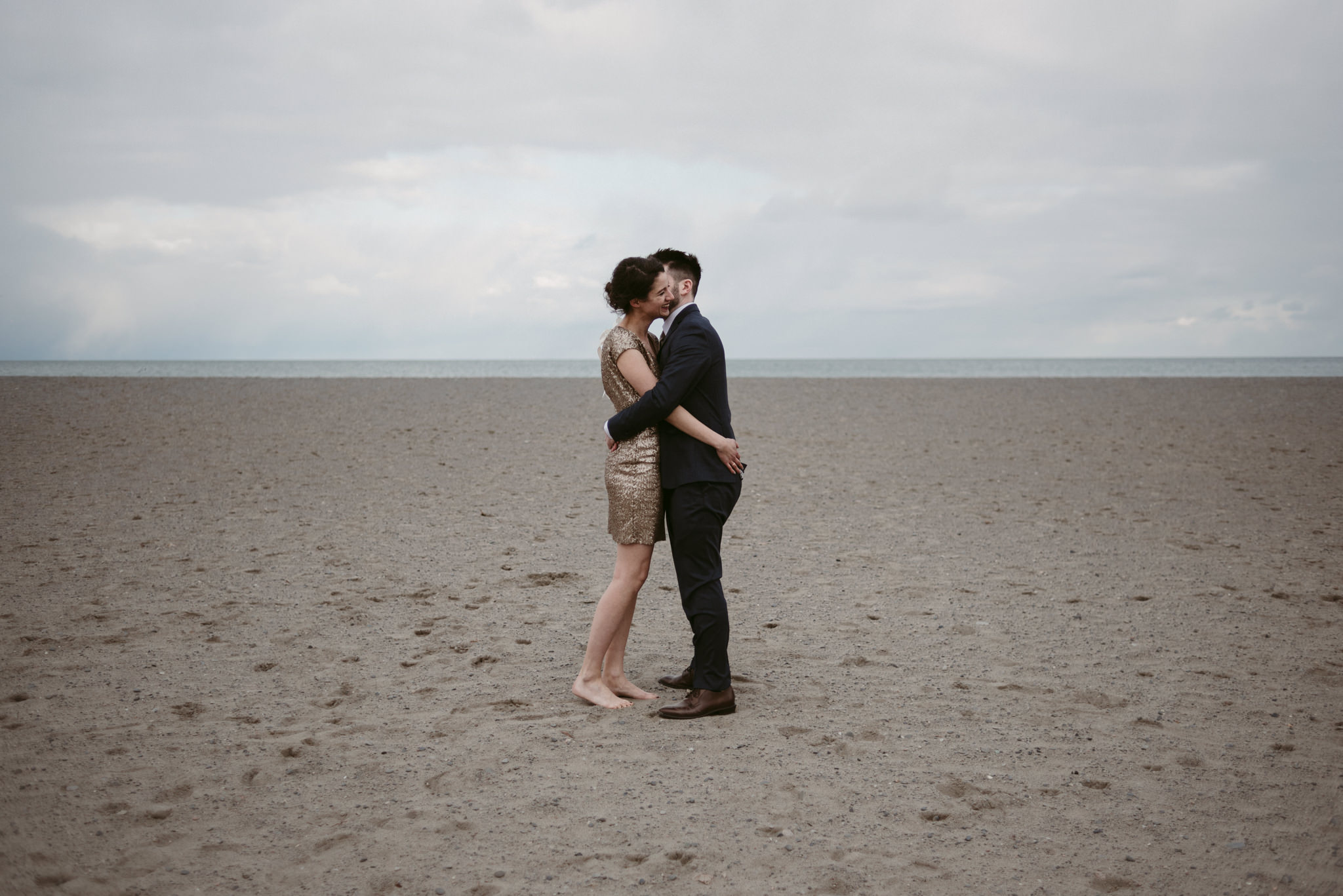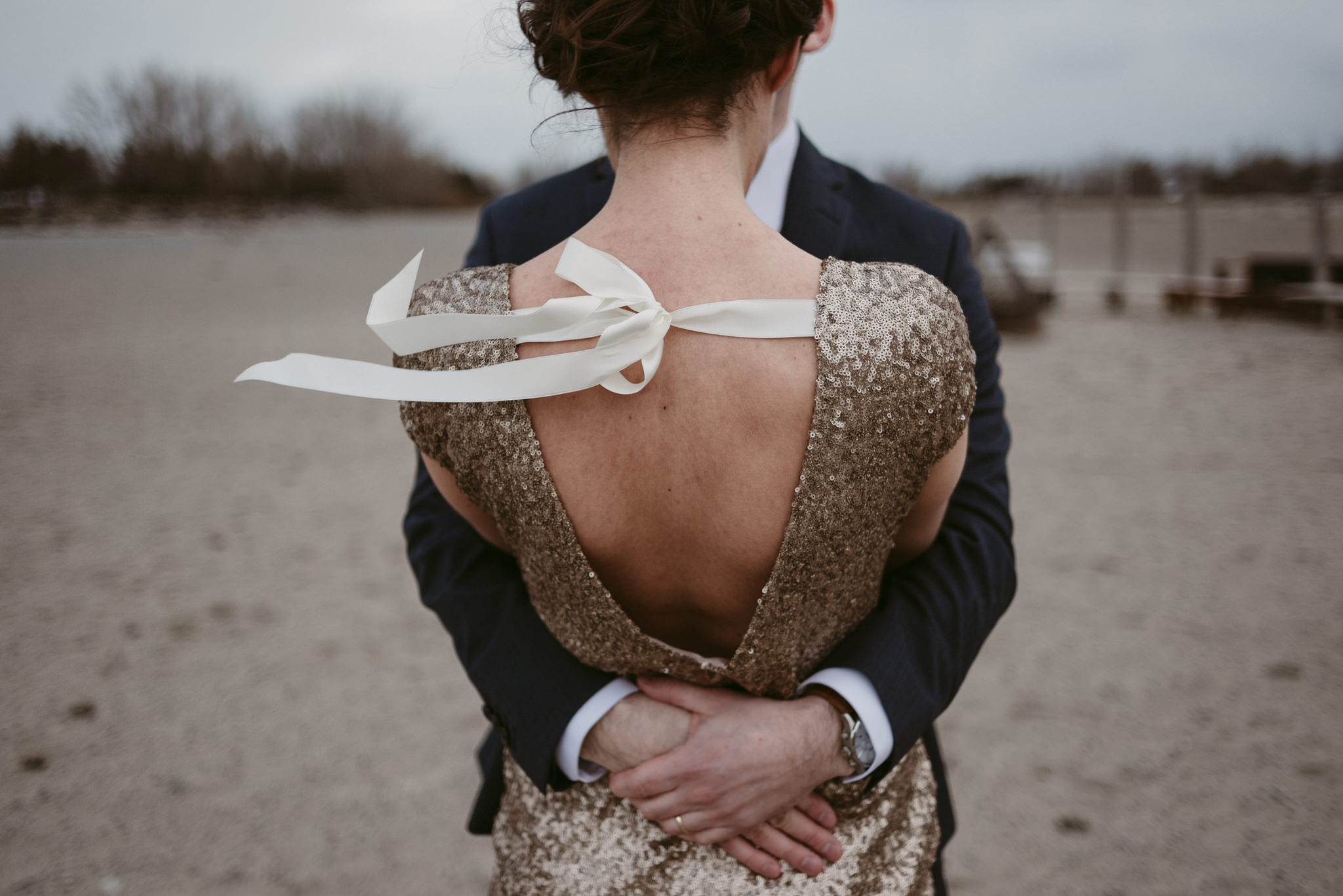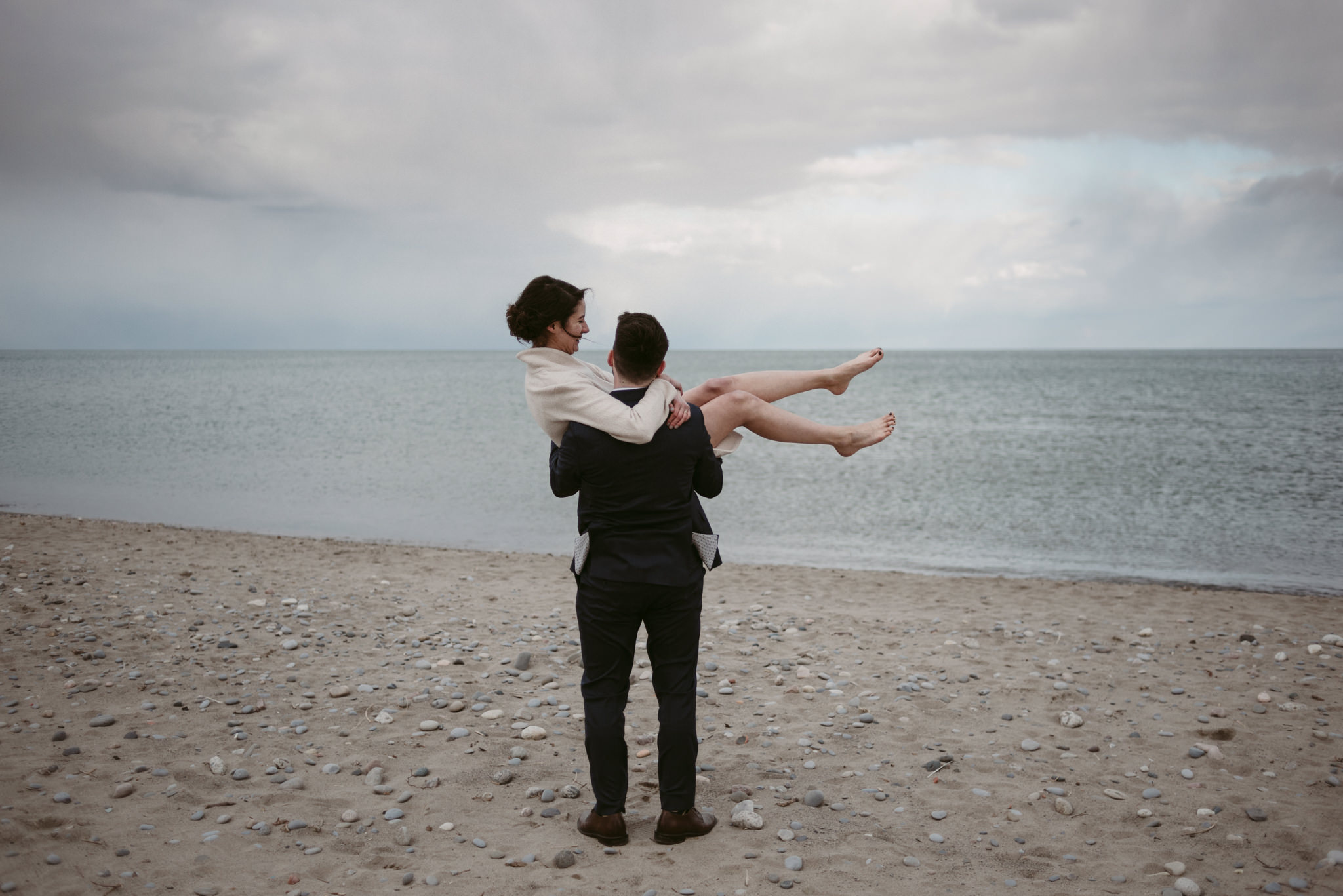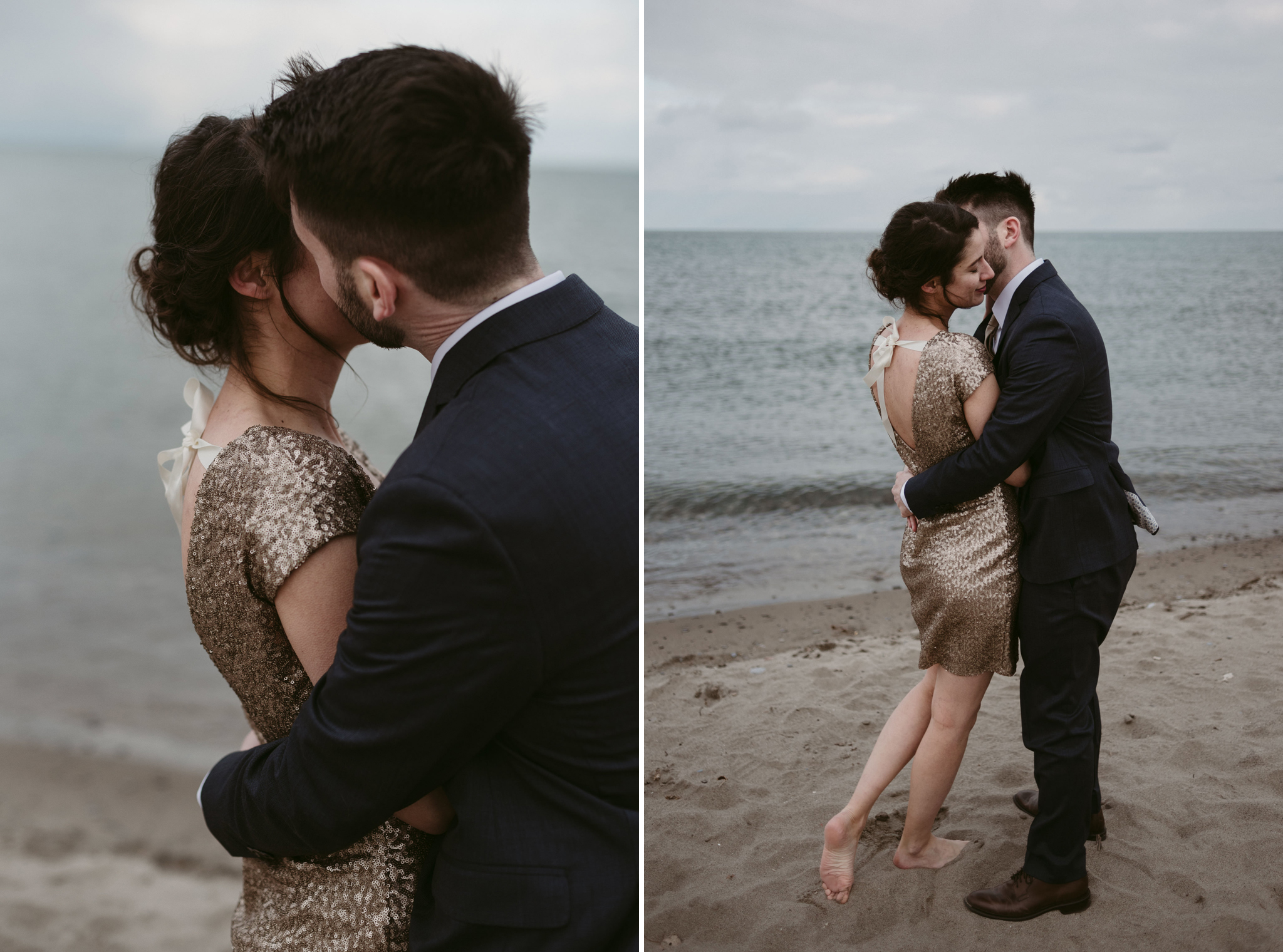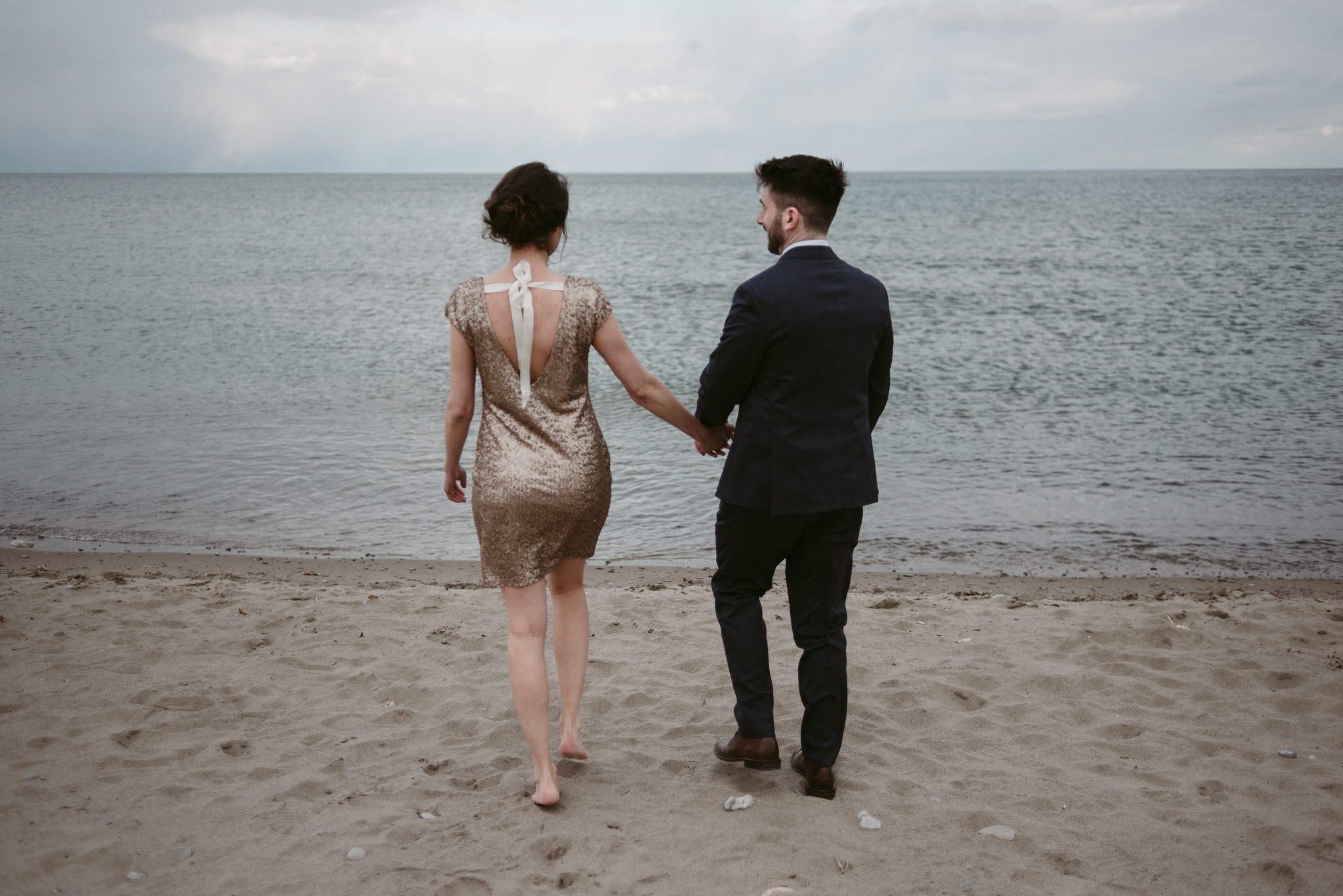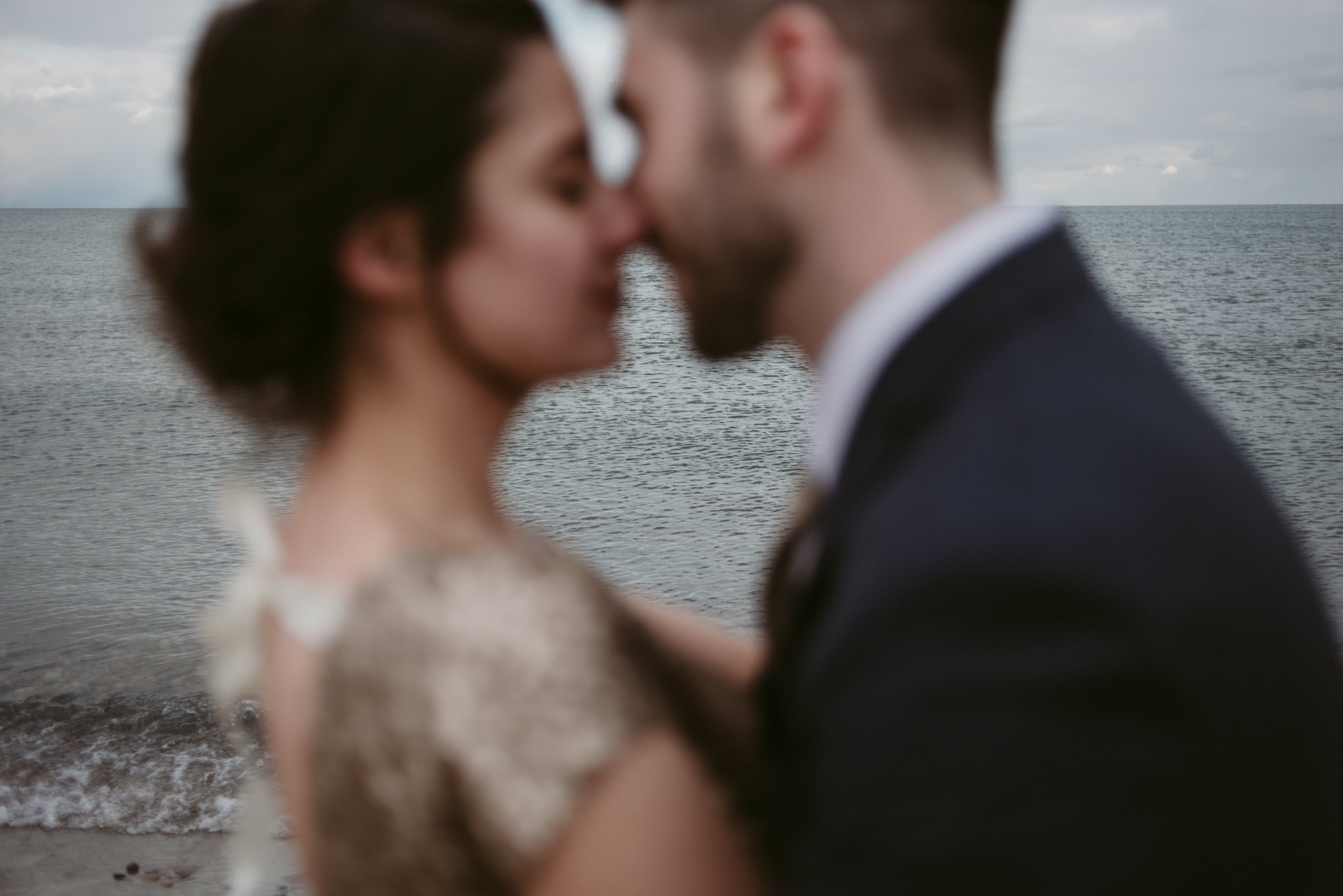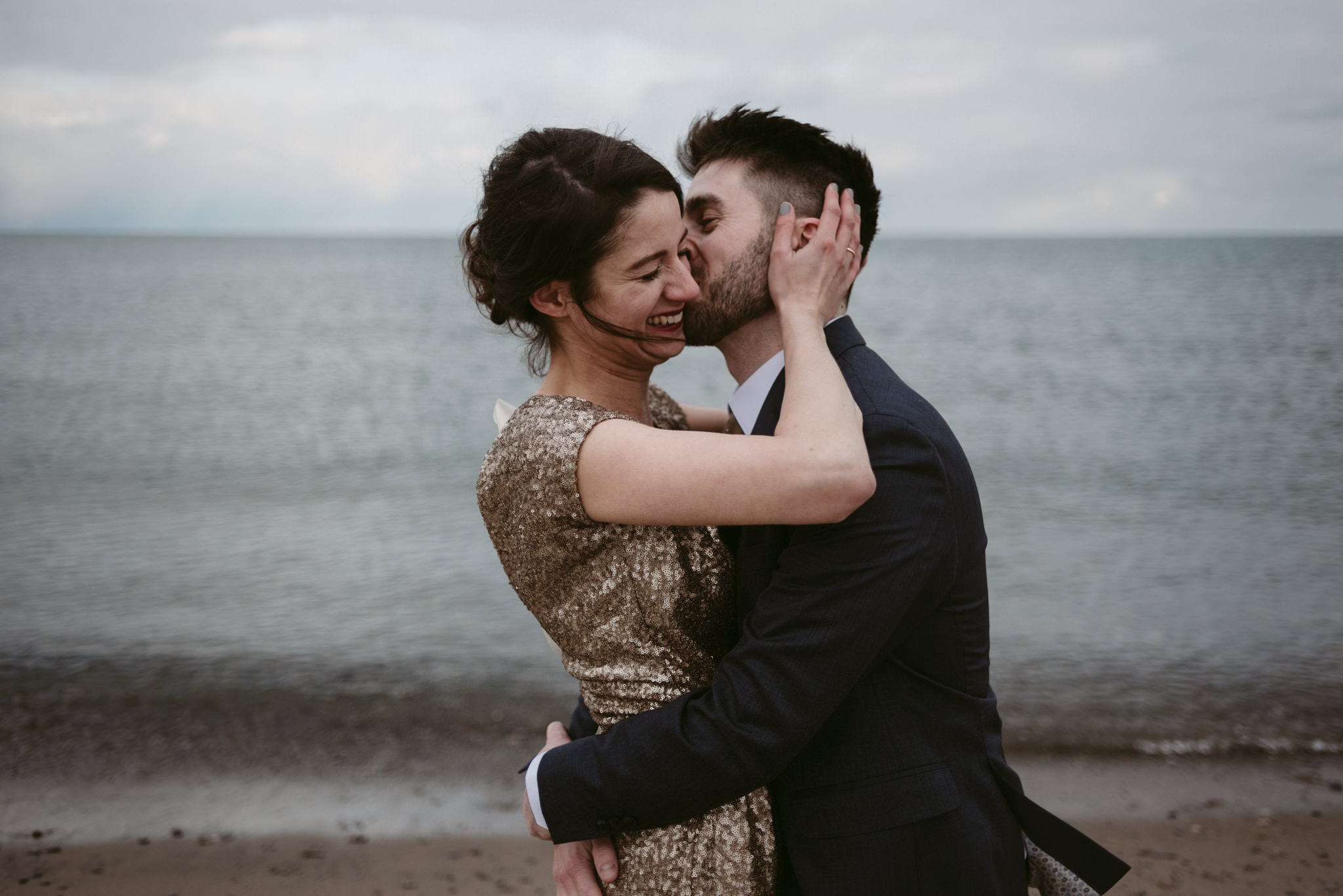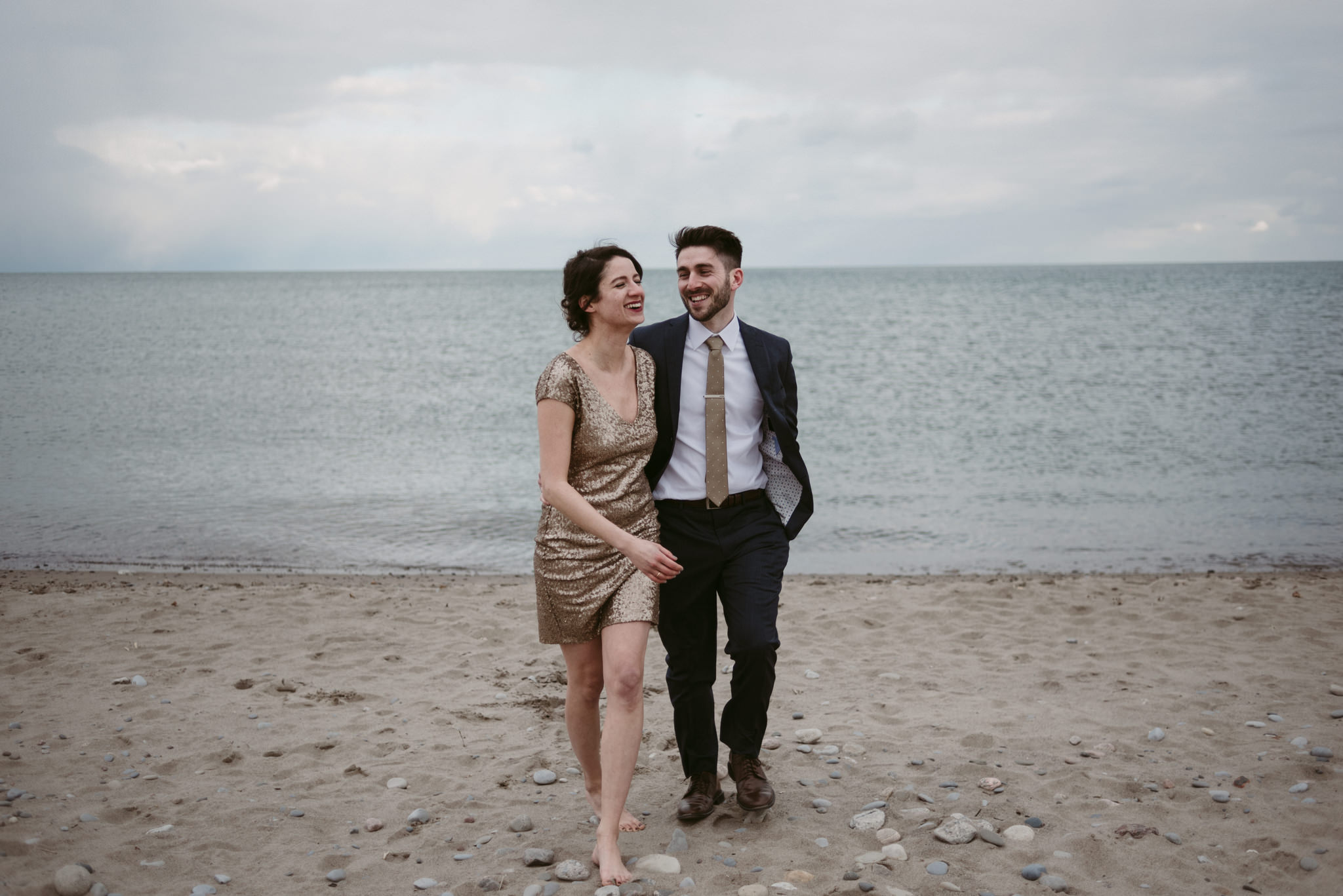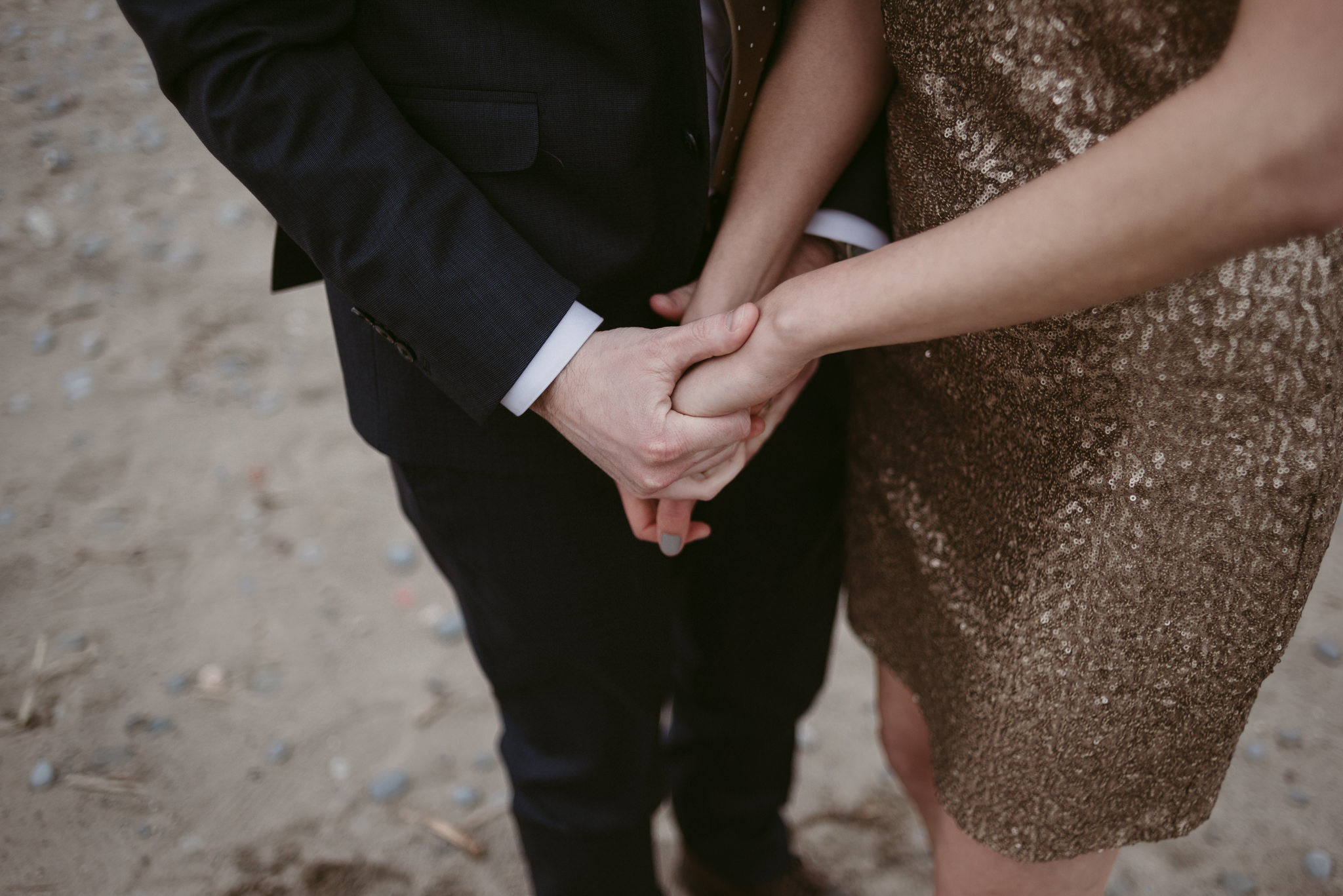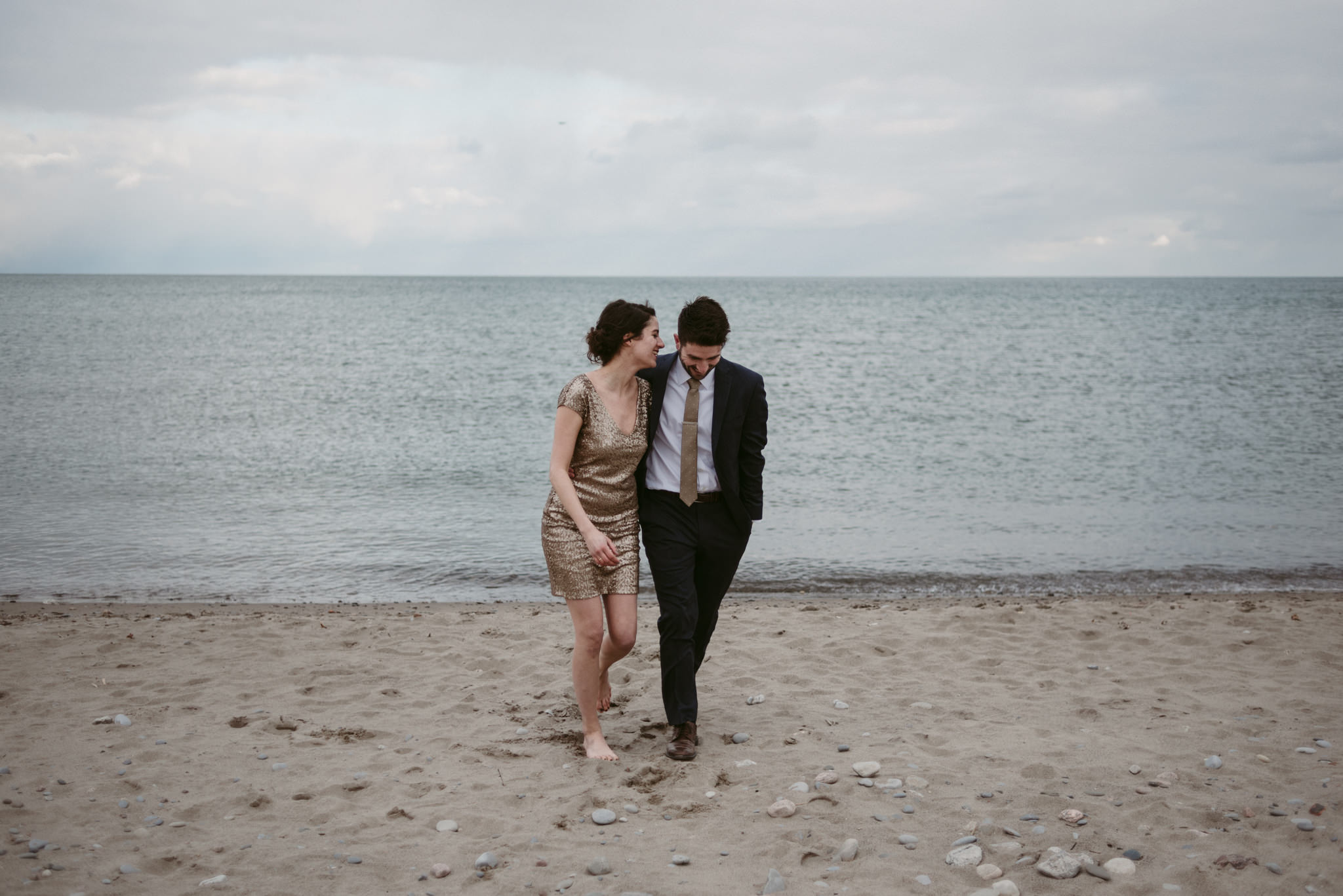 Vendors
DRESS (white): Aritzia
DRESS (sequins): Sara Gambarelli
HAIR: Fuss Studio
MAKE-UP: DIY lipstick, mascara, brow pencil
SUIT: Mark Nunes
RINGS: Attic Gold
FLORALS: DIY using flowers purchased from Florabunda
OFFICIANT: Sarah Chiddy from Brella Ceremonies
VENUE: Airbnb
Dennis the handsome pup – Pound Dog Rescue