Every once in a while a couple comes along and we just fit perfectly. Tomoko and Chris is one of those couples. From the start I felt a strong connection with Tomo, from her initial email to me that had me so incredibly intrigued by them that I just needed to know more. I remember reading it late at night while I was in bed and usually I wait until the morning to reply but with this one I just couldn't. She replied right back. We were emailing furiously back and forth for the next few days. They hadn't confirmed their venue, but everything they wanted to include in their day made me so excited and honoured that they wanted me there to capture it all for them. From a simple outdoor ceremony in front of an old farm house owned by a friend to smokebombs, late night fireworks and string light lit barn for dancing. It seemed too good to be true.
Tomo wanted to honour her Japanese heritage by enlisting the help of her mother's long time friend and kimono stylist Kimiko. The process took nearly an hour to have her fitted traditionally. I didn't think it was possible for her to look any more beautiful until she got into her Rue de Seine gown. I wanted to BE her. She really is that cool Japanese girl you just want to be friends with, just like what her best friend Martina said in her speech. I could go on, but instead I'll let you read more from the couple and then see how their day unfolded so perfectly.
How did you choose your venue?
It was hard at first but then it became a no-brainer. We started off considering event venues, and then restaurants, cottages, apartments, bed & breakfasts, our own house… We searched for a photographer at the same time, and ended up falling for Jess's work. Reviewing her style and aesthetic helped us know for certain that we wanted to be somewhere surrounded by nature. We also wanted to be somewhere that felt like home.
We are incredibly lucky in having a generous friend with a gorgeous property. We didn't think he would allow us to invite over a bunch of people he hadn't met before, but as soon as he said 'yes' everything fell into place.
Any wedding planning advice you'd like to share?
First focus on what is important to you as a couple. The brainstorming and research together can be a lot of fun! Gather many ideas/options early. Give yourselves time. Tons of creative ideas and directions came up at the beginning but after we let some time pass, we were able to really scale back and hone in on what mattered most.
How did you choose your wedding vibe?
Super intimate, chill and classy.
Our families come from England and Japan, but our shared home is Ontario. So the initial thought was to do something that felt very Canadian. This somehow translated into roaming around a farm, setting off fireworks and eating BBQ. The farm is so glorious and beautiful, we didn't feel the need to impose anything on it. With the added spirits of our nearest and dearest friends, we ended up with pure magic.
How did you choose your wedding photographer?
We started off with some recommendations and did a lot of looking around online. We had a shortlist going. After a few days of serious research, though, we stumbled upon Jess's work and just knew that the search was over. Her work stands out from most wedding photographers- It has such a raw and rich aesthetic, so full of atmosphere. She is able to capture real moments, and her use of light incredible.
The more we learned about her and her tastes, her process and her output, it seemed like the perfect match. We confirmed our wedding date and venue only after making sure that Jess would be available. We are so happy she was!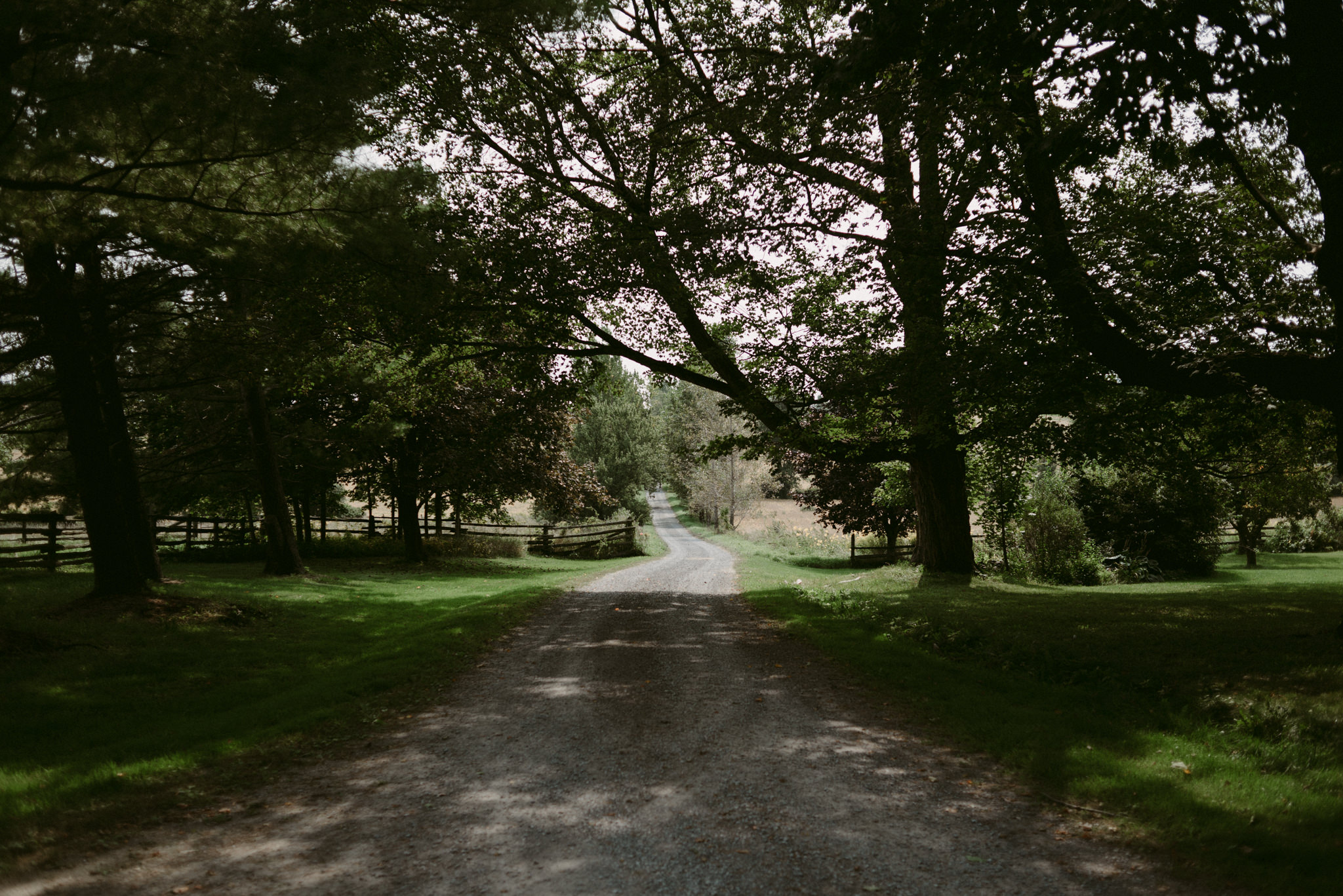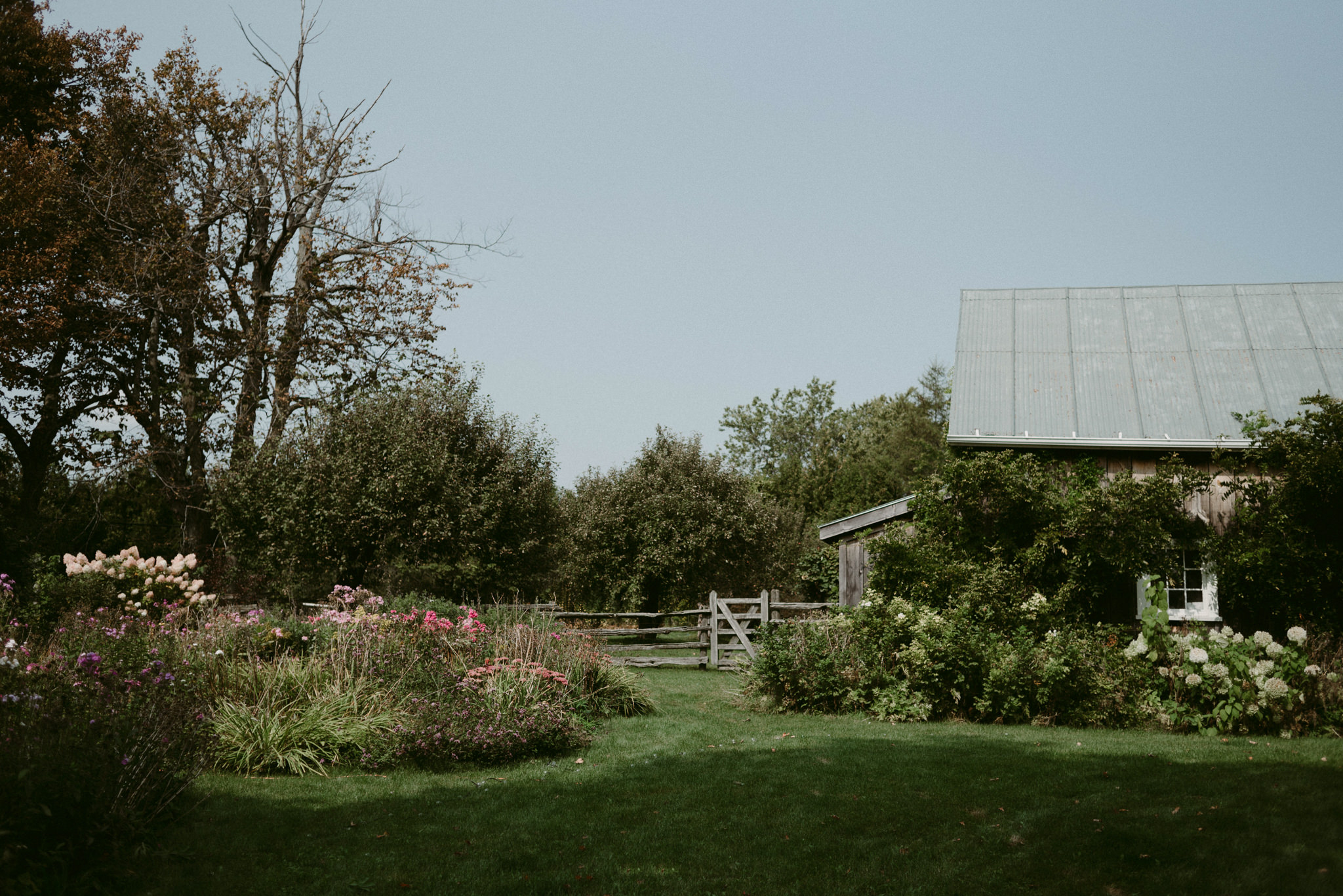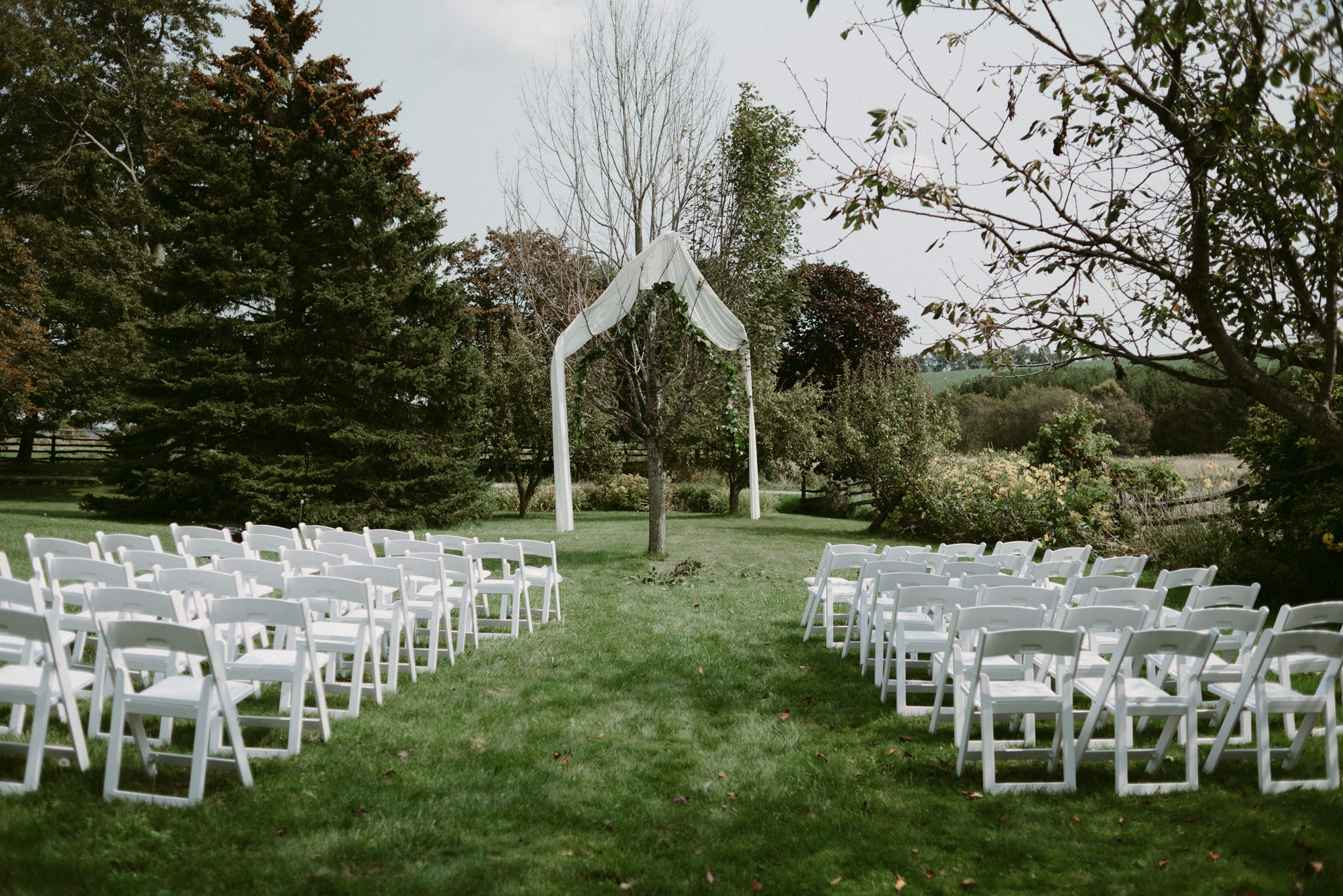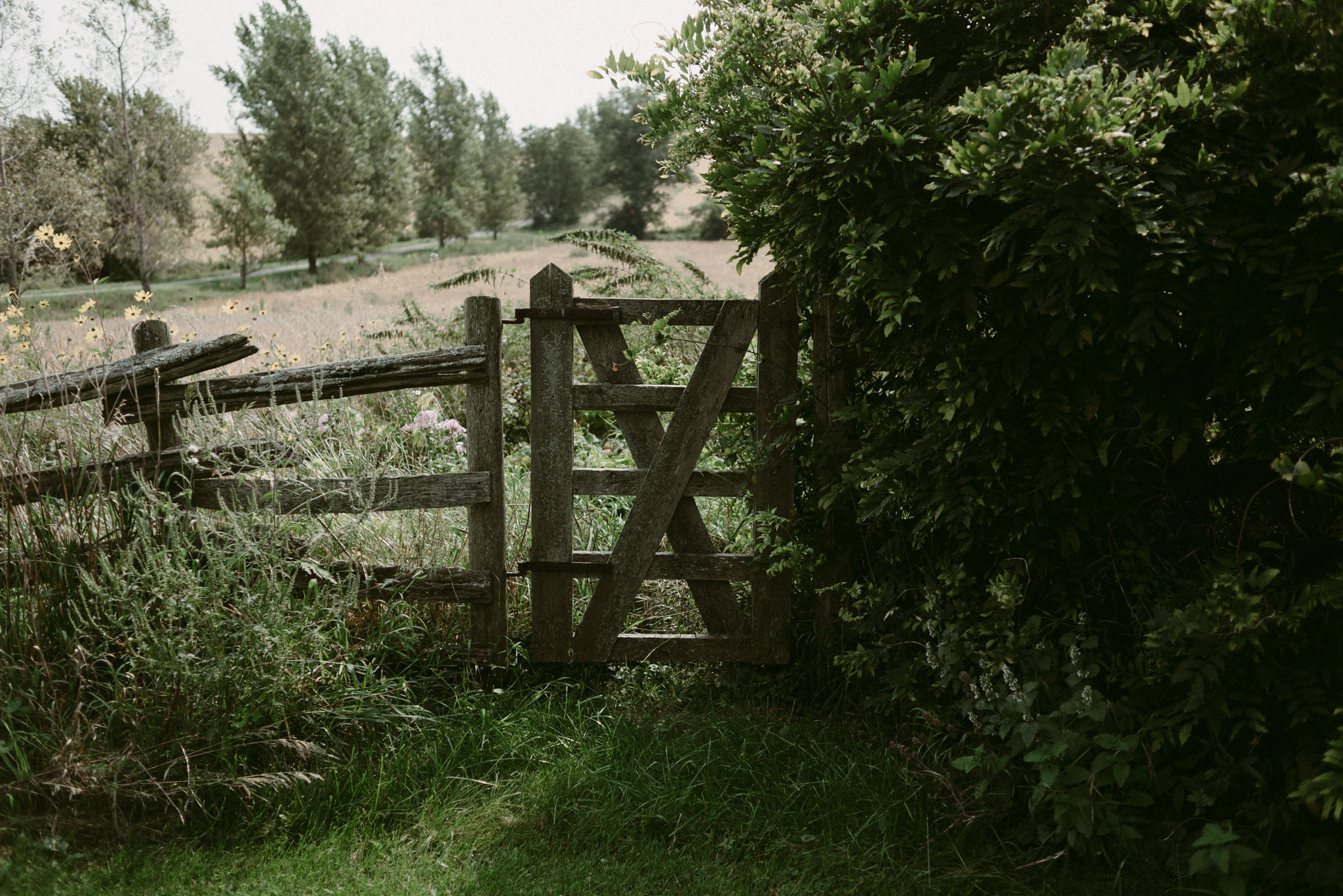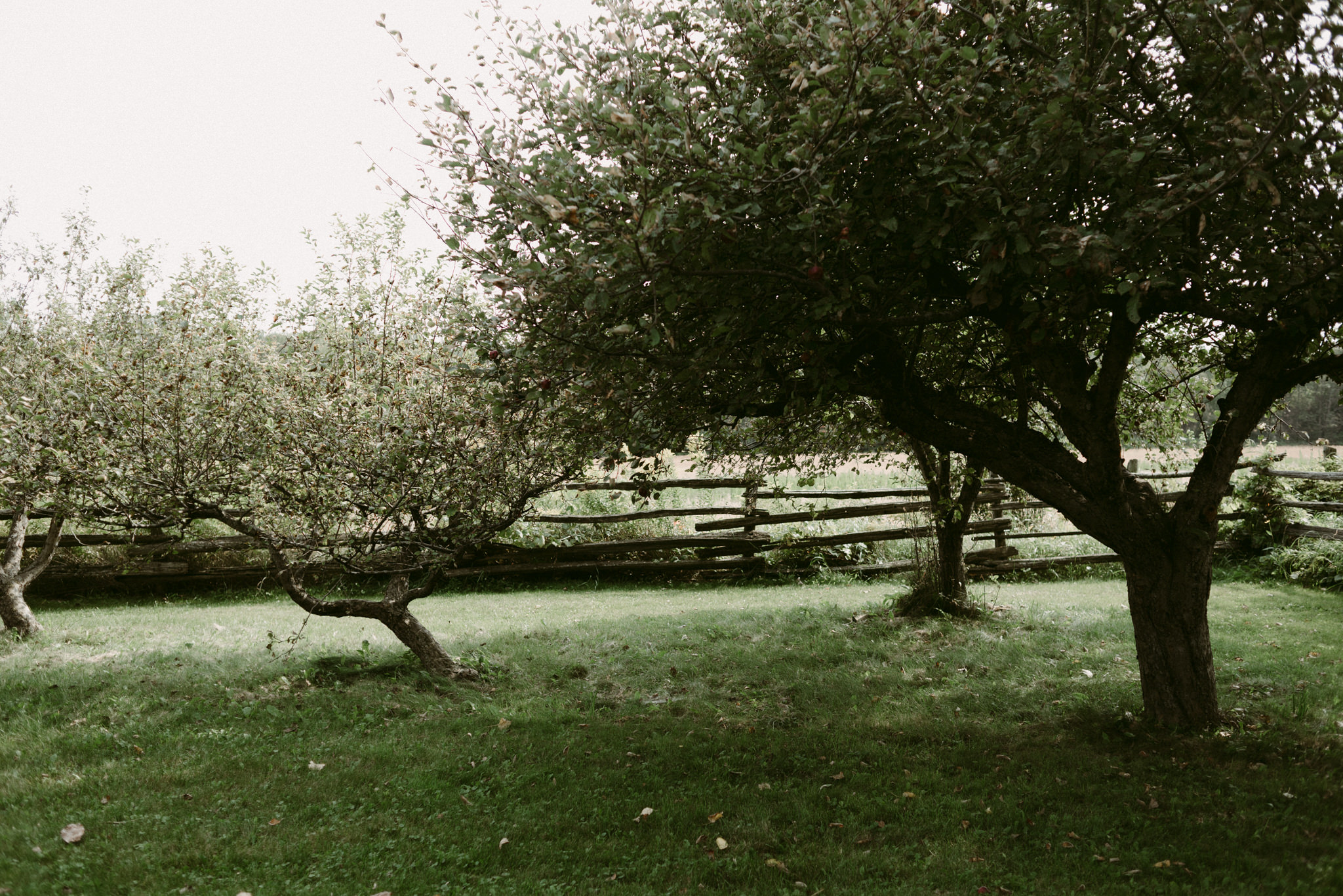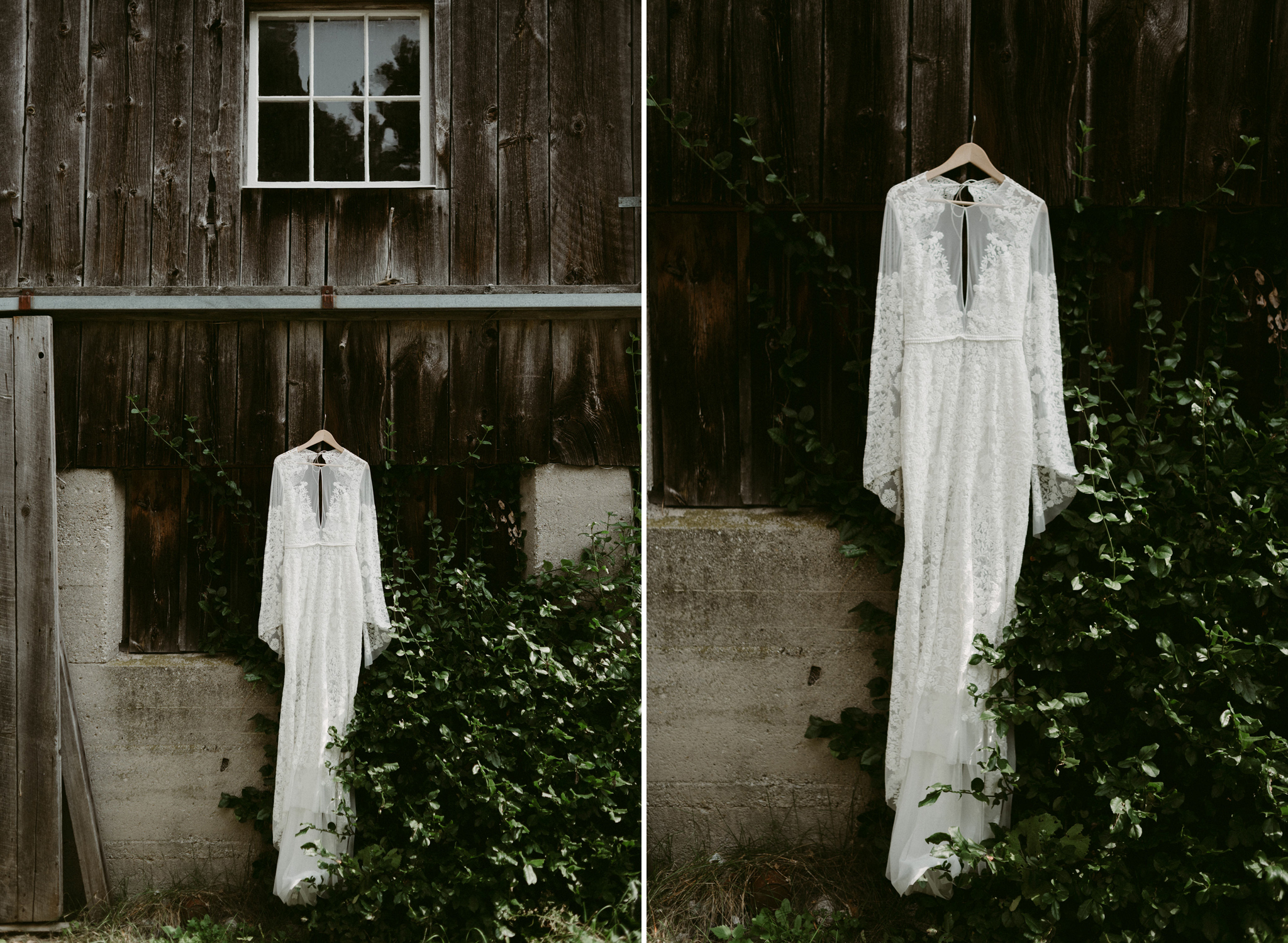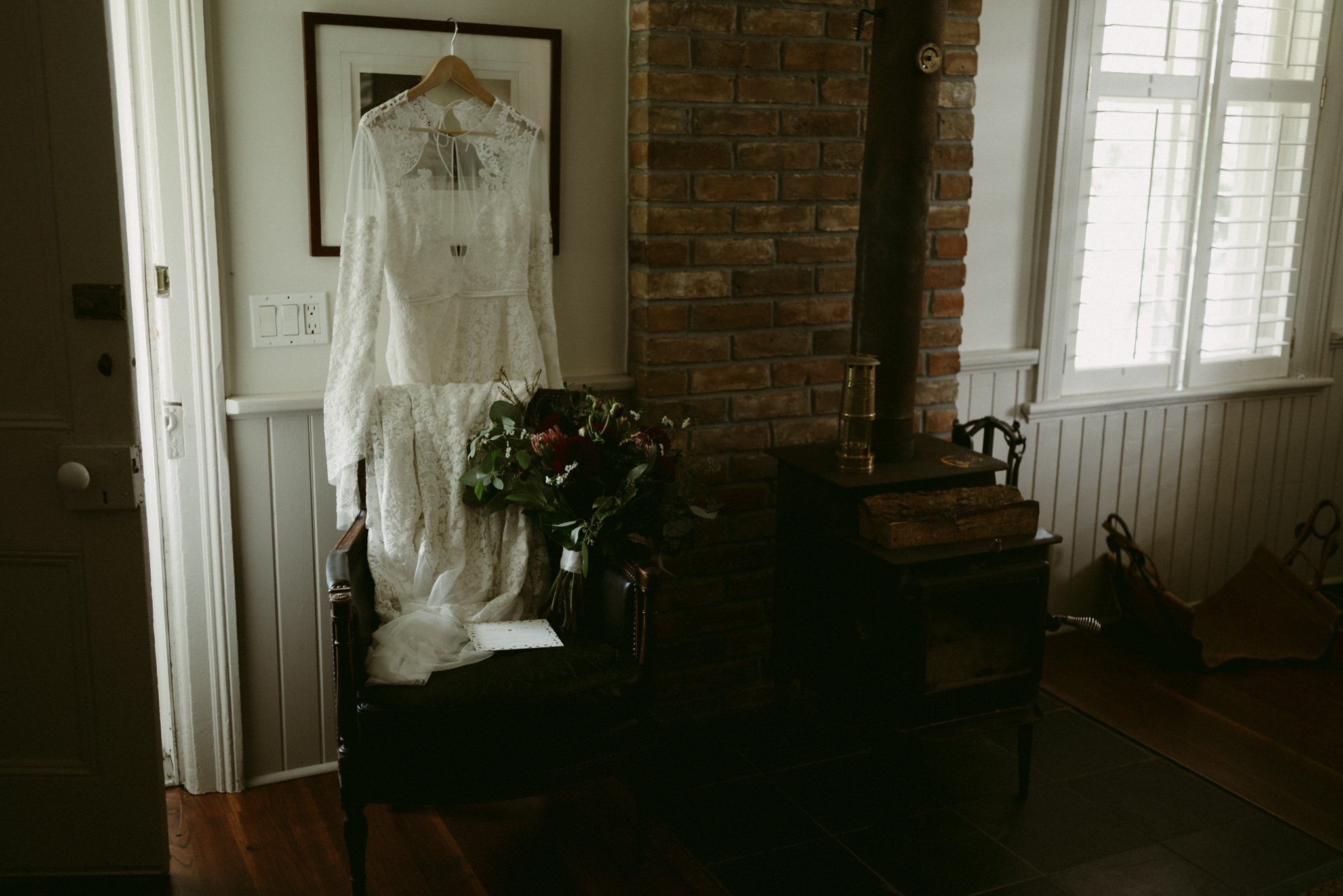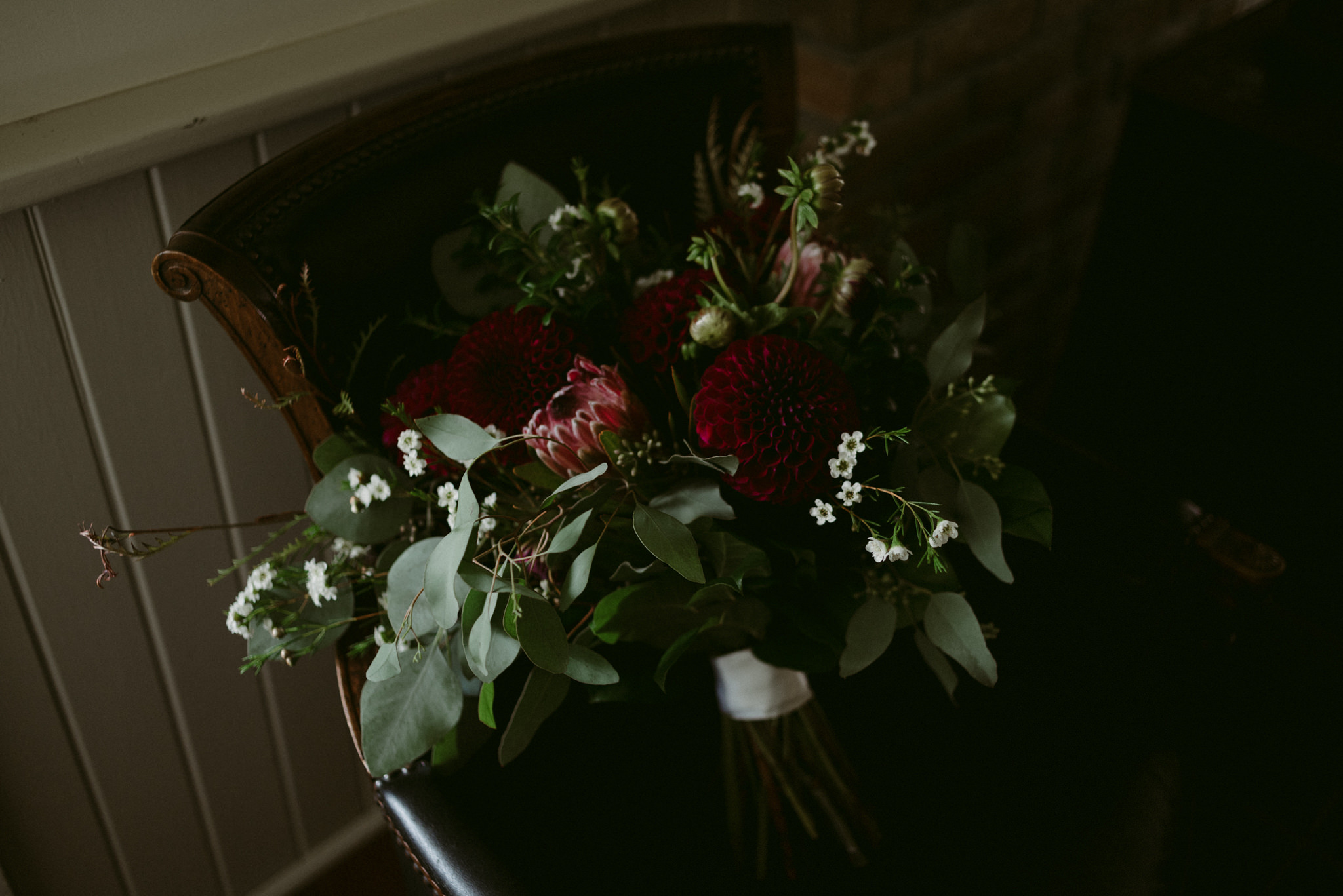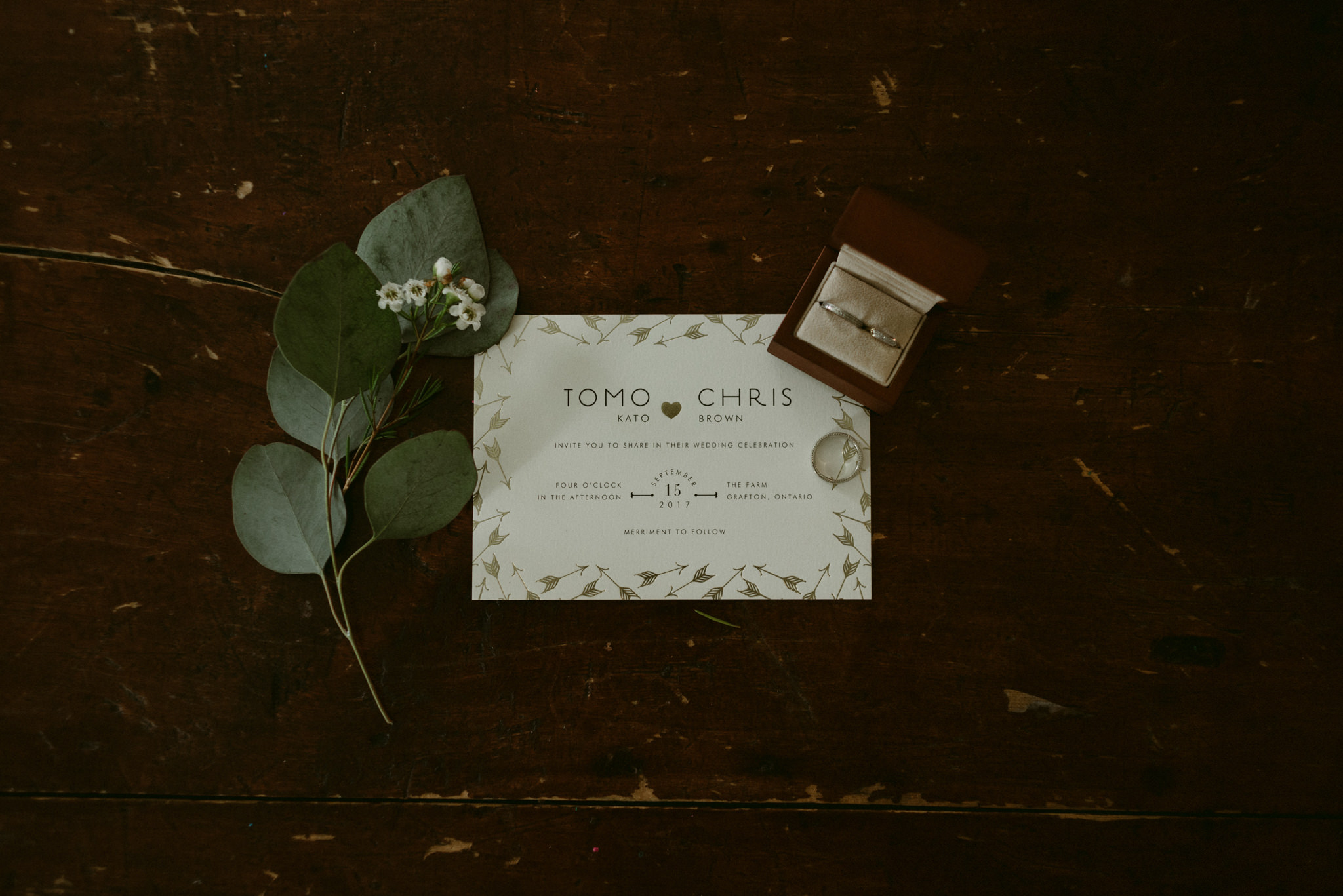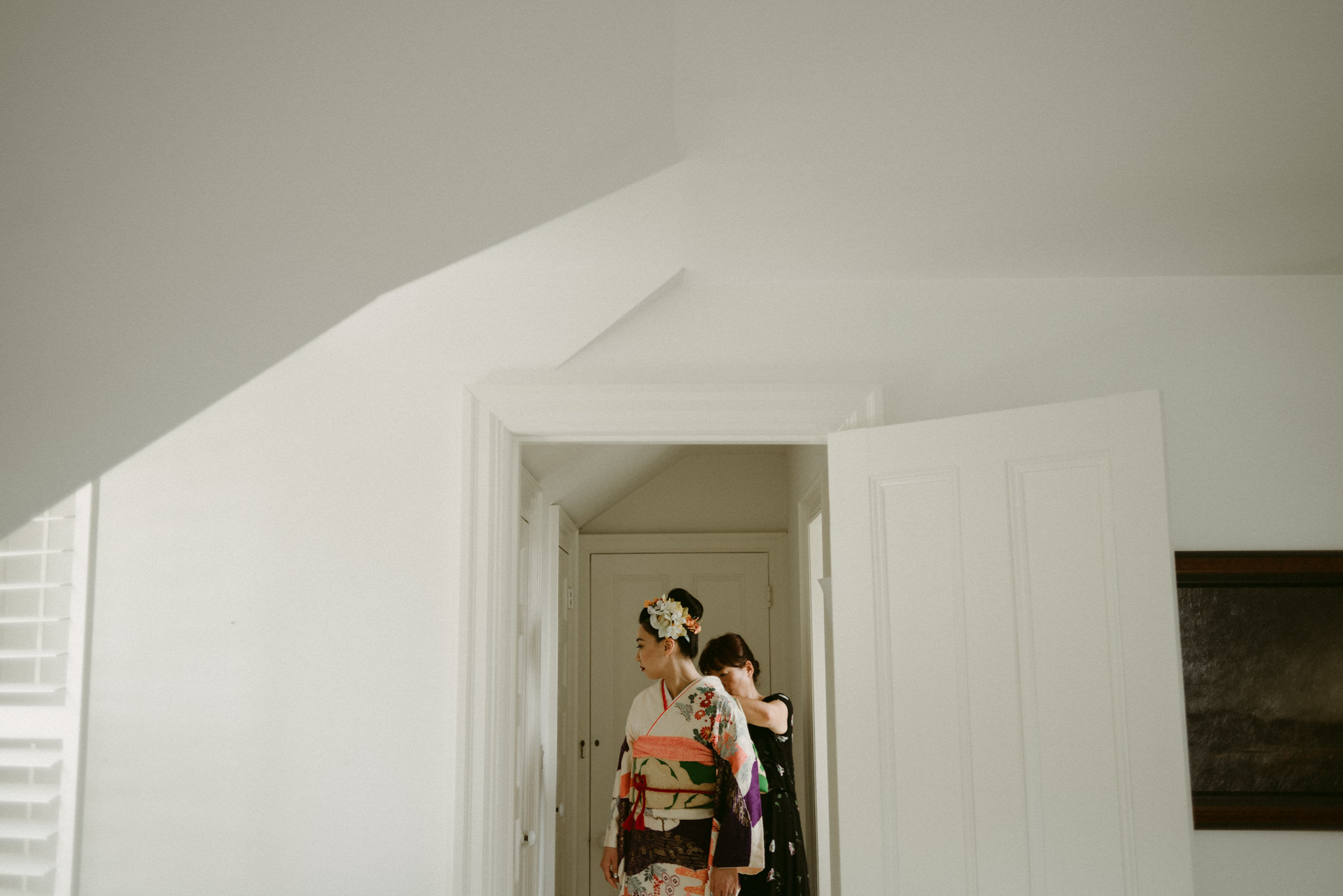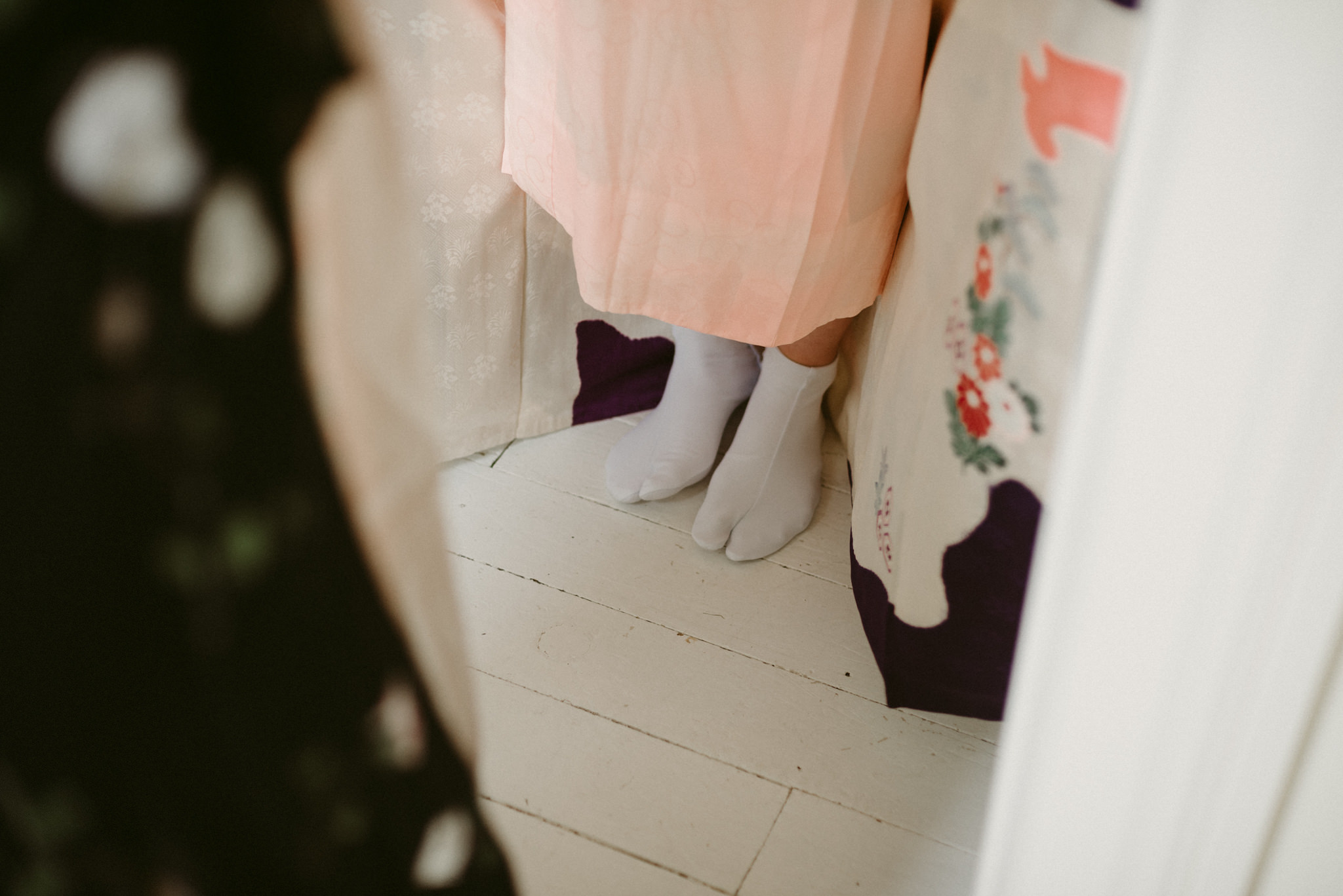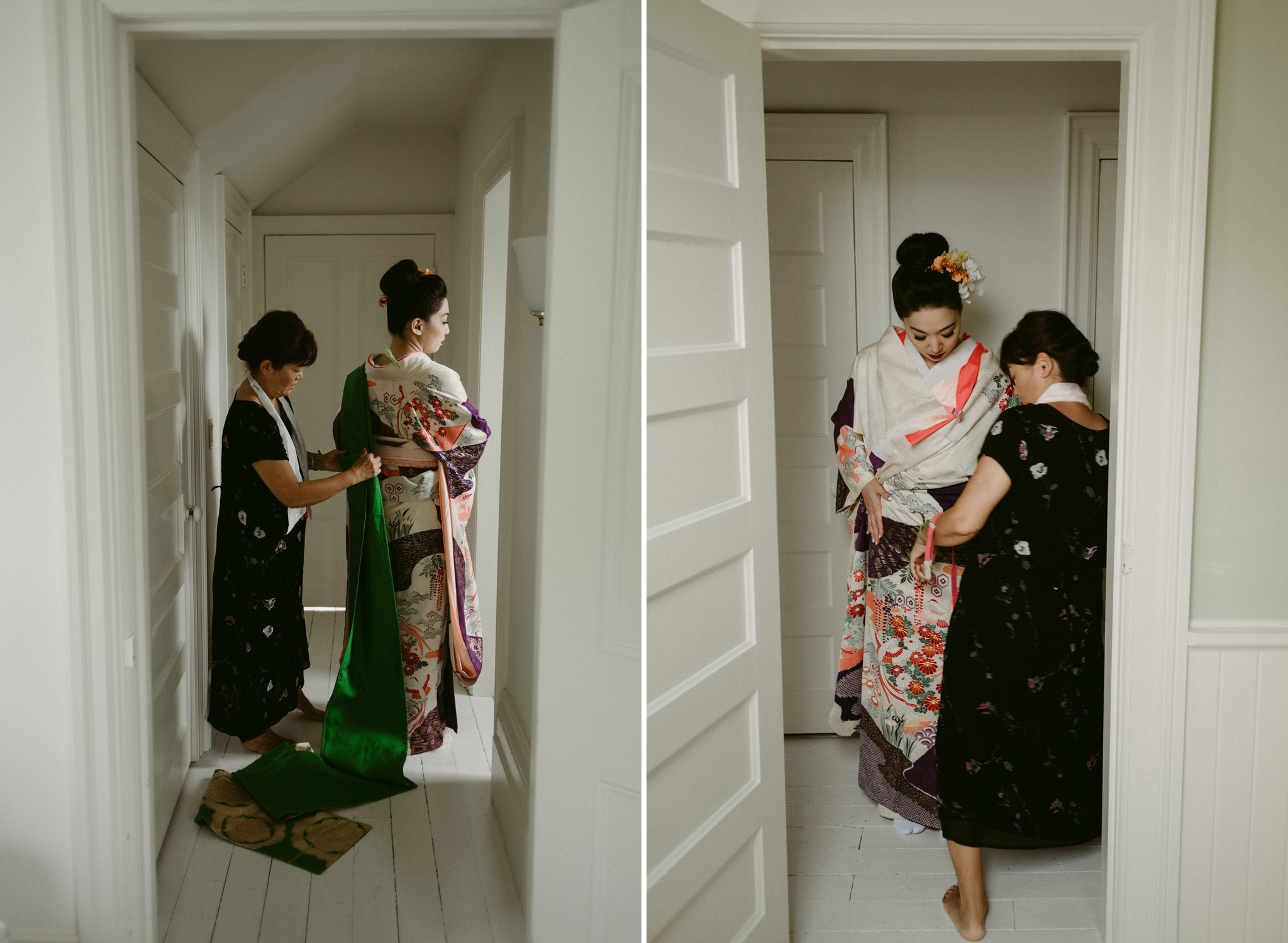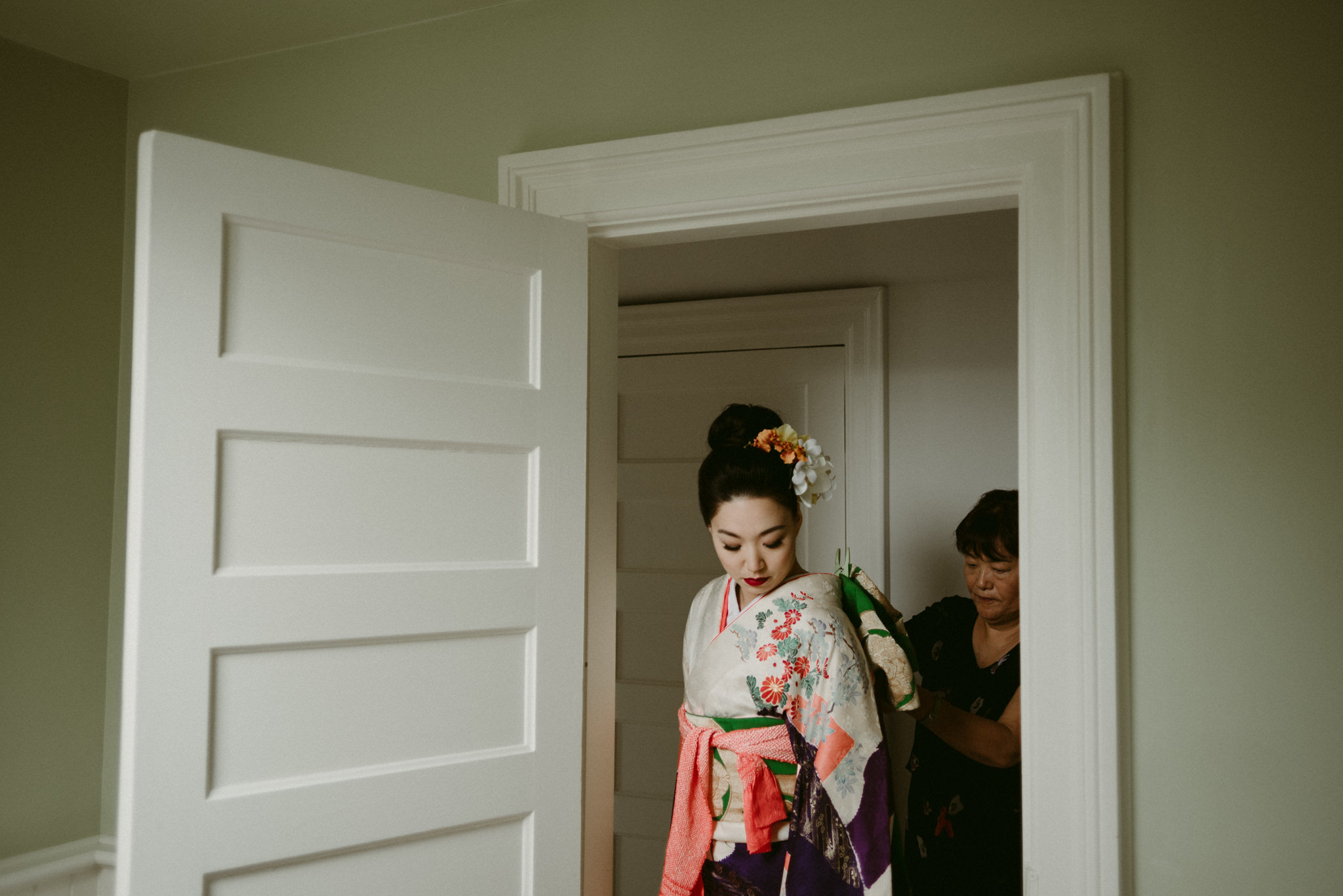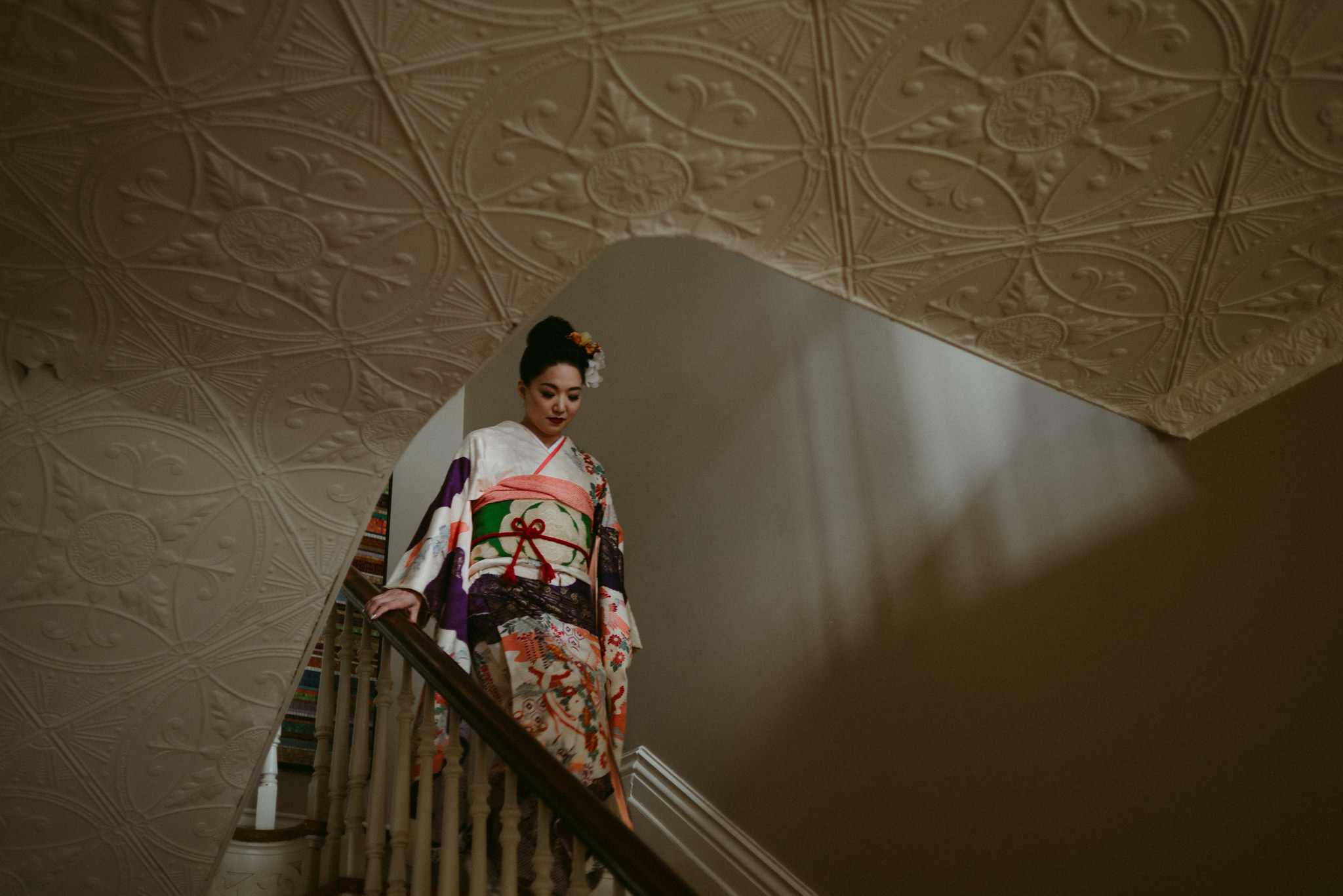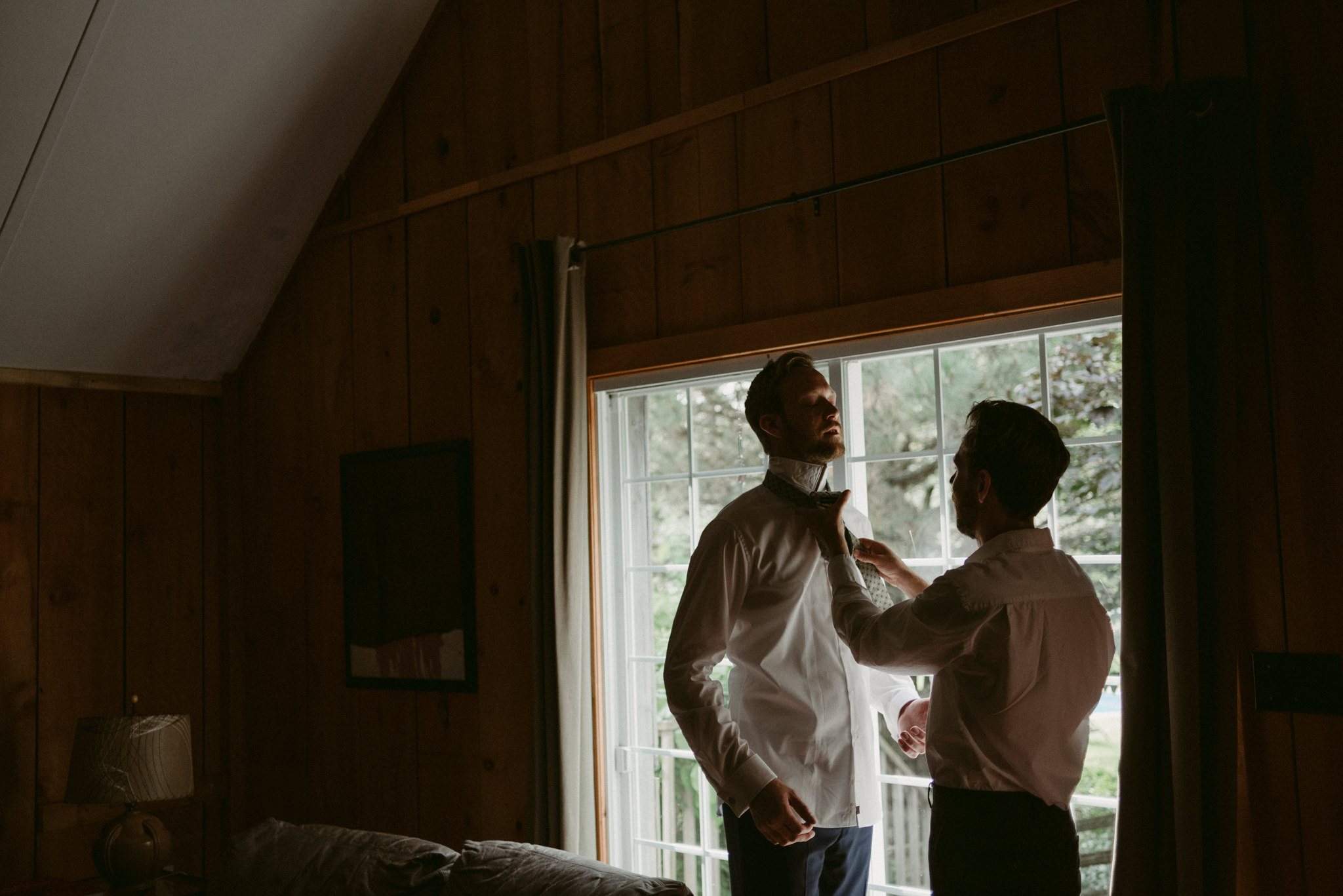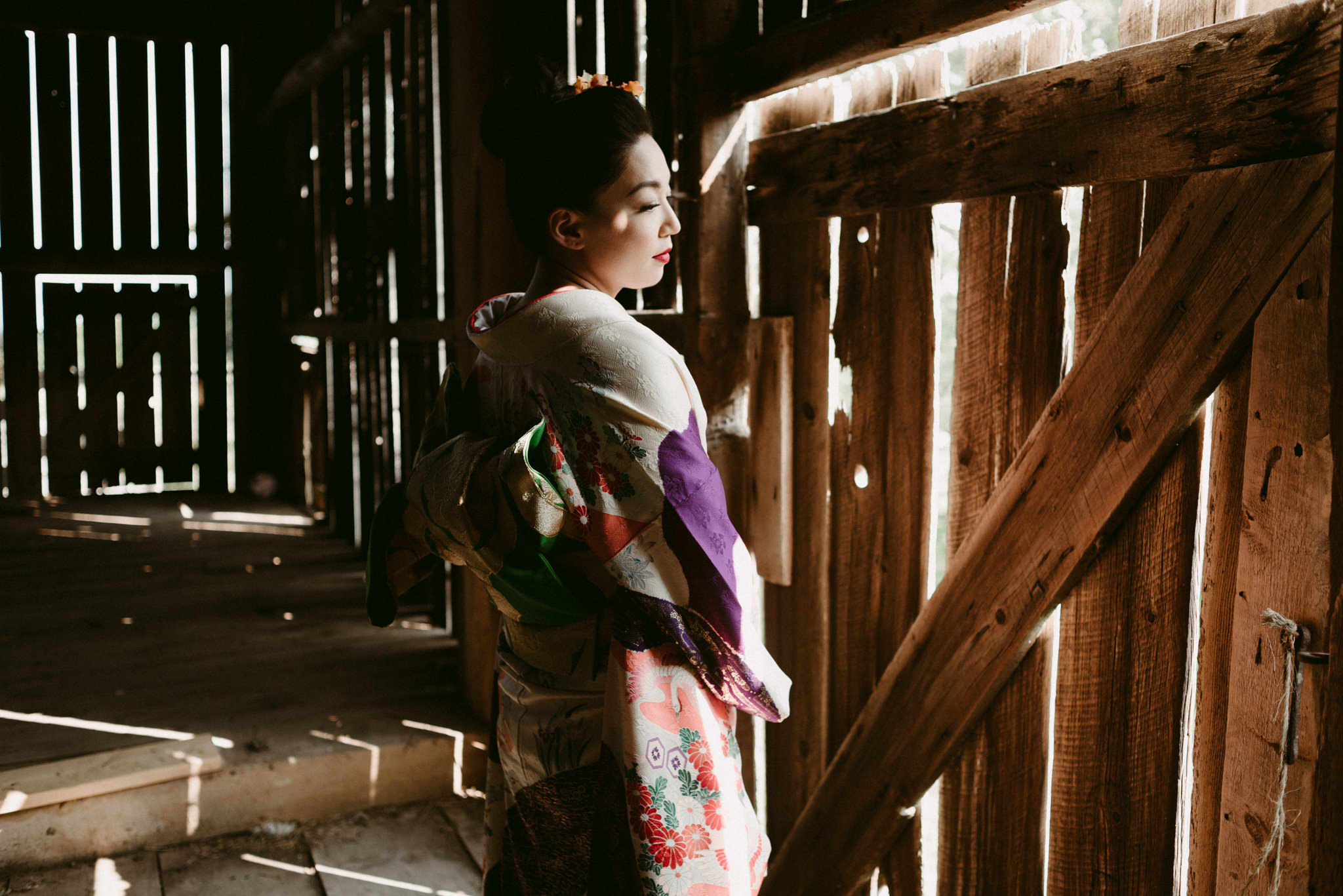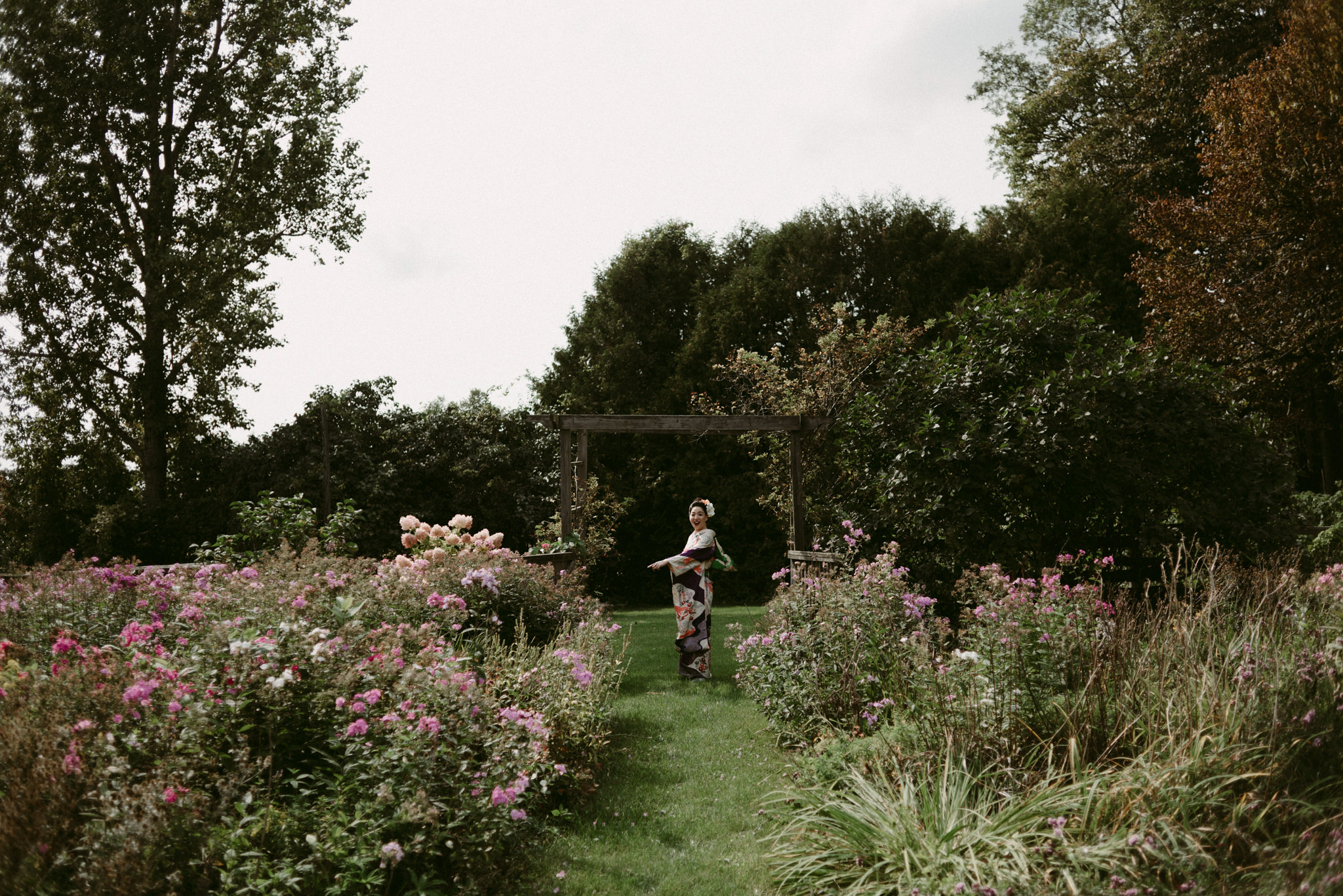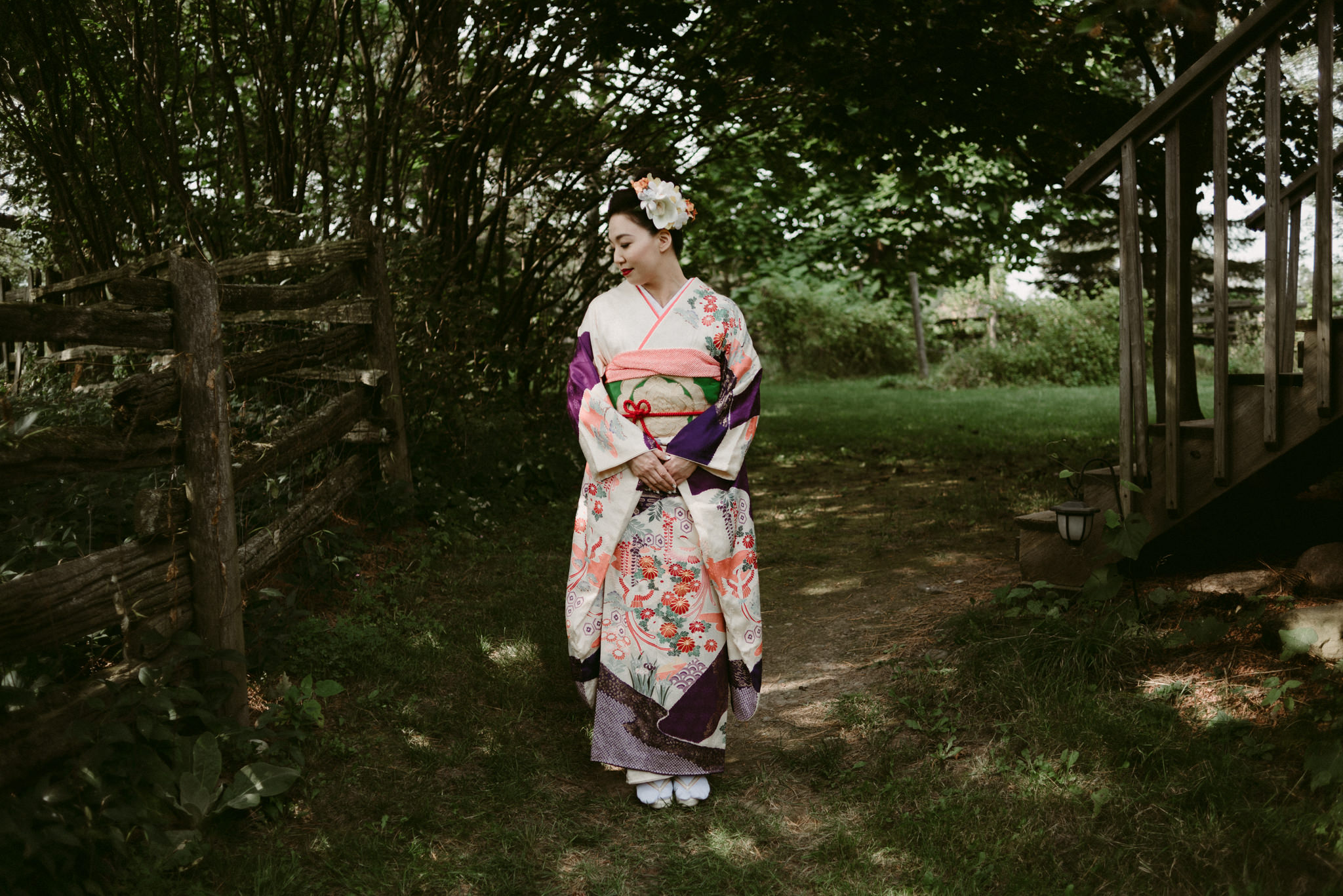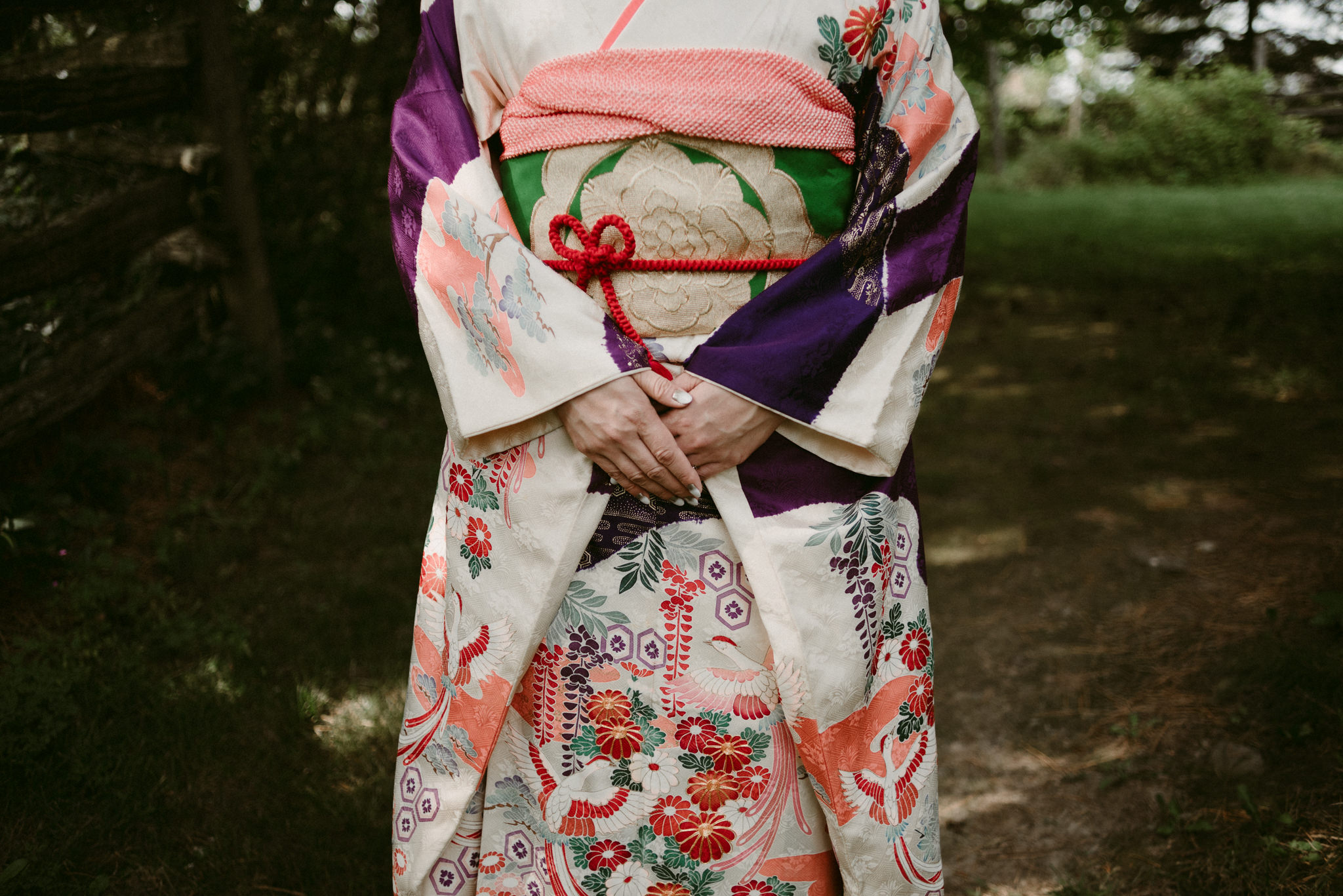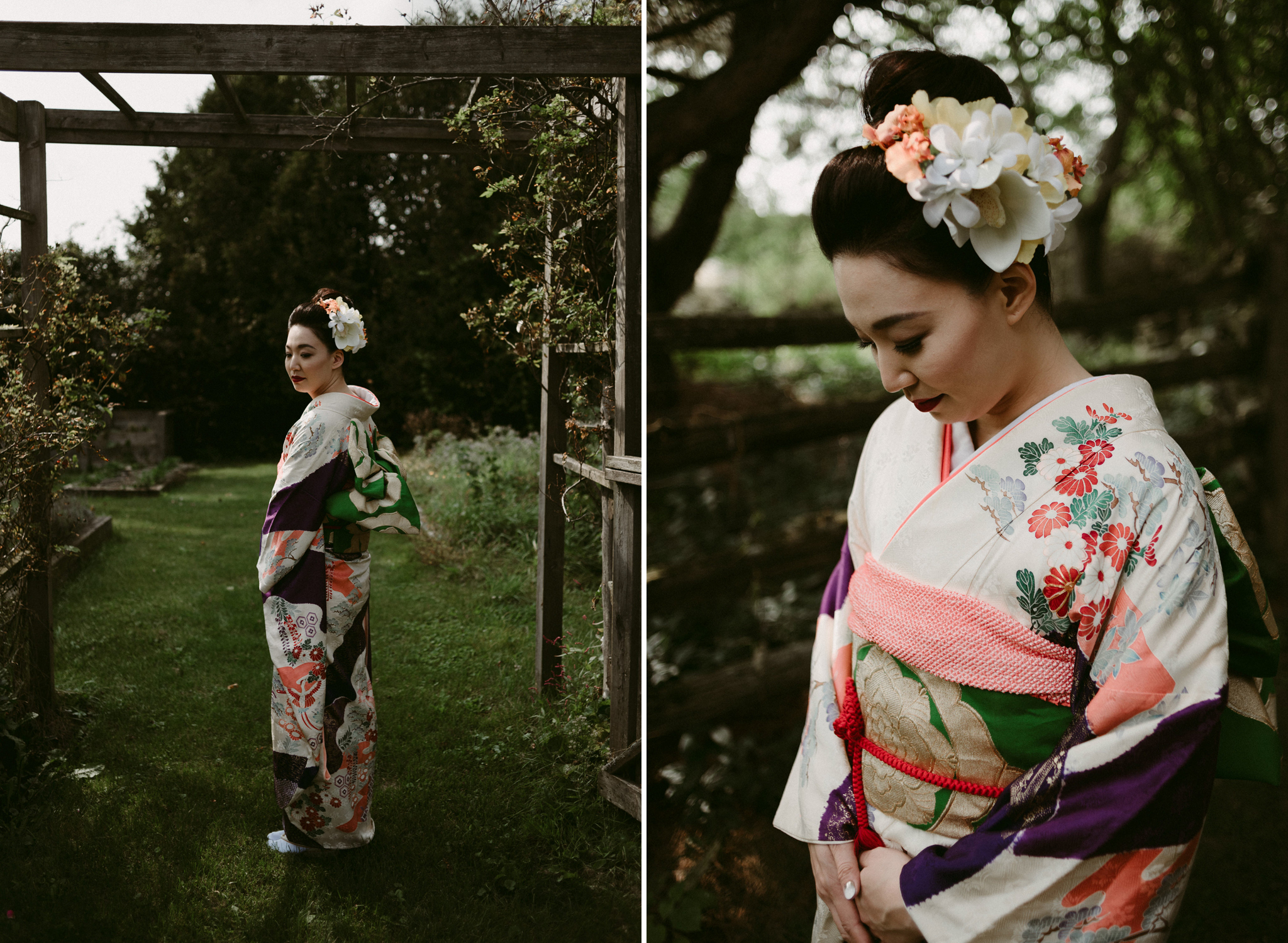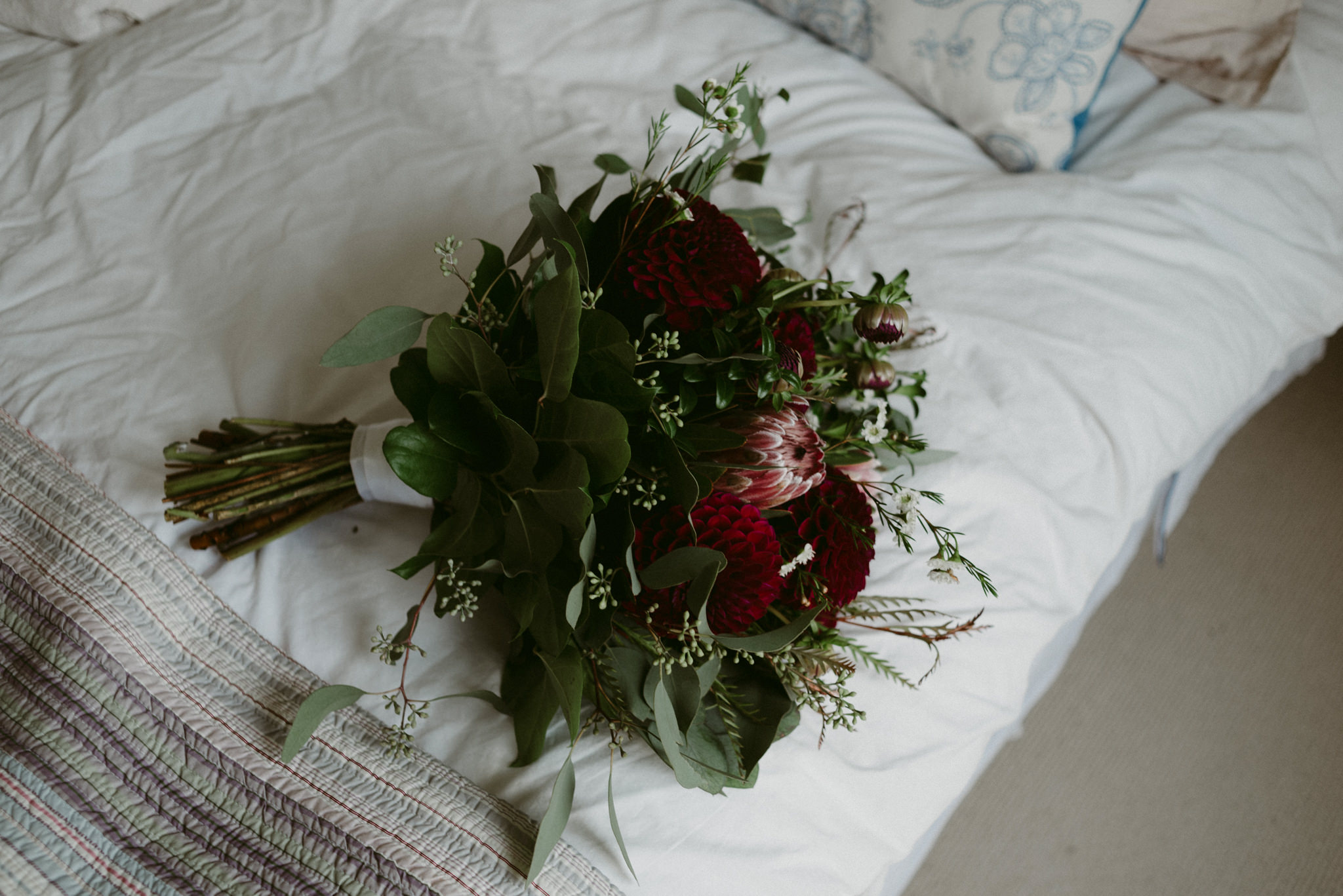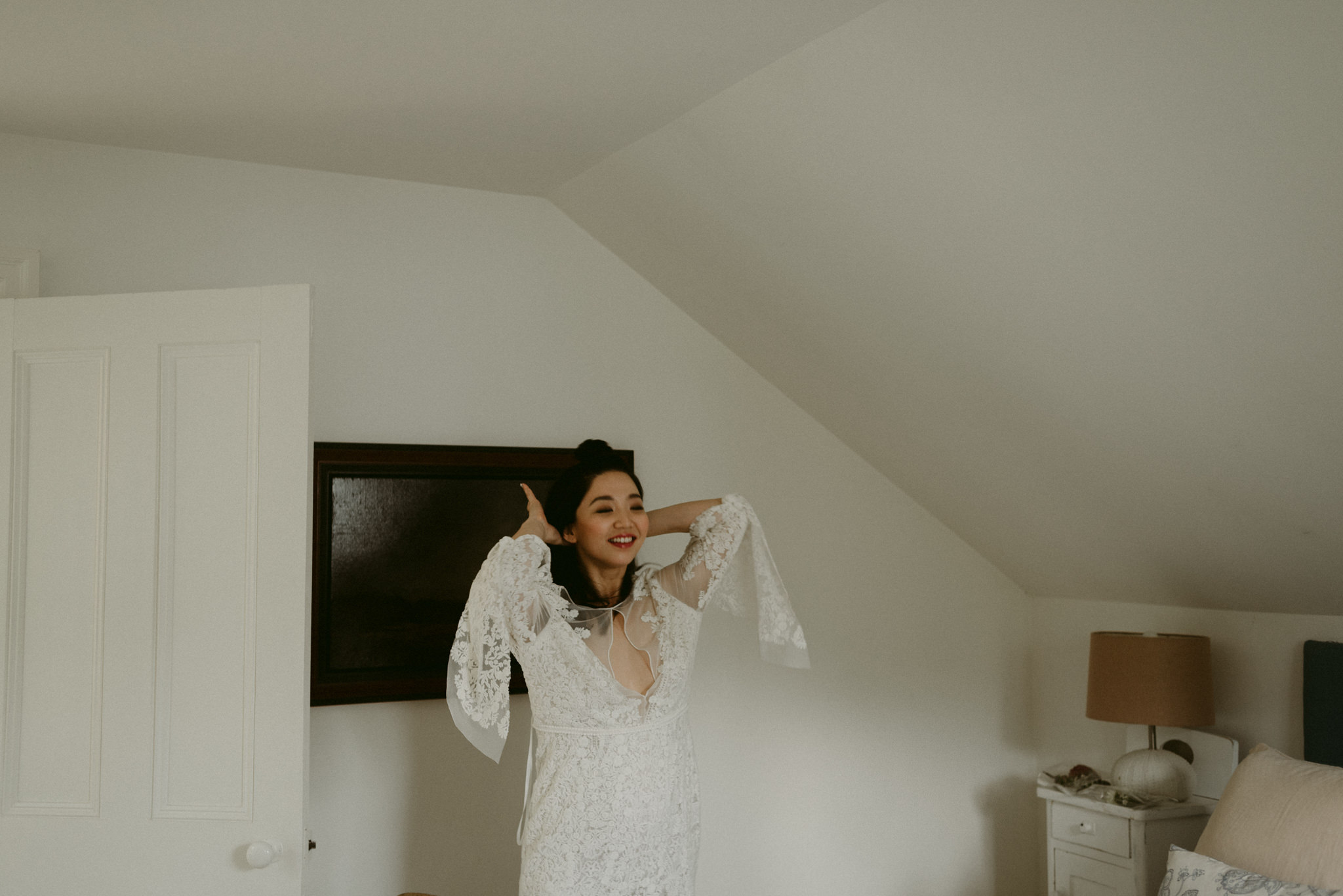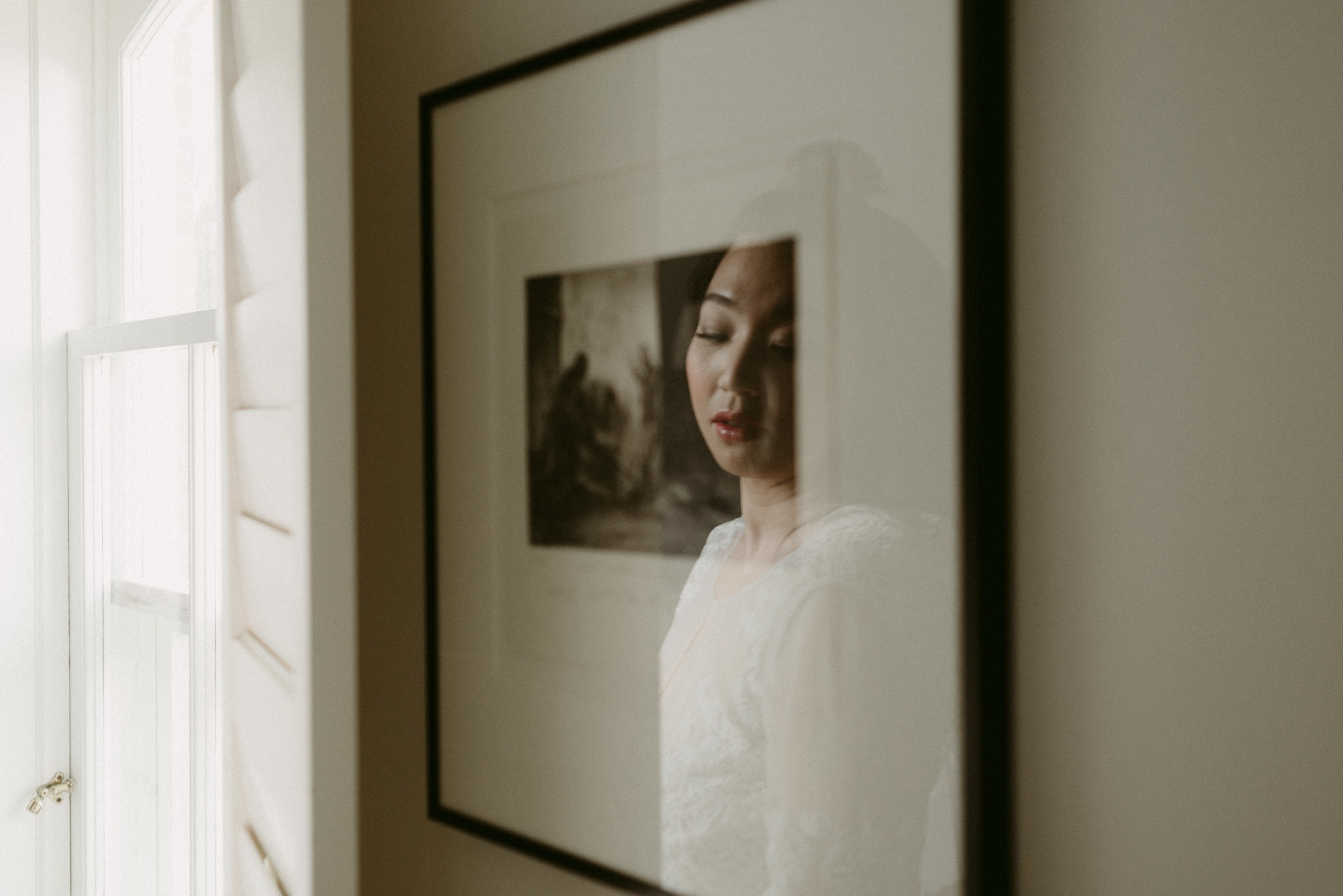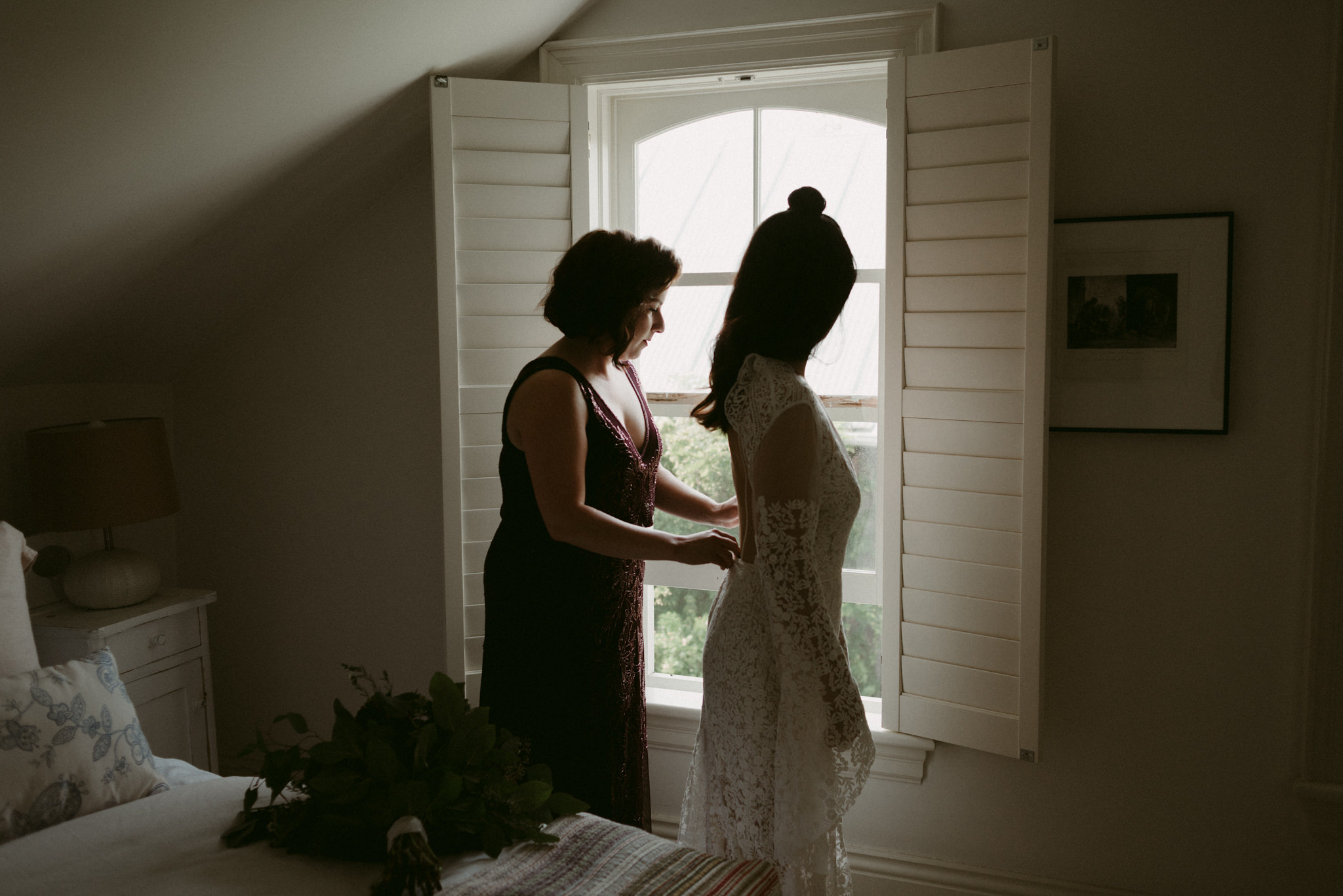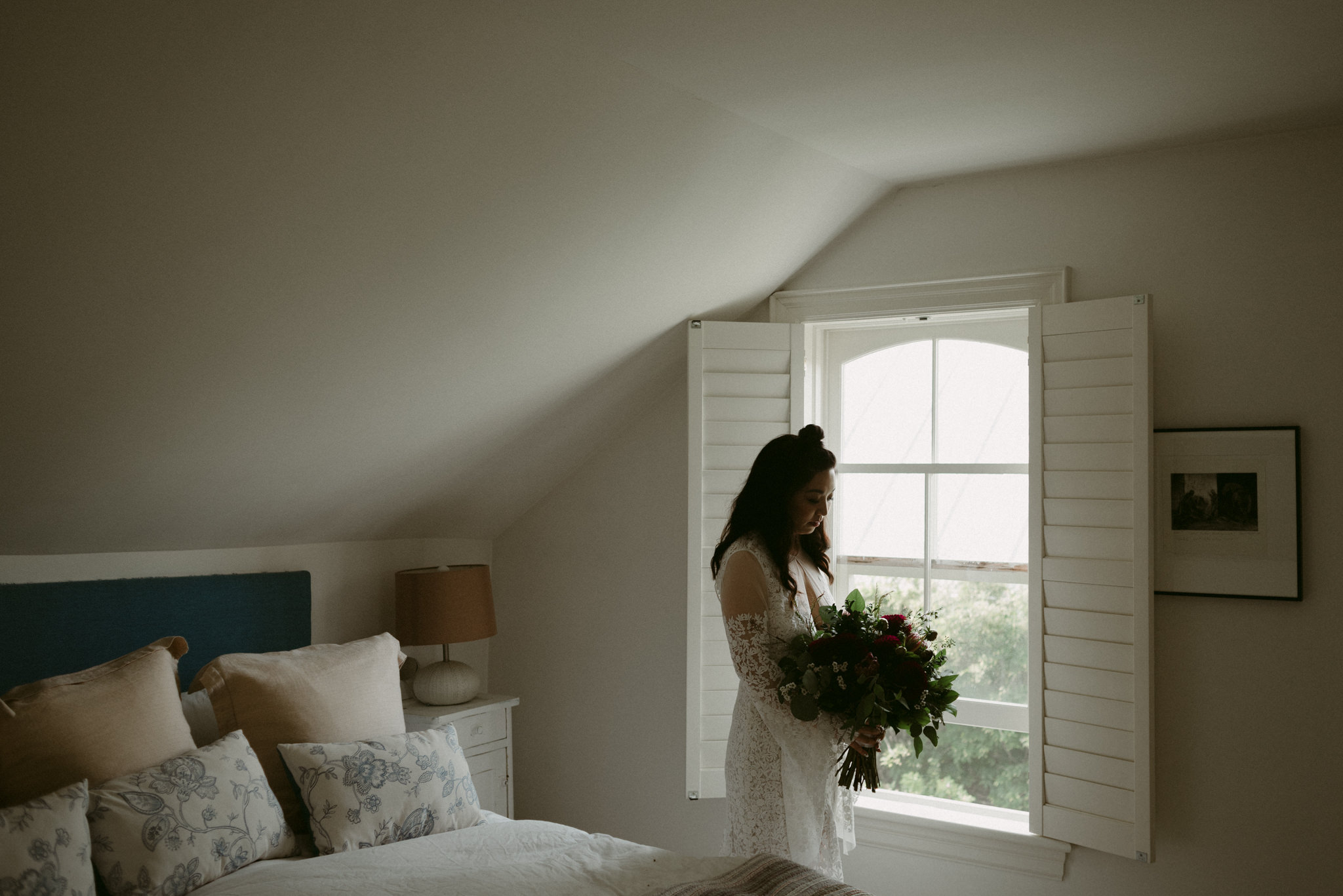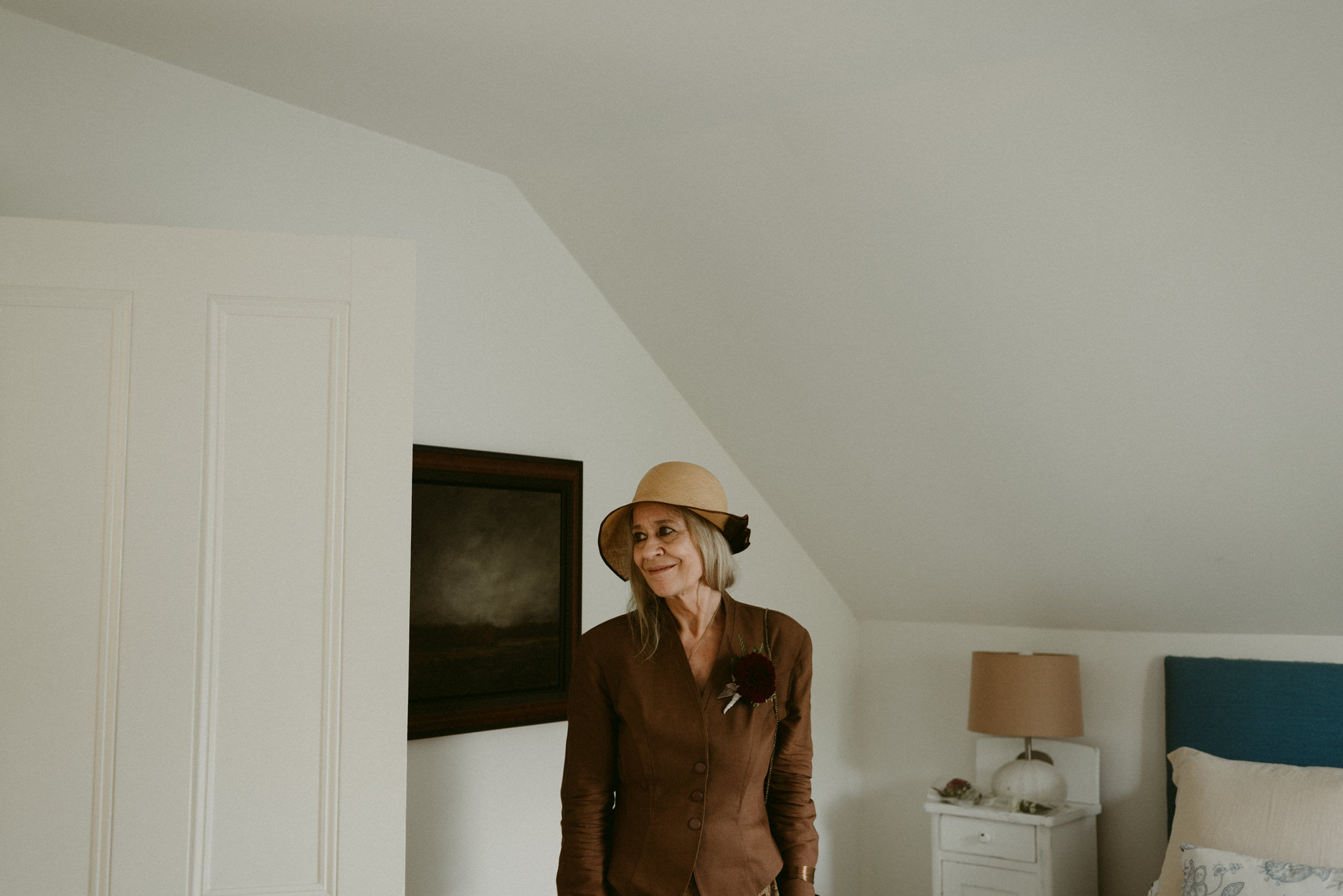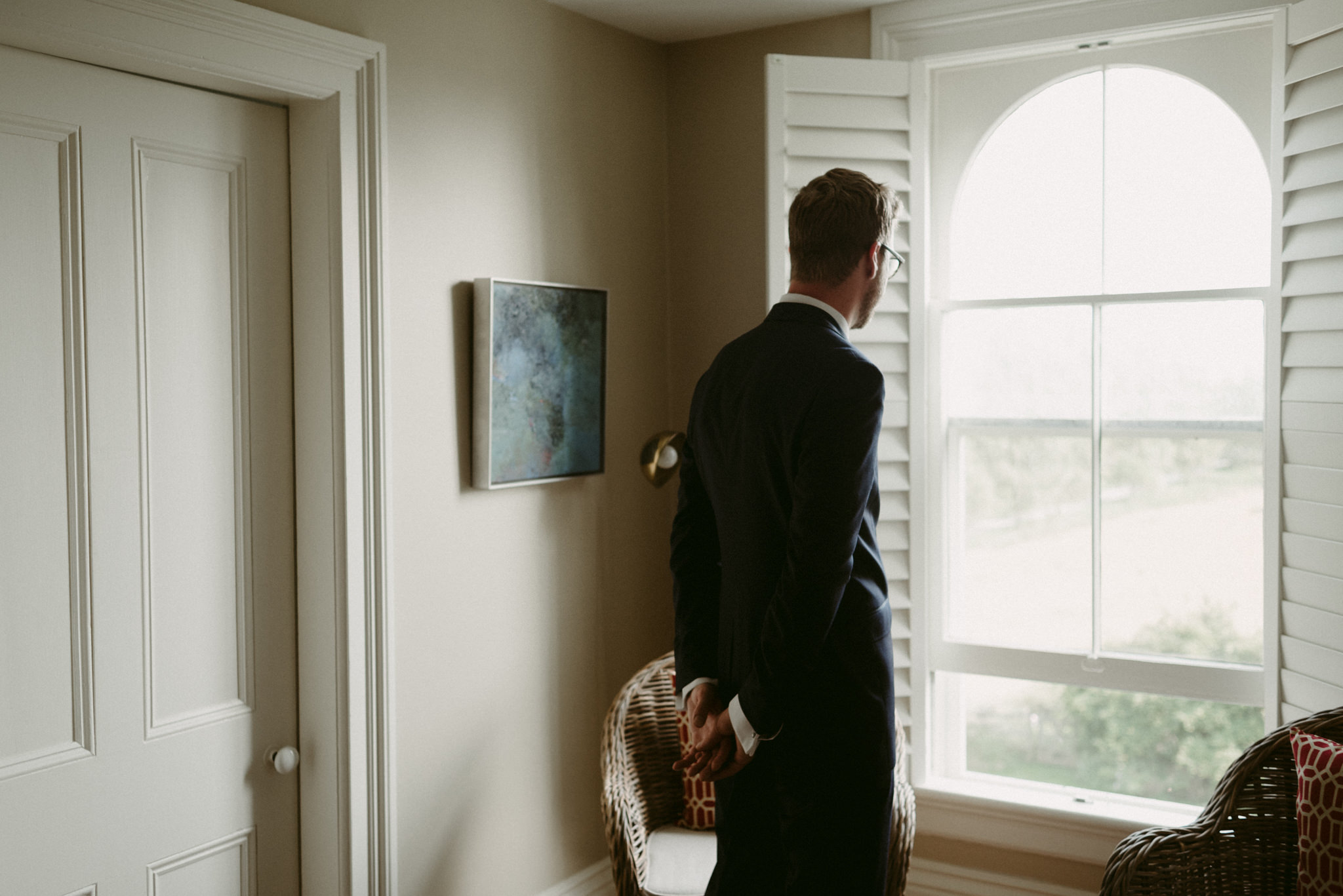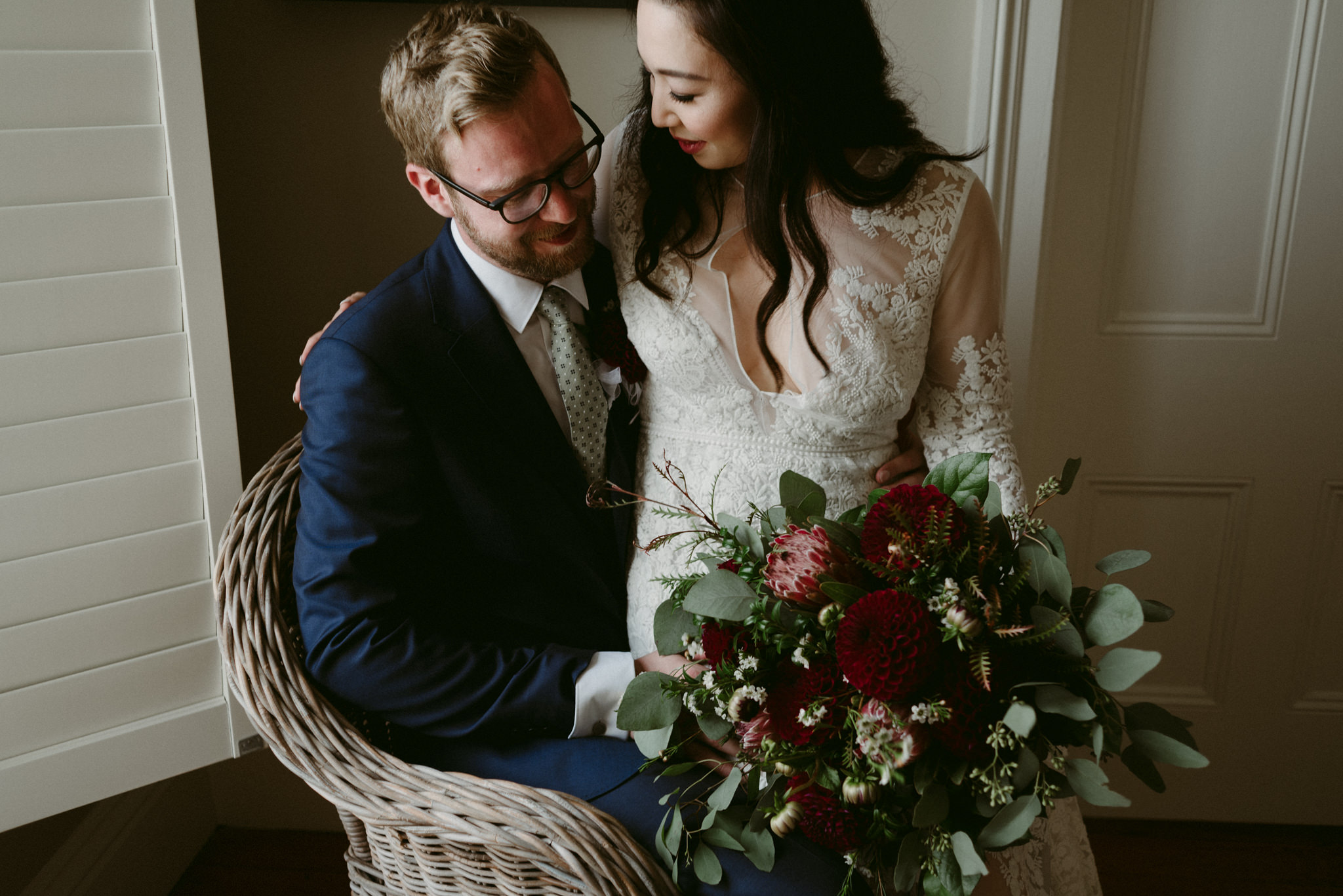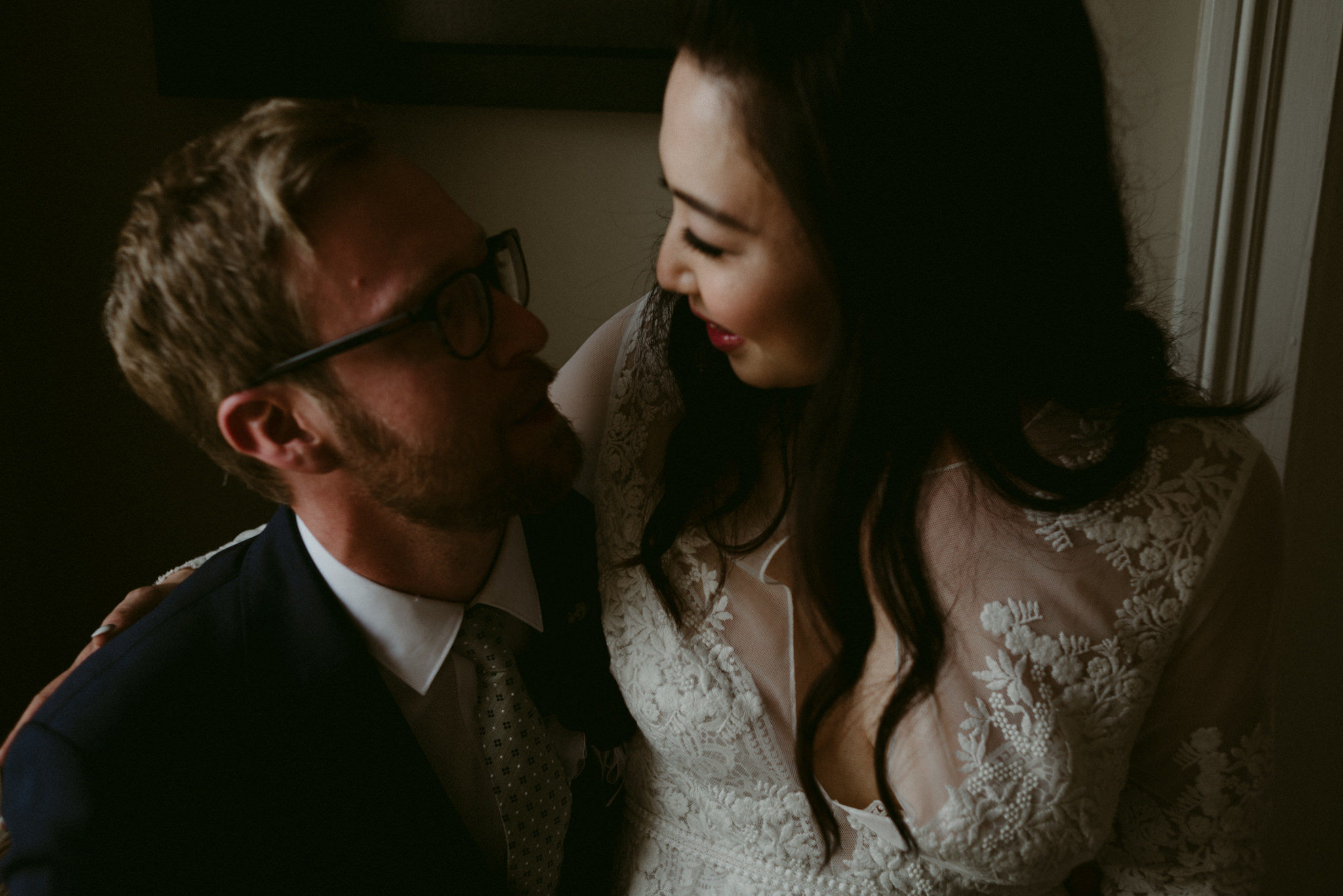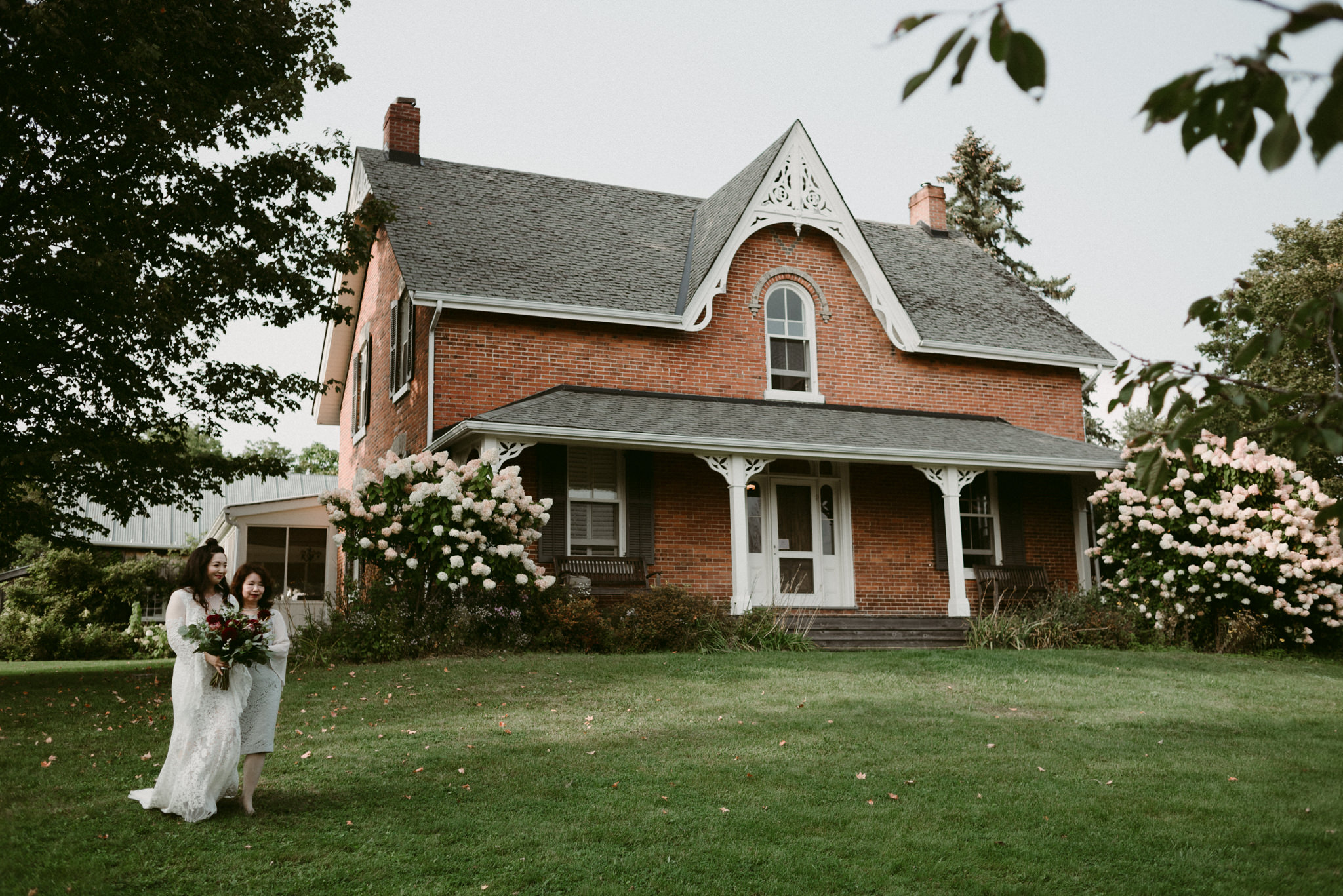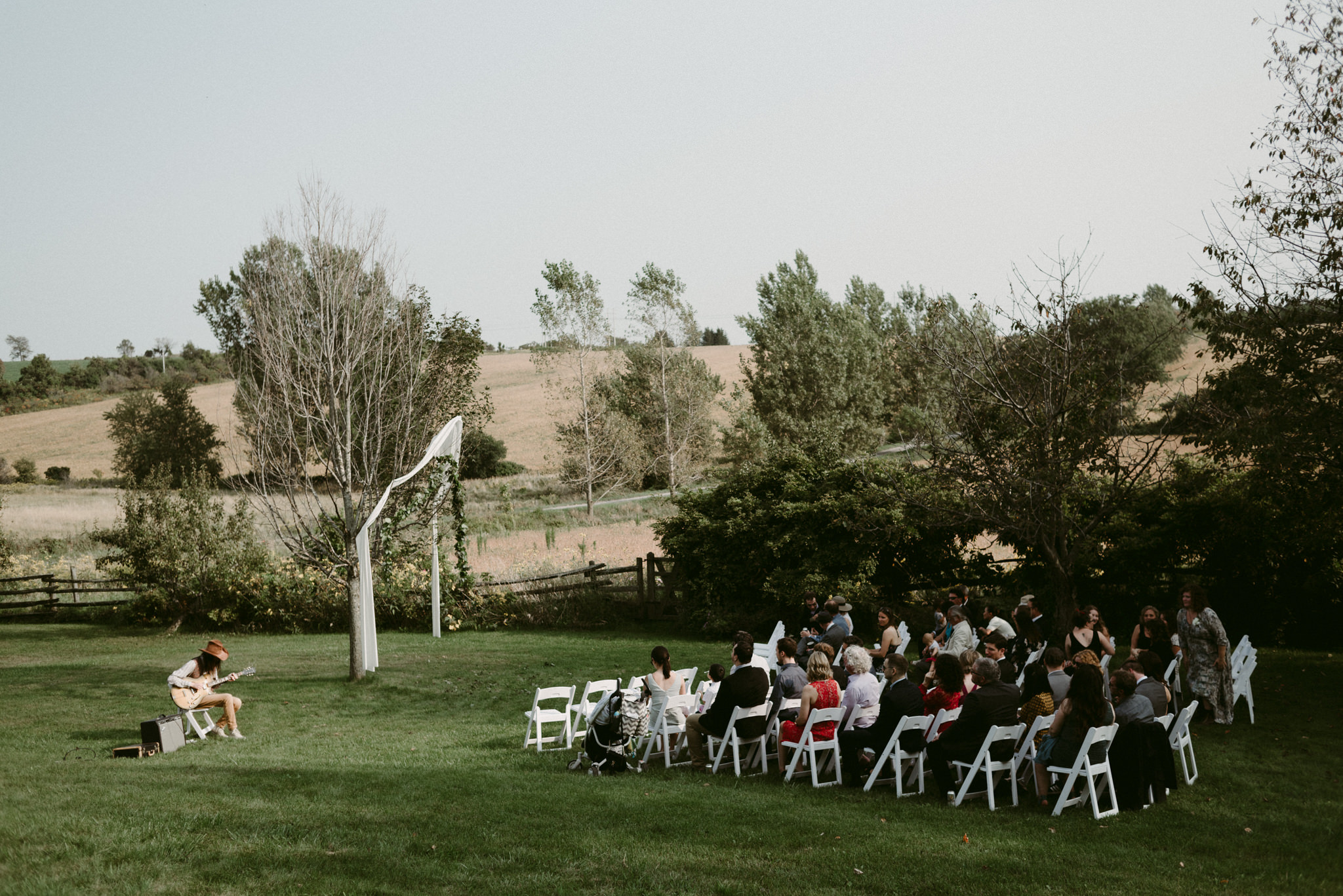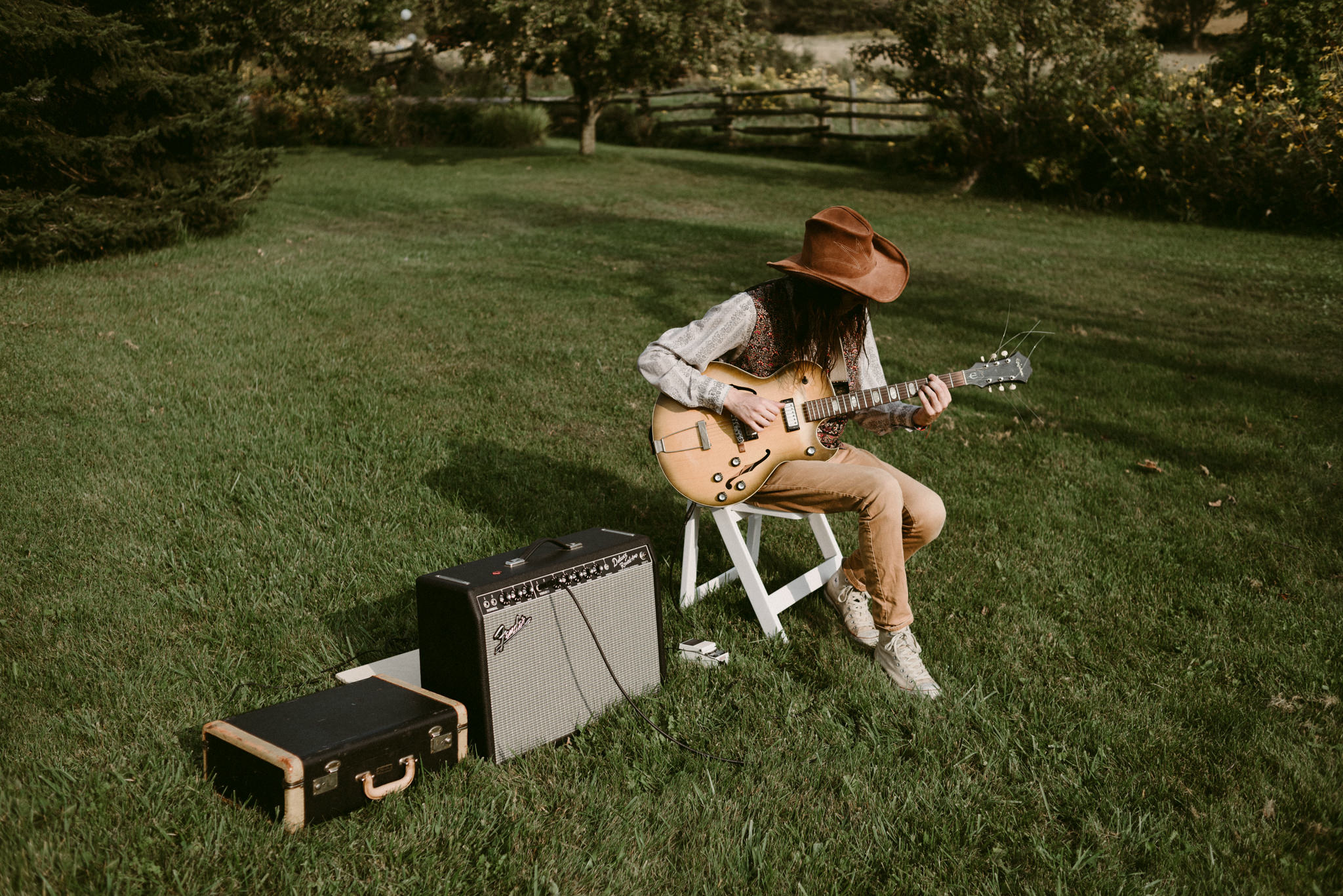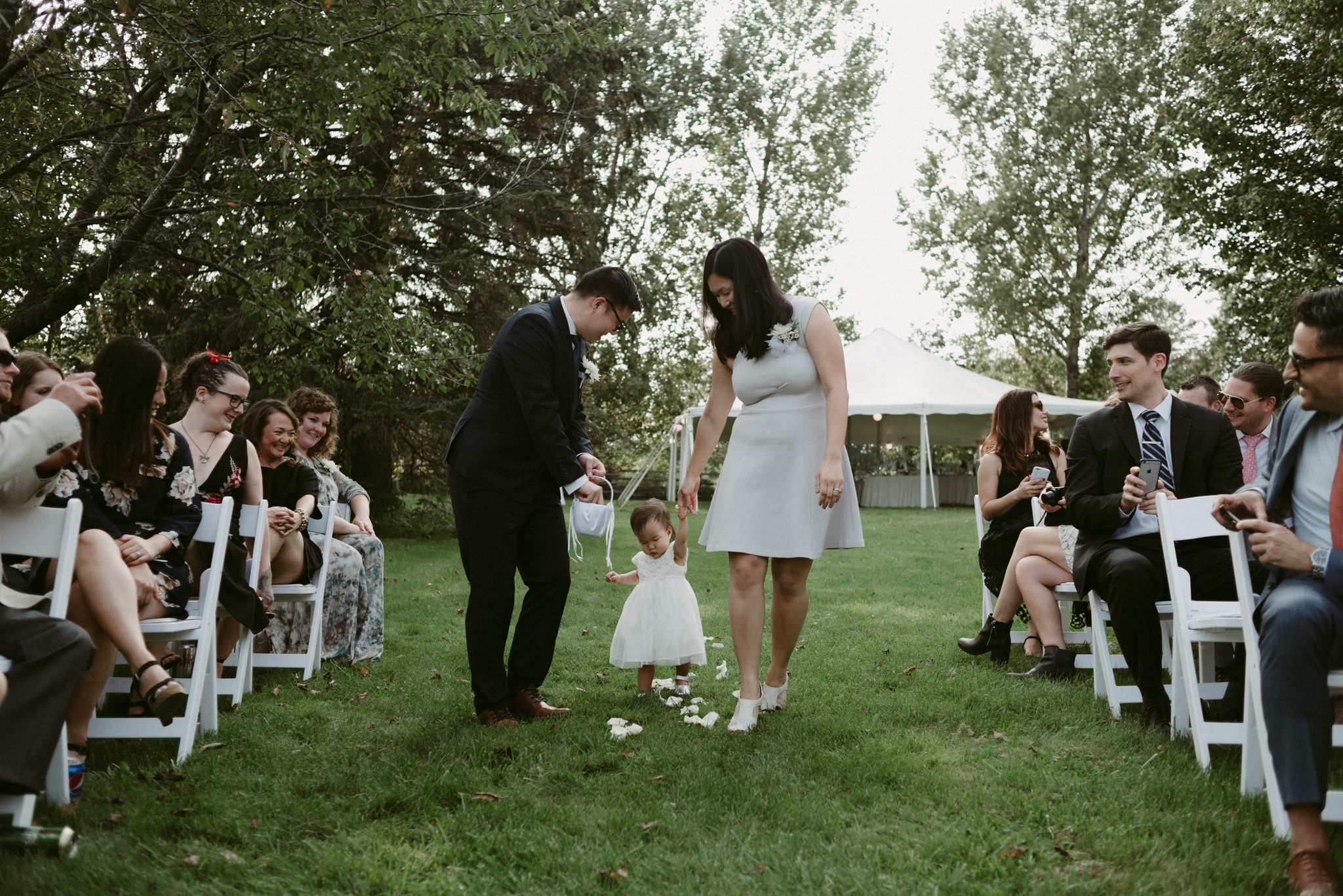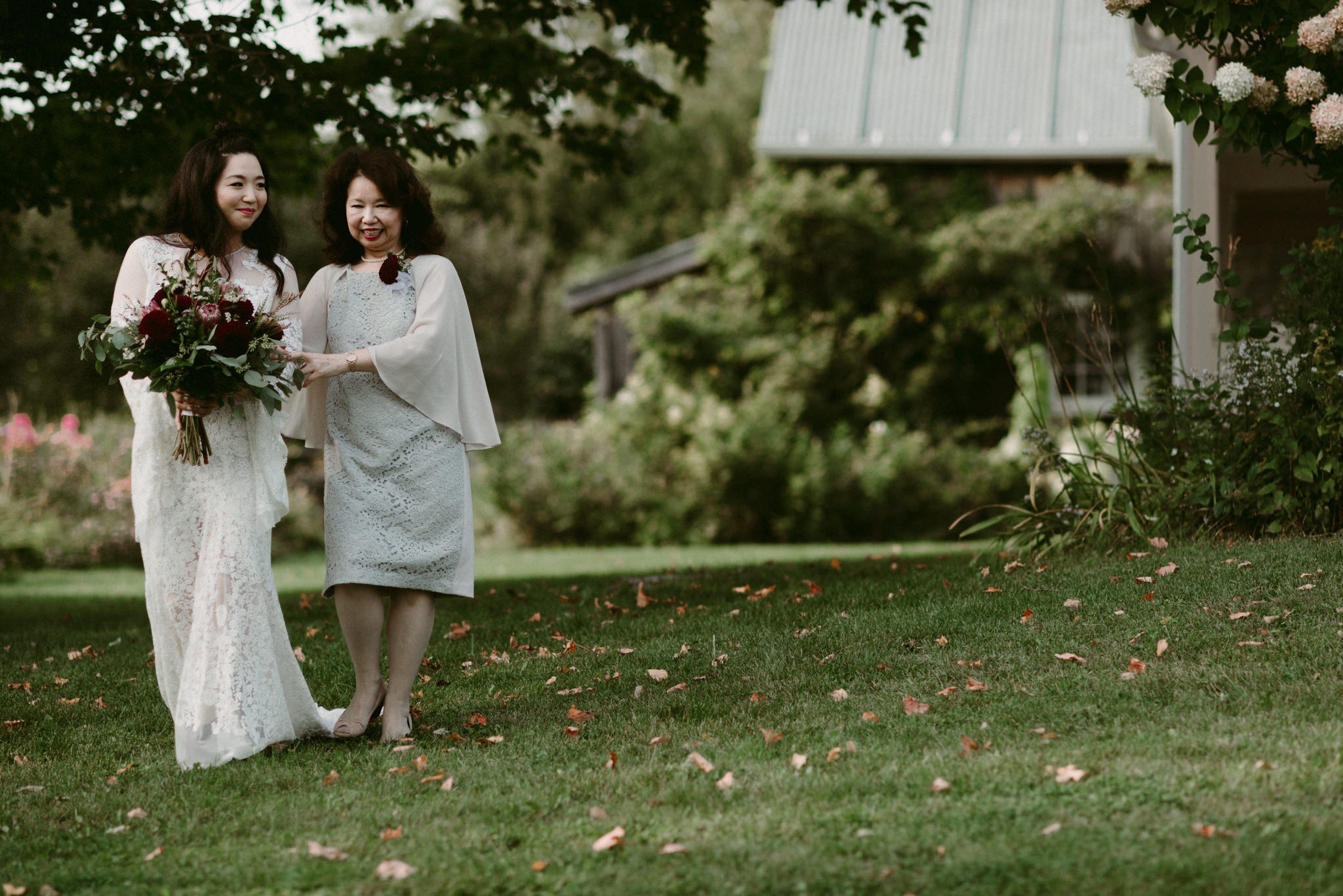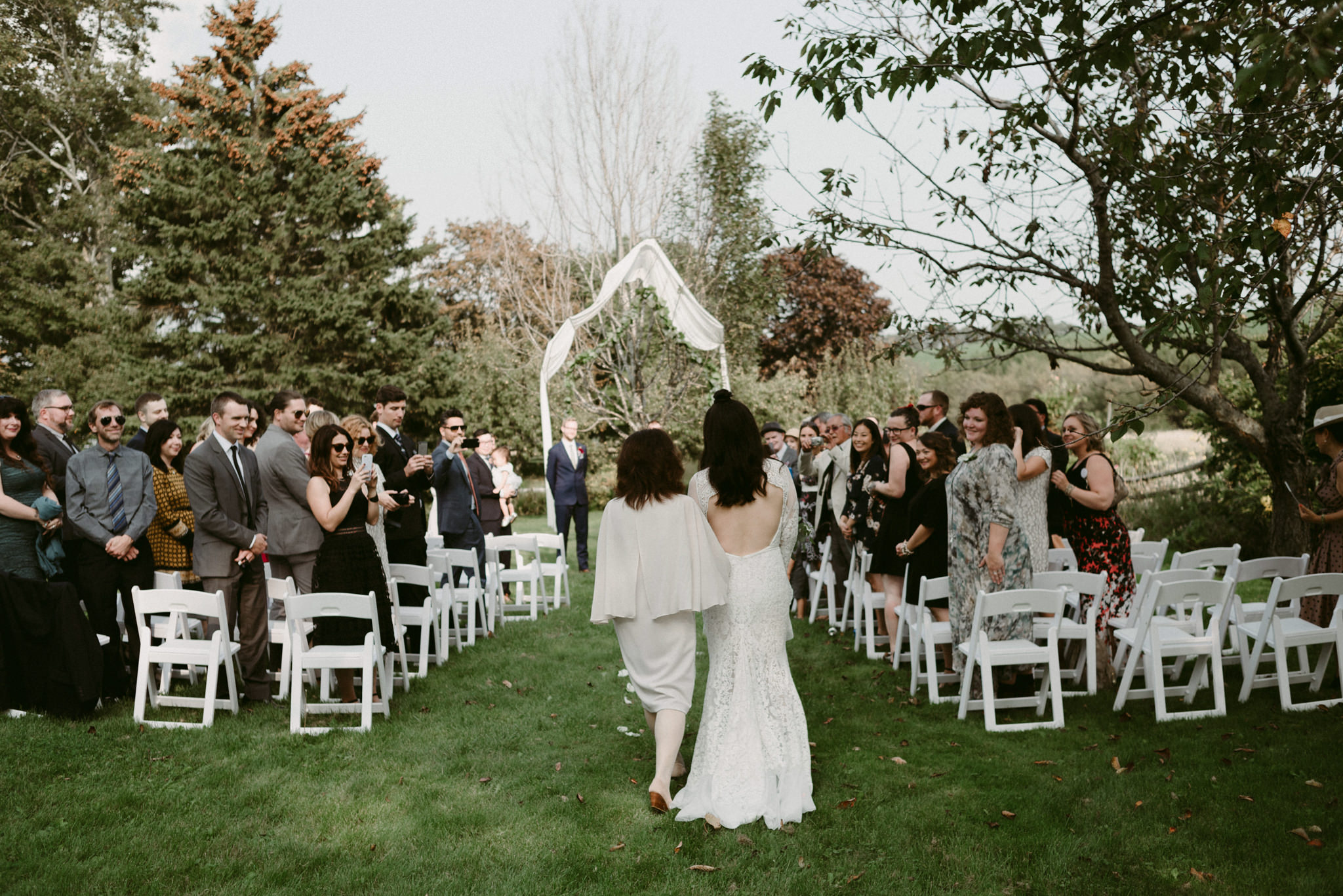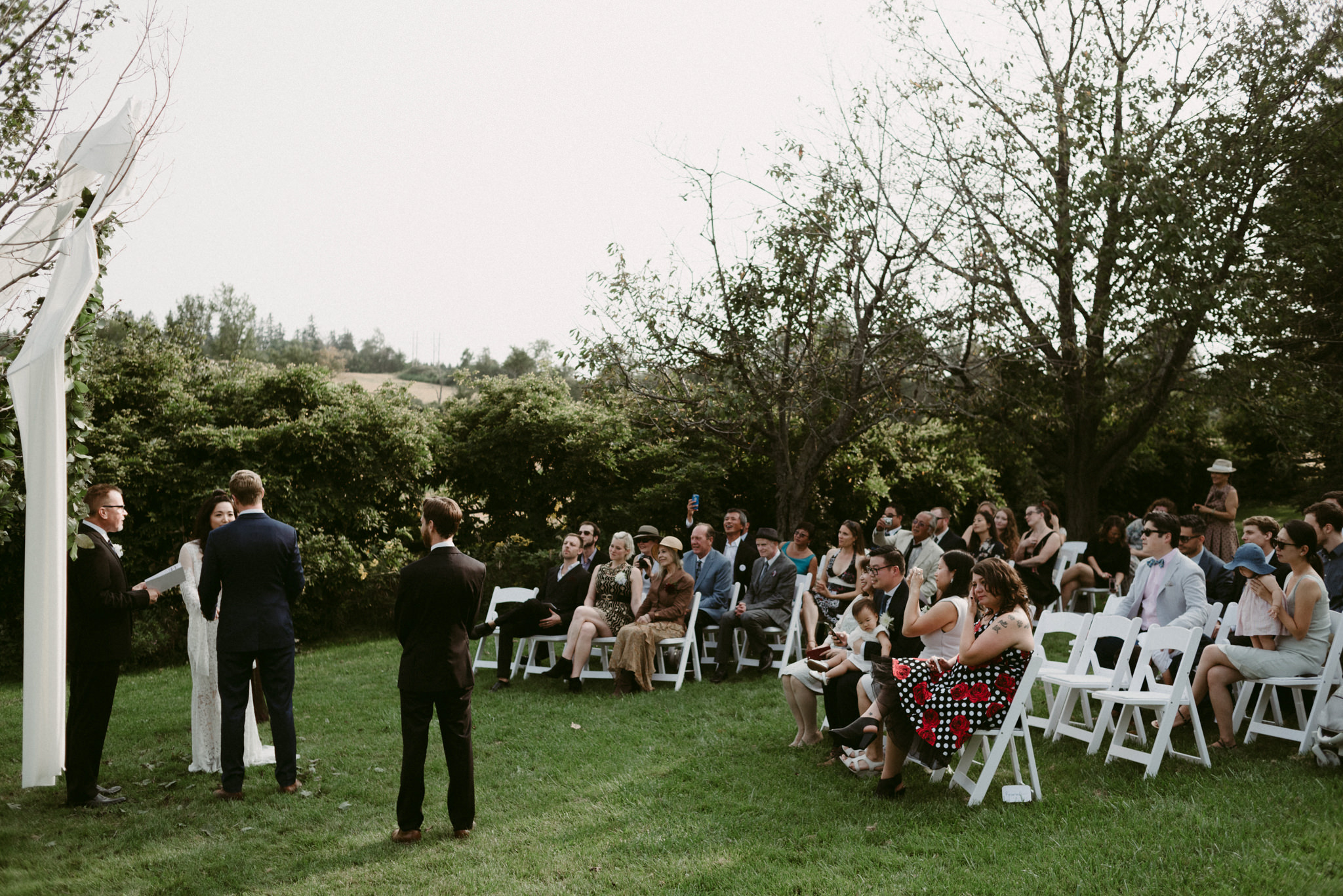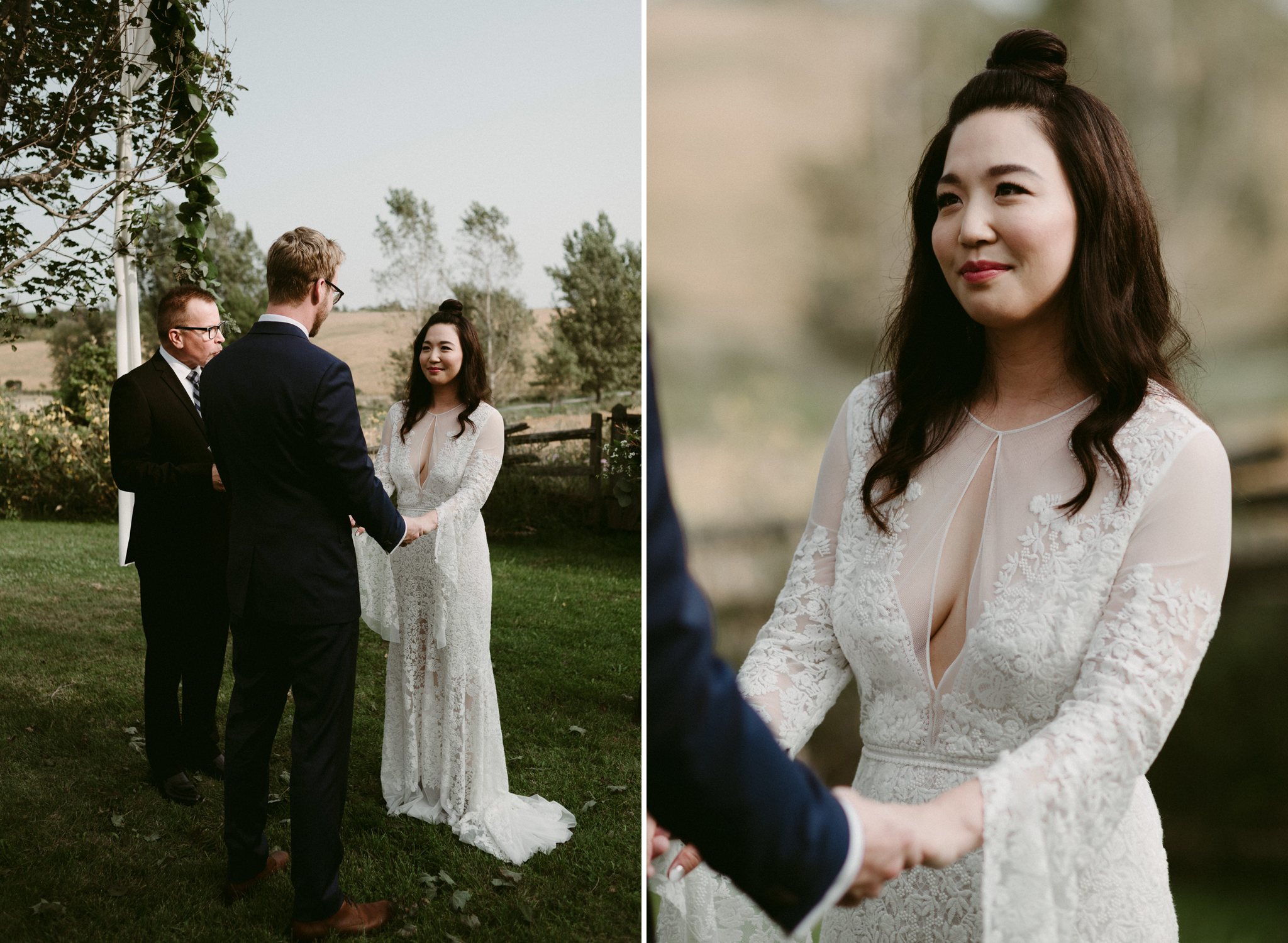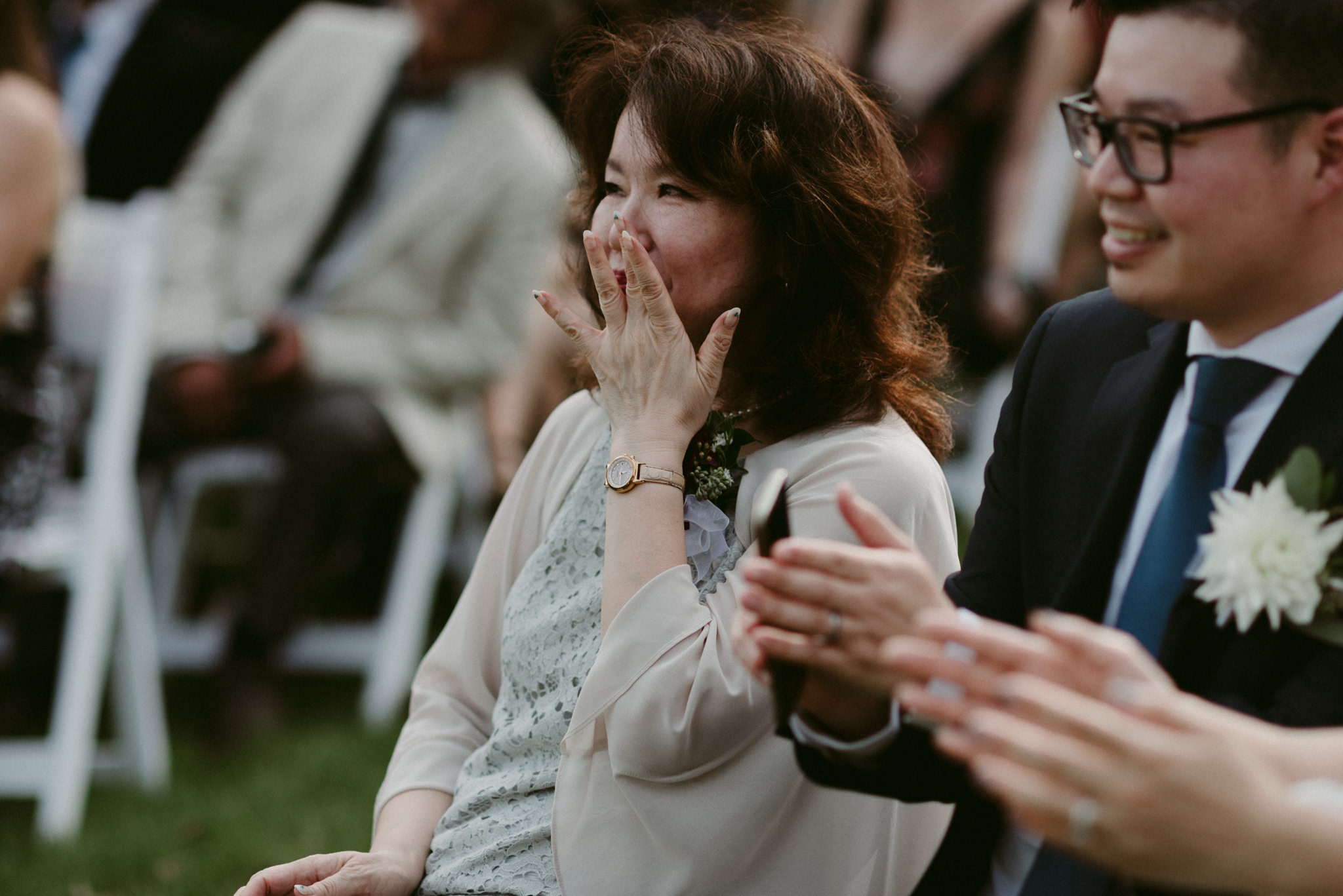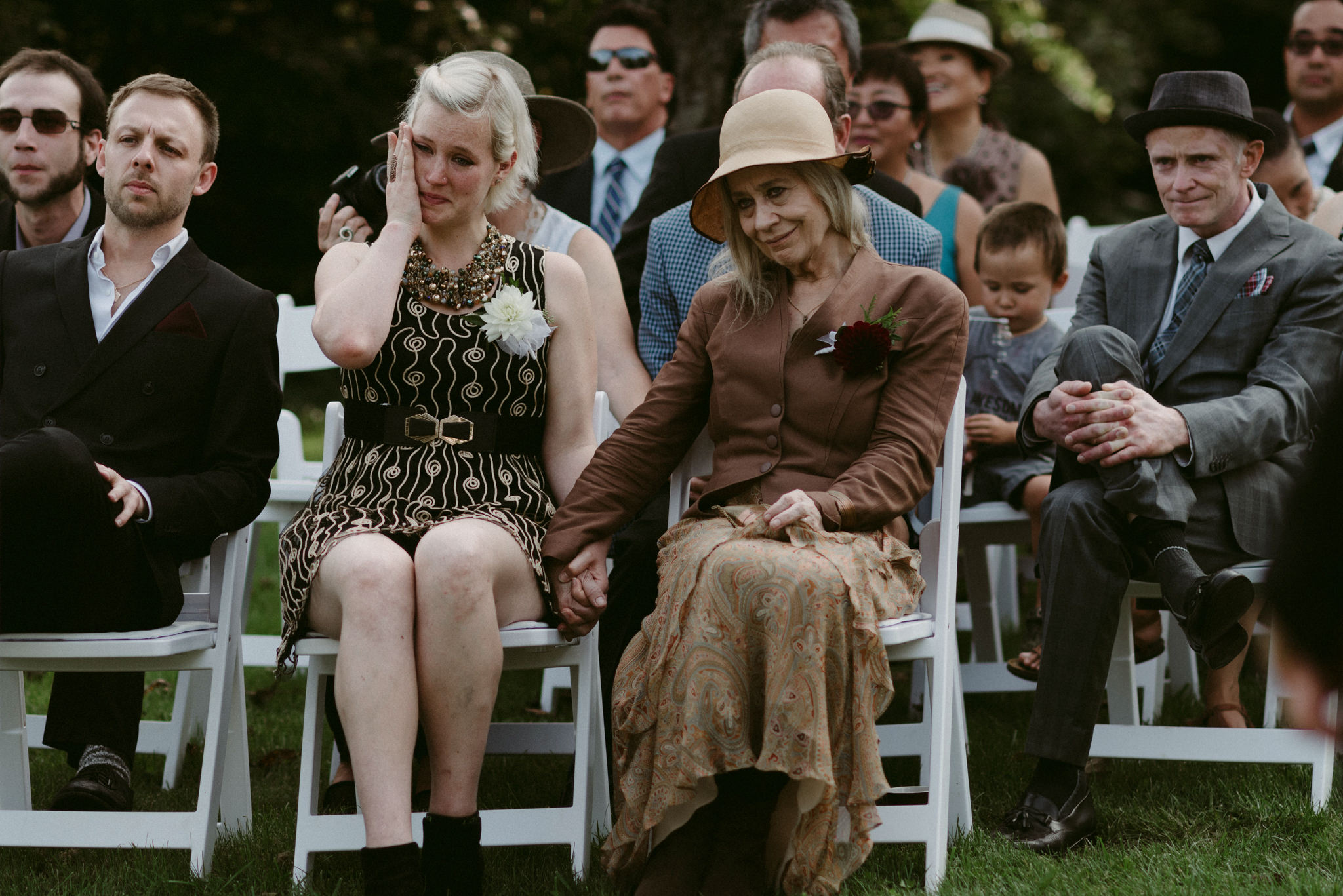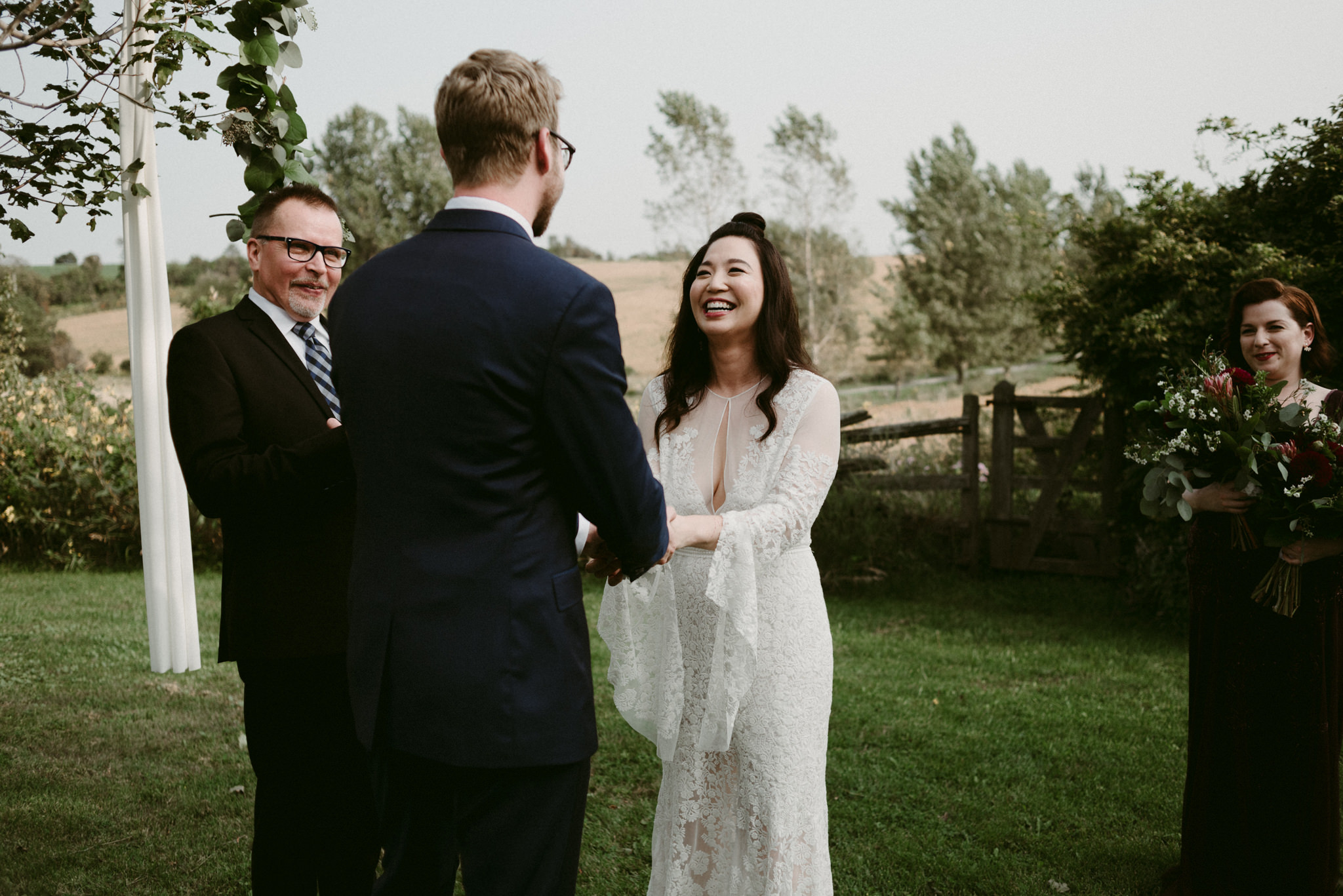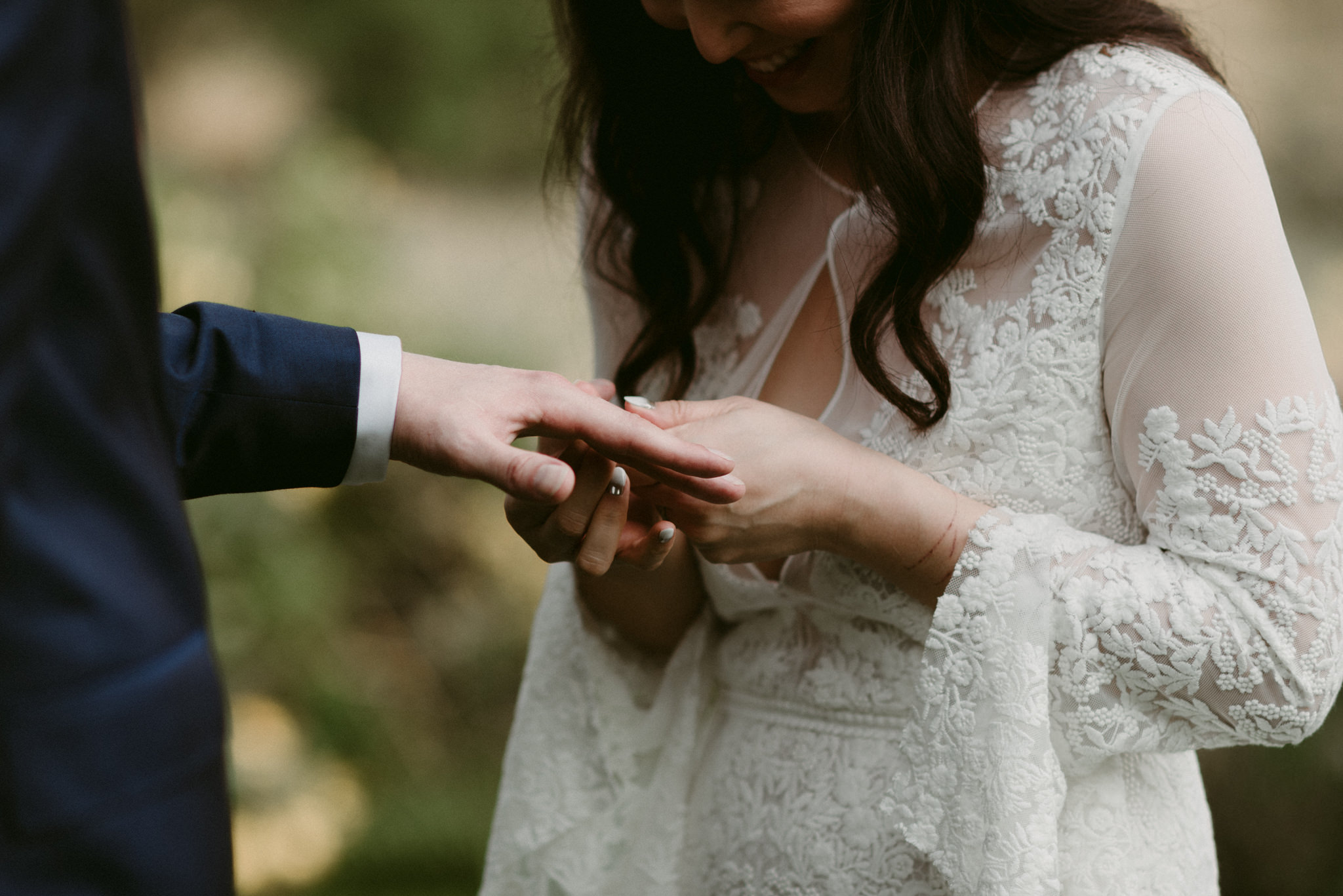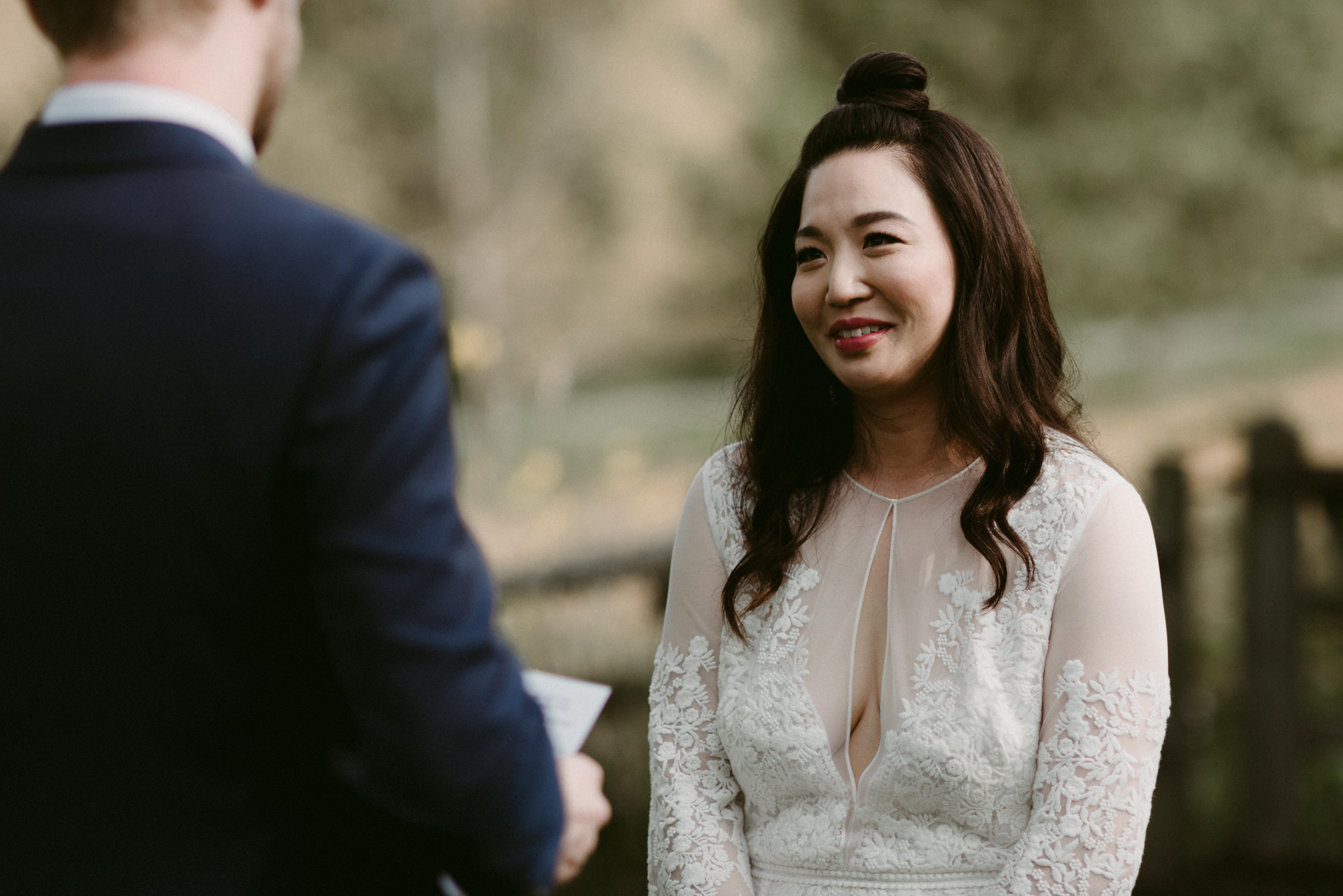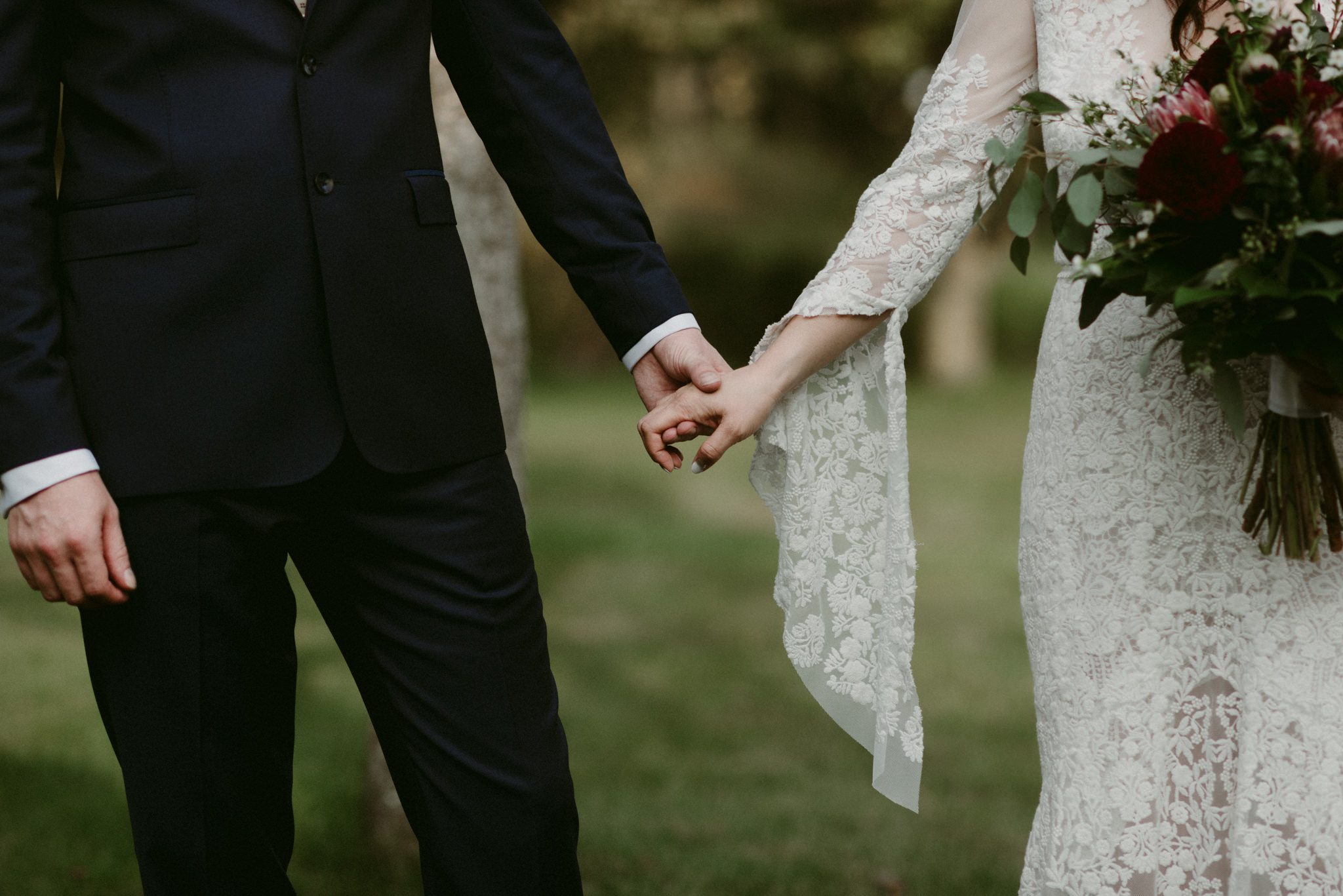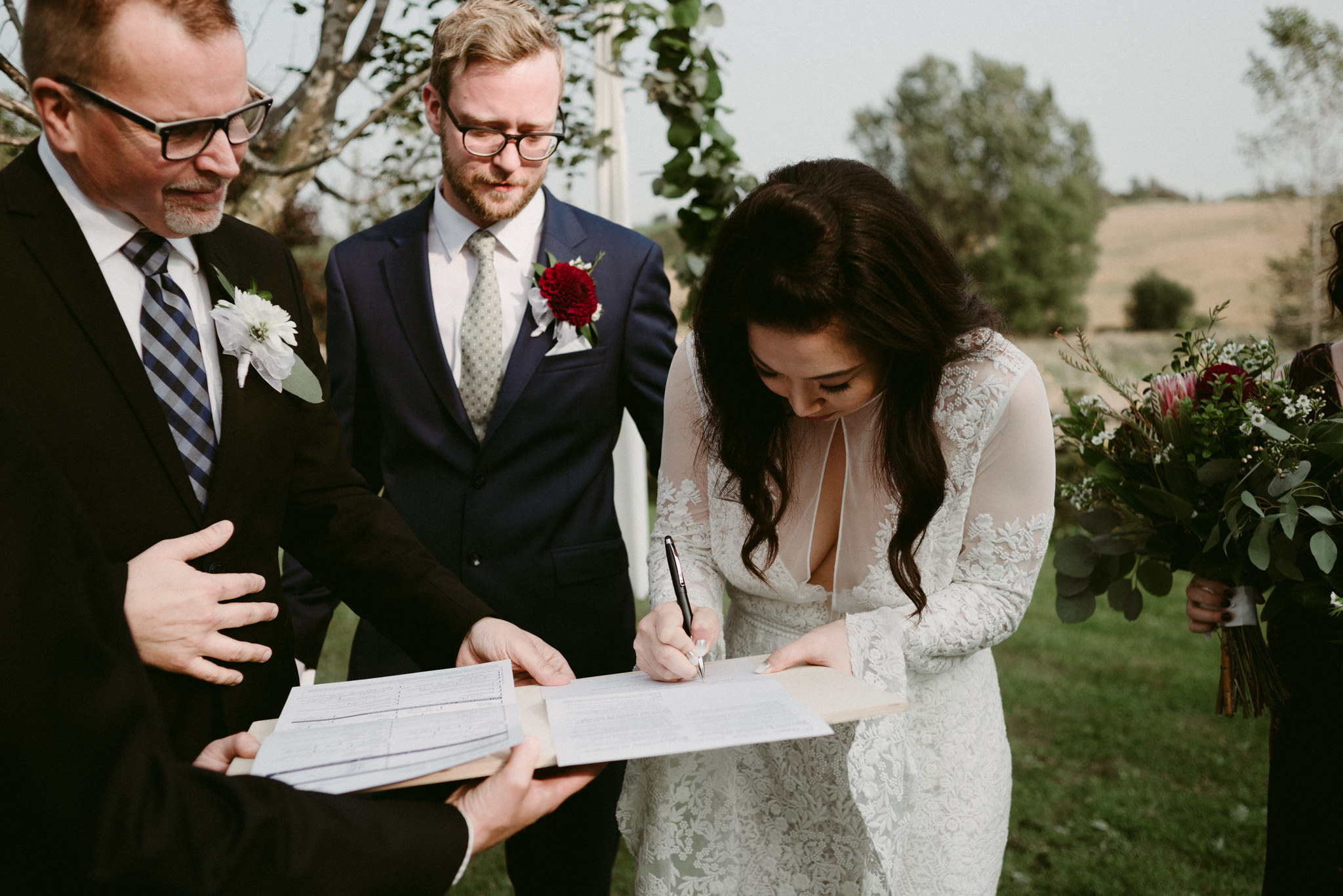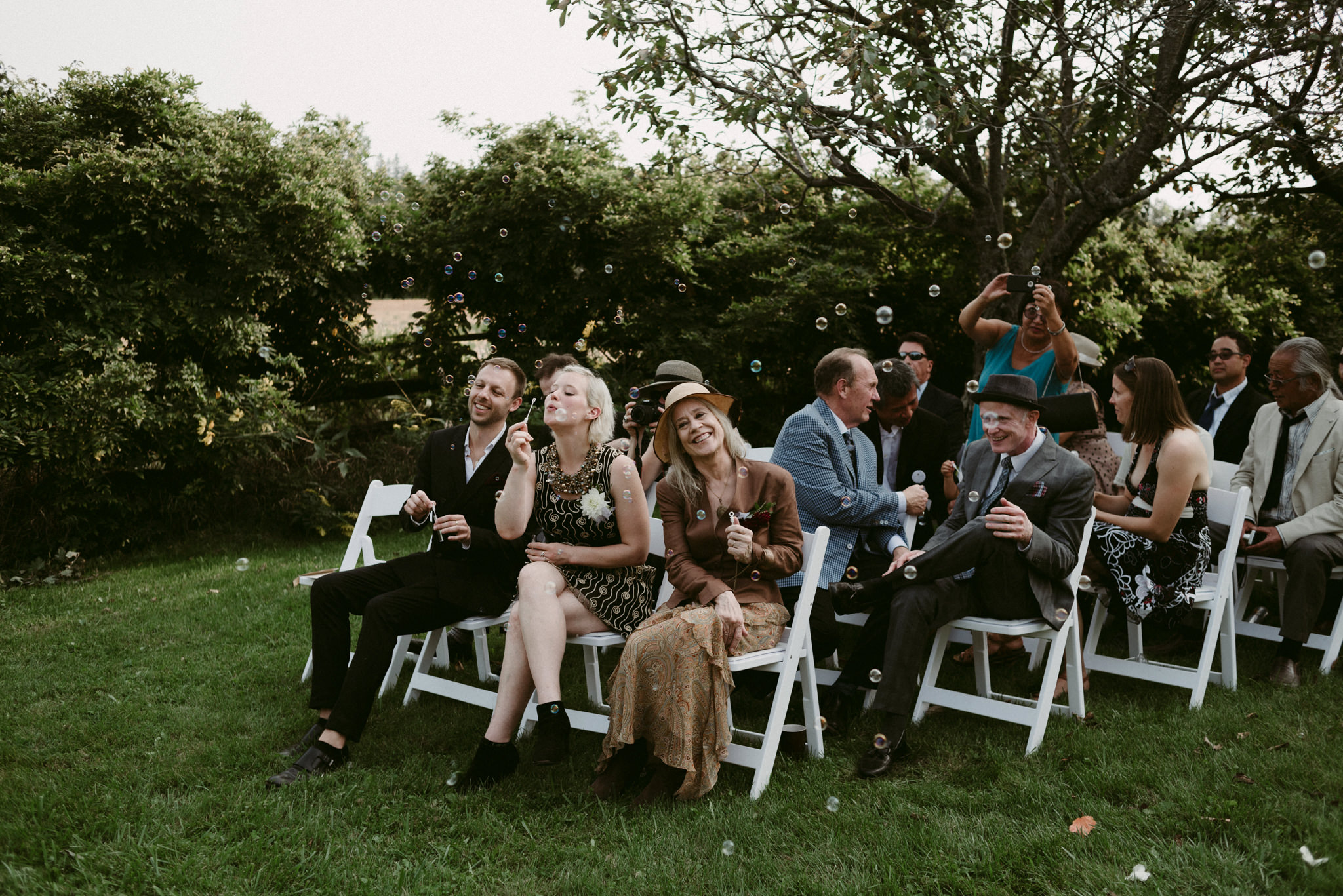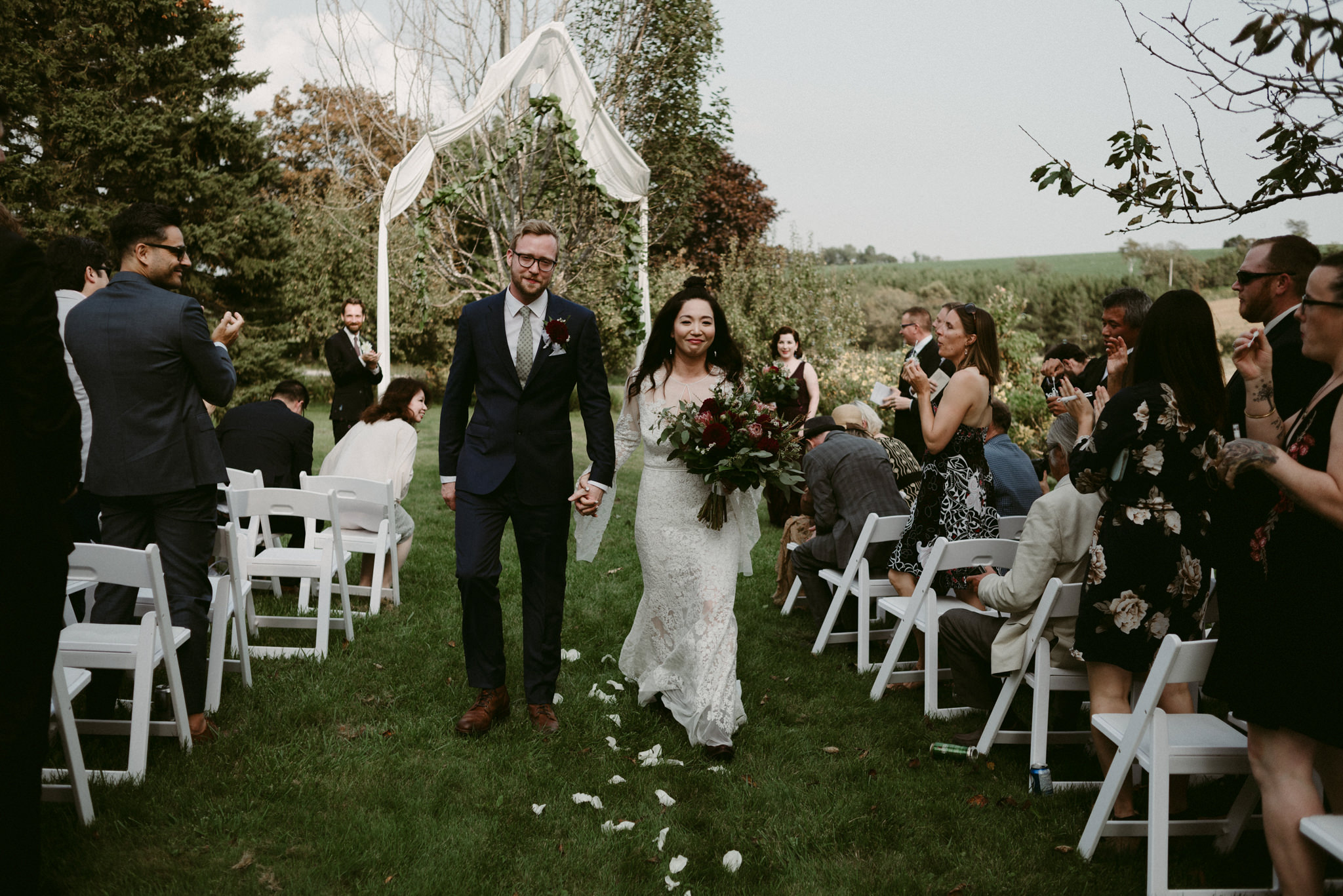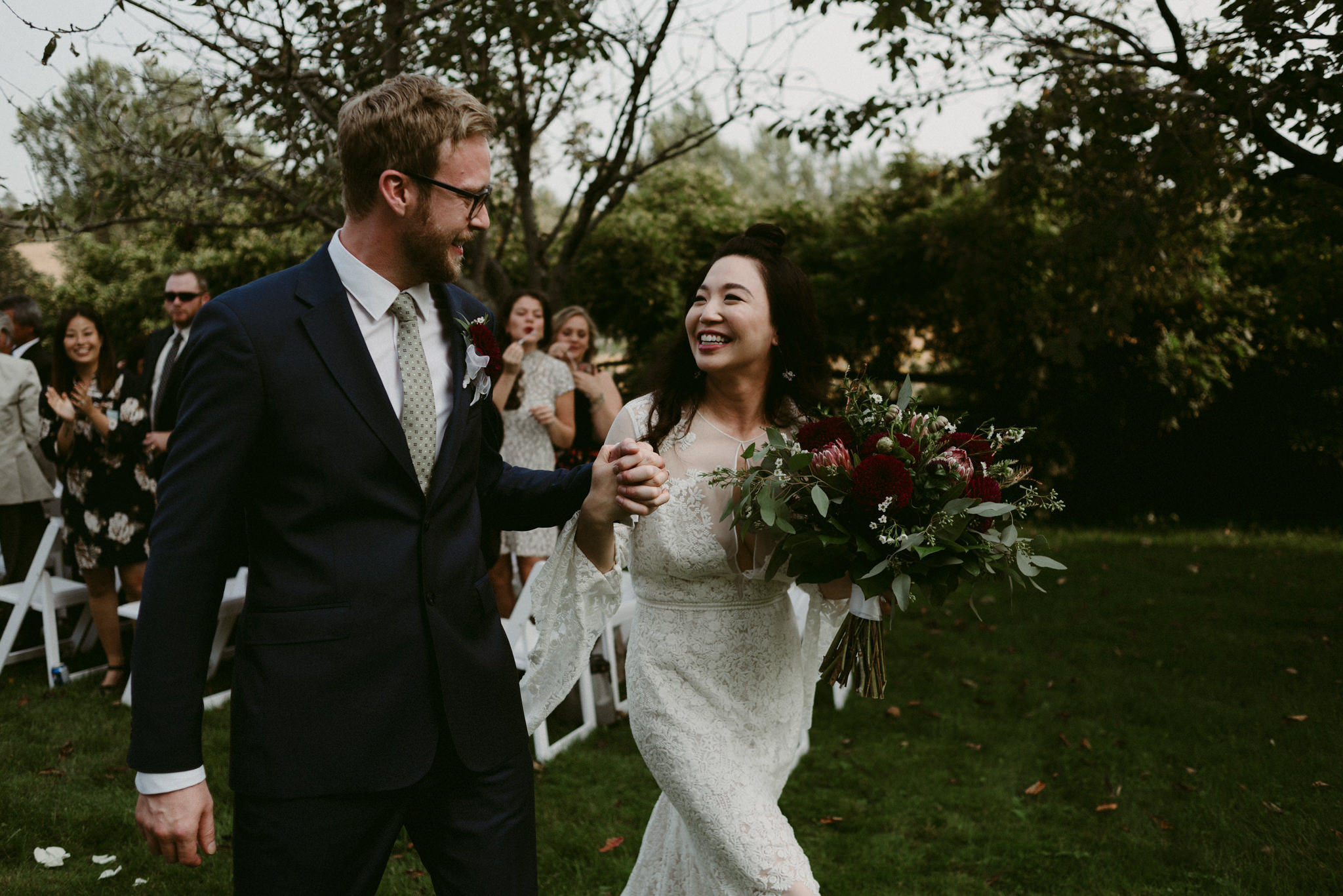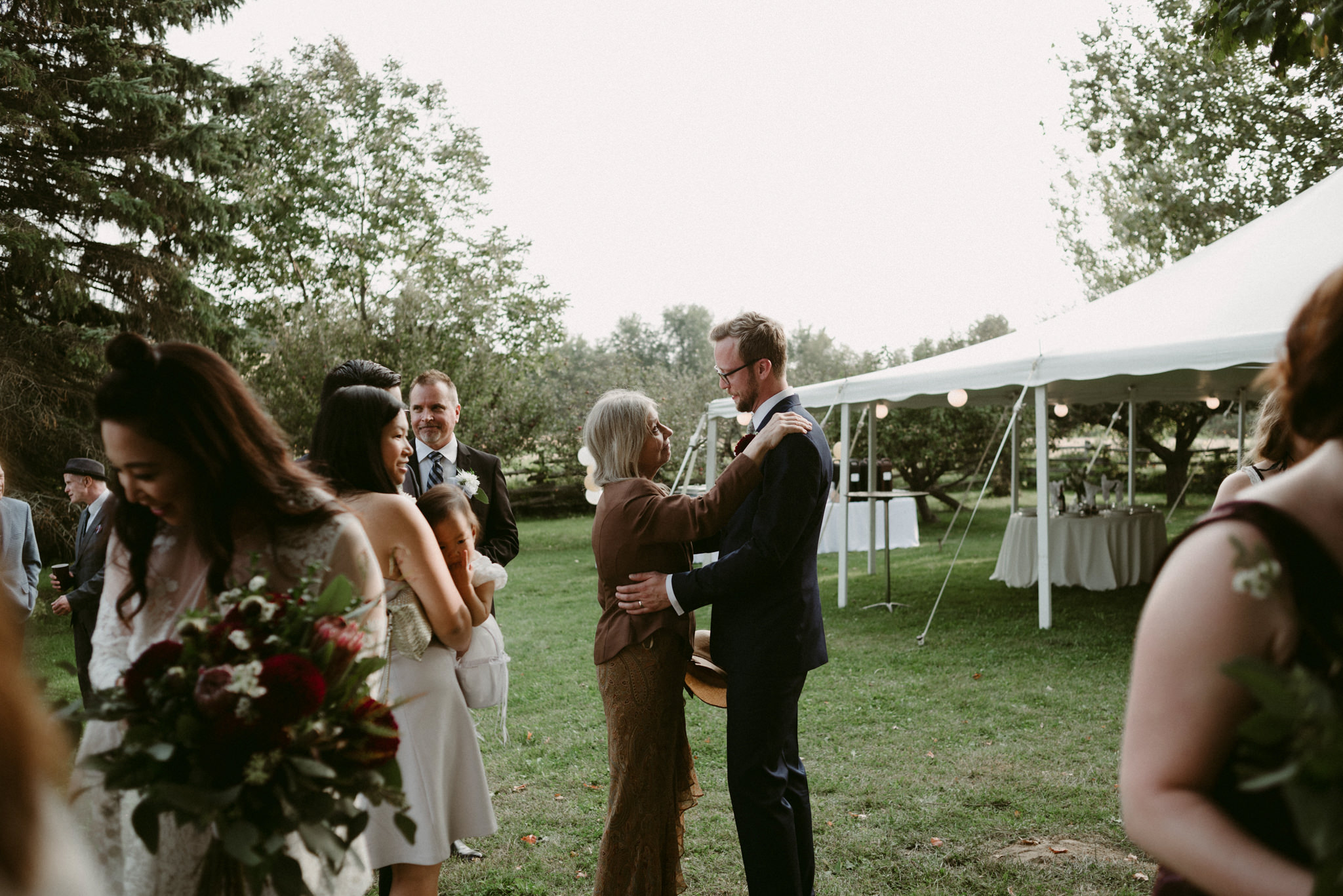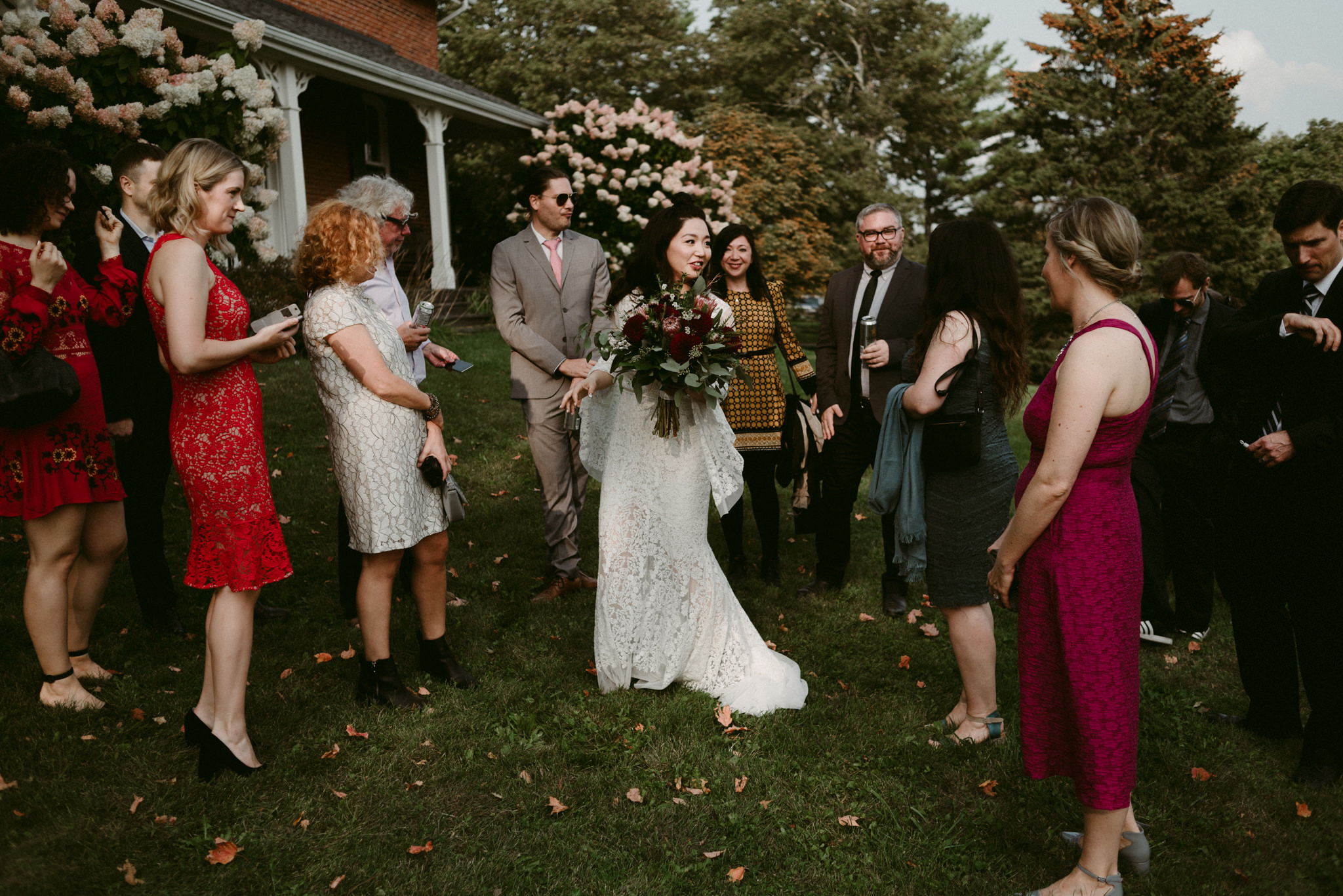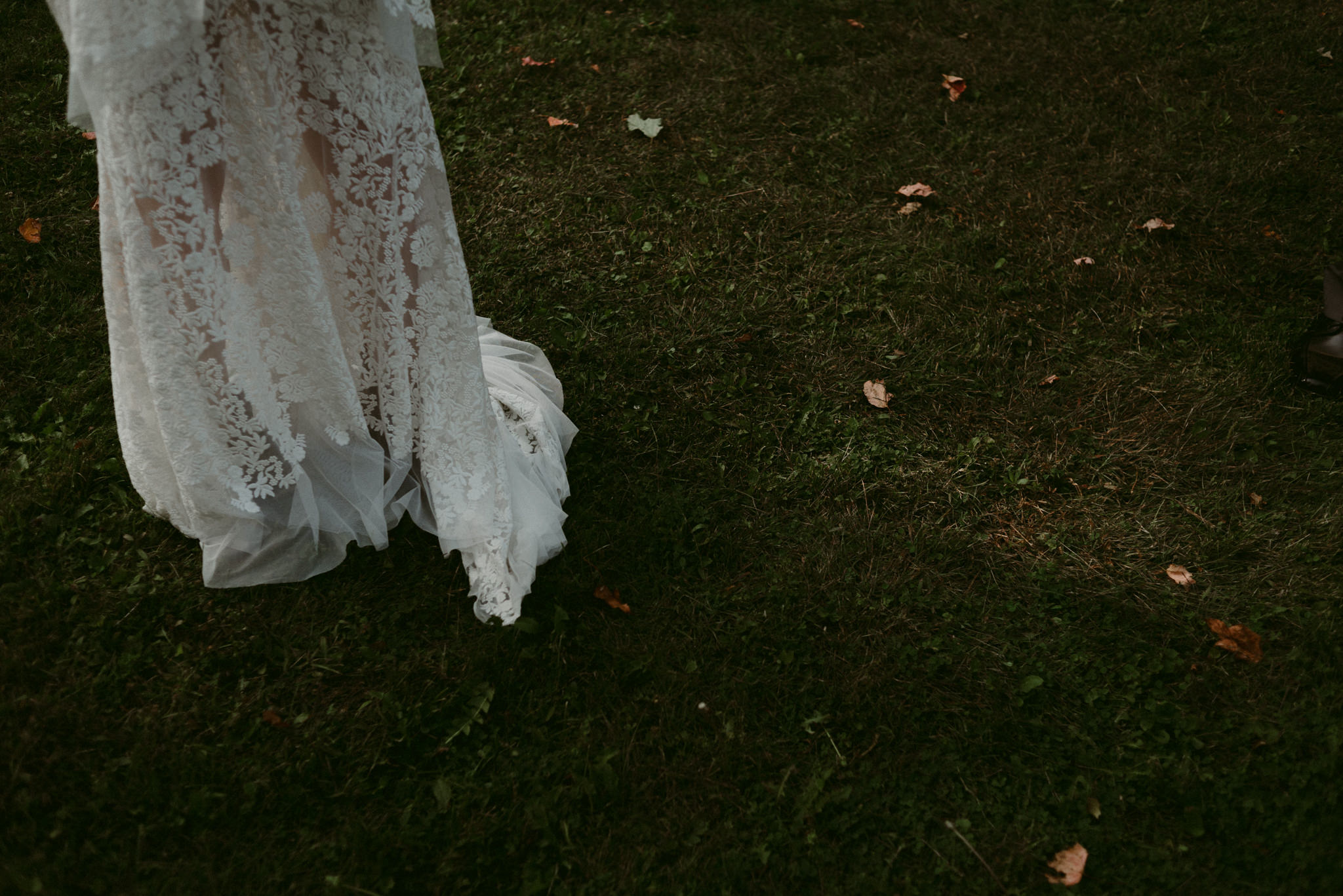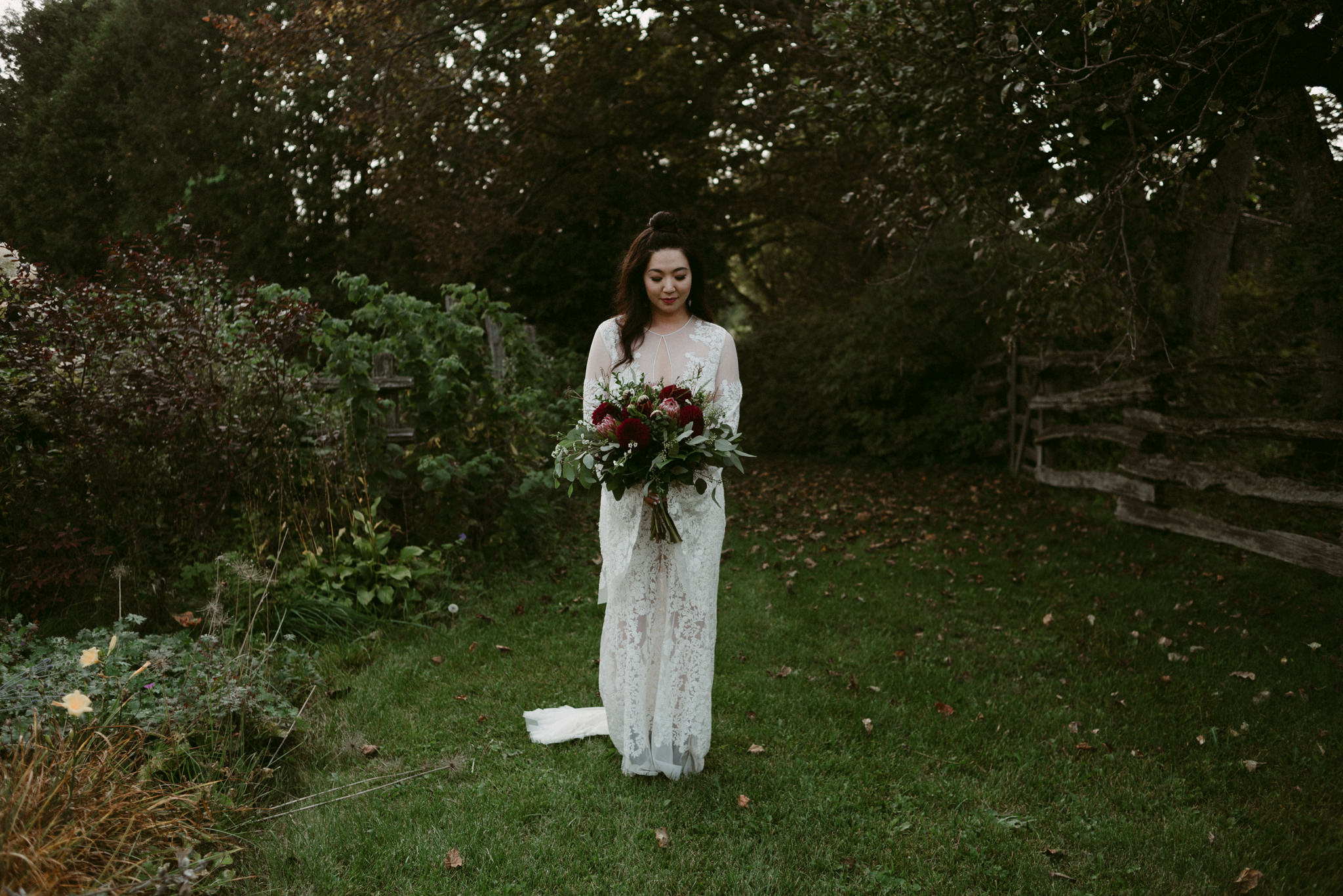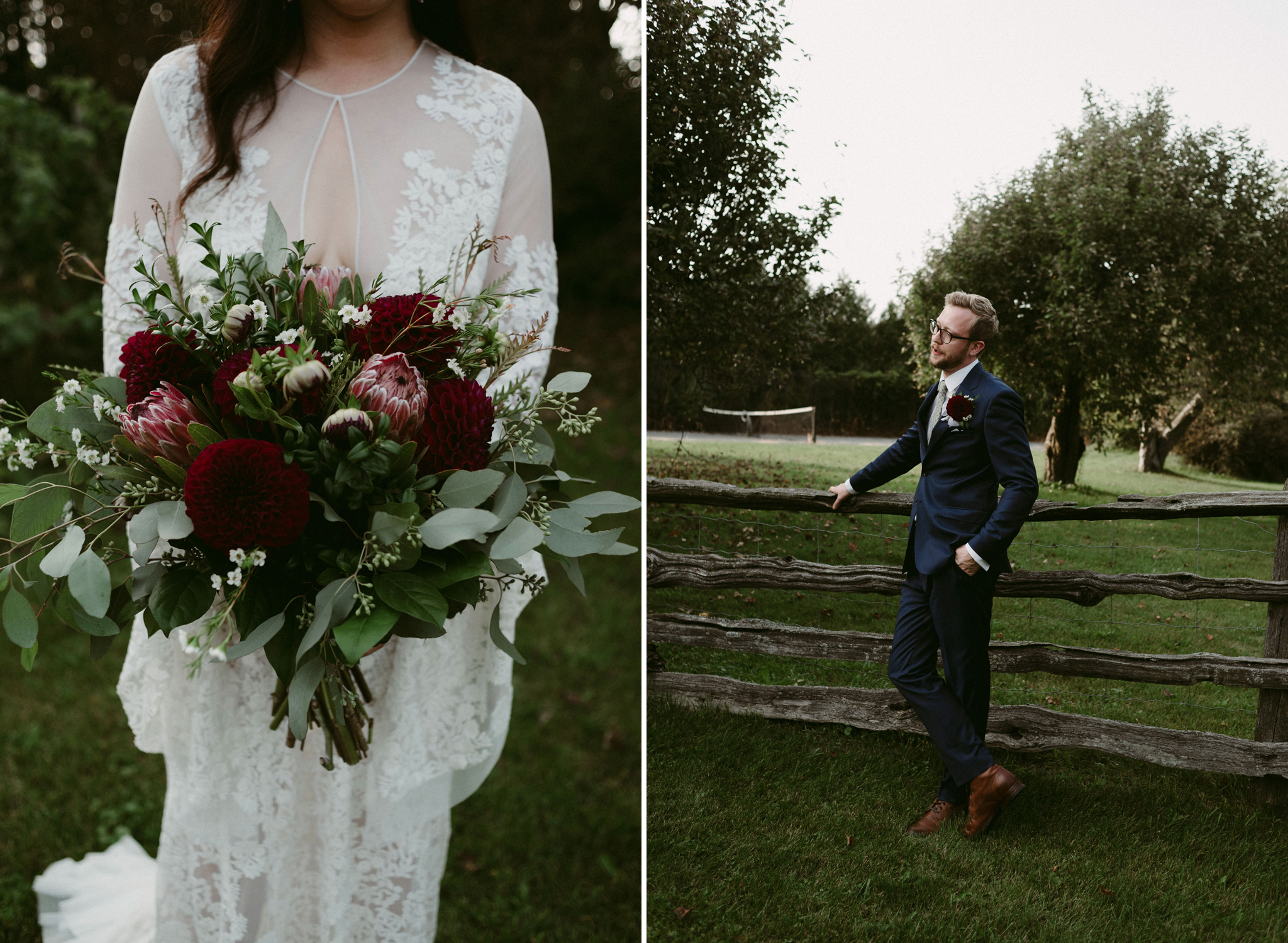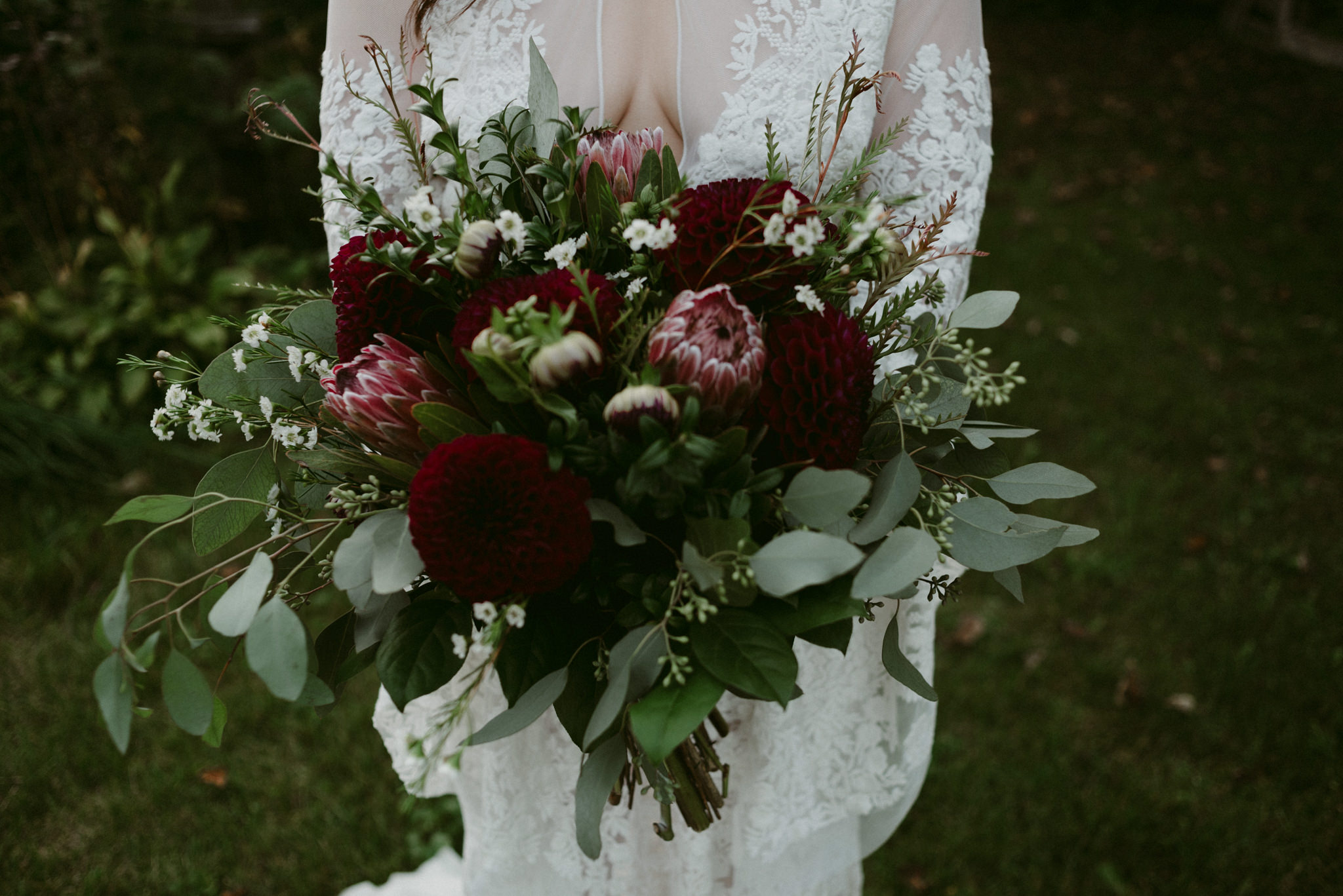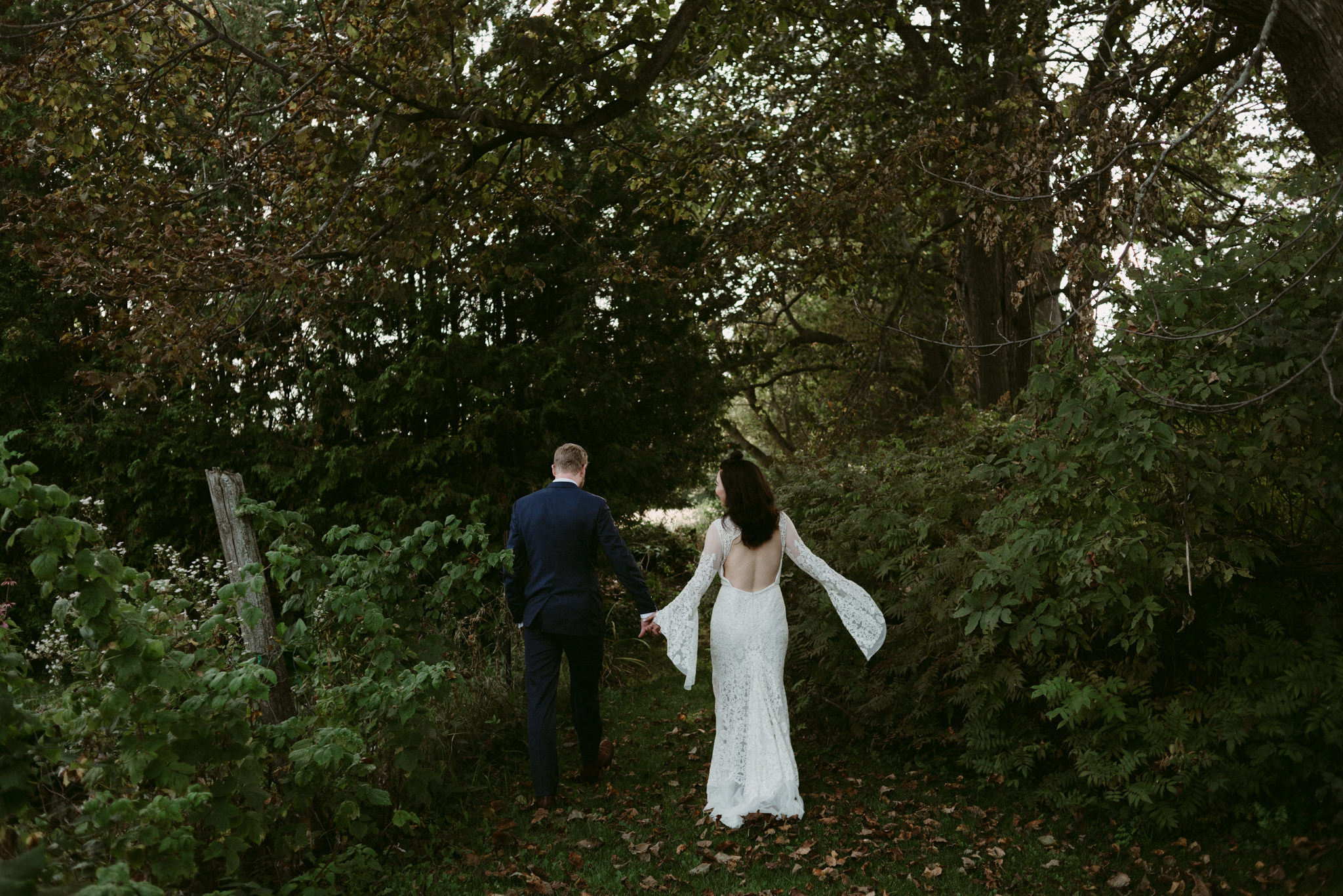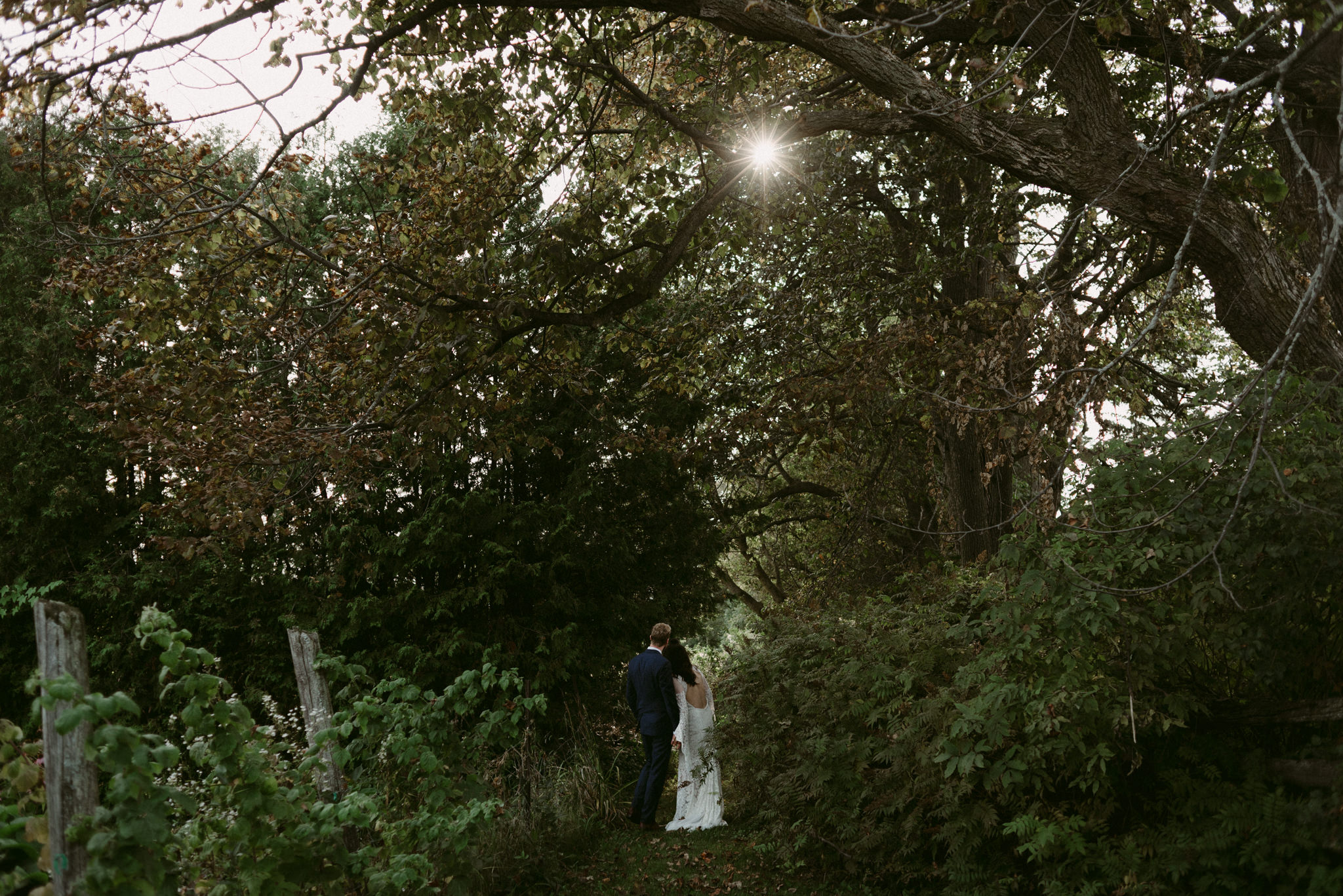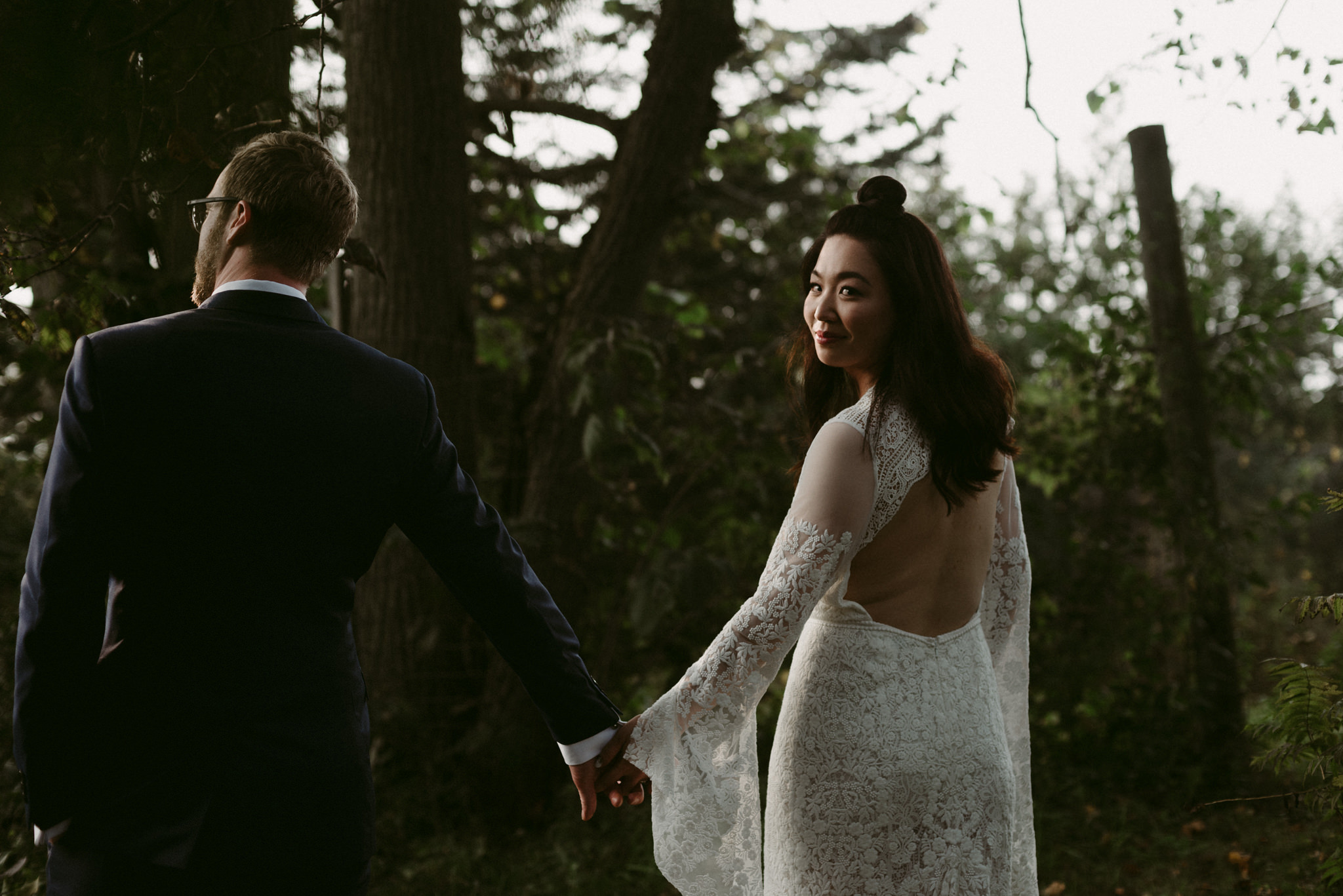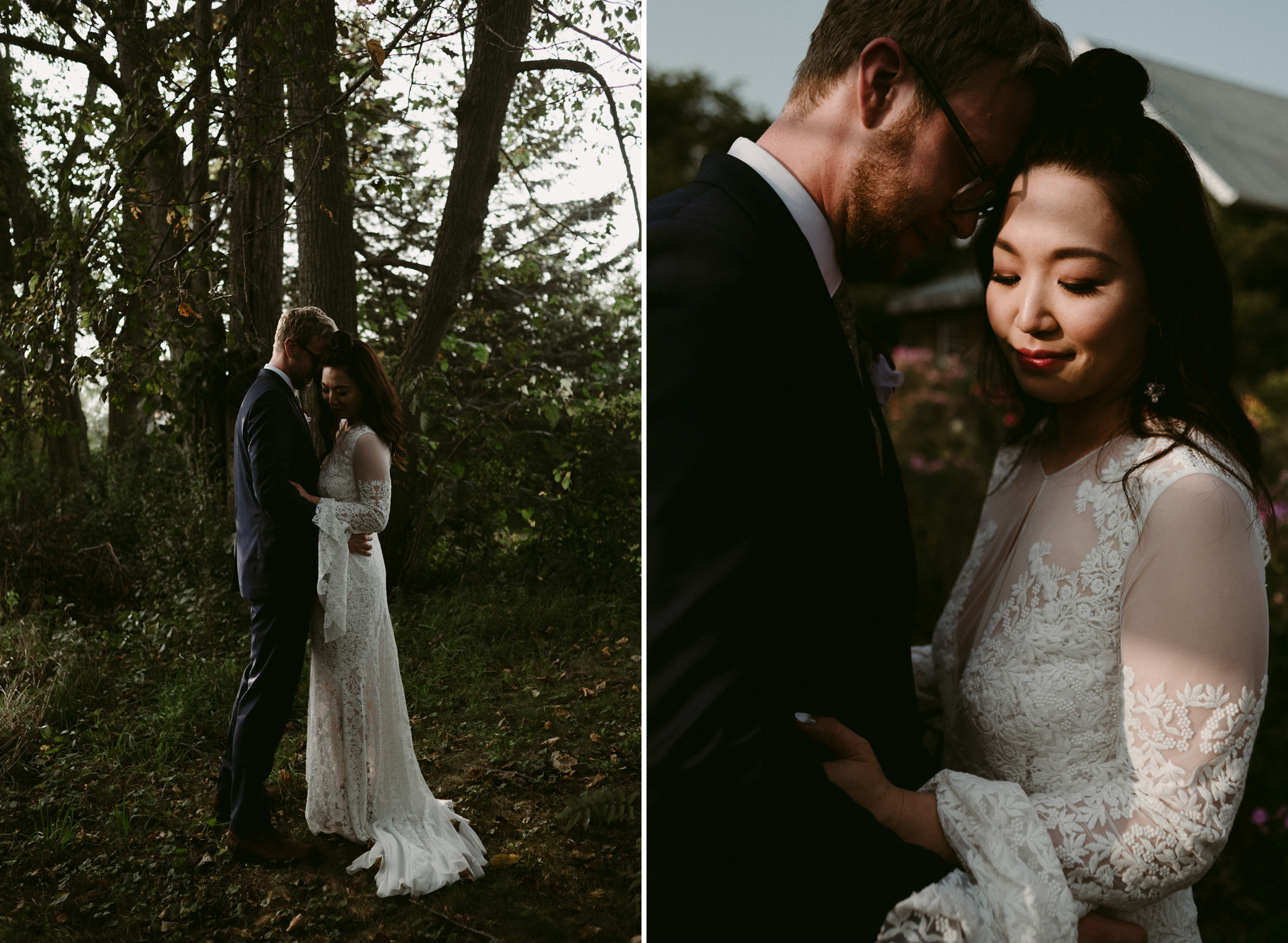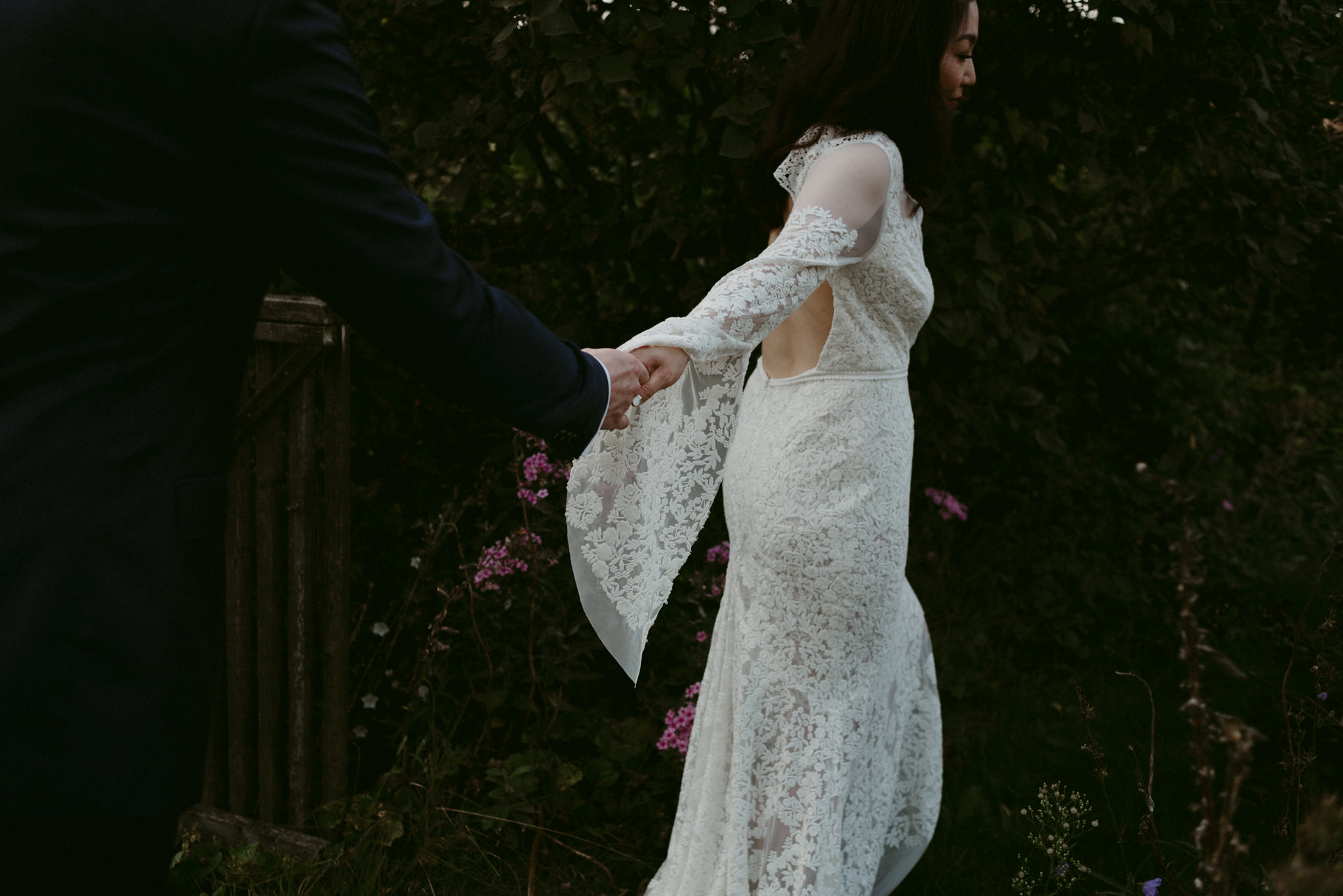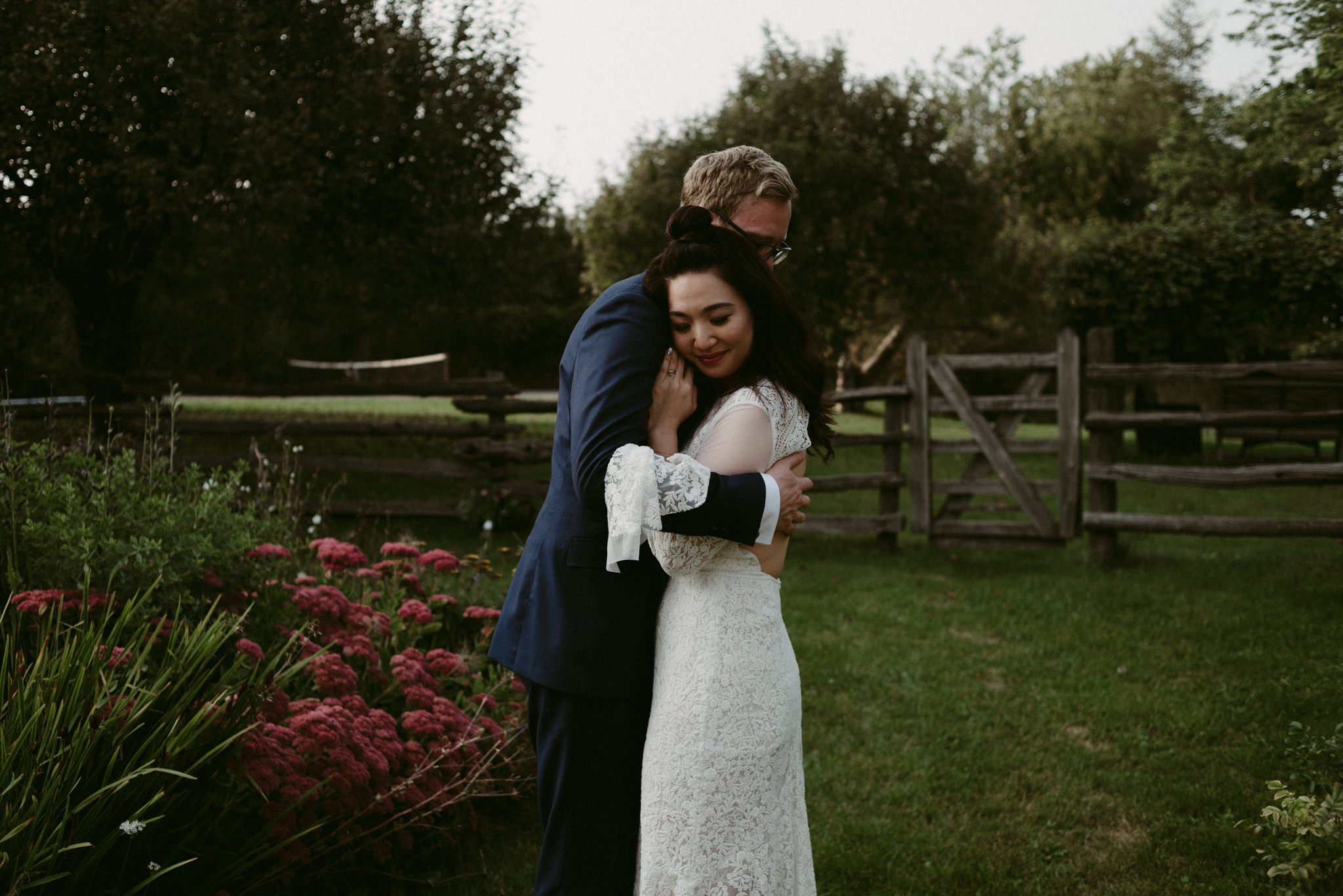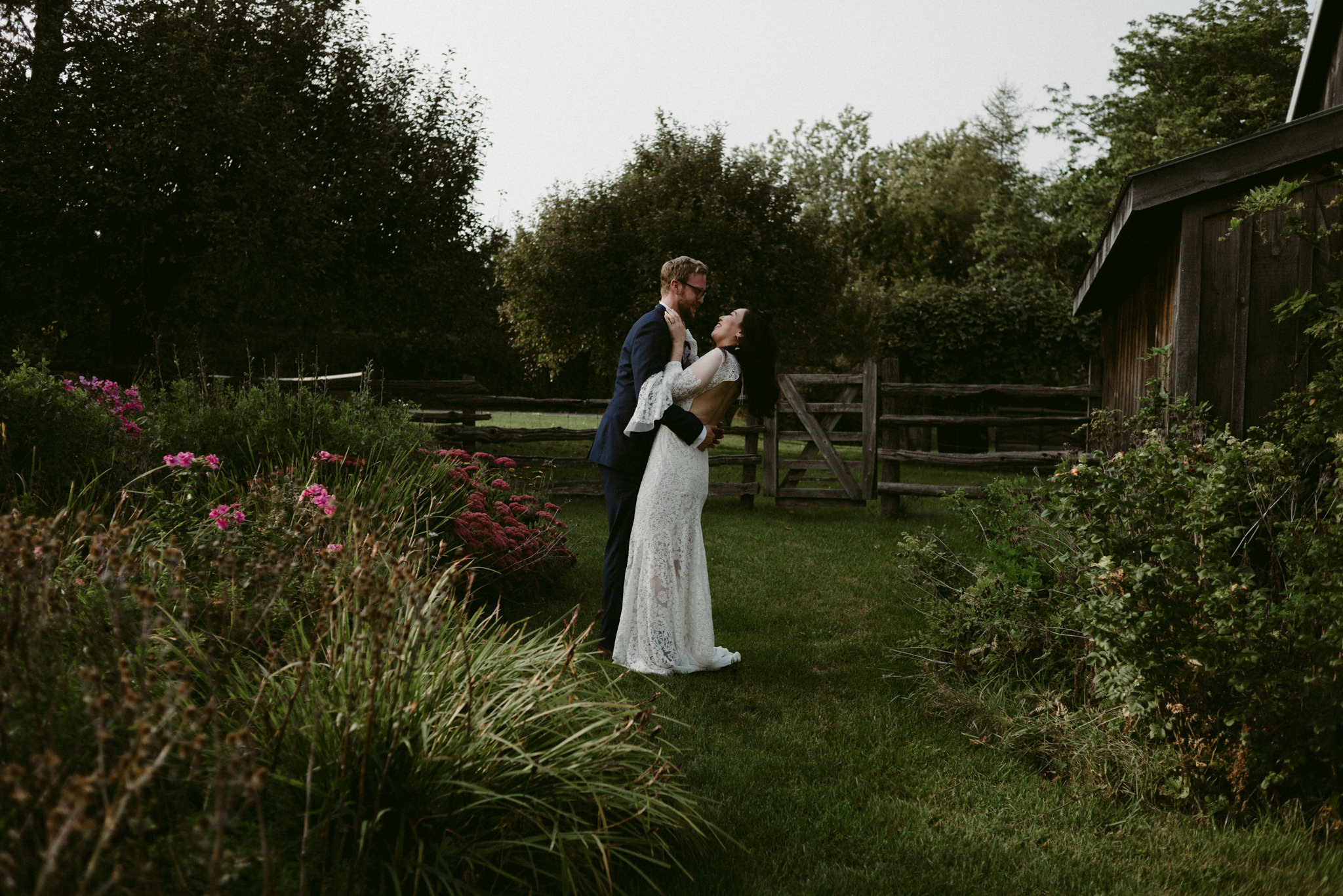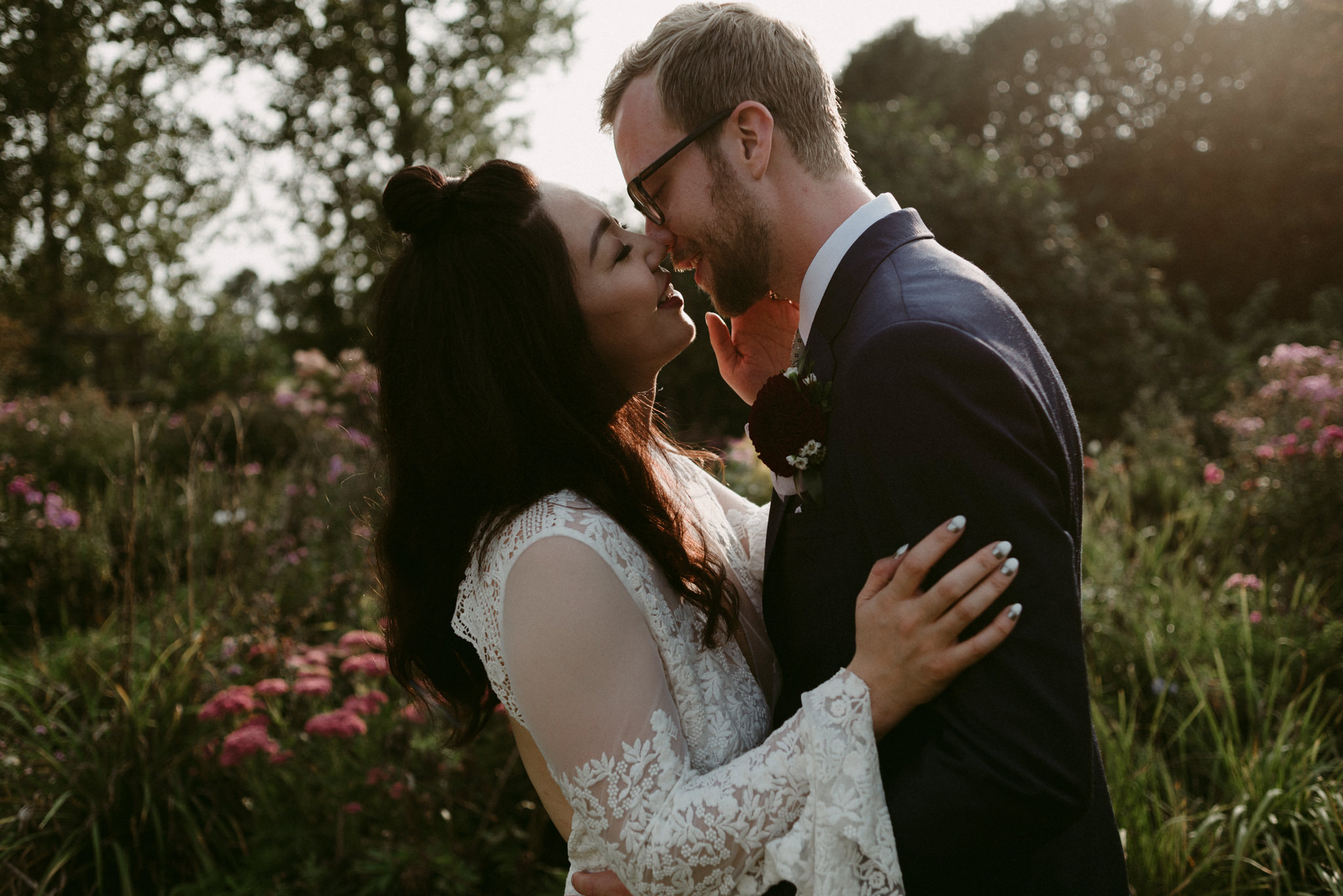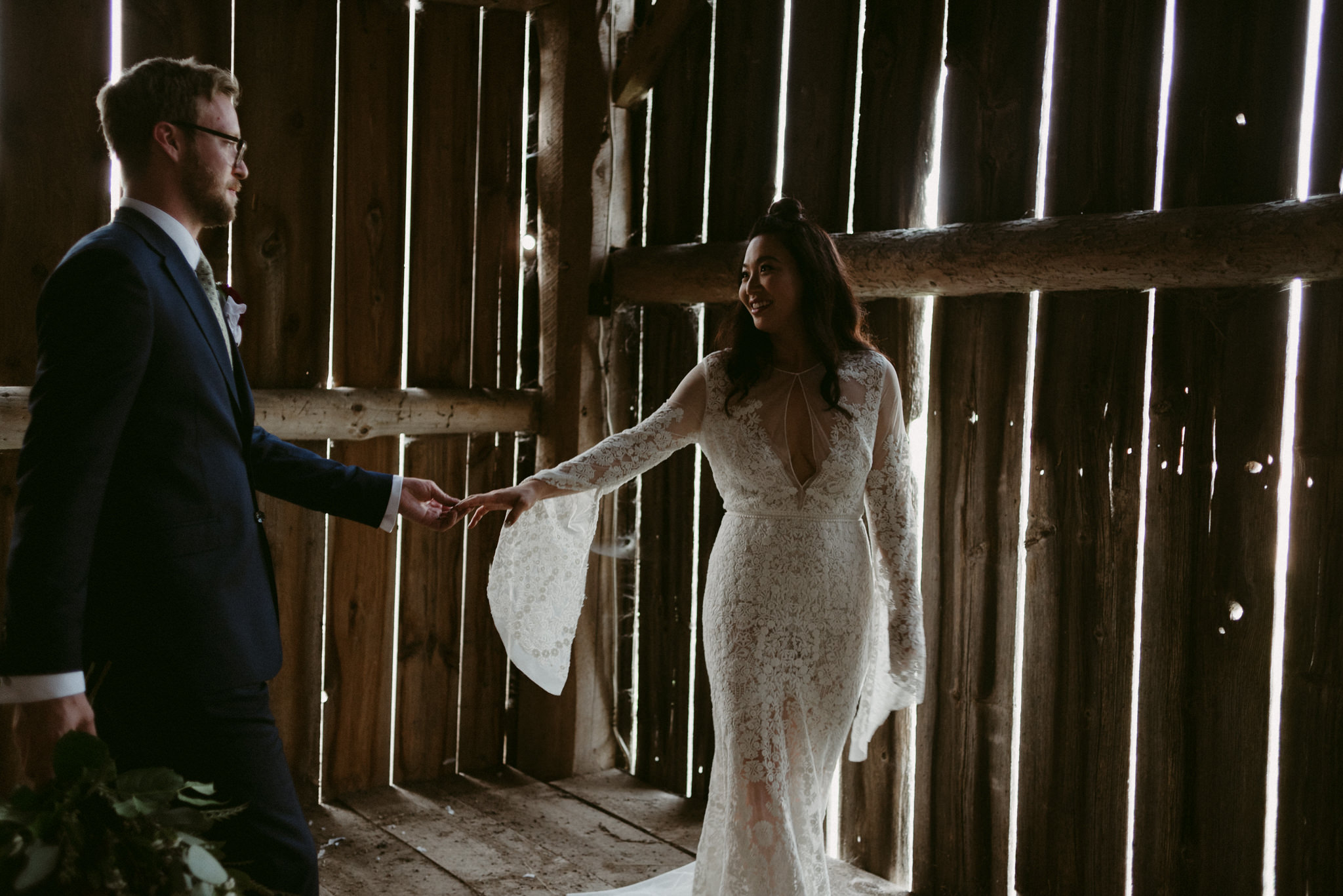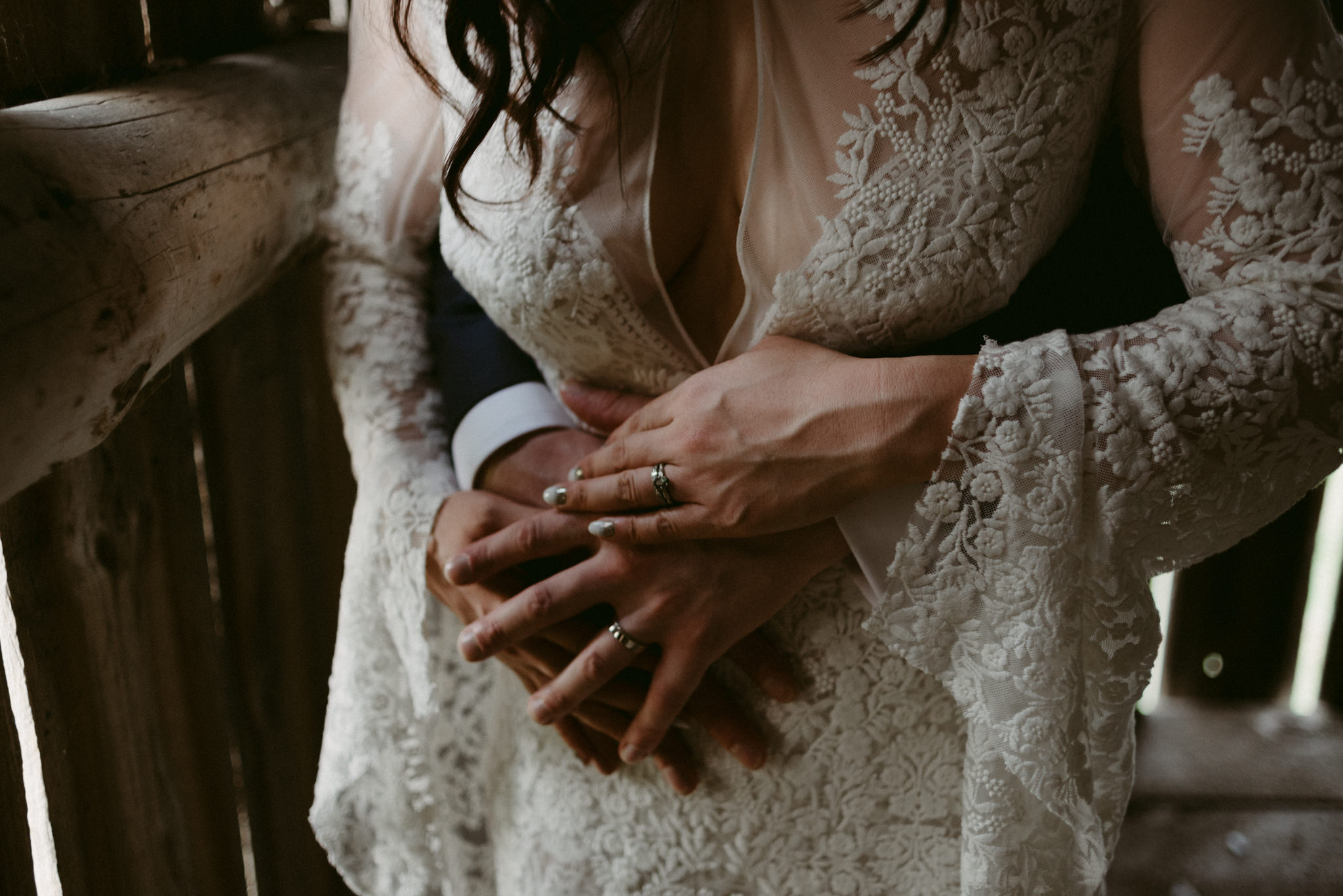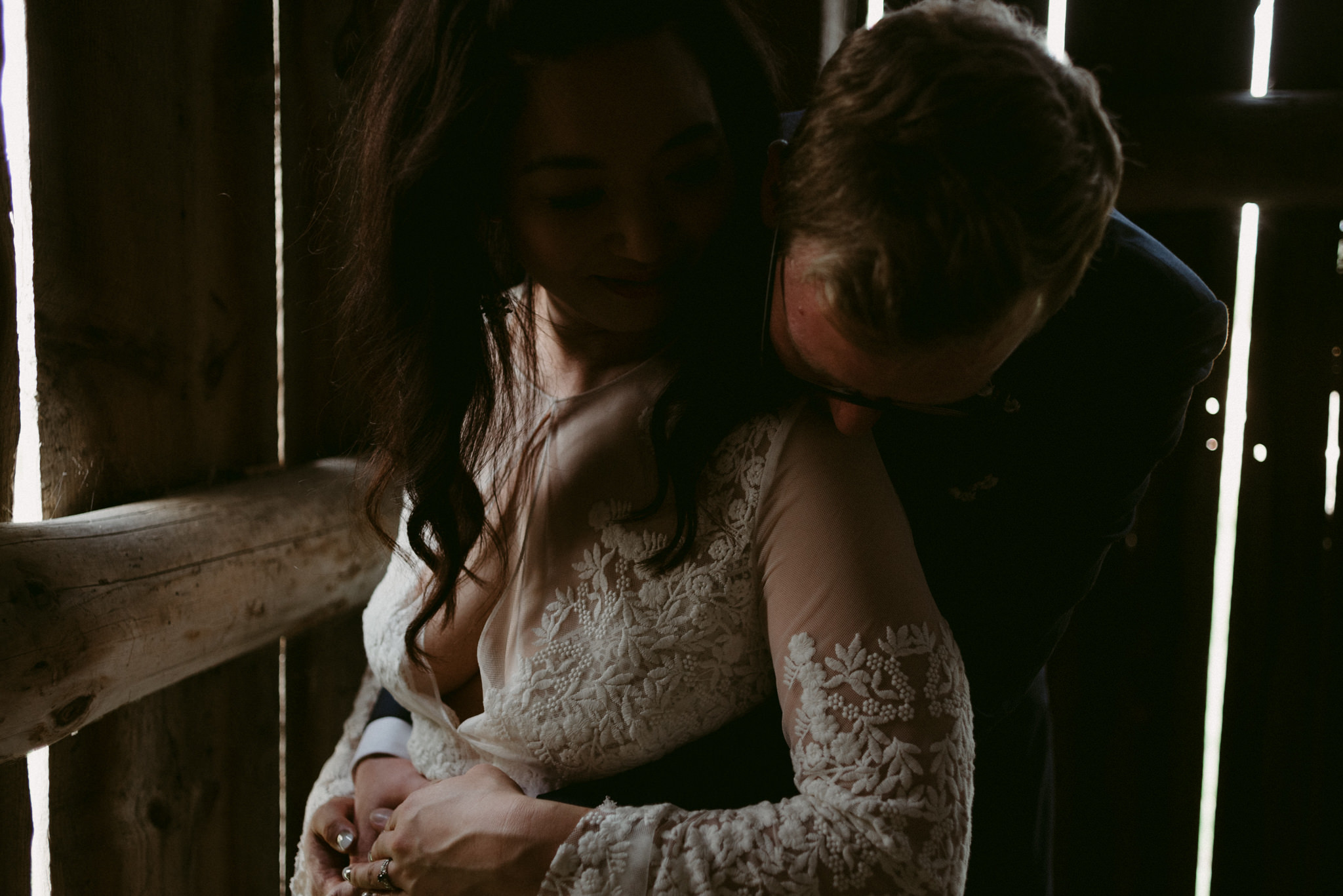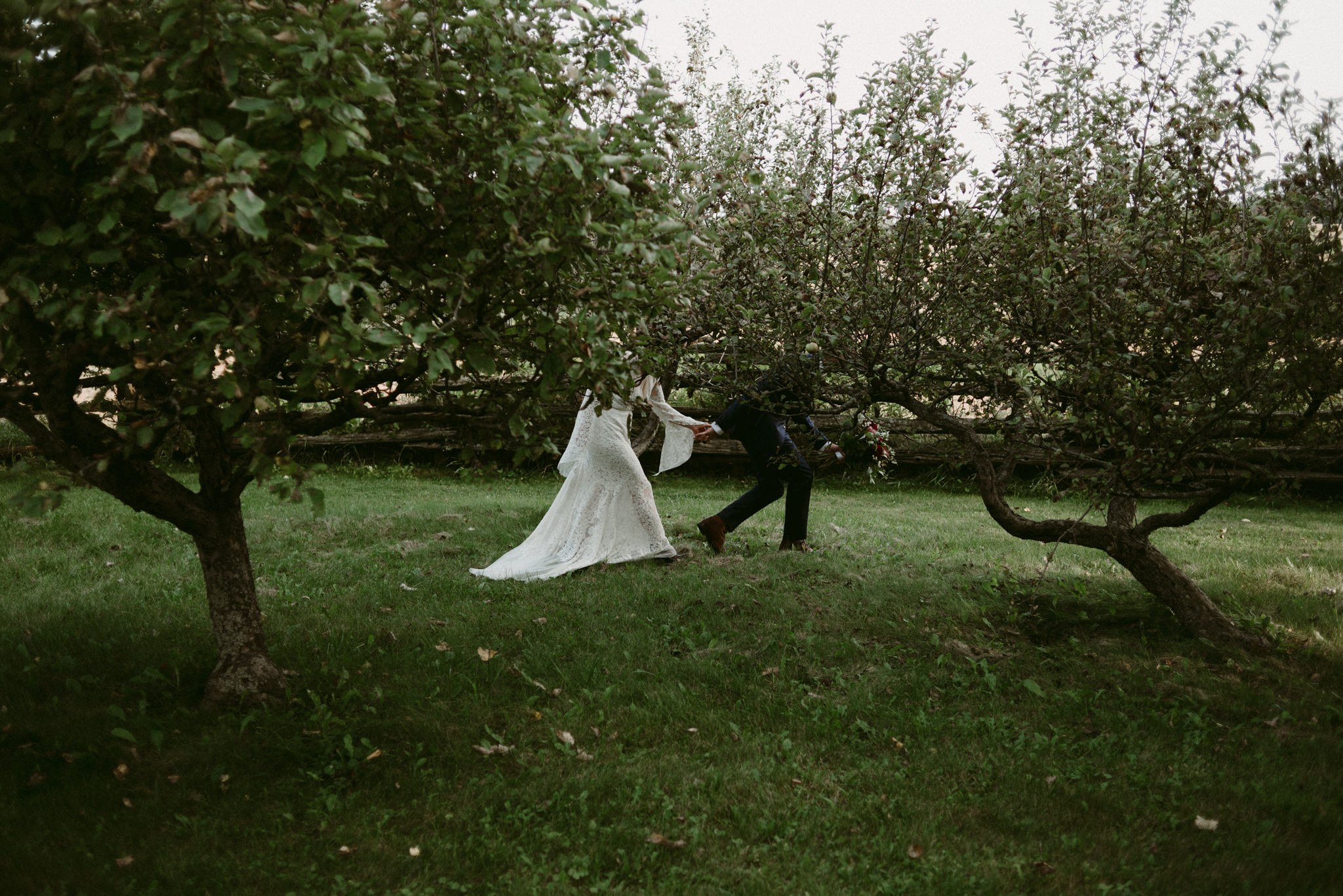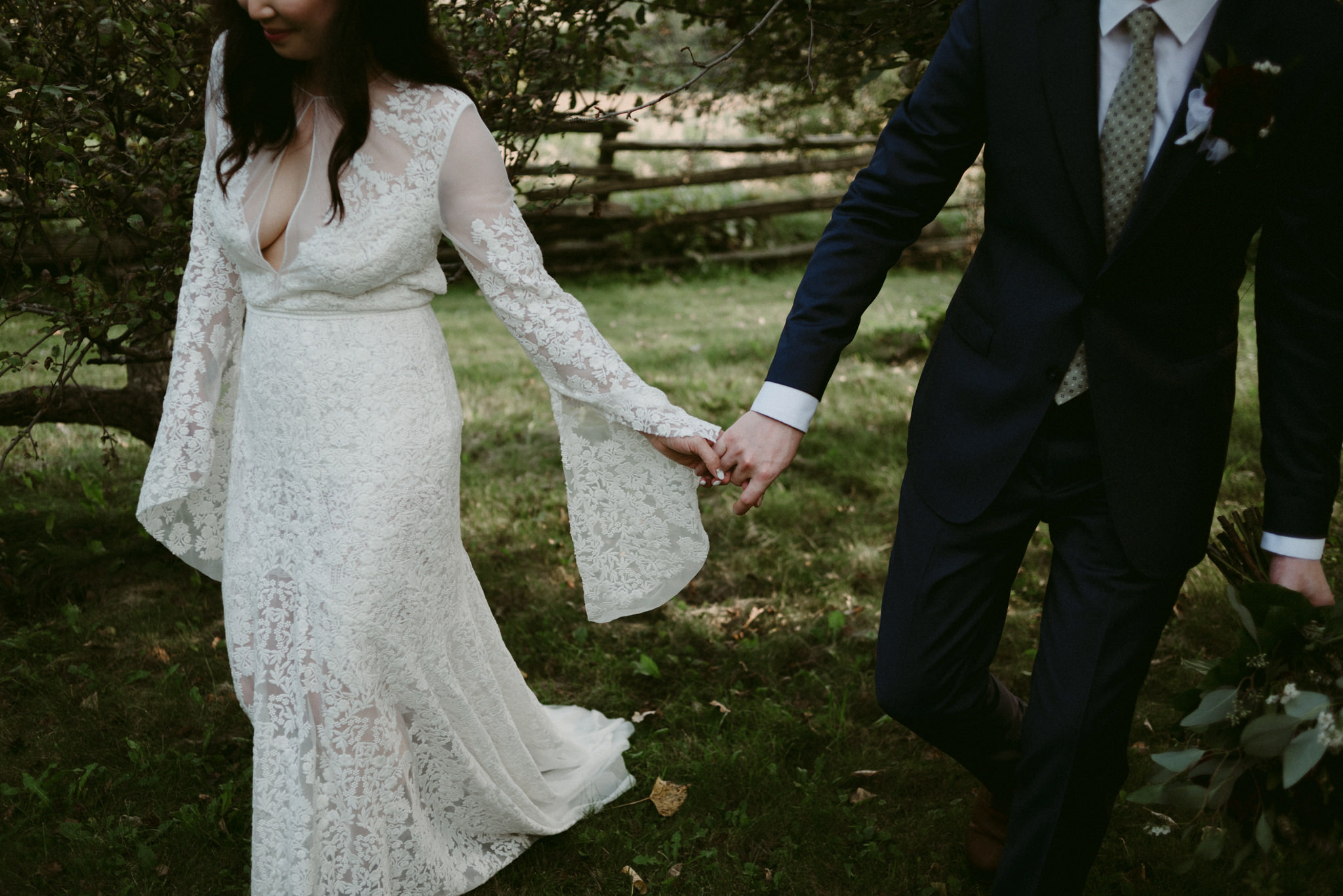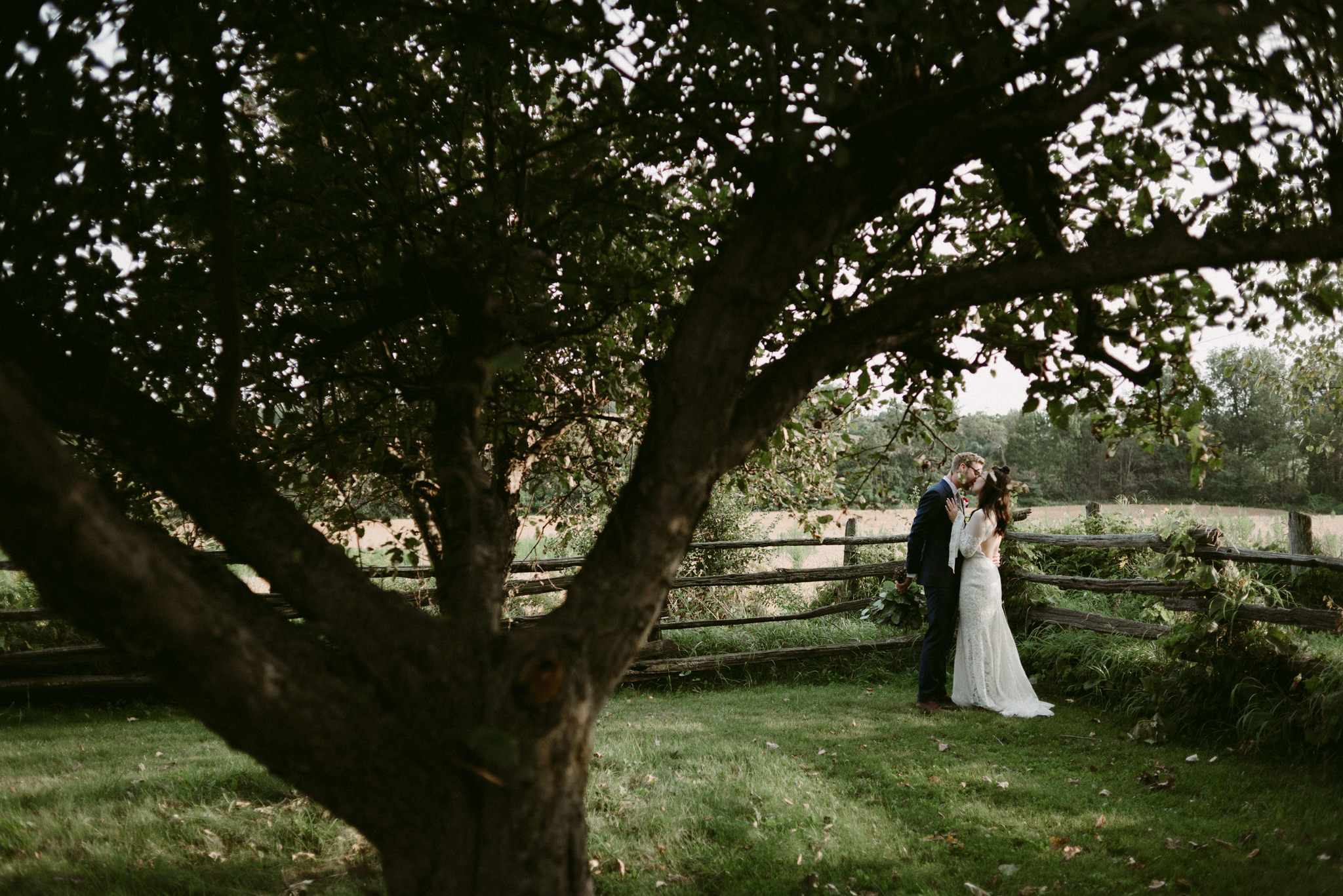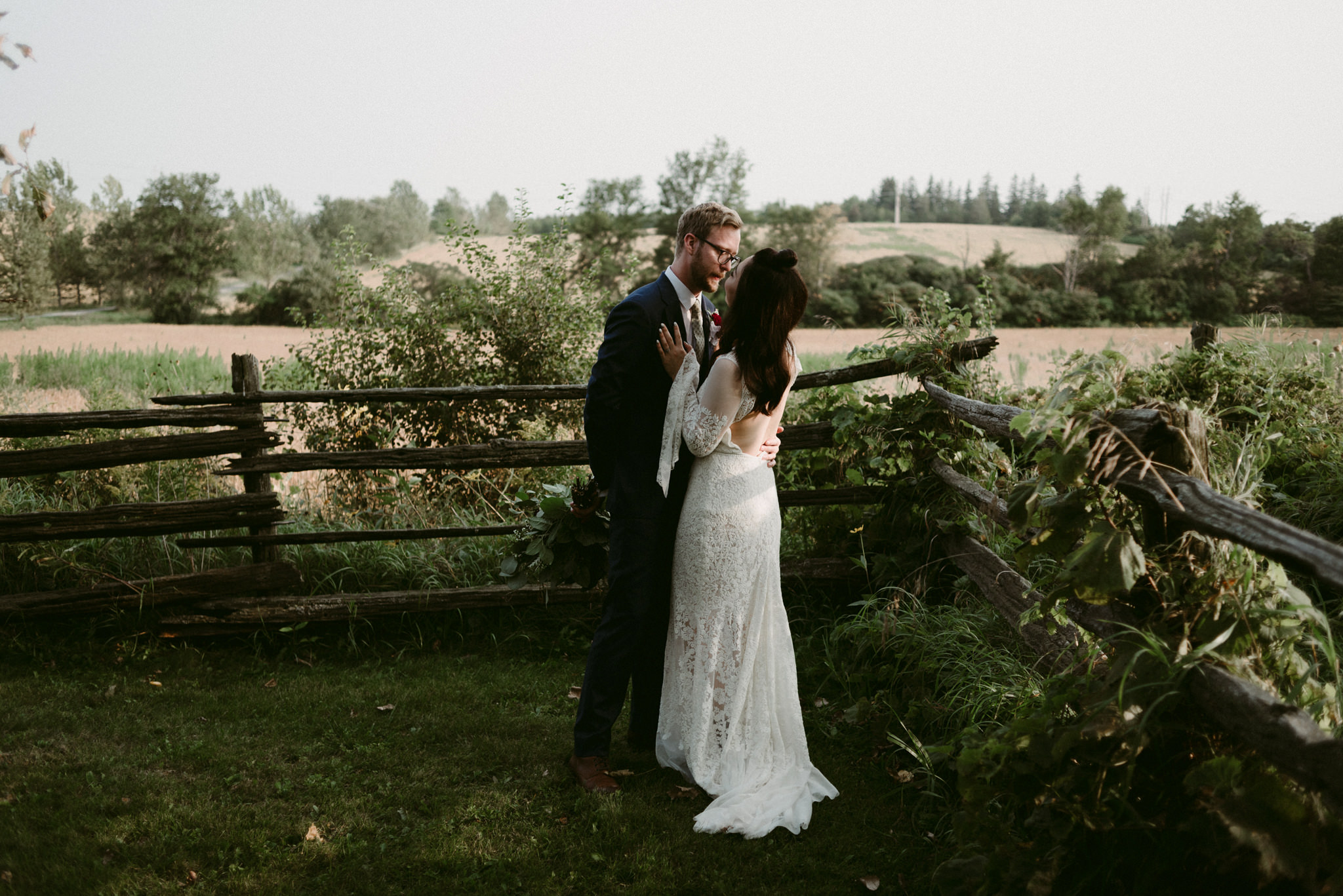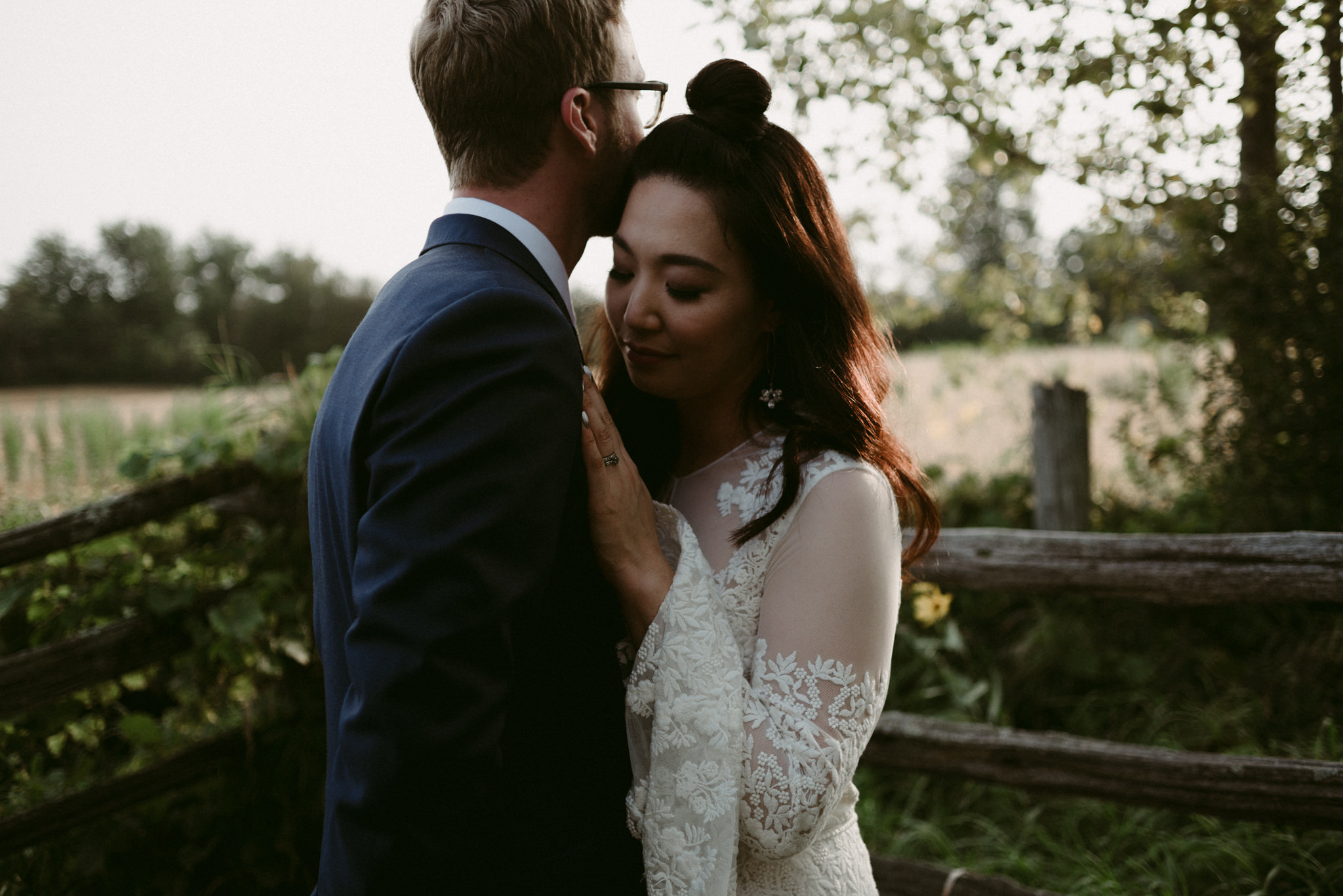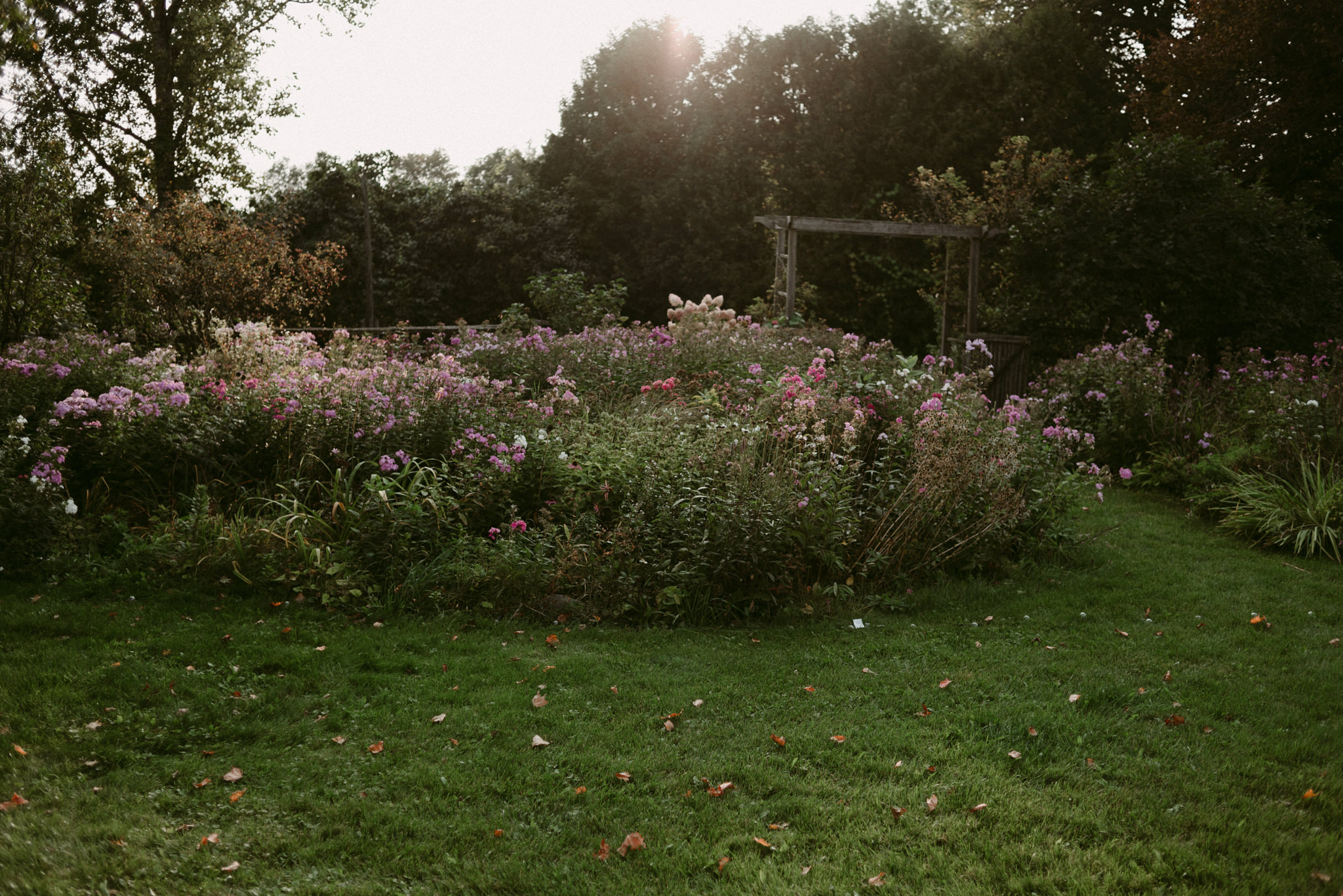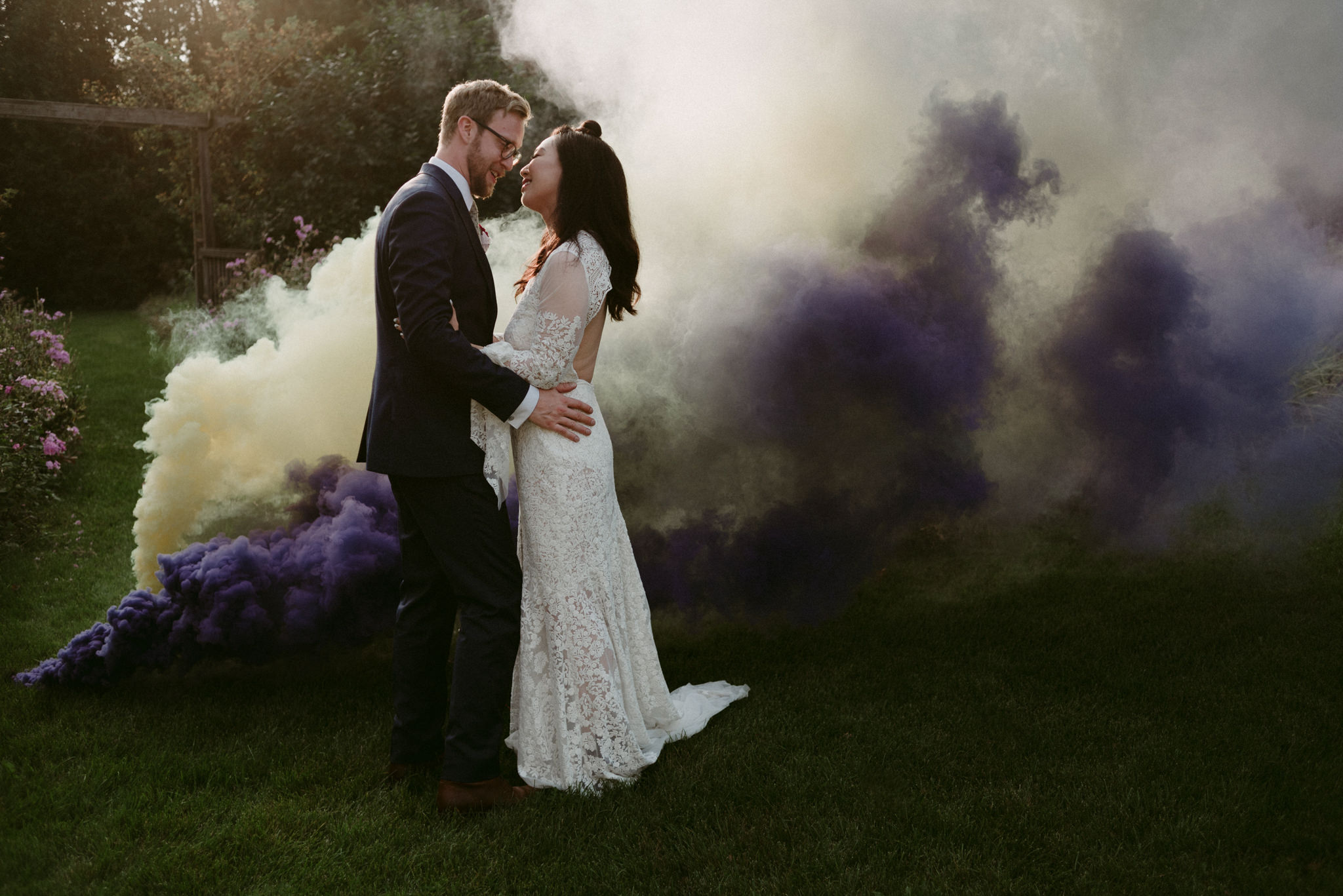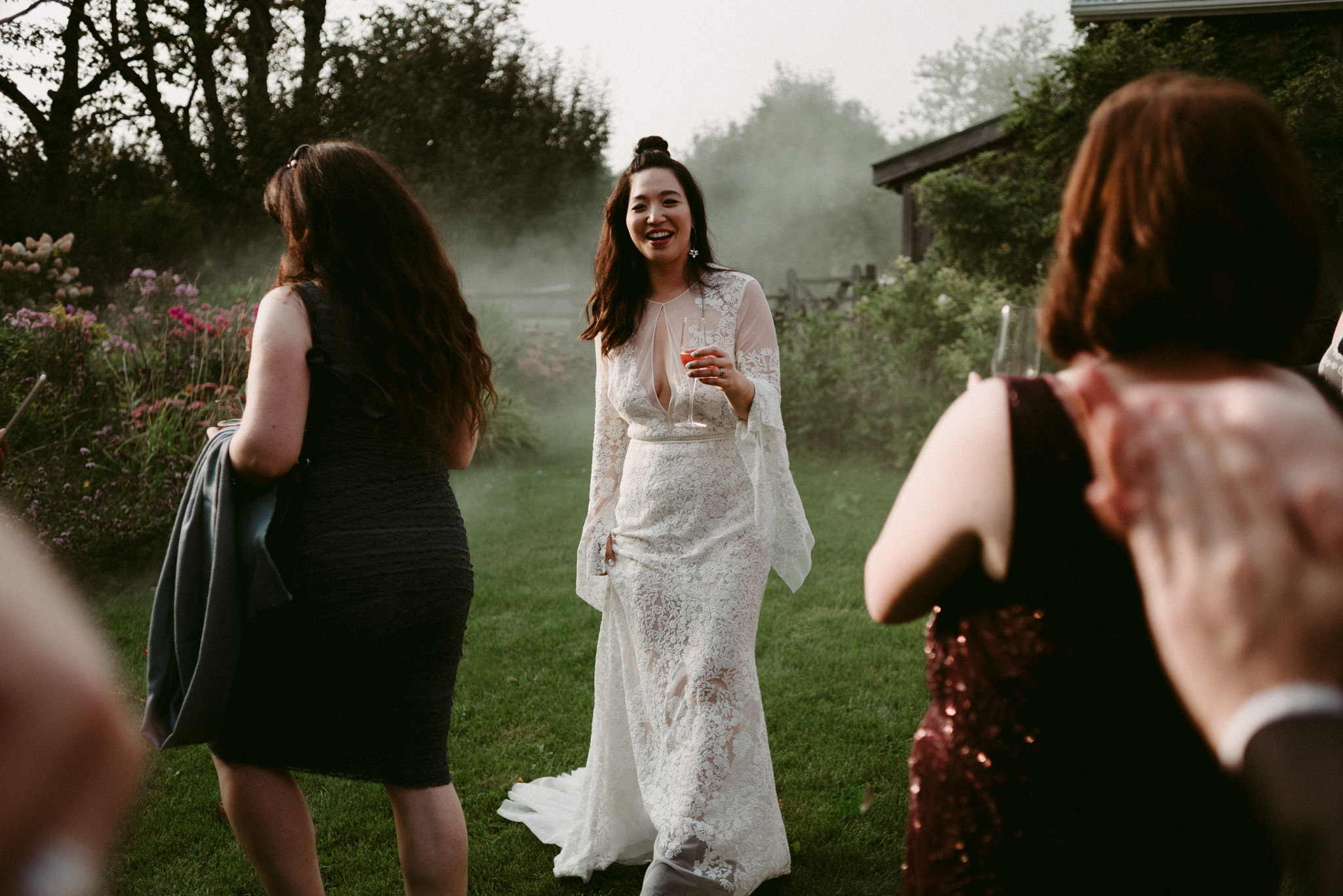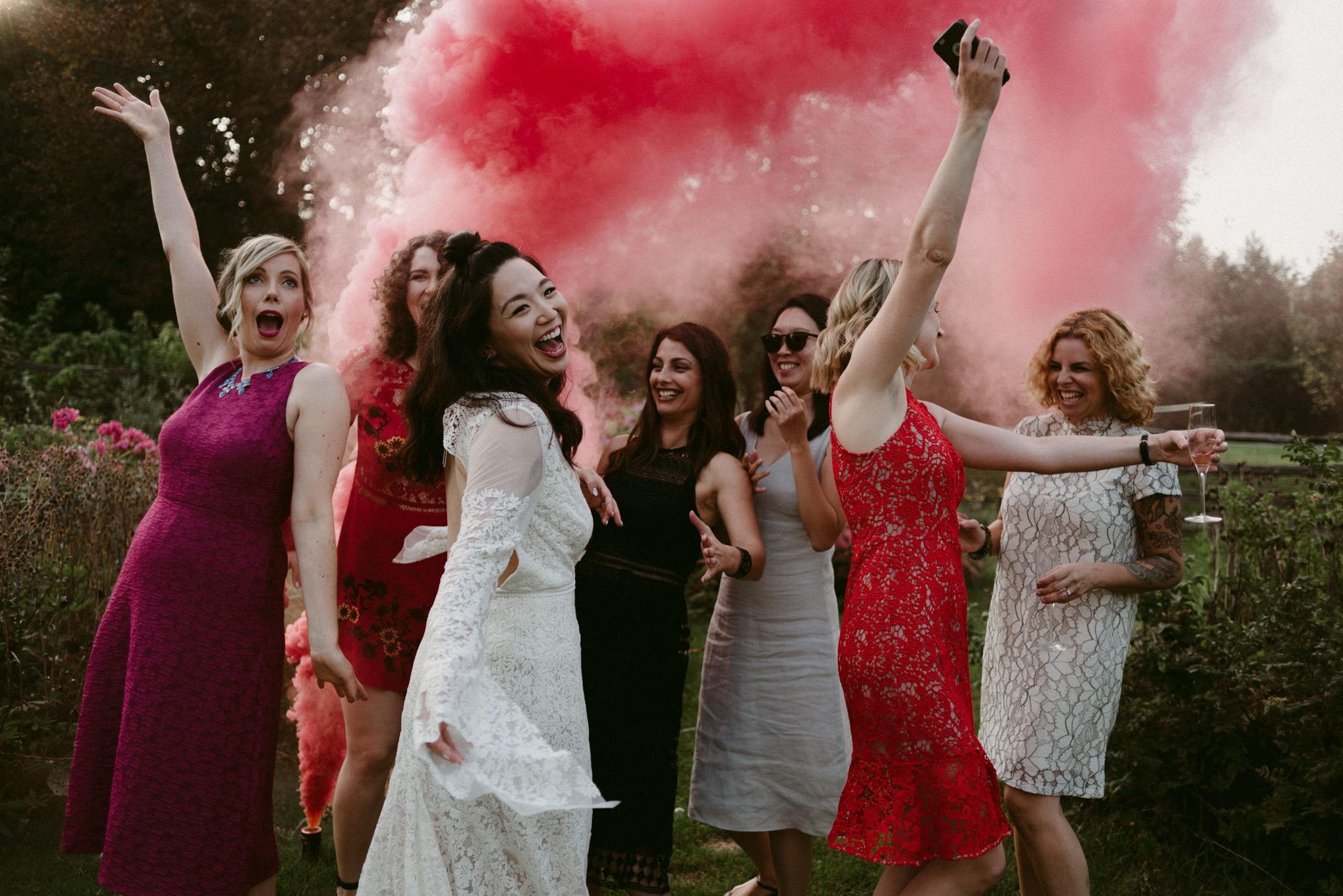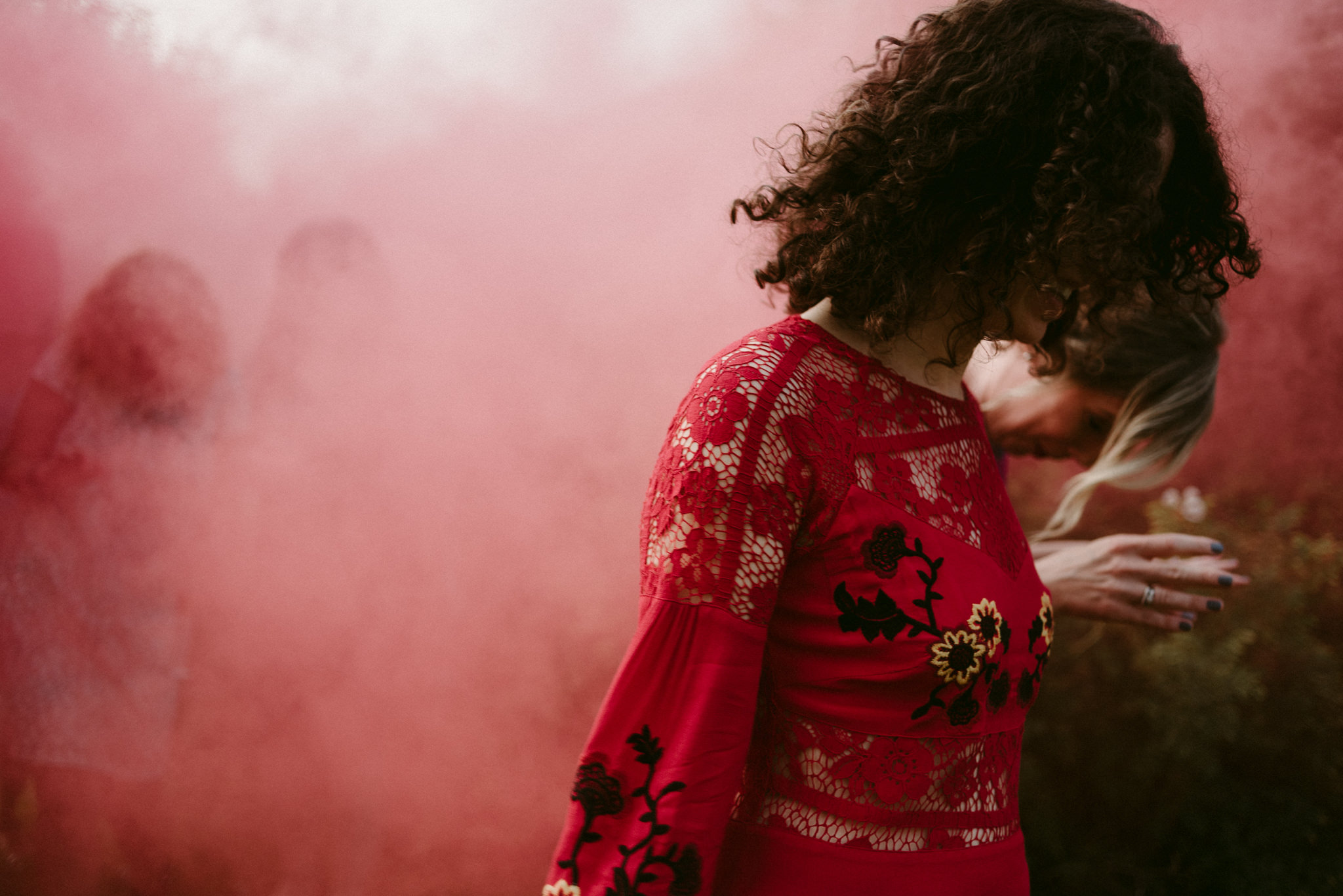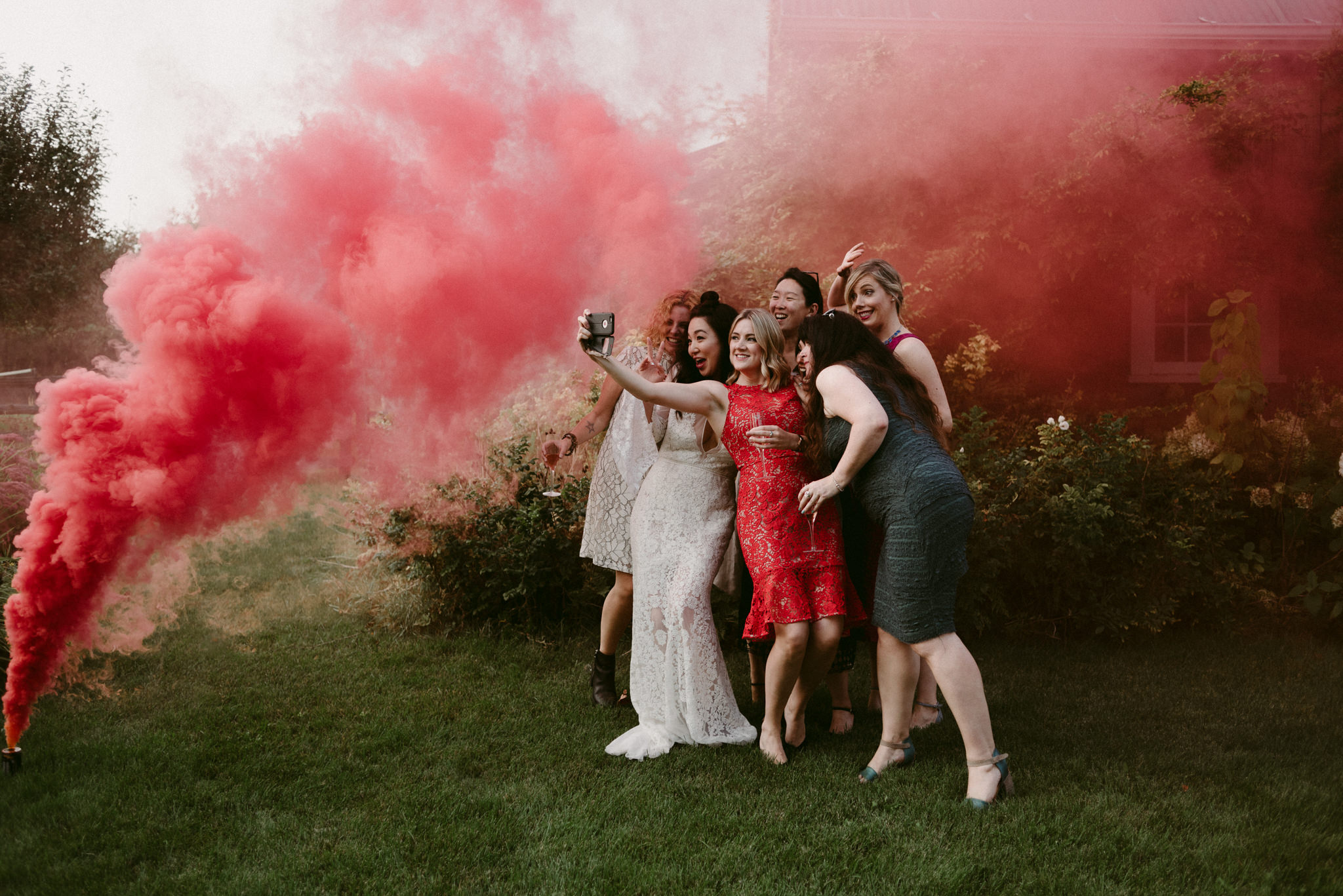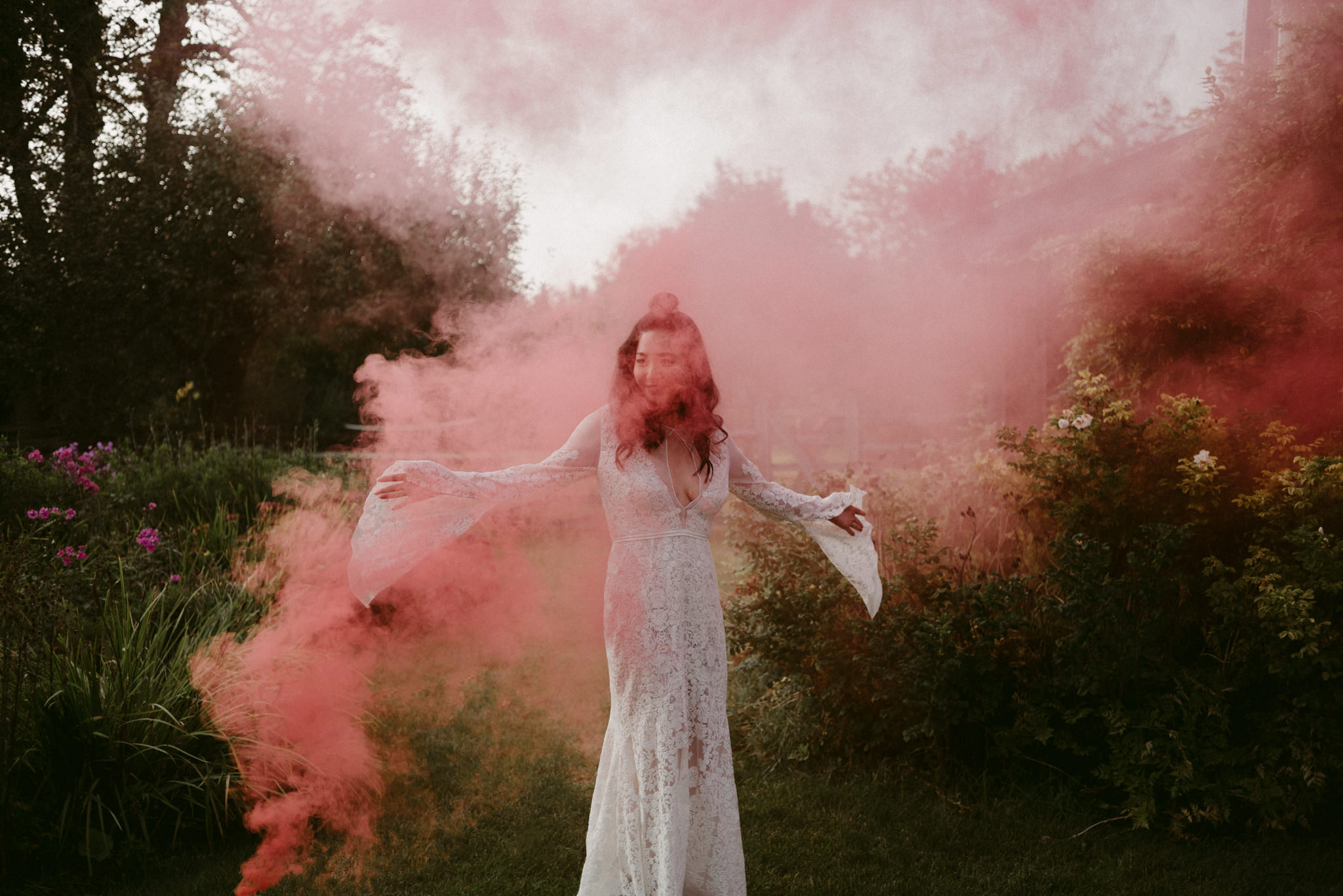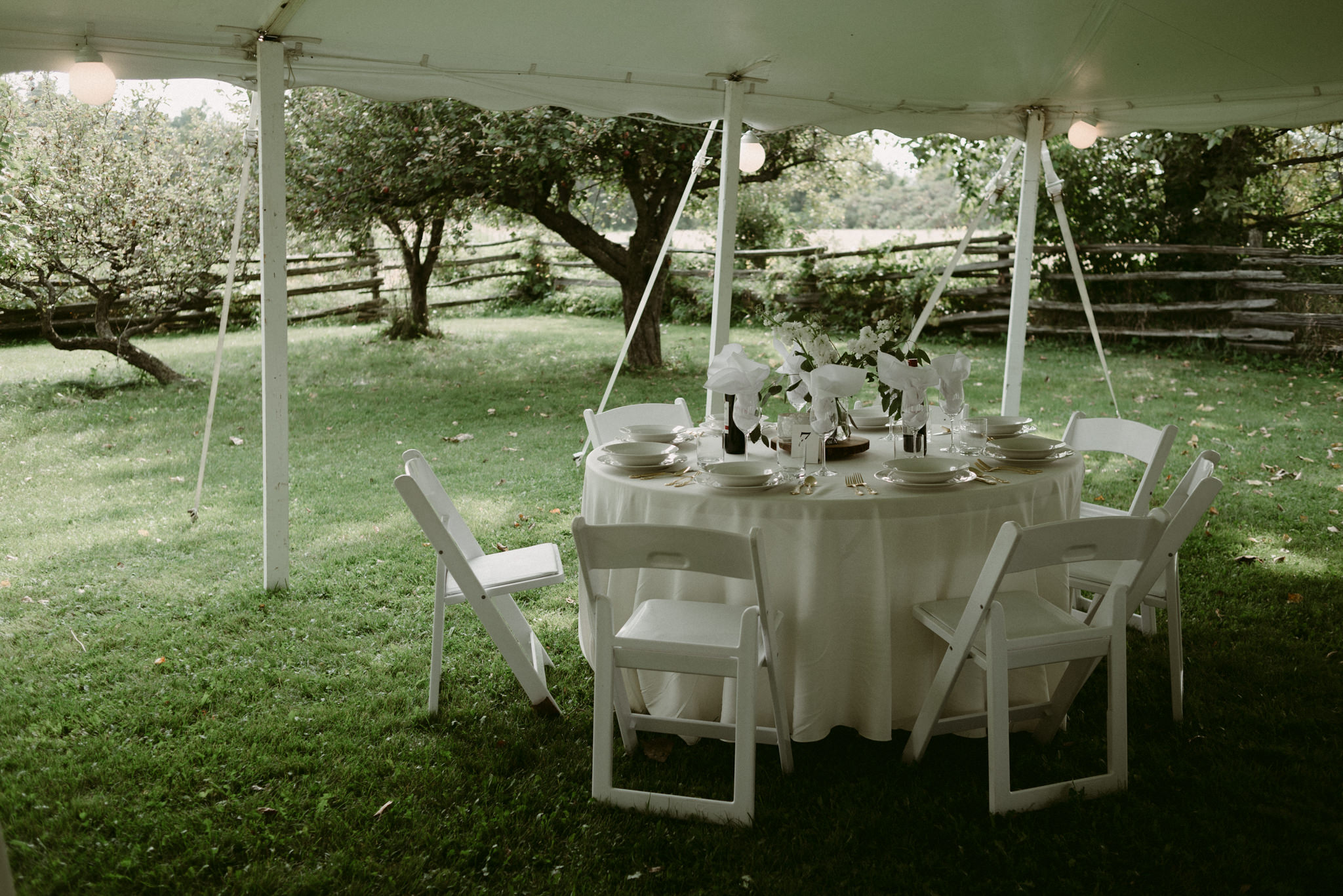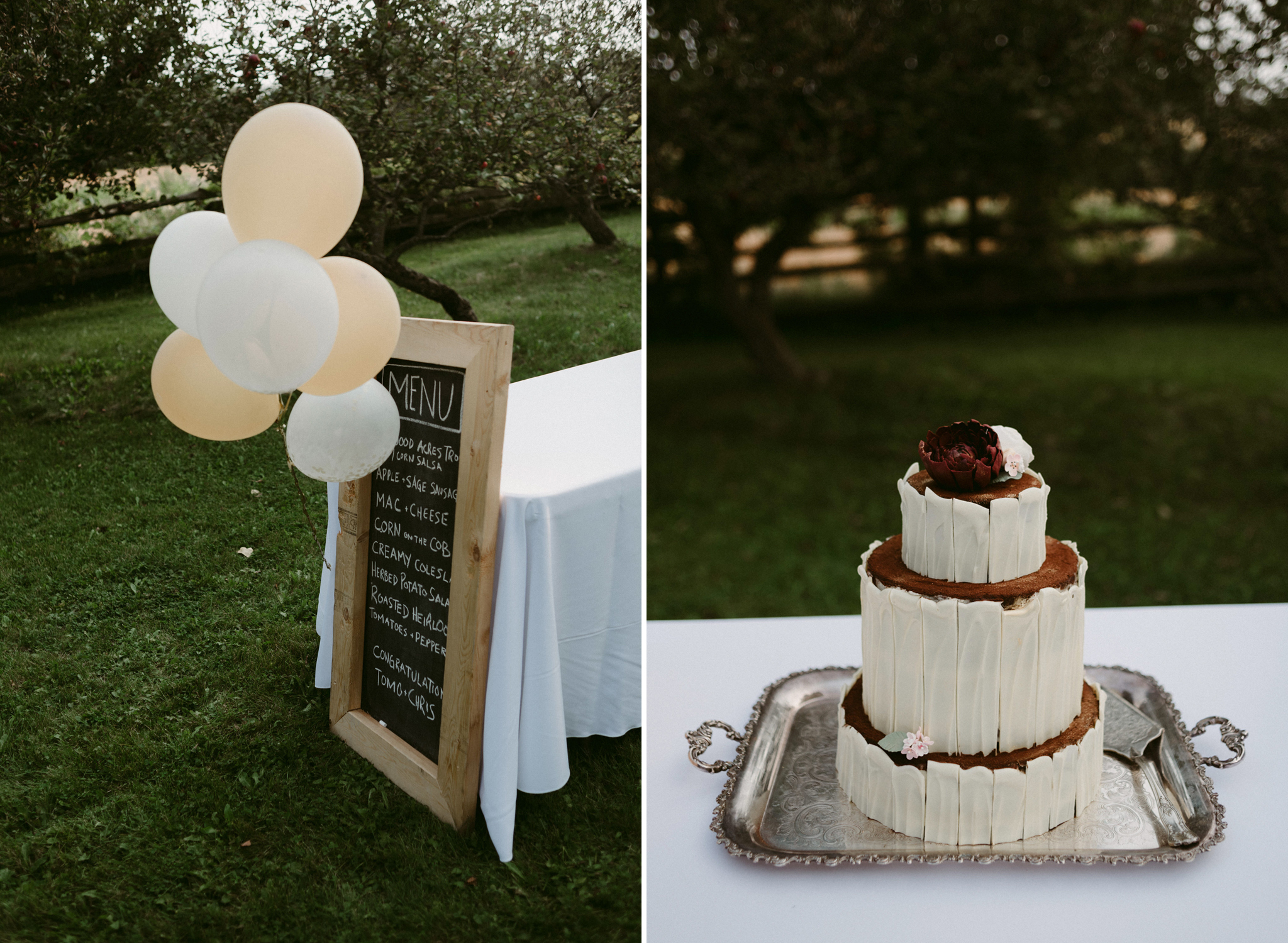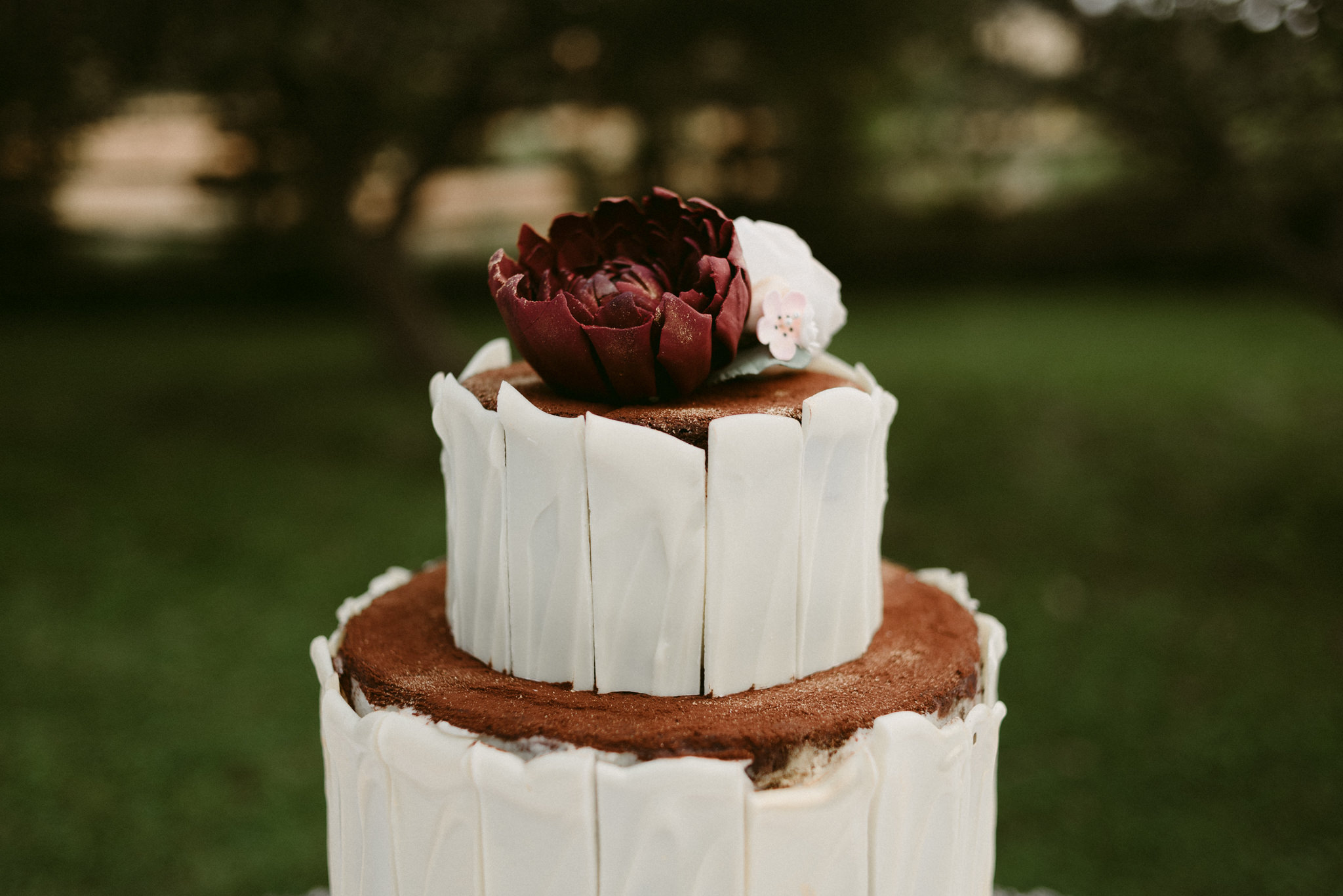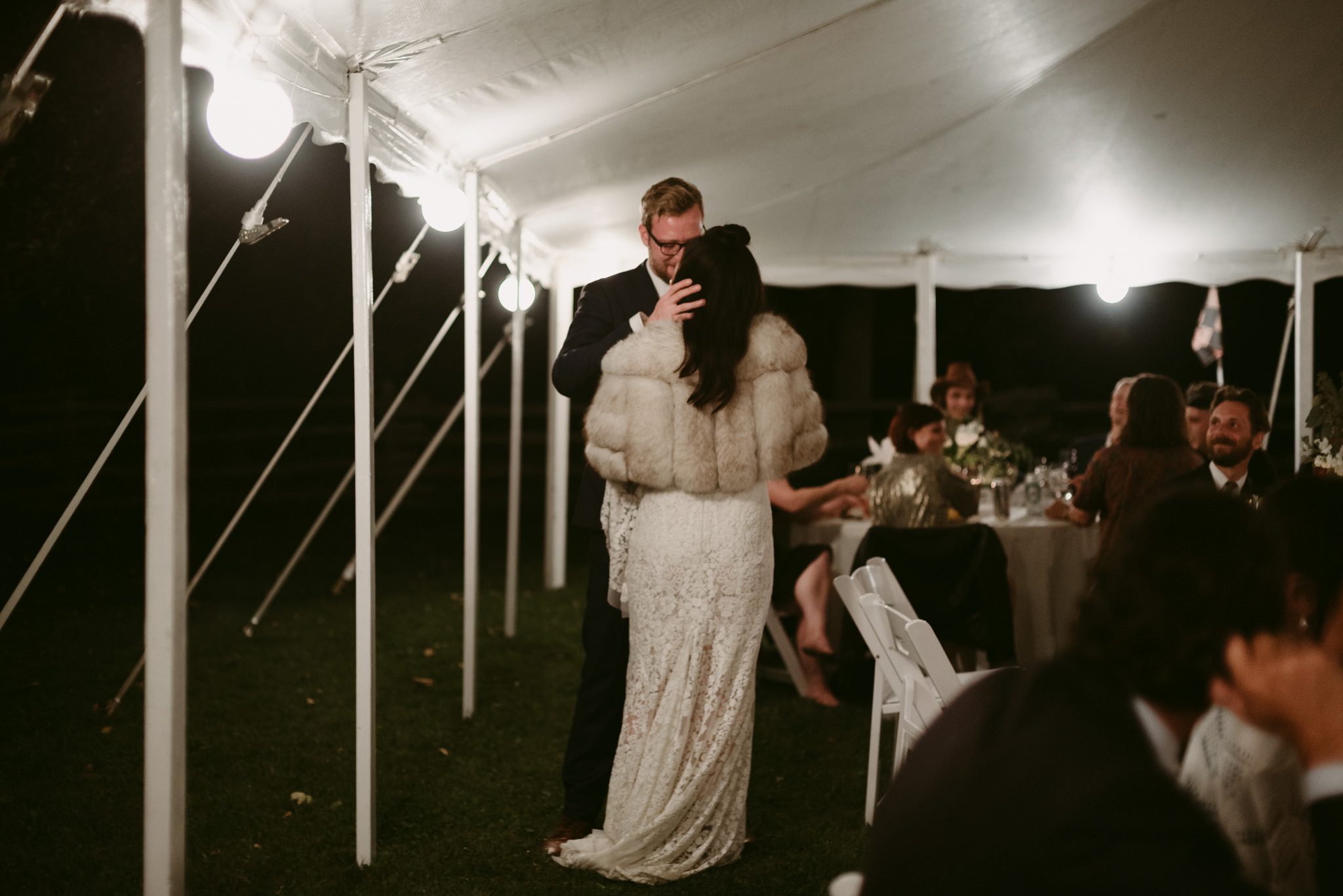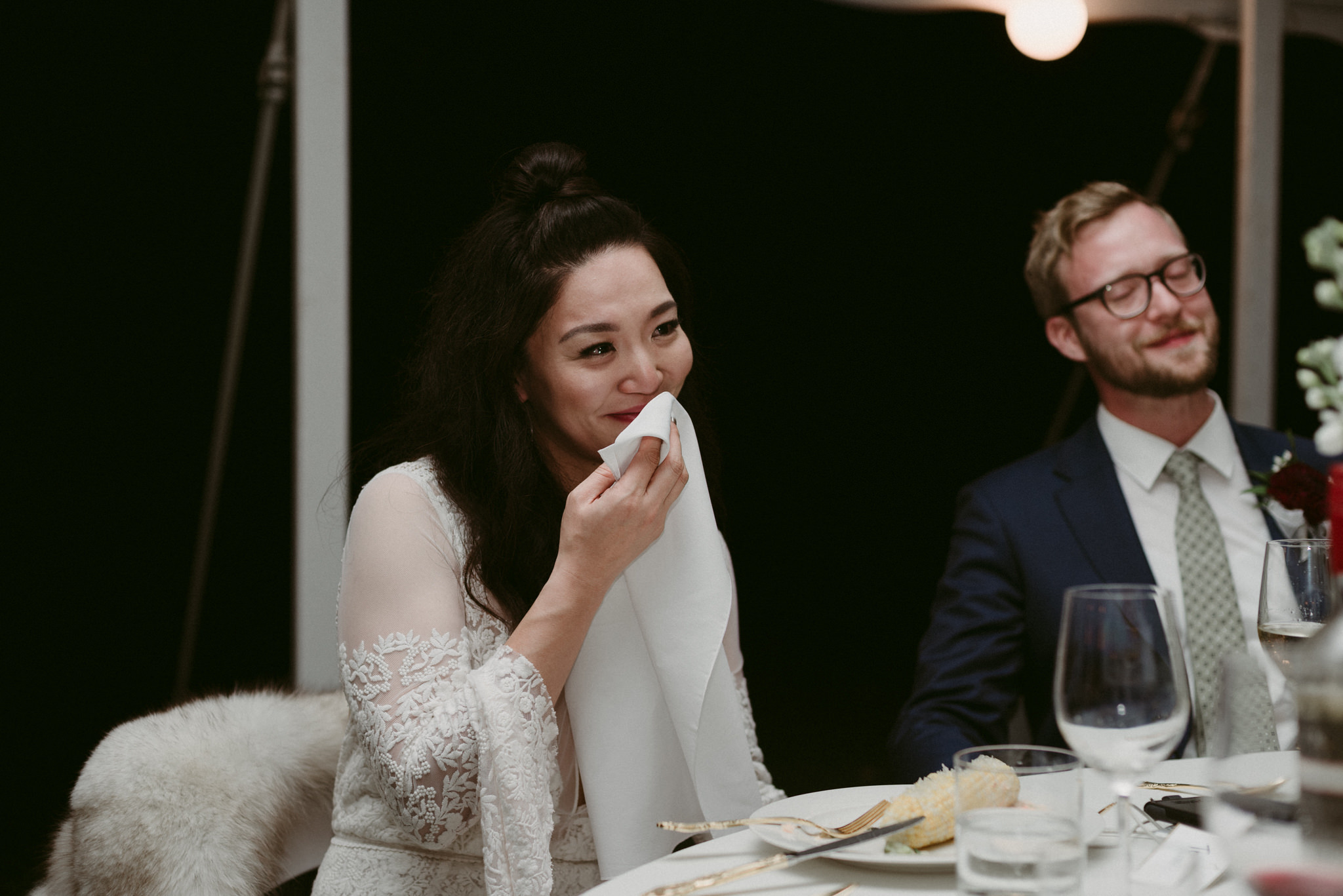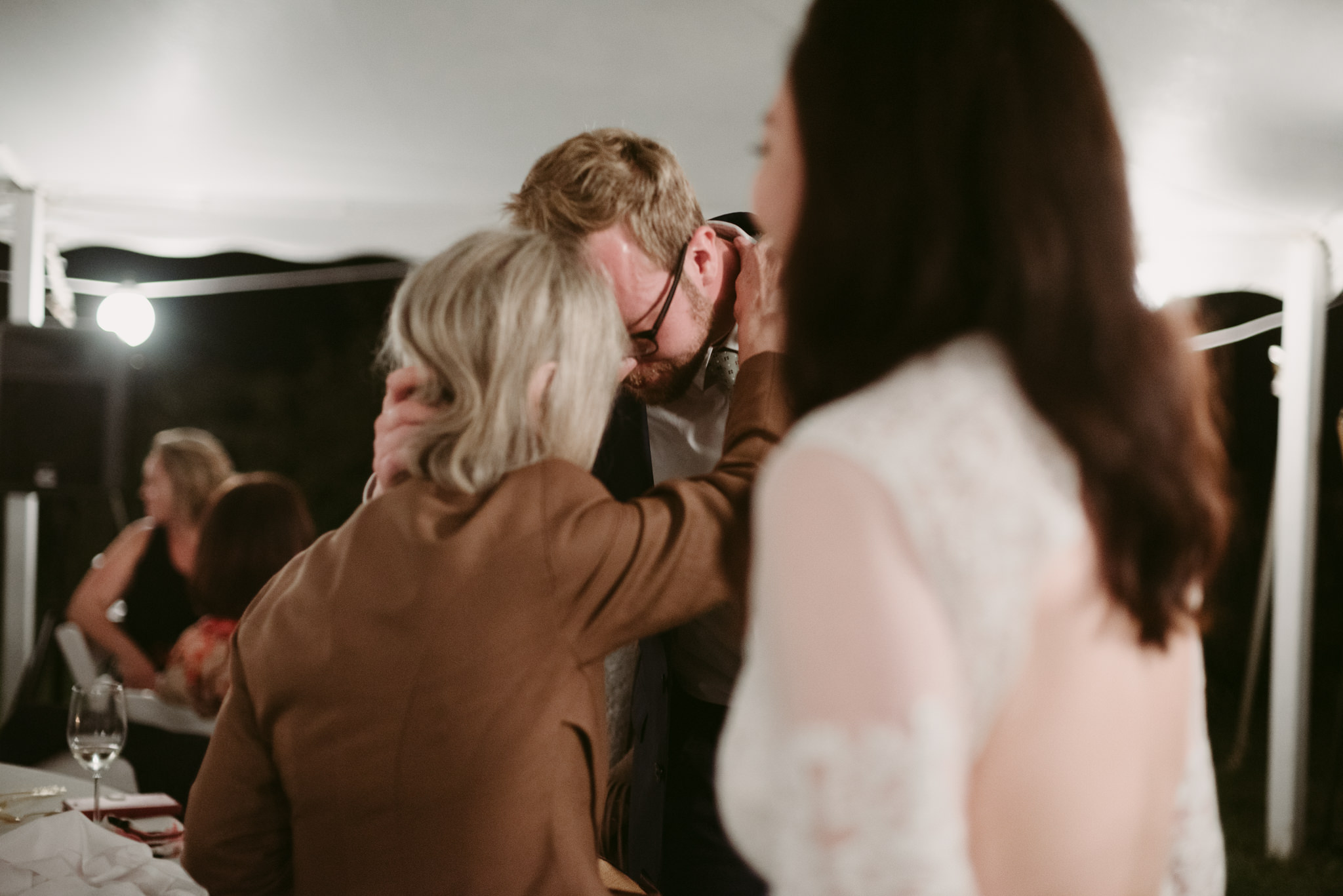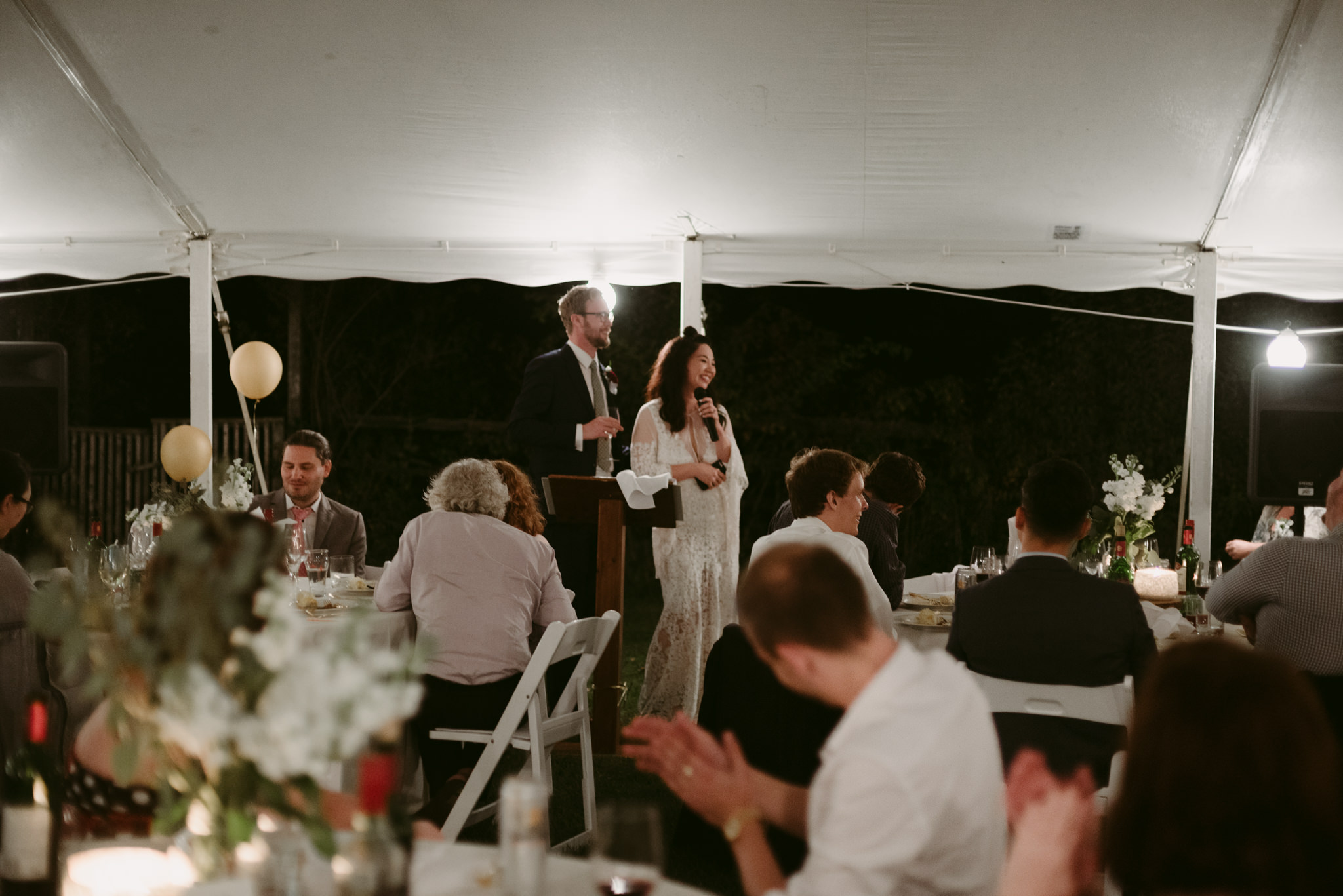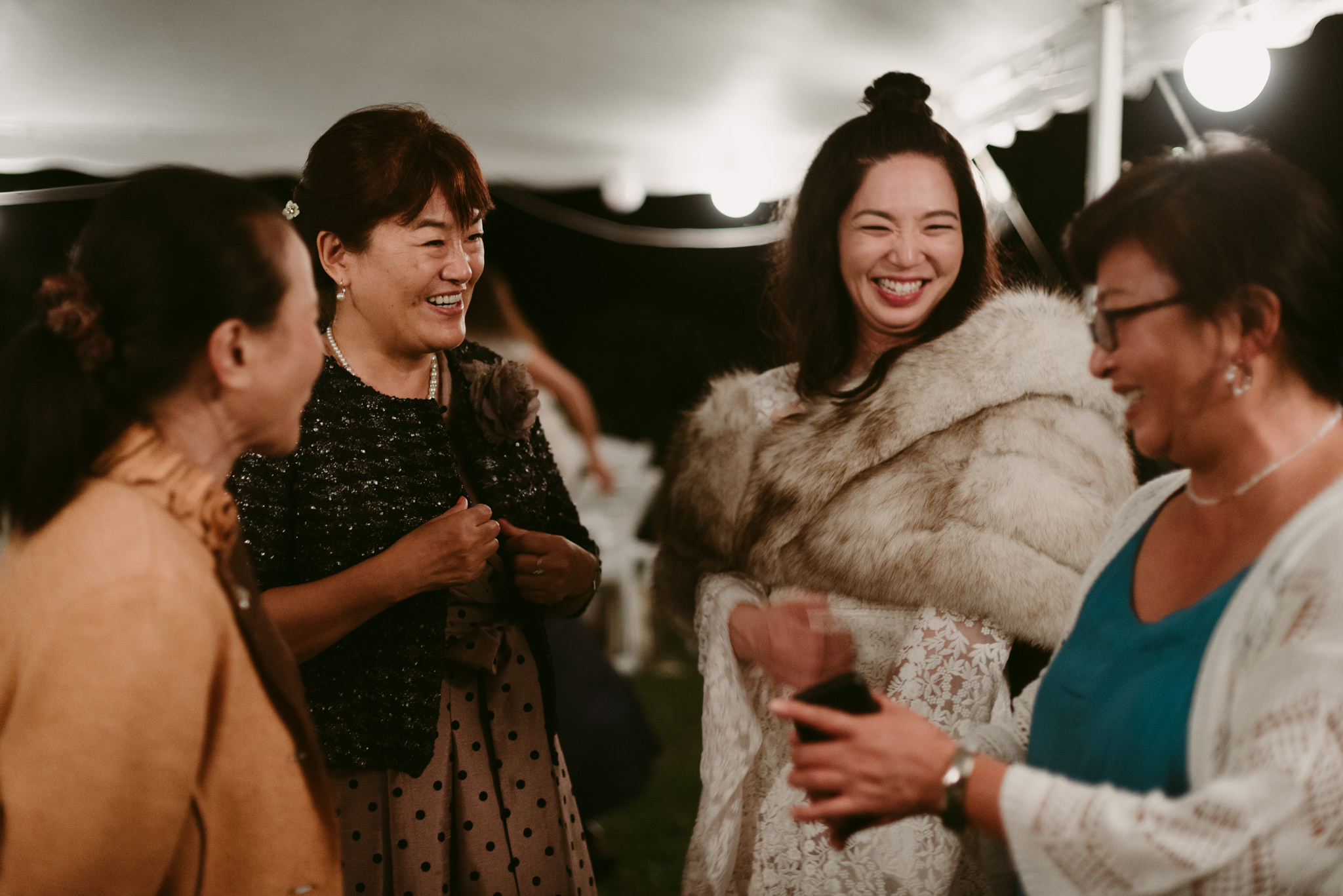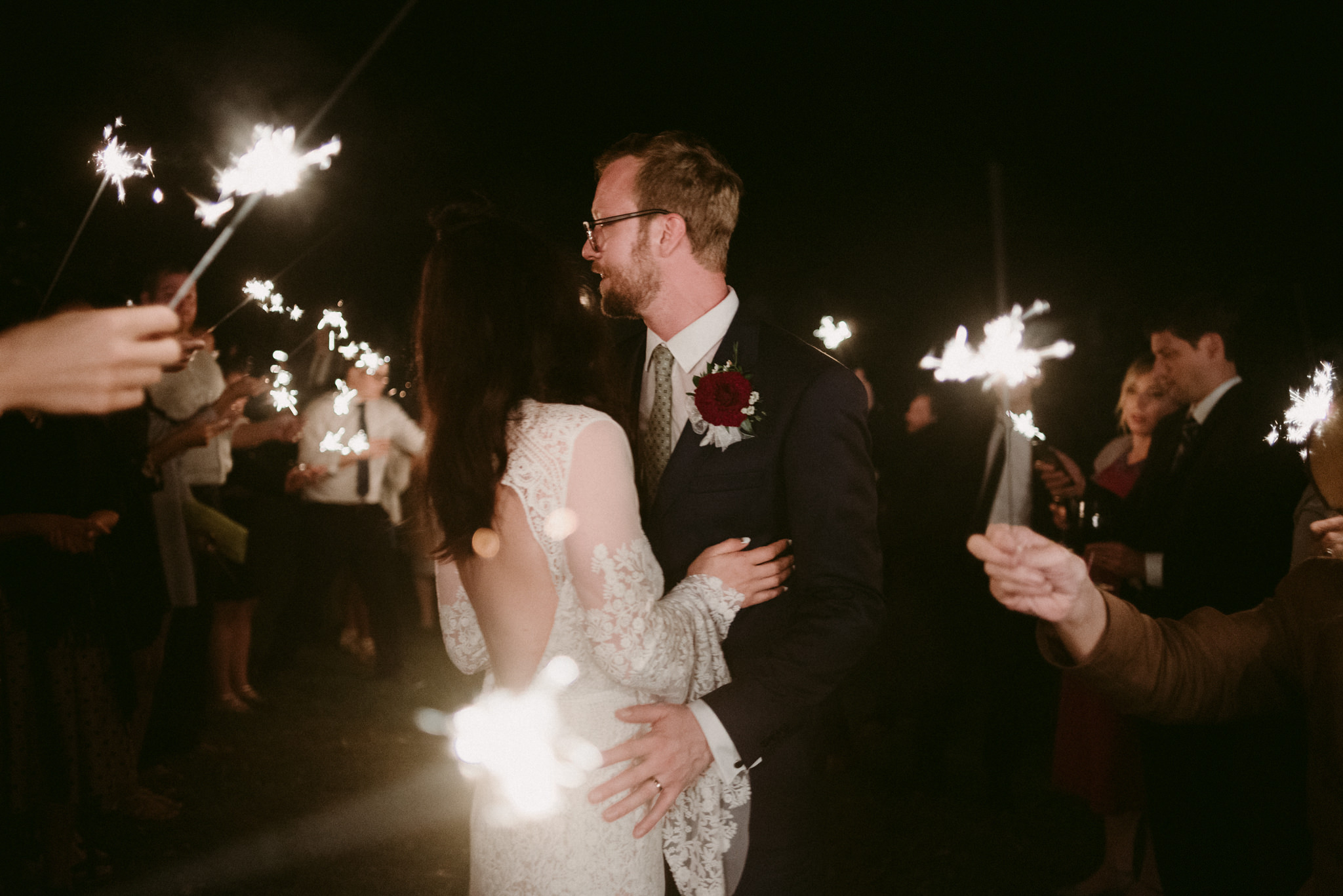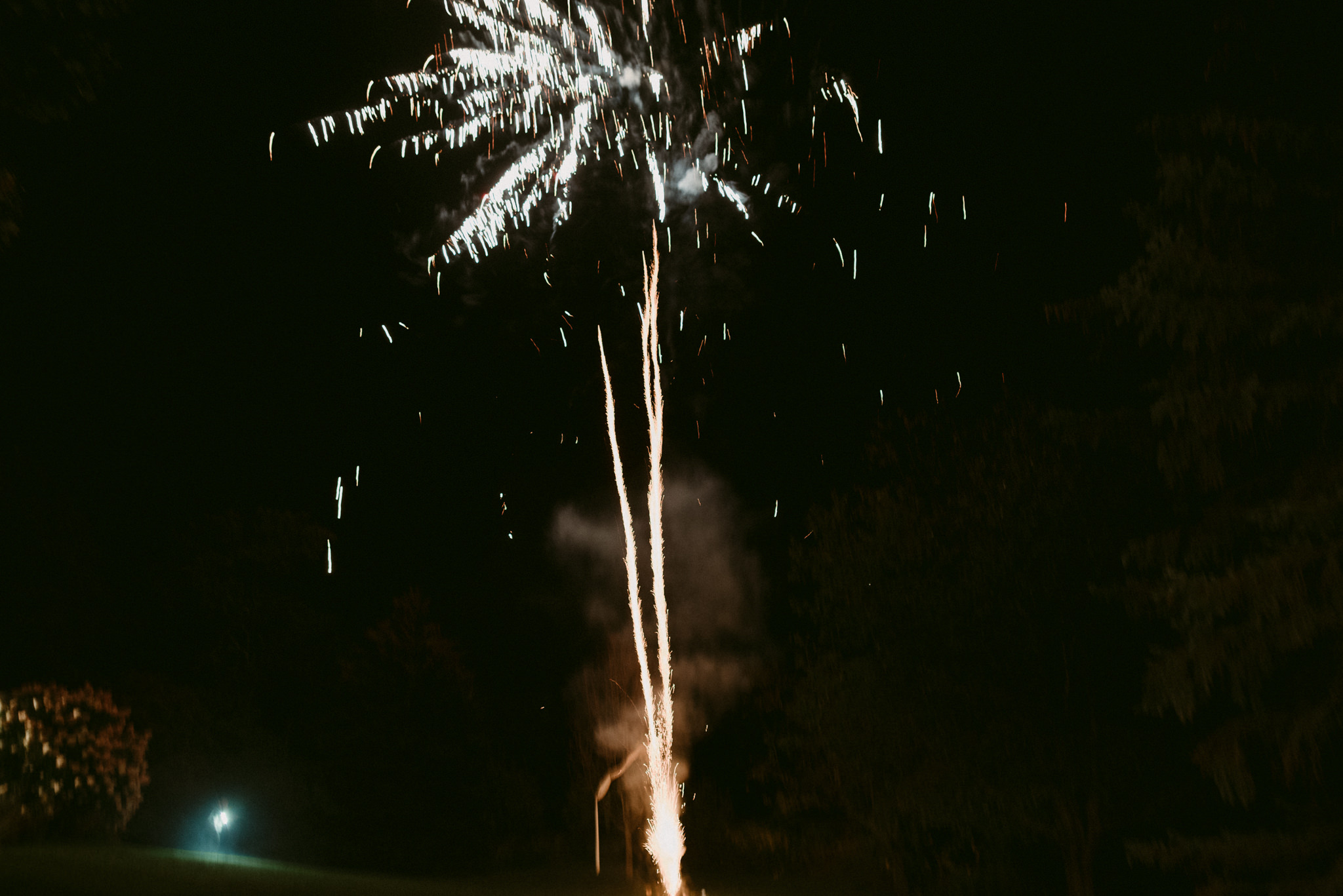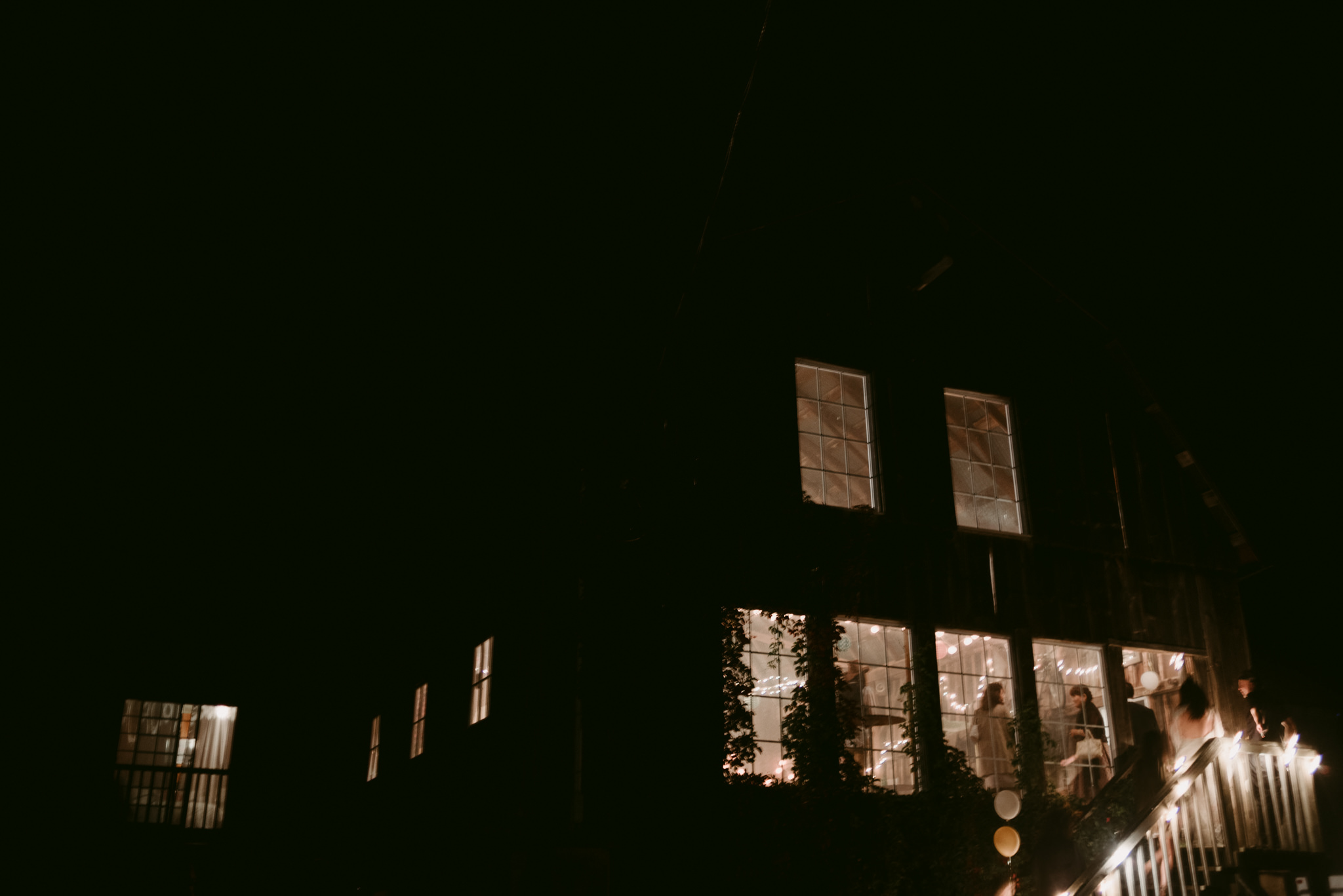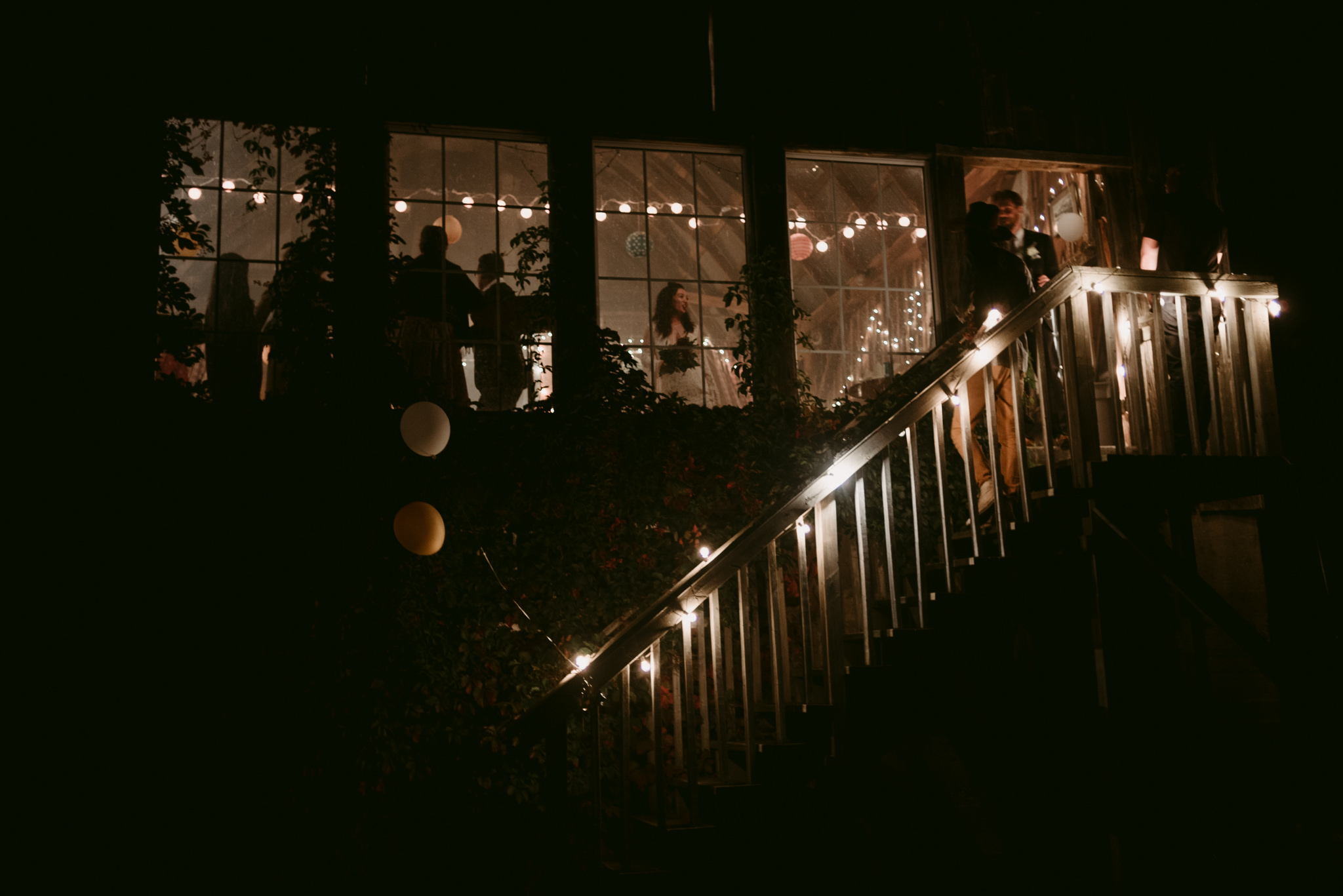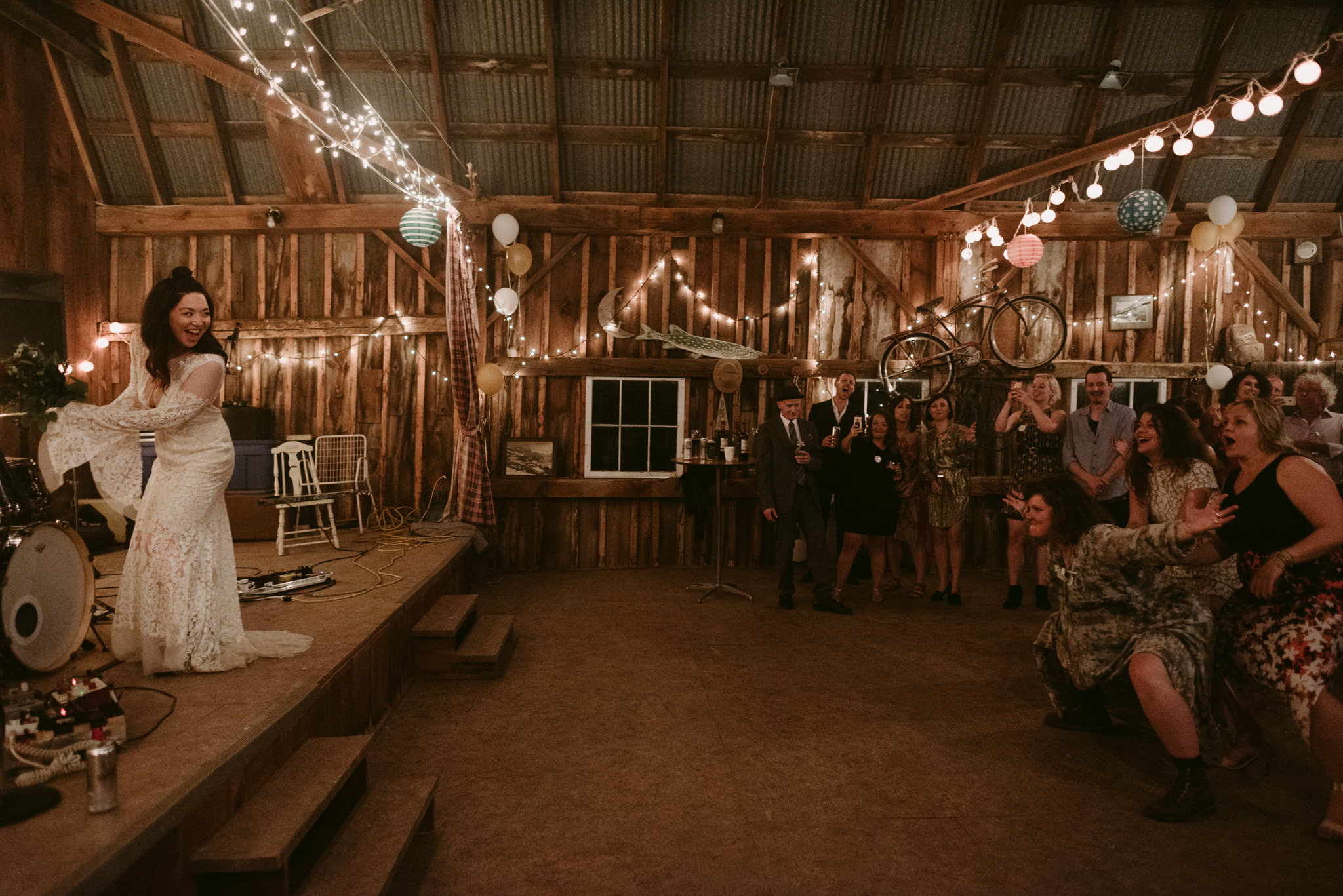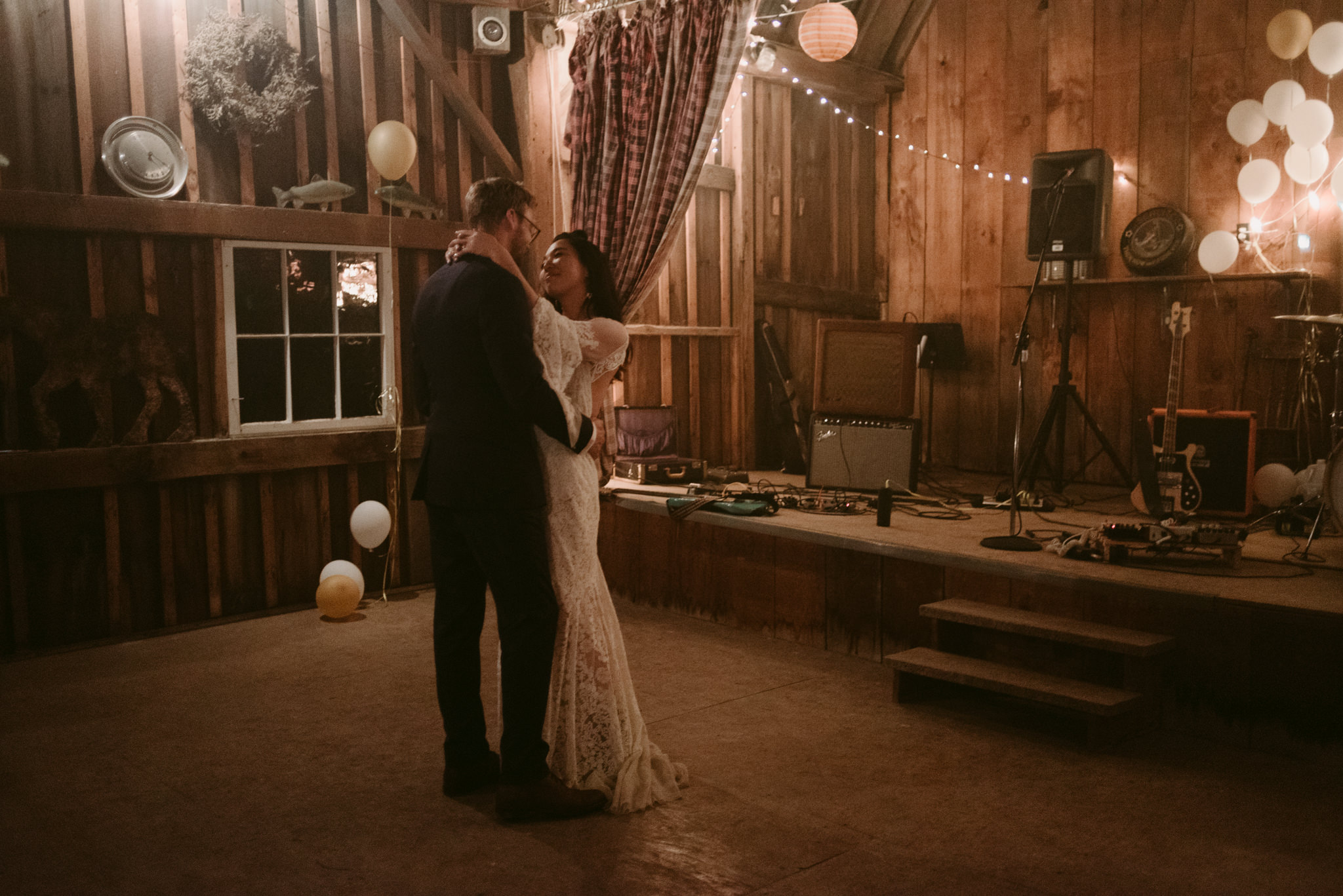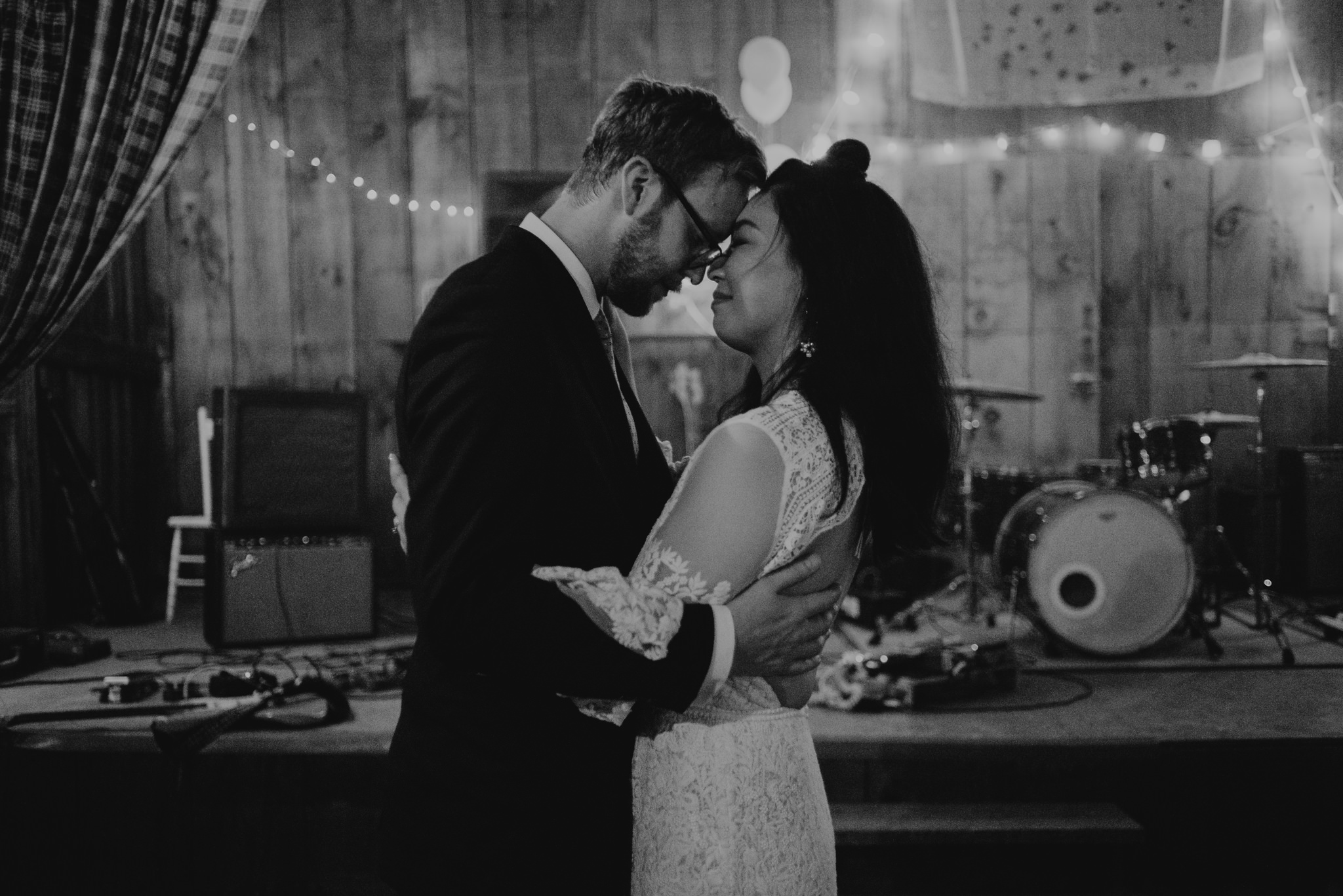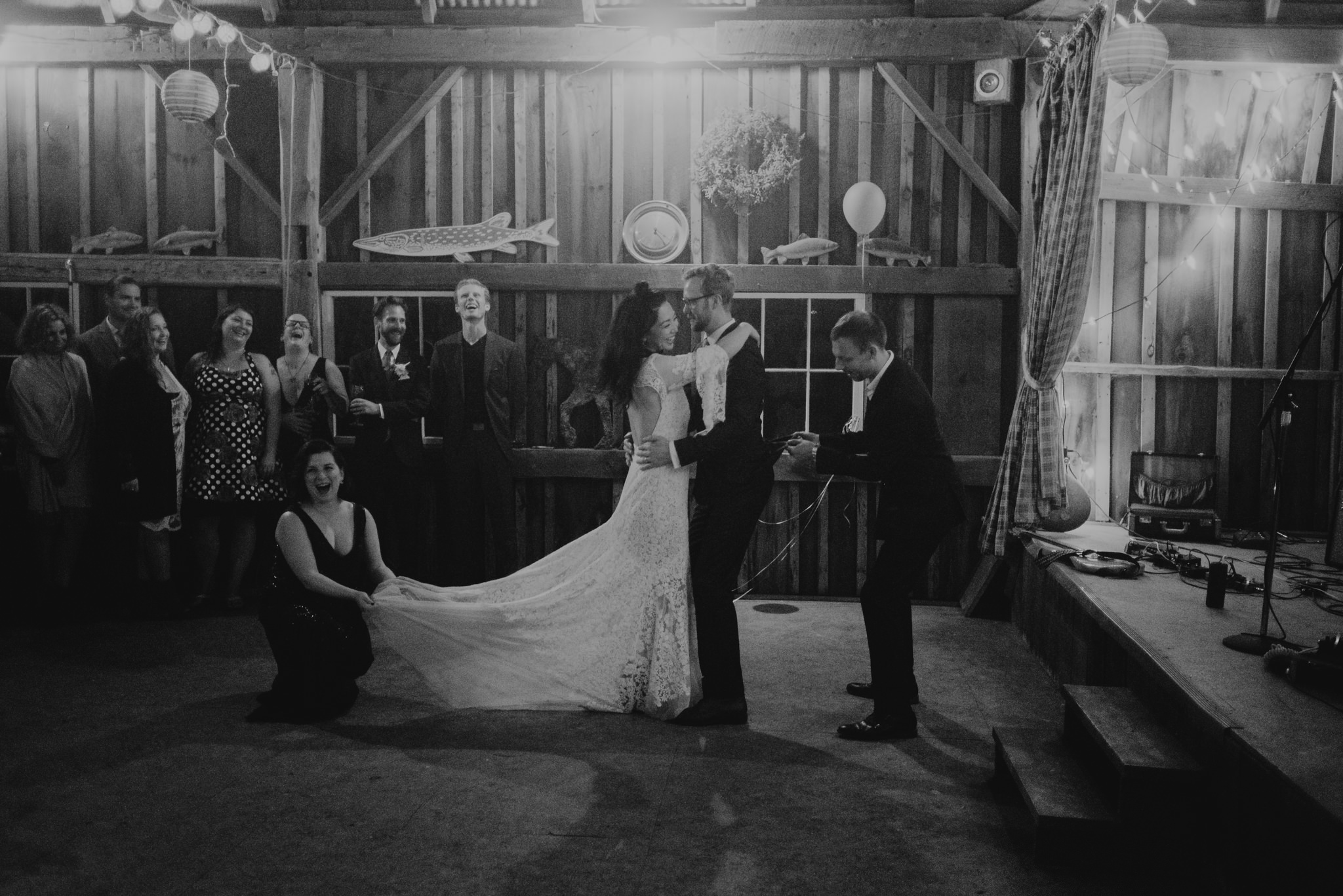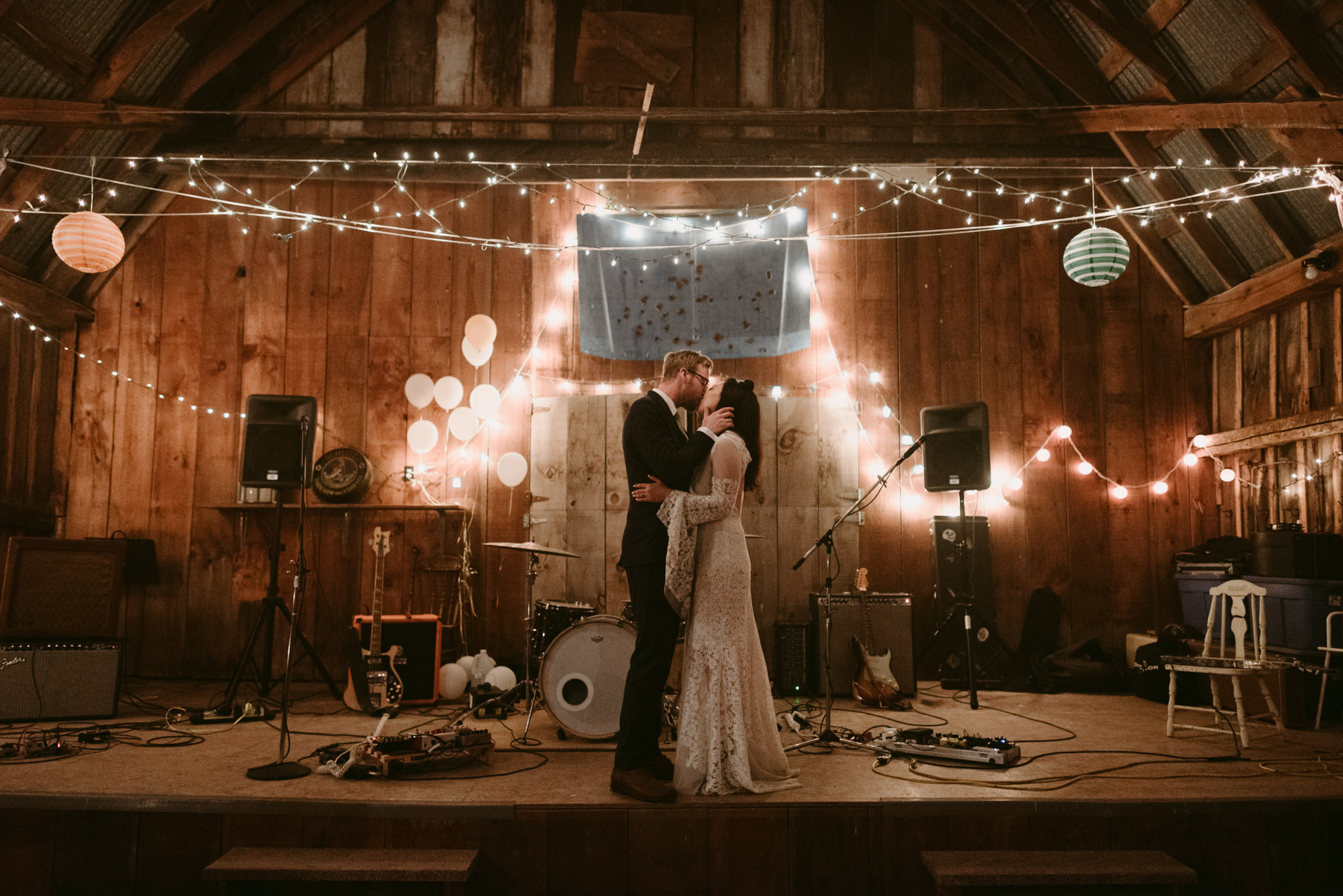 Vendors
DRESS: Payton Gown by Rue de Seine from Loversland
SHOES: Frye Boots
SUIT: Ted Baker
INVITATIONS: Minted
FLORALS: Holton Flowers
VENUE: The Farm, Grafton, Ontario (private property)
CATERER: Jeff Bray
DJ/MUSIC: Tobin Hawkwood | Possum
MUSICIAN: Tobin Hawkwood
OFFICIANT: Anthony Does
FIRST DANCE: Wait for Her – Roger Waters
RINGS: Leif Benner
HAIR & MAKEUP: Windy Chiu
KIMONO STYLIST: Kimiko Sugimoto
NAIL ART: Elyse Connery @angoranails | Holdengrace