Tori & Kyle's Rideau Hill Camp wedding is one of the most incredible weddings I've ever had the pleasure of photographing. With a budget of only $7k, they successful pulled off a beautiful celebration by enlisting the help of their family & friends as well as making most of the decor pieces themselves from cheap or recycled materials. Here are a few words from the bride:
The most important part of their wedding
Through our wedding planning, we kept bringing ourselves back to this: "simple, plain, ordinary, and sincere". We'd heard these elements from the Anishinaabemowin nation on Manitoulin Island (Northern Ontario, Canada) who keep these values in mind for their way of life. It helped us keep a good perspective on what was most important for the day and not getting sucked into the big wedding industry machine. The people were the most important part of our wedding – our best friends, our family that had traveled from out of town, our brothers and sisters, our mentors. So when it came to creating a certain vibe, we wanted to create an open and welcoming atmosphere for everyone to feel comfortable in. If we could put specific words to it, it would be 'gather' and 'community'. Think of a mix between Thanksgiving dinner and summer camp!
Wedding planning advice
To keep costs low, my family and I planned and organized everything – so at first I went crazy researching weddings online! I gathered all my photo inspiration in the months after our engagement, saved them on my computer, then let them sit untouched for a while. In the months leading up to the wedding, I'd make myself delete photos until I'd funnelled down the visual inspiration to just a few key, harmonious images. For the practical way the set up and wedding day flowed, I used the spreadsheet resources that A Practical Wedding has on their website. I highly recommend the great wealth of honest, down to earth advice and resources they have and the inclusive online community they have cultivated.
Let's talk DIYs
One huge way we saved money was designing and printing the paper stationary ourselves – the invitations, RSVPs, and ceremony programs. Another huge project was all of the signage we had scattered around the grounds. We bought a big board of plywood and painted a welcome and directional sign, seating chart, table numbers, dessert and card signs, etc. I carried the same flowers/herb design across the paper and signage to pull them together. We put a lot of work into the reception area, with a wood pallet wall, cedar wreaths, hooks to hang our bouquets up. We made table runners from curtains and cloth napkins from dish towels – we found we could save a lot by buy larger materials then cutting them into smaller pieces! I've been collecting vintage glass bottles since I was in high school, so we scattered them across the picnic tables and filled them with greenery and flowers. My favourite project were the brown paper bags with the menu printed on them. My mum sewed the bottom together, we placed a homemade bun inside, and pinned the top closed using a clothespin with each guests' name on it!
My mother had kept her mother's wedding dress all these years, and she (amazingly) agreed to sew my dress herself! The base was a simple white dress from Urban Outfitters. She then added my grandmother's lace to the top, and lace sheaths over the bottom skirt were from a beautiful vintage wedding dress I scored thrifting. I owe a thousand thanks to my mother who spent hours over her sewing matching, bringing what I had envisioned to life!
Choosing a wedding photographer
While not spending beyond our small budget was important to us, having high quality, beautiful, lasting photos of the day was one of our top priorities. I spent what felt like days researching photographers that were in country (Canada) so that travel fees would be less. After not finding anyone with the photography vibe I was looking for, I stumbled across Jess' work on my Instagram explore page! We looked through her entire online archives and were in love. We saved money elsewhere through many handmade projects so that we could spend the majority of our budget on photos. We wanted beautiful photos to look back on for the rest of our lives, and to pass onto our family – and we are so happy with Jess' work!
This wedding was featured in Junebug Weddings.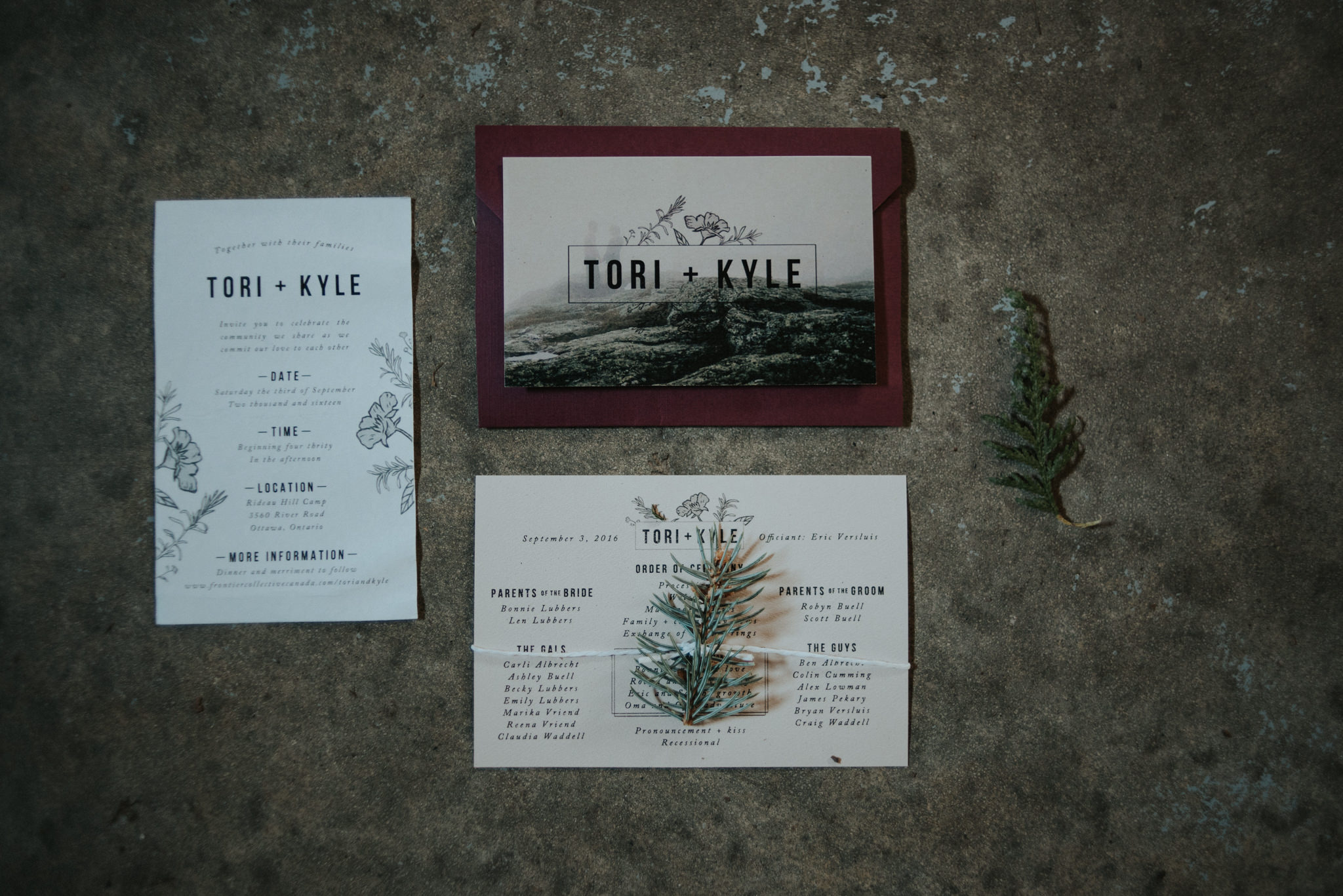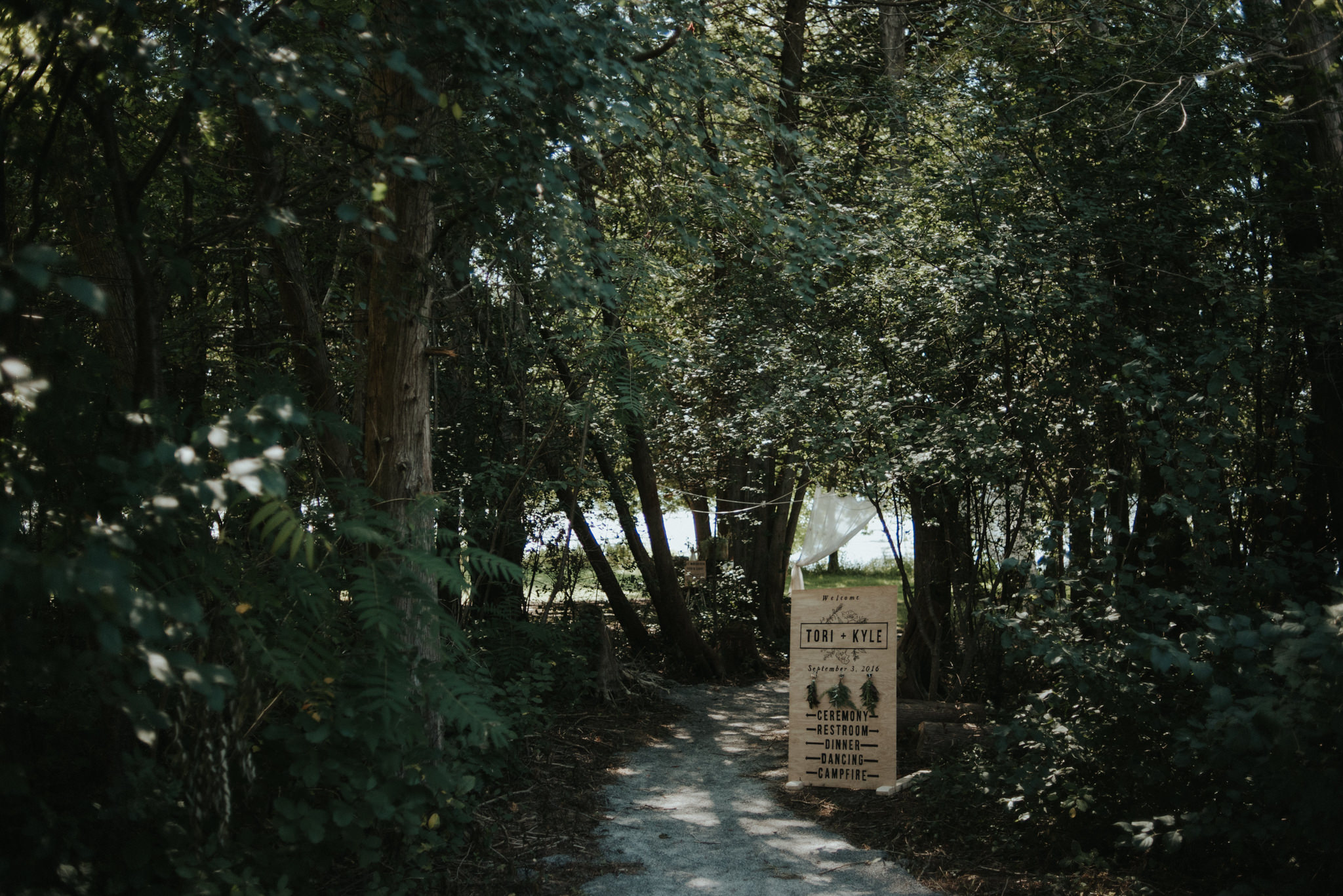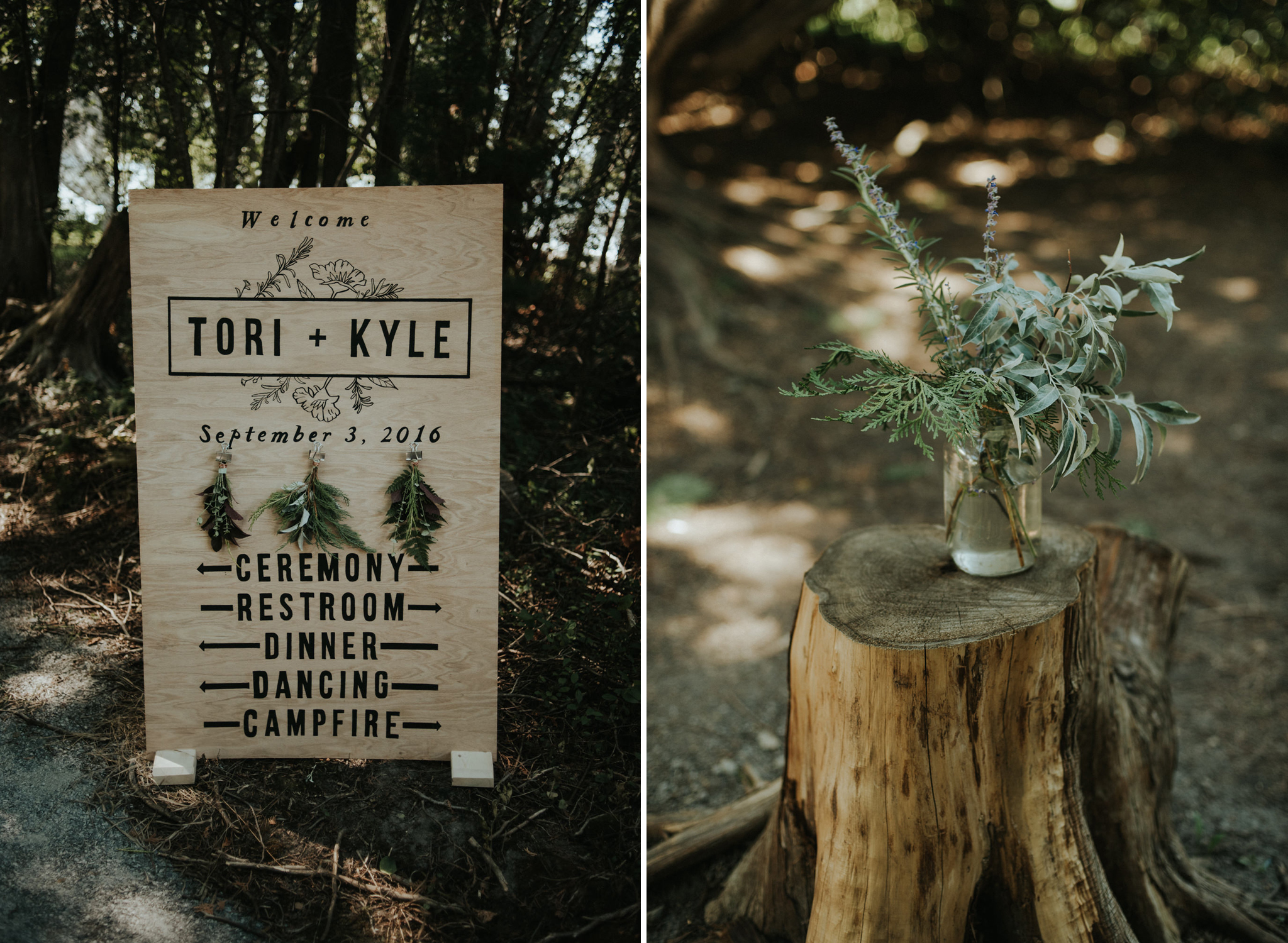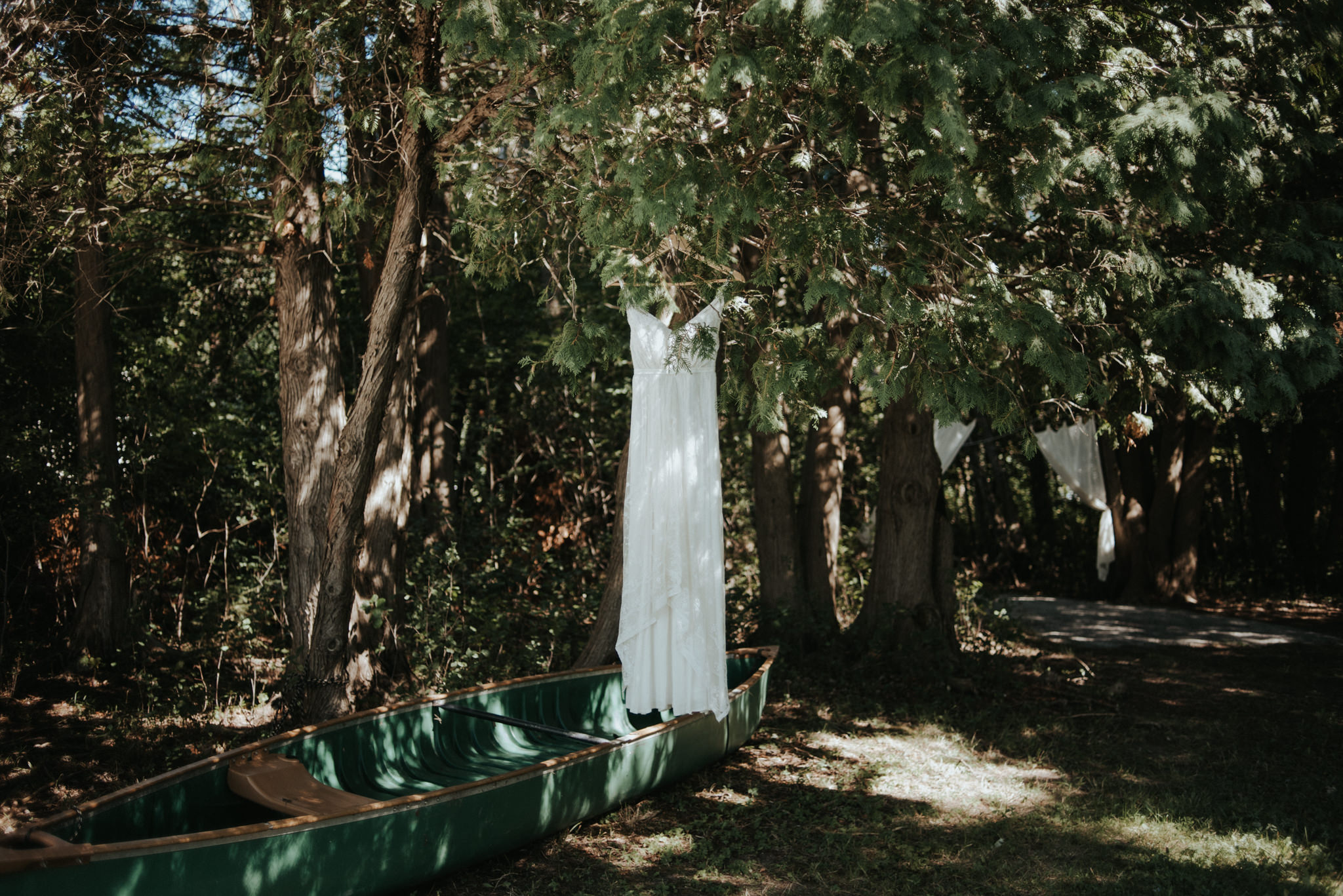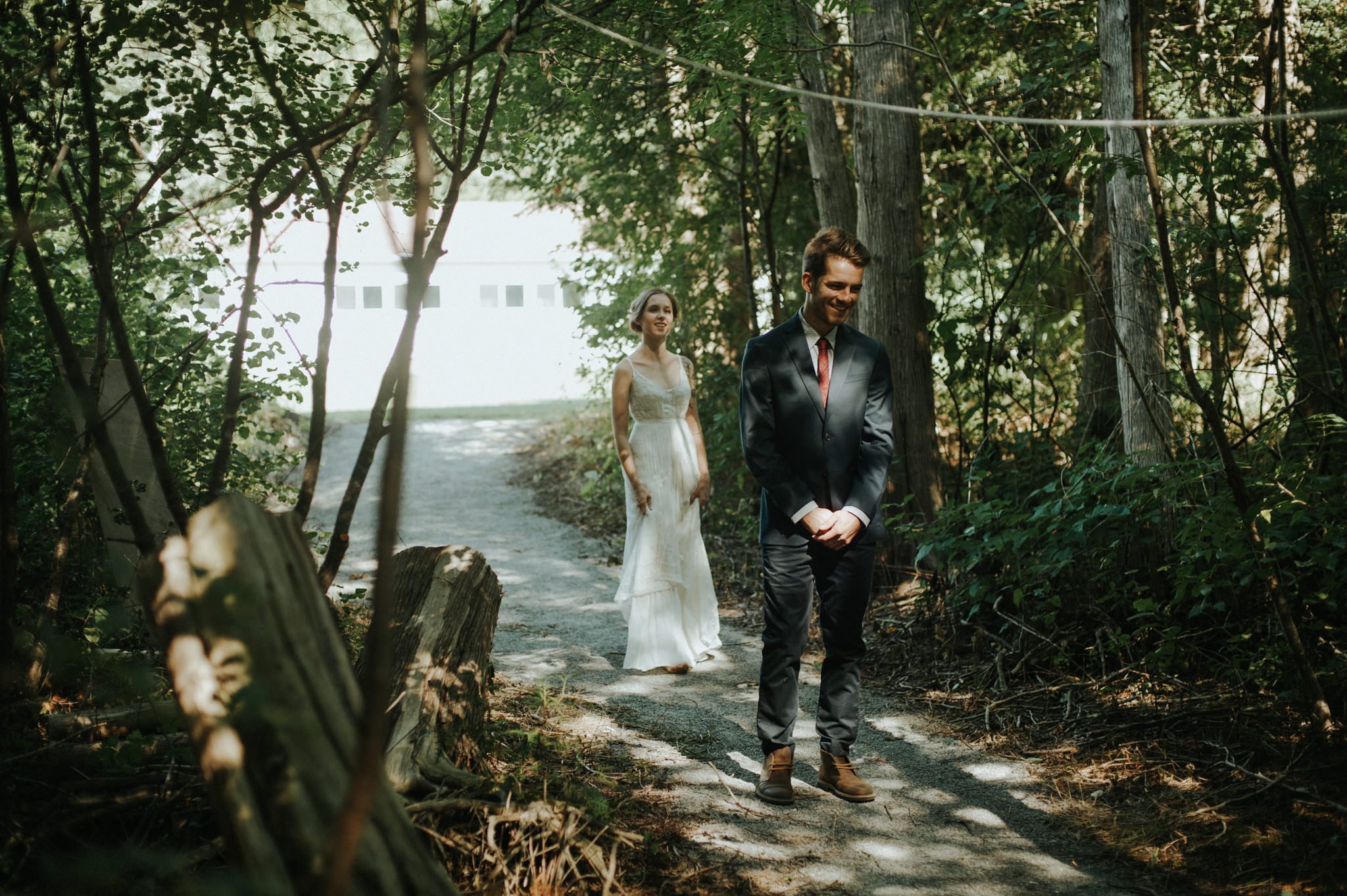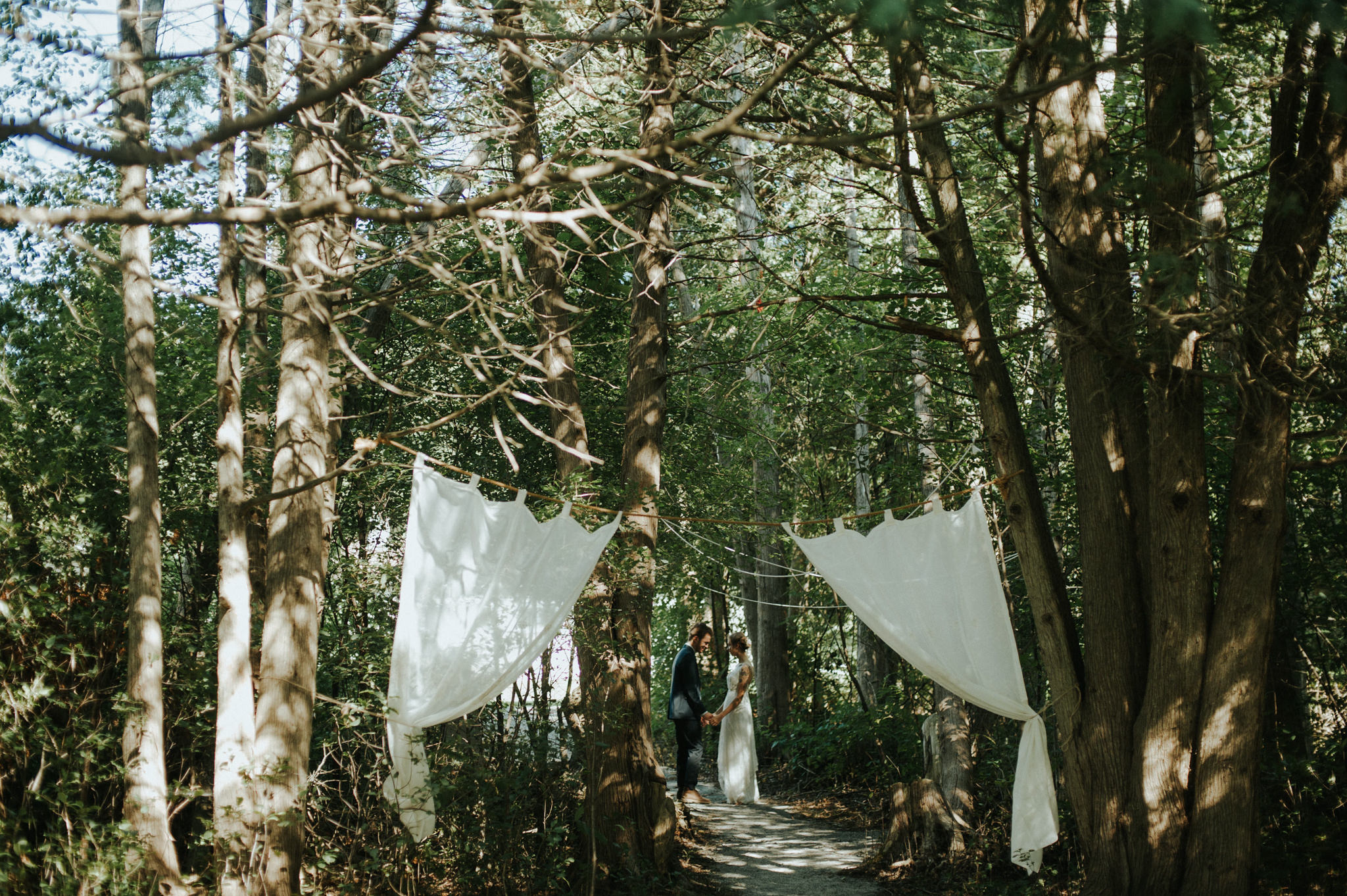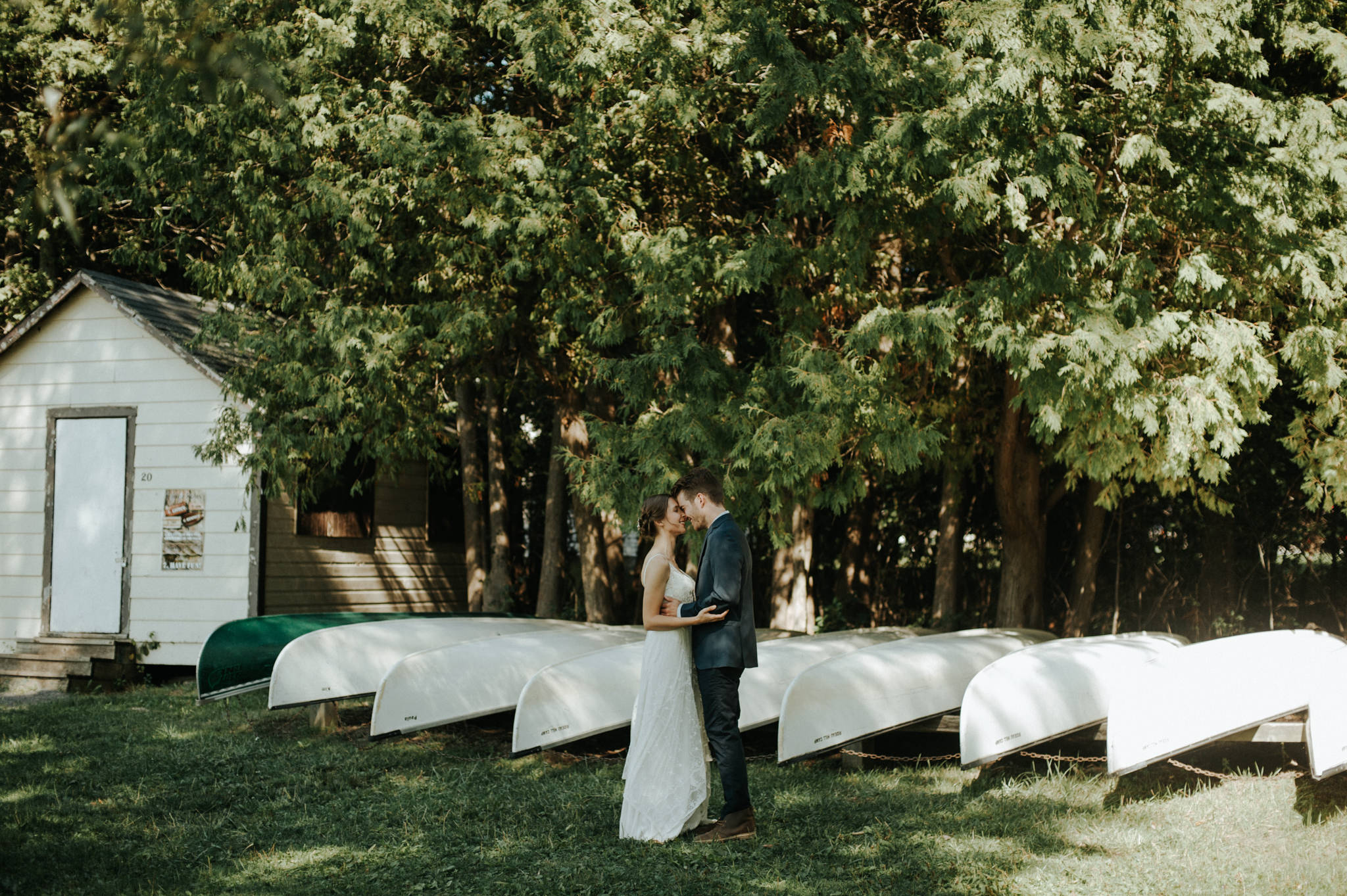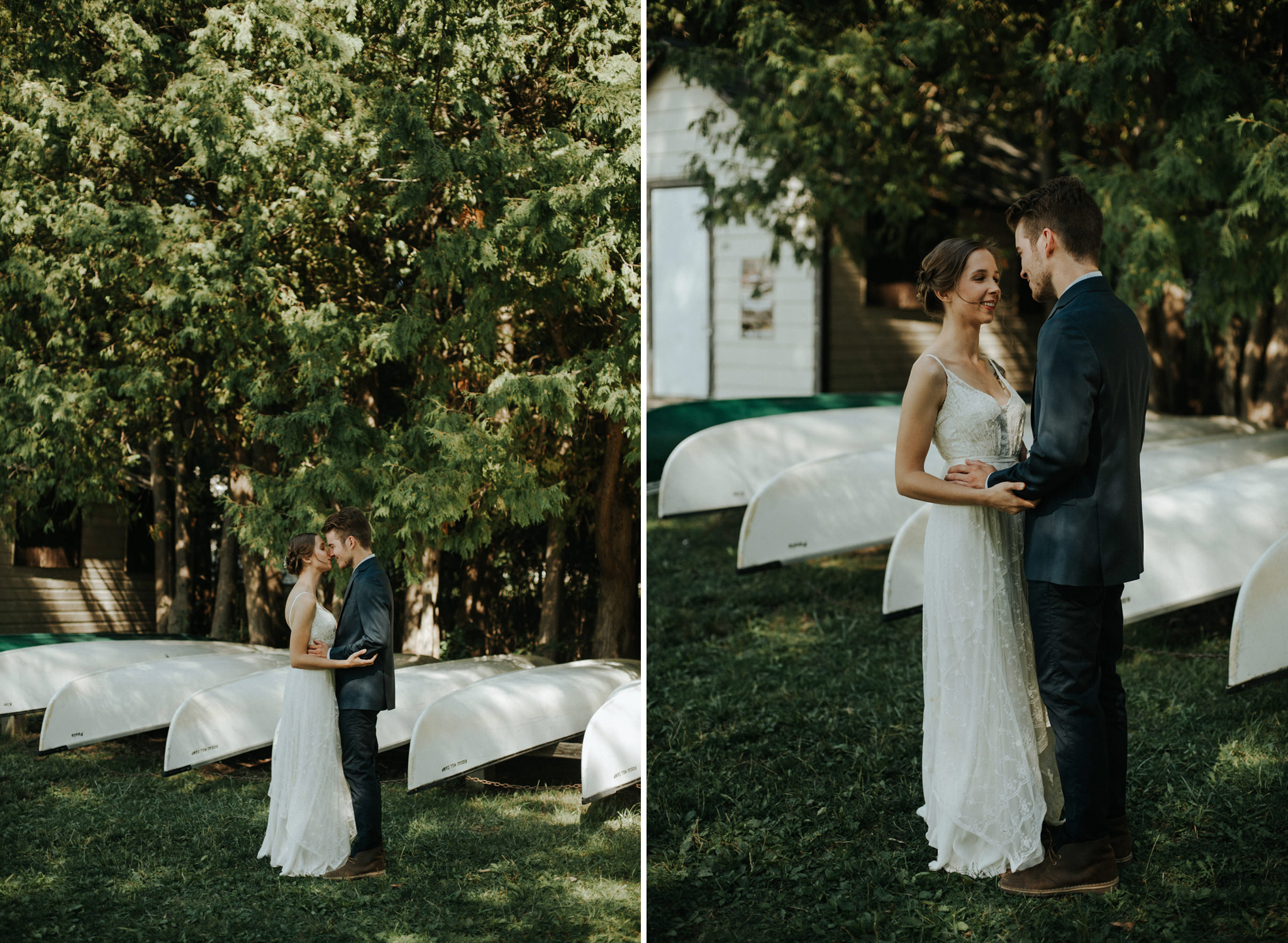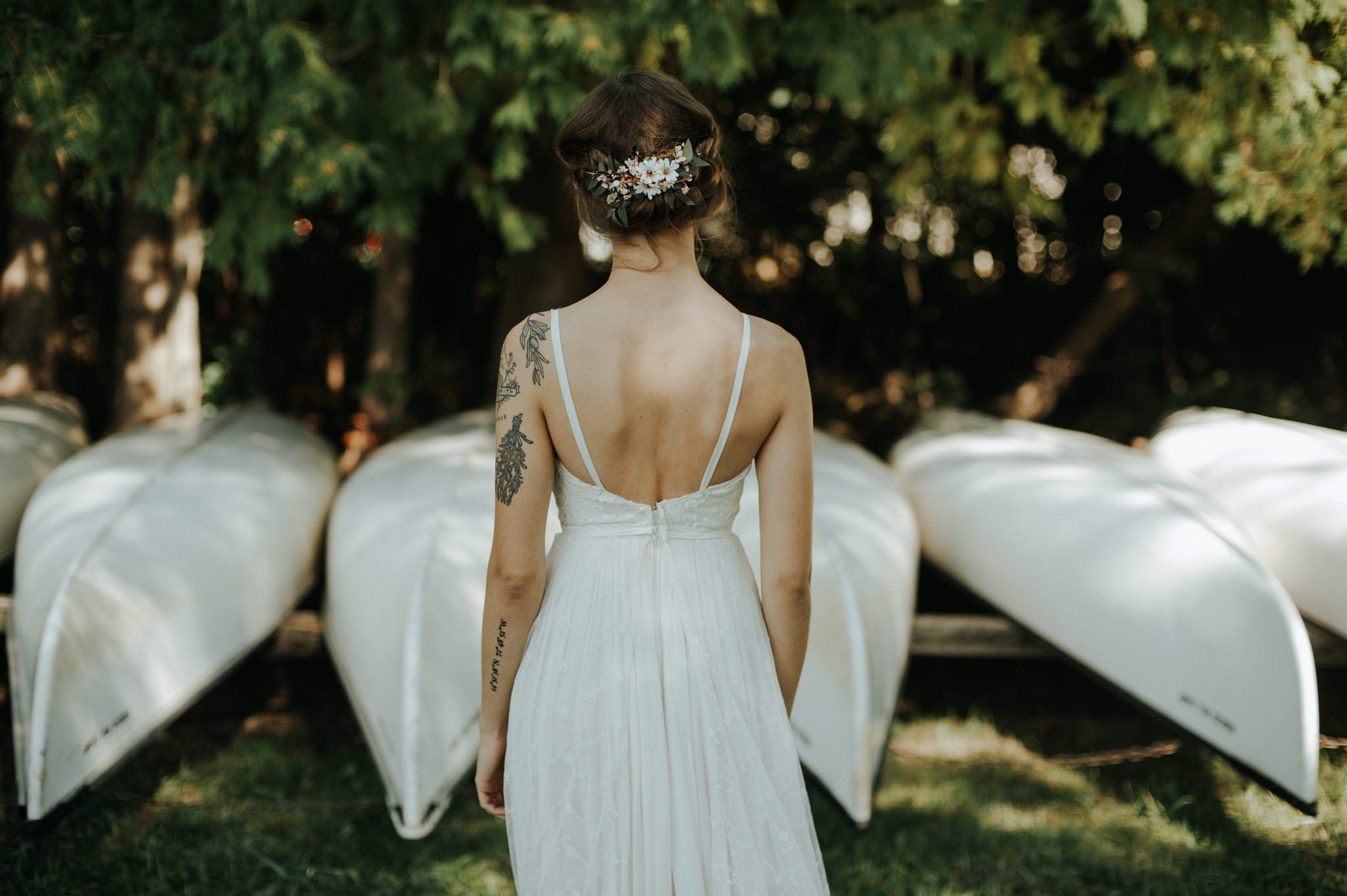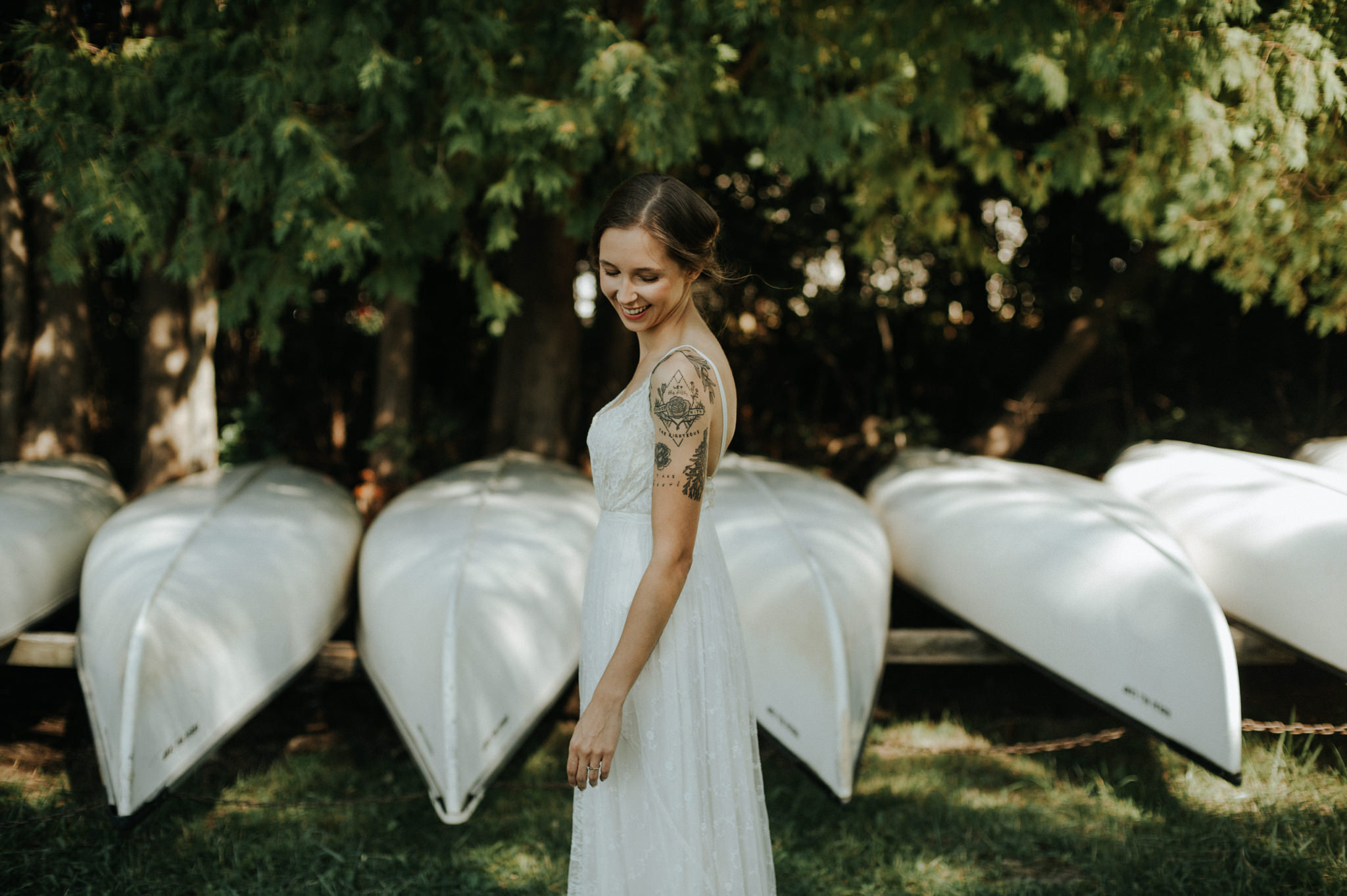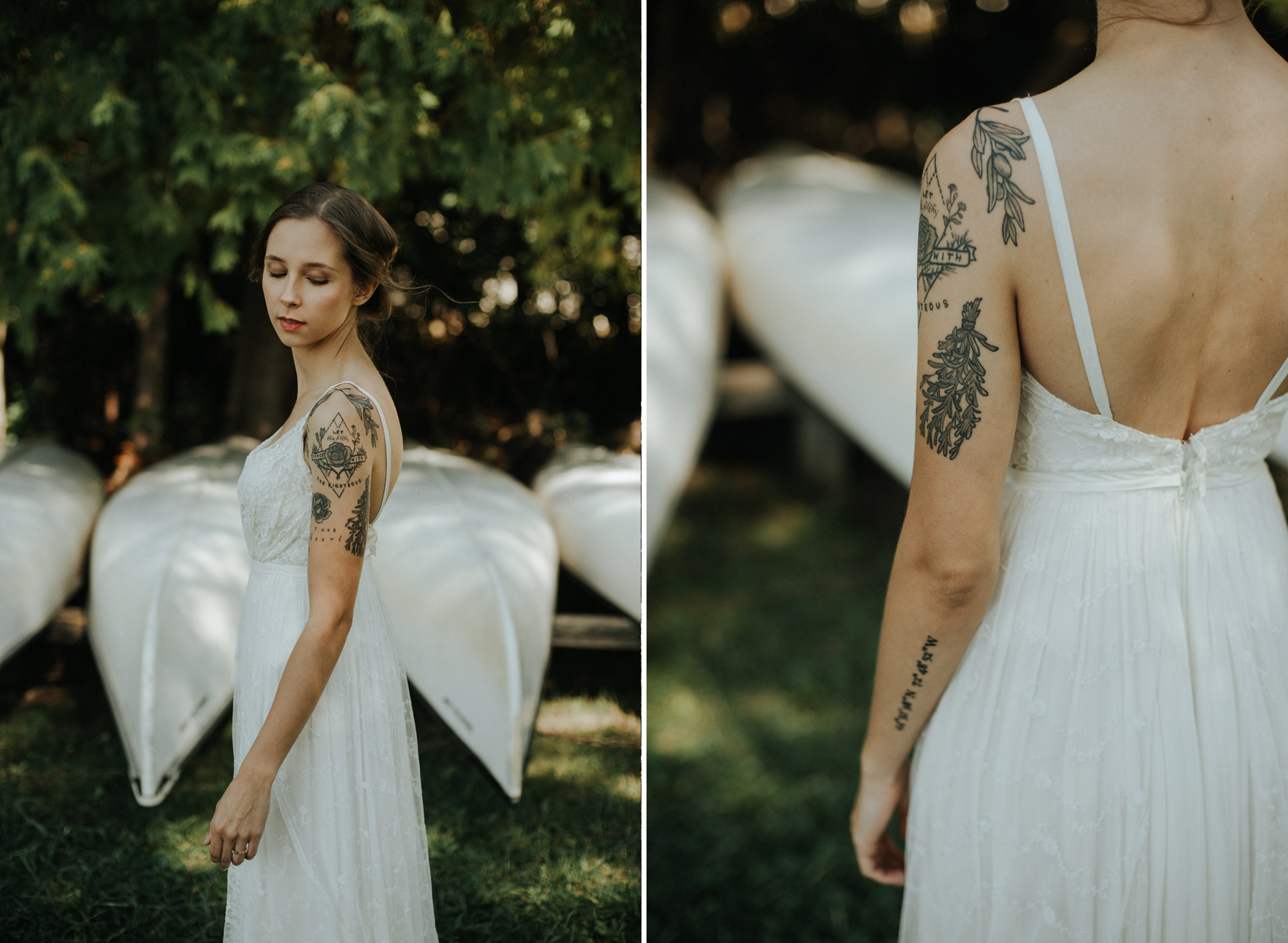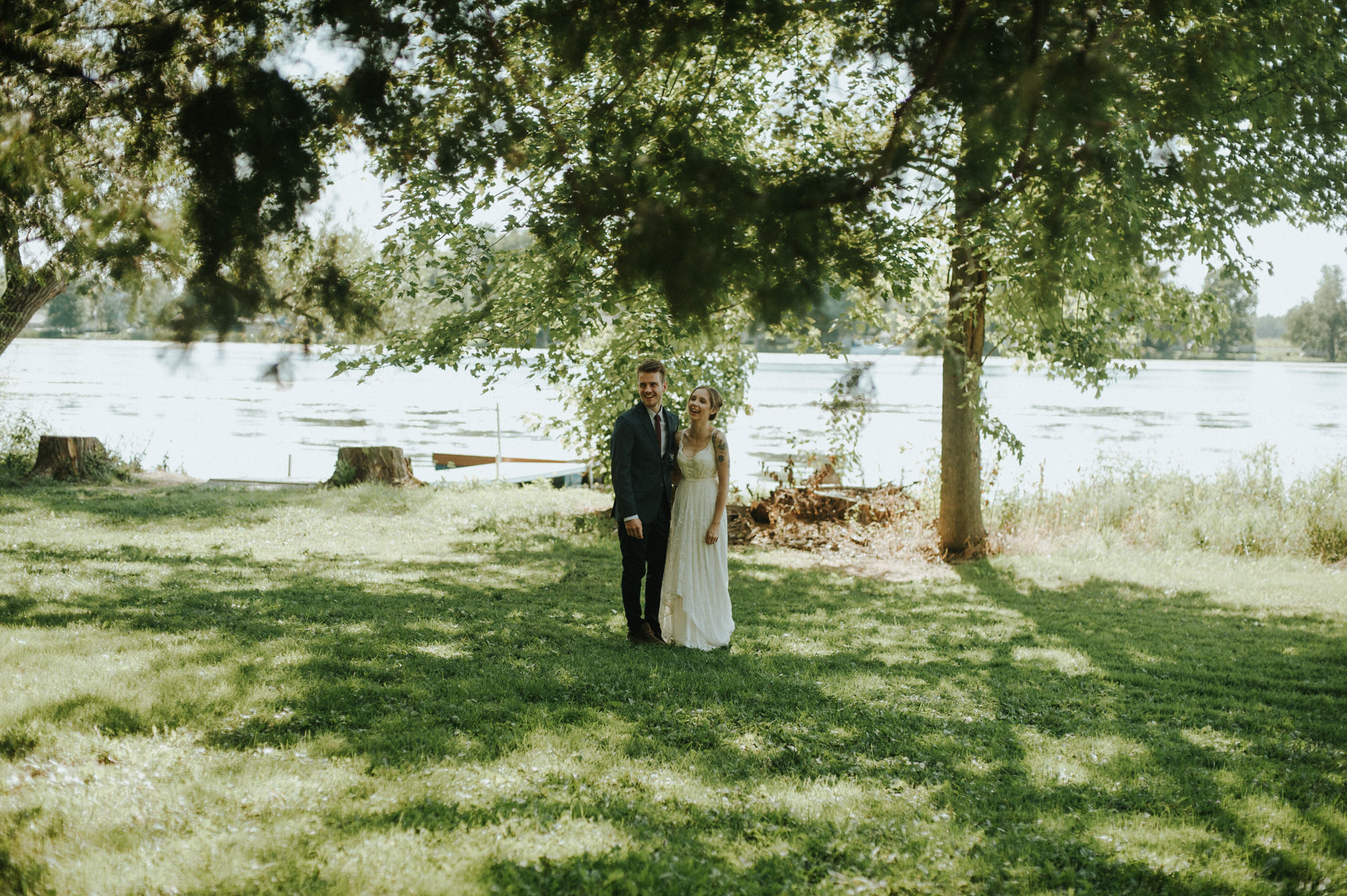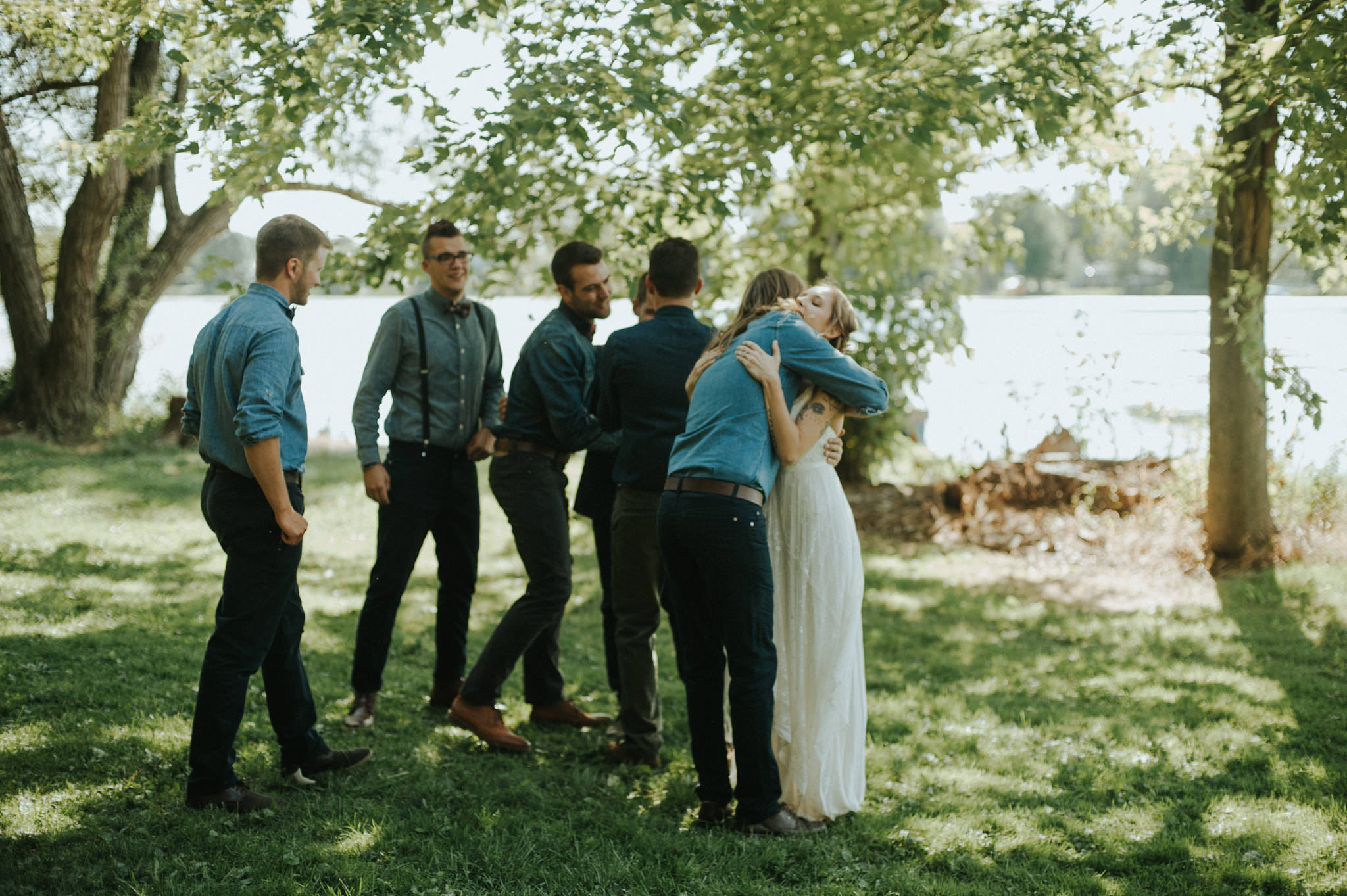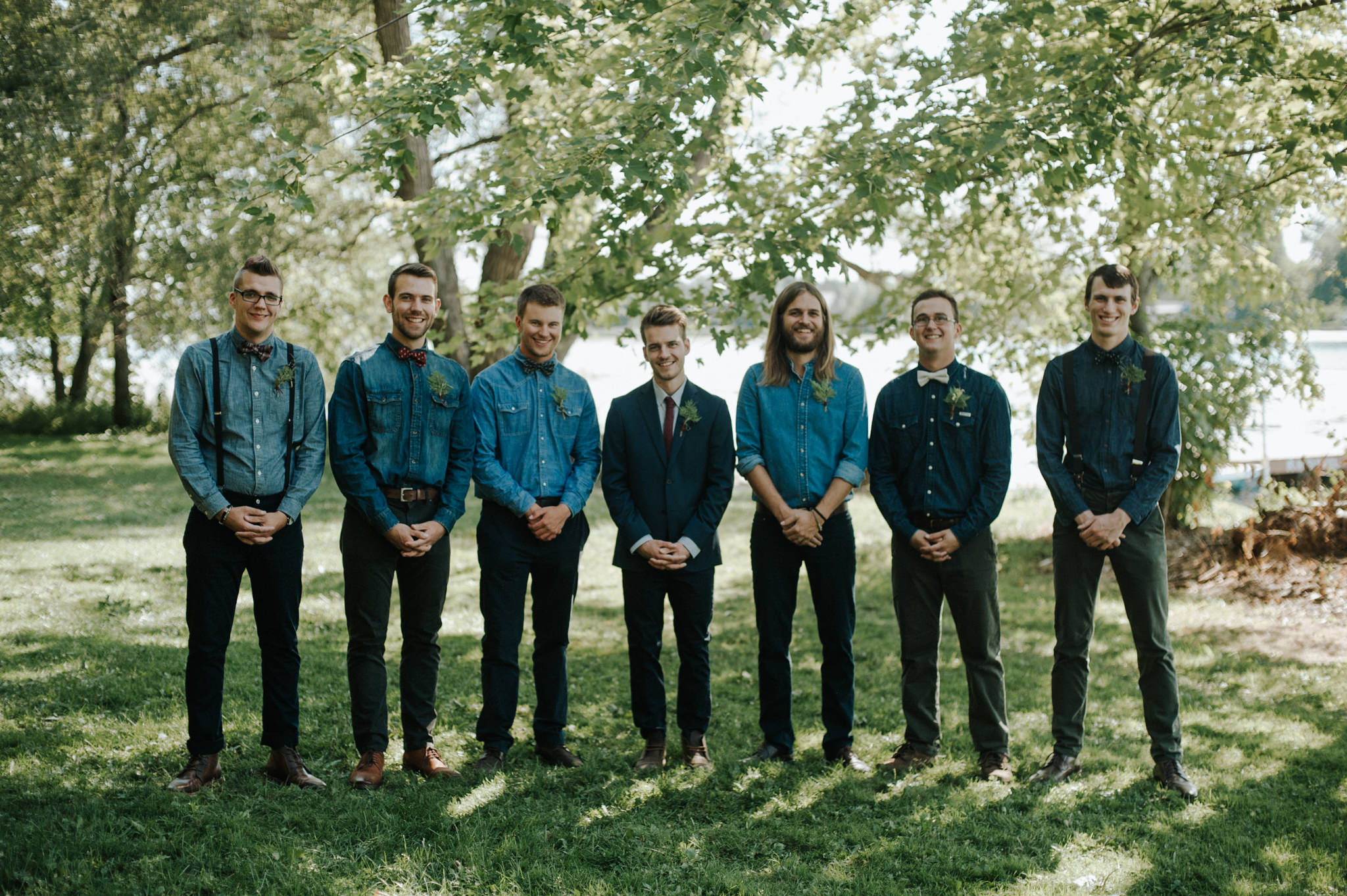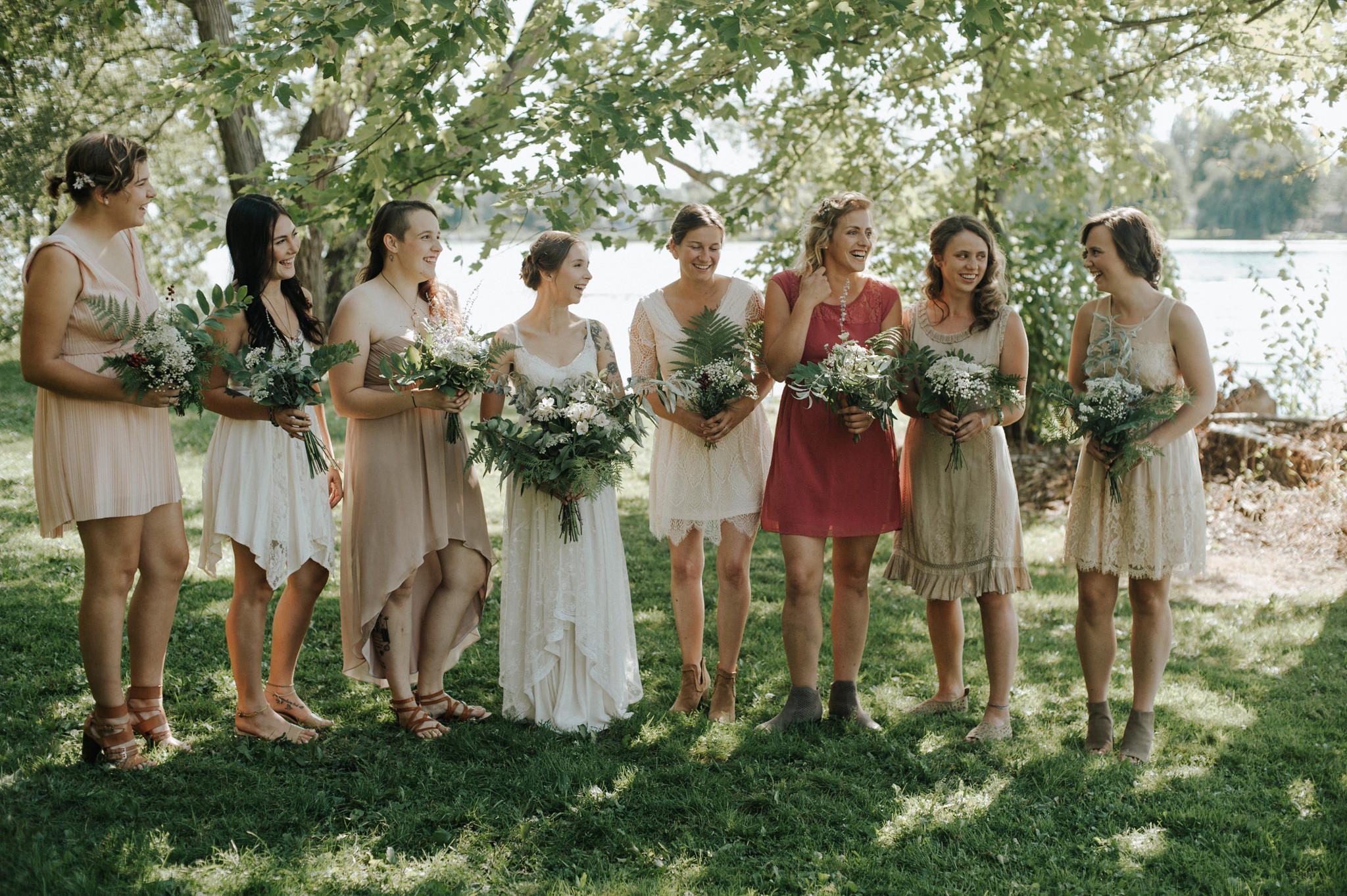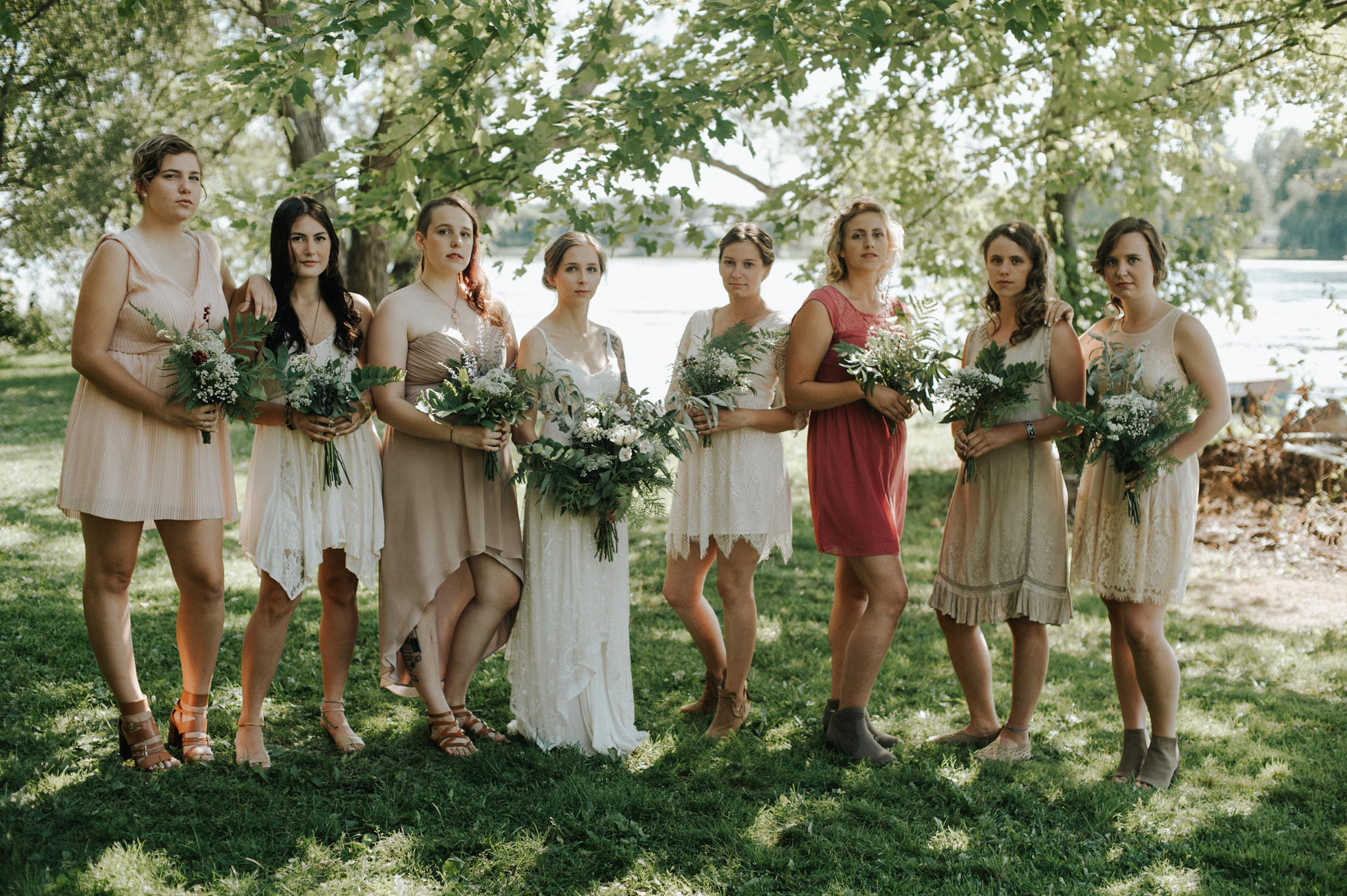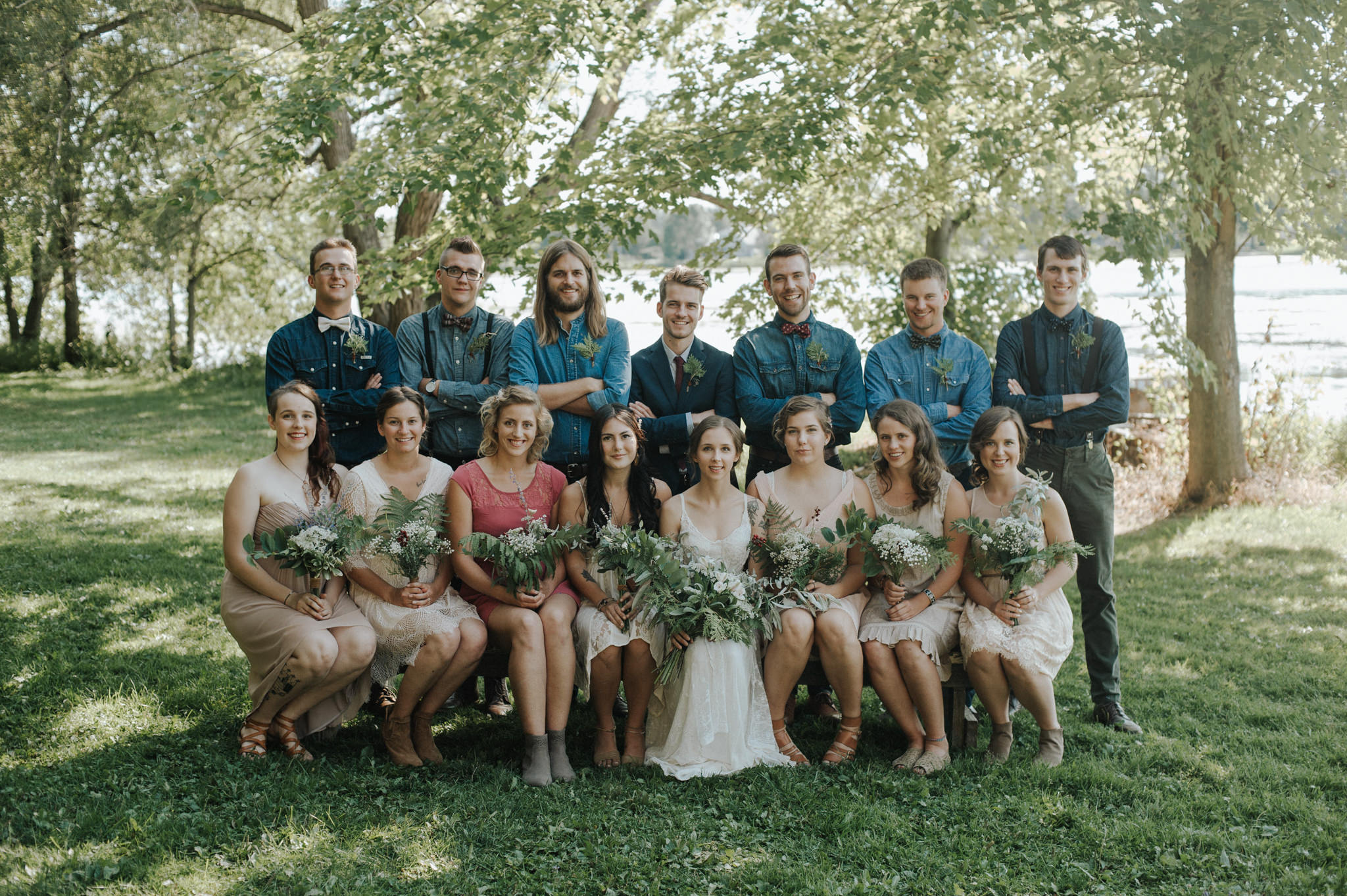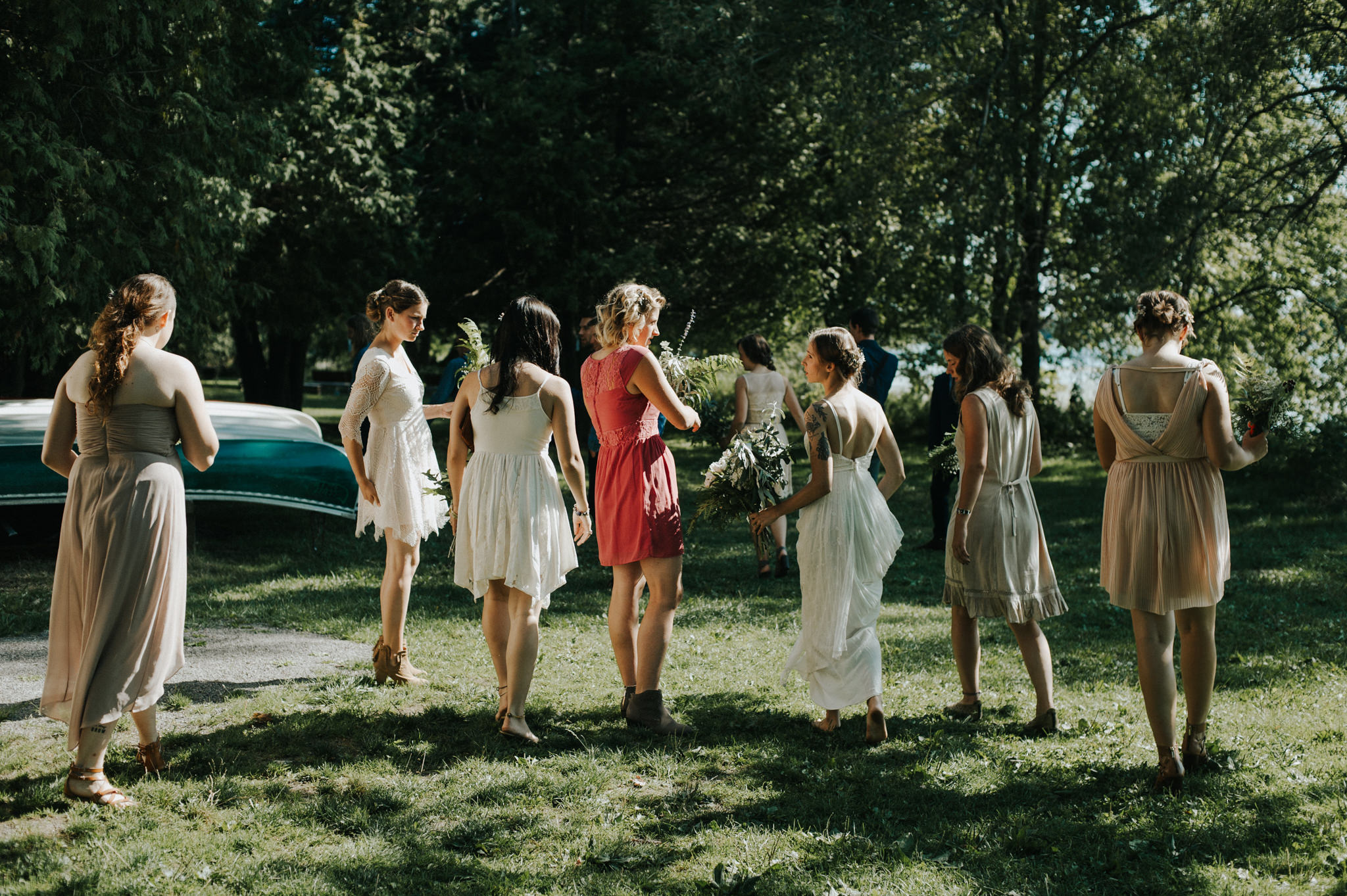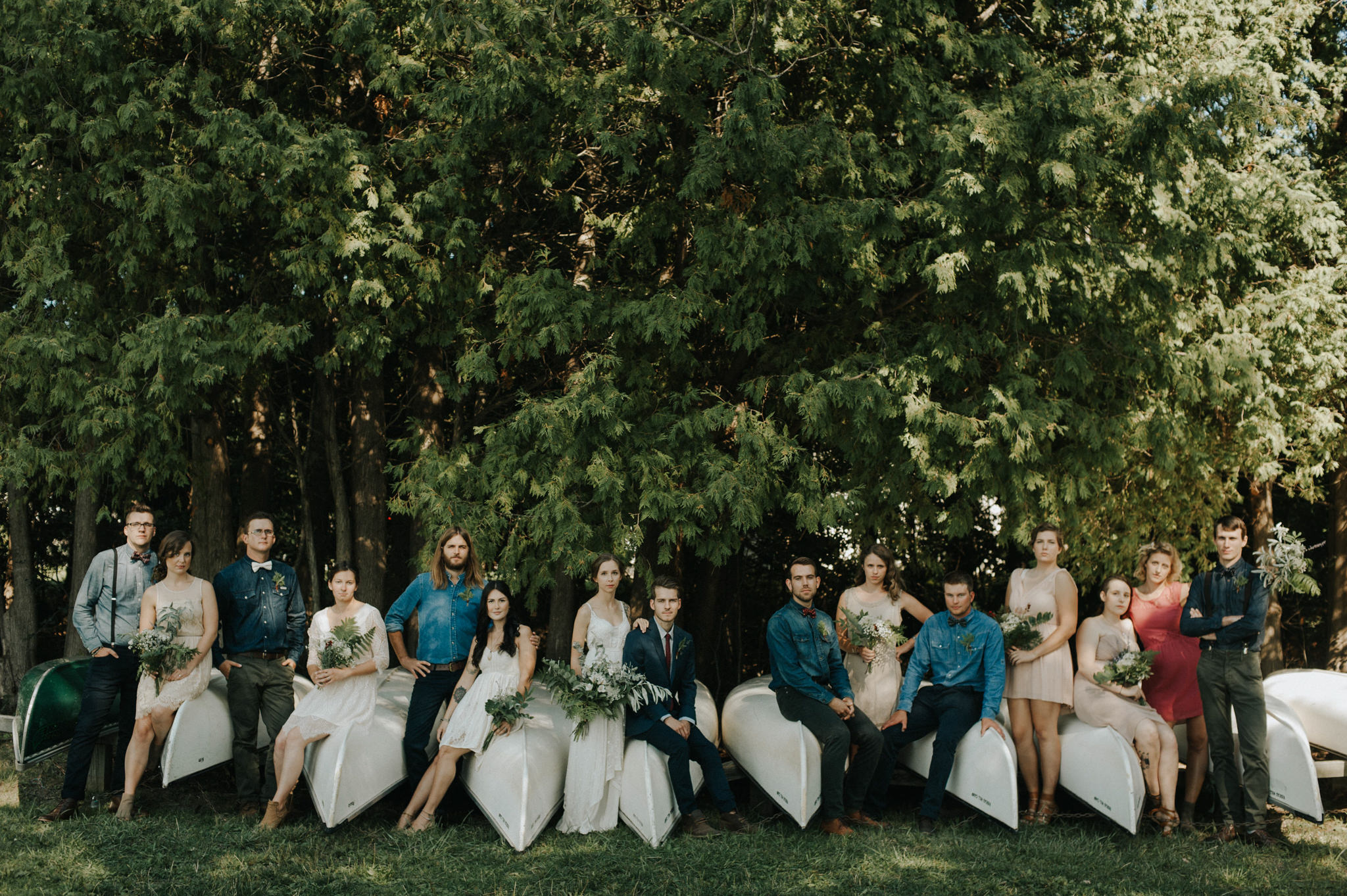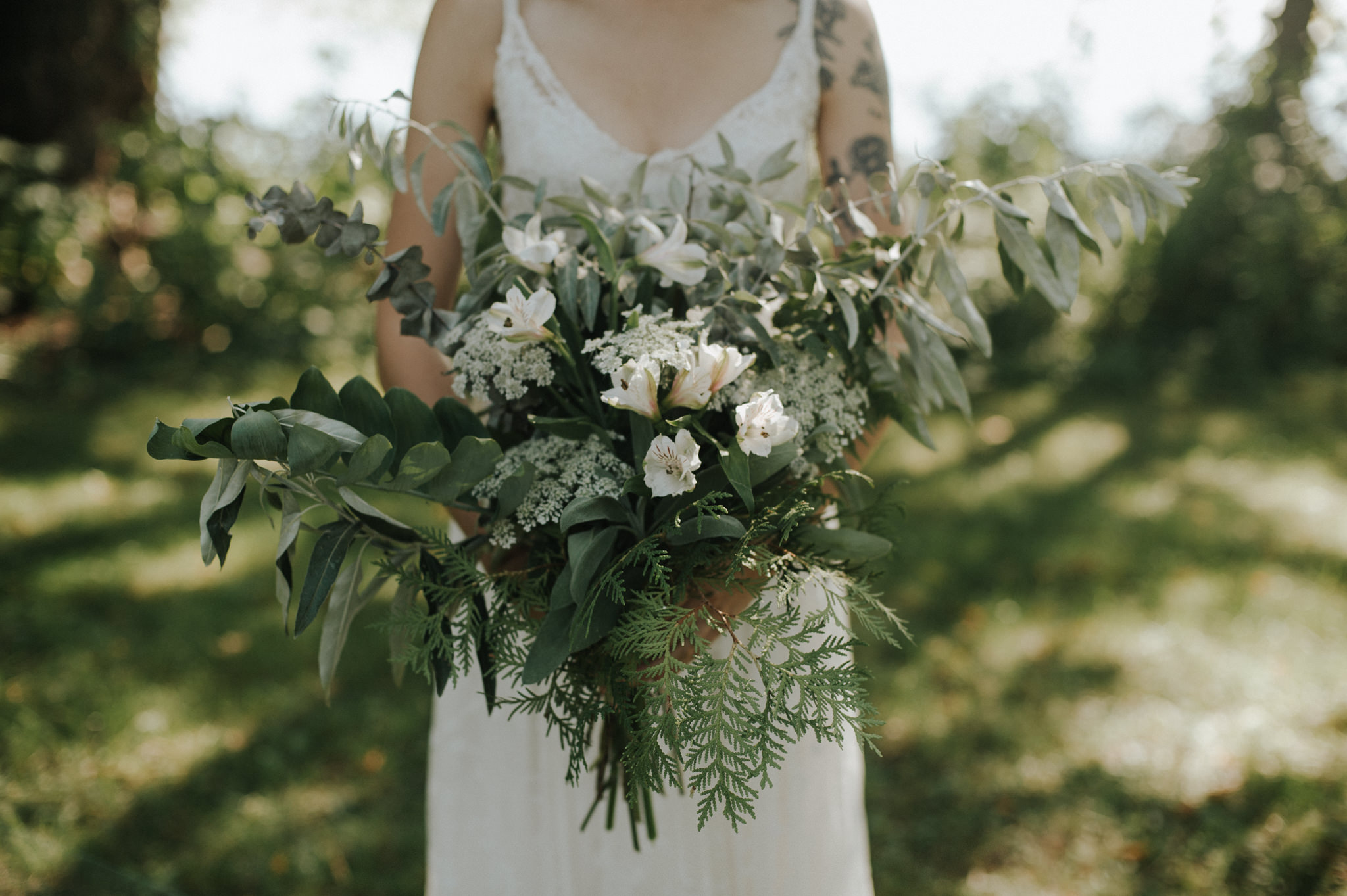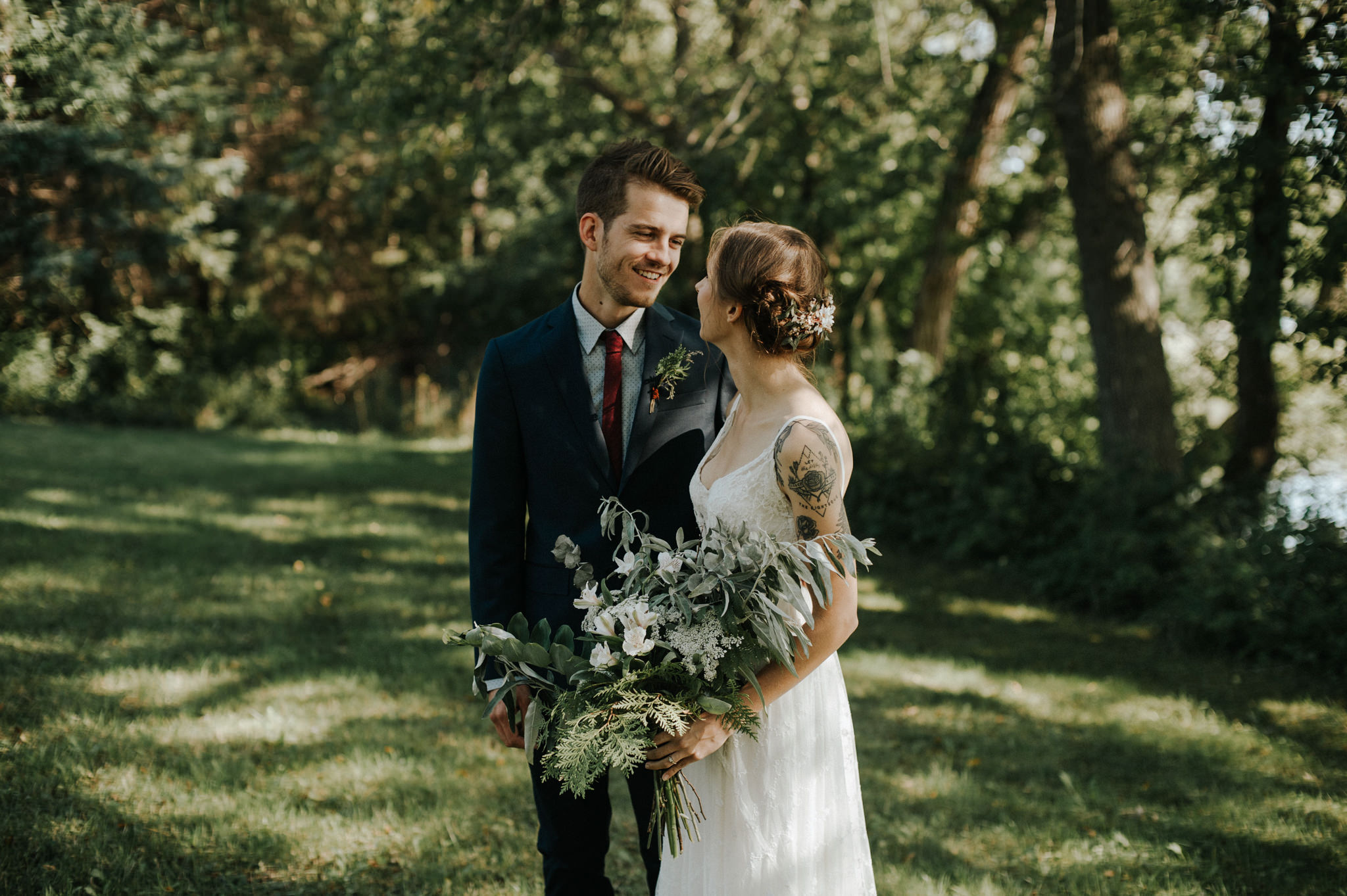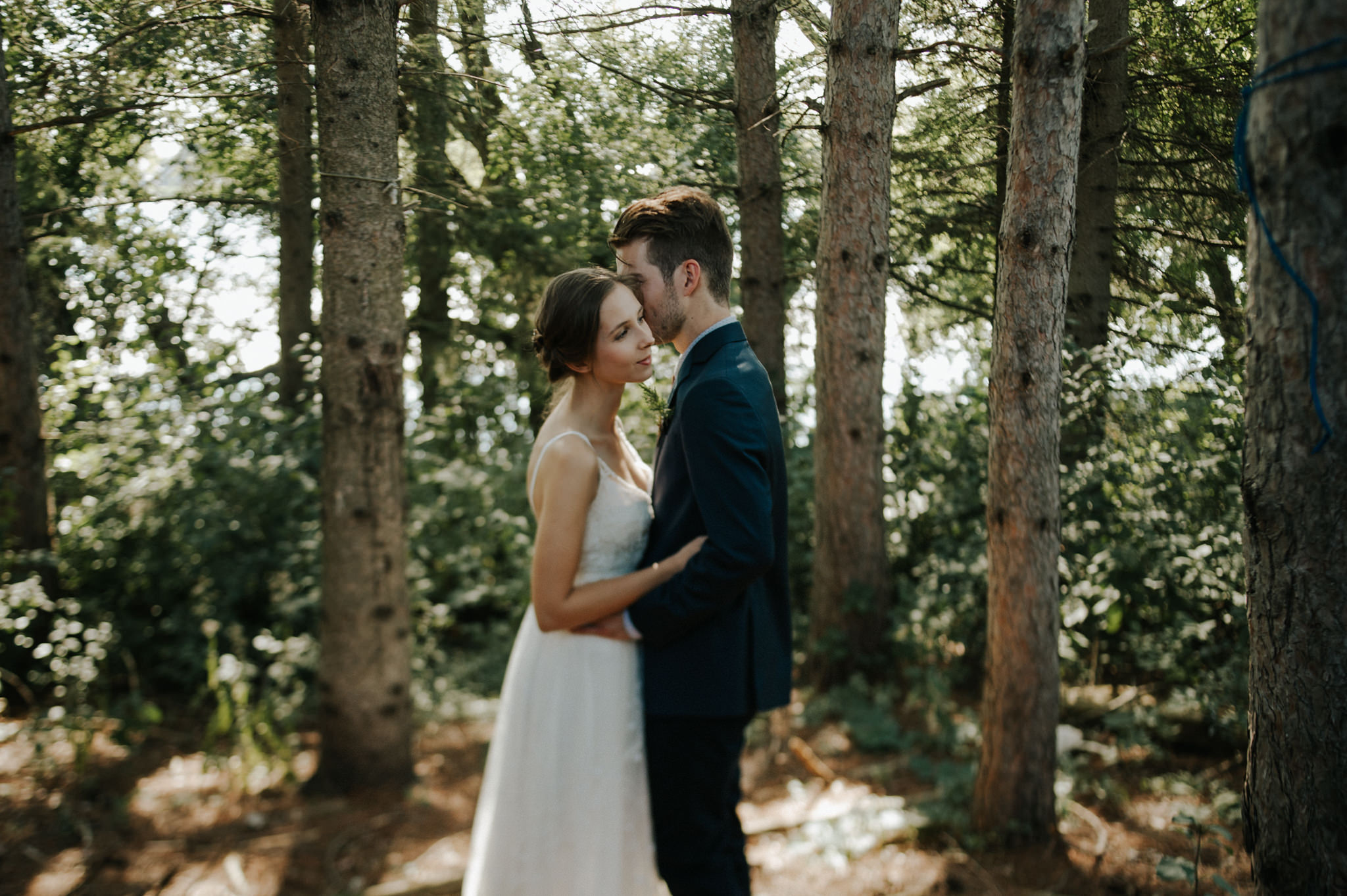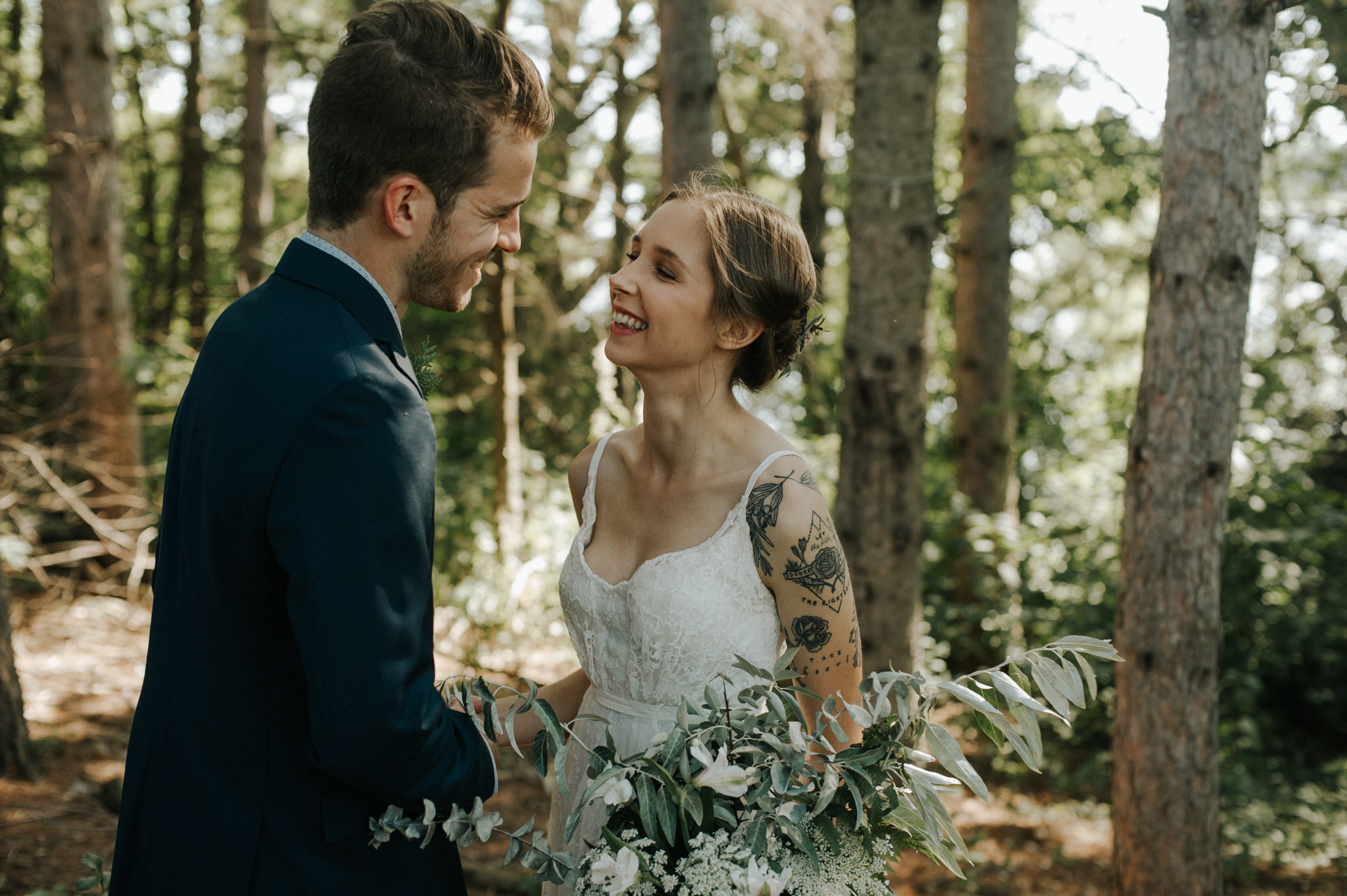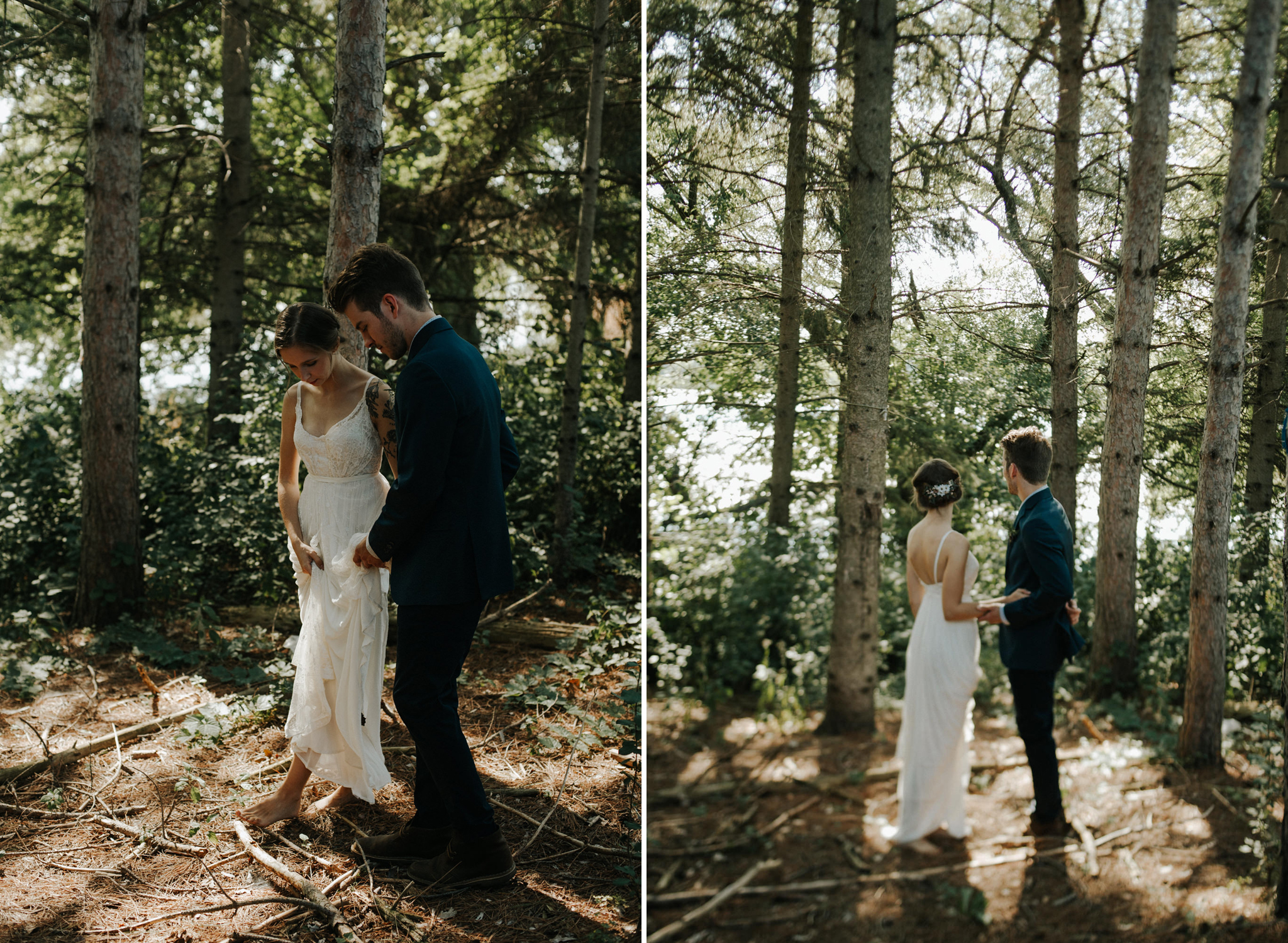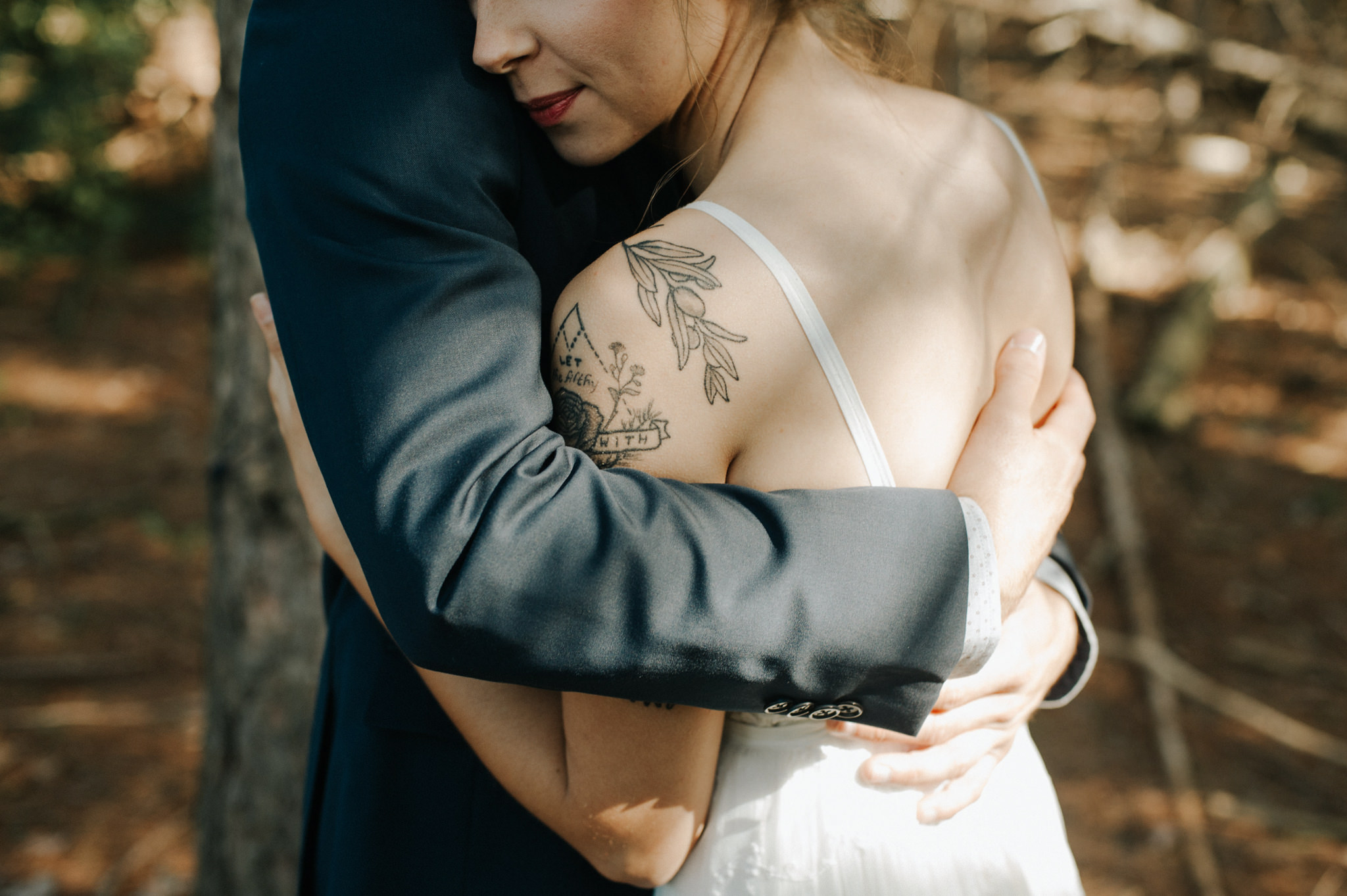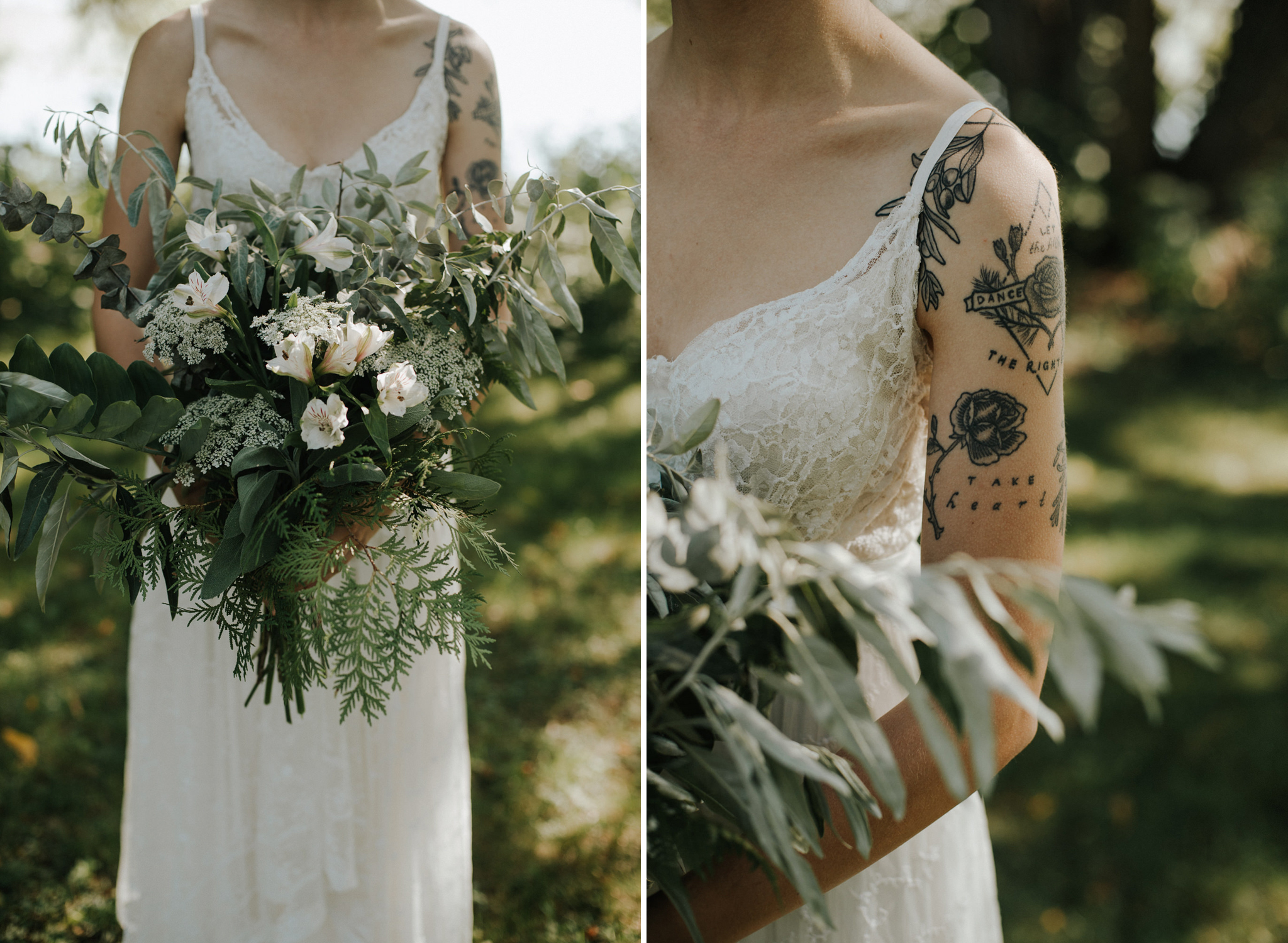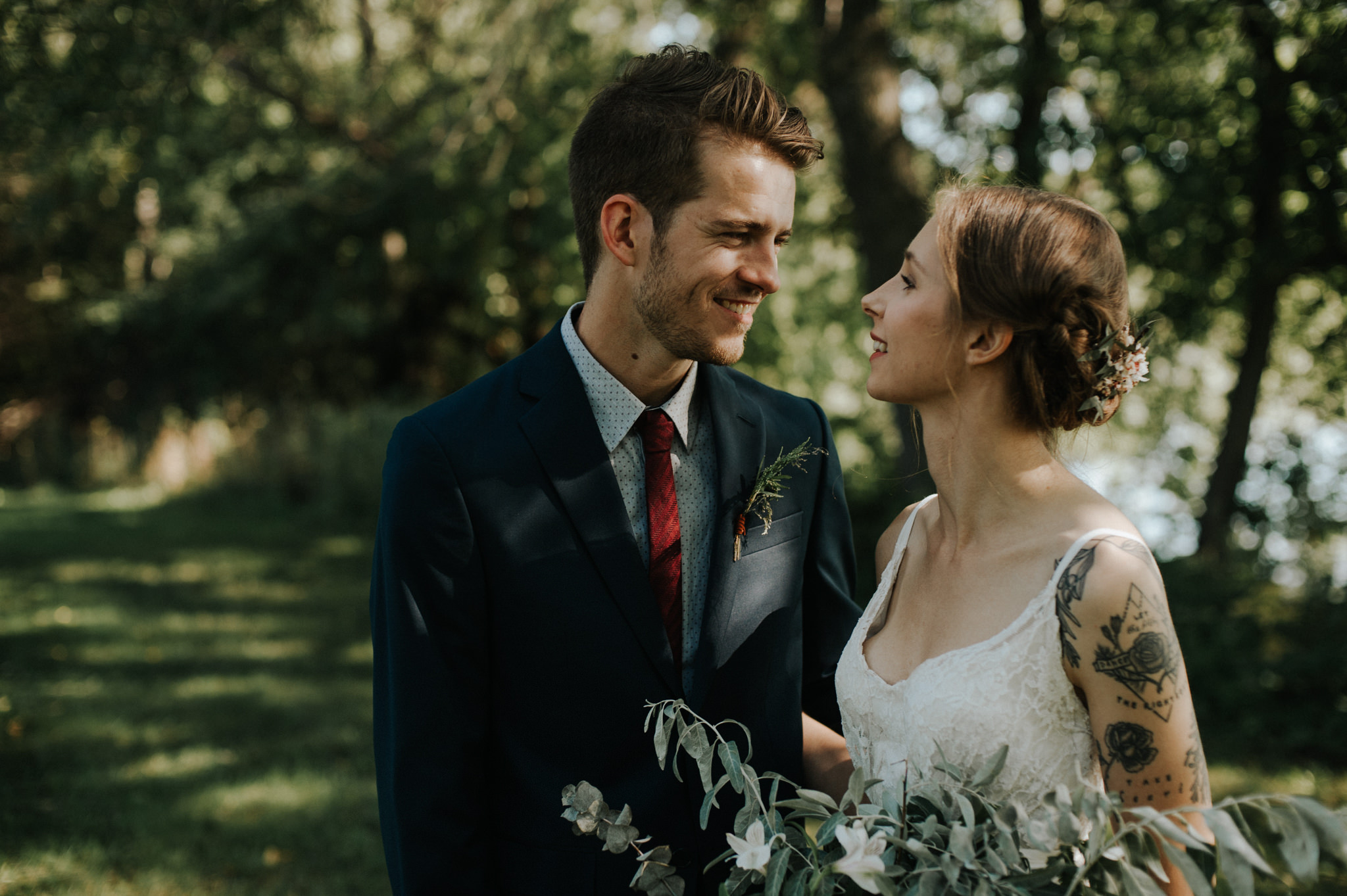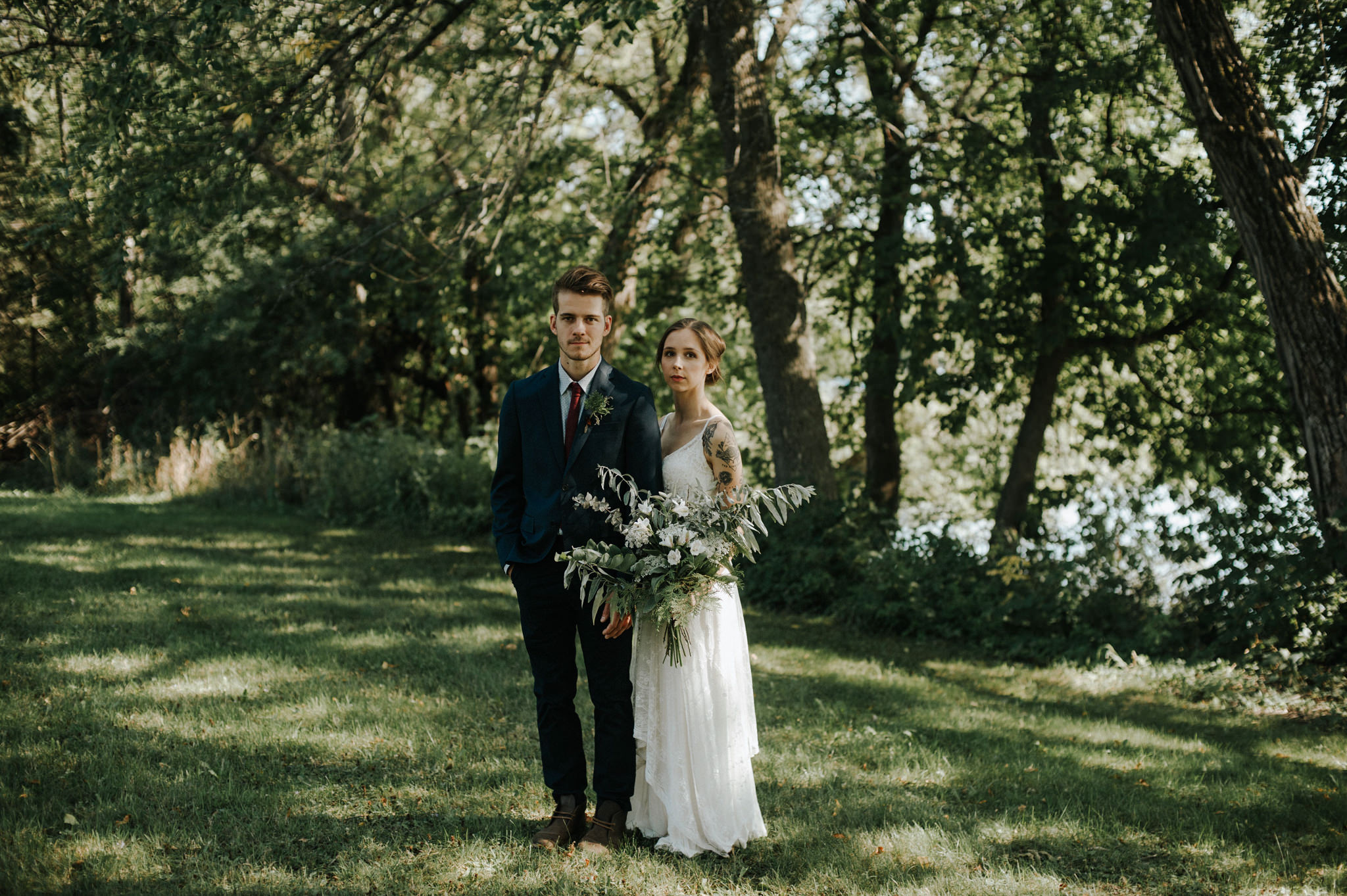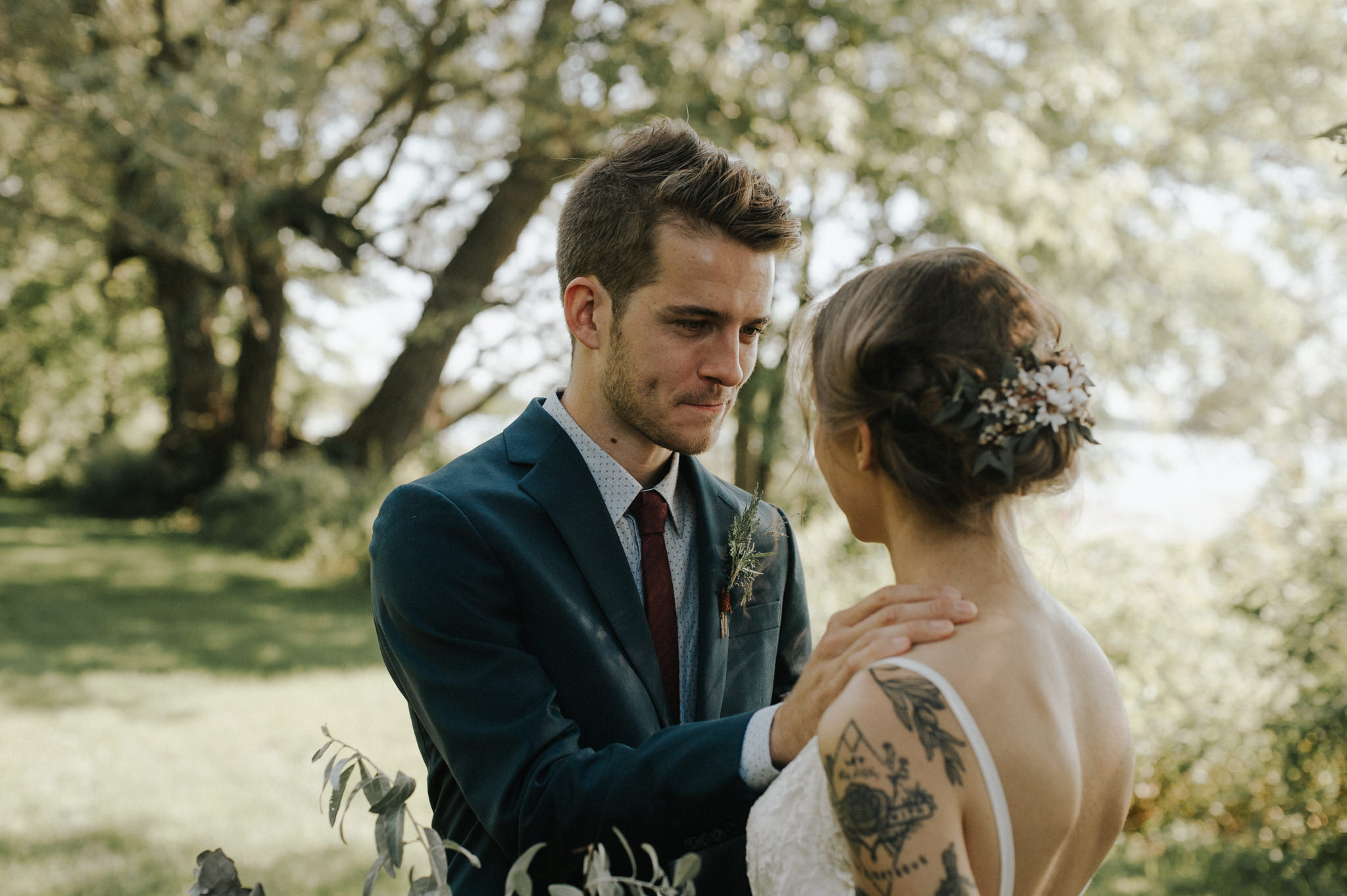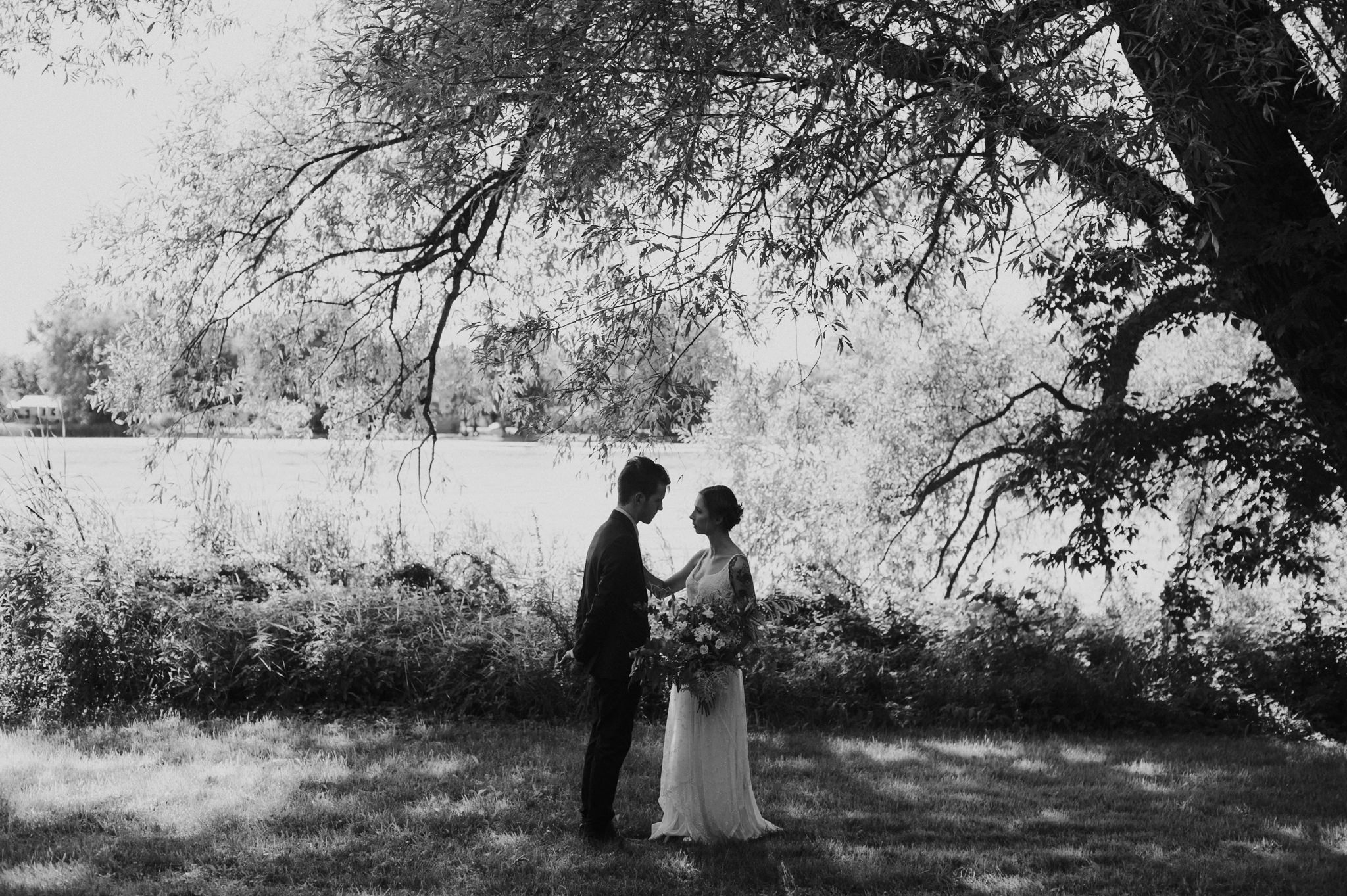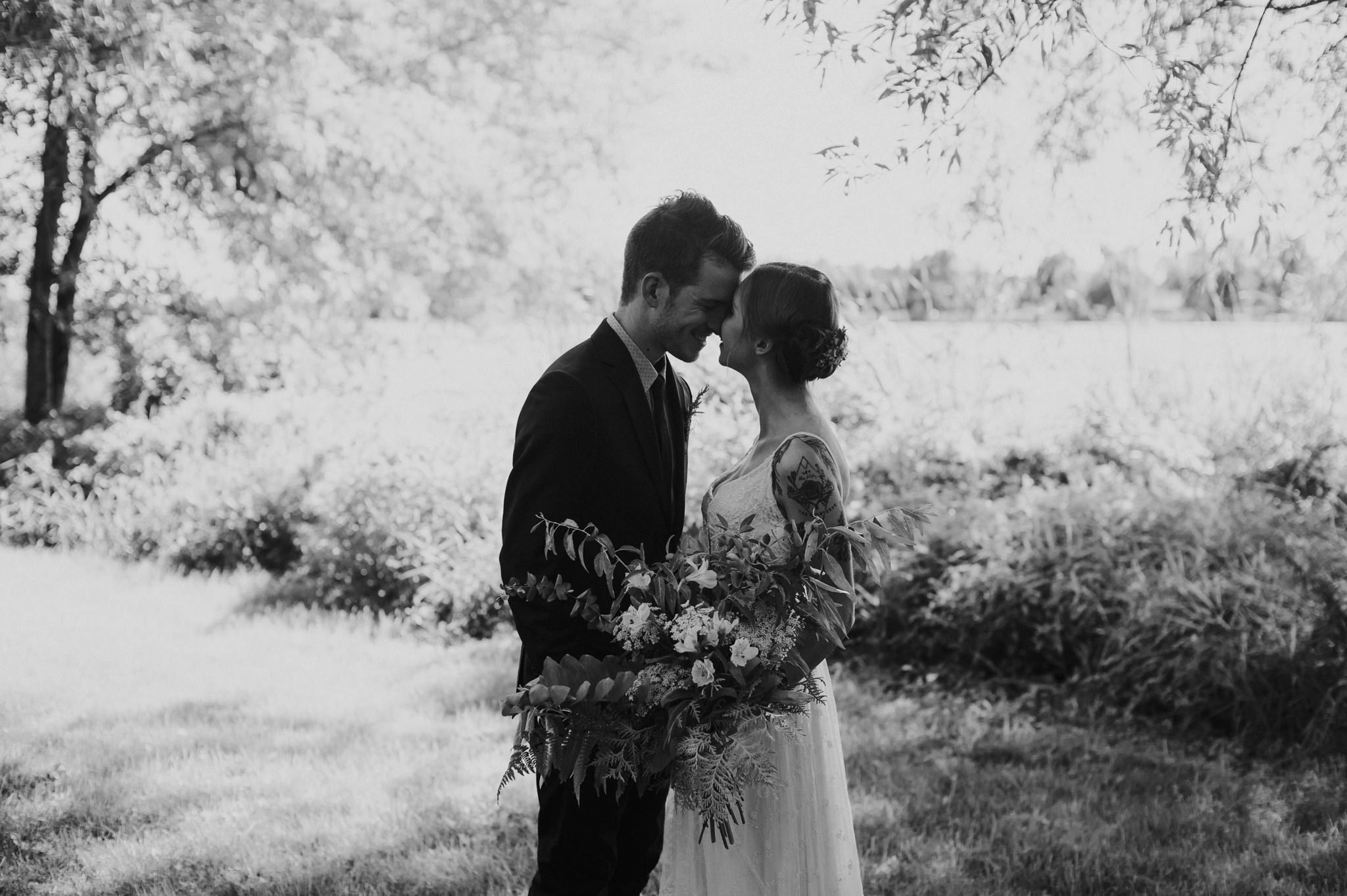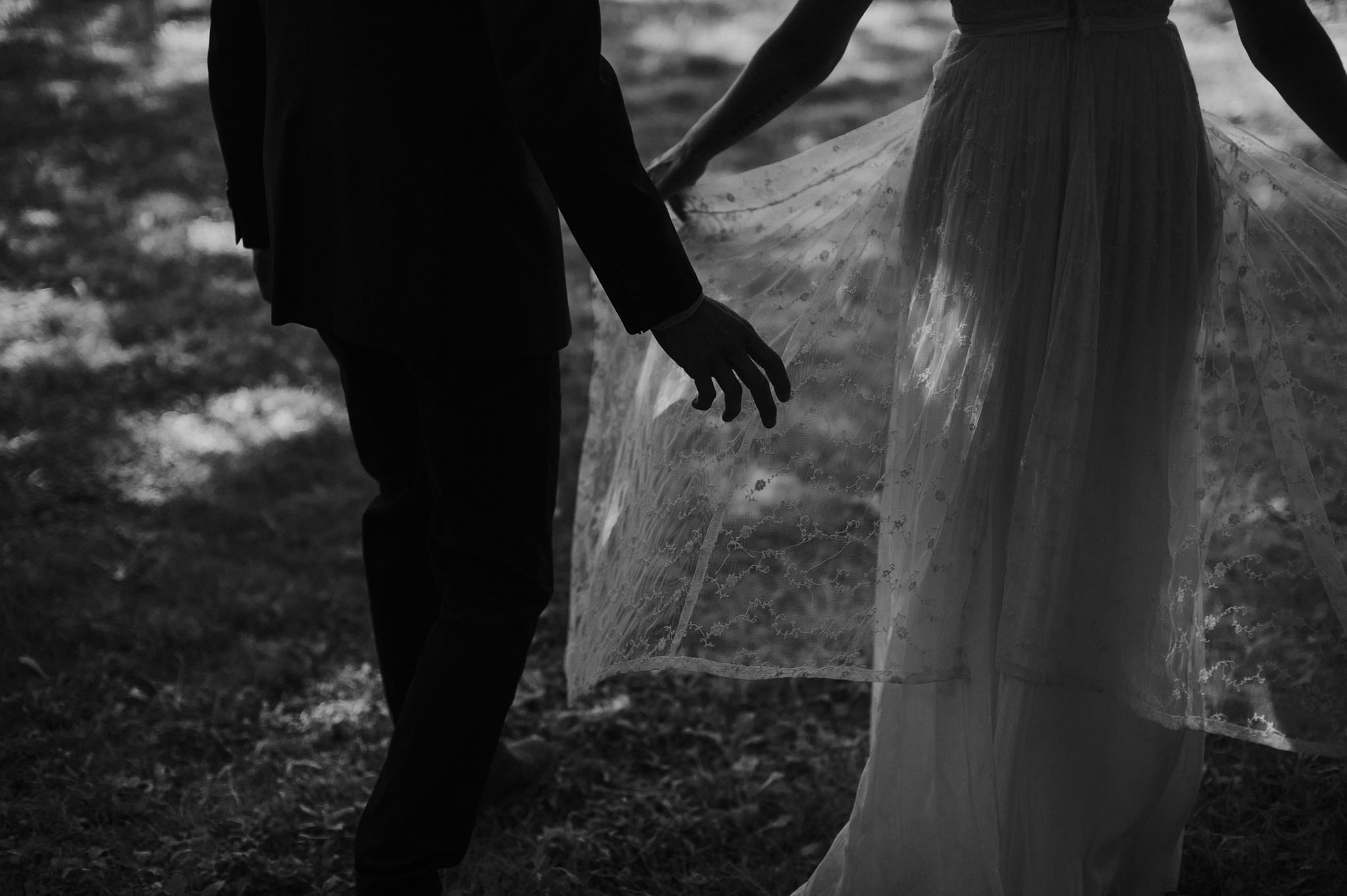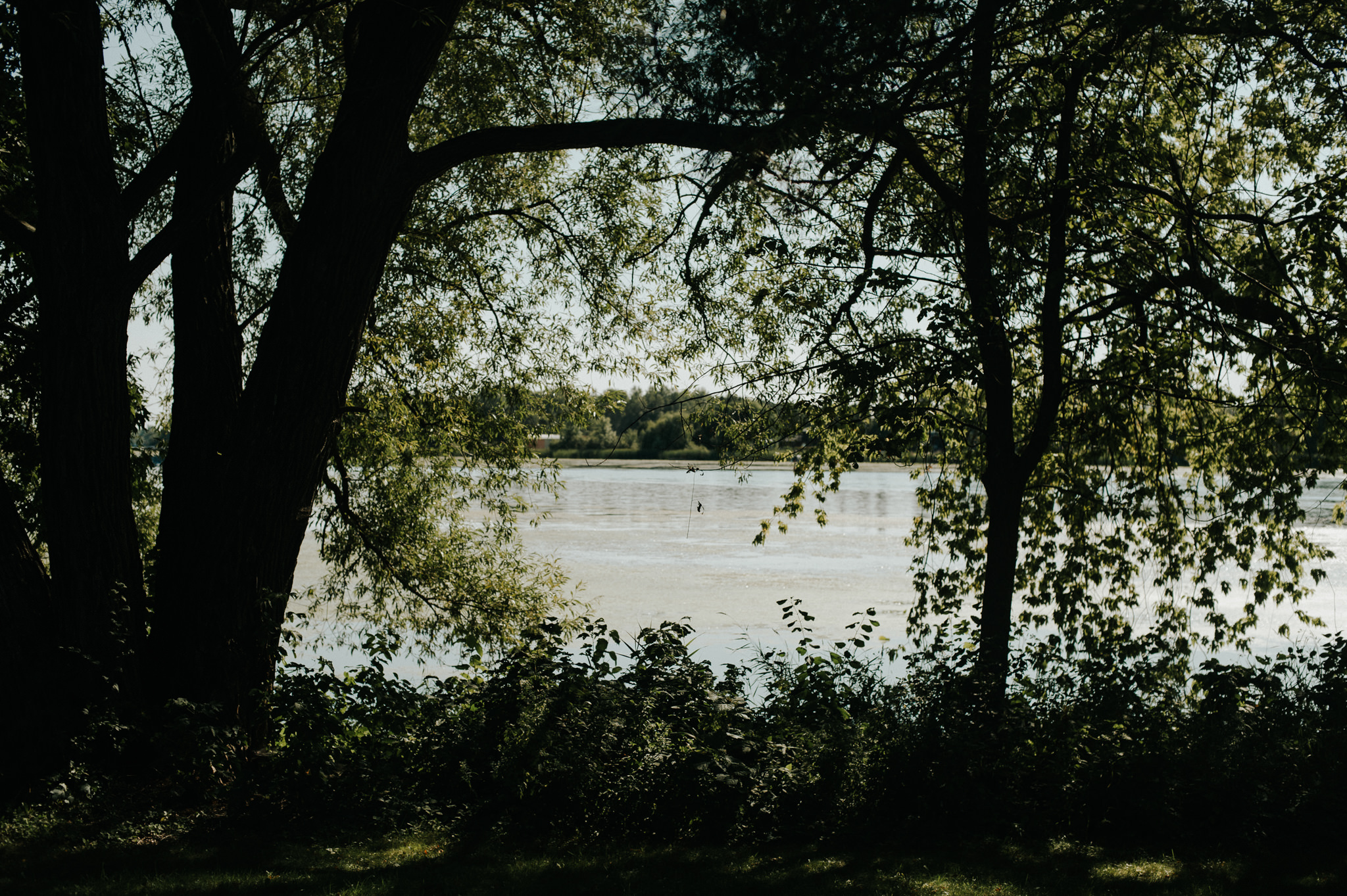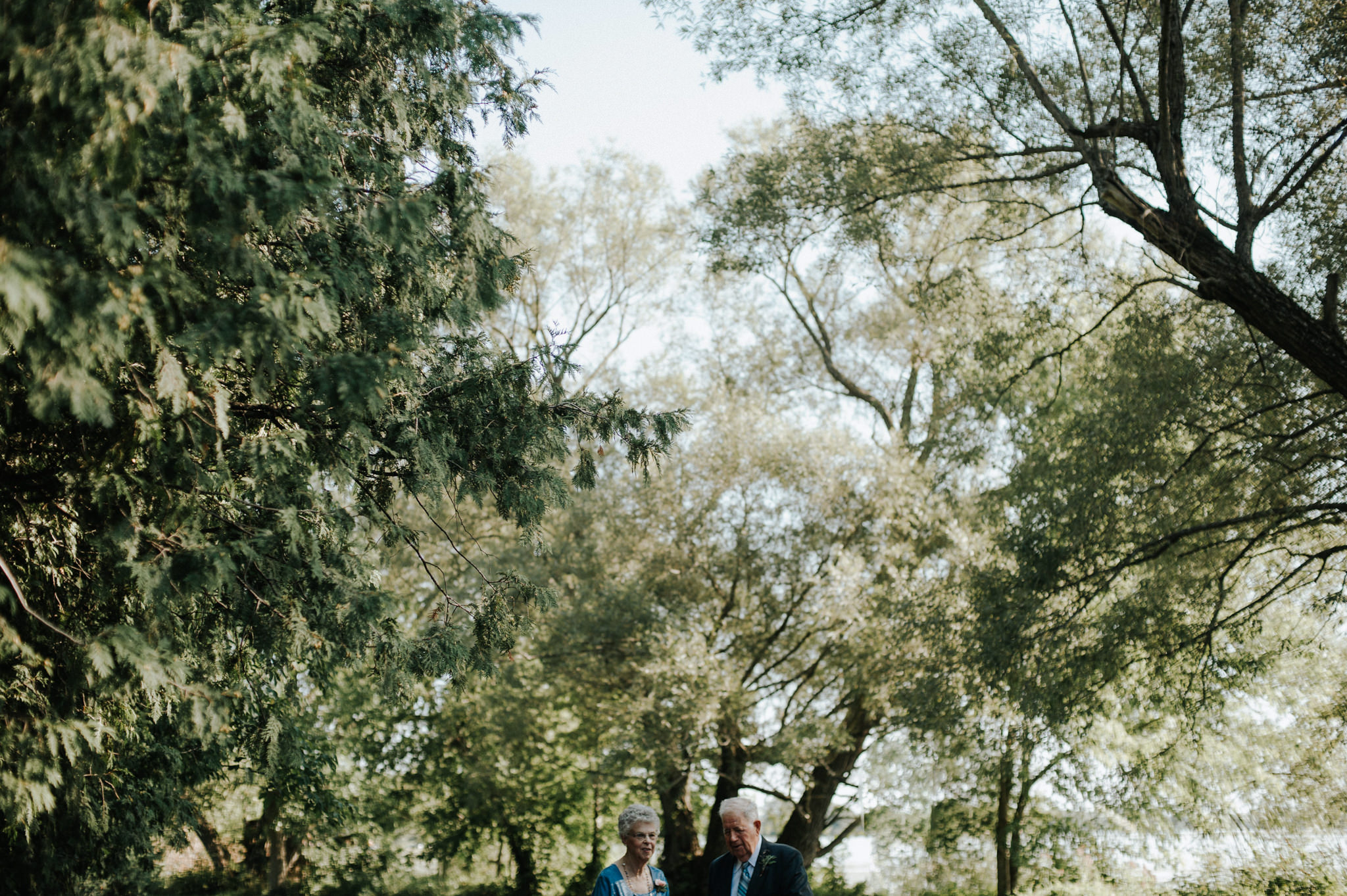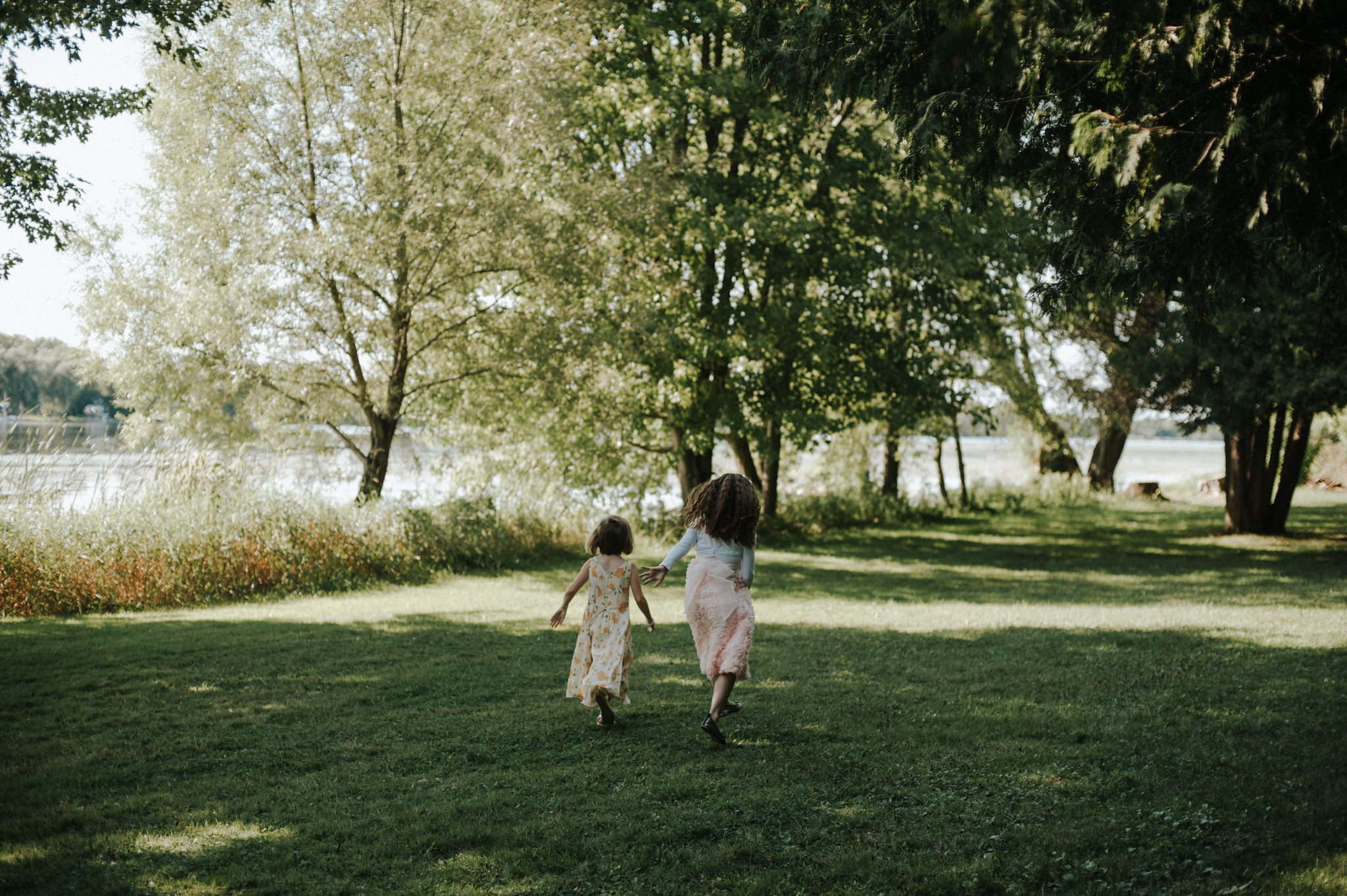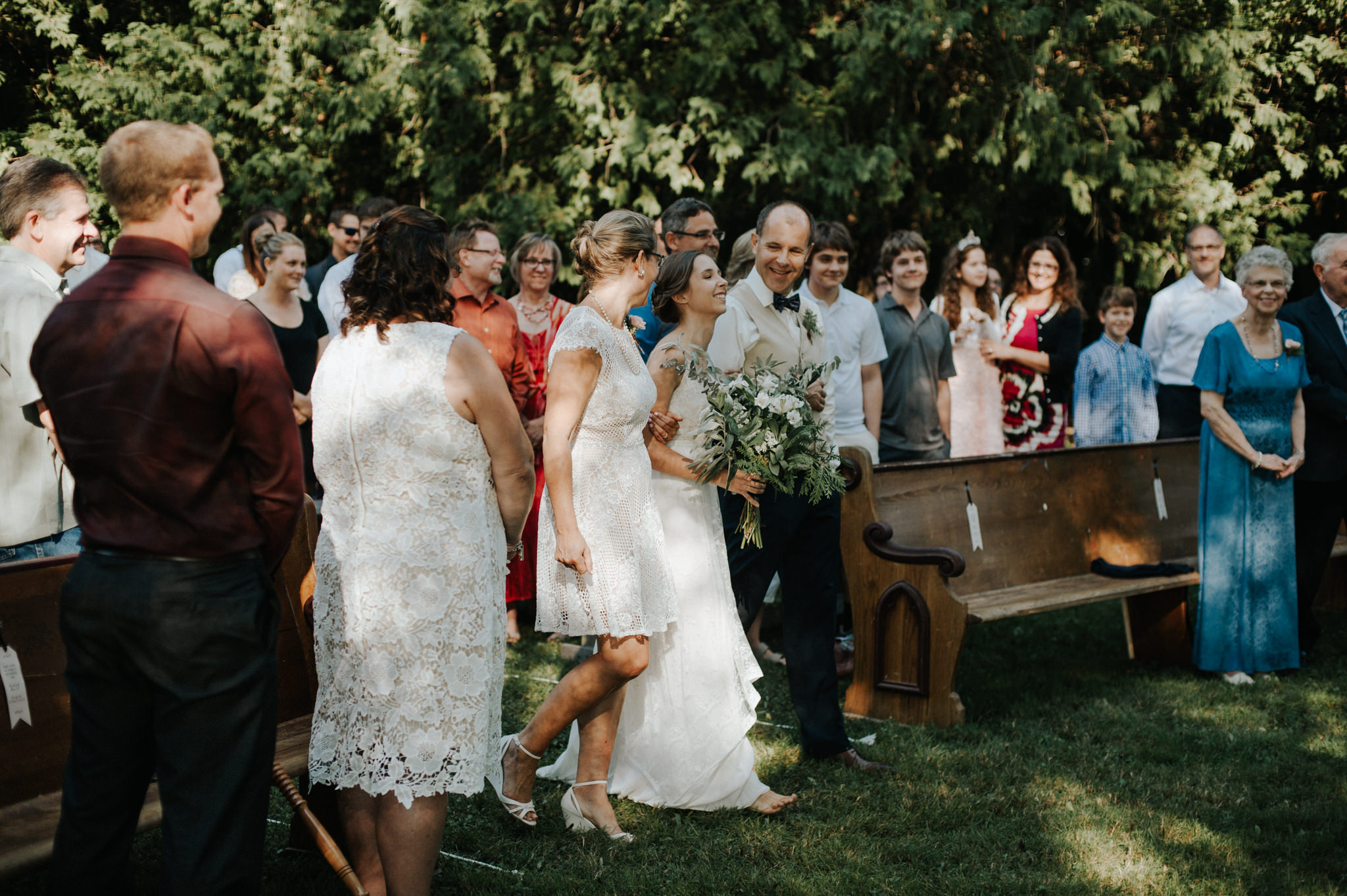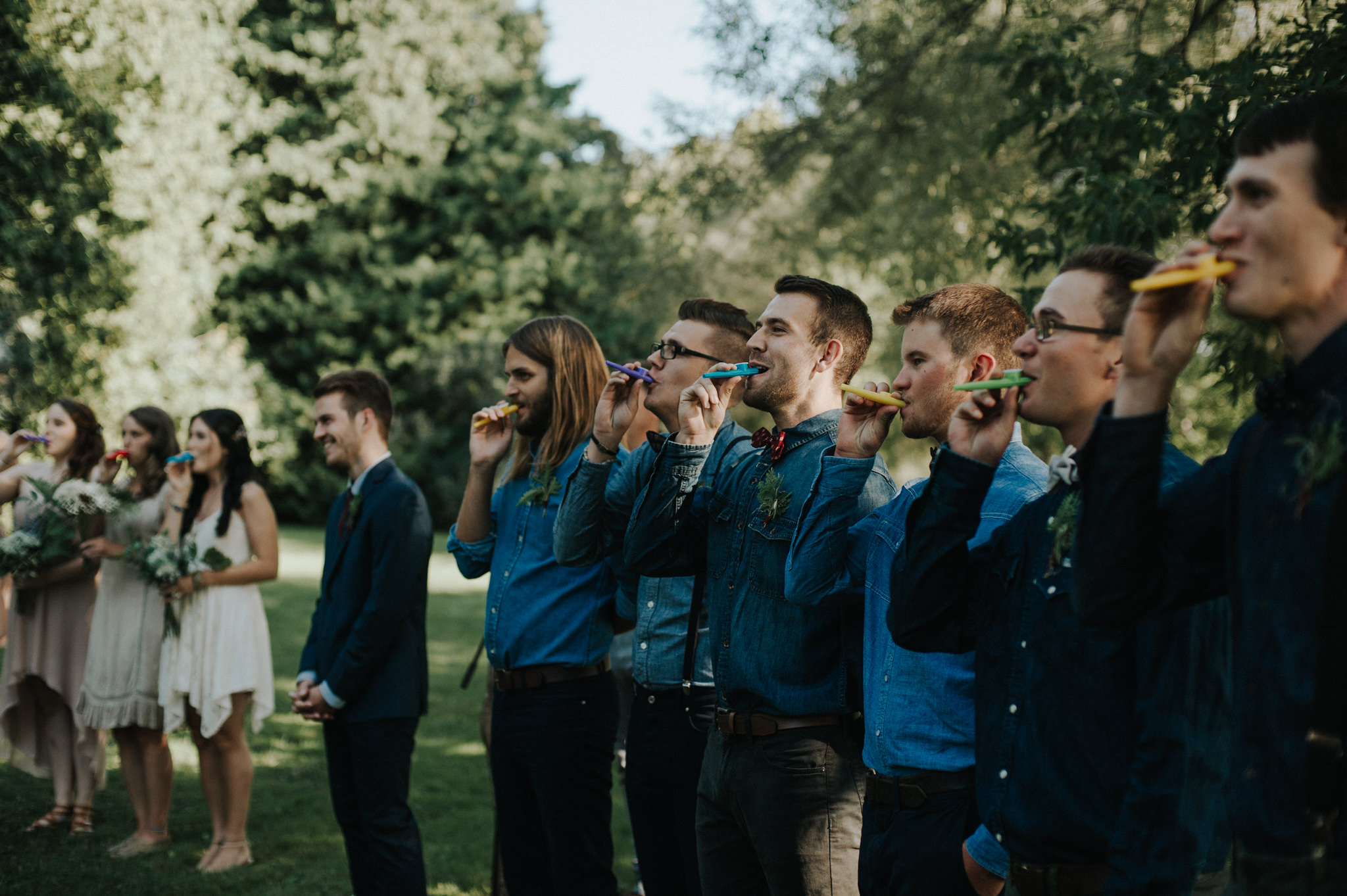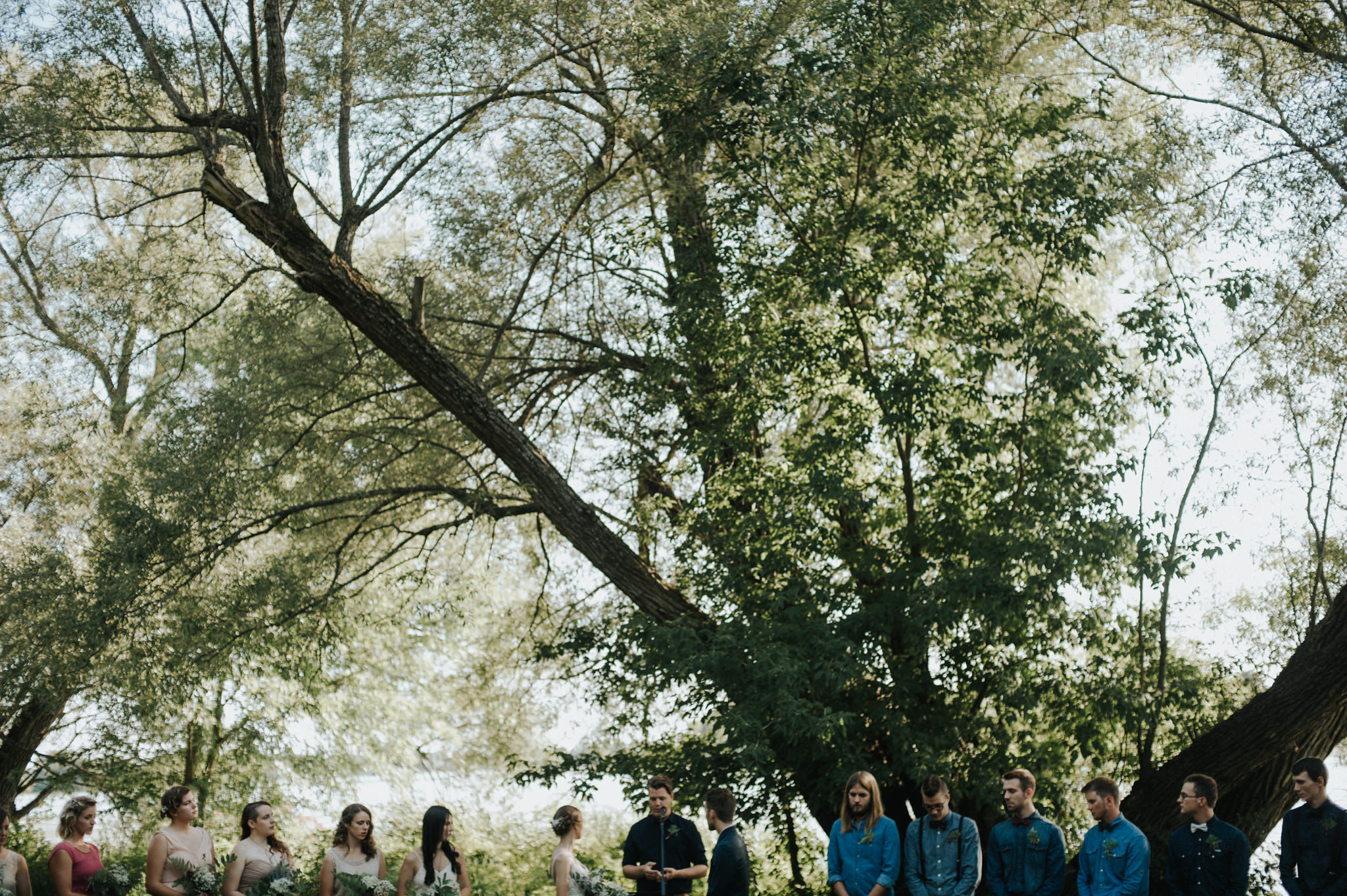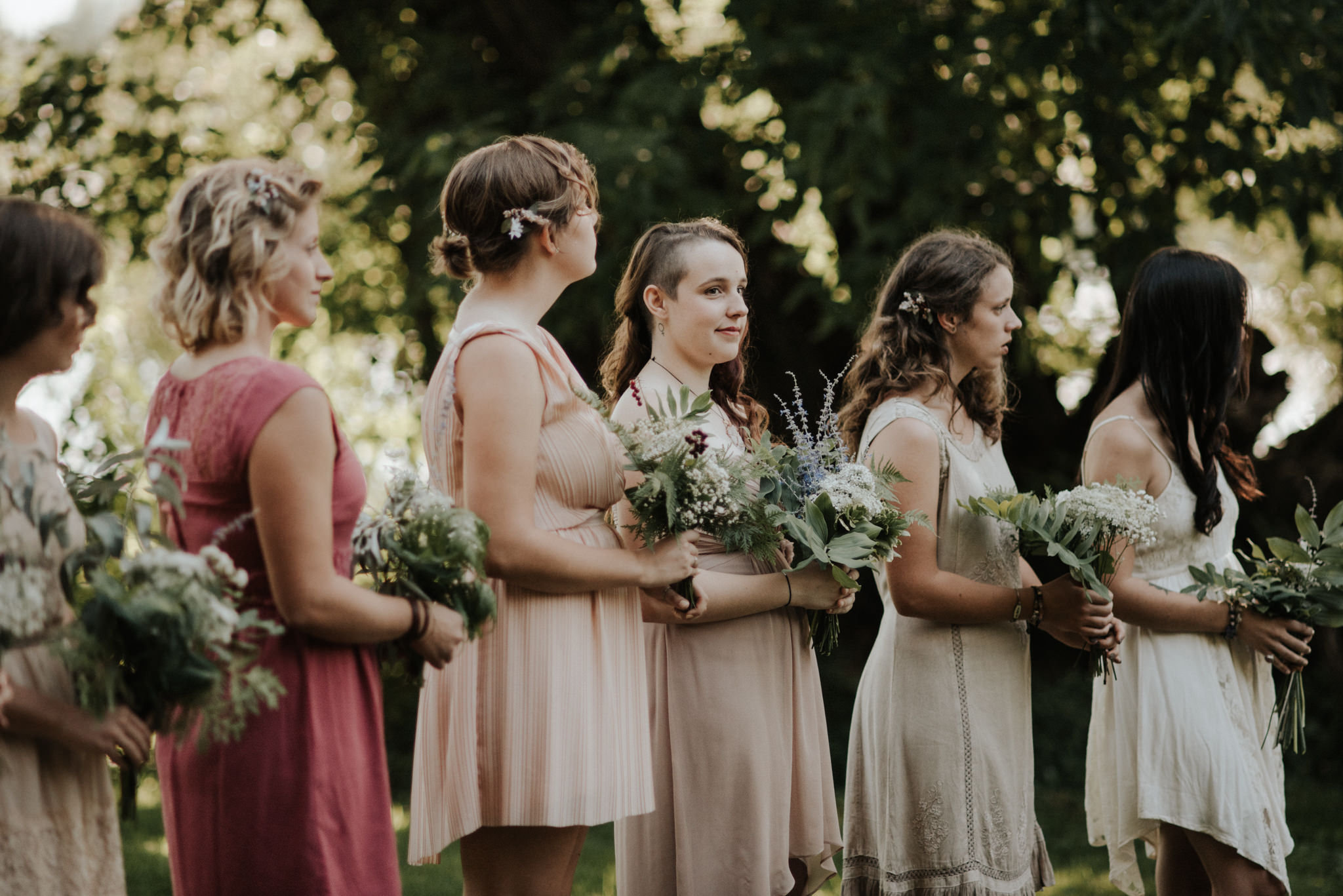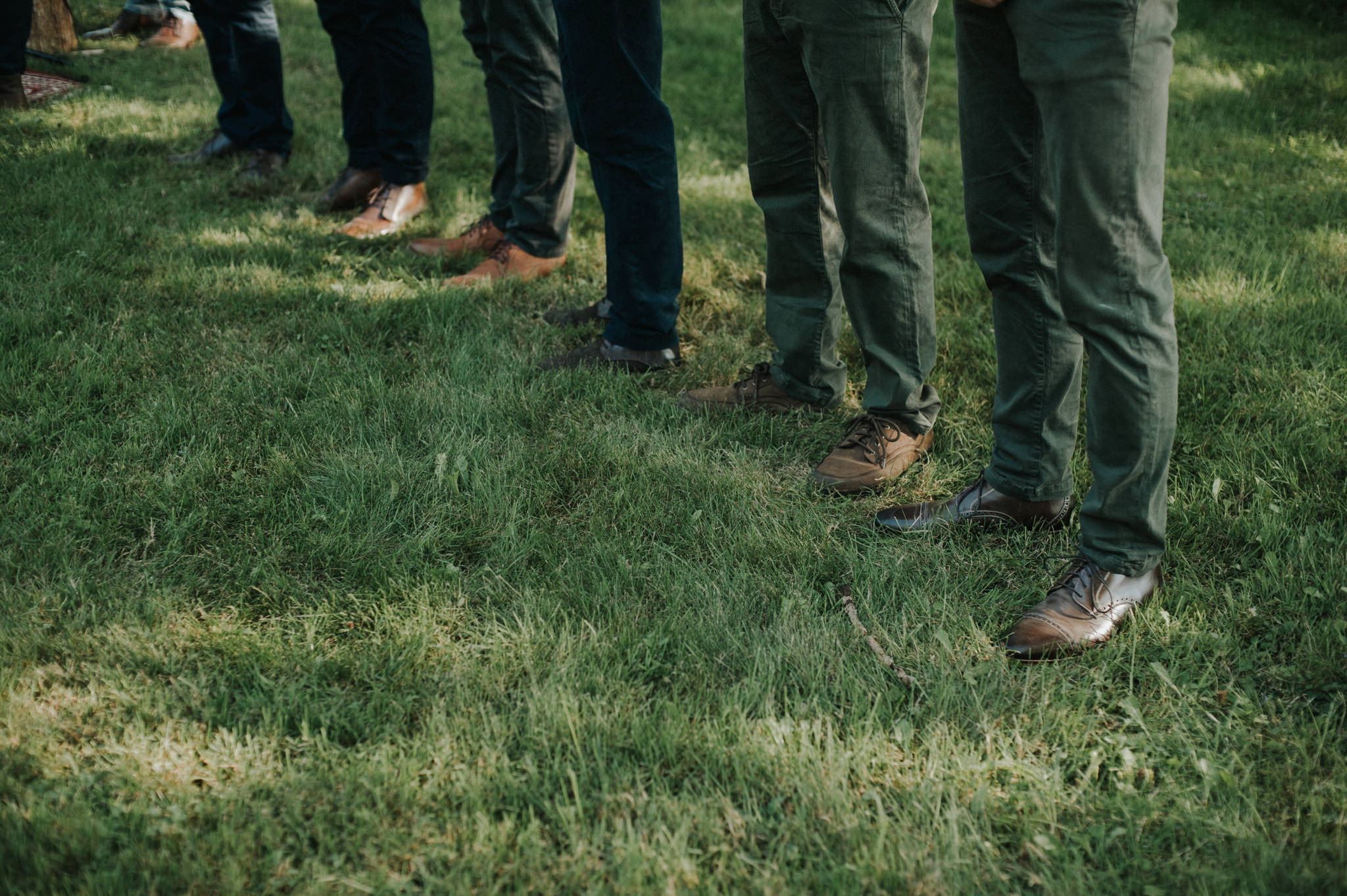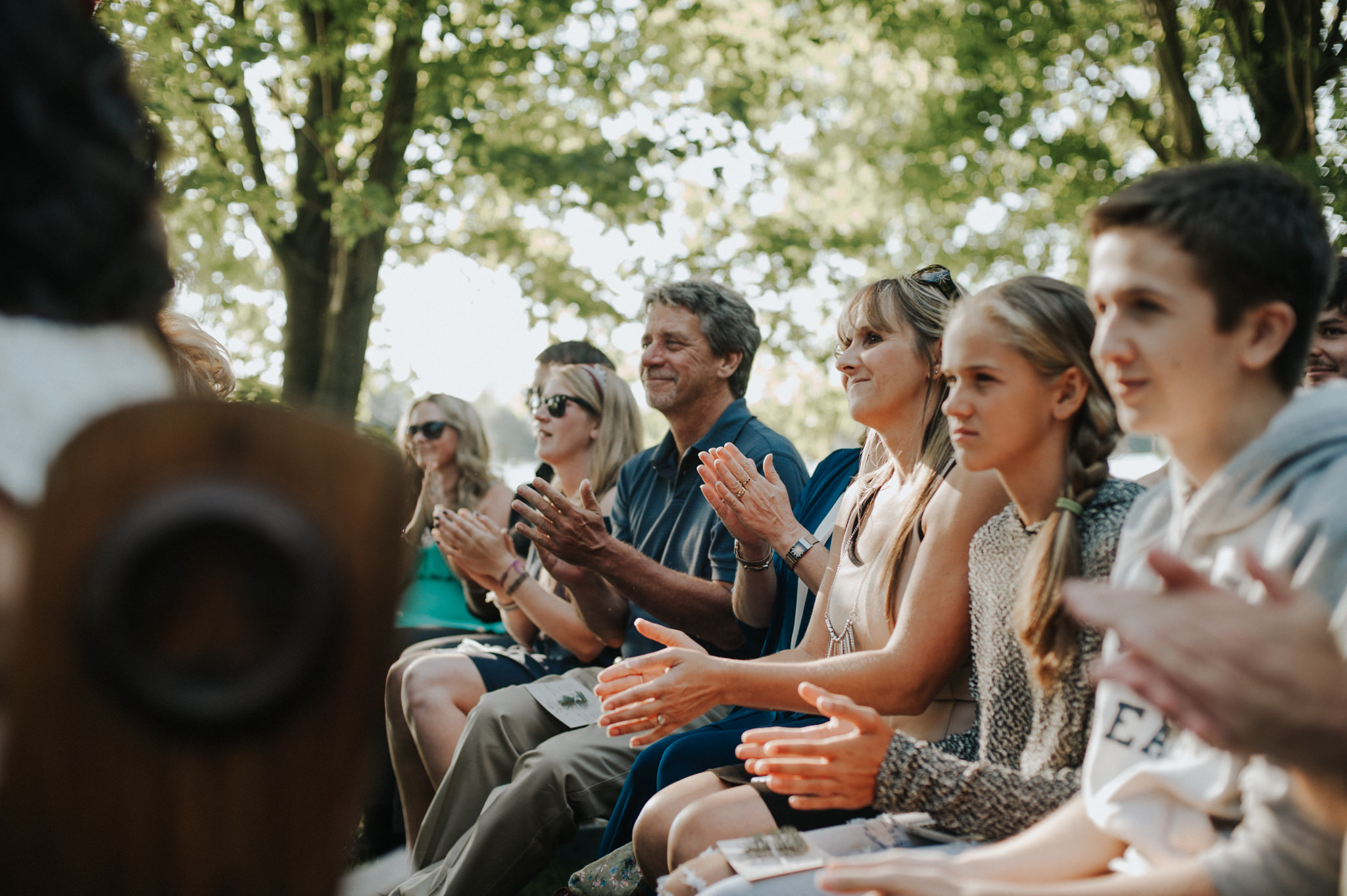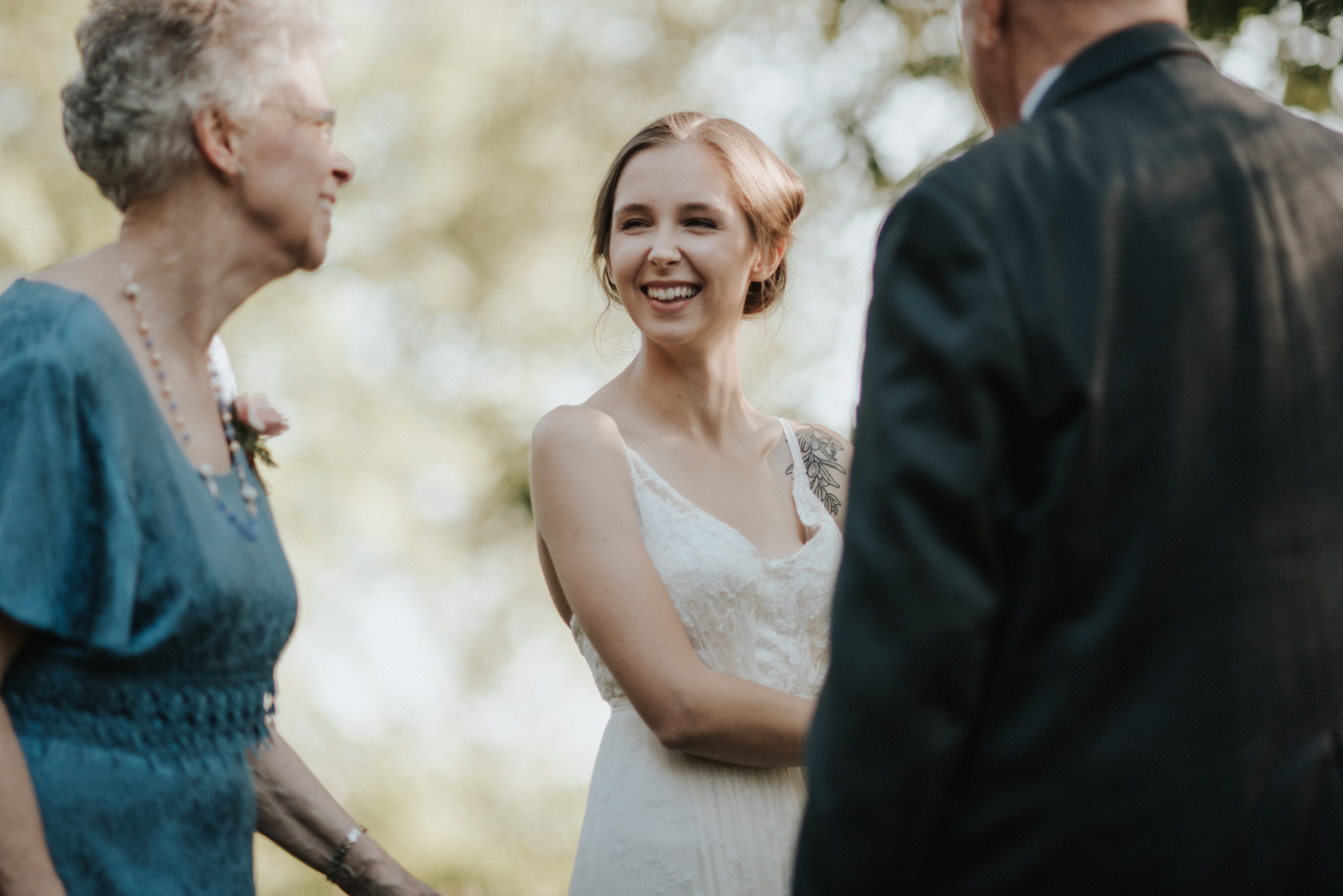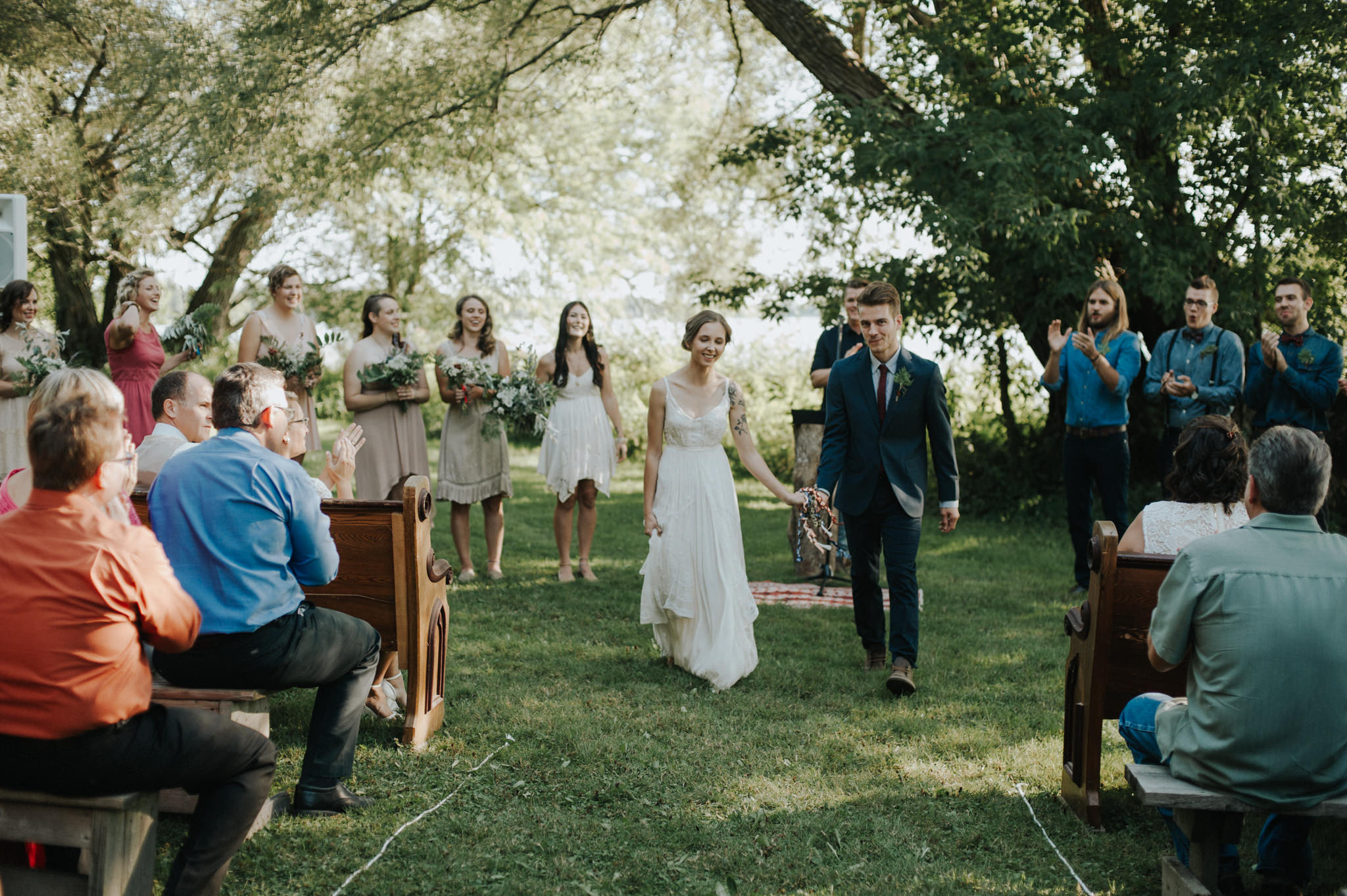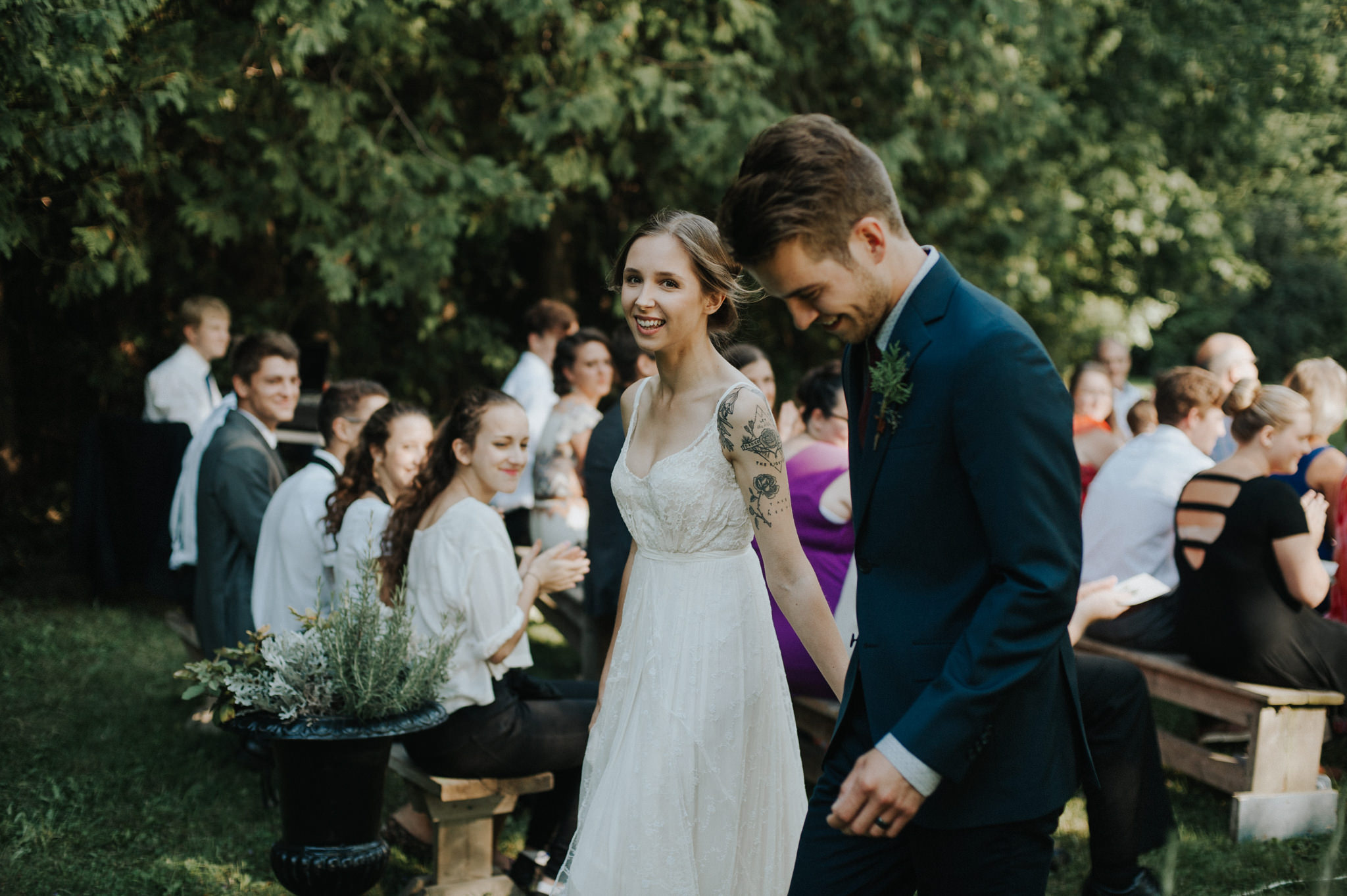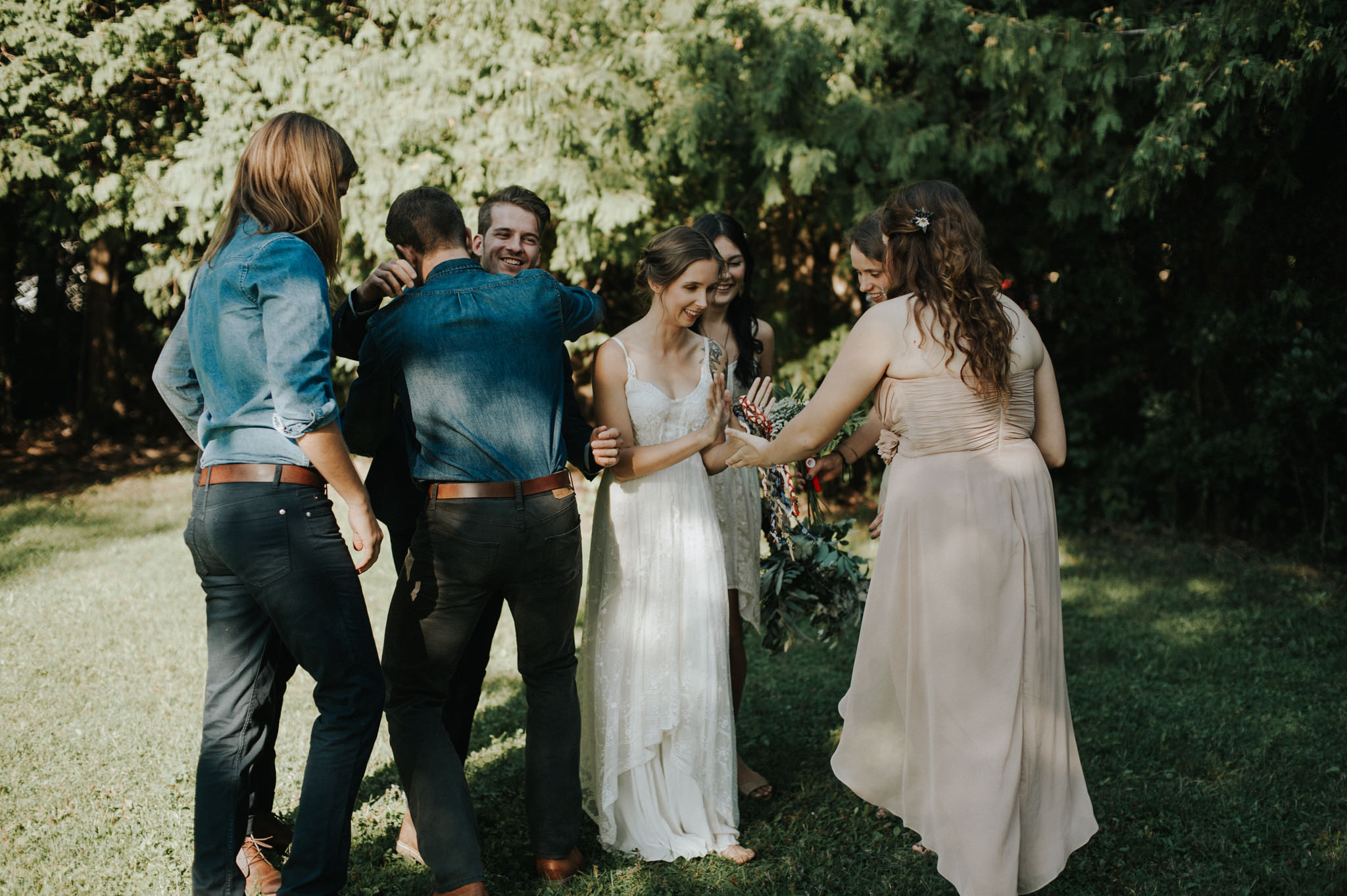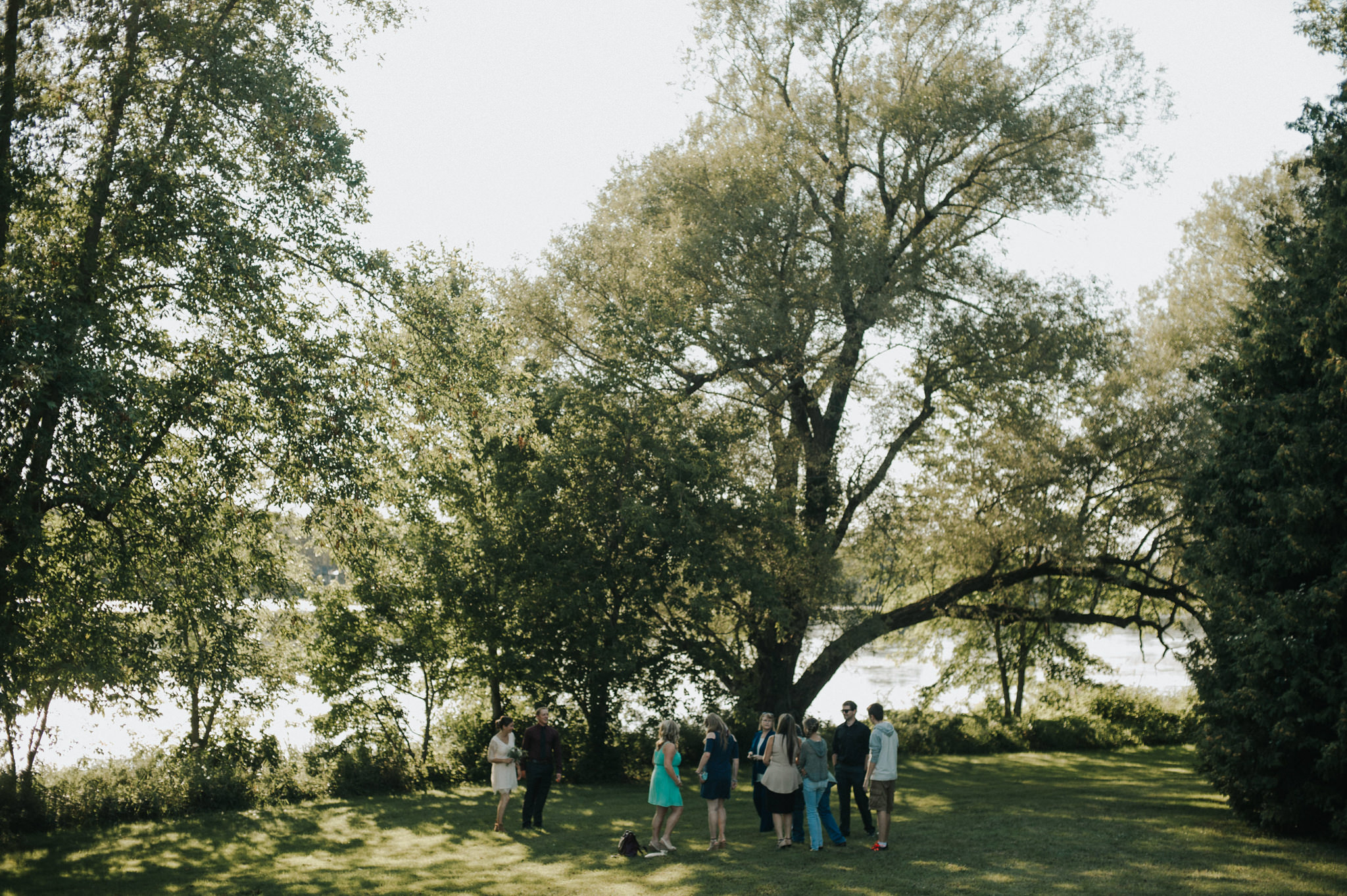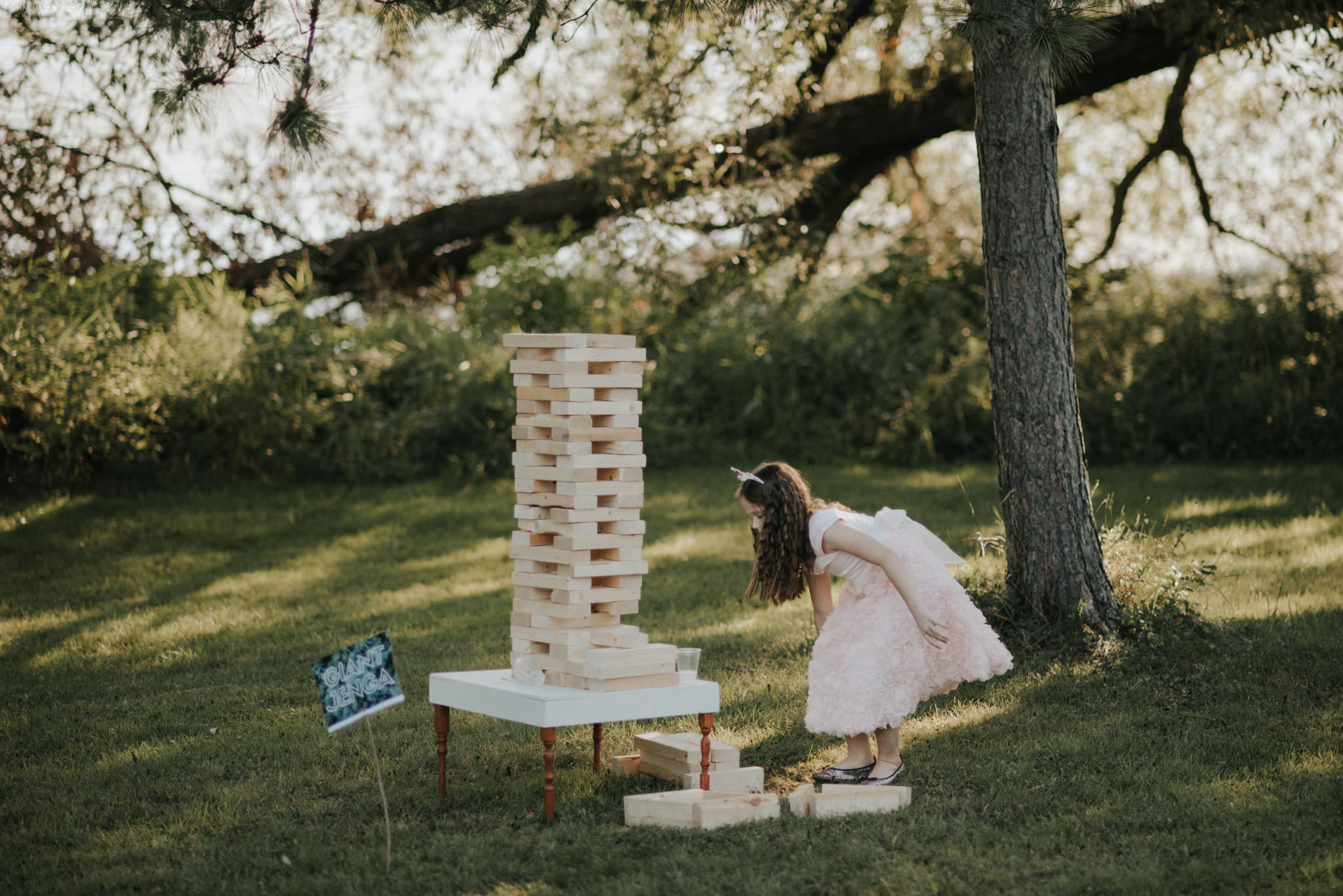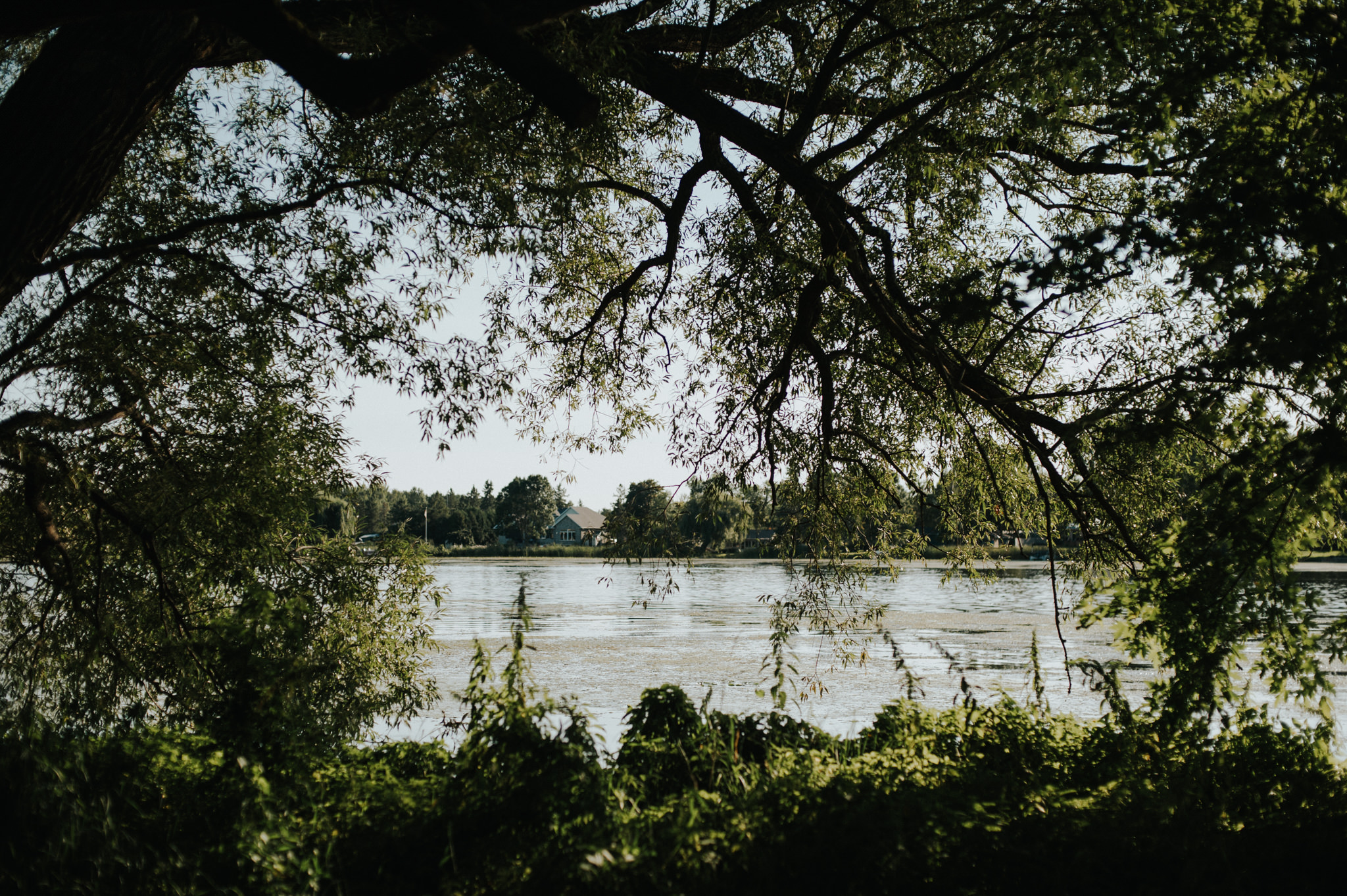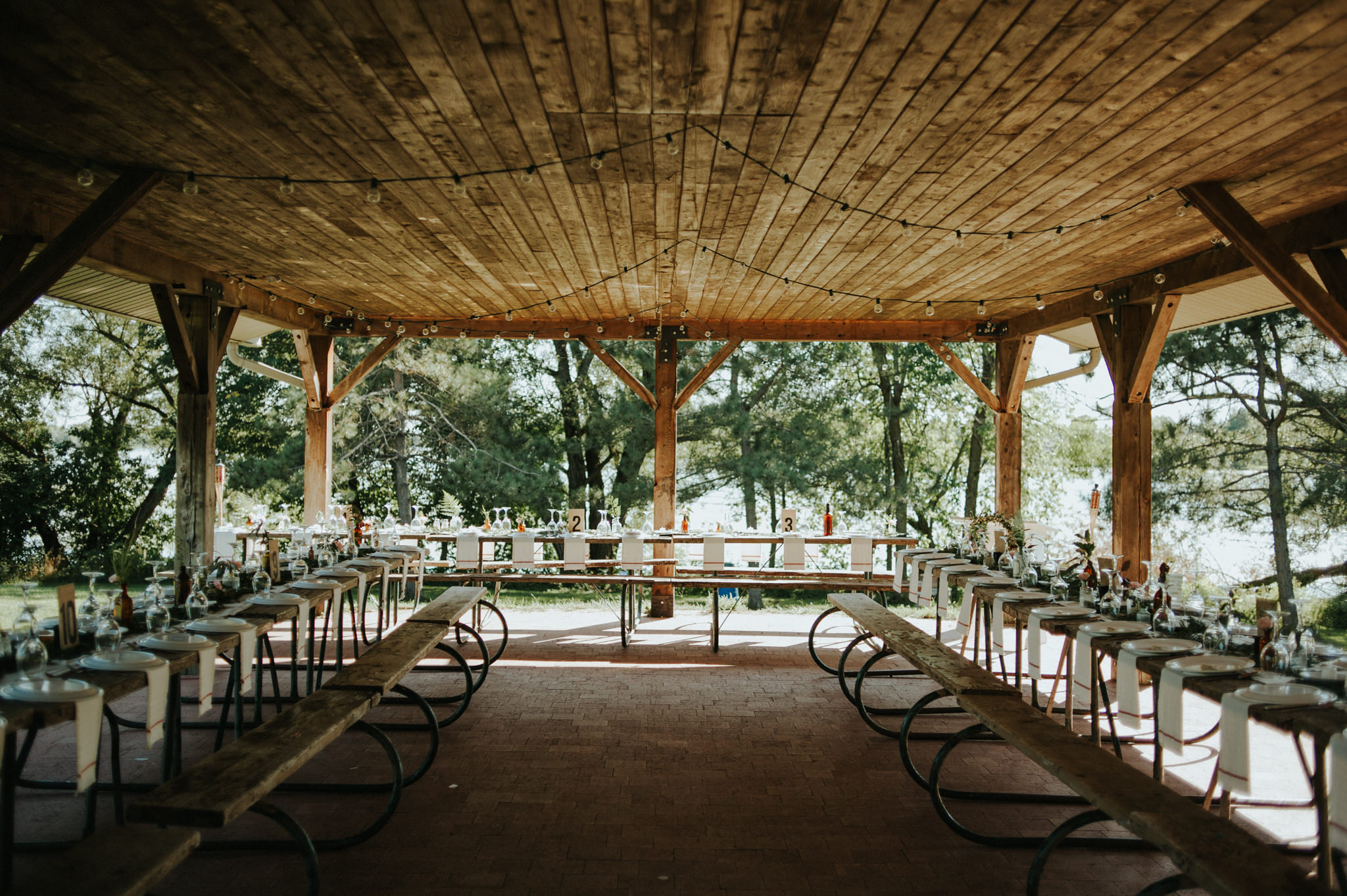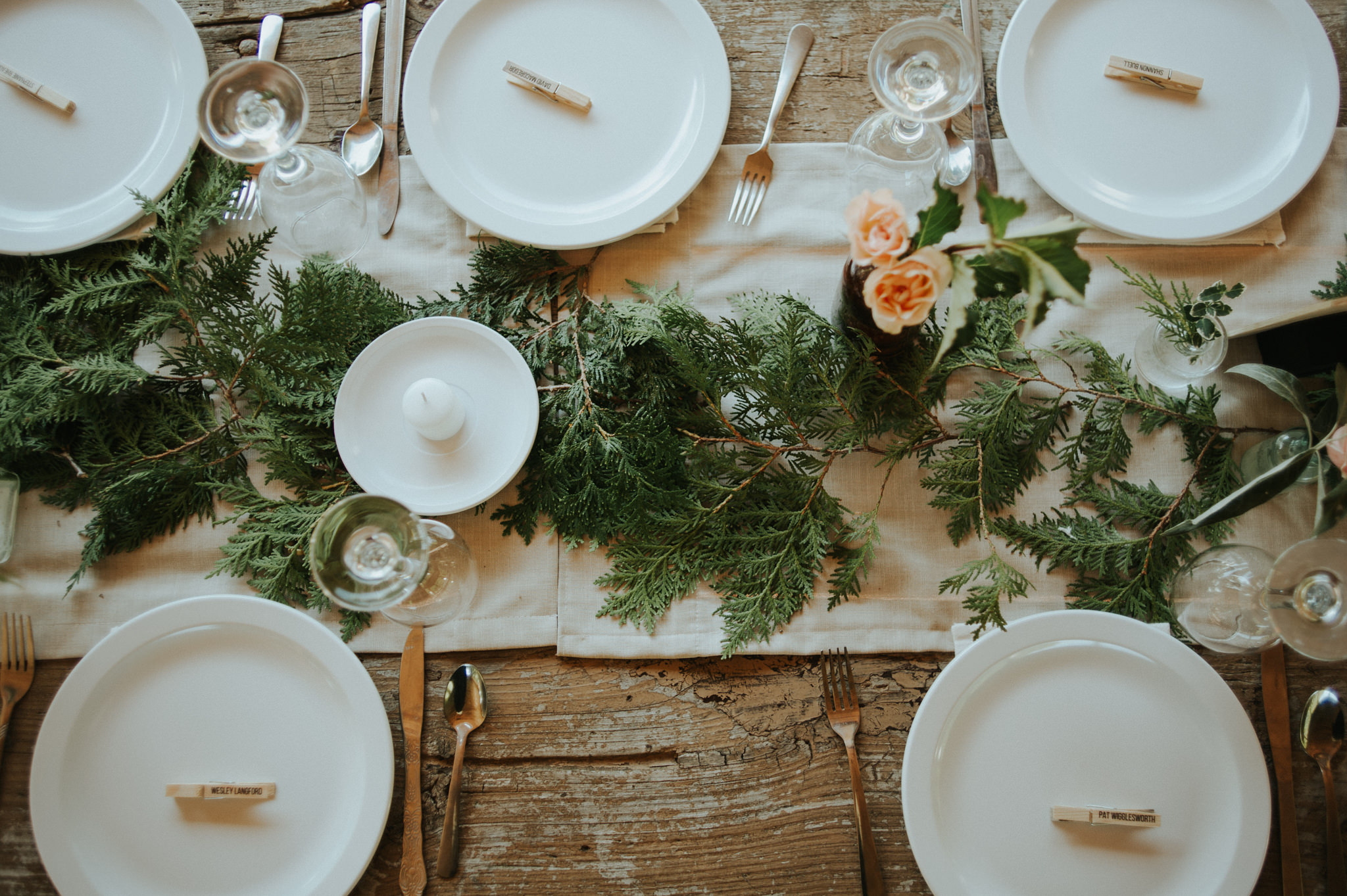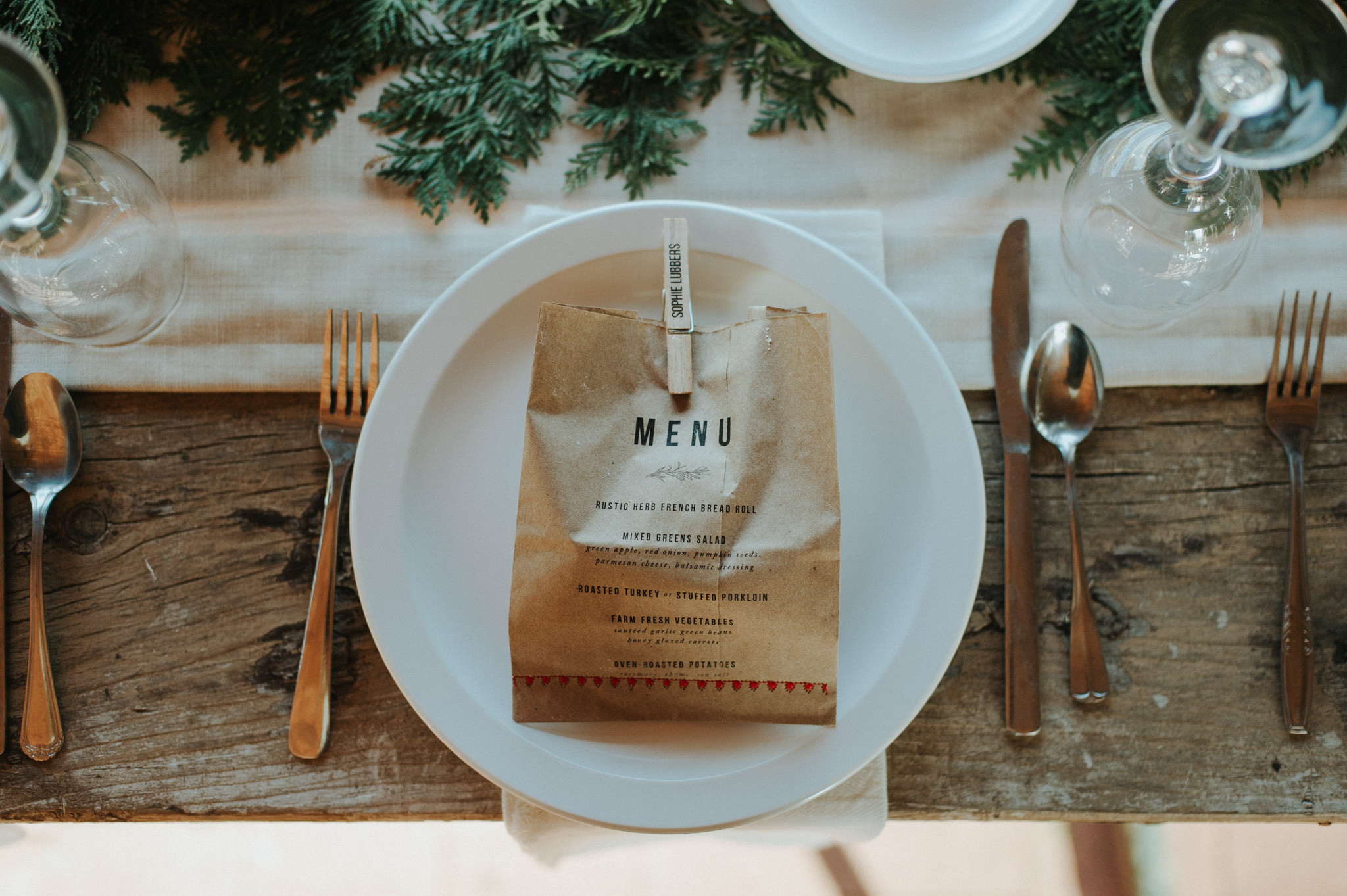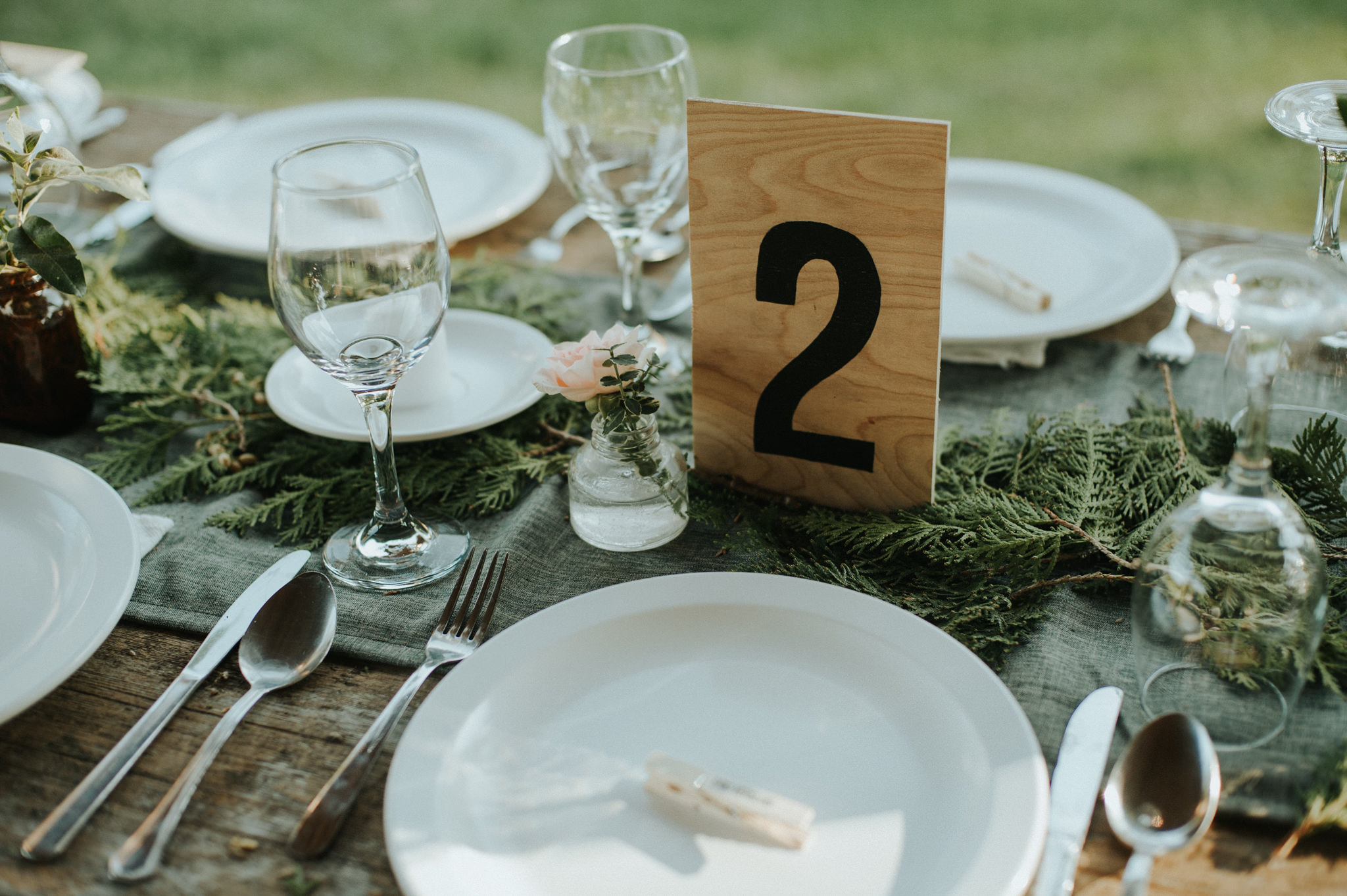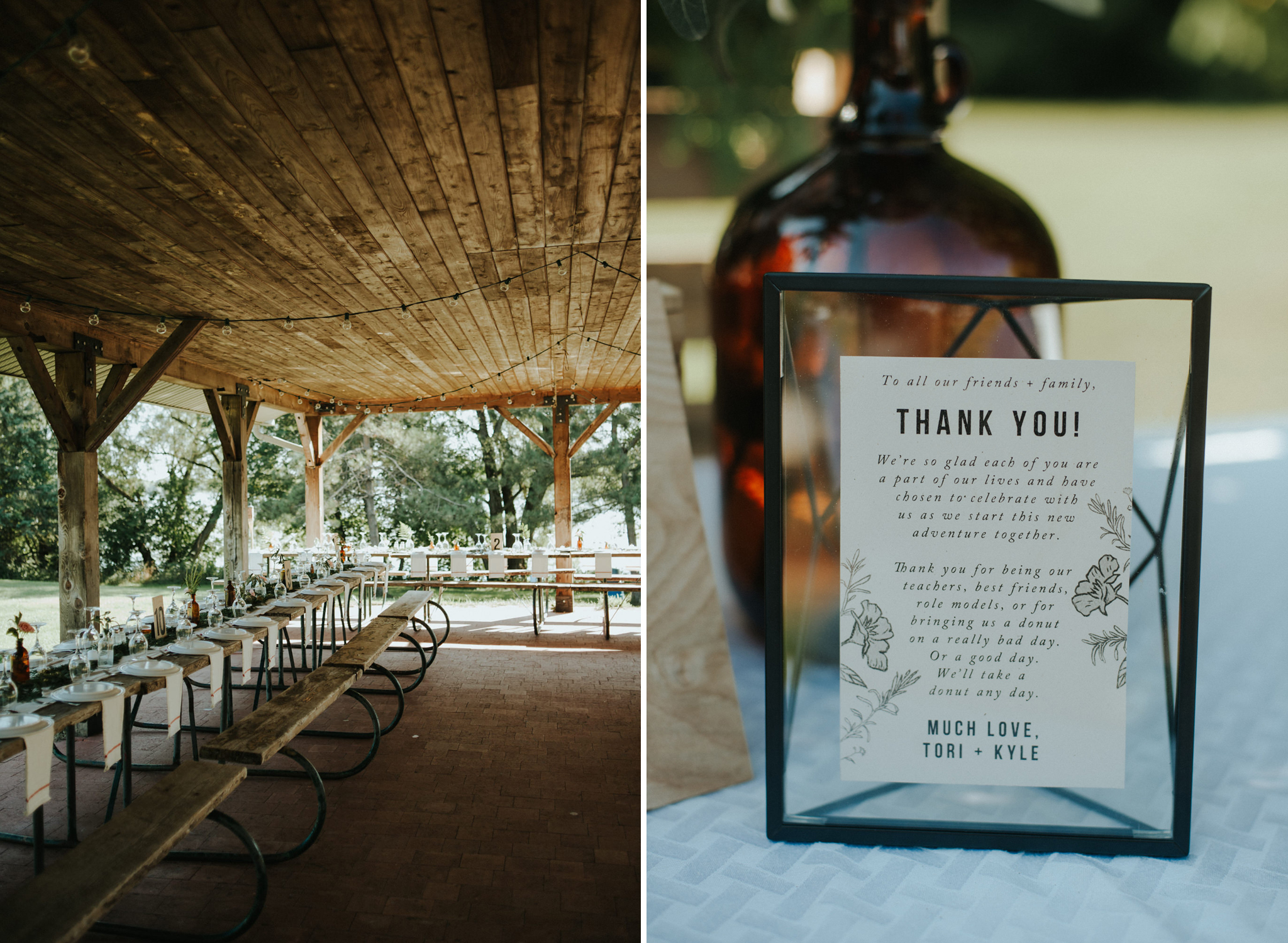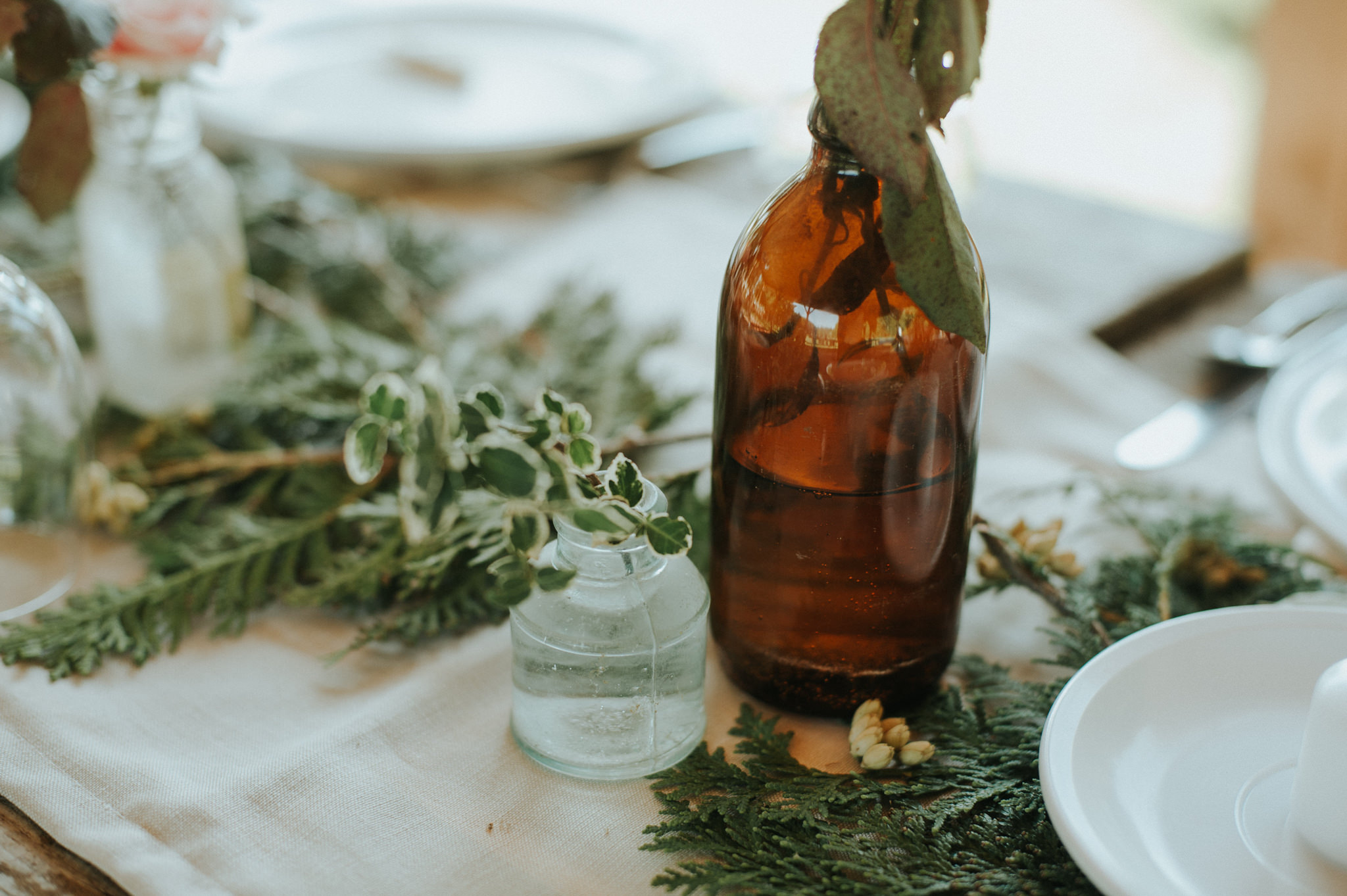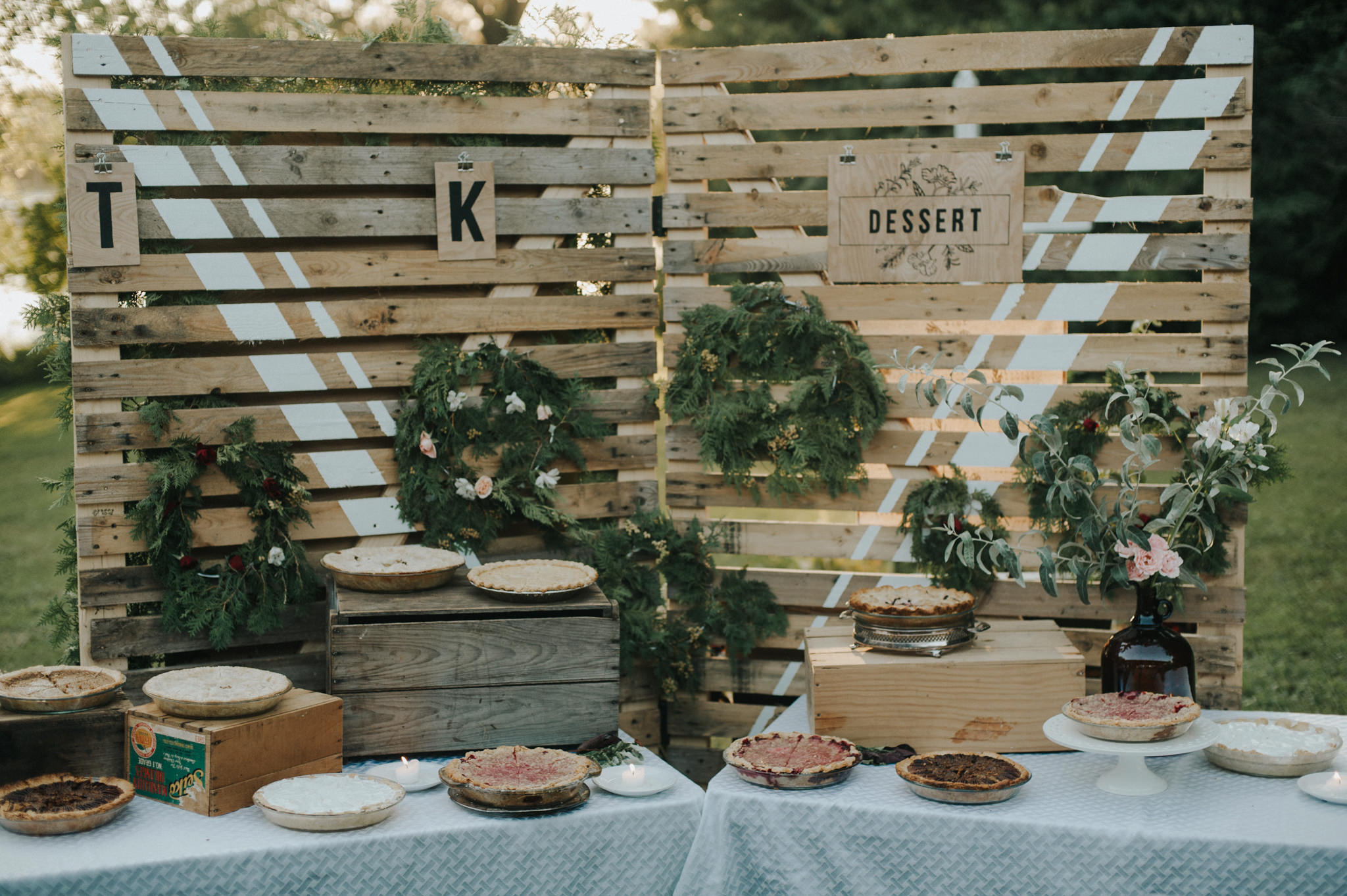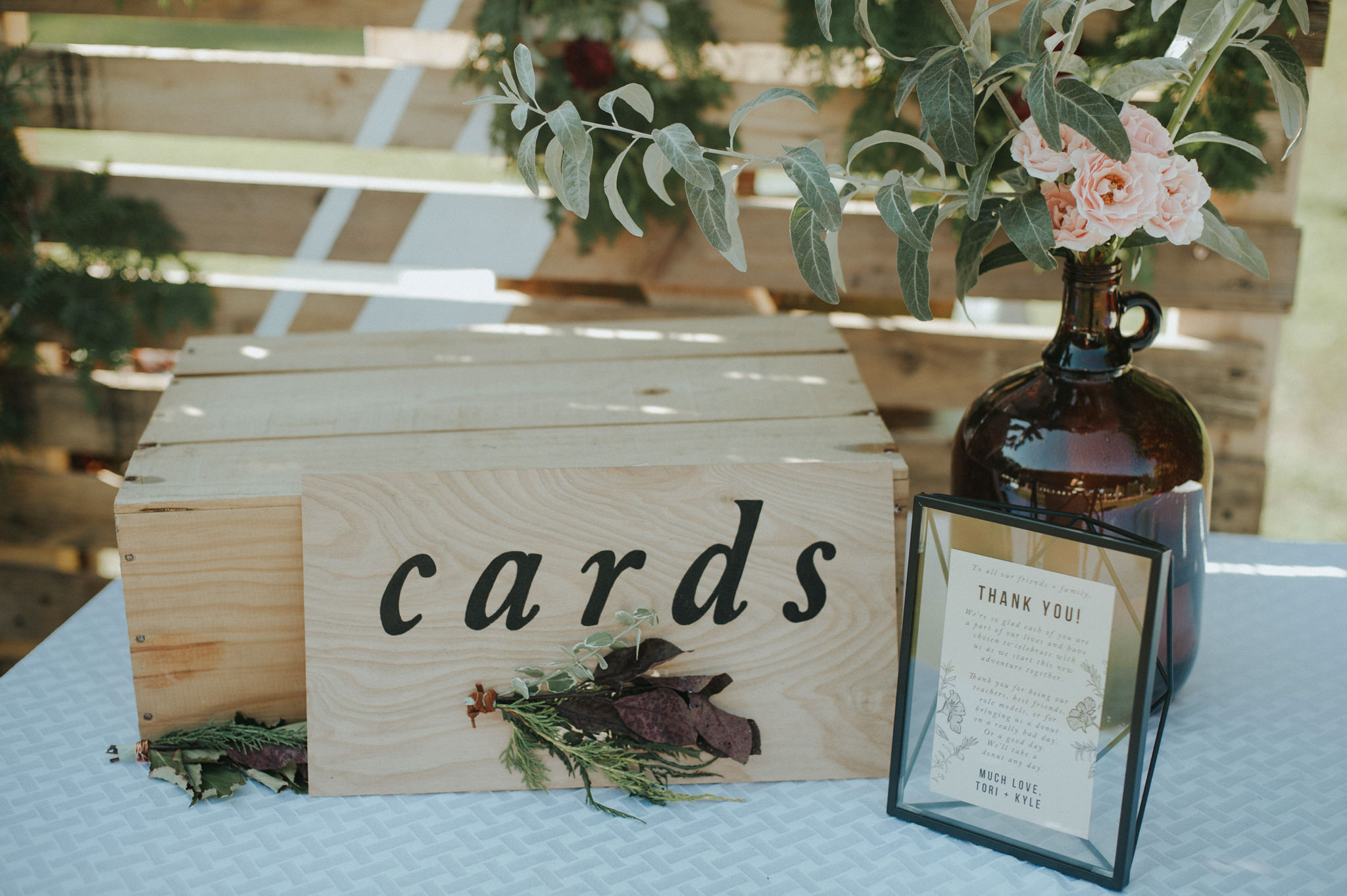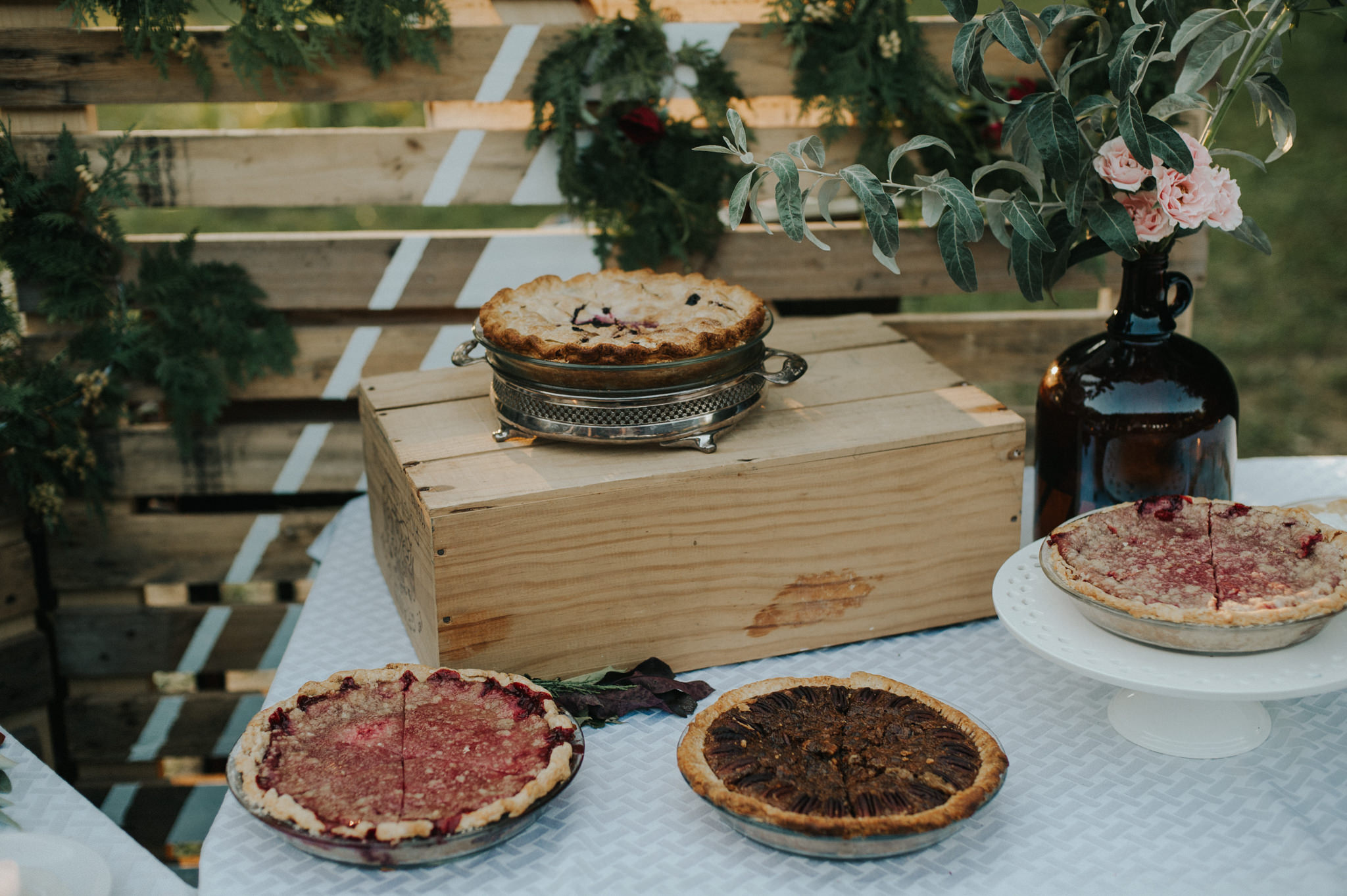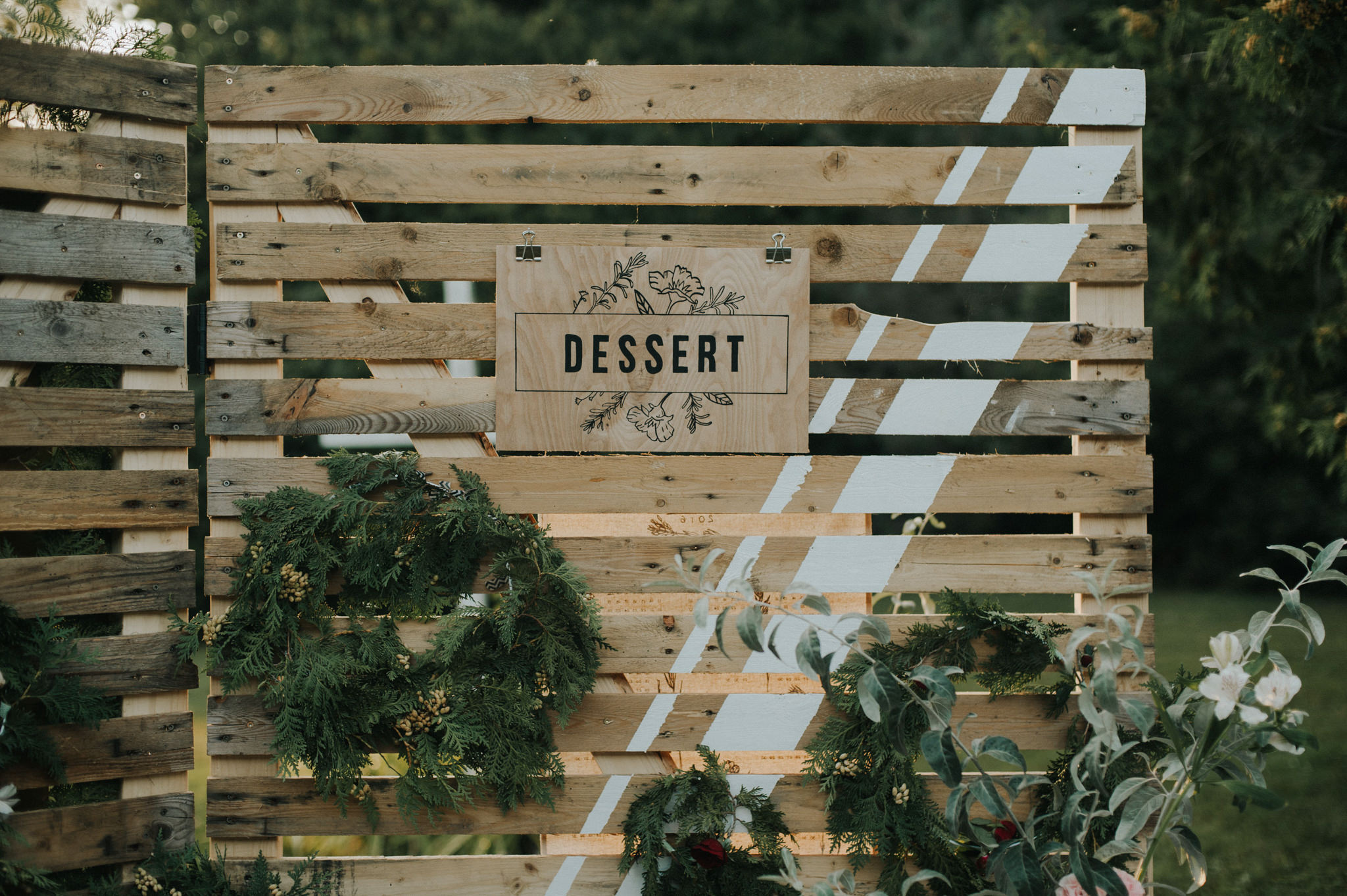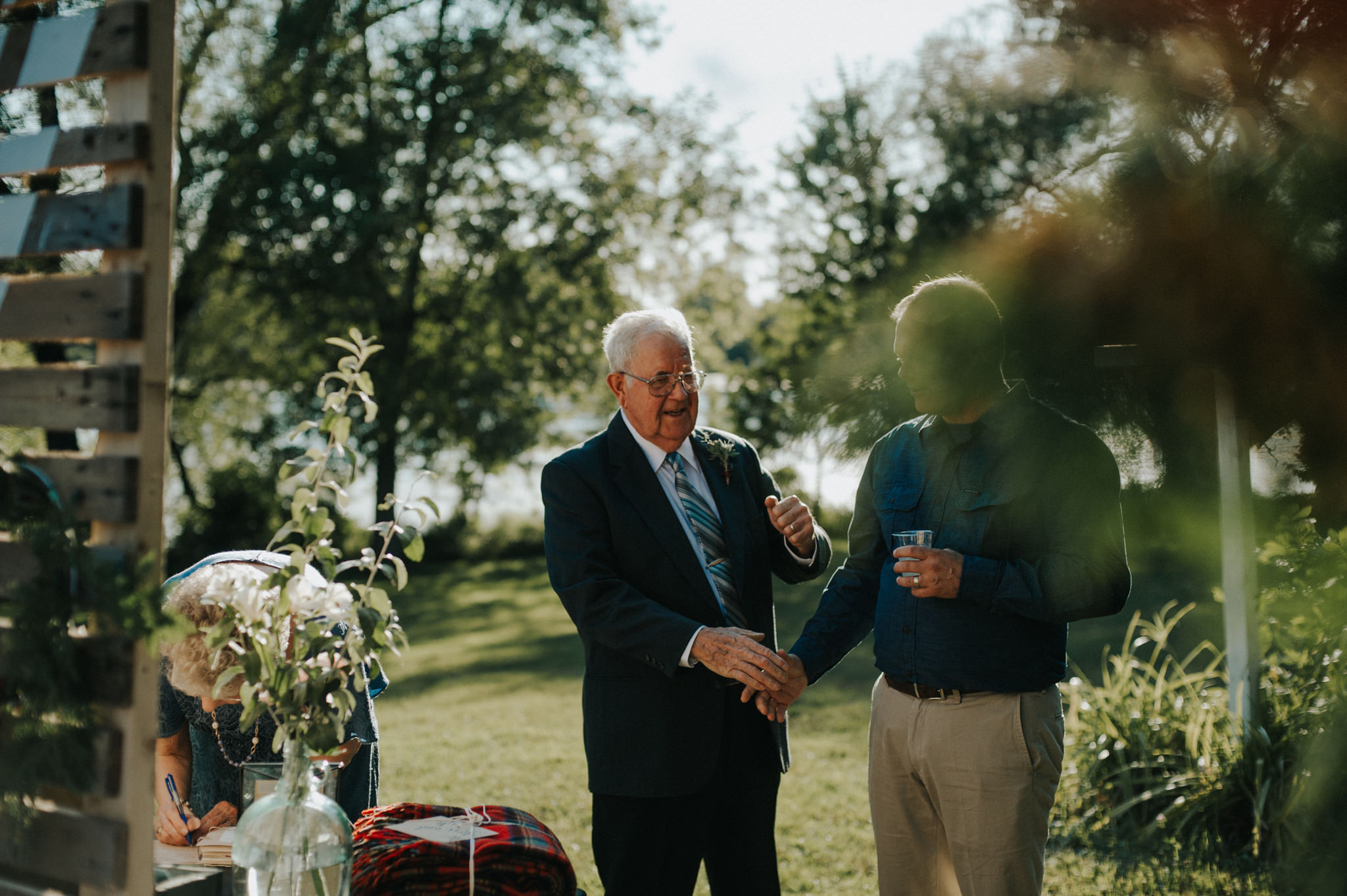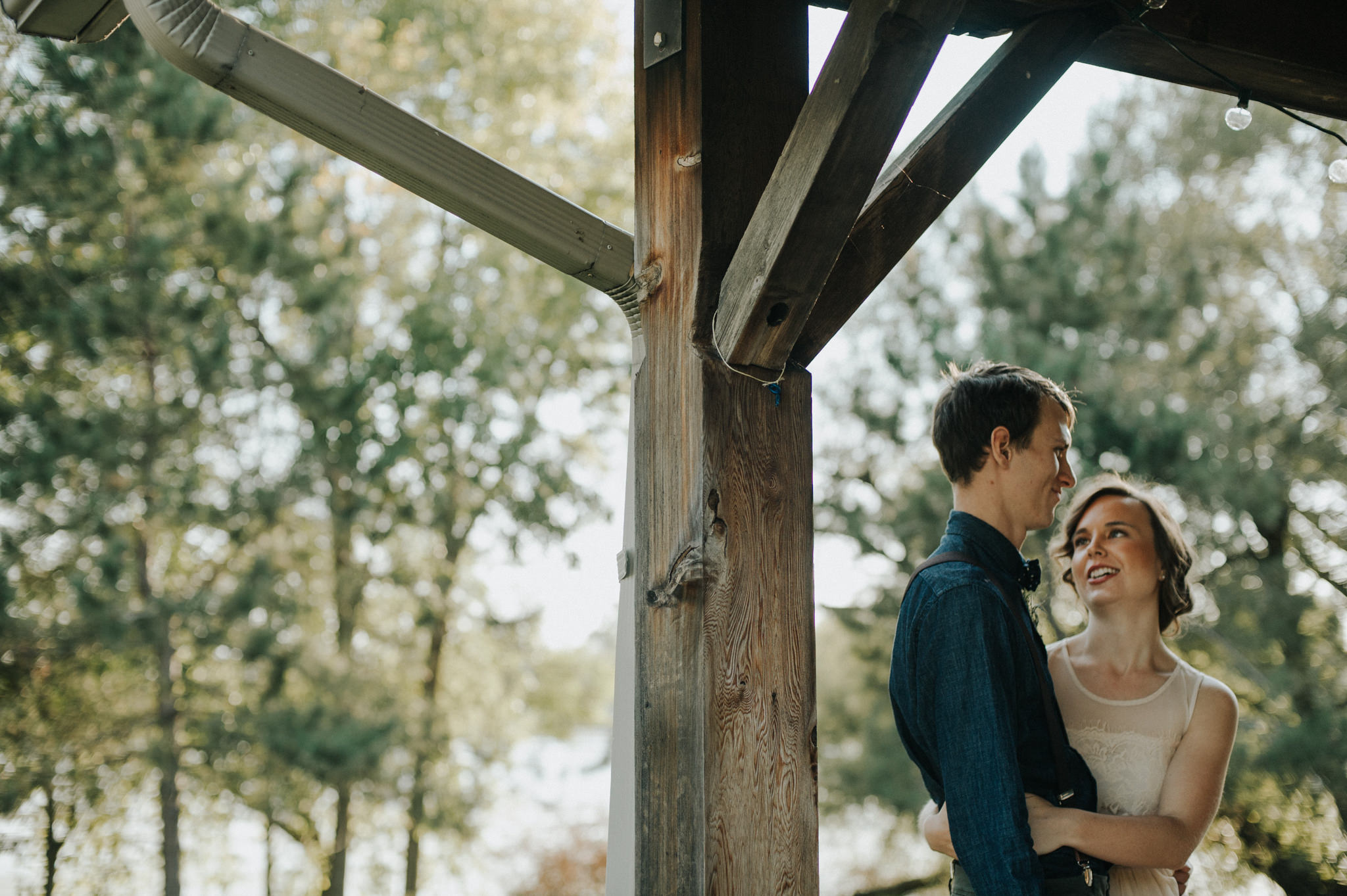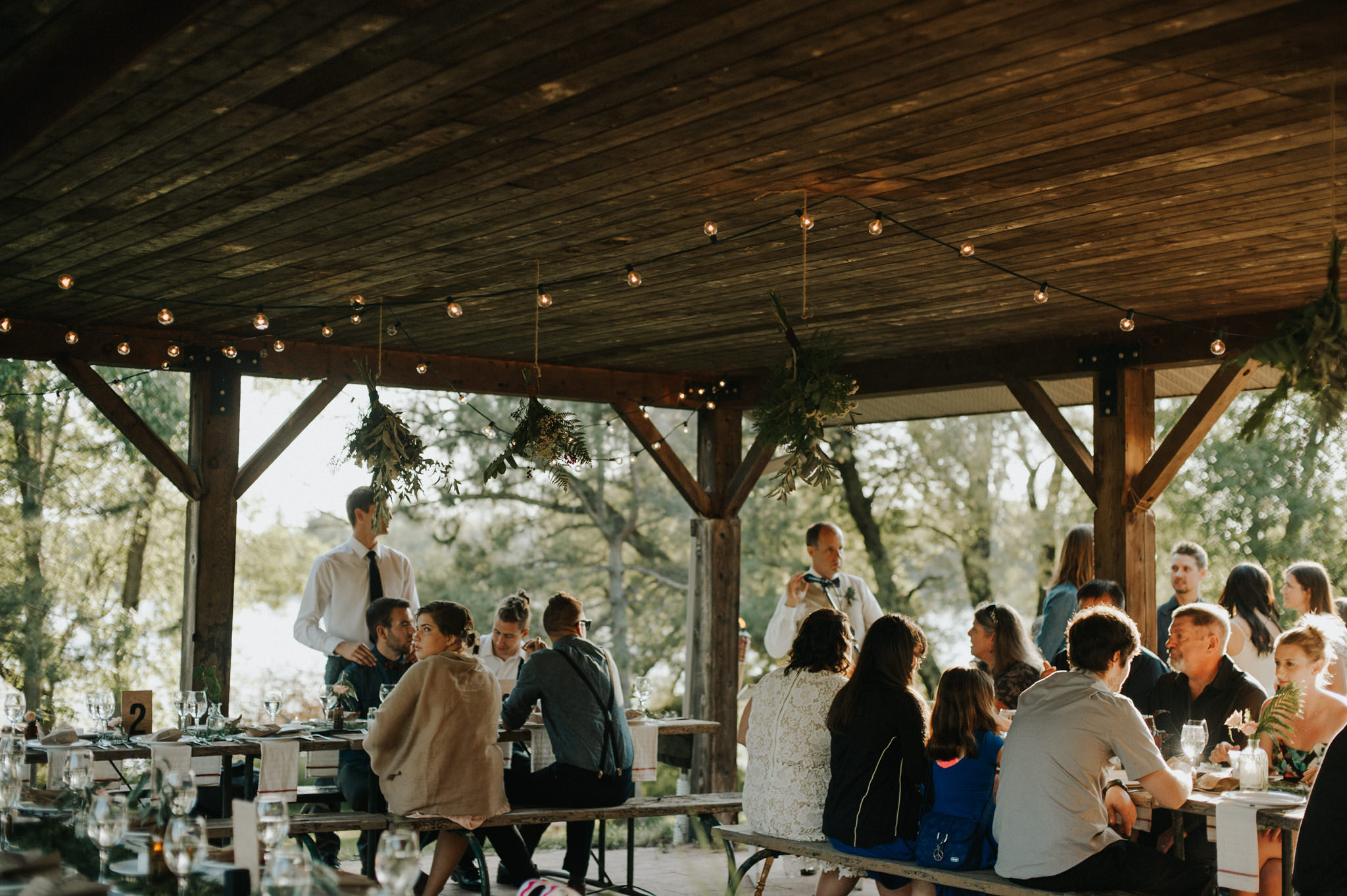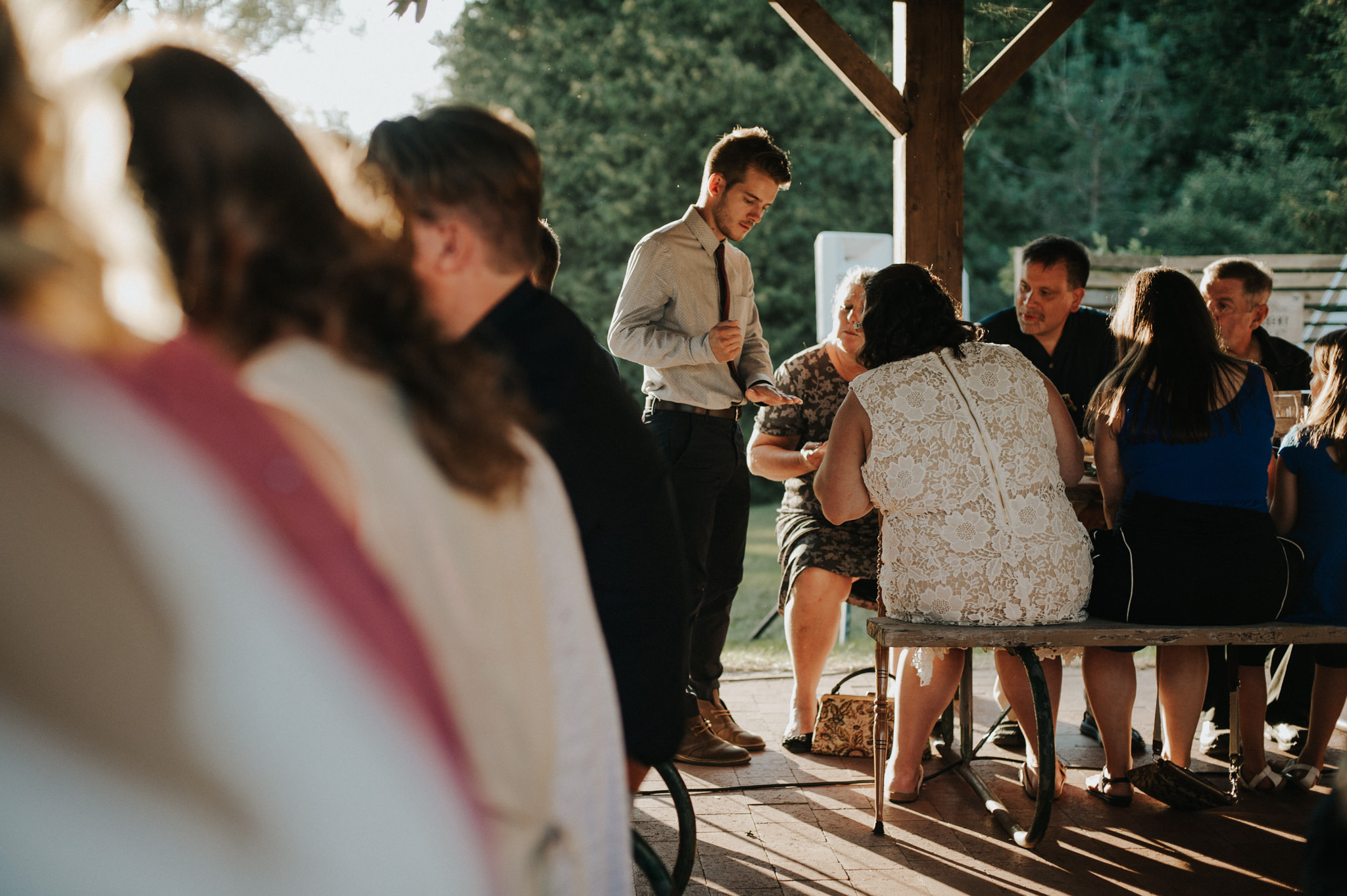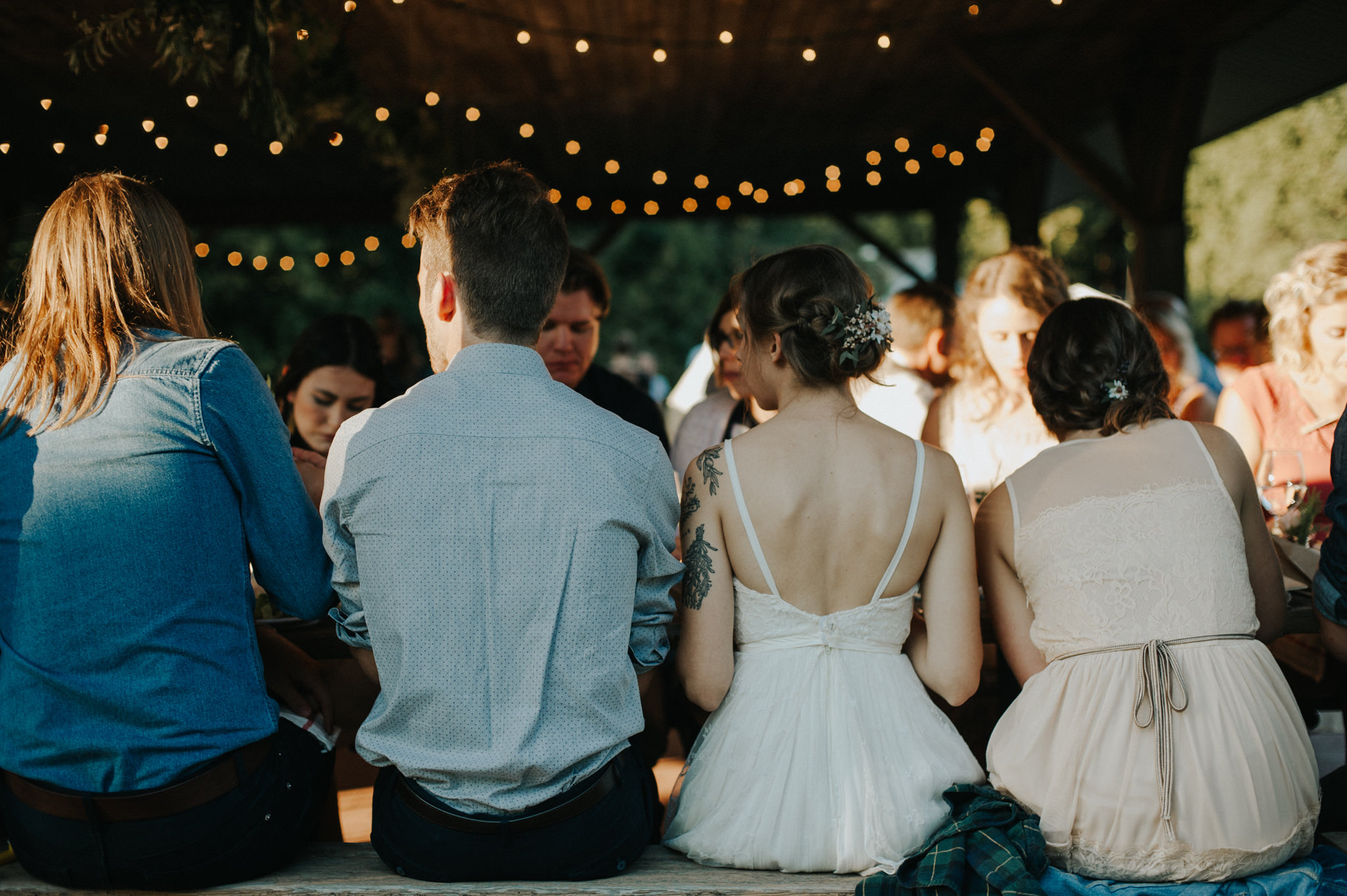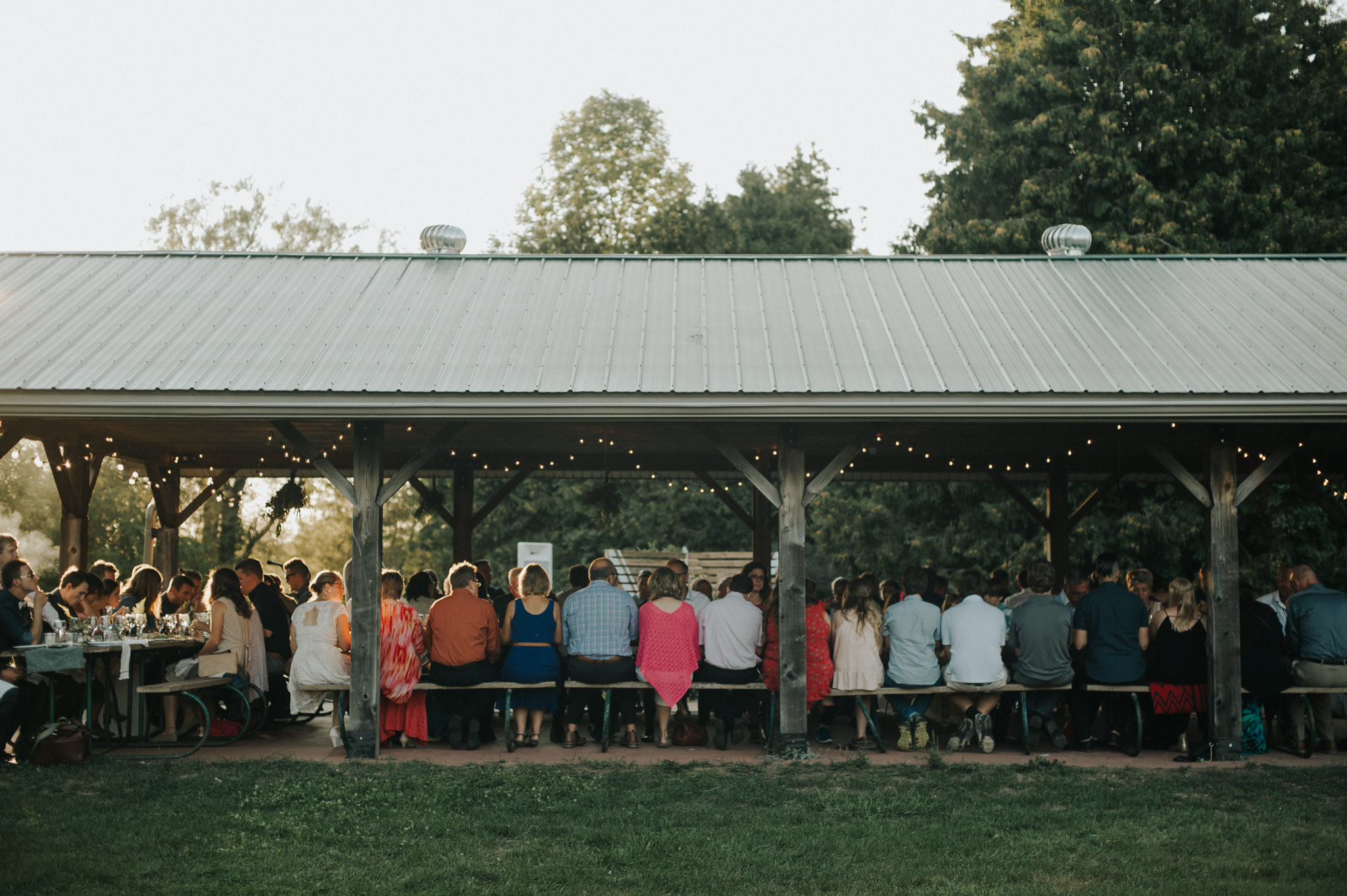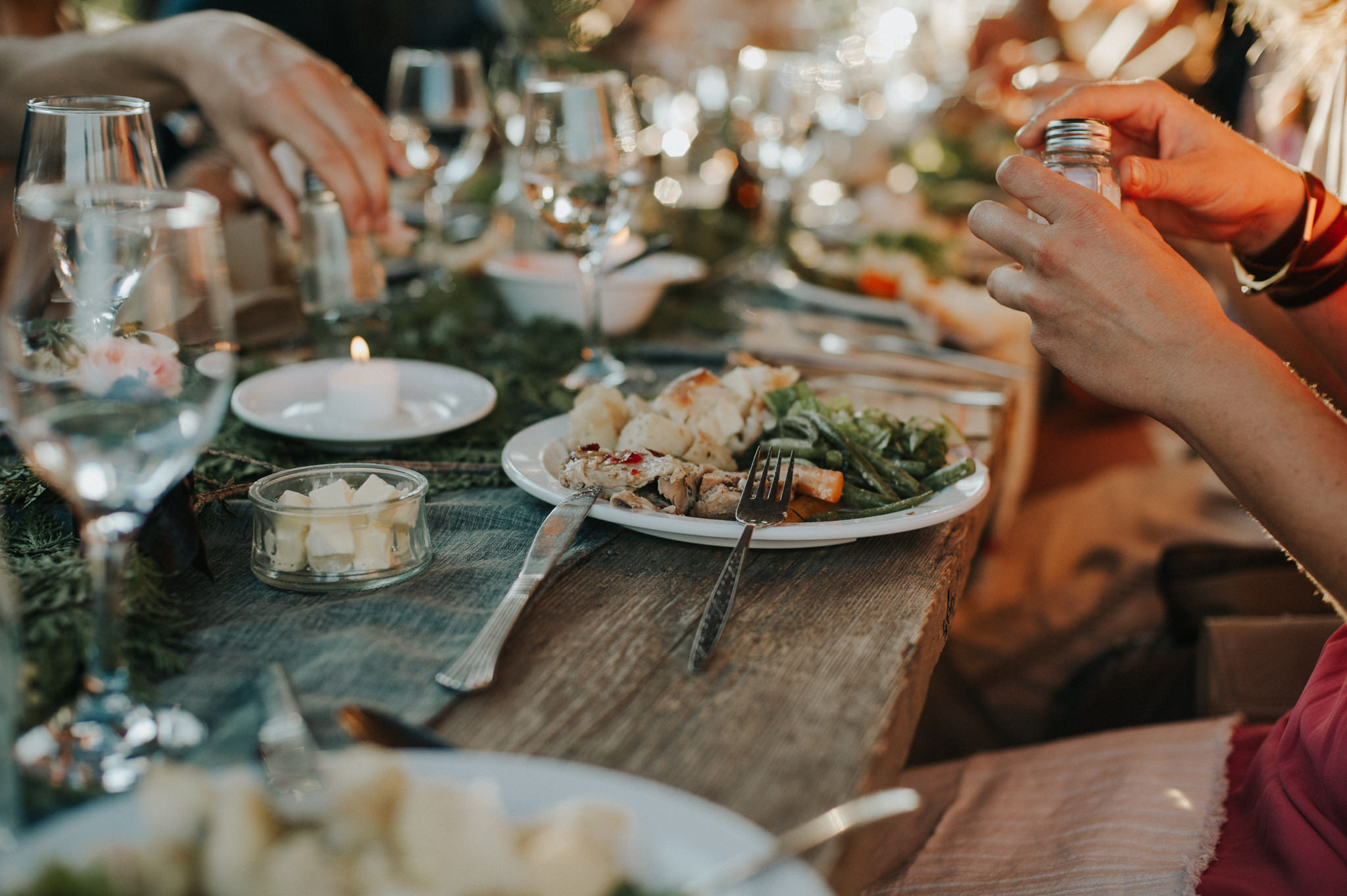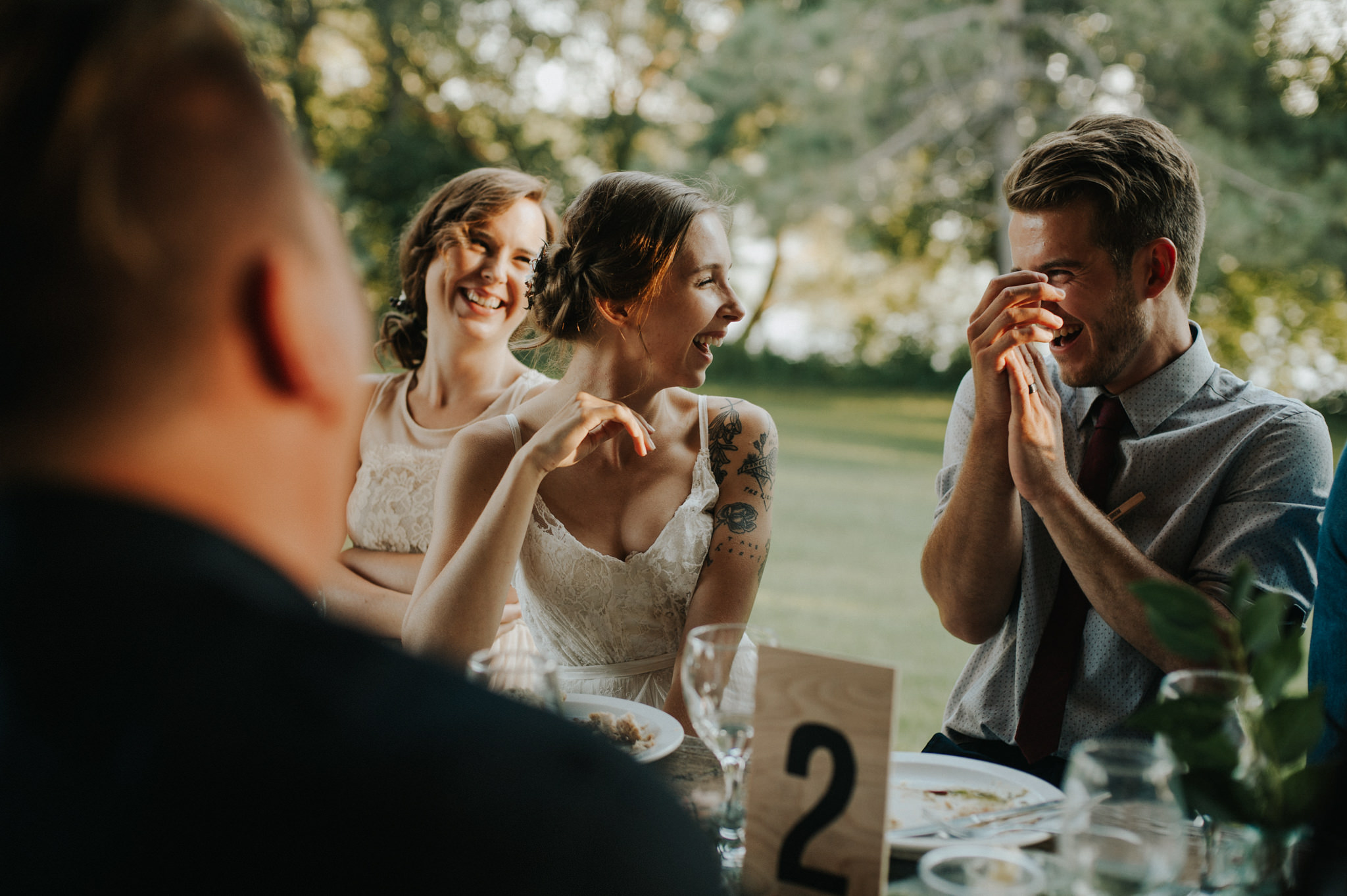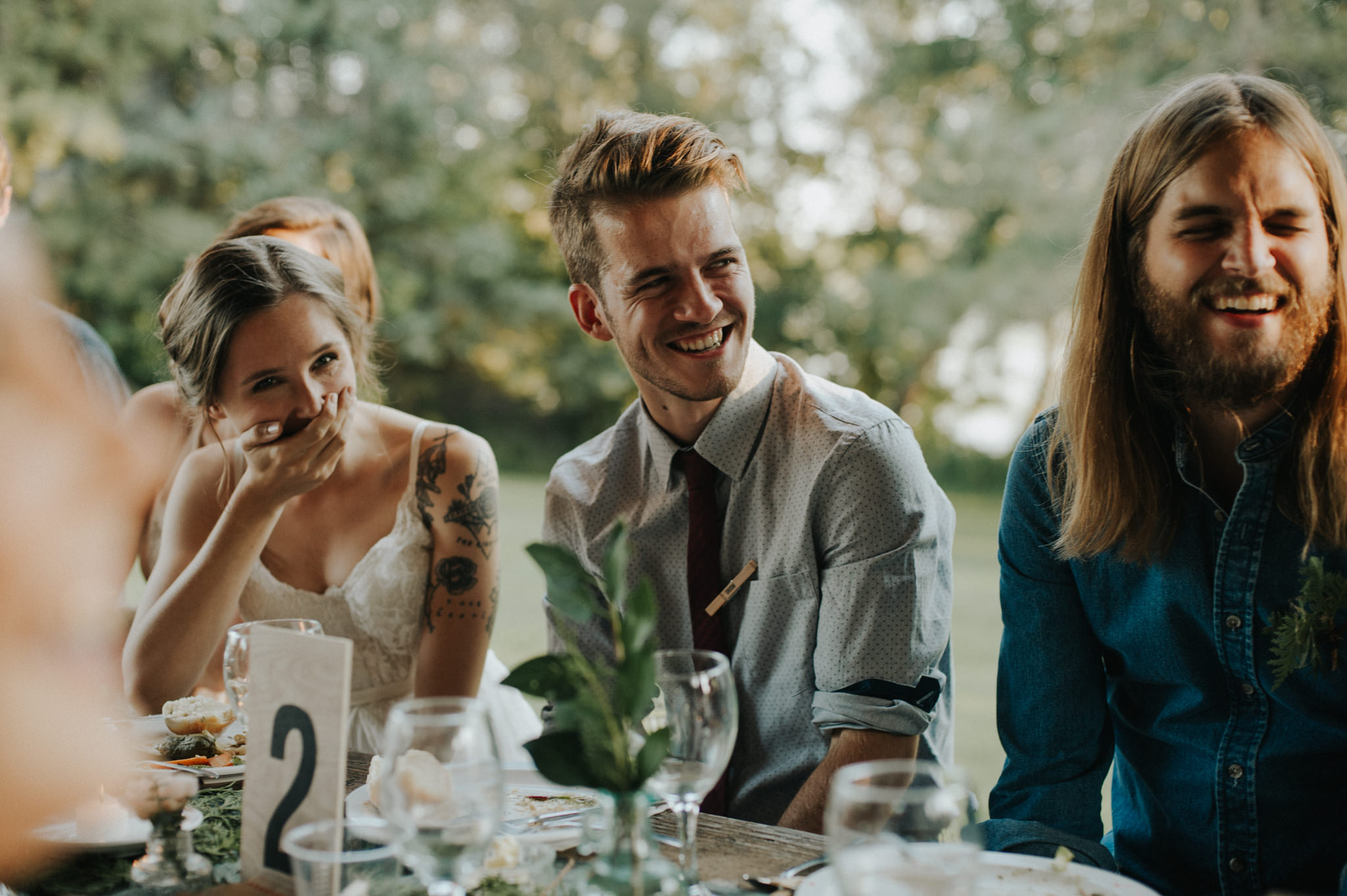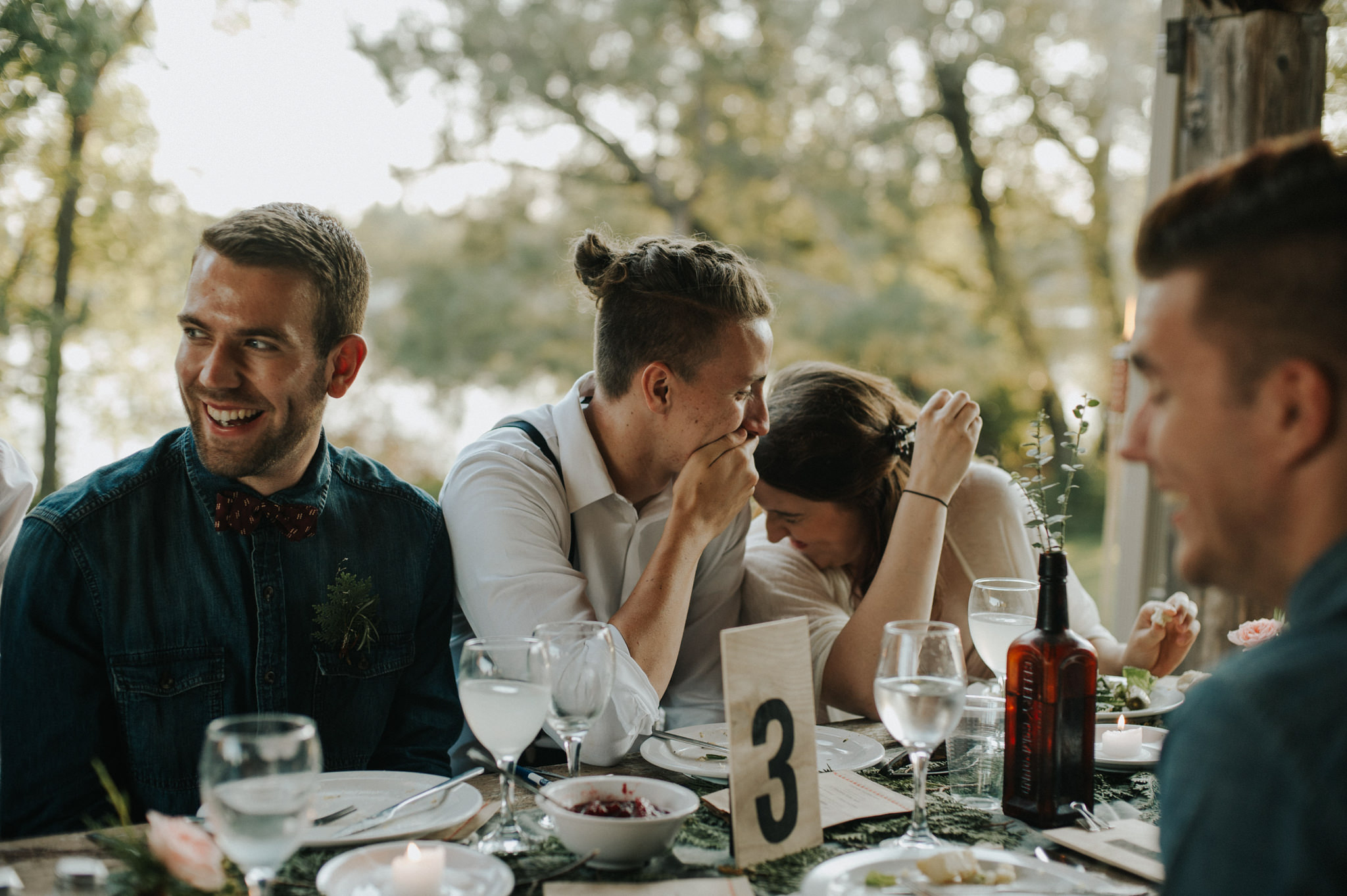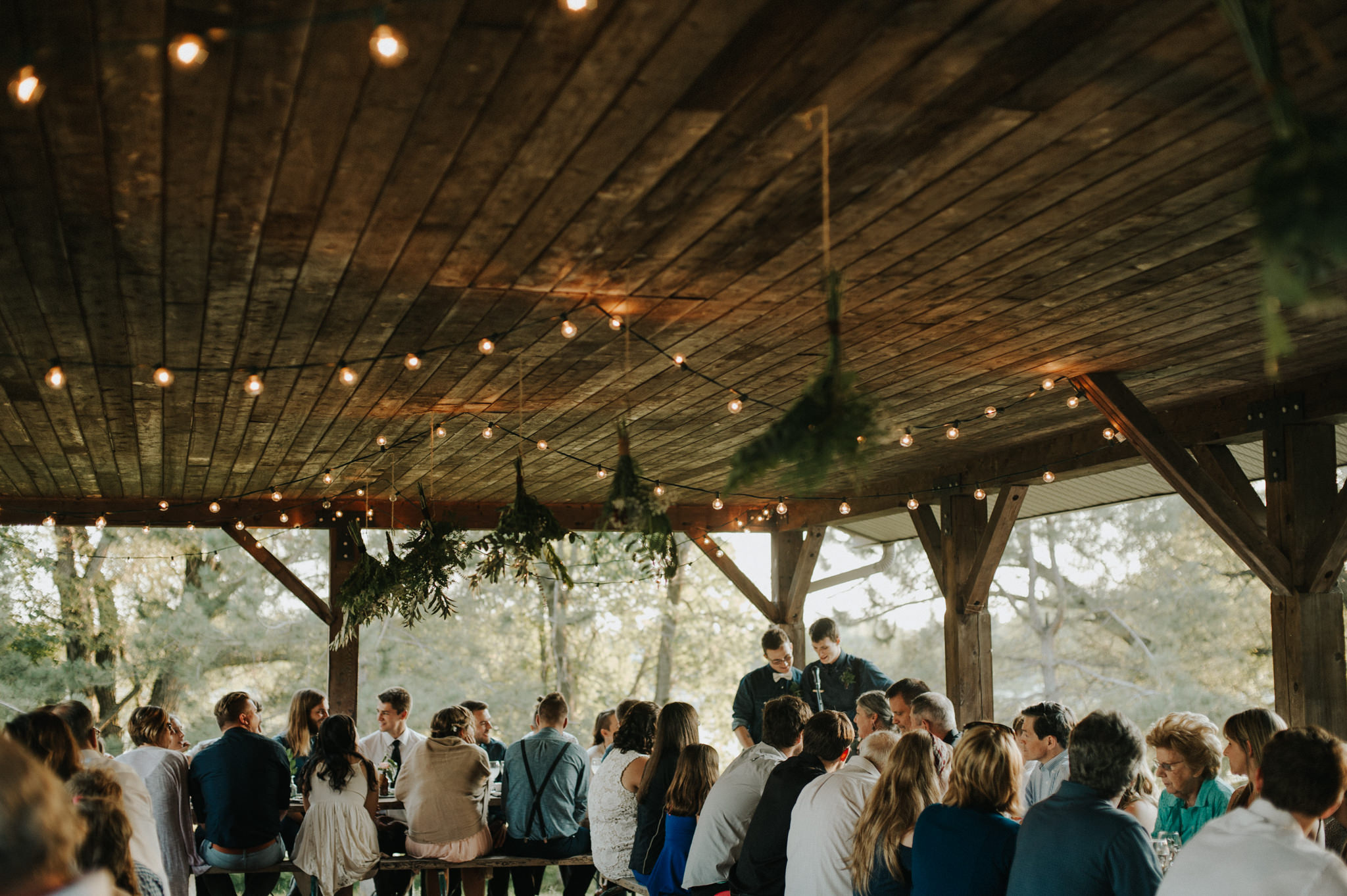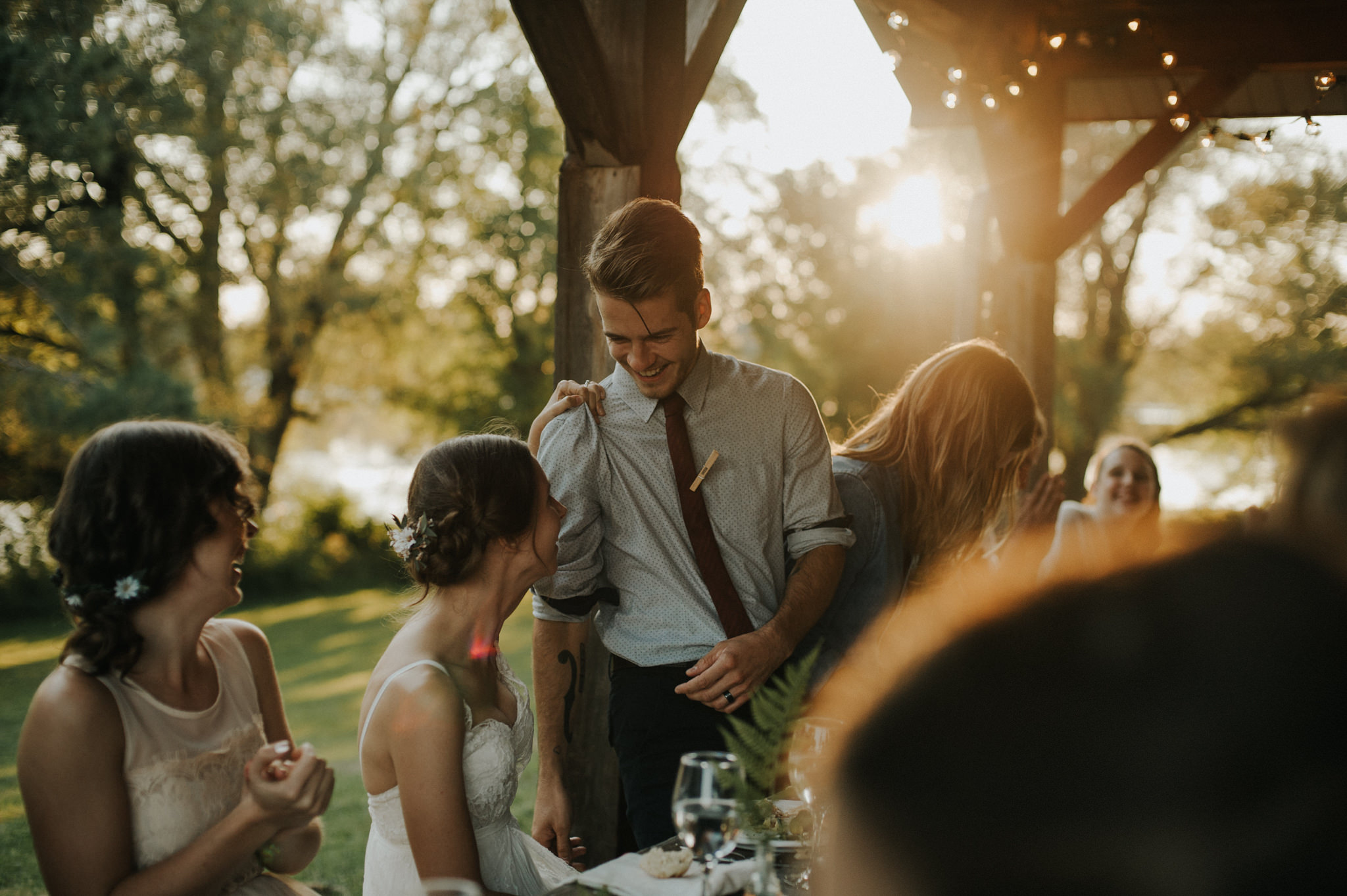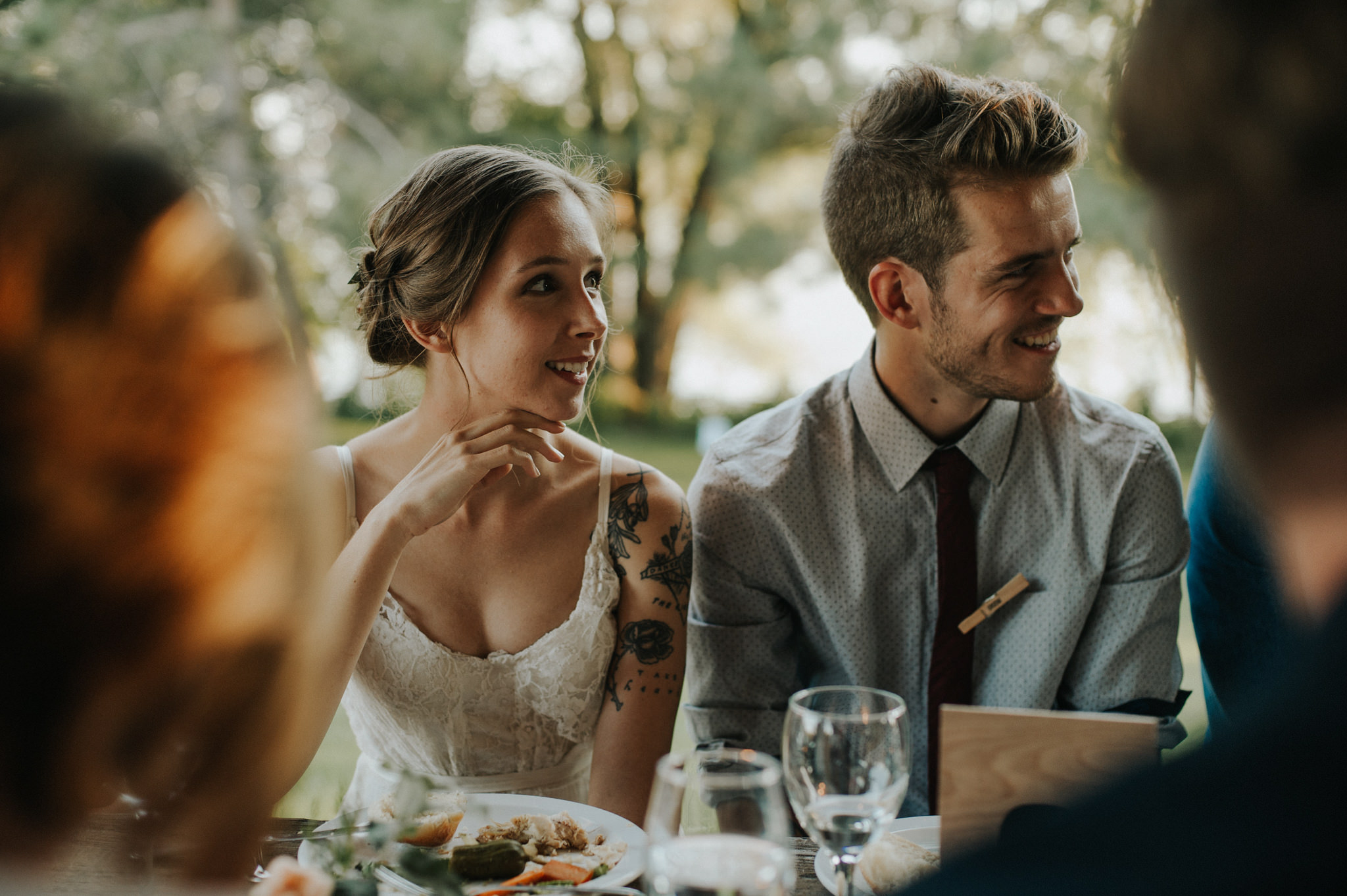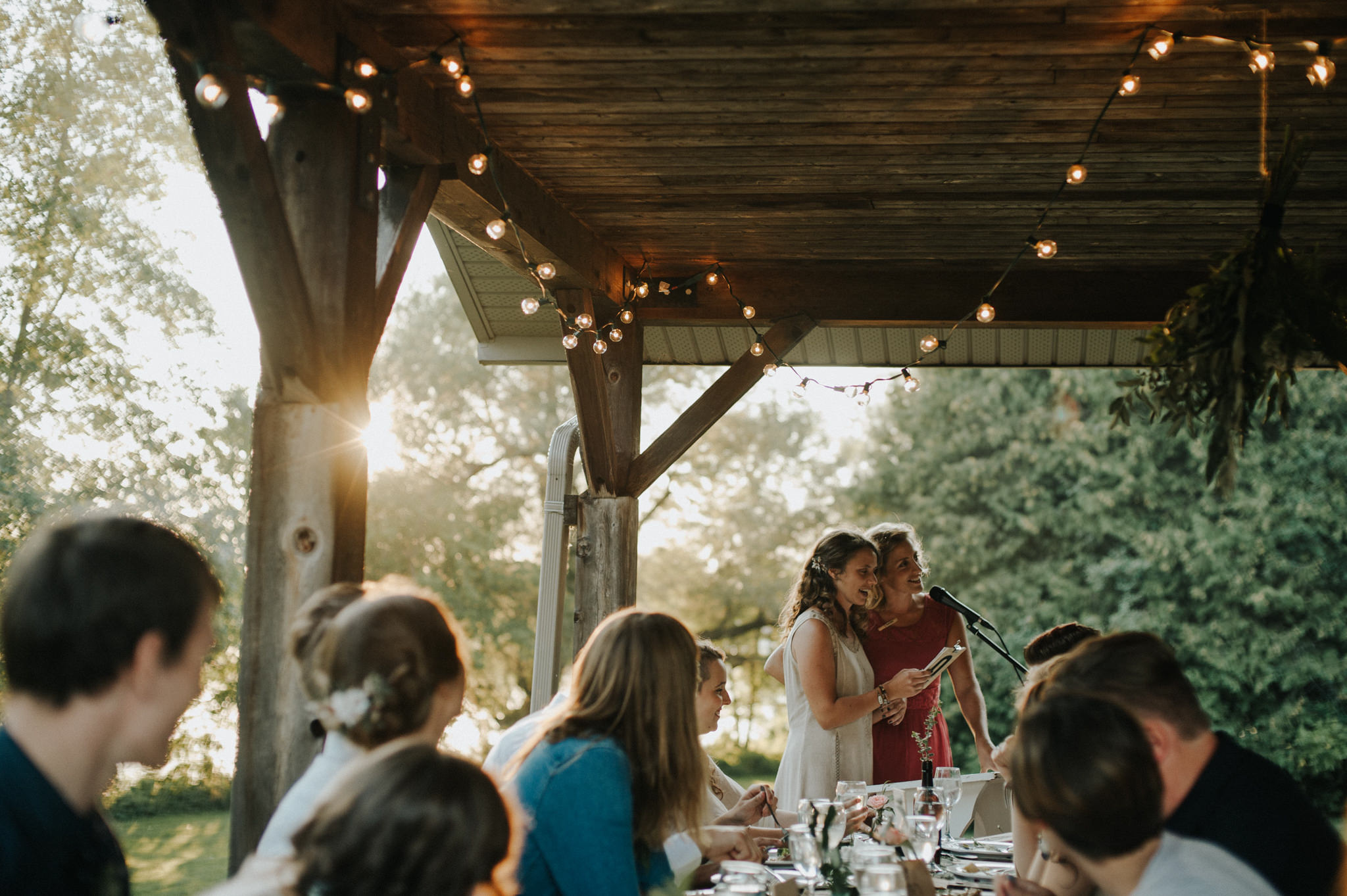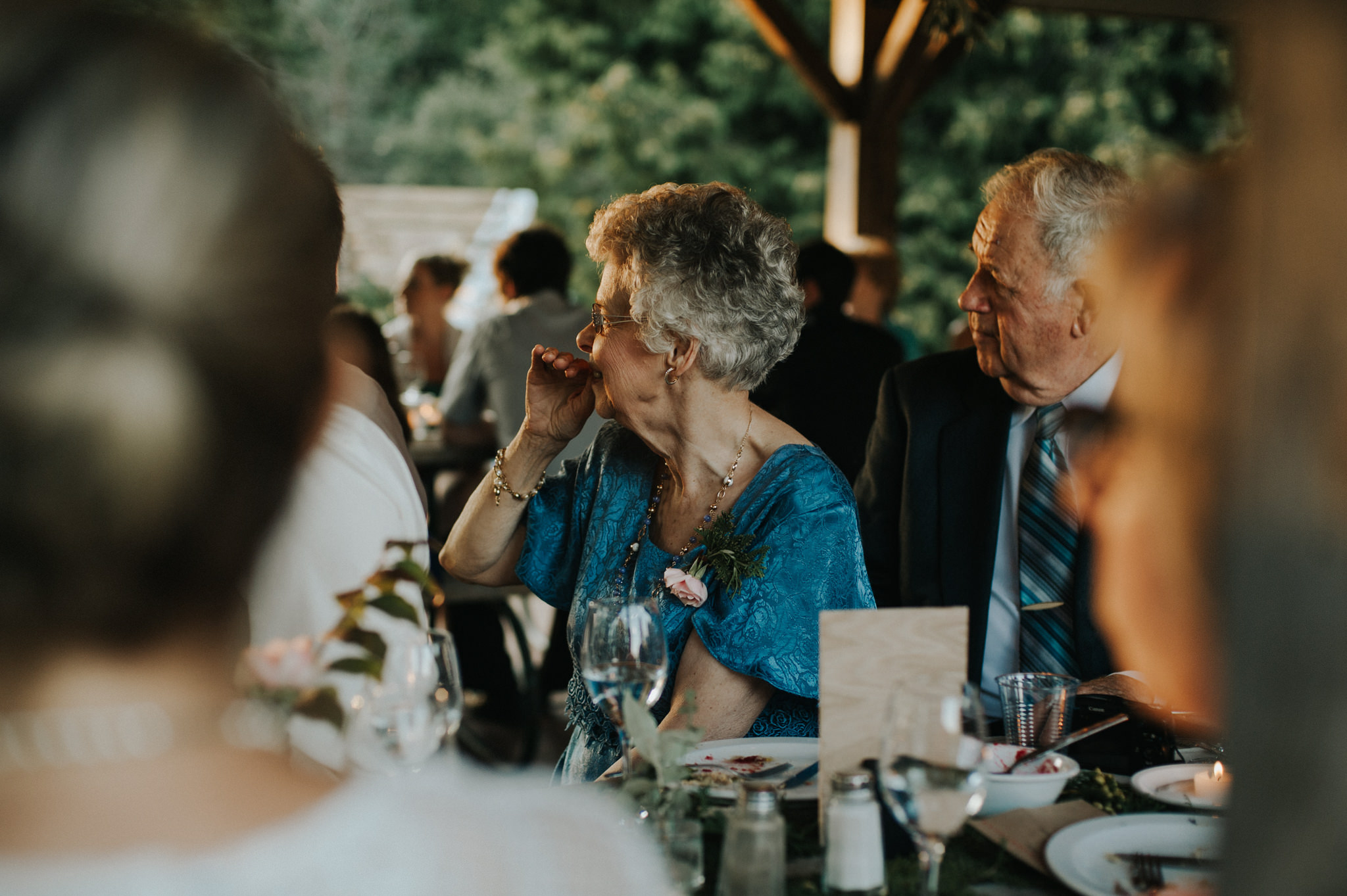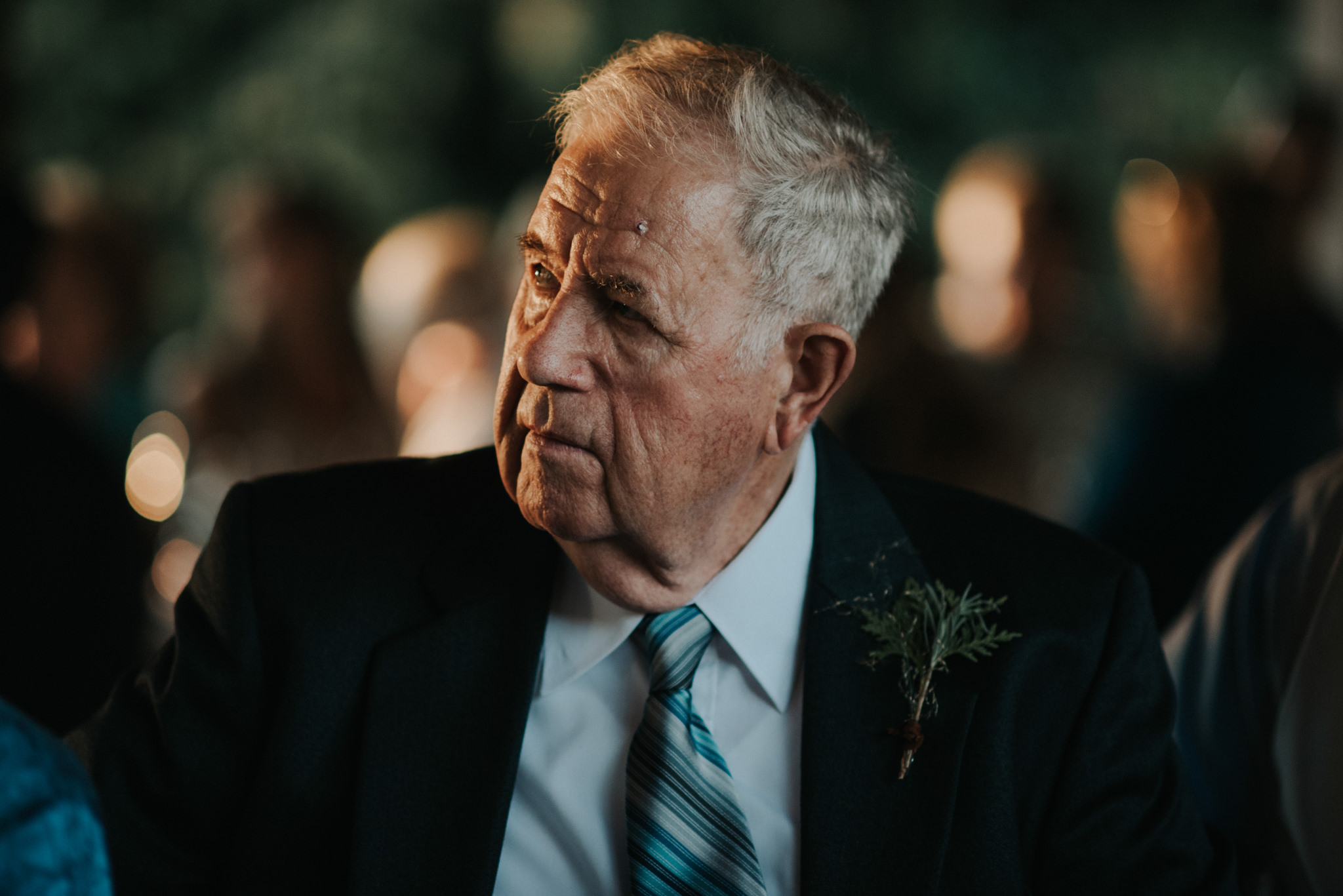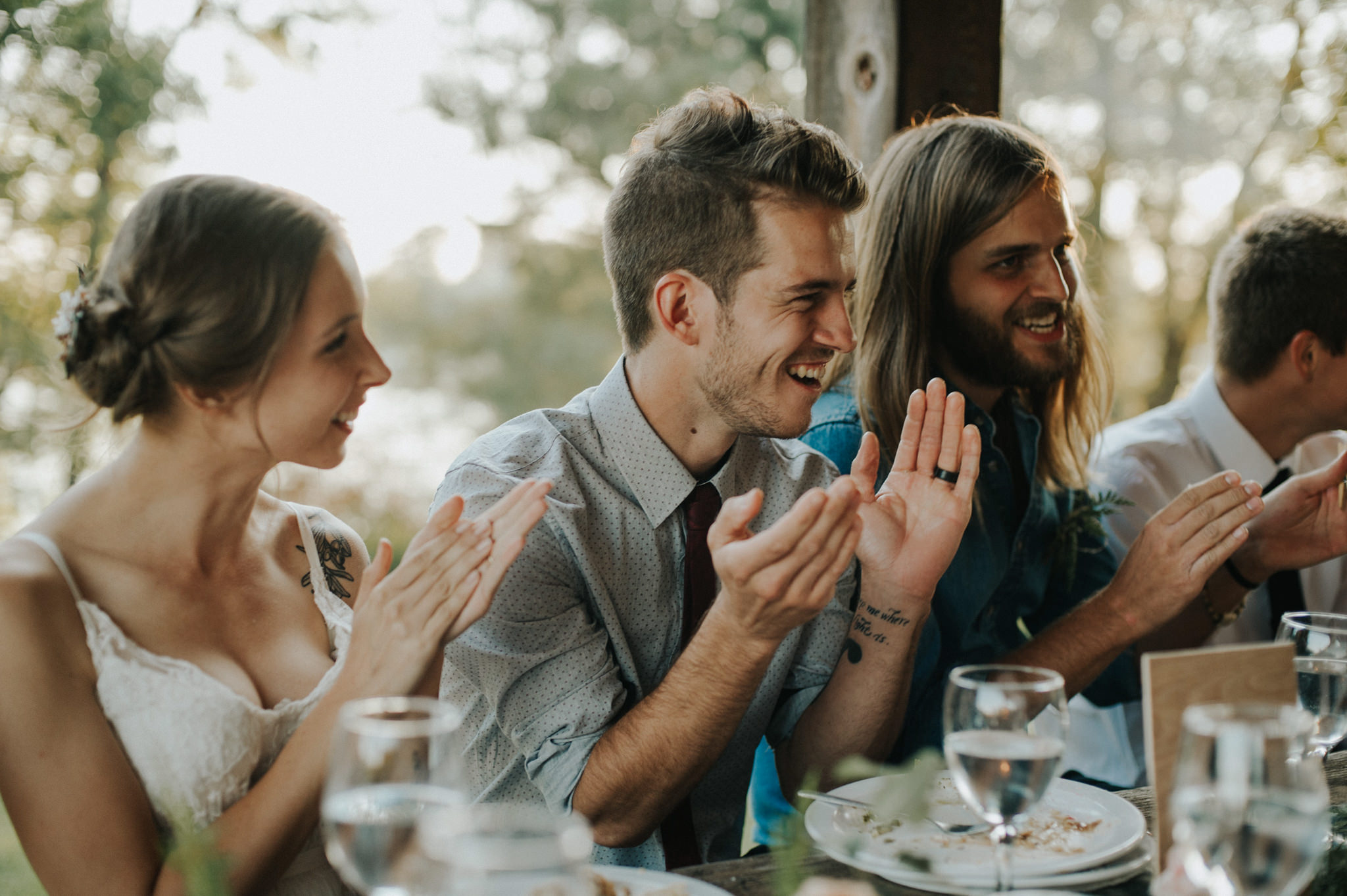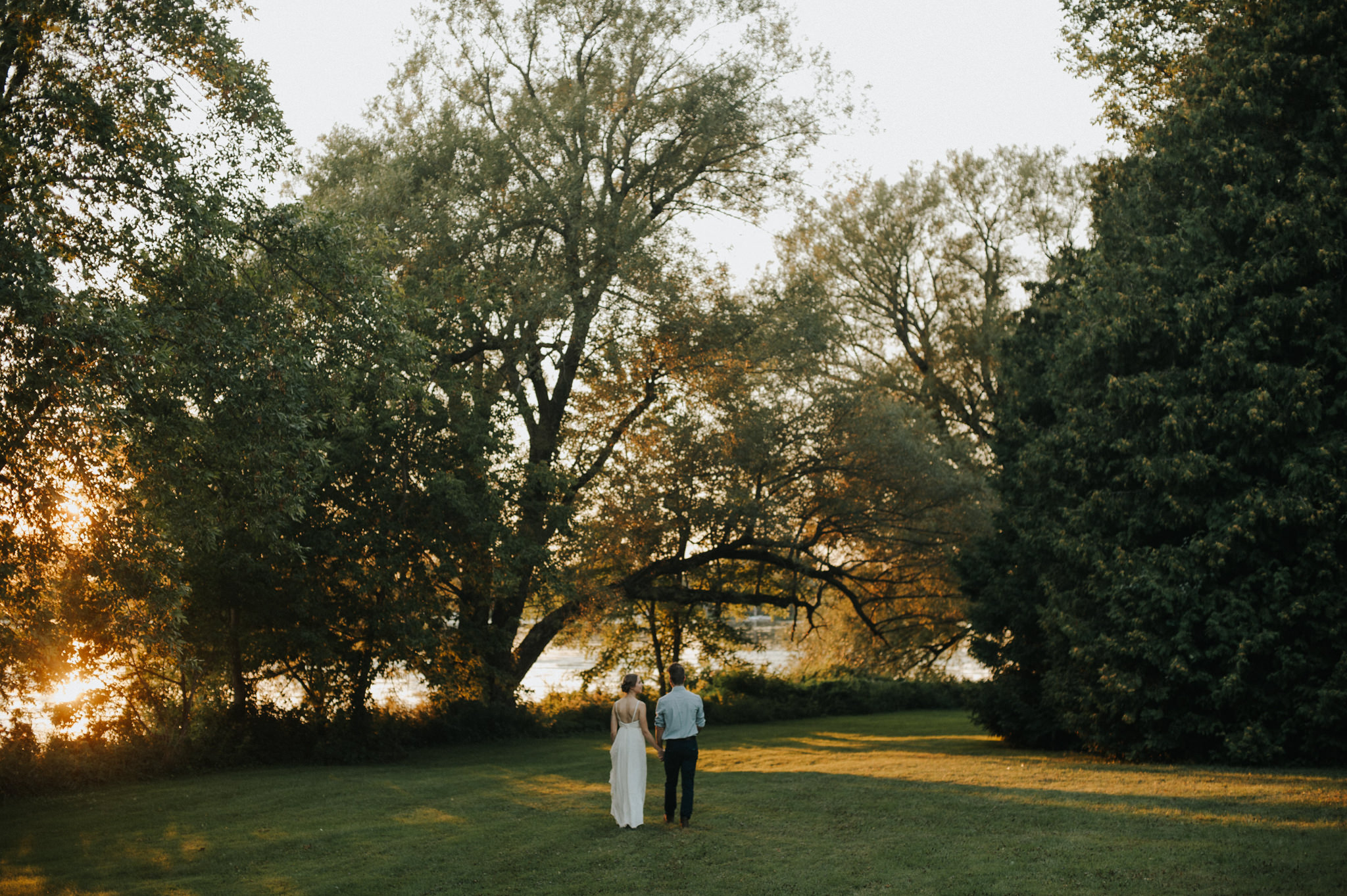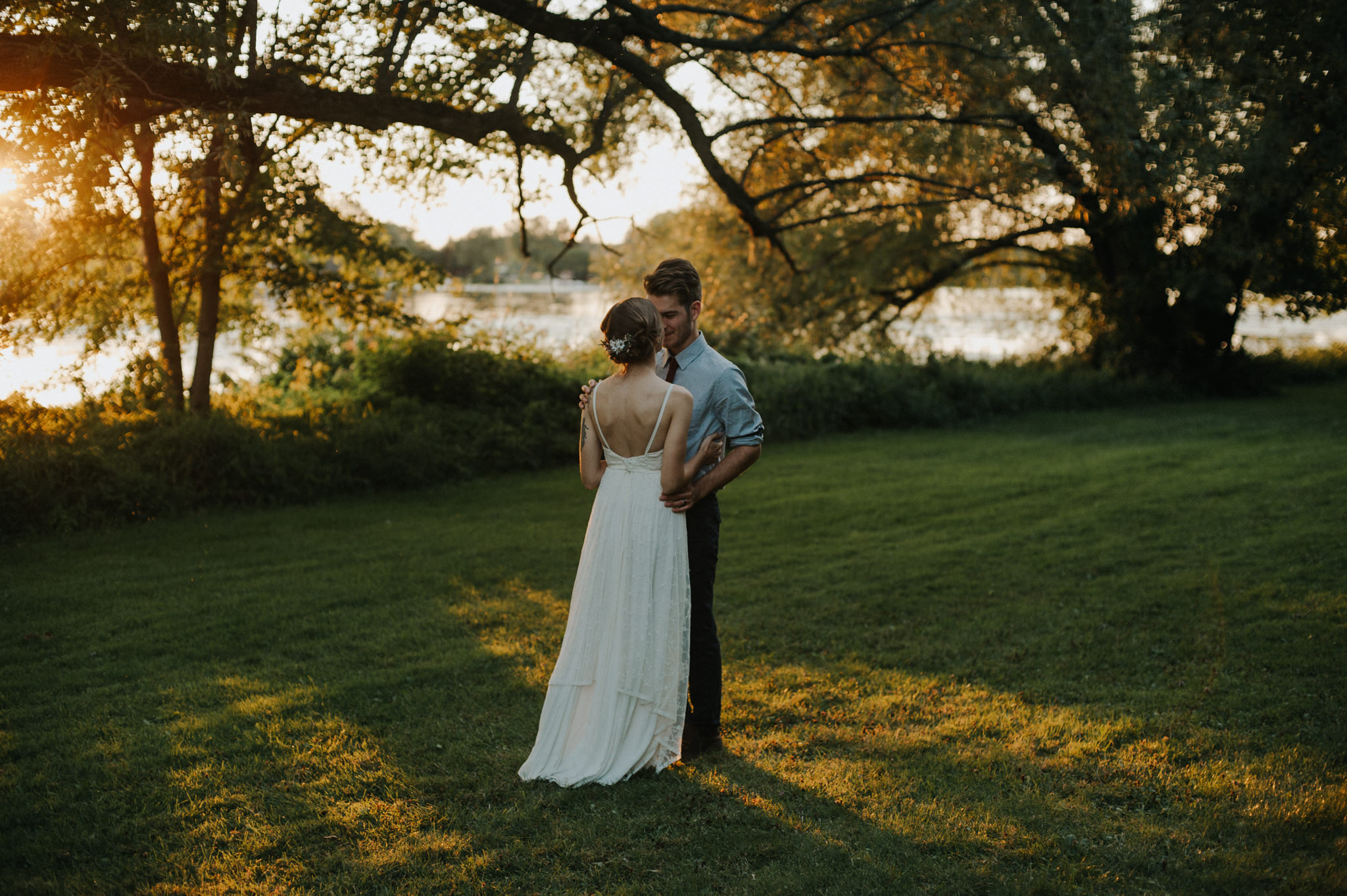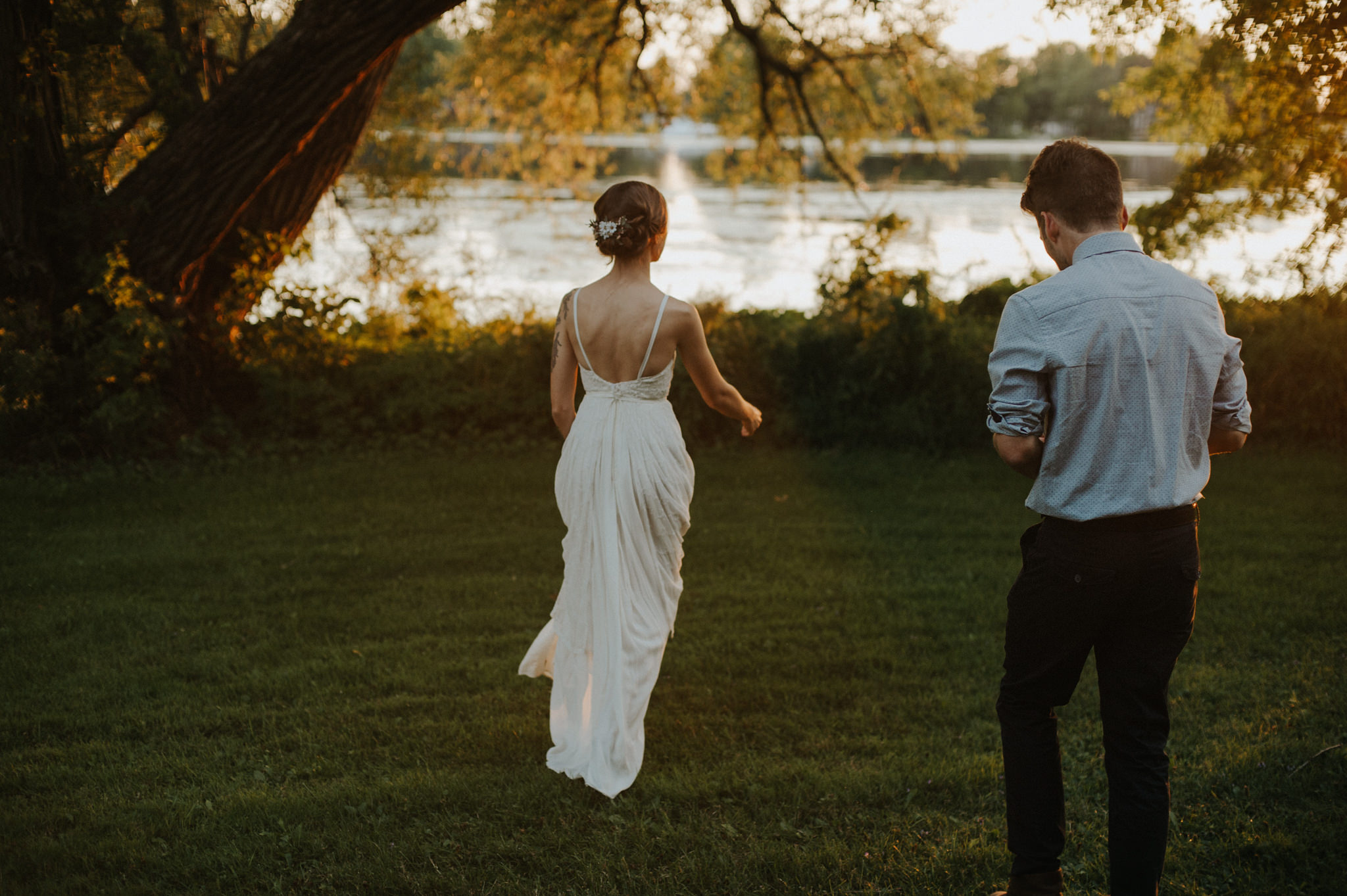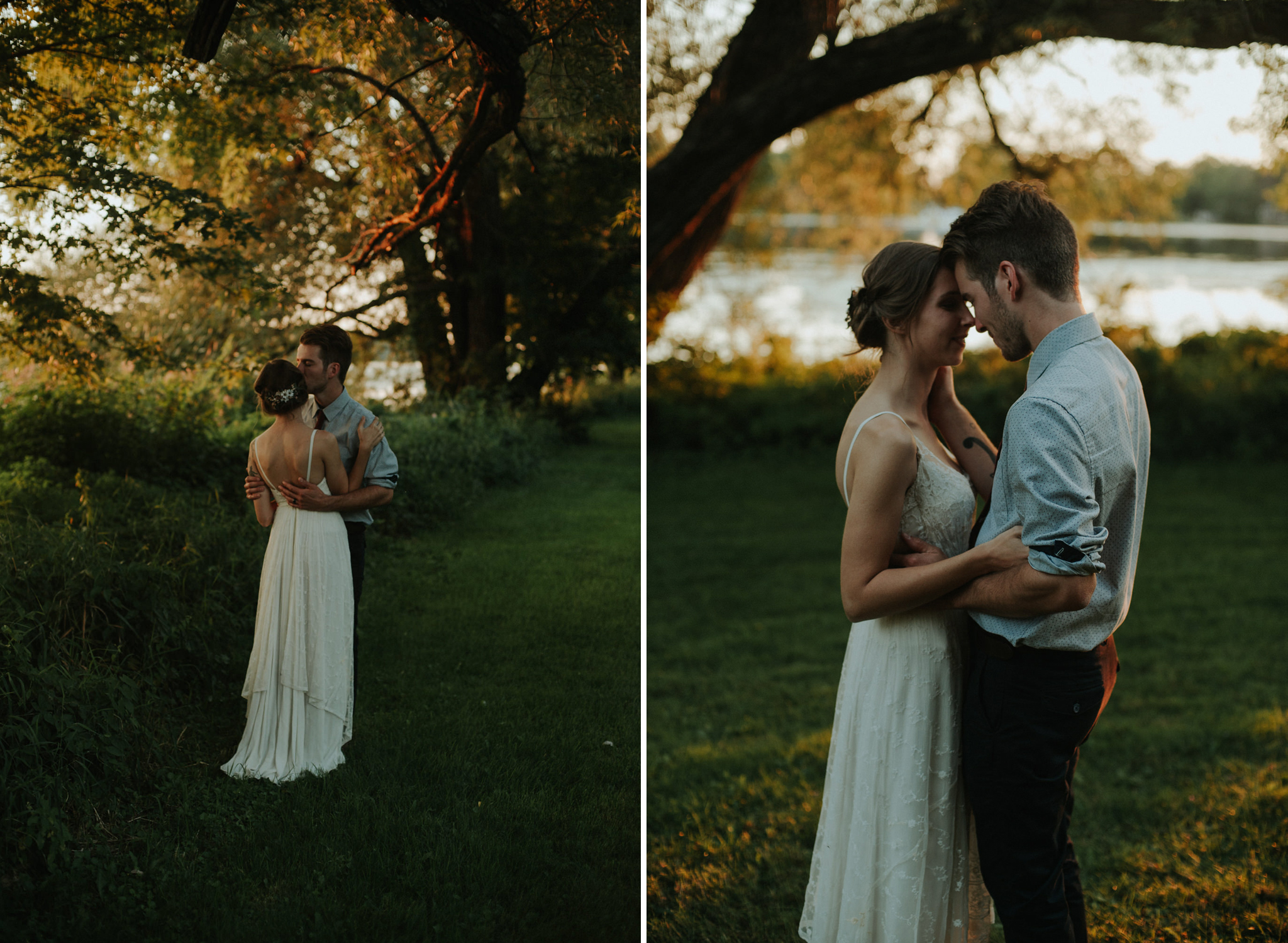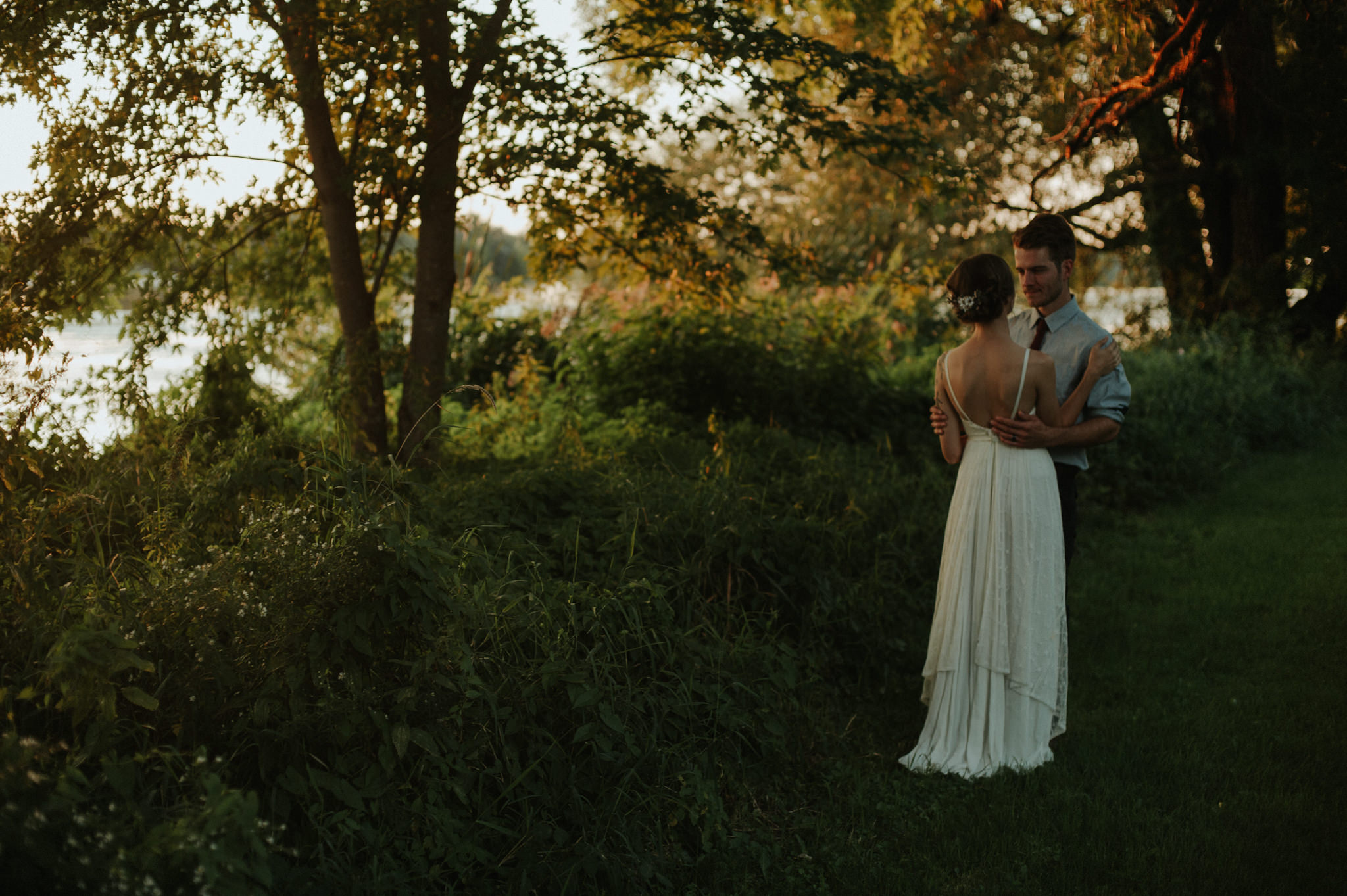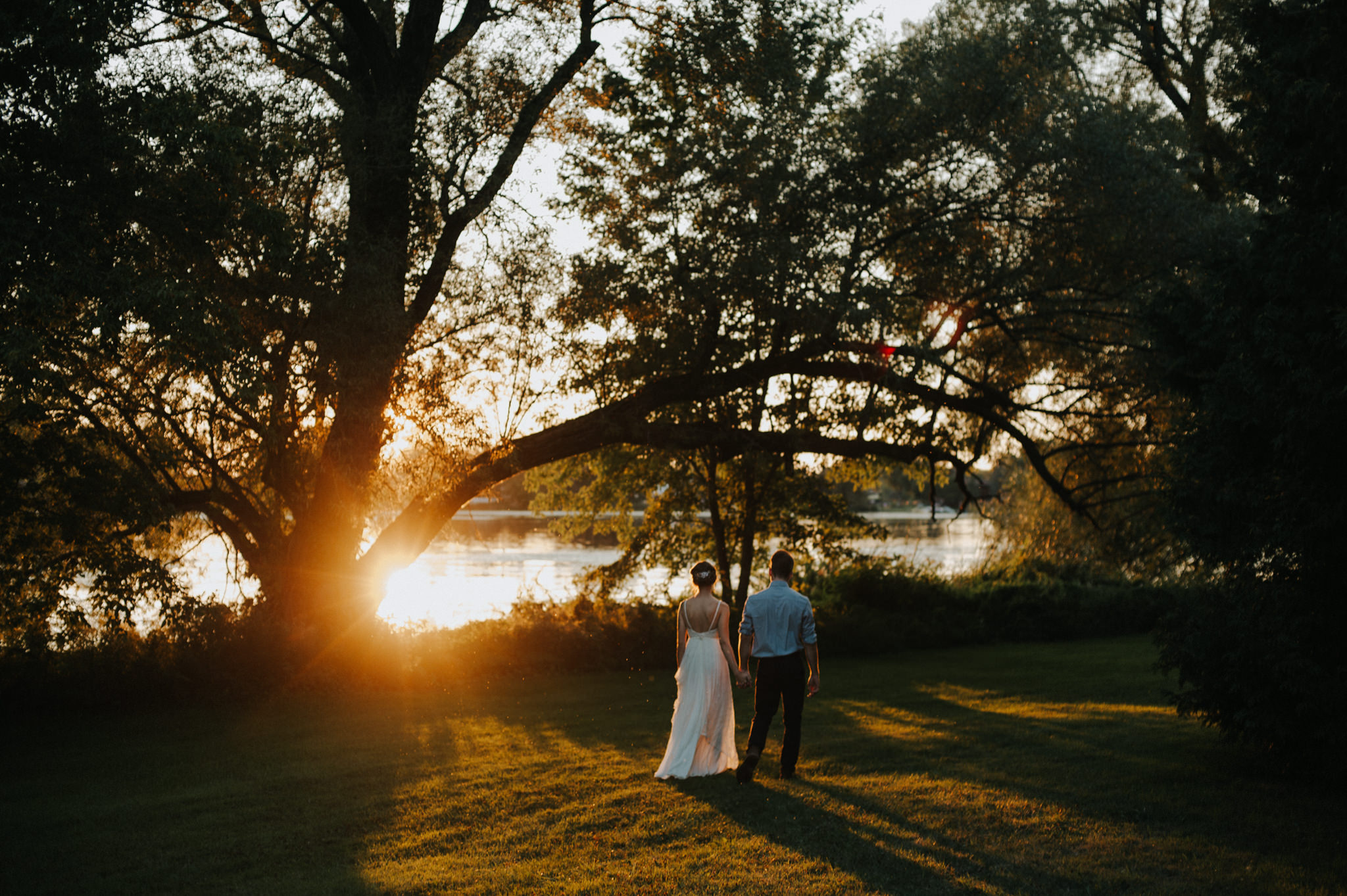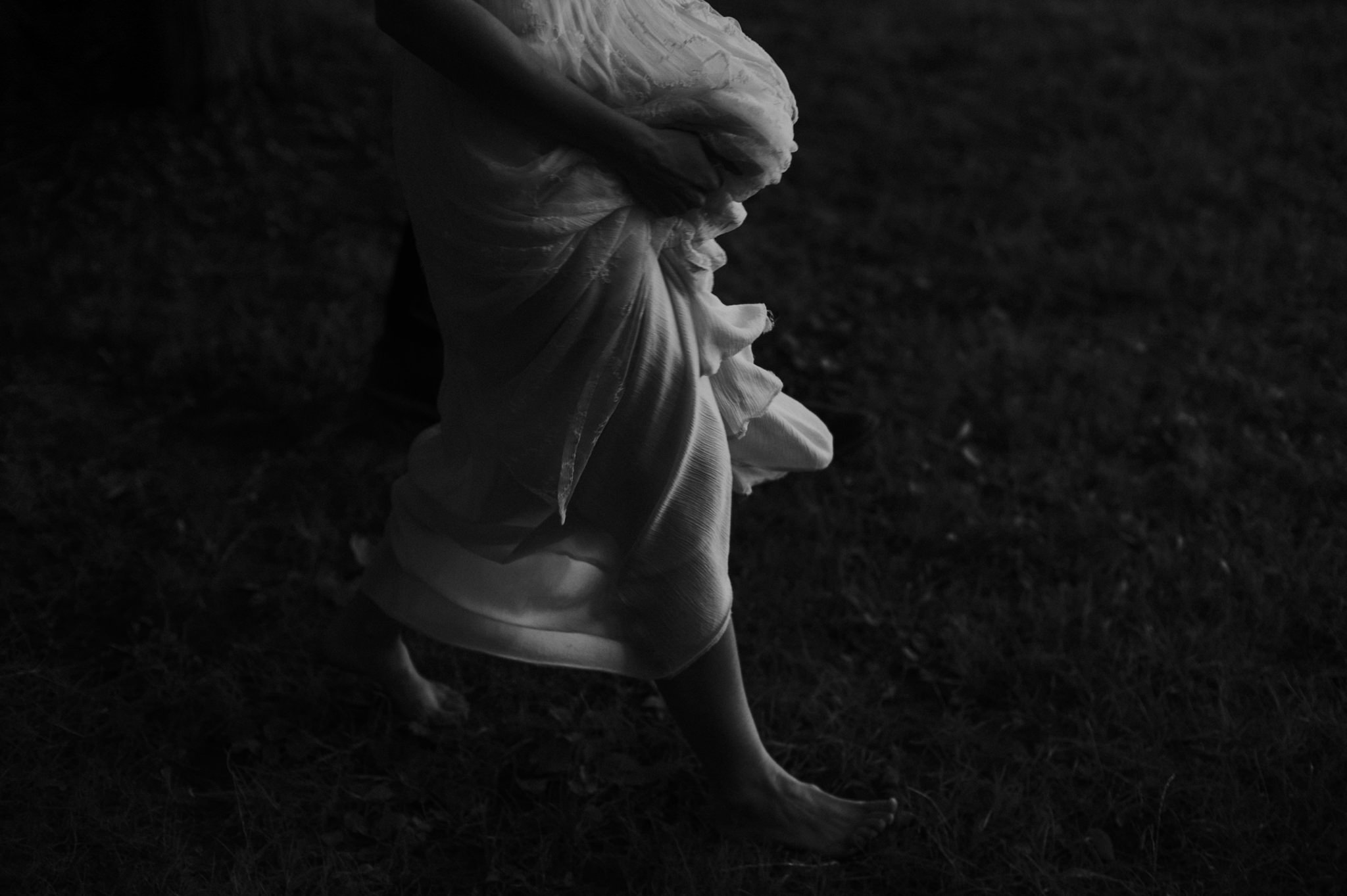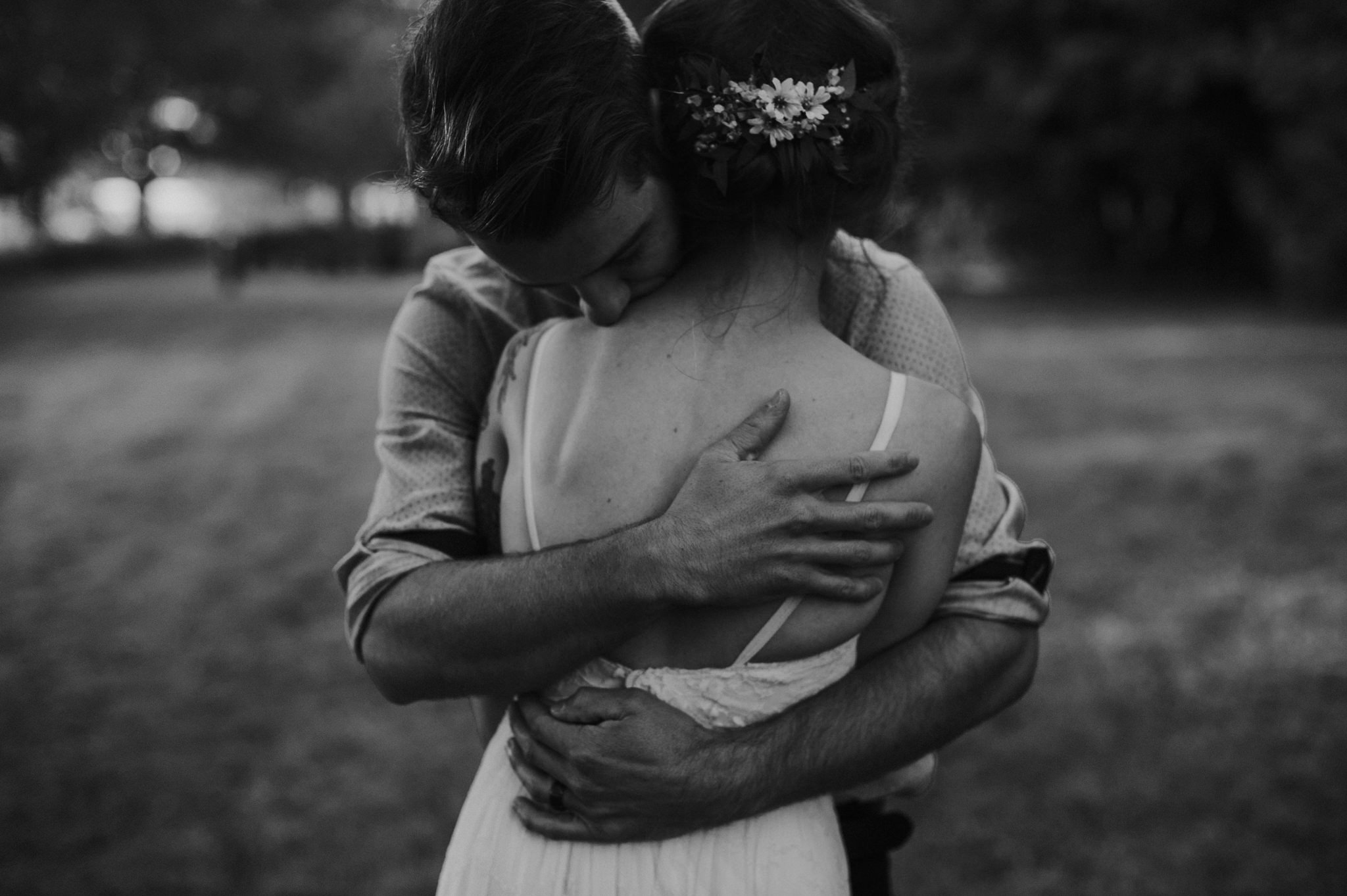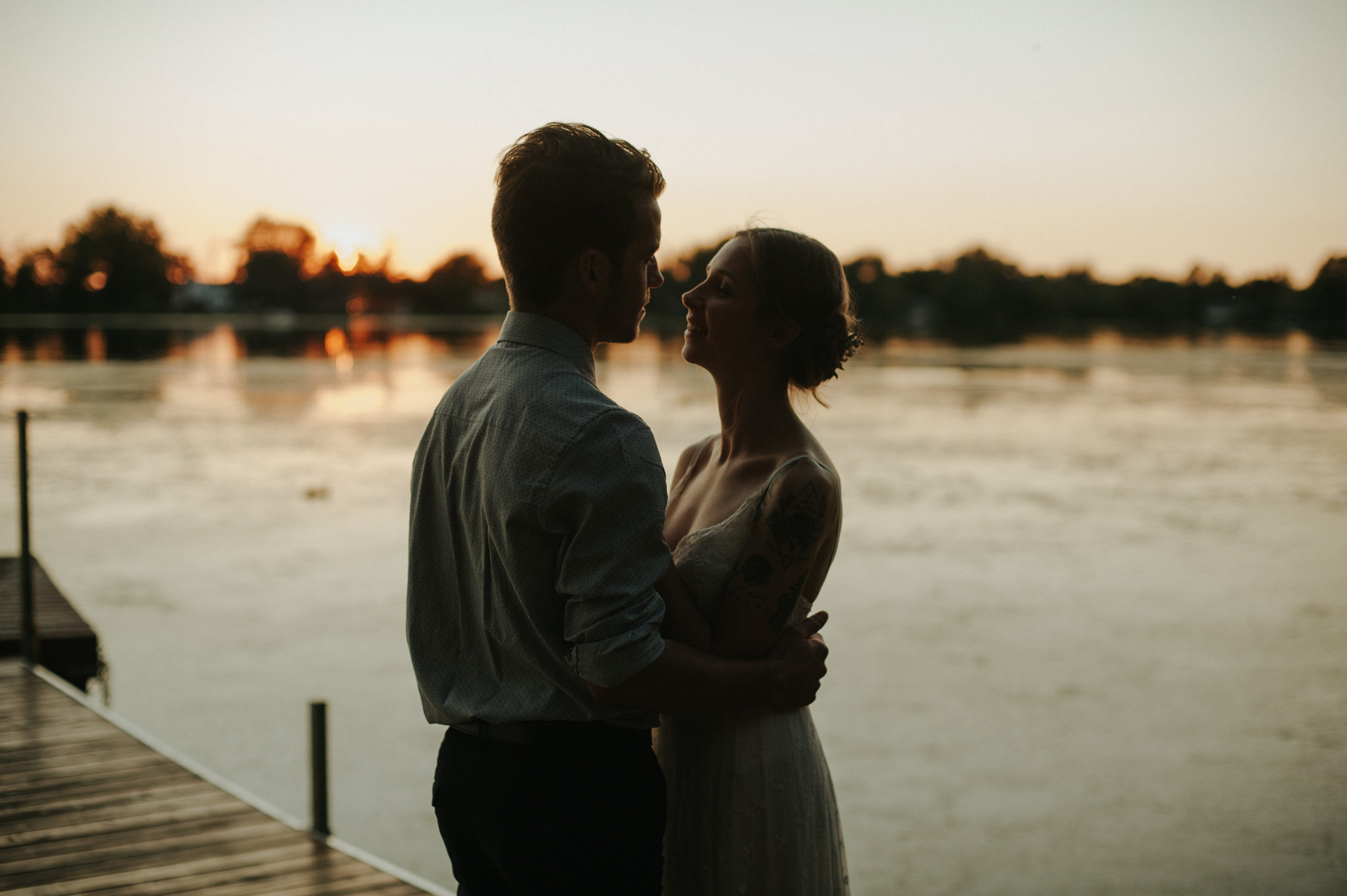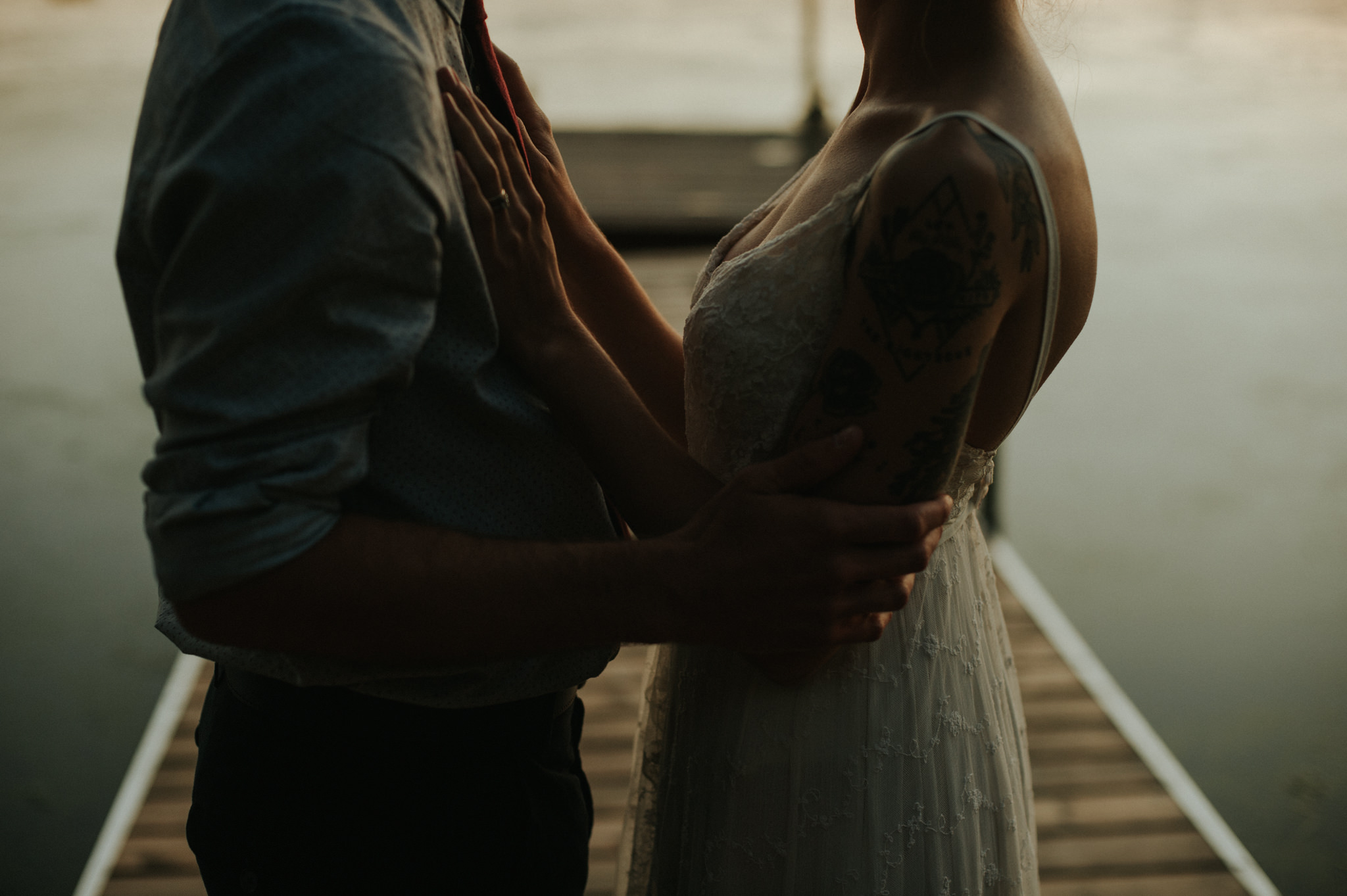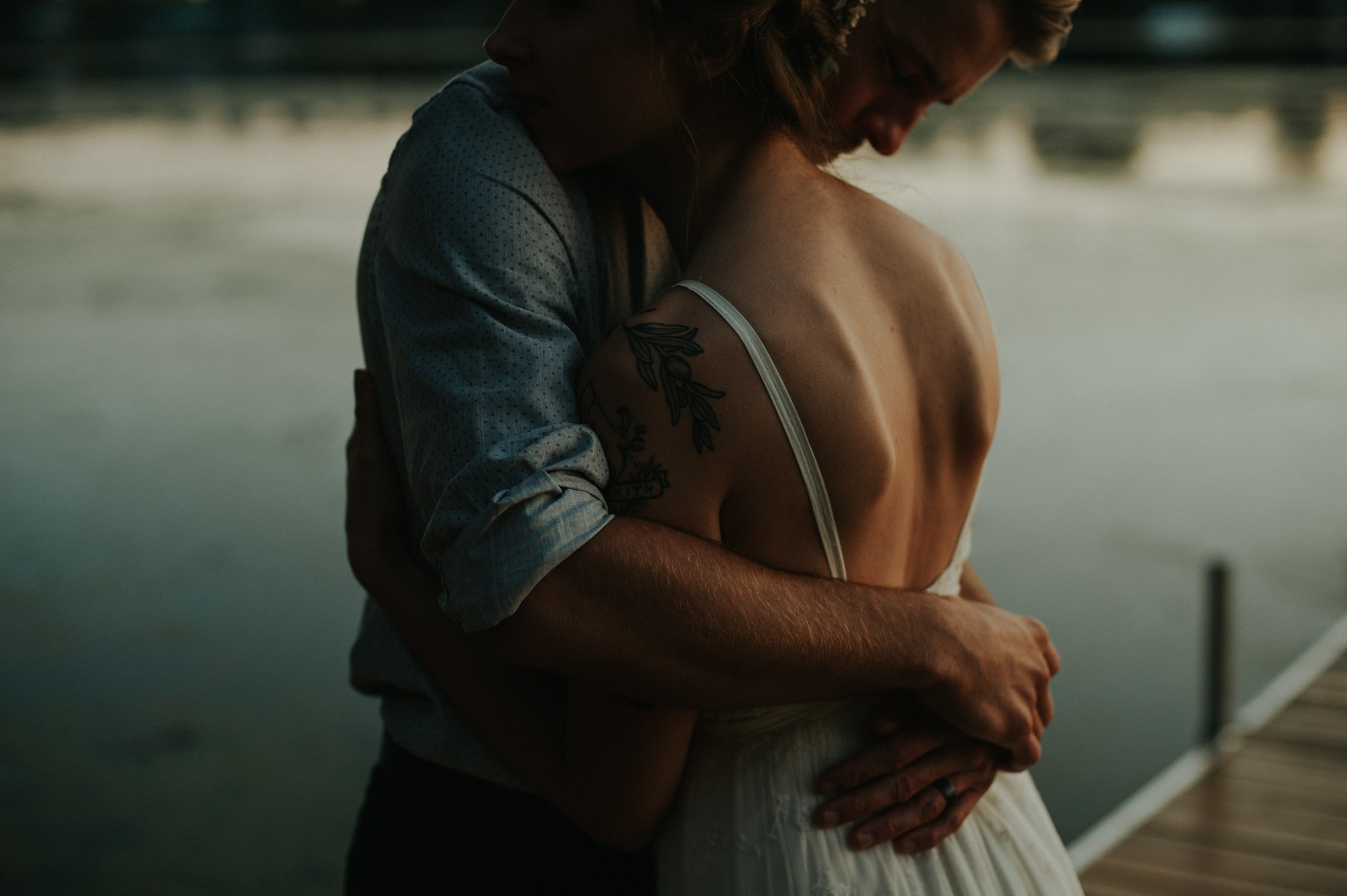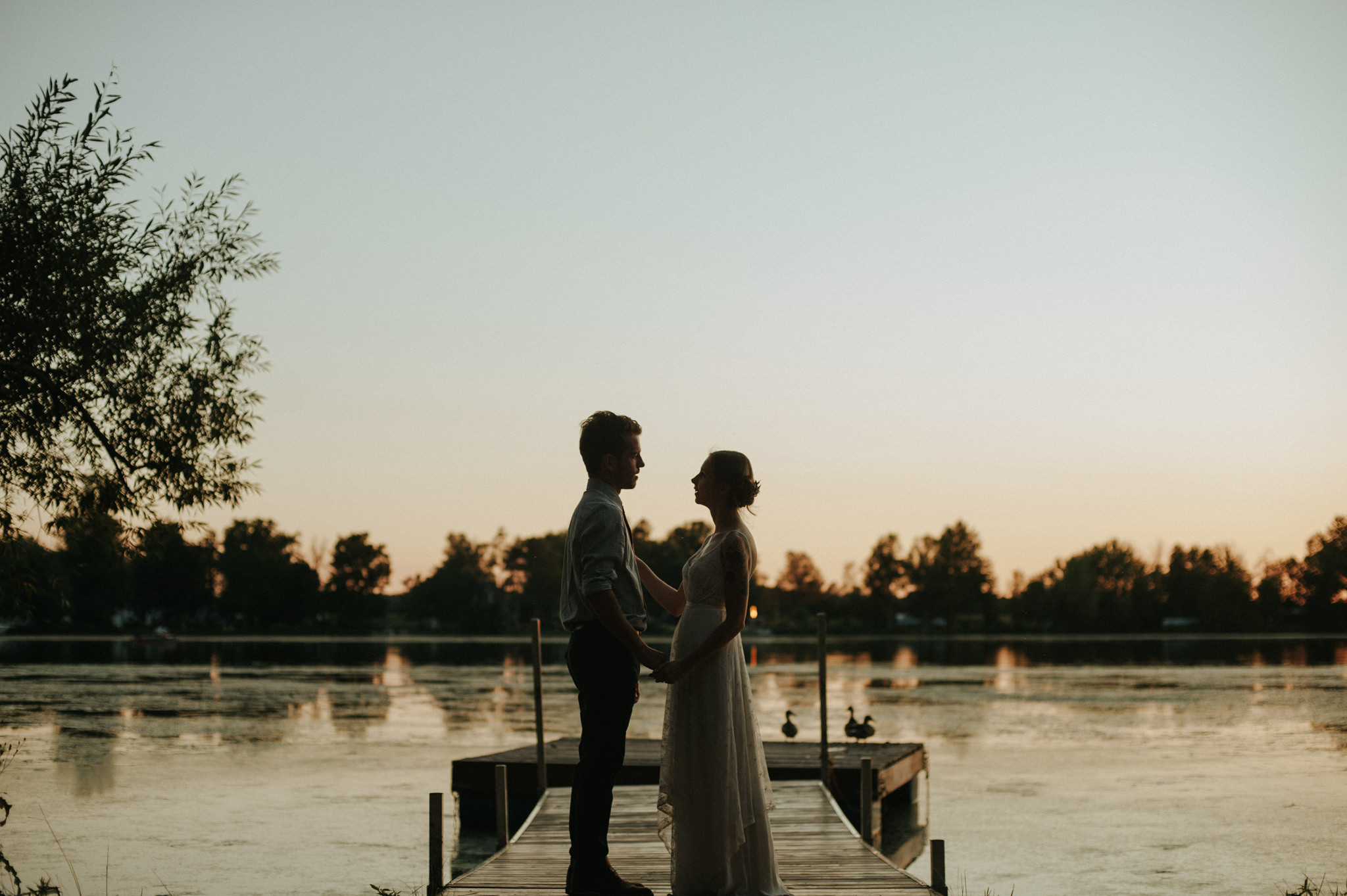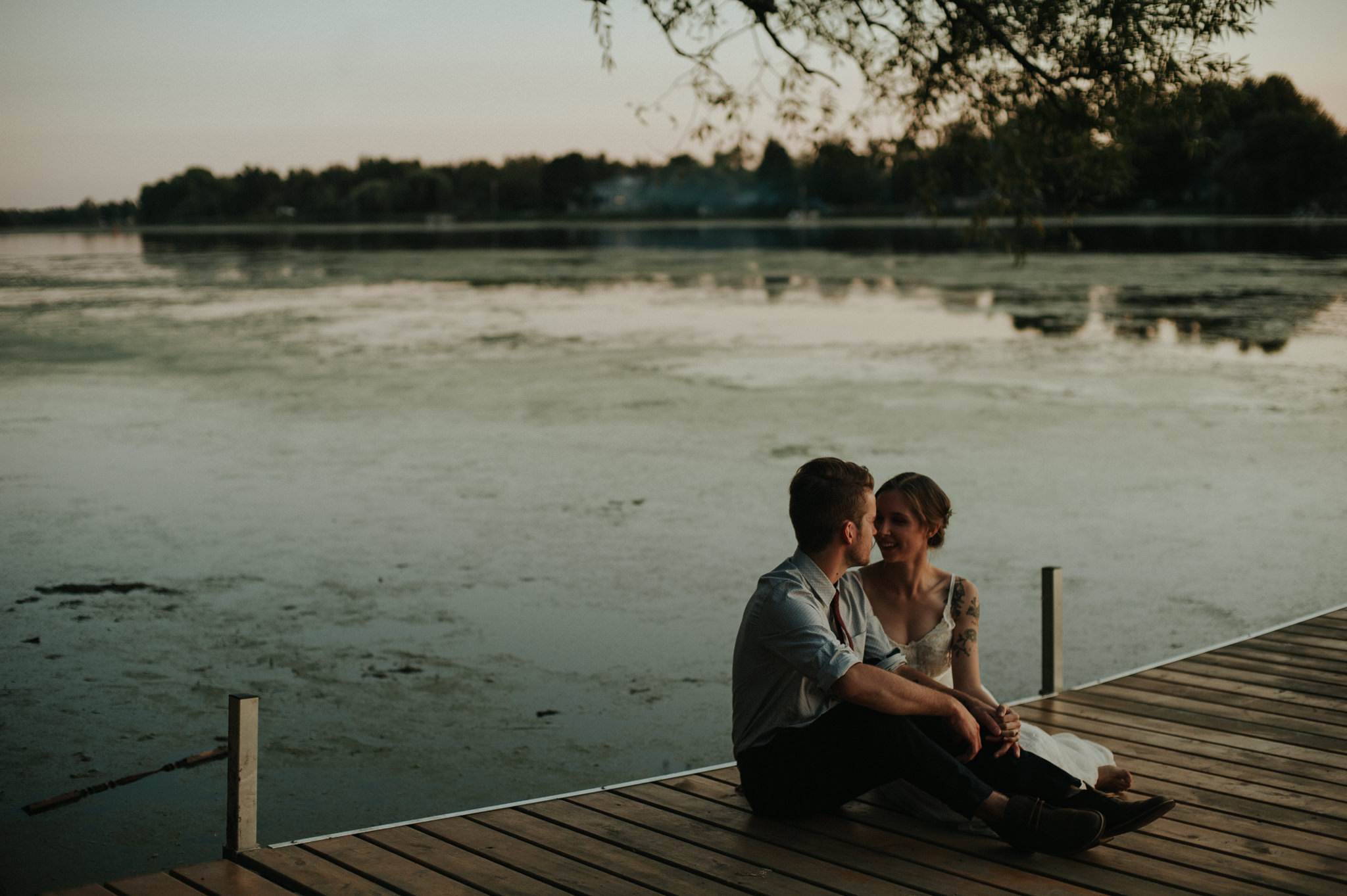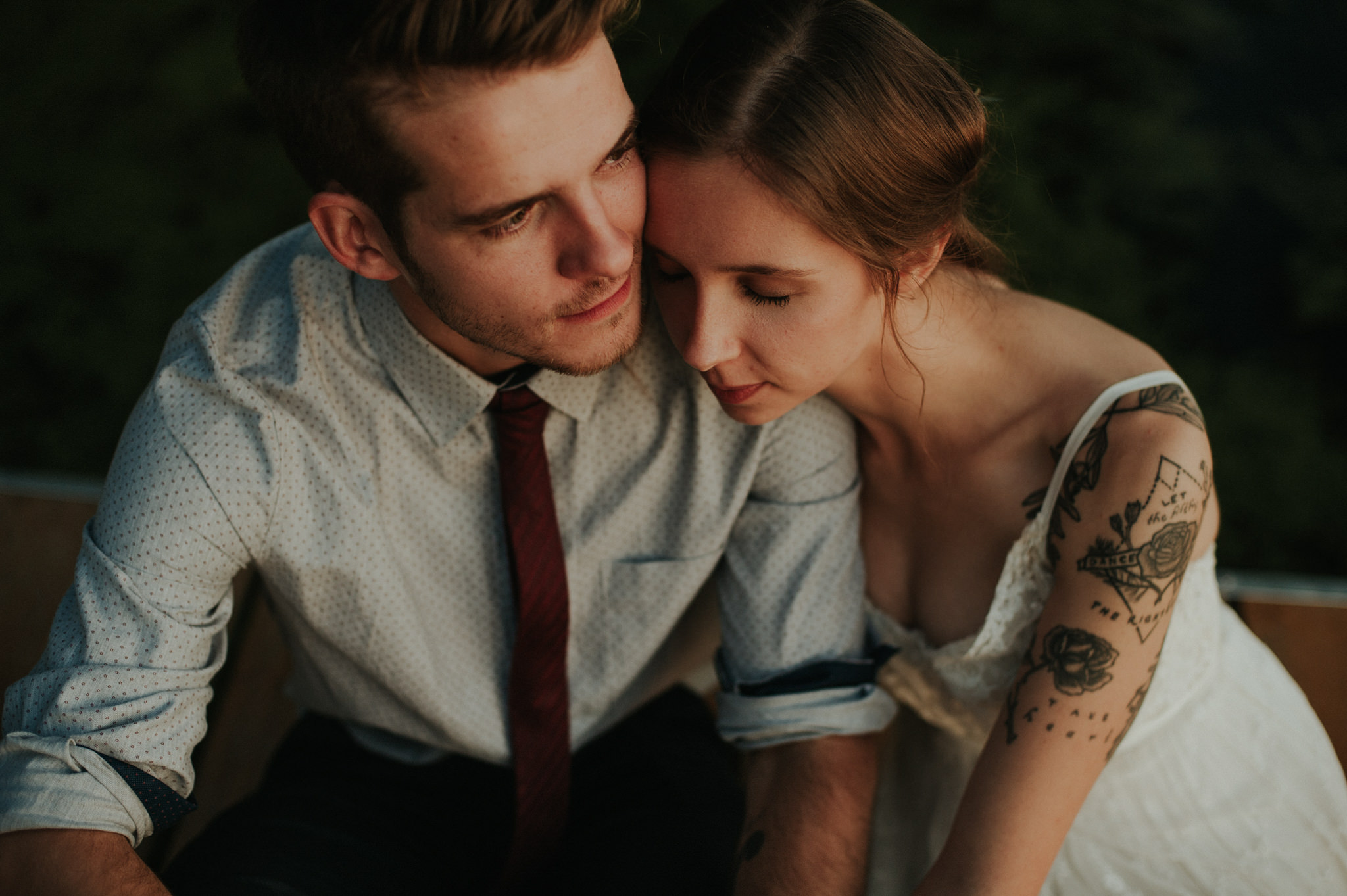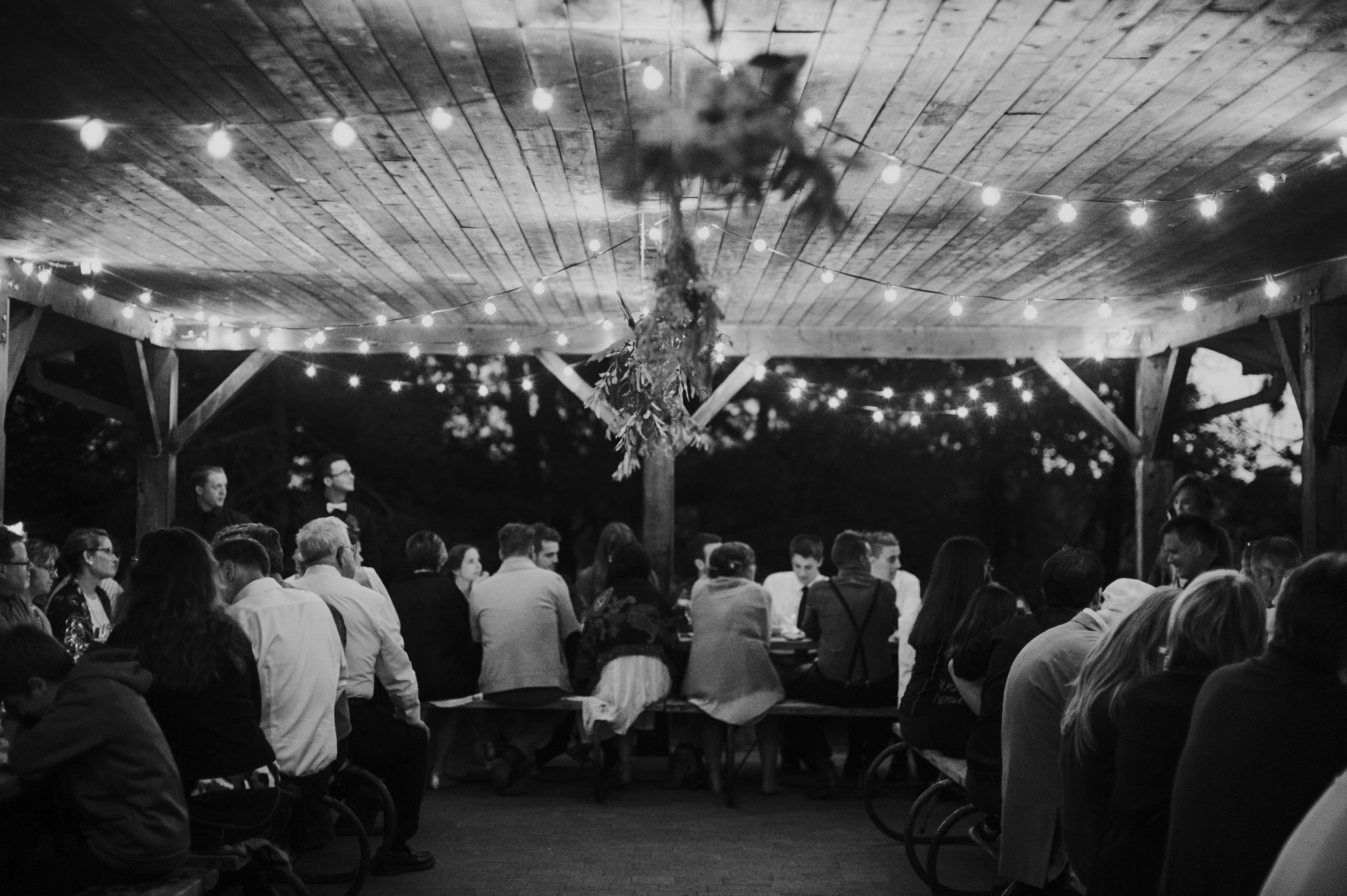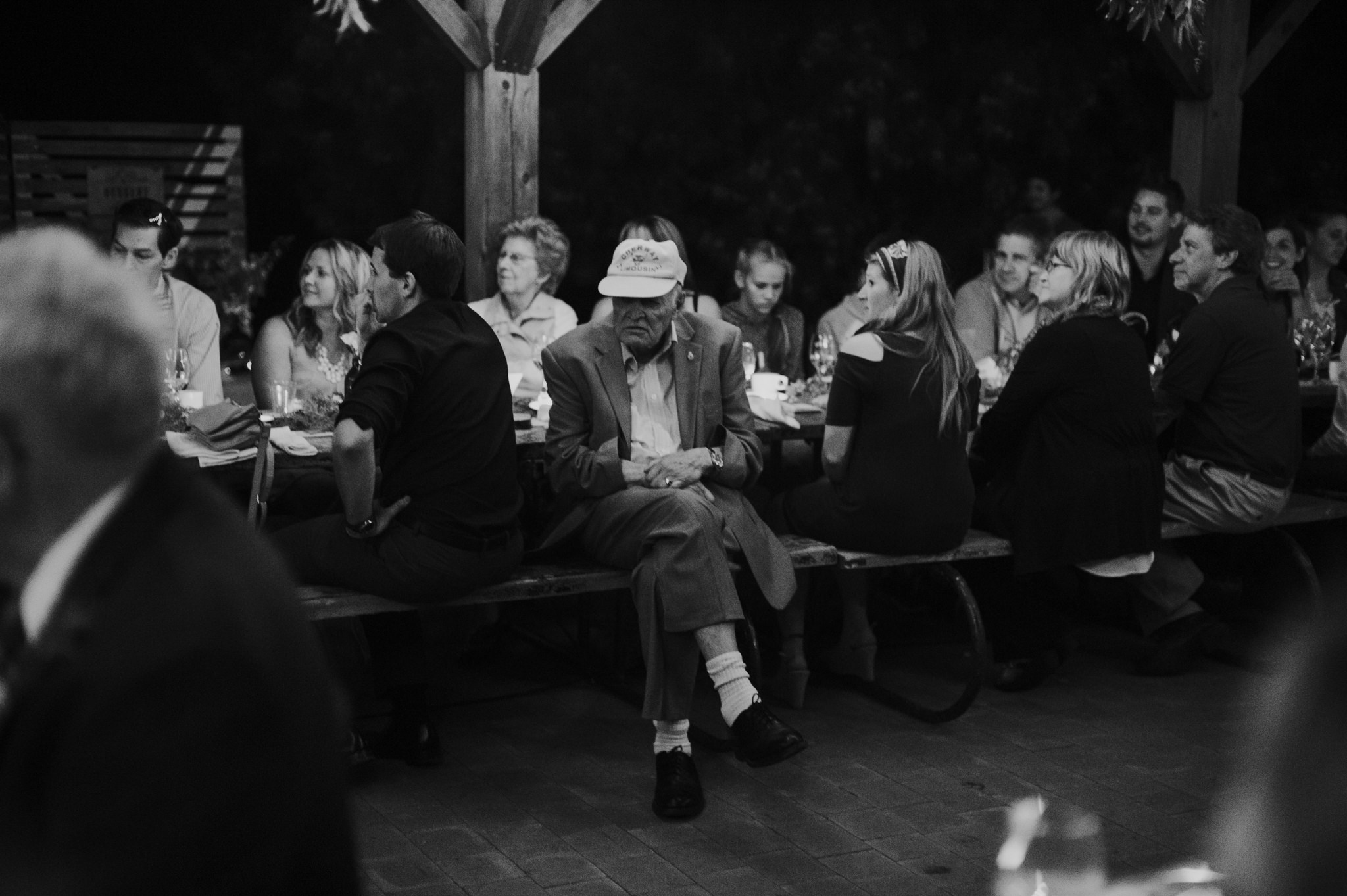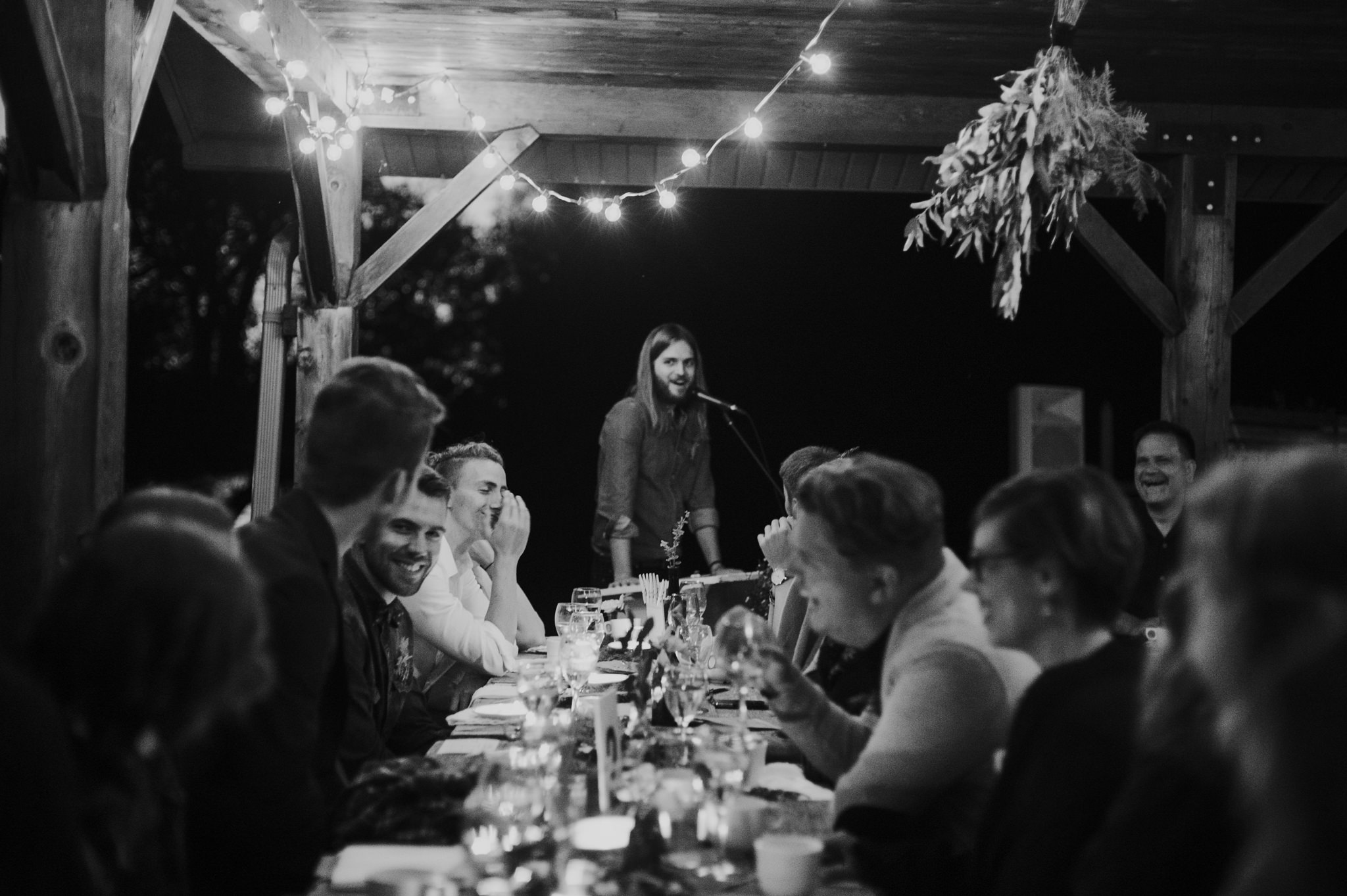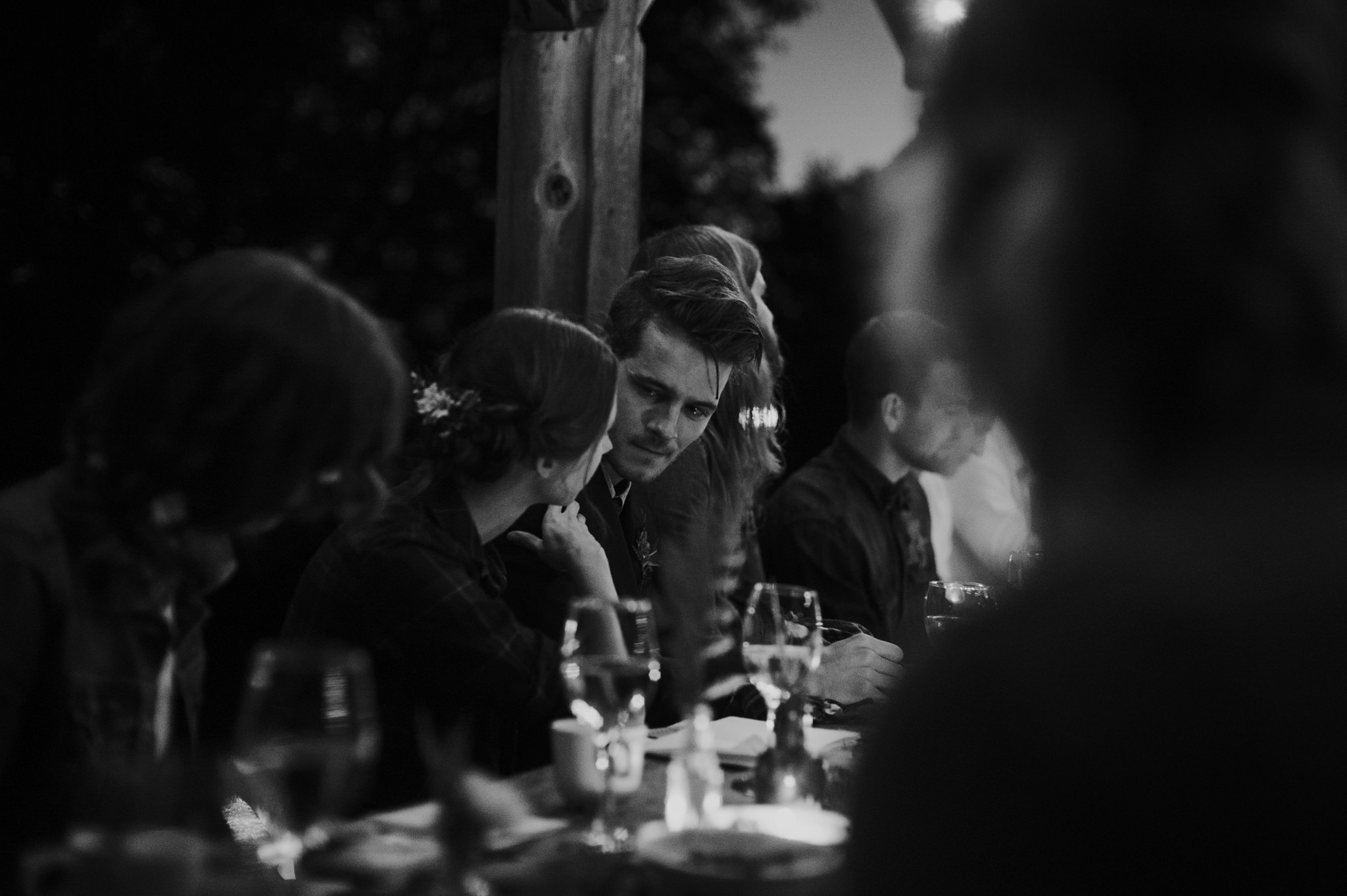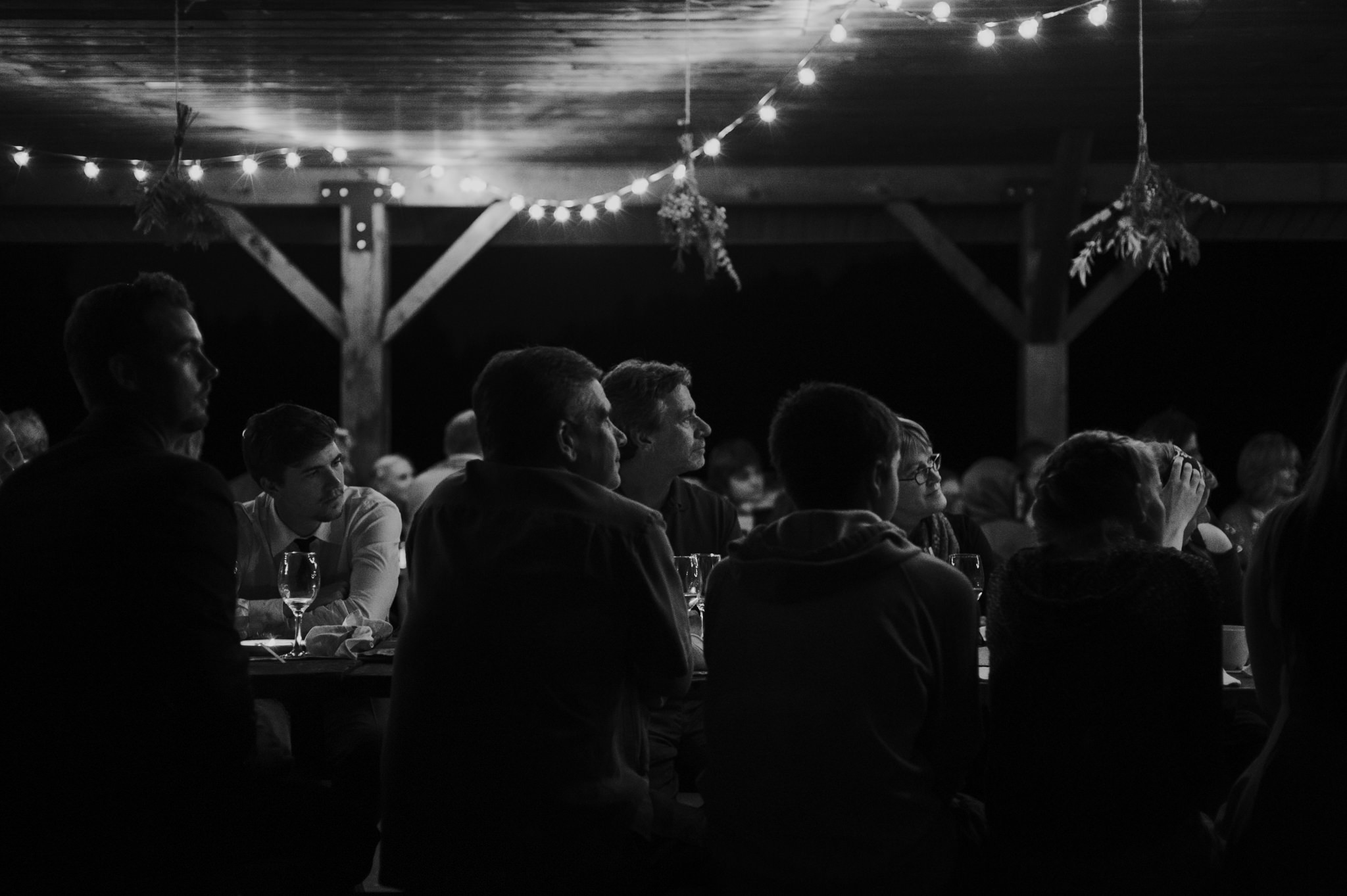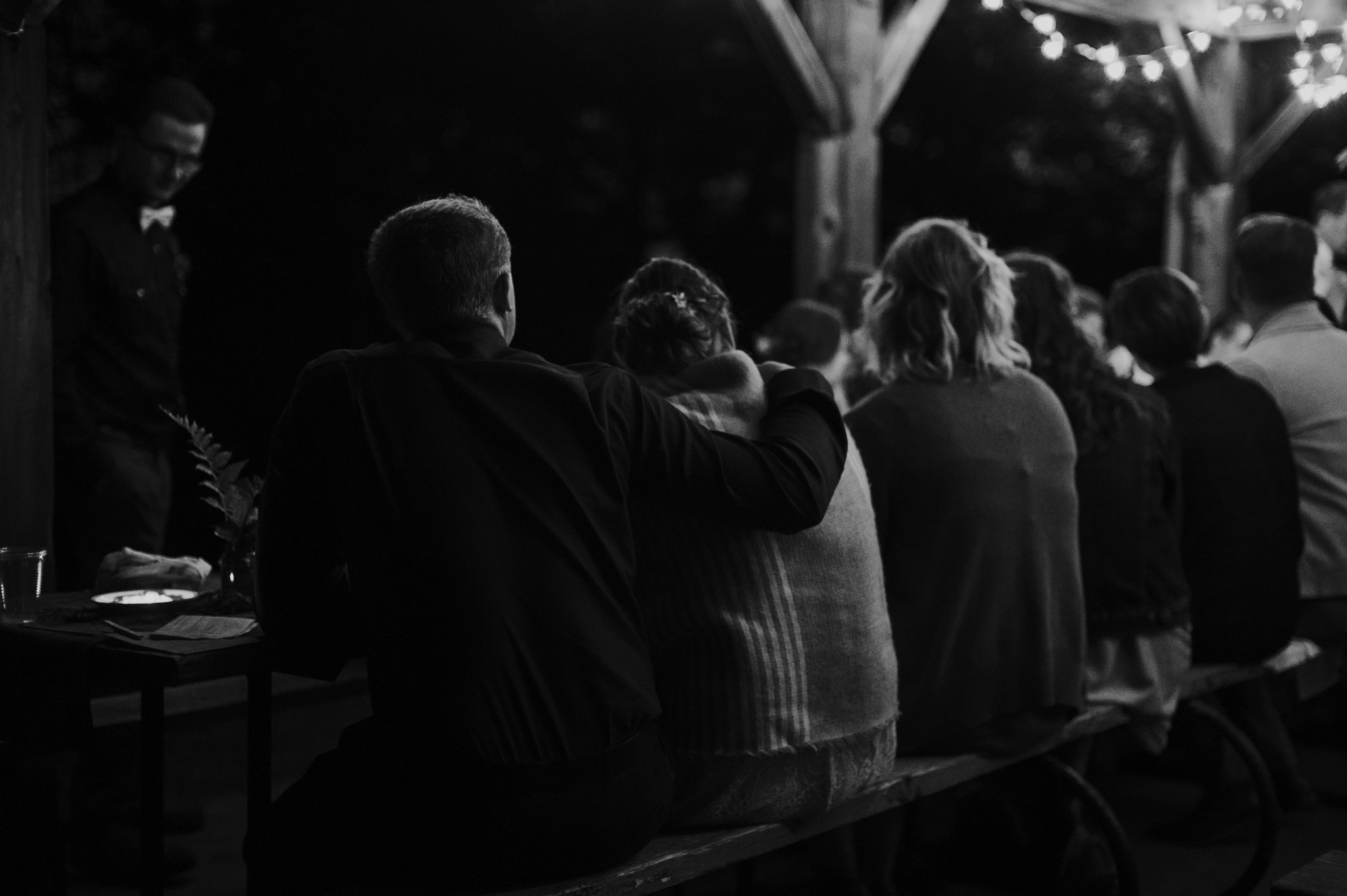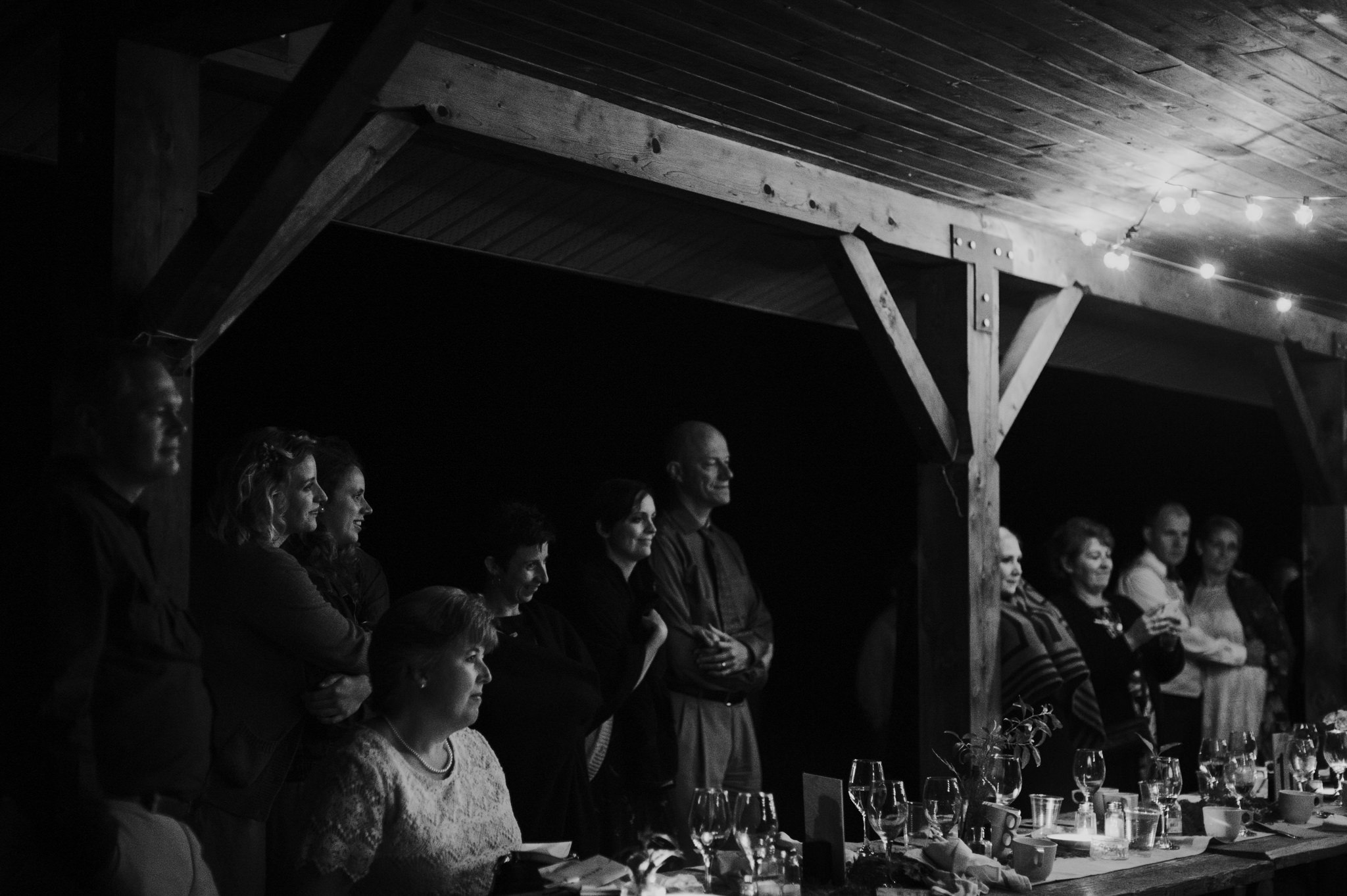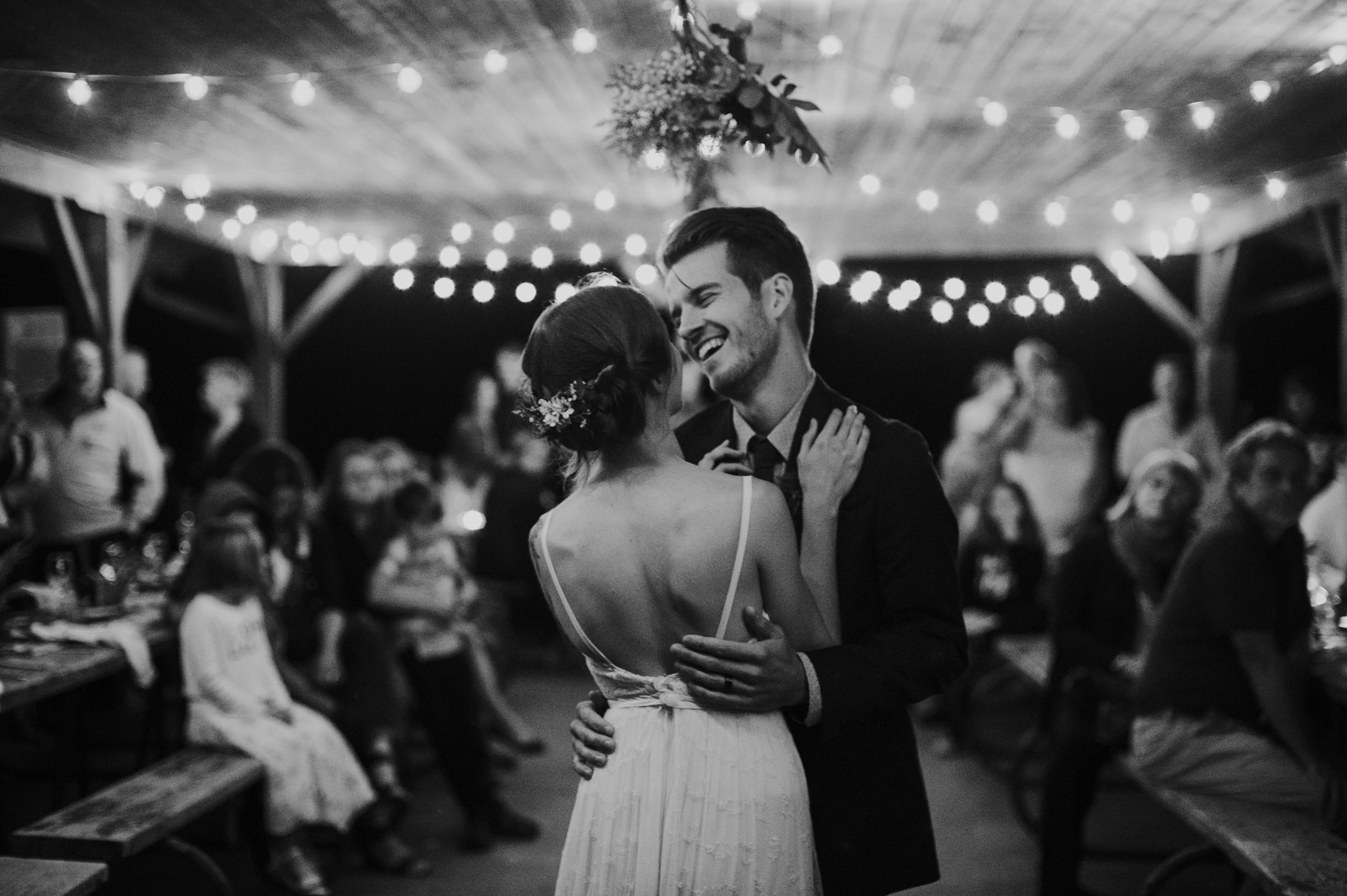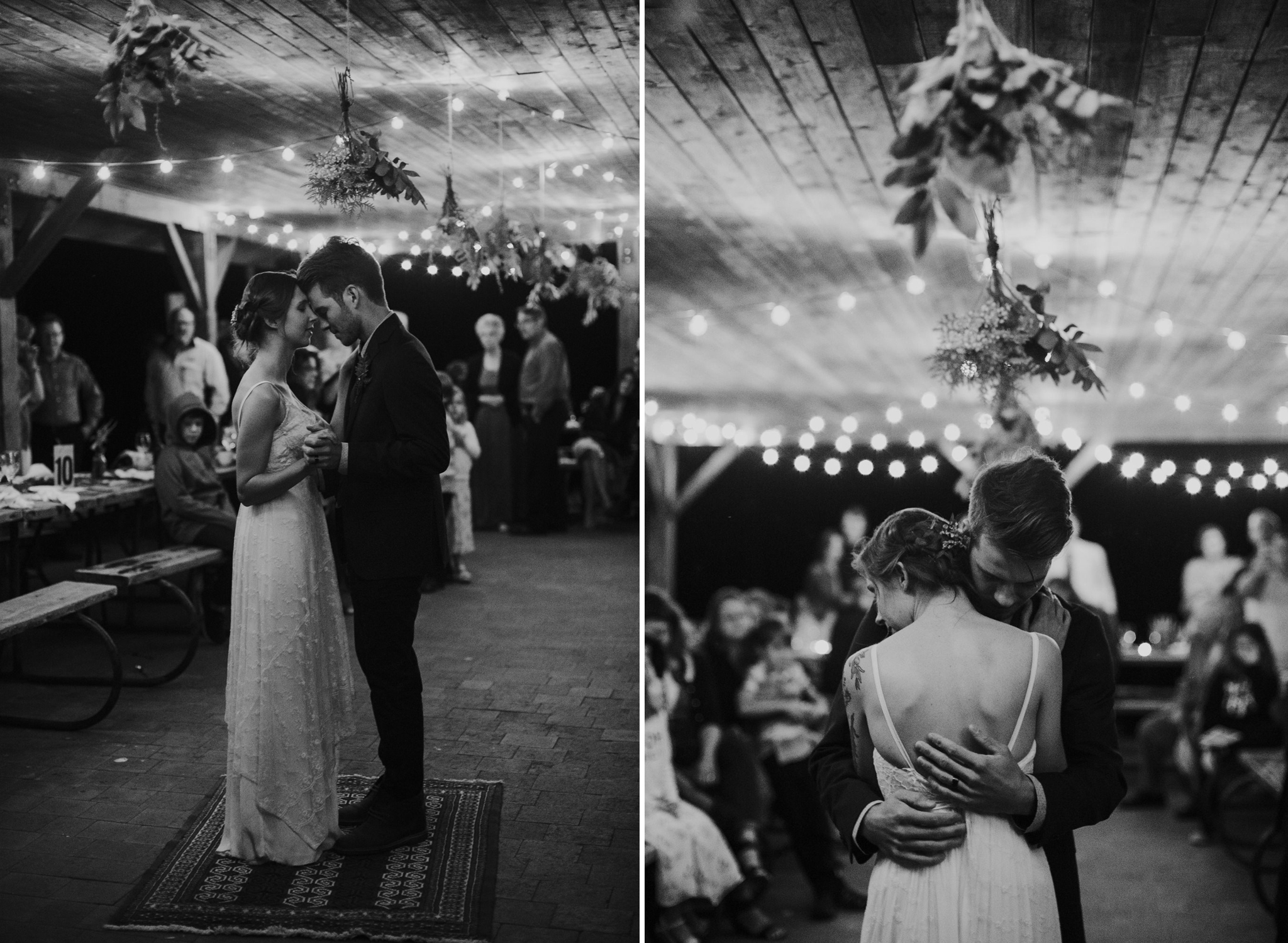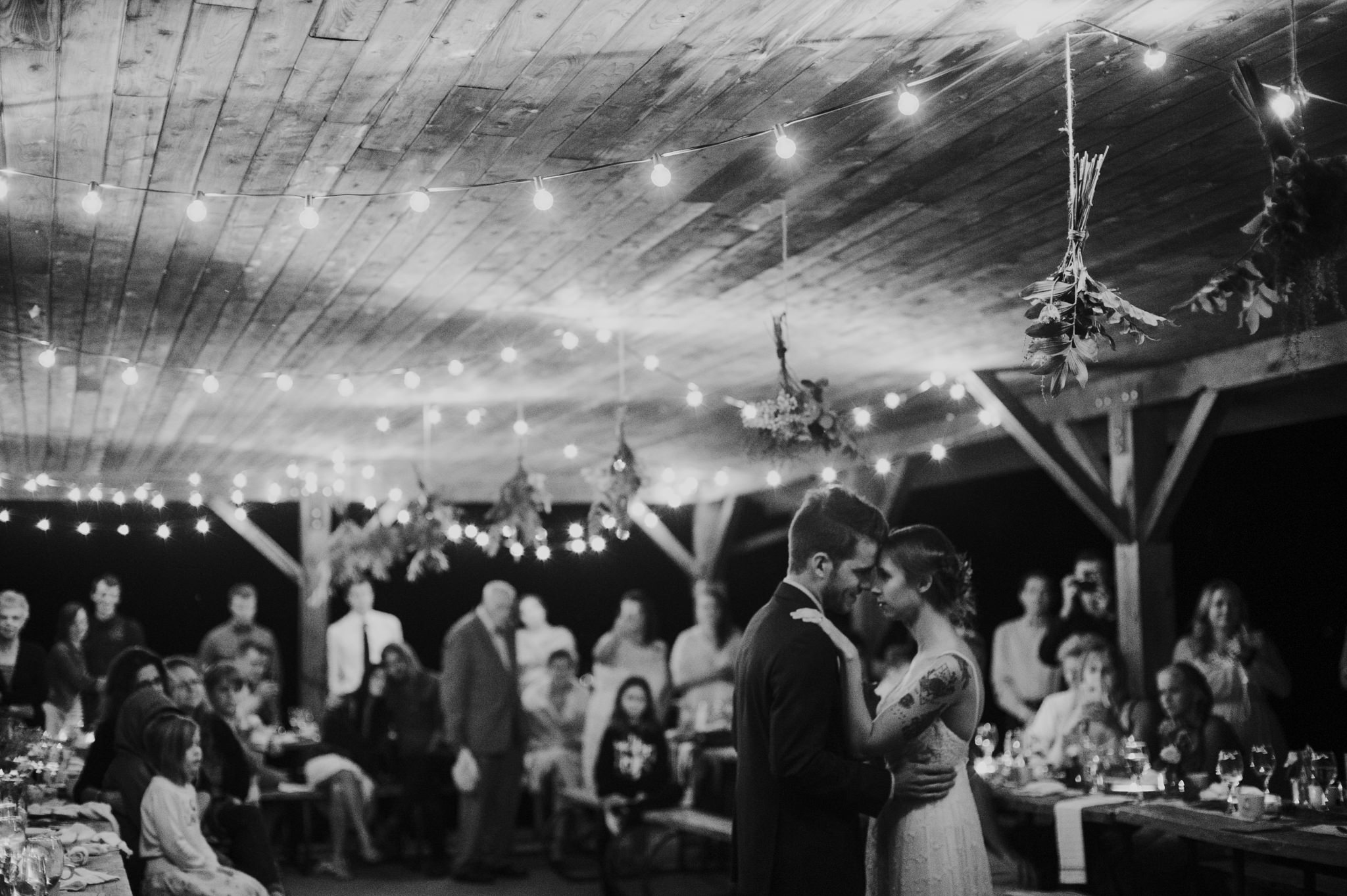 Vendors
Her Look
DRESS: Urban Outfitters Kimchi Blue Dove Crinkle Gauze Maxi Dress + vintage April Cornell dress & grandmother's wedding dress. Put together by mother of the bride.
SHOES: barefoot
His Look
SUIT: Italian wool Marzotto suit jacket from Moores, English Laundry dress shirt from The Bay, H&M Chino's, Frank & Oak Classic Leather Belt, April Look tie
SHOES: Clark Desert Boots
INVITATIONS: Designed by bride
FLORALS: hand picked and arranged by bridal party
CATERER: friend of bride & groom Melissa VanNoppen
DJ/MUSIC: playlists arranged by bridal party
OFFICIANT: Friends and mentors – Eric Versluis and Ben Albrecht for the Handfasting
PROCESSIONAL: Ben Howard – Promise
RECESSIONAL: Lord Huron – She Light A Fire
FIRST DANCE: Gregory Alan Isakov – Words