Congratulations on crossing off another thing on your to-do list! I'm so excited and honoured to be able to share in your celebrations and capture your day. I know you may think I'm a magical unicorn wizard that never takes a bad shot...and you're right. But it's honestly because I like to be prepared and part of that is educating YOU so that together we can make your day the best ever. I've made a little list, it's not long but it holds some really valuable information for you. Take a peek, let me know if you have any questions at all. I'm here for you!
This is a beautiful time to capture genuine pre-wedding images. However, sometimes the energy can be overtaken by aesthetic. A cluttered or messy room without natural light can take away from the beauty of the moment.
Window light is the best! Try to pick a location with lots of window light to avoid the use of artificial light. I typically turn off overhead lights and lamps. Your makeup artist and hair stylish will need as much light as possible, so I always suggest that you have them set you up right beside the window.
Hotel rooms often do not provide enough space or natural light. I recommend some alternative options like AirBnB or larger hotel rooms with more space and large windows with drapes. Drapes allow me to control the light and we can get creative!
You often don't think about how decor and colours can affect your images. Warm coloured walls such as red or orange will reflect that colour back and makes it difficult for editing afterwards. Try to stick with locations with light coloured walls or for more dramatic images go with dark more earth toned walls and classic decor. Any strong or bold colours and decor should be carefully placed/removed to allow you to be the focal point.
I know there is a lot going on, but try and keep clutter hidden or as minimal as possible. Have one of your bridesmaids in charge of keeping things in order. Keep bags, suitcases, laundry, the garment bags, hangers and food/wrappers/etc in a different room or area from where you're getting ready. I usually go through and do a quick clean up when I arrive to move any unwanted items so they don't get in the way.
I am a firm believer in the first look; an immensely intimate moment when the bride and groom see each other before the ceremony. It can be one of the most romantic and intimate parts of your wedding day. A wedding is a celebration of your love. You invest so much time, money, heart into your day yet you spend half of the day getting ready, away from each other. A first look allows you to spend that much more time together!
It makes for a smoother timeline
A first look allows portraits to be taken before guests arrive. You can also do family portraits at this time, which gives everyone the freedom to enjoy cocktail hour without being pulled away for photos. There is only so much time couples get to laugh and cry and dance with the most important people in their lives who have come to celebrate their love.
There is nothing more relaxing than seeing each other and enjoying a few moments alone before the ceremony begins. It can also be a rare moment when you two are actually alone on your wedding day and privately have a genuine reaction to seeing each other without prying eyes. You can share how you're feeling, hug and kiss and take it all in - all things you can't do when you're at the front of the aisle with everyone watching.
The best time for family and wedding party portraits is before the ceremony. Everyone is ready, looking fresh to death and no one will miss any cocktail hour mingling. It is possible to do them post-ceremony, however gathering everyone once they've gone to cocktails can be difficult and time consuming.
If you're keeping your shotlist down to immediate family only, then 20 minutes is more than enough time. I recommend a short list because on your wedding day you'll be surprised how tiring it can be to smile and post with lots of different groups! I work with your family members to gather the required members but I do love when you have a designated person (sibling, wedding party member, someone with a loud mouth and isn't afraid to use it) to help wrangle everyone for each grouping.
Typically I recommend two portrait slots for couples: a first look before the ceremony for about 20 minutes and another at sunset or dusk for another 20 minutes. I will help guide you and direct you so that you are comfortable and you likely won't even know I'm there most of the time! Although I will give a bit of direction, most of the images I capture are candids or unposed.
why do we need two sessions?
I shoot quickly and get a lot in a short period of time. This is great for you since you'll get to spend more time with everyone you love! Because I am quick, I love to get a variety of photos during different points in the day. If your ceremony is later in the day, close to sunset, we can merge these two sessions together and do your portraits right after the ceremony to take advantage of the pretty light.
We get that pretty golden light right before and after the sun sets. I love shooting right as the sun is setting and for the 15 minutes afterwards. During this time the light is muted and soft, and when I capture more of my "moody" images.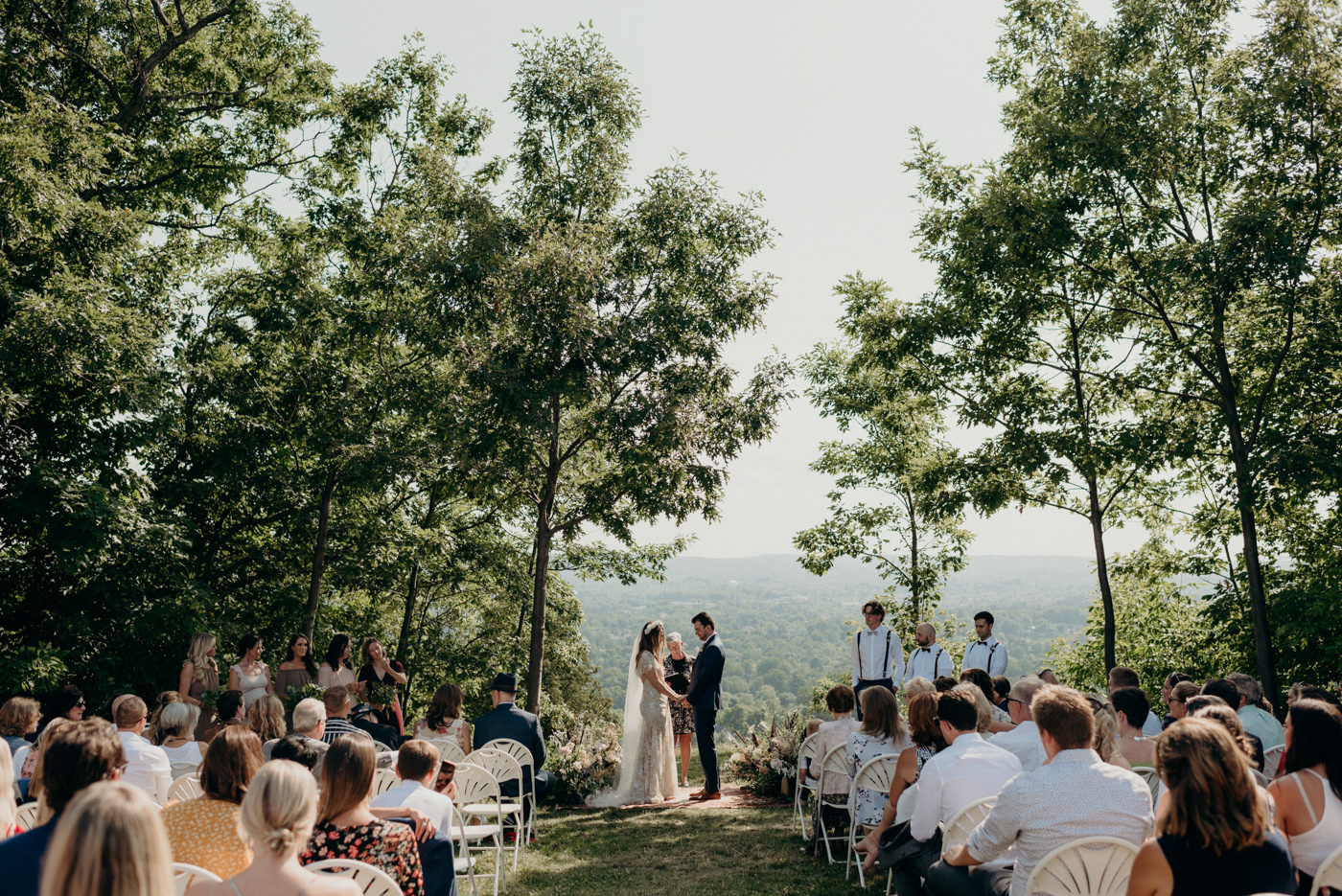 I love outdoor ceremonies in nature. The light, the backdrops and the freedom to move around is my favourite. Sometimes the sun can ruin a ceremony if it's too bright out. Outdoor ceremonies in the middle of the afternoon can be gorgeous, but ensure you do so in a shady spot. I always recommend that you try to find a large tree or somewhere with overhead shade. The last thing you want is to be squinting at a time when you should be smiling and looking into the eyes of your love. If there is no shade available, and your ceremony is close to midday, try to backlight yourselves. What that means is to have your ceremony set up so that the sun is behind your officiant, allowing for even lighting. Or make sure that it's all set up in the shade.
Living in Canada, indoor ceremonies are much more common since the weather can be unpredictable. That doesn't mean the photos won't be nice, I have photographed so many indoor ceremonies that were beautiful! When selecting your venue, be sure that there is a lot of natural window light. I can't tell you how many dark ceremony locations I've had to photograph in. Ones where there isn't enough natural light from windows so I am left with orange, artificial light. I try to be as discrete as possible, avoiding flash as much as possible, so the available light is a pretty big factor in how your photos will end up looking.
In this day and age, everyone has a camera or phone. It's absolutely amazing what we are able to shoot and share around the world, however there are certain times when disconnecting is best. Your guests should give their undivided attention, listen to your vows and enjoy the moment. As you plan for your wedding day, here are a few points to consider:
It's a shame to look out onto a sea of cameras
I have no problem with guests snapping selfies or Insta Stories during cocktail hour and the reception. I do ask that they remain seated and put their cameras away during the ceremony. Guests leaning over into the aisle to get their iPhone or iPad shot can more often than not absolutely ruin my shot that I've lined up for and wait for the perfect moment only to have them step in front of me (or stick their hand in front of my camera). They can also get in the way of you seeing each other as you walk down the aisle. Also, I absolutely do not like when they follow behind my shoulder and take photos during the portrait session. It's mostly distracting for you and ruins the intimate moment, making you feel uncomfortable. This makes it harder for me to make you look and feel relaxed.
I cannot tell you how many times I've turned over to capture genuine reactions from the mother of the bride / groom only to find them fumbling with their phone, trying to snap a photo. They're missing these moments, ones that don't last that long, to get a photo on their phone that I probably captured and it's probably better. Remind your parents and loved ones that I've got it covered and they can sit back, relax and truly take in the love and energy in the room.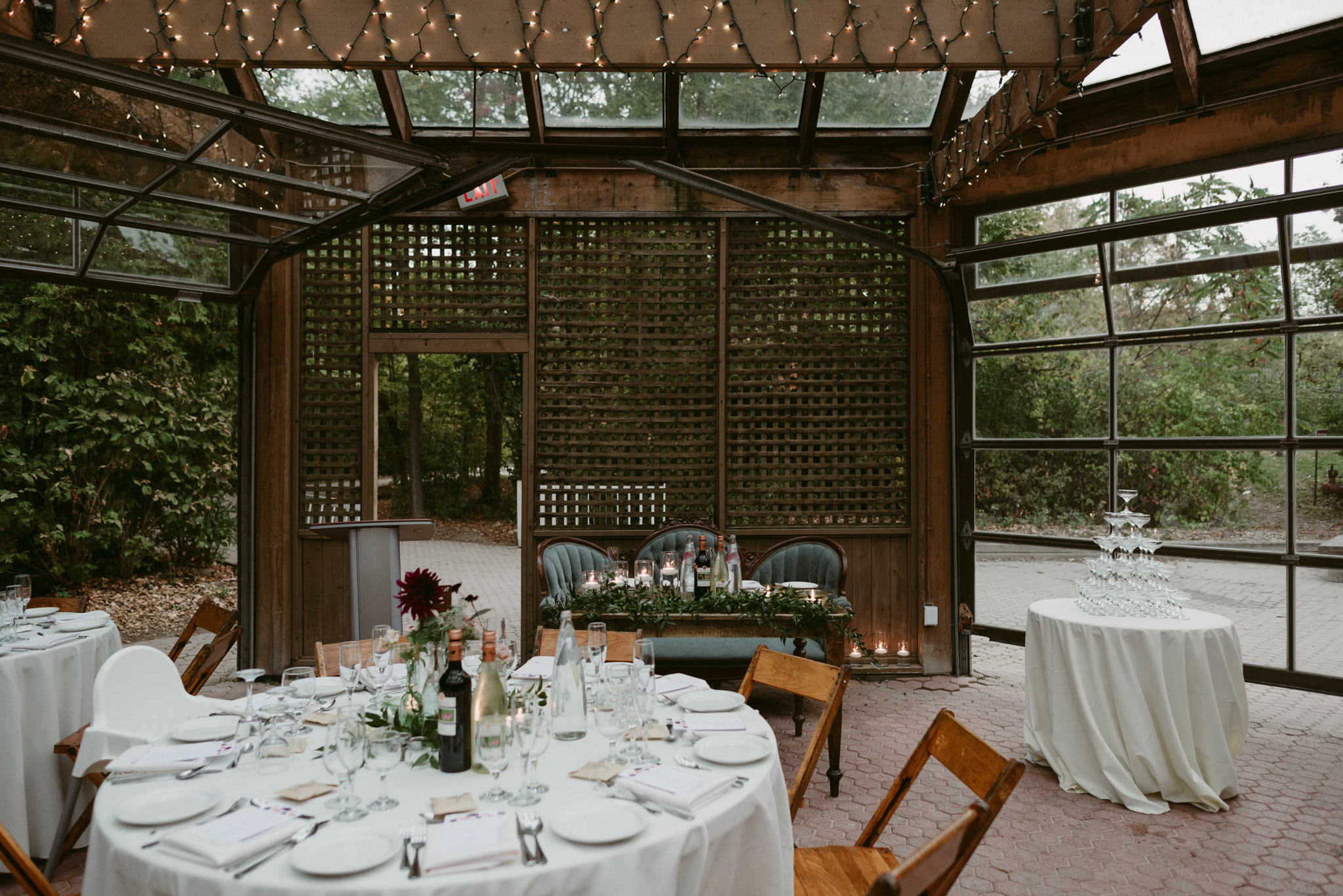 Some venues are absolutely gorgeous until the photographer shows up and realizes there's no windows anywhere, little to no candles on the table and harsh overhead orange lighting. Below are some tips to make your reception the talk of all your guests and make for some gorgeous candid shots during the reception.
I love to avoid my flash whenever possible. This helps me be more discrete, so you're guests don't feel awkward and for the most part don't even know I'm there.
Here are ways to help me:
- bistro string lights are a great way to light up a dim space
- tea lights and large candles are a great addition for light
- candles on the table help light up guests faces, making for better photographs
- the best lit venues are a mix of windows, candles and overhead lighting
- a spotlight on you for your first dance makes romantic photos
- avoid venues that rely heavily on overhead pot light systems
Ensure there is a clear view of your faces at the head table. Do this by avoiding large (tall) centrepieces in front or between the two of you (including your bridal bouquet) as well as large bottles of wine in front of you (place them off to the side).
Seat yourselves and have the podium close to in front of you, so that you can look directly at the speakers and not crane your neck to see them. This allows for more beautiful head-on shots of your reactions.
Lastly, it is ideal for me to be served dinner as soon as dinner begins, so that I can quickly eat while guests are eating and be done in time for toasts, speeches and dances. Some venues will insist on serving vendors last, not knowing that this will leave me with very little time, sometimes no time at all, to eat before having to be ready to document speeches or other key moments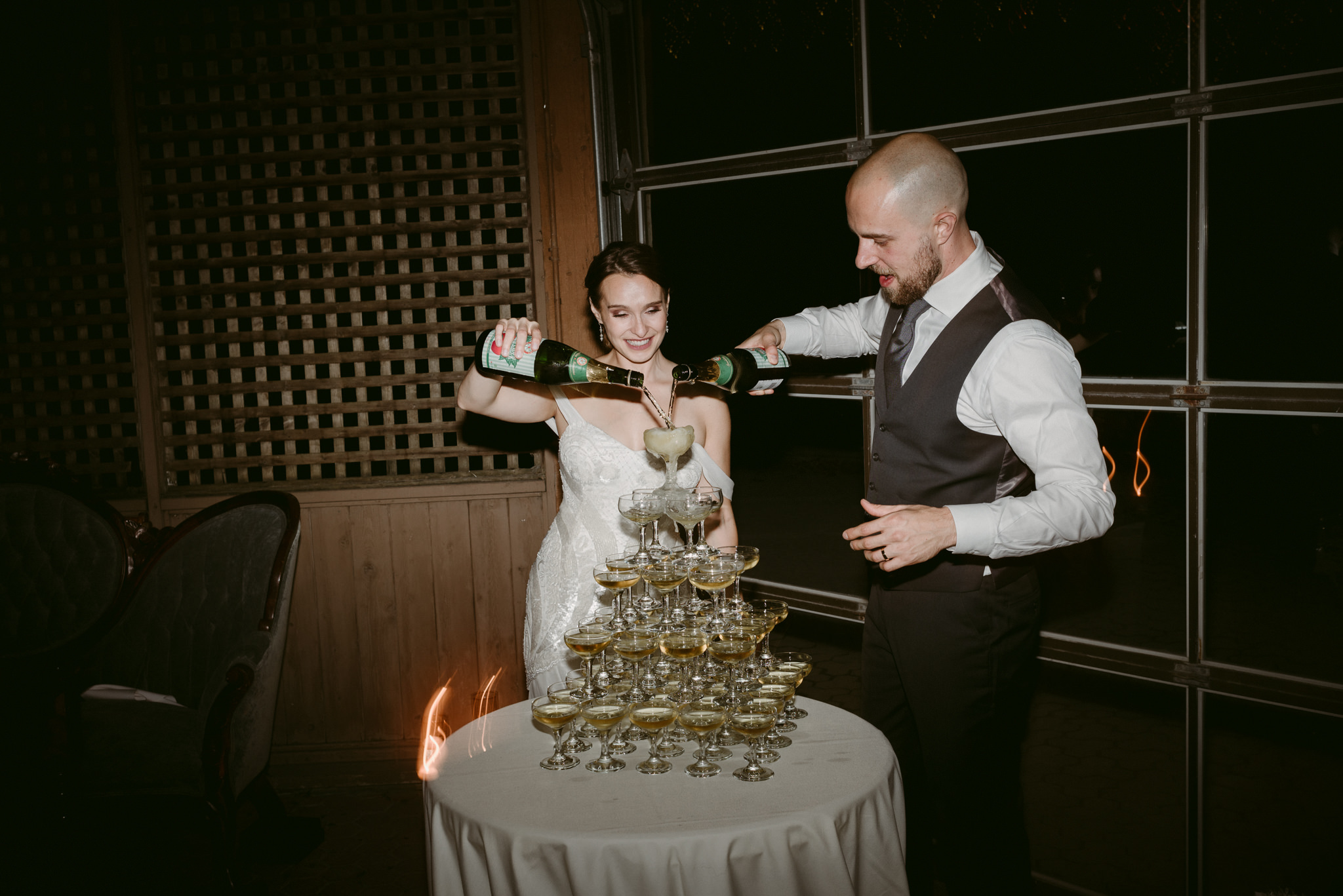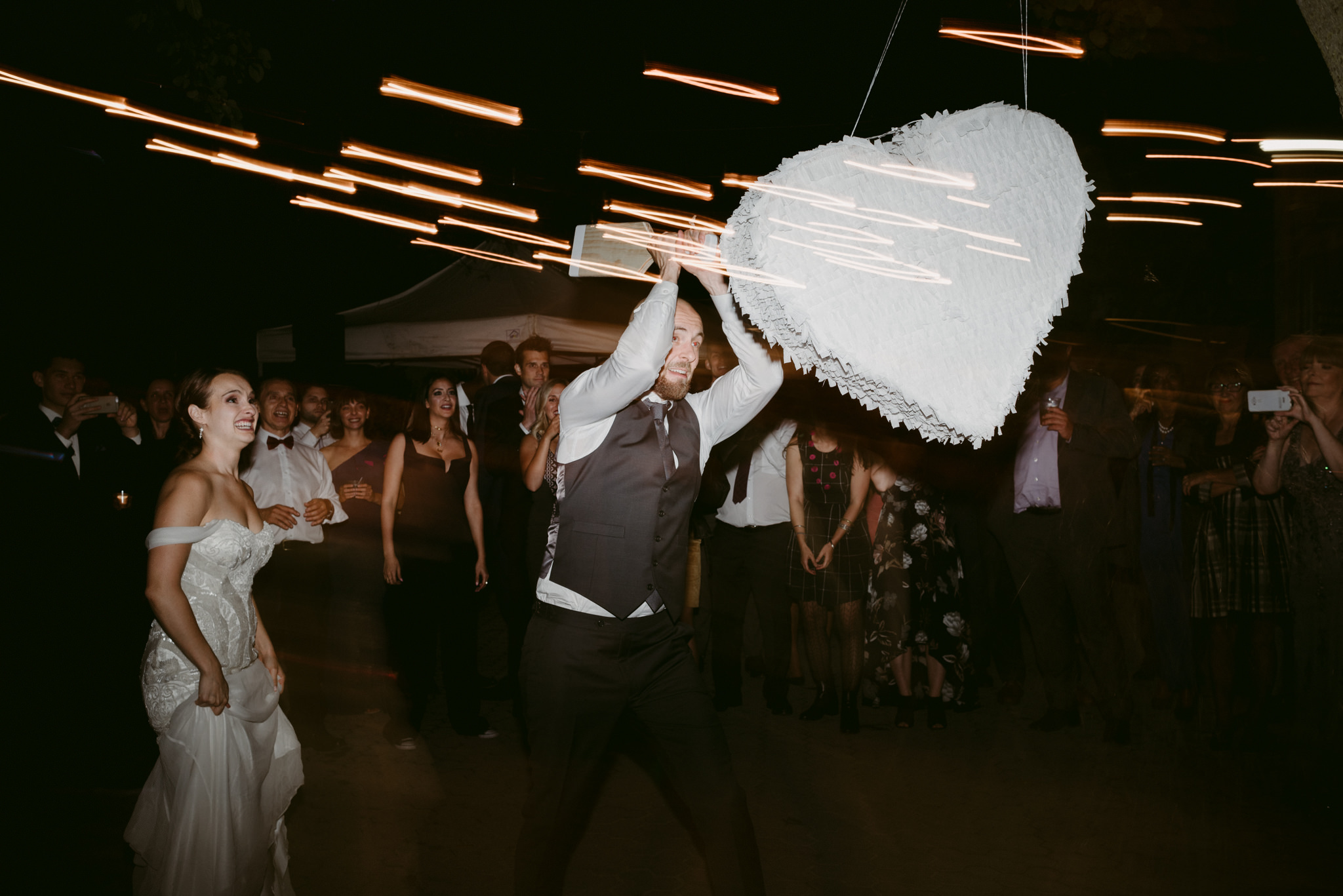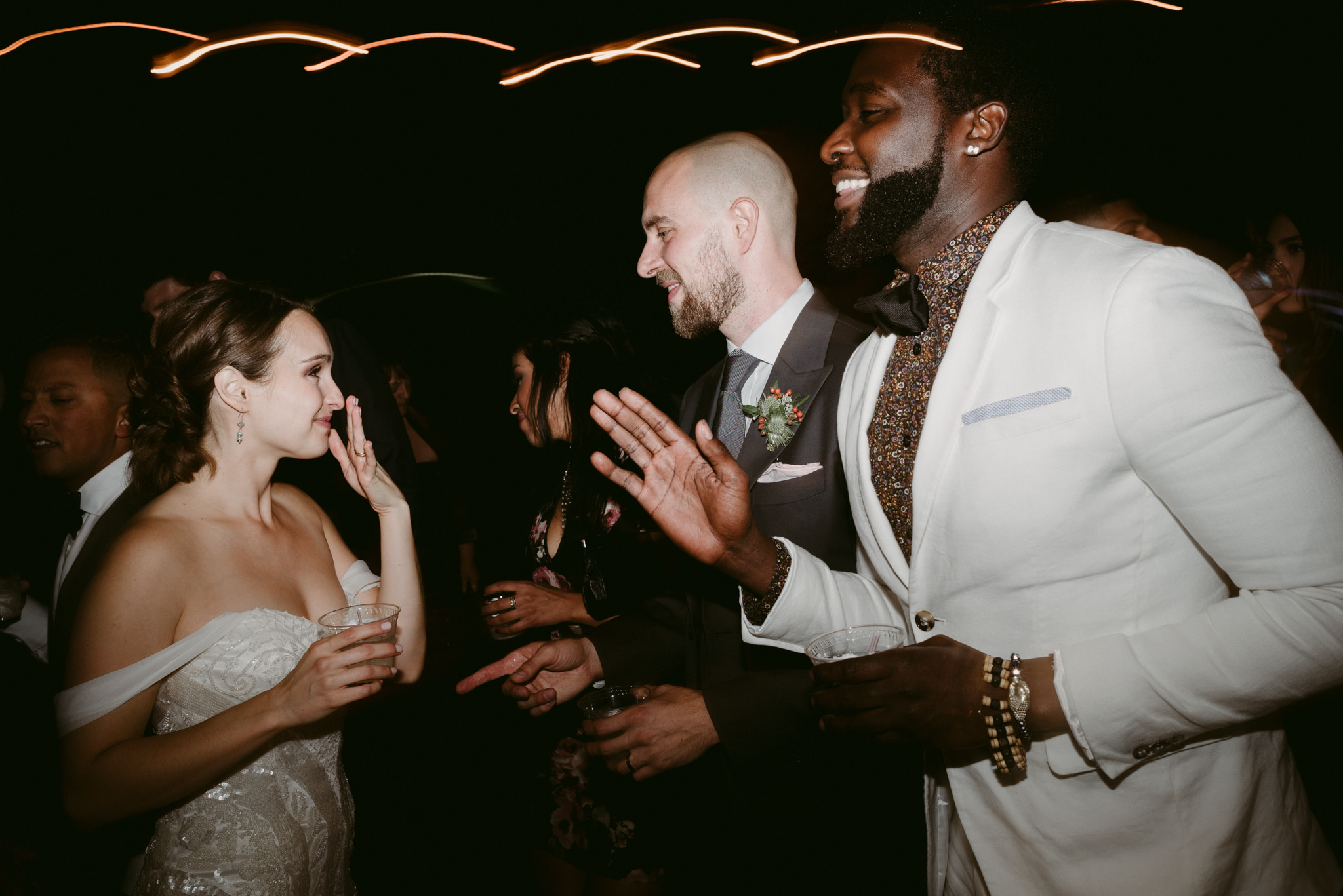 I don't want to make it seem like I only like natural light. I do use flash and love the images I create! If you are getting married in the late fall and winter and would love your entire reception coverage to have on camera flash to create images like these, please let me know!
I value relationships and other artists who have mastered their craft, so I've put together a list of my recommended vendors. Check it out HERE.