Alex & Anna live in Seattle, but they decided to host an intimate Prince Edward County wedding at Alex's parent's home in Picton, Ontario. They successfully blended Jewish, Catholic, American & Canadian traditions in a wedding celebration I won't soon forget.
What was most important to you when planning your wedding?
We wanted to feel close to everyone there and have our wedding be a balance of both of our personalities and identities. We just wanted things to feel comfortable, relaxed, and beautiful. We both love hosting beautiful meals and gatherings and wanted the day to feel like people were in our home.
How did you chose your venue
Lake on the Mountain is such a magical place, so it was an easy decision for the ceremony. We were looking for an outdoor, relaxed setting by a lake, and it fit. Picton is a place we've been going to for years and we've always loved it there. For the reception, Alex's parent's home was an easy choice because the property is so beautiful and lends itself to a homey backyard party vibe.
Let's talk about your wedding day fashion!
We didn't want to have a look that felt too 'traditional' or gendered, and we didn't want to both be wearing white dresses so we went from there. We both wore jewelry from each of our grandmothers and our looks reflected our personal styles: Anna's was a little more classy, and Alex's was a little more bold & bright. Anna wandered into the wedding section at Anthropologie tipsy and it was the first dress she tried on. She wanted to wear a jumpsuit but couldn't find one, so the dress stuck (also she liked it a lot). We found a small boutique we liked near our house and went there one day to talk about having a dress made for Alex, and the mustard dress was on the rack. Alex loved it instantly!
Any wedding planning advice you'd like to share?
Delegate.
We asked our friends and family to do a lot, and every single person rose to the occasion. We have a lot of talented people in our lives and we were able to spread tasks among them so it wasn't all on a small group. It was also a good way to involve people as we didn't have a bridal party, and in the end it felt like everyone had a stake in it. By entrusting things in others, you lose a bit of control, which is a good thing. Give people good, clear directions and then trust them to come through. They will.
DIY Elements
Alex's Aunts Maureen & Cathy did the floral arrangements for the tables; Anna's Aunt Alise made the small ceramic vases for the flowers and our ketubah; We (and almost everyone we know) made bunting for days; we convened a group of our musically talented friends to be our wedding band; our friend Lauren painted the table signs; our friend Emily and sister Molly made a zine to orient people to Prince Edward County; sister Tess crafted handmade chalkboards; our friend Adam made the chuppah; Alex letterpress printed the invitations and tags for the party favours, and calligraphed the envelopes, place settings, table map, and program. We also had friends make the ceremony possible: Alex's cousin Julia was our day-of coordinator, and our friend Elana officiated.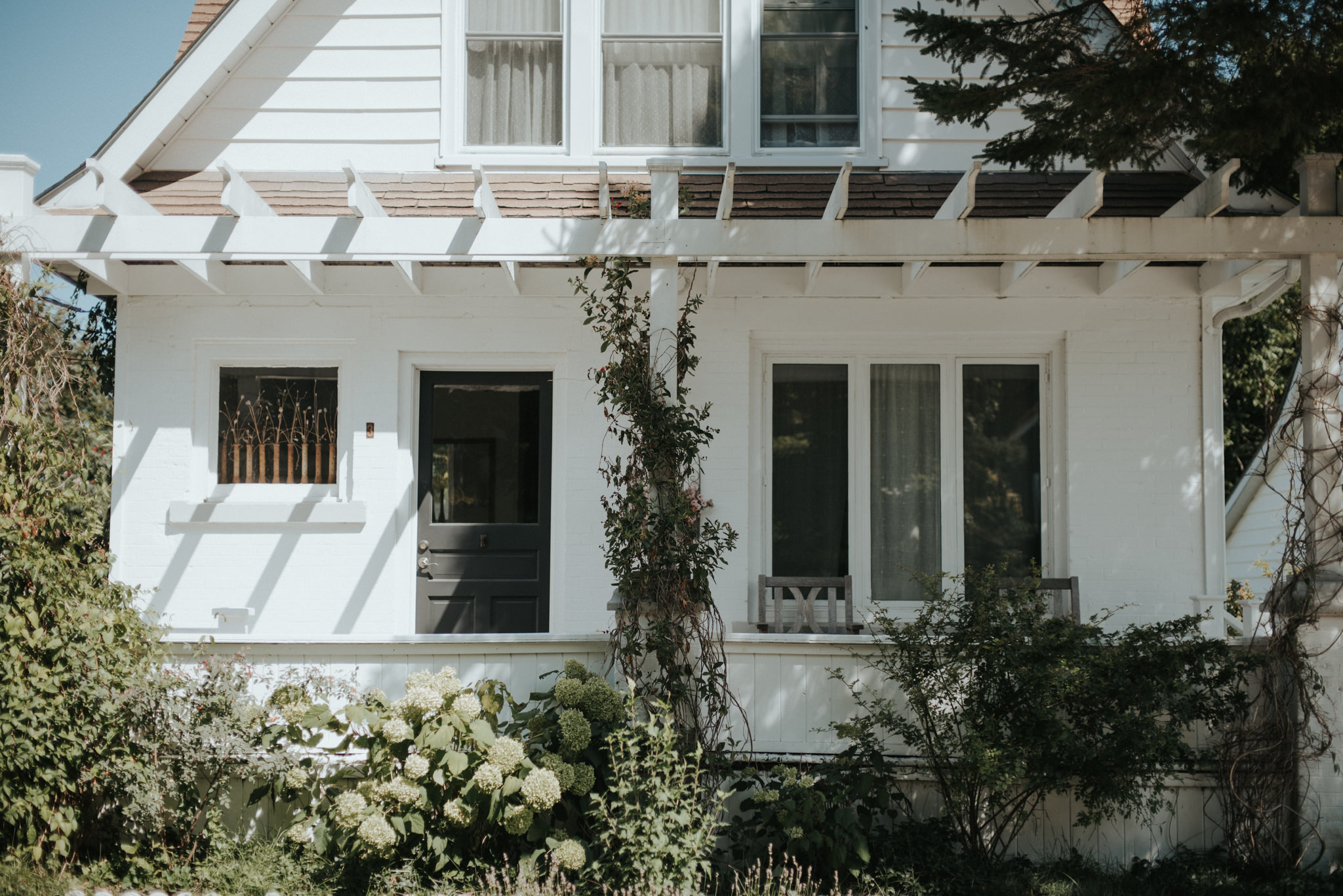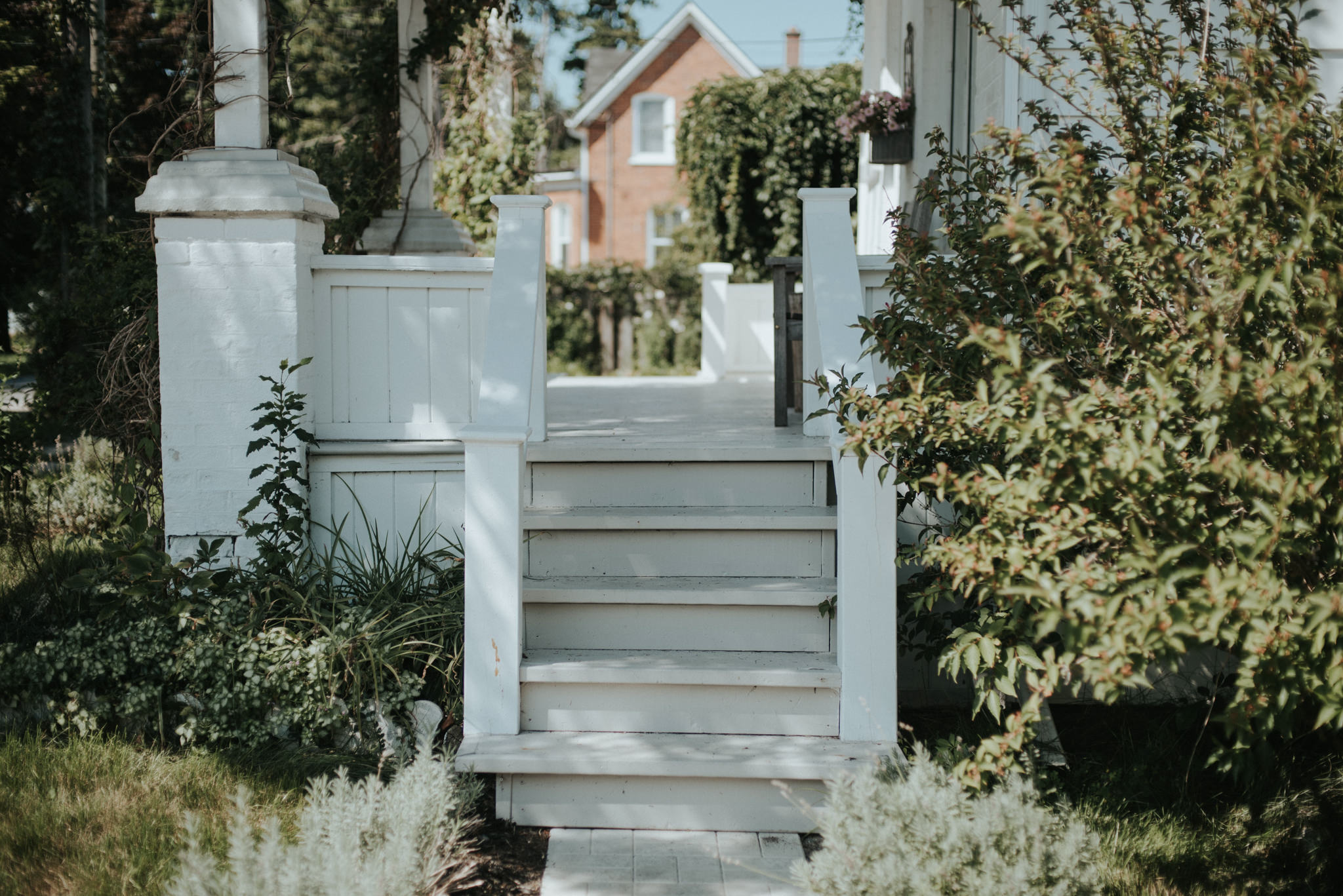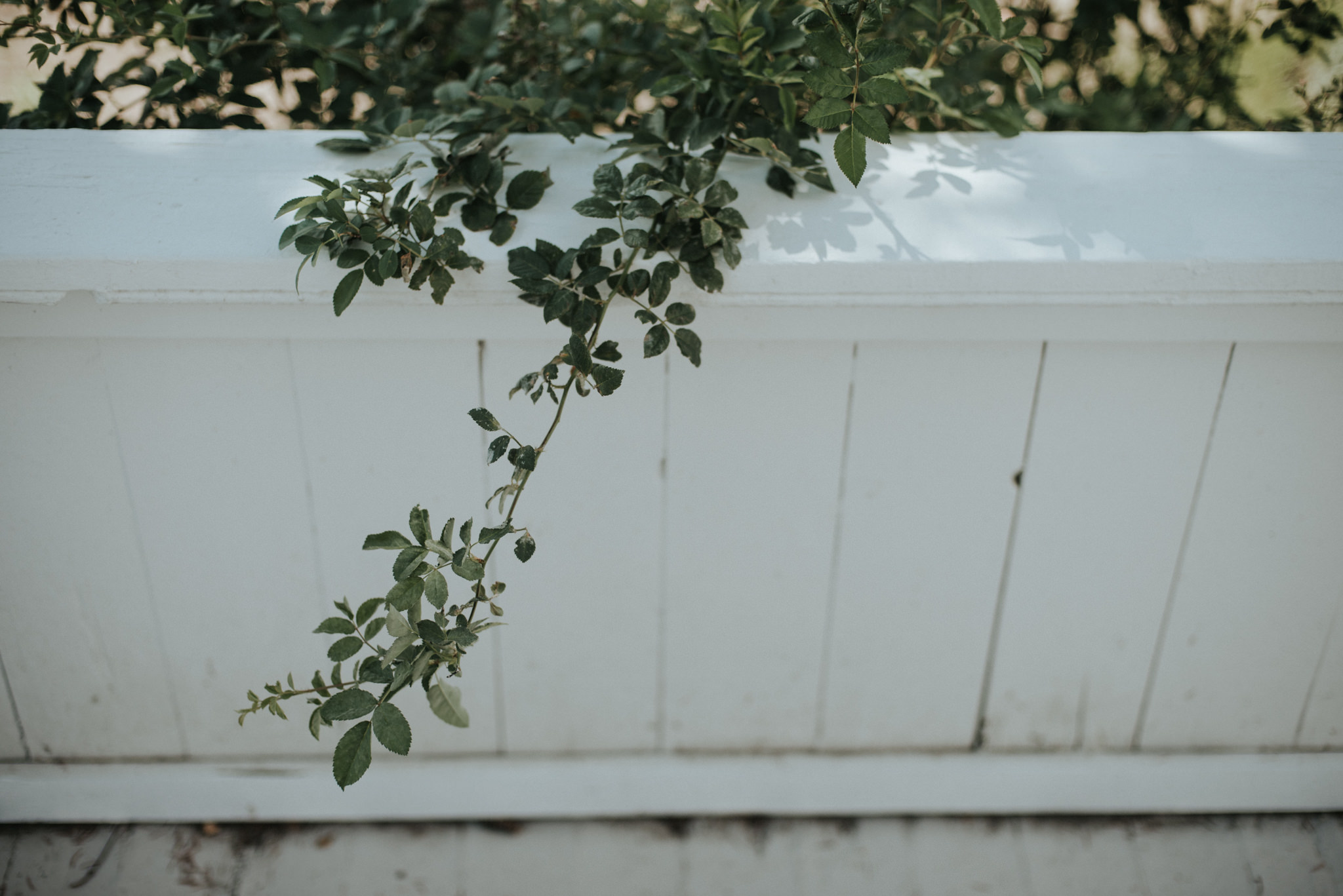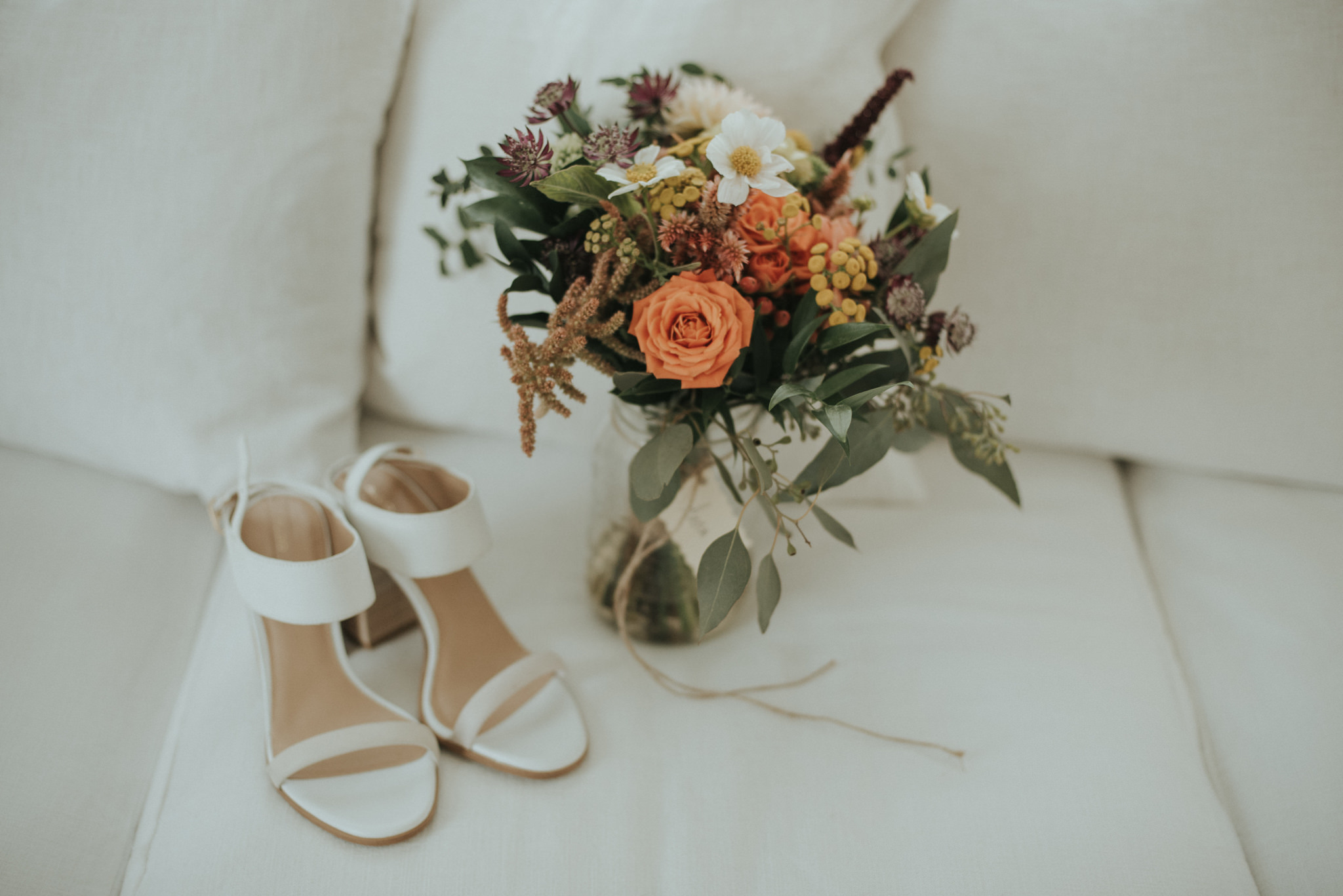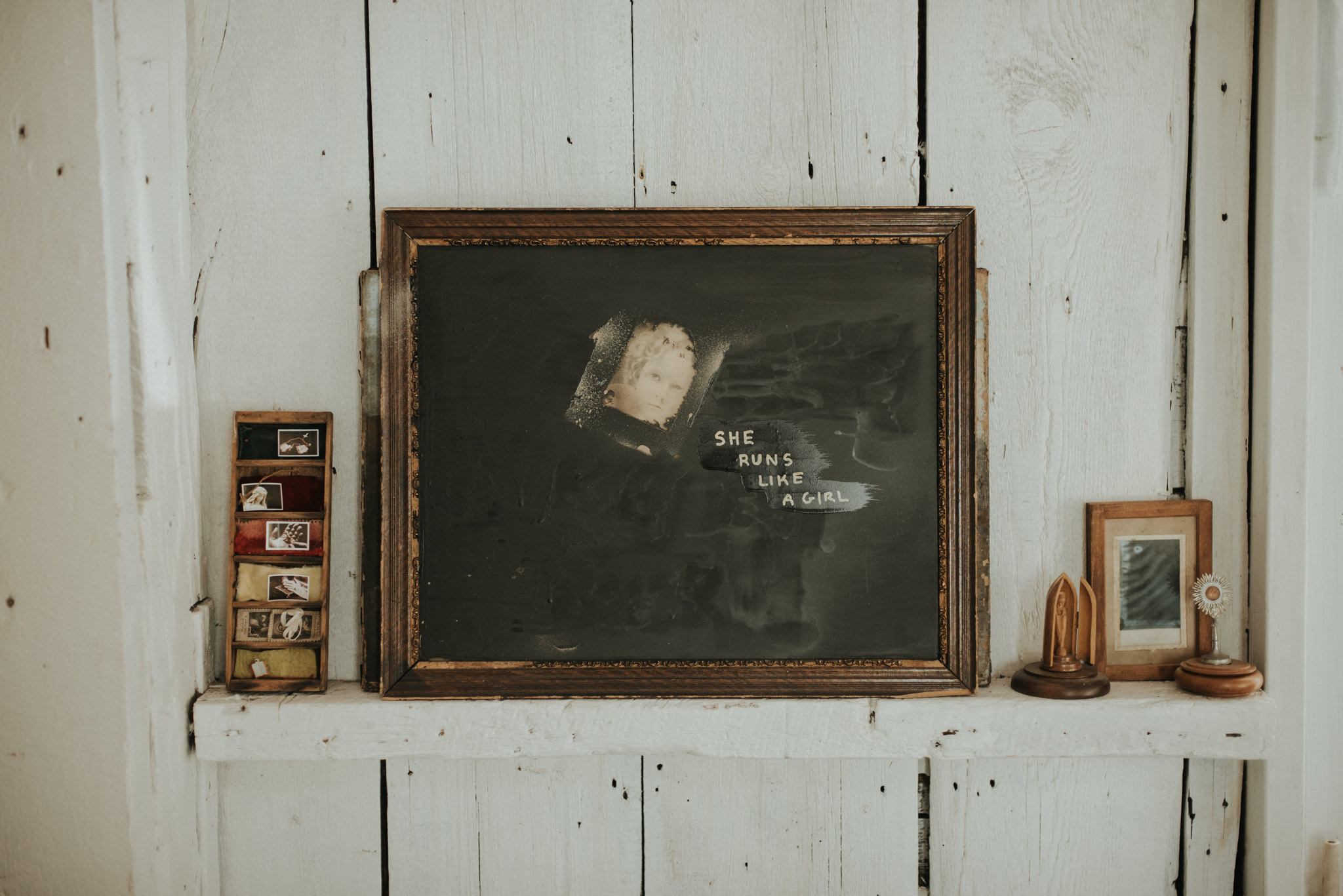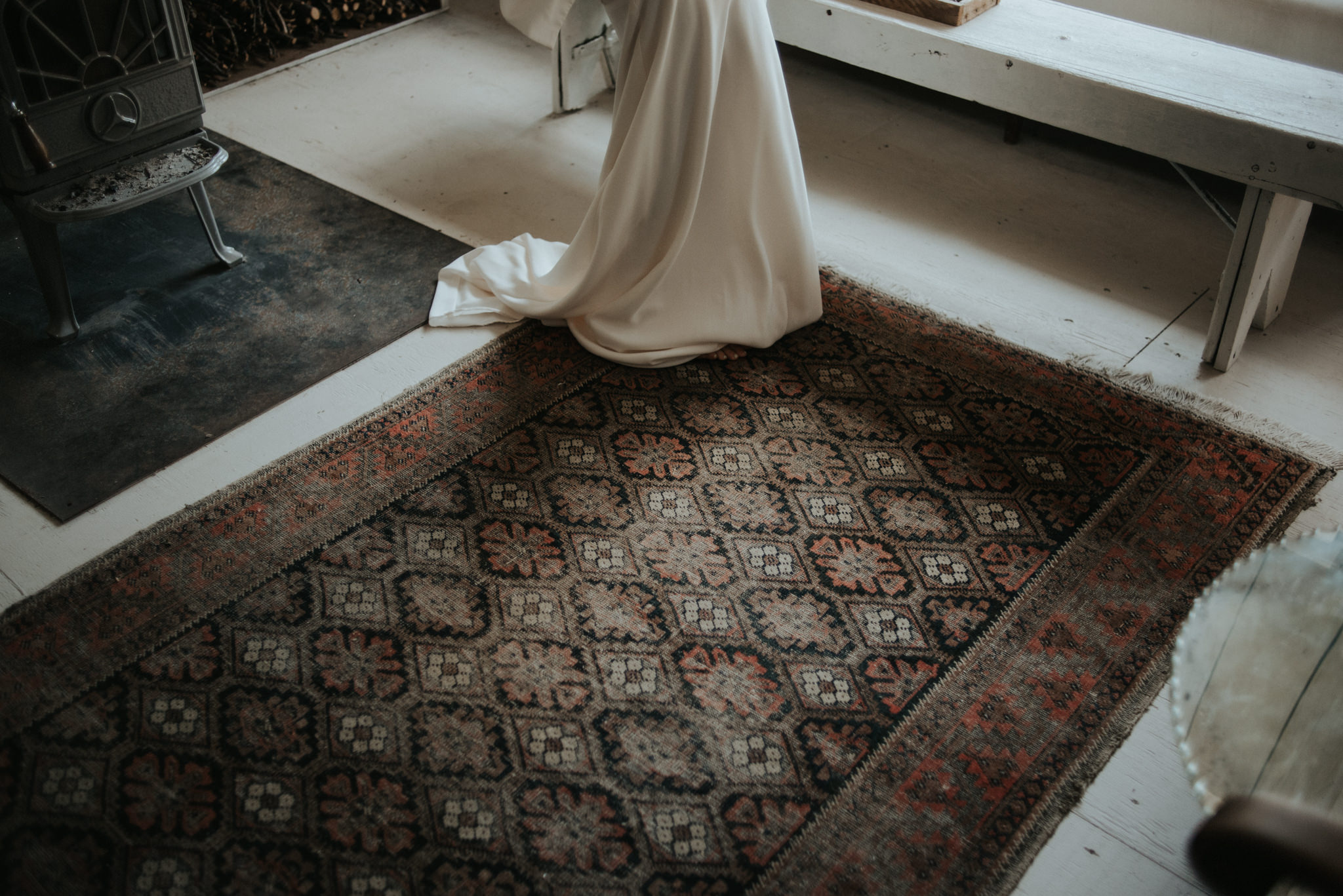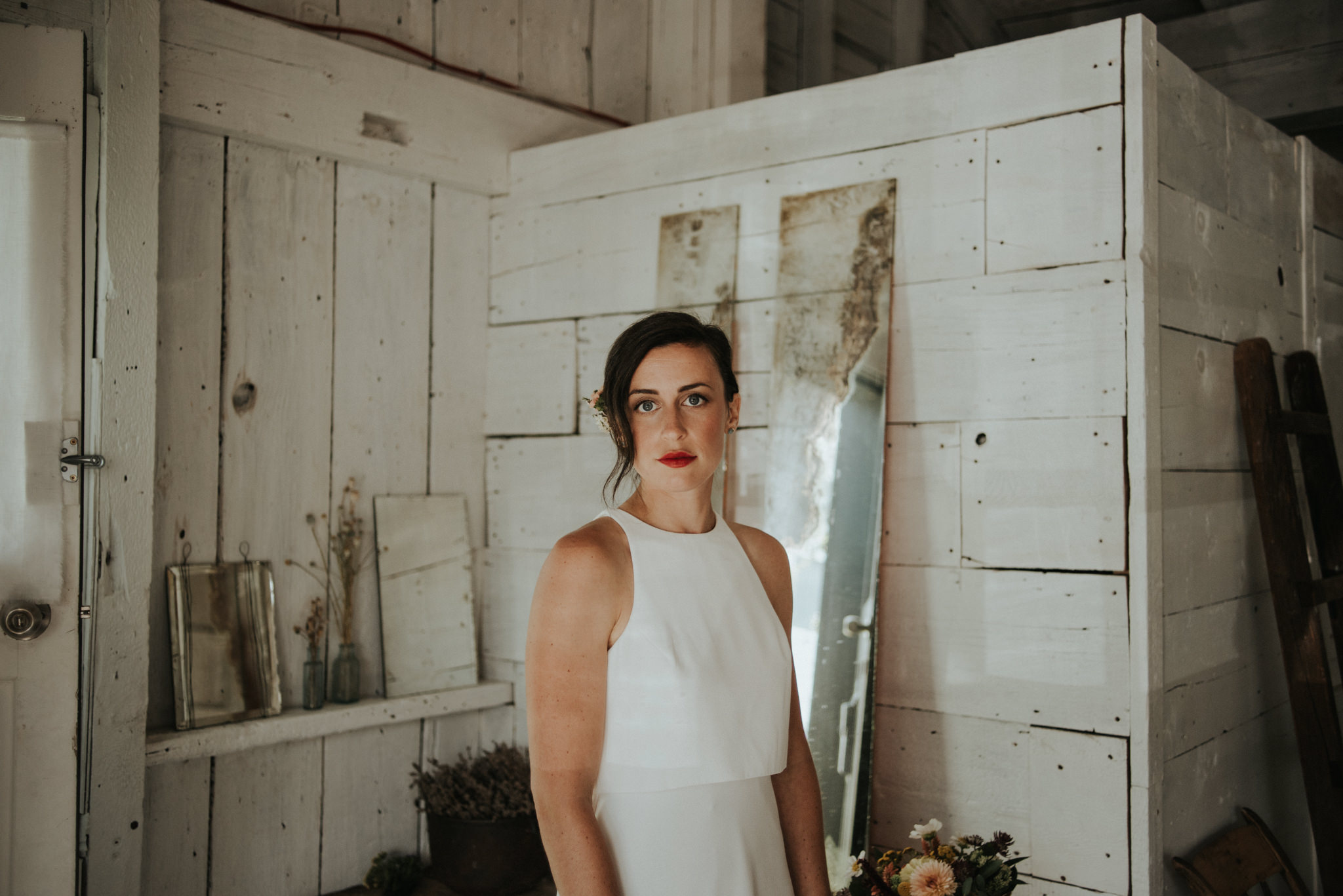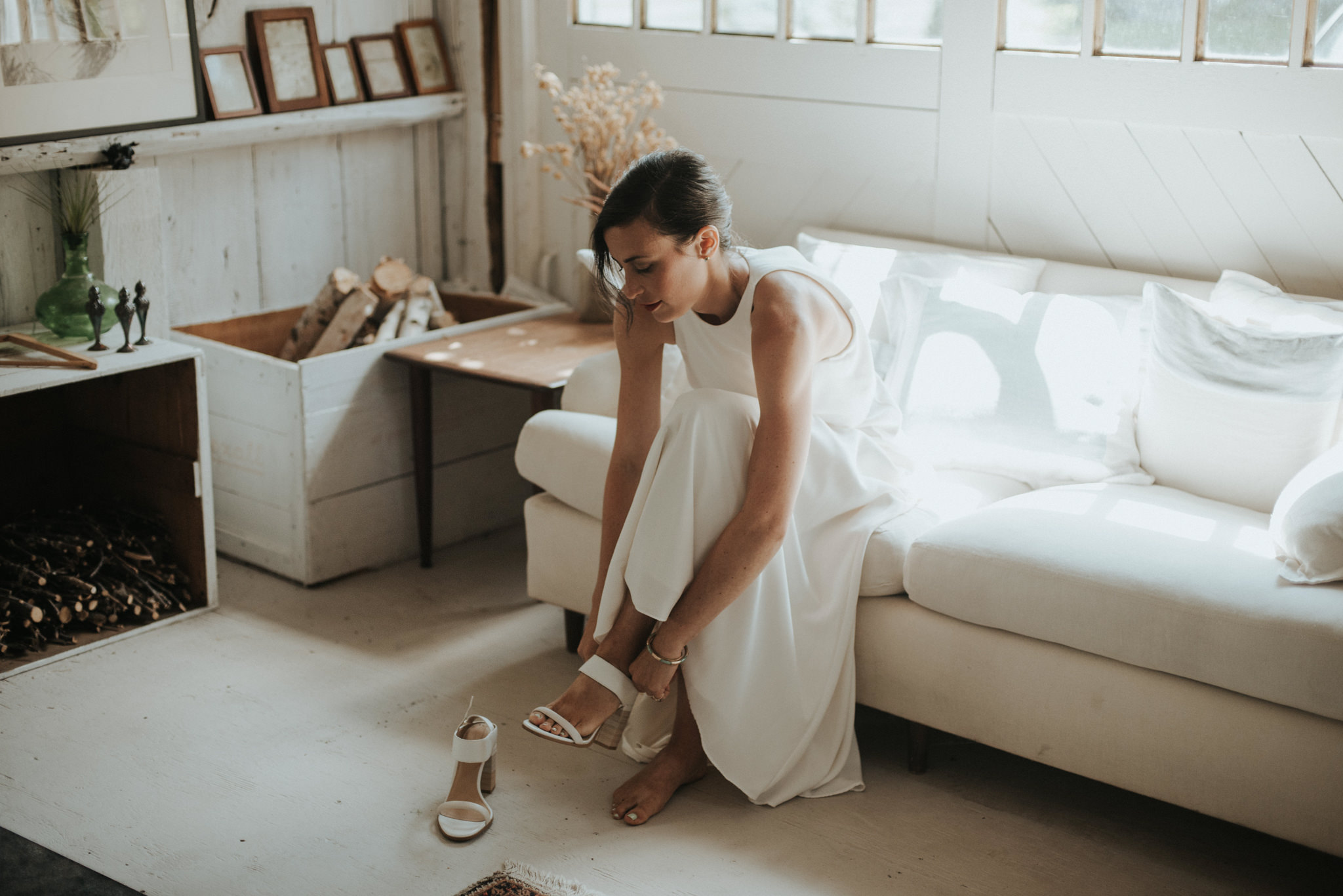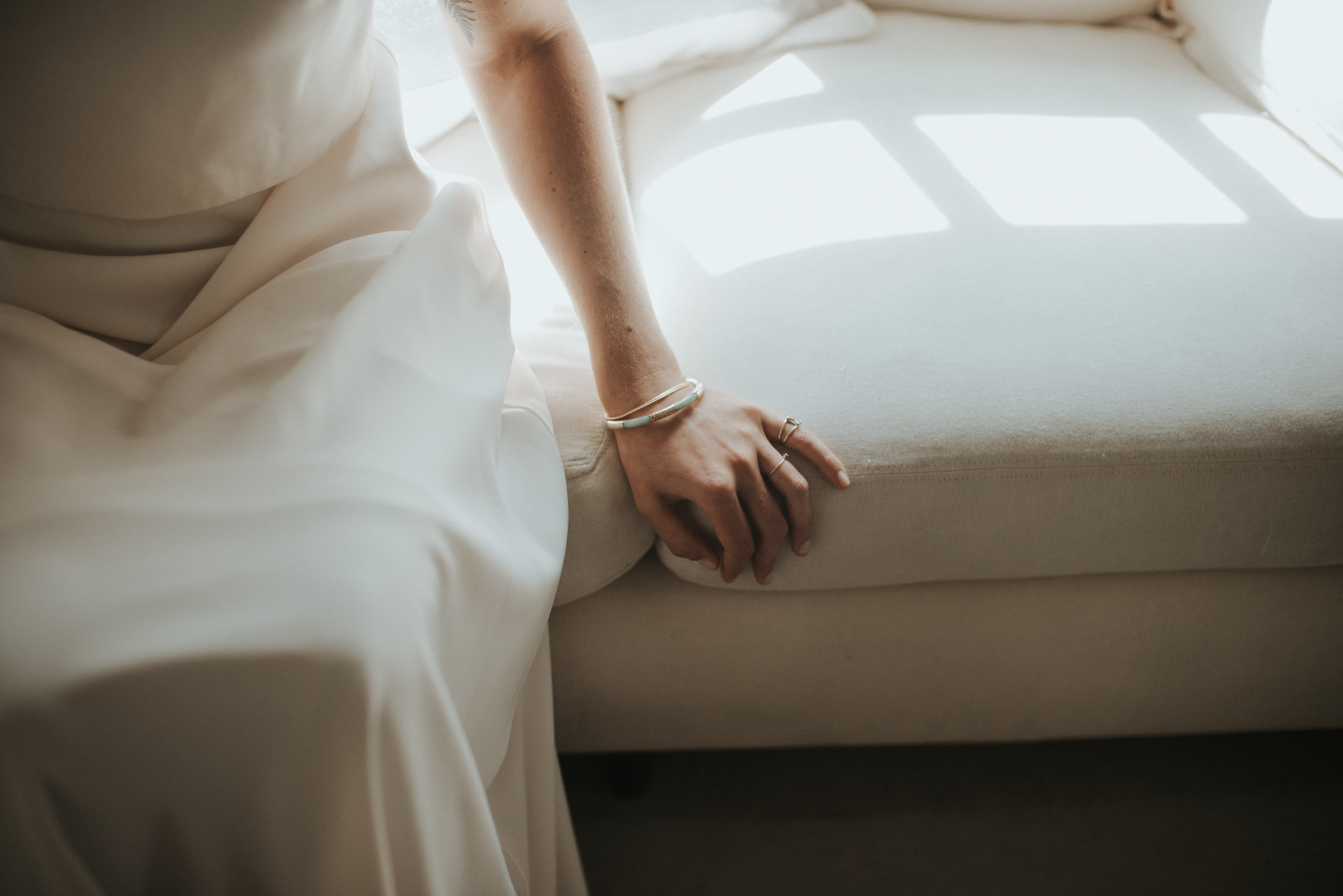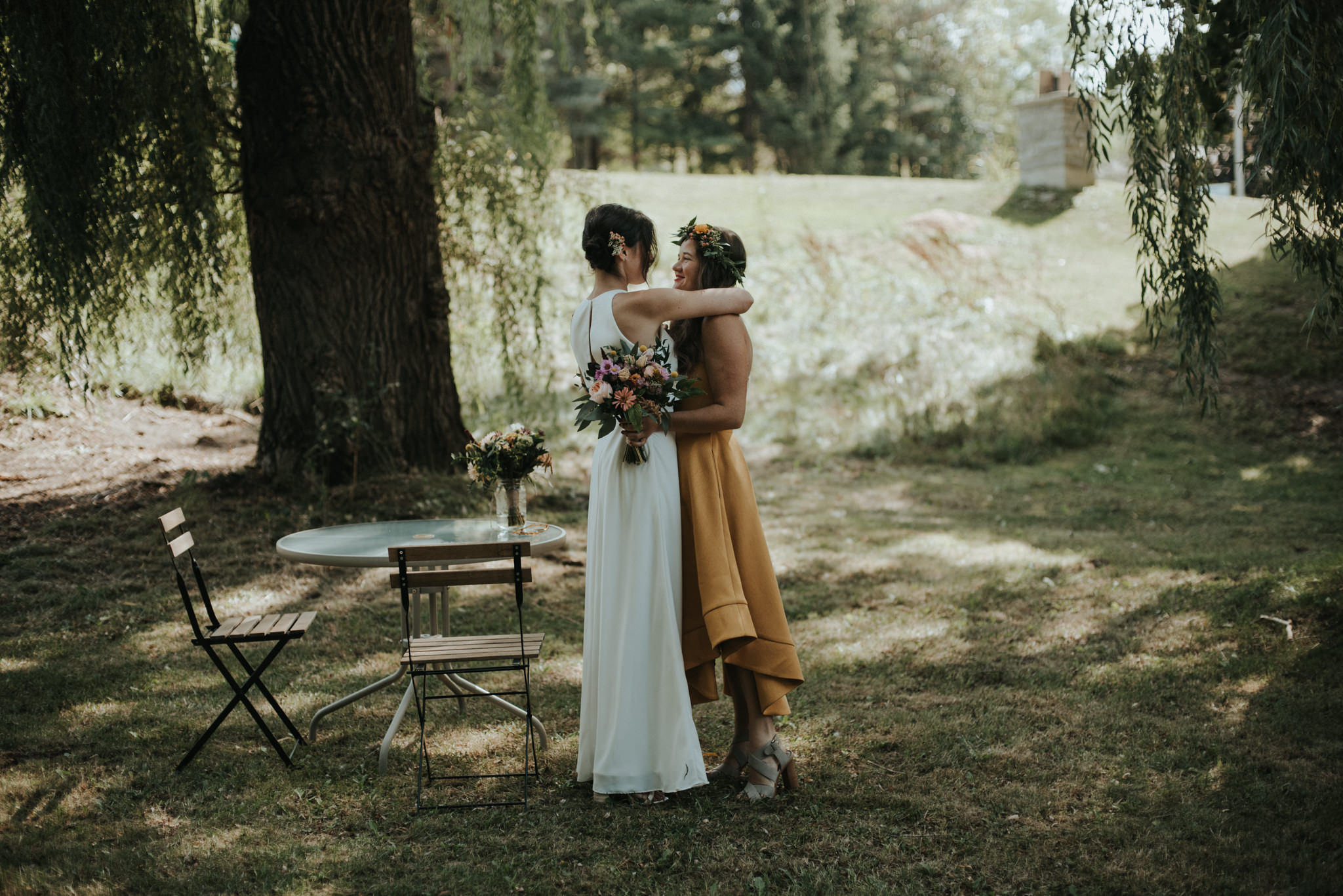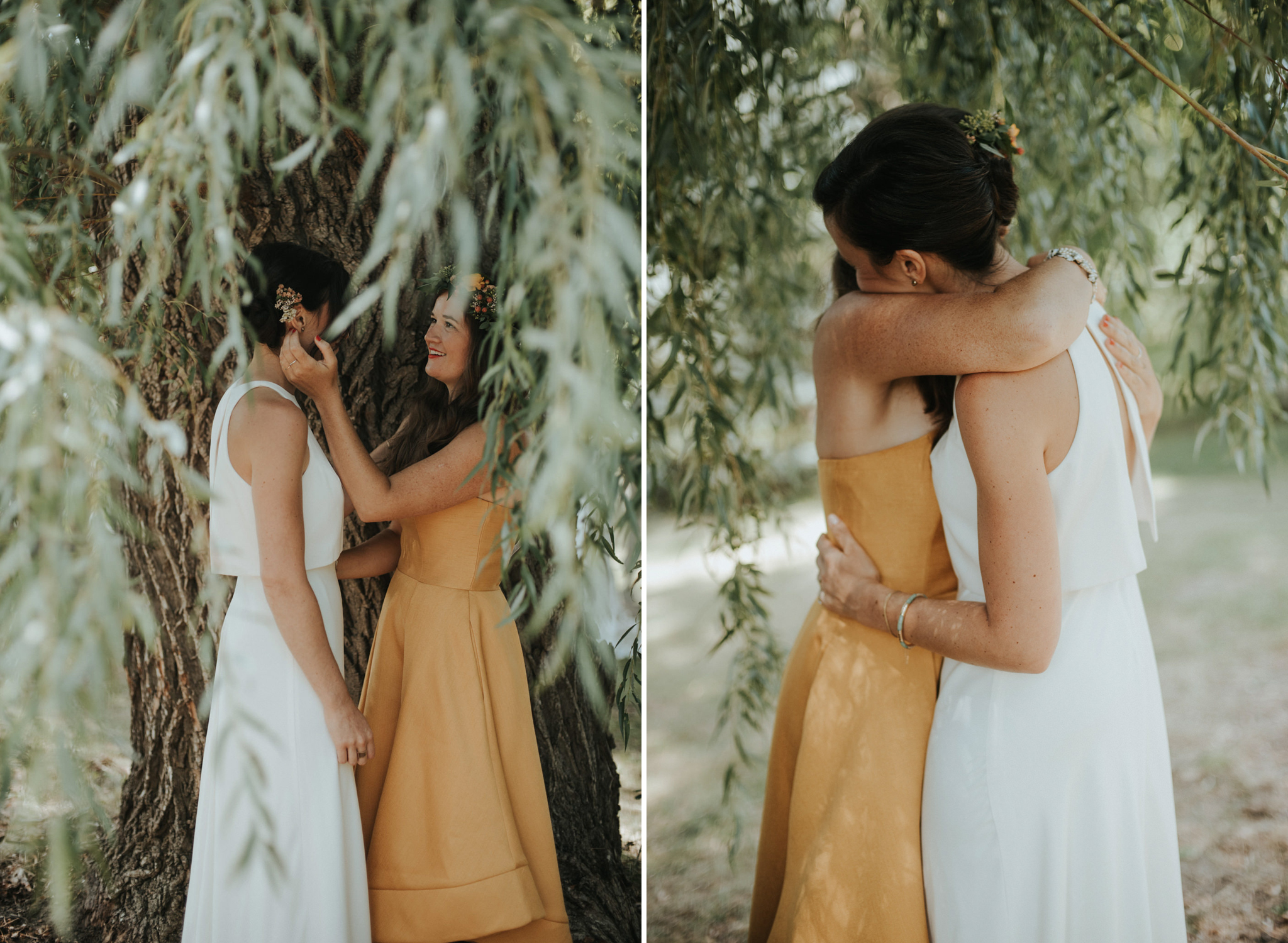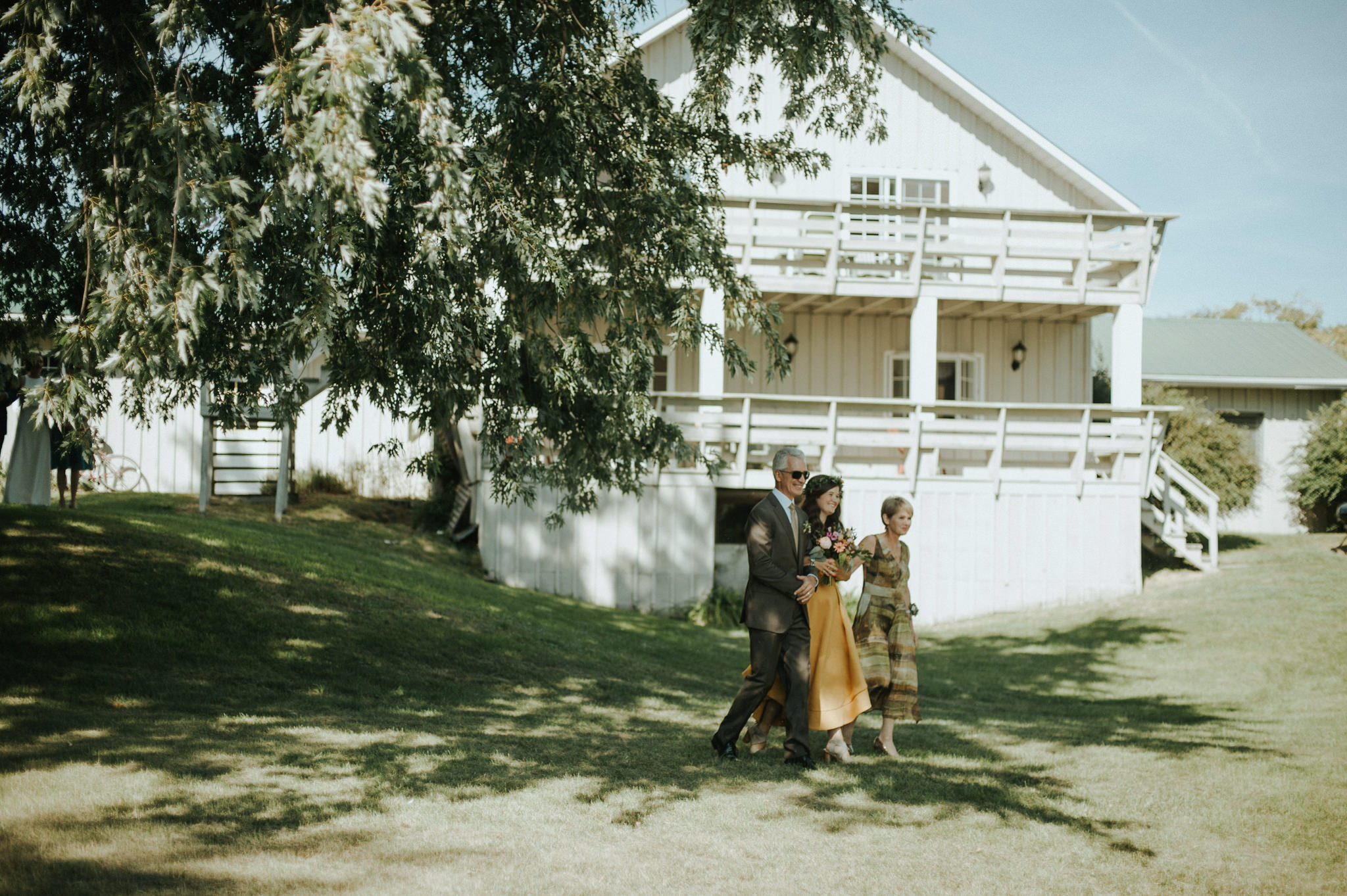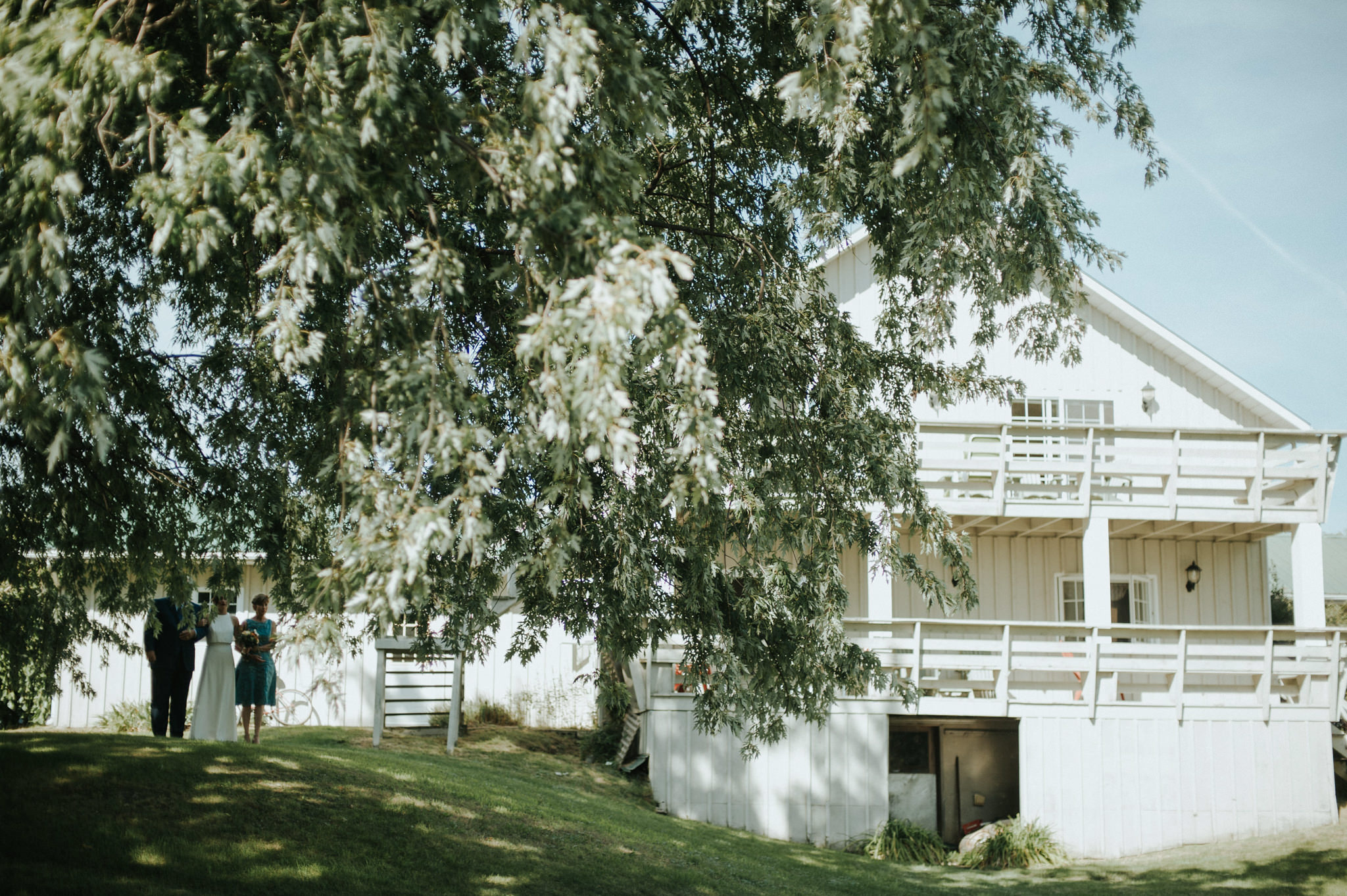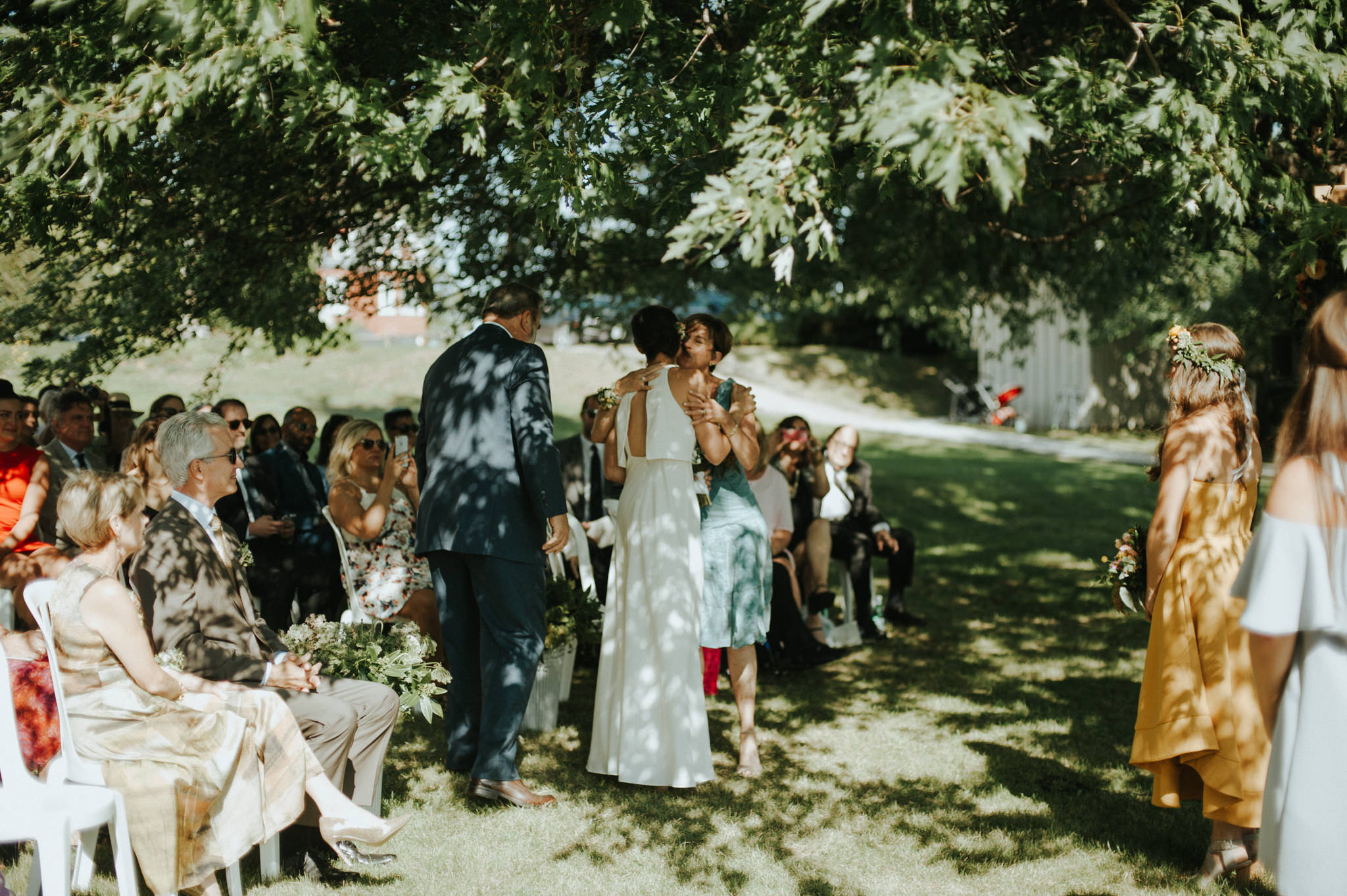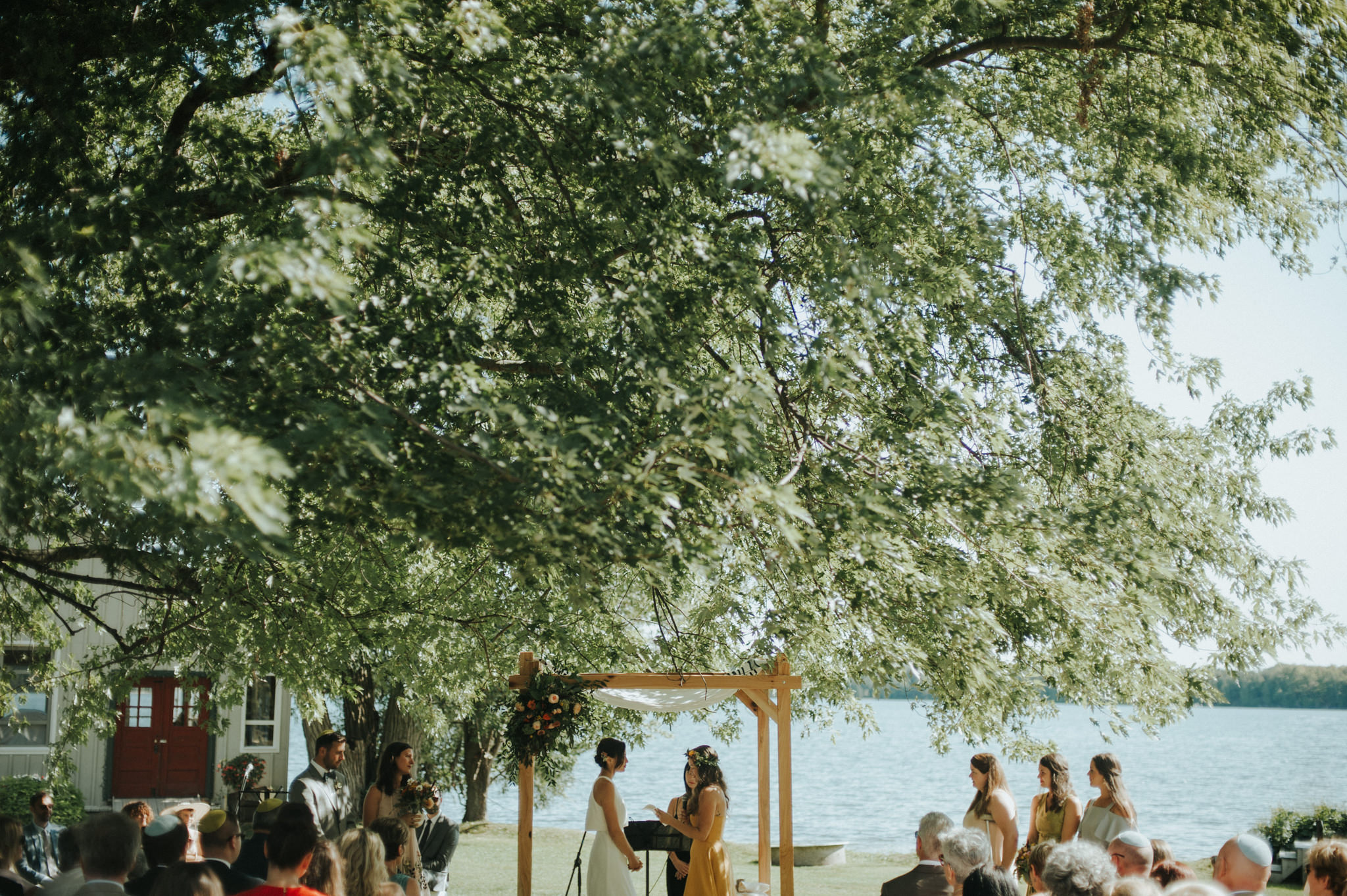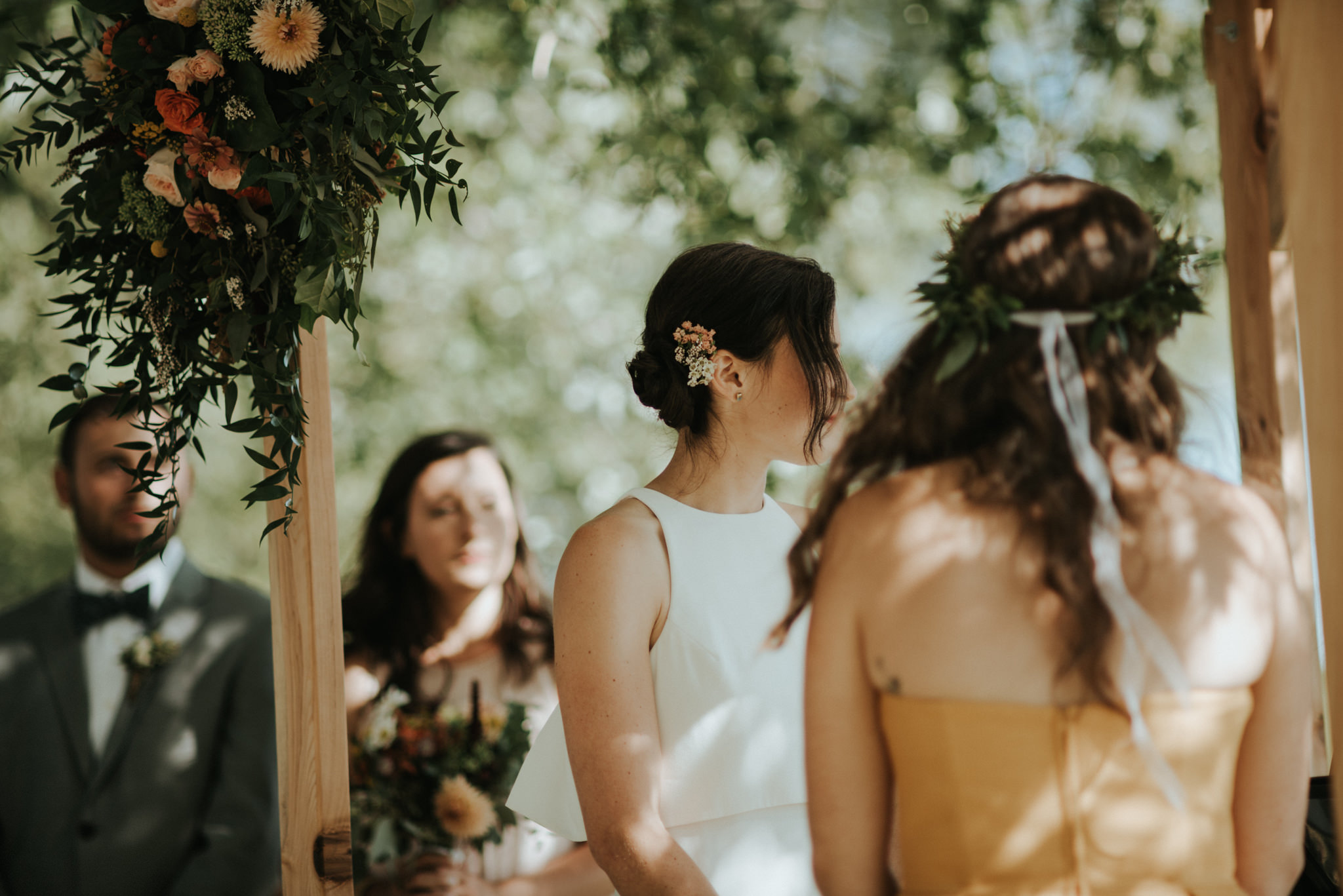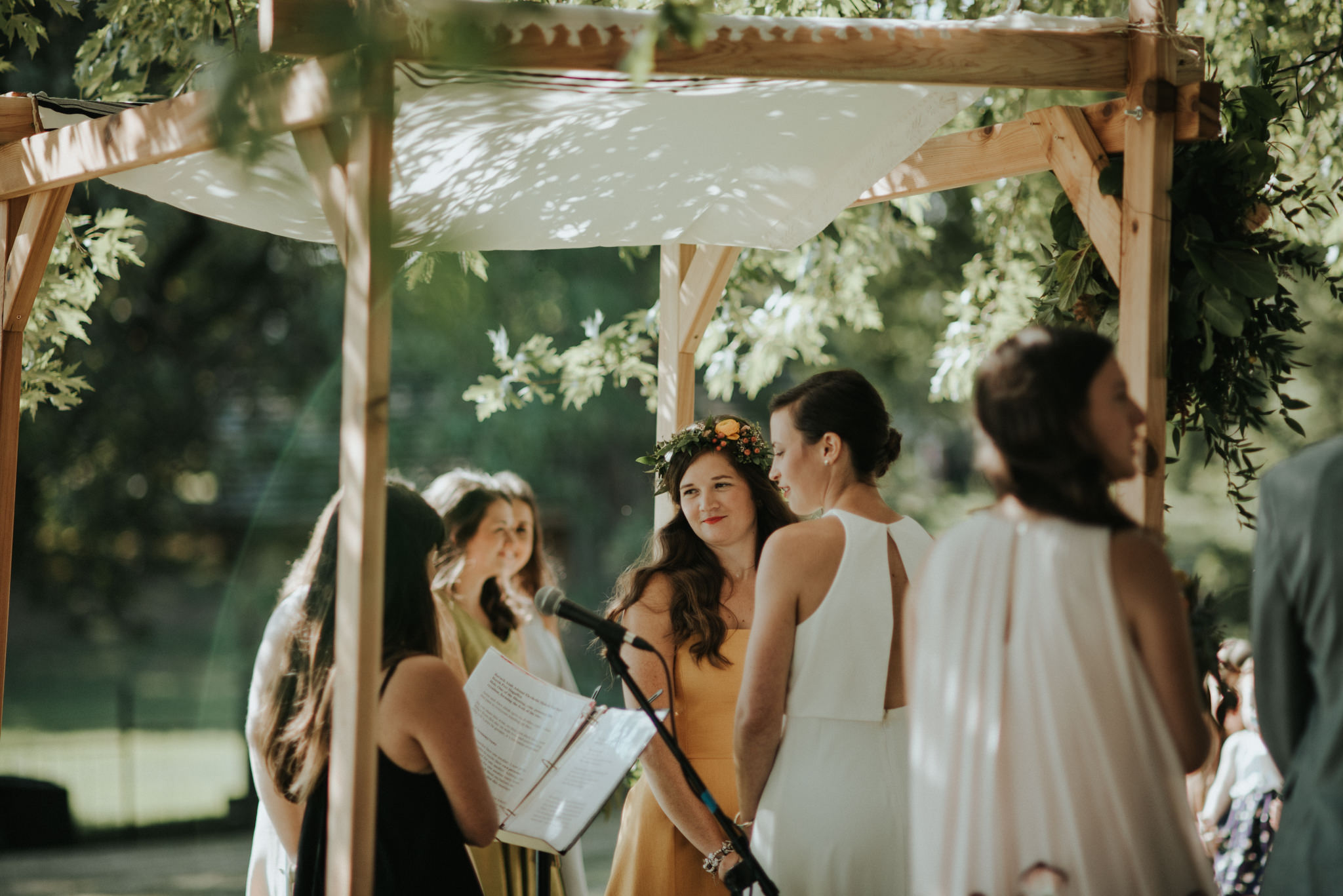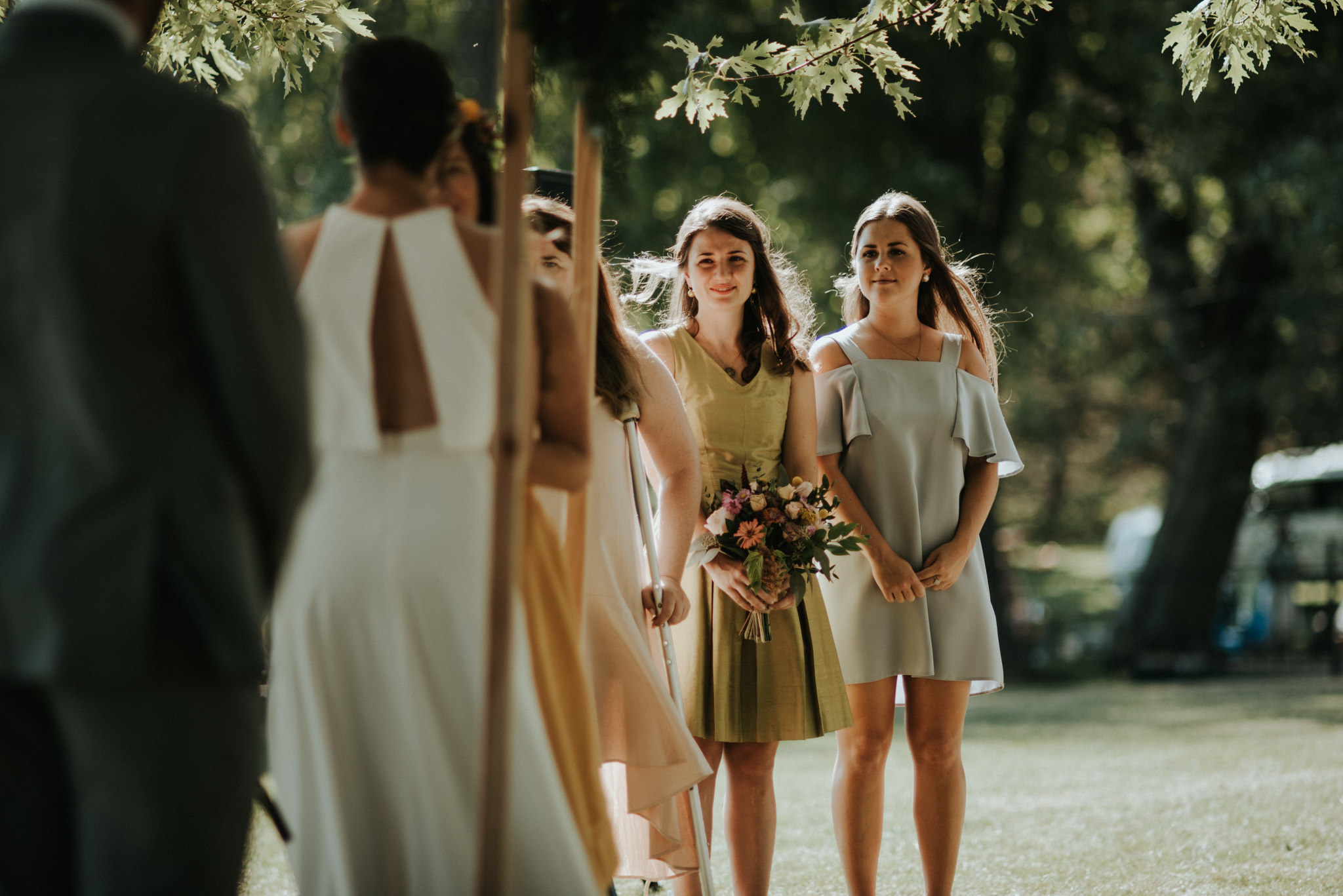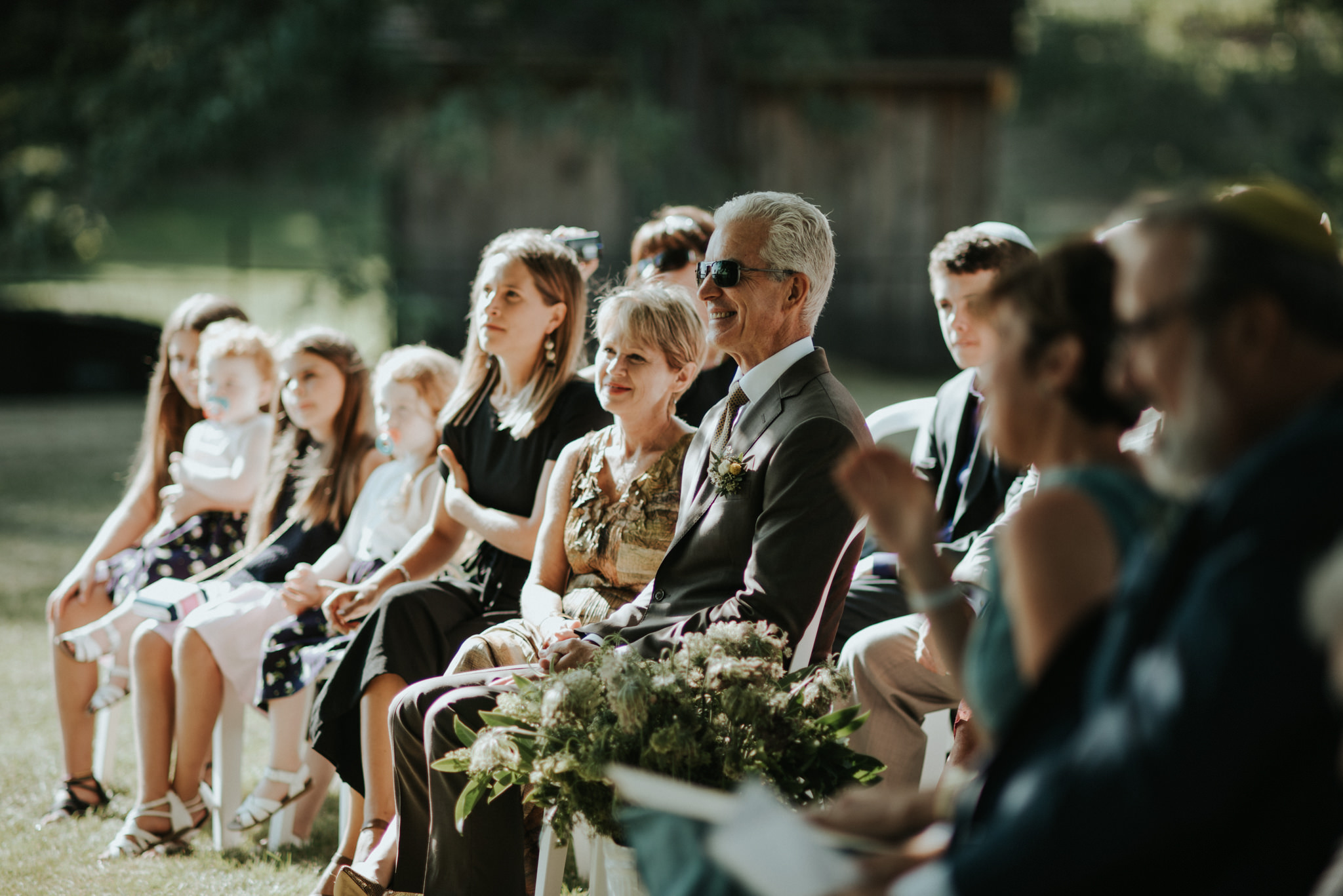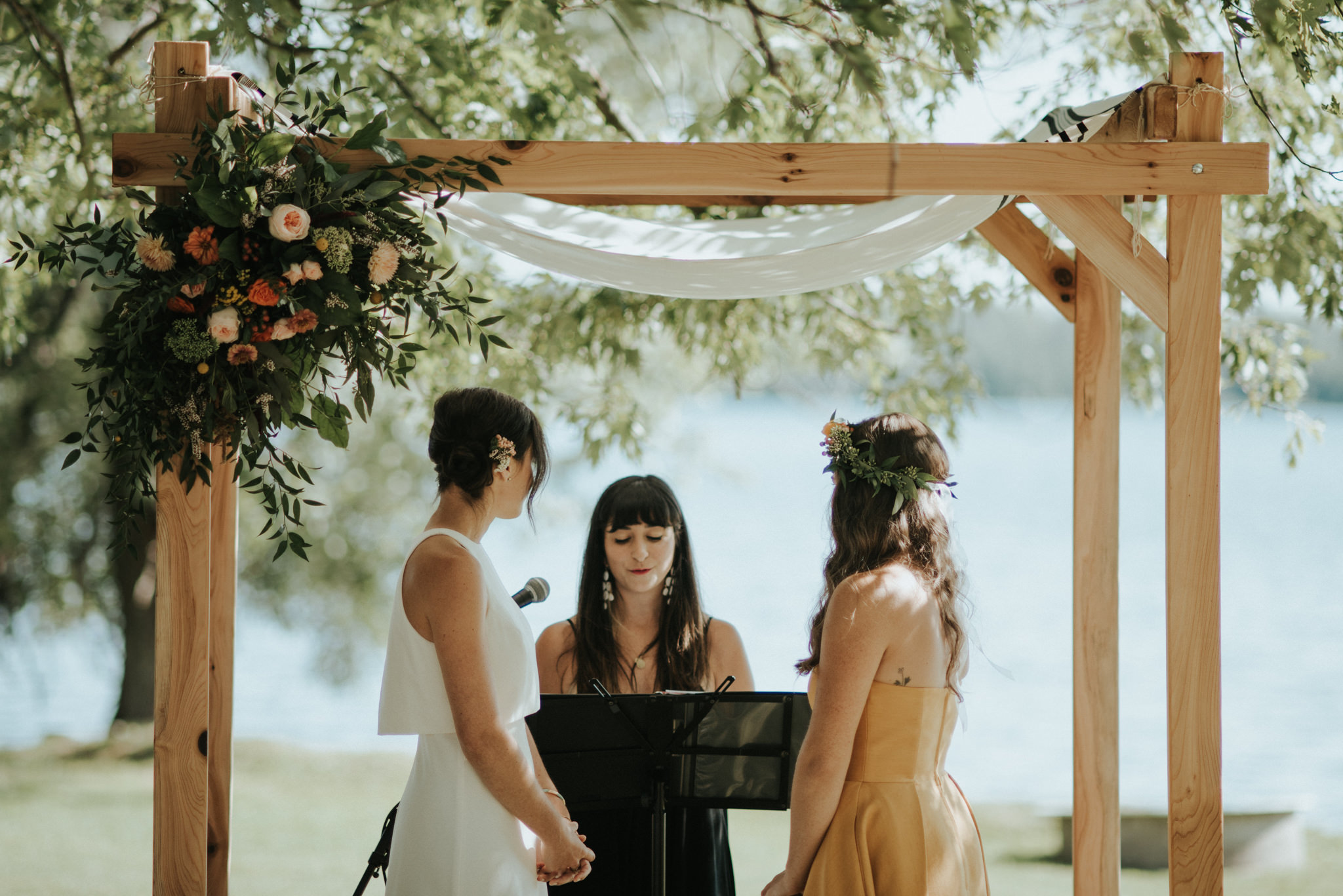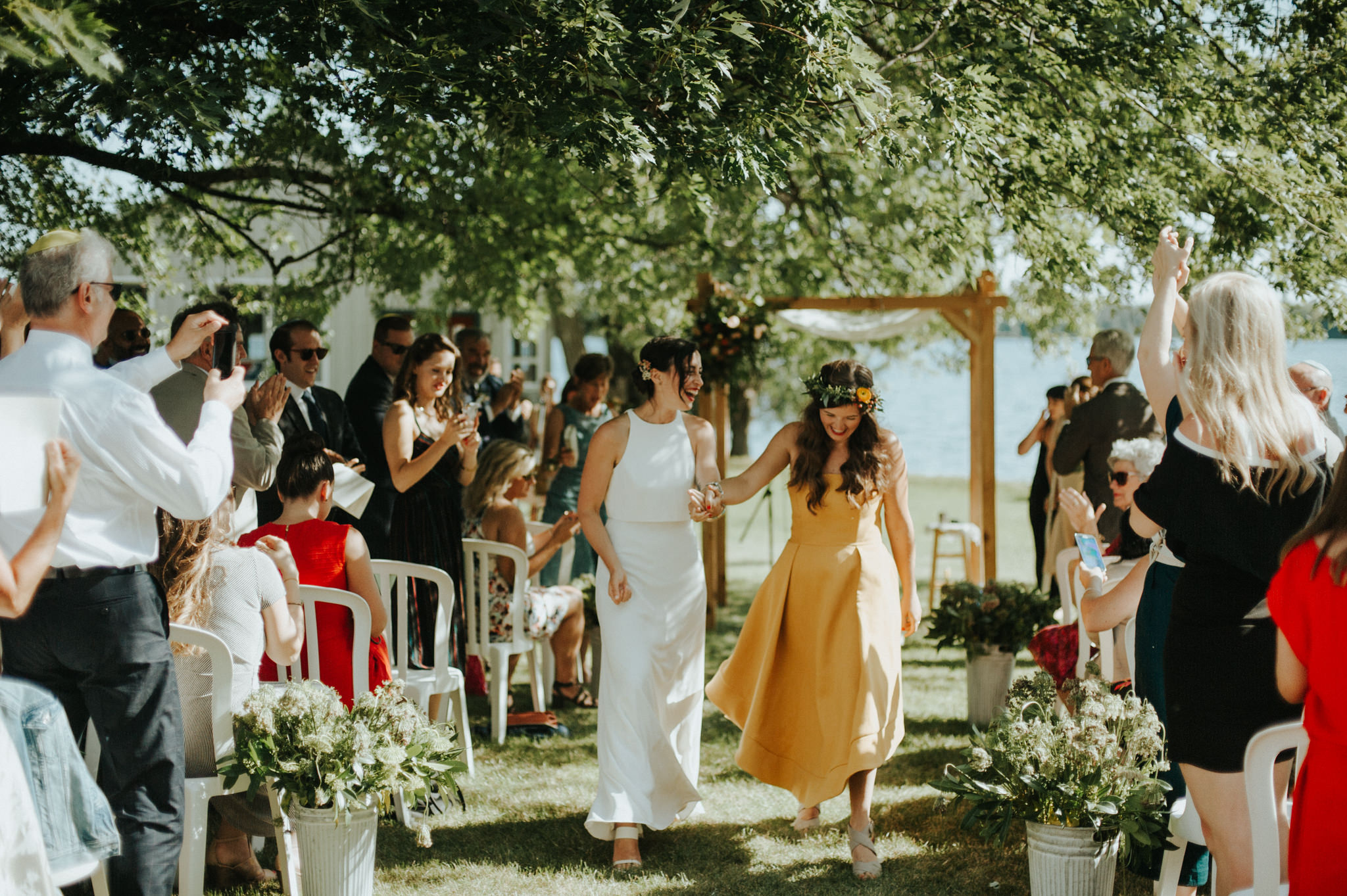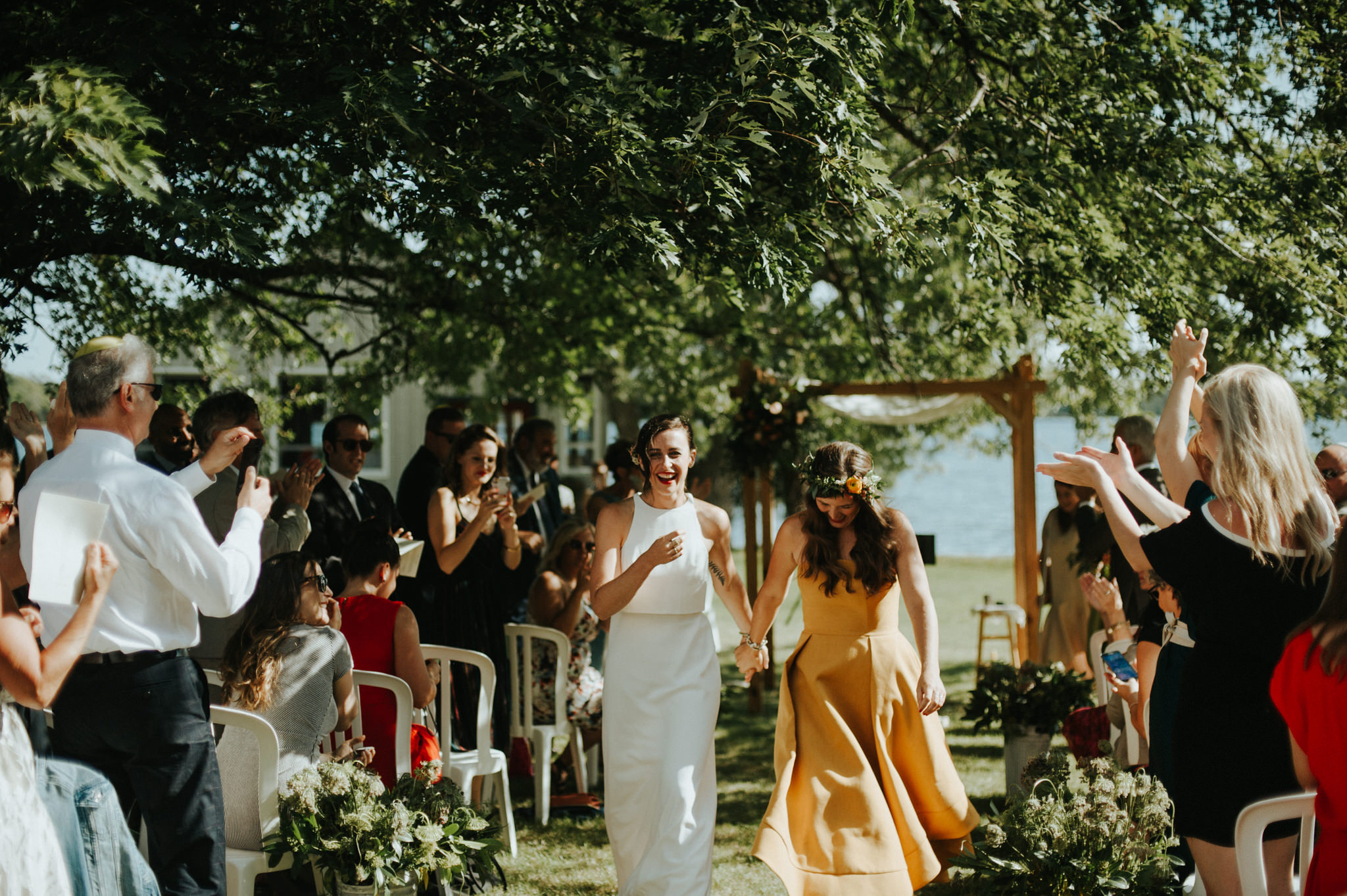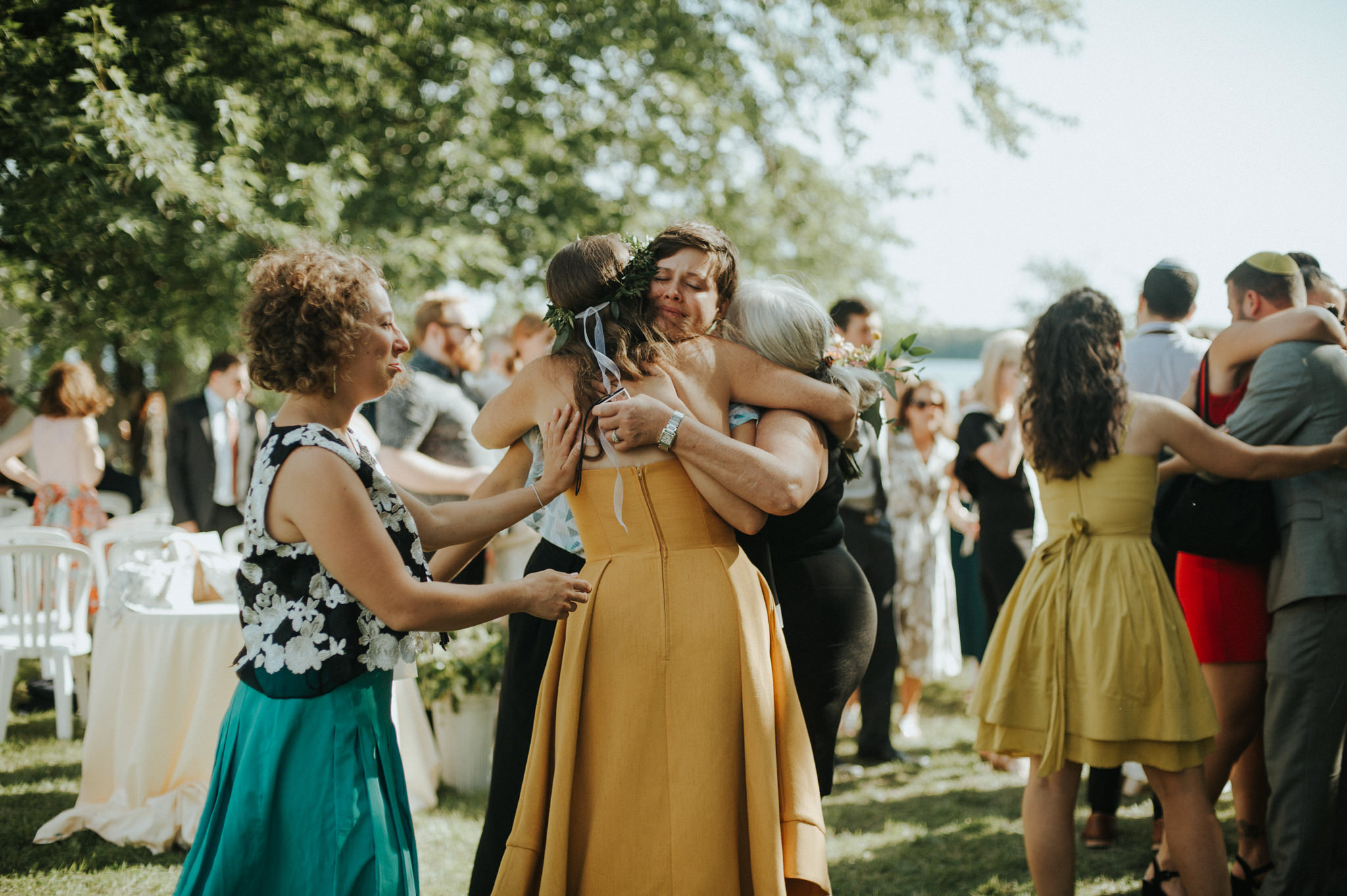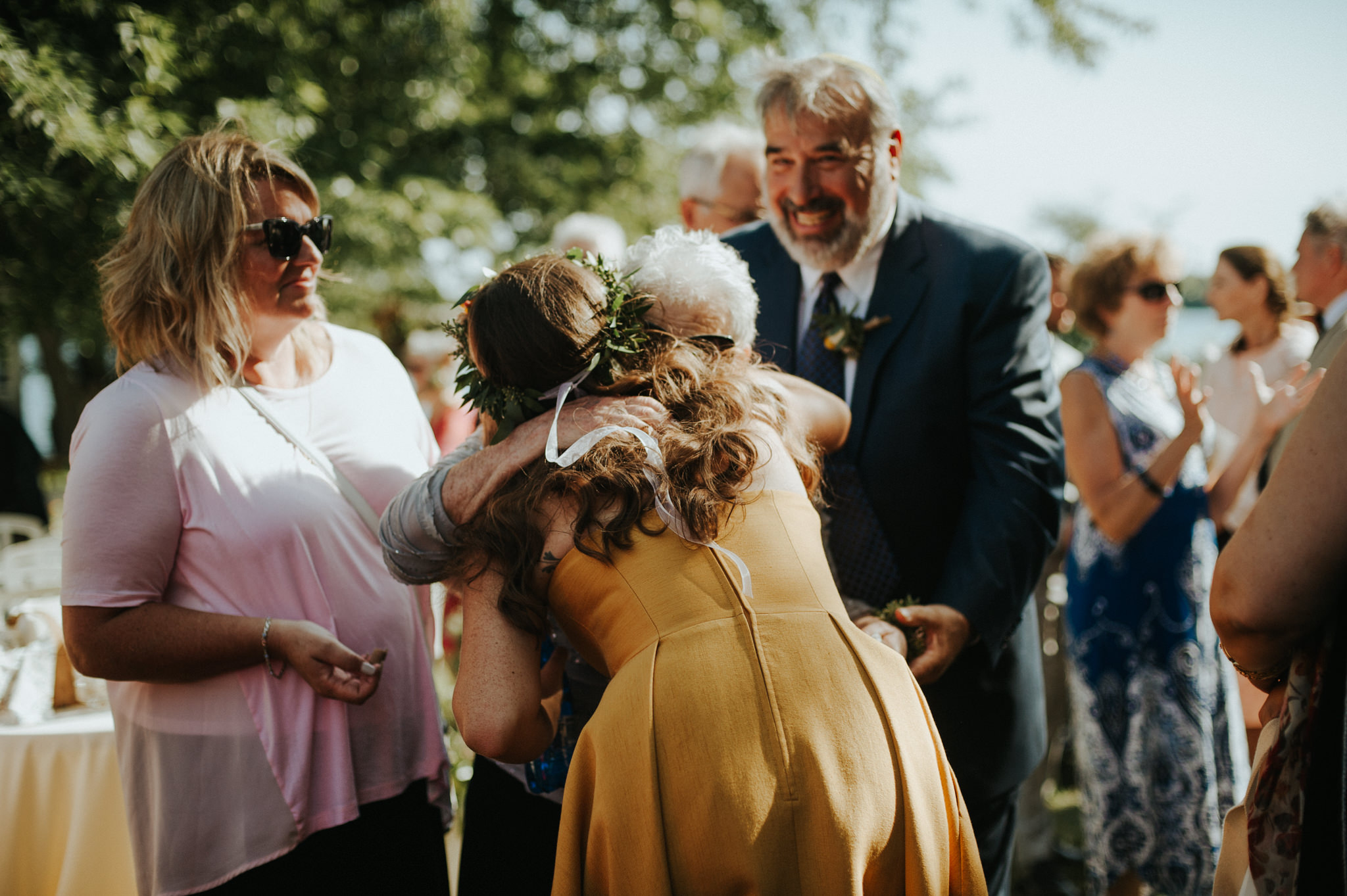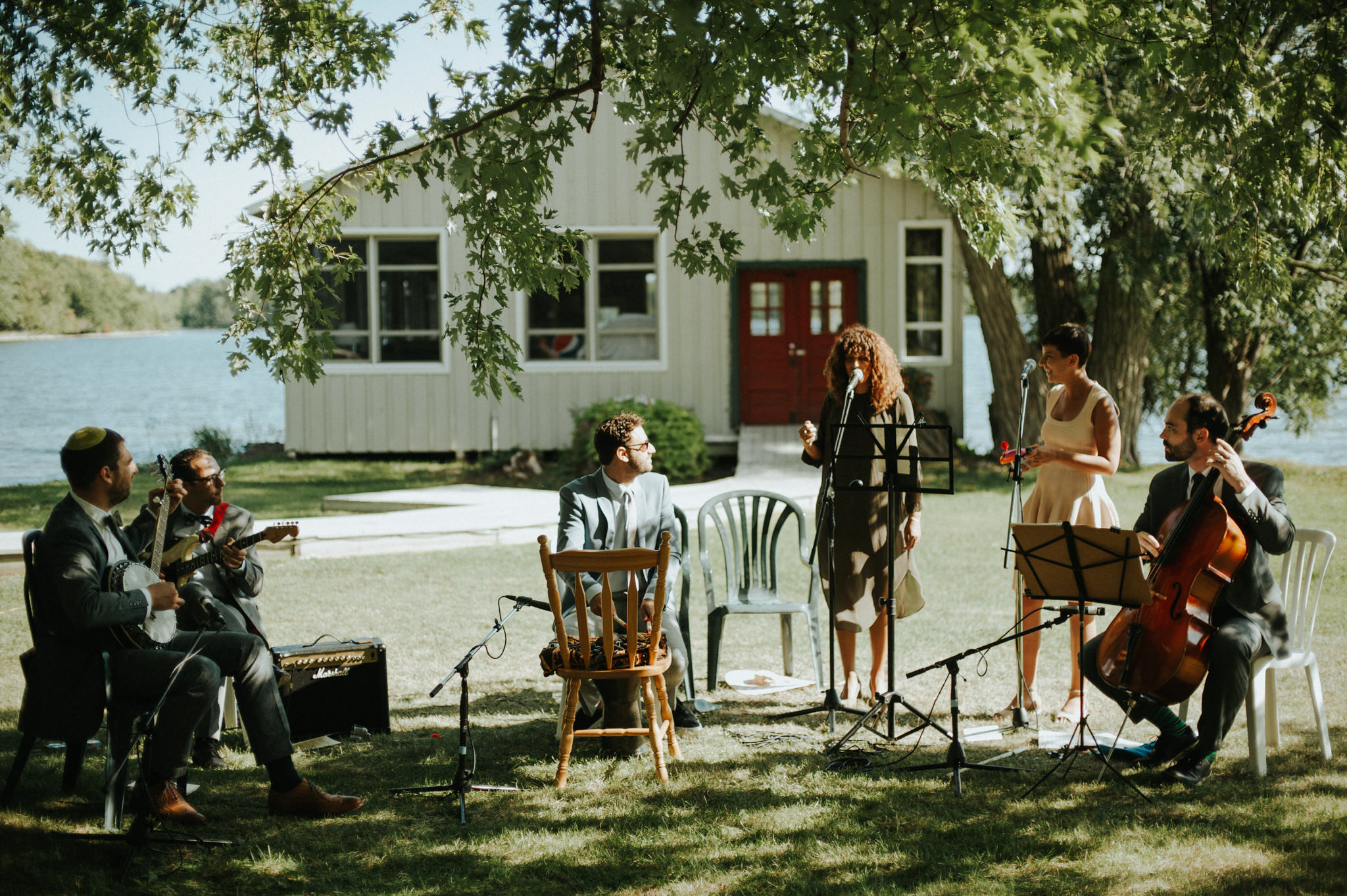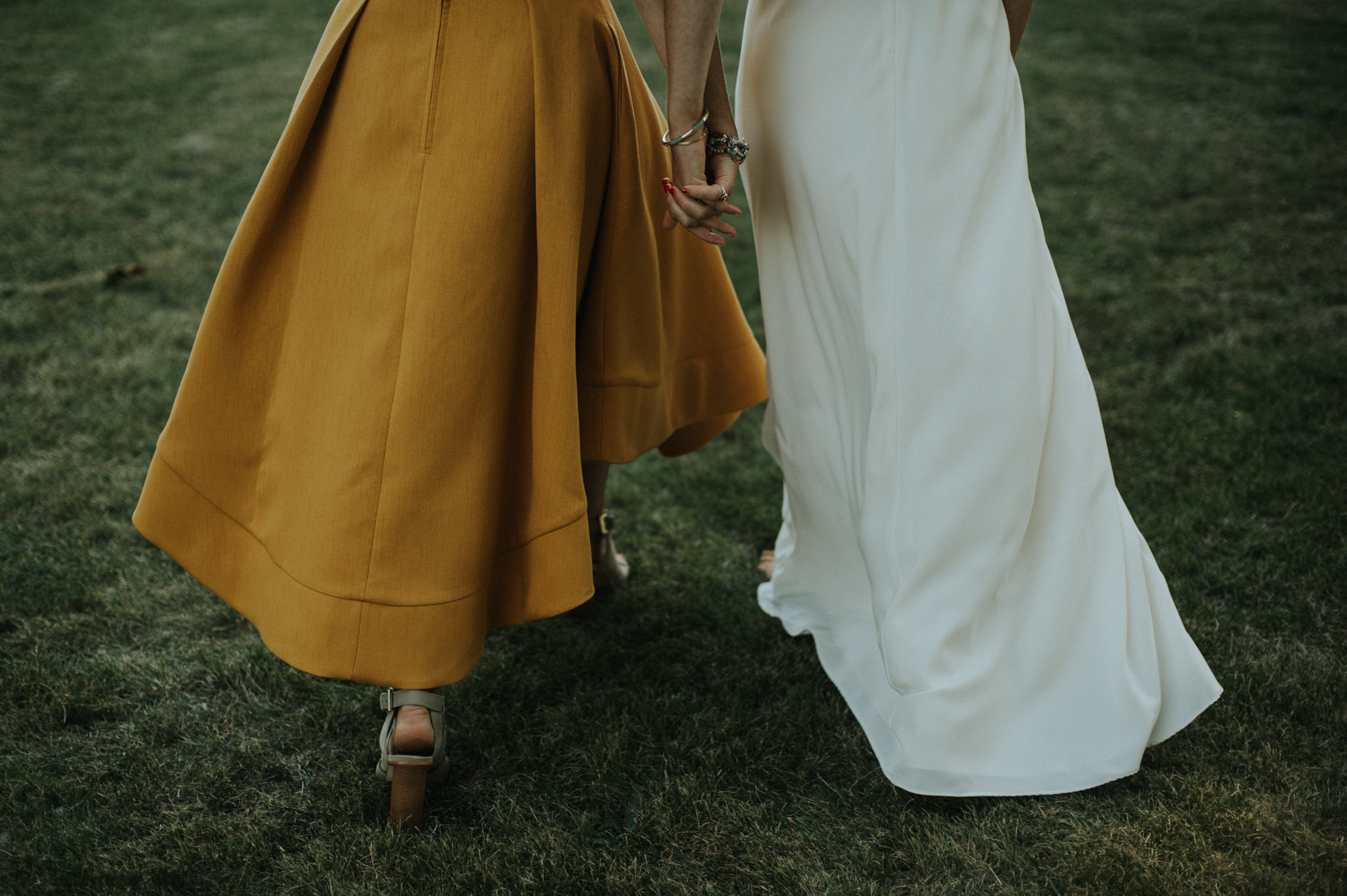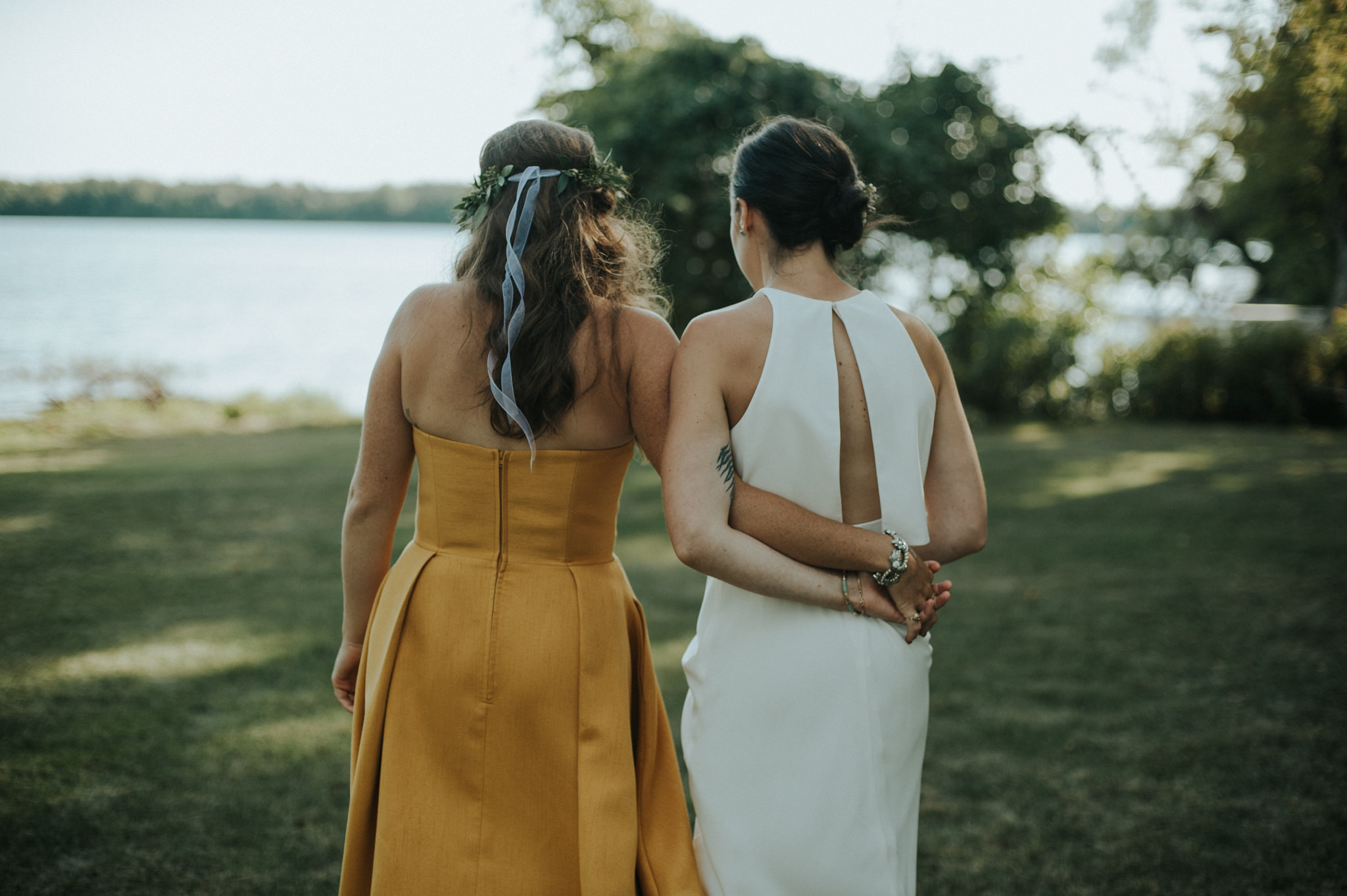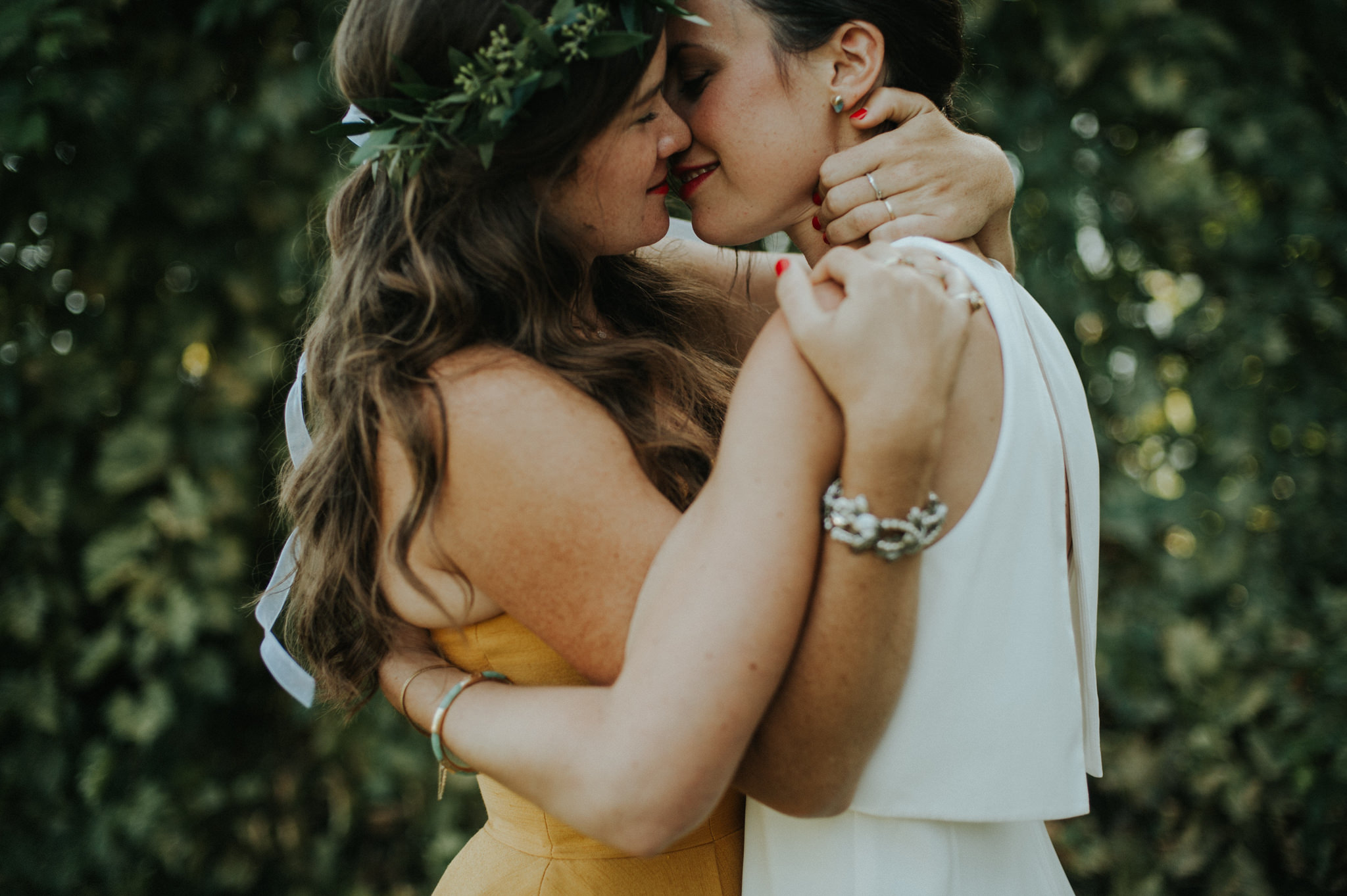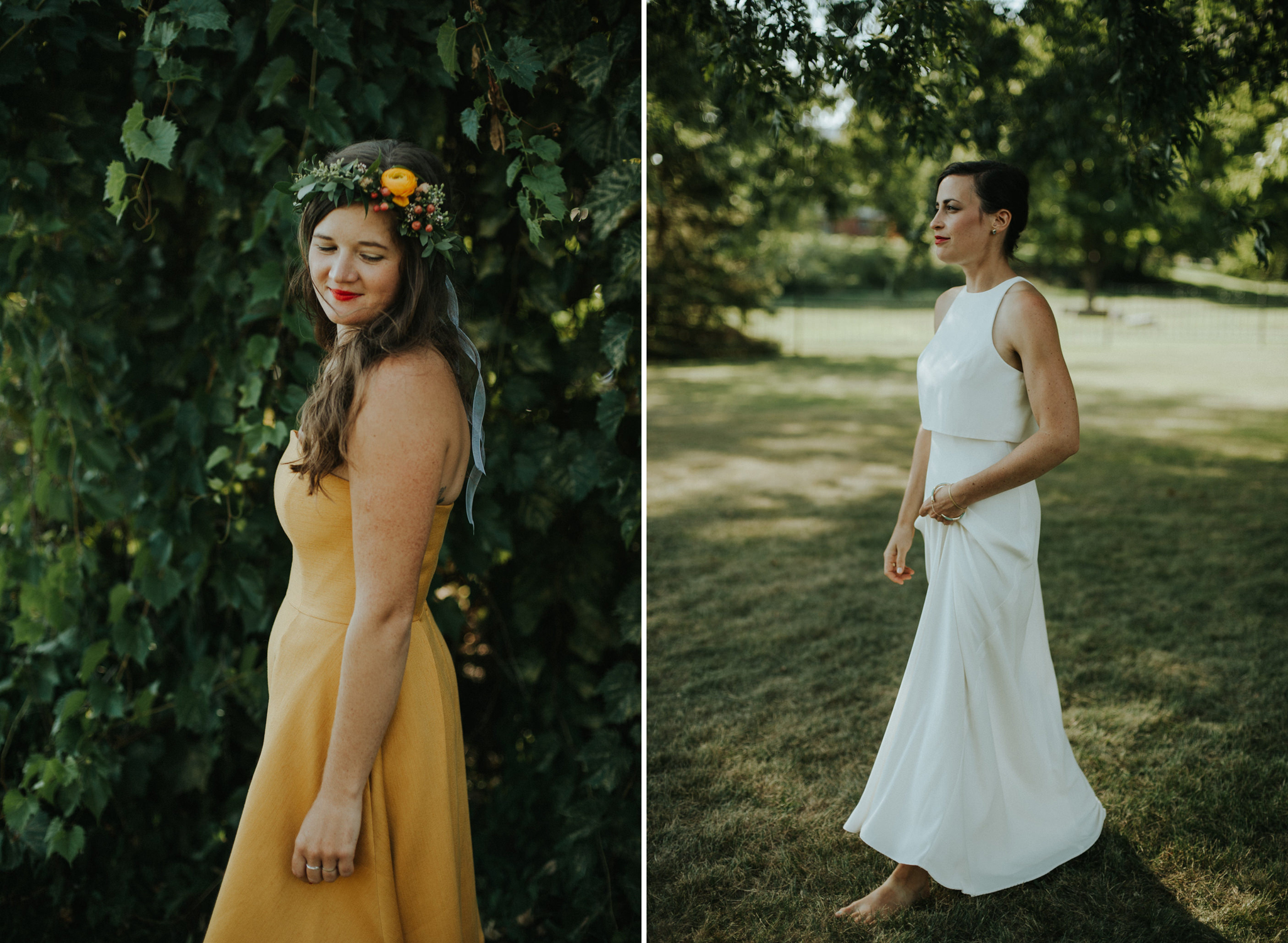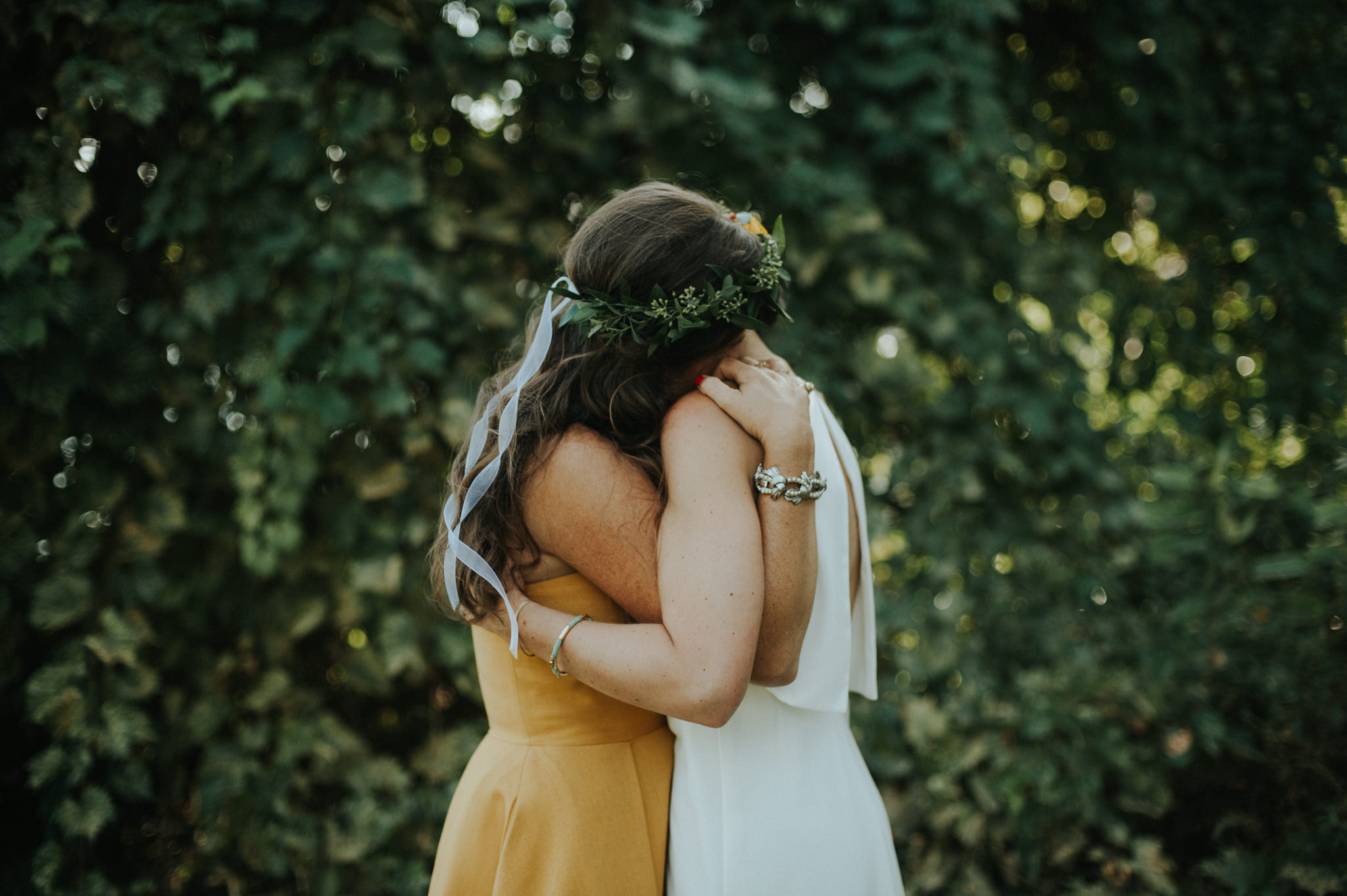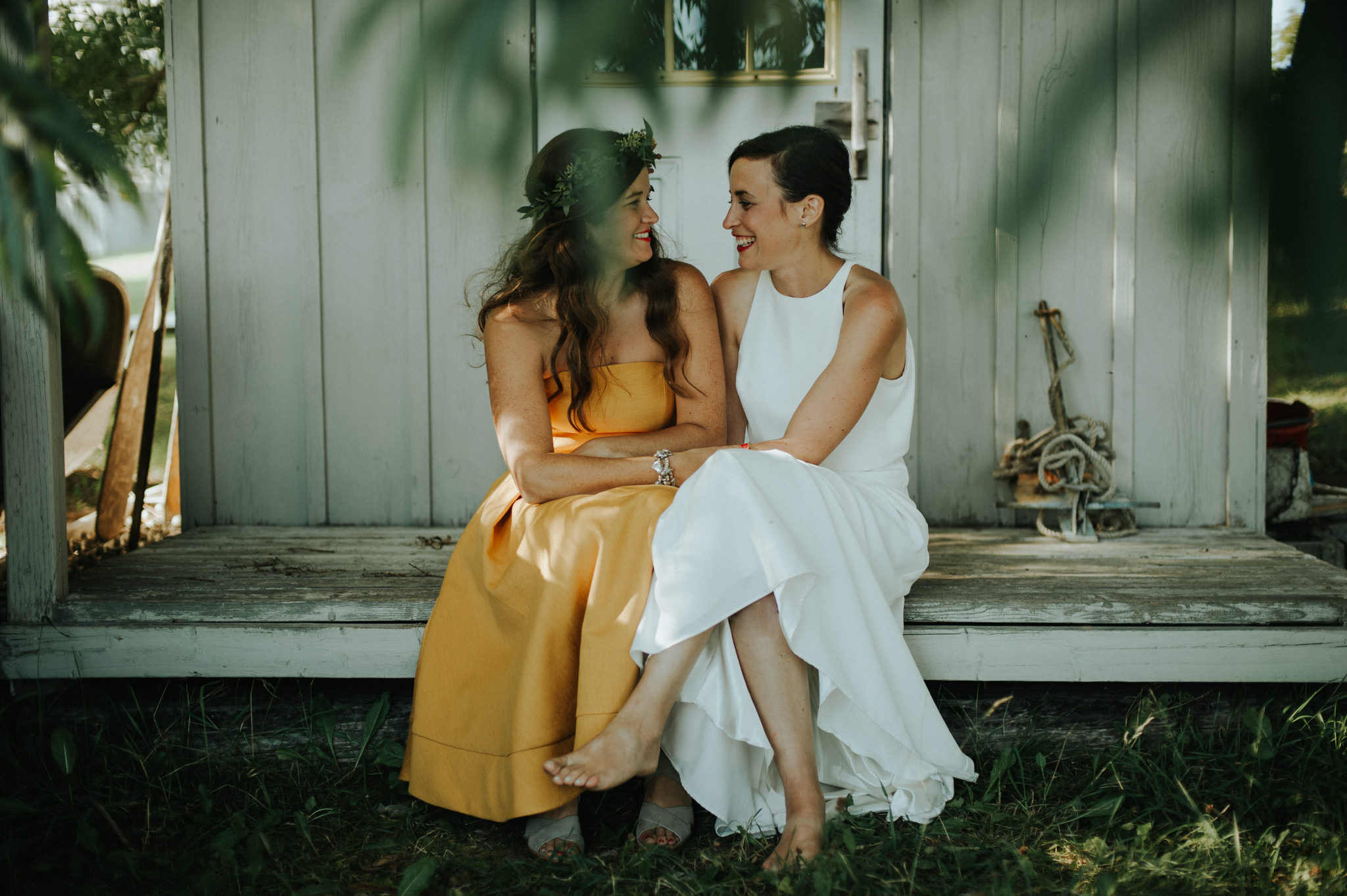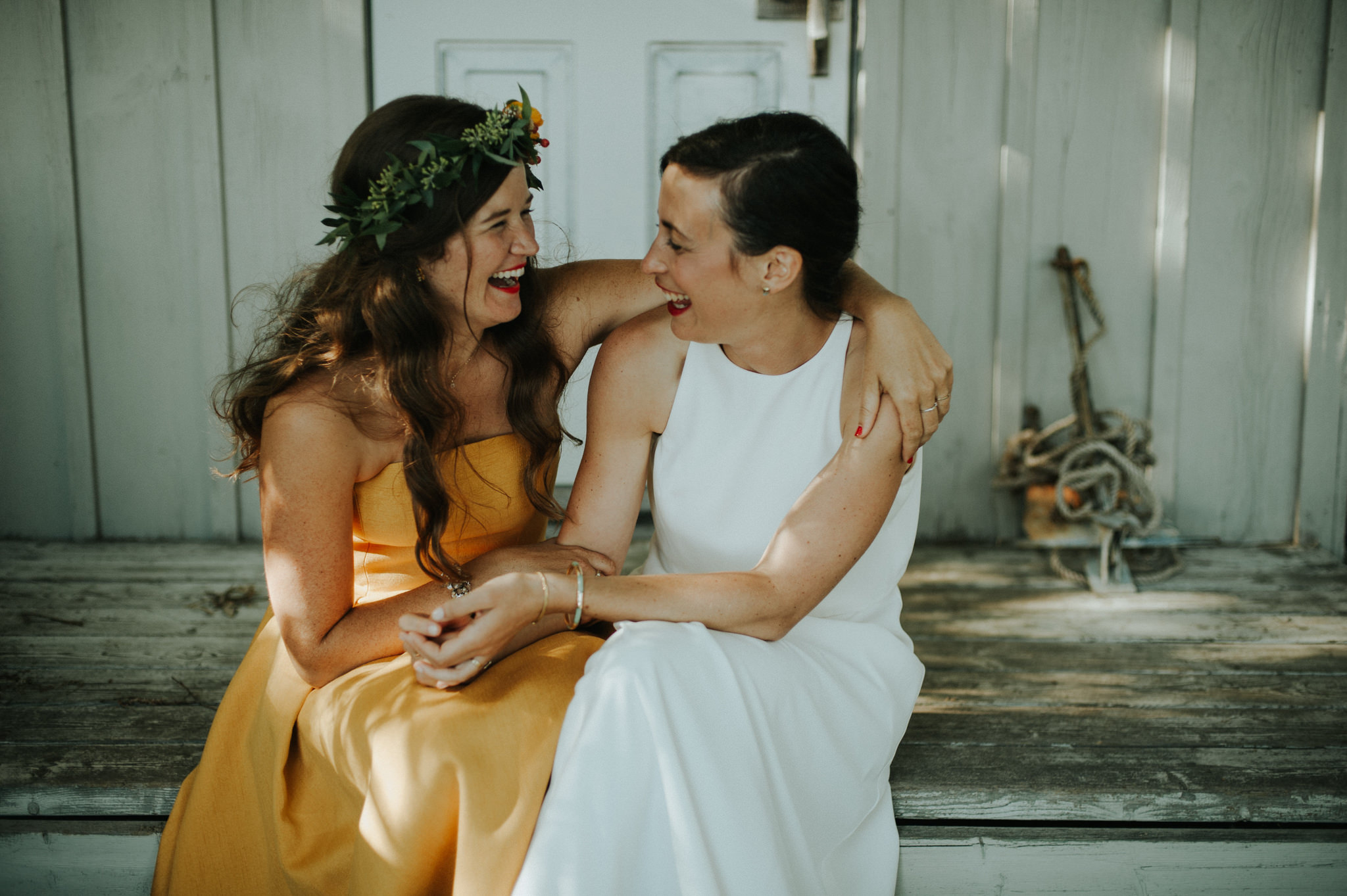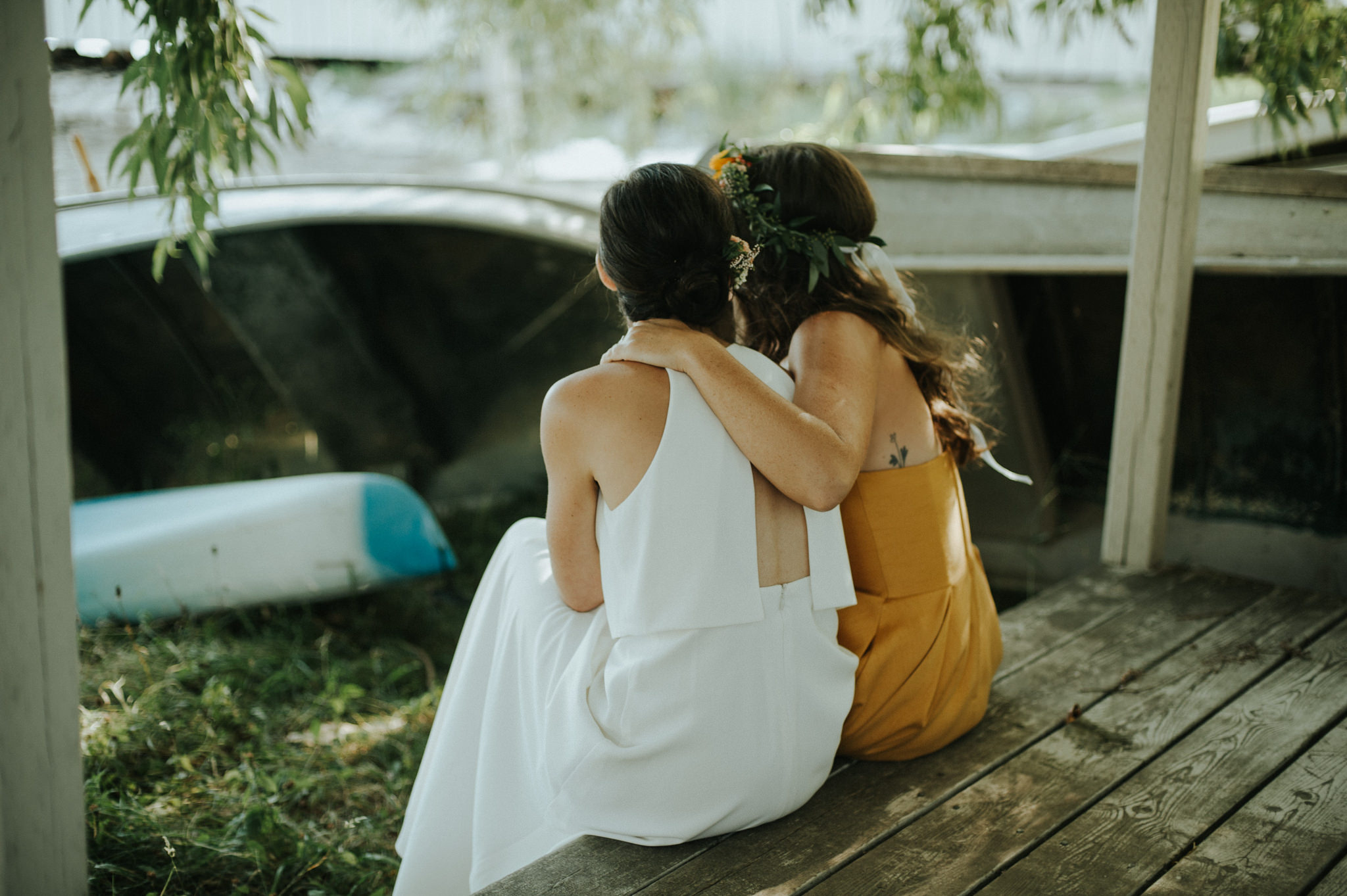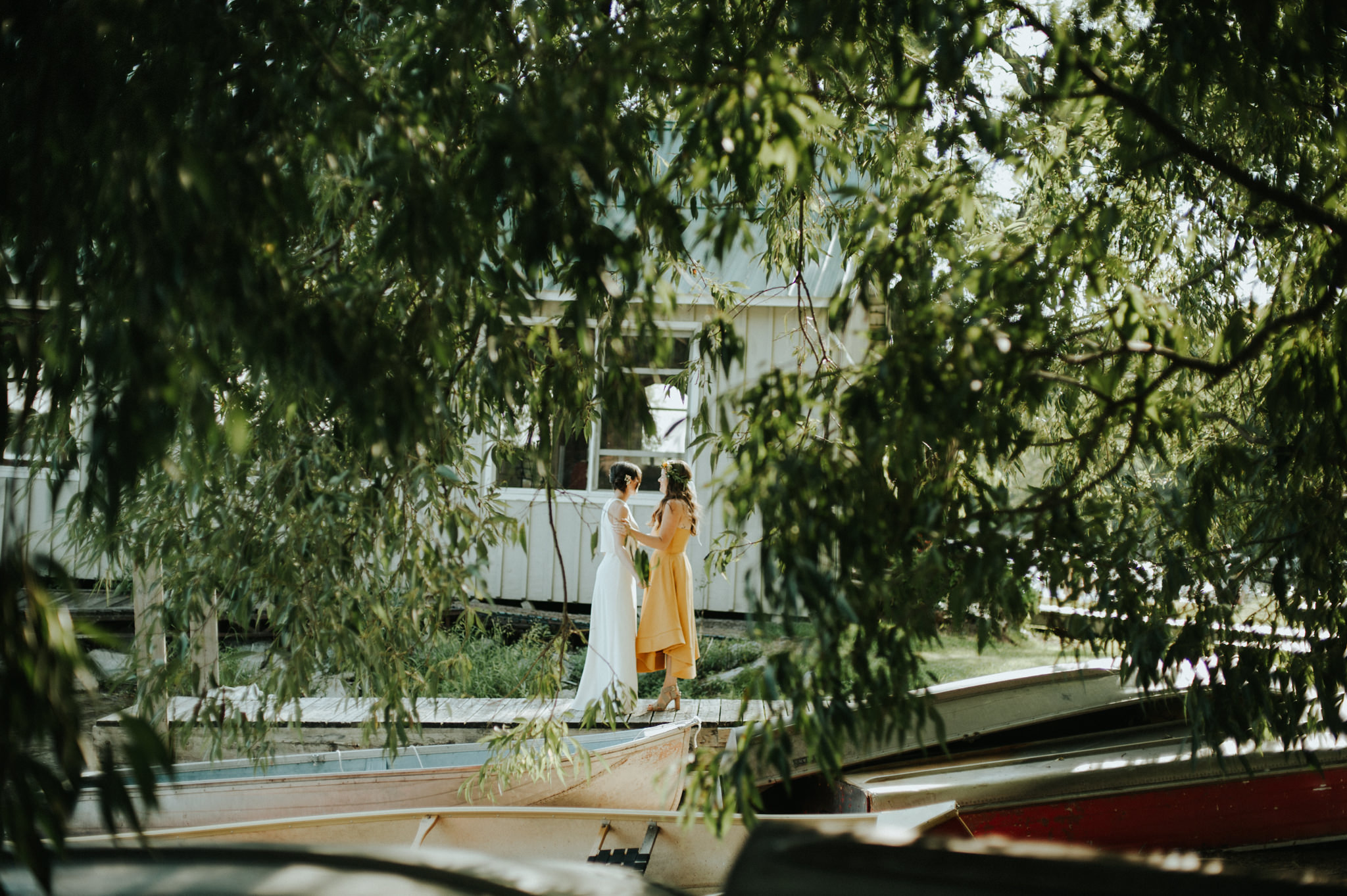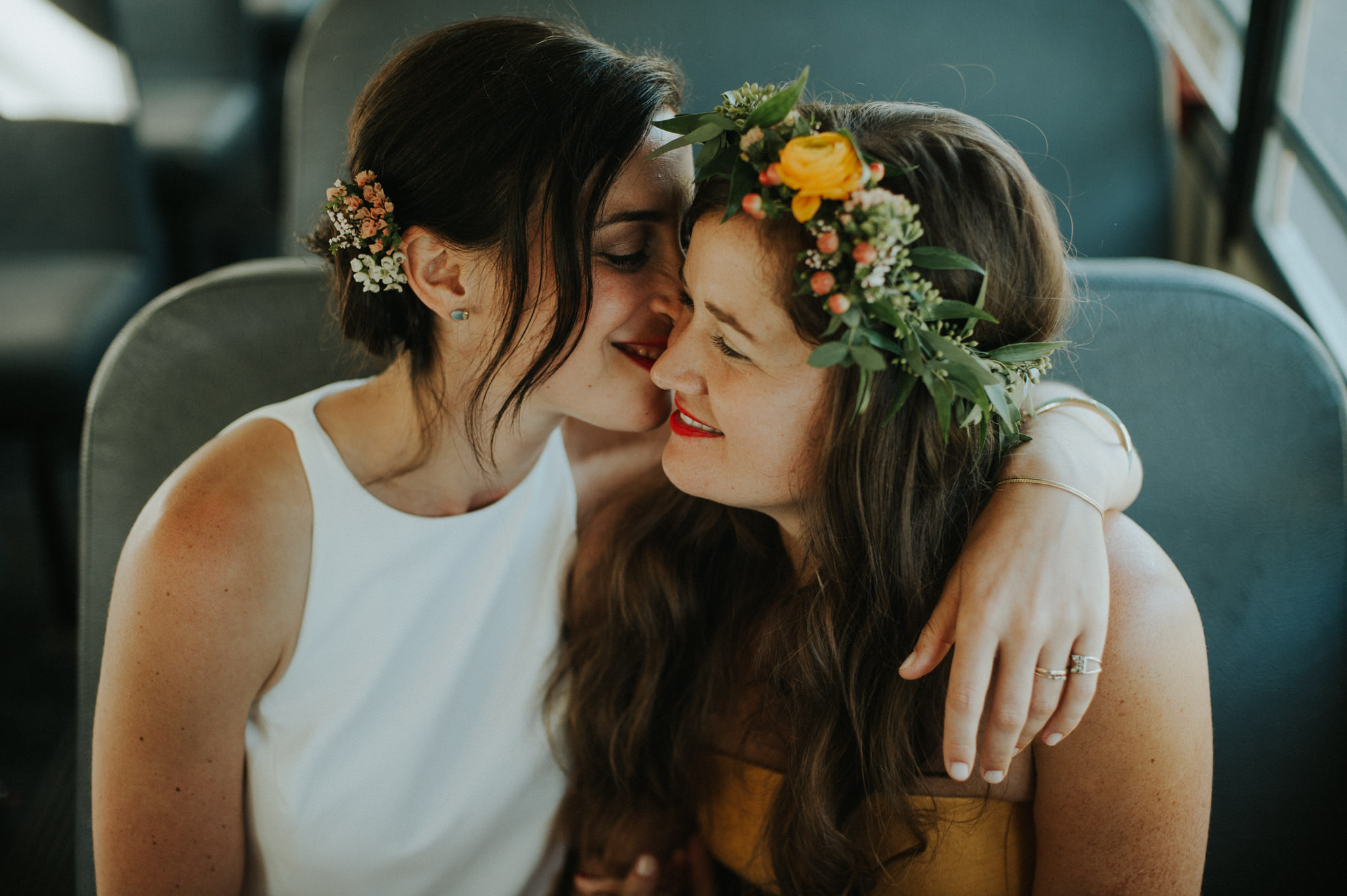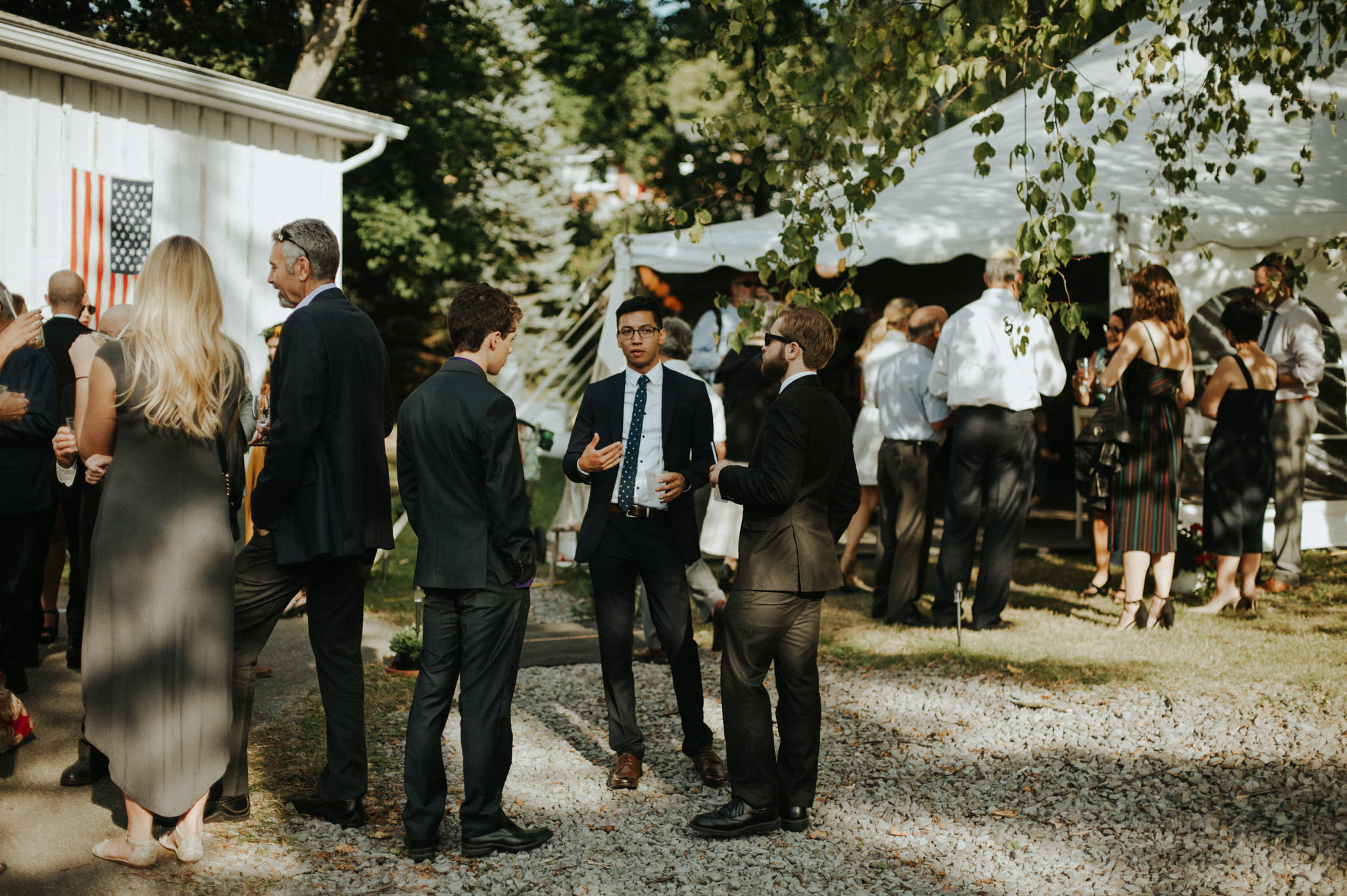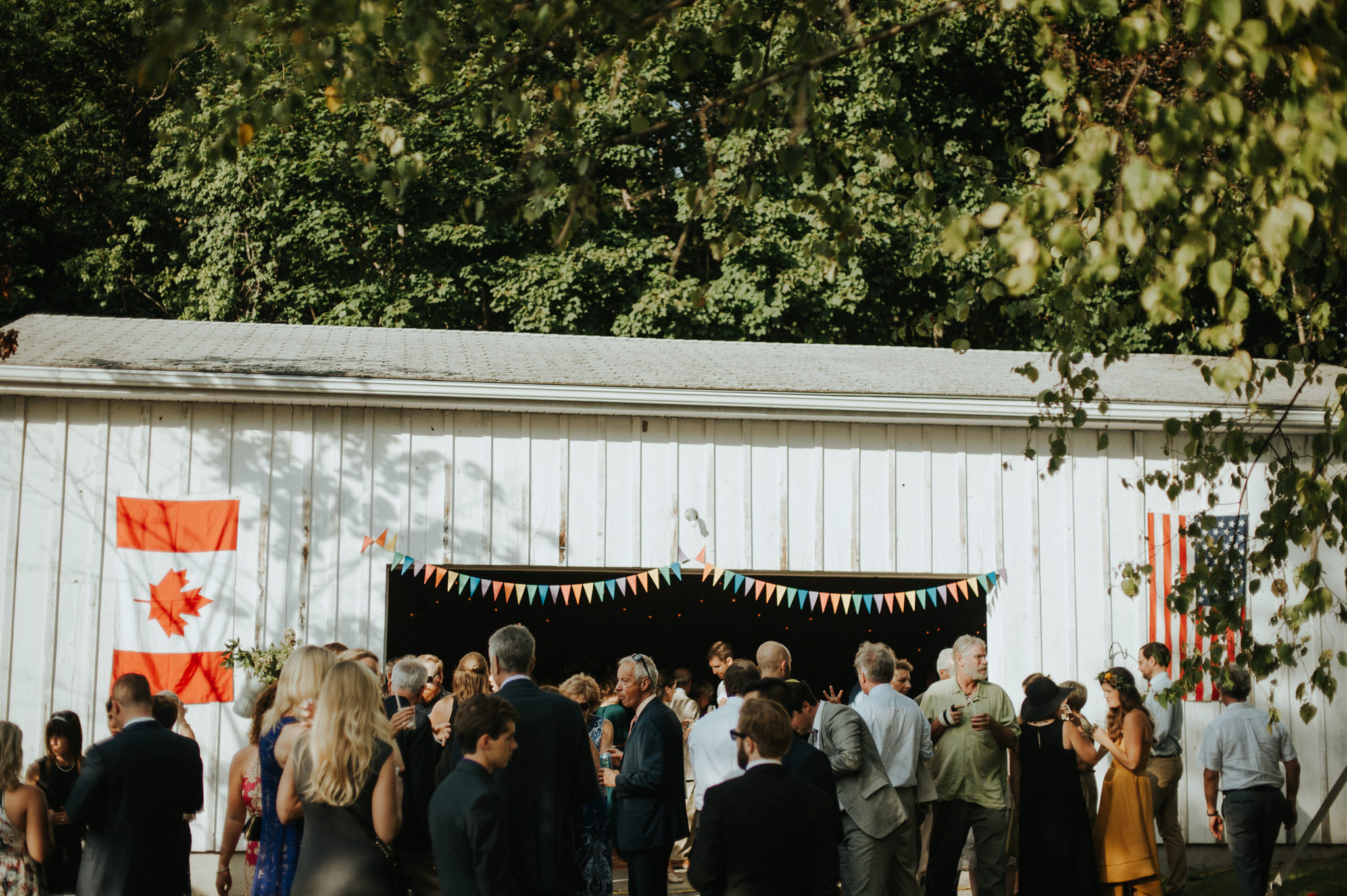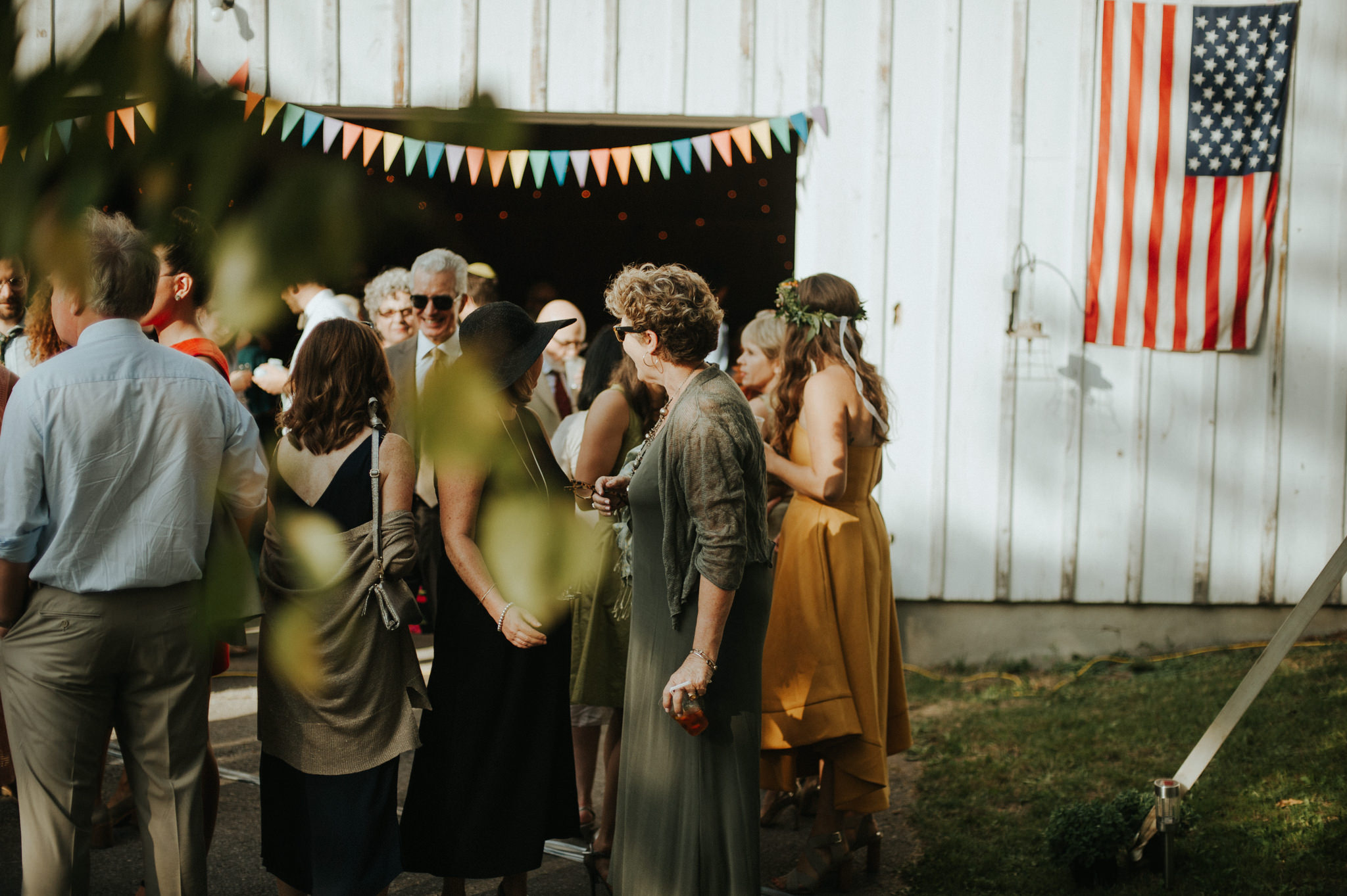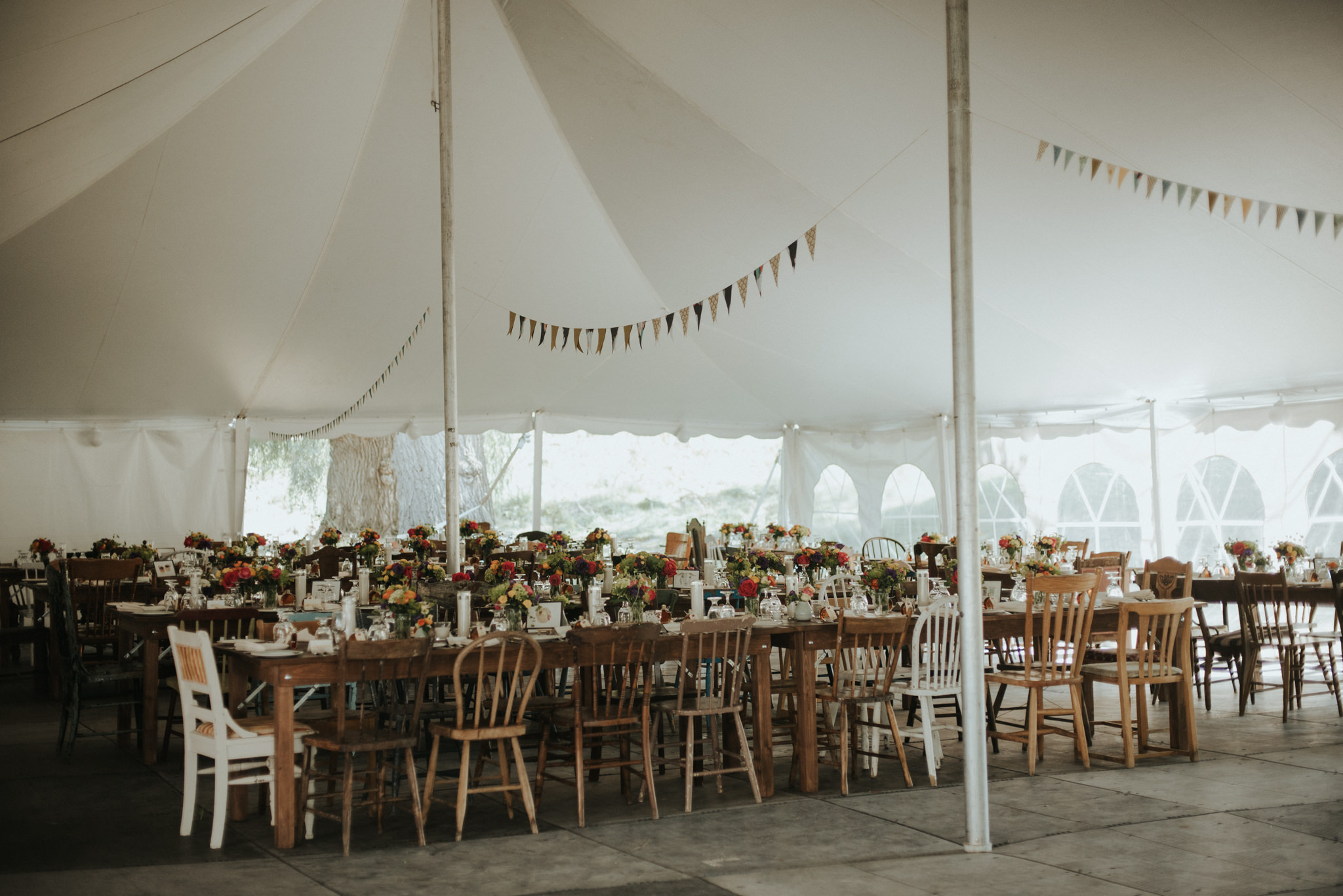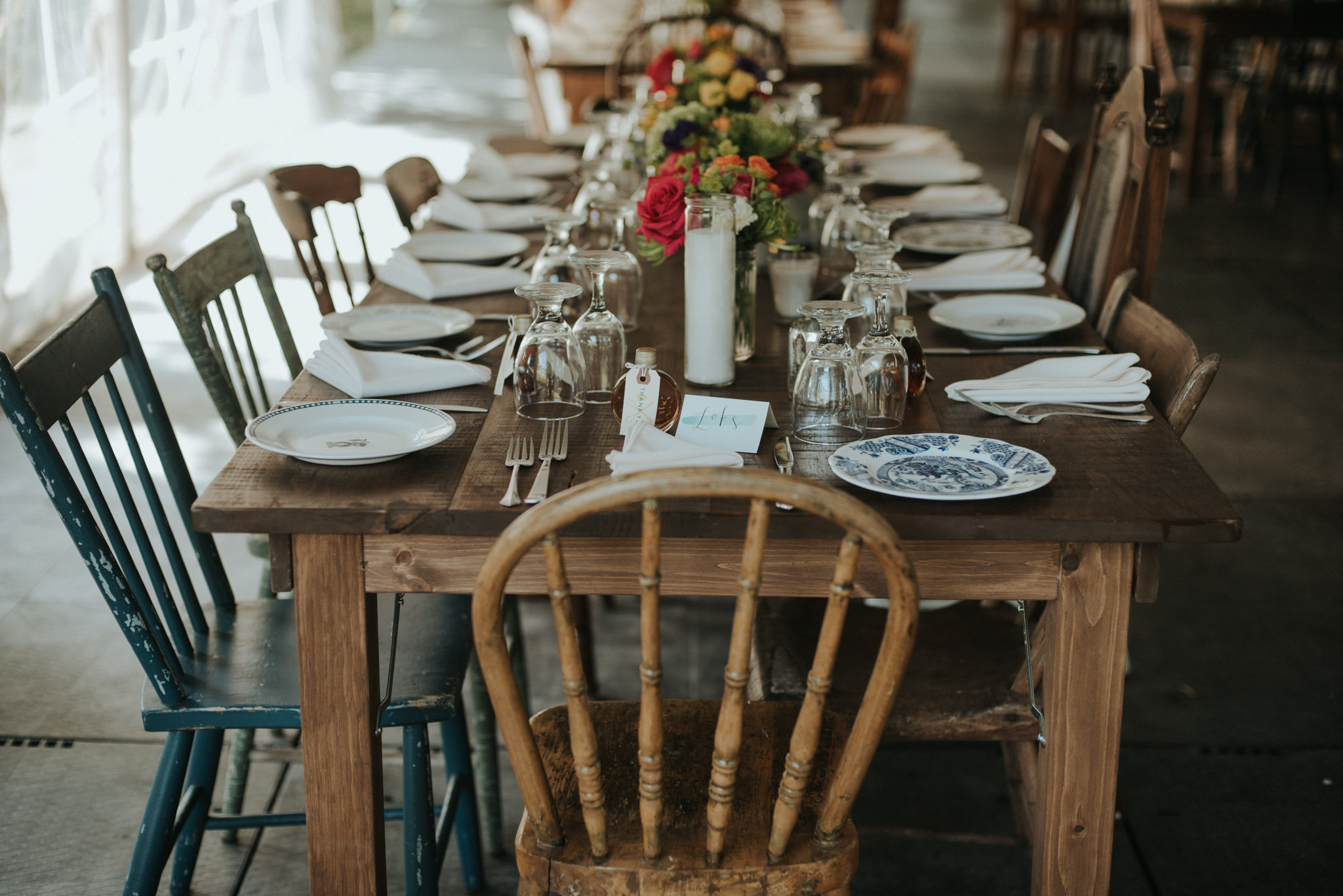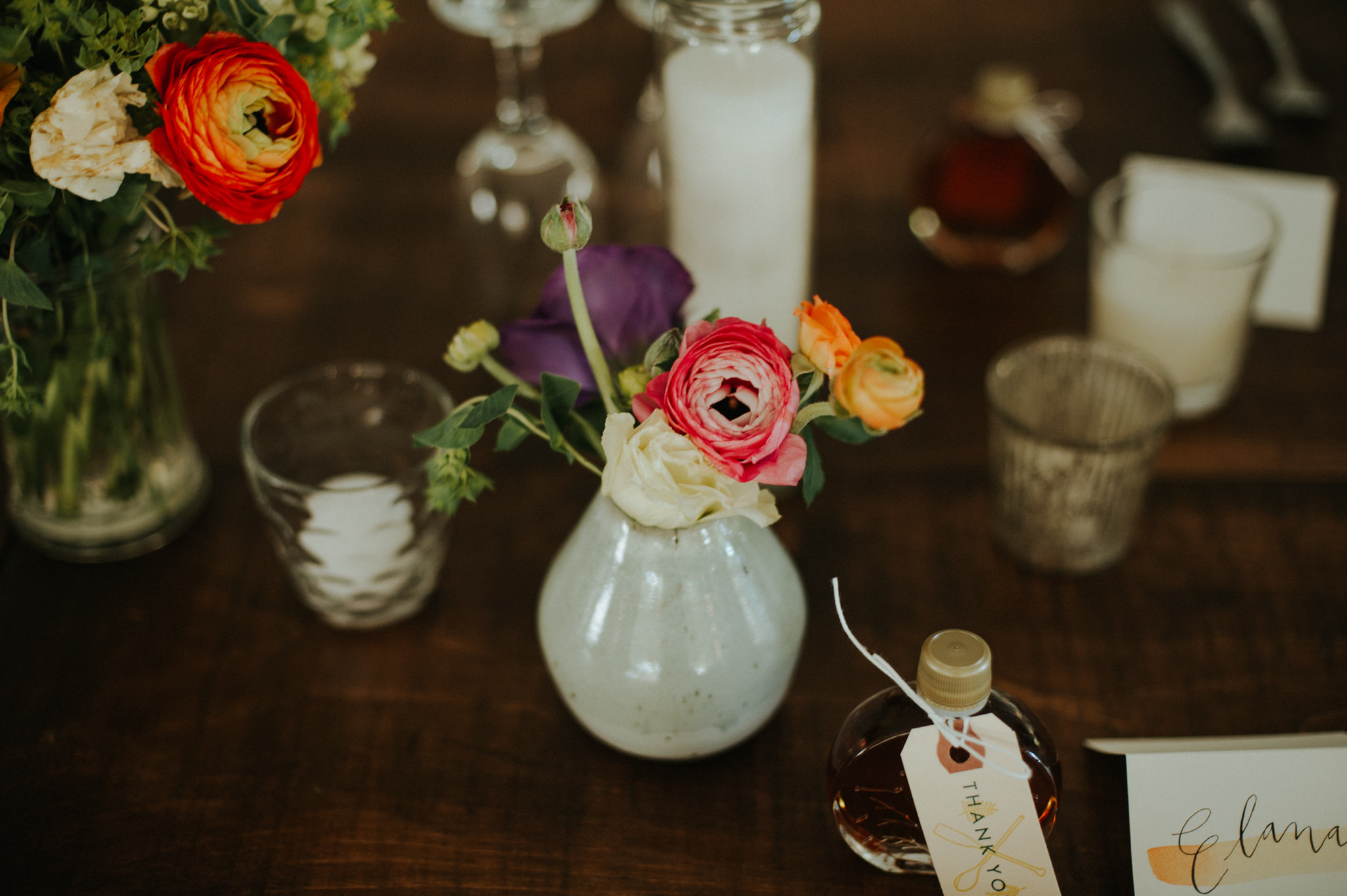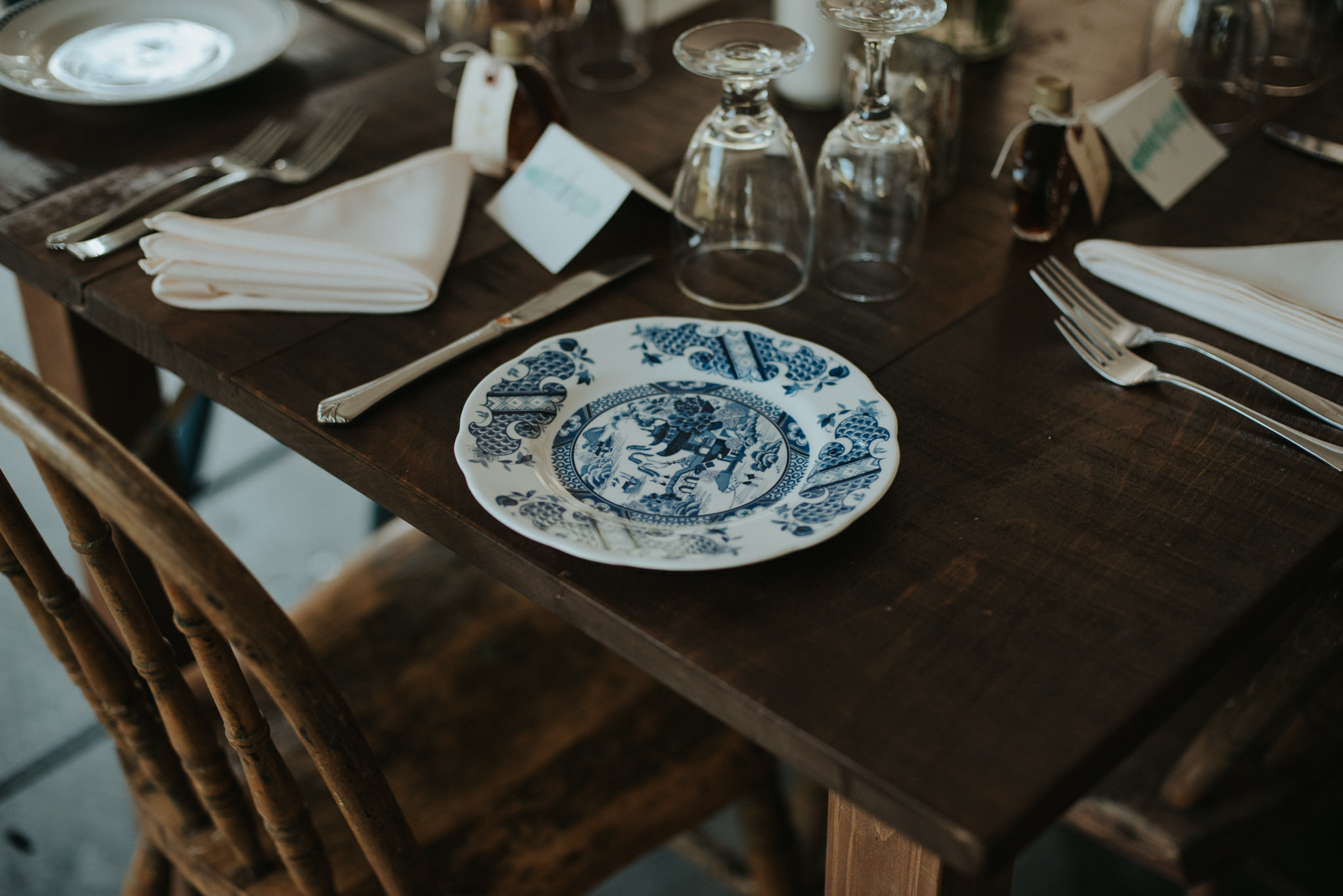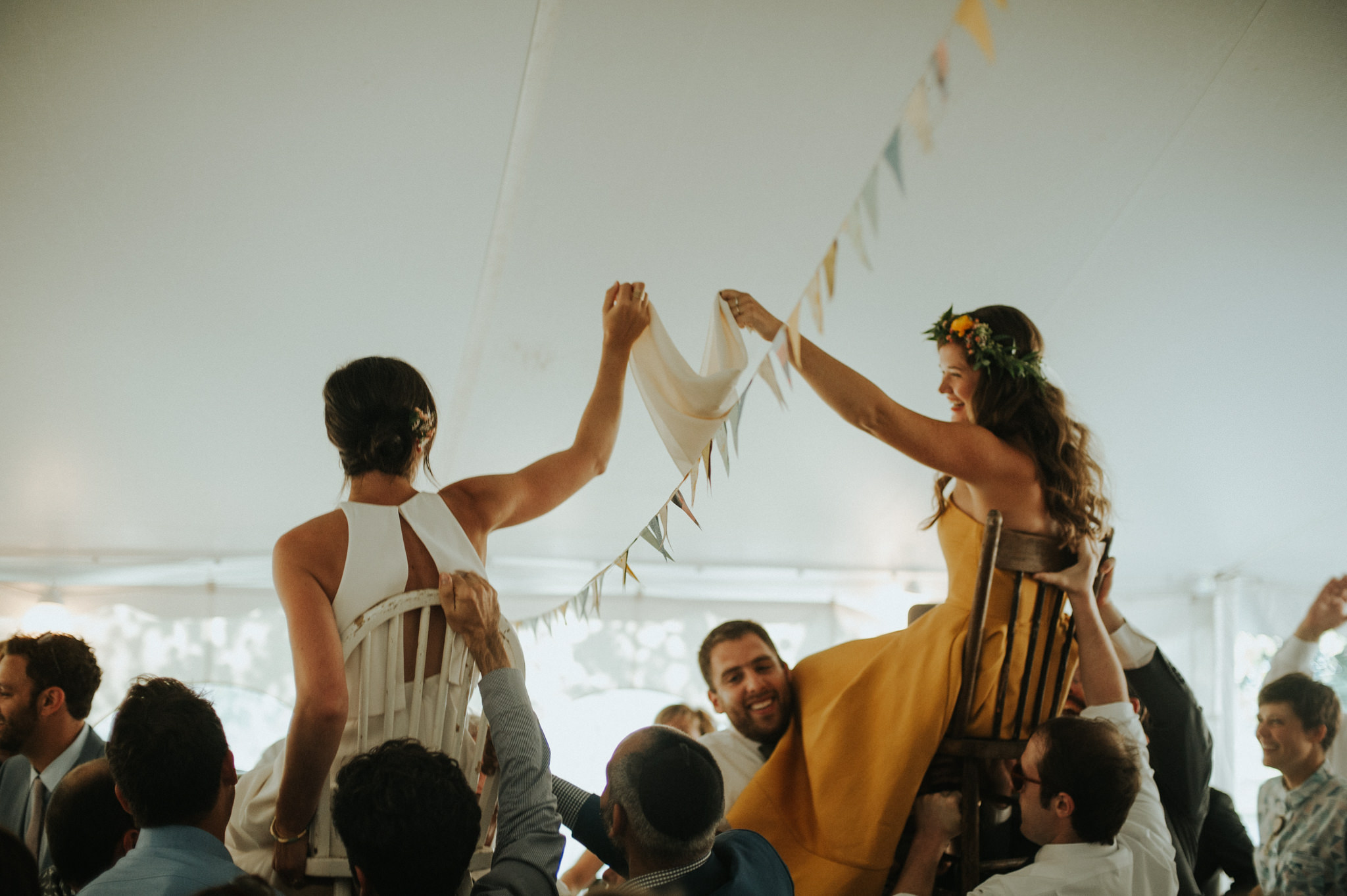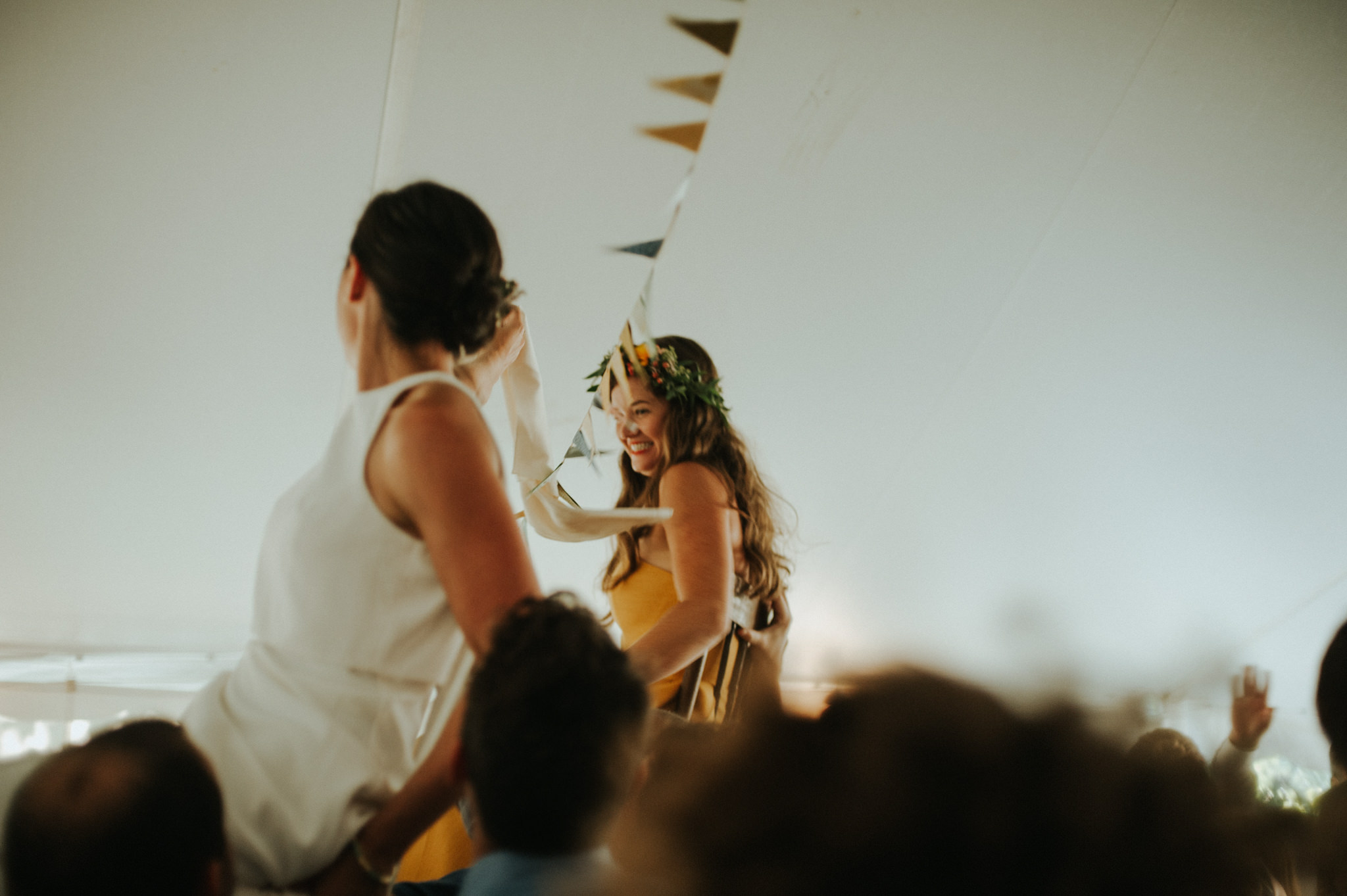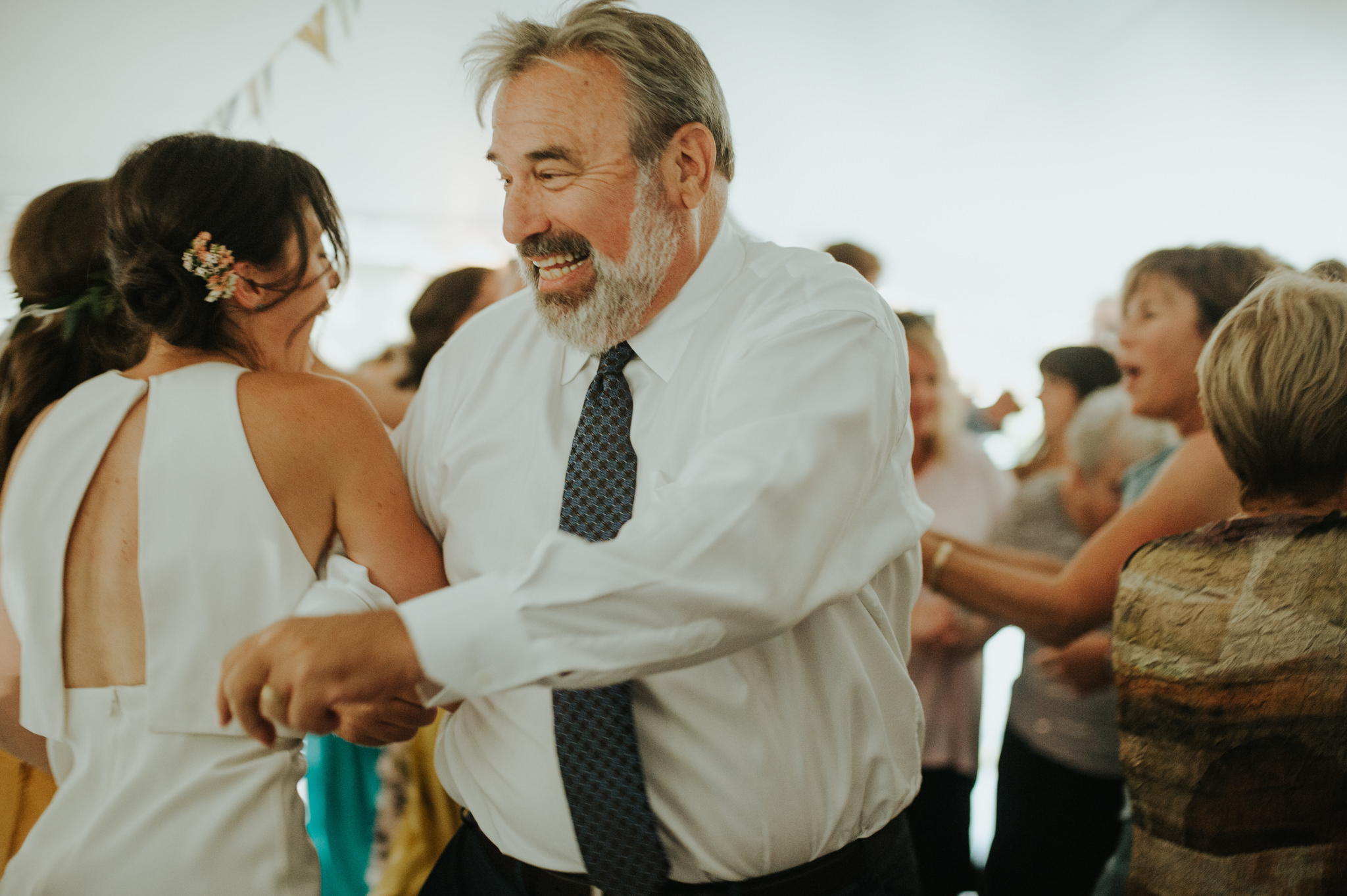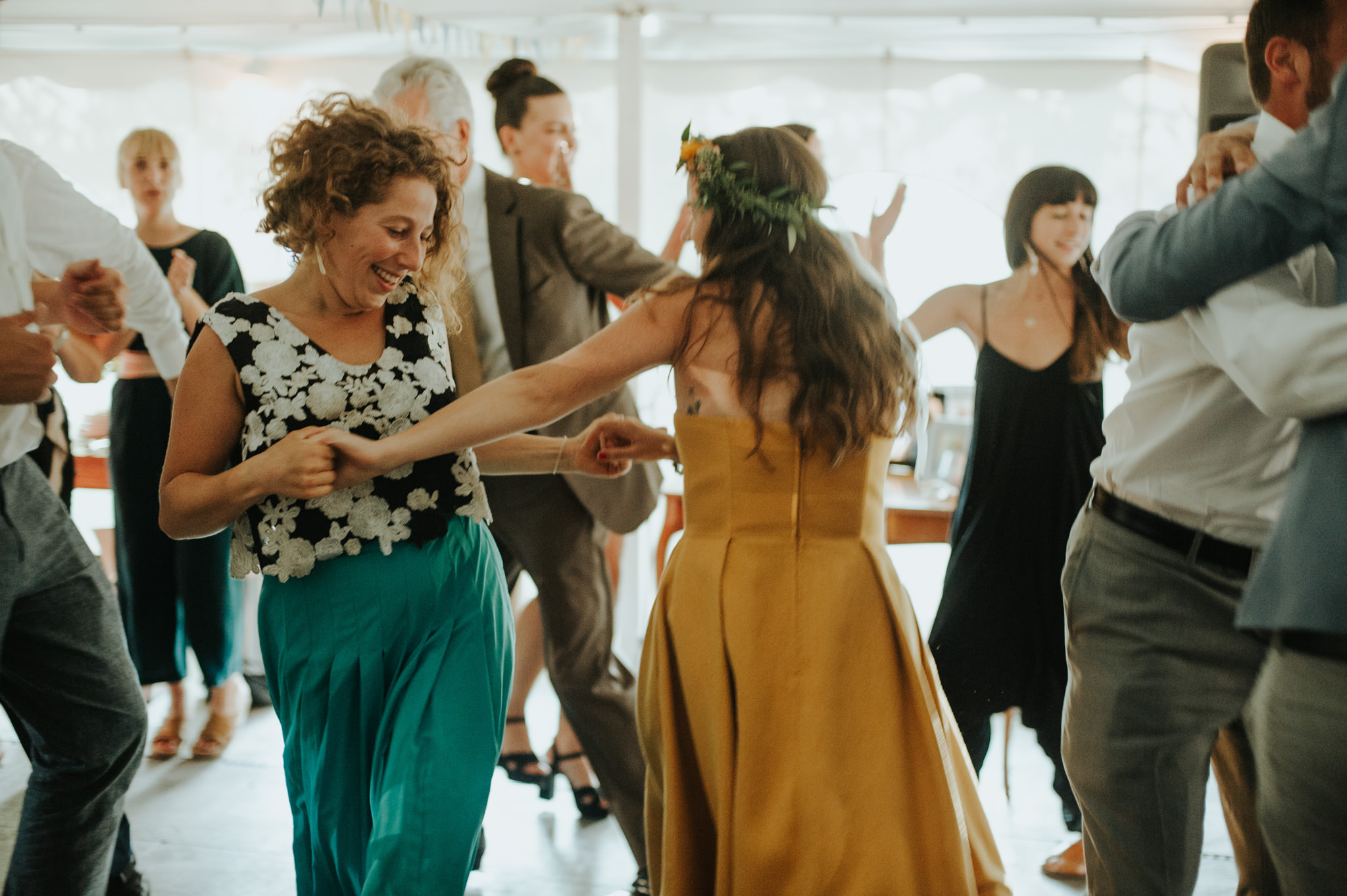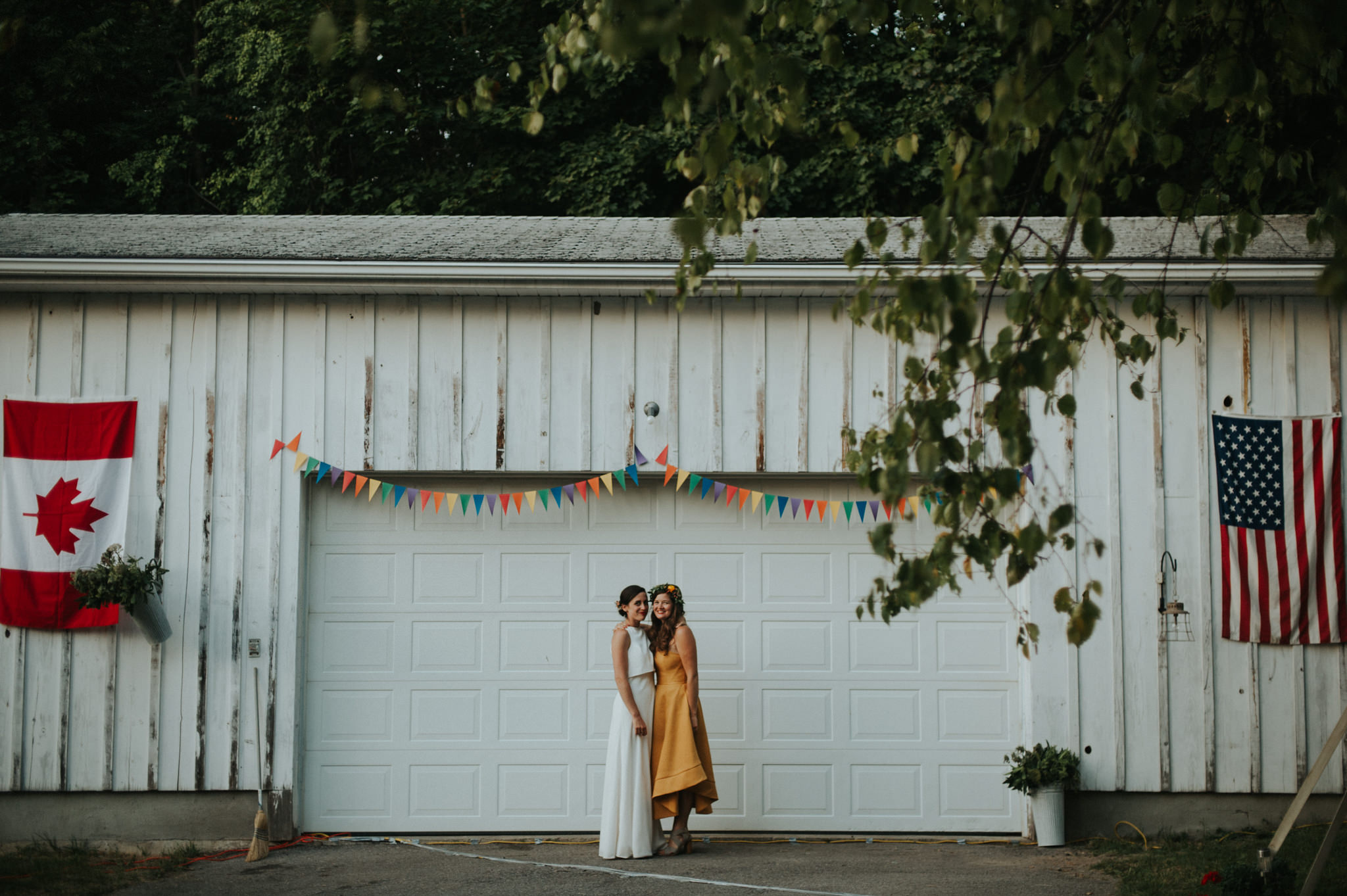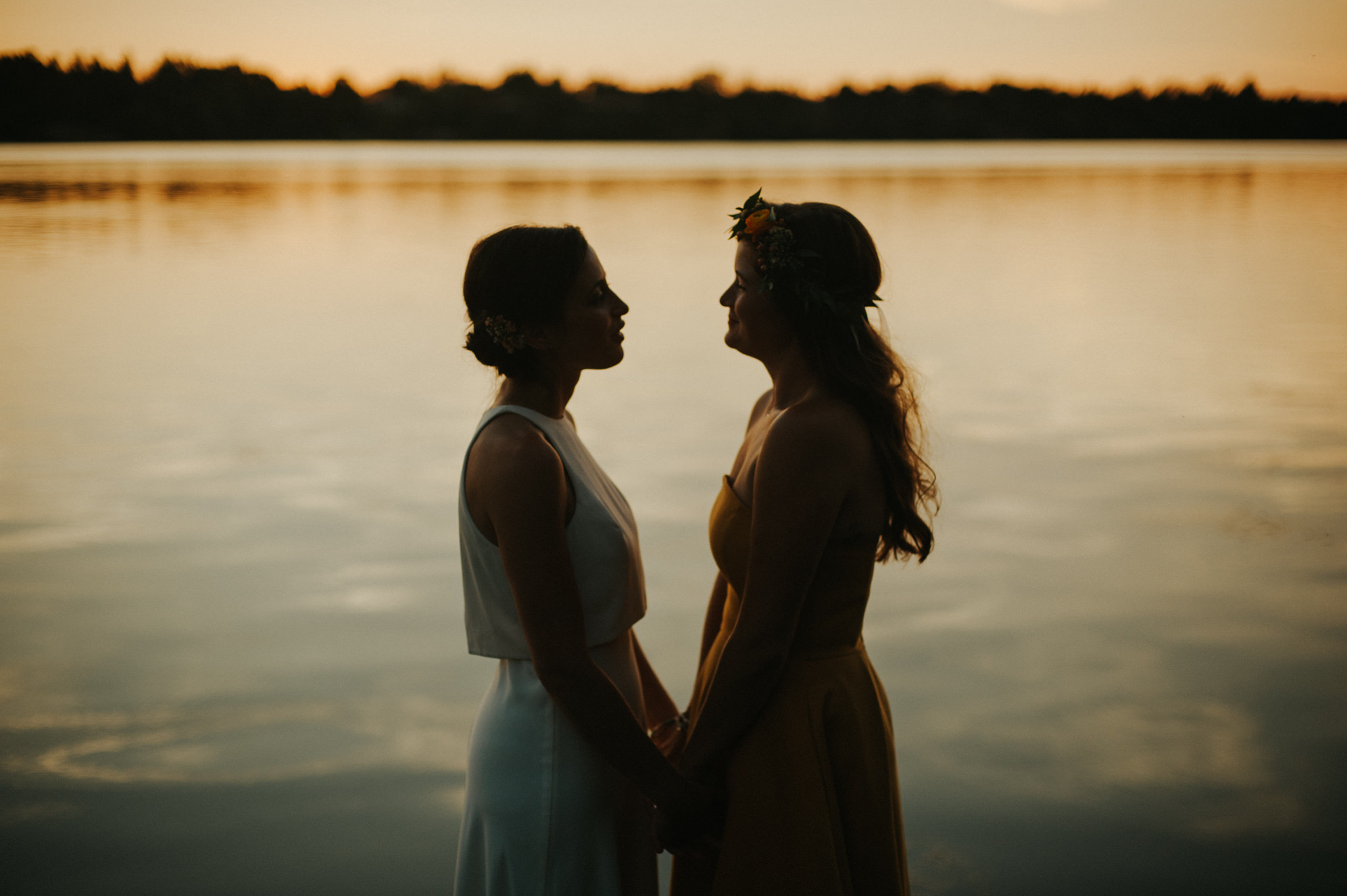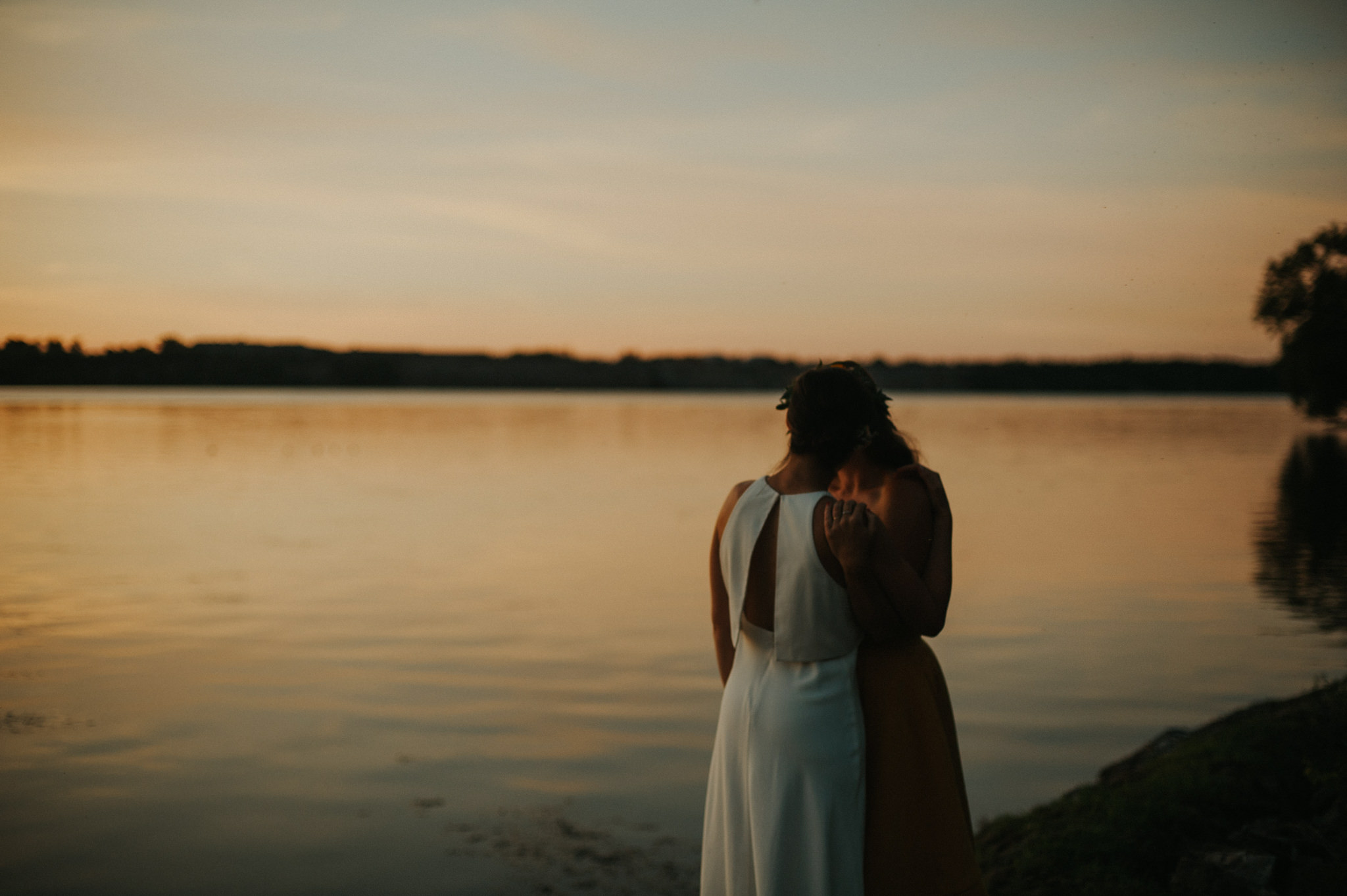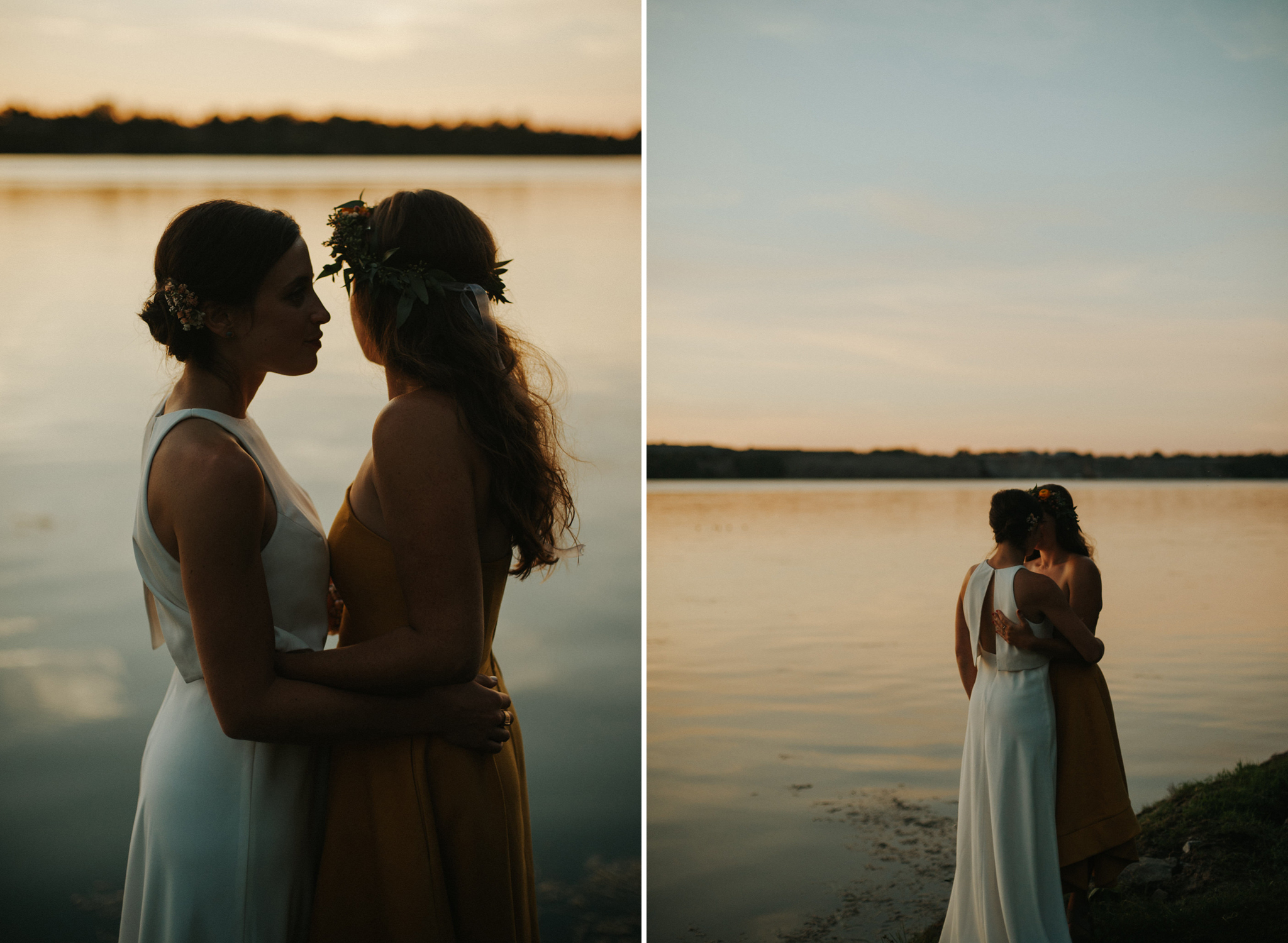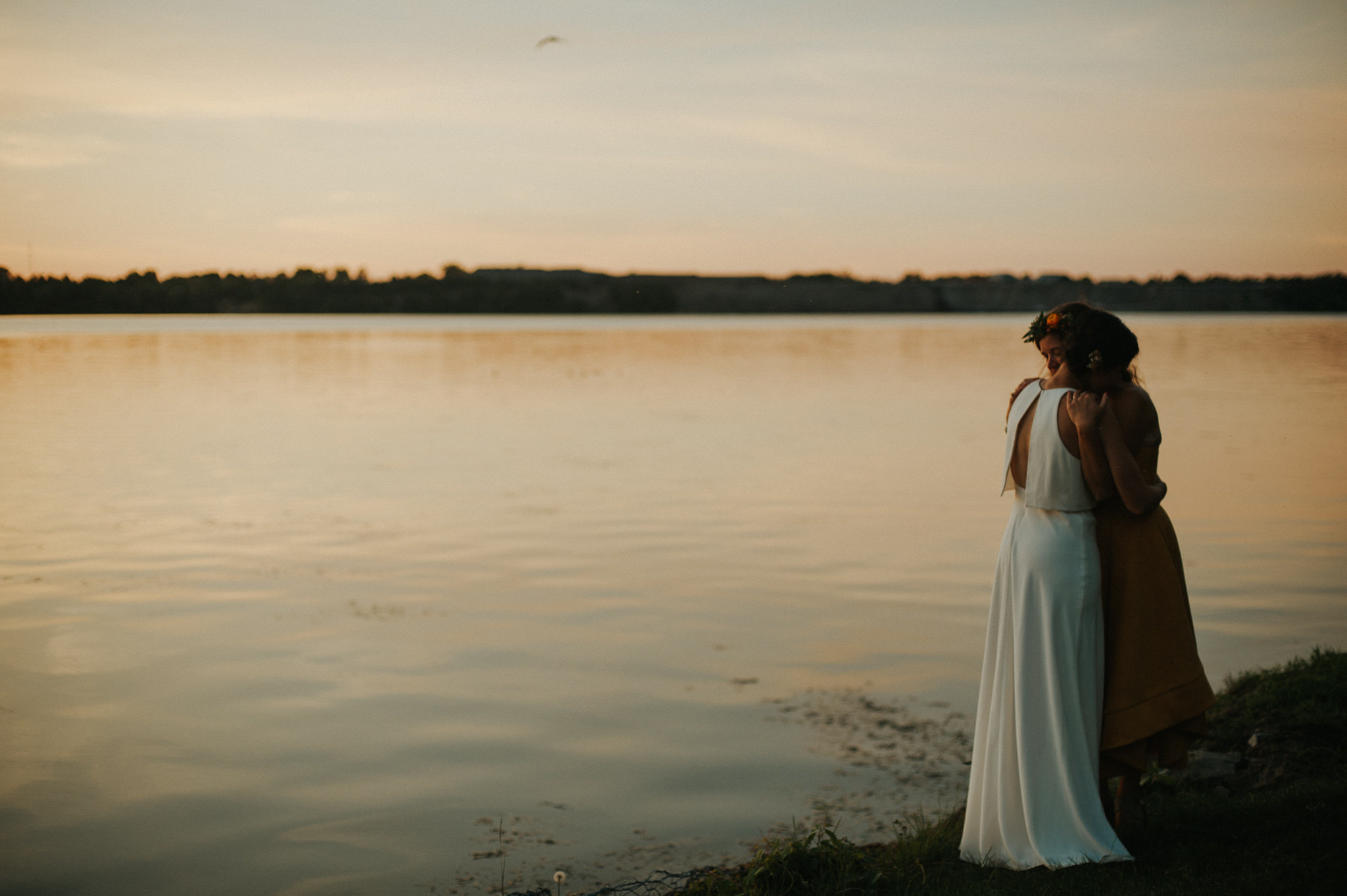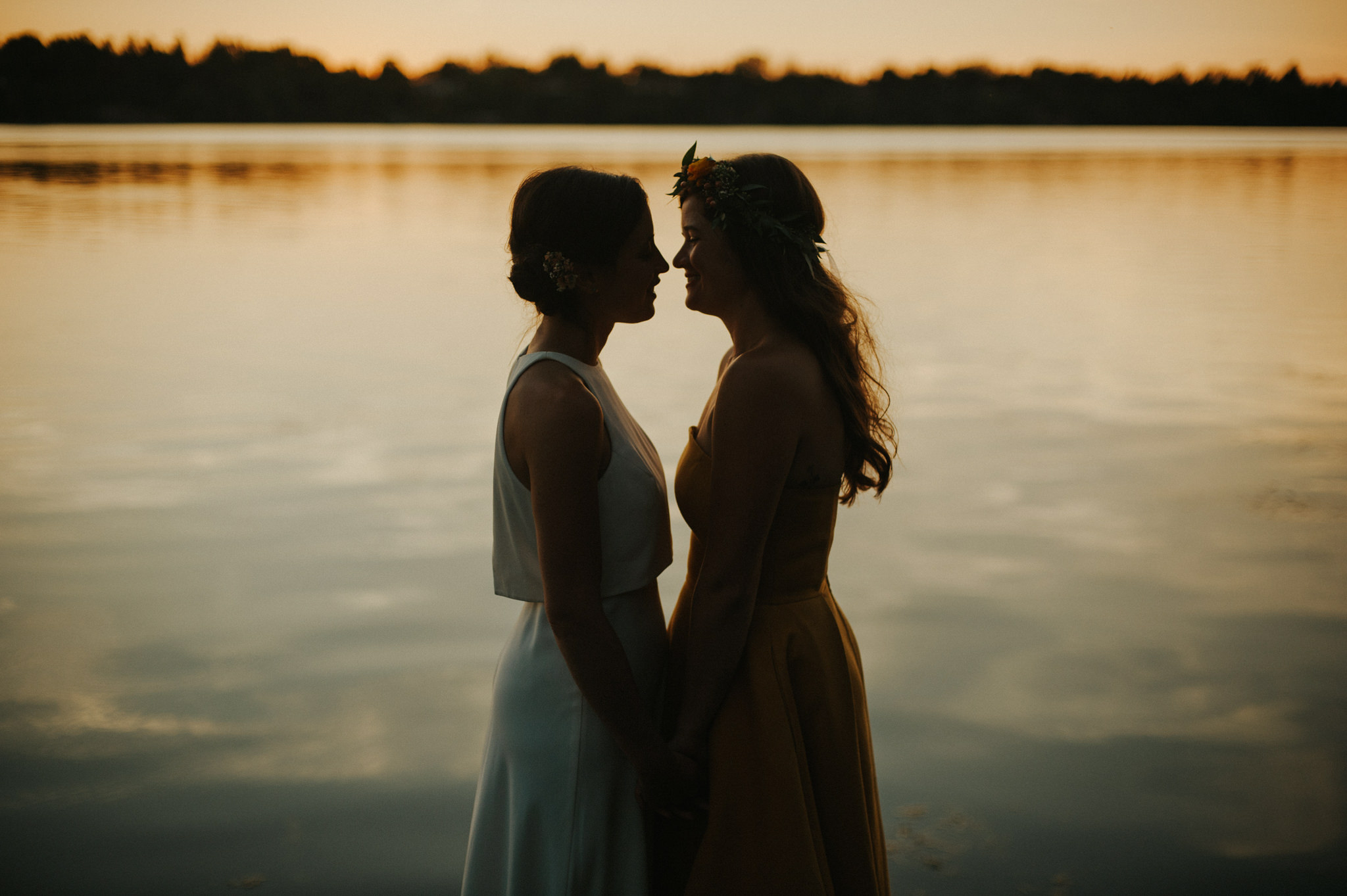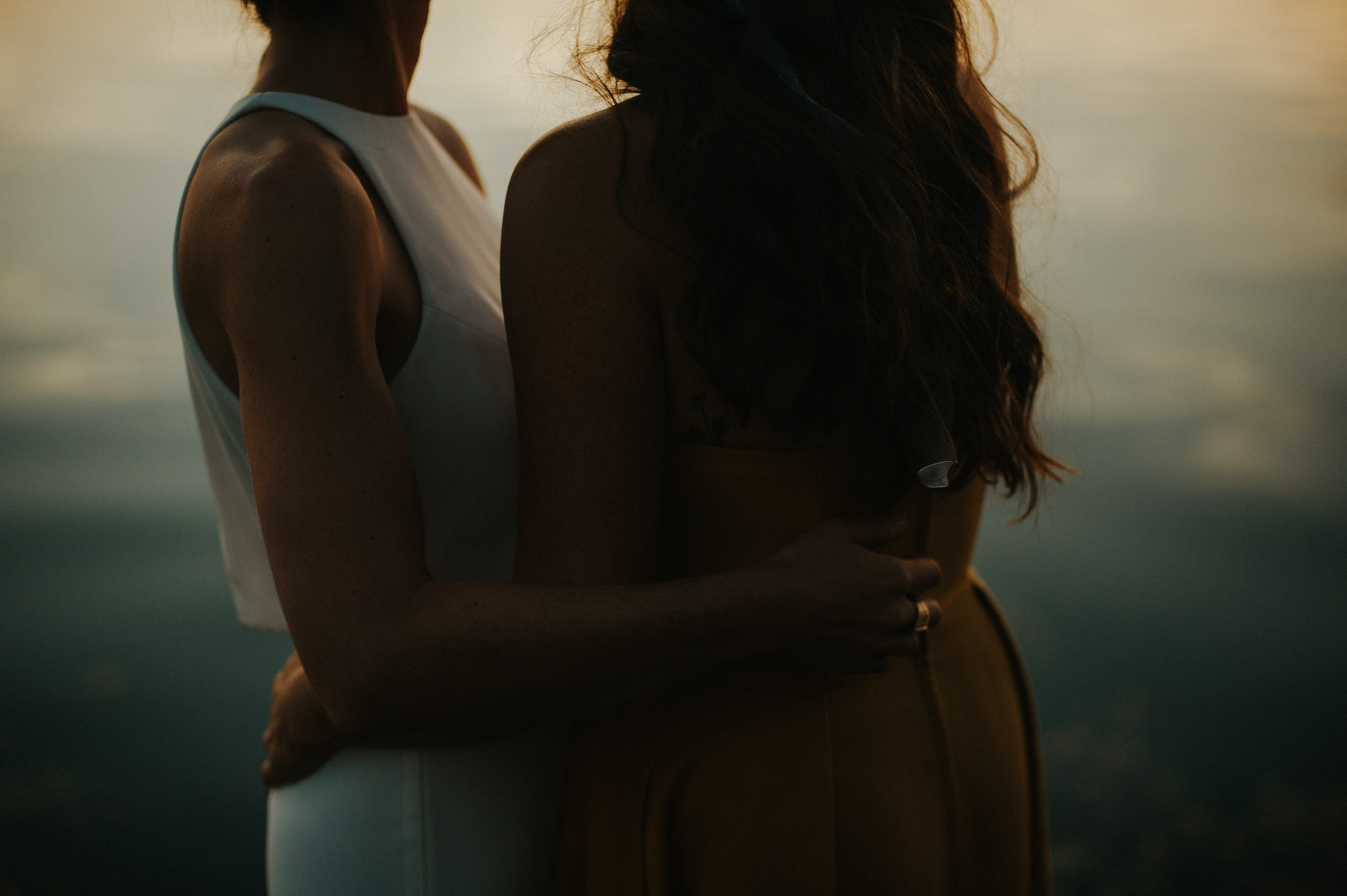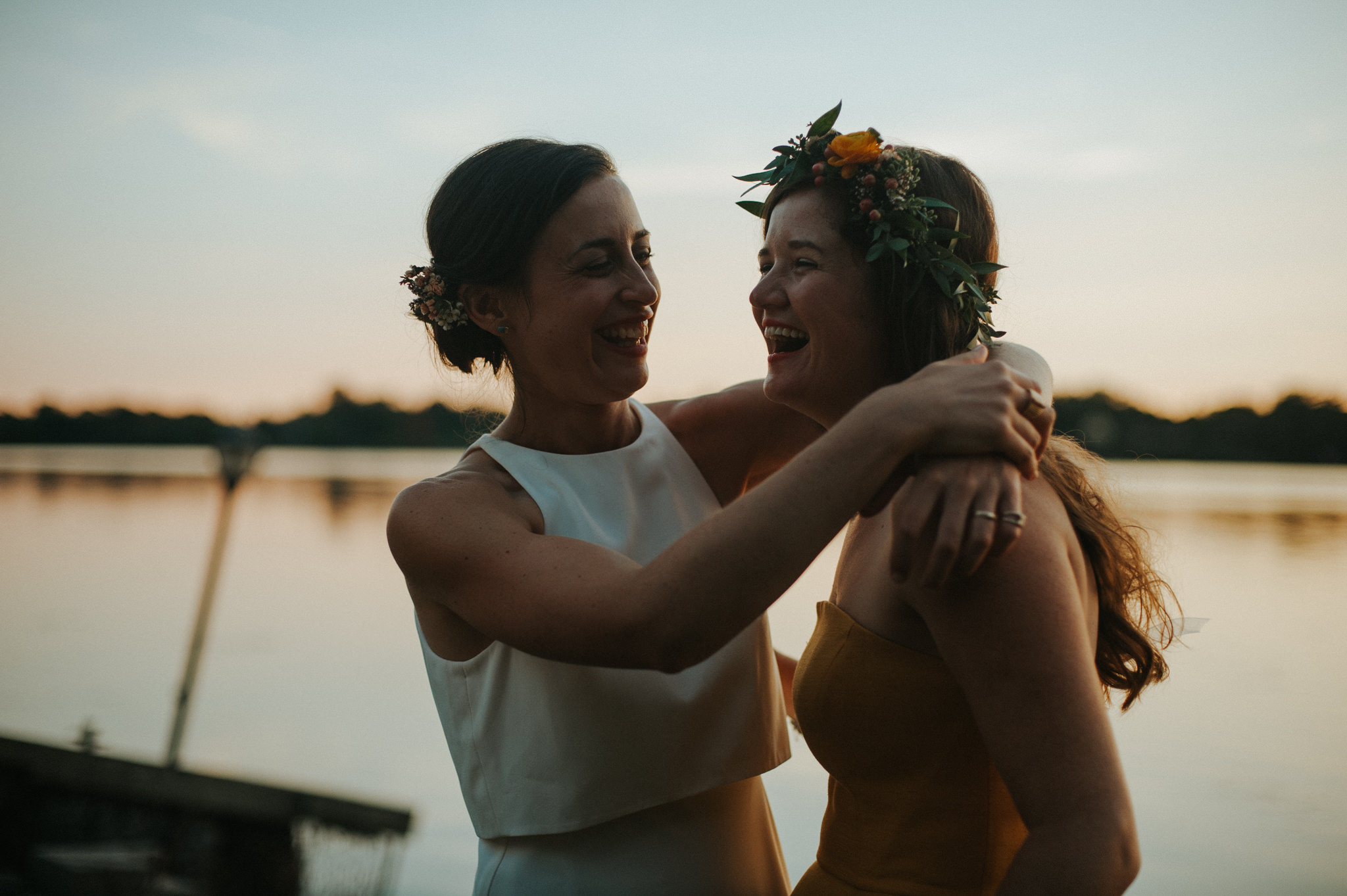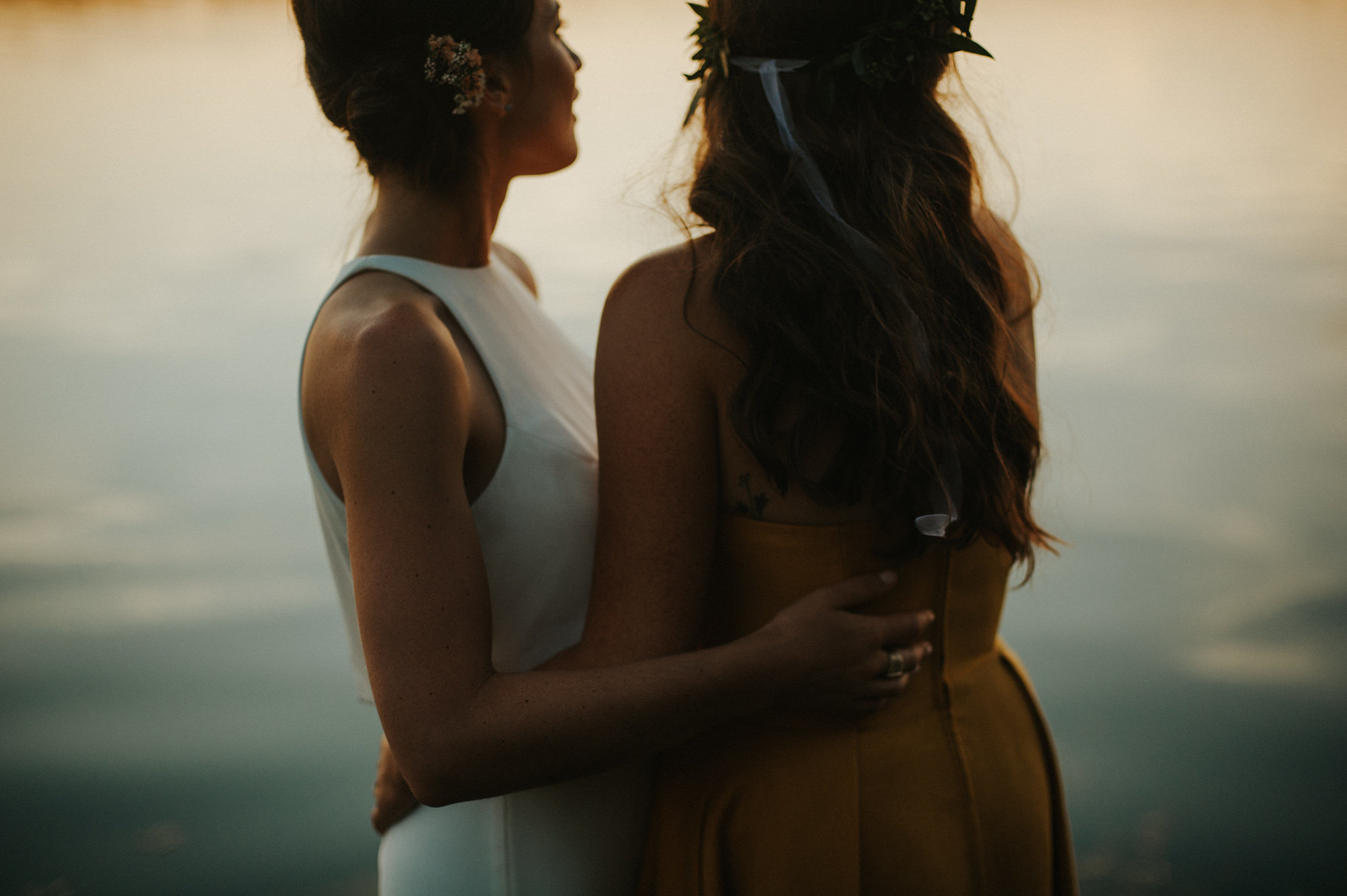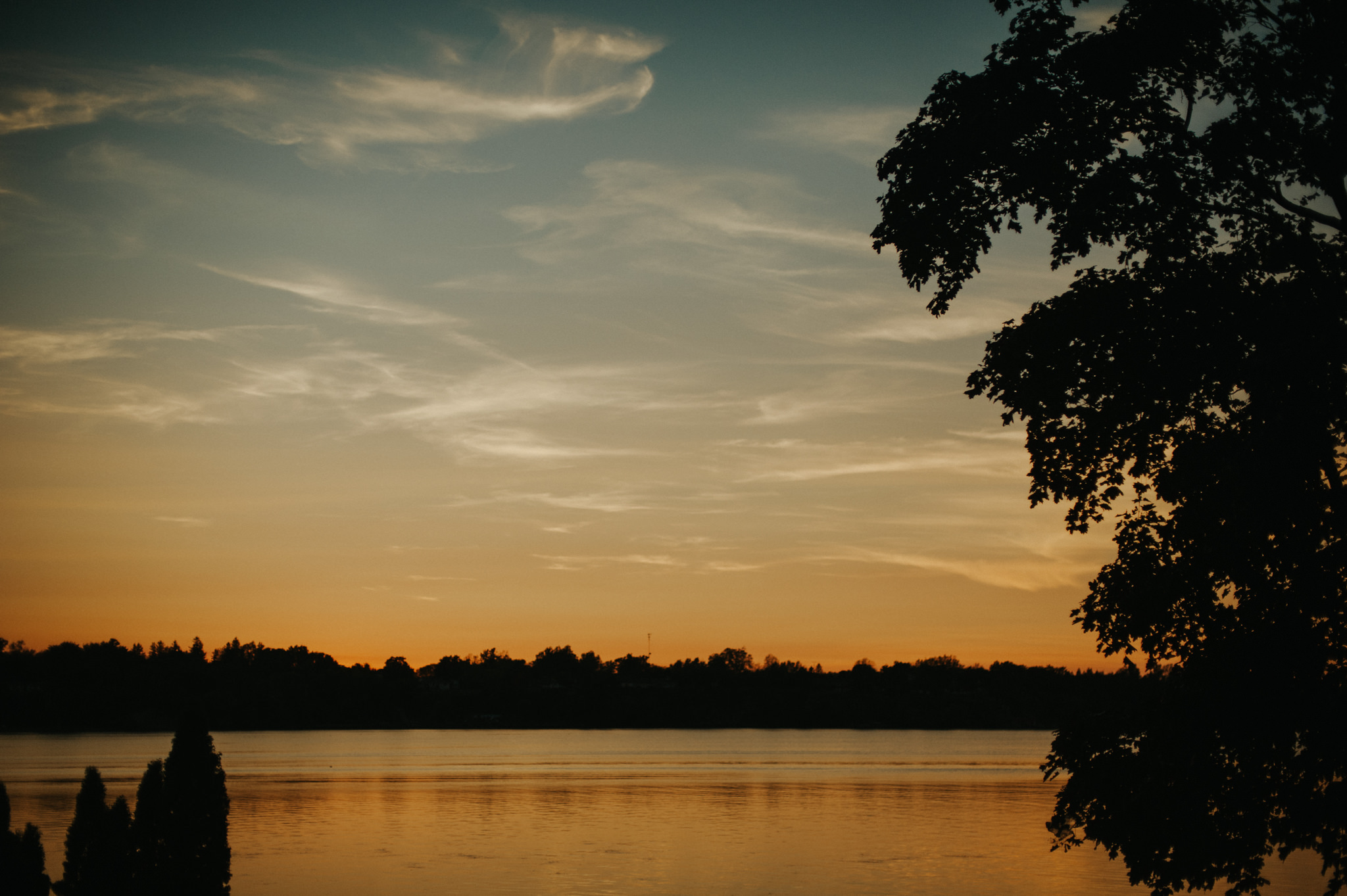 VENDORS
Anna's Look
DRESS: Jill Stuart, from BHLDN
SHOES: Aldo & Converse
Alex's Look
DRESS: http://www.visetteboutique.com/
Shoes: Joie & Keds
INVITATIONS: Handmade by Alex
FLORALS: Coriander Girl (Chuppah & bouquets) & Aunt Maureen & Aunt Cathy (Vases)
CATERER: Michael Hoy
CEREMONY VENUE: Lake on the Mountain Resort
RECEPTION VENUE: Alex's parent's home in Prince Edward County
OFFICIANT: Our friend, Elana Jacobs
CHUPPAH: Our friend Adam Newman
DJ/music: Anna's brother Jacob, and friend Max
Music
Processional song / musician: Advanced Falconry by Mutual Benefit (performed by The Waffles aka our musically talented friends who we threw together to make a band)
Recessional song / musician: This Must be the Place by The Talking Heads (performed by The Waffles)